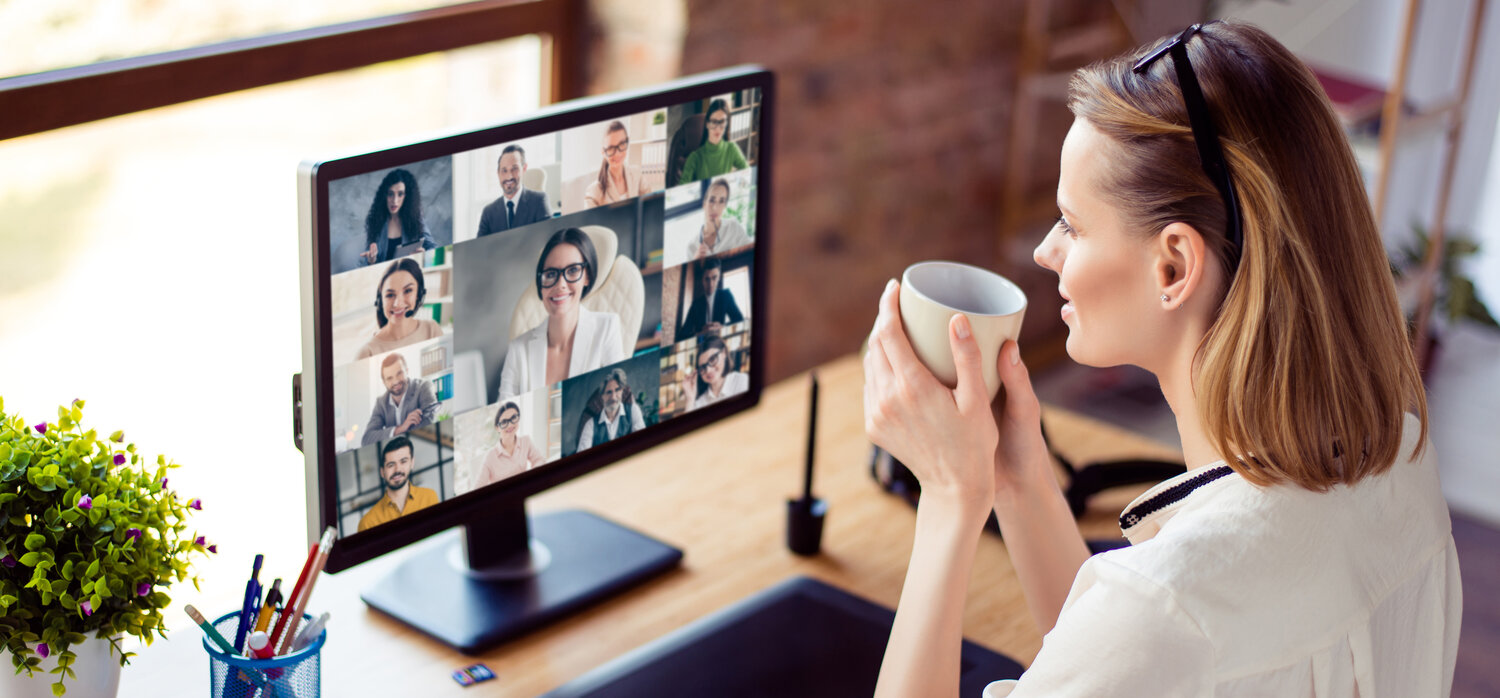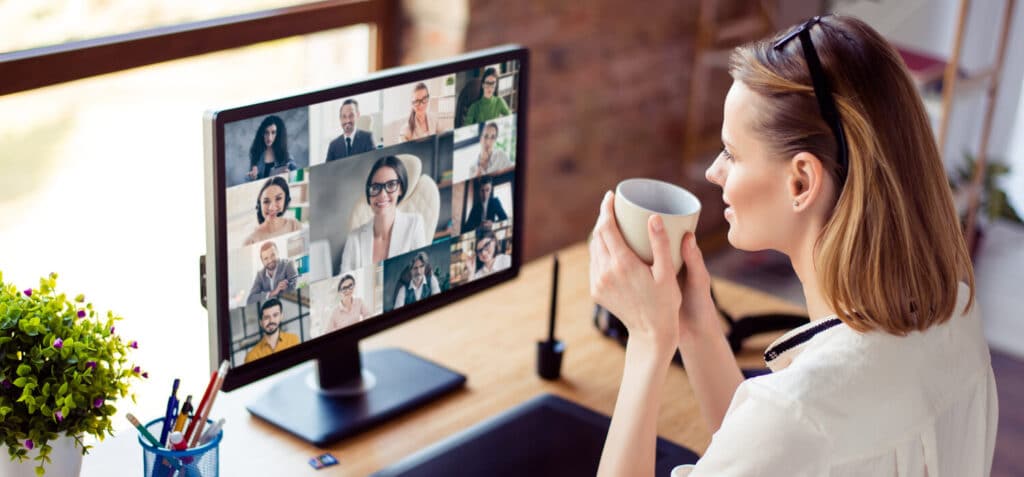 What is Virtual Coworking and is it Right for You?
The work world has changed markedly in recent years. Even before COVID-19, remote work was on the rise and in the wake of lifting restrictions, companies are faced with the challenge of keeping workers safe while still functioning efficiently. 
This has led to the rise of remote work, with around 62% of workers aged 22-65 now saying that they work remotely at least occasionally. In fact, between 2009 and 2022, the number of remote workers rose by 159%. This is a huge increase, and it has created its own issues. 
Working remotely has benefits, but it also has drawbacks too. And one of the strategies to overcome the drawbacks of working remotely is virtual coworking. If you're looking for a new way to collaborate with others without putting your health or the health of your family at risk, then here's a guide to virtual coworking and why it's worth trying. 
The problem with remote work
Working remotely really is becoming more popular by the day. About 16% of companies globally now identify as completely remote and more workers are choosing to work remotely every day. 
The benefits of working remotely can include: 
Increased worker productivity 

Saving time and money on commuting 

Giving workers more freedom  

Increasing company satisfaction and retention 

Allowing workers to juggle home and work responsibilities 

Saving companies money on rent, utilities, and travel

Improving employee well-being 
However, it isn't all good. Working remotely has drawbacks as well, and it's these drawbacks that have given rise to the idea of virtual coworking. Remote workers often experience these side effects: 
Increased loneliness and social isolation 

Difficulty collaborating for work 

Decreased social interactions on a day-to-day basis 

Decreased interactions with their company's clients

Difficulty unplugging after work hours 
Virtual coworking may be one possible answer to these issues.  
What is virtual coworking?
Before you understand virtual coworking, you need to understand coworking. There are coworking spaces all over the world. These are spaces that you go to when you want to get work done in the presence of others. You can interact with the other people in the space throughout your workday without directly working with them. 
Virtual coworking takes this idea a step further. When you or the company you work for buys a virtual coworking membership plan, you can use it from anywhere you want. This means you can work from home, your local café, or anywhere else using this virtual space.  You then enter an online portal and find a coworking space that's very similar to a real-world workspace and can include: 
A reception 

Lobby directory listings 

Call answering services 

A physical address 

Mail receipt and forwarding 

A virtual layout 

Receptionist services 

Meeting rooms, desks, and private spaces 

Lots of community building activities like book clubs, meditation sessions, lunches and learns, mastermind sessions, and coffee breaks 
Once you enter a virtual coworking space, you're assigned a desk, and you can attend meetings, interact with others, and get your work done. 
Virtual coworking allows you to interact with others and get a sense of community without having to go to a specific location. And virtual coworking spaces are amazingly detailed these days, with some of them having floor plans. You may even have to knock on doors to interact with other people using the space! 
Who uses virtual coworking spaces?
Virtual coworking spaces are obviously for remote workers, but what's important is that they work for all kinds of remote workers. This includes: 
Digital nomads 

Businesspeople working from a home office 

Remote employees 

Frequent travelers 

Entrepreneurs who need to add legitimacy to their business 

Businesspeople who move or travel all the time and don't want to change their business addresses 
The benefits of virtual coworking for companies
Virtual coworking offers benefits to both workers and companies or executives. Some of the benefits include: 
Space
With a virtual coworking membership, you aren't limited by the venue space. This means you can include all of your team members without worrying about overcrowding. 
Safety
In these post-pandemic days, it's vital that managers and companies do what they can to keep their employees safe. This is easier to do when all of your workers are at home and aren't crowded into a workspace. 
Working global
Diverse teams bring in new, exciting ideas and innovation. And now you can hire people across the world and bring them together in your virtual coworking space. 
Operational costs
Real space is expensive these days with rent, utilities, transport, and parking eating up a company's profits. You can reduce or completely eliminate all of these costs by going partially or completely virtual. 
Extra services
Remote companies often fight for legitimacy in the market because they don't have a business address or dedicated reception. With some virtual coworking options, you can enjoy both of these necessities and more. 
Events
Virtual spaces aren't just for working. You can also use them to hold team building events, conferences, and education workshops. 
Productivity
Giving your employees the freedom to work from home has been shown to actually increase productivity and creativity. 
Employee retention and acquisition
These days, companies have to offer incentives to acquire and retain the top employees. And what better way to show that you're committed to the welfare and preferences of your employees than to offer them flexibility in how they perform their jobs? 
Flexibility
Companies that succeed and last have to be flexible in every way and this includes in how they function. Using virtual workspaces will help with that flexibility as you can go fully remote, with workers around the world, or create a hybrid system with some workers in your offices and others in their homes. This allows you to enjoy the best of both worlds and to offer your workers some additional ways to work. 
The benefits of virtual coworking for workers
Using virtual coworking spaces has a number of benefits for employees, entrepreneurs, digital nomads, and other remote workers. Some of these benefits are: 
Work anywhere
The working world has changed, and many people don't want to be tied to one desk, one building, or even one company anymore. Virtual coworking gives you the chance to collaborate, work, and socialize from anywhere your life takes you. 
Socialize
For adults, work is not only a chance to earn money. It's also a social place, where you make friends and network. Working remotely can take away all of these added extras, but you can get them back by working with others in a remote workplace. 
Collaborate
Working remotely can make it difficult to complete work that needs to be done in a team. There's always the chance of missing messages, updates, and other essential information that you need to do your work properly. 
However, in a virtual coworking space, you can work alone on your part but alongside the other members of your team. This will help you stay up to date with what's happening and what still needs to be done. 
Events
Lots of virtual coworking platforms offer active online and offline events from training to book groups. So, why not take the chance to network, expand your social circle, and be active in your working community? 
Productivity and motivation
Working remotely can increase your productivity and motivation, but the isolation of working alone can decrease them. With remote workspaces, you can get all the benefits of remote working without any of the drawbacks. 
Inclusivity
Remote workplaces are perfect for people who are unwell or disabled and can't work home, allowing them to fully participate in the workplace. 
Cash savings
Commuting, parking, coffees, and lunch, working in an office can take a big chunk out of your earnings. Keep your money in your wallet where it belongs by working from home with your own coffee machine close by. 
Is virtual coworking right for you?
You've heard all about virtual coworking spaces now and all the great things they can do for your career and your mental health. But how do you know that virtual coworking is really right for you? 
You won't really know if virtual coworking is right for you until you try it for yourself. Here are some indications that it might work for you: 
Your internet is strong and fast 

You get lonely when working alone 

Working alone lowers your creativity or productivity 

You have strict rules in place to separate your home and work life even when working from home 

The team you work with live in the same or similar time zones 

Your team is willing to get up ground rules for the space 

You've all agreed on the setup of your virtual coworking space 
How to set up a virtual coworking space
There two options when it comes to setting up a virtual coworking space, which are: 
Basic coworking
The first option is the most informal and basic and is as simple as setting up a room on Slack or Zoom. These platforms allow teams to work together and can also be used for informal, social events. They're best for teams and companies that hold infrequent meetings and don't need any extras like a business address or receptionist service. 
This option also works if you have a group of remote working friends who don't work as a team but would like a team environment to work in. You can also add in a networking element by making contact with groups of remote workers to see if anyone would like to join your group. 
Coworking with extras
However, if you're a company executive or entrepreneur then you probably want something more structured. You can get this by signing up for membership with a virtual coworking company. This would give you access to a more formal setting, a recognizable business address, as well as an already set up and organized environment to work in. 
With this more formal solution, you'll also have the chance to use a workspace that includes extras like receptionist or mail handling services. It all depends on what you want and need from your virtual coworking spaces. 
5 virtual coworking spaces worth joining
Now that you know all about virtual coworking, are you ready to be part of one yourself? If you get to choose your own coworking space or are a manager looking for a good platform, then here are 5 worth considering: 
Othership is one of the best virtual coworking spaces for sheer variety. It allows you to choose on-demand workspaces from cool cafes to refined office spaces. The company has offices all over the UK and the users are made up of freelancers, entrepreneurs, and flexible workers from around the world. 
Othership provides a variety of hybrid services to suit the most up to date workplaces. They also have an active Slack group where you can talk to other creatives, ask questions, or talk to investors about your company. There are also regular online and offline events to keep you busy and allow you to network further.  
Sometimes, you just need to make a splash and get attention and that's exactly what you'll get when you occupy a virtual coworking space at the Executive Centre. This space is located in Hong Kong's Prosperity Tower, one of the city's latest constructs. It offers flexible working environments from private offices to meeting and conferences spaces as well as virtual office services. 
This is a premium virtual office experience and can include: 
A respected business address 

Call handling

Virtual mail handling services 

Local telephone number

A professional receptionist to handle calls 

24-hour voicemail access 
The membership plans can be personalized to your needs, making this the ideal solution for 
executives and business owners who want to network globally and enjoy exclusive partnerships. 
Teemyco is virtual coworking with quirks. Designed for teams who need meeting spaces, afterwork interactions, and focused workspaces, it's all about personalization and feeling connected to your team. 
This is a more casual way to work together online and allows you to do more than simply work. Here are some suggestions for how to use Teemyco: 
Work together

Work separately

Hold meetings 

Get together to brainstorm 

Have after dinner drinks 

Hold a team birthday celebration 
Teemyco supports teams across the world, so it doesn't matter where you're located. This platform also allows you to personalize your workspace with unique colors, décor, and even stickers while staying in touch with your team. 
LIFT99 is best known for its tech startups and creatives who are focused on fast, global growth. The company has dedicated hubs in Kyiv and Tallin with meeting and conference rooms you can hire out virtually as well as private offices. But they also support remote workers across the world, from Silicon Valley to Europe. 
If you want to be inspired and be amongst other creatives, you'll love the vibrant Slack community at LIFT99. You'll also enjoy learning from high quality investors and advisors and networking at the company's events. 
Spaces has 443 locations around the world, so you should be able to find a space that works for you and your business. There are locations in lots of cities and countries across Europe, Asia, Australia, the UK, and the US, making this the most flexible and global virtual coworking provider on this list. 
Spaces attracts a diverse group of entrepreneurs, small and large businesspeople, and corporate intrapreneurs. They offer flexible plans to suit your needs and have a thriving, international network of mobile workspaces from offices to desks to meeting and conference rooms. The company also offers a full calendar of business and networking events and speakers to keep you engaged, learning, and moving forward in your career no matter where you are.  
The takeaway
Virtual coworking may seem like one of the many fads that have come out of recent technology advances, but this one actually stands up to scrutiny. When used correctly, it can boost creativity, productivity, and collaboration in yourself or in your team as well as offering a chance for socialization and networking. 
Before you sign up for a virtual coworking space, here's how to get the most from your investment: 
Know whether you want a basic office to work in or lots of extras so you can choose the right provider 

Don't be afraid to try it for a while and quit if it doesn't work for you or your team 

If you're working with a team, get their input to ensure that everyone agrees on the move 
So, why not take advantage of the latest technology to stay home and still be motivated and connected to work? After all, you have nothing to lose and only a more productive work life and happy personal life to gain.