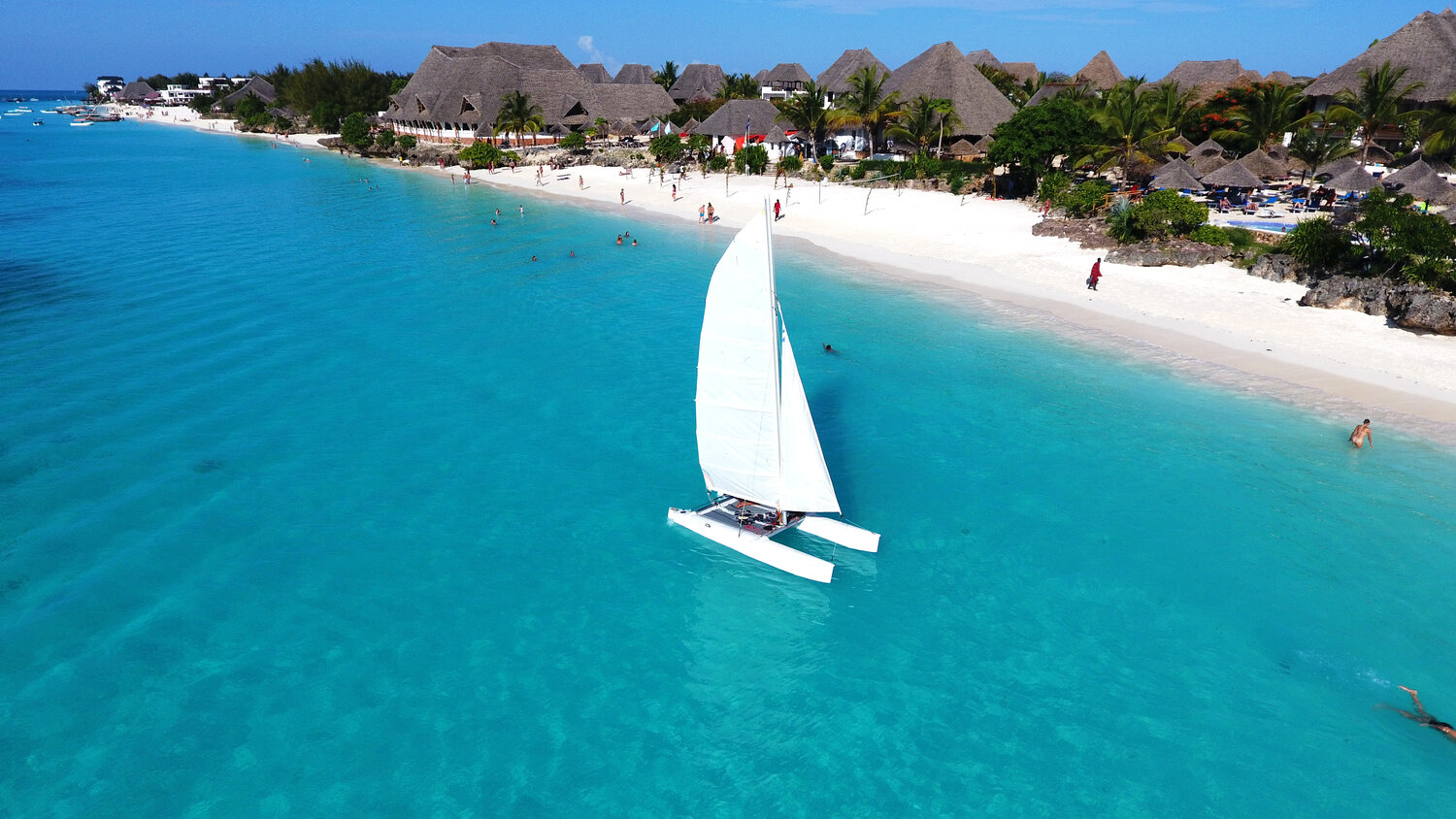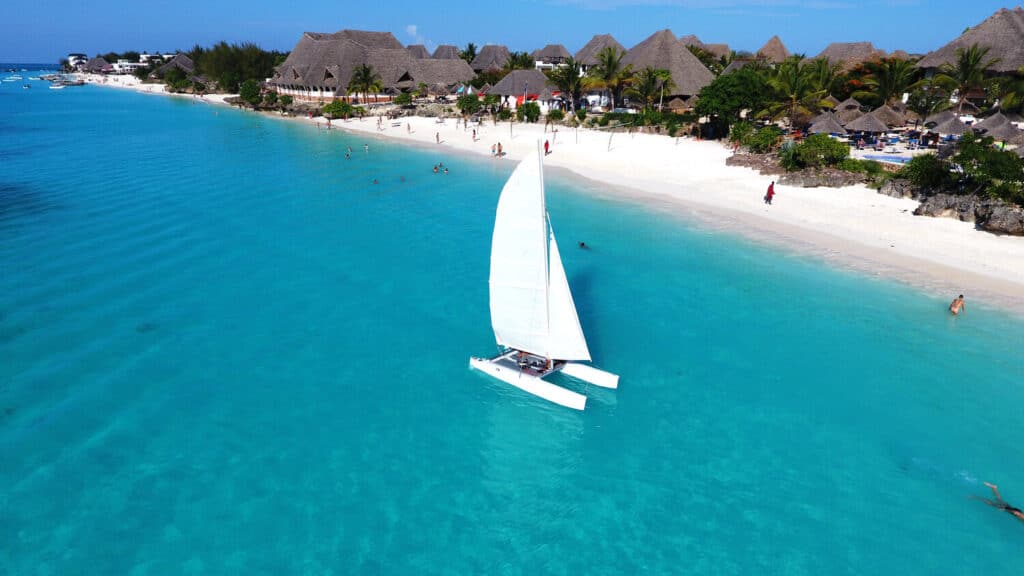 A Digital Nomad Guide to Zanzibar
Jambo Mambo! How are you? Welcome to the land of Hakuna Matata, an enchanting island of Zanzibar!
Zanzibar is an insular autonomous region of Tanzania located 15 miles off the coast of the mainland, which consists of 2 large islands, Unguja and Pemba, and many small islands. Unguja is a Swahili name for Zanzibar, and it is the home of breathtakingly clear turquoise-blue water, idyllic beaches, exotic spices (particularly cloves, nutmeg, cinnamon, and black pepper), and… Freddy Mercury's birth house! The first 3 reasons (there are definitely more!) to visit the island are widely known, but the last one comes as a surprise to many. 
The population of the island is approximately 900,000 inhabitants, and a fourth of them live in Zanzibar City, the island's capital city. The most widely spoken language is an extensively Arabicised form of Swahili (Kiswahili). Asian communities speak Gujarati, Hindi or Urdu, and English and Swahili are widely used and understood.
For the latest travel advisories before your travel, visit https://www.gov.uk/foreign-travel-advice/tanzania/entry-requirements.
Nomad Friendly
Value for Money
Internet
Workspace
English
Food
Safety
Health
Transportation
Friendly
Quality of Living
Living in Zanzibar Overview
| | |
| --- | --- |
|  Meal, Inexpensive Restaurant | $5.31 |
| Domestic Beer (1 pint draught) | $2.15 |
| Cappuccino (regular) | $1.99 |
| Loaf of Fresh White Bread (1 lb) | $0.64 |
| Water (1.5 liter bottle) | $0.48 |
| One-way Ticket (Local Transport) | $0.17 |
| Basic Utilities (Monthly) | $86.81 |
| Internet | $57.30 |
| Fitness Club (Monthly) | $27.93 |
| Apartment (1 bedroom) in City Centre | $573.90 |
Currency: Indonesian rupiah (Rp)
[erw_exchange_rates_widget lg="en" tz="0″ fm="IDR" to="EUR,USD,GBP,AUD,JPY,RUB" st="primary" cd="" am="15000″][/erw_exchange_rates_widget]
ATMs
Max Withdrawal: Rp 3,000,000
Withdrawal Fee: Rp 30,000 – Rp 50,000
Use of Credit Cards: Mostly Cash
Digital Nomad Personal Experience in Zanzibar
Zanzibar. The name itself evokes the feeling of bliss, easiness, sun and smiles. Since the first time I heard this name, I put it on my bucket list pretty high. Then, in 2018, when I was looking to escape cold Europe and greet the new year of 2019 on a beach, my choice was easy. The perfect beaches there are synonymous with the name Zanzibar. 
From the moment you disembark from the plane, you are pleasantly greeted by the airport shrubbery, which is moulded into the words "SMILE U R IN ZANZIBAR!". Remember, you are in Tanzania, the land of The Lion King and the famous saying "Hakuna matata". Hakuna matata lifestyle could be interpreted as "take it easy", "no worries", so just smile, unwind and enjoy your stay.
My initial plan was to stay for 5 days until the 3rd of January but I didn't think it was enough to experience and appreciate this enchanting place, so I extended my stay for 14 days more. Still, I felt it wasn't sufficient but I promised myself to return. 
Here is the most updated Zanzibar guide for digital nomads who consider this beautiful island as a new base in 2023. Before you decide to visit any place, we recommend checking the opening conditions online.
Work in Zanzibar
As a digital nomad in Zanzibar, you may encounter some issues with Internet access through Wifi but having a mobile Internet will make it a bit smoother.
The average fixed broadband speed in Tanzania is 15 mbps for downloads and 13mbps for uploads, with mobile speeds coming in at 14 mbps and 7 mbps, respectively.
There are not many hotspots all over the island – they are mostly in hotels and restaurants, as well as at the airport and the ferry port terminal.
In order to have a local mobile Internet, you have to get a local prepaid SIM card. There are 5 mobile operators in Tanzania: whilst mainland Tanzania is best covered by Vodacom, in Zanzibar you will get the best signal with Zantel. You can buy your starter pack at the airport, in any kiosk or shop, from a vendor sitting beneath an umbrella with the provider's branding on it, or at a mobile operator directly. You will need your passport for a SIM card purchase from any network. Prices start from as low as $0.4 (1000 TZS) and you already get a packet of minutes, messages and some Internet data. When the data finishes, you simply buy a recharge card: they vary in price, data bundle and validity (Zantel has 3 monthly packages: 10GB for 10,000 TZS ($4.3), 20GB for 20,000 TZS ($8.6), and 30GB for 30,000 TZS ($12.9).
Best Places to Work in Zanzibar
Laptop friendly cafés
Finding a fast internet connection in Zanzibar is not impossible, but outside of Stone Town, it is a challenge. Stone Town is not a preferred place to stay long-term for most foreigners since it is just a busy place with not much to do.
In every area, there will be at least one cafe, restaurant, or hotel that has invested in good wifi. Here are some of the most popular and laptop-friendly places among digital nomads and freelancers around the island: 
Zanzibar Coffee House Cafe, Stone Town: located close to the market, the place offers very good coffee, some snacks and refreshing beverages. 
Stone Town Cafe and Bed & Breakfast: A gathering place for many foreigners and locals, serving delicious spice coffee and tea. 

Archipelago, Stone Town: while enjoying the free WiFi, you can grab just a drink or any meal during the day, there are also gluten-free options.

Mr. Kahawa, Paje: a place with seating overlooking the sea, great to grab breakfast or lunch. One of the rare places that serves soy milk. 

Coco Cabana, Nungwi Beach: a beachfront restaurant serving meat and veg options, as well as vegan smoothies.

Puzzle Coffee Shop, Stone Town:

Speciality coffee shop that roasts its own coffee beans. Serves non-dairy milk. 

Badolina Secret Garden, Nungwi: Great middle eastern dishes and a complimented wine selection.
Co-Working Spaces
The Train's House Co-working Space, Stone Town: the first co-working space in Zanzibar. It is a small, quiet spot in the middle of the bustling town, with a good internet connection, separate room for calls, office equipment, and free water, tea, and coffee. The day pass costs $12 (27,700 TZS), a week pass costs $50 (115,620 TZS), and a monthly pass costs $180 (416,250 TZS), all prices for an open plan seating.
Best Places to Live in Zanzibar
Best Neighbourhoods
Paje
Paje on the southeast coast will provide the best of experiences For those travelling to Zanzibar with kiteboarding in mind, Paje is a lagoon settlement on Unguja Island, Tanzania, which is part of Zanzibar. Paje is for windsurfers, wake boarders, and kite fliers who appreciate the thrill of the wind. This is owing to the year-round presence of a strong side-onshore breeze. Indeed, with a range of conditions, this is where the kite centres and best wind conditions may be located. 
Kiwengwa
Kiwengwa, located on the northeast coast, is a great fit – marine life here is outstanding and the snorkelling is first rate. looking for the very best that Zanzibar has to offer, including its most secluded beaches with flour-like sand and ultimate seclusion, 
Zanzibar's shoreline is one of the most developed in the country. Aside from that, it's Zanzibar's most remote and fascinating region. The area is well-known for its white sand beaches. Indeed, the beaches of Kiwengwa are well-known for their outstanding settings and tourist-friendly services. 
There are various pubs, restaurants, and other tourist-friendly businesses here, but the vast sandy beaches for which the area is well-known have drawn the majority of visitors. Kiwengwa is ideal not just for romantics, but also for younger guests searching for hassle-free amusement and the opportunity to meet new people, as travellers frequently take time to tour local communities.
Nungwi
Nungwi, on the northern end of the island, features some of Zanzibar's most vivacious beaches. A more upbeat experience along the coastline, Nungwi is a lovely tiny town on Zanzibar's northern tip. The shoreline here has soared in popularity in recent years, becoming one of the island's busiest beach destinations. 
Hippies, spring breakers, and gap-year students all appreciate the pure white sand, stage-set towering palm trees, blue waters, and bright sunshine. On the other hand, the nightlife in this city is fantastic; yet, it isn't all about glitzy nightclubs and glossy stripes. It's all about partying on the beach, where bonfires burn brightly, beverages flow freely, and music blares loudly. As the sun rises, you'll have the opportunity to sunbathe, swim, and enjoy unique tropical facilities.
Jambiani and Pongwe
Jambiani and Pongwe on the southeast coast are Zanzibar's best offers. For a quiet experience but away from the beach and closer to the gifts of nature, Until recently, this small fishing community was entirely unreachable and unaffected by commercial tourists. It's a 4-kilometre-long strip of stunning white sand that runs alongside a classic coral lagoon. 
The area is still largely unspoiled, making it ideal for those seeking adventure. Whether it's the wildlife, the tropical vegetation, or the stunning white sand beach that embraces the turquoise blue Indian Ocean, guests to Jambiani can immerse themselves in the quiet and private ambiance of the eco-friendly surroundings. As a result, there are numerous tiny and intimate lodging options in the hamlet. 
With a rise in kite surfing, diving, and snorkelling along the lagoon, Jambiani has seen an increase in visitor numbers throughout the years.
Stone Town
Stone Town on the west coast, Nonetheless, the town's urban fabric and townscape, as well as its outstanding architecture and unique culture, are largely intact. What better way to learn about Moorish, Arab, Persian, Indian, and European cultures than to visit them all at one place? The people, the brass-studded monuments, bustling oriental bazaars, marble balconies, carved doorways, twisting stairways, carved wooden accommodations, and everything else depicts this blend.
Find an Apartment in Zanzibar
Looking for an apartment while living in your own country and speaking your language is usually a challenge for many. Yet, moving abroad and finding a place to stay in a foreign country, often when you do not speak the local language, can be very stressful and time-consuming. Unless you are relocating with your company which deals with all the relocation hassle, you probably start searching the internet and rent a new place while still being abroad. There are expat groups on Facebook like "Zanzibar | Expats & Locals", Female Expats and Locals in Zanzibar" for women, or "Expats, residents and tourists in Tanzania & Zanzibar Helpline", where you can connect with others and ask for a recommendation of a place. Then on groups "Zanzibar housing", "Zanzibar Visitors", "Zanzibar properties", "Zanzibar information", you can find offers of accommodation in English. You can also contact a real estate agent (as the number of foreigners is growing, you will most likely be served in English). Also, many companies help in finding an apartment and in the relocation process.
Other websites with English advertisements are among others: longtermlettings.com, zoomtanzania.com, or sublet.com – here you can see prices of 1 day rent, 1 week or 1 month. The presented offers vary from individual rooms in a shared apartment, through affordable flats in any part of the island, to high-end apartments or houses. The real estate market has a rather limited online presence. If you don't fancy any option you have seen on the internet, you can book accommodation for the first few days after your arrival, and while you are physically present on the island, you go and ask around at your b&b/hotel, tourist information, visit some real estate agencies, etc. Definitely, this way you will find a nice place to live, because there everyone knows someone who has what you may need. Word-of-mouth is a powerful source of information!
Prices start from around $500-700 per month for a one bedroom apartment, $700-1000 per month for a 2 bedroom apartment, and they are usually located 15-20 minutes from the beach. Prices for apartments and villas which are close to the beach start from $2000. However, you may find cheaper options like a small and simple hut near the beach for $200-300 per month but it's best to ask locals.
The usual long-term rental period is 6 months. An additional expense could also be considered the two- or three- month deposit that many of the landlords ask for when you move into your rental apartment. Another cost to consider are utility bills which may (but not must) consist of hot water, internet, electricity, and can amount to $50-140 per month. All the details should be included in the contract: personal data of a landlord and a tenant, duration of rent, the monthly pay, payment deadlines and method, cost of utilities, maintenance of the property and its cost (it should be a landlord's responsibility), furniture and appliances and their state, a deposit, termination of the contract, and a form of return of the deposit. If you own a pet or consider having one, confirm with the landlord that you are allowed to bring it to the apartment, and also include this point into the contract.
One of the things that should be avoided in order not to get scammed, is to not use cash for any payments but a wire transfer. What is more, if you want to make an appointment to view an apartment, you have the right to view it without any additional charges. Do not pay any fees upfront if you have not seen the apartment first. Try to avoid offers where someone is subletting their place, even for a short time, otherwise you can be evicted.
If you know you are going to share an apartment with other flatmates, ask the landlord about them. Also talk with flatmates about the landlord, your co-living conditions, the flat itself, etc.
Cheap Places to Stay in Zanzibar
If you are just getting started in Zanzibar as a solo digital nomad, there are some great low-budget accommodation options to that will ease your start and the websites where you can search for them: hotelscombined.com or hostelworld.com
The accommodation options range from guesthouses, hotels, hostels, and private houses. It might take some time to find a house that suits you and is up to the standards.
Couchsurfing: According to the couchsurfing.com website, there are roughly 1,200 hosts in Zanzibar City willing to offer accommodation free of charge. This may be a temporary solution for solo newbies in town who would like to get to know some locals at the beginning of their adventure.
Hostels: There are numerous hostels around the city, many of them conveniently located in Stone Town or in the beach areas. Most hostels offer multiple types of accommodation from dorms to individual rooms to apartments. Prices start from $10 per person per night.
Private lodging: It is an individual room in someone's private house. You stay and share amenities and facilities with the hosting family. Prices start from $8 per person per night.
Bed & Breakfast: This option generally offers individual rooms along with breakfast. Prices start from $14 per person per night. 
Other options include accommodation found on websites like Airbnb, booking.com, hotels.com, etc.
Zanzibar Visa
Tanzania is one of those countries that are not that strict when it comes to letting foreigners in.
You can, in fact, obtain a single-entry and transit visa upon your arrival at any port of entry, the visa fee is $50. Visitors who wish to come for holiday or Tourism are advised to apply for an Ordinary Visa. However, holders of American passports who come for holiday or tourism will have to apply for a Multiple Entry Visa. But if you prefer not to go through the hassle of getting a visa on the spot (waiting times can be long depending on when you arrive), you could simply apply for a tourist visa at a Tanzanian embassy in your country of origin or apply for the e-visa for Tanzania on the official website https://www.immigration.go.tz. There is a list of countries which don't require visa, those which are eligible for e-visa, those whose nationals require referral visa, as well as all the requirements to enter the country. 
Before coming to Zanzibar, it is worth mentioning that as of June 1st, 2019, passengers flying to Tanzania are prohibited from bringing any plastic carrier bags on board or in their luggage. Plastic packaging for medical services, industrial products, the construction industry, foodstuff, and sanitary and ziploc bags specifically used to transport toiletries, on the other hand, is not prohibited. Please remember this rule and pack accordingly to avoid penalties upon arrival.
Culture and Food in Zanzibar
Cuisine
Zanzibar's cuisine reflects its history and culture, which has been influenced by many different cultures, offering an amazing fusion of European, African, Arabic, and Indian cuisine, creating a rainbow of sensational flavours and bringing the very best of the Indian ocean's cuisine. And since it is an island, the local diet and menus are full of seafood. Locally grown exotic fruits like mango, pineapples, coconut and citruses, here taste like nowhere else! 
Persians, Arabs, Chinese, Indians, Portuguese, and others have brought new tastes, flavours, and smells to the islands, including Chinese glass noodles, Middle Eastern sweetmeats, and Indian spices. Since it is a spice island, Zanzibari cuisine includes dishes flavoured with cloves, ginger, pepper, chilli, and fresh coconut. 
At nicer places, Persian-style dips like baba ghanoush are frequently served as an appetiser (with Arabian flatbread), with falafel, tagines, creamy goat curries, and kofta, often with a particularly Zanzibarian touch.
The rice dishes inspired from the Indian Subcontinent, like briyani, pilau, or chutneys, prepared with a mixture of local spices and coriander, have another dimension of taste.
Other African mainland delicacies include manioc potatoes, boiled beans, sweet potatoes, roasted corn on the cob, and yam. Another traditional dish is "sorpotel," a stew of mixed offal and pork seasoned with curry spices. The famous Zanzibari pizza is also a must-try – it resembles a French galette but it is fried; for the best experience try it around Forodhani Gardens during the night food market. The island is renowned for octopus which you can eat as skewers, in curry (e.g. in coconut milk) or directly from the grill, often accompanied with curry, cardamom, cinnamon, garlic and lime juice.
Food lovers who are interested in new flavours, try shark in pepper; sweet date and hazelnut bread (mostly served to celebrate the end of Ramadan); boko-boko – a sort of stew of meat cooked with maize and spices; or urjo soup which consists of are bhajias, mashed potatoes, red grated raw mango, chilly, garlic, and coconut chutneys – that's a real feast for the taste buds!
Culture
Zanzibar is a melting pot of cultures. This picturesque island was recognised in ancient times for the trade of its spices, and as a result, the African population was soon visited by Arabian merchants who brought Islam to the island. 
Many diverse cultures would arrive, including the Portuguese, who visited and ruled the Indian Ocean. When the British took over as the western power, they superseded Portugal. Today, we can see all of those cultures combined in the gorgeous architecture of Stone Town or the island's traditional cooking. A walk through Stone Town on a market day will reveal a maelstrom of colours and flavours: the aroma of spices and fruits fills the air, and the magnificent outfits of the women flood the streets with pink, orange, green, yellow, and blue. Since the population of the island is so diverse, there are a few interesting festivals during the year. People from all over the African continent attend these gatherings, which feature a diverse range of cultures, ages, and backgrounds. 
Some of the cultural highlights during the year:
Sauti za Busara, February

– this Swahili music festival takes place in February and is one of the biggest and best-known festivals in East Africa.

Zanzibar International Film Festival, July – discover the cultural heritage of East Africa, the Indian Ocean and the Middle-East, through the art of cinema. The festival attracts a large audience by showcasing cinema, music, and performing arts from a diverse range of races, classes, and religions.
Mwaka Kogwa, July – is a four-day festival held to mark Nairuzim – the Shirazi New Year (the New Year of the local ethnic group).
Jahazi Festival, September – Jahazi is a non-profit organisation that is dedicated to inspiring youth, learning and education, through literature and music.
Watersports Festival and Dhow race, September – the Zanzibar Beach & Watersports Festival is a celebration of beach life organised by a group of volunteers.
Fashion Week Zanzibar, September/October – discover a showcase of the best and most creative styles in the region.
Stown Town/Swahili Food Festival, October – the first food festival in Zanzibar's Stone Town with a number and range of different restaurants and vendors participating. The festival's goal is to highlight the town's offerings, ranging from traditional Swahili cuisine to new additions from other countries, as well as vendors and producers of particularly interesting fare.
Zanzibar Nightlife
When you think about Zanzibar, partying is not actually the first, second, or even third association that comes to your mind, isn't it? It doesn't mean that the nightlife is non-existent, however, the Zanzibar's nightlife revolves around the sundowner tradition. 
Stone Town has some of the most exciting Zanzibar nightlife. This is unquestionably one of the best places to unwind after a long day by having a few drinks, admiring the scenery, and having a good time.
To start with, as the sun sets, head to the Forodhani Gardens Park because that's when it comes to life and transforms into an al fresco food market. Consume local delicacies and pure sugarcane juice mixed with lime and ginger. 
Here are a few cool places to visit for an evening with a drink:
6 Degrees South

in Stone Town is a rooftop bar opposite the beach with an amazing view where you can enjoy great food and drinks, and good music to dance on for 7 days a week.  is one such club where you can enjoy happy hours that also pairs well with some live Afro-jazz music and themed disco for you to let loose.

Mercury's Bar – This waterfront establishment, paying homage to the legendary Freddie Mercury of Queen, offers a laid-back yet beloved spot to enjoy drinks throughout the day, evening, or for picturesque sundowners. While it may possess a slightly rugged charm, it remains a popular destination for patrons seeking a relaxed waterside atmosphere.
Kendwa Rocks Beach Hotel – On Saturdays that fall during or near the full moon, the hotel throws its famed Full Moon Party, complete with music and dancing beneath the stars, directly on the white-sand beach. Partiers can dance the night away Monday through Saturday at the hotel's lounge bar, The Rocks, for the rest of the month.
Beach bars:
Red Monkey Lodge

, Jambiani – usually a quiet pub on the beach at Jambiani, organises a weekly Monday Blues that is a big favourite with residents and visitors alike.

The Star Inn, Jambiani – This neighbourhood hangout offers everything you need for a great night out. This venue has a fantastic bar, a spacious common sitting space, and a beautiful garden. Evening entertainment will have you dancing the night away!
Paje by Night, Paje – This beach bar is a popular hangout for travellers, and it hosts frequent theme parties for the daring, such as Glow in the Dark and Bubble Bath Jacuzzi events. This is a "come as you are" bar with plenty of dancing and fresh beer, ideal for unwinding after a day at the beach or kite surfing.
Things to do in Zanzibar
Besides chilling on the beach, swimming, or partying, there are many fun activities to do and beautiful places to see. Here are some of the many trips & activities that you can do around the Zanzibar archipelago:
Kite Surfing

The east coast of Zanzibar (especially Paje and Jambiani) is a great place to learn and practice kite surfing. There are many kite-surfing centres and schools along the coast.

Diving

Zanzibar has some of the most beautiful diving sites and warm waters in the world. It's no surprise that it's a popular destination for those looking to explore the underwater world. You can do both shore dives and boat-accessible reef dives. Island hopping diving trips are one of Zanzibar's top attractions!

Changuu Island ( A.K.A Prison Island)

Located a few kilometres northwest of stone town. The island was previously a prison for escaped slaves, then it was used as a quarantine station for yellow fever cases. Currently, it is a tourist attraction. The island is now a haven for the endangered Aldabra giant tortoise. Poachers are constantly threatening these giant tortoises, which are classified as highly vulnerable on the IUCN Red List. This population has grown from the original four tortoises given by the Seychelles government in 1919.

The Jozani Forest Reserve

The Jozani Forest Reserve is home to the endangered Red Colobus Monkey, one of Africa's rarest primates. These monkeys are endemic to the island and are slowly recovering from the brink of extinction thanks to conservation efforts. Jozani's mature forests are part of the island's only National Park, where you can see hundreds of different butterflies, numerous birds, and a variety of interesting plants and animals.

The Zanzibar Butterfly Centre

The Zanzibar Butterfly Centre (located 1km from Jozani Forest Park) is an environmental community project that has trained community members to farm butterflies in a sustainable manner. The project aims to generate income for locals while also conserving the local forest by operating one of Africa's largest butterfly sanctuaries and exporting butterfly pupae. Visitors can take an interactive tour with one of the knowledgeable guides through the lush, netted gardens, where hundreds of butterflies, all of which are native to Zanzibar, fly freely.

Safari Blue

The common name of a full-day tour that includes visiting a few islands.

Dhows

Dhows boats: Enjoy a trip on a traditional hand-crafted wooden dhow – a relic from the area's trade history that is still used for transportation and fishing today. A sunset dhow cruise is a truly romantic African experience that combines all of your senses; you will see the beautiful scenery, listen to evocative taarab music, and taste the island's traditional cuisine – all while admiring the stunning sunset.

Mnemba island

Zanzibar's spot for snorkelling & spotting dolphins.

Kizimkazi

Kizimkazi, on Zanzibar Island's south coast, is a popular place to look for dolphins. A short boat ride from the village takes you out into the big blue, where you may see schools of bottle-nosed or humpback dolphins. Seeing these wild dolphins in Zanzibar's crystal clear waters is an unforgettable experience. Kizimkazi is also home to the Miza Miza Caves and the oldest mosque in East Africa, both of which are well worth a visit.

Mnarani Natural Aquarium

Mnarani Natural Aquarium, located on the northern tip of the island, is dedicated to turtle conservation in Zanzibar. The aquarium, built around a natural tidal pool, not only cares for injured Hawksbill and Green turtles, but also ensures the safety and well-being of hatchlings. It is a community conservation project that aims to educate locals and fishermen about the benefits of protecting these sea creatures.

Spice tour

It is a nice way to be introduced to the local spices and their cultural use. Because of the cultivation and processing of aromatic spices such as cloves, turmeric, cinnamon, nutmeg, lemongrass, and black pepper, Zanzibar Island is known as the Spice Island. Visit spice plantations to learn about the cultivation and history of these crops, as well as their medicinal and culinary applications. Follow the aromas and taste the delectable combination of flavours in the market street food and traditionally prepared dishes.

Sunset at Mitchamvi beach

An acrobatics show and a fire show are organised daily at Kae Funk bar.

Stone Town

With so many magnificent sights to see, some visitors spend days wandering through the fascinating and mystical maze of narrow streets and cobblestone passageways. Explore Zanzibar's history at the Old Fort, relax amongst greenery in Forodhani Park, wander through the town's picturesque narrow streets, learn about Zanzibar's sultans at the palace museum

Beach hopping

Kendwa, Nungwi, Pongwe, Matemwe, Kiwengwa, Paje, Jambiani, Kizimkazi, Bwejju.
For those looking for something even less populated and developed, the neighbouring islands of Pemba, Mafia, Chumbe, and Mnemba make wonderful destinations with entire stretches of beach to themselves. This archipelago is made up of more than 50 smaller islands, and there are many beautiful lodges to choose from. Rent a scooter (moped) and explore the narrow streets and stunning coastline at your leisure, away from the crowds. The roads are a little rough in places, and the traffic can be a little scary, but it's the perfect way to enjoy the beautiful weather and go on tailor-made adventures to the islands' lesser-known corners.
Best Time to Visit Zanzibar
With only a few degrees separating Zanzibar from the Equator, the tropical climate provides warm sunshine and incredible blue ocean shades. 
The weather is hotter than on the mainland. The long, dry season, which lasts from June to October, features a bright blue sky and beautiful sunny weather. The "green" season begins in late March/early April and lasts until the end of May. The 'short rains' occur in November and December and serve as a refreshing period for the land, with the second, brief dry season occurring in January and February. 
Daytime temperatures remain fairly consistent, with maximum temperatures averaging around 31/33 degrees Celsius or, in extreme cases, 36 degrees Celsius, and reaching up to 29 degrees Celsius during the rainy season in April and May. During the night, the temperature rarely falls below 21 degrees Celsius and is usually between 23 and 24 degrees Celsius. The sea temperature ranges from 25 degrees Celsius in August to 29 degrees Celsius from December to April, making it suitable for swimming all year.
With an average annual rainfall of 60 to 80 inches, the climate is typically insular, tropical, and humid (1,500 to 2,000 mm). In comparison to most of eastern Africa, rainfall is consistent and well-distributed. From December to March, northeast trade winds blow, and southeast trade winds blow from May to October. The "long rains" occur from March to May, and the "short rains" occur from October to December.
Tides are very important in Zanzibar because they have a large impact on the daily lives of the people who live there. Zanzibar has two low tides and two high tides per day, with a six-hour interval between the low and high tides. Stronger tides ("spring tides") occur on the shoreline during the full and new moons. However, depending on where they are, they have varying degrees of tidal impact. The northwestern coast is the least vulnerable to tides.
Zanzibar for Families
When it comes to moving to Zanzibar with your family, you may consider looking for an international school for your children. The official language, and language of instruction of schools is English. 
The International School of Zanzibar (ISZ) on the west coast provides world class curricula: International Primary Curriculum (IPC), Cambridge Lower Secondary, Cambridge International IGCSEs and Cambridge International A-levels. The school educates children aged from 2 to 19 years, from pre-kindergarten, to Year 13. 
The High-View International School also in Stone Town, offers private nursery, primary and secondary international school, and the tuition fees are affordable. 
The British School of Zanzibar (BSZ) is a private school that offers International Nursery and Primary education following the British Curriculum. 
If you live in Jambiani or nearby, you will also find a well recommended school, South East Coast International School. It follows the British National Curriculum and children can join any stage from Nursery (2-4 years) through to Year 6 (10-11 years), at any time of the year. 
Zanzibar is a child-friendly and family-friendly destination. There are two large playgrounds near Stone Town: one in Forodhani and one in Jamhuri Gardens. There is a minor entrance fee of 0.43 USD (1,000 TZS) for them. Playgrounds feature good equipment and something to do, as well as comfortable seating for parents. It's also a terrific venue for youngsters to find new friends in the area. 
Kariakoo, a large amusement park, is located in Zanzibar city. It features about a dozen distinct types of rides. Because the park is managed by the local fire service, it should be extremely safe. Food and toy stalls are also available. A large water park with long water slides and pools is attached to the amusement park.
The Zanzibar Zoo, which includes a water park, is located a little further out of town. This, like the Kariakoo, is a popular destination for local families. Tanzanian animals and camels can be found in the zoo.
Jozani National Park, which has Red Colobus monkeys, Prison Island, which has giant tortoises, Nungwi aquariums, which have turtles and fish, and many more nature sites in Zanzibar are also ideal for families and provide an excellent opportunity to teach children about nature.
If your kids have a lot of energy or you work longer hours, ZanFitness provides lots of after school activities as well as physical exercises like capoeira, boxing, kickboxing. Also many hotels are family friendly and have swimming pools for children and kids clubs for a fee. Kids clubs are a great option for families who didn't have much space to bring all toys and games to the new place; the clubs' offer in this matter is rather extensive. Some of the hotels with kids clubs are: Baraza Resort & Spa, Essque Zalu Zanzibar, or Sea Cliff Resort and Spa.
Living in Zanzibar
Zanzibar Transportation
The island is quite large, and the roads are not the highest quality. There are no clear fares for any of the means of transportation except for the public buses. For other means, you will always bargain and usually, the rates become higher at night. As a rule of thumb, you should always bargain to get better deals in Zanzibar.
Car rental:

c

ost for a reliable car including insurance and breakdown service is US$ 30-35 (70,000-80,000 TZS) per day for a small four wheel drive, depending on the duration of the rental period. You need a temporary Zanzibar drivers permit which a reputable car rental company will organise for you before you arrive. A copy of your valid driver's permit as well as your photo are required (scanned copies can be sent by email), you do not need an international drivers permit here. The permit is valid for max. 3 months. You can also rent a car with a driver.

Scooter/motorbike rental: It is recommended to rent it just to drive small distances, not to travel around the island because of the weather conditions and low quality of roads. Driving at night may not be a good idea due to the lack of street lights. Go to the official rental place to check the state of the vehicle. The rental prices start from $20 (46,000 TZS) per day.
Taxi: The most expensive, yet the most convenient option of all. Prices vary between $5 to $60 (11,500 to 138,000 TZS) depending on your location, the destination, and the time of the day. The taxi services offer comparable fares.
Motorbike taxi (Bodaboda): Cheaper than normal taxis. Basically, any motorbike in Zanzibar can be a bodaboda.
Local bus (Dala Dala): The cheapest option to move between areas. However, it is rather slow and not air-conditioned. They begin their service at around 6 am until 7.30-8.00 pm but there are no schedules of departure – it leaves once the bus is full. If you're visiting Zanzibar during the month of Ramadan, it's critical to keep track of the time. Because Zanzibari Muslims break their fast just after sunset, you'll have a hard time finding a Dala-Dala after 6:00 pm. There are generally two fares: the shorter one costing $0.20 (400 TZS) (e.g., from the airport to Stone Town), and the longer one costing $1.08 (2500 TZS) (e.g. from Stone Town to Nungwi). There will be an additional charge if you have luggage. The conductor will collect your money during the journey.
Ferry: Once you get to Tanzania and decide to land in Dar es Salaam, or want to explore the capital city, taking the ferry to Zanzibar is a great way, especially during the dry season when the winds are gentler and the sea is smooth. The journey takes from 90 minutes to two hours and costs from $35 (81,100 TZS) . Book your tickets a little in advance.
Airplane: Abeid Amani Karume International Airport is located approximately 5 kilometres (3.1 mi) south of Zanzibar City. It operates direct flights to East Africa, Europe, and the Middle East. There are also numerous domestic flights to Dar es Salaam, a short 20-minute flight by small aircraft.
Fitness and Health
There are plenty of options to keep fit in Zanzibar. You should not have too much difficulty in finding a group, club, or facility to join if you like company. 
Football is one of the most popular team games, children and teenagers play it everywhere! Since it is an island, water sports like swimming, snorkelling or surfing are equally popular and present, and are taught since childhood. Besides that, yoga, tennis and beach volleyball are probably the most favourite sports of the island visitors.
If you are a person who prefers to keep fit indoors, there are plenty of options to join a gym or a sports club spread around the island! Most hotels have an in-house gym which you can join after paying some fee. 
Here are some examples of regular gyms: At the House of Muscles in Stone Town, enjoy weight lifting or aerobics classes as a walk-in session costs $2.15 (5,000 TZS), for 1 week you pay $5.20 (12,000 TZS), and a monthly membership costs $13 (30,000 TZS). To practise martial arts and group training like capoeira, HIIT, or aquagym, go to ZanFit; some of the classes take place on the beach. Another interesting place to consider is WAJAMAMA in Mjini Magharibi Region. It is the first holistic health care provider in Zanzibar focusing on women and families mostly, offering fitness classes, clinical services, and promoting health. Prices for the fitness classes start from $8.60 (20,000 TZS) for 1 drop-in, then $30 (70,000 TZS) cost 5 lessons a month, and for an unlimited number of classes a month you will pay $68.80 (160,000 TZS).
Zanzibar People
People in Zanzibar are primarily Muslim (only 3% of the population is Christian), and when you hear the call of the Mu'addhin, you'll notice that everyone disappears for a bit for prayer: the streets become deserted, and there's a certain magic in the air. 
People here take things easy and look for the bright side of things. Despite having little, they have a lot of fun and are really happy people. If you want to know about the true life of Zanzibarians, all you have to do is sit on the beach and look at the sand: the sand is the axis of all island life. There are the women, walking and fishing in groups or inspecting the seaweed harvests at low tide. There are men, mostly sailors, mending and caulking their dhows. And there they are, having fun in the sand, playing with their homemade balls, cheering and laughing. The locals are known for their friendliness; locals are generally helpful and welcoming to visitors. Outside of Stone Town's bustle, there's an island vibe, a laid-back slow pace to life, and travel is relatively safe. Remember to dress appropriately and refrain from drinking alcohol in public places in order to respect Muslim norms. In order to respect local norms, all visitors to Zanzibar are advised to follow the basic rules. Visitors who violate any of the following may face fines ranging from $ 700 to $1,000 per person. 
Swimsuits and skimpy dresses are not permitted in public areas and are only permitted on resort grounds. Using alcohol in public may offend the locals. Nudity on the beach is not permitted. Kissing in public or public displays of affection are not common in Zanzibar. It is considered impolite to take photographs of residents without their permission.
An interesting fact to mention is the Swahili time counting system: We usually begin counting time at 12:00 a.m. The Swahili calendar begins counting time at sunrise. One o'clock in the morning, for example, is seven o'clock in Western time. This is due to Zanzibar's proximity to the equator, which provides it with equal day and night lengths (12-hours for each part of the day).
Zanzibar Insurance and Medical Care
During the COVID-19 pandemic, it is more important than ever to get travel insurance which provides sufficient cover. Medical services are scarce, particularly outside of Dar es Salaam. Make sure you have adequate travel health insurance and funds available to cover the cost of medical treatment abroad, air ambulance evacuation, and repatriation. According to the recent regulations, all travellers are required to have valid travel insurance for the whole period of their stay. 
It is said that the island is malaria-free and you can travel to malaria-infected areas safely if you take regular precautions (however, not recommended to pregnant women and children) like mosquito repellent, use mosquito nets in your bedroom. Consult a travel doctor, obtain the proper medication, and take it on a regular basis.
Officially, a yellow fever vaccination is only required if you are travelling from a yellow fever-endemic country. You may, however, be asked for your yellow fever certificate! If you are coming from Kenya, whether in transit or not, you should have a yellow fever certificate. It's a good idea to get that vaccine regardless because you'll be covered for life, but again, it's best to see a travel doctor. If you acquire yellow fever, there is still no cure.
If you need medical assistance, in the larger villages there are so-called clinics which are supervised by certified nurses and can also dispense antibiotics if necessary. If you become ill while visiting a coastal area, contact the management or reception of your lodging; they should have the contact information for the nearest medical practitioner. 
There are 5 hospitals and 2 good clinics around the island (Tasakhtaa Global Hospital, Mnazi Moja Hospital – very poor conditions, Al-Rahma Hospital, Tawakal Hospital, Tawakal Hospital, ZanAid Clinic, Urban Care Clinic). The clinics offer different types of consultations: at the clinic, home and remote. 
Well equipped pharmacies are rather scarce, in rural areas there are shops with medicines but they tend to be badly stocked. It's best to bring your own emergency travel kit with the basic items as well as stock up your medicine for the duration of the stay in case you have a chronic condition.
Wear plenty of sunscreen, avoid prolonged exposure to the hot African sun, and stay hydrated to avoid sunburn, heat stroke, and exhaustion.
Make sure you are fully covered by reading our full Digital Nomad Travel Insurance guide.
Jobs in Zanzibar
Tanzania is a very popular and welcoming country for expatriates (workers and investors). The economy is well-rounded, with significant financial, tourism, and information technology sectors. You then need to obtain a work permit and a resident permit if you wish to settle and work in the country. In order to get concise and official information regarding the application, click here: 
https://www.immigration.go.tz/index.php/immigration-services/residence-permits. 
The main pillars of the Zanzibar economy are fishery, agriculture and tourism. Most likely, working in tourism is a great opportunity to move to Zanzibar, for those who dream of nature, beautiful spaces and above all, a different pace of life. 
When looking for work in Unguja, you should begin your search before entering the country. This is recommended because you will gain a realistic understanding of the positions available to you as well as the salary you can expect to earn. This will, in turn, influence other important decisions you make, such as purchasing or renting a home. It's a different story when it comes to signing a contract before entering the country. There are advantages and disadvantages to signing ahead of time as well as signing after entering the country. In either case, looking for work online is a good place to start. Because the internet classifieds market for jobs is not yet fully saturated, you will only find a few sites that will be of use to you. When applying for jobs, make sure your CV is up to date, include your expected start date, and don't forget to include your levels of proficiency in both English and Swahili. 
A cautionary note: Be aware that there are online scams that ask applicants to pay to have their CV/application considered. Under no circumstances should you pay for such services, as they do not exist. 
Some of the websites to search for jobs include Linkedin.com, hotelcareer.com, alljobspo.com, tanzajob.com, careerjet.co.tz, or mamumbe.com.
Check out our Digital Nomads Jobs Postings to find the best jobs available for Digital Nomads.
Nomad Friendly
Value for Money
Internet
Workspace
English
Food
Safety
Health
Transportation
Friendly
Quality of Living
Cost of Living Zanzibar
The average cost of living in Zanzibar, Tanzania is $1370 per month per person.
A month of rent for a one-bedroom apartment will cost you around $600, a meal out at a restaurant will cost you $5 and a beer will cost you $1.5. One kilometre in a taxi will cost you $1.5, and the monthly internet will cost you $13. Going to the gym will cost you around $60 per month.
When it comes to everyday shopping, there are a few supermarkets in Stone Town, in other parts of the island you will mostly find small grocery stores. Your weekly shopping for food you can do in the Darajani market in Stonetown as it is the biggest market on the island. Sellers bring produce from all over the island — fish, fruit and vegetables, egg, milk in recycled bottles, and dates during Ramadan in Zanzibar — and sell them to wholesalers and individual buyers.
You may think that, in a hectic environment like this, there would be bargaining. But no, almost none. It turns out you don't bargain for anything except fish/meat, or if you're buying a lot. At the fish and meat stands, it's normal to bargain. In the mornings it's harder and you'll usually pay the full asking price. But in the afternoons, you can typically pay 2/3 to 3/4 of the asking price.
[visualizer id="23996″ lazy="no" class=""]