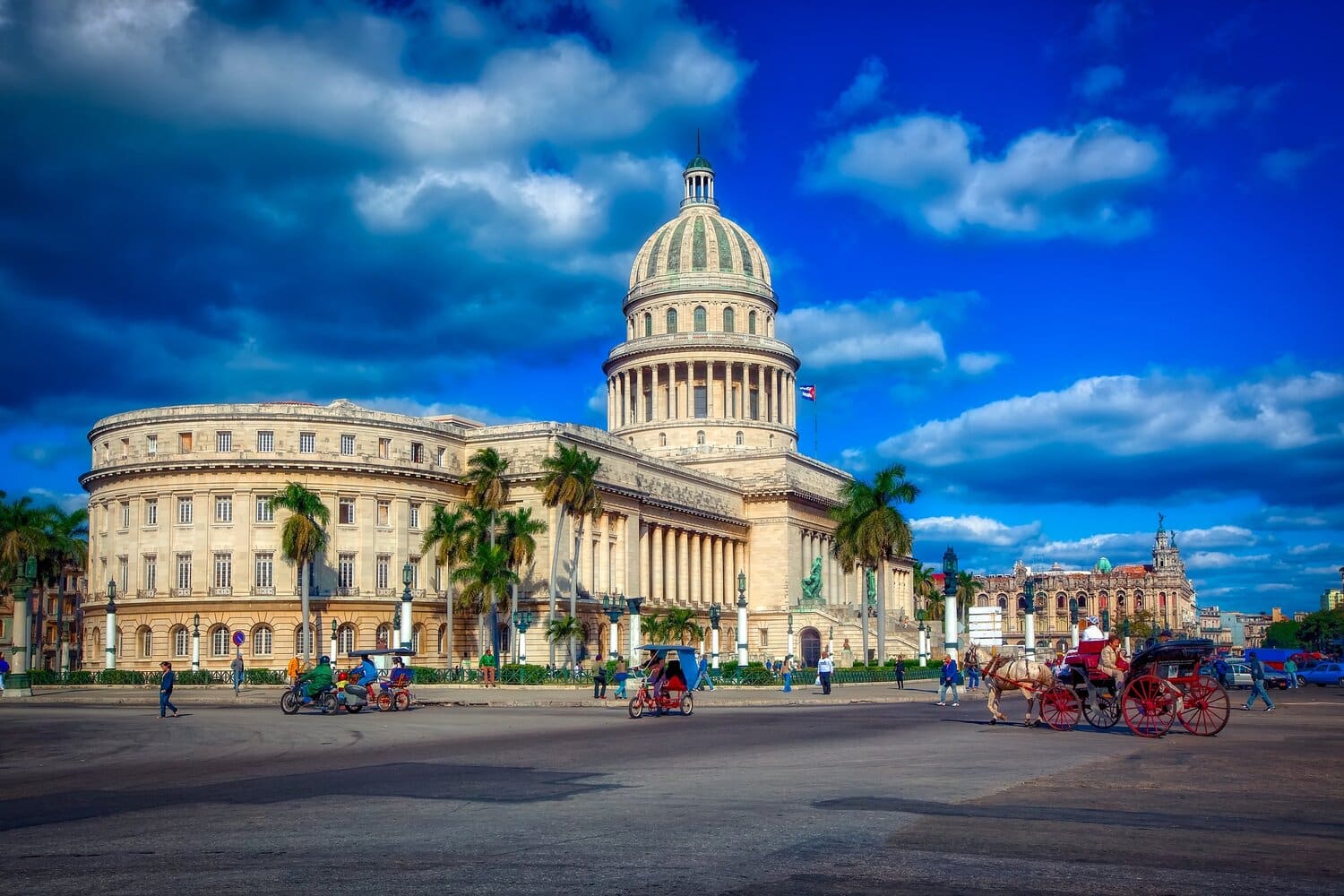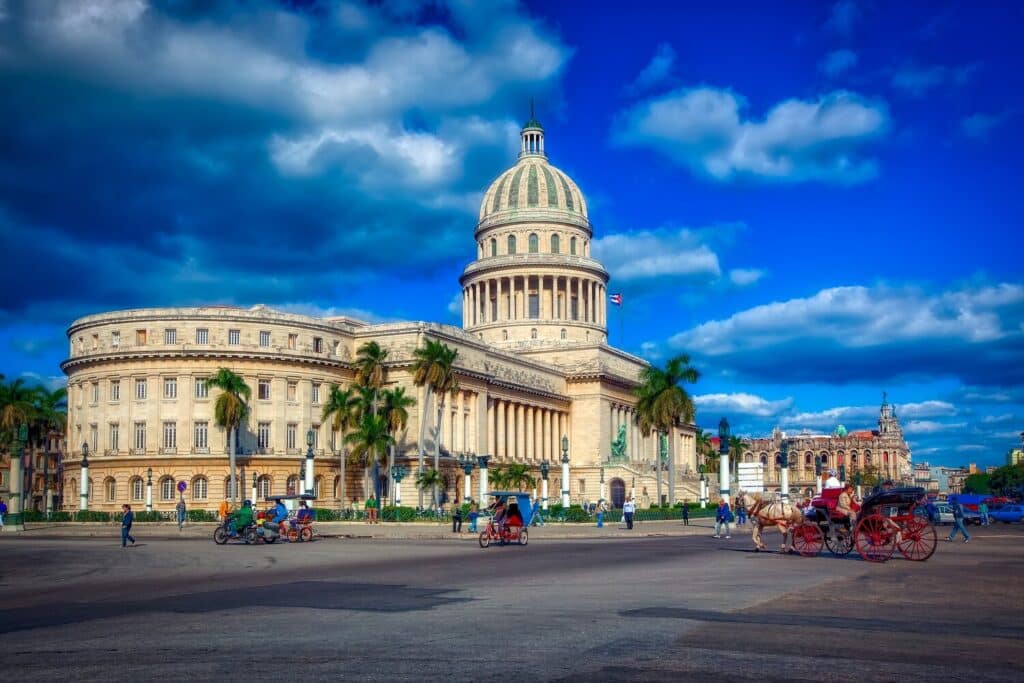 A Digital Nomad Guide to Havana, Cuba.
Havana is the capital of the Republic of Cuba, its largest city, the main port, its economic-cultural center and its main tourist pole.
Founded in 1514, it was one of the first eight villas founded by the Spanish Crown on the island. Its historical, architectural and above all cultural heritage, expressed in the fusion between Europeans, Africans and Aborigines, together with other more contemporary ethnic and cultural components, make the city an important recipient of international tourism.
Its historic center, declared a World Heritage Site by Unesco in 1982, is today one of the best-preserved architectural complexes in Latin America. Among its most representative monuments are the Cathedral of Havana, the Plaza de Armas, the Castillo del Morro, the Museum of the Revolution, the National Palace of Fine Arts, the Great Theater of Havana, the Capitol, the Plaza de la Revolution and the Malecón. The Malecón is the most internationally recognized symbol of Havana.
In addition to its monuments, the daily life of the city is one of the most interesting things to see here. Everything seems to take place mostly on its streets between well restored old American cars and moto taxis.
Havana is colorful, diverse, colonial, bustling, exciting, joyful, and unique. It is a place like no other in the world.
Nomad Friendly
Value for Money
Internet
Workspace
English
Food
Safety
Health
Transportation
Friendly
Quality of Living
Living in Havana Overview
| | |
| --- | --- |
|  Meal, Inexpensive Restaurant | $8.00 |
| Domestic Beer (1 pint draught) | $2.75 |
| Cappuccino (regular) | $1.93 |
| Loaf of Fresh White Bread (1 lb) | $1.15 |
| Water (1.5 liter bottle) | $1.02 |
| One-way Ticket (Local Transport) | $0.10 |
| Basic Utilities (Monthly) | $41.43 |
| Internet | $165.00 |
| Fitness Club (Monthly) | $18.83  |
| Apartment (1 bedroom) in City Centre | $532.86 |
| | |
| --- | --- |
| Child Friendly | |
| Cultural Tolerance | |
| LGBTQ Friendly | |
| Traffic Safety | |
| Nightlife | |
| Large DN Community | |
| Young Community | |
| Proper Hygiene | |
| Clean | |
Emergency Numbers
Police
106
Ambulance
104
Fire-fighters
105
Money Handling
Currency
Cuban peso ($MN)
Max ATM withdrawal
$MN200
Tipping
Yes
Communication 
Languages
Spanish
Calling code
+53
Time zone
UTC-05:00 (CST)
UTC-04:00 (CDT)
Health
Tap Water
Non Drinkable
Vaccinations
None
Digital Nomad Personal Experience in Havana
Traveling to Havana is like traveling back in time, although you need a little imagination to give back the shine to its old houses and its old American cars restored hundreds of times to keep them rolling on the asphalt. The island is a huge museum already somewhat decayed, a picture of the year 1959 when Fidel Castro seized power and froze that world in time.
You will still see huge portraits of Fidel and Che Guevara hanging on walls and heroic proclamations such as "Long live the revolution!", "If they invade us, we will die fighting!" or "Until victory, always!".
I don't know if Cuba is going to keep this in the future. After all, who wants to live perpetually in a museum? That is why I think it is important to visit the island now, before it changes and globalization takes away the charm it still has.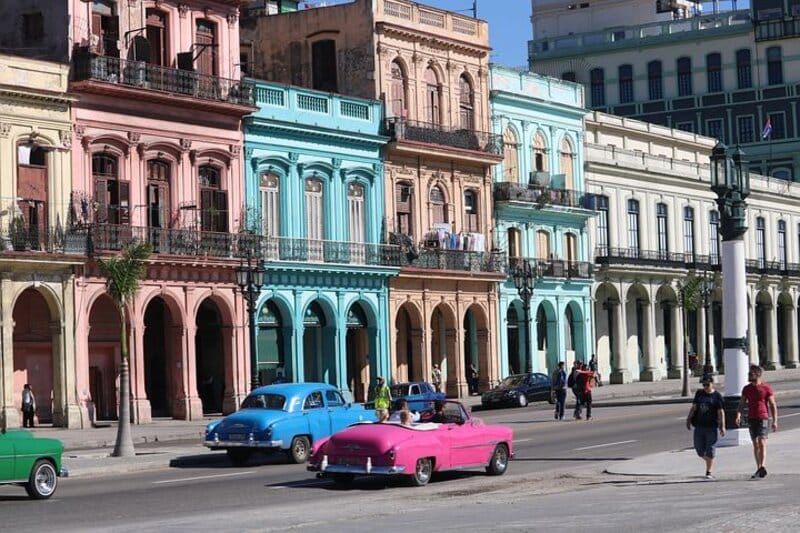 The people are also part of this charm, with all the free time they have, they dedicated it to music, working with tourists or playing dominoes in the streets. Dancing is something that almost every Cuban knows how to do. It is one of the attractions on the island and you will see numerous parties in the streets, some even improvised.
The complaint of its inhabitants is constant but also the joy, the security of its streets and the mildness of the days. I really understand why Hemingway spent so much time there. It is a place to be inspired.
Work in Havana
Best Places to Work in Havana
When I visited Cuba, I wondered if being a remote worker could be possible in a country with such an out-of-date telecommunications infrastructure. There are plenty of places to work but not 100% reliable connection as there isn't private Internet. You will need to purchase an Internet access card at ETECSA Telepunto store. It costs 2 CUC per hour and you can purchase cards for 30 minutes up to four hours and reconnect using the same card until all the minutes are used up. There are many public wifi hotspots but you will need to use the internet card there. The best district for wifi spots is Vedado, where you can find many parks and other hotspots. But also areas like Habana Vieja, Miramar and Centro Habana are quite well connected. 
The government started to implement a pilot program that will bring broadband service directly to homes. If you rent a flat through Airbnb, make sure that they have internet from this program and not from the card system, as it works a little bit better. The best neighborhood for that is La Habana Vieja. 
It is easy to spot a Wi-Fi-Park in Havana as there will be people with phones and laptops. You can go with your own laptop and feel safe, no one will try to take yours.
In addition, many larger hotels offer wi-fi for free. The more expensive it is, the better the internet connection. For example, Hotel Nacional, Hotel Manzana Kempinsky, Hotel Parque Central, Hotel Colina, Hotel Paseo, Hotel Presidente, Hotel El Bosque and Melia Cohiba (runs a non-ETECSA connection). They mostly have reliable Wi-Fi, a quiet spot to work from and the staff usually lets you sit there for a while.
Coworking spaces? Forget it. The only alternative you have is to try at coffee shops and bars like El Floridita (Obispo No.557 esq. Monserrate), a state-owned bar and restaurant that used to be Ernest Hemingway's favorite one. The problem will be the noise, the live music and the tourists. 
Remember as well to download a VPN if you work with services like AdWords or Facebook Ads. A lot of services are blocked in Cuba and it is better to prevent that to cry later.  
Being a remote worker in Cuba is not easy or cheap but if you are thinking of traveling to the island, you know it's worth it. 
Best Places to Stay in Havana, Cuba
Havana, Cuba – Best Neighbourhoods
The best areas to stay in La Havana as a foreigner are Havana Vieja, Havana Centro, Vedado and Miramar.
Havana Vieja
Havana Vieja is the heart of the city's colonial past and was declared a World Heritage Site by Unesco. It is the area where most of the tourist attractions are and where there is more to do. Here the historical architecture abounds and, thanks to tourism, it is mostly restored by the government unlike other areas of La Havana. Here you will find palaces, colonial-style mansions, forts, churches, parks and squares. You can visit on foot the Castillo de San Salvador de la Punta, the Castillo de la Real Fuerza, the Plaza de la Catedral, the Bodeguita del Medio, the Plaza de Armas, the Monastery of San Francisco de Asís, the museums of the Revolution, the Rum museum and much more. It also has a large number of restaurants with live music and bars. Furthermore, if you come back late, the area is completely safe even at night.
The surroundings of the Capitol and Central Park separate Havana Vieja and Centro Habana. It is an elegant area with wider streets and larger buildings. It is located 15 minutes walking from Havana Vieja and also close to the nightlife of Central Havana. Its streets are more illuminated which makes you feel safer. Chinatown, right behind the Capitol, used to be the epicenter of the Chinese community that came to work in the country in the s. XIX. Likewise, some of the best hotels in the capital are located here, such as the Iberostar Parque Central Hotel or the Saratoga Hotel.
Havana Centro
Havana Centro, situated between Havana Vieja and Vedado, has good streets and others with semi-ruined houses. It is the neighborhood with the highest population density and one of the best places to experience what life is like in La Havana for its inhabitants. You will be able to see grocery stores, pharmacies, bars and restaurants for local people. There are not many businesses focused on tourism and it is one of the worst maintained districts in the city. Its architecture dates back to the 1950s and the condition of its buildings turns the area into a bleak place but authentic. Here you will find cheaper housing prices and you will have a walking distance to Havana Vieja or Vedado. The tourist attractions of Centro Habana are the Capitol, the National Theater, the Partagas Cigar Museum, the Malecón, and the Callejón de Hamel.
Vedado
Vedado is my favorite neighborhood because of how cheerful it is and the elegance that it still preserves. It is an authentic residential area and not an area focused on tourism. Its architecture is reminiscent of Havana's opulent and romantic era when American gangsters ruled the city. It houses some of its most beautiful mansions and quiet tree-lined streets. It is also divided into Vedado and Nuevo Vedado. In Vedado there are emblematic places such as the Hotel Nacional de Cuba, the Coppelia ice cream parlor, the Yara and La Rampa cinemas. In addition, it is full of restaurants with terraces, bars and nightclubs. Nuevo Vedado is the most recent urban development, dating from the middle of the 20th century.  Here you can find Plaza de la Revolución, Colón Cemetery and the Havana Zoo. Its negative side is that it is far to walk to Havana Vieja.
Miramar
Miramar is the most luxurious neighborhood but it is far from the main tourist attractions. However, it has a lot of nightlife, good restaurants, the Tropicana and the Casa de la Música. The wealthiest inhabitants of La Havana used to live here. Today the richest Cubans, mostly working from the government, live in its mansions. Here you can visit its emblematic Clock Tower, the Model Museum of Havana, the Organic Museum of Romerillo, the Church of Jesús de Miramar and the National Aquarium of Cuba.
Find an Apartment in Havana
Before deciding the neighborhood where you want to stay, you should choose what type of accommodation you prefer. The options are a hotel, a room in a private house or a whole house or apartment.
In the Cuban capital you will find both luxury hotels and simple hotels. They all have in common that they are extremely expensive for what they offer. The quality in general leaves much to be desired, although the city makes the personal balance positive with its charm. A 5-star hotel costs around 160 USD per night and a 4-star hotel costs around 120 USD. In the low season you can find lower category hotels from 40 USD. You can start a reservation on trustworthy pages such as Tripadvisor, since they are generally run by foreigners and have systems with internet access.
Hostels are a type of accommodation that does not exist in the city. The other option, undoubtedly the most recommended, is to rent a room in a private house or an entire apartment through pages such as Airbnb. The prices are much cheaper and you get much better treatment and comfort than a hotel. A comfortable Airbnb apartment, with internet and air conditioning can cost you around 500 USD per month.
If you opt to stay at a local home, you have a wide variety of options to choose from, although I advise you to be careful with online scams. It is a good idea to spend the first night in a hotel and visit the accommodation on foot to decide. Also, due to country restrictions, many things are not found on the internet. Prices for homestays start at 15 USD and whole one-bedroom flats start at 25 USD per day. For a cheap monthly price it is convenient to bargain in person.
Cheap Places to Stay in Havana
If you are looking to stay in Havana at a low cost and in a central location, you will hardly find lower prices than in Centro Habana.
The most economical option is private rooms in family homes. The vast majority are not advertised on the internet, and many are located in very humble houses where you will lack the comforts that other neighborhoods can offer you, such as internet or air conditioning.
I advise you to rent a room in a nice place for two days to explore the area on foot and see the rooms for yourself before choosing one for a longer time. Some are spacious and even have a desk, although they tend to have an old-fashioned deco-style. The same happens with the streets, some have buildings in very bad condition and others are restored. From here you can also walk to both Havana Vieja and Vedado.
Prices for homestays start at USD 15 and whole one-bedroom apartments start at USD 25.
Cuba Visa for Havana
Citizens of the following countries DO NOT require a visa to visit Cuba for tourism purposes, although the amount of time they can stay varies from country to country: Antigua and Barbuda (30 days), Barbados (28 days), Belarus (30 days), Benin (90 days), Bosnia and Herzegovina (90 days), China (90 days), Dominica (28 days), Grenada (60 days), Macedonia (90 days), Malaysia (90 days), Montenegro (90 days), Mongolia (30 days), Namibia (30 days), Saint Kitts and Nevis (30 days), Saint Lucia (30 days), Saint Vincent and the Grenadines (60 days), Serbia (90 days), Singapore (30 days).
Citizens of other countries require a visa and medical insurance approved by the Cuban government to enter Cuba. Generally, both the tourist visa and the medical insurance are included in different tourist packages. If you are traveling on your own, you must acquire a visa at the Cuban Embassy in your country and pay for medical insurance. If the purpose of your trip is not tourism, you should also check with the embassy which visa is the most appropriate according to your needs and possibilities.
Upon your arrival in Cuba, the immigration officer will require the presentation of passport, valid for at least six months, and the visa. It is very important to remember that in Cuba the immigration authority does not stamp the entry or exit in your passport, but it does it on your visa (or also called a Tourist Card) and no airline will allow you to go up if you do not have it. It is very important to keep it until your departure. In case of loss, you must immediately notify Immigration to obtain a duplicate, upon payment of the corresponding fee.
The Tourist Card or Visa is valid for an entry and exit to Cuba and has a duration of 30 days, from the date of arrival in the country, with the possibility of extending it for 30 more days.
On the other hand, foreign citizens who travel to Cuba with a flight from the United States or make a stopover in this country, must acquire a Specific visa (pink color).
Culture and Food in Havana
Cuba is not well known for its Gastronomy, which may be a disappointment for the foodies out there. This is mainly due to extended periods of economic hardship and the US embargo, which has led to a shortage of both basic and sophisticated products, hampering the development of an interesting culinary scene. Despite this setback, Cubans are recognized for being very creative with their cuisine and this can be seen in their numerous restaurants and dishes throughout the country.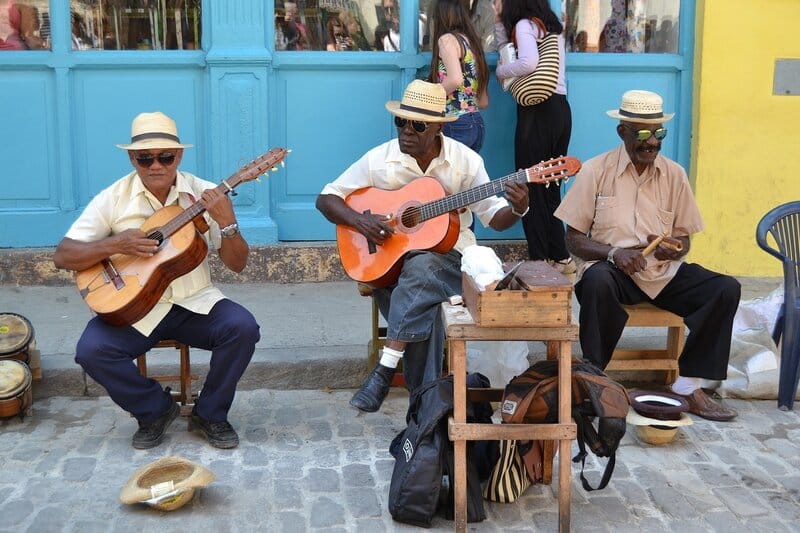 Let's start with the street food… The paladares are restaurants run by private entrepreneurs, with a high participation of the State in the business. Most paladares are established in family homes and the most famous ones are Doña Eutimia, La Guarida, El gringo Viejo and El Madrigal. There you can try one of the most consumed ingredients in Cuba: the Malanga tuber. Whether in a restaurant, cafeteria or paladar, it is similar to sweet potato and is served as a garnish for almost any dish.
In addition to palates, in Havana there are several traditional and emblematic restaurants that cannot be left out of the tour like La Bodeguita del Medio. Very popular in the 1940s and 1950s, this place attracted notable people from all over the world. Artists, intellectuals, writers and politicians, left testimony of their visit in the unmistakable celestial walls. Some of the figures who used to drink a Mojito here are characters such as Errol Flynn, Salvador Allende, Pablo Neruda and Ernest Hemingway. The food is very good, the dishes abundant and the prices do not differ from other places.
Other famous bars in Havana are El Floridita, Bar Dos Hermanos and El Patio that are located in an old palace from the 17th century, in the middle of the Cathedral Square.
If you are looking for luxury, go to Restaurante Río Mar in Miramar. Where you can try unique recipes while you enjoy the view of the meeting between the Almendares river and the sea.
Restaurante El del Frente has a very peculiar rooftop. It will immediately enter the list of places you can't forget. The flavor of their cocktails is another quality that distinguishes them.
Restaurante Jama is, without a doubt, one of my main recommendations. If you are looking to experiment with different dishes and face a varied menu, you will be pleased. The fretboard expands from Caribbean to Asian culture.
Other recommended gourmet restaurants are El Cocinero (Vedado), Otramanera, Mar Adentro (Vedado) and, for those who are vegetarians, Lo de Monik.
Havana Nightlife
Havana has an active nightlife with many options like discos, bars, restaurants and cabarets. In general, they start their activity at 10 pm and often remain open until the sunrise.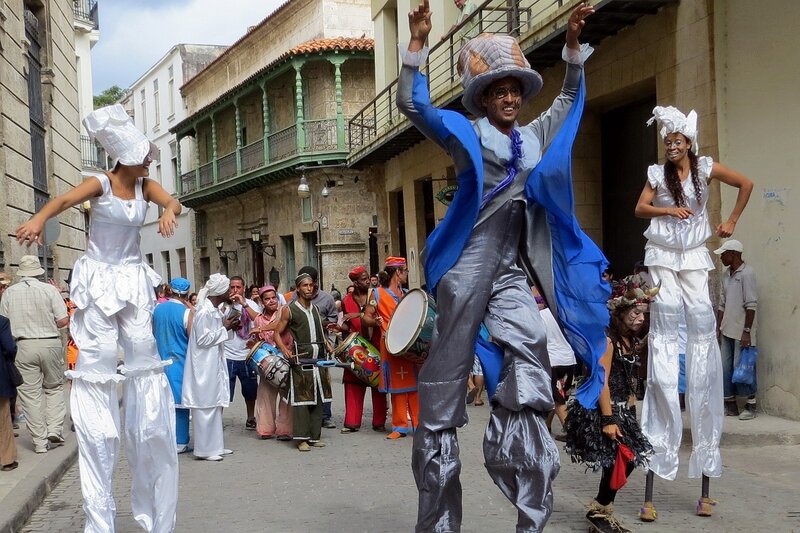 El Gato Tuerto, located very close to the Hotel Nacional, is an ideal nightclub to go as a couple or with friends. Admission costs 5 CUC and includes live music performed by Cuban jazzmen, bolerists, tenors or troubadours, who constantly interact with the public. On the second floor, there is a small restaurant to start the evening.
Habana Café, at the Meliá Cohíba hotel, is considered by many to be one of the most complete nightlife shows in the city. It is a restaurant that offers a show with Mrs. Teté as the host. Set in a 50s style, it has a small museum of classic cars, motorcycles and even one of the first planes that the Cuban air fleet had. Here you can also listen to renowned salsa bands and enjoy their music, choreography and dance.
Jazz Café is a club-restaurant that overflows with good energy. It is located right in front of the Meliá Cohíba, in the Galerías Paseo Shopping Center and offers a beautiful view of the sea. At night they usually have presentations by jazz and salsa groups, which offer unsurpassed live shows. For 10 CUC you have access to the show, a plate of food and a drink.
La Zorra y el Cuervo is the ideal place for jazz lovers with a Latin accent. It is located in the basement of what appears to be an English telephone box. It opens every day at 10 pm and it closes at 1 am. The entrance fee is 10 CUC per person, but it includes two drinks.
El Guajirito has Cuban music, typical drinks, dinner and fun. Located on Zulueta Street between Gloria and Apodaca, in Havana Vieja, it serves Cuban cuisine and cocktails. You can see the show for 30 CUC or also have dinner there for 60 CUC. El Guajirito's show brings together former members of musical projects such as Buena Vista Social Club, Afro-Cuban All Stars and the Cabaret Tropicana. You will spend an unforgettable night interacting directly with authentic Cuban rhythms.
The mythical Tropicana Cabaret offers dinner, music and an unforgettable show. An undisputed icon of fun in Cuba in the 40s and 50s, that lasts to this day. About 200 artists in extravagant costumes of sequins and plumage participate to create an incredible ambience. Although ticket prices are around 75 CUC, Tropicana is a must-see when traveling to Havana. Reservations can be made at the Tourism Bureau of any hotel, even if you are not staying there. Due to the remoteness of the cabaret, the reservation includes round trip transportation. Another option is to go to the Cabaret Parisién, with a style similar to Tropicana but with cheaper prices.
Copa Room, in the lobby of the Hotel Habana Riviera, is set according to the style of the 50s. This cabaret, previously called El Palacio de la Salsa, offers live music at first but, late at night, it becomes a disco.
If you want to spend a romantic evening, visit Pico Blanco on the top floor of the Saint John's Hotel in Vedado. Here you can listen to boleros with a luxurious dinner and unforgettable views of the Cuban capital.
Things to do in Havana
Havana has a different day-to-day from any city you've been to. Even walking its streets is interesting. In addition, it is a city with enormous heritage wealth and charm everywhere.
La Torre Restaurant

One of the things to see is the city itself from above. To do this, you will find the best view at La Torre Restaurant, which is located on the 33rd floor of the Focsa Building. From there you can see the entire bay to Havana Vieja and the neighborhoods of Vedado and Miramar. Another alternative is the views from the Turquino nightclub at the Hotel Habana Libre.

Malecón

Back on land, you can take a long walk along the Malecón, which runs along much of the downtown and coastal area of ​​the city. At night it becomes a very lively social point. The liveliest area is La Rampa, near the Hotel Nacional.

Chinatown

If you go to the old town or Havana Vieja (World Heritage Site) you will discover a lot of attractions such as Chinatown. Located behind the Capitol, this small area is the place of settlement of the Chinese community that arrived in the 19th century and left massively when the Cuban revolution occurred.

Parque Central

Parque Central is the most famous square in the city due to the number of places of interest in its surroundings such as the Capitol, the National Theater, the Paseo del Pardo, the Floridita and the Obispo street. The Capitol was inspired by the Washington one. Formerly the headquarters of the Cuban Academy of Sciences and the National Library of Sciences and Technology, it is now the headquarters of the National Assembly of Cuba.

El Gran Teatro

In Paseo de Martí, you will find one of the most important cultural centers of the city: El Gran Teatro. Contemporary in design, it is the headquarters of the National Ballet and the Galician Center of Havana.

Plaza de la Revolución

Plaza de la Revolución witnessed the great political events in Cuba since 1959. In addition, it is one of the largest squares in the world with its 72.000 square meters. The square is guarded by the now famous effigies of Ché Guevara, in the Ministry of the Interior and that of Camilo Cienfuegos, in the Ministry of Communications. There is also a large mausoleum of the Cuban liberator José Martí, 113 meters high.

Museum of the Revolution

If Plaza de la Revolución has left you wanting to know a little better the history of Cuba, you should visit the Museum of the Revolution. The exhibits are made up of guerrilla costumes, weapons and everything related to the uprising against Batista in 1959.

Museum of Fine Art

Nearby is the Museum of Fine Arts with 45.000 artistic pieces. The displays and exhibits in the museum are culturally interesting. It has two sections: one dedicated to Cuban art and the other to the rest of the world. The entrance costs 5 CUC.

La Casa de la Música

La Casa de la Música is a party room where every night there are live performances by the best Cuban orchestras and artists. A nice place to end the day and plan the next one.

Havana Vieja

Havana Vieja is the most beautiful area of ​​the city. Declared a World Heritage Site, it is a colorful labyrinth of narrow streets, beautiful squares, fortresses, monuments and churches that make up the beating heart of Havana. Your itinerary here should include Plaza 13 de Marzo, Plaza de la Catedral, Plaza Vieja, Plaza de Armas, and Plaza San Francisco de Asís. Around these squares are the most interesting things in the district.

Obispo Street

Obispo Street stretches from the Plaza de Armas. Here you will find bookstores, appliance stores, small craft shops, restaurants, bars and paladares (local small restaurants). Yes, it is the most commercial street in the city. Keep in mind that international brands do not exist in the country and the product offer is limited.

Castle of the Three Kings

On the other side of the bay is the 16th century Spanish buildings to defend the small settlement. Facing the sea, there is the Castle of the Three Kings, which also has a lighthouse. A little further into the bay, and of a slightly later construction (18th century), is the San Carlos de la Cabaña Fortress that houses a military museum.

Casa del Agua La Tinaja

In colonial times there was a method to filter the water that the Casa del Agua La Tinaja, near the Plaza de Armas, still conserves. In addition to serving fresh water, the place is full of photographs of people who have passed through there and of heroes of the Revolution. It is an interesting place to visit.

Plaza San Francisco de Asís

In the Plaza San Francisco de Asís is the Convent and the church of the same name, which it was built in 1548. The Convent houses the Museum of Religious Art. There are also other very interesting things in the area such as the Fountain of the Lions, La Lonja del Comercio or the famous Havana Club Rum Museum where you will learn its history and the process of making rum.

La Bodeguita de En Medio

In the heart of Havana Vieja, the emblematic bar called La Bodeguita de En Medio has been located there since 1942. Characters such as Errol Flynn, Salvador Allende, Pablo Neruda and Ernest Hemingway have been drunk here. Another place to have a drink is the terrace of the Hotel Nacional with the best view of the sunset in Havana.

Callejón de Hamel

In Centro Habana, very close to the University, is the Callejón de Hamel. It is an alley dedicated to street art, Afro-Cuban culture, Santeria, and live music. Ideally, visit it on Sundays at noon when there are live performances.

Castillo de la Real Fuerza

In the Plaza de Armas you will find the Castillo de la Real Fuerza and the Palacio de los Capitanes Generales which houses the Museum of the City. The exhibits on display recreate the history of La Havana. They are very eclectic since they are exposed from old carriages to uniforms and period dresses. The entrance costs only 3 CUC and it is the most interesting museum in Cuba.

Miramar

Finally, Miramar is an area rarely visited by tourists, but it has a lot of charm. It is a bourgeois neighborhood full of embassies, mansions, shopping centers and art exhibitions. In the area there is also the Aquarium, a museum with a model of the entire city and Fusterlandia. The most comfortable way to visit Miramar is to do it with the tourist bus (10 CUC). 
Best Time to Visit Havana
Havana is 21 meters above sea level and has a tropical climate with two well-marked seasons: the wet season and the dry season.
The dry season runs from November to May. The climate is hot but it feels less hot as the humidity is a bit lower compared to the rainy months. The rains are scarce, the days are sunny and the temperatures oscillate between 25 o C and 30 o C. It is the ideal time to relax on the beach since the water temperature is very pleasant. However, it is the high season and therefore prices increase. In these months there are many festivities and celebrations throughout the island such as the musical festival in honor of the musician Benny Moré, the Parranda de Remedios, the International Jazz Festival, the Habano festival, the biennial dance of the Caribe, the Old Havana festival and the Cubadisco Festival.
The rainy season runs from June to October. Rainfall at this time forms quickly, falls strongly and is usually short-lived. Temperatures range between 22 oC and 30 oC although the sensation of heat is greater than in the dry season due to the high humidity.
There are also many insects that bring diseases such as dengue, so it is advisable to travel with repellent. In this season the influx of tourists drops considerably, so the prices of accommodation are also lower. If you are going to travel to the mountain area, keep in mind that the rains are more abundant than in the rest of the country and the temperatures drop more.
From August to October, it is not advisable to travel to the country due to the risk of hurricanes. Cuba has a very effective emergency system but tropical cyclones bring rain and strong winds.
Havana for Families
Living in Havana with children is complicated. On the one hand, your children can be free to run around since the city is very safe and they will not be at any risk. On the other hand, if some accident does happen you will have a problem. Hospitals tend to have low resources, and basic supplies such as hydration serum are often in short supply. Those who can afford it and have time to wait, import them from another country.
Children are usually very happy in school and education is good but it is also affected by lack of resources. There are years that schools do not have teaching materials, although they tend to solve this by sending the manuals in a digital format and waiting for parents to pay for the printing.
The food is basic, you can't find a great variety of products. Toilet paper is often impossible to find, among other things. Bear in mind before moving here that many things may be missing and that people tend to have a very simple lifestyle. If you stick to that and stay away from accidents, then you will surely have a happy stay.
Living in Havana
Havana Transportation
The Guaguas, as the Cubans call buses, are usually in poor condition, crowded with people, go slow and make you wait.
The almendrones are the best transportation option in the city if you don't like to get on a motorcycle. They are the typical old American cars, which are already an icon of Cuba, and which follow a pre-established route. The prices depend on the distance, although they are between 0.50 CUC and 1 CUC. There are also old convertible cars that are usually much more cared for and make tours at a cost of 70 CUC per hour. Be careful not to confuse them with almendrones!
As for taxis, the yellow Cubataxi are expensive. A trip from Old Havana to Miramar can cost 5 CUC. 5 USD! In Cuba that is a fortune. You also have to be careful because there are many scams. Ask what the fair prices are at your accommodation, before getting into a taxi.
Pedicabs are generally used for short distances, for example from Old Havana to Central Havana. Moto taxis are a more interesting option and suitable for all types of distances. In both you will have to bargain the price.
As you will see, even moving around the city can be uncomfortable but it is a good anecdote to tell later.
Fitness and Health
While Cubans tend to stay in shape, it is difficult to find a gym with the machines and technology that we usually find in Europe or the United States. Also, in most cases you should forget about the air conditioning and prepare to warm up without making too much effort.
However, that is not the case in places prepared for tourists like Pura Vida Spa (88 street # 525 between 5ta c and 7ma, Playa) where you won't be able to tell the difference.
At the western end of Miramar, right before Marina Hemingway, is Club Habana. You can buy a daily admittance that includes the use of gym, beach, pool, tennis courts and access to the restaurant. It is a good place for lunch as they have their own small private beach.
If you stay at Hotel Koley or Hotel Nacional, you can also go to their private gyms, only for guests. 
If you prefer a gym where you can interact with local people, try La Mole gym (Buenos Aires street between Macedonia and Florencia in Cerro district). 
Regarding healthy food, In general Cubans use a lot of oil, banana, rice and pork in their cuisine. The food will probably be more healthy if you cook for yourself.
Havana People
People in Havana are generally very friendly and funny. They have a great sense of humor and even when they get angry they tend to end up laughing for some reason.
Special occasions are celebrated with food, a bottle of rum, music, dancing, and a roast pork with rice, beans, yuca with lemon and garlic, plantains, and tomatoes. Even when there is no food, there is dancing. They have music incorporated into their society as something essential for their day to day life.
Despite the country's economy, the Cuban population is an educated society and most of the citizens receive a formal education. Illiteracy is basically non-existent since the literacy campaign in the early 1960s.
Cuba is a safe country and one can move freely almost everywhere without fear of being robbed. The pace of life in general is calm and there is no rush or impatience.
In its streets you will see brightly colored clothes, peculiar and old vehicles, horses pulling carriages, chickens and loose donkeys. Men will usually place a piece of wood on their legs, between two people, to play professional dominoes with a bottle of rum next to them to drink while they play. The hairdressers cut their clients' hair with the windows open, the ladies sit on the sidewalks to chat, and most social life takes place outside.
However, just as they are happy, they can be intelligent and tricky. Be careful not to pay five times more for a service or a product, beware of fake money and also scams. Remember that, except in government tourist shops, you can always bargain over prices. If they try to overcharge you, don't be angry, take it with humor and bargain. They will surely laugh with you and end up inviting you to a glass of rum or dinner.
Cuba is full of color, art, music and dance. You will find all these in abundance throughout the island, and when you leave it makes you feel nostalgic of the time you spent there.
Havana Insurance and Medical Care
Cuba does not request any mandatory vaccination, although it is recommended to have the most common vaccines such as hepatitis and tetanus.
Since 2010, it is mandatory to have medical insurance to enter the country. It cannot be any insurance, it has to be recognized by the Cuban authorities. You can check which ones are approved with the Cuban embassy in your country.
They do random checks at the airport and you will likely be asked to show your health insurance. If you did not buy it, in the immigration hall of the international airports you can find a stand with a representative of Asistur (the state insurance company) from which you can buy medical insurance for around 3 USD per day of coverage. Keep in mind that Asistur insurance usually covers a lower amount and fewer things than the insurance you can buy from your country.
The Cuban medical system is free of charge for Cubans but tourists need to pay. Prices for foreigners are usually high, reaching 100 USD for a consultation and 500 USD for taking you to the emergency room. Hospitals have highly trained professionals but supplies are often lacking, although in the case of having private health insurance, they will have to solve the problem or, in an emergency, pay for the transfer to a place where they can treat you in a proper way.
Make sure you are fully covered by reading our full Digital Nomad Travel Insurance guide.
Jobs in Havana
Finding a job in the country is not a good idea. Wage prices generally do not rise above 20 USD a month and are often managed and monitored by the government. The ridiculously low wages are due to the government providing free accommodation, services, education, health system and part of the food to its citizens.
There are some hotels that are managed by foreign entities but their employees are usually local, due to agreements with the government. Management positions are sometimes held by foreigners but applications are requested from the company's home country.
Cuba is not a country to go to work neither in a formal job nor as a digital nomad due to the poor internet connection that you find there. However, if you can manage with a low internet signal, it is a comparatively cheap city with a lot of charm.
Check out our in-depth Digital Nomads Jobs Postings to find the best jobs available for Digital Nomads.
Nomad Friendly
Value for Money
Internet
Workspace
English
Food
Safety
Health
Transportation
Friendly
Quality of Living
Cost of Living Havana
Cuba has two currencies: the Cuban Convertible Peso (CUC) and the National Currency Peso (CUP). Products and services for tourists and foreigners are charged in CUC. As a reference value, USD is exchangeable to CUC at a rate that ranges between 0.84 and 0.89 CUC per dollar. 1 CUC is around 25 CUP. CUC can be purchased through the Exchange Houses network (called "Cadecas"). Some hotels have exchange offices on their buildings.
Before traveling, it is advisable to check with your bank and credit card about the current regulations. In addition, you must verify that the card does not belong totally or partially to North American capitals, since they are not accepted in Cuba. Only Visa, Mastercard and Cabal cards are accepted. Only with Visa can you withdraw cash from ATMs, with prior authorization from the issuing bank.
Also keep in mind that not all hotels accept credit cards. In the case that you stay in a private home, you must have cash as this is the only accepted means of payment.
Cuba is definitely a bucket-list destination, although it depends a bit on how cheap it is if you live with CUC or CUP. CUCs allow you to access better quality products available only for tourists while CUPs are used on local sites. tourists are allowed to purchase with CUP but in general the products are more basic or have restrictions, for example lobsters are reserved only for tourism.
Within the prices for tourists, you will pay 1.5 USD for a coffee, 1 USD for a glass of beer, 5 USD for dinner and between 1 and 5 USD for the motorcycle taxi or a taxi. For the "almendrones" you will pay between 10 and 20 CUP (between 0.5 and 1 USD) and for a glass of cane juice 5 CUP.
A studio apartment in the center costs around 500 USD per month and you can find an Airbnb apartment with two bedrooms and internet for 600 USD. Costs of rooms at private houses start at 15 CUC per day always in cash but you can negotiate with them for a monthly offer.
Remember that you must pay 25 CUC as airport tax when leaving the country and that it can only be paid in cash, like many other things in Cuba. Travel with USD in your pocket.