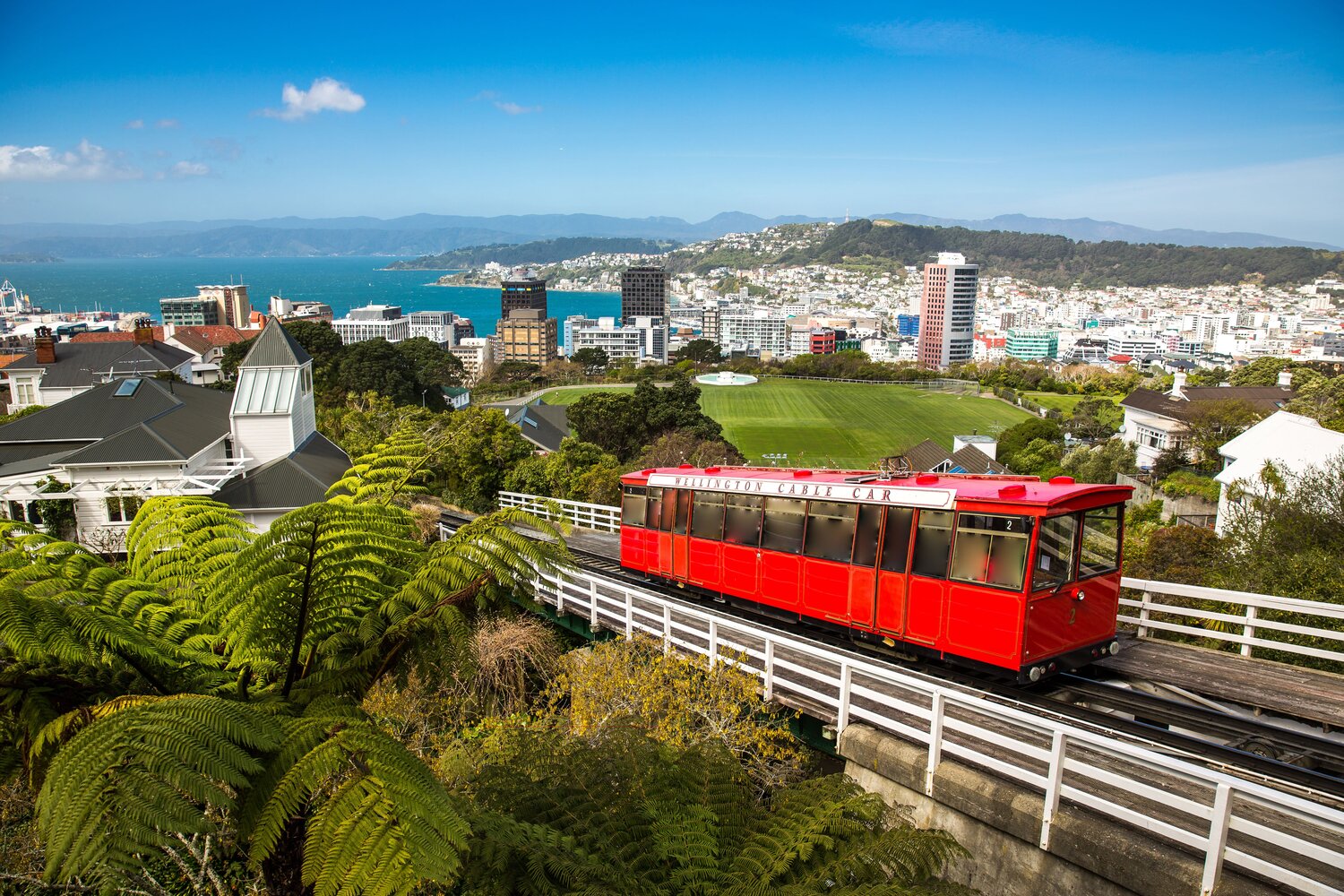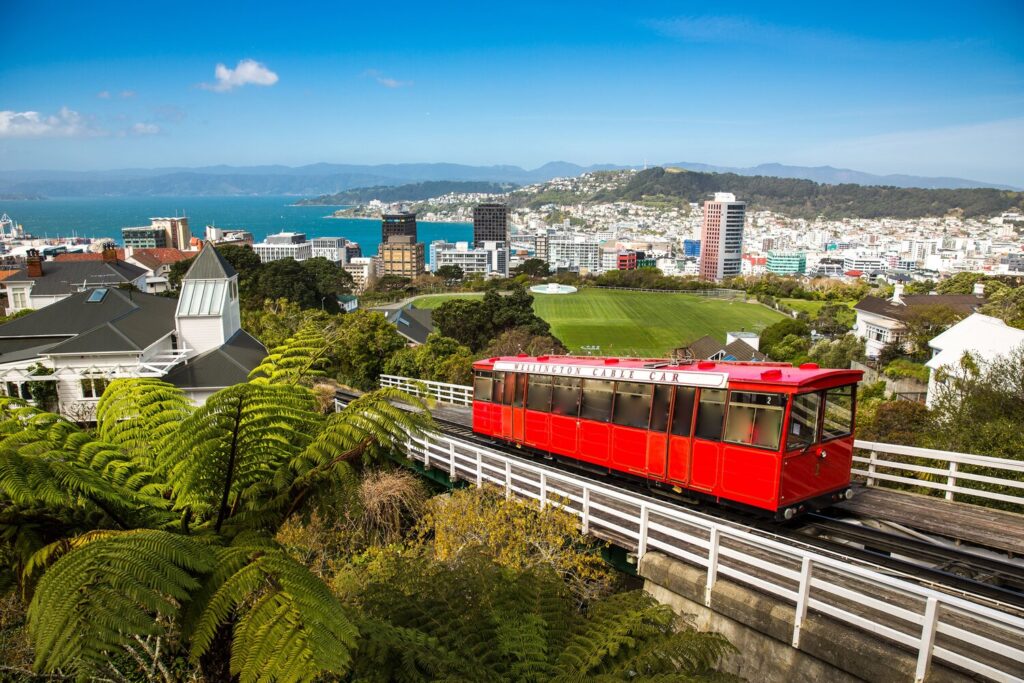 A Digital Nomad Guide to Wellington
Hidden between the Cook Strait and the mountains of the Remutaka Range is Wellington, New Zealand's capital city. Affectionately nicknamed, "The World's Windiest City", Wellington holds the moniker of being the world's southernmost capital city, and it has been consistently ranked as one of the best cities to live and work in by locals and visitors. Wellington has thousands of acres of vibrant green forests and lush parks, the world's first fully fenced-in urban eco-sanctuary, and over 400 cafes, bars, and restaurants. 
Many people who live in Wellington take advantage of its natural beauty, steep streets, and easily accessible public transportation by biking or walking to and from work or just out and about around the city. Wellington is famous for its coffee scene and boasts more coffee shops than New York City, and craft breweries are also becoming a popular pastime in Wellington. The city also leads the way in the film and special effects industries as well as information technology. 
Inside the city limits is just as magical as the surrounding jungles and perfectly blends New Zealand's tremendous beauty with city life. Zealandia, the previously mentioned urban eco-sanctuary, is always a fan favorite, and Wellington is also home to New Zealand's stock exchange, hundreds of museums and art galleries, and multiple festivals throughout the year. 
Whether you are visiting Wellington for a few weeks or settling in for a longer period, there are endless things to do in this stunning capital city. Hiking, mountain biking, kayaking, fishing, relaxing on the beach, and shopping are all popular activities in Wellington.
Wellington is a super-friendly city that began as a Maori settlement. In Maori, the city has two names – Te Whanganui-a-Tara means Tthe Great harbor of Tara." Te Upoko-o-te-Ika-a-Māui means The Head of the Fish of Māui (typically shortened to Te Upoko-o-te-Ika). The second is a more traditional name and comes from the legend that tells of the North Island being caught on a fishing hook and brought up by the demigod Māui Tikitiki-a-Taranga.
The city name "Wellington" comes from Arthur Wellesley, the first Duke of Wellington who fought in and won the Battle of Waterloo. Rumor has it that Wellington was bought from the Maori for 100 muskets, 100 blankets, 60 red nightcaps, a dozen umbrellas, and other various items.
Wellington became the capital city in 1865, beating out Auckland, which was the original capital. The government buildings in Wellington are known to be some of the most unique and beautiful in the entire country. 
Sports are super popular throughout Wellington. This includes rugby, cricket, soccer, netball, and basketball. 
New Zealand generates a lot of revenue from tourism, and it is perfectly set up for road trips through the country. Locals, known as Kiwis, and people from all over the world take advantage of the free campsites known as "freedom camping", as well as the numerous free public showers and toilets. The most popular way to travel through New Zealand is to rent or buy a campervan. You'll see some super creative and beautiful vans. 
The travel community in New Zealand is like none other in the world, and hitchhiking is still a common practice. There are groups on Facebook and other social media platforms set up for ride-sharing and other useful opportunities and information. These online communities are amazing for making new friends, sharing travel tips and tricks, learning information about visas, and other important information. 
Fun and Interesting Facts about Wellington:
Voted the world's most livable city by the Deutsche Bank

Ranked by the World Bank as the easiest city in the world to do business in 

Wellington declared itself a nuclear-free zone in 1982

The city averages 2,055 hours of sunshine per year

But is also the world's windiest with an average wind speed of 27 km/h (17 mph)

The area has earthquake activity even by New Zealand standards

Wellington ranks 12th in the world for quality of living

Most Wellingtonians don't identify with any specific religious beliefs

Tourism generates more than NZ$1.3 billion into the region each year

There is only one road in and out
Nomad Friendly
Value for Money
Internet
Workspace
English
Food
Safety
Health
Transportation
Friendly
Quality of Living
Living in Wellington Overview
| | |
| --- | --- |
|  Meal, Inexpensive Restaurant | $13.53 |
| Domestic Beer (1 pint draught) | $6.76 |
| Cappuccino (regular) | $3.29 |
| Loaf of Fresh White Bread (1 lb) | $1.89 |
| Water (1.5 liter bottle) | $0.95 |
| One-way Ticket (Local Transport) | $2.71 |
| Basic Utilities (Monthly) | $148.77 |
| Internet | $58.09 |
| Fitness Club (Monthly) | $45.76 |
| Apartment (1 bedroom) in City Centre | $1,542.83 |
Currency: Indonesian rupiah (Rp)
[erw_exchange_rates_widget lg="en" tz="0″ fm="IDR" to="EUR,USD,GBP,AUD,JPY,RUB" st="primary" cd="" am="15000″][/erw_exchange_rates_widget]
ATMs
Max Withdrawal: Rp 3,000,000
Withdrawal Fee: Rp 30,000 – Rp 50,000
Use of Credit Cards: Mostly Cash
Digital Nomad Personal Experience in Wellington
Wellington is one of those places that I fell in love with right away. I'm not even a city person and I could see myself happily living here long-term. It's a small, compact city that is easy to navigate and surrounded by intense beauty. It has a fairly young population and is one of the most culturally diverse cities in New Zealand. 
The Wellington crowd, known as Wellingtonians, are super-friendly and laid-back. The city is even registered with UNICEF as a "child-friendly" city. Wellington and the surrounding area are breathtakingly beautiful, and everyone takes full advantage of that beauty by spending as much time outdoors as possible. Most people walk or bike to work, especially if they live near the CBD.
Public transportation in Wellington makes it incredibly easy to get around, especially if you don't have your own car. The number of coffee shops gives you plenty of options to work as a digital nomad, and that's not even including designated workspaces.
I felt super safe in Wellington, regardless of what I was doing. There is always something to do in Wellington and has been referred to as "the coolest little capital in the world" by locals, nomads, and tourists. The city is also the perfect home base for traveling to other places in New Zealand as well as learning about the countries exciting history because most of the museums are free.
What I Wish I knew Before Going to Wellington:
It really is windy, but if you buy proper outerwear, you'll still be able to enjoy the windy days

Small earthquakes are pretty common

Many restaurants require you to pay at the counter before/after your meal

Wellington has a lot of hills, so wear comfortable shoes

As a foreigner, you have to bring your passport if you want to purchase any kind of alcohol anywhere (this goes for the whole country)

Invest in a super warm jacket

Invest in rain gear

holiday houses are called Baches (pronounced Batch)
Work in Wellington
A lot. As mentioned before, Wellington has hundreds of coffee shops where you can get work done, and with Wellington having some of the best coffee in the world, you can't go wrong. However, if you're looking for more professional or private office space, Wellington has plenty of options for co-working spaces, shared offices, and other digital nomad workplaces. This city is perfectly set up for digital nomads.
Best Places to Work in Wellington
Digital Nomad
Conveniently located in the CBD, Digital Nomad, as its name states, was designed with the traveling worker in mind. This boutique-style office space offers 24/7 swipe card access, open-plan workspaces, outdoor spaces, meeting and conferencing spaces, storage, and filing units, and offers individual lockers to keep your things. 
There is also a fully furnished kitchen, bathrooms with a shower, and bike storage. Digital Nomad uses high-speed internet and utilizes a daily cleaning service. 
You can choose to rent space monthly or weekly, and with the 24-hour access, Digital Nomad is a great option for people who work with different time zones.
Credenza
Credenza offers something for everyone. Whether you need space for a day or something more permanent, Credenza has a spot for you. This co-working space offers day passes, trip passes, and permanent passes. 
They offer work areas, common areas, and two different meeting rooms. The Small Meeting Room comfortably sits up to seven people and comes with a whiteboard and screen. The Large Meeting Room can fit up to 30 people and offers multiple whiteboards and projection facilities.
Credenza is open Monday through Friday from 8:00 to 17:00 and is closed Saturday and Sunday. However, it is possible to get after-hours access.
Credenza has showers onsite, is dog friendly, has printers, and offers endless coffee.
Bureau
This co-working space offers several different workspace options. You can opt for the "dedicated desk" that comes with 24/7 access, your own workstation, and your own locker. The "day pass" comes with weekday access from 8:30 to 17:30 andd the use of any desk that's available and you can get a package of 10-day passes and save some money. 
Bureau has printers and scanners, a shared kitchen with unlimited coffee and tea, and bike storage. There are also showers on site.
The Settlement
The Settlement has two different locations, Petone and Porirua. Both locations feature lots of natural lighting and are easily located next to train stations, cafes, and restaurants, and all the best shops.
The Settlement offers a variety of plan options accommodating everyone's work needs and wants, they even offer a free trial period. There are day passes and weekly passes as well as more permanent options where you can even get your mail delivered to the office. 
Regus
Offering over 44 office spaces, 20 co-working desks, and four meeting rooms, Regus has plenty of space for the digital nomad. Members have 24/7 access to their workspace, a lounge area, a sandwich and coffee bar, outside terrace, showers on site, bike storage, and parking and it is conveniently located next to train and bus stations.
The sprawling office building has three floors of office space, flexible contracts and hours, access to office supplies and equipment.  There is a fully serviced cafe on-site, meeting rooms, virtual offices, and 24/7 access. 
The building is fully staffed, and you can upgrade or downgrade office space depending on your needs. There are printers, scanners, and copiers available for use. There is a licensed bar onsite as well as a cafe.
Offix
Offix is family-owned and operated and is a fully serviced office space. Unlike some of the other office spaces, Offix offers quiet, private offices. The building is split into five spaces with a common area. 
There are private and shared office spaces, a board room with a smart TV as well as a fully equipped kitchen.
Best Places to Live in Wellington
Best Neighbourhoods
Wellington is a great place to live no matter what neighborhood you settle in. However each neighborhood has its own vibe and depending on your style, one neighborhood may suit you better than another. Most people agree that no matter where you live in Wellington, it's a pretty great spot. Even living on the outskirts of the city can be fun and exciting and you're never too far from the city center. There are plenty of options to get into and out of the city if you decide this is a better option for you and of course living within the city limits is incredibly easy. The city is small and makes it pretty easy to navigate, even as a newcomer.
Kelburn
Kelburn is one of the best neighborhoods in Wellington. Located less than a mile from the CBD, this neighborhood sits on top of a hill, offering indescribable views of the city and harbor. Kelburn is home to two of Wellington's most famous tourist attractions, the Wellington Cable Car and the Botanic Gardens.
Popular with families and university students, Kelburn is a young neighborhood. While the homes can be pricy, it's a quiet and safe place to live. 
There are loads of coffee shops and art galleries in the neighborhood, and for outdoor lovers, there are numerous parks and gardens to explore.       
Te Aro
Te Aro is a great place to find entertainment. Cuba Street is popular with visitors and locals,
 filled with bars and restaurants, live music, and clubs at night and is a popular shopping destination during the day. 
Not far from downtown Wellington, Te Aro is an excellent neighborhood to live in. Te Aro is also home to the "rainbow crossing", located on the corners of Cuba and Dixon Streets. The rainbow crossing was opened in October 2018 in honor of New Zealand's transgender icon Carmen Rupe.
Island Bay
If you love the beach, Island Bay is a great option. Just three miles outside Wellington's city center, Island Bay is a beautiful seaside town. Home to the "City to Sea Walkway", this path lets you walk across the city. You can also take the "Southern Walkway" which stretches between Island Bay and Oriental Bay. 
Island Bay is perfect for anyone who doesn't quite want to live in the city but doesn't want to be too far away either. Island Bay is known to have some of the best restaurants in Wellington.
Oriental Bay
This popular beach community is known for its beautiful beaches and affluent homes. Not far from the city center, Oriental Bay is a friendly seaside suburb. 
If you love the beach, this could be a terrific neighborhood to reside in. The scenery is breathtaking, and the blue seas make Oriental Bay a favorite place for locals and travelers.
Kitesurfing, surfing, swimming, hiking, and biking are all popular activities in this beautiful beach town.
Brooklyn
Less than two miles from the CBD is the fun little town of Brooklyn. Brooklyn is home to Wellington's wind turbines, various parks, and a cinema. 
Brooklyn is known for its eccentric architecture and beautiful views. Located on top of a hill, Brooklyn is a super green town and popular with families and is only a ten-minute bus ride into the city.
Johnsonville
A bit further from the city, but still within five miles is the large but quaint suburb of Johnsonville. Commonly referred to as J'ville, the town sits on top of Ngauranga Gorge, delivering beautiful views. 
J'ville has a great community center and library as well as a public pool named Keith Spry Pool. It offers members an indoor 25-meter heated pool with a diving pool, toddler pool, spa, and sauna. 
Public transportation to and from the city is super easy from Johnsonville. 
Houghton Bay
Just five miles outside of the city, Houghton Bay is one of the best places to reside. This lovely beach town is popular with surfers, swimmers, and divers. 
Many artists and musicians also have chosen Houghton Bay as home. There are numerous places to catch live music, view art, and it's a little-known secret that you can see the southern lights from here if the skies are dark enough.
Newtown
Newtown is one of the trendiest, up-and-coming places to live. This is a young town with plenty of creative minds living in the area. 
There are a lot of bars and cafes, op-shops, cinemas, and live entertainment. It's one of the best places to live if you want to go out and about and meet new people.
Mount Cook
One of the most desirable places to live near Wellington, Mount Cook is touted as one of the safest suburbs. Quiet and spacious, families flock to live here, but it's ideal for anyone looking for a quiet lifestyle.
Miramar
Miramar is a quintessential beachside town. The coastline is indescribable, and many people flock to live here because of this natural beauty. Miramar is also famous because its home to the legendary "Weta Workshop" studio.
The beaches here are wonderful, and most people live close enough to the beach to walk there.
Mount Victoria
One of the most beautiful neighborhoods around Wellington, Mount Victoria is surrounded by remarkable beauty. In fact, the woods in Lord of the Rings were from this part of New Zealand.
There are plenty of hikes around Mount Victoria and from the top, you get incredible views of the city, harbor, and sea. 
Thorndon
If you like history, Thorndon is the area for you. One of the more historical areas of Wellington, it is home to New Zealand's parliament building as well as other government buildings. 
Thorndon is also home to several international embassies, New Zealand's National Library and Archives, and schools that date back to the 19th century.
Eastbourne
Probably the furthest from the CBD, this town is perfect for people who want space and quiet. There is a ferry that goes from downtown Wellington, but it is also a beautiful drive if you have your own car. 
The beaches of Eastbourne are protected making it a popular spot, especially in the summer. Swimming, kayaking, and kitesurfing are all extremely popular in Eastbourne.
Find an Apartment in Wellington
Wellington is a highly developed city and finding an apartment can be fairly easy. Various factors play into finding the right one and questions to ask yourself before even beginning to apartment hunt. You can find apartments in several ways but the easiest is using the internet. Ask yourself the following questions:
What is your budget?

Are you living solo or with roommates?

Consider where you want, to live and if you have your own transportation or relying on public transportation.

Do you have or want pets?

How long do you need an apartment for?
Knowing the answer to some or all of these questions can help narrow down what is and isn't a good fit. You can use websites like:
https://rentberry.com/nz/apartments/s/wellington-new-zealand
https://www.realestate.co.nz/residential/sale/wellington
https://www.airbnb.com/wellington-new-zealand/stays
https://www.cozycozy.com/nz/wellington-holiday-rentals
https://www.longtermlettings.com/find/rentals/new_zealand//
https://www.hometogo.com.au/wellington/
There are also groups on Facebook and other social media where you can find listings for apartments and/or roommates. These are great options if you are unsure of your long-term plan. 
If you happen to be in New Zealand on a working holiday visa and get an in-person job your employer will sometimes offer accommodation with the job and your rent comes out of your paycheck. If you have time to work while also working as a digital nomad, this would be the easiest and probably cheapest way to find an apartment.
Cheap Places to Stay in Wellington
One of the cheapest ways to find accommodation in Wellington is to have a roommate, and you can find roommates in various ways. Two previously mentioned options are to go through social media groups or to go through an employer.
There are always people posting in social media groups looking for housemates. Reversely, you can always post in these groups that you are looking for a room to rent. The second option is to use your visa to get an in-person job where your housing is taken care of for you.
There are also useful websites like https://www.wellingtonnz.com/visit/accommodation/backpackers-budget-accommodation/ that are specifically geared towards travelers looking for accommodation on a budget. 
Other Accommodation Options:
As I've mentioned a few times, many people live in built-out campervans. Depending on how well it's built, you can live in one for quite a long time. Some campers have kitchenettes making it even more comfortable to live. Many people also find places to stay in hostels. There are many in the city that have options for long term stays.
Wellington Visa
There are various visa options for anyone wanting to go to New Zealand for an extended period of time. Anyone who enters New Zealand that is not a resident will need to make sure your passport is valid for at least three months after your expected departure date. New Zealand is super strict with its visa laws, so take the time to research which is right for you. The immigration website and its officers are super helpful. Also, start your visa search well before you intend to travel to New Zealand, as they can take some time to be approved.
Most visas will have the option to extend if your time is up and you are not ready to leave New Zealand.
Visitor's Visa
Depending on your home country, traveling through New Zealand on holiday or to visit friends/family may not require a visa. For example, the following credentials do not need a Visitors Visa:
– A New Zealand or Australian citizen or resident
– A UK citizen and/or passport holder (you can stay up to six months)
– A citizen of a country that has a visa waiver agreement with New Zealand (you can stay up to three months)
If you do need to get a visitor's visa, you can apply online. A visitor's visa allows you to travel in New Zealand for up to nine months. 
Working-Holiday Visa
If you want to work in New Zealand while traveling as a digital nomad, a working holiday visa is your best option. To obtain a working holiday visa you must meet the following ideals:
– Aged 18-35
– Have a ticket home or enough money in your bank account ( may require a proof) to cover the cost of one
– Your main purpose in New Zealand is to travel with your second purpose as work
With this visa, you can travel and work up to a year in New Zealand and open a bank account. This visa is ideal if you want to join the regular workforce at any point while you're in New Zealand. Many employers offer accommodation with your employment opportunity.
Study Visa
Study Visas are another option depending on your age. Some study visas give you the option to work part-time while going to school. If you plan to go to school or take classes for more than three months then you will need a study visa. 
Some visas allow you to work up to 20 hours per week plus more on calendar holidays.
Culture and Food in Wellington
Wellington is known for its mouth-watering food, coffee houses, and active adventurers. The city is famous for festivals featuring food, music, and/or art, nights out on the town, and outdoor activities like hiking, swimming, boating, etc.
Wine country isn't far from Wellington, so whether you want to take a day trip to the vineyards or just enjoy the local wine during a night out on the town, you're never far from excellent wine. In addition to good wine, there are dozens of craft breweries producing some amazing beers. It's a good idea and super fun to take a trip out to any of the local vineyards to see how the wine is produced, many vineyards give tours.
Food and Coffee are definitely at the top of the experience list when living in or visiting Wellington. The best restaurants and cafes include:
Ortega Fish Shack – This upscale seafood restaurant offers an a la carte menu as well as several set prices menus. They also have vegetarian and vegan options as well as gluten-free items available for lunch, dinner, and late-night meals. There is a full bar on site, and they welcome reservations. 
The Larder – Owned and operated by local residents, The Larder is open from morning till late night and offers a variety of fresh foods including vegetarian, vegan, gluten-free options. They offer indoor and outdoor seating, take reservations, and also do take away. 
Maranui Cafe – This beautiful seaside cafe is popular not just because of the views, but they have incredible coffee and delicious food. They offer indoor and outdoor seating as well as take-out. There are gluten-free, vegan, and vegetarian options, and they are open for breakfast, lunch, dinner, and late-night food. Maranui features local craft beer and wine.
Pizzeria Napoli – Everyone needs a good pizza place and Pizzeria Napoli is that place. They offer dine-in options as well as take-out and delivery. Not only is their pizza amazing but they have excellent pasta as well. Pizzeria Napoli has vegetarian, vegan, and gluten-Free options. There is a full bar on site and some nights they have live music.
Chocolate Fish Cafe – One of the best coffee shop cafes in Wellington, the Chocolate Fish Cafe is located right on the waterfront. Specializing in seafood dishes, the Chocolate fish also offers phenomenal cakes, scones, meringues, ice creams, and of course coffee where they encourage you to bring your own reusable cup. At night the cafe offers a variety of local craft beers, wines, and ciders. 
Markets
Wellington is a city that loves markets. They offer a variety of them ranging from food to clothing. Markets are a fantastic way to see authentic New Zealand on display.
Harbourside Market – Located on the waterfront, this market takes place every Sunday and prides itself on having the freshest and most local foods and produce. It's estimated that nearly 25,000 people flock to the market each week, making it one of the most popular in Wellington.
Thorndon Farmers' Market – This traditional farmers' market takes place every Saturday (rain or shine) from 8:30 to 12:30. The market is known for local products, organic produce, gluten, and gm free, spray-free fruits and vegetables, with a variety of sustainable and natural products. There are also loads of coffee and breakfast trucks serving up some of Wellington's best.
Riverbank Farmers Market – Another busy and popular Saturday market is the Riverbank Farmers' Market, located on the Hutt River. Not only does this market offer beautiful waterfront views, but you can also get all your grocery shopping done in one trip. From fresh local meat and seafood, fresh-baked bread, local produce, local artists and jewelers, and clothing, this market offers everything. 
Porirua Night Market – On the last Thursday of every month from 17:00-21:00, all of Wellington's favorite food trucks gather for the Porirua Night Market. Turkish, Malaysian, Greek Cypriot, and Japanese food styles are all available. The market is family-friendly providing kids activities and live music. 
Porirua Saturday Market – This market is dedicated to Polynesian and Asian cultures and flavors. You can find many things here including food and produce, clothing, arts, and crafts, and much more. There is usually live music playing throughout the day. 
Artisan Craft Market – Every third Sunday, Wellington's top artists, jewelers, and craftspeople gather to sell their quality products. According to their description, the market focuses on "glass pictures, jewelry, and brooches made from unique materials such as resin and polymer clay, handcrafted soy wax candles and homewares, prints, and original artworks." 
Newtown Fruit and Vegetable Market – Every Saturday at the Newtown School this market is dedicated to locally grown fruits and vegetables are affordable prices. There are also food trucks and stalls where you can fill up on the best foods Wellington has to offer.
Wellington Nightlife
The nightlife in Wellington is enchanting. There is something for everyone, no matter what your nighttime vibe is. Whether you're looking to party all night long, have a romantic date with your partner, or have a relaxed night out with friends, Wellington offers it all. 
The main party district lies on Courtenay Place where the street is lined with nightclubs, bars, and pubs. You can find more edgy and underground venues on Cuba Street and for date night, you can find fun, exciting venues right along the waterfront. 
Concerts, cinemas, and comedy shows are also popular nighttime activities in Wellington. Several night markets take place weekly and the Board Game Cafe and Bar that's open late at night if you're looking for a more relaxing vibe. 
Several venues offer night tours and activities including nocturnal animal spotting in Zoolandia or a sleepover at the Wellington Zoo. You can learn about the night sky at Space Place Planetarium or go searching for glowworms. 
Sporting events are also highly popular in Wellington, especially Rugby. Even if you aren't a sports fan, going to a live match is a captivating experience.
Things to do in Wellington
Wellington has so much to offer everyone who visits or lives there. Whether you are strictly a city person, an outdoor enthusiast, or somewhere in between, Wellington is a perfect city to experience.
Hiking – Wellington is overwhelmingly beautiful, and many people spend most of their free time taking advantage of its natural beauty. Hiking is one of the most popular ways to do that for both locals and visitors. 
Pencarrow Coastal Trail – This trail is just about 16k (10 miles) out and back. Popular with bikers, hikers, and runners, the Pencarrow Coastal Trail encompasses intoxicating views of the Hutt Valley region including New Zealand's first lighthouse. 
Wairaka Walkway – This walkway runs 9.2k (5.7miles) along the coast from Pukerua Bay to Moana Road (you can also turn it into a loop). The best time to do this hike is at low tide so you don't have to scramble over rocks. From this trail, you can see Kapiti Island, Mana Island as well as parts of the South Island.
Orongorongo Track – Located in the Rimutaka Forest, the Orongorongo Track is 5.2k (3.2 miles) one way and also connects to a couple of other trails. This trek takes you along several rivers and through stunning flora and fauna. 
Butcher Track – From the Orongorongo Track you can find the Butcher Track which follows the Butcher River. This path goes on for another 6k (3.7 miles) and offers impeccable views of Wellington Harbour. From here you can take the Cattle Ridge Track which loops you back to the starting point. This in total would make it a 12k (7.5 miles) hike.
Rimutaka Rail Trail – This pathway is 18k (11.2miles) and features restored bridges and historic tunnels.
Southern Walkway – The Southern Walkway takes you through Mount Victoria, the Wellington Zoo, and various other parks. The hike is 11k (6.8 miles). 
City to Sea Walkway – Designated as an "urban trail", this walkway starts in the heart of Wellington and takes you through the city passing Wellington Botanic Gardens, Te Aro Valley, and several Town Belt reserves. It ends at the sea and is 12k (7.5miles).
Mt. Victoria Lookout Walk – You can choose from the full loop (4.6 k, 2.8miles) or the half-loop (2.6k, 1.6 miles) on the famous Mt. Victoria. 
Mountain Biking – Mountain biking is another widely popular activity in Wellington. There are multiple places to rent gear from if you don't have your own and there are dozens of trails of varying degrees of difficulty. Some of the best trails for mountain biking are:
Makara Peak Mountain Bike Park: There are over 40 trails in this park with varying degrees of difficulty. 

Waiū Mountain Bike Park: This park has nearly 20 trails ranging from beginner to expert.

Tunnel Gully Trails/Remutaka Cycle Trail 

Te Ara a Rangituhi / Colonial Knob

Polhill Reserve – The reserve has trails of varying length, offering full-day rides to shorter trails.

Wrights Hill

Mount Victoria
Beach – Wellington is a coastal city with numerous beautiful beaches, both hidden and touristy. Some of the best ones to visit are:
Oriental Bay

Scorching Bay

Lyall Bay

Makara Beach

Days Bay

Eastbourne Beach

Petone Foreshore

Breaker Bay

Princess Bay

Plimmerton Beach

Karaka Beach

Titahi Beach

Houghton Bay

Tarakena Bay 

Kau Bay

Brendan Beach
Water Sports – Being a coastal city, Wellington is a popular destination for all kinds of water sports including:
Surfing

Wind Surfing

Kayaking/Paddle Boarding

Sailing

Fishing
Festivals – The city and its occupants love a good festival and celebrate many things by throwing them all year long. Some of the biggest festivals are:
Anzac Day: commemorates all soldiers in Australia and New Zealand that have fought in wars

Africa Day: celebrates African unity

Art Splash: celebrates the artwork of local school ages kids

Chinese New Year: a yearly celebration in honor of the Chinese New Year

Community Gardens Open Day: Gardeners open their gardens to commemorate spring

Cuba Dupa: a two-day festival celebrating Cuba Street

Diwali: celebrates Indian and Southeast Asian communities

Gardens Magic: free summer concert series

Homegrown: New Zealand's largest music festival

Island Bay Festival: dedicated to showing the talent and diversity of the South Coast

Japan Festival of Wellington: showcases the flavors, sights, and sounds of Japan

Kids' Magic in the Dell: kids day in the hills

Maori Language Week: celebrating and teaching the Maori language

Matariki ki Pōneke Festival: live and digital events celebrating Matariki

New Town Festival: food, music, and crafts festival

New Year's Eve: the while city celebrates

New Zealand Festival of Arts: dedicated to the importance of art

NZ Fringe Festival: open-access arts festival

Pasifika Festival: celebrating the Pacifica region

ReCut: outdoor arts festival that takes place in multiple locations around Wellington

Te Wiki Kaumātua: Seniors' Week

Spring Festival: celebrates spring

Te Rā o Waitangi and Whānau Film Night: short films celebrating New Zealand

A Very Welly Christmas: celebrates Christmas 

Welly Weekend: celebrates the anniversary of Wellington

World of Wearable Art: a super fun fashion festival 
Museums – The city is known for having some of the best museums in the whole country. They include:
The National Tattoo Museum of New Zealand

Museum of New Zealand Te Papa Tongarewa

Wellington Museum

National War Memorial

Space Place

Cable Car Museum

Katherine Mansfield House and Garden

Petone Settlers Museum

City Gallery Wellington

Dominion Museum

New Zealand Portrait Gallery

New Zealand Academy of Fine Arts Academy Galleries

New Zealand Cricket Museum

Weta Workshop

Maori Arts Gallery

Holocaust Center of New Zealand
Take a Ride on the Cable Car – The Wellington Cable Car offers the best views of the city. The five-minute ride takes you from the heart of the city to a lookout with a birds-eye view of the city. The car runs every day and was originally built in 1889. Its original purpose was to transport residents of Kelburn to the city. 
Weta Workshop – This is a legendary special effect and movie magic company and workshop. They are best known for designing, creating, and making a majority of the things in the Lord of the Rings Trilogy.
Zealandia – Zealandia is a first-of-its-kind, fenced-in wildlife sanctuary.  There are over 500 acres of land protecting 18 species of native animals, including some of the rarest and endangered species. The flora and fauna in Zealandia are breathtaking and special as most of the plants can only be found in New Zealand.
Botanic Garden – Wellington's Botanic Gardens has been recognized as a "Garden of National Significance" by the Royal New Zealand Institute of Horticulture. It has also been named as an important Heritage Area by Historic Places Trust. The gardens feature plants from all over the world and of course an abundance of native plant species. 
Adrenalin Forest – Not far from the CBD is the Adrenalin Forest where there are ropes courses and other fun obstacle courses set up amongst the trees. There are courses ranging in difficulty as well as courses for kids. Some courses range in height, you can start with one meter off the ground and Zealandersup into the canopy at 31m of the ground.
Shopping – Wellington is a shoppers' haven. From unique boutiques, op-shops, and vintage stores to top brands and designer names, the Wellington shopping experience never disappoints. 
The Carter Observatory and Space Place – The observatory houses a planetarium, interactive galleries, a massive telescope, and tons of special events.  
Best Time to Visit Wellington
Although Wellington is known as "The Windy City", the weather is typically pretty nice, especially during the summer months. The winters can get cold and wet however as long as you have the proper rain gear, you can still explore and experience everything Wellington has to offer. The best time to visit Wellington is subjective and can be dependent on what sort of experience you're looking for, what your budget is, how long you plan to stay and how you're traveling. 
The seasons for New Zealand are:
Summer: December through February make up New Zealand's summer months. This is probably the most popular time to be in Wellington, but it will also be more crowded, both with locals and tourists as it is school holidays as well. The average temperature in summer ranges from 21 to 27 ˚C. This is most people's ideal time to travel around New Zealand because the weather is nearly perfect, however, things are always more expensive and crowded, especially because of school holidays.
Fall: March through May are New Zealand's fall months. Considered fringe months, it can be cheaper to travel during these months with still gorgeous weather. The average temperature in the fall is typically between 17 and 21˚C. This is a great option to travel, in addition to things being cheaper, the weather is still great with mostly warmer days.
Spring: September through November makes up the spring months. In spring the average temperatures are 16 to 19˚C. These are also considered fringe months and can potentially be cheaper to travel. Another good option is if you are traveling on a budget or just want to be around fewer people. While there are still colder days, the days are starting to warm up at this time.
Winter: June through August is New Zealand's winter months. While it can get cold, wet, and windy in Wellington during these months, you still have gorgeous days. The winter months average 6°C – 12°C. The least months traveled, it is still a beautiful option, especially if you like winter sports and activities. Just wearing the right gear and mentally knowing it will be colder and wetter, can make winter travel in New Zealand super appealing. There is hardly anyone around, accommodation can be cheap, and it is strolling and hauntingly beautiful.
Wellington for Families
Wellington is one of the most family-friendly cities in the country, and as mentioned before, the city is even registered with UNICEF as a "child-friendly" city. The city has hundreds of playgrounds and parks as well as other kid-friendly spaces and activities, both indoor and outdoor. Some of the most popular are:
Space Place

Zealandia

bowling/cinema

Adrenalin Forest 

Te Papa Museum

Wellington Museum

Staglands Wildlife Reserve

Weta Workshop

Wellington Zoo

Capital E
Wellington is a great city to raise a family in. There are excellent schools and after-school and holiday programs for kids of all ages. Wellington also has a super low crime rate, making it a super safe city as well.
Living in Wellington
Wellington is one of the easiest cities to live in. While it has some of the typical city living, like traffic, it's super friendly and small and user friendly compared to most.
Wellington Transportation
Public transportation is pretty fantastic. There are many options including electric and diesel buses, commuter trains, ferries, and the Wellington Cable Car. You can also get private cars, cabs, Uber, and Lyft.
Fitness and Health
Many people walk as a form of transportation, making Wellington one of the fittest cities in New Zealand. Many people also take advantage of Wellington's natural beauty and go hiking and biking a lot. There are also dozens of gyms and fitness clubs you can join to maintain an active and healthy lifestyle. 
However, we all know health isn't just about working out. It is about what you eat as well. Luckily, Wellington has some of the best and fresh food, including fruits and vegetables as well as meat and seafood. Much of this you can find at the many farmer's markets and produce stands. 
The people of Wellington have masterd the work/life balance and are certainly proud of it.
Wellington People
Native New Zealanders are known as Maori while local New Zealanders are called Kiwis. Wellington is a melting pot. It is considered one of the most diverse cities in the world and strives to be inclusive of all genders, sexual orientations, national backgrounds, etc. 
Maori culture is highly celebrated in Wellington. There are several museums dedicated to preserving and telling the history of the Maori. In 2016, the Minister of Foreign Affairs, Nanaia Mahuta, got a Māori facial tattoo (moko kauae) becoming the first female MP to wear one in the New Zealand parliament.
Most people tend to be super friendly and outgoing, helpful, and overall generous. People from all over the world migrate to and live in Wellington.
Wellington Insurance and Medical Care
If and when you become a permanent resident of New Zealand, health care will be free. However, if you're not and have opted out of travelers' health insurance, you pretty much just pay out of pocket. 
In my experience, most average doctor's visits and other healthcare are fairly affordable. Also, an interesting fact is that "all travelers are covered for medical care resulting from accidents that occur while in NZ (eg. motor-vehicle accidents or adventure-activity accidents) by the Accident Compensation Corporation".
Make sure you are fully covered by reading our full Digital Nomad Travel Insurance guide.
Jobs in Wellington
Jobs in Wellington vary widely, however, you'll have to have the proper working visa to gain a job. It is easier to get a job in areas experiencing shortages like: 
Arts and media

Hospitality, tourism, and recreation

Farming, fishing, forestry, and mining

Construction and infrastructure

Business
Getting a job in any of these areas could help you stay in New Zealand longer if that is a goal of yours. Most of these jobs will come with or at least offer accommodation while you work.
Check out our Digital Nomads Jobs Postings to find the best jobs available for Digital Nomads.
Nomad Friendly
Value for Money
Internet
Workspace
English
Food
Safety
Health
Transportation
Friendly
Quality of Living
Cost of Living Wellington
The cost of living in Wellington can vary widely, especially depending on your lifestyle.  As with most countries, accommodation is the biggest expense. If you are living in New Zealand, as most visitors tend to do, in a decked-out camper van, the cost of living van be pretty low. 
New Zealand is set up for travelers. There are places you can park and camp for free. Many of these spots also offer free public toilets and showers.
Another way to keep the cost of accommodation down is to stay in a hostel. This is also a great way to meet people and learn about other places to experience and other things to do.
Compared to Auckland and other capital cities around the world, the cost of living in Wellington is among the lowest.