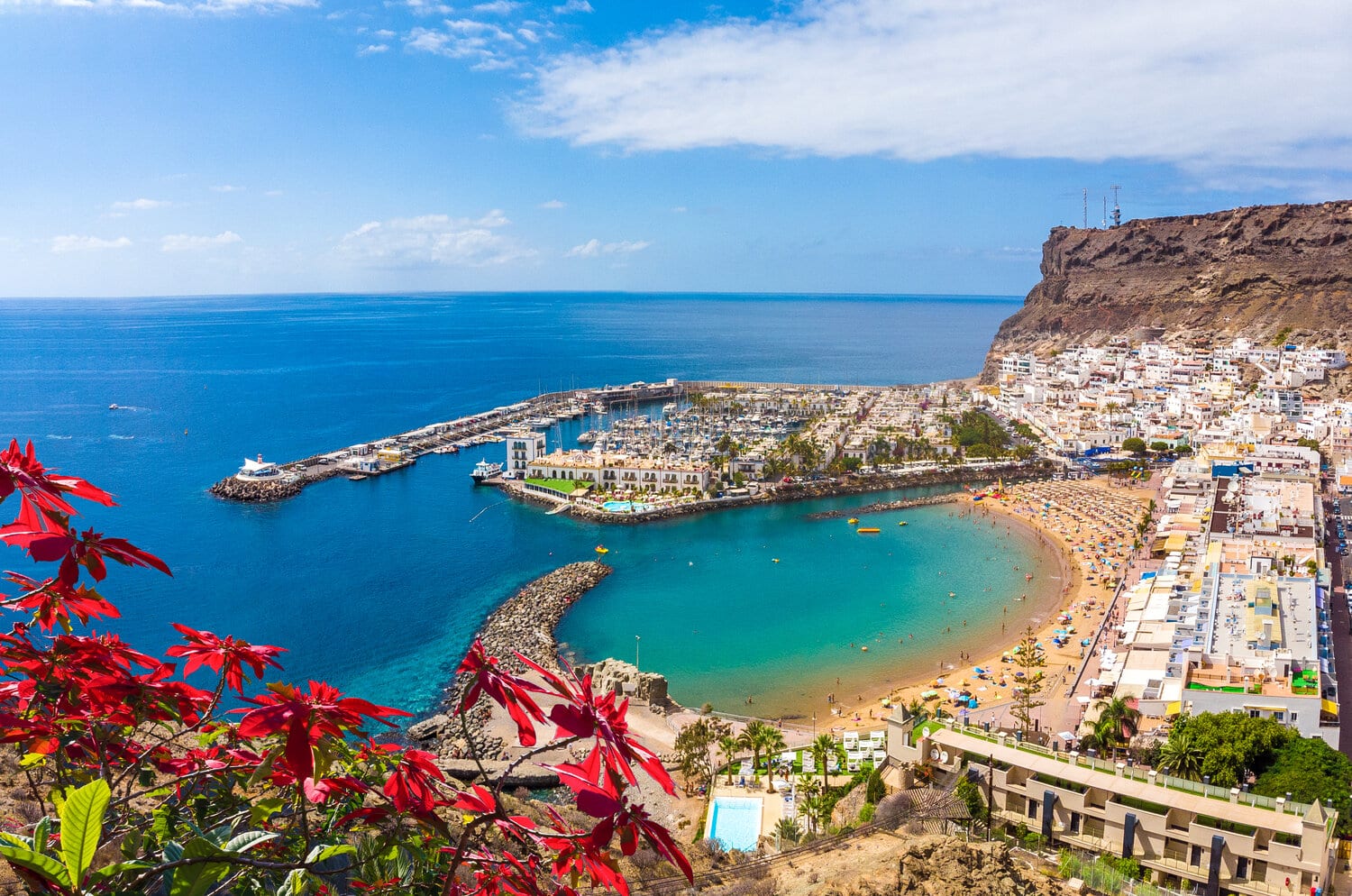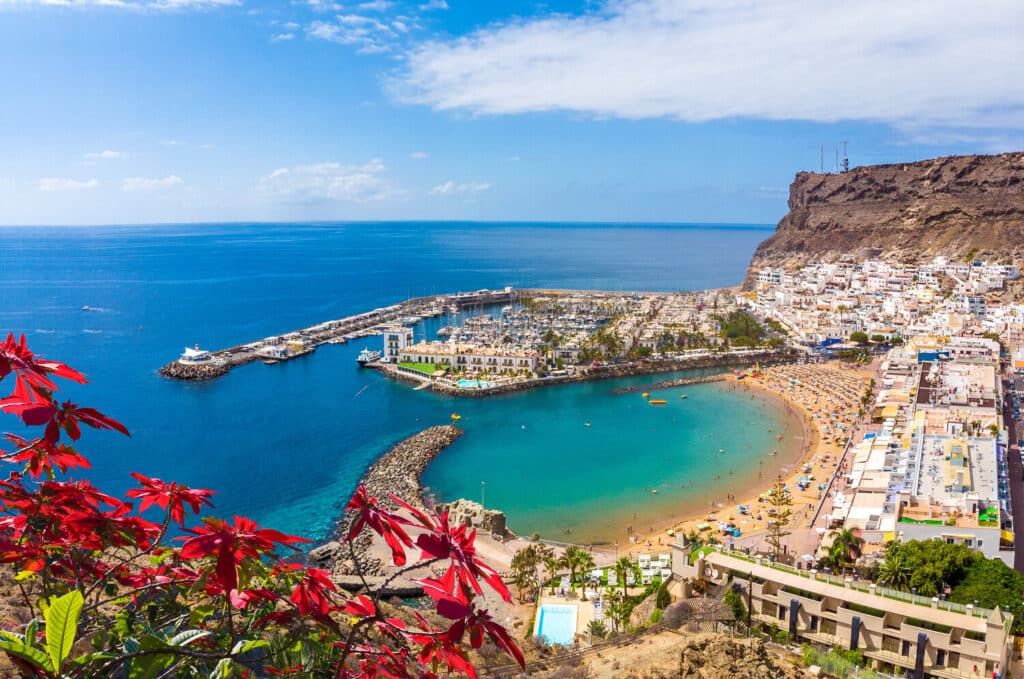 Gran Canaria, Canary Islands
A Digital Nomad Guide to Gran Canaria
Gran Canaria is one of the seven Canary Islands owned by Spain that sits 100 km off the northwest coast of Africa. In 2021, Gran Canaria has become the most popular Canary Island for digital nomads and a favored remote work destination worldwide. 
The island's proximity to Africa and its ties with Spain results in that much-loved Spanish culture, but with year-round pleasant weather and a splash of individuality. Along with the weather, expats and digital nomads flock to this island because of its abundance of nature, relaxed way of life, and friendly locals. 
Other perks of this subtropical paradise are safety, high-speed Wi-Fi in the major towns, affordable living costs, and the ever-growing number of superb restaurants, coffee shops, and coworking spaces. 
As the third-largest Canary Island, Gran Canaria is easy to reach as it has its own fully functional airport. Because the island isn't too small, you can get pretty much anything you need here, especially in the capital, Las Palmas. 
Gran Canaria is one of the best places to base yourself if you're a seasonal digital nomad or just getting started in the remote work world. Likewise, suppose you're considering moving here with your children. In that case, you'll be in great company as many foreign families have made the island their home.
Nomad Friendly
Value for Money
Internet
Workspace
English
Food
Safety
Health
Transportation
Friendly
Quality of Living
Living in Gran Canaria Overview
| | |
| --- | --- |
|  Meal, Inexpensive Restaurant | $10.82 |
| Domestic Beer (1 pint draught) | $2.56 |
| Cappuccino (regular) | $1.74 |
| Loaf of Fresh White Bread (1 lb) | $1.48 |
| Water (1.5 liter bottle) | $1.07 |
| One-way Ticket (Local Transport) | $1.59 |
| Basic Utilities (Monthly) | $77.29 |
| Internet | $53.68 |
| Fitness Club (Monthly) | $39.00 |
| Apartment (1 bedroom) in City Centre | $782.83 |
Currency: Indonesian rupiah (Rp)
[erw_exchange_rates_widget lg="en" tz="0″ fm="IDR" to="EUR,USD,GBP,AUD,JPY,RUB" st="primary" cd="" am="15000″][/erw_exchange_rates_widget]
ATMs
Max Withdrawal: Rp 3,000,000
Withdrawal Fee: Rp 30,000 – Rp 50,000
Use of Credit Cards: Mostly Cash
Digital Nomad Personal Experience in Gran Canaria
I first visited Gran Canaria as a teenager. However, during this first visit, I only saw the tourist side of the island. Regardless, there was something about this Spanish destination that stole my heart, and it remained a place where I longed to return.
Once I started traveling the world and working remotely, I soon heard from other digital nomads about how great Gran Canaria was. Eager to return to one of my favorite islands and experience the true Canarian life outside of the resorts, I went to Las Palmas, where I stayed for over two months. As a British National before the Brexit negotiations finalized, I was able to stay on the island for 90 days without a visa. 
I instantly fell in love with Las Palmas. Living here as a digital nomad was a completely different experience from the one I had years before. I met and connected with the locals and other expats, tried more Canarian food, and spoke some Spanish too!
In many ways, Gran Canaria is like most parts of Spain. The buildings in the old town of Las Palmas certainly reminded me of other Spanish destinations I had visited. The culture is very similar to the mainland, too, emphasizing relaxing in the afternoon and then enjoying the nightlife and eating late in the evening.
But Gran Canaria also feels unique to the rest of Europe, which is what I think makes the Canary Islands so special and magical. The vibe in Las Palmas is ideal for young people and remote workers, and you'll indeed have a fantastic time here. 
Work in Gran Canaria
Thanks to the influx of digital nomads on the island, Gran Canaria now has several coworking spaces and other cool places to work from your laptop. As most remote workers base themselves in Las Palmas, the island's capital, you'll find most coworking spaces and cafes here. The cafes in the south of the island seem to cater more towards tourists, so they are not set up well for remote working.
Best Places to Work in Gran Canaria
Here are a few of my favorite spots to work from in Las Palmas.
The House
The House is a bright and colorful coworking space that feels friendly and welcoming. As well as having plenty of comfortable work areas (including standing desks) inside, there are two large covered roof terraces with sofas for working (and relaxing) alfresco. There are also meeting rooms, sofa areas for downtime or casual meetings, and a modern kitchen. 
Wi-Fi is strong throughout the building, and members get 24/7 access plus free coffee and breakfast! What's more, The House hosts weekly English and Spanish lessons for its members. You can buy day or week passes or opt for a monthly membership. 
Coworking Canary Islands
Another coworking (and coliving) space to check out is Coworking Canary Islands near Las Canteras beach. This spot is popular with both international digital nomads and local entrepreneurs. The owners are incredibly welcoming and have great hospitality. Working from here feels so comfortable that it is easy to focus and get things done. 
What I love the most about this coworking space is the community feel. The owners host weekly events, so there are plenty of opportunities to meet the other digital nomads and get a taste of the local culture. There is a range of passes available, for either coworking only or with coliving included.
GoCoworking
GoCoworking is a modern and stylish space that offers 24/7 access and a range of different working options, including fixed or flexible workstations or your own private office! There is a chillout rooftop area for getting some fresh air or chatting with other digital nomads. You'll also have access to unlimited water, coffee, and tea while working here, as well as regular events.
White Forest
White forest is a quiet coworking space in the heart of Las Palmas, just 1 minute walk to Las Canteras urban beach in the privileged surfing area, la Cicer. It's a designed and new coworking space with about 30 spots, with 24/7 access, unlimited coffee and tea, high speed wifi, phone booth, AC, kitchen, private meeting room and an event space where interesting talks and workshops take place. Good vibes are ensured here, giving you the opportunity to meet a great community of nomads and locals.
Prices range from €180/Month for a dedicated desk to €80/Week and €20/Day for a hot desk.
Soppa de Azul
Soppa de Azul is a coworking space with a difference! The multi-space venue combines coworking with art and social impact and is light, spacious, and has a friendly community vibe. The onsite art gallery provides the perfect way to clear your mind and reset during your breaks. Because of its artistic setup, Soppa is particularly popular with digital nomads in the creative field. Even so, the owners are equally welcoming to whoever steps in the door.
Roka Cafe
You'll see many remote workers spending their days in Roka Cafe, and you will also want to. The coffee is excellent, the food is tasty, and it's located just a few minutes from Las Canteras beach. The cafe is spacious with plenty of tables of different styles and heights, so you can find the workspace that best suits you. It has a cozy feel, and the WIFI is stable and fast. They have some yummy breakfast choices as well as an extensive coffee menu and mouth-watering croissants.
Un Lugar Cafe
Un Lugar Cafe is a relatively new cafe that has quickly become popular with digital nomads and developed a coworking atmosphere. The decor is simple but stylish, and it feels quiet and comfortable, so you can quickly get into the zone. You won't have any WIFI issues either as the connection is super fast. The coffee is superb, and the workers are attentive but discreet, so you will never feel hassled.
Talleres Palermo
Located in the center of Las Palmas and very close to the beach, Talleres Palermo is beautifully decorated and maintains the original character of the building. The community team hosts a variety of valuable events and workshops for members to attend. In the evening, this changes to a Spanish bar with live music. Please note that there is only one booth to take a call.
Best Places to Live in Gran Canaria
Best Neighbourhoods
Las Palmas
Las Palmas is the capital of Gran Canaria and is, without a doubt, the digital nomad hotspot of the island. In fact, the vast majority of remote workers, entrepreneurs, and expats who move to Gran Canaria choose to live in Las Palmas. Locals and foreigners combined, almost 400,000 people live here. Despite being an island, it is the ninth-largest city in Spain.
Las Palmas is on the northwest coast, which means there are many beaches to enjoy here. It has a less touristic feel than the southern parts of the island and an abundance of cafes, coworking spaces, shops, and apartments. Las Palmas is set up well for those looking to base themselves on the island for a while. 
Maspalomas
Maspalomas is a popular area in the south of the island, about 40 minutes from Las Palmas. It's very touristy here, which is why many digital nomads choose to live in the north instead. That being said, it's pretty popular with older expats and retirees as almost everyone speaks English, so it's an easy and chilled place to live. In fact, if you speak zero Spanish, you'll still get by just fine here. 
If you're a party animal, Maspalomas (Playa del Inglés in particular) can be super fun as you'll find some great nightlife. What's more, the weather is better here than in the north. The south gets more sunshine and less wind, so most tourists opt for this part of the island. However, if you choose to live in Maspalomas, expect crowds and noise in the summer months when peak season is in full swing. 
Telde
Telde is the second largest town in Gran Canaria and is on the east of the island. The most significant advantage of living in Telde is the location as it's central to everything. It's only 15 minutes from Las Palmas and not too far from the beaches in the south. 
You may not be right on the beach, but the mountains and the countryside will be on your doorstep, plus, you can arrive at the beach in less than 10 minutes. The biggest downfall of living here, though, is that it is one of the cloudiest parts of Gran Canaria. 
Telde is an excellent option for those digital nomads who want to be close to everything but not quite in the middle of it all. Not all remote workers want to be surrounded by other expats, and Telde offers a more authentic Spanish lifestyle. 
Puerto de Mogan
If you're not a fan of living in big towns but don't want to be around crowds of tourists either, Puerto de Mogan may be for you. This authentic working fishing village is full of Canarian charm and beauty. There are so many canals here that the village is known as Gran Canaria's Little Venice. 
It's mainly locals who live here, so it is one of the best areas to immerse yourself in the island's culture and language. There is no digital nomad community in Puerto de Mogan, though. Plus, you'll need a good working setup from your accommodation as there are no coworking spots. However, the village's authentic character, bright colored buildings, and simple living style may draw you to this alternative remote work location.
Find an Apartment in Gran Canaria
Finding mid to long-term accommodation in Gran Canaria before moving here can be tricky because it is much easier to do once you arrive. You can find monthly stays on Airbnb before you come, but you'll discover many more options and lower prices on the market once you are on the island. 
Therefore, I would recommend booking a place either through Airbnb or at a coliving space initially and then finding a longer-term home when you are here. This also gives you the advantage of seeing the place before you hand over your hard-earned cash. 
However, when renting a property in Gran Canaria, be careful with agencies, as many will charge you up to one month's rent in commission! Like with most places around the world, you will need to pay the first month's rent along with a month's rent in deposit when signing a rental contract. So try to avoid agencies as you could end up paying three months of rent upfront!
There are a couple of ways to avoid agent fees. 
You can find private rentals through the Facebook marketplace and also in Facebook groups. The 'Gran Canaria Digital Nomads' group is a great place to look. There are over 9000 members in this very active group. Many people regularly post about apartments, either looking for or renting them out. 

You could also find apartments with private landlords by looking for signs in the windows of local shops and restaurants, or of course, through word of mouth. 
Lots of landlords prefer to rent their property long-term and may insist on a one-year contract. If you plan to stay in Gran Canaria for just a few months, you can try to negotiate with them. Or, book monthly stays through Airbnb or at Coliving spaces.
Rental costs
Monthly rent costs will depend on where you live. Towns in the east of the island like Telde have lower rent prices than Las Palmas and the Southern resort towns. Moreover, if you sign a one-year contract, you'll get a better monthly rental rate than if you pay month by month. 
If renting long-term, you could find a room or studio away from the beach for as little as €350 a month. 

For €500, you can get a small apartment close to the beach. 

Two-bedroom apartments start from €600, and for beachfront locations, they will be anywhere up to €1000. 

If renting month-by-month, these prices will be considerably higher, but it will also depend on the time of year.
Cheap Places to Stay in Gran Canaria
If you're on a budget, it's worth renting a room in a shared house or a coliving space. Several co-living places in Las Palmas offer affordable accommodation, such as:
CoolivingC offers a double room with Superfast Wi-Fi, a desk, a shared bathroom, and use of their terrace space for less than €700 a month.

Similarly, BYOR City Rooms has double rooms with shared bathrooms for around €650 a month, including free WIFI and a desk in your room.

Downtown Share Apartment also has modern private rooms with shared bathrooms for a similar price.

Columbus Apartments Co-Living is another option. They provide private rooms with a desk and super stable WIFI for €700 to €750 a month.
Gran Canaria Visa
Like everywhere, visa requirements differ from nationality to nationality. If you're an EU citizen, moving to Gran Canaria is easy as you don't need a visa to live and work here. However, you should register your residence when you arrive.
Spain, including the canary islands, is a part of the Schengen Agreement. This means that many countries, including US citizens, can enter Gran Canaria for up to 90 days every 180 days without a visa. Residents from most other countries will be issued a 90-day tourist visa upon arrival.
If you want to stay long-term, you'll need to speak with the Spanish consulate in your home country for information about applying for a non-lucrative visa and resident permit. You can apply for temporary residency in Gran Canaria if you have a work contract that lasts three months or more. A temporary residence permit will allow you to stay for five years. It may also be possible to obtain one if you're a freelancer or remote worker. However, you will need to provide a fair amount of documents, including proof of your business earnings.
Culture and Food in Gran Canaria
Gran Canaria, like the rest of the Canary Islands, is rich in culture and cuisine. Despite mainly being a tourist island, there are still many locals that reside here. Therefore, certain cultural traditions are still present. Even so, where you stay will determine how much of traditional Canarian life you will see. Las Palmas and Telde are two towns that have both a rich Spanish and Canarian feel. 
The local language spoken in Gran Canaria is Spanish. However, many Canarains now speak excellent English, after years of English-speaking tourists visiting the island. Interestingly, the Canarian accent is more like South American Spanish than the accent you typically hear in mainland Spain. 
Many of the dishes you'll find in Gran Canaria are typical Spanish cuisines, such as Paella and Tapas. Both seafood and grilled meats are prevalent here. Still, there is a large variety of fresh fruit and vegetables. 
What makes Canarian cuisine unique, though, is the influences from other continents. Some foods have an African flavor, most likely because of the island's proximity to Morocco. Others have a Latin American taste that leads back to The Guanches, the first original inhabitants of the Canary Islands.
Of course, some dishes are unique to Gran Canaria. The local cuisine that you'll probably come across the most is Canarian potatoes (papas arrugadas). Perhaps you could say that this dish is Gran Canaria's version of Patatas Bravas, the Spanish potato snack you can find throughout mainland Spain. Papas arrugadas are essentially boiled skin-on potatoes with a unique, wrinkly texture on the outside, a pillowy center, and a salty taste. It's a simple yet delicious dish, which pretty much describes Canarian food in general. 
Papas arrugadas will often come with mojo sauce, a Canarian condiment used in many meat dishes. This spicy sauce consists of garlic, olive oil, pepper, cumin, salt, and vinegar. Another Canarian specialty is sancocho. This is a hearty soup made with all local ingredients, including fish, mojo, gofio (a flour made from roasted grains), and potatoes.
Although meat and seafood are popular and traditional foods, non-meat-eaters won't miss out on the island's delicious food scene. More and more vegan and vegetarian options are appearing on menus. Plus, there are a handful of great vegetarian restaurants and cafes dotted around Las Palmas.
The dining culture in Gran Canaria is similar to Spain. Canarians eat dinner late, rarely before 9 pm. This is because many places on the island take a siesta in the afternoon. The closure of businesses during the day means that locals work until later in the evening. 
Also similar to Spain, Canarians take their time to eat dinner, and it often becomes an extensive affair lasting until midnight or beyond. Bocadillos (filled baguettes) are a typical mid-morning breakfast. Many locals will graze on tapas as a late lunch in the afternoon to keep them going until dinner.
Gran Canaria Nightlife
As Canarians dine and socialize late into the evening, you'll find the streets in Gran Canaria, particularly the large towns like Las Palmas, are bustling every night. Restaurants and bars stay open until the early hours. The clubs don't usually close until 6 am in the resort areas, although this has significantly changed since the COVID-19 pandemic. However, in normal times, the island is never short on events, with parades, shows, and festivals regularly taking place.
Las Palmas has a happening nocturnal scene, which is very different from the party atmosphere down south. Here are some nightlife highlights in the capital city.
Las Canteras beach comes alive on Saturday afternoons/evenings when live bands play at different venues along the beachfront. This goes all the way to Plaza de la Musica at the south of the beach.

Plaza De La Música is a great place not just on Saturday nights. The square hosts many concerts and performances of all different genres. On the weekends, it's one of the most popular hangout spots in town for locals and expats alike. 

Every Thursday night, Las Palmas old town hosts a Tapas night where the bars offer cheap but tasty tapas and wine, usually for €1-2 each. This is a great place to meet fellow digital nomads while trying some delicious Spanish food and wine.

Another tapas spot in Las Palmas is Mercado del Puerto. This sizable indoor market serves a wide selection of local delights and has a very social atmosphere on weekend nights. 

The Digital Nomads Gran Canaria Meetup group regularly hosts meetup events in one of the bars here. This popular event usually sees 50-70 digital nomads attend, so it is a brilliant way to meet new people and make friends when you first arrive. 

Additionally, some of the coworking/coliving places put on evening networking events. If you don't yet know many people in town, these are worth checking out. 
Some of the best bars to check out in Las Palmas are:
NYC TAXI Bar – This hip New York themed bar on the Las Canteras promenade has a chilled but upbeat atmosphere with blues and rock music and ice cold beers.

La Buena Vida – This casual bar doesn't look that special from the outside. Still, it's one of the best places to go to experience the local atmosphere while drinking sangria. 

El Viajero Las Palmas – This is another local bar worth checking out in town. They make excellent cocktails for great prices, and there's both indoor and outdoor seating.
Things to do in Gran Canaria
There is so much to do in Gran Canaria that you'll never get bored, no matter your interests. Here is how I enjoyed my free time on the island. 
Beaches
The island has a combination of beautiful white sand beaches and unique black lava beaches. The water around the island is crystal clear and turquoise, which is excellent for swimming. Here are a few of the best beaches that that island has to offer.
Playa Las Canteras

– This long stretch of sand in north Las Palmas is the most popular beach with digital nomads. I love this beach because it's so large, so it never feels crowded even when it's busy. The sand is soft and golden, and it's an ideal spot for snorkeling.

Playa del Confital

– The northern tip of Las Palmas is known as La Isleta. Here you will find Playa del Confital, a small and quiet rocky beach. It's not a beach for sunbathing, but it's popular with surfers because of the crashing waves here. Be sure to explore the rock pools here, as they are full of crabs, fish, and sea urchins.

Maspalomas

– This is one of the most popular beaches on the island, primarily due to its fascinating sand dunes and desert-like landscape. This sandy nature reserve is worth checking out, but it does get busy, especially in the summer. 

Playa de Amadores

– The white sand and turquoise waters of Playa de Amadores make it probably the most beautiful looking beach on the island. However, this is not a natural beach, and the sand was imported from the Sahara for that pure white look. The sand descends gently into the sea, so it is pretty shallow, making it popular with families. 

Anfi del Mar

– This is a pretty beach in the south of the island that locals love. It's another artificial beach, but you'll find fewer tourists here than in Playa de Amadores.

Playa de la Garita

– This Telde beach is one of the island's black sand beaches. All the Canary Islands were formed from volcanic eruptions. The sediment of the lava created the unique black sand here.
Hiking
Being a mountainous island and protected land, Gran Canaria is a paradise for hiking. Whether you're an experienced hiker or a novice, there are plenty of hiking trails here that will suit your level. 
Pico de las Nieves

– The top of Pico de las Nieves is the highest point on the island, at 1949 meters above sea level. Therefore, many avid hikers are keen to hike it. Unfortunately, though, the actual summit is off-limits because of military installations there. However, you can still find a great hiking trail. There is a 10 km trail beginning from the parking lot that takes 2-3 hours and goes around some ridges to a side summit.

Bandama Caldera

– This is a volcanic crater that has a walking trail around it. It's not a strenuous or steep trail and is suitable for everyone. It's a 6.4 km loop that will take between 2 and 3 hours to complete.

Tejeda

– This central region of Gran Canaria has up to a staggering 194 hiking trails! The UNESCO heritage site Roque Bentayga is a popular place to explore here, along with Roque Nublo.
Places to explore
Aside from beaches and hiking trails, there are plenty of other places to explore and enjoy. Here are some of my favorite things to do here.
Roque Nublo

– This volcanic rock formation sits on top of a mountain in the island's center. It is the third-highest point on Gran Canaria. To reach Roque Nublo, you have to drive up the mountain's windy roads, which is an adventure in itself. However, the journey is so worth it because the views from here are magnificent. 

Puerto de Mogan

– This picturesque fishing village marina is a must-visit while you are in Gran Canaria. You'll get some stunning Instagram-worthy photos amongst the flower-lined white building streets here.

Agaete Valley

– This is a spectacular valley and small town in the northwest of the island, about a 30-minute drive from Las Palmas. The village has some cute beaches and fabulous seafood restaurants. Still, my favorite part of this area is the coffee and wine plantation. You can take a tour of the plantation and taste the delights.

Las Palmas old town

– The old town areas of the capital, known as Vegueta and Triana, are a must-see. The buildings here have a colonial-style European feel, and there are some lovely squares here to people-watch in, such as Plaza de Santa. There are also plenty of independent shops, cafes, and restaurants, and a few museums. One museum to check out is Museo Canario, where you can learn about the history of the indigenous people of Gran Canaria.

Mirador Paseo La Cornisa

– If you're staying in Las Palmas, be sure to come to this viewpoint for sunset. The observation deck gives incredible views over the town and port.
Water sports
There are many water sports to partake in here, including snorkeling, diving, and surfing. However, suppose you're after some adrenaline-filled water fun. In that case, I would recommend trying out windsurfing at Pozo Izquierdo beach on the southwest coast. You can take lessons with Pozowinds windsurfing school, or you can rent equipment from them if you already know what you're doing.
Best Time to Visit Gran Canaria
The Canary Islands boast a subtropical oceanic climate which means the islands see an abundance of sun and warmth throughout the year. The consistently warm weather is one of the main reasons expats and remote workers choose to live in Gran Canaria. For those from cold countries with chilly winters, the mid-range temperature that rarely drops below 20 ºC is highly appealing. 
The winter months (December to February) are the coldest. During the day, it will be around  21/22 ºC, but at night it can drop as low as 10/11 °C. In the summer (June to August), the day temperature ranges from 25 to 28 ºC. Although it can sometimes exceed 30 ºC in the hottest months, the island rarely gets unbearably hot. Moreover, the sea stays at a pleasant temperature of between 19 to 23 ºC.
It's worth noting that the south does feel warmer than the north. This is mainly because the north of the island, especially by the coast, can be very windy and cloudy. The south, however, sees mostly sunshine, clear skies, and minimal wind. The wind in the north can be both good and bad. It keeps you cool during the summer, but it can feel a bit chilly there in the winter.
Luckily, there is no rainy season in Gran Canaria. The island sees on average 150mm (22 days) of rainfall over the whole year. December and January have the highest chance of rain, whereas the summer months practically do not see a drop. Sunlight hours do drop in the winter, though, to just 6 hours. However, during the summer, you'll enjoy up to 10 hours of daylight.
Gran Canaria for Families
Are you planning to move to the canary islands with children? Gran Canaria is a family-friendly place and an easy place for digital nomads with families to base themselves. 
However, most expats and locals live in apartments with no outside area, particularly in Las Palmas. This is not an ideal home environment for families. Therefore, if you want a house with a garden, you're more likely to find one in the south of the island or the smaller towns.
Schools & Daycare
Unless you're planning to live indefinitely in Gran Canaria, it would be best to put your kids in one of the international schools on the island. Of course, these schools are costly, but your children may struggle in a state school, especially if they don't speak Spanish!
The island has four English-language international schools – the British School, Canterbury School, Oakley College, and the American School. Most are on the outskirts of Las Palmas, but the British School and Canterbury School have infant schools in the south too. There are also German, French, and a Norweigan school on the island!
Bilingual schools are a cheaper option. The two main ones are Hispano-Ingles and Colegio Arenas. There are lots of private nursery schools, but the quality differs. For daycare, it's best to ask other expat parents for their recommendations. 
Activities for Kids
Because Gran Canaria is a popular family holiday destination, you will find many fun activities for your kids. 
Waterparks – There are several water parks on the island. Some have separate areas for young kids, so they are suitable for all ages. 

Angry Birds Activity Park – This Angry Birds themed amusement park in Puerto Rico has zip-lines, climbing frames, go-karts, a laser maze, and more!

Holiday World _ This amusement park in Maspalomas has over 30 attractions, including a Ferris wheel, bumper cars, and a rollercoaster. This traditional funfair also features a bowling alley and puts on various shows.

Palmitos Park – This is a popular zoo in Maspalomas with many mammals, reptiles, and birds. They also offer dolphin encounters where kids and adults can swim with dolphins.

Camel Safari – Another animal activity that your children will enjoy is riding a camel across the sand dunes of Maspalomas.
Living in Gran Canaria
Gran Canaria Transportation
In general, there are plenty of ways to get around in Gran Canaria. Of course, getting around is easier in the big towns than the remote villages. What's more, specific areas, mainly within the mountains, are only accessible by car, and parts of the island are entirely inaccessible. However, if you're staying in a town, you'll have many transport options.
Walking
If you're staying in Las Palmas, you can get around predominantly by walking. The city is very walkable, especially if you stay in the northern part of the city, as most nomads do. From here, you can walk practically anywhere in less than 30 minutes.
Cycling
Las Palmas has a bicycle rental scheme if you prefer to cycle. Sitycleta works by using an app to book bikes from various locations around town. You can also sign up directly at one of the terminals. Renting a bike costs just €1.50 for 30 minutes. There are also weekly and monthly rates if you plan on cycling regularly.
Taking the Bus
There is a bus system that serves a large part of Gran Canaria and is super cheap. You can easily spot these turquoise color coaches, or 'Guaguas,' as known locally. This bus system is an ideal option for visiting the southern parts of the island, and it also connects to the airport.
There is also a local bus service in Las Palmas which is a great way to get around the city if you don't feel like walking. These yellow buses connect the entire town and are punctual and frequent.
Renting a Scooter or Car
Many nomads who live on the island long-term decide to rent a scooter as a cheap way to get around. You can go anywhere on the island with a scooter (although you may struggle on some of the steepest mountain roads). 
If you don't feel comfortable on a scooter, you can rent a car, which is also pretty affordable. You'll be pleased to know that most foreign driving licenses, like US, Canadian, and the UK, are accepted for hiring a car here. You can rent vehicles for just one day, one week, or long-term. Having a scooter or car gives you complete freedom to explore. 
Getting Taxis
Taxis frequent the island and are a popular form of transport for tourists. Therefore, you'll find them all over Las Palmas and the southern resorts. The taxi system here is safe and well-regulated. They are all fitted with meters, so there is no worry of the drivers ripping you off. Taxis are white with the logo of their municipality on the side.
Fitness and Health
There are plenty of options for keeping fit in Gran Canaria, and you'll find gyms in all the main towns. Here are some fitness centers you can check out:
Health Club Maspalomas

– This is an open-air gym with a large selection of free weights, fitness equipment, and weight-lifting machines. They also hold fitness classes, and there is a swimming pool.

Olympic Beach Gym

– Another Maspalomas gym, Olympic Beach Gym, is located right by the coast to give you ocean views as you work out.

GO fit Las Palmas

– A popular comprehensive fitness center with four fitness rooms, two indoor swimming pools, a spa with a sauna, and a coffee shop. They also have a jam-packed class schedule running from 6 am to 10 pm every day! You can join a variety of activities from Tai Chi to HIIT to Zumba. Monthly membership is very affordable, and for what you get, it's a brilliant deal. 
Because of the strong expat community, yoga has become extremely popular here, particularly in Las Palmas. There are a handful of great yoga studios in town. These are some of my favorites:
Pure Yoga Canarias

– This bright and airy studio has expert instructors and offers serene ocean views.

Om Yoga

– The studio has a homely and welcoming feel and caters to all levels, including beginners.

Be Slow Yoga Studio

– This stylish and modern space is an idyllic place to get your zen on. They also hold classes outdoors to connect with the abundance of nature on the island.
Aside from gyms and wellness studios, you will also find several organic and health food stores for nutritional supplements and herbal medicines.
Gran Canaria People
There is a great mix of locals and foreigners living in Gran Canaria these days. According to a 2019 data report, there are 2,153,389 residents in the Canary Islands, of which 36,516 are foreign residents. However, this figure only includes the registered expats and not the continuous carousel of digital nomads. Therefore the amount of foreigners in the Canary Islands is most likely a lot higher. 
The locals on Gran Canaria (and the other Canary Islands) descend from a mixture of Spanish settlers and aboriginal Guanche people. The Guanches were the first known inhabitants of the Canary Islands and were known for their love of singing and dancing. They were very hospitable people, had a deep respect for their elders, and a strong family bond.
You can see these traditional values still present in the Canarians of today. In my opinion, the Canarians are very welcoming and open-minded. The family unit is of utmost importance for the people of Gran Canaria, but they value their friendships highly too. You will often see Canarians families enjoying long dinners in local restaurants for no particular occasion but just to celebrate life. They certainly love to eat, drink and enjoy life.
In fact, nobody on the Canary Islands takes things seriously. Life is very relaxed here and, for the most part, relatively stress-free. The locals are never in a rush, and most expats who move here do so as they are looking for an easy-going place to live. Like in mainland Spain, locals here will flock to the beach on the weekends, although they will avoid the tourist resorts. 
I guess the one downside of Canarians is that they can be hard to become friends with. While they are very friendly and chatty when you first meet them, it's not so easy to get to know them on a deeper level. This is because they tend to socialize within their families and have the same friendship group since they were young. If you want to make friends with the locals, the easiest way would be to get involved in the community through volunteering or helping out. 
That being said, there is a particular time of year when locals and foreign residents come together. The Carnival of Las Palmas takes place every February. During this month, there are ongoing celebrations open to all in the streets of the city center.
Gran Canaria Insurance and Medical Care
There are two primary hospitals in Gran Canaria, Hospital Insular and Hospital Dr. Negrin. There are also many English-speaking health centers and dentists. Health care is relatively good as the medical standard is in line with the rest of Europe. 
Gran Canaria is not prone to any specific diseases and does not pose any particular health risks. However, pharmacies are plentiful and well-stocked on essentials. You can locate a chemist by the green cross sign they will have outside, and many are open 24 hours too. You don't need to have a prescription to get certain medication from pharmacies, such as antibiotics.
If you're an EU citizen, you can use your EHIC health card here, though it would still be best to have health cover on your travel insurance too. This is because EHIC cards are for tourists, so if you try to use them after six months of living in Gran Canaria, you may find you are not covered.
If you're not an EU citizen, travel insurance with a decent health cover is a must. While medications from pharmacies and visits to health clinics aren't expensive, things could quickly get very costly if you end up seriously ill in hospital. Because Gran Canaria is part of the EU, if your current insurance covers Europe, you are already covered. 
The emergency number here is 112. You can call this number to request medical, rescue, or police assistance anywhere on the island.
Make sure you are fully covered by reading our full Digital Nomad Travel Insurance guide.
Jobs in Gran Canaria
Nowadays, most expats living in Gran Canaria are remote workers who already have online jobs. However, as a busy tourist island, every summer, the many bars, restaurants, and resorts in the south look for extra staff and welcome English-speaking expats. This could provide a good side income for you if you are from an EU country as you can legally work in Gran Canaria with no visa. 
The seasonal work you could pick up on the island includes working as a bartender, club promoter, entertainer at a resort, a hostess at a restaurant, or organizing events in a hostel. Before Brexit, many young British travel lovers would come to Gran Canaria to work a season here. The work hours are long, and the pay is not exceptionally high, but this type of work can be super fun if you're outgoing and a party animal. The best way to find these types of vacancies is to enquire directly in the venues.
There are also numerous expats living on the island who work as English teachers in the schools. For foreign teachers, the school handles all visa requirements. Similarly, hospitals will sometimes look for highly skilled and qualified doctors and surgeons to move to Gran Canaria and work there. If you have a much-needed skill like this, you might find in-person job opportunities on the island.
Check out our Digital Nomads Jobs Postings to find the best jobs available for Digital Nomads.
Nomad Friendly
Value for Money
Internet
Workspace
English
Food
Safety
Health
Transportation
Friendly
Quality of Living
Cost of Living Gran Canaria
So, how affordable is it to live in Gran Canaria? Well, in general, it's not an expensive island, but this does depend on your lifestyle and living preferences. If you're happy to rent a room or small apartment without an ocean view, your rental costs will be cheap. Additionally, if you cook most meals and are not much of a party-goer, your living costs will remain low. You could probably get by on less than €800 ($1000) for everything, including rent. 
For most digital nomads who find a balance between simple and luxury, you'll be looking at around €1200 ($1500) a month for rent and all living costs, including a coworking membership.
The Canary Islands are cheaper than other parts of Europe and the US, especially the big cities. You can most definitely have a much better quality of life in Gran Canaria if you're moving from somewhere like London or New York. However, compared to popular digital nomad spots in Southeast Asia and South America, the Canary Islands have a higher cost of living. 
Living costs broken down
Accommodation: $700
Food: $400
Commute: $50
Leisure: $150
Workspace: $125
Eating out here is not particularly cheap and is in line with many other European destinations. A meal in a local cafe is around €9, but in an expensive, classy restaurant, it could be up to €50. 
Coffee in a cafe costs about €1.50, which makes working from coffee shops very affordable. Grocery prices are not that different to most Western countries, but alcohol is pretty cheap, around €2 for a local beer and €5 for a mid-range bottle of wine. 
Getting around does not need to be expensive, thanks to the low bus fares. A one-way ticket costs around €1.50, or you can get a monthly pass for €35. If you rent a car or scooter, expect to pay about €1 per liter of gas.
For utilities, all your monthly bills combined should not exceed €100, assuming you're living in a standard size apartment. On top of this, a home Wi-Fi package will be around €50 a month.
You will then need to consider your leisure costs. Gym membership is pretty affordable at about €35 a month. However, Suppose you want to take advantage of one of the modern coworking spaces in Las Palmas. In that case, you'll have to splash out another €100 or so each month.