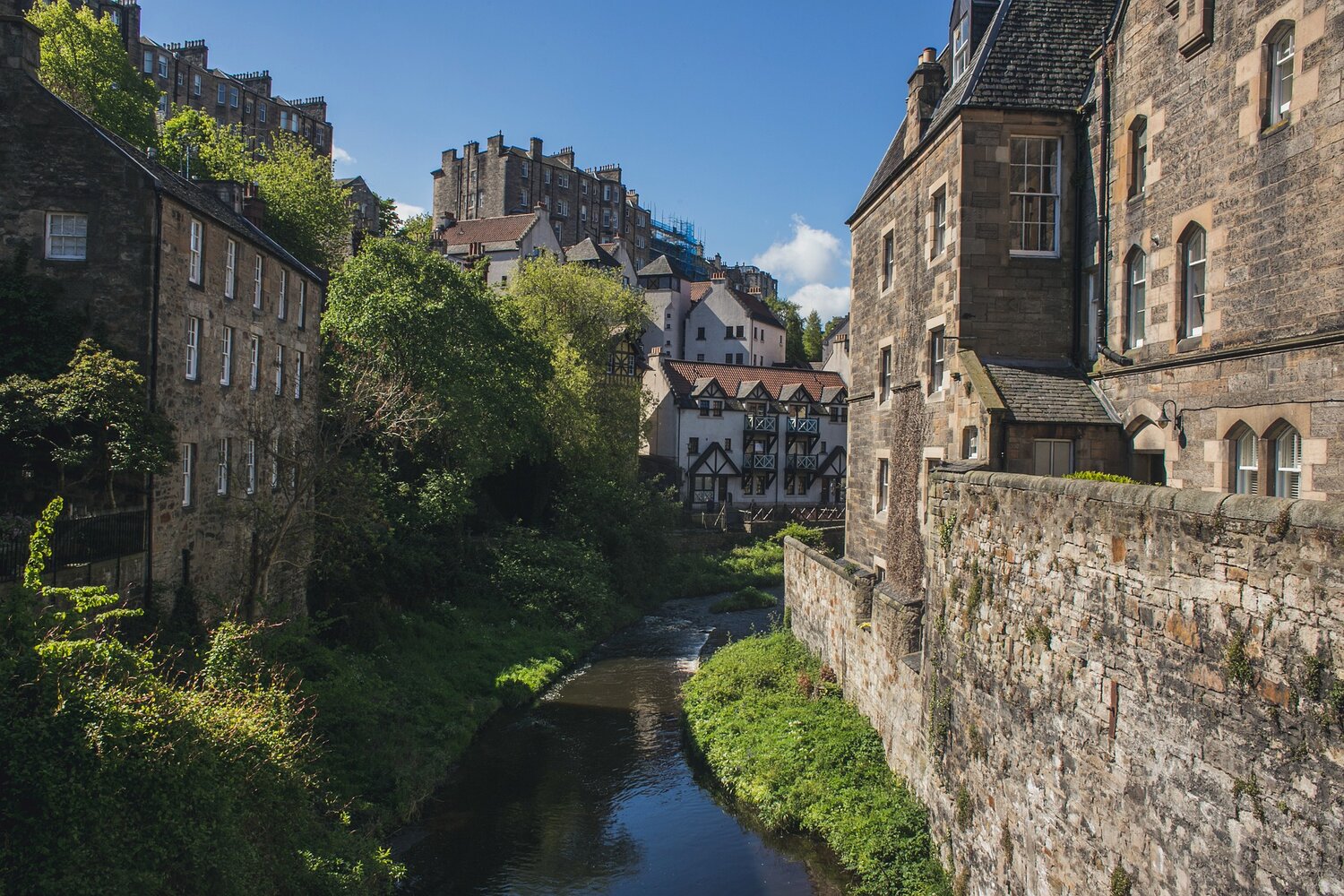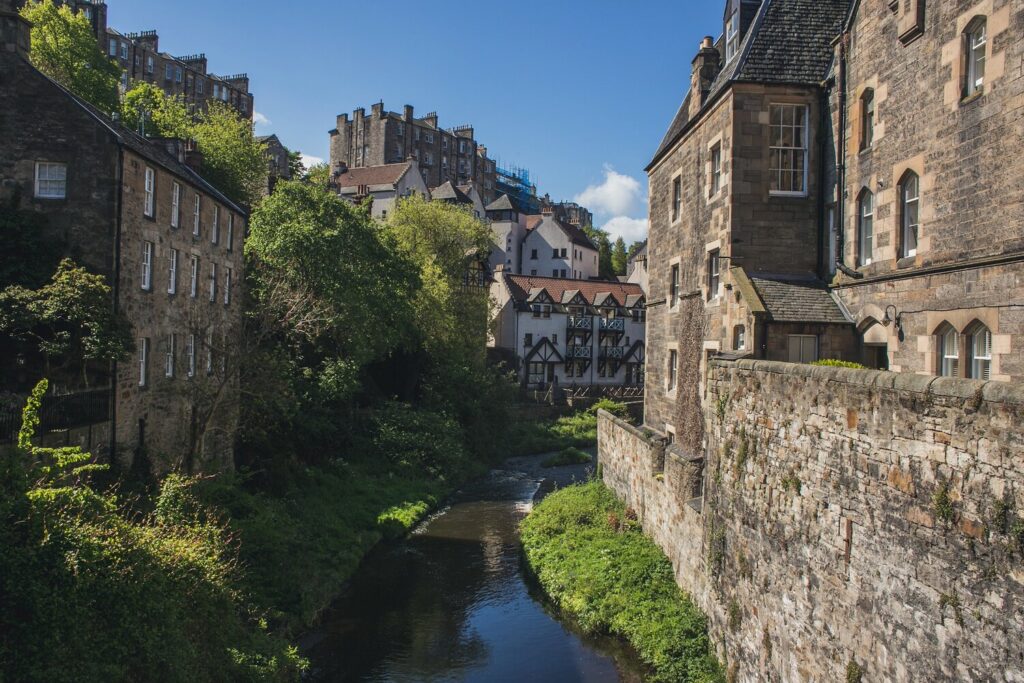 A Digital Nomad Guide to Edinburgh
Edinburgh is the capital of Scotland and the UK's second-largest financial hub. With only 500,000 inhabitants it's the second-largest city in Scotland and very popular amongst international tourists with over 2,2 million visitors every year. Edinburgh is known to be an unusually beautiful city with historic architecture and a unique location by the Firth of Forth estuary close to the north sea.

Located less than 1,5 hours from the English border Edinburgh is very accessible. Its large international airport makes it a convenient place for digital nomads to live who appreciate the city's incredible culture and network of expats. The UK is a very favourable place for digital nomads to settle and Edinburgh provides all the benefits of a large city without being overwhelming or too large. There is a lot to see and do so feeling bored will not be an issue. Scotland's nature is incredibly beautiful and with the ocean and many national parks at your doorstep, there is a lot of potential for hiking, camping and outdoor activities.

As a remote worker, you'll be pleased to know that Edinburgh has a great selection of coffee shops and other possible workspaces. Because the weather is usually quite cold and windy most seating will be indoors so a plug for your laptop or high speed internet are never far.

Due to its prominent universities, the city feels very young with great nightlife options and a very social pub culture. Since Scotland is so small there is a lot of potential for day-trips or short vacations around the country. Within only a few hours you can reach points of interest such as Loch Ness, Glasgow or Inverness in the Highlands.

Edinburgh is a fantastic choice for digital nomads who have always wanted to live in the UK but shy away from large cities like London. Scotland's impressive culture might just want to make you stay a bit longer than you were planning to.
Nomad Friendly
Value for Money
Internet
Workspace
English
Food
Safety
Health
Transportation
Friendly
Quality of Living
Living in Edinburgh Overview
| | |
| --- | --- |
|  Meal, Inexpensive Restaurant | $19.82 |
| Domestic Beer (1 pint draught) | $5.29 |
| Cappuccino (regular) | $3.72 |
| Loaf of Fresh White Bread (1 lb) | $1.41 |
| Water (1.5 liter bottle) | $1.31 |
| One-way Ticket (Local Transport) | $2.38 |
| Basic Utilities (Monthly) | $189.40 |
| Internet | $39.88 |
| Fitness Club (Monthly) | $47.40 |
| Apartment (1 bedroom) in City Centre | $1,101.24 |
[erw_exchange_rates_widget lg="en" tz="0″ fm="EUR" to="EUR,USD,GBP,AUD,JPY,RUB" st="primary" cd="" am="1″][/erw_exchange_rates_widget]
Max Withdrawal: €400
Use of Credit Cards: Widely Accepted
Digital Nomad Personal Experience in Edinburgh
If you tell someone that you're living in Scotland their first question is usually how you put up with the weather. Unfortunately, most of the stereotypes about the Scottish weather are true. Most days are cold and windy and you'll see plenty of rain if you're living in Edinburgh as a digital nomad. Fortunately, because the city is located close to the ocean the bad weather never lasts for too long and you'll get clear skies for at least a few hours almost every single day. 
Once you've gotten past the fact that Scotland is cold you'll find yourself falling in love with the beautiful scenery and the unique culture. Edinburgh might just be the most exciting city in the entire country so if you've decided that you want to live in Scotland at least once then this will be a fantastic choice. 
I was blown away by the incredible history of the area and how every single building seems to be at least 300 years old if not more. Every corner of this city is special and you should take your time sightseeing and exploring. 
Scotland is very different from the rest of the UK with its own little quirks, traditions and an incredibly hard to understand accent. Once you've figured out what the locals are saying to you you'll have an amazing time in Edinburgh and enjoy its wild nightlife, cultural hotspots and traditional beauty. 
Having lived in many places I've learned how to recognise the ones that stand out and always draw you back in. Scotland is one of those places for me that I will most likely always return to in some way. Those who dismiss Scotland as a cold and unpleasant place have obviously never spent any time trying to get to know it.
Work in Edinburgh
In a city where it tends to rain a lot there is never a shortage of coffee shops and little restaurants perfect for getting some work done. If you're the sort of person that can't get anything done at home, definitely stop by one of the many little eateries to sit with your laptop and be productive. Some of the best coffee shops for working in Edinburgh include The Elephant House, Brew Lab or the Caffeine Drip.

The internet speeds across the city are very fast and you won't have any trouble finding a good connection. Of course, coffee shop wifis might not have the fastests speeds around but they're definitely usable for getting basic things done online.
Best Places to Work in Edinburgh
If you're looking for a more professional setting you should head to one of Edinburgh's coworking spaces. Here are some of our favourites in the city.

Spaces
Spaces coworking is located in the city's historic west end. They are equipped with modern furniture, high-speed internet and even a breakout area. Each month they host numerous events for further education and networking purposes. A membership for this coworking space costs $270 per month and gives you access from 8:30 am to 6 pm Mondays to Fridays. If you're looking for a private office or even a virtual office, this is the place to go.

Kingsford office
The Kingsford coworking space is also centrally located and easily accessible for those living close to the city center. The monthly fee of $340 gives you 24/7 access to the shared workspaces and amenities. There is fast and reliable wifi, free coffee and tea, and scan and print facilities. To strengthen the community, regular members-only events are also held.
Regus Office Space
Perhaps you already know the large Regus coworking chain from living in another country. They have several locations in Edinburgh so you can choose the one that suits you best. Regus is always very modern and offers everything you need to be productive and work effectively. You get natural light, a fast wifi connection, printers, scanners, storage for your valuables and more for 200$ to 350$ a month depending on the location.
Schop Coworking
At Schop you can again choose between two locations in Edinburgh. Have a look at their website to figure out which one is best for you. At this coworking space you will have a desk with lockable compartments, printers and scanners at your disposal and access to a communal kitchen where you can spend your breaks. In addition to the many workshops and events on offer, special emphasis is also placed on socialising. Meeting rooms are available for small and large groups, but must be reserved in advance. The monthly fee is the equivalent of $270 and gives you access to all the amenities listed above.
Tribe Porty
In the Tribe Porty coworking space, special emphasis is placed on fostering the creativity of each individual. People and ideas should meet by chance and thus encourage connectivity, innovation and exchange knowledge. There is a wide choice of private office spaces, fixed desks, meeting rooms and also a hot desk area. A $200 membership includes unlimited hot desk area access as well as the usual amenities such as printing and communal spaces. Each month there is a great selection of internal events and workshops available for members. The coworking space is open Mondays to Fridays from 8.30 am to 5.30 pm.
Landmark Office space
The Landmark office space is located in the financial and business district of Edinburgh which is easy to reach via public transport. Here you either get a private office or virtual membership, but hot desk or communal areas are not available. For $370 a month you can rent a private office with 24/7 access. Landmark Office space still has many advantages of a traditional coworking space. There is enough breakout space and a communal kitchen where you can network with other members and hold small events.
Best Places to Live in Edinburgh
Best Neighbourhoods
Edinburgh has a wide variety of neighbourhoods with a great selection of both historic architecture as well as modern construction. Since the city is home to many universities you'll find a considerable amount of student accommodation options as well as decently affordable rooms in shared housing. Around the city centre most rentals will be apartments although you could find some detached housing in more expensive neighbourhoods.
Fountainbridge or Tollcross
If a central location is important to you you should consider looking for a place to stay around the Fountainbridge or Tollcross area. This will not be the most affordable but you'll be very close to shopping opportunities and nightlife. This is not the place to live if you enjoy peace and quiet. There is always something going on here and it's usually quite busy. As a young professional coming to the city this will be great but might not be the best fit for families.
Stockbridge
Edinburgh has a lot of residential areas, some of which are quite upscale and expensive. Stockbridge is a great choice if you do not want to be too close to loud students and parties but enjoy going out to more sophisticated venues in the evenings like wine bars or pricey restaurants. This is where you'll find some of the best and most expensive private schools around and there is a great choice of parks and outdoor spaces.
Leith used to have a bad reputation in Edinburgh due to crime and poor living conditions. Today this is a new and upcoming area with lots of artists and a relatively young population. It's quickly turned into a very desirable part of Edinburgh for housing and a great area for traditional pubs.
Morningside and Bruntsfield
Morningside and Bruntsfield are very family friendly areas with a great selection of outdoor spaces such as The Meadows, one of Edinburgh's largest parks. Some students choose to live in this area but a large part of the population are local families due to the good schools nearby. This is a peaceful and quiet part of Edinburgh perfect for those who value the proximity of the city but don't want to live too close to the busy streets.
Haymarket
Haymarket is the name of one of Edinburgh's main train stations as well as the adjacent neighbourhood. This is an area with a lot of offices and apartments can be quite pricey. This can be worth it though due to the favourable public transport links and many amenities nearby.
Corstorphine and Clermiston
Finally there are Corstorphine and Clermiston which sit outside of the city not too far away from Edinburgh Airport. These areas are great if you're looking for a detached house with a yard but don't want to live too far in the country-side. You can reach the city centre by bus and although there are not too many cafes, bars or restaurants nearby you'll find everything you need. This is a good choice for families looking for outdoor space and for those who might be commuting quite a lot to nearby cities such as Glasgow.
Find an Apartment in Edinburgh
Edinburgh is the most expensive city in Scotland so renting an apartment or house won't exactly come cheap here. Luckily, finding a place to live will be reasonably easy since there are always plenty of places to choose from on the market.

Most city rentals will be apartments and you'll have to spend a lot more for a detached house. If you're a digital nomad coming to Edinburgh on a budget you should look into shared houses which are especially popular among students. There are always spare rooms being rented and you'll have the added benefit of not having to worry about things like utilities or wifi since these will be split among the flatmates or might even be included in the rent. Not only students live in shared accommodation in Edinburgh and you'll come across a wide variety of people from all walks of life who could be your potential flatmates.
Rentals in Edinburgh tend to go very quickly and you'll rarely find a place that is being advertised more than one or two months in advance. You definitely won't have trouble finding an apartment on arrival so we'd recommend booking a hotel or Airbnb for a few days and then going house hunting. Of course you can find a long term place to live before you arrive but it's always best to see an apartment first before you commit to paying a deposit and signing a contract. 
The best places to find rentals in Edinburgh are websites online such as Gumtree, Zoopla, Rightmove or Citylets. Sites like Spareroom, or Roomgo are good for finding potential flatmates or vacancies for rooms. Most of these websites are free but some charge a small fee to contact landlords. Definitely join some local Facebook groups and check Facebook marketplace for rentals. This is sometimes where you'll find the hidden gems so it's definitely worth checking out.
If you're not up for browsing websites for rentals you should consider hiring a letting agency who will find and show you properties that match your requirements. Sometimes they have rentals that you cannot find online so definitely consider this especially if you're coming to Edinburgh with your family. 
Some landlords require an extensive credit history for new renters which can be an obstacle for digital nomads. If you cannot provide this they will require you to pay up to 6 months rent in advance which will quickly add up to a considerable sum. This is not the case for all rentals but could happen to you if you're looking at properties in more upscale neighbourhoods. 
A one-bed apartment close to the city centre of Edinburgh will cost you anywhere between 900$ and 1200$ per month although you could find ones for around 750$ with a less central location. For a two bedroom apartment with a good location you'll easily pay more than 1500$ per month. A house with 3-4 bedrooms will cost well above 2500$ per month so make sure you factor this into your budget. These prices are quite steep but unfortunately normal for large cities in the UK. 
Cheap Places to Stay in Edinburgh
Edinburgh is not a cheap city to live in so if you're a digital nomad on a budget you have a few options for keeping your rent expenses down. The best way to live affordably in such a large city is to find a shared house where you can rent a single room. This is also a great way to make connections in a new city and find some friends to spend time with. Shared houses are often composed of international students and young professionals who can't afford Edinburgh's steep prices. You might be able to find a basic room for around 500$ per month which often even includes bills. Again, it's advisable to look for rooms in student housing areas where you might find that a lot of others are also looking for shared houses. Oftentimes landlords advertise these rooms and not the inhabitants so they are keen to have someone moving in. Since the housing market in Edinburgh is very large you'll find a good selection of vacant rooms or people looking for flatmates. Check websites like Spareroom or Gumtree to connect to others and be quick as the best offers tend to go fast.

If you're not willing to live with flatmates you can always look for a very cheap studio apartment a bit further away from the city centre. Some of these are quite basic and in need of some renovations which could make them go for around 600$ if you're very lucky. Keep in mind that this doesn't include utilities which will add at least another 100$ if not more.
Edinburgh Visa
With the UK leaving the European Union the visa situation for digital nomads has become more and more confusing. As regulations are still changing the most important thing is to check official government websites for detailed information.

Currently, most nationalities are allowed to spend 6 months in the UK with a standard visitor visa. There are long term versions of this visa available that are valid for as long as 10 years although the requirements are steep. As a digital nomad it's best to use a regular visitor visa and possibly exit the country after 6 months or apply for another visa.

Keep in mind that you won't be able to work in the UK with these visas. All your money needs to be earned exclusively online or you could face harsh fines or even deportation. Make sure you do not break these rules or any other visa requirements while you are in the UK.

As a EU citizen it used to be that you were able to live and work freely in the UK. Unfortunately as of 2020 this is no longer possible to the same extent and the exact rules are still being put into place. It appears as though EU citizens will be able to apply for the temporary leave to remain scheme which could let them stay in the UK for up to 36 months. However, the requirements for this are still unclear and digital nomads should expect to factor in some time to be approved for this program. It has been suggested that the UK might implement a points system for immigration much like the one in Australia. If this is the case it might become much more difficult for EU citizens to move to the UK as digital nomads.
Culture and Food in Edinburgh
Scottish culture is very distinctly different from the rest of the UK and one should avoid confusing the two. Many Scotts are actually quite offended if you accidentally refer to them as British or English. Being Scottish is therefore something most people in Edinburgh are very proud of and traditions are a large part of everyday life.

Of course, Scotland is famous for its kilts and old Scottish families actually each have their own crest and designated tartan. A kilt is usually tailor-made and can be very expensive. It is very common for men to wear one for official events, weddings or dances.

Edinburgh is located in the south of Scotland so you won't experience the same culture here as you might in the Scottish highlands. These are located up north and can have very different features than those of the capital city.
An important tradition that takes place all over Scotland is Burns Night or Burns Supper. This is held on the 25th of January, the birthday of Robert Burns, one of the most famous Scottish poets. The day celebrates his poetry and life and is a very fun tradition that you should take part in if you can. 
For Burns Supper the Scotts eat Haggis, Neeps and Tatties, a traditional dish you won't find anywhere else in the world. Haggis is a very famous Scottish dish made of sheep innards which are minced and served as a sort of meat loaf. While this might not sound very appetizing it is a large part of Scottish culture and anyone coming to Edinburgh as a visitor should try it at least once. Neeps and tatties stands for swede and potatoes which are served alongside a whiskey sauce. Before dinner a traditional "Address to a Haggis" is held with accompanying bagpipes. This poem was written by Robert Burns and is a very important part of Burns Night. This is always a really fun night and a must do if you're in Edinburgh during January.
Scotland is not exactly known for its incredible cuisine but there are some foods you should try during your time in Edinburgh. Scottish tablet is a sweet buttery confectionate that you can find in most supermarkets and traditional shops. It can be compared to caramel but without the sticky texture. This is a great present to take home with you or to send to a friend.
Scotland is also known for its shortbread, a very condensed, buttery cookie that is often enjoyed with a cup of tea or coffee. Shortbread is a great snack and you'll find yourself missing it after leaving Scotland.

Then there is the rather peculiar fried mars bar which originated from the north of Scotland but can now be found in many different places. There is not much more to this Scottish snack than it sounds like, it is quite literally a deep fried mars bar. While it's definitely not the healthiest of options it's a fun thing to try and you might be surprised by how good it actually is.
Edinburgh Nightlife
With a large population of university students, Edinburgh has no shortage of bars, pubs, live music venues and of course nightclubs. You'll find the majority of nightlife around the city centre in both old town and new town. Stockbridge, another popular neighbourhood is a great area for more upscale pubs with home-brewed beer and great dining options.

If you're going to be moving to Edinburgh you absolutely have to go to a Scottish pub at least once. Drinking culture is very important in Scotland and meeting up with friends in a pub is a regular occurrence. There are a lot of pubs to choose from in Edinburgh like the popular Wetherspoons chain that boasts impressive venues and some of the cheapest prices for drinks and food around. For a truly authentic Scottish pub experience head to the Sheep Heid Inn which is rumoured to be the oldest pub in Scotland dating back to the 14th century. Bennets Bar, Canny Man's, The Last Drop or Guildford Arms are also great options for those wanting to experience a traditional pub.

The drinks of choice in Scotland are definitely beer and whiskey which is produced traditionally in the Highlands. Whiskey connoisseurs claim that Scotland produces some of the world's best whiskey which is known for its unique smokey flavour. If you're looking for a souvenir or a present for a friend definitely consider buying a few bottles.

Edinburgh's clubbing scene is largely dominated by university students who fill the city's nightlife venues on most nights of the week. Luckily, this means that you'll come across a wide variety of discounts, drink deals and sometimes even free entry into clubs which makes clubbing in Edinburgh decently affordable for Scotland's standards. A pint of beer in a pub or club will cost anywhere between 3$ and 8$ depending on the venue. This is definitely pricey but since there are high taxes on alcohol in the UK it could be worse. 
Keep in mind that due to Scotland's strict laws shops are only legally allowed to sell alcohol between 10:00 am and 10:00 pm. Bars and pubs tend to close between 12:00 am and 01:00 am and clubs stay open as late as 2:00 am or 3:00 am with some exceptions. Some of the most popular clubs around Edinburgh include Hive, Atik, The Liquid Room, Cabaret Voltaire and the Mash House. You'll also find quite a few live music venues which are great for both new and upcoming underground artists as well as established bands.

If you're looking for a way to experience the city's nightlife and meet some new people at the same time you should consider taking part in the Edinburgh pub crawl. For just 10$ you'll get six drinks at different bars and free entry into a club. This is a popular activity for both tourists and those new to the city so you'll be guaranteed to make some friends along the way as you get to know Edinburgh by night.
Things to do in Edinburgh
Edinburgh Castle is clearly visible from many parts of the city as it is perched on a high hill. The castle has been in use since the 2nd century and has served as a good defensive structure because of its perfect location. Today it is the perfect place to get a closer look at what life used to be like in Scotland. Be sure to stay until the firing of the 1 o'clock gun which has traditionally been fired every day of the week except Sundays since 1861. The entrance fee is around $20 and the castle opens daily from 9:30 am.

The Holyrood Palace, built in 1678, is a good place to combine with Edinburgh Castle, as these two sights are not far from each other. The palace has been home to many generations of kings and queens and today shows what royal life was like in the 17th century. For the full experience, stop by the Palace Café for traditional afternoon tea in a traditional setting. If you've never had an afternoon tea in the UK before this is a great opportunity to try it out. The admission costs $22 and is well worth it if you are interested in Scottish history.

If you are an art lover, the Scottish National Gallery is a must-see during your time in Edinburgh. It is located in the heart of the city and is very easy to reach. As well as works by world famous artists such as Van Dyck, Gainsborough and Rubens, the art gallery also has many works by Scottish artists. Pieces by Peter Graham, Sir David Wilkie and Sir Henry Raeburn reflecting stunning landscapes, portraits and scenes of everyday life give this collection a Scottish twist.

In 1670, the Edinburgh Royal Botanical Garden was founded to conduct scientific research on plants for medicinal purposes. In 1858, a palm house was built, which is still one of the tallest in Britain. On over 70 hectares you will find up to 100.000 plants planted in different gardens. There is also an 18th century manor house on the grounds which is now used as an art gallery. The botanical gardens are ideal for picnics in fine weather or a walk with the entire family. Any time of year is a good time to visit, even in the snow.

Gladstone's Land in Edinburgh offers a unique opportunity to step back in time. Built in the 17th century, the 6-storey house is located in the heart of Edinburgh's old town. It has been restored to give visitors an insight into life in the 1600s. On the various floors you will find historic pieces depicting different lifestyles of merchants, wealthy residents and the cramped conditions of the poor. This is definitely a fantastic way to get to the bottom of Scottish history and well worth the $10 entrance fee.

Craigmillar Castle is arguably one of the best preserved castles in Scotland and a must for anyone interested in history and architecture. The castle was built in the 15th century and has been home to many kings and queens over the years. Explore the halls and living chambers which are still well preserved and have been turned into a sort of museum. For a breathtaking view over Edinburgh, don't miss the lookout tower. Entrance to the castle costs 8$ which is a more affordable option than some of the others on this list.

Under the streets of Edinburgh are the so-called vaults. This is an underground passageway with adjoining vaults and chambers. They were used in the 1790s mainly by small traders to store their goods. In later times it became a hotspot for homeless people and the vaults obtained a bad reputation for crime and illegal activities. Today you can take a guided tour through the tunnels and see what these passageways were originally intended for. For around $27 you can get a guided tour, and there is also the option of a ghost tour, which might be a great adventure for children travelling with you.

National Monument of Scotland

The National Monument of Scotland is the perfect spot for some sightseeing when the weather is sunny. The monument is intended to commemorate the soldiers of the Napoleonic War, but was never actually completed. It's a popular tourist attraction as it has a beautiful view of the whole city from the hill on which it sits. Come here to have a picnic in nature and enjoy the incredible views.

If you enjoy classical music and theatre, you should not miss a visit to Usher Hall. Opened in 1914, it has since become a popular venue for many musical events due to its special acoustics. If you want to visit the hall, take a look at their website and see what's on offer at the moment.

Dean village is located a little outside the city but is one of those places you absolutely have to visit when you come to Edinburgh. The village was an important centre of Edinburgh's milling industry and is home to a lot of stories and history. Today some of the buildings have been restored to keep the history alive. Take a stroll over the Dean village bridge that connects the village to the city. It's a really great place that takes you back in time.

Whisky tasting

Scotland is world famous for its incredible whisky. If you're living in Edinburgh, you should definitely do a whisky tasting at least once. There are guided tours that take you to the best bars in Edinburgh to try different varieties of local spirits. There are several distilleries where you can take a guided tour, followed by a tasting for a more refined experience. At the distilleries you can also learn more about the whisky making process which is actually quite interesting.
Best Time to Visit Edinburgh
The climate in Scotland's capital is cold and windy due to its location directly next to the north sea. Winter lasts from December to February, with highs of 8°C, but the wind and humidity make it feel much colder. Snowfall is less frequent and usually does not last very long. Temperatures tend to drop below freezing in occasional cold snaps, but this is not a regular occurance. 
From March to May, spring slowly moves in and brings with it a little more warmth. The maximum temperatures here are around 15°C on average. Summer, from June to August, still feels cool due to the wind that is present all year round. However, temperatures here reach up to 19°C. Rarely do temperatures rise above 25°C and when they do, they only last a few days. Even in summer, there are regular rainfalls, so it is advisable to always carry an umbrella. 
September to November are mostly cloudy, grey and rainy. It is noticeable how it gets colder from week to week. It is advisable to wear a thick jacket during these months as strong winds can blow more frequently. Temperatures can drop to as low as 4°C and reach a maximum of a warm 17°C. There is an average of 10 rainy days per month throughout the year. It is advisable to wear long, warm clothing and bring a wind and rainproof jacket. If you want to jump into the sea despite the temperatures, you should do so in the months from June to August, as the water temperatures are at their highest here with a cool 14°C.
Edinburgh for Families
Edinburgh is a diverse and vibrant city with no shortage of things to do for the entire family. If you have very small children it might be advisable to have a car since walking everywhere is not really an option when it rains very frequently.

If you're looking for a place to stay with a bit more space and maybe even a garden you should consider moving to Stockbridge. This neighbourhood has been named as the best place to live in Scotland in the past and is known for its many amenities and family-friendly community. Morningside or Colinton could also be good choices for expat families.

The school system in the UK is renowned and Scotland has some great options especially for expat families. Since all education is conducted in English there is a great variety of schools to choose from in Edinburgh. Public education is free in the UK although private schools are known to be very pricey. Luckily the public education system is easy to navigate and very reliable. There are no designated international schools in Edinburgh which is largely due to the fact that English is the main spoken language.
Taking a trip to the famous Edinburgh Castle is one of the most popular activities for families in the area. If your children are a little bit older you should consider a family day at the National Museum of Scotland which has many interesting exhibits and interactive tasks. Camera Obscura is another fantastic way to spend a rainy day in Edinburgh. This interactive exhibit features hundreds of illusions, puzzles and games perfect for the entire family.

Of course, you can't forget about the beach which should be high on your list of possible destinations for a family outing. Although it might be too cold for swimming most of the year there is still plenty of fun to be had here with kids of all ages.
Living in Edinburgh
Edinburgh Transportation
Edinburgh is a comparatively small city and many of the attractions and points of interest are concentrated in the city centre. Even if you're living somewhere further away from the old town you most likely won't be much more than a bus ride away from anywhere you need to go.

Edinburgh has a variety of different public transport methods including trams, buses and trains that take you all around Scotland and the rest of the UK. Mostly the system is fairly reliable and easy to navigate. You can use your phone to buy tickets in some cases and prices are reasonable although not the most affordable you'll encounter in Europe. For UK standards the public transport in Edinburgh is reasonably affordable though.
A single bus ticket will cost around 2,50$ and you can buy a day ticket for 6$ which will be worth it if you are making more than two journeys in one day. Trams tend to be a little more expensive at around 8$ but they are usually quicker and more reliable. Note that currently there is only a single tram route available in the city which goes from the city centre to Saint Andrew Square. In the future, more lines will most likely be added though to make the city even easier to navigate.
Before you try taking a bus for the first time in Edinburgh it's important to know that most buses have a no change policy. This means you have to pay the exact bus fare or you won't receive any change in return. A convenient way to avoid this is to buy tickets online using the M Tickets app on your phone. This will let you simply walk into the bus without having to worry about having change on you. Buses in Edinburgh also take contactless payments so you can always pay by card or using a mobile payment service on your phone such as Apple Pay.

Taxis are quite popular in Edinburgh although they can be expensive. Even for a quick ride, you'll easily pay more than 20$. Uber tends to be slightly more affordable but drivers are not as readily available as taxis are. Especially after a night out on your way home you might have trouble finding an available Uber.
Edinburgh is a very old city which means the roads tend to be narrow and tight. Finding a place to park can be very time consuming and pricey so having a car will not necessarily make your life any easier. The UK is well connected and even if you want to explore some other destinations close by you can always take a train or long-distance bus. Having your own car will only really be worth it if you intend to take a lot of trips to the countryside or if you are coming to Edinburgh with your family and are going to live far away from the centre of town. A lot of kids take the bus to school though so you should be able to manage without a car if you're living in the city.
Fitness and Health
Edinburgh has a lot of rain and the weather tends to be very cold so most of the opportunities for staying fit and healthy take place inside. The city has a great selection of gyms, many of which are part of larger chains with multiple locations around town as well as the country. 
Try out Pure Gym for a modern and flexible approach to working out. They offer high-quality equipment, 24-hour access and a lot of different fitness classes. The Gym, Village Gym and CaveFit are other great options for digital nomads looking for a place to keep fit in Edinburgh. Fortunately, it's quite normal in Scotland to have a non-contract gym membership which means you are free to leave at any time. This is a huge benefit if you're not quite sure how long you'll be in Edinburgh and you don't have to worry about unnecessary payments. 
Although Edinburgh is not the most affordable city you'll be pleased to know that gym memberships start as low as 25$ per month. Usually, you can get affordable options by buying an off-peak pass which lets you access the gym during less busy times.

If you're looking to get fit and enjoy nature at the same time Edinburgh is the perfect place for hiking and camping. You can reach beautiful areas of Scotland like the Highlands or the Cairngorm mountains in just a few hours where you can truly get away from everything. Of course, you'll also be right next to the ocean in Edinburgh with opportunities for swimming or surfing nearby if you don't mind the cold water. 
Edinburgh People
Scotland is a very unique country with many little quirks and unusual traditions. It should come as no surprise that the Scottish people can be a bit odd sometimes especially for those who come from a completely different culture. 
You might want to live in Edinburgh as a digital nomad because the UK is an English-speaking country. Unfortunately, you shouldn't get too excited about this fact and as soon as you step foot outside the Edinburgh airport you'll know why. It's no stereotype that the Scottish accent can be hard to understand. In the beginning, you'll most likely have trouble communicating with locals who sound like they're speaking another language entirely. Luckily this is something you'll get used to eventually but it's good to come prepared. 
Some Scottish people also still speak the traditional language Scotts. With less than 1,5 million people still actively speaking it in Scotland it's not very common anymore but you might come across some words in daily life. A few good ones to know are "braw" which means excellent, "piece" which can mean sandwich or "dreich" which means dull or gloomy.
The people in Edinburgh are friendly and open in most cases. Although it can be tricky to make connections as an outsider in smaller more rural towns in the Scottish countryside Edinburgh is luckily a large cosmopolitan city with many other expats.
A big part of the local culture is going to the pub which locals will do both during the week and the weekends. Having pints of beer or cider with friends is a popular activity and the drinking culture is often at the centre of Scottish customs. If you make local friends in Edinburgh be prepared to drink a lot of alcohol in casual situations. 
Sports is another very important feature of most Scottish peoples' interest. Again, this is related to the pub culture and watching rugby or football together while drinking. Even if you are not interested in sports usually you absolutely have to watch a sports game in a pub at least once for the experience.
If you think of Scotland kilts and bagpipes might come to your mind. This stereotype is definitely true to some extent and you'll probably come across a bagpipe player more than once during your time in Edinburgh. Kilts are very popular attire for men on special occasions such as balls or weddings. If you can, try to take part in a traditional ceilidh, a popular event with traditional dances that everyone can learn fairly quickly.

Of course, these statements are all generalizations and there is much more to Scottish people than drinking, kilts and rugby. However you'll most likely come across quite a lot of these things during your time in Edinburgh. What truly makes this city special are Scottish people whose traditions and customs are unique in Scotland and the rest of the world.
Edinburgh Insurance and Medical Care
Scotland is known for having some of the best medical care in the UK and is world renowned for its affordability and extensive coverage. However, this is only the case for permanent residents or citizens of the UK and as a foreigner you unfortunately won't get to enjoy any services for free unless you are a permanent resident or for example a student. 
The health care system in the UK is called NHS although Wales, Northern Ireland, England and Scotland all have separate regulations. As a digital nomad you'll want peace of mind if you're living abroad without having to worry about what a doctor's appointment might cost you. It's highly recommended to obtain medical insurance from your own home country that will be applicable to any foreigner country you might live in. If you do not have this coverage already you could look into insuring yourself in the UK although this will most likely be very expensive as a foreigner.

If you do need medical assistance while you are living in Edinburgh and do not have insurance you could expect to pay upwards of 150$ for a short consultation. Always save any receipts and invoices from doctors so you can hand them in to your insurance company later.

The NHS is sometimes known for being a bit chaotic and in non-emergency cases the waiting times for appointments can be quite long. Luckily the quality of hospitals in Edinburgh is very high so if you do need treatment for a more complicated issue you'll be in very good hands. 
Make sure you are fully covered by reading our full Digital Nomad Travel Insurance guide.
Jobs in Edinburgh
Obtaining a work visa for the UK has become more and more difficult recently as Brexit changed many of the laws. While EU citizens used to be able to work in Scotland quite easily it is now a lot more difficult to obtain a work permit. Depending on your visa you need to be very careful as a digital nomad so you're not breaking any local laws. Make sure all your work is online and only take a job if you are legally allowed to do so by your visa requirements.
In most cases, it's only possible to obtain a working visa if you have a job offer for a skilled job or if an employer is willing to sponsor you. If that is not the case for you then you should look for jobs online while you are in Edinburgh. Use platforms like Upwork to find possible remote job offers in your field or contact coworking spaces for possible leads. 
If you do hold a working visa for the UK and want to make some money to fund your life in Edinburgh you'll most likely have no trouble finding a job. Casual work like the retail or hospitality industry is usually not too hard to find in Edinburgh and many businesses are especially looking for employees during the summer or winter break when university students go home and leave their jobs. The minimum wage in the UK is not the highest but should be enough to at least cover some of your costs of living in the city.
Check out our Digital Nomads Jobs Postings to find the best jobs available for Digital Nomads.
Nomad Friendly
Value for Money
Internet
Workspace
English
Food
Safety
Health
Transportation
Friendly
Quality of Living
Cost of Living Edinburgh
It's no secret that Edinburgh is expensive. The general cost of living is quite pricey especially compared to other large European cities. Rent for a one-bedroom apartment will cost you around 1000$ but you could reduce it to 500$ if you stay in a shared house. This often even includes bills so you can expect to pay a lot less if you decide to live with other people compared to having your own place. Definitely consider this option if money is tight but you still want to experience Edinburgh.

Groceries will also not be cheap especially if you eat a lot of meat which can be expensive in Scotland. Alcohol is another large expense due to Scotland's high taxes and regulations which make things like beer, wine and spirits very pricey. The only affordable thing in Edinburgh will be your gym membership which could be as low as 25$. Unfortunately, that won't make a huge difference to digital nomads living in the Scottish capital. Most likely your expenses will pile up quickly so definitely adjust your budget accordingly to make sure you can afford living in Edinburgh.
Sample expenses for one month in Edinburgh
Essential costs
1000$ basic one-bedroom apartment

150$ bills for water, gas, electricity, wifi
200$ public transport
200$ groceries
30$ cell phone plan
_________________
≈ 1580$ total per month
Optional costs
250$ eating out and nightlife

200$ membership at a coworking space
35$-100$ health insurance (varies greatly according to country)
200$ budget for day-trips
25$ gym membership
150$ gasoline