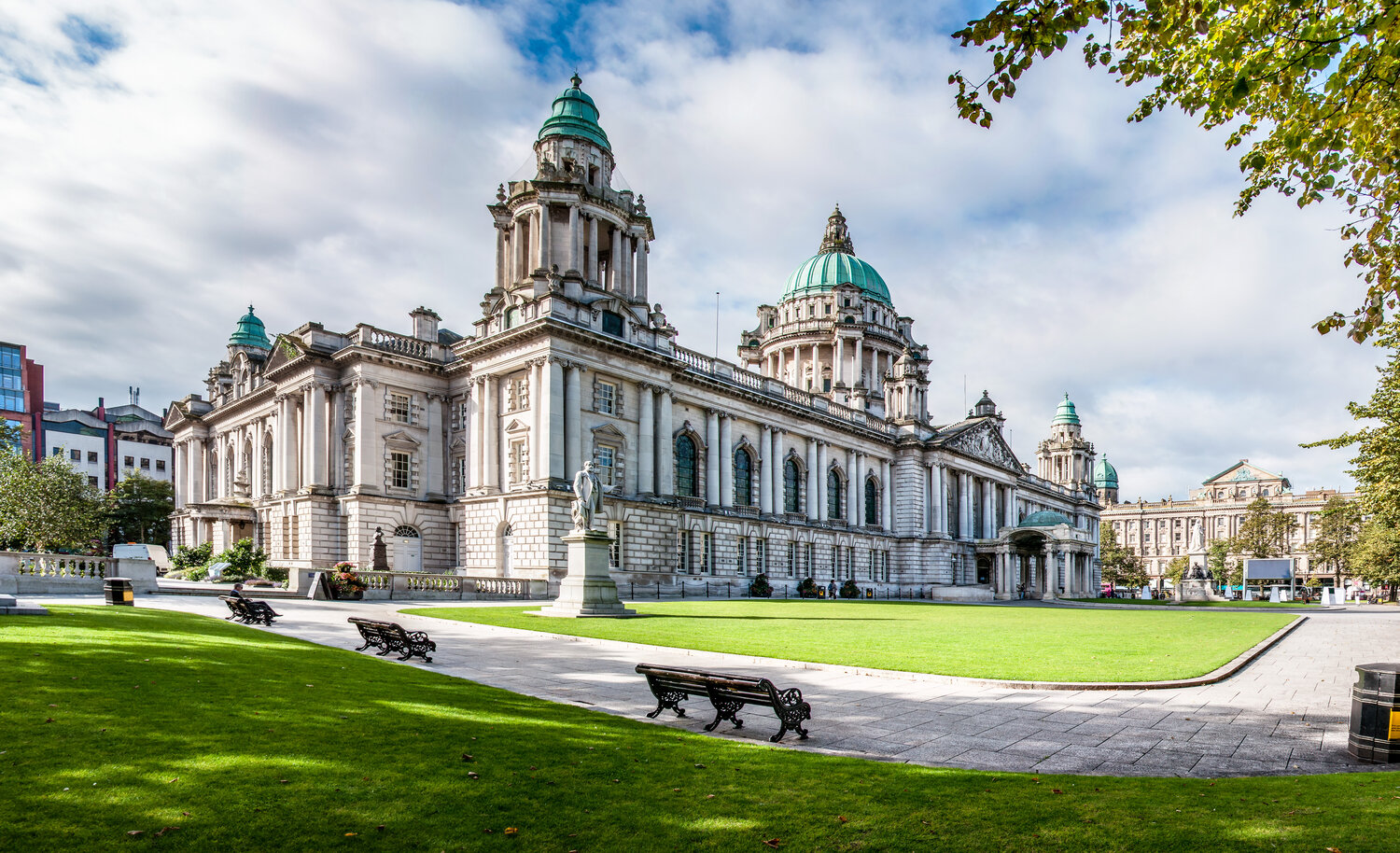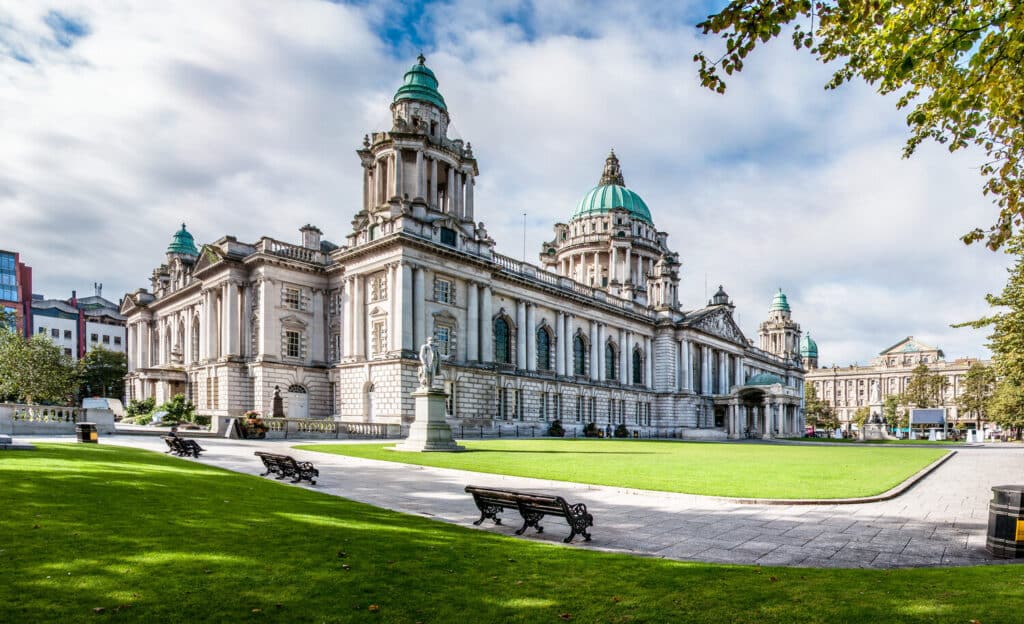 A Digital Nomad Guide to Belfast
Belfast is a city known for its turbulent history, fascinating culture, and raucous pubs. The city's reputation precedes it a little – and before the peace process in the late 90s it was seen as a no-go area. These days it is a welcoming tourist destination and is known for its friendly atmosphere and welcoming charm.
Located in the northeast of the island of Ireland, Belfast is the capital city of Northern Ireland – and the second largest city on the island. With just short of 500,000 residents in the wider metropolitan area, it's a fairly small city – making it pretty easy to get acquainted with.
Among locals, Belfast is a bit of a love it or loathe it city. That being said, many visitors look more favourably on the unique experiences offered in the area. It attracts thousands of visitors from Great Britain thanks to the inviting nightlife, whilst those from the Republic of Ireland have been known to shop in the city due to the low cost of living.
This low cost of living (both by Irish and UK standards) is starting to attract digital nomads from across Europe. Rent, food, and entertainment is all considerably cheaper in Northern Ireland than pretty much anywhere else in the archipelago. This makes it a fantastic option for those looking to save a little money.
The city is constantly changing – with recent updates in local infrastructure improving the quality of life for locals and visitors alike. This desire to improve leaves the city with an exciting and progressive atmosphere – and a number of start-ups are taking note. Northern Ireland's unique connections with both the EU and the UK are also turning the city into a business hub.
Furthermore, Belfast enjoys regular connections with Dublin, Derry/Londonderry and Galway by land; Scotland and Northern England by sea, and across Europe by air. This makes it the perfect base for exploring further.
Nomad Friendly
Value for Money
Internet
Workspace
English
Food
Safety
Health
Transportation
Friendly
Quality of Living
Living in Belfast Overview
| | |
| --- | --- |
|  Meal, Inexpensive Restaurant | $16.22 |
| Domestic Beer (1 pint draught) | $6.76 |
| Cappuccino (regular) | $3.66 |
| Loaf of Fresh White Bread (1 lb) | $1.30  |
| Water (1.5 liter bottle) | $1.26 |
| One-way Ticket (Local Transport) | $2.97 |
| Basic Utilities (Monthly) | $98.64 |
| Internet | $44.50 |
| Fitness Club (Monthly) | $38.16 |
| Apartment (1 bedroom) in City Centre | $836.64 |
Currency: Indonesian rupiah (Rp)
[erw_exchange_rates_widget lg="en" tz="0″ fm="IDR" to="EUR,USD,GBP,AUD,JPY,RUB" st="primary" cd="" am="15000″][/erw_exchange_rates_widget]
ATMs
Max Withdrawal: Rp 3,000,000
Withdrawal Fee: Rp 30,000 – Rp 50,000
Use of Credit Cards: Mostly Cash
Digital Nomad Personal Experience in Belfast
My first trip to Belfast was to visit a friend from the city. This gave me the opportunity to experience the city through the eyes of both a tourist and a local. Tour guides for Belfast tend to talk about the same things over and over again – so it's really useful to gain this alternative perspective whilst there.
With that in mind, Belfast is a city that is best taken as somewhere to experience rather than somewhere to see. There aren't many stand-out landmarks across the city (although there are plenty of fascinating museums and traces of Northern Ireland's past). What really makes Belfast an incredible destination is its people, culture and nightlife.
I've visited Belfast multiple times since that first trip and it's easy to see how fast the city is developing. Whilst public transport was super inconvenient the first time around, it has become much easier and more efficient to use. Beyond that, the city has also developed a modern range of bars, restaurants, and entertainment facilities. The difference from one year to the next is often startling.
It's already been mentioned, but I really can't emphasise enough how great the cost of living is in Belfast. Housing is among the cheapest in the UK, entertainment is super affordable, and even a pint won't set you back too much. There's so much more on offer in Belfast – but for digital nomads the cost is a great plus.
Living in Belfast is a little different from visiting – but thanks to the friendly locals you shouldn't have any trouble building a social life. It's also an excellent hub for exploring elsewhere in Europe. Buses to Dublin (and Dublin Airport, where you can get reasonably priced connections to North America) only take a couple of hours. Belfast International Airport also houses multiple budget airlines to Europe.
Work in Belfast
Belfast is fairly new to the digital nomad scene – but that doesn't mean there aren't plenty of great co-working spaces on offer. Start-ups have been drawn to Northern Ireland since Brexit due to the favourable status the region enjoys with the trading bloc. This means we are likely to see more and more digital nomad friendly workspaces popping up across the city.
That being said, the digital nomad community is still small at the moment and you'll find the coworking spaces have fewer spots available. It's worth shopping around to see what you can get – but keep in mind there's a chance you won't get your first pick. Be prepared to keep in touch with the various co-working spaces.
Best Places to Work in Belfast
LoftSpace
LoftSpace is a hip co-working space only a stone's throw away from Victoria Square shopping centre. This makes it a fantastic option for digital nomads that want to be based right in the heart of the city. There are excellent transport connections nearby – perfect for getting to where you need to go.
They offer affordable memberships, access to meeting spaces and free hot beverages throughout the day. As the name suggests, the interiors are decorated in the New York Loft style. This creates a calm and welcoming atmosphere – perfect for powering through your work for the day.
The Foundry
Located in the heart of the Titanic Quarter, the Foundry is only a short walk across the river from the city centre. Nevertheless, the neighbourhood maintains a peaceful atmosphere that's great for those wanting to get away from the bustling centre.
The Foundry is managed by East Belfast Enterprise – a local organisation that helps businesses and freelancers in the area. This makes it a great space for learning more about the assistance on offer as well as networking with others. The space is also one of the cheapest on offer in the city.
Urban HQ
Looking for something a bit more high-end? Urban HQ is a great choice for those willing to splurge. You'll have 24/7 access to the office and the many facilities on offer. These include a well stocked kitchen, a rooftop terrace, and showers with locker storage.
There are also plenty of opportunities to mingle with other freelancers, start-ups, and remote workers. They host regular events and have a variety of social spaces. The on-site bar is located on the roof terrace, and there's a separate members' lounge with fresh coffee and herbal teas.
Ormeau Baths
Ormeau Baths is a historic building on the southern edge of the trendy Linen Quarter. This neighborhood is teeming with hip bars, quirky cafés, and lively events. This co-working space makes good use of the location – and also doubles up as an events space.
Once a Victorian bath house, the building was renovated recently by locals, expats and small businesses to create a bespoke working space near the city centre. The rates are pretty affordable and you get heaps of facilities in return. You'll also never get bored thanks to all the events on offer (with discounted/complimentary tickets for members).
Co-working spaces in Belfast are fairly affordable compared to elsewhere in the world (and especially compared to the rest of the UK and Ireland). That being said, you might be on a shoe-string budget and looking for cheaper places to work.
As mentioned above, the Linen Quarter is a super-cool district offering plenty of independent cafés. You can also check out the Ireland Independent Coffee Guide for tips on the best places for a cup of joe.
That being said, don't be afraid of chain coffee shops! These are fairly quiet during working hours – but generally have more plug sockets on offer and app ordering so you don't need to leave your seat.
Best Places to Live in Belfast
Best Neighbourhoods
Belfast is a fairly small city, but each neighborhood has its own distinct charms. The vibrant city centre is divided into quarters – each representing what can be found in the district. In some areas it can feel like you are in a completely different city – so we recommend travelling around.
That being said – we recommend first timers stick close to the centre of the city. Whilst the peace process has vastly improved the situation, there is still some segregation between nationalist and unionist populations. Broadly speaking, the west is more nationalist whilst the east is more unionist. North and South Belfast are fairly mixed – as is the city centre – so you're less likely to run into trouble.
Linen Quarter
South of Belfast City Hall, the Linen Quarter is named after the industry that used to dominate the city. Many of the old infrastructure has since been converted into trendy bars, restaurants, and cafés – as well as a whole host of entertainment venues. This is a great spot for digital nomads.
In many ways the Linen Quarter is a microcosm of Belfast's regeneration. Once an abandoned neighbourhood, it is now a vibrant cultural hub right in the heart of the city. It will also host the brand new transport centre – replacing the current bus and railway station – from 2022. This is a great area for those that want to travel further afield in the UK and Ireland.
Queen's Quarter
Named after Queen's University, this destination is popular with the student population. You'll find a good mix of budget and upmarket eateries in the area to accommodate this. For digital nomads, you can find some fairly affordable housing in the neighbourhood – despite it being so close to the city centre.
That being said, it's also one of the most desirable districts in Belfast. Known for its leafy streets, the area has turned into a major shopping and dining district. In the evenings you will find some of Belfast's liveliest bars and nightclubs – catering to all kinds of people.
It's also close to the Botanic Quarter. This is where you will find the Botanic Gardens, as well as the Ulster Museum. This is a great spot for learning more about Northern Ireland's turbulent history and modern culture. The Botanic Quarter is the most popular district with tourists.
Titanic Quarter
Just across the river from Belfast City Centre, the Titanic Quarter is housed on reclaimed land. This is the most modern of Belfast's neighbourhoods – which can easily be seen by the sleek, contemporary buildings and abundant transport infrastructure. It's an area that's constantly under construction – but this adds an exciting vibe.
The name comes from the RMS Titanic – the infamous ship that was built in Belfast. The Titanic Museum is the crowning glory of the quarter; jutting right into the harbour. Here you can learn about the ship's construction and check out some interactive exhibits. If you're watching money and just want to know about the story of the Titanic there's a free exhibit along the waterfront.
The Titanic Quarter is pretty quiet during the day – making it a great spot for getting some work done. At night, however, the neighbourhood transforms into the largest entertainment district in the city. It's home to the SSE Arena and Odyssey Pavillion – where some of the world's biggest artists and comedians have performed.
Find an Apartment in Belfast
First of all – Belfast is one of the few cities in the world where you're more likely to find a house than an apartment. Outside of the very centre of the city, most accommodation is terrace housing. This presents a few challenges – but also gives you a little more space once you actually find somewhere to live.
With this in mind – house hunting in Belfast can be a little bit of a nightmare. Rentals are taken very quickly – and it's not uncommon to have someone place a deposit halfway through the viewing. This difficulty also means people are more likely to stay put for longer, in turn reducing how many homes actually end up listed.
Before you even start looking for somewhere to live you'll need to think about how much you want to spend. Thankfully Belfast is a pretty inexpensive destination on that front. It's also not as dependent on location as elsewhere in the world – though you'll find the city centre and South Belfast cost slightly more.
The homes themselves are also pretty large. It's not uncommon for people to have a spare room (especially since one bedroom properties are so rare) and this won't really cost you that much extra. You'll also likely have a small garden – giving you a little slice of the outdoors to enjoy during the summer.
The first place most people look is online. Zoopla is the most common place to start but we have a word of warning – many of the listings on Zoopla aren't actually available. This is just a way for estate agents to get your contact details so they can offer you other places. Sometimes it's quicker to cut out the middle-man and go straight to the agent yourself.
Gumtree and Facebook Groups are other great places to look for somewhere to stay. You'll find there's less paperwork involved when renting from these places. This has its pros and cons. For digital nomads it means you're not as tied down to a place and have a little more freedom to move (often with no deposit involved). On the other hand it can be harder to hold your landlord to account if they don't stick to the agreed terms.
However you decide to look for an apartment, we recommend viewing the property in advance. You'll want to check that the windows are adequately sealed and there's no sign of animal infestations (both rats and bats are common in the city). The best way to do this is in person.
Therefore, we recommend getting an AirBnB for your first month. This will cost you a little more – but in general AirBnB isn't too expensive in Belfast. As long as you avoid the Botanic Quarter and the area around the bus and train stations you probably won't break the bank.
You should also consider whether you want to live alone or with others. Living in a flatshare means you get to save money and meet new people – but it's not as easy in Belfast as it is in other parts of the world. Most flatshares are with students – which can be off-putting to digital nomads. That being said, given there aren't many one bedroom homes in the city it'll be much more efficient if you find someone else. Two bedrooms don't cost a lot more so you could easily find one of those and then advertise for a housemate (with permission from your landlord).
Cheap Places to Stay in Belfast
For digital nomads we recommend looking on Gumtree and Facebook Marketplace. The issue with estate agents is that often they'll expect you to sign lengthy tenancy agreements. It's pretty common for landlords to expect a one year lease from tenants. This is fine if you want to stay a while – but most digital nomads want a little more freedom.
If you are looking for accommodation through online listings, you will need to view the property and get some clarity from the landlord on the terms. It's likely you'll be renting directly from the landlord – and you're well within your rights to ask for a signed contract. You should also ask for any deposit paid to be put into a safe-deposit scheme so they cannot unfairly charge you at the end of the tenancy.
South Belfast is the priciest neighbourhood – with the city centre also costing a little bit more than the rest of the city. That being said, you want to avoid the more segregated neighbourhoods in East and West Belfast. It's not worth the marginal savings to stay in one of these less-safe neighbourhoods – so treat this as a non-negotiable.
Desperate for an apartment? You'll have more luck in the city centre and Titanic Quarter than anywhere else in the city. The latter is the most modern district so there are plenty of apartment blocks popping up around the area. You'll also have great transport connections and stunning views across the River Lagan.
Belfast Visa
Northern Ireland has the same visa requirements as the rest of the UK. If you're from the UK or the Republic of Ireland you have the right to live, work, and study in Belfast as long as you want. Other citizens will need to apply for an appropriate visa in order to move to the city. Many people have access to Irish and British passports through family, so it's worth checking if you suspect this might apply to you.
The UK also offers working holiday schemes for a small handful of countries (Australia, New Zealand, Canada etc). These are usually reciprocal so double check the rules at your local consulate. Most of these last for one year and you can live/work anywhere in the country. This is a great option for digital nomads looking for something short term.
Whilst Northern Ireland has a special arrangement with the EU for trade this does not extend to the freedom of movement. European Union citizens will need to apply for a visa to Northern Ireland just like everywhere else in the UK. With this in mind, it's likely easier to opt to live in the Republic of Ireland (which is still in the EU). Those living in the Republic of Ireland can visit Northern Ireland as many times as they want – there are no border checks!
The UK offers a number of different visas and the system is complex. It's worth looking into the Visas and Immigration section of the government website to get the rundown of what exactly is required. Whilst many digital nomads get away with working on a holiday visa (since their employers and bank account are outside the UK) this is a bit of a grey area legally so always consult a professional if you're in any doubt.
Culture and Food in Belfast
Northern Ireland as a whole has a pretty unique culture and nowhere is that more apparent than Belfast. Much of its turbulent (but fascinating) history can still be seen today. There are multiple cultural highlights across the city and you really need to embed yourself in the local communities to get to know them.
If you're interested in the Irish language and celtic culture, the Gaeltacht Quarter is a fascinating neighbourhood. Parts of it are a little segregated, so be careful at night – but during the day you'll find vibrant exhibits, artworks, and performances dedicated to Irish language and culture. This is a must visit for anyone planning an extended stay in the city.
The area stretching from the Titanic Quarter to Belfast City Airport is a testament to Belfast's industrial past and present. Samson and Goliath – towering gantry cranes visible from across the city – have become monuments to the city's shipbuilding heritage. Likewise, the linen quarter still retains some of its historic charm from when linen manufacturing was the main industry in the city.
Belfast also doesn't shy away from some of the more divisive and controversial aspects of its culture. The infamous black taxi cab tours will take you around some of the city's murals – depicting either loyalist or republican themes depending on where in the city you are. This shows you the lasting legacy of the Troubles and lets you gain insight into modern conflicts.
So what about food? Belfast has a similar cuisine to the rest of the UK and Ireland. It's loaded with carbs, fried food and interesting (depending on your sensibilities) meat products. It can be easy to write this off – but modern Belfast cuisine has developed alongside the rest of the city. You'll find some decadent takes on household dishes in the restaurants across the city.
Northern Ireland is perhaps most famous for the Ulster Fry. This is similar to the other large breakfasts you'll find across the UK and Ireland – but with some important additions. Soda farls (known as soda bread elsewhere) are a staple part of any Ulster Fry, and many breakfast restaurants offer them on their own with your choice of filling.
Like most European cities, Belfast also has a cosmopolitan dining scene where you can sample dishes from around the world. There's a good chance you'll be able to find a local interpretation of your home comforts.
One final note on culture in Northern Ireland. Whilst the peace process has toned down a lot of the violence of the Troubles, there are still occasions when this violence can flare up. The 12th of July is a major holiday for the loyalist community involving huge bonfires and street marches. Whilst it can be tempting for outsiders to take a look at this unique aspect of life in Northern Ireland, it's advised to stay away. Many locals choose to go on holiday around that time to get out of the city. Even if you can't get away – consider working from home and avoiding major parade routes at that time of year.
Belfast Nightlife
If there's one thing Belfast is known for among visitors it's nightlife! This is the top reason for visitors from elsewhere in the UK, and is also a major draw for visitors from the Republic of Ireland. Whether you're looking for friendly pubs, lively nightclubs, or ambient restaurants there's a little bit of everything on offer in Belfast.
Pubs
It's common in many cities across the world for nighttime revellers to spend some time in a pub before heading out to a nightclub. In Belfast, however, it's much more common to spend the entire night in the pub. This is because they tend to have a more social atmosphere where you can mingle with other people and enjoy the friendly vibe.
To accommodate this, many pubs are actually open later in Belfast than in other cities in the UK. For around a third of the year, pubs are allowed to stay open until 1am – with many larger pubs allowed to stay open until 2am. This doesn't include the one hour drink up time (where you cannot order drinks but you can stay and finish what drink you have left) – meaning some pubs are open until 3am.
If you're heading to Northern Ireland from elsewhere in the UK, you should keep in mind that spirit measures are larger. Whilst they're 25ml in the UK, they're actually 35ml in Northern Ireland. Visitors from the Republic of Ireland will be disheartened to learn this is 0.5ml smaller than measures south of the border.
Whilst pubs can be found all over the city we recommend sticking to South and Central Belfast. Segregated neighbourhoods will, in turn, host segregated bars.
Nightclubs
Whilst pubs are the most popular destination for Belfast revellers, the city certainly isn't short of good nightclubs. These are open until 3am generally, but will sometimes open later during key dates in the summer and festive season. Unlike pubs, you don't have a drink up time in these – although bartenders will stop serving you close to closing time.
The two most popular areas for nightclubs are the Cathedral Quarter and Queen's Quarter. Cathedral Quarter is a little on the pricier side, but there's not much in it. This is a better option if you want to stay away from the huge student crowds and prefer something a wee bit more laid back.
Queen's Quarter is a little cheaper and a little more raucous. This is home to some of the most famous (and infamous) clubs in the city. Most of the clubs are centered around Dublin Road – with some quieter bars down Botanic Avenue.
If you're going out during the weekend it's worth keeping in mind that taxis are really hard to come across – and public transport often finishes before the bars and clubs close. This can be a little frustrating and you'll probably need to wait a while – but rest assured that you will get in a taxi eventually. It's a little bit easier to get taxis via an app, but it can still be tricky. If you're big on nightlife try to stay close to the main spots.
Things to do in Belfast
For such a small city, Belfast has plenty of things to do. Whether you're interested in history, culture, or art there's a little something for everyone on offer. Locals can be quite derisive of what the city actually has to offer – but once you scratch beneath the surface you'll find plenty of hidden gems to keep you entertained.
What's more – it's also well placed for exploring further afield. Derry/Londonderry has its own interesting attractions, Giant's Causeway is pretty close and even Dublin is only a couple of hours away by bus. Once you've got some extra time off you'll be spoiled for choice when it comes to day trips.
Black Taxi Cab Tour

Belfast's murals depict some of the lingering tensions between loyalist and republican communities in the city. Many visitors would rather not walk too close to them and they're pretty spread out across the city. Black taxi cab tours give you the opportunity to see the highlights, as well as learn about the context from an in-the-know (though still biased) local.

Titanic Museum

The Titanic might be famous as a ship that never completed its journey, but for many people in Belfast it offers a bit of local pride. After all – it's not the shipbuilder's fault that an iceberg got in the way! The Titanic was a feat of engineering at the time and you can learn all about the history at this modern museum.

Botanic Gardens

Botanic gardens are common features in cities across the world – so it makes sense they'd be popular with visitors to Belfast. The beautiful gardens are a great place to meet up, walk around, and breathe in the fresh air. There are a couple of cute little cafés inside the park (and just outside), and the Ulster Museum is right next door.

Ulster Museum

The Ulster Museum is home to multiple exhibits depicting Northern Irish history (as well as the history of the island as a whole), showcasing local marine life, and displaying art from Northern Ireland and beyond. Like most museums in the UK it is completely free to enter – making it a great option for those weeks where you're a little low on cash.

The Waterfront Hall

This city centre entertainment venue is a fantastic location for catching a show. Hosting musicians, comedians, and theatre performers there's a little something for everyone at the Waterfront Hall. It's also well located right next to the river – and just across the bridge from the Titanic Quarter.

St. George's Market

This market is like a living piece of Belfast history. It is the last remaining covered Victorian era market in Northern Ireland – and still functions as a popular shopping destination for locals and tourists alike to this day. Treat yourself to some fresh produce and local baked goods to really embed yourself in the local community.

Cave Hill

Towering over the city, Cave Hill is the main attraction in North Belfast. You can climb to the top for unbeatable views across Belfast and the harbour. It also houses both Belfast Zoo and Belfast Castle. The latter is mostly an event venue these days, but there are some marvellous upscale restaurants in the grounds.

Cúlturlann McAdam Ó Fiaich

Right in the heart of the Gaeltacht Quarter, this is a must visit for anyone interested in Irish language and gaelic culture. It houses multiple events throughout the year, Irish language classes, and an Irish bookshop. You can also check out their visual arts space featuring work from artists embedded in Irish gaelic culture.

Smithfield Market

Castle Court and Victoria Square are the two main shopping centres in Belfast – but Smithfield Market offers a totally different experience. Here you can grab antiques, local goods, and collectables. Most of the shops are independently owned by locals, giving the place a more authentic feel. It's definitely worth a few hours of your time.

Casement Park

Managed by the Gaelic Athletic Association, the Gaelic games are a series of sports traditional to Ireland and Gaelic culture. Played across the country, each county has its own team for each sport. Casement Park is the main stadium in Belfast – representing County Antrim at Gaelic football. Games are pretty cheap and well worth the trip.

Ulster Folk and Transport Museum

The Ulster Folk Museum gives you an insight into what life was like in the province a century ago. You'll get to see a replica farm and discover some of the region's folk traditions. The neighbouring Transport Museum houses historic vehicles from across the world – including an authentic DeLorean.

The Golden Mile

Stretching from City Hall to Queen's Quarter, the Golden Mile is Belfast's most notorious nightlife strip. It's gained a bit of a reputation for itself, so take care when walking along the street during the evenings. That being said – this is where the most popular nightlife is located so it's definitely a must visit. If you want something a little quieter keep walking into Queen's Quarter for more laid-back bars, restaurants, and clubs.

Maggie Mays

Nursing a hangover from a long night on the Golden Mile? Maggie Mays is a local institution that will perk you right up. You can grab their famous Ulster Fry and admire the locally inspired décor. It's a bit of a long wait at times, but you'll be rewarded with hearty food and an inviting atmosphere.

Giant's Causeway

Your time in Northern Ireland isn't complete without a visit to Giant's Causeway. The ancient basalt columns have become a symbol of the country across the world. It's not just a fascinating geological formation – there's also some stunning scenery nearby. Public transport from Belfast is pretty easy to navigate – but if you drive we recommend taking the coastal path there for the best views.

Bangor

Just a short train ride from the city, Bangor is a popular seaside town on the north coast of County Down. You will find some of the best fish and chips in Northern Ireland in the town's waterfront restaurants. It is best visited during the summer and only takes about twenty minutes from Belfast train station.
Best Time to Visit Belfast
You might know Ireland as the Emerald Isle, but do you know how it got this name? It is, of course, because of how green the grass is – but it's worth keeping in mind that the grass is only so green because of all the rain. Ireland's west coast deals with more rain than the rest of the island, but Belfast still sees a lot of rainfall.
Nevertheless, if you can get over the rain the city is totally worth it during the warmer months. On warmer evenings Belfast hosts BYOB outdoor events into the wee hours where you can party with locals in the open air. The local scenery is gorgeous and there are plenty of hikes just outside the city.
April to October is the warmest season – with June to August being a little bit drier than the other months. Whilst mid-July is best avoided for the reasons mentioned in the culture section – the rest of the season is the perfect time to visit.
That being said, winter is an interesting time to visit thanks to the festive markets. Ireland is also generally milder than Great Britain so you'll get to enjoy the relatively dry January – February period without having to put on a million layers.
You'll also need to keep in mind the seasonal sunlight hour differences if you're from somewhere a little bit further south. Northern Ireland is far north enough to notice extreme differences between winter and summer. Days are only about seven hours long in the peak of winter, compared to 17 hours near the summer solstice.
Belfast for Families
I don't personally have children – but I do know families who live in Belfast (and even a few that have visited on holiday). Just straight off the bat – this isn't a major family destination. That doesn't mean you can't make it work, but if you're looking for a family friendly place to live you're better off looking elsewhere. The city is, after all, most famed for its nightlife.
That being said, there are plenty of family friendly attractions across the city. Belfast Zoo is home to just about every animal you can think of – meaning the kids will be happy to return time and time again. Whilst the historic attractions often depict violent times in the region's past, this is often done tastefully and can be a key teaching moment for older children.
In terms of mingling with other families, this is one area where Belfast is a great option for expats. Locals are famously friendly, and you'll find plenty of family focused groups and activities across the city. During the day, kids are allowed in pubs (especially those that sell food) so you can still socialise with other families without needing a babysitter (though you'll need one for the evenings).
Schooling in Northern Ireland is pretty complicated. Just like schools in England and Wales, Northern Irish youngsters sit GCSEs and A-Levels. Where it differs is that many schools are segregated by community. This situation is improving slightly, but it can be off-putting for those from elsewhere that simply want to put their kids into an integrated school. Private schooling is more common in Northern Ireland, but can be expensive. You'll need to do your research before deciding where to enroll your kids.
That being said, Belfast is growing into a more inclusive destination that will likely attract more families over the coming years. Restaurants are super accommodating, and universal healthcare is a major draw for expat families.
Living in Belfast
Belfast Transportation
Belfast is a super compact city that can easily be explored on foot. Most places in the city centre are only a 30 minute walk from each other. It's therefore not a given that you will even need to use the public transport system. If you can stay somewhat centrally, this is a good way to save money on transport costs.
Belfast – like most of Europe – also benefits from a bicycle hire scheme. You only need to pay £5 per year and you get the first 30 minutes of every bike ride for free. If you stay near a docking station this is more than long enough to get you into the city centre from basically anywhere in Belfast.
Buses
This is the most popular transport method. An unlimited monthly pass only costs around £55 and will take you anywhere in the city. Translink is the national bus provider for Northern Ireland – and Metro is the name of their Belfast city bus service. They also operate the glider – a quirky little autonomous bus that looks like a tram.
If you want to get out of Belfast you'll want to take either Ulsterbus or Goldine. Ulsterbus is the cheaper of the two, but is a convenient way to get from A to B if you're not in a rush. They travel to most major towns in Northern Ireland – as well as cities in the Republic of Ireland (and even as far as Scotland). Goldline costs a little bit more, but usually takes a more direct route, making it preferable for longer distances.
Trains
Northern Ireland has a relatively small railway compared to the rest of Europe. There are only four lines – all of which run via Belfast. They terminate in Larne, Bangor, Derry/Londonderry and Dublin (via Lisburn and Newry). Unless you're travelling to Larne or Bangor you'll probably take the bus as these are cheaper.
Taxis
Black taxi cabs can be found all over the city and are fairly popular with locals. The public transport service misses out some areas – and some lines finish quite early in the evening. As previously mentioned, however, these taxis are hard to find during the busier Friday and Saturday evenings. ValueCabs and FonaCab are two taxi operators that have their own apps. Uber is available, but not overly popular.
Fitness and Health
Belfast offers a fairly comprehensive level of fitness and health activities. You'll find plenty of fitness groups across the city – which are a great way to stay healthy and socialise with locals. Belfast Live has some listings for local clubs that you can join – and it's also worth checking with local Facebook groups.
Gym memberships are reasonably affordable in the city – starting at around £15. Gyms are modern and safe – and many of them offer fitness tracking facilities so you can really push yourself. If you can, we recommend choosing a gym that also offers fitness classes. PureGym is the main gym chain, but there are plenty of independent places too.
Finally, you should also consider outdoor activities. Whilst it does rain a lot, this is just part of the fun for many locals. County Down offers stunning mountain landscapes waiting to be explored, and there are also plenty of cycling opportunities nearby. Look into local hiking and cycling groups to get started.
Belfast People
The friendliness of the people in Belfast is one of the biggest reasons to move to the city. You just need to step foot in a local pub and you're sure to have locals chatting away to you. This can make it a very inviting place for digital nomads – especially those who are planning a longer stay in the city.
One thing to keep in mind, however, is to take care about what you talk about. Whilst the Troubles were a huge part of Belfast's history, it's best to avoid the topic in social situations. Many locals will be more than happy to share their experiences – but give it time and let them instigate the conversation. You don't want to accidentally step out of line.
This does also mean that people can have quite a dark sense of humour. Not necessarily in an offensive way – but try not to be too shocked if people approach morbid subjects with an air of nonchalance. For many people this is part of the charm of local culture. Humour is how many of the locals coped with the region's turbulent past.
Locals across Northern Ireland can be a little suspicious of outsiders. Try not to take it personally – they're just not used to the huge tourist and expat numbers experienced elsewhere in the UK and Ireland. Always be respectful of local sensibilities and try not to leave too much of a mark. For example, visitors often try to write messages on the peace walls – but this will only upset locals.
Nevertheless, once you've eased people's suspicions you'll find an incredibly friendly population that's more than happy to help. Tourism numbers are increasing (as are the numbers of people moving to Northern Ireland) and the people of Belfast will be delighted to show you their city. They can sometimes be a little derisive of the place – but deep down many of them experience some sense of local pride that will shine through.
Belfast Insurance and Medical Care
Northern Ireland benefits from universal healthcare just like the rest of the UK. HSC (Health and Social Care) is the national health board (similar to the NHS in the mainland) and covers all types of healthcare. It's a comprehensive service and everything is free at the point of use.
Unlike other universal healthcare systems you don't need to be a citizen in order to access HSC services. As long as you live in Northern Ireland you are entitled to the full suite of healthcare services. Even those on a short term visit can access emergency care without the need to register
Once you arrive in Belfast you'll need to register with a local GP practice. This can be a little tricky so be prepared to phone around and check what the requirements are. Once you've registered you will be given a health card which you can use to register with a dentist (or switch GPs). Dental care isn't free at point of use – but is heavily subsidised by the HSC.
Make sure you are fully covered by reading our full Digital Nomad Travel Insurance guide.
Jobs in Belfast
Belfast isn't the easiest place to find a job, but the situation is improving fast. With Northern Ireland enjoying unique access to both the UK and EU markets a number of businesses are increasing their operations in the area. This has resulted in the number of listings substantially increasing in recent months.
NIDirect lists the most popular industries and in demand skills on their website. Currently IT, Creative, and Digital Media, and Agriculture are the biggest industries in Northern Ireland. As with much of Europe, STEM skills are the most in demand across the city.
Looking online is your best bet for finding a job in Belfast. Indeed and LinkedIn are popular listing sites – though we suggest using these as search tools and checking each company's website for further application instructions. There are a few scammers that use Indeed in particular so be careful where you send your details.
Check out our Digital Nomads Jobs Postings to find the best jobs available for Digital Nomads.
Nomad Friendly
Value for Money
Internet
Workspace
English
Food
Safety
Health
Transportation
Friendly
Quality of Living
Cost of Living Belfast
The good news is that Belfast is an incredibly cheap place to stay. Northern Ireland is probably the most affordable destination in Northern Europe – which for many visitors is a welcome respite from the high prices in the Republic of Ireland. It's pretty common for locals south of the border to do their shopping in Belfast to save some cash.
That being said, this does mean wages are a little lower than the rest of the UK and Ireland. Nevertheless, it's not difficult to make a decent life for yourself on the average salary. If you're a digital nomad there's a chance you're making your money internationally – and this is a great spot if you want to be based in Europe, but don't want to break the bank.