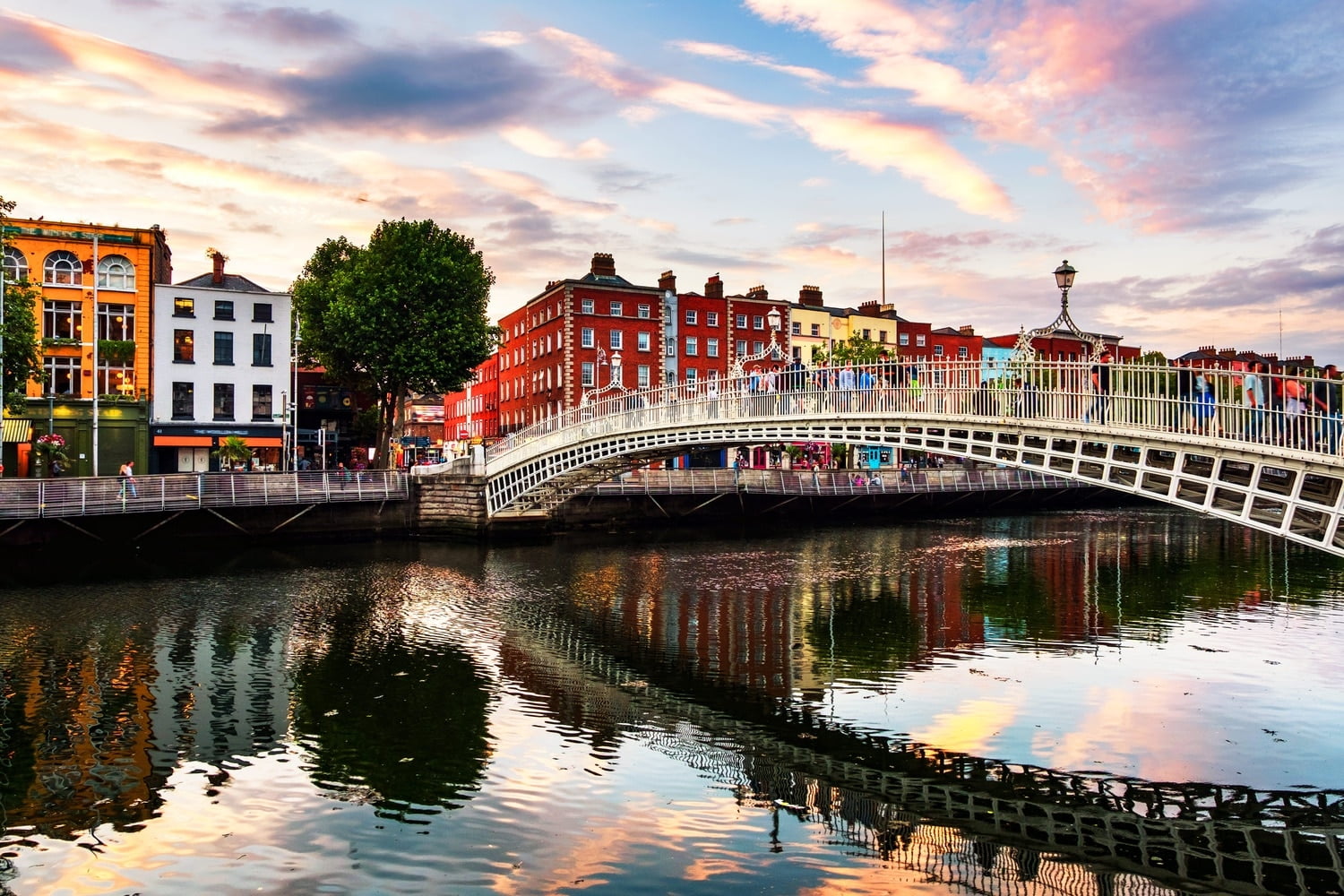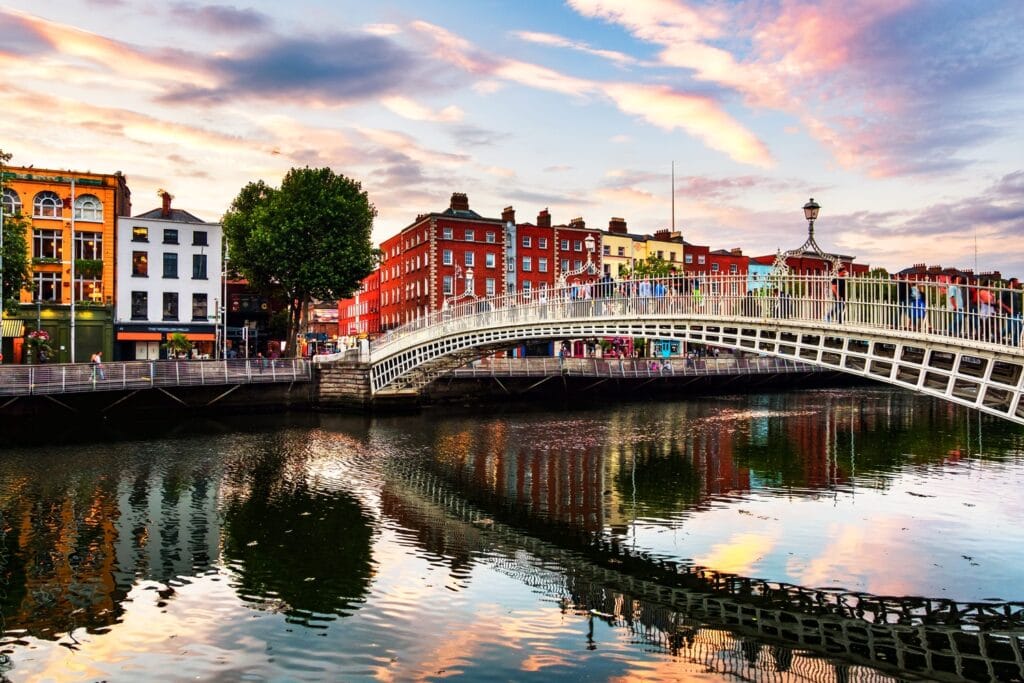 A Digital Nomad Guide to Dublin, Ireland
Dublin is a bustling metropolis with tons of opportunities for digital nomads. It's big and full of life, combining world-class tourist attractions with a fantastic work environment. While Ireland is not exactly known for its great weather, it's a fantastic country to choose for digital nomads looking for high-quality amenities and a new culture to dive into. The best part is that you don't need to navigate a new language, and Ireland is open and welcoming to tourists. With a population of just over 540,000 people, Dublin isn't exactly one of Europe's largest cities. This makes it easy to navigate, though, and a great choice if you're not quite ready to take on big places like London or New York. 
With lots of opportunities for coworking spaces and a decently sized digital nomad community, remote workers love Dublin and all it has to offer. Dublin also has a great reputation for nightlife, and of course, Ireland's impressive drinking culture is something everyone should experience at least once. Since Ireland is so small, you can reach almost anywhere in the country in just a few hours by car or train. Taking a weekend trip to the countryside is a must-do if you're living in Dublin as a digital nomad, and you'll soon notice how easy it is to recharge and unwind here. Living in the city might feel a bit cramped after a while, but that barely matters if you can just escape the busy streets and find yourself in nature in just a few hours. 
Dublin is known to be a very young city and a hotspot for freelancers. With a large university population and a young workforce, this is the city to go to if you're in your 20s and 30s. Life in Dublin takes place in the pubs, so going out with friends will be a regular occurrence here.
Nomad Friendly
Value for Money
Internet
Workspace
English
Food
Safety
Health
Transportation
Friendly
Quality of Living
Living in Dublin Overview
| | |
| --- | --- |
|  Meal, Inexpensive Restaurant | $17.19 |
| Domestic Beer (1 pint draught) | $6.53 |
| Cappuccino (regular) | $4.00 |
| Loaf of Fresh White Bread (1 lb) | $1.58 |
| Water (1.5 liter bottle) | $1.42 |
| One-way Ticket (Local Transport) | $3.44 |
| Basic Utilities (Monthly) | $186.94 |
| Internet | $60.15 |
| Fitness Club (Monthly) | $45.71 |
| Apartment (1 bedroom) in City Centre | $1,955.19 |
Currency: Indonesian rupiah (Rp)
[erw_exchange_rates_widget lg="en" tz="0″ fm="IDR" to="EUR,USD,GBP,AUD,JPY,RUB" st="primary" cd="" am="15000″][/erw_exchange_rates_widget]
ATMs
Max Withdrawal: Rp 3,000,000
Withdrawal Fee: Rp 30,000 – Rp 50,000
Use of Credit Cards: Mostly Cash
Digital Nomad Personal Experience in Dublin
If I can give you one piece of advice for living in Dublin, it will be to spend some time to educate yourself on what words like English, British or UK mean and why NOT to use them in Ireland. The Irish take their nationality very seriously, so make sure not to mix up any terminology which could potentially offend someone. This somehow perfectly describes what Ireland is about. It's a proud country that is not afraid of its sometimes troublesome history. You'll be amazed at the diverse culture, and all a city like Dublin has to offer. 
To me, Dublin felt a lot larger than just 540,000 people. I've previously lived in cities with millions of inhabitants, but Dublin did not seem that much smaller. There is a lot to see and do, and you'll never be bored here. Just keep in mind that living in Dublin as a digital nomad will not come cheap. The city is notoriously expensive, especially when it comes to housing. Budget very carefully and don't expect to save much money while you are living in Dublin. For me, the high prices are worth it, though. It's rare to get the opportunity to live in such a beautiful and historic city, even if you're only staying for a few months. Of course, it goes without saying that you should try your best to visit Dublin during the summer. Winter here is grey and rainy, so you won't get the best impression of the city. Dublin is the sort of city that grows on you over time. You'll find yourself being a bit sceptical at first, but after your first really fun night out at a pub or a day spent by the seaside, you'll find yourself falling in love with the ancient walls of this vibrant capital. It's definitely one of those places you need to experience for yourself in order to truly understand it.
Work in Dublin
Dublin has a fantastic selection of little cafes and bars, many of which have fast wifi available for free. Head to the Central Hotel, which is a popular spot amongst remote workers looking for a quiet place to be productive. With large comfortable armchairs and a great internet connection, you can easily spend a few hours here getting things done. Third Space is a more modern and trendy place to work, which is popular amongst a younger crowd of freelancers as well as students. Staying for a while is encouraged, and you can easily sit here for an entire day if you've got a big project to get done. Dublin is known for its many coworking spaces, which are world-class and available all around the city. Here are some of the best ones to try.
Best Places to Work in Dublin
The Tara Building
If you're looking for the perfect beginner-friendly coworking space in Dublin, look no further. The Tara Building has a central location close to the river and combines fantastic amenities with fairly reasonable prices. Spread across two separate open-plan spaces, this coworking office has tons of different corners and quiet spots, which are perfect for those trying to be productive. There are also more collaborative spots where you can gather with like-minded individuals to discuss new ventures. Social events are a priority at this coworking space, and in addition to workshops and presentations, you can also join in on wellness classes or drinks after work. Prices start at 240$ per month, although you can also pay on a weekly basis.
Huckletree D2
The Huckletree D2 coworking space seems like a combination of a modern startup office and a children's daycare. It's fun, it's unusual and is guaranteed to get your creative juices flowing. At 30,000 square feet, there is lots of space to use. There is a forest room, a massage studio, yoga spaces and picnic benches where your team can meet and discuss new projects. Once a week, a communal breakfast is held, which is the perfect opportunity to network with fellow digital nomads. At 340$ per month, this isn't the most affordable coworking space, but its unusual setting and active community are worth the price.

Element 78
If clean and modern coworking spaces are more, your style Element 78 is the perfect place to go. This office building is designed with efficiency in mind. The furniture is white and cleek with occasional colour accents that truly make the design pop. Members have 24/7 access which is especially useful for digital nomads working in different time zones. Element78 offers hot desks but also caters to small businesses that are looking for a more permanent home. There is a shared kitchen and showers. Element 78 is conveniently located close to a train station, so the commute is a breeze. At nearly 400$ per month, this is an upscale coworking space and not very budget-friendly. It's most suitable for experienced digital nomads who are looking for a high-quality service and professional workspace in Dublin.

Cluster
Cluster is a relatively new co-working space in Dublin that attracts a young crowd of remote workers. Reasonable prices and great facilities are only some of the attractive qualities that this coworking space has to offer. Its central location makes it easy to reach Cluster from all parts of the city. Just a short walk from the space, you'll find an incredible selection of bars and restaurants which are perfect for a quick lunch break. A hot desk at Cluster costs 250$ per month, which is an excellent price for Dublin.
Best Places to Live in Dublin
Best Neighbourhoods
Dublin is one of the most expensive places to rent, and finding a place to stay won't be easy if you're not willing to spend thousands of dollars every month. There is a severe housing crisis in the city, so be prepared for subpar apartments at elevated prices. Of course, as a digital nomad, you'll want to live close to the city centre and all the amenities there. However, it might be advisable to look for somewhere to stay a little bit outside of the city in one of the quieter neighbourhoods which will be far more affordable. That being said, here are some central neighbourhoods that could be of interest to digital nomads.
Temple Bar
Temple Bar is arguably the most central place you can stay in Dublin. This area is notorious for nightlife and wild parties. If you want a good night's sleep, this might not be the place for you. However, if you often find yourself at a bar or pub, this is where you need to be. Temple Bar is much more than just drunken crowds of tourists, though. You'll also find lots of cultural activities here such as markets, art galleries or little festivals. Just be prepared for steep prices and noisy streets.
The Docklands
If you're looking for something central but quiet, then you should look for a place to stay somewhere close to The Docklands. Located right by the river, this is prime real estate in Dublin that has been developed into a fantastic neighbourhood for young professionals. With lots of tech firms and financial institutions in the area, this is a great place to network and join Dublin's young and busy workforce. Apartments here won't be cheap, but the high prices are worth it. You'll get beautiful views of the river and modern buildings with all the latest amenities.
Blackrock
Blackrock is the complete opposite of the places on this list so far. It's located outside of the city, right by the coast and has a small-town feeling to it. In fact, you might even forget that you live in the city and make your way into Dublin only occasionally. However, even though you'll feel like you're hundreds of miles away you can actually reach the city centre in only around 30 minutes by car. Blackrock is beautiful and family-friendly. It has a decent number of expats, especially Americans. Keep in mind that you'll need a car to get around if you want to look for a place to stay in this area.
Phibsborough
Phibsborough is the perfect compromise between city and country living. It has a central location, but you'll still get a quiet experience. It's one of Dublin's most popular residential neighbourhoods, so definitely be prepared to pay a lot to rent here. You'll find a great selection of shops, restaurants and bars here although you won't be overrun by tourists. Enjoy a pint in one of the local bars and watch as pedestrians walk by. Phibsborough is an excellent choice for digital nomads who want to live in the city without having to deal with all the downsides.
Find an Apartment in Dublin
The housing situation in Dublin is a bit of a disaster. It's expensive to live in the city, and with a large student population, there is an insane demand for low-cost housing but very little supply. You'll be able to find a room in a shared house for around 600$ per month, but you'll be far from the city centre, and the apartment will most likely not be up to a great standard. An entire one-bedroom apartment will cost upwards of 1200$, if not more. Many students actually share rooms with several people to keep living costs low or convert living rooms into extra bedrooms. Keep an eye out for very cheap apartments like that. Scams are common as landlords hold considerable power over tenants and sometimes raise rent unexpectedly or keep the deposit after a renter has moved out. It's recommended to spend a bit more on an apartment and stay away from any rentals that seem disingenuous or too good to be true. Instead, look on reputable platforms and always meet landlords or roommates before paying a deposit or signing a lease.
The best place to find an apartment in Dublin is online. Since it can be challenging to find housing, you should start looking at least a few months in advance, so you are guaranteed to have a place to stay when you arrive. Again, use your common sense and avoid paying a deposit before you have seen the place. This might be difficult to arrange, but it will save you a lot of trouble. For short term rentals, check websites like Gumtree, My Home or Daft. For longer leases, you can look into Rentola or Property. Airbnb is also a good option if you're only staying in Dublin for a few months. Most landlords will want a longer lease, so you might be better off paying a bit more for an Airbnb but not having to deal with things like paying a deposit or having to set up wifi. Message some Airbnb hosts privately and ask for a reduced rate. This might not always work, but you could be lucky and get a discount if you commit to staying for a while. 
Dublin is a student city, so it tends to be impossible to find a place to live during the beginning of the semester. August and September are usually not the best time to look for an apartment in the city as all the students will be snatching up the best low-cost accommodation deals. Instead, look at the beginning of the year or in spring when landlords won't have as many possible renters, and you'll have a much larger selection of places to look at. You need to be fast, though. The best deals go quickly, and there are usually several applicants for a single apartment. Landlords tend to prefer long term renters with a stable job, so make sure you're telling them all the positives of renting to a digital nomad. Luckily, many properties in Dublin come furnished, so you won't have to worry about getting new furniture on arrival.
Cheap Places to Stay in Dublin
The cheapest way to live in Dublin is to find a room in a shared apartment. If you want to go even more affordable, you could also find someone to share a room with, but this will, of course, mean having absolutely no privacy. Sharing with a stranger can also be a bit risky as you might have to keep a close eye on your belongings until some level of trust is established. In general, this is not really advised unless you have experience sharing a place to live with a stranger and know how to handle such a situation. A shared room might cost you around 300-400$ per month, and it's mostly university students that are looking for roommates.
A much more reasonable option is to find a flatmate with whom you'll share common areas, but you'll still both have your own bedrooms. A room in a shared house or flat in Dublin will cost around 600-800$ depending on the location. On top of that, you'll need to pay expenses such as heating, water and wifi, which can also add up. Gumtree or Roomster are good platforms for finding flatmates or vacant rooms.
Dublin is an expensive city, and there is no way around it. Unfortunately, it's very difficult to find something affordable. The further you go from the city centre the lower the prices will be so if you're lucky you might find a room for only around 500$ a little bit outside of the city. However, once you factor in the commute, it won't be worth the price in many cases.
Dublin Visa
Ireland is actually not part of the Schengen area, which makes up a large part of Europe. This means that the travel and visa regulations are different from what you can expect from other European countries. American citizens can enter Ireland without a visa and stay for up to 90 days. This is a great time to experience Dublin, but after those 90 days are up, it gets a little more complicated for digital nomads. There are long term visas available, but they usually have the requirement that you're either studying in Ireland, have a permanent local job or are moving there permanently with a family member who already lives there. As a digital nomad, you most likely won't fulfil any of these requirements, making it very difficult to stay in Ireland for longer. It's also not generally possible to do a visa run from Ireland, meaning that if you exit the country after your 90 days are up, you cannot immediately re-enter. To surpass this, many digital nomads will move on to the United Kingdom or the Schengen area after their time in Dublin, with the possibility to return sometime in the future. This is only the case for international visitors, including American citizens. If you are a citizen of the European Union, you do not need a visa to enter Ireland. You can stay for much longer periods of time and are even eligible to work. Always double-check requirements for your own nationality and abide by local laws.
Culture and Food in Dublin
Ireland might not be known for its outstanding cuisine, but there are still some dishes you absolutely need to try during your time there. One of them is the famous soda bread. This is the sort of food item you'll find in the cookbooks of traditional Irish families. It's a dense bread that can be made in many different ways. It can be both sweet and savoury and is commonly served with butter. You won't find soda bread in restaurants very often, although traditional bakeries do tend to have it. No soda bread is like another, so make sure to try a few different ones if you get a chance.
There is definitely some truth to the stereotype that the Irish eat a lot of potatoes. Colcannon and champ is only one of many dishes that is considered to be typically Irish. It consists of a potato and cabbage mash that is prepared with butter. It's served with spring onions and sometimes a fried egg.
The Irish cuisine tends to be hearty with lots of fried things and, of course, potatoes. Much like some of the neighbouring countries like England or Scotland, it's common in Ireland to have a Sunday roast. This meal is prepared every week and is usually treated as a feast with lots of different dishes. This could include Yorkshire Puddings which are little puff pastries, roasted vegetables, mashed potatoes and gravy. The star of the show is, of course, a large piece of roasted meat or ham. A Sunday roast is a family event in Ireland, so if you get the chance to attend one, you definitely should take the opportunity.
When you think of Irish culture, Saint Patrick's Day might come to mind. While this holiday is definitely popular and a celebrated event in Dublin, it's also been very Americanised and might not be what you expect. Traditional Irish culture is far more than just dressing in green. There are lots of myths and legends that surround Ireland and its many traditions. Definitely look into Irish mythology and folklore if you're interested in mystical things. Despite its strong Christian faith Ireland also has quite a few Pagan festivals that are celebrated. This is more so true for the countryside, but there are some instances of it in Dublin as well. Imbolc is, for example, the celebration marking the beginning of spring while Samhain welcomes winter.
Then there is Riverdance which you might remember from the 1990s where it suddenly became incredibly popular around the world. This traditional dance form is mesmerising and very entertaining. There are some cultural dance events held in Dublin throughout the year. Definitely attend one if you get the chance to get a true insight into Irish dance culture. There is, of course, also traditional music that goes along with these dances. Thesee songs often include fiddles, guitars and the piano. Lots of bars and pubs around Dublin play this type of music occasionally, so keep an eye out for traditional nights.
Dublin Nightlife
Dublin has incredible nightlife and is actually a popular destination for Bachelor or Bachelorette parties. The Temple Bar area is definitely the place to go if you're looking for a wild night out in Dublin. Unfortunately, like most things here, the nightlife is relatively expensive. Many clubs charge entry fees that tend to be between 10$ and 30$, depending on the venue. Alcohol is also quite expensive, and cocktails cost around 12$ to 15$ while a beer is around 6$ to 9$. Most students actually avoid the weekend when it comes to going out in Dublin as it's extremely expensive. During the week you'll be able to find much better deals for drinks, and some clubs are even free. 
Dublin is reasonably safe, much like other large European cities. There are some areas that should be avoided in the evening because of crime and drug use, but if you stick to the tourist streets and nightlife neighbourhoods, you'll be absolutely fine. Just use your common sense and don't walk home by yourself. Clubs generally stay open until 2:30 am on the weekends, and pubs shut at around midnight. There are strict alcohol laws and regulations for this. However, Dublin is home to a lot of secret parties, and occasionally a so-called "lock-in" will take place where a venue shuts down but lets its guests stay inside and keep the party going. This is not the norm, though and very difficult to find if you're new to the city.
While clubs are popular in the city, Dublin's nightlife mostly takes place in pubs and bars. The local culture involves frequently "going for a pint" with friends, especially during the week. If you don't usually drink, Dublin is the perfect place to at least have the occasional beer. Of course, trying the famous Guinness at least once is a must-do. If you don't like the taste of very strong beers, you can order a cider instead. This tends to be a lot milder and sweeter, so it's easy to enjoy even if you're not the biggest fan of alcohol.
Krystle Nightclub is one of the more upscale clubs in Dublin. It's expensive but also great fun. You'll definitely encounter a more well-dressed crowd here and not as many students. You'll have a great night here if your wallet is full and you don't mind spending some money. The Workmans Club is far more laidback and relaxed. It's a popular little club in town with a unique music style that covers all types of genres. This is definitely a popular place for a night out in Dublin, so expect it to be crowded on the weekends. For the ultimate Dublin party experience, you need to head to Copperface Jacks. This club is rough and usually full of drunken party-goers. It's a fantastic place to dance all night if you don't mind the rustic ambience. If you're looking for a fancy place to sip a cocktail, this is definitely not it. But you'll get decently affordable drinks and lots of opportunities to find new friends or perhaps even a dancing partner.
Things to do in Dublin
Visit the Old Jameson Distillery

If you're a fan of the famous Irish whiskey Jameson, then a tour of the historic distillery is an absolute must-do in Dublin. The distillery was in use until the 1970s and now serves as a tourist attraction. During tours, visitors are introduced to the process of whiskey-making, and a tasting is, of course, also included. They even provide tour guests with a whiskey tasting certificate which is the perfect souvenir to take home with you.

Have a drink at the famous Temple Bar

The Temple Bar in Dublin is arguably one of the most famous places in the city. The bar can be traced back all the way to the 14th century and has become a magnet for international tourists who want to have a drink inside its iconic walls. The Temple Bar is located in the heart of Dublin and sits close to many other hotspots for nightlife. It can get very crowded on the weekends, so be prepared to wait for a while or come early if possible.

See the Spire of Dublin

The Dublin Spire, also sometimes called the Monument of Light, is one of the city's most iconic landmarks. At over 120 metres, it's hard to miss the Spire, and it can be seen from many parts of the city. It's made entirely of stainless steel, and its base only has a diameter of 3 metres. The statue seems to defy the laws of physics and acts as an incredible photo subject.

Visit Dublin Castle

The Dublin Castle is said to be over 800 years old, and its historic walls have acted as witnesses to countless historic events. Located in central Dublin, it's a magnificent sight and is the perfect place to visit on a sunny afternoon. Tourists can visit the castle complex, including the historic crypts. During the summer events such as concerts are sometimes held at the Dublin Castle, so there is always something going on. Visiting the grounds of the castle is free, and tickets to go inside cost 8$ per person.

Be amazed by St Patrick's Cathedral

St Patrick's Cathedral is one of Dublin's most well-known landmarks and is considered the largest church in Ireland. Founded in 1191, this building is incredibly old and full of mysterious stories and legends. It's a beautiful sight from both the inside and outside, although visitors should be respectful if they decide to enter the cathedral. It's a religious place, so make sure to be quiet and dress appropriately.

Spend an afternoon at Phoenix Park

Just a few miles from the city centre of Dublin lies Phoenix Park. This is the perfect spot for an afternoon picnic or a walk in nature once you've gotten tired of the busy streets of the city. Phoenix Park is very large, and you can easily spend an afternoon or even an entire day here. This is also where the Dublin Zoo is located, so it's a great place to visit with children. Make sure to stop by the Wellington Monument, which is located within the park and a great place to take photos.

Visit in an abandoned prison

Kilmainham Gaol is an abandoned prison that sits just outside of the city centre of Dublin. If you're interested in abandoned and lost places, this should be at the top of your list of places to see in Dublin. Guided tours cost just 5$ per person and are the perfect way to learn more about the incredible history of this spooky place. The prison has been partly restored but still feels mysterious and eerie.

See the botanic gardens

Dublin is home to the national botanic gardens of Ireland, so why not visit while you are in the city? They're free to visit, and you'll be amazed at the hundreds of rare plant species and stunning birds that like to gather in the gardens. There is a sculpture garden, a vegetable garden and even a covered greenhouse with tropical plants. If you want to learn more about the beautiful gardens, you can take a guided tour for around 6$.

Go to the National Museum of Ireland

The National Museum of Ireland is a fantastic place to learn more about the complicated history of the country and its past conflicts. The building itself is absolutely beautiful and a must-visit for anyone interested in architecture. The museum is large, and there is plenty to see and explore. Best of all, it's completely free to visit, so there is no excuse not to go. Keep an eye out for the Viking exhibit as well as the famous bog men, which draw thousands of visitors to the museum every month.

Walk across Ha'Penny Bridge

The Ha'Penny Bridge is one of Dublin's most beloved tourist attractions and a popular photo spot. It gets its name from the early 19th century when pedestrians had to pay half a penny to cross it to the other side of the river Liffey. Halfpenny turned into Ha'Penny, and today the bridge has this unusual name. If you want to take photos of the bridge without other people in it, you should make sure to come early in the morning. During mid-day, crowds of tourists gather at the bridge, so it's not the best spot to go for peace and serenity.

Go Shopping at the Dublin Flea Market

Once a month all of Dublin goes absolutely crazy for this giant flea market. It's held indoors so you can conveniently go shopping here even when the weather is terrible. You'll be able to find almost anything here, from clothing to furniture, household items and vintage goods. Keep an eye out for those incredible deals you won't find anywhere else. Real flea market enthusiasts come early in the morning to snatch up the best items before the tourists come to browse. Don't forget to bring cash. Paying by card here is very difficult, so you need to be prepared if you plan to bring home some souvenirs.
Best Time to Visit Dublin
Dublin has a cool and humid climate year-round with mild summers and cold winters. Due to its location right by the ocean, the city is generally considered to have slightly better weather conditions than the rest of Ireland. When the weather is rainy, it doesn't tend to stay like that for too long, so it might not be as bad as you think. However, if you're a fan of the sun and warm days, this might not be the city for you. Expect lots of rain in Dublin, even during the summer.
The best time to visit the city is in the months of July and August when you'll get the best chances at good weather and sunny days. This is also the most popular time for tourists, so prices tend to be relatively high in Dublin during this time. August can also be very rainy, so be prepared for everything. Ireland's weather is notoriously unpredictable, and even the best weather forecasts can be wrong a lot. With average highs of 20°C during the summer, you'll rarely be sweating in Dublin. Leave your shorts and sundresses at home and pack a good winter coat and some gloves instead.
While it can get quite cold in Dublin, it rarely goes very far below freezing. Average low temperatures tend to be around 2°C during the winter, and snow isn't too common. This is mostly due to the city's seaside location, which tends to bring in milder winds that keep temperatures from dropping too far.
Dublin for Families
Ireland has an excellent education system and is a great place for expat families. Public schools are affordable and easy to navigate for digital nomads since the spoken language is, of course, English. Children shouldn't have any issues going to a local Irish school, but of course, there are also options for International Schools in Dublin. The International School of Dublin is a renowned school teaching the IB programme, making it the perfect place for an international education. It's located conveniently close to the city centre, so it's easy to reach from all areas of the city.
Dublin is considered to be very family-friendly, and especially European families love to explore the city on a quick weekend trip. You'll actually encounter quite a few tourists with children, so living here as a digital nomad family will be no problem at all. 
One of the best things to do with kids in the city is to visit the Dublin Zoo. With hundreds of different animal species to admire, this is the perfect place to introduce the little ones to exciting wildlife. You can easily spend an entire day at the zoo, and it's quick to reach with public transport. Malahide Castle is another fantastic place for a day trip, especially if you have children that are a bit older. The DART train will take you to the castle from the city centre in only around 45 minutes, so you don't need a car to go. The castle is perfect for exploring and learning about Ireland's history. However, it's so much more than boring walking tours. The kids will love the beautiful grounds, which include playgrounds and a cafe for a nice lunch or ice cream after a long day. You could also pack a picnic if you want to save a bit of money and make this trip even more affordable for the entire family.
Living in Dublin
Dublin Transportation
There are several ways you can get around Dublin. The city is well-connected, and unless you're living somewhere in the outskirts or along the coastline, there is no real need to have a car. The network of public buses is arguably the most useful as it will take you almost anywhere in the city. The buses are reliable and clean and will probably become your favourite form of public transport in Dublin. Separate from the regular bus system, the Airlink Express will take you from the airport to the city centre. It operates up to every 10 minutes, so you'll never have to wait for very long. It costs 8,50$ per person or only 7$ when you buy your tickets online in advance. A regular bus fare costs between 2$ and 5$ depending on how far you're going.
In some instances, the DoDublin card might also be of great value. This is a 72-hour public transport ticket that gives you access to the airport bus, the regular buses as well as free entry to some museums. You can also ride the hop-on-hop-off buses which you might be familiar with from other large cities. If you're planning to do some sightseeing for a weekend or explore a bit after work, definitely consider getting this ticket.

You can also buy a Leap Card, which is a rechargeable public transport ticket. This will make getting around a lot easier, and you'll even get a small discount on tickets. The Leap Card works on both buses as well as the Luas.
In addition to buses, Dublin also has the Luas, which is a light rail train service. Luas is the Irish word for speed. There are only two Luas lines in Dublin, so you might not use this every day. However, it's very convenient and affordable. The Luas connects the city centre of Dublin with the suburbs. It's very popular among locals and gets relatively crowded during rush hours so perhaps avoid it during this time if you can.
If you're planning to explore some of Ireland's beautiful countryside, you need to try out the DART train. It travels along the coast and is very fast and easy to use. The DART will take you to beautiful places like Malahide or Howth, so it's great for exploring if you don't have a car. Locals tend to use the DART to commute to and from the city, so much like the Luas, this train is jam-packed during the mornings and early evenings.
Of course, Dublin also has taxis as well as ride-sharing services available. Uber is popular here, but the most common taxi app is probably Hailo. Make sure to download it if you have a local phone number. Taxis are slightly more expensive but much easier to find in the city. Dublin's taxi drivers (or cabbies) are known to be very talkative and chatty, so be prepared for a conversation if you do decide to get a taxi.
Fitness and Health
Dublin's weather is generally very rainy and cold, so many fitness activities tend to take place inside. Luckily, there is an excellent selection of gyms to choose from. For the ultimate workout experience, head to Raw. This gym has two locations in Dublin, including one in the popular Portobello neighbourhood. Their equipment is modern, and the gym is large enough that you'll never have to wait too long to use your favourite piece of equipment. Plus, there is no joining fee, so you can conveniently join this gym whenever you like without hidden costs. Monthly, Raw costs around 55$, although there are discounts if you decide on a year-long membership.
FlyeFit is the perfect gym for digital nomads visiting Dublin on a budget. At only 34$ per month, this is one of the most affordable places to work out in the city. For only 4$ more, you even get access to all locations in Dublin, meaning you can work out on the go. Pick a gym close to where you live and one close to your favourite coworking space. There is no excuse not to do it now, so definitely give FlyeFit a try. There is a 29$ joining fee, but they sometimes offer free trials, which makes this cost worth it.
Of course, you can also work out outdoors in Dublin if the weather is nice. With a lot of beautiful parks to choose from, you should go for a run during the summer months and truly get to know the city.
Dublin People
Ireland is a small country with just under 5 million people. Dublin only has 540,000 inhabitants, 90% of which are white. It's not an incredibly diverse place, but it tends to be welcoming to all types of people. As mentioned, Dublin has a large student population making the city very young and hip. However, a large percentage of students tend to go home to their families on weekends or during holidays which means the city can be a lot quieter during these times. However, tourists usually make up for this as they flock to Dublin during the summer months when the weather is nice. As many as 11 million tourists visit the city every year, making it one of the most popular in Europe. Dublin has also been ranked as one of the friendliest cities in the world, so it's a great place to live as a foreigner.
The main spoken language in Dublin is English, but most locals have a very thick accent that might take some time to get used to for foreigners. There are some useful Irish words you should know to help you navigate the city. The word "grand" is very commonly used by locals. It means something like okay or great and is often used as a term of agreement. "Up to 90" is also something you'll commonly hear. This phrase means you're incredibly busy and haven't had time for anything (a feeling most digital nomads will know). You could, for example, say, "I haven't even had breakfast today. I've been up to 90 all morning". Then there is the phrase "the jacks" which is one of the most important to know. Plainly put, it just means the toilet, so if someone asks you where the jacks are, you'll know what they're looking for.
Then there is the actual Irish language or Gaelic. This is far less common than English, but there are still estimated to be around 1,2 million people who speak Irish to this day. It's taught in public schools in Ireland, although the younger generation doesn't speak it as much anymore. Around Dublin, you'll find signs in Gaelic as well as English, so keep an eye out for those. Gaelic can be traced back all the way to the 5th century, and it's a beautiful tradition that will hopefully be kept alive for as long as possible. You can learn Gaelic during your time in Dublin if you're interested in this ancient language. There are several language schools that offer evening classes. Just be prepared. It's not an easy language to learn as a foreigner.
Dublin is a welcoming and LGBTQ-friendly place to live. Despite its religious background, the city is a hotspot for gay culture, and the nightlife is especially vibrant. Same-sex marriage in Ireland has been legal since 2015, and Dublin has sometimes been considered as one of Europe's gay capitals. There is a large annual pride parade which is held in June.
Dublin Insurance and Medical Care
As the capital of Ireland, Dublin has world-class health care and hospitals. The system is affordable and convenient for expats and EU citizens. If you relocate to Ireland permanently, you might be eligible for discounted medical care. 
As an international digital nomad, you should always make sure that you have the correct health insurance for your travels. Without insurance, more complicated treatments will be costly in Dublin, so always be on the safe side when you travel. A simple doctor's visit should be reasonably priced, though and come in somewhere below 100$. A hospital visit will be different, though and might cost several thousands for extensive treatment. The easiest and most affordable way to handle such situations is by taking out a travel insurance policy in your own home country. This will get you the best coverage in an emergency situation and peace of mind while you travel.
Some of the larger hospitals in Dublin include Beaumont Hospital, St Vincent's Hospital and Mater Misericordiae University Hospital. In a non-emergency situation, you should make an appointment with a local doctor. This is usually quick and easy, and you'll most likely be treated within a week or two at the most. For urgent issues, you can either go directly to a doctor's office without an appointment or to an emergency urgent care. This should only be done in case of a real emergency, though and keep in mind that you might have to pay any medical bills upfront, which your insurance company will later reimburse.
Make sure you are fully covered by reading our full Digital Nomad Travel Insurance guide.
Jobs in Dublin
Dublin is an expensive city, so you might want to earn a little bit of money on the side while you are in Dublin. You are allowed to work in Ireland if you're either an Irish citizen or a citizen of the European Union (or Switzerland). If you're an international visitor with none of these nationalities, you cannot earn money in Ireland without a specific work visa. This means that all your earnings should be coming from abroad, and no actual work should be conducted locally. This is really important so that you avoid breaking local laws, which could lead to fines or even deportation. If you want to find a local job and obtain a work visa, you need to look into professional work in your own field. Large employers can hire you and take care of visa issues, although this is not the case for casual work. 
The good news is that if you're eligible to work in Ireland, it's fairly easy to find a local job in the hospitality or retail industry. The minimum wage in Ireland is calculated according to age and ranges from 7,50$ to 13$ per hour. If you are over the age of 20, you'll receive the maximum, while under 18s are paid the least. Since these wages are relatively low, considering the cost of living in Dublin is so high, you should focus on finding work online, which might help you more financially in the long run.
Check out our Digital Nomads Jobs Postings to find the best jobs available for Digital Nomads.
Nomad Friendly
Value for Money
Internet
Workspace
English
Food
Safety
Health
Transportation
Friendly
Quality of Living
Cost of Living Dublin
By now, you'll know that the cost of living in Dublin is very high, in fact, much higher than in most other European cities. Dublin is sometimes even compared to London when it comes to living costs. To keep your expenses reasonable, you should rent a private room in a shared living situation. This will most likely save you 200$ to 400$ per month. Another considerable expense for digital nomads living in Dublin will be coworking spaces. With no options below around 230$ per month, you might have to consider either working in a cafe or public library if your job allows or perhaps finding a room with a sizable desk that you could use as your office space. 
Going out for dinner or drinks is also very expensive in Dublin, and alcohol will be extremely pricey if you want to experience the nightlife. Even in a supermarket, beer, wine or spirits cost a lot, so cutting back on the drinks will really help you stick to your budget in Dublin.
Sample expenses for one month in 
Essential costs
1000$ basic one-bedroom apartment
150$ bills for water, gas, electricity, wifi 
100$ public transport
250$ groceries 
40$ cell phone plan
_________________
≈ 1.540$ total per month
Optional costs 
400$ eating out and nightlife
250$ membership at a coworking space
100$-200$ health insurance (varies greatly according to country)
200$ budget for day-trips
40$ gym membership
120$ gasoline