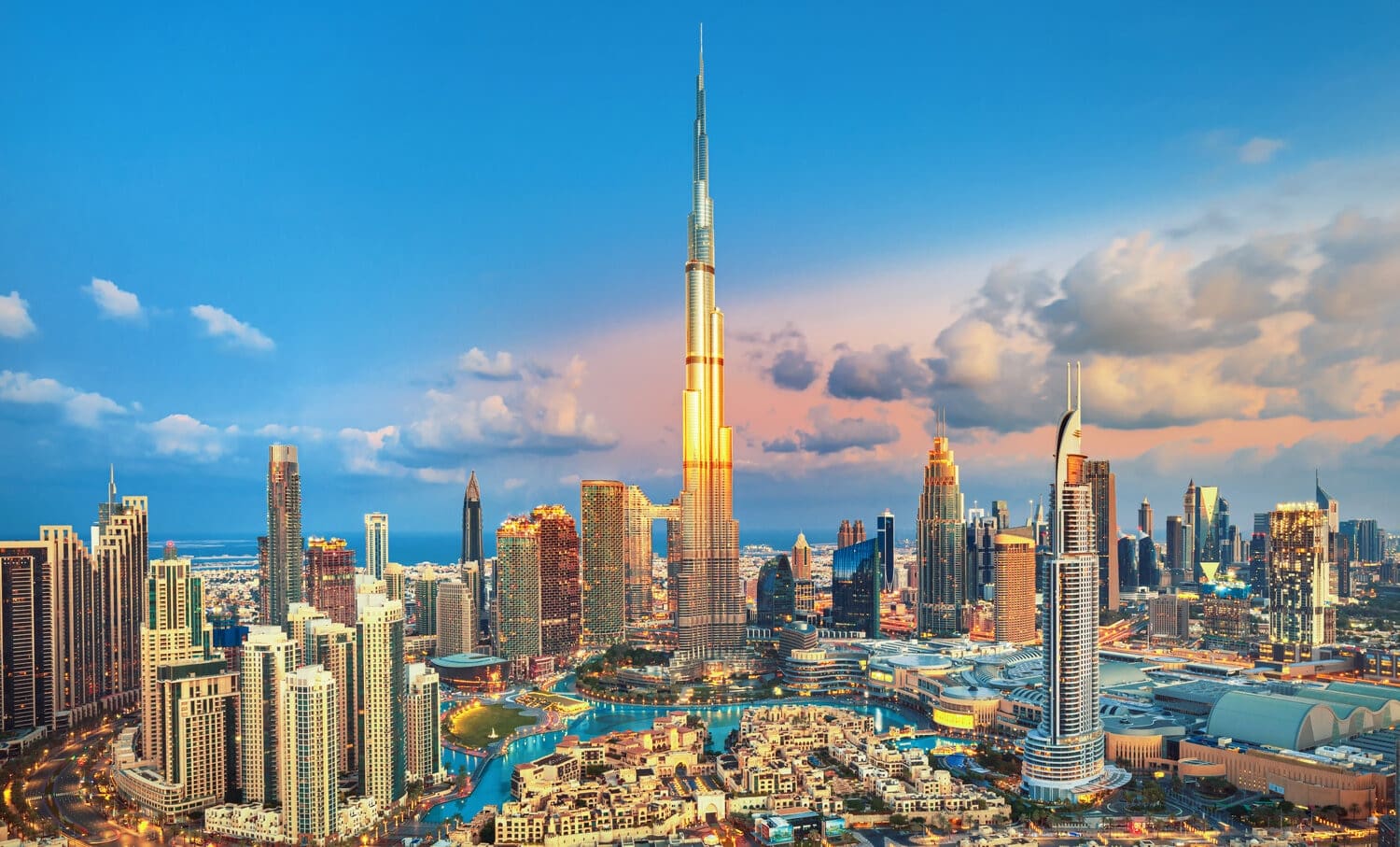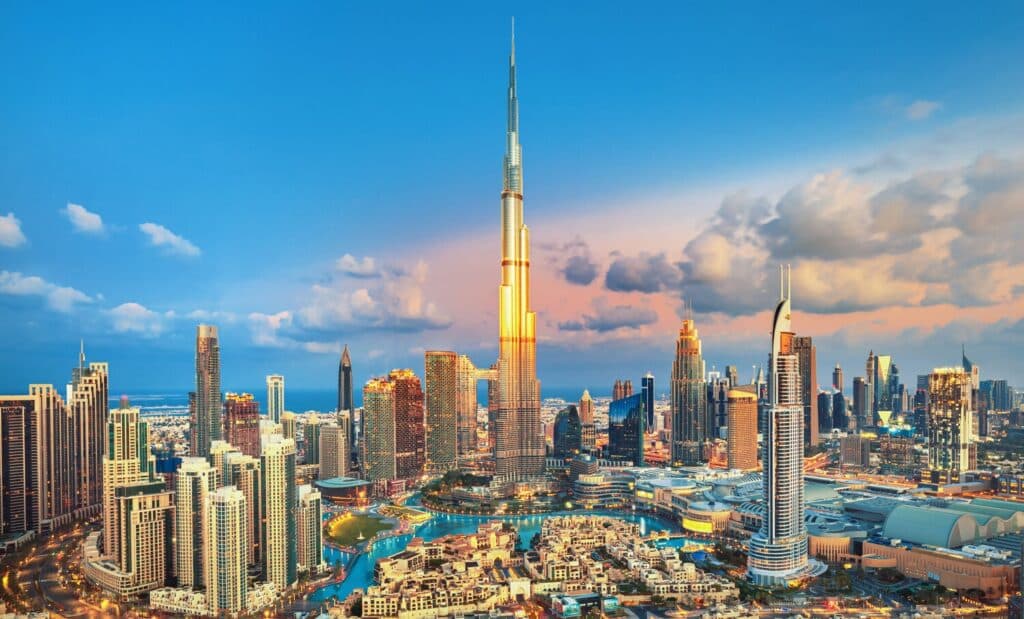 Dubai Digital Nomad Guide
Dubai, the largest city in the United Arab Emirates is also the capital of the Emirate of Dubai. The UAE consists of seven emirates, one of which is the Emirate of Dubai. This rich city was documented as a fishing village back in the 18th century and only became what it is today when it became part of the federation of the United Arab Emirates in 1971. Nowadays, Dubai doesn't just reflect modernity in terms of architecture but in terms of experience, too. 
While the discovery of oil put the UAE on the map, the resources and revenue from the oil field were dedicated to creating a developed, modern city that competes with the first world in many aspects.  By re-investing the profits in trade, investment and infrastructure, the trade and business side of Dubai boomed changing its economy entirely. Because of this, Dubai has been a popular touristic destination for everyone around the world. 
Due to its luxurious shopping experiences, high-end services, numerous world-records and optimum location, it has become a world-known city. One of the things that makes Dubai special is that it is based on a population of around 85% foreign expatriates. However, the entire population is only made up of a population of 3.3 million residents. While this number is fairly small, the area of Dubai is not that big either with only 4,114 km 2. Because of its thriving business scene, many foreigners have made Dubai their homes making it a popular, multicultural destination. 
Not only is Dubai home to what used to be the tallest building in the world, but it is always striving to break records, create new experiences and make its tourists and residents experience a modern, rich culture around every corner.
Nomad Friendly
Value for Money
Internet
Workspace
English
Food
Safety
Health
Transportation
Friendly
Quality of Living
Living in Dubai Overview
| | |
| --- | --- |
|  Meal, Inexpensive Restaurant | $10.35 |
| Domestic Beer (1 pint draught) | $12.25 |
| Cappuccino (regular) | $5.11 |
| Loaf of Fresh White Bread (1 lb) | $1.13 |
| Water (1.5 liter bottle) | $0.56 |
| One-way Ticket (Local Transport) | $1.36 |
| Basic Utilities (Monthly) | $199.89 |
| Internet | $96.98 |
| Fitness Club (Monthly) | $74.99 |
| Apartment (1 bedroom) in City Centre | $1,386.97 |
[erw_exchange_rates_widget lg="en" tz="0″ fm="EUR" to="EUR,USD,GBP,AUD,JPY,RUB" st="primary" cd="" am="1″][/erw_exchange_rates_widget]
Max Withdrawal: €400
Use of Credit Cards: Widely Accepted
Digital Nomad Personal Experience in Dubai
The first thing one notices when visiting Dubai for the first time is the weather. Especially if you arrive between the months of April-October. While Dubai is located in the Middle East, it is a city where the sun shows up all year round. The city can be intolerable due to the heat but makes up for it with numerous experiences and day-to-day activities that are air-conditioned making it able to live in Dubai all year-round. 
Dubai, as a city, provides such a luxurious life and experience. From architecture and man-made structures that are nothing like anywhere else in the world, the experience can be quite daunting for foreigners. However, as a digital nomad living in Dubai, you will learn to sit back, let loose and enjoy the luxuries offered. Keep in mind that this experience and lifestyle does come with a price. Unfortunately, Dubai is not a cheap city to live in and comes with a hefty price tag but it is one that is well-deserving of everything it offers from services, experiences and community. 
While Dubai is a Middle Eastern Muslim country, its mostly expat population has urged it to cater for an incredible nightlife and lively party scene that makes the city a whole lot of fun. The mix in culture between the Emirati, Arab traditions and the openness to new customs and traditions of foreigners makes Dubai a truly unique place to live filled with a contrast that is difficult to understand but truly fascinating. 
While Dubai is a great place to live, it tends to focus on the value of life forcing one to live the moment and give the present their all. Having said that, do not expect to save much in Dubai due to the high cost of living and a lifestyle that makes it impossible not to spend a large sum of money on a regular basis. 
Work in Dubai
Best Places to Work in Dubai
A4 Space
In this coworking space/bar and coffee shop, you'll find comfy sofas, coworking tables and chairs complete with a library of donated books. Whether you're looking for a place to sit back and read in peace or focus on your daily tasks, A4 Space offers free WiFi and an excellent space to get your work done in Dubai. A4 Space is open Saturday-Thursday from 10 am – 7 pm.
Arrows & Sparrows
While this cafe and amazing breakfast spot is a popular destination to get a healthy breakfast and a cup of coffee in the morning, it can also work as a perfect workspace for a digital nomad during the weekend. Arrows and Sparrows opens daily from 8 am – 10 pm but is quite packed on the weekends.
Brothaus Bakery-Bistro
Nestled away in the Business Bay, this bakery is a great place to grab a baked delight, get a cup of coffee and stare at your laptop in peace. You'll be able to work here from Saturday-Wednesday starting from 7.30 am – 11 pm. However, keep in mind that it does get a bit noisy at night.
Cafe Rider
Speciality coffee is a haven for coffee drinkers and Cafe Rider offers coffee roasts, blends, brews and flavours that are a must-try for any coffee-lover. Not only that, but the interior is also filled with bikes making it a super-cool place to hang out. Here, you'll find workspaces, free WiFi and an excellent environment to go about your daily tasks. Cafe Rider is open from Saturday-Thursday 8 am – 8 pm.
City Walk Cafes
This entire walk offers free WiFi allowing you to take your pick at any of the cafes available to set up your workstation and get to work. This allows you to choose from a wide array of options based on your mood and preference. 
ICON Bar & Lounge
If you're looking for a place to meet other digital nomads, then look no further. Due to its location in the heart of Dubai Media City, you're bound to encounter other freelancers at ICON working quietly on their laptops. While the top floor is a smokey bar, the downstairs lounge will be a perfect area to work. You'll find ICON Bar & Lounge open every day from 7.30 am – 1 am.
Madinat Jumeirah
The entire Jumeirah area is covered with free WiFi courtesy of network operator du. Regardless of where you decide to stay in the market's 24 restaurants, you'll be able to use the free WiFi service. This makes it a great option to arrive with your laptop and choose a spot of your liking to work. 
Nadi Al Quoz
From swinging benches, a hanging bed and comfortable floor seating, this workspace is ideal for a digital nomad looking for a cool place to work. It's also pretty useful for meeting other digital nomads looking for a comfortable setting and an extra quiet workspace during the week. Nadi Al Quoz operates from 10 am-7 p daily. 
QWERTY
This isn't just a tech hub, but is a perfect location to work in the heart of Dubai Media City. You get to focus, work on your paperwork or browse the internet on your laptop from Sunday-Wednesday from 6.30-10.30 am and from 12pm-midnight. 
Roseleaf cafe
It's not every day that you can find a place to work that's surrounded by surreal greenery, but Roseleaf cafe offers that and more. Located in Dubai Garden Centre, Roseleaf cafe is open daily from 8 am-8 pm. 
The Beach
Who wouldn't like to work in the serenity of a beach view? In Dubai, the entire The Beach area in front of JBR offers free WiFi. If the weather permits, you can find an outdoor table and set up your workstation while enjoying some of Dubai's best breakfast spots, too. 
Best Places to Live in Dubai
Best Neighbourhoods
Dubai Marina
As a digital nomad who is new to Dubai, The Marina is the place to be. Due to its liveliness, you'll always find something to do. This location is in the heart of the city and offers so many things to do for a digital nomad to keep them busy. One of the highlights of living in Dubai Marina is the incredible sea views that come as a bonus when renting an apartment in the high-rise apartment buildings. However, due to its location, views and the amenities surrounding it, Dubai Marina does not come at a cheap price.
Jumeirah Lake Towers (JLT)
Due to its laid back and convenient atmosphere and wide green spaces, JLT has become quite a popular neighbourhood for families. Here, you'll experience a community feel with many young couples and families looking to stay away from the traffic on their daily commute. One of the advantages of JLT is that it is quite close to the marina where the city comes to life, minus the noise and the crowd. While it is less congested, JLT a unique location that offers numerous dining options. In general, if you're looking for a family-friendly or pet-friendly neighbourhood that is still accessible to the entertainment areas such as Dubai Marina and JBR, then JLT is the neighbourhood you're looking for.
Palm Jumeirah
Living next to the beach is a dream come true for many. Since Dubai has that possible, why not opt for a beach view at Palm Jumeirah? Because of the island's great location, many hotels have opened here, too offering some of the best restaurants in the neighbourhood. Because of the beach view, there are numerous restaurants and attractions where many tourists and residents come to enjoy making it a great spot to be living close by. 
JBR
 another fantastic beachfront is Jumeirah Beach Residence which overlooks the coast and offers numerous fun activities and stunning restaurants. JBR is definitely one of the most crowded, trendiest and most popular neighbourhoods in the city making it extremely busy on the weekends and quite difficult to move around. However, as a digital nomad, wouldn't you love to live where the action is happening with a spectacular view? In JBR, you'll find all sorts of entertainment accessible and within walking distance such as cinema, beach, groceries, gym, restaurant, shopping. 
Downtown Dubai
While property prices in the heart of the city are usually quite expensive, it is one of the liveliest neighbourhoods to live in Dubai, especially if you're single or a young couple looking to be where the action is happening. This neighbourhood is home to one of Dubai's largest malls, Dubai Mall, and can also get quite busy, noisy and crowded making it difficult to move out of the neighbourhood. However, if you're a digital nomad or even work in one of the many companies located in Downtown, then you might not even have to leave the area. 
Business bay
As a digital nomad, you might want to be living close to the key commercial hubs in the city such as Dubai World Trade Centre and Dubai International Financial Centre. Here, you'll be surrounded by other entrepreneurs and businessmen. Just keep in mind that the buildings in this area consist of numerous skyscrapers with luxurious high-rise apartments making it quite an expensive area to live in. 
Mirdif
One of the common expat neighbourhoods for those looking for more affordable rentals away from the hustle and crowd of the city is Mirdif. Located on the East side of Dubai International City, it is a great option for those wanting to be within close proximity to the centre, but not directly in the heart of the crowded areas. Mirdif is also a good option for digital nomads moving to Dubai with family as it has quite a few good schools as well as public parks.
Find an Apartment in Dubai
Finding an apartment in Dubai could be one of the most stressful decisions you have to make not only because of the expenses that come with it but because choosing the neighbourhood and understanding where the best place to live for you can be quite challenging. That's why it is recommended to find a temporary solution in different neighbourhoods you think would match your requirements and test it out first-hand before making a commitment and decision. Once you've decided, here are a few websites where you can find an apartment in Dubai: 
Dubai Marina
An unfurnished one-bedroom apartment in Dubai Marina could start from AED 40,000/year but comes with amenities such as a shared gym, sea view, security, shared pool, concierge and even parking spots in some places. However, a furnished apartment in Dubai Marina could start from AED 85,000/year. 
Downtown Dubai
The prices in Downtown vary greatly based on location, views and space. While you could find an unfurnished one-bedroom apartment starting from AED 50,000 the average rent for an apartment costs AED 93,000/year. 
JBR
While an unfurnished one-bedroom apartment in Jumeirah Beach Residence costs around AED 55,000/year, the median price for furnished apartments in that area cost around AED 89,000.
JLT
In Jumeirah Lake Towers the rental prices vary greatly. However, you could find a one-bedroom unfurnished apartment starting from AED 48,000 whereas the average cost for furnished apartments will start from AED64,000.
Palm Jumeirah
Being one of the more expensive locations, the rental costs can be sky-high. You can find a one-bedroom unfurnished apartment starting from AED 70,000. While average rental costs for furnished apartments are AED 129,000, they could reach up to AED 180,000/ year for a one-bedroom apartment. 
Business Bay
The cost of an unfurnished one-bedroom apartment in Business Bay starts from AED 50,000. While the average cost of furnished apartments is usually around AED 81,500, there are many serviced apartments or hotel apartments in this area that could reach up to AED 150,000/year. 
Mirdif
Most apartments in the Mirdif neighbourhood are usually unfurnished and cost on average AED 50,000/ year. However, you could find a one-bedroom apartment starting from as low as AED 37,000/year. 
Cheap Places to Stay in Dubai
Low-budget and accommodation don't really mix when it comes to Dubai, but that doesn't mean that you have to pay for luxury accommodation. There are a few hotels and hostels that you can book for budget travel to Dubai: 
Bombay Backpackers DXB: AED 65

Dubai Beach Host: AED 105

Bollywood Beach Hostel: AED 70 

DXB Backpackers: AED 63

Reflections Hotel: AED 86

Airport Building 477: AED 50 

Backpackers Zone Hostel: AED 83

Green Sky Hostel AED 140

Urban Hostel: AED 76

Young Sharjah Heritahe House: AED 162

White House: AED 107
Dubai Visa
Getting a tourist visa in Dubai is pretty simple and straightforward. Many nationalities can enter visa-free or obtain a tourist visa on arrival that will allow them to stay in the UAE between 30-90 days based on their nationality. These nationalities include citizens from the EU as well as Argentina, Honduras, Russia, Bahamas, Iceland, Barbados, Russia, Canada, Switzerland, Norway and many more. 
If the UAE does not allow residents from your country a visa-free or visa on arrival entry, then you can easily get a visa online here. The process is different for citizens from different countries but is usually pretty easy to apply to. You can choose from a 30-day visa option, a 90-day visa option or even a long-term visa. However, for a long-term visa, you will definitely need more documents. 
It is also possible to extend your visa twice, each time for a period of 30 days for AED 600 each time it is renewed. However, it is essential to renew your visa before the initial one ends or you will have to pay a fine of AED 100 for each day you overstay your visa. 
As a digital nomad, you can now apply for a nomad visa and get entry into Dubai for up to a year for the price of $287. You will need to show evidence of health care as well as how you intend to support yourself, but this type of visa has made moving to Dubai as a digital nomad quite possible. 
Culture and Food in Dubai
Nowadays, Dubai reflects a modern, multicultural image but it wasn't always like this. In fact, it used to be exotic and hold its own set of rules influenced by the neighbouring countries and the Middle Eastern culture in general. 
While Dubai has evolved, its cuisine still holds the authenticity, spices and exotic flavours of how it used to be. Emiratis are very high on food and there are so many traditions that revolve around food. Like anywhere else in the world, the Emirati cuisine has its famous national dishes and every digital nomad must indulge in some of these delicacies to get a sense of the origin and soul of Dubai and how it used to be. While the following dishes revolve mainly around meat, it is important to note that seafood is a huge part of the Emirati cuisine and should definitely be tried. 
Stuffed camel
Dubai usually gives the impression of luxury. And because of its extra nature in every single aspect, it comes as no surprise that stuffed camel – one of the most luxurious dishes – is a celebratory and must-try dish in Dubai. Camel's meat on its own is already a delicacy, but when done the Emirati way, it is stuffed with chicken, eggs, fish, sheep and spices. Because it is such an expensive and luxurious dish, it is only served on special occasions. If you're ever treated to this traditional Emirati dish then know just how special you are.
Al Harees
Slow-cooked meals are a delicacy like no other and this one takes hours to make. A combination of wheat and meat cooked for hours and then baked for several more makes this Emirati dish one that is made with love. Filled with spices and herbs, it is usually cooked as a gesture of love and hospitality. 
Ghuzi
Meat is an important part of the Emirati cuisine and that's why Ghuzi is very popular in the UAE. What makes it special and popular is that it is an entire meal on its own as it is made of whole-roasted lamb, served on skewers with vegetables and rice with nuts. 
Matchbous
This dish is made of lamb spiced with loomi, which gets that zesty lemony taste from drying ripe limes and saltwater. Matchbous is also a full meal dish as the lamb is cooked into a stew with rice and tomatoes. The exotic flavours and spices found in this dish make it truly unique and an absolute must-try. 
While the UAE has a diverse community, its culture and heritage are heavily influenced by the Arabian culture. Being a Muslim country, you'll find Islamic influence in everything around you, even in the architecture and lifestyle. 
Hospitality is a trademark of Emiratis and so when visiting an Emirati's home expect to be greeted with coffee, dates and other delicacies. Just keep in mind that it is considered impolite or rude to refuse these gestures. 
Another important point to consider in regards to the culture is the clothing. Because of their Muslim heritage and culture, it is looked down upon to wear revealing or short clothes especially for women when in the UAE. While many cultures appreciate foreigners wearing their national clothing, Emiratis take offence when foreign men wear their traditional clothing. However, you'll find that you can easily embrace the culture on other occasions especially when there are festivities that involve music and dance. 
Dubai Nightlife
For anyone wishing to dance the night away and party all night long, Dubai is definitely the place to be. While there are numerous clubs, bars and events happening in Dubai, it is not the only way to enjoy nightlife. In fact, Dubai offers different forms of entertainment at night to suit so many different tastes. Here's how you can enjoy your evenings in Dubai: 
Take a walk along the canal in Dubai Marina
The walk along the canal is romantic as you see the spectacular views of the buildings and the city lights. You can even get a yacht ride or dine in one of the fabulous restaurants in the marina and enjoy a quiet, cozy night with your loved one. 
Sail on the Dhow Cruise
This cruise ship operates in both areas of Dubai Marina and Dubai Creek and is a must-try for tourists and first-timers in Dubai. You won't just get a stunning view of the city as you sail the night away, but you'll also experience live music and performances by magicians and dancers as well as traditional Arabic cuisine to make your night absolutely memorable. 
Horse riding
Have you ever gone horseback riding under the full moon? Well, now is your chance! The Mushrif Park gives you the opportunity to enjoy a special night as you gallop within the wilderness of the park and experience peace and tranquillity on a whole new level. 
Desert Safari
Before you scroll down, this experience is truly enchanting as you get to spend the night in the desert under the dazzling starry skies. From dune-bashing to tanoura dances, belling dancing and henna nights, the Arabian nights in the desert is an incredible experience that is not to be missed. 
And if you're looking to party and hit the famous Dubai bars and clubs, here's where you need to go: 
Vault Bar

White Dubai 

Club Boudoir

N'Dulge Club 

Blue Marlin Ibiza

Kasbar 

Stereo Arcade

Catwalk 

Zinc Nightclub 

VIP Room Dubai

Barasti

Malecon

Q43 Dubai 

Atelier M 

Gotha Club

Soho Garden

Zero Gravity 

At.Mosphere

Bliss Lounge 

Sky view Bar

Nasimi Beach 
Every Tuesday, you'll find an event or party dedicated to women in most clubs offering free drinks. It's a great way to spend your weeknights and get to meet new friends. Nightclubs usually close at 3 am with an exception of one or two that stay up until 4 am. However, it is best to remember that drinking is not allowed in public areas and should be kept strictly within nightclubs or bars that provide drinks. 
Things to do in Dubai
Dubai is a city that has so much to offer from beaches, shopping, nightlife, theatres, and a whole bunch of fun things to do. It's very unlikely that you'll find yourself bored in this commercial city. But, if you're new to Dubai and wondering what the city has to offer, here are just a few things you can do: 
Aquaventure

Swimming with dolphins sure sounds like a dream, but it's one that can come true in Dubai. At Aquaventure you can swim with dolphins, feed stingrays or enjoy the phenomenal and heart-stopping slides especially the glass tunnel surrounded by sharks. Aquaventure costs AED 195 for adults and AED 170 for kids shorter than 120 cm. This water park is open daily from 10 am – 6 pm. 

Dubai Creek

The old town of Dubai will give you the chance to get familiar with Dubai's past. Here, you can also sail across the water to the other side and enjoy the view of old Dubai like never before. 

Global Village

If you're feeling homesick at any point or need to get exposed to different cultures, then visiting Global village is an absolute must. Here, you'll find 70 stalls from different countries each representing their culture in terms of arts, crafts, products, street food. The whole place has turned into a global festival that is very multicultural, unique and a whole lot of fun. Every week, you'll find a different performance highlighting different forms of arts from countries all around the world and is definitely not something you want to miss. The Global Village operates from November-April from 4 pm – 12 am on weekdays and 4 pm -1 am on Fridays and Saturdays. 

IMG Worlds of Adventure

What Dubai lacks in terms of weather, it makes up for it in terms of indoor attractions. IMG Worlds of Adventure is the perfect example of how Dubai has managed to overcome the weather obstacles and present something unique, massive and an excellent attraction that one must visit. This indoor theme park is the biggest one in the entire world with highlights such as the high-speed Velociraptor roller coaster located in the Lost Valley Dinosaur Adventure Zone as well as the Predator which defies gravity with a 35 m drop. Tickets for this theme park cost AED 257 for adults and AED 236 for kids (shorter than 120 cm). 

Skydive Dubai

Looking for a once in a lifetime experience to commemorate your move to Dubai? Then jumping out of a plane sounds like just what you need! Get to see a bird's eye view of Dubai like never before while enjoying the adrenaline rush of a free fall at 120 mph. Just make sure you're up for it before you give this a shot. Skydive Dubai costs AED 1699. 

Dubai's Dancing Fountain

In one of Dubai's most popular malls, Dubai Mall, you'll find Dubai's dancing fountain surrounded by a number of cafes and restaurants where you can watch while you enjoy a bite. The 900ft fountain is an extraordinary performance that you will truly enjoy watching. The perfect synchronization to the music as the water shoots in all directions and sways in rhythm is a spectacular sight and one that is very popular in Dubai. 

Ski Dubai

 While Dubai is known for its hot weather all year round, it doesn't mean you can't experience snow. In fact, Dubai is home to Ski Dubai where you can learn how to ski or snowboard and even get to meet real-life penguins! While there are two runs and a freestyle area for those looking to ski, most families and kids enjoy the rides as well as meeting the penguins. 

Kite Beach

When the weather permits, relaxing in front of the beachfront is relaxing and the perfect way to start your day. Here, you can also enjoy numerous water activities and even give kite-surfing a chance. If not, you can sit back and enjoy the view or even go for a run. 

Legoland Dubai

If you have kids, Dubai will be an absolute blast as there are so many activities to do, Legoland being one of them. With over 60 interactive rides, the theme park is created from over 60 million Lego parts and is literally heaven on earth for children aged 2-12 years old. 

Dinner in the sky

Because Dubai is over the top in everything it offers, it comes as no surprise in this city that you can get to experience having Dinner in the sky. This is not for the faint-hearted or anyone afraid of heights as it is located at 165 feet in the air. Once you're buckled in, you're in for a spectacular view of the city. If you're looking for a romantic evening, celebrating an important event or looking for an experience that will literally take your breath away, then this should be next on your list. 

Dubai Miracle Garden

While most of Dubai is situated indoors, this beautiful landscape is a natural attraction you just cannot miss. This floral wonderland is filled with so many unique flowers covering an area of 72,000 sq. feet. Here you can find over 50 million flowers blooming in a wide range of colours that spread so much positivity. When visiting this miracle garden, you must stop at the butterfly garden and be surrounded by so many beautiful and colourful butterflies in all shapes and sizes. Expect to take some of the most picturesque photographs due to the magnificent passages you can find here from florals, to umbrellas, gazebos and Disney themes. 

Flamingo Hide

On the outskirts of Dubai in Ras Al Khor, a magnificent wildlife sanctuary resides where you can feast your eyes on numerous types of birds. During the winter months, you can find up to two hundred species of birds one of which is the large flock of Greater Flamingos. While there are no entrance fees or tickets, booking is only required if you're part of a large tour group. 

Shopping

Dubai is a shopping destination like no other. With several high-end shopping malls such as Dubai Mall, Mall of the Emirates, Dubai Festival City Mall and Dubai outlets you can find everything you're looking for. From top-notch high-end brands to more popular day-to-day stores, you will never be at a loss of things to buy in Dubai. 

Markets 'Souqs'

While luxury and retail shopping is popular in Dubai, it is not the only type of shopping you can do. In fact, Dubai is also known for its street markets where you'll find some of the best buys in Dubai for your home, your kitchen or even handmade items. One of the best places to visit for this experience and encounter the locals is Souk Madinat Jumeirah. Here, you can find traditional stores selling souvenirs, luxury fashion, sunglasses, perfumes and even pharmacies. Not only is it known for its incredible shopping experience, but it is also a great place to grab a bite in one of its mouthwatering restaurants, see works of art or take an abra ride to take in the magnificent architecture and views of Burj Khalifa. 

Burj Khalifa

Burj Khalifa, also known as Burj Dubai is the tallest skyscraper in Dubai with a total height of 829.8 m. Until 2020, it held the title of the tallest building in the world and is an architectural wonder. The view from the top of the tower overlooking the entire city is something else. Composed of 160 stories, you'll find a number of attractions such as fine-dining over the clouds, luxury spa and fitness club as well as a five-star hotel designed by Giorgio Armani. 
Best Time to Visit Dubai
One of the most difficult things you'll have to put up with when travelling to Dubai is the weather due to its desert climate. While they do have air-conditioning pretty much everywhere, it can sometimes get impossible to be outdoors during the hot months. However, it is worth mentioning that the UAE and Dubai especially have made it possible to do pretty much everything indoors without letting the heat stop you from having an absolute blast. There's hot weather, and then there's Dubai hot and extremely humid weather. 
There are two seasons in Dubai: summer and spring.
During the months of May-October, the weather is generally hot. Starting from May, Dubai has highs of 38 degrees Celsius and lows of 25 degrees Celsius. However, from June- August it is normal for day temperatures to reach up to highs of 40-41 degrees Celsius with lows of 30-31 degrees Celsius. In September and October, the weather gradually starts to come down to highs of 35-38 degrees Celsius and lows of 25-28 degrees Celsius. 
While the summer can be tough in Dubai, the winter which acts like spring offers the most ideal weather that anyone can wish for. Unlike many other destinations, the sun comes out and makes a full appearance even during the months of December-February. If you're only there for a short period, this is the absolute best time to visit Dubai. During these months, the highs can reach 24-25 degrees Celsius and lows of 14-18 degrees Celsius. That means you can still hit the beach, enjoy the sunny vibes and only need a light jacket at night while you sit outdoors and take in the breeze. 
Dubai for Families
Dubai is such an attractive destination for children and families offering so much to do. From KidZania, LegoLand, Ski Dubai, aquaparks and other family activities to do, it is a great place to come with kids. However, when it comes to education, while Dubai offers really good schools, they are quite expensive to get into. That's why it is always best to consider having a family member get access to schools as part of a job package. As a digital nomad, here are the prices for schools you can expect to pay: 
Regent International School – AED 51,000/year 

Springdales School Dubai – AED 23,000/year

Kings' School Nad Al Sheba – AED 56,950/year

Swiss International Scientific School in Dubai – AED 76,000/year

Kent College Dubai – AED 76,000/year

Credence High School Dubai – AED 20,500/year

Emirates International School – AED 54,669/year

Nord Anglia International School – AED 76,697/year

Renton School Dubai – AED 73,932/year
If you're looking for a more affordable education, there are other more affordable options that still offer somewhat of a decent education: 
Al Diyafah High School – AED 10,800/year

Pristine Private School – AED 13,700/year

Al Najah Private School – AED 13,800/year

Dubai Scholars Private School – AED 14,341/year 
As for nurseries in Dubai, here are a few options to consider: 
Kangaroo Kids Nursery – AED 30,000

Great Minds Nursery – AED 26,000

Children's Oasis Nursery – AED 44,775

The Little Dreamers Nursery – AED 30,000

Kids Spot Nursery – AED 32,125 

Art Village Nursery – AED 35,000 
Living in Dubai
Dubai Transportation
While Dubai isn't really that big, you still need to find a means of transportation in Dubai to help you get around. In most cases, people tend to drive, use Uber or a cab, but to help give you an idea of all forms of transportation, here's everything you need to know: 
The public transportation system in Dubai is operated by the RTA. That means that you can use the metro, bus, tram, water bus, ferry and water taxi by using the same ticket type: The NOL card. 
You can purchase one of the 4 different types of NOL cards from any ticket vending machine and choose the type of card based on the means of transportation you'll be using and how long you plan to stay in Dubai. 
The Red NOL card costs AED 2 but only allows you to use one form of transportation at a time. In most cases, nomads opt for the Silver NOL card which costs AED 25 and offers AED 19 credit to be used on any form of the above-mentioned transportation. 
Metro
The Dubai metro is not only efficient but also offers a practical, cheap form of transportation that helps you avoid traffic, too. There are two main lines that run for a total length of 50 km across 49 stations with trains running every few minutes. You need a NOL card to be able to access the metro. 
Bus
The Dubai bus is another excellent alternative as it covers around 82% of Dubai's urban area. Not only are there around 1,500 buses, but there are also almost 120 lines that connect the city together. Buses are equipped with sensors to use your NOL card on them. 
Trams
While the tram in Dubai does not cover a large area, it is one of the few systems in the world that are powered by ground-based electric supply. Just like the other forms of public transportation, a NOL card is also needed to use the tram but has a fixed fare of AED 3 per ride. 
Taxis
Because Dubai used to be mainly operated by car, taxis are very common in Dubai. While they are operated by many companies, the fare is fixed at a rate of AED 1.75/km with a minimum cap of AED 12. 
Uber and Careem
One of the best ways to move around in Dubai is by ordering an Uber or Careem. While it prevents you from waiting in line for your turn with taxis, it is actually more expensive than getting a taxi in Dubai. 
Dubai Abras
The Abras isn't just a great form of transportation when you need to cross Dubai's waterbeds, but it is also a fun, exciting form of transportation, too. The half-boat, half-raft are used to cross the Dubai Creek and cost AED 1 per person. 
Dubai Ferry
Another form of transportation to get you around Dubai by water is the Dubai ferry and is commonly used on the Dubai Canal and Dubai Marina. A one-stop ticket costs AED 15 or AED 25 depending on whether it is a silver or gold ticket. 
Fitness and Health
One of the advantages of living in Dubai is that most buildings offer shared gyms and pools as part of their service which allows you to get fit and healthy at your own convenience without spending an extra budget on gym memberships. However, if gyms sound a tad boring for your liking, there are other forms of interesting and exciting fitness activities that you can do in Dubai: 
BounceFIT
Bounce isn't just a huge indoor trampoline that you go to have fun, but it's now also an official form of fitness. This group fitness allows you to bounce and shred while you have an absolute blast. 
Adventura Parks
Using 80 obstacles and zip lines for your workout can be a lot of fun. Or, you can head down to the park for free Zumba and boot camp exercises. 
Dogventure AQ
Your furry companion can now be your workout buddy, too as you practice yoga poses together in this amazing class. 
Hip Hop Cardio
Why not learn a few moves to practice on the dance floor and lose weight in the process? This hip hop cardio class offers hip hop classes that help you burn so many calories while perfecting the groovy moves. 
Cardiolates
A mix of cardio and Pilates are used in this class to bring you a fun workout on a single trampoline for each user. Get ready to jump up and down as you follow the choreography and get ripped in the process.
Float UAE
Why do a regular workout, when you can do it floating on water? This HIIT workout is fun, helps you gain more balance and fall into the water every once in a while.
Kangoo Jumps
Get ready to follow kangaroo movements and dance to the beat using special trampoline-like shoes. This dance fitness class is not only a load of fun but can help you burn around 1000 calories per hour. 
Dubai People
While the population in Dubai is composed mainly of foreigners, you'll find it very easy to spot Emiratis as they are usually dressed in traditional Emirati attire.
If there is one attribute that highlights Emiratis, it is their hospitable nature and extreme generosity. Emiratis are not only extremely friendly and welcoming, but they will tend to spend a lot of time greeting people and making them feel loved, welcome and at home. Expect to be hugged, kissed and praised when greeting an Emirati. However, due to the Islamic influence, keep in mind that this should only happen with the same gender as it is prohibited in the Islamic religion to kiss and hug anyone who is not part of their family. 
Emirati women are usually a red line you shouldn't cross unless approached by them. For instance, you should not even try to extend your hand to greet them unless she initiates. You should also never take a photo of an Emirati woman and it is even considered offensive to stare at them even if you're just admiring their national dress. 
Emiratis have very strong family ties and are pretty close to all their family members, not just their direct family members, but also their grandparents, aunts, uncles and cousins. It is quite common to find them all living within the same neighbourhood, compound or in close proximity. Respecting their family ties is essential as well as understanding its importance. 
Because Emiratis follow Islam, most of them don't drink and it is actually frowned upon to drink in public places. Because it is not part of their culture, they do not deal well with foreigners being drunk or acting foolishly and so it is crucial to keep the drinking to the areas that permit it only. 
It is also important to mention that public display of affection is not tolerated and until recently even married couples were asked not to be touchy in public. While things have evolved and tolerance has been loosened, most Emiratis will still find it disrespectful. 
However, Emiratis love to have fun and enjoy their time. They take every opportunity they get to spread their hospitality and allow everyone to chime into the positive energy. On any special occasion or event, you'll find Emiratis singing and dancing and everyone on their feet participating in the fun. If you ever have the chance to attend an occasion, you're in for a surprise and will be rewarded with positive vibes and an immense amount of fun. 
But keep in mind that because 85% of the residents are expats, you will barely feel the presence of Emiratis and will be surrounded by other nomads and expats from all over the world in a diverse, multicultural environment. 
Dubai Insurance and Medical Care
While the UAE offers excellent healthcare, it is only free for Emiratis. In order for a digital nomad to access the public healthcare system, they are advised to pay for a health card as well as pay for the service each time they need it. 
When it comes to private medical insurance, the UAE ranks as the 7th most expensive country in the world. You can expect to pay an average fee of $4,770 per year if you're applying as an individual. However, this does open your options to so many more benefits, a wider range of doctors and ensure that you'll find an English speaking doctor who is able to understand your symptoms. Healthcare is so expensive because of the high quality and well-trained professionals that you will encounter if need be. 
In most cases, if you've managed to land a job in Dubai, healthcare will be one of the benefits that come with it and so you will not have to worry. But, if you're a digital nomad on a remote visa, then you must prove that you're covered by a healthcare provider to get your visa in the first place.
Make sure you are fully covered by reading our full Digital Nomad Travel Insurance guide.
Jobs in Dubai
Finding a job in Dubai isn't easy, especially after COVID. Many companies have either shut down entirely or laid off numerous people as a result of the pandemic. So it's not exactly the ideal time for job hunting in Dubai. However, it is worth mentioning that Emiratis look very highly upon expats from the US, Canada, Australia, UK and most European countries. 
In fact, if you are a resident of a first-world country, you install gain respect from Emiratis and really affects the weight and easiness of finding a job in Dubai. Using your nationality is a wild card that also allows you to get a higher salary as well as a better package and ranking when dealing with the company. 
However, the process of finding a job, the paperwork and actually applying for a work permit and residency can be an absolute nightmare and one that will prolong. Fortunately, if you're applying for a job in Dubai, your company will be responsible to handle the paperwork, but might not allow you to leave the country until its finished. 
If you are looking for a job, there are a few fields that are always hiring: 
Hospitality jobs 

Admin jobs 

HR jobs 

Engineering jobs 

Sales Jobs 

Real Estate Jobs 

Accounting and finance jobs 
And if you do have the right credentials and certifications, teaching jobs in Dubai can be very lucrative and always in high demand due to the high turnover. 
Check out our Digital Nomads Jobs Postings to find the best jobs available for Digital Nomads.
Nomad Friendly
Value for Money
Internet
Workspace
English
Food
Safety
Health
Transportation
Friendly
Quality of Living
Cost of Living Dubai
Dubai is one of the most expensive cities in the world to live in and is usually not considered a backpacking-friendly city. Due to the lavish lifestyle it offers, it is expected that it comes with a price tag. For a digital nomad living alone in Dubai, it is normal to spend around AED 3,500 a month, not including rent. However, as a family of four, you could be spending up to AED 12,000/month. To help you wrap your head around day-to-day expenses, here are the average prices of items in Dubai: 
Cappuccino: AED 20 

Water bottle (0.33 litres): AED 1.65 

1 litre of milk: AED 5.85 

A loaf of bread: AED 5

A dozen eggs: AED 9.5 

1 kg of cheese: AED 36.5

1 kg chicken: AED 26

1 kg of beef: AED 40

Domestic beer: AED 15

Imported beer: AED 20

A pack of cigarettes: AED 22

Utility bills for a one-bedroom apartment: AED 660 

Meal for 2 at an inexpensive restaurant: AED 70 

Meal for 2 at a mid-range restaurant: AED 250 

Groceries for a family of four per month: AED 2,000