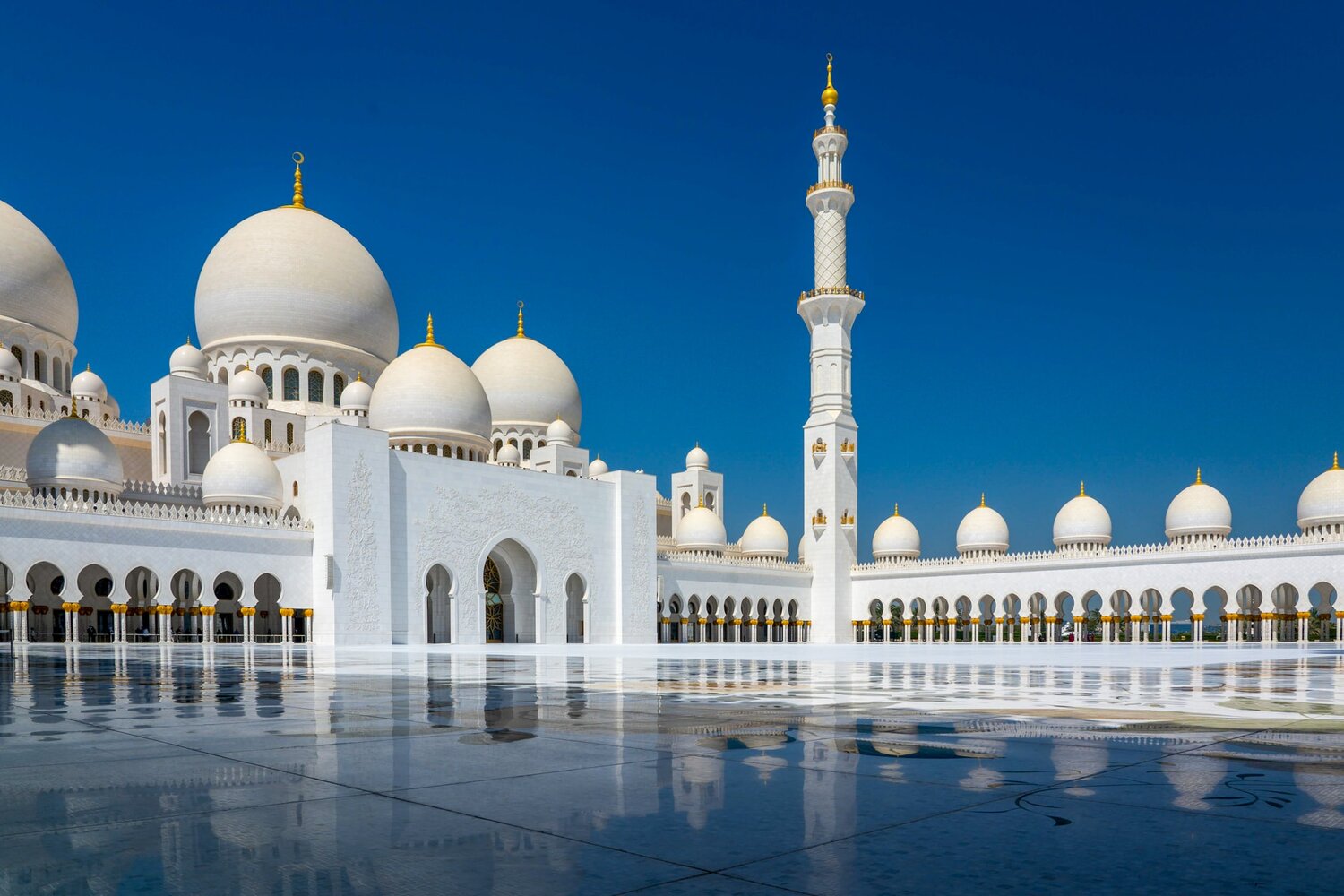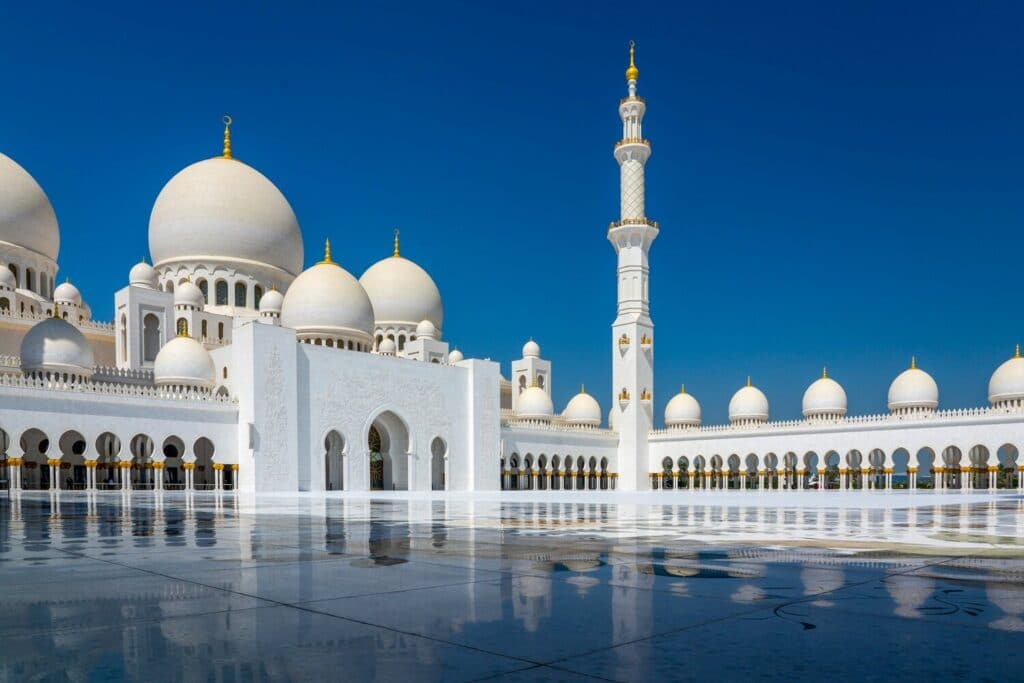 A Digital Nomad Guide to Abu Dhabi, UAE
Abu Dhabi is the capital of the United Arab Emirates and the largest city in the country. In fact, it occupies around 84% of the country's landmass with a total area of 67,340 sq. km. Not only that, but Abu Dhabi also has 200 islands and a coastline across the Arabian Gulf of 700 km. Geographically, Abu Dhabi is bordered to the east by the Sultanate of Oman, to the west and south by Saudi Arabia and to the northeast by Dubai. 
While the population of Abu Dhabi was only 4,000 inhabitants during the 1950s, it now boasts a total of 1,511,768 inhabitants in 2021. Even though Abu Dhabi is the largest Emirate in size, it ranks second in population after the Emirate of Dubai. While each Emirate follows a different governmental system, Abu Dhabi is home to the UAE's government offices ad carries out all governmental related tasks that affect the entire country. 
Abu Dhabi is kind of a new city as it only started to be inhabited and named Abu Dhabi around 300 years ago. In fact, it wasn't until 1971 that this city became part of the United Arab Emirates and was declared the capital of the UAE. 
Abu Dhabi's economy heavily depends on oil but it has also made a name for itself with the city's modern skyline, extravagant shopping and unique architectural buildings. Abu Dhabi is also home to all sorts of entertainment that makes it a lot of fun for tourists and residents.
Abu Dhabi has been ranked as the top 15 out of 82 cities of best places for expats to live in the world for 3 years in a row. This is because of its quality of life, diverse culture and incredible facilities that make Abu Dhabi a perfect place for digital nomads to settle down for a while. While it can be on the expensive side, the quality you get in return makes it worthwhile.
Nomad Friendly
Value for Money
Internet
Workspace
English
Food
Safety
Health
Transportation
Friendly
Quality of Living
Living in Abu Dhabi Overview
| | |
| --- | --- |
|  Meal, Inexpensive Restaurant | $6.81 |
| Domestic Beer (1 pint draught) | $10.89 |
| Cappuccino (regular) | $4.88 |
| Loaf of Fresh White Bread (1 lb) | $1.19 |
| Water (1.5 liter bottle) | $0.56 |
| One-way Ticket (Local Transport) | $0.54 |
| Basic Utilities (Monthly) | $143.52 |
| Internet | $106.84 |
| Fitness Club (Monthly) | $65.03 |
| Apartment (1 bedroom) in City Centre | $5,192.15 |
Currency: Indonesian rupiah (Rp)
[erw_exchange_rates_widget lg="en" tz="0″ fm="IDR" to="EUR,USD,GBP,AUD,JPY,RUB" st="primary" cd="" am="15000″][/erw_exchange_rates_widget]
ATMs
Max Withdrawal: Rp 3,000,000
Withdrawal Fee: Rp 30,000 – Rp 50,000
Use of Credit Cards: Mostly Cash
Digital Nomad Personal Experience in Abu Dhabi
If you've ever been to Dubai, the first thing you'll realize when visiting Abu Dhabi is how different it is from the most popular city in the UAE. There's something about Abu Dhabi that makes it feel more authentic as it loses the unnecessary extravagance and superficiality and feels a lot more real. While there are many expats living in the city, Abu Dhabi feels less like a tourist destination and more like a home. It is a perfect place to be if you're planning to stay for a while with family as it has so many family facilities and kids activities that will make the entire experience worthwhile and memorable. 
The UAE has a strong and traditional culture; however, because of its large number of inhabitants being expats and its focus on becoming an international destination, Abu Dhabi is very welcoming and open to different traditions. That doesn't change the fact that there are many traditions and laws that you still need to be aware of as an expat, especially when it comes to dress codes, public display of affection and how to deal with Emirati women. The people are welcoming and hospitable and very well-educated. The city itself is rich, constantly trying to evolve and matches the experiences you'll find to the West making it always feel top-notch. 
It' a clean, fun city to raise children in, but because of the weather, a lot of its entertainment is found indoors which is one of the things I could never get used to. I found myself constantly missing the small luxuries of taking a walk or riding a bike or just being outdoors. While that is possible during the winter months, the majority of the weather in Abu Dhabi made it impossible to enjoy the simple pleasures of life. That's not to say that the Emiratis and their constant innovation does not make up for that in every way possible.
Work in Abu Dhabi
Because mobile internet is rather expensive in the UAE, finding a place to work with Free WiFi is essential for every digital nomad. Whether you're looking for a cafe or coworking space to meet other digital nomads, here are a few options where you'll be able to work when in Abu Dhabi:
Best Places to Work in Abu Dhabi
% Arabica
If you can't even think about working without getting your coffee fix, then the aromas at % Arabica will definitely get you in the right state of mind. Their coffee is bound to be appreciated by all kinds of coffee enthusiasts and you'll find the space comfortable to start your workday in peace. 
Art House Cafe
Working around other digital nomads is a great way to get motivated, meet new people and be productive. Art House Cafe offers a creative environment with lots of color and an artistic vibe that makes it appealing for all kinds of creative beings. 
Blacksmith Coffee Company
Located inside the New York University Abu Dhabi, Blacksmith Coffee Company is an excellent spot to work remotely as it is filled with students studying, talking and offering an interesting vibe. Not only that, but their coffee is to die for and an excellent choice to be surrounded by youth full of life. 
Fifth Street Coffee
Fast WiFi and good coffee sound like the ideal combination to get your work done as a digital nomad. You'll likely encounter loads of other digital nomads working away at their laptops, making Fifth Street Coffee a great option to consider. 
Joud Coffee
With a cozy interior and exceptional coffee, Joud Coffee ranks high on best places to work remotely in Abu Dhabi. 
Servcorp
Located in both Etihad Towers and World Trade Centre, you can get the entire office environment at Servcorp. From a receptionist to answer calls, floor-manager, IT support and large clientele around the world, it is a great option for someone looking for a more business-like feel. However, it does come with a price as plans start at AED 1,200/month. 
Regus
At Regus, you can choose between renting private office space or co-working units depending on what you're looking for. With its easy to use app, you can easily book a co-working space and check availability making it ideal for digital nomads. Expect fees to vary based on your preference, but range between AED 530- AED 1,370/month. 
Flat6Labs
Flat6Labs is a great place to be in the heart of the startup, freelance and innovative community. Known as a global hub for tech innovation, you'll find many startups gathering here, collaborating on projects together and being open to offering their entrepreneur advice. The vibe you'll find here is like no other, making it ideal for creatives, entrepreneurs and freelancers interested in evolving. 
Best Places to Live in Abu Dhabi, UAE
Best Neighbourhoods
Yas Islands
One of the most popular destinations for expats residing in Abu Dhabi to live in is Yas Islands. As it is home to so many forms of entertainment, there is an abundance of things to do. Here, you'll find Abu Dhabi's famous Formula One, Warner Bros Park and Yas Waterworld making it a great place for families as well as digital nomads looking to enjoy their stay. But that's not it, you'll also find numerous cafes, restaurants, shopping malls, schools and hospitals here making it a one-stop destination for expats. 
Al Reem Island
For digital nomads looking for cheaper rent without compromising on facilities, amenities and an amazing location, then Al Reem Island is the place for you. This area is a great place for digital nomads looking for a family-friendly destination as it has a peaceful community with numerous schools s well as entertainment such as cafes, restaurants, malls even some of Abu Dhabi's most popular attractions such as the Reem Central Park and the dancing fountain. 
Because it's home to Abu Dhabi's financial district, the youth and startup community here can be a great plus for a digital nomad. 
Saadiyat Island
If you're looking for a luxurious option on the high-end with some of the best facilities, then Saadiyat Island should be on the top of your list. It is a great location to experience Abu Dhabi's culture and be surrounded by a lavish and serene environment if you can afford it. In this residential complex, you'll find no other than one of the best art museums in the country: Louvre Abu Dhabi. 
Al Khalidiya
Abu Dhabi has witnessed a huge change over the years and Al Khaldiyah is the best location to view the modern side of Abu Dhabi. While it is one of the more affordable locations in Abu Dhabi, it still offers immense facilities and has everything a digital nomad can ask for. From a peaceful atmosphere to entertainment, activities and close proximity to the beach and city center, it is quite ideal. You'll find the largest expat community here as it is one of the liveliest areas to live. 
Al Karamah
Another great expat residential area is Al Karamah complex. It is home to a wide variety of international cuisines. It's one of the coolest places to live in Abu Dhabi where many tourists and residents visit on the weekends. 
Khalifa City
If you're looking for a great place to live away front the city center, then consider moving to Khalifa city. The area is filled with green parks and excellent facilities that makes it an ideal location for families. You'll also find beautiful houses, boutiques and restaurants that makes it a great place to live and many people choosing to move away from the city to this beautiful location.
The Corniche
Overlooking an amazing waterbed such as AbuDhabi's beachside is every digital nomad's dream. Because of its peaceful and beautiful views, the Corniche has become a popular destination for digital nomads. With beautiful walks along the beach and cafes and restaurants with a view, it is ideal for a digital nomad looking for a peaceful place to stay. You'll also find shopping malls and a couple of schools if you're visiting with family, too.
Find an Apartment in Abu Dhabi
Finding an apartment in Abu Dhabi can be one of the most difficult and hectic parts of the entire process. But to make it somewhat easier for you, here are a few things to keep in mind to get you up to date with how the process works in Abu Dhabi: 
Documents needed for renting an apartment in the UAE: 
Copy of your passport 

UAE residency 

Emirates ID
However, if you've just landed in the UAE and you haven't received your ID or residency yet, some agents will be lenient until your documents are ready. Just keep in mind that you will not receive a final contract without them. 
To find an apartment, there are a few options and resources you can use. If you want to start before you make a move or just want to get an idea of price ranges and what to expect, your best bet is checking out one of these online portals for rentals and leases: 
Real estate agencies and private brokers
When looking for a property online, be prepared to find apartments posted by both owners and agents. This makes it a bit difficult to deal with different people in person. One of the more useful tips is to deal with a private broker to have one person handling the different forms of communications for you and to compare between apartments in the same area. 
Instead of going through the hassle, always ask people in your network for their recommendations to help you avoid the drama of brokers. For each area, you'll find different brokers, but here are some of the ones you can contact when looking for rentals:
Pink Property 

Fcprop.net

Gravity Real Estate 
Before you decide on a specific apartment or location, make sure it's within your budget or you're aware of the other locations that you can afford to help you make the best decisions. Here's an estimated rental cost per month for some of the best neighbourhoods in Abu Dhabi. 
Yas Islands
Because Yas Islands is popular amongst both expats and locals and filled with all sorts of facilities and entertainment, the cost of rent is not always affordable. Here, expect to rent a studio apartment for AED 55,000/year, a 1 bedroom apartment for AED 75,000/year and a 2-bedroom apartment for AED 111,000/year. 
Saadiyat Islands
Because this is one of the most luxurious options to rent in Abu Dhabi, it comes with a hefty price tag. If you're interested to rent in Saadiyat Islands you can choose one of the options below: 
Soho Square: Renting a studio apartment in Soho Square averages at AED 43,000/year. Expect a one-bedroom apartment to cost around AED 61,000/year and a two-bedroom apartment to reach AED 88,000/year. 

Saadiyat Beach: Renting a one-bedroom apartment in this area will cost around AED 87,000/year, whereas a two-bedroom apartment costs an average of AED 138,000/year. 

Park View: Prices in this area could cost AED 48,000/year for a studio apartment, AED 66,000/year for a one-bedroom apartment and AED 88,000/year for a two-bedroom apartment. 

Saadiyat Cultural District: Here you'll find the most expensive rentals in the area as a one-bedroom apartment costs around AED 144,000/year and a two-bedroom apartment costs an average of AED 211,000/year. 
Al Khalidiya
This is one of the most popular options amongst digital nomads due to its relatively affordable prices. Renting a studio apartment in Al Khalidiya averages at AED 34,000/year whereas a one-bedroom apartment costs around AED 57,000/year. However, renting a two-bedroom apartment could be as cheap as AED 64,000/year. 
Al Karamah
A studio apartment in this area will be one of the most affordable in Abu Dhabi with an average rent of AED 28,000/year. A one-bedroom apartment could cost AED 45,000/year and a 2-bedroom apartment reaching up to AED 86,000/year. 
Khalifa City
Another cheap alternative and a common choice amongst digital nomads is Khalifa city due to its reasonable prices. A studio apartment costs AED 27,000/year whereas a one-bedroom apartment costs AED 43,000/year and a two-bedroom apartment costs AED 61,000/year. 
The Corniche
Renting a studio apartment on this beachfront will cost AED 50,000/year whereas a one-bedroom apartment costs AED 91,000/year and a two-bedroom apartment costs AED 115,000/year.
Cheap Places to Stay in Abu Dhabi, UAE
If you're a digital nomad looking for a cheaper option, don't know how long you're staying and so not ready for a full-term lease or contract, it doesn't mean that you won't find something in Abu Dhabi, it just means that you need to start looking elsewhere. In fact, Facebook could be a great place to search as you'll find sublets, room sharing options and expats that could potentially be your flatmates offering cheaper options. 
Here are a few Facebook groups that could come in handy: 
Another low-budget accommodation that offers a lot more flexibility for short-term or temporary periods is booking a hostel. The experience may not be quite pleasant, but it is a good option to consider while apartment hunting. 
Dorus Hotel 

Gulf Inn Hotel 

Dubai bed space and private room 

Marina Bestview 

Marina BestView Ruby  

Saffron Hotel 

Demon Hotel 

Royalton Hotel 
Abu Dhabi, UAE Digital Nomad Visa
Getting a tourist visa in Abu Dhabi is quite easy. Many nationalities can enter visa-free or obtain a tourist visa on arrival that will allow them to stay in the UAE between 30-90 days based on their nationality. These nationalities include citizens from the EU as well as Argentina, Honduras, Russia, Bahamas, Iceland, Barbados, Russia, Canada, Switzerland, Norway and many more. 
If the UAE does not allow residents from your country a visa-free or visa on arrival entry, then you can easily get a visa online here. The process is different for citizens from different countries but is usually pretty easy to apply to. You can choose from a 30-day visa option, a 90-day visa option or even a long-term visa. However, for a long-term visa, you will definitely need more documents. 
It is also possible to extend your visa twice, each time for a period of 30 days for AED 600 each time it is renewed. However, it is essential to renew your visa before the initial one ends or you will have to pay a fine of AED 100 for each day you overstay your visa. 
As a digital nomad, you can now apply for a nomad visa and get entry into Abu Dhabi for up to a year for the price of $287. You will need to show evidence of health care as well as how you intend to support yourself, but this type of visa has made moving to Abu Dhabi as a digital nomad quite possible.
Culture and Food in Abu Dhabi
While Emiratis have a strong and evident culture, because Abu Dhabi has become such a multicultural city, it's so diverse, welcoming and absolutely for an expat to feel at home. 
When in Abu Dhabi, you can't miss some of its most exquisite dishes. Emiratis are very high on food and there are so many traditions that revolve around it. Like anywhere else in the world, the Emirati cuisine has its famous national dishes and every digital nomad must indulge in some of these delicacies to get a sense of the origin and soul of the UAE and how it used to be. While the following dishes revolve mainly around meat, it is important to note that seafood is a huge part of the Emirati cuisine and should definitely be tried. 
Stuffed camel: Dubai usually gives the impression of luxury. And because of its extra nature in every single aspect, it comes as no surprise that stuffed camel – one of the most luxurious dishes – is a celebratory and must-try dish in Dubai. 
Camel's meat on its own is already a delicacy, but when done the Emirati way, it is stuffed with chicken, eggs, fish, sheep and spices. Because it is such an expensive and luxurious dish, it is only served on special occasions. If you're ever treated to this traditional Emirati dish then know just how special you are. 
Al Harees: Slow-cooked meals are a delicacy like no other and this one takes hours to make. A combination of wheat and meat cooked for hours and then baked for several more makes this Emirati dish one that is made with love. Filled with spices and herbs, it is usually cooked as a gesture of love and hospitality. 
Ghuzi: Meat is an important part of the Emirati cuisine and that's why Ghuzi is very popular in the UAE. What makes it special and popular is that it is an entire meal on its own as it is made of whole-roasted lamb, served on skewers with vegetables and rice with nuts. 
Matchbous: This dish is made of lamb spiced with loomi, which gets that zesty lemony taste from drying ripe limes and saltwater. Matchbous is also a full meal dish as the lamb is cooked into a stew with rice and tomatoes. The exotic flavours and spices found in this dish make it truly unique and an absolute must-try. 
While the UAE has a diverse community, its culture and heritage are heavily influenced by the Arabian culture. Being a Muslim country, you'll find Islamic influence in everything around you, even in the architecture and lifestyle. 
Hospitality is a trademark of Emiratis and so when visiting an Emirati's home expect to be greeted with coffee, dates and other delicacies. Just keep in mind that it is considered impolite or rude to refuse these gestures. 
Another important point to consider in regards to the culture is the clothing. Because of their Muslim heritage and culture, it is looked down upon to wear revealing or short clothes especially for women when in the UAE. While many cultures appreciate foreigners wearing their national clothing, Emiratis take offence when foreign men wear their traditional clothing. However, you'll find that you can easily embrace the culture on other occasions especially when there are festivities that involve music and dance.
Abu Dhabi Nightlife
Because Abu Dhabi is home to so many expats, there's an abundance of clubs, bars and restaurants to ensure that any digital nomad will have a spectacular time during their stay. Most bars will be located in hotels due to the city's strict licensing laws around alcohol, but that doesn't stop Abu Dhabi from having a wide variety of places to have a good time. 
Hemingway's
Before you visualize a literary iconic bar, the name has nothing to do with the atmosphere you'll find here. Located at Hilton Abu Dhabi, Heminway's is one of the best places to grab a drink, watch the latest match and socialize with other digital nomads. If you're into sports bars, you'll find yourself right at home, here. To add to the funkiness, you'll be entertained by a live band from Monday-Saturday. 
Ray's Bar
If you're looking for a bar with a spectacular view, look no further. Because Ray's Bar is located on the 62nd floor of Jumeirah Etihad Towers, it comes with a spectacular bird's eye view of the city. Pair the view with an incredible atmosphere, great music, delicious food and cocktails and you've got yourself a special night out.
Stratos
Extravagant and luxurious are adjectives commonly used in the UAE. That's why it comes as no surprise for a bar to be portrayed as such. With its gold theme, glowing and rotating bar, it is a unique place to be that you should definitely visit when in Abu Dhabi. 
Hysteria
While bars are a lot of fun to grab a drink, this club is the place to be if you want to dance the night away. Expect to meet a lot of youngsters dancing away to the great music and having an absolute blast. Don't be alarmed by the bright colours and the gleaming lights, it's all part of the hysterical experience you're in for. 
Legends
Looking for a glamorous club where you can dress to impress? Legends is located in Sheraton Abu Dhabi and is one of the fanciest clubs you can find. With a gold and black ambience and velvet to go round, it is one of the extraordinary nightlife scenes in Abu Dhabi. Every once in a while, well known international names make an appearance at this club and turn the night around entirely. 
Sax
This mix of live music/club is a great place to enjoy a night out. Their live music acts host an intimate ambience with incredible music. Otherwise, it becomes a lively, fun and upbeat club where the dance floor is crowded all night long. The transformation is absolutely epic and makes you enjoy different styles and music depending on your liking.
Things to do in Abu Dhabi
The UAE is an ever growing and evolving city that constantly looks for fascinating ways to bring entertainment and excitement to the world. With its aim to become a top travel destination, there are so many spectacular things to do. While it does not match Dubai in its glory, luxury and entertainment, it still has its incredible appeal and ensures that digital nomads will always find something interesting to do when living in Abu Dhabi. 
Sheikh Zayed Grand Mosque

The Sheikh Zayed Grand Mosque is the biggest mosque in the UAE and is a place filled with serenity and peacefulness like no other. When visiting this incredible mosque to view its beautiful architecture, be sure to dress modestly and wear a headscarf as it is a place of worship for Muslims. The structure offers exactly what the name represents: a grand mosque. With the incredible white and gold theme, it is a mesmerising sight and quite a picturesque place where you'll be able to capture some of your finest photographs in Abu Dhabi with the Islamic architecture surrounding you.

Louvre Ab Dhabi

One of the major attractions in the UAE and a must-visit for art lovers is the Louvre Abu Dhabi. It's the finest and most spectacular museum in the Middle East and is a great opportunity for historians and artists to look back at the artistic achievements throughout the ages. Here, you'll find incredible artwork dating back to the ancient Egyptians and iconic pieces by prominent figures in the art world such as Picasso.

Warner Bros World Abu Dhabi

If you're a superhero, comic book and cartoon junkie, you'll have an absolute blast at Warner Bros World. This theme park is not just about the adrenaline rush and the extra fun you'll have on the rides, but the entire theme of the park will take you back to some of the best memories of your childhood movies, cartoons and comic books. The best thing about it is that it is air-conditioned making it possible to visit at any time of the day.

Ferrari World Abu Dhabi

If you're looking to get your adrenaline pumped, then head to Ferrari World where Formula One racing is available for adults and kids. Here, you'll also be able to buckle up and get on the Flying Aces roller coaster which is not only the tallest in the world at a 52-meter loop but also moves at a speed of 120 km/h! If you're tummy isn't feeling that well, then you'll still get to enjoy the collection of Ferrari cars that go back to 1947.

Yas Waterworld

Because of the hot weather, an aqua part is the best thing to do on a hot summer day. With 40 rides across 37 acres, you won't get enough of the waterslides and splashes. You can also experience water rafting on the world's largest surfable wave, a free fall seed waterslide as well as restaurants and cafes to make it a fun day for the entire family.

The Corniche

Taking a walk on the corniche is a peaceful and wonderful thing to do when the weather permits. Because of the incredible view and the peaceful atmosphere, the corniche also offers so many restaurants and cafes where you can enjoy a meal or a coffee with a view. It's a great place for digital nomads to chill or even head to work with an incredible view.

Emirates Park Zoo

If you're looking for a family-friendly activity, then heading to Emirates Park Zoo will ensure your children have an absolute blast. Especially with its interactive activities such as animal feeding, zip climbing, animal shows and car adventures, it is an ideal place for families to spend the day. It is also a place where education and fun are intertwined as the children get to encounter numerous animal species and learn about them.

Mangrove National Park

When the weather permits and being outdoors sounds like a good idea, then it's time to make use of Abu Dhabi's beautiful nature. Mangrove National Park has a beautiful mangrove forest, go on an eco-tour and explore the city's forests or head over to the shore and go for a dip or even kayak. For a special and unique experience, opt for kayaking at sunset to get an incredible view or even book a night tour and glide through the waters at night to explore the mangroves in an exciting atmosphere.

Beaches

Because the weather in Abu Dhabi is hot all-year-round, hitting the beach always sounds like a good idea. Living close to the beach makes it easy to chill on the sandy shore, take a dip or enjoy the water sports available. Just be careful during the summer to avoid getting sunburnt. You can choose from the popular beach destinations such as Saadiyat Beach, Corniche Beach, Emm Al Emaat park, Yas Marina or Mangrove National Park.

Shopping Malls

Abu Dhabi is a well-known shopping destination making visiting its shopping malls an absolute must. It's also a great getaway during the hot weather as hopping malls are all air-conditioned, contain cinema, restaurants and cafes as well as other sorts of entertainment making it a good place to escape the heat.

Take a cruise

Sit back and relax and enjoy the incredible view of Abu Dhabi's skyline when you sail out from the marina. You can hop around from one island to another and even find snorkelling or visiting a beach part of the tours.

Go on a day trip to the desert dunes

You can't be in the UAE and not go on a desert safari trip. Two of the most popular desert destinations are Liwa Oasis and Al Khatim Desert. Whether you choose to go for a day trip or overnight trip you can enjoy the and dunes and go dune bashing, sandboarding, camel trekking or even enjoy a Bedouin night around a bonfire.

Sir Bani Yas Island

If you're looking for a day trip or weekend getaway, then Sir Bani Yas island is a popular destination. This wildlife reserve is filled with indigenous Arabian Wildlide such as gazelles, giraffes and leopards. You can enjoy a 4×4 safari, go horseback riding or even go hiking, kayaking or mountain biking making it an ideal adventurous getaway.
Best Time to Visit Abu Dhabi
As mentioned before, the weather in Abu Dhabi is far from ideal. Being a generally hot country, it holds a desert climate. However, because it is fully air-conditioned, it is still possible to enjoy the city without being affected by the heat. In fact, the UAE has focused on offering many indoor entertainment services to ensure that residents and tourists always enjoy their stay. 
But if you'd like to enjoy Abu Dhabi at its finest weather, then be sure to visit from October-March. During these months, the sun comes out giving a nice shine, but does not burn and a slight breeze makes enjoying the outdoors not only possible but ideal. It's also a great escape from other cold winter countries, as the winters are an absolute delight in Abu Dhabi. While it doesn't rain frequently, there are a few days of rain and fog during the winters, so keep an umbrella or light raincoat handy. 
During the months of March and April, the weather starts to get warmer and outdoor activities during the day are best to be limited. At night, it is still possible to dine on the corniche or take a stroll outdoors. During these months, you can expect highs of 29-30 degrees Celsius and lows of 18-22 degrees Celsius. 
The summer in Abu Dhabi and the UAE in general is usually when expats, as well as residents, escape the city due to the hot, humid weather. Especially when school break starts, Abu Dhabi starts to feel rather deserted. Expect highs of 40-42 degrees Celsius and lows of 30-31 degrees Celsius during the summer.
Abu Dhabi for Families
Because Abu Dhabi is filled with expats, you'll find some of the best international schools that match the standards you would find in first world countries. However, with that level of education, expect to pay quite a fee in return. Here are some of the best international schools in Abu Dhabi: 
The British International School Abu Dhabi – IB, British 
Ages: 3-18 years 

Fees: AED 50,300- AED 68,700
American International School in Abu Dhabi – IB, American 
Ages: 4-18 years

Fees: AED 31,870 – AED 57,940 
Abu Dhabi international School – IB, American, British 
Ages: 4-18 years

Fees: AED 31,300 – AED 48,800 
GEMS Cambridge International School Abu Dhabi – British 
Ages: 4-18 years 

Fees: AED 21,300 – AED 36,220
Brighton College Abu Dhabi – British 
Ages: 3-18 years

Fees: AED 48,900 – AED 77,720 
Al Najah Private School – IB, British 
Ages: 4-18 years

Fees: AED 14,700 – AED 32,560 
Al Basma British School – British 
Ages: 4-18 years

Fees: AED 20,000 – AED 40,560 
Virginia International Private School – American
Ages: 4-16 years 

Fees: AED 25,170 – AED 38,780 
If you're looking for daycares or nurseries to take care of your little ones, here are a few options: 
Blooming Buds Nursery School Abu Dhabi – British 
Ages: 12 months – 4 years 

Working hours: Sunday – Thursday, 7 am – 3.30 pm 

Fees: AED 32,000 

Location: Al Bateen 
Apple Bee Nursery – American 
Ages: 6 weeks – 4 years 

Working hours: Sunday to Thursday, 7 am – 5 pm 

Location: Al Rawya
Step By Step Nursery – Reggio Emilia, UK EYFS
Ages: 45 days – 4 years 

Working hours: Sunday – Thursday, 7.30 am – 6 pm 

Location: Al bateen 
Noah's Ark Nursery – UK EYFS
Ages: 1-4 years 

Working hours: Sunday – Thursday, 7.30 am – 6 pm 

Fees: AED 15,000 – AED 16,000

Location: Khalifa City, Musaffah and Madinat Zayed 
Redwood Montessori Nursery – Montessori 
Working hours: Sunday – Thursday, 7.30 am – 6 pm 

Fees: AED 30,000

Location: Khalifa City, Saadiyat island, Al Bateen 
Living in Abu Dhabi
Abu Dhabi Transportation
Getting around in Abu Dhabi requires transportation. If you're staying for a while, your best option is to move around by car. However, there are other transportation options in Abu Dhabi that make moving around quite easy. 
Bus
Public buses in Abu Dhabi are operated by the Department of Transfer (DoT) and are convenient as they run all day 24/7. A ticket on a bus costs AED 2 or you could use a Hafilat Smart card. The city has been trying to enhance the bus service to reduce congestion and make moving around easier for residents who do not own a vehicle, but it still needs to be combined with another form of transportation for some destinations. 
Taxis
The most used form of transportation in Abu Dhabi are by far Taxis. Because of their ease of use and availability, it makes it such a convenient means of transportation. You can even use taxi services to transport you from one city to another, but it will cost you. 
While there are regular taxis you can book or find across Abu Dhabi, there are additional taxi services that are dedicated to women, children or passengers with special abilities. Most shopping malls have taxis in the parking lot, but be sure to stand in line as the queue for taxis can get rather long. The basic fare for a taxi is around AED 12 with a starting fee of around AED 4 and every km costing an additional AED 1.82.
Uber and Careem
The next most used transpiration in Abu Dhabi are Uber and Careem. Because of its ease of use and frequent availability, many people, especially expats, resort to Uber-like options due to their convenience. Even though they are a tad more expensive than taxis. Because taxis do not accept credit cards and need a local UAE line to be booked by phone, these alternatives are usually optimum for digital nomads.
Fitness and Health
If you're looking to get fit in Abu Dhabi, you definitely need to look for somewhere indoors. You'll find numerous fitness centres and gyms offering classes, workout sessions or equipment to help you reach your fitness goals. Depending on where you live, your building could come with facilities such as a gym, pool, jacuzzi and other amenities. But if you're looking for a place to hit the gym and break a sweat, here are a few options: 
Adrenagy: This fitness center focuses on a holistic approach with a mission of helping each member achieve wellness transformation. Here you can sign up for a personal training program specifically designed to help you achieve your fitness and wellness goals, or you can sign up to different fitness classes and hit the gym where the latest technologies and fitness assessments are conducted to help you reach your goal. 
UForm Fitness: One of the advantages of signing up to UForm Fitness  is that there are several branches across the UAE. You'll find the best equipment, and also be able to benefit from monitoring your progress as well as understand where you need to focus on improving. Not only that but there are also training programs that are available for members, too such as Aqua Aerobics, cardio mix, cardio dance, boxercise, step and tone, body attack, body combat, body step, cycling and RPM. 
Fitness First: This multinational chain is a favorite amongst digital nomads as they get to work with expert coaches and get the most benefit out of the equipment and machinery available. You'll also get feedback on lifestyle changes that you need to make to help you reach your fitness goals. If you're looking to attend group workouts and classes, you'll find Cardio, Weight management, Boxing, Aerobics, Strength training, 6D and TRICLUB.
CrossFit Abu Dhabi: If you're looking for a combination of fitness, wellness and community workouts, you'll find it all at CrossFit AbuDhabi. With the aid of their experienced trainers and nutritionists, you can have a better understanding of the lifestyle change you need to make to get a leaner, fitter body. Here are some of the programs they offer: On Ramp, Crossfit Lite, Olympic lifting, Endurance Program, PT, mobility programs. 
Cobra Fitness: At Cobra Fitness, it's not just about getting in shape, but it's about making permanent changes to your lifestyle. While most other gyms focus on cardio and strength workouts, Cobra Fitness focuses on different types of MMA:  Boxing and Muay Thai Fitness, Ladies Muay Thai, Brazilian Jim-Jitsu, Abs Destruction, Spartacus, Fighters Fitness, TRX, Ladies self-defence and many more. 
F45: One of the best training approaches in the UAE that comes with an innovative approach is F45. It works on bringing together a combination of interval, strength and cardio workouts to improve your physical performance, stamina and get a toned-muscular, lean body in return. There are around 30 programs that you can choose from that focus on HIIT, circuit and functional training.
Abu Dhabi People
Most of the residents in Abu Dhabi are expats, but you'll be able to spot an Emirati quite easily as they dress in traditional Emirati clothes. 
If there is one attribute that highlights Emiratis, it is their hospitable nature and extreme generosity. Emiratis are not only extremely friendly and welcoming, but they will tend to spend a lot of time greeting people and making them feel loved, welcome and at home. Expect to be hugged, kissed and praised when greeting an Emirati. However, due to the Islamic influence, keep in mind that this should only happen with the same gender as it is prohibited in the Islamic religion to kiss and hug anyone who is not part of their family. 
Emirati women are usually a red line you shouldn't cross unless approached by them. For instance, you should not even try to extend your hand to greet them unless she initiates. You should also never take a photo of an Emirati woman and it is even considered offensive to stare at them even if you're just admiring their national dress. 
Emiratis have very strong family ties and are pretty close to all their family members, not just their direct family members, but also their grandparents, aunts, uncles and cousins. It is quite common to find them all living within the same neighbourhood, compound or in close proximity. Respecting their family ties is essential as well as understanding its importance. 
Because Emiratis follow Islam, most of them don't drink and it is actually frowned upon to drink in public places. Because it is not part of their culture, they do not deal well with foreigners being drunk or acting foolishly and so it is crucial to keep the drinking to the areas that permit it only. 
It is also important to mention that public display of affection is not tolerated and until recently even married couples were asked not to be touchy in public. While things have evolved and tolerance has been loosened, most Emiratis will still find it disrespectful. 
However, Emiratis love to have fun and enjoy their time. They take every opportunity they get to spread their hospitality and allow everyone to chime into the positive energy. On any special occasion or event, you'll find Emiratis singing and dancing and everyone on their feet participating in the fun. If you ever have the chance to attend an occasion, you're in for a surprise and will be rewarded with positive vibes and an immense amount of fun. 
But keep in mind that because 85% of the residents are expats, you will barely feel the presence of Emiratis and will be surrounded by other nomads and expats from all over the world in a diverse, multicultural environment.
Abu Dhabi Insurance and Medical Care
While the UAE offers excellent healthcare, it is only free for Emiratis. In order for a digital nomad to access the public healthcare system, they are advised to pay for a health card as well as pay for the service each time they need it. 
If you're working in a company or have a contract in Abu Dhabi, you'll most likely be offered private healthcare. Otherwise, private medical insurance in the UAE ranks as the 7th most expensive country in the world. You can expect to pay an average fee of $4,770 per year if you're applying as an individual. However, this does open your options to so many more benefits, a wider range of doctors and ensure that you'll find an English speaking doctor who is able to understand your symptoms. Healthcare is so expensive because of the high quality and well-trained professionals that you will encounter if need be. 
Keep in mind that if you're a digital nomad on a remote visa, then you must prove that you're covered by a healthcare provider to get your visa in the first place. If these prices are too expensive, then you might consider getting international medical insurance from your home country before you arrive.
Make sure you are fully covered by reading our full Digital Nomad Travel Insurance guide.
Jobs in Abu Dhabi
A popular job for most of the expats living in the UAE is teaching. Not only does it pay exceptionally well, but also comes with immense benefits. The UAE really care about education and so if you're a native English speaker, you'll probably be able to land a good teaching opportunity. However, to work in the top schools, you must have a specific teaching degree. Consider getting one before moving to the UAE as it will heavily impact your chances as well as your salary. Just keep in mind that on-ground certifications are given a lot more weight than online degrees, even if it's from a top university. 
While jobs are low and many companies have downsized after COVID-19, being an expat, can really impact your chances of finding a job as they highly respect foreigners from first-world countries. If you have the right expertise and nationality, you will eventually be able to land a job if that's what you're looking for. 
However, the process of finding a job, the paperwork and actually applying for a work permit and residency can be an absolute nightmare and one that will prolong. Fortunately, if you're applying for a job in Dubai, your company will be responsible to handle the paperwork, but might not allow you to leave the country until it's finished. 
If you are looking for a job, there are a few fields that are always hiring: 
Hospitality jobs 

Admin jobs 

HR jobs 

Engineering jobs 

Sales Jobs 

Real Estate Jobs 
Check out our Digital Nomads Jobs Postings to find the best jobs available for Digital Nomads.
Nomad Friendly
Value for Money
Internet
Workspace
English
Food
Safety
Health
Transportation
Friendly
Quality of Living
Cost of Living Abu Dhabi
Expected cost of living: 
The UAE isn't exactly a cheap country when it comes to cost of living, but the quality and service you get in return make it worthwhile. If you're trying to calculate your daily costs, here are a few prices to help you get a rough idea of what to expect: 
1 litre Milk: AED 5.95

Loaf of bread: AED 4.73 

1 Kg of rice: AED 7.25 

A dozen eggs: AED 9.75 

1 kg of cheese: AED 35

1 kg of chicken: AED 26.46

1 kg of beef: AED 38

Cappuccino: AED 17.77

Average priced meal: AED 30

One-way ticket for public transportation: AED 2

Monthly transportation pass: AED 80

Taxi Tariff: AED 12

Gasoline: AED 2.10

Gym membership: AED 275

Cinema: AED 40 

Preschool or daycare: AED 1,935

Domestic beer: AED 13.41

Imported beer: AED 15.6 

Cigarettes: AED 22.00
While the average rent differs based on the location, expect to pay AED 523/ month in bills for electricity, heating, AC, water and garbage for an 85 m2 apartment.