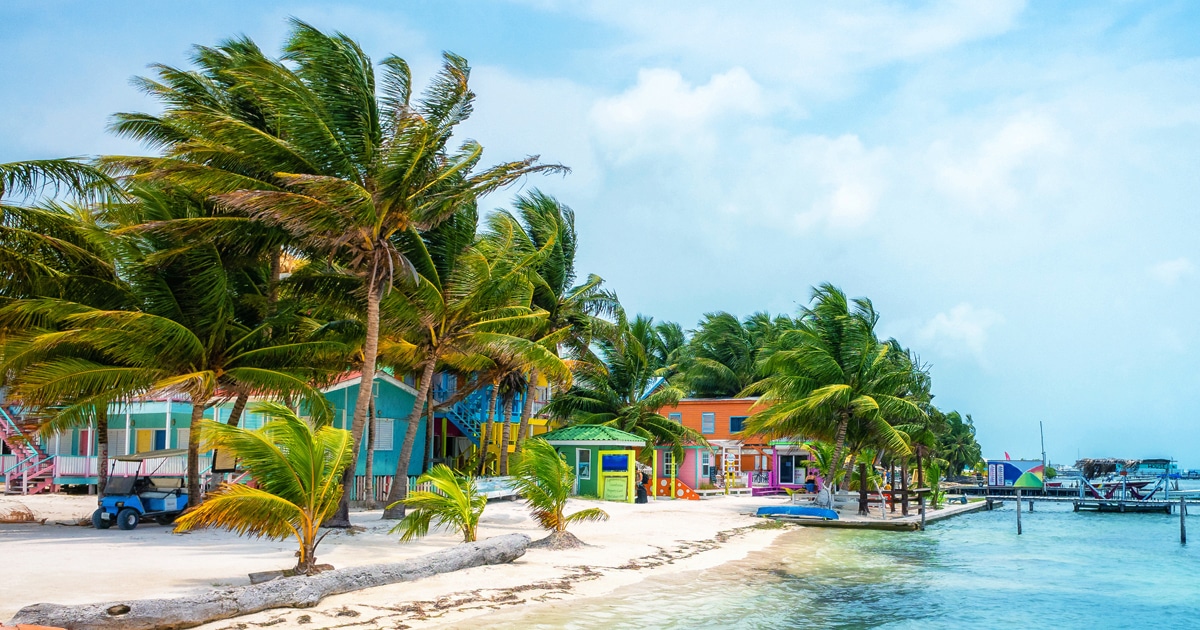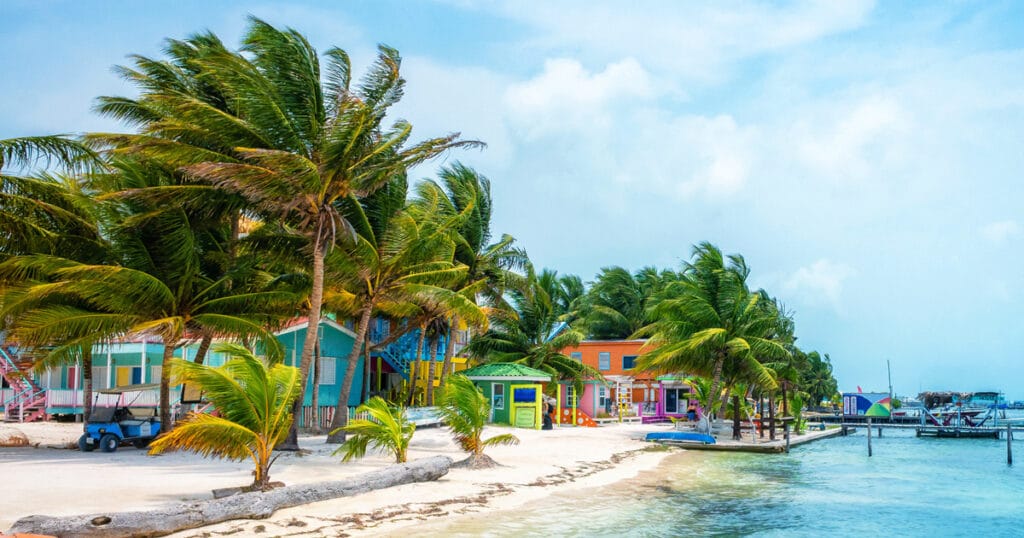 A Digital Nomad Guide to Caye Caulker, Belize
Belize is situated on the east coast of Central America, bordering Mexico and Guatemala and is a country with a diverse range of terrains, wildlife and history. Belize uses the Belizean dollar, which is relative to the US dollar and remains 2 BZD to 1 USD and the native language is English. 
In Belize you will find the world's second largest barrier reef, which is a UNESCO world heritage site. It is also home to the mysterious Blue Hole, which attracts divers from across the globe every year. As well as aquatic life, Belize is rich in palm beaches, dense jungles, temples, caves networks and extensive wildlife.
It is known for having over 300 native bird species and is home to the howler monkey and jaguar. In this nature rich country you will find a vast array of archaeological sites and temples that tell the history of the country and its links within Mayan culture. 
But this isn't all that Belize has to offer. Its extensive coastline scattered with many islands offer an authentic Caribbean way of life. Most people may assume that it is best to stay in the capitol; Belize City, however Belize is only 68 miles wide with a total area of 8,867 square miles and is very easy to travel around so it is best to find a town to stay in, or an island like Caye Caulker.
The island of Caye Caulker is only 5 miles north to south and less than a mile wide, with a population of around 2,000. It has become a popular destination for backpackers and digital nomads, due to its laid back hippy vibes and incredibly beautiful location.
Caye Caulker was once a single island, but in 1961 when hurricane Hattie hit, the island was submerged by the ocean and as a consequence divided in two, creating what is known now as 'The Split'. The island has no beaches as it is made from limestone and coral, which make it a great place for snorkelling.
Nomad Friendly
Value for Money
Internet
Workspace
English
Food
Safety
Health
Transportation
Friendly
Quality of Living
Living in Caye Caulker Overview
Digital Nomad Personal Experience in Caye Caulker
I had the opportunity to spend around one month living in Belize whilst filming a self-funded, self-produced documentary alongside my fellow digital nomad team of friends. We entered Belize by land, driving in from Tulum, Mexico with the aim of heading for San Ignacio. 
We have a good friend who lives there and we had planned to help a charity project in the town. The project was set up by a local on their farm, with the aim of building an eco-orphanage for young adults in Belize.
Being based in San Ignacio was fantastic as it was a vibrant town with everything you needed; bars, restaurants, hotels and hostels and there was a great community vibe, not just from locals but with backpackers too.
As well as having everything we needed, it was well connected to the rest of the country through the bus network. We would regularly take the bus to the coast on our days off and to visit some of the gorgeous beach towns in Belize.
Whilst most of my time was spent in San Ignacio I was lucky to be able to visit Dangriga, Hopkins beach, Barton Creek Cave where we tubed on the river through the cave networks. I also had the chance to see some of the incredible Mayan ruins such as Cerros Mayan Ruins which are located on the coastline. 
One thing that always sticks with me is how friendly and welcoming the locals were and how accommodating they were towards tourists. I would say there is certainly a work hard, play hard ethic in Belize as I experienced whilst working on the voluntary project in San Ignacio.
Belize is a colourful country, not only through its extensive nature and vibrant infrastructure, but through its entwined cultures and vast array of cuisine.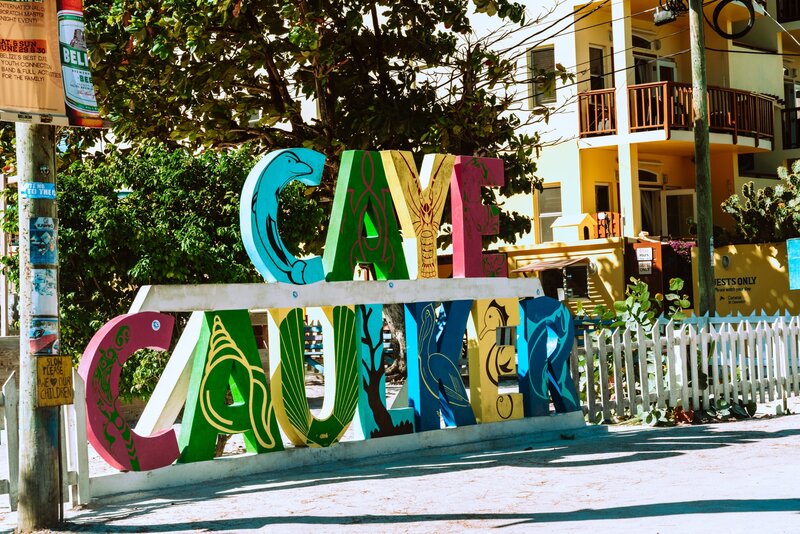 Work in Caye Caulker
Caye Caulker is a beautiful island situated just off the coast of Belize and is the perfect destination for any digital nomad that loves the ocean, water sports and wildlife. Caye Caulker is just a short boat ride from the capitol of Belize; Belize City and is surrounded by other beautiful islands with lots on offer. Caye Caulker has become a popular backpacker's destination, so it has a wide variety of bars, restaurants, cafés and activities, so you won't find yourself getting bored!
For digital nomads Caye Caulker has a wide variety of places you can work, from cafés  on the beach to chill out lounge areas and you will certainly find a place that suits your vibe and working style.
As of 2020, there are no co-working spaces on Caye Caulker as the islands main audience is backpackers. But you will find an array of bars, cafés and restaurants, some of which would make the perfect workspace and there is even an internet café if you prefer more of a quiet space.
As always there are important things to be mindful of when working in public spaces such as; Wi-Fi speed, access to plugs, noise levels as well as humidity and whether the space is air conditioned or not. Many people have issues with their laptops and electronic devices in subtropical climates with high levels of humidity, so it is worth checking if the café you are heading to has air conditioning.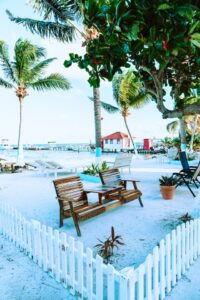 Another thing to consider is that internet speed in Belize, as it is not as fast as some other countries, so if your work relies on high speed internet, then you may need to check if Caye Caulker is the place for you. Many places won't have internet that is faster than 30BZD/4h. There is a huge difference between 'having Wi-Fi' and 'having good Wi-Fi'.
I would recommend that you contact any accommodation beforehand to ask for the upload and download speed before booking. You can also contact cafés and restaurants as many have websites and Facebook pages.
There is also the option of taking out a phone plan and using data, but again you may struggle to receive more than 3G or maybe 4G at best. Taking out a phone plan has multiple benefits as a common occurrence in subtropical climates is regular blackouts. This is often due to weather related issues, but you will find that phone masts still work, so as long as your laptop is charged up or you have a portable power bank then you can work from your phone whilst the power is down.
Best Places to Work in Caye Caulker
Caye Caulker cafés
When choosing a place to work on Caye Caulker there are many cafés to work from, so here are some that are popular with digital nomads on the island, mostly due to their setting and Wi-Fi speeds.
Ice and Beans café
Ice and Beans café is a great spot for chilling out and working casually in a beautiful setting and it is one of the best places for coffee on the island. It also has one of the fastest internet speeds for free Wi-Fi. Another café with high Wi-Fi speed is Namaste Café, which offers a great selection of vegetarian food and yoga classes.
La Cubana
La Cubana is another spot that could be worth a shot, as they have Wi-Fi and plugs as well as offering a selection of food and drinks. 
Across from La Cubana is the internet café called Caye Board. This is more of a quiet space compared to the restaurants and cafés, so you might find this is the best place to make calls. It is also air conditioned which is important if you are there in the summer season.
As well as cafés and restaurants you will find that some hotels have quieter café bar areas which are suitable for working. For example Tropical Paradise Hotel has good Wi-Fi and plugs for guests to use in their bar area.
Best Places to Live in Caye Caulker
Best Neighbourhoods
Caye Caulker is one of the smallest islands that Belize has to offer, so in terms of finding the best neighbourhood it's quite simple. Most of the island is relatively safe and you will find a corner shop within walking distance of most places. Choosing where you want to stay is really down to preference. As always with travelling and staying somewhere new, there will be elements of uncertainty and crime wherever you go, so it is advised to always be on the lookout for pickpockets and being scammed as a tourist.
There are certain guidances for Caye Caulker, such as not walking alone at night on secluded beach areas and just generally walking with someone at night. Caye Caulker is very welcoming to tourists so it is generally safe if you use your instinct and follow general rules for keeping safe in a new place.
Due to the hurricane in 1961 causing the island to split, the north island has now become barely inhabited and is more of a daytime excursion location. Locals and tourists live on the southern island of Caye Caulker.
Caye Caulker Village, located in the south of the south island, is generally where the locals live, so you won't find places to rent here as easy as the tourist areas.
Caye Caulker is so small that it is difficult to pinpoint one area to be better than another as it is all focused around the centre. Whether you want to be in the heart of the life and soul of the island, or a little more secluded, realistically due to the island's size you won't be that far from either. 
Being in the heart of the island has its pros and cons. being located near the main hub means that everything is convenient as it is on your doorstep; however with this comes more noise. Sometimes it can get loud outside bars late at night, so if you are staying close to one of the late night places then be mindful of this. 
Avenida Hicaco is the main road on the east side of the island and has many apartment blocks, hotels, bars and restaurants. Being on the east side of the island has its benefits. If you are on the coast then you will get the light breeze and it is the prime location for the gorgeous sunsets, as well as having everything on your doorstep.
Although they don't run all night and are not too loud, some people prefer to not be too close to the airport which is located on the south of the island. However it does have its benefits, as it is slightly away from where the main bars are so you will find it to be quieter at night and you are more likely to find a place to stay with a private dock to sunbath on.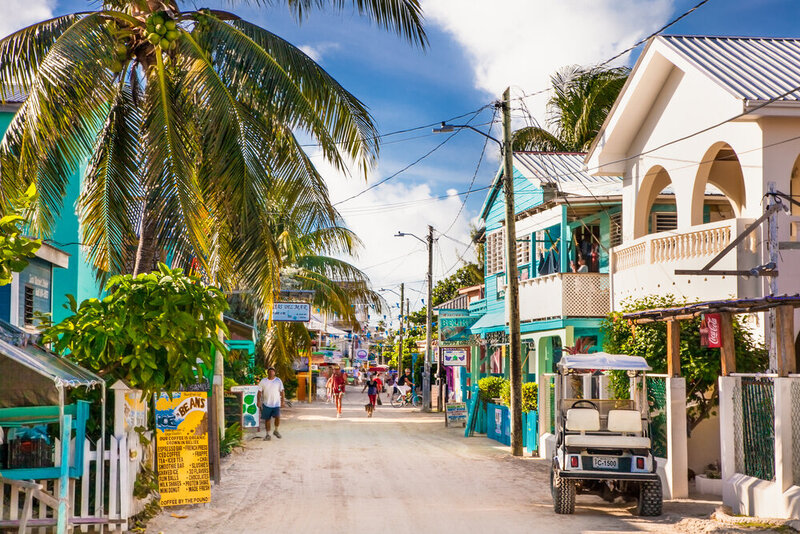 Find an Apartment in Caye Caulker
The best way to find accommodation on Caye Caulker is online, so you can make sure to find the best deal. There are many ways of finding accommodation online, through websites such as booking.com and hostel world, but Airbnb is also very popular on the island and it will allow you to compare prices for similar accommodation.
There is also a wide variety of accommodation types available, such as beach huts, apartments, hotel rooms and private villas, so you can find the perfect accommodation for your stay. As the island has become popular with backpackers, a number of hostels have opened up in more recent years, however these mostly offer dormitories.
To find an apartment, you first need to think about your budget, what your needs are and what you want. There are many places to rent, but some are very high end and can cost almost triple the price of others. Once you have decided what your basic needs are and your budget, then set the filters on sites such as Airbnb and see what comes up. 
If you are looking for the best accommodation then make sure to check if the property is classed as a 'Gold Standard'. This is a system used by Belize tourism board to rate accommodation and by being awarded Gold Standard; it means the accommodation has certain requirements. You can search on 'Belize Tourism Board' website for Gold Standard accommodation to find a list of certified places on Caye Caulker.
As of 2020 there are 4 Gold Standard places in Caye Caulker which are; Barefoot Caye Caulker Hotel, Caye Caulker Island Cabanas, Caye Caulker Panorama Apartments and The Club at Caye Caulker.
A studio or one bedroom apartment on Airbnb for 1 month will vary dramatically in price. Often you are offered a weekly or monthly discount on Airbnb if you book for a longer stay, but you also have to consider Airbnb's service fee and the cleaning fee. For a basic private 'studio' room prices start from around $35 USD per night or $860 USD per month in February which is high tourist season.
For a private condo you could pay anything up to $60 USD per night or $2,300 USD per month, so it really is worth looking around and seeing what suits your needs.   
Facebook has groups such as 'Caye Caulker House & Apartment rentals' or digital nomad groups which are a great place to ask around. You will be able to ask likeminded people where they stayed, or even people who are currently there for the most up to date advice. You may find that the groups have private listings for accommodation too.
There are many ways to find an apartment, but using the Belize Tourism Board and certified sites such as Airbnb are the most reliable for finding somewhere to stay on the island. You can read through reviews to help you decide if the property is true to its advertisement and most of the time with Airbnb their customer service team is always there to help with any booking problems.
Cheap Places to Stay in Caye Caulker
If you are looking for low budget accommodation then Caye Caulker has a few places on offer such as hostels. Most hostels on the island offer free Wi-Fi and breakfast each morning and some offer use of equipment like kayaks and canoes, but always check what is included before you book. There are many hostels on the island which offer beds in dorm rooms for around $11-16 USD per night. 
Travellers Palm Backpackers hostel is located right next to the centre of town and has one of the highest ratings on Hostel world. It is only a 1 minute walk from the nearest store and 10 minutes from the water taxi terminal. The benefits of this hostel are the fact it has a private dock, roof terrace for watching sunsets and free use of their kayaks! Although it isn't the cheapest hostel on the island, you get a lot of value for your money. Prices at Travellers Palm Backpackers Hostel start at around $10.50 USD per night.
Alternatively if you are looking for cheap accommodation, but have a slightly higher budget then La Cubana might be the place for you. La Cubana is known for its Japanese style 'sleeping cubes', which function perfectly if you are just looking for somewhere cosy to rest your head for the night. La Cubana offers free Wi-Fi in dormitories as well as in some of the public areas. Depending on the time of year it costs around $21 USD for a sleeping cube in a dormitory, which offers a little more privacy than sleeping in your standard dormitory or shared room.
Caye Caulker Visa
Not everyone will need a visa for Belize as many countries are exempt; however every foreigner entering needs to be able to show sufficient funds in their bank account and proof of a booked ticket out.
There are 101 countries that do not need a visa to enter Belize. This includes citizens from all EU countries, UK, USA, Canada, Australia, New Zealand.
You will be stamped in on your arrival and you will have a specific amount of days to stay in Belize from your entry date. This is usually up to a maximum of 30 days as a tourist.
Each country has a different limit on how long you can stay in the country, so it is worth checking this out before you decide to head to Belize. If you are unsure then it is best to ask your embassy how long you can stay in Belize before your arrival. 
If you want to stay longer than 30 days, once you are in Belize you can pay an extra fee to extend your stay at a local migration office. This can be extended monthly up to a maximum of 6 months in total from your first entry date. After 6 months you will then be required to pay a higher fee each month and you may be asked to show proof of planned exit and that you can sustain yourself for the extended time period.
Culture and Food in Caye Caulker
Belize is known for its Caribbean style cuisine, which offers a variety of local specialities. Traditionally in Belize the most common dish revolves around rice and beans. Rice and beans is a staple in a Belizean diet and you will find them accompanied either with; shrimp, chicken, beef, pork, fish or game depending on the region you are in. Belizeans come from a wide variety of backgrounds, and due to the mix of cultures, the cuisine has become a melting pot combining traditional dishes with spices from all over the world, creating a fusion of worldwide cuisines. 
Caye Caulker has around 70 different restaurants and cafés on the island, with a range of prices and cuisines, so you will certainly find something for you.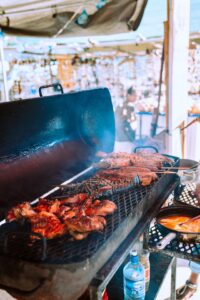 Caye Caulker is famous for its grilled seafood, especially lobster! And there are many places that serve it. You can find whole grilled lobster in most restaurants for around $20 USD depending on the size. The Happy Lobster, located on Main Street has some of the best reviews for not only its lobster but seafood in general. If you want to experience this local speciality then make sure you are there during lobster season. Lobster season starts in mid-June and generally ends in February.
If you love street food, then Caye Caulker is the place for you; however it is done in its own unique way. Rather than set up all day, vendors will make their treats and head out to sell first thing and most will be sold out by noon. For such a tiny island, you will find a huge selection of street food vendors selling anything from tamales to meat pies and baked goods.
Down by the pier at the water taxi terminal you will find street food vendors selling local delights such as tacos. Street food is generally very affordable and one of the cheapest ways to eat on the island. Most taco stands will sell 3 tacos for $1 USD.
If you have any dietary requirements then there are lots of options for you on Caye caulker. As it is a well-known backpacker's destination, many cafés and restaurants have adapted their menus to suit tourists and their dietary needs. There are even some specialized cafés which focus solely on vegetarian and vegan cuisine.
Namaste café offers both vegetarian and vegan options as well as gluten free. Other vegetarian friendly places are Falafel Bar, The Happy Lobster, Caribbean Colors Art Cafe and Pizza al Taglio. Ana's Genie is also great for vegetarians and has a good selection for vegans too. You will find that other restaurants and cafés have vegetarian options, but their menus aren't specialized in vegetarian foods, so there may only be one thing on the menu that is vegetarian.
No matter what your dietary needs, you certainly won't go hungry on this food loving island.
Caye Caulker Nightlife
If you are looking for a few drinks with friends or maybe some dancing and lots of laughs, then Caye Caulker is the place for you. There are so many bars on the island so it is quite common to 'bar hop' between them. If you are looking for somewhere to just have a few chilled drinks or for the opportunity to meet other digital nomads, then this is the island for you. There are also a couple of sports bars on the island too.
As Caye Caulker is relatively small it is quite common for most people on the island to congregate at 2 or more of the bars for the night. Not all bars will stay open late and not every night either, so it is best to ask around to see if any are hosting any events.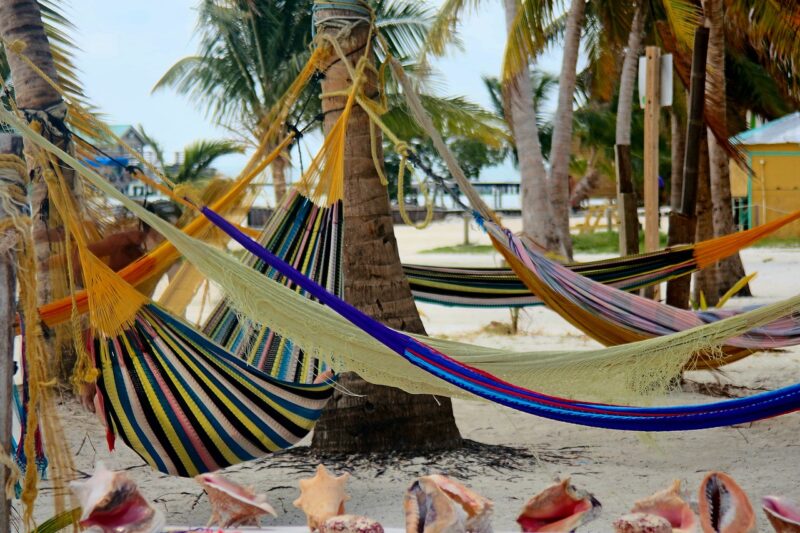 The Lazy Lizard at The Split is the place to be. The Split has much to offer, from drinks on tables submerged in the water, to volleyball and corn hole. This is the place to meet all the backpackers or tourists on the island as it has all the fun and games, quite literally. The Split has really utilised the area to keep customers entertained and happy for hours, however be aware that drinks prices here are a little higher than the rest of the island. Expect to pay $4 USD for a Belikin here which is almost double the average price of other bars.
If you are looking for something a little cheaper, then the Sip n Dip might be good for you. Just before you reach The Split you will see the Sip n Dip bar which offers water volleyball, hang out swings and good drinks. Sip n Dip has as much on offer as The Split, but the drinks prices are more relative to the rest of the island.
The I and I Reggae Bar, located on the east of the island is the perfect spot if you love reggae music and just want to chill out with a few drinks. The bar has three levels which are always pumping out reggae tunes and it even has a roof terrace with panoramic views, perfect for a sunset drink.
Barrier Reef Sports Bar and Grill is the place to watch any live sports, so if there is a big match on, be sure to head down as this is where you will most likely find both locals and tourists. 
If you are looking for a true island experience then you need to head to Wish Willy bar and restaurant which is located on the north of the island close to The Split. Wish Willy's is a casual restaurant that consists of plastic tables and chairs in a backyard and the chef aka 'Wish Willy' will either entertain you through his food or stories. For an authentic local experience this is the place to be, it might not be a late night but it will certainly be an evening of laughs.
Things to do in Caye Caulker
Although Caye Caulker is a small bohemian island, it has a lot of energy and much to offer as it is surrounded by natural wonders. Depending on your budget you will find something to do; whether it is relaxing on a dock reading, snorkelling and discovering the aquatic life or visiting a historical site.
Snorkelling

Caye Caulker is very popular with divers and lovers of the sea as it is an island located close to the world's second largest barrier reef. One of the most popular things to do is to go on a snorkelling tour. These can range in price, depending on how long they are for and what is included in the package, but they usually start around $35 USD per person for a 3 hour guided tour. Snorkelling tours usually consist of a boat ride to the Caye Caulker Marine Reserve. You will also visit some snorkel areas such as 'Stingray or Shark Alley' where you can swim with stingrays and nurse sharks. Some tours will take you to 'South Channel' where you can snorkel with moray eels, barracudas and snappers. If you want to just snorkel around Caye Caulker, then you can rent a mask, snorkel and fins for $5 USD per day from Tsunami Adventures. You can also rent a few other items from them too, such as Go Pros, waterproof phone cases and underwater flashlights and wetsuits.

Two meter nurse shark, Hol Chan marine reserve. Photo by Wouter Naert

Blue Hole Diving

For those more advanced divers, you can visit the famous Blue Hole; a natural sink hole in the ocean. To be able to dive into it, you do have to have specific diver's qualifications so it is worth checking when booking. For those of you that don't have the diving experience but maybe have the budget, you can take a flight over the Blue Hole. This will give you the most incredible views of this natural wonder, but it does come with a large price tag. It will cost you around $200 USD per person and requires a minimum group of 3 to make the flight.

Kayaking

Alternatively if you just want a chilled out day on the water you can rent kayaks and canoes from around $7.50 USD per hour or $25 USD for a day from companies such as Tsunami Adventures. From Caye Caulker it is possible to paddle out to the reef, but you require a permit to enter the Caye Caulker Marine Reserve which costs $5 USD per person.

Paddle board

Many hotels such as Seaside Cabanas offer paddle boards to rent for $12.50 USD per hour. You will find many places on the island to rent kayaks, canoes and paddleboards and it is worth checking before you book your accommodation if they hire them to guests free of charge.

Sunset sailing tours

Raggamuffin Tours offer some of the best sunset sailing tours in Caye Caulker. For $40 USD per person you will get yourself just over a 2 hour long boat trip, leaving 45 minutes before sunset. Snacks and drinks are provided on the boat as part of the package. They also offer day tours and overnight sailing trips to swim with the manatees and turtles whilst visiting some of Belize's uninhabited islands.

Visit Koko King

As Caye Caulker does not have any sandy beaches, it is common for visitors to take a trip to Koko King. Located north of The Split and only accessible by boat or kayak, this little haven is the perfect place for a beach party. If you don't fancy kayaking over then there is a ferry service which is complimentary if you spend a minimum amount at Koko King. Koko King is a beach party heaven, with a well-stocked bar, a Caribbean style restaurant and endless beach games. If you want a typical sandy beach party day then this is the place to be.
If you are on a low budget or want to save on your spending then there are some free attractions and things to do on Caye Caulker.
Close to the Iguana Reef Inn there is a small refuge by the docks for sea creatures to congregate. Although it is sometimes difficult to spot sea life, it is known as being a place where seahorses hang out and it is completely free to go have a look. So although you may not get a glimpse of anything, you have nothing to lose by checking it out.
On the west side of the island there is a dock where the tarpon (huge fish) wait to be fed. You can purchase a bag of fish bait for around $2.50 USD. This is a popular feeding spot so you may find that the fish are waiting for you. The dock is located off of Calle La Posa.
Belize Chocolate Company opened a chocolate shop and café in 2018 in Caye Caulker. Why not visit and learn a little about the history of Belizean chocolate and try out one of their famous chocolate treats.
If you are looking for things to do that are further afield, then there is always the option to take a water taxi back to Belize City and then take a tour or trip from there. The most popular places to visit in Belize are the Actun Tunichil Muknal Cave, Barton Creek Cave, Belize Zoo, Caracol National Monument and Altun Ha Archaeological site. You will find tours from Belize City to most historical sites in Belize.
As well as exploring the Mayan temples and exploring the history of Belize, there are also many food related tours. Belize is famous for its hot sauces and the brand Marie Sharp's is a global brand originating from Belize. Marie Sharp's Factory in Dangriga offers tours and tastings. Taste Belize Tours is the best website to find the perfect food tour. You can go on a tour into the mountains to meet the locals who use traditional Mayan farming methods to harvest cocoa beans and make chocolate. Or head to a local distillery and learn how Belize produces its own rum and drink like a local from prices starting around $50 USD. 
If you happen to be in Belize during the month of June, then you will be there to celebrate the start of the Lobster season! Every year in June Caye Caulker hosts a 3 day festival with live music, games, dancing and beach parties to celebrate the start of the season.
Best Time to Visit Caye Caulker
The weather of Belize can change dramatically depending on the time of year you choose to visit. Belize is subtropical and has two seasons, the dry season and wet season and choosing the wrong one can really make your stay unpleasant. 
Belize's dry season runs from November to April and although it is their winter season, it is the most popular time to visit. From November to February temperatures will drop and you might find windy days, however the sun will still be shining. From February through to April/May, it will start to get hotter. The average temperature during the dry season is 73-82 Fahrenheit (22-27 degrees C). 
The wet season, also known as the rainy season occurs between May and November and is known as the summer. This is the low tourist season because of the often heavy rainfall and the risk of hurricanes. Although the temperature remains quite pleasant, averaging around 79-86 Fahrenheit (26-30 degrees C), the rain will likely ruin any plans. Although showers often only last for around 1-2 hours, you may find that certain activities such as diving and snorkelling are cancelled due to visibility. However some people are happy with the trade-off; a little rain here and there, but considerably less tourists.
The best time to visit Caye Caulker is any time from January to September. During these months you will have the least rainfall, although if you visit in the summer the rainfall will increase compared with the winter season which is the dry season. From January to May you will experience the least rainfall. Caye Caulker has a yearly average temperature of 86 Fahrenheit (30 degrees C) due to its tropical savanna climate. 
Caye Caulker for Families
Although Caye Caulker attracts many backpackers, it is also a good place for families too. If you are looking for a safe and relaxed island with lots of water activities then this is perfect for you and your family. There are no cars on the island, only bicycles and golf carts and it is a pedestrian friendly place.
There are many properties and hotels that cater for families but some of the best rated are CayeReef, Yocamatsu, Jan's Hotel, Dream Cabanas, Island Magic Beach Resort and Anchorage Beach Hotel. These are all family friendly places to stay; some offer special services if you have young children and some have private pool areas so you can relax whilst the kids have a swim! Most hotels will offer a daycare or babysitting service, but it is best to contact before booking to check if this is an option. 
There are many activities to do in Caye Caulker and most are family friendly. Whether you want to take the kids out for a day sailing and snorkelling, or spend a day with them at the beach, there are many options. Tour guides on the island are very patient with teaching children how to snorkel safely and are very enthusiastic to show the kids some of the beautiful aquatic life around Caye Caulker.
As well as most water sports, taking a trip to Koko King beach or walking around Caye Caulker is a suitable form of entertainment for the kids. Heading to the Belize Chocolate Company to learn how chocolate is made, or perhaps having an ice cream at a little café always goes down well. At places like The Spilt you are more likely to find partygoers, but there are some quiet areas of The Lazy Lizard that are child friendly. 
Caye Caulker has a range of schools on the island that teach various age groups. Some of the best schools on the island are the Ocean Academy, Caye Caulker Roman Catholic School and la Isla Carinosa Academy. The Ocean Academy has the best ratings for the island as it offers academic education as well as extracurricular opportunities as well as having international teachers. Registering may prove difficult if you are not a resident in Belize, so it is best to ask before relocating. 
There are many expats in Belize, especially Caye Caulker, so it might be worth finding a relevant Facebook group to ask about international schooling.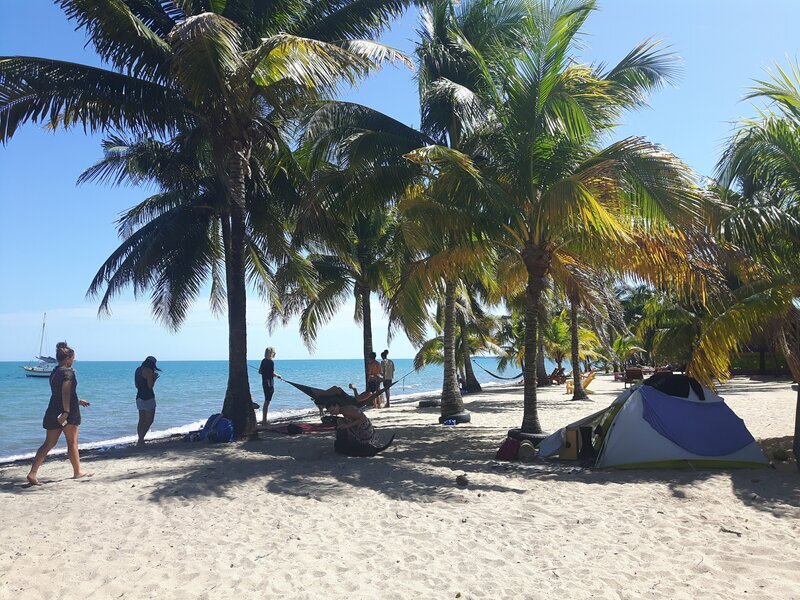 Living in Caye Caulker
Caye Caulker Transportation
Most people will enter Belize via Belize City airport. From there it is possible to take a taxi to the waterfront where you can take a water taxi to the island of Caye Caulker.
Taxis in Belize usually start at around $3 USD and most likely won't run on a meter, so make sure to agree a price before getting into the taxi. It is quite easy to hail taxis, especially at the airport and in big cities but they are often difficult to identify as there is no consistent look or brand for the taxis in Belize. 
Alternatively there are buses running in Belize, however there is no official network system in Belize City. Different bus companies will take you to different places and the prices will vary.
To get to Caye Caulker, you need to take the water taxi from the port in Belize City. 'San Pedro Belize Express' is the main water taxi operative and it will cost you around $15-$20 USD to get to Caye Caulker from Belize City. The water taxi will drop you on the east side of the island. The boat ride is around 45 minutes depending on weather conditions and the boat departs 5 times a day. The first ferry leaving Belize City departs at around 8:00 in the morning and the last at 16:30 in the afternoon. San Pedro Belize Express also run water taxis to San Pedro too, so if you fancy a day trip from Caye Caulker, this is the best way to get there.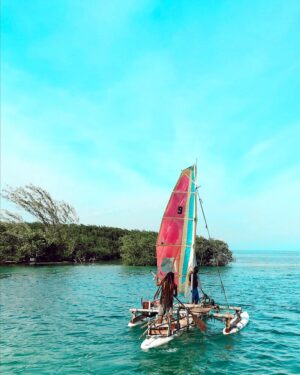 Once on the island of aye Caulker you can hire bicycles or even golf carts to get around the island. Caye Caulker is only 1 mile wide so most people walk, use the golf cart taxis or use bicycles and you will rarely see any vehicles being used on the island as there are only 3 in total.
You can hire bicycles for around $30 USD per week and golf carts can be hired for around $360 USD per week. Golf cart taxi services usually start their prices at $2.50 USD per person per journey, depending on where you want to get to on the island.
Alternatively if you want to paddle around the island or from one end to the other you're your commute then kayaks and paddle boards are readily available on the island. Some accommodations like hostels and hotel complexes have these for guests to use free of charge.
Fitness and Health
Caye Caulker is the place for those who like the ocean and water sports and you can keep fit by using what is around you. Unfortunately as of 2020 there are no gyms on the island, other than one that is located at the Enjoy Hotel located on Pasero Street. Although the gym is primarily for hotel guests, it may be possible to pay to use the gym as a non-hotel guest.
Alternatively there are plenty of activities available on the island that will keep you fit. Activities such as swimming in the ocean, jogging or running around the island, cycling and playing beach volleyball are amongst many ways to stay fit on the island. It is also possible to rent kayaks and paddle boards too, which you can easily and safely paddle around Caye Caulker on.
As well as water based activities you will find yoga classes. As mentioned previously, Namaste café offers yoga classes which are donation based. If you are looking for a casual yoga session then this is the place for you. You can drop in to their sessions and pay as you feel.
Staying healthy is important and can affect your lifestyle greatly if not taken into consideration, so it is important to seek medical advice when needed and take care of your body.
Caye Caulker has many health and medical clinics available for tourists, one which seems to be the best for tourists is Dr. D's Clinic. It has the best reviews on the island and is known for its caring and welcoming doctors, so if you need to see someone then don't hesitate to ask for help. The nearest hospitals are either on the island of San Pedro or in Belize City.
Caye Caulker People
The island's motto is 'Go Slow', which certainly reflects the mentality of the people on Caye Caulker. The island has a very relaxed vibe and everyone on it soon becomes in sync with this laid back approach to life.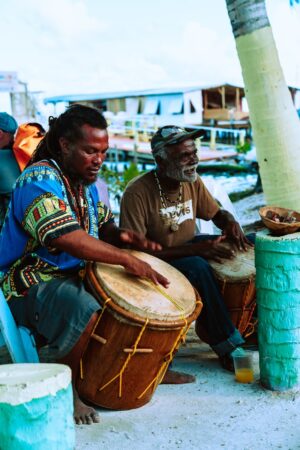 Caye Caulker has around 2,000 permanent residents; however this is increasing due to its attraction to digital nomads and backpackers. The locals of Caye Caulker have a mixture of heritage. Most locals descend from Mayan heritage, European, Garifuna as well as Kriol. The national language of Belize is English, but you will find in places like Caye Caulker, the locals also speak Spanish and Kriol. Usually they will only speak English with tourists and Spanish or Kriol with their family and friends. Alongside Reggae music, Punta Rock is the most listened to style of music.
The people in Caye Caulker are some of the friendliest people you will ever meet and welcome all tourists to their island. Unlike other areas which are sometimes overwhelmed by tourism to a point where it becomes unwelcome, Caye Caulker welcomes tourism with open arms. People on the island are very pleasant and respect and look out for each other. Caye Caulker has many bars that both locals and tourists hang out in together, so it truly creates a safe and welcoming vibe. Once you step off the boat, you really are made to feel like you are at home.
As well as being welcoming, they love to have a good chat. Belizeans love to have a good joke and as they say, the best way to get to know a country is through its people. It is common to have a drink or two with guides from the island after you have been on a tour with them, to better understand the island and its people.
In Caye Caulker as well as locals, you will find many tourists in the form of mainly backpackers and digital nomads. The island has attracted 'hippy' types for many years due to its reputation as being a slightly quieter island than San Pedro.
Caye Caulker Insurance and Medical Care
When travelling anywhere outside of your permanent residence country, it is always advised to take out insurance, whether it be for your belongings or for medical. You should take out insurance for Belize especially if you plan on taking expensive equipment like laptops or if you plan on taking part in water sports or potentially dangerous activities.
Belize has both public and private healthcare and depending on where you are and what treatment you need, will determine the service you receive. For serious or major incidents you may be flown to a neighbouring country for care. Whilst medical care in Belize is cheap compared with North America and Europe, it isn't always available so it is advised to have insurance in case you need to be taken to another country.
It is also advised that you carry a small medical kit with you as there can sometimes be a lack of supplies in the country. Carrying things such as pain relief, antibacterial ointments and any prescriptions is always advised. 
Belize does not require you to have any vaccinations on arrival, but depending on where you will be travelling to in Belize; you might want to consider getting some vaccinations to reduce the risk of contracting an illness when you are there. Hepatitis A, Typhoid, Hepatitis B, Dengue fever and Malaria are all present in Belize.
The risks of contracting Malaria are very low, unless you plan on visiting remote jungle areas where Malaria is found. Most people who travel to Belize don't need to take anti Malaria medication with them, but it is always advised to avoid mosquito bites as much as possible. This will also lower your risk of contracting dengue fever too.
Make sure you are fully covered by reading our full Digital Nomad Travel Insurance guide.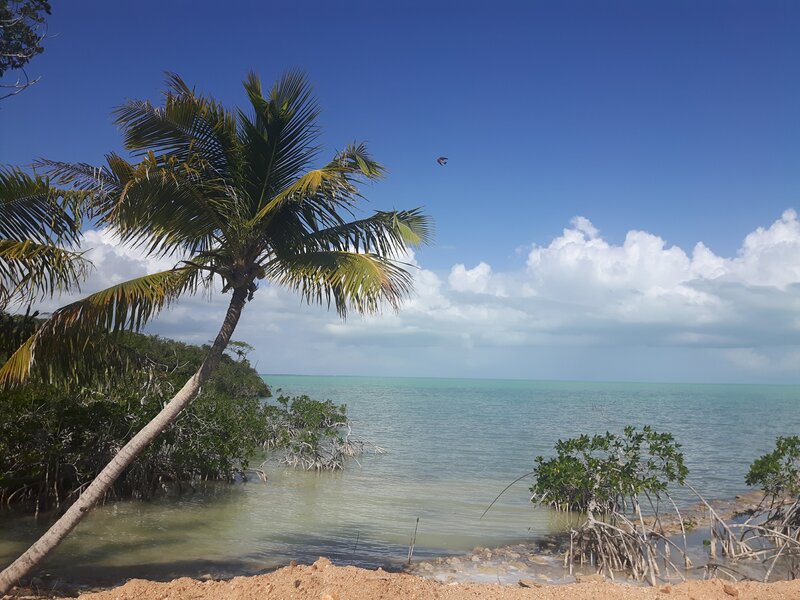 Jobs in Caye Caulker
Finding a job in Caye Caulker may prove a little difficult unless you have a specific skill set that someone is after and you have the correct visas and right to work. Any foreign citizen must be a registered resident of Belize for a minimum of 6 months before they can apply for a work permit. This is to protect the job market for locals. Like most places you will find volunteering opportunities, but it is best to research before. 
As Caye Caulker has become a popular backpacker's destination, you will find that many tourists are looking for odd jobs to keep their spending low. One of the best things you can do is to ask around before you get there. If you are looking for a specific role or have unique skills to offer then email potential companies for volunteering opportunities on the island beforehand. Remember to bear in mind the time of year you plan to visit and whether this coincides with peak tourism season as this may affect jobs that are available. 
Whilst you will most likely not find a paid position, there are plenty of 'work-aways' or exchanges on Caye Caulker. The best way to find volunteering opportunities is through websites such as workaway.info and goabroad.com. Oneworld365.org is also a great resource for finding both voluntary and paid opportunities abroad. 
Check out our Digital Nomads Jobs Postings to find the best jobs available for Digital Nomads.
Nomad Friendly
Value for Money
Internet
Workspace
English
Food
Safety
Health
Transportation
Friendly
Quality of Living
Cost of Living Caye Caulker
Belize is a relatively cheap country to visit as it is classed as a developing country; however there are certain things that are quite expensive in comparison to other places. Belize imports many goods, so if you want anything that is not locally grown or made, then expect to pay a premium due to high import taxes.
Caye Caulker averages a slightly higher cost of living for digital nomads when compared to other parts of the country as it is an island and everything is brought over by boat so it is charged at a higher rate. Despite this it is still very affordable to live.
The expected cost of living on Caye Caulker can vary dramatically depending on your lifestyle and needs. On a low end budget, for 1 month; staying in the cheapest accommodation available, spending the minimum required in cafés to be able to work without upsetting the locals, only taking part in free or low cost activities, walking around the island and not leaving by water taxi and with a budget of around $30 per day for food and drinks, you should expect to be spending a minimum of around $1,800 USD. You could live quite comfortably for around this and may even be able to live for less if you are really frugal! 
However there may be unexpected occurrences and unforeseen circumstances that could affect this. Medical issues, insurance claims or loss of belongings will need to be accounted for and this does not include many luxuries. If you want to do laundry, buy a local Sim card or take part in activities such as diving, then you will be looking at spending more. A budget of around $2,500 USD would be advised for a more comfortable experience, however this is down to the individual's needs.