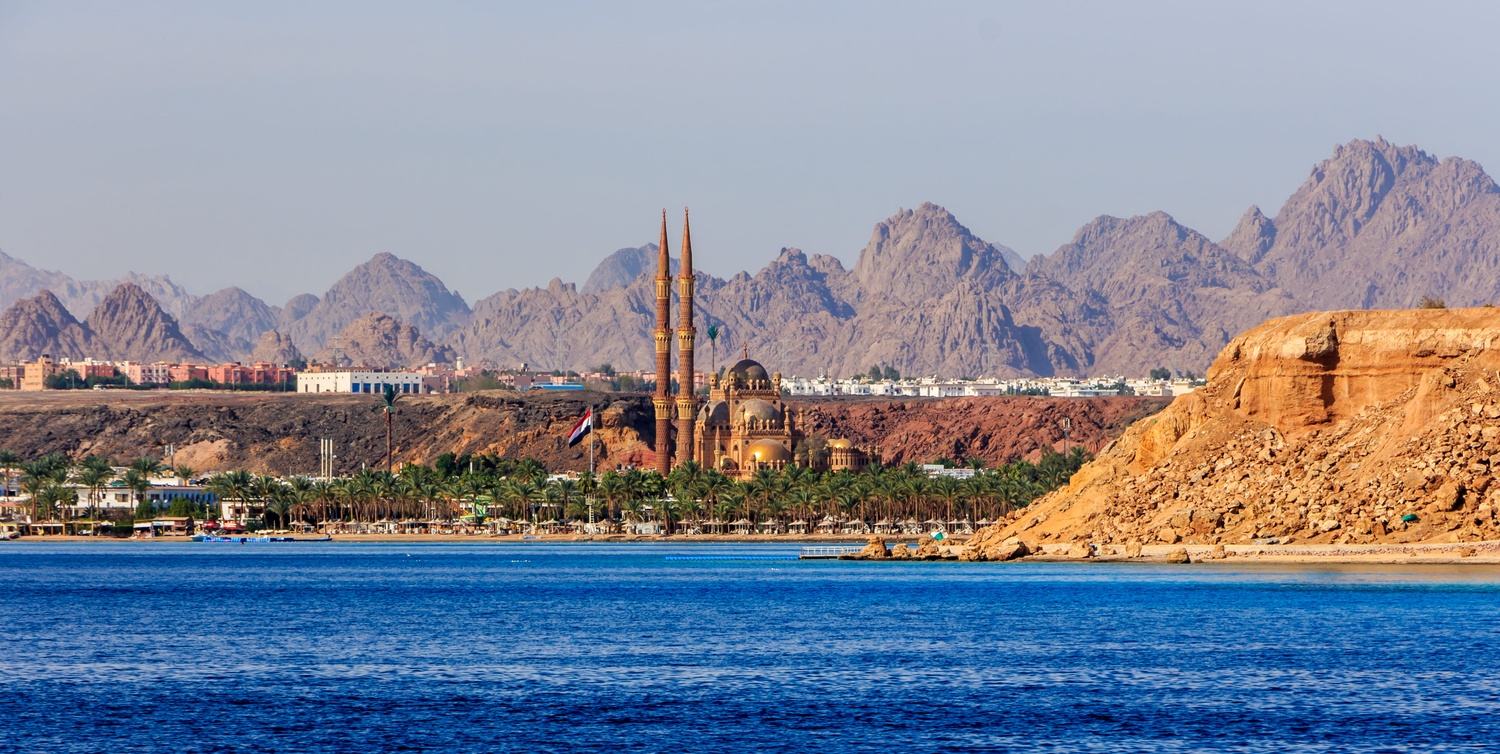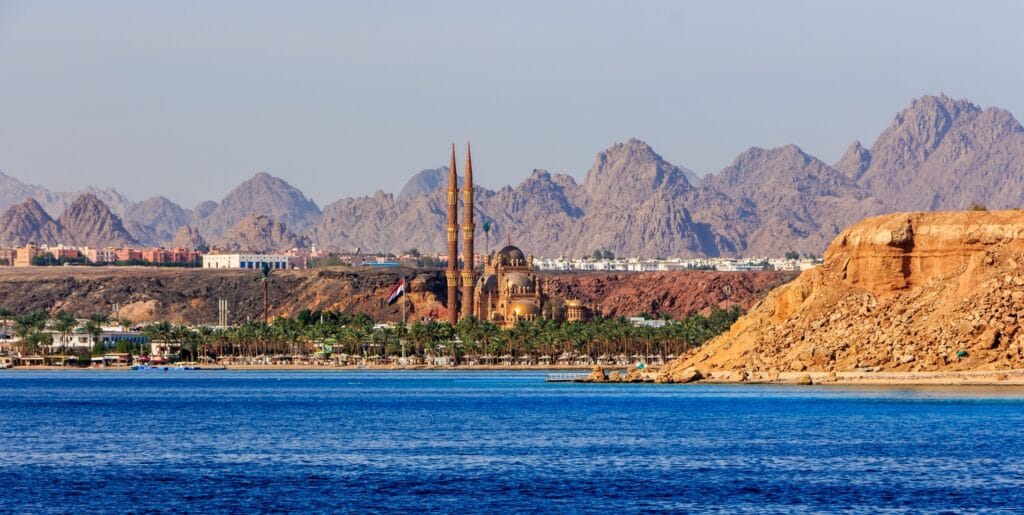 A Digital Nomad Guide to Sharm El Sheikh
Sharm El Sheikh is a city located on the utmost point of the peninsula South Sinai in Egypt. The country is famous for its thousands of years old, magnificent history. Just recently, a new museum opened in Cairo for which the ancient mummies have been moved from the old one, which was done with a spectacular parade. It's clear the Egyptians are proud of their history.
Although the rest of Egypt is part of Africa, the peninsula is already part of Asia. The area belonged to Israel until the eighties so it's an area that is fairly new. There used to be desert only, but the city of Sharm El Sheikh has developed very fast over the last few decades.
The Red Sea surrounds the peninsula and therefore also Sharm, so the sea is never far away. The clear blue water houses a lot of reefs and attracts many divers and snorkelers. The combination of hot weather and exceptionally interesting history has made the city a famous holiday destination.
The closest village to Sharm El Sheikh is Dahab, which is a one-hour drive away. The borders of Israel and Jordan are around 3 hours away, and a drive to Cairo, the capital, takes approximately 5 hours. Domestic flights to Cairo and Luxor are also available and take less than one hour.
There are two national parks in Sharm, one on each side of the city. In the north lies Nabq Nature Reserve, where you can see the mangroves, and in the south lies Ras Mohammed, a place with amazing remote beaches and campsites.
The local currency is Egyptian Pounds (EGP). Over the last few years, the exchange rate has been fluctuating but the EGP has been between 0.060 and 0.064 USD for a while now. Don't exchange your money before coming to Egypt, you can exchange at any bank there or exchange USD and EUR at most ATMs.
Nomad Friendly
Value for Money
Internet
Workspace
English
Food
Safety
Health
Transportation
Friendly
Quality of Living
Living in Sharm El Sheikh Overview
| | |
| --- | --- |
|  Meal, Inexpensive Restaurant | $5.28 |
| Domestic Beer (1 pint draught) | $1.69 |
| Cappuccino (regular) | $2.07 |
| Loaf of Fresh White Bread (1 lb) | $0.55 |
| Water (1.5 liter bottle) | $0.40 |
| One-way Ticket (Local Transport) | $0.16 |
| Basic Utilities (Monthly) | $37.32 |
| Internet | $17.71 |
| Fitness Club (Monthly) | $16.97 |
| Apartment (1 bedroom) in City Centre | $182.03 |
Currency: Indonesian rupiah (Rp)
[erw_exchange_rates_widget lg="en" tz="0″ fm="IDR" to="EUR,USD,GBP,AUD,JPY,RUB" st="primary" cd="" am="15000″][/erw_exchange_rates_widget]
ATMs
Max Withdrawal: Rp 3,000,000
Withdrawal Fee: Rp 30,000 – Rp 50,000
Use of Credit Cards: Mostly Cash
Digital Nomad Personal Experience in Sharm El Sheikh
While the plane was descending the first time I flew to Sharm, I immediately noticed the mountains. While landing, I could see the sea on one side and these majestical mountains on the other side. Even though it was the middle of the night and it was dark, and I was exhausted, I could admire the landscape. From the moment I got off the plane, I felt at home. I spent what was left of this first night in a hotel before I was moved to an apartment the next day. 
One of the first things I noticed was the friendliness and hospitality of the people in the city, and how Sharm had a modern side which I hadn't expected. It didn't take long to make friends and soon, I didn't want to leave anymore.
Sharm is also the place where I decided to take in a street dog. They found him all alone on the street at just a few weeks old and I decided it was time to realize my childhood dream of having my own dog. I named him Mushkella, which is the Egyptian word for 'problem', and he's been cheering up my life ever since.
Every time I arrive in Sharm after a visit to Europe, I notice how relaxed the lifestyle is over there. People are not rushing as much, and they greet each other in public places. I often step into supermarkets and shops in Belgium greeting the staff and they just give me a strange look back.
The sun sets much earlier in Sharm than in Europe, so in summer I do miss the long summer nights outside with friends. It feels different when it's still light outside. But I got used to them being replaced by evenings in the dark and with warmer temperatures. In winter, I try not to sleep in, as the sun starts to set around 4:30 PM.
Work in Sharm El Sheikh
There is not much in the way of coworking spaces in Sharm El Sheikh but there are enough coffee shops to work from instead. One coworking space that opened recently is called Co-work space – Sharm El Sheikh. This is next to the Shark Divers dive club, but I advise you to check it out before preparing to spend your first day there since it is still new. Most have free WiFi with decent internet speed. In case you need a stronger connection, you can buy a SIM card and put your preferred amount of GB on it. Egypt has 4 network providers: Vodafone, Orange, Etisalat, and WE. Vodafone is the market leader and you'll find shops scattered all over the city.
To obtain a SIM card, I advise you to not buy it at the airport upon your arrival, as the prices are higher there. You will have enough opportunity to buy one later at one of the many shops. Vodafone has an official shop in each neighborhood so to start I advise you to go to one of these. Take your passport with you as they need to register the card in your name, and schedule enough time, these shops are always busy. You can choose a SIM with data access only, in case you already have another phone number, or don't need an Egyptian phone number. I find it handy to at least have one, so you'll be able to call for example restaurants or supermarkets for deliveries, and taxi drivers. The phone numbers are often reused so it's normal to get a call in Arabic from people looking for the previous owner of the card. It's also not uncommon that they'll try again immediately by calling the same number. If it bothers you, just block the number on your phone. 
If you already have a SIM card and you just want to top up, you can go to any unofficial shop too. Just remember that, as with any unofficial shop in Egypt, prices can vary, so make sure to have an idea of what it costs at the official shops. When topping up, you pay around 30% of taxes. There are many options to choose from when it comes to amounts of GB, starting from 10MB to 40GB. For 10GB you can expect to pay around 12 USD, so prices are relatively cheap.
If you are planning to stay a while and want to work from home, Orange has a great router. It costs around 55 USD and you can choose between different packages. 70 GB costs around 18 USD which you just go to pay each month at one of their shops. The signal strength and speed are very good.
Some applications, such as Skype and the phone service of Whatsapp are blocked in Egypt. You can just use different apps in case you need to, the phone calls on Facebook Messenger for example work very well and there are no issues with Microsoft Teams. If you have no choice but to use the blocked apps, you can avoid the block by using a VPN connection. AirVPN works very well and offers packages starting from one month to several years. For one month, they charge around 4 USD.
Best Places to Work in Sharm El Sheikh
The below list is just a personal selection of coffee shops you can work from. I am sure you'll find your own favorites very fast.
Arab Bucks
Arab Bucks: this place in Nabq has an inside and outside seating area. There's AC inside and shade on the terrace. The speed of the WiFi is pretty good, the coffee tastes great and they always have freshly made desserts on offer so it's the perfect place to get some work done. The menu has choices for breakfast, lunch, and dinner which are mostly international but there are a few Egyptian options as well. All the food is really delicious and served with a smile. The place is well-known amongst expats who are frequently visiting. 
Makani
Makani: this is a chain with 3 locations in Sharm. One in Hadaba, one in Naama, and they've recently opened up in Nabq as well. The first two have a more oriental interior while the last one is more modern. All three locations don't have a big terrace but it's rare not to find seats. Inside, there's plenty of space and AC. I mostly visit them for their cakes and coffee, but they also have a great offer on their delicious sushi, selling 30 pieces for 300 EGP (19 USD).
German Bakery
German Bakery: this bakery has two locations, one in Nabq and one in Hadaba. The seats are comfortable benches that are filled with pillows. The WiFi's a bit slow, so I recommend you use your own data here. I can recommend the cheesecake, the strawberry tarts, and the GB special sandwich.
Sharm Home Bakery
Sharm Home Bakery is an Italian bakery with delicious cakes, coffee, and sandwiches. They're located in a small mall and you need to go down the stairs to reach them. Their terrace is therefore completely in the shade, and there are no distractions such as passing cars or pedestrians that can take the focus of your work.
Sharks Bay
Sharks Bay: This is an area in Sharm with public beaches and some small cafes. There are a few tables, but there are also plenty of bedouin seatings which are colorful pillows on the floor. From there, you have an amazing view of the beach and the Red Sea, so it's the best office view you could wish for.
Best Places to Live in Sharm El Sheikh
Best Neighbourhoods
There's actually no bad neighborhood in Sharm El Sheikh. The whole city is safe and all necessities are always close by.
The neighborhood where many expats live, especially the British, is Nabq. This part of the city was built last and mostly has big, five-star resorts on the first and second line. Rixos Hotels has a new aquapark here which costs around 60 USD for day use, with snacks included. There are many cafes and restaurants, and two big supermarkets: Metro and Ragab Sons. The center of the area is La Strada, where you'll find small souvenir shops and pharmacies. People live in compounds here, and some are located within hotel grounds, such as Amwaj and Aurora Oriental. It's best to have a car if you live in the compounds on the back road, as the busses don't pass there at all and taxis only rarely pass by. 
Montazah
Montazah: is a smaller neighborhood with two brand-new compounds. The first line is, again, occupied with hotels. Taxis pass by, but to take a minibus, you have to go to the main street which is, depending on where you live, at least 15 minutes walking. There are no big supermarkets nearby, the closest is the one in Nabq which is a 15-minute drive away. There are a few tourist shops and small delis. 
Naama
Naama: this is the neighborhood where the first hotel of Sharm El Sheikh was built. One of the city's biggest centers is here, Naama Bay. There are two, car-free streets that are filled with shops, selling clothes, bags, shoes, souvenirs, and much more. There are many great restaurants serving food from all over the world. The hotels in this area are smaller and there's a walking way between them and the beach, connecting Naama Bay with the Mövenpick hotel. Walking down the whole path will take you around 20 minutes. From the center of Naama Bay, there are stairs next to the hotel Tropitel. These stairs can be used to go up to another road, where Genena Mall is located, the city's only, big shopping mall. Don't expect too much, of the three floors, only two have shops and there are no big chains. There are also a few cafes and restaurants, and every evening around 9:00 PM there's an oriental show. Tseppas Bakery in the front of the mall is a well-known and loved place, it's a good spot to buy boxes of oriental cookies to serve as gifts or souvenirs.
Hay El Nour
Hay El Nour: is a more local neighborhood. There are no compounds with swimming pools here but only apartments. It is, however, the cheapest area in terms of rent. The Coptic church is located in this area and so is the public hospital.
Hadaba
Hadaba: this is the neighborhood that is located on the most southern point of the peninsula. It consists of two parts, one downstairs and one higher up the hill. The souq (a center with shops, each Egyptian city has one) is downstairs, and so is the harbor. In the upper part lies Mercato, a center with more modern restaurants and a few shops, but a lot has been closed over the last few years. Just as in Hay El Nour, there are no compounds here, only small apartment blocks. Rent is however not always cheaper than in the other neighborhoods. There are a few villas as well, in the street close to the sea. The view is amazing from there, as it's on top of the cliffs. The most famous bar in the city is also here, Farsha. Wooden stairs lead you down the cliffs to this colorful bar where you'll take a seat on one of the pillows on the floor. It's the best place to have a shisha. The place gets very busy as it is so popular, so you might have to wait a while for a seat.
Find an Apartment in Sharm El Sheikh
At the moment, a lot of apartments are available so it's easy to find a place to stay. The easiest way is to ask around. You can book a small period at a hotel so you'll have time to look around.
There are a few real estate agents in the city and I found Sharm El Sheikh Real Estate to be very helpful. They have a website, so you can already see what's available before you arrive. If you prefer to take a look at the place you want to rent first, they'll arrange a viewing for you. 
You can also try online search engines such as Booking and Airbnb, or Facebook. There are various groups and pages, such as Sharm Real Estate, Rent In Nabq Properties In Sharm, and Property For Sale Or Rent Sharm Homes. 
Apartments are not very expensive in Sharm El Sheikh, so it's perfect for digital nomads. You can keep the price down by renting a studio or choosing to live like a king in a spacious villa. A one-bedroom costs on average 191 USD per month, and a two-bedroom 383 USD. You can find a villa for 766 USD.
Most owners ask for a deposit of one month, and most foreign owners also let you check and sign an inventory. I find it easier to rent through a real estate agent, as they will help you in case something needs to be repaired. It's not difficult to find a handyman, but an appointment is not always respected and so is the price. Even though you might still find it a cheap price while you're being overcharged, it's never fun to pay too much for something. It's not uncommon for people to be late or not show up at all.
Utilities are usually not included. There are two ways the compounds use to charge you. Some have meters that you have to load with a card. The card, in its turn, is charged beforehand in the compound's office. The system exists for both water and electricity. Other compounds check the meters for you and give you the bill after the end of the month. In winter it adds up to approximately 51 USD, and in summer to around 86 USD. The thing that has the most influence on your bill is the AC, which in summer, you'll need 24/7. Apartments in Sharm El Sheikh have no heating as it's mostly unnecessary. Some have AC units that also have a heating function.
Most places are available long-term unless it's clearly written that it's a holiday rental and that the price is per night. It's often not a problem if you decide to leave on short-term notice. Another reason why I prefer renting through an agency is that they arrange for the apartment to be checked and the money to be returned to you. It doesn't happen often, but when renting from a private owner, sometimes you can get into discussions and not get the whole amount back, so I believe it's easier to have a mediator.
Cheap Places to Stay in Sharm El Sheikh
With rental prices being quite low, you can even rent an apartment while you're on a budget. If you really want to save money, you can also rent a studio, as rent will be even lower there. Keep in mind that the space inside is limited and that even if there is a balcony, in summer it will be too hot to use. My advice is to look for a balcony or terrace which lies in the shade all day long, this way, you'll be able to enjoy it more.
I noticed that the area of Nabq is the windiest part of the city. In winter, this can be a bit annoying as there is often a red flag and swimming in the sea is not allowed. In summer, however, there is a breeze, while in other areas there's no wind at all and it feels very hot. Choosing a place to live there could help save you a bit on electricity costs.
Some hotels are also not expensive and might be worth taking a look at, in case you are only planning to stay short-term. Most hotels have free WiFi but only in a few hotels, this connection works at a decent speed, so you'll have to count on spending money on a SIM card on top of the accommodation price. You can include meals which will, of course, increase the price, and with many low-budget restaurants outside the hotel, I wouldn't advise this. Most cheaper hotels are 3 to 4 stars and are not famous for their extensive buffets. The advantage of living in a hotel is that there are no utilities to pay, it's easy to meet other people, and you don't have to do any cleaning.
Sharm El Sheikh Visa
Tourists staying under 14 days without leaving the city (to places such as Ras Mohammed, Cairo, or Luxor) don't need a visa. Those who plan to stay longer, or want to visit other cities can buy a visa at the airport for 25 UDS. They don't accept credit cards so make sure you have the amount in cash. You can also pay in EGP, there's an ATM at the airport. This is a short-term visa, allowing you to stay 30 days. It's a sticker that you put in your passport and is then stamped. If you enter with an ID card only, you get a small yellow card to stick the visa on.
After 30 days, you can go to the visa office in Nabq, to make an extension. Take your passport with you, a copy of the first page and some pictures. There are Kodak shops in all parts of the city where you can make them for 4 USD. Depending on your nationality, you'll get an extension of 3 or 6 months. The price for each of them is around 107 USD. You do the application and can pick up your card about 2 weeks after.
When you fail to extend your visa, you can still leave the country but you have to pay a fine at the airport. If you overstayed up to one month you pay around 100 USD, the longer you stayed, the more extra fines will be calculated. The police sometimes go to compounds to check visas, so it's my advice not to take the risk and just get a visa extension.
Culture and Food in Sharm El Sheikh
Egyptian cuisine consists mostly of dishes with fish, chicken, or beef. As the majority of the country is Muslim, you will not see pork being served in hotel buffets or find it in regular supermarkets. There is a pork restaurant and shop, however, in Dahab Mall in Hadaba, and some restaurants have an option on their menu but often lack availability.
Some typical Egyptian dishes are:
Koshari: a dish with lentils, rice, chickpeas, and pasta. Mostly served with two types of tomato sauce: a spicy one and a softer one. On top of the dish, they put pieces of onion which are fried to a crisp. This is considered to be the national dish of Egypt and is very popular street food. It's perfect to use up leftovers.
Kofta: a ground beef preparation that should not be absent at a barbecue. Herbs are being mixed with the meat, and it's put on a stick, so it's easier to grill.
Ful: is a popular dish made of fava beans. It's spiced up with herbs such as lemon, garlic, and peppers. It's eaten by grabbing some of the mixtures with pieces of Egyptian bread. These pieces are called 'cat ears' due to their shape. The dish can be served for lunch and dinner, but it's also a popular breakfast.
Ta'ameya: is the Egyptian way to make falafel. They use fava beans instead of chickpeas.
Molokhia: is another dish that's often referred to as the national dish of Egypt. It's made with molokhia leaves which come from the plant 'jute mallow'. The leaves are cooked in a broth, making it often mistaken for soup. The molokhia can be served with meat or chicken, and rice.
Mahshi: is a dish made of stuffed cabbage rolls. Inside is a mixture of ground beef, rice, tomatoes, and herbs.
Om Ali: the translation of this dish means 'Ali's mother'. There are several stories about the reason for this name. It's a dessert that you could call the equivalent of Western bread pudding with soaked bread, milk, nuts, and a lot of sugar. Sometimes they add coconut and raisins.
If you'd like to get a taste of these, there is a chain of Egyptian restaurants called 'El Masrien' which translates to 'the Egyptians'. There are 3 restaurants in Sharm El Sheikh and they also have a delivery service. You can have a meal here between 5 – 10 USD.
Another option for Egyptian food is Abu Ali, another chain where you'll find fast food such as shoarma and savory crepes. The food here costs around 2.50 USD per dish. 
For fish and seafood, I can recommend Fares, they have amazing seafood soup and shrimp. There's one in Mercato, one in Old Market and one in Genena Mall. The one in Old Market gets very busy so you'll probably have to wait for a table. The other two locations tend to be less crowded.
In Sharm, you'll find a variety of restaurants serving international food as well. At Mövenpick Hotel, there is a great Indian restaurant with stunning views over the sea and Naama Bay on the other side. On Soho Square, there's a restaurant where you can choose from 4 different types of food: Egyptian, Indian, Thai, and Chinese. You can mix and match just as you like.
Sharm El Sheikh Nightlife
In the evenings, locals and tourists go out for dinner or drinks, watch a show, or go clubbing. The center of the nightlife lies in Naama Bay, but there are options in other neighborhoods as well. People in Sharm tend to stay inside in the mornings and afternoons, when it's too hot, and come outside in the evening, after sunset. This results in very lively evenings with filled cafes and bars.
In Naama Bay, the clubs and bars are located close to each other, so it's the perfect option in case you like to change places while going out. Hard Rock Café and Pacha are the more famous clubs hosting a few parties a week, and Buddha Bar is a restaurant that turns into a club after dinner servings. A great bar here is Camel Bar, where you can enjoy the views from a comfortable seat on the rooftop. There are also some smaller bars, where you sit on the floor and can dance to Arabic music. Still in Naama, but further away from the center there's another club called Space. They mostly play house music.
In Hadaba, people love to visit Farsha café, or the one next to it, Sadiki which is on top of the cliffs. A club in this area is Marquee, an outdoor sushi restaurant, and club that organizes parties 3 evenings per week.
The nightlife in Nabq is located around La Strada, where there's a second and bigger Hard Rock Café. People who prefer a more quiet evening hang around at ArabBucks where there are great cocktails on the menu.
In Montazah, there's an outdoor center with shops, restaurants, and shows. It's called Soho Square and opens up in the evening, around 5:00 PM, and closes around 11:30 PM. This is a very modern place which is great for a dinner or drink. There's also a bowling alley where you pay just under 4 USD per game. There's also a nightclub here, called Pangaea Night Club. 
Dolce Vita is a nightclub at a special location. The spacious dance floor is located in the desert, so you'll have a party under the stars. Ask the locals what the best night to visit is because not all parties are the same.
If you'd like to see a show, you can go to Naama Bay, there is an open-air show there every evening, or to the one in Genena Mall. There is a location in Hadaba, which is called Alf Leila Wa Leila (translates to 1001 nights) where you pay entrance to watch a combination of shows. They have a belly dancer, snake show, and tanoura. Tanoura is an Egyptian folk dance, performed by a man wearing a big skirt and continuously turning around his axis. Excursion offices offer packages with transport and the option of a dinner, but you can also go by taxi and pay at the door. 
There are also a few casinos in the city, two in Naama and one in Nabq.
Things to do in Sharm El Sheikh
Sharm El Sheikh has a lot of outdoor activities to offer. There are also a few landmarks but once you've seen them you usually don't go back for another visit. Luckily there are many options to visit other cities and countries from Sharm.
Soho Square

The first thing to visit in the city is the bigger city centers: Soho Square for more modern shopping, Naama Bay for a night out, and Old Market to see the authentic Egyptian culture. Soho and Naama are more interesting in the evening while you can visit Old Market also during the day.

Old Market

In the center of Old Market, you'll immediately notice the majestic Al Sahaba Mosque. It's the second-biggest mosque in the city and definitely worth a visit. During prayer, you'll not be able to enter but at other times it's open to visitors. You will have to cover your legs, and women also have to cover their shoulders and hair before going inside. There's often a shopkeeper around that helps visitors to the correct clothing for a small tip in return.

The Heavenly Cathedral

Another landmark is the Coptic church which is named 'The Heavenly Cathedral'. The inside is beautifully decorated with colored glasswork and many mural paintings. The church is open to visitors, and everyone who enters has to cover their shoulders and legs. They have clothes to cover up with available on-site.

Tutankhamon

Below Genena Mall, there's a museum dedicated to Tutankhamon. The King Tut Museum is small but interesting and showcases 135 copied pieces. The museum is open in afternoons and evenings, and an entry ticket costs around 20 USD.

Sharm El-Sheikh National Museum

Recently, the Sharm El-Sheikh National Museum has opened, where the visitor gets an idea of ancient daily life through the more than 5000 artifacts on display. These artifacts include animal mummies, coffins, and papyrus. Tickets cost 13 USD and you pay a small extra fee in case you want to take pictures. These are the cultural and historical points of interest of the city, but there's more to discover close by. Sharm El Sheikh has the perfect geographical location to visit other places. Luxor with its ancient temples and the Valley of Kings is only a one-hour flight away. So is Cairo, the home of the Great Pyramid of Giza, one of the wonders of the world. The archeological city of Petra in the neighboring country Jordan is definitely a must-see, and also one of the wonders of the world. The site consists of several locations, with the Treasury as the most famous one. It has an amazing facade of 45 meters high. Jerusalem is also close enough to visit. Highlights there are the birthplace of Jesus, Bethlehem, and Temple Mount. You can easily combine this with a trip to the Dead Sea. For the trips where you cross the border, it's better to have a guide with you who can explain to you all the procedures. I, therefore, advise you to book these trips with a trustworthy excursion agency.

The village of Dahab

The village of Dahab is only one hour away, and a place that all people in Sharm love. Life in Sharm is already more laid-back than in the bigger cities, but the atmosphere in Dahab lifts the word "relaxing" to another level. It's a lovely place to go snorkeling, stroll on the pathway with souvenir shops, or have a bite to eat in one of the restaurants overlooking the sea.

Saint Catherine Monastery

About a 4-hour drive into the desert lies the Saint Catherine Monastery, one of the oldest monasteries in the world which is still being used. On-site, there's a small museum and a beautiful garden. Trips to the monastery are often combined with a climb of Moses Mountain. To watch the sunrise there is unforgettable. Be prepared to wake up very early to visit these places. As the monastery only opens a few hours in the morning, you have to leave early enough to be able to visit. Apart from sightseeing and visiting historical and cultural landmarks, Sharm also has a lot of activities to offer. Both the Red Sea and the Sinai Desert are close, so most activities have to do with one of those.

Snorkeling

Snorkeling and diving are possible almost everywhere and there are house reefs at most of the hotels. However, there are two places a bit further on the sea, which are well-known by divers and also great spots to snorkel. The first one is Ras Mohammed, the national park. The park is accessible by land, but also by sea. The second one is Tiran, a big reef on the surface of the sea recognizable by a half-sunken boat next to it. Diving schools organize trips to both locations, and there are also boat excursions for those who wish to alternate sunbathing and snorkeling.

Seascope

Those who can't swim or suffer from seasickness but would still like to admire the colorful underwater world from up close can go on the Seascope. You can find them close to the harbor and buy a ticket there, or book through an agency. The yellow boats partially lie underwater and while taking a seat on one of the chairs you can look straight through the windows and see the corals and fish. The boat doesn't leave the bay so it doesn't rock with the movements of the waves as other boats do.

Buggy Rides

The most obvious desert activities are quad biking or buggy rides. These trips usually take a half-day and can be arranged at sunrise and sunset as well. Quad biking is possible at many destinations, but to do it between these bronze mountains while the sun disappears behind them, and finishing the last part in the dark is a unique experience. These trips are often combined with camel rides. It's often possible to do one in the city as well, but the scenery at a parking area can not be compared to the one in the desert.

Jeep Rides

Another popular way to visit the desert is by jeep. The experienced drivers like to take you on exciting rides through the sand and even onto the mountains. There are two small canyons not too far away from where they usually make a stop and let you walk through them. There's a bit of climbing involved, so make sure to wear comfortable shoes. Some jeep rides are organized during the evening and include a dinner under the stars. At these stargazing trips, a guide explains the universe and lets you take a look through a telescope.

Colored Canyon
Further away in the desert are the colored canyon. It has been cut out by water and even though it's narrow, you can still walk through it. The canyon has layers with different colors and this is where the place gets its name from.
Best Time to Visit Sharm El Sheikh
Most tourists come to Sharm El Sheikh for the weather. Although it's an all-year-round holiday destination, people tend to overlook that there are also a few months of winter. It doesn't get very cold, temperatures usually stay above 13 degrees Celsius during the day, but the cold, strong wind in some areas can make it feel colder than it actually is. Make sure to bring a jacket and scarf when you plan on visiting that period.
The coldest months are January and February, and the wind can make the sea quite rough. This often leads to a red flag at the resorts disappointing holidaymakers that only stay one or two weeks and come to enjoy the sea.
The hottest months are August and September, and they also have the highest humidity. Temperatures often easily reach 40 degrees Celsius and at night, they don't decrease under the 30s. AC is a must during these months.
You will only experience two seasons in Sharm: winter and summer. Starting from April, the evenings start to become a bit warmer and the wind decreases. In November, it starts to be a bit chillier again.
It rarely rains in Sharm, but when it does, it's all hands on deck. People tend to be very stressed, as there are no facilities in place to deal with the rainwater causing some flooding and big pools of water in the streets. Some houses and hotels suffer from leaks and suffer from water dripping inside. Luckily, the rain usually doesn't last long. It's not unusual to have a power and WiFi outage in some parts of the city after heavy rain.
Sharm El Sheikh for Families
Sharm El Sheikh is a suitable place for families with children. It's a very international environment, with many couples who have different nationalities and their children growing up being multilingual. 
For daycare, you can check the Facebook page Sharm El Sheikh Kiddy Care Babysitting & Childminding. This is a group of European babysitters who offer babysitting services. For other babysitters or au pairs, you can post on sites such as Expat.com or Sharmwomen.com.
There are a few nurseries, such as Little Explorers Day Nursery in Nabq which follows Montessori education. The language used the most is English, but the toddlers are also taught Arabic. A child can attend the nursery from the age of 2 until 5. Another nursery is Bee Bright Nursery in Hay El Nour and VIP Kids Castle Nursery in Hadaba. 
There are also a few international schools in Naama and Hadaba. One is Sharm International British School and the other one is Saint Joseph's Private Language School, a Japanese school that opened up recently.
There are several family-friendly locations such as the beaches and national parks, where kids can run and play as much as they like. Soho Square is a great option for the evening as there is a dancing fountain, which does a short show every hour. There are also a few attractions such as a 4D cinema, and bumper cars. All around the square are bronze statues. Some of them are very funny and nice for children to pose with. They organize summer camps as well, and so do most schools and nurseries for their students.
There are also several sports activities such as tennis, football, basketball, judo, and swimming. There are also two water parks, one in Nabq and one in Hadaba. Both offer entrance-only and all-inclusive tickets.
Living in Sharm El Sheikh
Sharm El Sheikh Transportation
Traffic in Sharm El Sheikh is quite unorganized. Luckily, it's not a very big city, and not everybody owns a car, so it's way better than the situation in Cairo. There are traffic regulations but anything is possible. You can see camels on pickup trucks, children sitting in open trunks or sticking their heads out of the sunroof, and scooters holding up to five people. 
When you plan on renting a car, you just have to be very careful while driving. Pedestrians who cross the street, sometimes cross without looking or jump partly on the street to make you slow down. Busses and taxis stop wherever they want, often cutting others off. Some people drive without lights when it's dark, change lanes without looking, drive backward, and are either ridiculously slow or extremely fast. Nobody seems to know where the indicators are or understand the basics of how to use a roundabout. This might seem scary, but once you are driving for a few days, you get used to it. Renting a car costs around 350 USD per month. 
A tank of fuel is approximately 23 USD. There is always staff around to do it for you, so you just pull up and tell them whether you want a full tank or the amount you want in EGP. It's common to give the men a tip of 5 EGP for their service, and if you let one clean your window you pay him the same amount. Most gas stations have credit card terminals.
There are no fixed traffic cameras but the police sometimes use portable ones. A fine is 10 USD which you have to pay on the spot. The fines don't increase with higher speed violations, it's a standard amount. The police also regularly set up checkpoints, where they ask to see your papers. It's common to turn off your headlights when you approach such a checkpoint. 
If you don't plan on renting a car and don't want to walk, you have two options. The first one is a taxi. It's very easy to find one in Sharm. From the moment you approach the street, they find you. You will hear the question "taxi?" every ten minutes and they will flash their lights at you or sound the horn of the car to get your attention. The blue and white cars are official taxis, and there are also regular cars. With both types, it's best to agree on a price before you get in, so there are no surprises. The official taxis are supposed to put on the meter but often refuse or tell you it's broken. You can always check his number on the car window and threaten with police. Turning on the meter costs 10 EGP (0.64 USD) and per kilometer, you pay an extra 5 EGP (0.32 USD). Most taxis will overcharge so make sure to check on Google Maps what the distance is and make your own calculation. If you find a decent driver, you can always ask for his number. This is also a good idea in case you live further away from the main street.
The second option is the minibus called the blue bus because of its color. They have a fixed route crossing the whole city on the main road. The price for a seat from Nabq to Hadaba, from one side of the city to the other, costs 0.38 USD. Try to have change or 5 EGP notes as the drivers often say they don't have any. You also often have to ask for your change. It's the cheapest way of transportation but you'll understand why. There's almost no space for your legs, so you're squashed between the seats. There is no AC so in summer (the same goes for many taxis) so it gets unbearably hot and the ride usually takes double the time as with a car or taxi.
Most roads in the city are asphalted and new roads have been built over the last few years. Some unpaved roads have been changed into asphalted roads.
Fitness and Health
The people in Sharm El Sheikh like to keep fit. There are several small gyms all over the city and they are quite busy. 
People who rather work out in the open air, often wait until sunset in summer as it's too hot during the day. These people go walking, jogging, or running in the streets.
Some gyms are mixed, while others have specific hours where only women are allowed. 
Some of them are really small, with almost no or old equipment. These locations often also don't have AC, which makes it hard to work out during the summer. 
Some hotels offer access to their gyms for outsiders but they are rare. Domina Coral Bay is one of them and is located between Montazah and Naama. 
Behind the area of Hay El Nour is a sports center with an Olympic swimming pool. In the center is also a gym, where women can work out before 2 PM and men after. The price of 250 EGP (16 USD) per month also includes access to the pool. They also have day use for 20 EGP (1.28 USD).
In Nabq, there's a gym in La Strada, above the Vodafone and Orange shops.
Some gyms, also offer classes such as HIIT and boxing workouts. In Soho Square is Soho Studio where they only offer classes. Each month has a new schedule and there are several classes per day. Some are mixed such as yoga, some for women only such as oriental dance, and others such as music and gymnastics are for children.
Sharm El Sheikh People
Most people in Sharm aren't really from Sharm. As the city was constructed for tourism, there was no local population. In the last years, the population has been mostly growing with citizens of the second generation. Many people come to Sharm to work there, while they are living in Alexandria, Cairo, Luxor, or other places. Most of these people are men, the women tend to stay in the place of origin. 
People work hard in Sharm. Days of 10 to 12 hours are not rare, especially in the hotel business. Employees get about 7 days off per 21 working days. During that period, they work without a break, and in the end, they travel home for a short visit. Almost all hotels have male housekeepers. Women have jobs such as receptionists, bankers, teachers, nurses, etc.
Family is already very important in Egypt, and as people in Sharm are often far away from theirs, they find it essential to keep in touch. Younger people are often raised to show respect to their elders, and they do the same with their parents. The mother plays a very important role in Egyptian families.
It's easy to meet up with friends in the city compared to in Belgium where plans are to be made weeks in advance and can be influenced by bad weather. In Sharm, you just call and ask if they're free, and no later than the next day, you'll meet. With most people being in Sharm without family, their friends almost become a substitution.
One of the first things I noticed is how friendly people are. I first arrived as a tourist, and they made me feel at home from the start. People also greet each other more than in Europe, it's common to say "Salem Alaikum" (a greeting which means 'peace be upon you') when you enter a bus or want to ask something in a shop. When someone greets you with these words, you reply with "Alaikum Salem".
The city is a safe place for tourists and women traveling on their own. People will not bother you in the streets, and there's almost no crime. You don't have to clamp onto your bag to shield it from pickpockets as in many busy touristic cities. The people that will speak to you while you're walking around are taxi drivers and shopkeepers. Both are desperate to get customers and will try to get your attention. You'll often hear questions such as "Where are you from?", and "What's your name?", and once you answer, they will try to get you inside. If you don't buy anything, they'll not become unfriendly and you can just leave. 
In the hotels, most managers and reception staff speak English. In supermarkets and restaurants, there are always a few that speak good English, so others can call them to help you in case they don't understand. Some people claim to speak English but only know a few words. Most drivers don't speak English. It's good to pick up a few words of Egyptian Arabic so you can try to express yourself in those situations. It will be easier to ask for your change back in case they don't automatically give it to you, and tell you they don't understand English.
Sharm El Sheikh Insurance and Medical Care
The level of medical care and supplies can't be compared with the one in Western countries. There are some great doctors, however, and it's not a bad idea to ask on Facebook groups such as Sharm Information for people's experiences and opinions. The level of English spoken at the hospitals is sufficient.
There are two private and one public hospital in Sharm El Sheikh. All three are located between Hay El Nour and Hadaba, but there are ambulance points all over the city in case you live further away and would need urgent care. The private ones are Sinai Clinic and South Sinai Hospital, and the care is more expensive here. As always when staying abroad, it's a good idea to have international insurance. The public hospital is Sharm International Hospital, also referred to as pyramids hospital because of its shape. There's a clinic for less urgent care and an ER. There are also a few dental clinics, labs, and women's clinics in the city. In the case of diving-related injuries, there are two decompression chambers. In case you can't find the care you need in Sharm, you might be referred to Cairo.
Pharmacies are everywhere and are relatively cheap. A lot of medication is available without a prescription, so many tourists come to restock. El Ezaby Pharmacy is a chain with 4 locations and they deliver everything you need to your doorstep. The pharmacies are also the best places to buy mosquito repellent because they are quite aggressive. They also sell products for body care such as razors, shampoos, and hair dye.
Make sure you are fully covered by reading our full Digital Nomad Travel Insurance guide.
Jobs in Sharm El Sheikh
The main business in Sharm El Sheikh is tourism, so this is where most jobs are. The more languages you speak, the more chances you'll have of finding a job. The places where most foreigners work are hotels, schools, and restaurants. 
The easiest way to find a job is by looking online. Many people post vacancies on the website Sharmwomen and there are many Facebook groups where you can check the posts for something suitable or make your own post where you introduce yourself. Examples of these groups are Sharm Information, Sharm El Sheikh & Egypt For Tourists, Hotels Jobs in Sharm El Sheikh, and Jobs in Sharm El Sheikh.
Salaries in Egypt aren't very high and, as a foreigner, you can earn around 400-600 USD working as a guest relation in a hotel, depending on experience, language knowledge, and the position. This salary is already quite high and can be sufficient for one person to live in Sharm. The salary with other employers, such as restaurants and shops can be much lower, around 200 USD. Hotels also often look for animators, which earn salaries of around 300 USD. With most jobs, you get one day off per week.
The jobs in hotels often have fringe benefits, where you get meals (often in the staff cafeteria but sometimes even in the main restaurant of the hotel), and accommodation. This accommodation is most often a room in a staff house, which is very basic and needs to be shared. However, it's a great extra in case you are living on a budget. 
To be able to work you need to have a visa. Most hotels arrange this for you. Make sure to ask when you have an interview, as the process to obtain one is not easy for foreigners and is expensive.
Check out our Digital Nomads Jobs Postings to find the best jobs available for Digital Nomads.
Nomad Friendly
Value for Money
Internet
Workspace
English
Food
Safety
Health
Transportation
Friendly
Quality of Living
Cost of Living in Sharm El Sheikh
Sharm El Sheikh is a great place to live as a digital nomad. The cost of living is relatively low, so with a good income, you can have a very good life there. In case you're on a budget, there are some things you can save money on. 
By getting a job that comes with accommodation, or renting a studio, you can already save a few hundred dollars. When that job also allows you to have meals in the hotel, you often cook at home or you eat in low-budget restaurants, you can save some more. 
Supermarket prices are cheaper than in Western countries, a full shopping cart costs around 65 USD. Some products are however more expensive, but these are mostly imported things such as cheese and chocolate from abroad, and alcoholic drinks.
Medication and medical care are also cheaper, and so are electricity, water, and fuel. To get around in the city, you can use taxis or cheap minibusses, so there's no need to spend money on renting a car. If you do decide to rent a car, it's mostly a decision to upgrade your comfort, and the price is low in comparison to Western countries.
The spots to work from I have mentioned are the ones I frequently visit, but there are even cheaper places such as what the locals call 'Baladi cafes' (local cafes).
Overall, the most important points that make Sharm El Sheikh a great destination are the low cost of living, the good internet coverage, and the amazing weather.