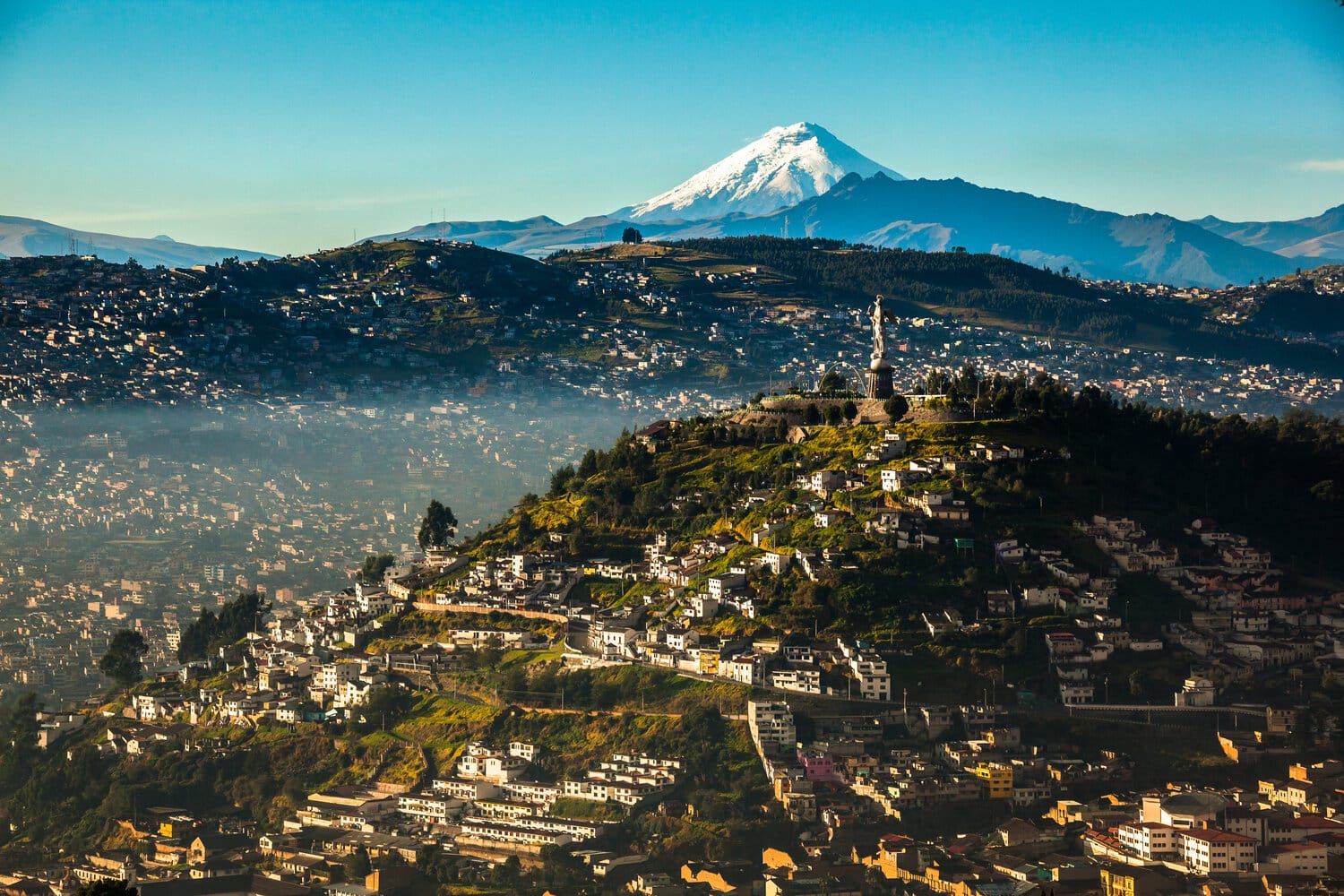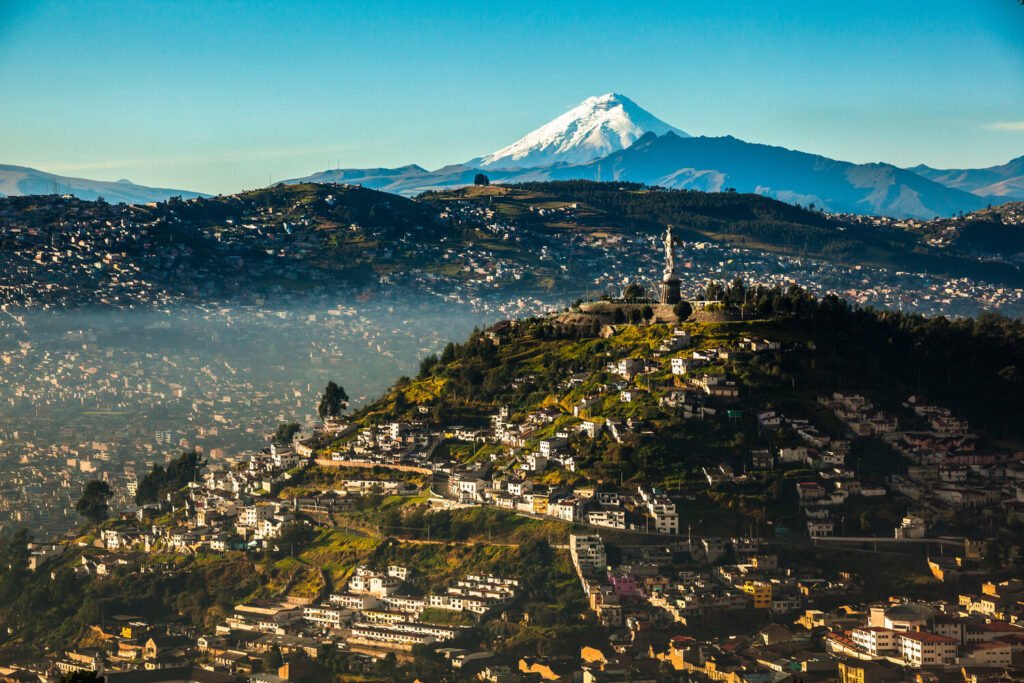 A Digital Nomad Guide to Quito
Quito, officially San Francisco de Quito, is the capital of the Republic of Ecuador, of the Province of Pichincha and the oldest capital in South America. It is also the most populated city in the country with more than 2 million inhabitants in the urban area, and more than 3 million in the entire metropolitan area. It is located on the western slopes of the active Pichincha stratovolcano, at an average altitude of 2.850 meters above sea level.
Quito is the political, economic, administrative, artistic, sports and cultural epicenter of Ecuador. It houses the main governmental, administrative and cultural organizations. In addition, most of the transnational companies that work in Ecuador have their headquarters here.
The date of its first foundation is uncertain; the oldest records are from 1030 BC. Formerly it was the last capital of the Incas (1460-1532) and seat of the presidency of the Royal Audience of Quito (1563-1822). However, the Spanish conquest of the city, on December 6, 1534, is used as its birth and date of foundation.
The Quito of today reflects its history and its rise to the modern, that is expressed in the architecture, which combines contemporary styles with those of the colonial era. In 1978 it was the first city, declared a World Heritage Site by the UNESCO, along with Krakow in Poland.
The Historic Center is the greatest pride of this city, because it is the most preserved in America, with the fewest alterations. That charm invites you to take a trip back several centuries; starting from the Plaza Grande and the Government Palace of Carondelet, as well as a large number of churches, chapels, convents and museums, which reveal the past presence of the Coroña Española in the city. These old buildings contrast harmoniously with the modern buildings that are mainly found in the north-central part of the city.
Quito is an old and a modern city at the same time, with an amazing charming for its visitors.
Nomad Friendly
Value for Money
Internet
Workspace
English
Food
Safety
Health
Transportation
Friendly
Quality of Living
Living in Quito Overview
| | |
| --- | --- |
|  Meal, Inexpensive Restaurant | $3.75 |
| Domestic Beer (1 pint draught) | $2.00 |
| Cappuccino (regular) | $2.50 |
| Loaf of Fresh White Bread (1 lb) | $1.54 |
| Water (1.5 liter bottle) | $1.03 |
| One-way Ticket (Local Transport) | $0.25 |
| Basic Utilities (Monthly) | $42.65 |
| Internet | $38.80 |
| Fitness Club (Monthly) | $51.53 |
| Apartment (1 bedroom) in City Centre | $453.56 |
Currency: Indonesian rupiah (Rp)
[erw_exchange_rates_widget lg="en" tz="0″ fm="IDR" to="EUR,USD,GBP,AUD,JPY,RUB" st="primary" cd="" am="15000″][/erw_exchange_rates_widget]
ATMs
Max Withdrawal: Rp 3,000,000
Withdrawal Fee: Rp 30,000 – Rp 50,000
Use of Credit Cards: Mostly Cash
Digital Nomad Personal Experience in Quito
Quito has a mix of interesting culture, beautiful public parks, many good restaurants, a hectic nightlife, shopping malls, and everything you can expect from a city. But here you also find neighborhoods with character like Guápulo that takes you back in time to a green valley from the time of the Hispanic colony.
In general, I loved Quito, its quiet and slow life and the kindness of its people. Here I was able to change my lifestyle as I pleased because you can live on almost any budget. I ate on the street for 1,5 USD as in a fancy restaurant for 40 USD.
Among the negative things that you can find in this city, is the government bureaucracy that consumes a lot of time, especially for procedures such as visa renewal. Also, the traffic of its streets and the macho culture that still prevails. However, being a cosmopolitan city, you meet all kinds of people and I was able to choose the ones that best suits my personality.
It is not a particularly safe city, but it is not particularly unsafe either. By being careful not to walk alone at night, taking reliable taxis, and asking which areas I can and cannot walk alone, I felt safe and never had a problem.
Just as there is diversity in the people of the city, there is also diversity in the climate. In one day, you can have all the seasons together: cold, heat, rain or an impressive wind. If I have to describe the city, I would say that it is diverse wherever you look at it, even in its culture and the kind of life you can choose here.
Work in Quito
Best Places to Work in Quito
PLAY House
The best way to have an office without the headaches of setting it up is to hire a coworking space. Among those offered by the city you will find PLAY House that has fast Wi-Fi, standing desks, ergonomic chairs, video recording equipment and microphones, projectors, shared rooms, silent Skype rooms for virtual meetings or online classes, a library, an art gallery, a kitchen with free tea and coffee, showers, and free on-site parking. PLAY House is also a co-living accommodation, so if you stay there, you will not have to waste time traveling. And they accept dogs! TEDx events and workshops are regularly organized here. They also provide mentoring, acceleration, and incubator programs. PLAY House is open Monday through Friday from 9 am to 6 pm and costs 8 USD per day, 55 USD for 100 hours per month or 90 USD per month for a full-time membership.
WorkingUp
Another option is WorkingUp which offers ergonomic beanbags and chairs, a nice outdoor terrace, printing equipment, computers, a kitchen at your disposal, silent rooms for video calls and a large chill-out area with ping pong table. It also allows dogs, has free drinking water and coffee, and has free parking. Its monthly membership is around 145 USD and it is open Monday through Friday from 8 am to 8 pm.
Coworking ConQuito
Coworking ConQuito is a shared workspace with high-speed wi-fi, lockers, silent video call rooms, free drinking water and coffee, free parking, and beanbags for when regular chairs get too harsh. In addition, the hotel where it is located has a cafeteria where you can order drinks and a variety of food. They host many fun activities and outings for their community members and they also host TedX events. The price of the basic monthly membership is around 40 USD.
IMPAQTO Cumbaya
IMPAQTO Cumbaya has a large space, full of natural light, high-speed wi-fi, ergonomic chairs, printing equipment, quiet rooms for video calls, there are indoor and outdoor chill-out areas, ping pong table and personal lockers. It also hosts TedX events and offers its own workshops for its members, who have 24-hour access to the venue. It is dog friendly, it offers water and coffee for free and the basic price per month is 60 USD.
Torno
Torno, with a modern industrial design, is an unconventional coworking space. It offers high-speed wi-fi, standing desks, printing equipment, 3D printer, kitchen for use by all members, free coffee, an on-site cafeteria, library, ping pong table, and access for wheel chairs. Torno is also a co-living room so you can sleep here if you want and start working as soon as you wake up. Cats and dogs are allowed, the price per month is 100 USD and it is open Monday through Friday from 9 am to 8 pm.
OfficeHELP
Finally, OfficeHELP,, with a classic and functional design in light colors such as white and beige, provides high speed wi-fi, ergonomic chairs, dual / single monitors, printing equipment, screen printers, computers (PC and Mac), projectors, apple TV, microphones and other additional equipment. It also offers a kitchen for the use of its members, an on-site café, free tea and coffee, nearby public transport, and bicycle parking. As a plus, the area is wheelchair accessible. They organize TedX events and also organize their own workshops. The membership costs around 180 USD and it is open Monday through Friday from 8:30 am to 18:30 pm.
In addition to these recommended coworking spaces you can find many more in Quito city. Good luck with your search!
Best Places to Live in Quito
Best Neighbourhoods
La Mariscal
During the first months, foreigners usually decide to live in the center, while they settle down and get to know the city. Downtown Quito is known as the "Old Town" and is a narrow and busy area. Different worlds converge here: the old town has imposing cathedrals and indigenous museums, while neighborhoods like La Mariscal, contrast with their lively nightlife, coffee areas and cobbled bike paths. You will also find traditional neighborhoods such as La Tola, La Ronda which is the old bohemian heart of the city and La Floresta where there are large buildings such as the World Trade Center of Quito and the Military Hospital, among others.
El Condado
El Condado is one of the neighborhoods in the northern part of the city that contains complexes of houses with recreational areas such as sports fields, swimming pools and parks. Most of its residents are upper-middle class and it has beautiful urbanizations such as El Condado, 23 de Junio and Loma Hermosa. Its streets are quiet and in the surroundings is El Condado Shopping Center, the Quito Tennis Club and the Golf Club.
El Batán
El Batán neighborhood is another residential place, ideal for families, with a focus on the middle and upper-middle class. 
Granda Centeno, Quito Tenis, Pinar and El Bosque
You can also consider the neighborhoods of the western area of ​​Quito such as Granda Centeno, Quito Tenis, Pinar and El Bosque, which have a residential structure that has small parks, sports clubs, nearby shopping centers and the Bicentennial Park.
El Inca
El Inca, in the north, has a diversity of small businesses, housing complexes and middle-class buildings. Transportation is available through its main avenues. In addition, different institutions are located in its surroundings such as the Solca Hospital in Quito, the "Río Coca" Ecoway Station and the United States Embassy.
Iñaquito
Iñaquito, located northeast of the city, is known as the financial center of Quito. It is a very safe area and has banks, multinational companies, restaurants, coffee shops, shopping centers, the embassies of some countries, the Santa Clara and Iñaquito markets, and public transport on its main avenues.
Las Casas
Las Casas, in the urban area to the northeast of the city, has two-story houses and small buildings. Rental prices are affordable and it is a safe area.
On the other hand, the valleys of Quito offer tranquility, good weather and easy access to the north, center and south of the city. One of the most exclusive places is Cumbayá, with beautiful buildings and houses surrounded by gardens. This "mini city" has everything that a metropolis could offer: safe and luxurious urbanizations with country clubs like Jacarandá, business centers, supermarkets, pharmacies, banks, cinemas and gyms, among others. Here, colleges like Terranova, Alemán, and Colegio Menor host large campuses with International Baccalaureate options. Additionally, it is worth mentioning the renowned Universidad San Francisco de Quito, ranked in the ranking as the best in Ecuador. Also, Tumbaco sector is close to Cumbayá and it offers the benefit from the same facilities at a cheaper and more accessible cost.
Find an Apartment in Quito
In Quito, the rental prices depend on the neighborhood, the building and the size of the house. A furnished two-bedroom apartment in the popular bohemian neighborhood of La Floresta can cost between 450 USD and 650 USD per month while if it is located near Carolina Park, where most of the buildings are new, it can cost between 650 USD and 900 USD. However, in the south and in the northern part of the city, prices can easily drop to 200 USD per month. A studio can cost as cheap as 100 USD per month. For a house in the North Center of Quito you will pay between 900 USD and 2000 USD per month, or even more if it is a luxury one. Furnished apartments tend to be more expensive and foreigners are also often over charged, so it is advisable to have friends in town.
Finding an apartment in new buildings is not difficult, however finding a rental house can be complicated since in general houses are sold and not rented. You can start your search in Facebook groups such as: Casas departamentos de arriendo en Quito y sus alrededores, Renta Hogar Quito (Arriendos y Ventas de Inmuebles) and Arriendo, Alquiler Inmuebles Quito. You can also check internet sites like Plusvalia, OLX and Mercado Libre. Also, some great resources are newspapers, such as El Comercio and El Telegrafo, which have a housing section on Saturdays.
If you already know which neighborhood you want to live in, you can go for a walk and look for rental signs. It is very common in the country for homeowners and real estate agents to post large, eye-catching posters on property balconies with a phone number.
Another option is to hire a real estate agency that can operate in your language, if you don't speak Spanish. There are many who offer services in English and many expats have specialized in real estate for other expats. However, some agencies ask for a flat rate between 200 USD and 400 USD, and others ask for a percentage of the rental price.
Most landlords prefer one-year contracts, but in some cases, it is also possible to rent for a short period of time. Both the time period and the price and conditions must be signed in a written contract. Keep in mind that for a contract to be binding, it must be written in Spanish and notarized. If you don't speak Spanish make sure you understand what it says.
Cheap Places to Stay in Quito
In Quito, room rental prices on Airbnb are quite expensive in relation to the price of renting something outside of this type of online platform. The minimum price for a room in a shared house on Airbnb is 150 USD per month.
You also have to keep in mind that in Quito, the size of an apartment usually ranges from 11m² to 198m². If you are looking for a cheap studio, look in the south or north area of ​​the city and with the least number of square meters possible.
In addition, in the city there are different universities and university centers that host hundreds of thousands of students per year. It is true that many of them come from the same city, but there are also many university students who come from other locations. Therefore, finding cheap rooms in shared flats is not difficult, especially in university areas. Another option is to look in areas like Guápulo where there are many foreigners, although the value of the room is probably higher.
For rooms in a shared flat, most homeowners ask for a one-month deposit and for apartments, two months. Make sure the deposit is included in the contract, because some owners do not like to return the advance.
You can start the search in groups of expats, visiting the billboards of the universities or in Facebook groups such as Alquiler de habitaciones y cuartos en Quito.
Quito Visa
In accordance with Ecuadorian regulations, nationals of the following countries require a visa to enter the country as tourists: Afghanistan, Angola, Bangladesh, Cameroon, Cuba, Egypt, Eritrea, Ethiopia, Philippines, Gambia, Ghana, Guinea, Kenya, India, Iraq, Iran, Libya, Nigeria, Pakistan, Nepal, Democratic Republic of the Congo, Democratic People's Republic of Korea, Senegal, Syria, Sri Lanka, Somalia, Venezuela, Vietnam, Yemen, Haiti, Republic of the Congo, Mali, Ivory Coast and Myanmar. Additionally, there is the case of Haiti, whose nationals must carry out a tourist registration as a previous step to enter Ecuador.
Almost all other travelers entering as tourists, including citizens of the European Union and the United States, do not need a visa. Upon entering, a T-3 boarding pass is issued, valid for 90 days.
All travelers entering as diplomats, students, workers, businessmen, volunteers and visitors in cultural exchange need non-immigrant visas.
Likewise, those who want to work in Ecuador need a working visa.
Vaccination against yellow fever is recommended for all travelers who include in their travel itinerary or who reside in the provinces of the Ecuadorian Amazon (Napo, Pastaza, Orellana, Sucumbíos, Zamora Chinchipe and Morona Santiago); as well as national or international travelers visiting countries with active yellow fever outbreaks, such as: Brazil, Democratic Republic of the Congo and Uganda. It is worth mentioning that travelers visiting these countries must present their international vaccination certificate in accordance with the regulations of the International Health Regulations-IHR. The vaccination guidelines are aimed at all travelers, regardless of their immigration / administrative status.
I recommend that any information related to safety, health and administrative procedures such as the issuance of visas, be verified with any consulate of Ecuador.
Culture and Food in Quito
If you are looking for traditional flavors, La Ronda not only stands out for being a street full of craft workshops. Between one and the other there are also small restaurants where you can try one of the most typical drinks of the Andean countries: canelazo, a kind of hot and sweet cocktail based on cinnamon and brandy, although for some time it has also started to be distributed without alcohol and in the bottle. You can also try typical dishes such as "horneado", "mote pata" and "encebollado".
On the other hand, the high-end restaurant scene in Quito is distinguished by its diversity where traditional restaurants dominate as well as those that break the norm. Nuema Restaurant (Junín E1-44 Y) is on the list of the 50 best in Latin America. The gastronomic project of the chefs Alejandro Chamorro and Pía Salazar was born with the purpose of expressing in their proposal the biodiversity of Ecuador under a contemporary and avant-garde perspective. Chefs want the menu to be simple and harmonious flavors, and highly aesthetic. The creations are based on local and seasonal products. Creole black pork, mashuas, nea pía (an Amazonian chili pepper based on yucca), seasonal fruits, and chawar (a distillate of the Andean agave) are some of the products that you will find here.
Tuna tartare, duck confit and seafood bouillabaisse are some of the favorites on the menu at Chez Jerome (Whymper 3096 and Coruña). Its chef is a Frenchman who has lived in Ecuador for more than 20 years preparing excellent food and offering an exceptional wine list. In addition to the classic dishes, there are Ecuadorian fusion dishes and a tasting menu. The elegant setting is surrounded by a garden to enjoy in good company.
Segundo Muelle (Isabel La Católica N24-883) is a Peruvian restaurant that serves ceviche, crab, shrimp soup, sea bass in garlic cream and octopus. These gastronomic delights and their exquisite presentation attract people from all over the city.
Zao (Paul Rivet N30-145 and Whymper) takes Asian cuisine to another level. It offers fresh sushi with fish from the coast, chicken with orange peel, Pad Thai and curry, among other dishes. The chef usually puts a distinctive touch on each of them and also serves a different menu of dishes for those who want to sit at the bar. Among the drinks they have a full list of Scotch whiskey and sangria.
Carmine Gastronomia & Arte (Catalina Aldaz N34-208 and Portugal) is one of the best Italian restaurants in the city. Its haute cuisine menu serves dishes such as ossobuco, carpaccio, prosciutto with mozzarella, linguine, tagliatelle with mushrooms and cognac and chicken Milanese. It is housed in a huge, elegant mansion, and its staff is fit for royalty.
Quito Nightlife
The capital of Ecuador has a lot to offer visitors interested in Quito's nightlife. There are many bars, clubs, music venues and restaurants to entertain anyone.
Bandido Brewing (Jose Joaquin Olmedo E1-136 La Tola) is a bar where you can enjoy craft beers. The owners of this bar are originally from the state of Oregon in the USA and have made an excellent selection of creative beers. Beers like La Gran Calabaza Imperial Pumpkin Ale or an American Pale Ale flavored with guayusa tea leaf, are very popular with customers. If you like craft beer, you have to go to this place in Quito.
Strawberry Fields Bar (Avenue Federico Gonzalez Suarez) is a unique bar in the city. Its decoration is what characterizes it the most since you will be surrounded by an extensive collection about The Beatles. The bar will offer you a combination of food and cocktails, with classic rock in the background.
Finn McCool's (Diego de Almagro N24-64) is Irish-owned and attracts both locals and foreigners who come to play pool, table football and eat pub food. It has theme nights: pub quiz on Tuesdays, regular live bands with Celtic music, and open mic nights. It is an ideal place to spend the feast of St. Patrick on March 17.
Chosen Bar (Av. Portugal 440 y, Quito 170122) has good scores and is one of the most recommended in terms of alcoholic beverages. The food on their menu is good too, so you can go straight to dinner. The bar has a lounge style and you will find all kinds of people since the music is very varied. Some days of the week DJs also show up.
La Juliana (see October 12 N24-722) is a famous bar ideal for listening to Latin music such as reggaeton or music played by local bands. It is a place with a style more typical of a disco, with few lights and where bands sometimes perform and people dance wildly.
After the bars close and you've had a few drinks, you might want to keep the party going so you don't go to bed so early. Bungalow 6 (Diego de Almagro N24-151) is a very popular nightclub in the city, both for locals and tourists. In this popular nightclub you can listen Latin and international music. It also offers games like billiards and a lounge area to relax while recharging your energy.
Salsoteca Lavoe (Iñaquito and United Nations street) is one of the best clubs to dance salsa. Here you can enjoy amazing cocktails while dancing or just enjoy the music and watching those in the know.
Quito has a very wide range of nightlife so in addition to visiting these places, I recommend you go out and explore its streets by yourself. ¡You will probably find interesting places!
Things to do in Quito
Quito is 2.800 meters above sea level but you can still go higher without leaving the city. If you go to Cerro del Panecillo you will experience how you feel at 3.000 meters of altitude. This place, in addition to having a great viewpoint, houses the Winged Virgin, an impressive 41-meter-high aluminum statue. Also, on the hill you will find restaurants and numerous stalls where you can buy something to eat or a souvenir.
Plaza de la Independencia

Plaza de la Independencia, a square in the historic center, is another place to visit. Here there are several monuments such as the Carondelet Palace which is the current seat of government, the Metropolitan Cathedral of Quito that was built between 1562 and 1565, and the Archbishop's Palace, seat of the Bishop of the city.

UNESCO World Heritage Site

The historic center, a UNESCO World Heritage Site, also has other squares such as the Plaza de San Francisco where the Church of San Francisco is located, completed in 1620 in a Baroque style and run by Franciscans. In addition to the church, the entire west of the square is occupied by Franciscan buildings like the Convent of San Francisco, a museum and a large educational center.

La Compañía

A few meters from Plaza de Carondelet, on Calle García Moreno, is La Compañía, headquarters of the Jesuits in Quito and considered a jewel of the Baroque. It has the peculiarity that its facade was built with volcanic material.

Basílica del Voto Nacional

You can also go to the Basílica del Voto Nacional, a late 19th century neo-Gothic temple that is the largest in its category from Alaska to Tierra de Fuego and has two 117-high towers.

Oswaldo Guayasamin

Oswaldo Guayasamin was one of the greatest artists in Ecuador and, after his death, the Chapel of Man was inaugurated in the Bellavista neighborhood, a museum that reviews the evolution of man in Latin America with all kinds of artistic works. Guayasamin was a great defender of Human Rights and wanted his work to become an experience that would help to better understand the human phenomenon in his land throughout the centuries.

City Museum

Another interesting museum is the City Museum, created in 1998 and made up of various rooms where everyday situations from ancient times are recreated. With this, visitors can better understand what life was like before and after the arrival of the Spanish.

Mitad del Mundo

Ecuador owes its name to the fact that it is located on parallel 0. The boundary between the northern and southern hemispheres is located in the open-air museum Mitad del Mundo in the San Antonio district of Quito. This museum is made up of several attractions. The most spectacular is a monolith that rises 30 meters above the ground. From this monument a yellow line is born, considered the parallel 0 that separates the two hemispheres. There is also an ethnographic, the Guayasamin museum, a geodesic museum and a planetarium.

Temple of the Sun Museum

Five kilometers to the northwest is the Temple of the Sun Museum, where you can find the artistic works of the Ecuadorian sculptor and painter Cristóbal Ortega Maila. The museum is a 500-square-meter temple and its surroundings are dedicated to pre-Columbian or pre-Hispanic culture and art.

Calle de La Ronda

Another activity is to visit Calle de La Ronda, which is a small road to the southwest of the historic center where the largest number of artisans per square meter are concentrated. The artisans usually work with open doors so that tourists can see how they create pieces in metal, wood or clay. In addition to La Ronda street, the Artisan Market stands out with hundreds of stalls full with handmade products like clothing, jewelry and art objects.

Termas de Papallacta

60 kilometers southeast of the city is Termas de Papallacta, one of the favorite destinations for a one- or two-day excursion. You can make your reservations at the offices that the hot springs have a few meters from Plaza Foch, on Calle Mariscal Foch. The hot springs are within a large tourist complex consisting of a hotel, cabins to stay, thermal pools, a spa where you can receive health treatments and a SPA. In addition, outside the complex there are other accommodations and various restaurants.

Guagua Pichincha

10 kilometers away from Quito is one of the many active Andean volcanoes in the country: the Guagua Pichincha. The last important activity took place in 1999 and on that occasion the ash reached more than 10 kilometers in height and covered the entire city. The climb to the crater is possible although it is recommended for semi-professional mountaineers. Hikers, can go up in private transport to the Pichincha refuge (about 4.500 meters) and from there ascend to 4.784 meters, where its crater is more than six kilometers wide.

Guagua Pichincha

The Train of the Volcanoes is a train that departs from Quito and crosses the towns of Machachi and El Boliche. During this journey, on one side and the other you can see several volcanoes such as the Guagua Pichincha, the Corazón Volcano, the Rumiñahui and the Illiniza Norte.

Cerro del Panecillo Viewpoint

Finally, besides Cerro del Panecillo Viewpoint, you can also have privileged panoramic views from the Ermita de la Dolorosa, at 4.100 meters above the sea level. You can go up and down to the temple by cable car from where you can admire the landscape and see the summit of the Guagua Pichincha volcano.
Best Time to Visit Quito
The city of Quito is located in the Andean highlands of northern Ecuador, on the slopes of the Pichincha volcano and at an altitude of more than 2.800 meters above sea level. Due to its position in relation to the equator and its great height, Quito has a subtropical high-altitude climate that is characterized by cold and constant temperatures throughout the year and two seasons, one wet and the other dry.
The dry season lasts four months between June and September and the rainy season lasts eight months between October and May. Quito has an average of 128 rainy days a year. July and August are the driest months and April is the rainiest month. Within the rainy season, a rainier period that extends from February to May can be highlighted. The annual average humidity is 77%, but varies between 65% in August and 82% in March and April.
The average annual temperature in Quito is 13,7 °C. Average maximum temperatures vary between 20,3 °C in August and September and 19,1 °C in January, February and March. Average minimum temperatures vary between 9,9 °C from April to December and 8,6 °C in July.
The best months to travel to Quito are those of the dry season, from June to September.
Quito for Families
There are 4 options for educating children: public, private, international schools or homeschooling. 25% of the Ecuadorian student population attends private schools and 75% attends public schools. Public-school system relies heavily on the government for funding, the curriculum is rigid, and the quality of teachers is low. Private schools are a popular option among expats and the Ecuadorian middle class. They have more freedom and resources, a higher level of education, some offer quality facilities like swimming pools, but generally do not provide a full bilingual or multilingual learning experience. Classes are still taught in Spanish. They can also cost between 400 and 800 USD per month plus supplies, tuition, and uniforms. International schools can be an excellent landing platform for expat children who do not yet speak Spanish. They are truly bilingual, the learning level is high, and classes are also offered in English, German or French. However, you expect to pay between 800 and 1.000 USD per month.
Parenting and family life can be quite different than what you are used to. In Ecuador they love children even in a way that can be obsessive to other cultures.
In general, Quito is a safe city, particularly for Latin America. But, opportunistic crime exists. While incidences of violent crime are rare, they do occur and it would be naive to think that your family is immune. Home security, in particular, is taken seriously, with the widespread use of monitored alarms and security fences.
Ecuador is not a utopia without problems. For example, it can be difficult for newcomers to properly appreciate how pervasive the culture of machismo can be. This does not affect children directly, but it does affect the environment around them.
Living in Quito
Quito Transportation
The distances are long in the capital of Ecuador. However, once in the Historic Center you can walk to all the tourist attractions that are there. You have to prepare for all the ups and downs of the streets and face altitude sickness. Walking through the different areas on foot will give you the chance to discover corners that you would never have seen otherwise. As the city is located at a high altitude, it is best to walk slowly and take public transport between neighborhoods and areas.
Currently, the city has three integrated transport systems: the Trolleybus, the Ecovía and the Metrobus Q. The three systems travel the city longitudinally, from north to south and vice versa, along 3 specific axes: the Trolleybus goes throughout Av. 10 de Agosto, the Ecovía on Av. 6 de Diciembre, and the Metrobus Q on Av. Prensa and Av. América. They all pass through or near the Historic Center. The cost for any of these three transport systems is 0,25 USD. The 50% discount applies to children under 12 years old, over 65 years old, students and the disabled. Both the Trolley and the Ecovía operate 24 hours a day, but after the regular service time they charge 0,50 USD and each unit passes in 30-minute intervals. Keep in mind that to transfer to any rural area of ​​Quito you will have to pay an extra cost of approximately 0,50 USD.
Another option is to buy the City Bus Tour ticket for the whole day and enjoy the historical places from the top of a double-decker bus.
On the other hand, taxis are relatively inexpensive and a quick way to get around the city. However, they are not all safe, so it is advisable not to take taxis from the street alone or call a recommended taxi agency. When you get on, the meter shows 0,50 USD and the minimum trip (2.5 kilometers) costs 1,45 USD from 6 am to 7 pm and from that time it increases to 1,75 USD, as on holidays.
Fitness and Health
In Quito there are gyms with a high quality of services such as the Phisique Wellness Club. The Phisique is located in Plaza De las Américas, Swissotel, Paseo San Francisco and Dann Carlton. This gym, with several branches in Quito and Cumbayá, stands out for offering machines with advanced technology. Cardiovascular machines, for example, have heart rate meters. On Paseo San Francisco they have Omnia, a highly versatile training team. Phisique also has a pool at the Dann Carlton and at the Swissotel. In addition, yoga, Pilates, TRX classes, among others, are offered. Ontological coaching is a service that is not included in the membership. This is a training that begins with the mental part. 
Another space with various options for customers is the Pacific Gym Fitness Club (Av. De Los Shyris N39-63 and El Telegrafo). This gym has four central areas: a space for functional exercises and crossfit, weights and bodybuilding area, cycling and spinning area and cardiovascular area. In the latter there are treadmills, ellipticals, among others, and they also offer Pilates, fit dance, yoga, and much more. In addition to that, the Pacific Gym offers a tanning and spa service. As in the other centers, this gym has lockers and hot showers for clients. Everything is for health and aesthetics.
Additionally, there are outdoor athletics, mountain, triathlon, diving and yoga clubs. In Quito you will also find soccer and tennis fields, cycling groups and other opportunities to practice the sports that you like the most.
Quito People
The culture of Ecuador is a mixture of different traditions that originated in the Andes, the Ecuadorian Amazons, or the coast. After the arrival of the Spanish, the Ecuadorian identity incorporated Catholic traditions, which took deep roots in the national culture.
In Quito, people from all the provinces of Ecuador and foreigners converge, who have come to visit and have decided to stay longer. This set of identities makes regionalism less noticeable in Quito and it is a space where traditions converge and where inclusion is an ongoing value. In addition, it is a city of young people, according to the National Institute of Statistics and Censuses (Inec): the average age of the inhabitants is 25.2 years.
In this diverse Quito there are also members of the lesbian, gay, bisexual, trans and intersex (Lgbti) community. Although the LGBTI community is making its way into the city, they are not yet fully accepted and there remains a feeling of superiority over them.
In rural communities, Ecuadorians are seriously dependent on their neighbors. Even the capital the family nucleus is one of the pillars of life, mainly due to the omnipresence of Roman Catholicism. However, the family nucleus of Ecuador does exhibit some problems. Domestic violence is a fairly widespread social problem since it is estimated that 30% of women with a partner endure some form of physical abuse.
In the traditional Ecuadorian religion, mountains have great spiritual importance. The largest mountains in a region are often called Taita, the Quechua word for father, while the second smallest mountain is known as Mama. Catholic shrines appear in the middle of the mountains, built by the Spanish in places where the conquerors discovered Inca religious sites.
Every native culture in Ecuador depends on healers for spiritual guidance and physiological treatments. These healers can be men or women; they combine native knowledge of medicinal plants with traditional forms of witchcraft. Over the years, healing rituals have been incorporated into Catholic prayers and it is even common for people in Quito to seek out a healer when they have a problem.
Like the rest of South America, in Ecuador and therefore in Quito their inhabitants love soccer. Ecuador has a huge advantage when playing home games. The national team is located in the elevated city of Quito, and visiting teams often struggle with the weather when they play here. Ecuadorian players have adapted to limited oxygen, thus gaining a considerable advantage over players accustomed to lower elevations.
The people of Quito are usually friendly and loving. If you are lost and need help finding an address they tend to take their time to help you. Be careful because they will always tell you where to go even if they don't know the correct answer. But your intention is good.
Quito has an interesting mix of cultures, an attractive and old cultural history and friendly people with whom to spend the days and occasionally watch a soccer game.
Quito Insurance and Medical Care
It is not necessary to get any special vaccination to visit Ecuador. Consider that in Quito the first days you can suffer from altitude sickness. Symptoms are headache, vomiting, malaise, nausea, loss of appetite, among others. To reduce the risks, it is advisable not to make great efforts during the first day to acclimatize to the height of Quito, eat light meals and sleep at least 8 hours.
If you are going to travel to the jungle, I recommend that you consult a specialist before the trip to advise you on ways to prevent yellow fever and malaria.
The price of procedures in Ecuador are usually a quarter of what they cost in the United States. For example, an echocardiogram can cost 100 USD, a complete blood test 120 USD, and a visit to a cardiologist about 50.
Many expatriates choose to pay for voluntary membership in the Ecuadorian national health system: the IESS or Ecuadorian Social Security Institute. It is free if you pay your contribution to the social security system as a Voluntary Member of the IESS (Voluntary Affiliation) or if your employer pays for it.
The quality of care in most hospitals is excellent, however public hospitals provide less good service to the patient and have a much longer waiting period. For this reason, it is convenient to take out insurance that pays the necessary expenses to access hospitals and private clinics where care is of an international level.
Make sure you are fully covered by reading our full Digital Nomad Travel Insurance guide.
Jobs in Quito
Ecuador is not the easiest country for a foreigner to find a job. The minimum wage per month is around 400 USD per month, which is what an unskilled and uneducated worker will earn working full time. The contracts are initially signed for a trial period of three months, after which they can be renewed every year.
Foreigners must obtain a non-immigrant work visa, but if you have already obtained a permanent resident visa, you are allowed to work in Ecuador. Employment is more likely to be assigned to locals as a priority anyway, and the recent influx of Venezuelan refugees affects the labor market negatively for both expats and Ecuadorians. However, if you have some kind of specialized skills in a needed field, it can make your job search more productive.
International business-oriented employment is where a foreigner is most likely to find work. If you are bilingual in Spanish/English or Spanish/Mandarin, you may have better luck. In addition, when you are hired by an international company from outside the country, they usually pay you more.
Foreign languages ​​are another source of employment for expatriates. The demand is mainly for English and then Mandarin, and the basic certification required to teach is the TEFL certificate. With just a bachelor's degree or a TEFL certificate, you can apply directly to private schools, and with a master's degree, to universities. These establishments can help with the visa process.
The tourism industry also offers a good number of job opportunities. The salary is comparatively lower than that of the best English teaching jobs, but room and board can often be included in the job-package. Hotels and bars advertise the hiring of new staff during the high season, from June to August, as well as during the winter holidays.
Search engines are commonly used to find jobs in Ecuador. You can check for jobs at www.multitrabajos.com, www.computrabajo.com.ec, www.opcionempleo.ec and www.porfinempleo.com. Social networks can be also helpful to find a job. Quito has a very active Facebook group for expats: Expats in Quito, where job opportunities are frequently posted.
Check out our Digital Nomads Jobs Postings to find the best jobs available for Digital Nomads.
Nomad Friendly
Value for Money
Internet
Workspace
English
Food
Safety
Health
Transportation
Friendly
Quality of Living
Cost of Living Quito
Compared to other big cities in South America, Quito is still one of the cheapest cities. Living comfortably in the city center costs less than 2.000 USD per month and you can even live on 600 USD per month. This price includes the rental of an apartment, which ranges from 400 to 1.000 USD, as well as entertainment and meals.
Rental prices depend on the neighborhood, the building and the size of the house. A furnished two-bedroom apartment in the popular bohemian neighborhood of La Floresta can cost between 450 USD and 650 USD per month while if it is located near Carolina Park, where most of the buildings are new, it can cost between 650 USD and 900 USD. However, in the south and in the northern part of the city, prices can easily drop to 200 USD per month. A studio can cost as cheap as 100 USD per month. For a house in the North Center of Quito you will pay between 900 USD and 2000 USD per month, or even more if it is a luxury one. 
Currently, the city has three integrated transport systems: the Trolleybus, the Ecovía and the Metrobus Q. The cost for any of these three transport systems is 0,25 USD. The 50% discount applies to children under 12 years old, over 65 years old, students and the disabled. After the regular service time they charge 0,50 USD and each unit passes in 30-minute intervals. Keep in mind that to transfer to any rural area of Quito you will have to pay an extra cost of approximately 0,50 USD. Taxi rides range from 1,50 to 10 USD, depending on the area to which you have to travel.
Food in Ecuador is cheap too. For example, a standard lunch at a street food stand ranges from 2 to 3,50 USD. You can also find fresh fruits and vegetables in the markets at very cheap prices and live on between 100 and 250 USD per month depending on whether you eat meat. Similarly, you can find imported items in the larger supermarkets at international prices. However, a dinner at an average restaurant can cost you from 10 USD.