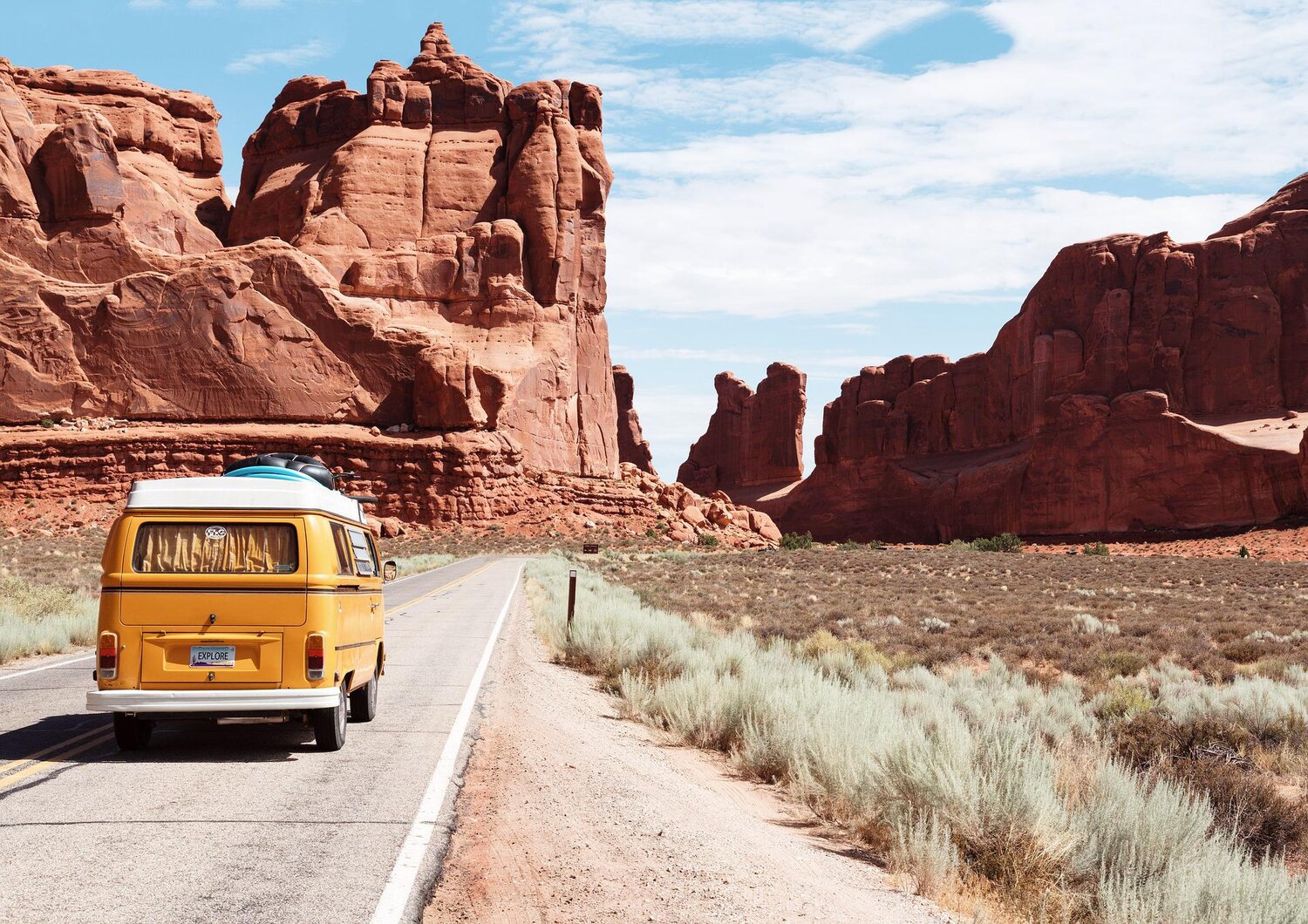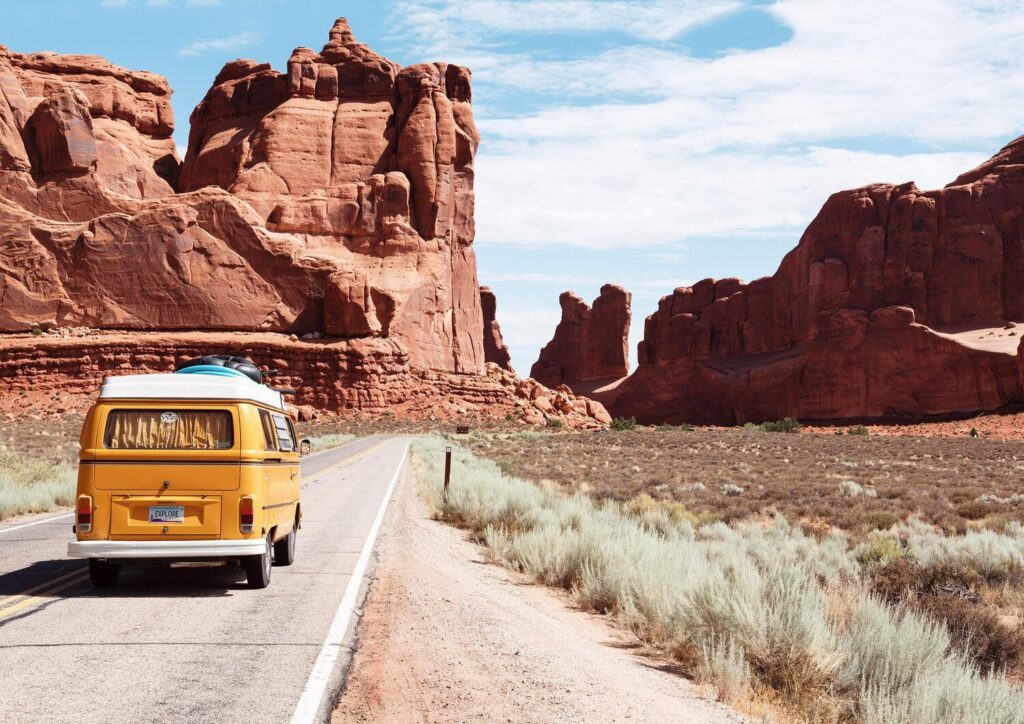 15 Best Nomad/Van Life Movies & Documentaries
Everyone loves a good nomad or van life movie. Watching the beautiful shots taken of the vast wilderness, or imagining how your life would be if you were in the same situation.
As Digital Nomads, these movies are always inspiring. After all, being a digital nomad is first and foremost about being a nomad  before being digital.
So we have searched and gathered our best choices of nomad and van life movies.
The 15 Best Nomad/Van Life Movies and Documentaries
180° South
Meet the best-case scenario for young dirtbags. This documentary follows Jeff Johnson as he retraces the footsteps of Patagonia and North Face founders Yvon Chouinard and Doug Tompkins. While Chouinard was already a world-renowned climber, the two were nothing more than outdoor junkies when they drove a Ford Econoline van from Ventura, California, to Patagonia in 1968 on an epic road trip that inspired the creation of two modern outdoor powerhouses. 
Recently unearthed footage of the original expedition inspires Johnson to hop on a sailboat heading south and embrace a nomadic lifestyle. The end goal is to catch up with the founders and reflect on what the vanlife brought to their philosophies over 50 years later. 
The slow-moving film reminds us why we wake up on the road every morning and shows us some pitfalls that are bound to pop up along the way.  Show this film to your parents next time they question the worth of a life spent outside. 
Bonus Film: Mountain of Storms 
This short Patagonia documentary highlights the original voyage full of footage from the initial trip. This introduction pairs well with Johnson's more full-fledged story. 
Nomadland
Nomadland is the closest Hollywood has gotten to taking a real crack at the modern vanlife. Far from your typical story of re-discovering oneself on the road or a once-in-a-lifetime adventure, Nomadland tells the story of the thousands of full-time van-dwellers who don't have any other options. The main character, Fern, is 'not homeless, just houseless.'
Based on a non-fiction book titled Nomadland: Surviving America in the Twenty-First Century, the indie film follows a fantastic Frances McDormand as she deals with losing everything while living out of a low-roofed 2001 Ford Econoline. 
Anyone who's spent a rainy afternoon in their van or dealt with the trauma of being told a roadside breakdown has totaled their house will find solace in the film's accurate portrayal. Director Chloé Zhao made painstaking efforts to tell the real story. Instead of using actors, she hired several real-life nomads to appear as themselves. 
The film's memorable details were enough to help me overlook the blatant Amazon propaganda and enjoy the authenticity of McDormand aimlessly wandering the aisles of a local Walmart to pass the time. 
Into the Wild
Polarizing and poignant, this non-fiction book-turned biopic is undoubtedly one of the most famous nomad movies of all time. Based on a tragically true story of a bright student who finishes off school only to hitchhike his way into death in the Alaskan Wilderness, this film explores the urge we all feel now and then to burn it all down, stick a thumb out, and head west. 
I caution against glorifying the real-life character behind this film, who set out with seemingly righteous intent to return to a life in harmony with nature. Unfortunately, Christopher McCandless took his pledge a step too far, but scattered through his tragedy are moments of true beauty. 
There is plenty to learn from McCandless' story about how beautiful the nomadic life can be and how seriously we need to prepare for a life on the road and Into the Wild highlights both aspects.
This is Nowhere
You may have headed out on your van life adventure dreaming of waking up in front of sweeping vistas and silent settings, but you'll end up spending a few nights in the parking lots along the way. This low-key documentary follows those nights. 
While local authorities have cracked down heavily since the film's release in 2002, Wal-mart parking lots are still very much a safe haven for van life. So much so that some full-time van lifers have skipped out on campgrounds entirely and elected to wander from Walmart to Walmart in search of greater freedom. 
Through interviews and nifty camera work, documentarian Doug Hawes-Davis introduces us to this certain subsection of retirees and seasonal wanderers who use Walmart almanacs to map out their cross-country trips. 
Hawes-Davis expertly avoided editorializing and simply let RVers do the talking, which results in a genuinely bizarre love poem to Walmart parking lots. 
Wild
This outdoor adventure is called wild, but it's all about 'why?' Why would anyone walk until their toenail rips off? Why carry such a giant pack? Why keep going? 
Anyone looking to get into the head of a nomad wandering the woods for answers should carve out a few hours and enjoy the beautiful backdrop of the Pacific Crest Trail. 
The montage movie turns memoirs of a wanderer on the big screen and spends hours bouncing between Cherly Strayed's misadventures on the open road with flashbacks of what brought her out there. 
These conflicting shots, plus poetry and notes written by Cheryl herself, propel actress Reese Witherspoon across a thousand miles and invite the audience to understand why sometimes a seemingly nonsensical nomadic life is the only natural way forward. 
The Leisure Seeker
Named after the trusty Winnebago that has housed a life on the road, an elderly couple played by Donald Sutherland and Helen Mirren take center stage as John and Ella Spencer in this tragic comedy. 
The film can feel like any old road trip comedy until you remember the reasons why Ella takes her husband and their 1975 Winnebago from Massachusetts down to the Florida Keys. John's dementia is getting the best of him, and Ella isn't in great shape either. 
As the family begins to wonder if they can take care of themselves, they decide to go out swinging. What follows is a fuzzy ride down south with memory gaps and revelations. The film is full of awkward moments and frequently chooses to get political without making a statement, but at the core of the story is a van that's taken the couple on adventures for over 25 years and still has enough left in the engine for one last ride. 
Little Miss Sunshine
You'll laugh, cry, and think about your own family as you root for Olive to get to her beauty pageant. The youngest member of The Hoover family is perhaps the only likable character in this family full of problems and splitting a ride to California in a VW bus. 
Meet the gang over an extended dinner scene that shows you the quirks of every character. By the time the family gets into the car, the tense interpersonal relationships practically write themselves – just don't listen to grandpa's life advice!
The Motorcycle Diaries
Before Che Guevara became the face of revolution, he set off on the road with nothing more than the bags on his back and a practically brakeless motorcycle. This film follows Guevera's own recollection of a nomadic journey of two recent college graduates as they navigate breakdowns, rude cops, and friendly locals. 
Many viewers may look at this film through the lens of understanding a revolutionary, but van dwellers will have a unique take on things. Watch as Guevera and company search for food late at night in new towns, or spend hours looking for a free place to lay their head down and find a new appreciation for the comforts of the modern van life.
Expedition Happiness
This vanlife documentary makes our list as a modern take on van life. The film is a travelogue, which means it was shot, acted, and edited by a young traveling couple who converted a skoolie into a home on wheels and attempted to head from Alaska to Argentina.
A home movie-style documentary is one of the best ways to get a natural feel of the vanlife. You'll find tons of selfie-style shots and might notice that even the couple made the score at home, so don't head into this expecting a great piece of cinema. 
Still, this couple had some great skills to capture their adventure professionally. They don't shy away from documenting some of the hardships of life on the road. 
Seven Years in Tibet
Based on memoirs from a climber who gets caught a thousand miles from home by the start of World War Two, Seven Years In Tibet explores an early tale of an unwilling nomad. Brad Pitt plays the cocky climber Heinrich Harrer, who ignored urges from his pregnant wife and early signs of troubled waters to attempt an ascent of Nanga Parbat. 
His expedition is interrupted, and for the next two hours, viewers watch as new experiences shatter this egocentric main character's worldview. While the van life might not lead you straight to the Dalai Lama's doorstep, the movie explores how an unfamiliar lifestyle will change how you look at things. 
Without Bound – Perspectives on Mobile Living
Hear it straight from the source. Featuring the true stories of some of Nomadland's side characters and all sorts of full-timers, this short documentary introduces us to many vanlife legends who have spent decades living out of their cars. 
The folks covered in this documentary all took different paths to move into their vans, some by choice and others with no other option, but they've all fallen deeply in love with full-time mobile living. 
There are certainly a few bold claims made throughout the documentary, so take each interview with a grain of salt. However, if you've been considering taking the plunge or just want to know why so many wanderers are choosing to move into homes smaller than your bathroom, you can hear true stories and get inside the heads of van dwellers of all ages. 
Free Solo
Professional climber Alex Honnold's ropeless ascent of El Capitan catapulted him to mainstream popularity, but the intrepid climber has spent decades traveling from rock to rock and bringing his home on wheels to sleep at the foot of America's most epic cliffs. 
Documentarian Jimmy Chin and his Oscar-Winning crew went to new heights to capture Honnold's stunning climb, and the work paid off with an academy award for the Best Documentary. While the focus of this film is rock climbing, Honnold also spends plenty of time flipping pancakes and cranking out pull-ups in his Dodge Promaster. 
Behind the immensity of Honnold's stunning act is the simple vanlife that got him there. Filmmakers thoroughly portrayed the sacrifices a full-time life chasing your dreams while sleeping in a van requires. You'll see many rainy mornings spent sipping tea in cramped quarters, personal debates on the sanity of his quest from his portable bed, and passionate arguments between the driver and passenger's seat that every van life couple shares.
Supernova
There are many ways to react to bad news. Tusker, played by Stanley Tucci, was diagnosed with dementia two years before the film's beginning. Since then, he and his partner Sam decide to cherish every moment together and set off in an RV to explore England.

You'll feel a heavy air to this film, a constant reminder in the back of every scene that these two characters are painfully aware of how finite time really can be. Through quiet moments and subtle declarations of love, you'll walk through Tusker's past and connect people important to him while there is still time to tell them how special they are.
Easy Rider
Coming out in the summer of love, this 1969 motorcycle epic took a great look at the burgeoning counterculture movement and explores some of the same phenomena that drive young people out of their apartments and on the road today. 
Unfortunately, the Hollywood of the late 60s couldn't tell a story about life on the road without covering it in drug cliches and a bit of ridiculousness. But read between the lines, and you'll find plenty of glory in this easy ride. Plus, they smoked real marijuana in the making of this film. Most of the props rest in the lap of Jack Nicholson, who got his big break portraying an alcoholic lawyer who succumbs to the devil's lettuce. 
Enjoy a classic soundtrack while you take in the best and worst of the 60s. 
The Fundamentals of Caring
This fictional story follows the relationship between a disabled teen and his troubled caretaker, eventually culminating in a cross-country road trip. The film's greatest triumph is its exploration of the myriad roadside attractions that dot our cross-country landscape, and you'll find a genuine laugh or two along the way. 
The movie can feel a bit slapped together at some points, and I often questioned the necessity of several minor characters, which can sometimes make it feel like just another road trip movie. Unlike many other basic road trip movies, The fundamentals of Caring has Paul Rudd. He brings enough brightness into an otherwise bland film to justify a few hours of your next rainy afternoon at the campsite.
That's all we got!
Think we missed anything? Let us know.