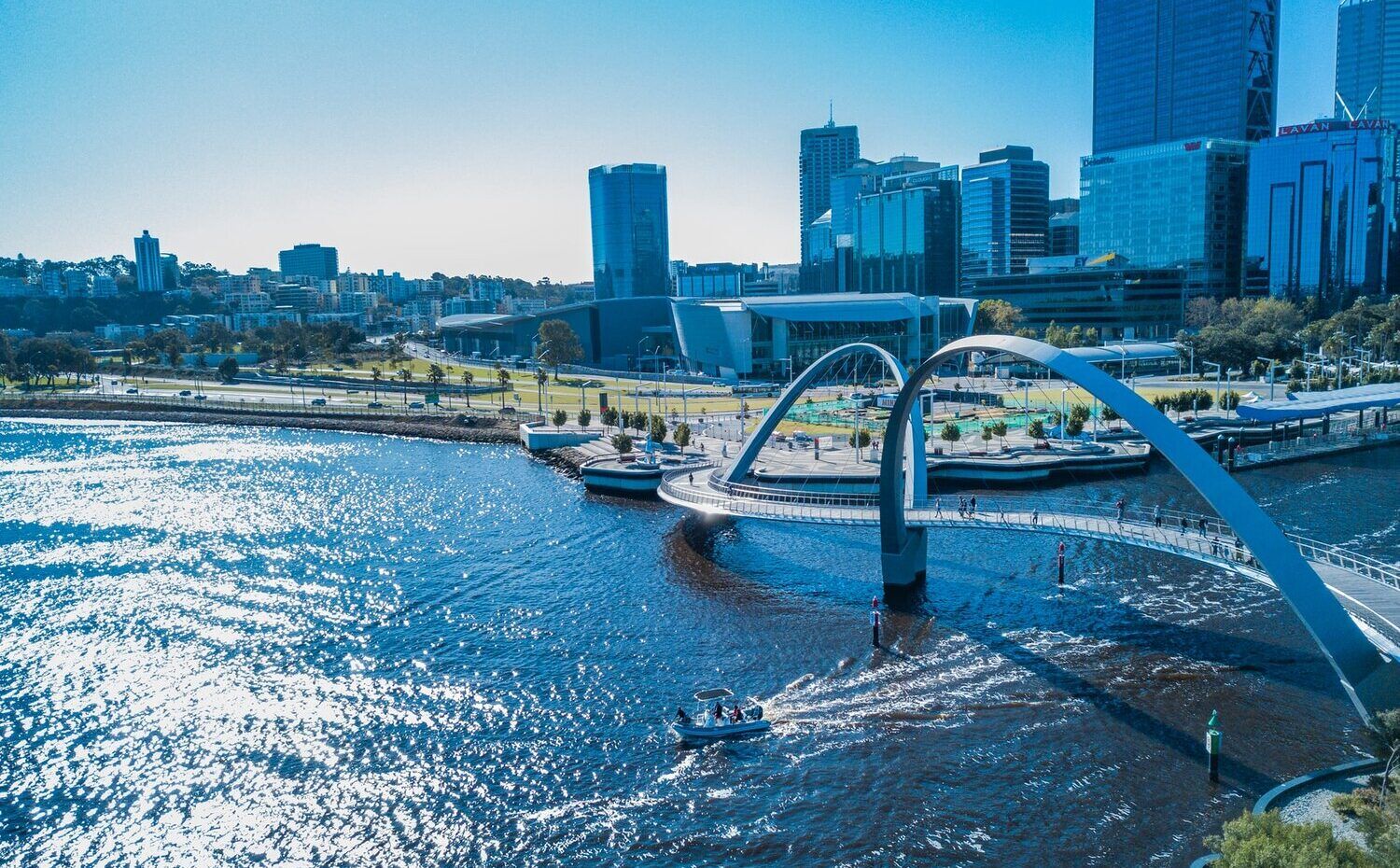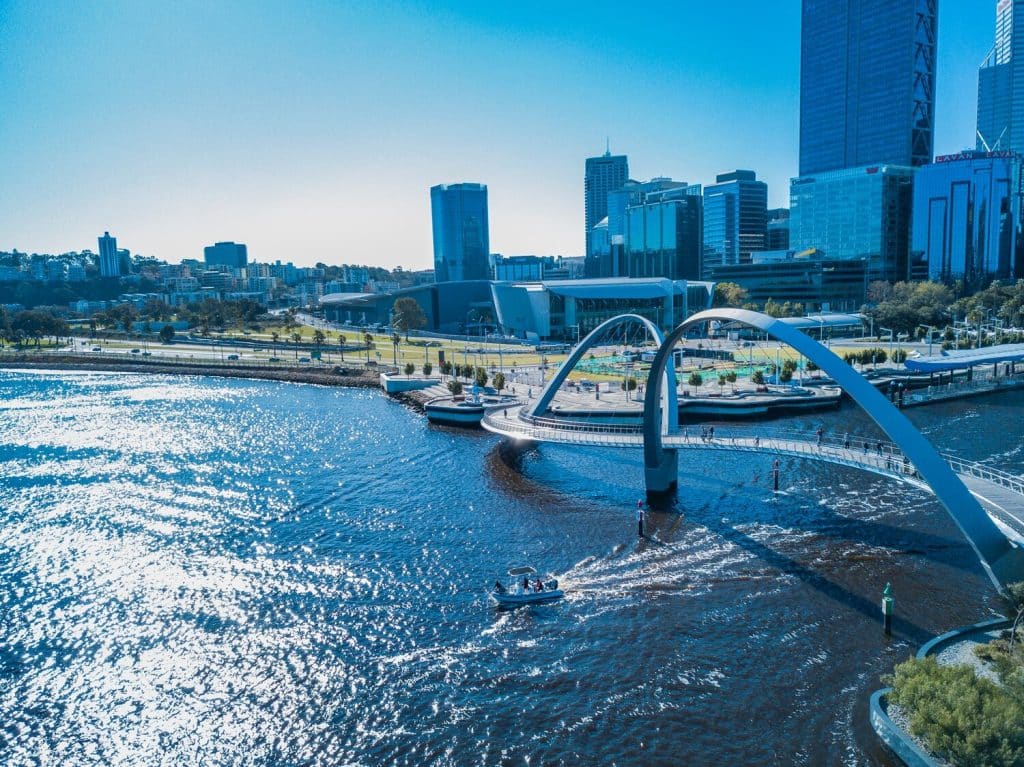 A Digital Nomad Guide to Perth, Australia
Perth is located in Western Australia on the coast of the Indian Ocean. It is often considered to be the most remote city in the world with just a few smaller coastal towns nearby. With only about 2.1 million inhabitants, it doesn't feel like a large city at all but has more of a small-town feel. Only about 28,000 people live in the city centre itself and most of the population is concentrated in the suburbs. The closest city to Perth is Adelaide which lies more than 2,600 km away and is not exactly easy to reach. 
Although Perth's location is remote there are still plenty of things to do and see like incredible beaches and beautiful nature as well as numerous parks around town. Especially Fremantle, one of Perth's most popular neighbourhoods is definitely worth seeing with its colonial ambience and cultural offerings. There is also a great backpacker community, many museums as well as the famous Fremantle Markets. The city of Perth has everything you need from nightlife to some of Australia's best beaches and many opportunities for outdoor activities.
Like everything else in Australia, Perth is not exactly cheap, but it is far more affordable than the much larger cities like Sydney and Brisbane. However, the high living standards and great facilities for digital nomads more than make up for this. Although the digital nomad community is not very large, it's growing every year as Perth becomes more and more attractive to remote workers.

Live as a digital nomad in Perth is quite laid back and relaxed. If you have sufficient funds and fulfil the visa requirements you should definitely consider moving to Perth for an extended period of time.
Nomad Friendly
Value for Money
Internet
Workspace
English
Food
Safety
Health
Transportation
Friendly
Quality of Living
Living in Perth Overview
| | |
| --- | --- |
|  Meal, Inexpensive Restaurant | $14.49 |
| Domestic Beer (1 pint draught) | $6.88 |
| Cappuccino (regular) | $3.41 |
| Loaf of Fresh White Bread (1 lb) | $1.63 |
| Water (1.5 liter bottle) | $1.45 |
| One-way Ticket (Local Transport) | $2.90 |
| Basic Utilities (Monthly) | $148.29 |
| Internet | $56.34 |
| Fitness Club (Monthly) | $49.81 |
| Apartment (1 bedroom) in City Centre | $1,168.78 |
[erw_exchange_rates_widget lg="en" tz="0″ fm="EUR" to="USD,GBP,AUD,JPY,RUB" st="primary" cd="" am="1″][/erw_exchange_rates_widget]
ATMs
Max Withdrawal: €400
Use of Credit Cards: Widely Accepted
Digital Nomad Personal Experience in Perth
Perth was one of my favourite places to live in all of Australia. The west coast, in general, feels very different from the much more popular east coast. It's somehow more laidback and relaxed and while there are fewer touristy places around you'll still find plenty to do and see. 
One thing to note about Perth is that you should expect to do a lot of driving whenever you want to leave the city. There aren't very many things close by so living in Perth truly means living in Perth. If you're not willing to drive 7 hours or take a flight you'll spend most of your time in the city which doesn't necessarily have to be a bad thing. There is plenty of nature around but don't expect the interconnectivity you might be used to from other digital nomad hubs. 
I really enjoyed the climate in Perth and how the seasons felt comfortable and not too hot or cold. In the Australian summer, I spent most of my time working outside on a shaded patio or local bars and coffee shops. Having the beach so close by was one of the best parts of living in Perth for me since it meant I could go swimming or surfing every day. While I've lived next to some world-class beaches before I was genuinely impressed by how nice the water was in Perth. It looks more like the Maldives and was always crystal clear with beautiful snorkelling spots nearby. The beaches in Perth were also not nearly as crowded as many other city beaches I've experienced. There are so many of them that you'll always find a quiet spot. If you enjoy life on the water then Perth will definitely be a great choice for you.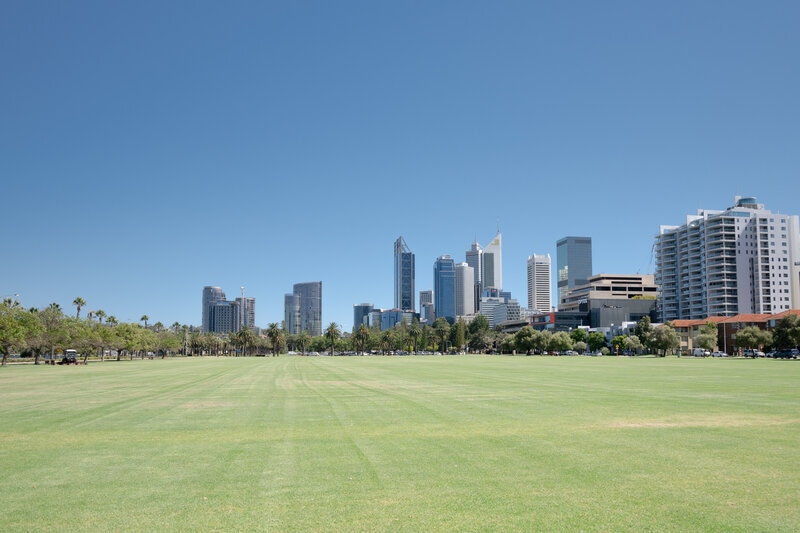 Work in Perth
Perth has a great selection of coffee shops and quiet restaurants. The best ones by far are located in Fremantle as well as Northbridge (during the day). If you prefer to work from a public place you can find some nice little cafes here where you can work in peace. There is some public wifi available but in most cases, the connection is quite slow. If your work is reliant on fast internet speeds you should consider working from a co-working space instead.
Another great place where you can work in Perth are public or university libraries. It depends very much on the individual library but many offer desks and even computers with an internet connection. The environment is quiet and a good place to get some work done. Most libraries are located around the city centre or close to university campuses.
Best Places to Work in Perth
Here are some of the best co-working spaces around Perth.
LEVEL NINE
Level Nine Coworking space is located in a hotel building in the central business district with incredible views over the Swan River. It is open 24/7 and offers the usual amenities such as printing and scanning facilities, meeting rooms, a cafe and a bar for after-work beers. Hot desk access costs around $23 and a small private office costs $63 per day.
Cleaver St & Co
This converted warehouse is located just a few minutes walk from the CBD and offers an ambience filled with plants and natural light, perfect for working. For $22 you can get a hot desk day ticket which gives you access to one of their two locations in Perth. Monthly and virtual memberships are also available. If you want to check out this coworking space before committing, they offer a discount on Thursdays when the hot desk ticket costs only 11.50$.
Regus
With five locations across Perth, Regus Coworking is the perfect choice for those looking for flexibility and convenience. Here, special emphasis is placed on high-quality facilities and comfort. There is a swimming pool, a gym, a barbecue area and even a tennis court. The monthly fee is, therefore, quite pricey and costs between $290 and $550, depending on the location. Considering what you get in return, this high price can definitely be worth it.
fSpace
In the heart of beautiful Fremantle you will find fSpace, a very popular coworking space. In addition to their high-speed internet and modern facilities, they also offer networking events and workshops to improve your business skills. For just under $27, you can get one-day access to this coworking space, but other rates are also available. If you are new to Perth and want to have a look around before committing to a membership, they even offer a free trial day.
Riff
At the Riff Coworking space you will find everything you need as a digital nomad. They provide various meeting rooms, event spaces and even a mentoring program. The advantage for this space is their expansive network of over 1000 businesses, entrepreneurs and startups that you'll have at your disposal as a member and which will help you find your feet in a new place.
Flux
Similar to Riff, Flux coworking space also places an emphasis on networking and providing value to its members. Whether it's high-speed internet, high-quality facilities, member events or just a great community, Flux has it all. At the end of the day, you can enjoy a sundowner on the in-house terrace, which is also a great location for hosting events.
Tank Stream Labs
The Tank Stream Labs is a co-working space focused on technology, so if that's your niche you should definitely pay this place a visit. Located in the CBD, The Tank Stream Labs has a convenient location with all the usual amenities you need to work remotely. Enjoy their comfortable breakroom on your lunch break and use the communal kitchen free of charge. Monthly fees start at $270 for part-time access.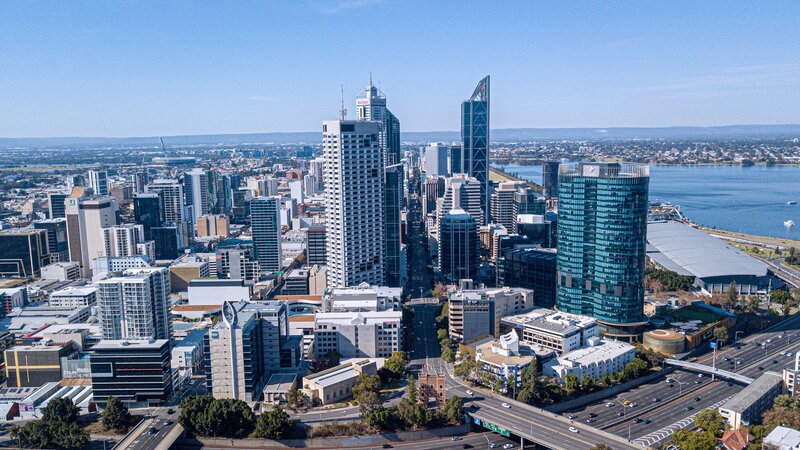 Best Places to Live in Perth
Best Neighbourhoods
Northbridge, North Perth, Subiaco and East Perth
As a digital nomad in Perth, you'll want access to the city centre for things like co-working spaces, nightlife and shopping. You'll also most likely want to live close to like-minded people and enjoy the beach and laidback lifestyle this city has to offer. Combining all these factors some convenient places to stay are the city centre, Northbridge (if you don't mind the nightlife), North Perth, Subiaco or East Perth. These areas are central with good public transport links and within walking distance from most places of interest. 
Fremantle
While the city centre is a great place to be it will also be expensive and crowded. If you enjoy city life and want to be connected this might be a good option, however, the real gem of Perth is Fremantle. Fremantle is sometimes considered to be its own city with all the amenities you would need. It sits by the water so you'll have direct access to the beach whenever you want. While Fremantle is certainly not the most affordable place to live in Perth you should be able to find a mid-priced apartment or room in a shared house. This is where most of the backpackers in Perth live so the area is a lot younger with some decent nightlife options. As a remote worker, this is the place to be if you're looking to experience the city and enjoy your time there and not work all the time. 
South Perth
If you're on a budget you might not be able to pay for housing in either the city centre or Fremantle. In general, the further you go inland in Perth and away from the banks of the Swan River the more affordable will rent be. Consider looking for a place to stay in South Perth or north of the city centre. 
Bentley or Nedlands
Keep in mind that Perth has a very small city centre and most of the city actually consists of residential neighbourhoods. The selection is incredibly large and you'll find yourself living quite far away from the city if you're not careful. Consider your needs and whether you would rather have a nice little 2-bedroom house with a garden 1,5 hours out of the city our a tiny room in a shared house in a central location. If budget is the most important thing for you consider finding a place to live close to Bentley or Nedlands where Perth's largest universities are located and many students are looking for roommates. 
Cottesloe or Scarborough
On the other hand, if you're looking to enjoy your time in Australia and make the most of living in Perth you could easily spend a few hundred dollars more per month for a house or room close to the beach. Look for places in the North Fremantle area, Cottesloe or Scarborough for some of the best beaches. This will not be cheap but it might be worth it if you're only in Perth for a short time.
Churchlands, Dalkeith or Salter Point
As a family, you might enjoy living in the suburbs more than a central location. However, good family neighbourhoods won't come cheap. For some of the most sought-after areas with good schools and a priority on safety look for places in Churchlands, Dalkeith or Salter Point.
Find an Apartment in Perth
Apartments or houses are usually rented out on a weekly basis in Australia which is good to keep in mind when looking for accommodation. Most landlords will also require a bond of at least one month's rent which you will have to pay when signing the contract. Housing in Perth is usually quite nice with a lot of people in the suburbs living in detached houses or bungalows while there are more apartments in the city centre. Finding a place to live in Perth is decently easy but good deals can be hard to come by. 
If you enjoy flexibility and are not short on time you should look for permanent accommodation on arrival and only rent an Airbnb for the first few days. That way you get to see many of the apartments and houses in person and make the best choice. If you're travelling with your family or want to sort out everything before you come you could, of course, decide on a place before you arrive.
The best way to find houses and apartments is online on websites like Realestate.com.au, Domain.com.au, Gumtree or Rent.com.au. Gumtree is also useful for finding potential flatmates. Definitely keep an eye out for areas close to one of Perth's universities where a lot of students will be looking for flatmates. Fremantle also has a lot of backpackers who are interested in sharing the cost of rent so look for apartments in that area. 
There are plenty of Airbnb apartments around town which could potentially be rented on a long term basis. Message some of the hosts and inquire whether they offer discounts on longer stays which could bring down your rent considerably.
Hostels are also a great place to look for accommodation as a digital nomad. Some even offer free stays if you work a few hours a week for them as a receptionist, cleaner or bartender. This can be a great way to get started as a digital nomad in Perth if your budget is very tight.
Definitely join some Facebook groups when you come to Perth. There are different ones designated for expats and backpackers where apartment vacancies are regularly advertised. Have a look at the website flatmates.com.au to connect to people looking for a shared house or those who have a vacant room in their home. This can be a great way to make friends and save some money on rent.
Prices for apartments in Perth vary greatly. The city is said to be the cheapest capital in Australia but compared to other digital nomad hotspots worldwide it's definitely not the most affordable. Average rent is meant to be around 930$ per month although this depends on the neighbourhood and size of the place you are renting. You could find a small room in a shared house for around 450$ if you're willing to sacrifice central location. For a nice one-bedroom apartment in the city centre, you'll easily pay 1200$ per month if not more.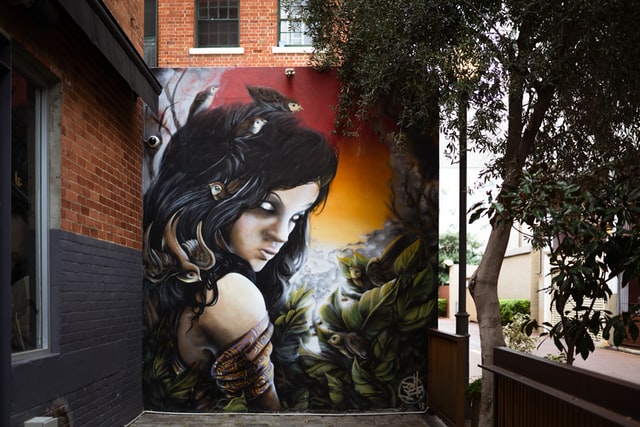 Cheap Places to Stay in Perth
If your budget is tight your best bet of finding affordable accommodation in Perth is to sacrifice location and some comfort. The cheapest places to live will be located outside of the city in less popular neighbourhoods. Look for either a one-bedroom place somewhere further away from the city centre or ideally a shared house. You can find these by checking Facebook groups or websites like Gumtree or Roommate.com.au. You'll be able to share the cost of utilities and could find a place for as little as 350$ per month if you are lucky. Keep in mind that you most likely won't have air conditioning and only a very basic room. 
Another budget accommodation option is finding a permanent room in a hostel. As mentioned many of them offer work stay options where you can essentially live for free by spending a few hours a week cleaning or servicing the hostel. However, be very careful with this if you're in Australia on a tourist visa. You could be violating your visa requirements even if you aren't making any money. Always consult the hostel first and let them know about your visa. 
Lastly, you could consider camping in Perth. Many backpackers buy campervans or converted cars which can be used as accommodation. Just keep in mind that wild camping is illegal in Australia and you need to be parked at either an official campsite or private land. Again, some hostels let you park for a small fee per night or you could look for some free campsites nearby.
Perth Visa
Australia is quite strict with its visa regulations and navigating them can be tricky. The majority of nationalities can obtain a tourist visa which lets visitors stay in the country for up to 3 months. Afterwards, you need to exit Australia and reapply. While it is technically possible to do this visa run multiple times it is not advisable as a long term solution as you might encounter some problems if the authorities suspect you are living in Australia permanently. 
If you want to stay in Perth for an extended period of time it might be advisable to apply for the popular working holiday visa. This visa is valid for 12 months and lets you extend for a further 12 months twice. So technically you could live in Australia for 3 years without having to exit. The working holiday visa also lets you work in Australia which is an incredible benefit for those considering to find a local job. 
However, the catch is that you can only be granted this visa once in your life and only if you are under 30 (35 for some countries). Plus to extend it you need to work in a rural area for 2,5 to 6 months to qualify for a visa extension. All these prerequisites are far from ideal for digital nomads. If you are sure you only want to live and work in Australia this once you should apply for the working holiday visa nonetheless and make the most of it. 
There is also the Visitor Visa Subclass 600 which technically lets you stay in Australia for up to 12 months as a tourist. However, it is only granted sporadically and you need to present a specific reason as to why you want to stay for so long. Applying might be worth a try though.
Culture and Food in Perth
Australia's culture today is very similar to that of England or the United States. Of course, there are regional differences but you'll find a lot of similarities if you come from these areas. Something that is very important in Australian culture are outdoor activities due to the favourable climate. Barbecues are very popular for example and you absolutely have to take part in one during your time in Perth. A lot of public areas actually have basic barbecues that are free for the public to use. This is great if you're camping or on a day-trip.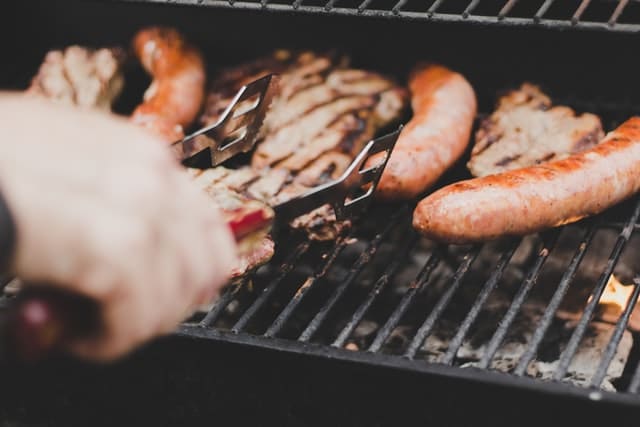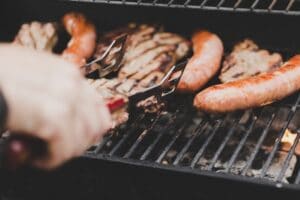 Some famous Australian dishes include the Chicken Parmigiana, which comes from the American and Italian cuisines. You can find it everywhere across the country including in Perth. The fried Barramundi which is a local fish is also a very popular dish that you should try at least once. For dessert why not try delicious Lamingtons, a little cake covered in coconut shavings.
When you come to Perth you will most likely mostly come across Western culture which dates back to colonial times. It's important to keep in mind that the countries' actual culture comes from aboriginal and indigenous people who have inhabited the area for more than 60,000 years. Westerners only made contact with the local Nyoongar people at the beginning of the 19th century, around 200 years ago. They were oppressed and mistreated and are very much underrepresented even today. 
The aboriginal culture is rich and complex. There are over 500 different groups of Aboriginal and Torres Straits Islander peoples in Australia and each one has slightly different traditions and beliefs. Family, rituals, language and nature play crucial roles in the aboriginal culture. Many natural sites have an important spiritual significance which has been passed down through many generations. When Australia was colonised a large number of these sites were built on or destroyed as cities were constructed. This is an ongoing issue in the 21st century as indigenous Australians are struggling to have their voices heard and racism and discrimination still play a large role.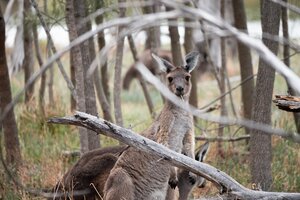 Rottnest Island used to be an important place in the aboriginal culture. Approximately 6,000 years ago the island was still connected to the land and functioned as a place for ceremonies for the Nyoongar people. Today Rottnest Island is still considered to be a place of significance for life after death and there are 17 aboriginal heritage sites on the island. In 1838 settlers began using Rottnest Island as a place to incarcerate indigenous people and the island was used as a prison until 1904. Today there is a lot of history associated with Rottnest Island and not all of it is favourable. The island has a tourist visitor's centre where you can educate yourself further.
Perth Nightlife
Being the largest city in the area by far, Perth has a decent selection for nightlife options.
As Perth is pleasantly warm most of the year, there are of course many open-air activities such as outdoor clubs and bars and numerous festivals.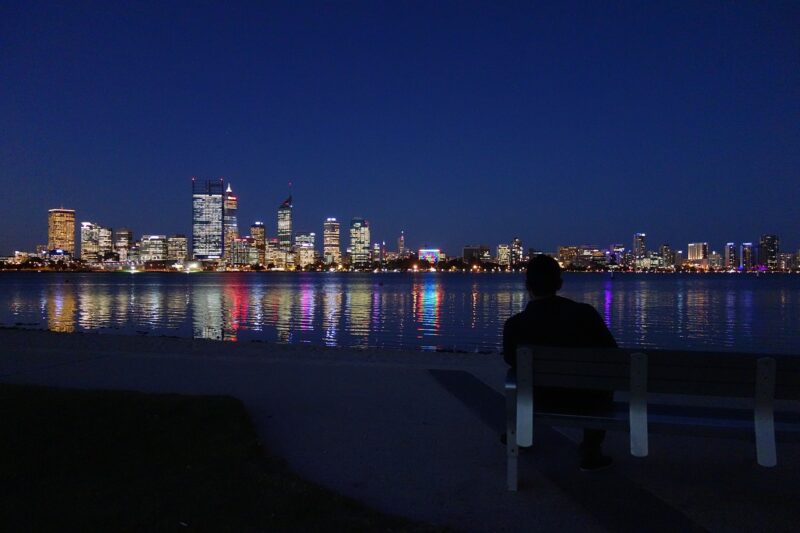 You'll find the main nightlife area of Perth in Northbridge which is located right next to the city centre. During the day this is a great spot for little restaurants, thrift-shopping and having a drink in a local bar. At night Northbridge is the perfect place for a night out with tons of students around and people dancing the night away in one of the larger clubs. Most bars and clubs are located on Aberdeen Street, James Street, Williams Street and Lake Street. These will be quite pricey which is important to keep in mind if you're seeing Perth on a budget. Most larger clubs charge an entrance fee somewhere between 5$ and 15$, even more for some more up-scale events. Some of the most popular clubs include Connections, Air, The Court and Jack Rabbit Slim's.
If you're not interested in crowded clubs and expensive cocktails, Perth also has many smaller pubs with live music and a more relaxed dress-code and vibe. Keep an eye out for the pubs and bars in the area which are especially popular for events like St Patrick's Day or Australia Day.
From breweries with their own beer gardens to Irish pubs, there's something for everyone in Perth. There are also some rooftop lounges and bars around which can be great on a Saturday or Sunday afternoon.
In most bars and pubs you should expect to pay between $9 and $14 for a classic cocktail and between $4,50 and $7 for a 425ml pint of beer. For a night out on a budget keep an eye out for happy hour deals.
There is some nightlife in Fremantle but not nearly as much as the city centre. Fremantle has a lot of breweries and bars with some live music events. It's a lot more laid back and you won't find any packed clubs or crowded bars here. Due to the many backpackers in the area, there are some pretty affordable options though so keep an eye out for cheap drinks if you're in Fremantle. One of the most popular bars in Fremantle is the Sail and Anchor, a colonial-style venue close to the centre of town. It has a beautiful upstairs terrace and usually offers very affordable pints.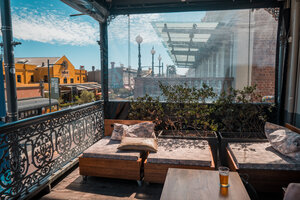 Perth and Australia in general are known for their many festivals and raves which are usually held a few hundred kilometres inland somewhere remote. The area is home to many so-called "Bush doofs", often unofficially festivals held in nature with electronic music. If you enjoy festivals and the culture associated with this music style this is an absolute must-do when you visit Perth. There are some larger, official festivals but some of the best ones are held more spontaneously in lesser-known locations. 
Things to do in Perth
Explore Heirisson Island


Perth actually has an island in the middle of the city, which should be at the top of your bucket list. Here you can escape the hustle and bustle of the busy streets, enjoy nature and maybe even see some kangaroos. For the full Aussie experience, you can use the public BBQ sites and have a picnic on the water. Located between Victoria Park and East Perth on the Swan River, this little paradise offers the perfect opportunity for a day off.

Spend a day in Fremantle

Fremantle is a popular neighbourhood in Perth right by the ocean. This area is known for its laidback lifestyle, backpacker culture and arts scene. Fremantle is perfect for a day-trip or you could even be living there permanently. Admire the beautiful architecture or visit one of the many museums. A big tourist attraction are the Fremantle Markets, where you can buy all sorts of souvenirs, art and delicious snacks. You should also make sure to have a drink at Fremantle's many breweries and outdoor bars which offer the perfect way to cool down after a long day of exploring.

Stroll through the Kings Park

Kings Park offers a great view of the city centre and the Swan River. It's one of the largest inner-city parks in the world and offers and is perfect for an afternoon walk or a day off. In the park, you will also find the botanical gardens where you can admire many native plants from Western Australia. There is also a war memorial commemorating the pioneer women and a large picnic area that is especially popular with families. Various events are held regularly in the park, including the Kings Park Festival. For more information click here.
Visit Rottnest Island

The Basin on Rottnest Island. Photo by guideyourtravel_

Rottnest Island may or may not be Perth's most famous tourist attraction. People from all over Australia come to Perth just for a trip to Rottnest. The little island lies 18 kilometres off the shore of Perth and can easily be reached via ferry. Rottnest is perfect for a day-trip although you can easily spend a weekend here without running out of things to do. The island is home to some of the best beaches on the west coast of Australia and incredible snorkelling opportunities. Rottnest Island is probably most famous for being home to the Quokka, a little marsupial animal that looks a little bit like a large rat or a small kangaroo. Quokkas are very friendly towards humans and a popular photo subject for so-called quokka-selfies. Seeing quokkas in the wild and getting to enjoy Rottnest Island's incredible scenery is reason enough for a day-trip to the island.
Watch a movie on a rooftop

A great activity in Perth for all ages is a trip to the rooftop movies. This outdoor cinema is located on top of a large building in Northbridge, close to the city centre of Perth. During the Australian summer, there is a movie on almost every night which you can enjoy with pizza and drinks available from the concession stand. Movies include both new releases as well as timeless classics. Ticket prices start at 14$ for a beanbag but reserved seating in deck chairs or a lounge is also available. Keep an eye on the weather as sometimes movies have to be cancelled last minute because of rain. Tickets need to be bought at least one week in advance online.
Explore Elizabeth Quay

Elizabeth Quay Bridge. Photo by guideyourtravel_

Elizabeth Quay is a popular spot in the centre of town that is great for an afternoon walk, a quick lunch or some sightseeing. This is where you'll find the Elizabeth Quay Pedestrian Bridge and the Spanda, one of Perth's most popular statues and landmarks. When you're visiting Elizabeth Quay make sure to stop by the Island Brew House, a great spot for a drink and a snack. Also don't miss out on the great view of the Swan River and maybe even take a ferry to the other side. This is also a beautiful location for some sunset photos.
Visit the many beaches


Perth has a great selection of beautiful beaches where you could easily spend a whole day. Probably the most well-known is Cottesloe Beach. Located not too far away from the city centre this beach is immensely popular and can get quite crowded during weekends. If you prefer a quieter and less busy beach, you should try the beaches in the north of Perth like Scarborough Beach, Marmion Marine Park, Mullaloo Beach or City Beach. All of these beaches can be reached by public transport but it will which can take some time. If you don't want to spend the entire day on a bus, you might want to rent a car or take an Uber. For a beautiful sunset, Leighton Beach is the best place to go which is located in the north of Fremantle.
Take a day-trip to the Swan Valley

The Swan Valley lies just a quick car ride outside of Perth and is the perfect opportunity to leave the city behind in favour of rolling hills. This beautiful area is known for its famous wines and attracts tourists from all around the world. Go on a bike ride or even a cruise along the Swan River and explore the many walking trails while stopping at little wineries along the way for some tastings.

Have a drink in Northbridge


Just a quick walk from the city centre lies Northbridge, Perth's most popular area for nightlife and events. Here you will find a good mix of cafes, restaurants and little stores and boutiques perfect for a shopping trip. If you enjoy seafood, you should definitely keep an eye out for one of the many restaurants with fresh fish on their menu. During the late afternoon, many bars offer happy hour drinks which is a great way to get to know the city on a budget. In the evening, the numerous bars and clubs invite you to enjoy refreshing drinks and good music. There is enough choice for everyone and guarantees a good night out. 
Best Time to Visit Perth
Perth has a Mediterranean climate with dry and hot summers and rather mild and wet winters. Despite this, Perth is one of the sunniest cities in Australia with up to 70% clear blue skies throughout the year, allowing you to enjoy the outdoor lifestyle all year round.
During the summer season from November to February, temperatures between 18°C and 30°C can be expected and rainfall is very rare. In autumn, from March to May, it cools down to 13°C at night, but during the day the sun shines most of the time and temperatures of up to 26°C can be reached. 
Winter lasts from June to August and is very rainy and cool with lows of 8°C. Occasionally, thunderstorms and heavy rainfall can occur but temperatures won't be unpleasantly cold. It is said that about 77% of the rain in Perth falls in the months between May and September. In July, for example, up to 14 days of rain can be expected. In spring, Perth comes alive as plants start to bloom and it will rain less. In sunny weather, temperatures can get as high as 23° but a fresh breeze will usually make it feel a little cooler than it really is.
The water temperature in Perth is a warm and pleasant 23°C during the summer, which is perfect for cooling off after a long day in the heat. In winter it gets a little colder to around 19°C which could still be warm enough for swimming.
Perth for Families
In 2020 Perth was ranked 32nd in the best cities worldwide to raise a family. The city is made up mostly of suburbs so you can get the feeling of living in a small town while still getting to enjoy the many amenities of a much larger city. One thing to note is that Perth is expensive which is, of course, also reflected in schooling and child-care. If you're coming to Australia with children you should consider whether you are able to afford living there while supporting a family. If that is the case, you will absolutely love living in Perth.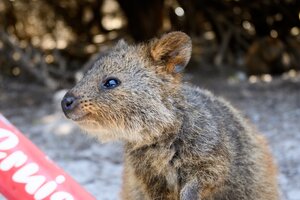 Kids of all ages will love the beach and the incredible nature Perth has to offer. Take a trip to Heirisson Island where you can see kangaroos in the wild or Perth Zoo for a family day-trip. Perth also has quite a few kid-friendly museums like the Western Australia Maritime Museum located in Fremantle. Definitely take day-trips up the coast for dolphin watching or snorkelling for the entire family.
You'll find good international schools in Perth although you could also consider sending your children to a local one to help them integrate and find friends. International Schools will be very pricey whereas you might save some money at an Australian school. 
If you're coming to Perth with kids it's highly recommended to buy a car. The city is very large and if you're living in the suburbs you'll need a way to get around. Having a car will make daily activities like school runs, grocery shopping and after-school activities a lot easier so definitely consider it.
As a family, you should definitely look for a house further away from the city centre which will be more affordable and get you more value for money. If you have a car connectivity won't be as much of an issue so definitely consider whether you're going to buy one before you choose a place to stay.
Living in Perth
Perth Transportation
There are different forms of public transport within the city of Perth. Trains, buses and ferries are all included in the TransPerth system which is quite useful because you can use the same rechargeable metro card for everything. The trains are the fastest and most convenient way to get around. They are very reliable and easy to navigate. However, Perth's train network is not very expansive and connects mostly the city centre to specific points around town. There are five different lines to choose from which go out to different neighbourhoods including Fremantle. If you do not happen to live close to one of these routes you will most likely not get much use out of the train system.
Buses are a lot more widely spread in Perth than trains. There are bus stops almost everywhere with different lines taking you all around town including the airport. As mentioned, you can use both trains and buses interchangeably if you purchase a rechargeable card called a SmartRider. With this, you will receive a 10% discount on all rides and it is very convenient as you can just tap on and off. The SmartRider costs 8$ which is pricey but worth it in the long run. 
Although you can reach most places in Perth via bus the buses sometimes run infrequently or stop early in the evening. If you're on a night out you might not be able to get home by bus anymore which can be inconvenient. In that case, it's best to take an Uber, Ola or another ride-sharing service. These are quite popular in Perth and usually more affordable than taxis. A ride usually costs somewhere between 10$ and 50$ depending on how far you are going. They are widely available throughout Perth and will take you anywhere you need to go.
Perth also has a free bus system that takes you around the city centre and Fremantle. Take one of the CAT buses around town to see the best sightseeing attractions and places of interest. You can simply hop on a bus anywhere you like completely free of charge. While the CAT bus network is not very large it can be a great way to travel short distances on a budget.
If you're planning on staying in Perth for a longer period of time you should consider buying a car. Buying and re-selling cars is not too difficult in Australia and you can find a decent car for very affordable prices. Many backpackers tend to sell their cars in Perth so the market is very saturated. Once you are ready to leave Perth again you should consider taking a road trip to a city like Melbourne or Sydney where more backpackers first arrive in Australia and will be looking for a car.
If you're going to be living in Perth you should take some time to explore the area and southern coast of Australia which is only reachable by car. If buying one is not realistic for you you should at least rent one for a few days to drive around. 
Fitness and Health
It's tempting to spend your days in Perth in a cafe by the beach but you shouldn't forget about your fitness while you are living there. Luckily, Perth is a large and metropolitan city perfect for getting in shape. You'll find the majority of gyms around the city centre including Surge 24/7, LA Fit Studio, Snap Fitness or Anytime Fitness. Most of these are large chains which you can find worldwide. Some even have multiple locations in Perth so you can use different studios interchangeably. Prices vary from around 40$ per month to 100$ depending on what is included in the membership. Most gyms require you to sign a 6- to 18-month contract which might not be ideal for digital nomads. To get access on a monthly basis you'll have to pay more.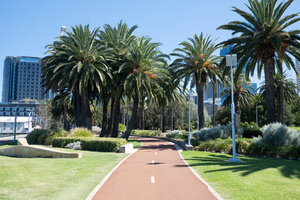 A great way to stay fit in Perth is to get into running. Most of the city is decently flat and there are amazing tracks and paths along the Swan River. You'll love the many parks and stunning views. A lot of people get into rowing or surfing in Perth. Inquire about local rowing clubs as most let even complete beginners join. This is a great way to make some friends and get into a team sport while you are in Australia. Surfing is quite accessible although you need some experience to be able to go out by yourself. You can take surfing lessons to get started and learn all about what it takes to be a pro surfer.
Perth People
About 2 million people live in Perth and its surrounding areas. This makes it the fourth largest city in Australia by population. While it's a large city for Australian standards internationally you would consider it to be rather small compared to other digital nomad hubs world-wide. If you're living in Perth it won't seem like you're sharing it with 2 million other people. It feels much smaller because it is so incredibly spread-out with a very small city centre.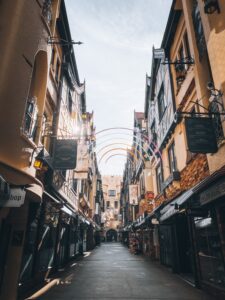 Perth is a rather welcoming city with high standards of living. The people tend to be friendly although there can be some wariness towards foreigners because of the large number of backpackers that visit the country. They tend to not have the best reputation in Australia but this misconception can easily be rectified if you adhere to local rules and regulations. 
Of course, English is the main spoken language in Australia. The Australian accent can be quite heavy so you might have trouble understanding locals in the beginning. Australians use some words that you might be unfamiliar with but will figure out their meaning pretty soon. 
Australia is a great country for making friends and new connections. Due to the large backpacker community, there are lots of opportunities for going on spontaneous trips and seeing the country. If you're staying in a hostel or are in contact with local backpackers you can easily find travel mates with whom you can explore the area. Van life and camping are very popular so this can be a great opportunity to leave Perth behind in favour of a life on the road. Just keep in mind that cell phone reception and a wifi connection can be tricky to find in many rural areas so stick to the coast if you need the internet to work.
Australia's indigenous people make up around 2,4% of the population. Their history and culture are still very significant today and prominent around Perth. The aboriginal population in the greater Perth area are usually referred to as the Nyoongar although there are other names for them as well. During the early 19th century the area was first colonised and the majority of indigenous people lost their land. Many were incarcerated and the oppression lasted for hundreds of years and is still a reality today. While the Australian government is attempting to make amends for the mistreatment of aboriginal people in the Perth area and all of Australia, high levels of racism and discrimination are still the reality today. In many instances, one can see a clear divide in society that does not appear to be lessening. Perth is a safe and comfortable city to live in for people of all nationalities and ethnicities, however, this issue persists below the surface of everyday life.
There are great facilities and museums for education on aboriginal culture and customs in and around Perth. Their history is rich and very interesting so make sure to educate yourself if you plan on staying in Perth for a while.
Perth Insurance and Medical Care
Perth has very good medical care and hospitals up to international standards. Doctor's appointments are fairly easy to get in most cases without long wait times. Australia is said to have one of the best health care systems in the world although as a foreigner without permanent residency there can be some obstacles. 
It is highly recommended to have health insurance issued by your own home country when you travel abroad as a digital nomad. Receiving medical treatment abroad in countries like Australia can be incredibly expensive especially if it's an emergency. If you're planning on living as a digital nomad you should research health insurance options that let you get treated worldwide which will be far easier than looking for a new insurance policy every time you relocate. 
That being said it is possible for foreigners to obtain health insurance when living in Australia. Whether you qualify or not depends a lot on which visa you are holding but there are some decent options for digital nomads. Bupa is a very large insurance company that offers different plans for health insurance in Australia. There is also a small number of countries that are part of Australia's Reciprocal Health Care Agreement which means you will receive free or heavily discounted care. This includes the UK, New Zealand and 9 other European countries. If you are not insured just a simple doctor's visit can be quite pricey in Australia. Definitely look into insurance options either locally or in your home country.
Make sure you are fully covered by reading our full Digital Nomad Travel Insurance guide.
Jobs in Perth
Only attempt to find a job in Perth if you are a holder of the working holiday visa or have a valid work permit. The punishments for working illegally in Australia are harsh and you do not want to be caught and potentially barred from entering the country again. If you have a working holiday visa the good news is that it's decently easy to find a job in Perth. One of the few requirements of this visa is that you cannot work for the same employer for more than 6 months though so keep that in mind. Around the city centre and Fremantle, there are many opportunities for finding work in the hospitality industry as a bartender, server or even in retail. Due to the prevalent backpacker culture, there are usually always job openings to be found even on a short term basis.
If you're looking for a skilled job you can try local job boards. You might even find a company who is willing to sponsor you which means they pay a large sum of money to employ a foreigner which will mean you can be granted a more permanent visa after some time. This could be a great option if you're planning on staying in Australia for a longer period of time or maybe even making it your home base. 
If you're living in Perth on a tourist visa you should stick to making your money online to avoid breaking any rules. Connect with others at co-working spaces to find out more about potential remote job openings that could help you make some money.
Check out our Digital Nomads Jobs Postings to find the best jobs available for Digital Nomads.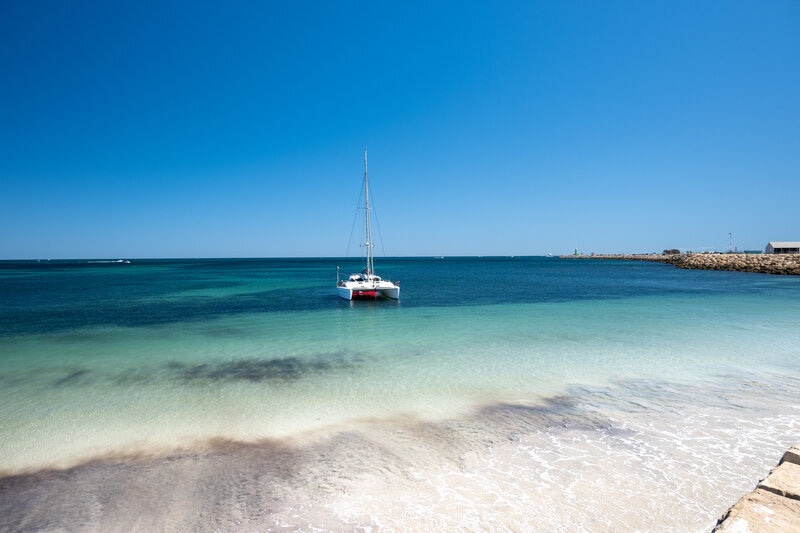 Nomad Friendly
Value for Money
Internet
Workspace
English
Food
Safety
Health
Transportation
Friendly
Quality of Living
Cost of Living Perth
Perth might be one of the cheaper cities in Australia but it's still very expensive compared to other places internationally. Your cost of living here will be quite high even if your lifestyle is budget-conscious. For 700$ per month, you'll find a nice place to live in a decent location. Sometimes water is included in the rent but all other utilities will have to be paid on top. 
There are multiple large supermarket chains in Australia like Coles and Woolworths. Price-wise there isn't a huge difference between them so your food costs will stay quite constant. Meat and fresh produce can definitely be expensive as well as alcohol. There are high taxes on alcohol in Australia so the prices are very high.
Public transport costs will depend a lot on how much you are using buses and trains to get around. If you're living in the city centre you might find that most places are within walking distances. However, if you own a car you'll have to add a budget for parking costs as well as gas which could add a further 80$ for gasoline per month.
Sample expenses for one month in Perth
Essential costs
Rent – $700
Bills for water, gas, electricity, wifi – $120
Groceries – $150
Public Transport – $150
SIM card – $15
---
 1135$ total per month
Optional costs
Eating out and nightlife – $250
Membership at a coworking space – $300
Health insurance (varies greatly according to country) – $35-$100
Budget for trips – $250
Gym membership – $70
Gasoline – $80