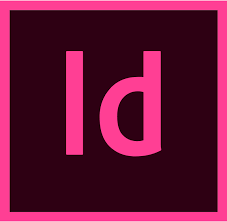 What is InDesign?
InDesign is a popular layout and page design application that is part of Adobe Creative Cloud (CC). It's the standard in the publishing industry but is rising in popularity in other sectors too. Everyone, from magazines and marketing agencies to zine makers and writers, can benefit from InDesign.
It's also so much more than just layouts. InDesign offers access to a huge collection of typography, intuitive graphic design features and helpful colour coordination features. Whilst it's popular with graphic designers, even those without this experience will find it easy to use. A lot of the theory around colours, shapes and design can be applied intuitively by the application, without a lot of effort on your part.
What's more, because it is part of Adobe CC, it is fully integrated with other software. This has been a real game-changer for publishers and graphic designers. You can edit all of your images in Photoshop, arrange graphics in Illustrator and transfer them directly to InDesign to create the perfect end product. Using it with apps like Dreamweaver, XD and After Effects, means you can also create interactive online publications.
In short, InDesign lets you express yourself in style.

How common is using InDesign amongst digital nomads?
It's not the most common Adobe CC product, but it's growing in popularity. InDesign has long been the industry standard for publishing and media, so anyone freelancing in these areas would benefit from learning to use it. The growing popularity of infographics, portfolios and zines have also made it a more desirable app for digital nomads.
Speaking of portfolios, this is a great way to make yourself stand out from the crowd. Rather than going for a standard CV, you can create an attractive alternative on InDesign. This is especially important if you are looking for a digital nomad job that involves creativity. You can also arrange a PDF introduction to your portfolio to include with your applications. This should just have the highlights, with a link to a website containing a more extensive portfolio.
Beyond career development, InDesign is also great if you are running your own business. You can create attractive social media graphics, exciting proposals and even flyers if you're selling an event. Self-publishers will also find the knowledge of InDesign invaluable. You can set up the layout of an e-book and design associating marketing materials, all in one program.
What professions require you to use InDesign?
Publishing, journalism and graphic design are the obvious professions. You'll find many magazines, from global behemoths to niche independents, use InDesign to plan their layouts. Graphic designers will do most of their work on Illustrator, but InDesign is a really quick and easy way to finish off large projects. 
Knowledge of InDesign will also help you stand out in marketing and publicity roles. Canva has become the place to go for social media graphics, but the options are limited and many are so overused that customers are starting to notice. InDesign does take a little more time, but the results will pay off. In terms of publicity, it's a fantastic software for designing press releases and information packs.
As mentioned above, it's also great for business owners, and this applies to every industry. As a freelancer with knowledge of InDesign, you can open doors into new professions. Say you're working with a local hotel, you can also offer them help with marketing materials, brochures and welcome packs. The tourism and hospitality industries are always looking for graphic design assistance, and InDesign is your key to unlocking those opportunities.
Where do I start if I want to become an InDesign expert?
InDesign is one of the older apps offered by Adobe (it debuted in 1999), so there are endless opportunities to learn about how to use it. If you're taking a course related to the media or publishing you should check whether it is included. Many journalists these days learned it during their training.
That being said, not everyone has the chance to take a full course in journalism or graphic design. The internet has a wealth of resources at your fingertips, and for a lot of digital nomads, this is the best option. Check out YouTube, Skillshare and other video platforms for tutorials. We recommend thinking of a project to work on and looking for content related to it. Setting up a portfolio is an excellent way to learn and practice.
You'll also find some organised courses both online and in person. These are great but are often overpriced. If you already know other Adobe Creative Cloud apps, you'll probably get by on video tutorials.
InDesign might not be the most popular Adobe CC app with digital nomads, but it offers a lot of opportunities. You'll need to put a little bit of work in, but InDesign is one of the easiest programs to get used to. Whether you're working in publishing, or simply want to level up your CV, InDesign is an incredible bit of software.