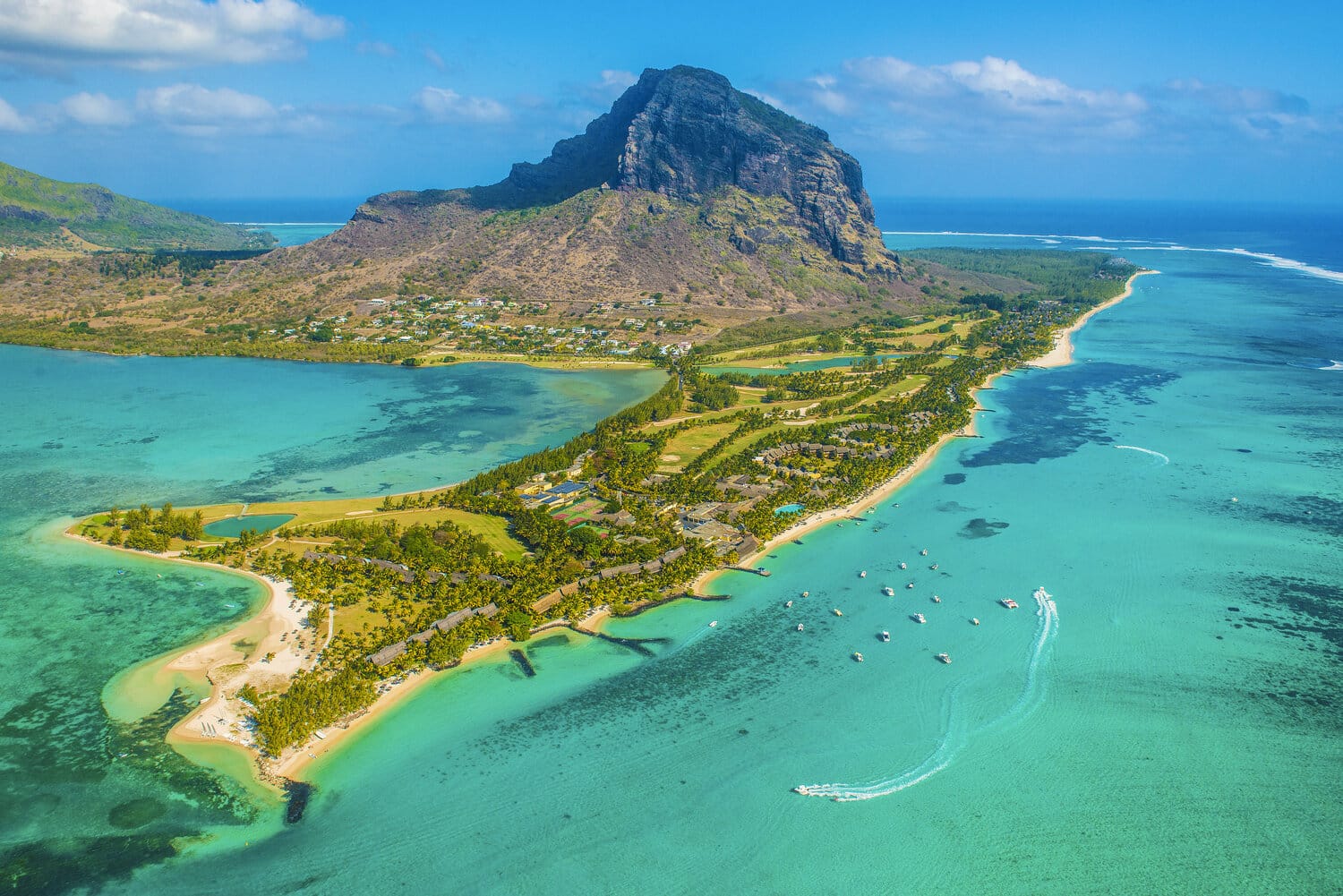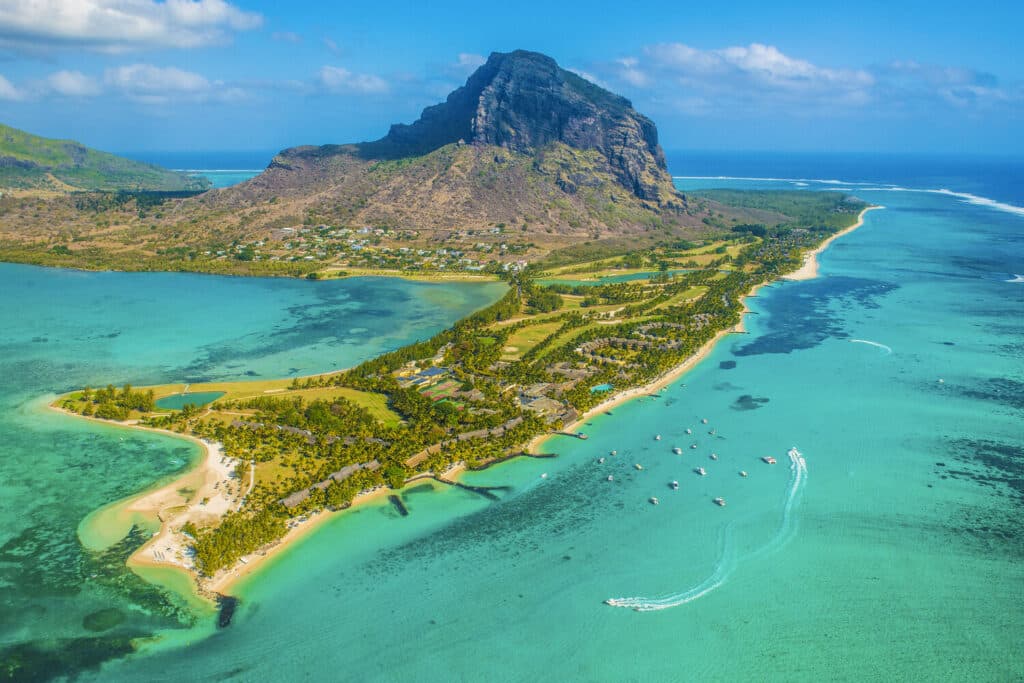 A Digital Nomad Guide to Mauritius
Author Mark Twain once wrote, "Mauritius was made first, and then heaven; and heaven was copied after Mauritius." However, there is much more to see and experience than beautiful beaches, breath-taking sunsets and water activities. When you decide to take some time and stay away from the beach, you are bound to be enchanted by the diverse culture, rich cuisine, welcoming people and a blend of ethnic communities. Mauritius is a rare example of a multicultural country where all cultures and religions live together harmoniously, which translates into a low crime rate.
The Republic of Mauritius is an island nation in the Indian Ocean off the southeast coast of the African continent, east of Madagascar. It comprises the main island (also called Mauritius), as well as Rodrigues and Agaléga, a total number of 16 islands and islets, each known for their exquisite beauty. The islands of Mauritius and Rodrigues, along with nearby Réunion, are part of the Mascarene Islands. The capital and largest city, Port Louis, is located on Mauritius, where most of the population is concentrated. The size of the country is just 790 square miles (2,040 square km) and it is comparable to the area of Tokyo.
Mauritius is the only African country to be in the "very high" category on the Human Development Index. According to the World Bank, the country is classified as a high-income economy. Mauritius is also ranked as the most competitive, and one of the most developed economies in the African region. The country is a welfare state. The government provides free universal health care, free education up through the tertiary level and free public transportation for students, senior citizens, and the disabled. In 2019, Mauritius was ranked the most peaceful African country by the Global Peace Index.
Nomad Friendly
Value for Money
Internet
Workspace
English
Food
Safety
Health
Transportation
Friendly
Quality of Living
Living in Mauritius Overview
Digital Nomad Personal Experience in Mauritius
Mauritius is a gorgeous tropical destination known for its white powdery sand beaches, picturesque nature, and luxury accommodations. It attracts more and more travellers and expatriates from all around the globe with its softness, charm, quality of living environment, economic growth, cultural diversity and also its tax advantages, at the same time being amongst the safest destinations in Africa. That is what attracted me to this little paradise on Earth.
It was early 2019 when I came here from Europe for the first time after leaving my corporate job. I did not have any plans apart from enjoying the sea, sand and sun, tasting delicious food I had read about, being with my friends, and trying to figure out what I want to do when I grow up. Eventually I stayed for 4,5 months on a tourist visa. When I returned in January 2020 for a few weeks to holiday again, Covid-19 happened: the country went on complete lockdown for 2 months, borders got closed, there were no flights whatsoever. The deconfinement started slowly and partially. After a few months, the island became a Covid-free place. Air Mauritius was operating expatriate flights to the island, life on the island became more eventful, just with masks on faces. And then in March 2021 new cases of the virus appeared, and history came full circle. Even after being here for so many months, the island still amazes me and I discover new places and things.
Here is the most updated Mauritius island guide for digital nomads who consider this country as a new base in 2021. However, due to Covid-19, there have been many restrictions of social distancing introduced to most of the public places. The guide is written in accordance with the recent rules and regulations. Recently coffee shops, cafés, and restaurants have been opened only for take-away service. Before you decide to visit any place, we recommend checking the opening conditions online.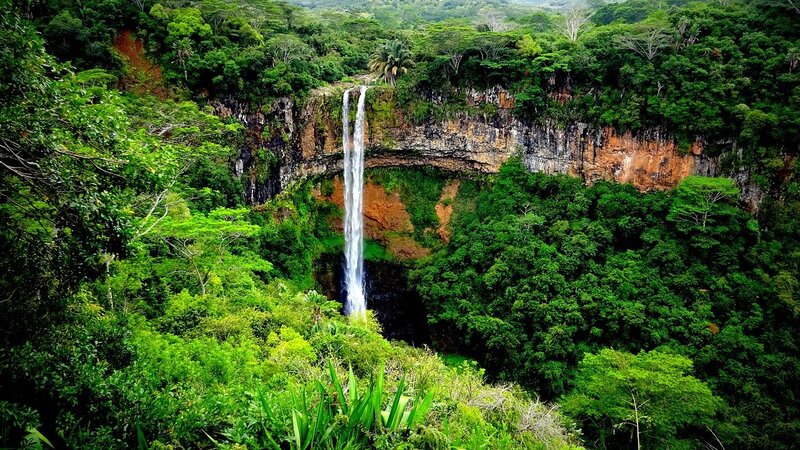 Work in Mauritius
As a digital nomad in Mauritius, you should not worry much about Internet access.
The average fixed broadband speed in Mauritius is 19 Mbps for downloads and 10 Mbps for uploads, with mobile speeds coming in at 23 Mbps and 11 Mbps respectively.
There are more than 2000 hotspots all over the island located in public places.
To have a connection to a local mobile Internet, you have to get a local pre-paid SIM card. There are 3 mobile operators: My.t Emtel and MTML and you can buy your starter pack in a kiosk, post office or at a mobile operator directly. Prices start from about $2.50 (100 MUR) and you already get a packet of minutes, messages and some Internet data. When the data finishes, you simply buy a recharge card. In order to purchase your sim card, you need to present your passport and have an unlocked phone. The activation of sim cards is not immediate: for Emtel it takes about an hour; for My.t it can take up to 2 to 3 days but this operator has the best coverage on the island.
Best Places to Work in Mauritius
Co-Working Spaces
The Hive
The Hive is a flexible workspace network with 4 workplaces around the island. All are fully-serviced with access to office services, coworking spaces, meeting rooms, kitchenettes, free parking, coffee, etc. Prices start from $86 for a desk/month (Rs3,450) or $15 a day pass (Rs575).
Coworking in Port Louis
Coworking is a great space for working and organising workshops and events, located in 2 charming colonial houses with rustic yet modern and professional ambience. It has all the facilities and amenities of a workspace, and the fee includes bike sharing. Prices start from $50 for a desk/month (Rs1,990) or $5 a day pass (Rs200).
Regus in Ebene
Regus in Ebene is a part of a global network of workspaces with free and fast WiFi. It offers business lounges with comfortable chairs with personal workspaces, and many power outlets for unlimited days for $55 (Rs2,200). The co-working spaces offer modern and ergonomic furniture, access to office equipment, communal and social environment, and benefits of business lounges. There are 3 plans: 5, 10 or unlimited co-working days a month and the prices start from $58 (Rs2,330).
Oficea in Moka
Oficea in Moka offers various office spaces in which all commonly are bright, multifunctional, they feature modern lounge settings, traditional desks or standing height tables, and are close to all amenities and transport connections. It is a great place for interaction, collaboration and innovation. A day pass costs $7.5 (Rs300), popping in once a week/month costs $25 (Rs1,000), while a more regular monthly pass starts from $72 (Rs2,900).
Laptop friendly cafés
Here are some of the most popular and laptop friendly coffee shops among digital nomads and freelancers:
Chains of cafés their outlets are located mostly in shopping centres across the island which are open 7 days a week: Artisan Coffee: A cosy vintage interior and delicious coffee and pastries provide a great atmosphere to get work done or chill with friends or a book. Café LUX*: cafés located within 5 of LUX* hotel and resorts and also in 5 locations across the island. Vida e caffé: this chain inspired by street cafés of Portugal is located in 4 shopping malls. They use Lindt chocolate in their recipes. Illico: it has 4 locations with delicious coffee, tasty snacks and main dishes.
Laptop-friendly places according to the districts:
Port Louis: Café de la presse, Mabuti Coffee Lounge, Tout De "Sweet", Lea Cafe, Gelateria Love, Sunset Cafe
Black River: Tutti Frutti, Frenchie, Hidden Garden, Le Bistrot de la Poste, Le Kiosk Ruisseau Creole, Roots Spirit Restaurant Bar
Plaines Wilhems: Lea Café and Resto, Le Coffee Shop, Mabuti Coffee Lounge, Praize BookStore & Coffee Shop, Chelsea's Cup N Cake,
Moka: MOKA'Z, Eureka – La Maison Creole
Pamplemousses: Florensuc Patisserie, Kristen's Ice Cream Mauritius, Port Chambly, Wiener Walzer Café Valse de Vienne
Riviere du Rempart: Cafe Eighty 83, CoCo Beanies, Le Deux Café, Cafe Müller
Flacq: Smart Café, O'café, R & B Cake Studio
Savanne: Marilyn Monroe Restaurant, Le Saint Aubin Restaurant, Le Crocodile Affamé
Grand Port: Le Bistrot, The Spot Café,
Apart from that, there are great cafés and bars in hotels and resorts around the island, mostly with beach access. Sometimes it is enough if you go there and place an order, sometimes you would be asked to purchase a daily pass for using the hotel's amenities.
Libraries
If you want to have some work done and without spending on coffee or coworking spaces, libraries are the solution. They are located in every city and town and the internet is pretty fast. Though they close at 4 PM.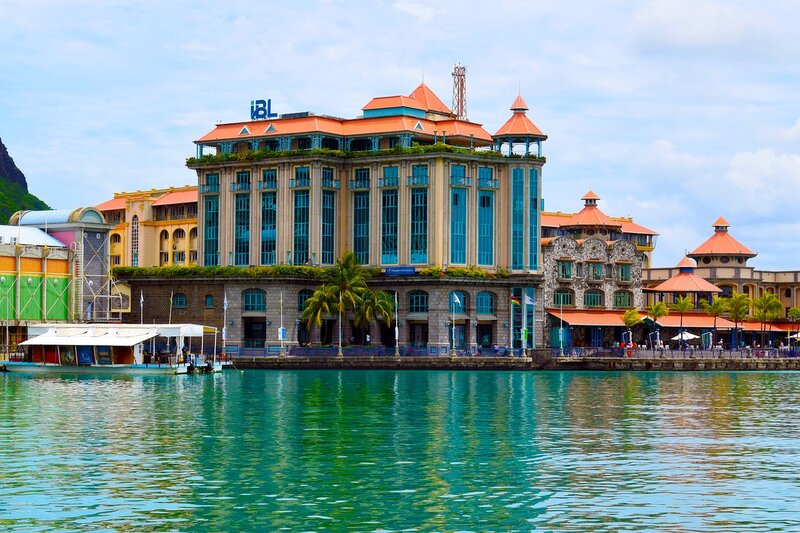 Best Places to Live in Mauritius
Best Neighbourhoods
The Mauritius island territory is divided into nine districts and there are overseas territories. Here are some options to consider for settling depending on your lifestyle.
The North
If your priority is to live in an area with shops, bars, restaurants, beautiful beaches, water activities, good clinics, schools (in case you come with your family), that is the ideal neighbourhood. It combines a leisure and active lifestyle with practicality. The monthly rent of a studio starts from $195 (Rs8,000), a house/townhouse with a swimming pool starts at $490 (Rs20,000), while a house on the beach can cost from $2450 (Rs100,000).
Grand Bay
in "the capital of the North" you live close to everything and enjoy the advantages of the island all year round.
Pointe aux Canonniers
the town is peaceful and chic, close to many places of interest, with beautiful houses hidden behind the gates. The rents are more expensive than in other towns.
Mont Choisy
a popular place where many real estate programmes around a new golf course are developed. The town is close to Grand Bay and has one of the most beautiful beaches on the island.
Pereybère
this town is quiet even though adjacent to Grand Bay. It is peaceful, it has a small public beach with crystal clear water, and rents are lower.
The Southwest
The West and South-West is known for the natural beauty of the landscapes. The lagoon emphasises the mountains that are nearby. The area is less populated than the North, with fewer shops, bars, or restaurants but still, some people who moved here years ago cannot imagine living anywhere else. The prices start from $195 (Rs8,000) for a room/studio, a house/townhouse with a swimming pool starts at $500 (Rs21,000), while a house on the beach can cost from $1720 (Rs70,000).
Tamarin
this village is renowned for being a surf spot and having a dolphin colony. There are many shops, restaurants, offices, a French nursery and primary school. Here you can have a house in the heights with a breath-taking view of the lagoon.
Flic en Flac
its main attraction is a very long and beautiful beach of 2-3km. The town is very popular among locals but gets crowded during weekends or on public holidays when families and friends come to the beach to camp and party. Fewer expatriates live there.
The Center
The centre of the island is mostly populated by Mauritians. It is a dynamic and peaceful place at the same time with most shopping places and businesses, mild climate, pretty easy access to all parts of the country, and you can go to any beach within 40 minutes by car. The prices for accommodation start from $172 (Rs7,000) for a room/studio, a price for a house/townhouse with a swimming pool starts $980 (Rs40,000).
Moka
the heart of the island in terms of geography, but also education. It features many stunning residential homes and offices, and a few large shopping centres to explore; even though it is very close to the centre – 10 km from Port Louis and the Cybercity (Ebène), there you will easily find peace and quiet.
Beau Bassin-Rose Hill
twin towns combined as one, with a high concentration of business and minimal tourist activity. If a quieter lifestyle is your thing, you are likely to find it there. However, there are lots of great places to visit, things to see, and restaurants to try.
Find an Apartment in Mauritius
Looking for an apartment while living in your own country and speaking your language is usually a challenge for many. Yet, moving abroad and finding a place to stay in a foreign country can be very stressful and time consuming. Unless you are relocating with your company which deals with all the relocation hassle, you probably start searching the internet and rent a new place while still being abroad. There are expat groups on Facebook like "Relocation to Mauritius", "Mauritius Expats" and "ExpatMauritius.com" where you can connect with others and ask for a recommendation of a place. Then on groups "Property and land for sale in Mauritius", "Buy, Sell and Rent Properties – Mauritius" and "MoLakaz.mu" you can find offers of accommodation. You can also contact a reputable estate agency to have someone assist you in your search while you are still abroad (consider one month's rent as agency fees). Also, many companies help in finding an apartment, getting a proper visa or permits, and in the relocation process. Other websites with English advertisements are among others: lexpressproperty.mu, propertycloud.mu, parklane.mu. The offers vary from individual rooms in a shared apartment, through affordable flats in any part of the island, to high-end apartments or beachfront villas – there is a room for everyone!
As everywhere in the world, prices vary according to the size of the accommodation and its location. Rent starts from around $172/month for a very basic studio apartment in the centre. A two-bedroom apartment starts from $390/month. A garden house with 3 bedrooms starts from $980/month. Houses by the sea are very popular and more expensive – at least $1830/month. A usual long-term rental period in Mauritius is 12 months. An additional expense to consider is the two- or three- month deposit. To the rent, you will have to add the charges for electricity + internet + water (may be included in the rent) which can amount to $30 to 200/month (in summer months you will use air-conditioning a lot). If you rent a house, you will possibly need a gardener and maintenance of the swimming pool but these are often included in the rental price + cleaning lady.
All the details that should be included in the contract are standard like anywhere in the world. In order not to get scammed, use a wire transfer for any payments, not cash, and do not pay any fees upfront if you have not seen the apartment first.
Cheap Places to Stay in Mauritius
If you are just getting started in Mauritius as a solo digital nomad, there are some low-budget accommodation options that will ease your start. It is worth mentioning the peak tourist season is September till March, therefore, due to the higher demand, the room prices increase accordingly. The rates are the lowest during June-July. Then you can find very attractive deals offered by most of the hotels.
Couchsurfing: According to the couchsurfing.com website, there are approximately 3,000 hosts in Mauritius willing to offer accommodation free of charge. This may be a temporary solution for solo newbies in town who would like to get to know some locals at the beginning of their adventure on the island.
Hostels: There are no hostels on the island.
Hotels: Staying in a hotel may seem like an expensive option but you can find decent hotels of 3 stars for $35 per night.
Airbnb: On this platform you can find accommodation with breakfast included for the price as low as $12. It is usually a basic room in a shared house.
Private lodging: It is an individual room in someone's private house. You stay and share amenities and facilities with the hosting family. The best is to ask locals once you are already in town. Prices start from $10 person/night.
Bed & Breakfast: This option generally offers individual rooms along with breakfast. Prices start from $11 person/night.
Other options include accommodation found on websites like booking.com, hotels.com, etc.
Mauritius Visa
Digital nomads who would like to live and work remotely from this beautiful island for more than 6 months in a year, now have an option of applying for a Premium Visa. The Visa aims at encouraging foreign nationals to come for a long stay as a tourist, a retiree or a professional willing to come and work remotely from Mauritius. It allows a non-citizen to stay there for a period of one year with an option to renew. The Premium Visa is available to citizens of more than 110 countries (find the list on https://www.edbmauritius.org/premium-visa) and is free of charge.
In order to qualify, applicants must declare among others that the main place of business and/or source of income and profits will be outside Mauritius; they are not going to enter the local labour market; have proof of their long stay plans, sufficient travel and health insurance for the initial period; or proof of funds. To get the latest update, please check: https://www.edbmauritius.org/premium-visa . 
If your plan to stay does not exceed 180 days in a calendar year, then you are granted a tourist visa. Mauritius tourist Visa is easily available on arrival for many nationalities. Just keep your passport, hotel booking proofs and a return or onward ticket handy and you are good to go. The initial maximum duration of a tourist stay in Mauritius is set at 3 months. It is possible to request its extension with the "passport and Immigration Office", for a further 3 months. The maximum total duration of a stay in Mauritius is 6 months per year. If you came to Mauritius on a tourist visa, you can apply for the premium visa.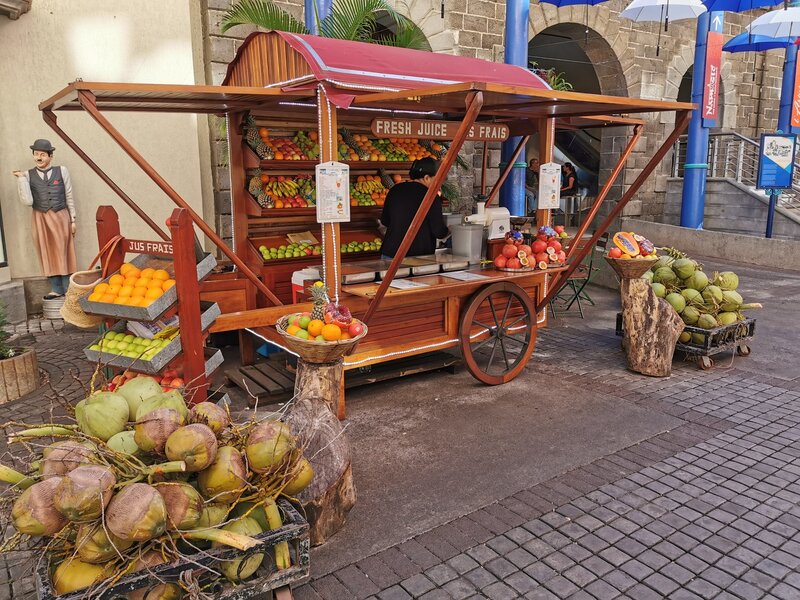 Culture and Food in Mauritius
 Cuisine
The cuisine of Mauritius is one of the most diverse in the world, and it is a blend of African, Indian, French and other European cuisines, as well as Chinese influences. Along the years, each of the country's communities has adapted and mixed each other's cuisine to their liking creating absolutely unique flavours. Also, around 60% of the population is vegan, so vegetarian food is widely available.
The most common ingredients used in Mauritian cuisine are tomatoes, onions, lady's fingers, eggplants, rice, chayote, ginger, garlic and chillies. Seafoods, such as fish, smoked blue marlin, octopus, "camaron" (i.e. freshwater crayfish), are also essential ingredients along with rice regardless of ethnicity.
Be sure to scan restaurant menus or street food vendors for the following delicacies:
Camarons – freshwater prawns in a hot sauc

Millionaire's salad – a lettuce, a palm tree heart, oysters, crayfish, prawns, crabs and a red sauce dressing,
Briyani – a rice dish with Indian spices and meat,
Vindaye – a fish with vinegar, mustard seeds, and turmeric,
Dholl puri – a flatbread filled with spicy ground split peas and served with chutney
Mine frites – fried noodles topped with spring onions and chilli
Gateaux piments – chilli and lentil fritters
Rougaille – a tomato stew made with garlic, thyme, onions and tomatoes
Faratas, rotis, chapattis, naans – types of flatbreads
Chutney (chatini) – a spicy or savoury condiment
Samoussa – a triangular donut filled with vegetables or meat, chilli and spices.
Curry – a fish or meat dish mixed with spicy sauce
Mithai – traditional Indian sweets
Napolitaine – tasty pastries
Alouda – grenadine-flavoured milk with tapioca
Masala tea – spiced tea served with milk and sugar
Mauritians consume a lot of tea (often flavoured with vanilla) and coffee, which are produced here. Alcoholic beverages are also produced on the island: Phoenix, Blue marlin and Black Eagle are fresh and delicious beers, also local rum distillation is gaining international recognition and popularity. The ones infused with spices or with macerated local fruits are really worth trying. The green island is certainly the most famous rum on the island.
Once you go to the market, you will see plenty of vegetables that you definitely do not use at home because either they are grown only locally or you will not consider using them for cooking. In order to taste them, opt for eating in a small local restaurant instead of a chic one, or at friends' place when you are invited for dinner. Also, the variety of local fruits is impressive but do not take fruits you already know for granted: here they have an incredible flavour!
Honey produced on Rodrigues has long been the island's most treasured culinary export (after the octopus); it has twice won silver medals at the London National Honey Show.
Culture
In a country with so many different cultures, religions, ethnicities living door to door in harmony and sharing the various traditions together, the cultural diversity is a vital part of the richness and legacy of this country.
Music plays a vital part in Mauritian culture and the most listened to styles are Séga – the traditional music and dance, Reggae and Seggae (reggae + sega). Each island has its own distinctive style of séga. It is said to originate from the ritual music of Madagascar and the continental Africa, and it is the Musical Expression of the Mauritian Way of Life: Happiness, Amusement and Joy. During festivals, it is a custom for Mauritians to dance on the beaches, to the rhythm of various instruments. The female dancers wear huge colourful full- length patterned skirts and matching petticoats while men wear rolled-up trousers, colourful shirts and straw hats, in memory of the dress of their ancestors. Because of the sand (some say because of the shackles), there could be no fancy footwork, therefore the feet never leave the ground. The rest of the body makes up for it and the result, when the fire is hot, can be extremely erotic. Three types of séga have been included in UNESCO's Intangible Cultural Heritage lists.
If you happen to come across a group of Mauritian feasting on the beach around a campfire, feel free to join them in their dances. They will welcome you undoubtedly with great pleasure and you will have a very fun and unforgettable time. 
Musicians in Mauritius are quite talented and through the years Mauritian music has evolved to international standards. There are many jazz and blues artists around the island but also more evolved artists performing R&B, hip hop, soul, dubstep, club, techno and other worldwide known music.
One of the local traditions is the "Sundowner" – literally the "sunset" – is a weekend and holiday ritual when the Mauritians meet on the beach to enjoy the last rays of the sun: a very pleasant moment, especially in summer.
Another colourful traditional event organised every year, which comprises sports, culture, food, and ecology, is the Regatta: fishermen embark on their regatta canoe – called a pirogue, to demonstrate their know-how and their ability on the sea, especially against other fishermen of the island.
Festivals and celebrations in Mauritius are typically filled with vibrant colours and festive parties. There are 15 public holidays in Mauritius of all cultures within the year, each of them is exceptional and worth attending. Here are some worth mentioning:
Chinese New Year (January/February) and 15 days later the Lantern Festival; Thaipoosam Cavadee (January/February) – a spectacular Tamil celebration; Thimithi (January/February) – The Walk on Fire, a celebration of the Tamil people; Maha Shivaratri (February/March) – a huge pilgrimage to the sacred lake in honour of the Hindu god Shiva; Holi (March) – a festival of colours; Ugadi (March/April) – New Year for some Hindus; Ganesh Chaturthi (August/September) – Hindu festival in honour of the god Ganesha; Diwali (October/November) – the Hindu festival of lights, when they exchange lots of sweets.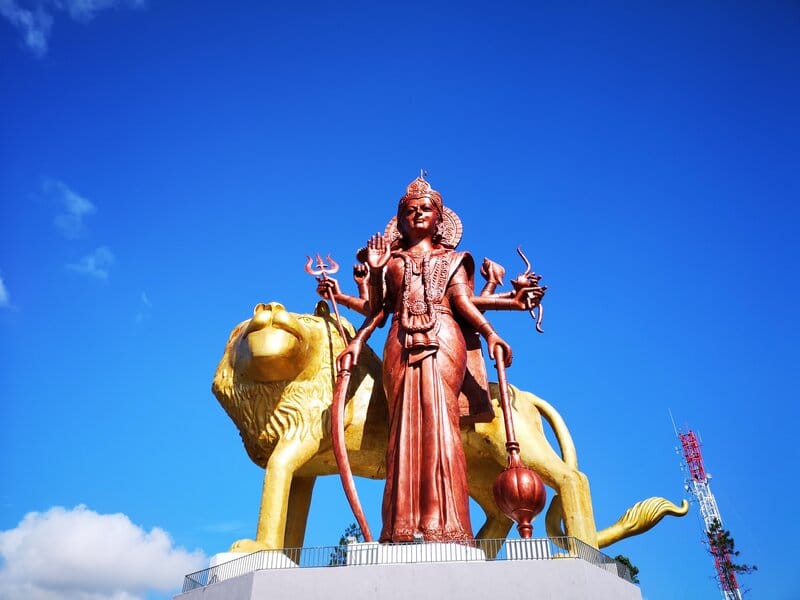 Mauritius Nightlife
Even though the island does not have a reputation of a party place, after chilling on the beach or enjoying water sports during the day, the night has also a lot to offer. The main nightlife centre is believed to be Grand Bay but other districts have pubs and bars worth visiting. Those who stay at hotels and resorts tend to remain there also for the night fun, here are a few places and ideas to consider visiting and experiencing among locals:
Banana Beach Club
Banana Beach Club (Grand Bay, North): a much-celebrated gem of Mauritius' nightlife. The excellent location – opposite the public beach – is one of the attractions for visitors from all over the island. An open-air seating and dancefloor, flamboyant interiors, live music and appetising handcrafted cocktails, are strong points of this place.
On the upper level of Banana Beach Club there you will find Zanzibar Nightclub where DJ nights happen a few times a week.
C Beach Club
C Beach Club (Domaine de Bel Ombre, South): the first beach club in Mauritius, located right at the edge of the ocean, attracts the classy and elegant, also the general public. The ambience with chic music and occasionally international DJs makes you dance all night and enjoy cocktail after cocktail. You may like it so much that you decide to stay back after the Saturday night fun and leave after having the delightful Sunday brunch.
Big Willy's
Big Willy's (Tamarin, West): a beer garden, sports bar, night club, and a restaurant.  Local and expats living on the island enjoy this chilled out and cosy place because it offers dancing, live entertainment and DJ nights on Fridays and Saturdays. Also, the big screens and surround sound system will not disappoint the sports fans. A varied assortment of beers and an extensive menu pleases most palettes.
Shotz
Shotz (Flic en Flac, West): found right opposite the public beach, it is known for its themed parties (Halloween, Valentine's Day, Christmas, New Year). The regular parties are often featured by international DJ's and artists. There you will find a wide range of cocktails, a baby foot table and pool tables.
The Irish
The Irish (Beau Bassin, Centre): the first Irish pub in Mauritius, located in La City Trianon shopping park. It is a good place to have a drink after work, grab a snack or meet up with friends in the evening: the food is tasty and has an Irish zing, a wide selection of whisky, beers and cocktails. Fans of European football can enjoy matches broadcasted on TVs. On Fridays and Saturdays there are live and DJ sessions.
The Beach House Bar & Restaurant
The Beach House Bar & Restaurant (Grand Bay, North): the bar is located directly on the beach overlooking the beautiful lagoon. The ambience is cool and leisure, but sports and surfer at the same time. It is a great place for lunch and dinner, the food is really tasty. In the late afternoon, just come and grab a drink or just listen to live music, and admire a beautiful sunset from the beachside location.
Pure Festival
If you are a fan of concerts and festivals, the Pure Festival may be your thing. It is a boutique festival which takes place 4 to 5 times a year. It showcases local artists from different styles, mostly house, disco, deep house, techno, melodic and tribal sounds, and each time it takes place at most beautiful resorts around the island.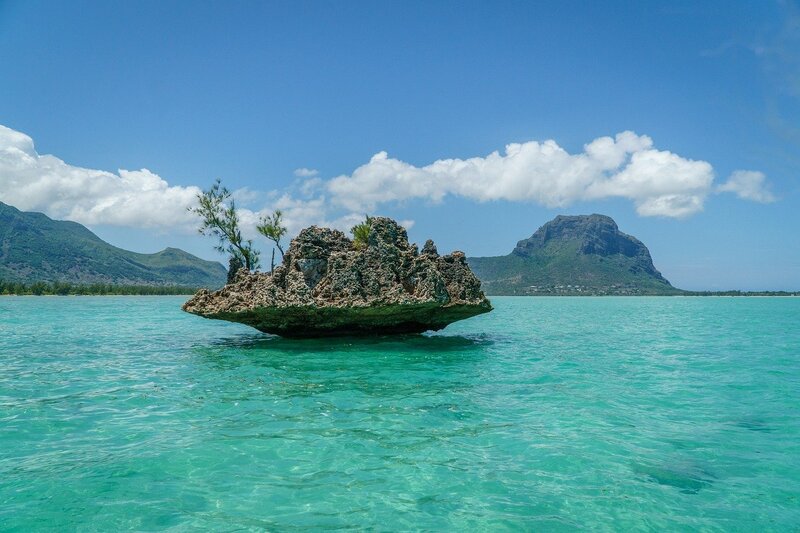 Things to do in Mauritius
Mauritius is such an interesting place to visit that people come and visit it all year round.
The island offers loads of recreational facilities of all sorts.
Going beach hopping is definitely one of the most popular activities to do to explore the best, most unique and lovely spots around the island, to either relax, among crowds or in your own company, or enjoy some water activities and adrenaline. All beaches of Mauritius are public, whether they are hotel, resort or private villa beaches. Some are actually dangerous for bathing. There are no nudist beaches in Mauritius. Here is a little guide on different coasts:
East: Belle Mare public beach (long stretches of white sand with crystal blue waters and tall casuarina trees), Palmar, Poste Lafayette, Bras d'Eau (beautiful sunrise and sunset views, great for stargazing), Blue Bay (very picturesque, crystal clear water)
North: Grand Bay public beach (with emerald-coloured water to swim, sail and surf), La Cuvette, Pereybere, Trou aux Biches (this 2 km long, beautiful beach that is quite popular with families), Mont Choisy Beach (one of the pristine beaches, with easy to find quiet spots), Cap Malheureux, Grand Gaube
South: St Félix (very quiet, swimming and bathing is not possible due to the strong sea currents), Riviere des Galets, Gris Gris (a spectacular view from the top of its cliffs), Riambel
West: Flic en Flac (one of the longest, swimming possible without strong sea currents, very popular during weekends), Tamarin (the sea can be rough or have a strong current, great for surfers), Le Morne, Albion.
Other activities to enjoy clear and warm water:
Diving is a must-have experience to discover the Mauritius underwater life. Both beginners and certified divers can be sure to enjoy various diving activities in the perfect conditions. Beginners may find the PADI Discover Diving a great option, while certified divers may choose among safaris, wreck or cave diving. Best spots: Pereybere, Grand Bai, Tamarin.
The non-swimmers and non-divers also have the possibility to enjoy the underwater activities. Try the glass bottom boat trip, the underwater submarine, the underwater sea walk, or the underwater scooter adventure, just to name a few!
Kitesurfing there are a few spots for the best experience: Le Morne (best winds May-October) is one of the leading world kitesurfing destinations, in the lagoon you can learn and practice, if you are a more advanced surfer who likes to play in the waves, just go about 600m from kite lagoon to enjoy some of the best wave conditions in the world. Calmest lagoons are situated at Bel Ombre.
Mont Choisy, Ile aux Cerfs, Manawa
Grand Bay, at Belle Mare, Ile Aux Cerfs,
begins from Pointe Aux Sable on the west coast. 
Le Morne peninsula, Manawa, Little One Eye and Reef.
Sea kayaking trip to Ile D'Ambre
Sailing or cruising on a catamaran
Gabriel Island, Flat Island, Ile aux Cerfs Island, to name a few. Boats and catamarans can be rented among others in Tamarin, Grand Bay, Mahebourg.
Some activities to raise your adrenaline level and admire nature at the same time: 
Quad biking activities and 4×4 off-road drives
Yemen Natural Reserve, Frederica Nature Reserve, Casela World of Adventures, and more.
3.5 km zipline at Domaine de L'Etoile, Galets River, Yemen Reserve, Black River Gorge, National Park, Casela Park
Bras D'Eau (Roche Noire), Mountain Biking at Macchabee Forest (South West Region).
Whale and dolphin watching
Whale and dolphin watching from a boat, swimming with dolphins on the West coast.
Attend a horse race at Champ de Mars (Port Louis) which takes place on Saturdays. The track fills with emotions, anticipation and excitement while many people, mostly locals, start betting on their favourite horses or stables. Even if they do not bet, visitors can enjoy the view of horses warming up around the paddock before the races.
Nature fans surely will enjoy expeditions to spot animals and bird like the giant tortoises, crocodiles, rare Pink Pigeon, Echo Parakeet, endangered skinks and various other animals which are to be observed during visits to Crocodile & Giant Tortoises Park, Ile Aux Aigrettes Island and the various Nature Reserves.
Big game fishing or deep-sea fishing in Mauritius surely may bring you the adrenaline rush. Day or overnight trips are organised from Grand Bay and Black River, or you can take part in an expedition to remote fishing destinations such as St Brandon, Soudan Bank or Agalega.
If you are a fan of hiking and trekking, the island offers tours in parks and reserves with breath-taking views of mountains like the Piton De La Petite Riviere Noire (the highest mountain), Trois Mamelles, Le Pouce summit, Lion Mountain, The Corps de Garde, The Tourelle de Tamarin, Le Morne Brabant (the path of the runaway slaves); rivers: trek along the Galets River; waterfalls like Tamarin Falls or 7 cascades, Quintré Waterfall; lakes: La Nicoliere reserve; forests like Black River Gorges national park, Maccabée Forest. You will have a chance to observe local fauna and flora, of which species are often found only in Mauritius.
Go on a seaplane tour of the underwater waterfall – one of the most renown spots of the island.
Riamble, Cascavelle, Le Morne
Rodrigues Island is strikingly beautiful, pristine and tranquil. The island is hilly with a lot of flora and has a lot of beaches and tiny islands around it, such as Ile aux Cocos. It is home to some of the world's most spectacular coral reefs and marine life ever to be seen. It is also one of the best "multi-fishing" destinations in the world. There you can visit The Giant Tortoises Park, enjoy a zip line experience at Montagne Malgache, explore the enigmatic cave Caverne Patate, go hiking to Mont Limone, or go kitesurfing.
Ile aux Cerfs Island is a small paradise island with preserved white, sandy beaches, beautiful lagoon and a big selection of activities and facilities. There you are sure to have a day of relaxation and fun on one of the picture-postcard beaches, and to enjoy a swim and snorkelling in the lagoon
Golf has become one of the top sports in Mauritius and is one of the main attractions for visitors. Mauritius was the third country in the world where golf was played. The first club, the Gymkhana, was opened in 1902, making it the oldest golf club in the Southern Hemisphere. Local golf courses offer exciting experiences in beautiful natural settings, ranging from basic 9 holes courses to the championship ones with 18 holes designed by the world leading golfers. Tamarina Golf Estate, Golf du Château or Ile aux Cerfs Golf Club.
The Photography Museum of Mauritius
The Photography Museum of Mauritius contains a collection of over one thousand cameras of different eras, acetate negative films, dozens of daguerreotypes, more than 200,000 shots of history and landscapes of Mauritius, thousands of old postcards, all the available information about Mauritius and its inhabitants since early 1800's.
The Pamplemousses Garden, the oldest botanical garden in the Southern Hemisphere, is most famous for its long pond of giant water lilies. It also features spices, ebonies, sugar canes, and 85 varieties of palms brought from different corners of the world, in total there are around 650 different species of plants. Many trees have been planted by world leaders and royalty.
Vallée des Couleurs (South-West) is a magnificent place for many reasons. It is home to various species of fauna and flora. Here is situated Chamarel 7 Coloured Earth Geopark where you find a rare phenomenon of sand dunes in 7 different colours. Adjacent to the dunes, you will see 6 giant tortoises leisurely strolling around their park. Just nearby there is a spectacular Chamarel waterfall of 100m height. If you are a coffee fan, the visit cannot end differently than by having a cup of locally grown coffee in the coffee shop at the Geopark. The valley also offers a selection of fun activities: zip line excursions, a Nepalese bridge, quad biking and buggy. The nearby Ebony Forest, which is one of the best-preserved ebony forests in Mauritius and once home to the Dodo, is also home to many endemic birds which you can watch.
The Casela World of Adventures Park
The Casela World of Adventures Park It is a real nature and adventure park. The Zip Lines are ideal for anyone in search of new experiences and an adrenaline rush. There are different configurations of the zip lines, including a Nepalese bridge or a zip splash. Other attractions at the park you can enjoy: an alpine coaster of 800m, a walk through the bird aviary with bird species from around the world, a safari tour with wild animals, the Big Cats' Park, a kids' playground and a 4D cinema.
Island Hopping You can take a ferry or catamaran ride to many of the islands around Mauritius, like Ile aux Cerfs, Ile aux Aigrettes (a tiny coral island declared a nature conservation site, contains plants and animals found only in Mauritius), Ilot Gabriel, Ile d'Ambre, Ile au Ronde, Ile Benetiers, Ile de deux Cocos, Coin de Mire and Flat Island. If you are a fan of rum or new flavours, definitely go for one of tum tasting tours which are offered by: Litchquor Tasting Lounge, the Rhumerie de Chamarel Distillery, or Domaine des Aubineaux, where you can also discover the making of of teas, rum, vanilla, essential oils. To see how tea is produced, visit Bois Cheri Tea Factory.
Best Time to Visit Mauritius
Mauritius enjoys a tropical environment due to its location near the Tropic of Capricorn. There are two seasons: a warm humid summer with a mean temperature of 76.5 °F (24.7 °C) from November to April, and a comparatively chilly dry winter with a mean temperature of 68.7°F (20.4°C) from June to September. January and February are the hottest months, with average day maximum temperatures of 84.6 °F (29.2 °C), while July and August are the coldest, with average night-time minimum temperatures of even 61.5 °F (16.4 °C). The annual rainfall in the central plateau ranges from 35 in (900 mm) on the coast to 59 in (1,500 mm) on the coast. Although there is no distinct rainy season, the summer months get the highest rainfall. The lagoon's water temperature ranges from 72 to 81 °F (22 to 27 °C). The central plateau is significantly cooler than the coastal areas by around five to seven degrees. The east half of the island is kept cooler by the prevailing trade winds, which also bring more rain. Tropical cyclones strike every now and then between January and March, disrupting the weather for three days and dumping heavy rain. Mauritius is best visited between May and December when the weather is pleasant and dry. All year round there are approximately 5-8 hours of sunshine a day.
Mauritius for Families
The island is a fantastic place also for families where you can enjoy quality and active time together. Rest assured, the destination is a kid-friendly one: you can easily find pharmaceutical supplies, imported baby food and disposable nappies, most car rental companies offer child safety seats (recommended to book them in advance), using a stroller is not a hassle, and there are plenty of family-friendly accommodation options all over the island.
Here are a few places with indoor activities, all suitable for children and families:
At the Mauritius Glass Gallery, you will enter the amazing world of glass blowing and glass ornaments where you can even have a glass model made from an imprint of your hand or foot in sand. At the interactive Sugar Museum, the kids can learn about Mauritius in a fun and sweet way. The Curious Corner of Chamarel is a wonderful world of optical illusions filled with unique attractions. The Kids Adventure Park on the East Coast provides hours of kids' fun for children, bringing out the outdoor adventurer lurking inside every kid.
If your children love animals, visit the different animal parks such as the Crocodile & Giant Tortoises Park, Safari and Bird Park or Ile Aux Aigrettes.
For some more adventurous activities, head to the northern region of Mauritius to enjoy off-road adventure or fun drive in the kids' zone circuit (the field trip as from age 7 years old). For the whole day of fun water activities for the whole family go to the Splash'n'fun Leisure Park, while Tysplash is a great secure splashpad for children from 0.90 to 1.50 meters. The must do underwater marine discovery excursions are the submarine trip, glass bottom boat, dolphins' trips and Pirate Boat cruise full day trip on a beautiful Pirate boat. 
The academic level in Mauritius is very impressive: Mauritian students consistently rank in the world each year for Cambridge International O Levels, International A and AS Level examinations. From Prep to Senior School, as well as boarding options, Mauritius has a wide choice of schooling that meets international standards.
Education in Mauritius is largely based on the British system; however, French and international schools are also well represented. Tuition fees are expensive and the waiting list for applications can be very long. The education system consists of 4 categories of formal education: 2+6+5+2. The teaching of English and French are compulsory in all schools. Students also have the option to learn any ancestral languages spoken in Mauritius: Other languages include Italian and Spanish, Mauritian Creole in primary schools. The schools offer a wide range of activities on their premises: football, golf, magic, chess, yoga, theatre, handball. A lot of space is given to music, dance and sports, which give self-confidence and joie de vivre.
The English-speaking schools are: The International Preparatory School, Northfields International School (NIS), Westcoast International Secondary School (WISS) and Telfair International Primary School (TIPS). The French-speaking schools are: École du Nord, École du Centre, Lycée La Bourdonnais, Paul et Virginies,  Lycée des Mascareignes.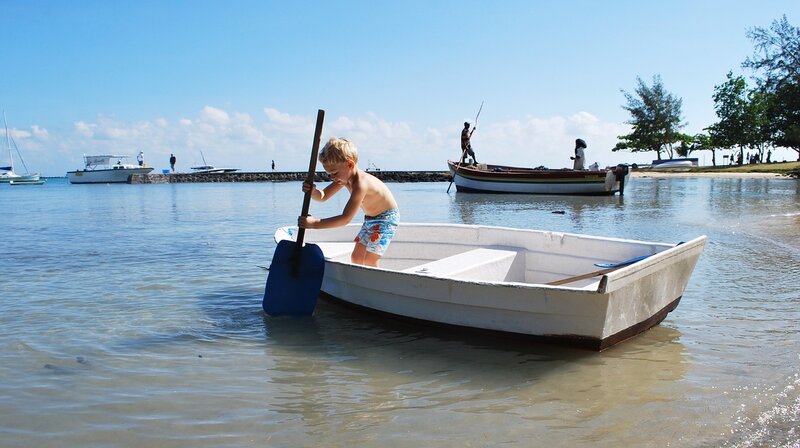 Living in Mauritius
Generally, Mauritius is very safe to visit. It is probably one of the safest countries in Africa to travel to, but it has its dangers. Use your common sense and keep your valuables closely by your side, since the most common type of crime is petty theft.
Mauritius Transportation
Mauritius has a strong transportation infrastructure. The system of main roads is well developed and in good repair, and almost all roads are paved.
Bus
the bus service is safe and good, and it is the most economical way to travel and explore the island, often in air-conditioned buses on selected routes. Most bus conductors are helpful and will happily provide directions. Carry loose change to pay for your bus tickets. The fares vary from $0.44 to $1 (Rs18-40), depending on the distance. Generally, in bigger cities buses operate between 05:30 and 20:00 every 15 minutes, in the rural areas usually between 06:30 and 18:30 less frequently. There are no published timetables. Locals are the best source of information and can help you work out the best way.
Taxi
is the best and easiest way to get around in Mauritius. Though slightly expensive, the taxis are safe and comfortable, especially if you are travelling long distances; the drivers are very knowledgeable so it is a great way to explore the island. Choose a reputable, licensed and metered taxi – it has a sign on top of the car and its routes on the sides of the vehicle. Sometimes they operate like a shared taxi – when taxis go in one direction with clients, on the way back they fill the seats with passengers waiting at a bus stop and charge almost as much as the bus fare is. 
Rail
The Metro Express is the only light rail public transport system in Mauritius. Currently it is still under construction but a half of the route is already operative: it connects the capital city with Rose Hill, eventually it will reach Curepipe in the centre of the island. The platforms are very user-friendly; you can buy a ticket in a ticket machine before boarding ($0.74 – Rs30). The trains are very modern with air-conditioning and a Wi-Fi facility.
Boat/ship
This is a great way to explore the coast and islands around Mauritius; many private boat companies organise day tours to nearby islands. 
Before Covid-19 it was possible to arrive in Mauritius by a cruise ship to the port of Port Louis. 
Bicycles and motorbikes
They are a great and inexpensive way to explore the island when you travel short distances. Many hotels and tourist offices offer bicycle tours, and bicycles and motorbikes (or scooters) are available to rent across the island. However, it is not the most comfortable way of travelling because of heavy traffic, narrow roads and drivers not really considering the cyclist while driving. Expect to pay around $6 person/day (Rs250) for a normal bike, $12 (Rs500) for a mountain bike, and $37 (Rs1500) for an ATV with electric assistance. You will be asked for a deposit of $123 (Rs5000), either in cash or by taking an imprint of your credit card.
Airplane
The main airport called Sir Seewoosagur Ramgoolam International Airport or "SSR" is located on the east of the island. Before COVID-19, it operated over 300 direct international flights per week by more than 20 international airlines. Air Mauritius operates locally between Mauritius and Rodrigues a few times a day. To get from the airport to your location, you can either take a licensed taxi – you will be informed about the fare before getting in, or arrange transportation with the hotel/your accommodation.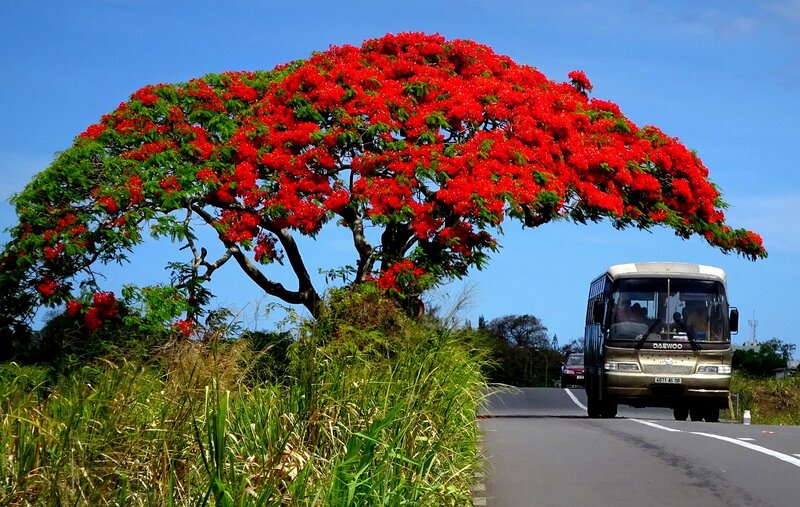 Fitness and Health
There are plenty of options to keep fit in Mauritius due to a very active sporting culture. Football (soccer), introduced by the British, claims the greatest number of participants and fans. The small Franco-Mauritian community avidly supports a highly organized and rather ritualized season of deer hunting. Mauritians from all communities make winter horse racing one of the most popular and highly attended sporting activities of the year. Individual Mauritians have competed at the highest international levels in both bridge and backgammon. Besides that, obviously water sports, yoga, beach volleyball, golf, and zumba are probably the most favourite sports of the island dwellers. You should not have too much difficulty in finding a group, club, or facility to join if you like company.
Fitness clubs are spread across the island, among others Ennoia (2 locations), SPARC on the west coast, MUGA (3 locations – is a Community based Fun and Fitness movement created by the Mauritius Telecom Foundation in order to promote healthy living through physical activity and education for all segments of the population, where all activities are free of charge except Futsal), RM Club; most of hotels and resorts have gyms as well and you can enquire about a a day pass or a membership.
Most gyms contain a swimming pool, a fitness centre, a jogging track, a football pitch, Petanque and 5-a-side pitches, basketball courts, and a medical centre. The gyms have different rates: you purchase a one-time entry for about $12 (500 MUR), a time-limited pass without registration or join a gym for one year and pay a monthly fee of (from $25-45 – Rs1000-1800).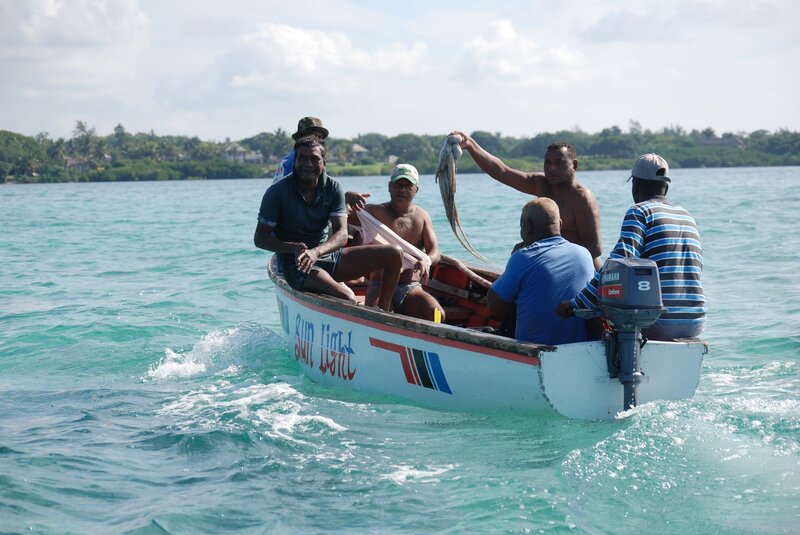 Mauritius People
The incredible people of Mauritius are known for their amazing attitude to life, joie de vivre and no-stress mentality. They are typically welcoming, proud, happy and incredibly friendly, polite, confident, content and peaceful. Mauritians are social people and it is appreciated if you greet them politely, mostly using Bonjour and Namaste. Mauritians are tolerant people, although its culture is conservative. Dress is culturally dependent but somewhat conservative, made of lightweight and coloured fabrics. When visiting any of the places of worship, do not show much skin – women should cover up their skirts with a sarong. Toplessness and nudity are frown upon for either sex.
Often several generations live together under one roof and the main social unit is the extended family – as evidenced by the size of family parties at weekend picnics. There is minimal social-security provision in Mauritius; people rely on their family in times of need. Mauritians are usually married by the age of 25 and the majority of wives stay home to raise the family, while husbands earn the daily bread. Arranged marriages are still the norm among many Indian families. Among all groups, religion and religious institutions continue to play a central role in community life.
Owing to its geographic location and centuries of colonialism, the people of Mauritius are highly diverse in culture, language and faith. It is a multi-ethnic society: approximately two-thirds of the population is of Indo-Pakistani origin, mostly descendants of indentured labourers brought to work in the sugar industry during the 19th and early 20th centuries. About one-fourth of the population is Creole (of mixed French and African descent), and there are small numbers of people of Chinese and Franco-Mauritian descent.
Mauritians commonly speak two, three, or even more languages which they tend to switch according to the situation. The Mauritian constitution makes no mention of an official language, only that the official language of the National Assembly is English (French is also accepted to address the chair). Most commonly spoken are: English (which is taught at school, used in government and for administrative purposes, and in business), Mauritian Creole, and French (used primarily in the media and literature, and is actually more widely understood than English) but some ancestral languages from India and China can also be heard like Bhojpuri, Chinese, Hindi, Marathi, Tamil, Telugu and Urdu. The Asian languages are used mainly in music, religious and cultural activities. The most widely spoken language in the country is definitely Mauritian Creole, the unofficial 'national language' which evolved in the 18th century from French with some additional influence. Every island of Mauritius has its own version of Creole but they are very similar. Surprisingly, there is no agreed-upon written form of this language, however, so it appears unlikely that this would be adapted as a national language despite its widespread use. At the school level the official policy is to promote ancestral languages.
Mauritius religions range from Hinduism (which is the only country in Africa where Hinduism is the predominant religion with the most devotees) and Islam to Christianity and Buddhism, and the people of Mauritius are free to worship whatever faith they desire. You will see picturesque churches, complex pagodas, colourful temples and mosques when you go around Mauritius. The religious festivals in Mauritius are well worth experiencing, it is sure to be a highlight. The Mauritians are very interested in many of the island's famed leisure activities, and with so many religious and public holidays throughout the year, they are able to take advantage of the beautiful surroundings. Picnics on the beach, watching exciting horse races in Port Louis, and participating in a variety of land and water-based sports are just a few of the benefits of living in Mauritius.
The great Mauritian culture is celebrated in the daily lives of the inhabitants through excellent food, art, music, and dancing. The inhabitants are extremely proud of their country and will go out of their way to make your stay in paradise even more unforgettable.
Mauritius Insurance and Medical Care
Mauritius has two types of healthcare: public which is administered by the Ministry of Health and Quality of Life; citizens and foreigners can take advantage of the country's free public health services, and private clinics and practices can be costly, but they are widely available around the island. They are modern and well-equipped for routine medicine and a few specialties. Most medical diseases can be handled in Mauritius, although some require patients to travel to Reunion Island, India, or South Africa for treatment. In order to receive quality care, it is strongly suggested that expats and digital nomads acquire suitable health insurance coverage for Mauritius.
Plastic surgery and dental treatments are also in high demand among visitors in Mauritius due to the low cost. French, English, Hindi, and Mauritian Creole are spoken in all private clinics and state hospitals.
Across the country, there are over 160 medical facilities open 24/7, providing a variety of healthcare and medical treatments, and numerous pharmacies. Telemedicine became a common healthcare delivery method with an on-line platform starting in 2020, following the Covid-19 pandemic. In Mauritius, contact 999 or 114 for emergency medical assistance and request an ambulance. Both commercial and public ambulance services are available, albeit their quality and response times vary.
Dengue fever is a year-round risk that occurs throughout the country, with peak transmission from March to May. On Rodrigues Island, there is no danger. Mauritius has no incidences of malaria except in a few rural locations. As a result, unless you come from a place where yellow fever transmission is a problem, you do not require any immunizations.
How to stay healthy in Mauritius? Stay hydrated. Always remember to apply sunscreen and wear a hat or umbrella when walking in the sun. Use a mosquito and bug repellent during summer, especially if you are going to be in the woods.
Make sure you are fully covered by reading our full Digital Nomad Travel Insurance guide.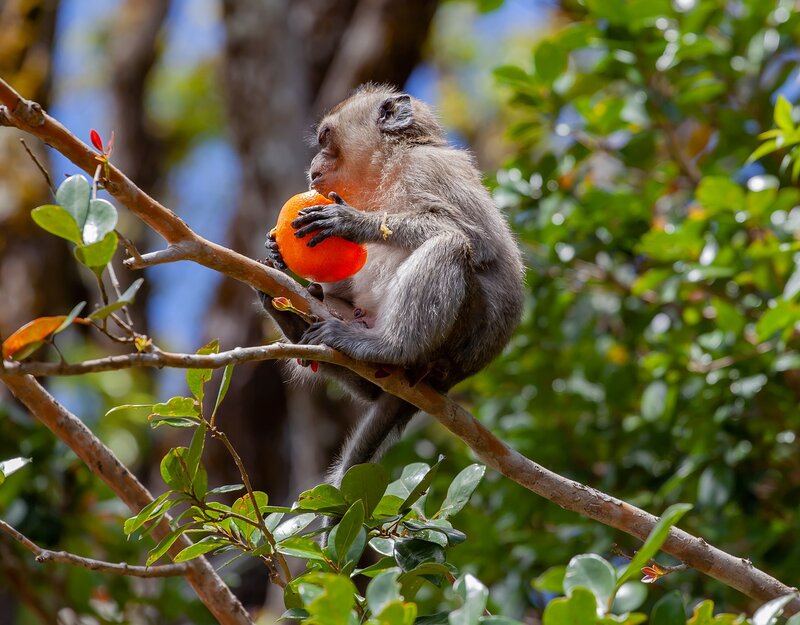 Jobs in Mauritius
The Mauritian economy is based on four sectors: textile, tourism, sugar and offshore financial services. However, there are many opportunities for expats in areas including banking, tourism, accounting, marketing, IT, architecture, and business consulting. Tourism is the sector that recruits the most in Mauritius with that of new technologies and communication. The free zone has created many employment opportunities, particularly in the offshore services sector. If you are interested in employment in Mauritius, here are some recruitment sites worth checking before you leave: linkedin.com, hotelcareer.com, MyJob.mu, michaelpageafrica.com. Residents of Mauritius are required to pay income tax starting from 10% and rising to a maximum of 30%. Also be aware that, as in many foreign countries, local employment is protected, so your potential future employer will have to justify the fact that your skills are specific and could not be found among the Mauritian population. Important: jobs in the water sports business and car rental services are not accessible to non-Mauritian citizens.
A foreign worker needs both a Residence Permit and a Work Permit (to be processed before arrival) to work in Mauritius. Consult and apply on the e-Work Permit Portal on Employment Division Work Permit Unit.  
For a digital nomad who wants to live in Mauritius temporarily, finding work online and making money remotely may turn out to be a better option than trying to acquire a work permit.
The unemployment rate in 2020 and 2021 rose to more than 10% due to Covid-19. Due to Covid-19, many areas of the economy have been affected but once the restrictions are lifted, the situation is likely to improve.
Check out our Digital Nomads Jobs Postings to find the best jobs available for Digital Nomads.
Nomad Friendly
Value for Money
Internet
Workspace
English
Food
Safety
Health
Transportation
Friendly
Quality of Living
Cost of Living Mauritius
With housing opportunities starting at around $200 for a basic studio in a town, a relatively low transportation cost and a fairly reasonable food budget, living in Mauritius seems to not be a big challenge. The cost of living is lower than in Europe but higher than in the Maghreb or Asia. However, if you want to live a more comfortable life in a nice apartment, consider spending at least $600. In terms of food products, meat, fruits and vegetables are expensive – it is better to buy them directly in markets rather than in supermarkets. Also the price depends on the season and religious holidays – when there is a fasting period before some holidays, prices of veggies can skyrocket, especially tomatoes: 1kg before Maha Shivaratri can cost even $6.50 (260 MUR) while a few weeks later it will be $2.50 (100 MUR). Mauritius is an expensive place and toiletries, cosmetics and cleaning materials could cost your wallet. So, if you are planning to save a few more bucks on your Mauritius trip, carry your sunblock instead of buying it there. 
In resorts and hotels, the price for dinner is around Rs3000 MUR per person – that is $60 – 90 per person. Mauritius outside of resorts is not overly expensive, there are plenty of places to buy tasty food, from stalls along streets to bistros and restaurants. Usually it is best to look beyond the touristy areas which tend to be the most expensive and check out online customer reviews to find some great-value restaurants. 
All in all, you can live comfortably in a couple with about $1210 USD a month including everything: rent with utilities of around $650, food approximately $250, transportation $50, leisure $200 and workspace $60.