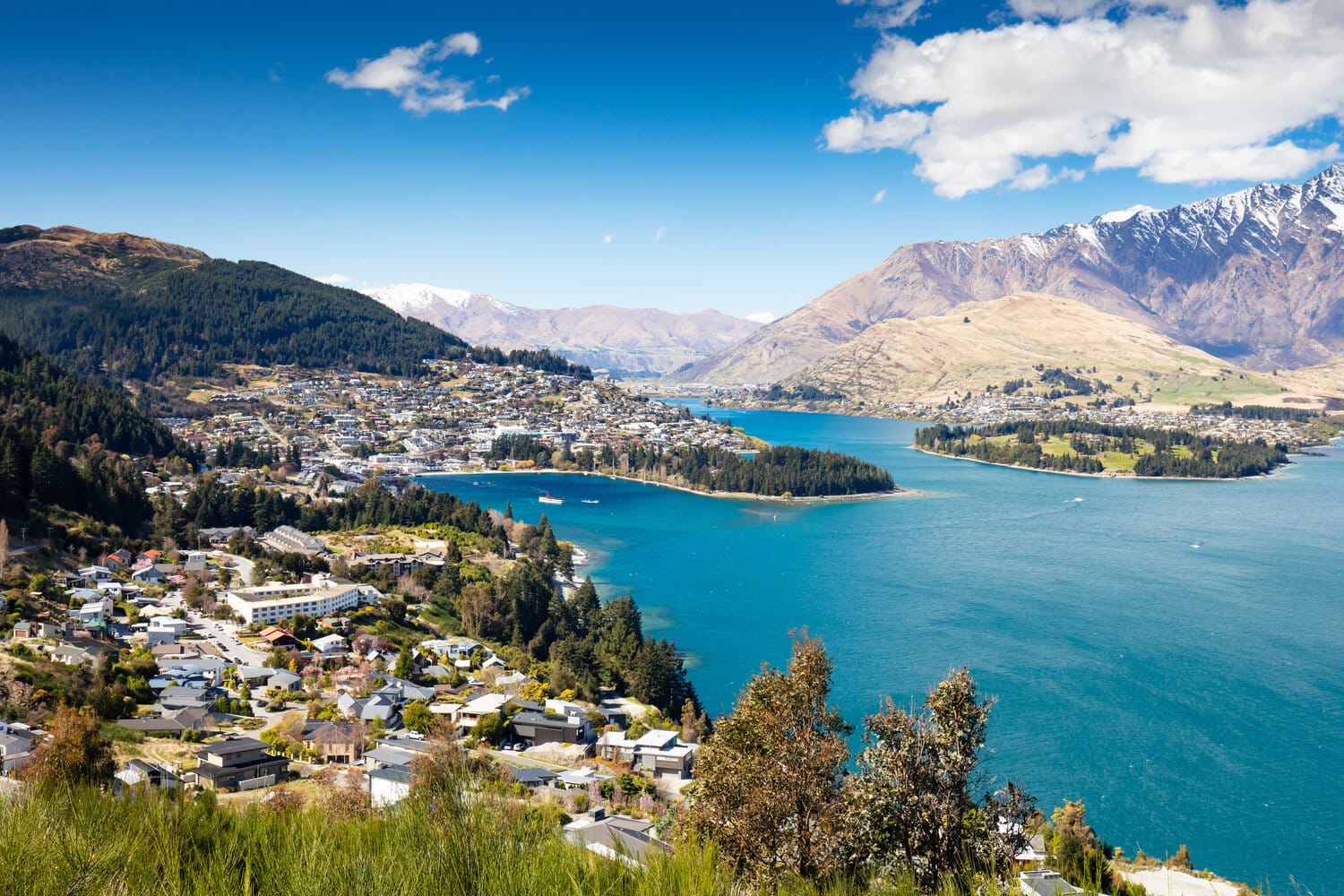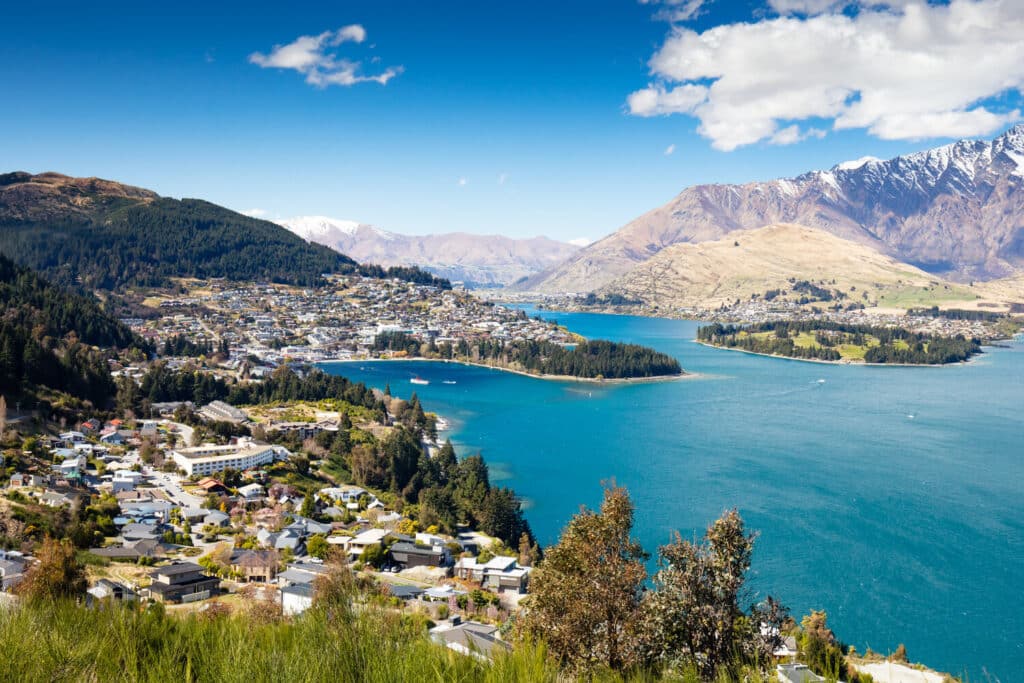 A Digital Nomad Guide to Queenstown
Queenstown is located in the heart of New Zealand's South Island (and is now officially Covid-19 free!) and is internationally known as the adventure capital of the world. Queenstown has a relatively small resident population of around 20,000 inhabitants, but its high number of visitors increases this to over 45,000 in peak season. Surrounded by natural beauty including mirror-like lakes and vast mountain landscapes, it's truly hard not to fall in love with this energetic resort town.  
Due to its well-established name amongst travelers, Queenstown tends to be on the pricier side than other destinations in the country. With New Zealand already being widely known as expensive, it's best to be prepared for an above-average cost of living. Of course, these prices come with great perks, such as world class healthcare, affordable education, and immaculately kept streets.  
The town is relatively small, which means it is an incredibly walkable city, with anything from bars and restaurants to spectacular greenery all in one place. It is also home to striking Lake Wakatipu which has spectacular views of The Remarkables, a mountain range lying in its backdrop. Queenstown is certainly set in one of the most picturesque locations in the country.  
You won't be short for things to do in Queenstown with the city boasting a wide range of incredible activities. From adrenaline-fueled sports, including bungee jumping and skydiving, to an array of spectacular walking and biking trails located just on your doorstep. Queenstown has a young and lively atmosphere and is a haven for digital nomads looking to move to the country. 
Nomad Friendly
Value for Money
Internet
Workspace
English
Food
Safety
Health
Transportation
Friendly
Quality of Living
Living in Queenstown Overview
| | |
| --- | --- |
|  Meal, Inexpensive Restaurant | $13.44 |
| Domestic Beer (1 pint draught) | $3.36 |
| Cappuccino (regular) | $3.30 |
| Loaf of Fresh White Bread (1 lb) | $1.56 |
| Water (1.5 liter bottle) | $1.34 |
| One-way Ticket (Local Transport) | $1.34 |
| Basic Utilities (Monthly) | $182.58 |
| Internet | $90.73 |
| Fitness Club (Monthly) | $59.48 |
| Apartment (1 bedroom) in City Centre | $1,467.36 |
Currency: Indonesian rupiah (Rp)
[erw_exchange_rates_widget lg="en" tz="0″ fm="IDR" to="EUR,USD,GBP,AUD,JPY,RUB" st="primary" cd="" am="15000″][/erw_exchange_rates_widget]
ATMs
Max Withdrawal: Rp 3,000,000
Withdrawal Fee: Rp 30,000 – Rp 50,000
Use of Credit Cards: Mostly Cash
Digital Nomad Personal Experience in Queenstown
With being a solo traveler and being relatively young (only 19!) when I moved to Queenstown, I was super nervous to move to a country on the opposite side of the world. However, as soon as I arrived in Queenstown, I immediately felt welcome. 
The town radiated friendly energy and I met so many warm inhabitants within the first few days of arriving. Queenstown is a highly rotational city with lots of travelers moving in and out, this meant that there were tons of people from different cultural backgrounds.  
This helped broaden my future travels as it helped me plan trips to places that I never would have thought of going to. Despite its ongoing rotation of workers, I felt a real sense of home in the town – I still refer to it now as my second home despite living there for under a year.  
One of my favorite things about living in Queenstown was its distinct seasons. Being an avid skier as well as a water baby, having two distinct seasons of summer and winter meant I could enjoy my favorite activities in under a year. Spending my days skiing down the snow capped Remarkables in the winter to going freshwater swimming in the summer months – it was the perfect mixture.  
Moving to Queenstown as a freelance digital nomad it was key to find spots where I could spend the day with high WiFi speeds and a good working atmosphere. I quickly learned that adapting to life as a digital nomad in Queenstown was super easy, the city is a gem for freelance workers with so many cute pockets available to work in.
Work in Queenstown
As a digital nomad, it can be hard to find places to work when moving to a new location. Working remotely can become lonely so below we have listed some of the best communal spaces to work in  Queenstown, from high WiFi speed cafes to co-working spaces. It is important to note that New Zealand isn't home to the quickest internet speeds in the world, however, this is easy to work around with many places offering higher speeds than the standard average in the country.
Cafes are a popular option if you're looking to treat yourself for the day, however, eating and drinking out in Queenstown isn't the cheapest, so spending all day there can set your bank balance back a little. Co-working spaces are a more popular option but due to the town's relatively small size, there aren't as many as in bigger cities, such as Christchurch or Auckland. 
Best Places to Work in Queenstown
Cafés
Patagonia Chocolates
Its prestigious lakefront location makes it one of the most popular places for digital nomads to work in the city, with a beautiful interior and spectacular views of the lake. The WiFi speeds here are high and complementary when purchasing food or beverages. There are also a variety of plug points available, however, it's best to get to the café early to confirm a seat next to one of them.  
Queenstown Signs and Prints
Located just 10 minutes from downtown Queenstown this cafe is home to some of the coolest interiors with cozy and quirky vibes. The WiFi speeds here are fast and they have a great selection of hot beverages along with unreal food. They also have a lot of options for different dietary requirements, including vegan and gluten-free.  
Co-working spaces
iMeet is centrally located in the heart of Queenstown. Its sleek and modern build along with great atmosphere make it an incredible place to work. This was probably my favorite place to work in Queenstown and I met lots of friendly people here. 
The staff were also very attentive and with the shared space offering 12 desks there are plenty of options to book.  
For more information check out the link below: 
www.imeet.nz 
Fluid
Fluit is located in downtown Queenstown and has a variety of permanent desks available for you to book. Its small but warm atmosphere provides a sense of community and is a good option for working as a  digital nomad in Queenstown.  
For more information check out the link below: 
https://fluid.co.nz/sharespace 
Mountain Club
Mountain Club is one of the most popular co-working spaces in New Zealand and was created by two friends Chris and Jason. A modern build with a lot of attention to detail, the co-working space provides a  relaxed atmosphere with great views of Queenstown Airport. 
The co-working space is fitted with covered outdoor seating along with a conference room along with a tea and coffee station. One of my favorite things about Mountain Club is their Friday afternoon drinks session aimed to celebrate the end of a hard working week with everyone – this allows you to meet the new people you're working around.  
For more information check out the link below:
www.mountainclub.co.nz 
Hangar Co-working Space
One of the lesser-known working spaces, but nonetheless still a great place to work is Hangar. Hangar provides a rustic interior and has a small but personal atmosphere. It is also set in a great location with brilliant views making it an awesome place to set up your laptop.  
For more information check out the link below: 
https://www.thehangar.nz/
Best Places to Live in Queenstown
Best Neighbourhoods
Fernhill
Located near the base of Ben Lomond the neighborhood of Fernhill is great for those who love being outdoors, with great access to plenty of picturesque walking trails. This includes the famous Fernhill loop track which takes you through some of the best parts of the Ben Lomond Reserve. 
Fernhill also has easy access to the town center, it's around a 25–30-minute walk away from the main high street and lies on the line 1 bus route which takes less than 10 minutes to reach the center.  
Central Queenstown
A popular area to live in but also one of which may burst your bank, Central Queenstown is great for those who want to be in the hustle and bustle of the city. The area has a thriving restaurant and bar scene, along with an abundance of cafes and shops. You will find several accommodation options here from living in hostels to shared apartment buildings.  
Shotover Country
Shotover county is located on the east side of Queenstown's Lake Wakatipu, within walking distance to both the Shotover and Kawarau Rivers. It is also near the airport, which is great for those who travel often, however, it is not within walking distance to the town center and will take you around 25 minutes by bus. The area is renowned for having a good sense of community and has a rural feel to it with plenty  of walks along its tranquil countryside.  
Queenstown Hill
If you're looking to be near the town center but want slightly lower prices and a more residential feel, then Queenstown hill is your perfect location. Located near many stunning walking trails it's perfect for those who like to be outdoors. There are plenty of accommodation options here but those most popular amongst digital nomads are apartments and shared housing.  
Kelvin Heights
A beautiful area that can't be missed off this list despite being the most expensive residential area in Queenstown. Kelvin Heights is home to spectacular lake views, a private golf course along with huge houses. If you like living a life of luxury then this area is probably your best bet, but be warned it certainly won't be cheap. 
Frankton
Frankton is located within walking distance of Queenstown International Airport and is perfect for those who take regular flights out of the area. It is also home to one of the best shopping areas along with a farmer's market. You will have to take a bus or drive if you want to get into the town center as Frankton isn't within walking distance.
Find an Apartment in Queenstown
Due to Queenstown's rise in popularity and its relatively small size, it has become increasingly more difficult to find housing. This is particularly the case in peak seasons, including the summer and winter months. It's best to research in advance if you're planning on moving to Queenstown, especially if you're looking to find your own place which won't bust the bank. 
It is important to note that most landlords will also require at least one month's rent as a down payment along with proof of financial funds for the following six months. Along with this rent in New Zealand is calculated weekly, not monthly as you would expect in many other countries.  
Prices of apartments can vary in Queenstown depending on its neighborhood and location, along with it being private or shared. The average rent in Queenstown for a one-bedroom apartment is around $1,300 per month. This can be lowered if you're looking to share a house or an apartment where you could find a small room for around $750. 
If you're looking at a primely located apartment near the city center you could easily pay upwards of $1,500 per month. The price of apartments will also be dependent on seasons; rent in off-peak months (such as the spring and autumn months) is cheaper than those in the peak  season (winter and summer months).  
In terms of looking for an apartment, it's best to do so in advance. Below we have listed some of the best sites to start apartment hunting. 
www.realestate.co.nz

  

www.trademe.co.nz

 

https://www.queenstownnz.co.nz/accommodation/serviced-apartments/

 
It's also definitely a good option to join some of the Queenstown Facebook groups before arriving. Often people are looking for housemates or to rent their apartment out on here.
Cheap Places to Stay in Queenstown
Airbnb
For shorter periods of time looking on Airbnb is a popular option, with their monthly feature being extremely popular amongst visitors. Here you won't have to deal with much of the legal side of things or prove funds due to payments being typically paid in advance. However, prices can be slightly higher, and you will have less flexibility with making the apartment your own.  
Hostels
If you're looking for a cheaper stay and don't mind sharing facilities with other travelers then staying in a hostel is a good option. You are bound to meet plenty of people if you live in a hostel and many tend to give long-term guests a discounted rate. Costs can be as little as $600 per month, and some may allow you to stay for free through 'woofing' programs. 'Woofing' programs are where guests can stay for free if they take on hostel tasks such as cleaning or being on reception for a few hours per week. 
Below we have listed a few of the best hostels to stay at, along with their monthly prices.
Nomads: 
https://www.hostelworld.com/pwa/hosteldetails.php/Nomads 
Queenstown/Queenstown/34570?from=2021-07-15&to=2021-07-16&guests=2 
Monthly Stay: $650 
Adventure Queenstown Hostel: 
https://www.hostelworld.com/pwa/hosteldetails.php/Adventure Queenstown-Hostel/Queenstown/46937?from=2021-07-15&to=2021-07-16&guests=2 
Monthly Stay: $700 
YHA Queenstown Lakefront: 
https://www.hostelworld.com/pwa/hosteldetails.php/YHA-Queenstown Lakefront/Queenstown/12206?from=2021-07-15&to=2021-07-16&guests=2 
Monthly Stay: $700 
Jucy Snooze: 
https://www.hostelworld.com/pwa/hosteldetails.php/JUCY-Snooze Queenstown/Queenstown/285057?from=2021-07-15&to=2021-07-16&guests=2 
Monthly Stay: $650 
Haka Lodge Queenstown: 
https://www.hostelworld.com/pwa/hosteldetails.php/Haka-Lodge Queenstown/Queenstown/70531?from=2021-07-15&to=2021-07-16&guests=2 
Monthly Stay: $650 
Absloot Hostel Queenstown: 
https://www.hostelworld.com/pwa/hosteldetails.php/Absoloot-Hostel Queenstown/Queenstown/42919?from=2021-07-15&to=2021-07-16&guests=2 
Monthly Stay: $675
QueenstownVisa
There are multiple visa options for traveling to New Zealand but the most popular amongst digital nomads and other visitors are the working holiday visa and tourist visa  
[It's important to reference that New Zealand's borders are currently closed due to the Covid-19 situation, so unless you have proof that you are a resident or citizen of New Zealand, you will not be granted entry to the country]. (June, 2021) 
A working holiday visa will allow you to work in New Zealand for 12 months, this can be extended to 24 months if you are from the UK or Canada. This is if you complete 3 months of government-approved work, which includes horticulture/farm work. The original 12 months will cost you approximately $170 with an extension cost of $200 for the further 12 months.  
A tourist visa is the alternative option and will allow you to travel within New Zealand for up to 3 to 9 months – this is available for most passport holders. It is important to add that working on a tourist visa is illegal in New Zealand along with this you must prove that you have sufficient funds for your stay, which is around $3,000. An onward flight must be bought before entering the country, most airlines will check this before you board at your departure destination.  
A visa waiver program is available for certain countries, which means that you can travel to New Zealand for three months consecutively; this is increased to 6 months if you are a UK Citizen.  
A business visa is another but less popular option and is available for up to 3 months consecutively. Again, you will have to have proof of funds and an onward flight.  
To check what visa you will need from your passport country be sure to check the official New Zealand immigration website here: https://www.immigration.govt.nz/new-zealand-visas/.
Culture and Food in Queenstown
Before heading to Queenstown, I heard a lot about its cafe and restaurant culture and with hundreds of these available you won't be short of selection. But Queenstown's electric and social lifestyle can really rack up your budget, especially with the array of food options being exceptionally good. 
Below we discuss some of our top spots for dining in the region – and give you some tips for those who are looking for those budget-friendly options.  
Starting off with a firm favorite amongst travelers to Queenstown: Fergburger. Fergburger is New  Zealand's most famous burger restaurant and draws in hundreds of visitors who sprawl out of the restaurant into the streets. It can be hard comprehending the amount of hype surrounding a simple burger, however, Fergburger will soon prove you wrong. 
Despite the astronomical queues, heading to Queenstown's most famous burger bar is a must-do activity and we can assure that you will agree after taking that first bite. With an extensive range of options from meaty to plant-based, Fergburger does its best to cater to everyone. Another plus side is they are open until the early hours of the morning (5am)  so you can skip those hefty ques and indulge in a post-night out feast. Prices for burgers are on the reasonable side of things costing between $8-$12 for one of their specialties.  
New Zealand is widely regarded as one of the best producers of wine in the world. Queenstown's central location in the region of Otago makes it home to a plethora of gorgeous vineyards. 
Taking a trip out of town to one of these vineyards is the perfect break from the adrenaline-fueled activities. Here you can indulge in the area's impeccable selection of wines which usually will be accompanied by a selection of fine cheeses. It's a great day out if you're a fond wine lover and something you should definitely experience at least once when living in Queenstown.  
The bars in Queenstown will certainly draw you in with their hustling atmosphere and great bar food deals. Tanoshi Teppan and Sake Bar is a personal favorite, located in a hidden alley just downtown of the center. Here they serve up a great feast of fresh Japanese tapas along with an extensive list of traditional sake and cocktails. 
You will be absorbed by its chilled-out vibes and insanely cool standout features. Tanoshi Teppan and Sake Bar also cater to a variety of dietary requirements including vegetarian, vegan,  and gluten-free.  
If you're looking for a quick pit stop and don't want to pay the high prices of sitting in a restaurant then the Rehab café is a great option. Offering a wide range of great wholesome food along with a long list of healthy smoothies, it is the ultimate place to go to kickstart a long day of adventure. 
Queenstown Nightlife
Queenstown is known as the adrenaline capital of the world, and this doesn't just include its mammoth list of adrenaline-fueled day activities; it also has the reputation for being New Zealand's Party capital.  
Despite its relatively small size Queenstown is packed full of pub and bar crawls, unique bar experiences, including ice and themed bars, along with an array of clubs with an interesting music scene. Below is a  breakdown of Queenstown's nightlife options, from boujee cocktail bars to backpacker-budget pubs. 
Starting with a slightly different experience to the standard pubs and bars you might find in the town. The ice bars of Minus 5 degree and Below Zero provide an experience like no other – open all year round you are provided with layers of clothing including snug coats and warm gloves as you enter the magical ice-made building. 
Not only are the walls made from ice but so is everything else, from the seating and tables to the cups you drink from. A drink or two at one of these ice bars is a truly epic experience and one that can't be missed when visiting Queenstown.  
If you are looking to splash the cash at a luxury cocktail bar, then look no further than Attiqa Cocktail and Gin Bar. With a gorgeous roof terrace overlooking Lake Wakatipu it is the perfect place to watch the sun go down. Be aware that its prestigious location and luxury interior does come at a price, with cocktails costing more than $15.  
If you are ready to party in New Zealand or are looking to meet some new friends, then one of its famous bar crawls is a great option. With groups of up to 50 travelers, it's a great way to meet new people whilst also browsing Queenstown's bar scene. There are several options for this, such as Big Night Out and Kiwi Crawl, both costing around $20 and include a bite to eat, free shots, and discounted drinks. Each will take you to five of Queenstown's best party bars and will give you a night out you are sure to remember.  
One of my favorite bars in all of Queenstown and one of which is popular amongst locals and visitors is 1876. With a sleek and electric atmosphere, it boasts great value drinks and prides itself on an all-day "happy hour." The bar also provides an excellent selection of live music, along with late-night DJ's – you can check out their schedule of acts on their website!  
Open all year round but a fond favorite in the winter months is Rhino's Ski Shack. A cozy underground bar, it's the best place to warm up after a long day of hitting the slopes. Finish your day with a cold beer or glass of warm mulled wine whilst you sit back and listen to the bar's broad selection of music.  
If you are looking for a bite to eat after your big night out in Queenstown there are plenty of places to get a cheap post-night out fix. Popular options include Loco Cantina and Fergburger. 
Things to do in Queenstown
Visit Milford Sound – A New Wonder of the World

Take a trip to the astounding fjord of Milford Sound. Here you will be able to absorb the breathtaking natural beauty of New Zealand's Fiordland National Park, home to spectacular gushing waterfalls. Milford Sound has recently been dubbed the eighth wonder of the world, and it is rightfully deserved. It is certainly a treasure you won't want to miss. The park is around a four hour drive from Queenstown center and is jam-packed with scenic views of mountains, lakes, and rivers.

Hike the Famous Peak of Ben Lomond

If you are looking for an action-packed day of hiking through Queenstown's surrounding peaks, then a  trip to Ben Lomond is the perfect outing. Prepare yourself for a challenging trek that takes around five to seven hours to reach the summit. Despite its difficulty, the hike is certainly worth it, you will get to experience spectacular views of Queenstown, including Lake Wakatipu and its surrounding mountains.  Alternatively…  If you fancy seeing incredible views but are not keen on the long trek to the peak of Ben Lomond, then taking a trip up to Queenstown Hill might be the next best thing. The walk is only an hour via the Tiki Trail and is arguably more striking in the morning. So set an early alarm and pack your bags to experience a magical golden sunrise to start your day.

Hit the Slopes at Queenstown's Remarkables Range

In New Zealand's winter months (June to October) Queenstown's Remarkable Range is turned into the ultimate skiing destination. With pretty much guaranteed heavy snowfall in the heart of the season it is the  perfect opportunity to hit the slopes. With an incredible range of slopes, it is perfect for first timers and expert skiers.

Go Sky Diving!

Queenstown is known as the adrenaline capital of the world – and what can be more adrenaline-pumping than jumping out of a moving plane at over 15,000 feet? A variety of host companies will take you to some of the best locations where you will experience the plunge over Lake Wakatipu and Mount Aspiring. We would recommend going with Nzone, they have excellent safety records along with great reviews and are a well-respected company for you to take the plunge.

Take a Gondola to Overlook the Skyline

With so many hikes available in Queenstown, you may get a little "hiked-out". Instead, you can take the more relaxed option to the top of Queenstown hill via the Queenstown Gondola. Once you get to the top you will be impressed by the vast view of the town and its surrounding nature.

Go Wine Tasting in the Otago Region

If you are a wine lover then you are in luck as New Zealand produces arguably some of the best wines in the world. Visit one of the many gorgeous vineyards in the local area of Otago, it is the perfect opportunity to sit back and relax and sip on a crisp glass of local wine. En route to many of the vineyards, there are an array of scenic spots where you can stop to snap a picture or even have a picnic amongst its floral orchards.

Mountain Biking

From extreme biking parks to laid-back scenic rides around Lake Wakatipu, mountain biking is one of the most popular things to do in Queenstown. There are many shops where you can rent a bike from or another popular option amongst digital nomads is to buy a bike that you can resell once you leave.

Experience a Sunset Over Lake Wakatipu

One of the most popular activities for digital nomads in Queenstown is to watch the sunset fall over the lake. The vast array of colors are ever-changing and are hard to get bored of. The atmosphere around the lake brings a soothing but electric feel. So, grab a picnic and maybe a beer or two and find the perfect spot to watch the sun go down.

Relax in Onsen Hot Pools

A short drive from Queenstown is the luxurious Onsen Hot Pools which allows you to bathe in a private pool overlooking breathtaking landscapes. Being a digital nomad, splurging on a luxury experience can sometimes be a rarity but a trip here is certainly worthwhile. This luxurious experience is one you will not forget.

Relax in Queenstown Gardens

Queenstown Gardens provide a tranquil atmosphere to sit back and relax in. There are an array of different spots to soak up the exotic and native trees and plants. There is also the opportunity to take part in the  unique sport of frisbee golf – a popular activity amongst locals. The gardens provide an 18-basket course scattered throughout the trees, it is easy to get the hang of and you can rent frisbees from multiple local vendors.

Go Bungee Jumping

This is a must-do activity in Queenstown and something on every adrenaline junkie's bucket list: Bungee Jumping. Queenstown is widely regarded as the home to bungee jumping and is also home to the first commercial Bungy: Kawarau Bridge Bungy. A slightly less intimidating jump than some of its local counterparts but nonetheless an exciting thrill, Kawaura allows you to say you've jumped the world's first commercial bungee. Alternatively, there is the ultimate thrill at the Nevis Bungee, where you will be dropped over 400ft into a vast crater, it is also currently New Zealand's largest commercial bungee.

Ride the Luge at the Queenstown Skyline

A fun and lighthearted activity along Queenstown's skyline is to ride the Luge. Here you will jump into a  small buggy where you will take many twists and turns around a small racecourse. Easily accessible just a  few steps from Queenstown Gondola, this is a must-do activity.
Best Time to Visit Queenstown
With New Zealand's southerly location, seasons are the complete opposite to many other regions across the world, including the likes of Europe and North America. Winter is between June to August and the summer months are between December and February.  
Queenstown is praised for being the best four-season destination in the country, its four distinct seasons draw travelers all year round with each season offering a unique experience. 
The summer and winter months tend to be the most popular for visitors heading to Queenstown but for largely different reasons. With the town turning into a hub for winter-sport lovers, and an abundance of ski resorts, it's the perfect opportunity to whizz down the powder-filled mountains while experiencing impressive views of Lake Wakatipu. 
Alternatively, the summer months bring long, sunny days with up to 14 hours of daylight. Temperatures tend not to be too extreme and average around 25°C across the summer months. 
Alternatively, you have the less popular seasons of spring and autumn which provide mild temperatures of around 20-22 °C. Spring transforms the town into a haven of bright colors and gorgeous green valleys. The autumn months transform the green colors to vibrant red and gold: providing the perfect autumnal feel. 
Queenstown for Families
With Queenstown's outdoorsy nature there are plenty of activities for both kids and families. One of the most popular is to take a ride on an authentic steamship. Here families can have fun on a day out whilst also learning about important history surrounding how giant steam engines work. 
Along with this, you will be able to take in the gorgeous alpine scenery surrounding the lake making it an awesome day out. Other popular activities for families include jet boat riding, visiting the Te Anau glowworm caves and, in the winter months, going ice skating at Queenstown's famous outdoor rink. 
A family trip out to the magnificent eighth wonder of the world Milford Sound is also a must-do activity when traveling to  Queenstown.  
Education in New Zealand is well regarded globally, and Queenstown's Otago region is home to a variety of excellent schooling facilities. This includes primary and secondary schools, colleges and universities along with top-class language schools. Queenstown center also offers a range of daycare facilities, and prices of these are subsidized by the government so it's a great place for working families. 
Due to Queenstown's outdoor lifestyle, children will be able to have epic PE and sport lessons where they can spend days taking part in adventure sports in the country's surrounding spectacular beauty. A move to Queenstown will also allow kids to learn more about the country's rich heritage. 
Living in Queenstown
Queenstown Transportation
The transportation network in Queenstown is of relatively high quality with an array of different options, including public buses, taxis, water taxis, and shuttle services. However, once you're in Queenstown, you won't have to use these very often as luckily most of the cafes, bars, and restaurants, along with other attractions, are within walking distance of one another.  
If you're arriving by air into Queenstown, then you will arrive around a 10km drive away from the town center. The most popular option is to travel by public bus which will cost you as little as $2. Other options include a private taxi costing around $10 or a variety of shuttle services easily bookable in advance or at the airport itself are available. 
It is important to note that there is no rail service in Queenstown, so the public buses are the most popular public transport service along with being the most affordable. These can be paid with cash while boarding the bus or with a GoCard – the latter being the more popular option. 
A GoCard is a cashless system that allows you to make trips on any Queenstown public bus. Standard rates around the city with this card are $2 one way. This card has a startup cost of $15: $5 for the card itself, and a $10 minimum top up, however, this is definitely worth it if you're thinking of staying in Queenstown for a significant period of time. There are unlimited travel packages available costing around $40 for seven days, however, with Queenstown's relatively small size you probably won't be using it enough to get your money's worth.  
If you're looking at making trips to nearby destinations, including Wanaka, there are a variety of bus/coach options. Popular companies include Stray, Kiwi Experience, and InterCity.  
With Queenstown's size, biking is a popular option to get around the town. There are many stores you can rent a bike from on a daily, weekly, or monthly basis. However, if you're looking at staying in Queenstown for over a month, buying and reselling a bike is a popular option, you can find plenty of options via online selling groups.  
The Queenstown Gondola is an alternative form of transportation that takes you to the Queenstown  Skyline. A season pass is popular amongst locals and digital nomads with it costing only $89 for the season – in comparison to its $44 cost for one ride. This means you make your money back in less than three rides.  
Taxis in Queenstown can be on the expensive side with starting prices usually being around $4 and a further $4 per kilometer, however, they are a quick and safe option if you're heading back after the public transport system closes. 
A unique transportation service in Queenstown is the water taxi across Lake Wakatipu. This has become a popular option as it can be significantly quicker to go straight across Lake Wakatipu than to venture around it. Typical prices for a ticket are around $8 for adults or $4 for children.
Fitness and Health
With Queenstown being home to a plethora of outdoor activities, it makes the region a very active one. The majority of these can be free of charge with an abundance of scenic walking and hiking trails, including the famous Ben Lomond hike. There are also plenty of options for water-based activities, such as kayaking, canoeing, and paddleboarding – all of which are sure to give you a decent workout.  
Queenstown is also home to some of the finest mountain biking in the Southern Hemisphere with hundreds of miles of off-the-beaten-path tracks for you to ride along. All these activities meant I left Queenstown feeling fitter than I have ever done before and that was without buying any gym or fitness passes.  
However, if you are an avid gym lover there are a number of options for health and fitness clubs across Queenstown. The two most popular clubs are Alpine Health and Fitness and Industrial Fitness Gym and Fight Club – both of which will cost you between $40 and $50 for a monthly membership. 
If you are looking for a fitness and health club on the more luxurious side of things, then The Spa at Nugget Point is probably your best bet. The club is fitted with a small saltwater plunge pool, steam room & sauna, along with a hot tub and relaxation room. There are also a few free outdoor gyms scattered across the city so if you are looking to save some pennies then these are a great option.
Queenstown People
Not only is New Zealand the land of untouched natural beauty full of breathtaking rivers, lakes, and mountain landscapes but is also home to some of the friendliest people in the world.  
Queenstown is built up of ethnicities of 71% European, 17.8% Asian, 4.5% Māori, 1.2% Pacific and 10.6% from other ethnicities, meaning the town has a diverse range of ethnic groups. Along with this, as previously mentioned, Queenstown is renowned for being a rotational city with many people from different cultural backgrounds traveling in and out. 
The backpacker community is large and on the rise in the town making it the ideal location for travelers moving to the country, particularly for those between the ages of 18-35.  
Queenstown is also home to a vast history of Maori heritage with Lake Wakatipu being thought to carry Maori mythological presence. In history, members of New Zealand tribes would venture to Lake Wakatipu Basin in search of food and New Zealand's precious pounamu, making it a key landmark in Maori culture.  
Queenstown is home to plenty of sports bars that often show New Zealand's favorite sport: rugby. Watching a game with locals is a great experience creating an electric atmosphere in many bars – even I started cheering heavily for the 'All Blacks' despite being British.  
The town is also home to a great art and music scene, with lots of extremely talented musicians, actors, dancers, and artists coming from the area. You will often hear buskers in the streets, which creates a lively and enjoyable atmosphere. There are also an array of art galleries presenting exceptional local artworks which are definitely worth a visit if you're an art-lover or not!
Queenstown Insurance and Medical Care
New Zealand has one of the highest standards of health and medical care on the globe. Regular access is easily available, with most of the visas listed above you should get discounted rates. Private health care is available, but the standards of the national public health care system are so high we wouldn't recommend forking out for that expense. 
It's always best to obtain medical insurance from your home country before you enter New Zealand, with this you should be covered for accidents with a small excess depending on your chosen plan. If you're on a tourist visa you should have quick access to medical facilities if needed with a standard check-up costing around $30.  
An aspect of its great medical care is that if you're hurt due to an accident- all costs will be covered, this includes road crashes and much more.  
Below is a list of important emergency and non-emergency numbers for you to refer to if any situations occur.  
Health Advice from a Registered Nurse: 0800 611 116 (This is available 24 hours a day, 7 days a week). 

Emergency Services: 111 (This is free of charge and can be used with no credit).
Make sure you are fully covered by reading our full Digital Nomad Travel Insurance guide.
Jobs in Queenstown
As previously mentioned, to work in New Zealand you must apply for a working holiday visa! Once this has been approved you will have a variety of options for work in Queenstown. Below we list a few of the  most popular job options available when moving to Queenstown.  
Starting off with one of the most popular options amongst travelers on a worker holiday visa: working in the hospitality and tourism industry. Due to the high volume of tourists in Queenstown, there are a variety  of restaurants, bars, and cafes to facilitate the numbers. This means there are a high number of jobs in the industry, so if you have relevant experience, it should be pretty easy to pick up shifts at one of the local vendors.  
If you're an adrenaline junky then there is no better place in the world to begin your search for adventurous work than in Queenstown. With the town's extensive list of outdoor activities, there are several jobs available. Including hitting the slopes as a ski instructor, working as a sales assistant in a mountain biking shop, and working at a bungee or skydiving center.  
The agriculture job industry is huge in New Zealand, and due to the demand for workers being extremely high, it is a very popular industry for foreign workers. Depending on the season you can work on the likes of kiwi farms, wine vineyards, along with apple orchards. 
Finally, a popular industry in the country is construction jobs. These are particularly popular amongst foreign workers looking to extend their visa past the initial one of two years as many companies can sponsor you allowing you to extend your stay in the country. There are also plenty of apprenticeships available if you don't have the relevant skills required before arriving in the country.
Check out our Digital Nomads Jobs Postings to find the best jobs available for Digital Nomads.
Nomad Friendly
Value for Money
Internet
Workspace
English
Food
Safety
Health
Transportation
Friendly
Quality of Living
Cost of Living Queenstown
As of June 2021, the cost of living in Queenstown is comparatively high in relation to the wages paid in New Zealand with the average monthly salary after tax in Queenstown just under $3,000 a month.  
A one-bedroom apartment in the city center will set you back around $1,500 but this will drop to around  $1,250 if you are located further out of the city. 
Queenstown is relatively small in comparison to the likes of Christchurch or Auckland, so transport costs in and around the city will be relatively smaller. Monthly transport passes will cost you around $110 and cover buses around the area, however, its small size means most things are within walking distance. Car prices can vary in the area depending on your needs, but gasoline is approximately $1.50 per liter.  
If you look at going out and about in Queenstown don't expect the average cost to be cheap; a meal for two at a mid-range restaurant will cost you around $120. Spirits in New Zealand are on the pricier side with an average single measure with a mixer setting you back around $10, beer is averagely priced at around $6 a pint with wine being your best value for money option at around $12 a bottle.  
An average weekly shop for basic groceries will cost you around $40-$50 for one person. A loaf of bread  costs around $1.50 and a liter of milk costs approximately $1.75. Due to New Zealand's remote location, certain goods can cost obscene amounts depending on the season. When I was living there from February to March a single avocado cost me in excess of $5.  
A monthly gym and fitness membership will cost you around $50 and a trip to the cinema will cost you around $12.  
With the area being extremely popular amongst expats and New Zealand being one of the most expensive countries in the world to travel to and live in, the expected cost of living in Queenstown may be higher than you're used to. However, with its breathtaking natural beauty, there is an abundance of free outdoor activities which can lower your monthly budget. 
The town is filled with backpackers so there are plenty of deals you can watch out for during the week, with discounted drinks and food along with flash deals on activities.