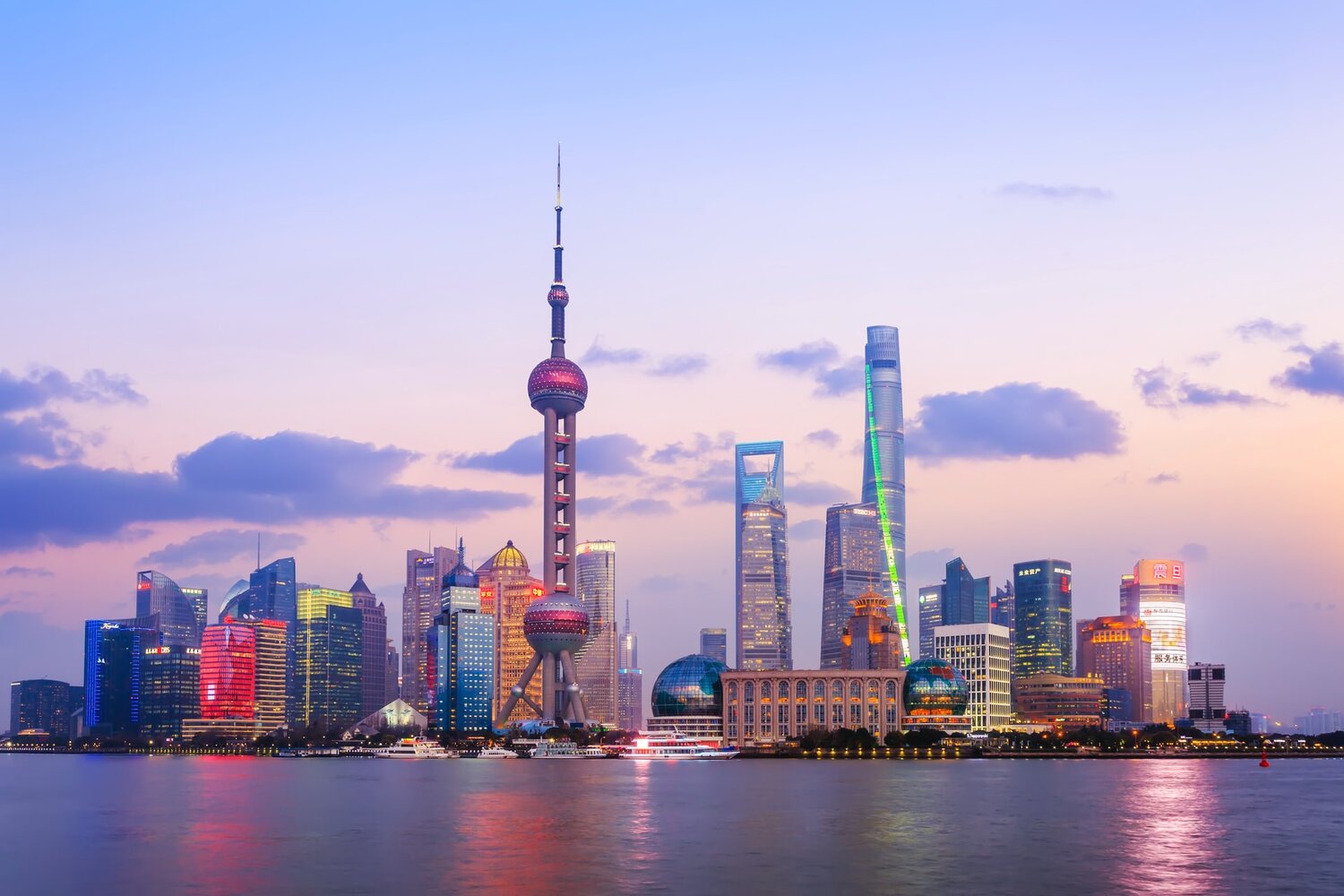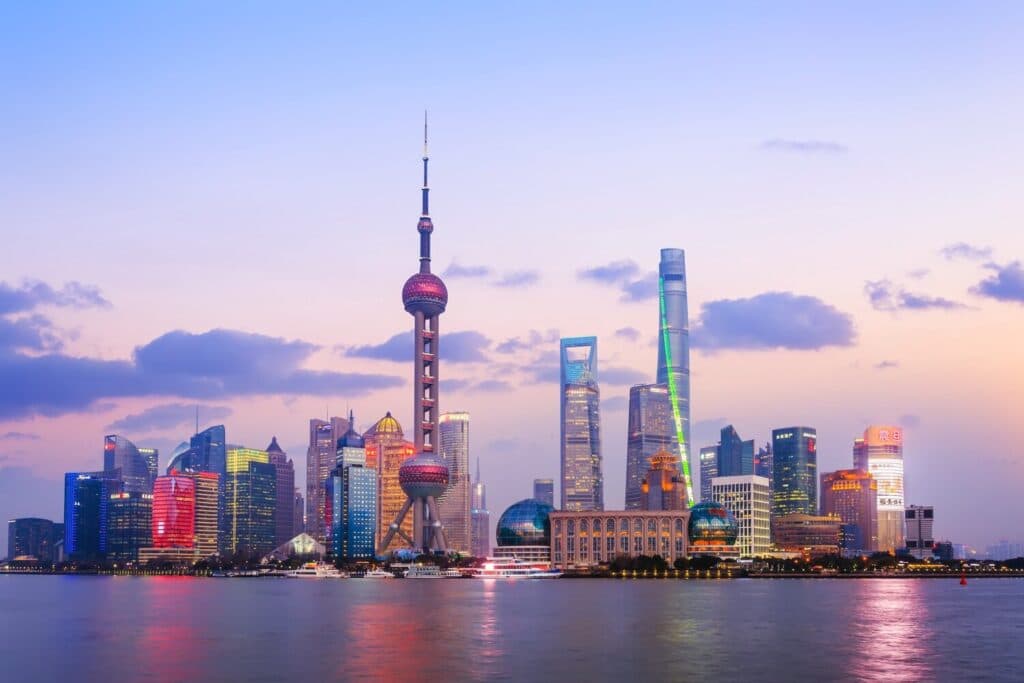 A Digital Nomad Guide to Shanghai
Shanghai, with its mesmerizing skyline and breathtaking architecture is one of the most iconic and developed cities in China. It has some of some of the tallest buildings in the world and unlike China's other cities such as Beijing, which still has a very traditional feel, Shanghai has a huge mix of East and West. This is evidenced in the beautiful architecture you can see throughout the city from traditional Chinese houses to the French and British styles near the bund. 
Shanghai is located on the East side of China and has a population of 27 million which is amazingly the same as whole of Australia which must give you an idea of how excitingly busy this city is! If you're someone who gets bored easily then Shanghai will not let you down. From the more modern areas such as Xintiandi with the bustling bars and foreign restaurants to Tianzifang which feels like you've stepped back in time with its traditional Shanghainese alleyways and old souvenir shops there is never a shortage of places to explore. 
The main language is Mandarin but due to the influx of expats choosing Shanghai as their home it's not uncommon to hear a multitude of languages along the streets and it is a great travel hub for both domestic due to the train systems or international due to the connecting flights of most major airlines. . 
Shanghai is also the safest country in China. With the city operating 24/7 you rarely see a street empty even at 4am in the morning and the level of crime is extremely low which is always paramount, especially if you're a lone nomad.
Nomad Friendly
Value for Money
Internet
Workspace
English
Food
Safety
Health
Transportation
Friendly
Quality of Living
Living in Shanghai Overview
| | |
| --- | --- |
|  Meal, Inexpensive Restaurant | $5.53 |
| Domestic Beer (1 pint draught) | $1.58 |
| Cappuccino (regular) | $4.68 |
| Loaf of Fresh White Bread (1 lb) | $2.49 |
| Water (1.5 liter bottle) | $0.76 |
| One-way Ticket (Local Transport) | $0.63 |
| Basic Utilities (Monthly) | $63.48 |
| Internet | $17.20 |
| Fitness Club (Monthly) | $76.74 |
| Apartment (1 bedroom) in City Centre | $1,254.14 |
Currency: Indonesian rupiah (Rp)
[erw_exchange_rates_widget lg="en" tz="0″ fm="IDR" to="EUR,USD,GBP,AUD,JPY,RUB" st="primary" cd="" am="15000″][/erw_exchange_rates_widget]
ATMs
Max Withdrawal: Rp 3,000,000
Withdrawal Fee: Rp 30,000 – Rp 50,000
Use of Credit Cards: Mostly Cash
Digital Nomad Personal Experience in Shanghai
My first trip to Shanghai was back in 2007 when I had a government funded trip to Hangzhou and on one of the weekends the other students and I decided to venture to Shanghai since the train was only a 1 hour journey. Hangzhou was beautiful and although a different culture to one of the West that I was accustomed to, it didn't prepare me for Shanghai which was, in one word, mesmerizing. The hustle and bustle, blazing lights and sky high buildings felt unreal and someone else was experiencing it for me. I could already feel that the tempo was fast paced and it was after this first trip that I was hooked. 
After this I went back three more times, one of which to study Mandarin over a summer period, a few years later to study a semester and then in 2017 decided that the corporate world was no longer for me and I wanted to embrace the Nomad ways and Shanghai was somewhere I knew could be a platform for me to start.
Shanghai really captured my heart in many ways, one being the speed but also the convenience it holds. It is a city that never sleeps with 24 hour convenience stores open on every single street (quite literally) and night markets scattered around the city. It also has great services such as buying online with speedy delivery times and take out services whereby you can order anything from any shop and it arrives normally within half an hour. But aside from the convenience it is also an extremely motivating city and one which makes you feel alive. The amount of people starting their own business or working towards their career goals is in abundance and really encourages you to keep going and not take your foot off the pedal.
Work in Shanghai
If you're someone who enjoys social activities or personal development then Shanghai has something new every day. From organized events such as Boss Ladies Breakfast which enjoys meet ups with inspirational women to Tech talks on innovational technology there is always something fresh to learn or a different network to connect with. If socializing is more your thing then the countless exhibitions, organized parties, festivals or bottomless brunches are regular occurrences so be sure to manage your time well to allow for work as socially you will never be bored.
In addition to the endless exploring adventures there are on offer, Shanghai is also a land of opportunity. As a city it currently has a huge amount of money to be made due to the sheer number of start-ups and job opportunities there are. Whether you want to work for a huge international company or start your own, Shanghai is a place of pure motivation and prospects.
Best Places to Work in Shanghai
Shanghai is in no short supply of places to work and with easy access and fast Wi-Fi across the city it would really come down to what sort of working environment suits your style.
Co-working Spaces in Shanghai
Wework
By far the most popular co-working space in Shanghai. With over 45 locations across the city they offer packages such as hot desks, dedicated desks or private offices. Included in the price are their amenities such as Wi-Fi (critical) beverages (micro-roasted coffee, fresh fruit water and even beer), soundproof phone booths, printer services, showers and a dog-friendly environment. Prices depend on location but on average are $385 for the central locations.
KR Space
Another chain co-working space which has over 11 locations across Shanghai with some of their major offices having over 1500 desks! If you're someone who likes to frequently change work locations, this co-working space allows seats to be rented daily for as little as $1.40 all the way to private conference rooms rented for $5.50 for half an hour if you have a big presentation.
SOHO 3Q
This brand has various locations with their Xintiandi branch offering monthly rentals while their larger office near the bund only offers 1 year contracts at $385 per month. Both have the same calming and relaxed atmosphere, communal area, public fridge, coffee and water with great Wi-Fi. If you only need a meeting room and don't want to have a month or year payment then they offer their meeting rooms for non-tenants at $30 per hour.
MIXPACE Wonderwall
MIXPACE draws you in right away with its wooden interiors. While this is among one of the pricier coworking spaces in Shanghai, it also comes with a nice set of perks including a nursing room, standing desks, and a shower room. It's also pet-friendly, so you can bring your furry friend along.  Prices start at $370 for a desk for a month. 
Agora Space
Located in the Xuhui district, Agora has 3 floors with 10–20 desks and private offices spread across them. The basement used to be a bomb shelter, but it's now full of bean bags, ergonomic furniture, and beautiful paintings. An outdoor terrace and ergonomic furniture are also available.  
Coffee shops
Moka bros
Right in the heart of the city it is a favorite for expats to go for lunch and lazy weekend brunches. There is an indoor area with a large amount of tables with ample plug sockets and an outdoor terrace with tables and sofas and with speedy Wi-Fi in all areas it makes for a comfortable location to work.
Wagas
A chain store across Shanghai offering a western style menu and extensive drinks list from smoothies to fruit juices this bright and spacious restaurant is a good place to spend the afternoon. However it won't be particularly quiet so might not be suitable for conference calls.
The Press
This quirky establishment has a long history for Shanghai as it was the former newspaper 'Shen Bao' which ran from 1872-1949. The interior is truly fascinating with the ceiling designs and architecture and is also very quiet which makes it a perfect place to try their Western menu or Italian roasted coffee.
Starbucks
No city is without a Starbucks and Shanghai is no exception. There are a huge amount in every area and with the world's largest being near West Nangjing Road you can kill two birds with one stone of work and tick off from your to go list..
Best Places to Live in Shanghai
Best Neighbourhoods
Shanghai is made up of Pudong and Puxi and the two are separated by the Huangpu River, a large waterway that cuts through Shanghai and flows to the harbour.
Pudong is more family orientated due to it being more quiet socially as it doesn't have the same level of nightlife and activities that Puxi offers and tends to be more upper class due to the higher cost of accommodation and home to the financial district. Puxi on the other hand is where the majority of expats and nomads tend to live as this is where to find the bars, clubs, festivals or markets. The main areas of Puxi are:
Xujiahui
Ample restaurants and supermarkets and a great metro connection due to it having 4 lines intersecting here.
French Concession
This area's streets are lined with beautiful trees dating back from when the French planted them and with more houses versus skyscrapers means the population is lower.
Jinan Temple
This beautiful area of Shanghai is named after the huge temple which now has more modern shopping malls strategically placed around it. It is also the home of amazing architecture, quirky cafes and the majority of bars and clubs.
The Bund
The Bund is set on the Huangpu river and has the more fancy Michelin star restaurants and suited and booted bars. 
Zhongshan Park
One of the cheaper areas of Puxi mainly due to it having two universities close by. It has over 4 huge shopping malls including Carrefour making it very convenient.
People's square
Right in the centre of Shanghai this is the main tourist attraction for most due to it having the busy West Nanjing Road and walking distance to the bund.
Find an Apartment in Shanghai
There are many options to finding an apartment and probably the quickest way is looking on Smart Shanghai. This website/app is a great source for Shanghai knowledge not only for apartments but for jobs available, what's hot to do this week and the general latest news. For apartments you can see people who are looking for new roommates, moving out of their current apartment before the contract is up or landlords looking for new tenants.
Another great source is Wechat groups but this app works from your networks adding you into groups so until you are in Shanghai it can make it harder to use and be involved.
My personal experience when I moved to Shanghai on my last trip was that I messaged someone advertising for a new roommate in a 3 bedroom apartment from Smart Shanghai. I saw photos of the apartment beforehand and once I arrived it was very modern like the photos and had no nasty surprises. However, some people may feel this is not safe or might not like the aspect of living with roommates before meeting them so another option is to find a cheap hostel prior to arriving and then check out the apartments once there.
In terms of renting a room it really depends on the situation but most will just ask for a month's notice from both parties and some may ask for a deposit so you would need to fully communicate the terms beforehand.
For apartments typically there will be a contract with a minimum of 1 year (unless you are taking over somebody else's) and would need to provide a month's deposit and pay 3 months' rent in advance. This is standard renting arrangements through agencies and landlords so unless you can use better negotiation skills don't be alarmed by this payment method.
A few final things to point out. Firstly with Shanghai apartments, they move extremely quickly so don't be alarmed if things go within days or even hours of seeing new posts as there are no delays such as credit checks / employee references. 
Secondly if you go through an agency you will most likely pay a 50% fee which is normal for most legitimate agents.
Finally, always remember that once you move out of a hotel, be that renting a room or owning your own apartment, you need to register with the local police station in your area within 24 hours of moving and provide them with your new address, passport copy and landlord's ID and proof of ownership. This needs to be done each time you move and police are known to regularly check apartments and can give you a hefty fine of over $300 if you forget!
Cheap Places to Stay in Shanghai
Puxi Area
Laoshan Hostel – Need a hostel with a great location? Then this one is just for you. Located close to some of Shanghai's most famous attractions and surrounded by ample restaurants and supermarkets it makes this clean and friendly hostel perfect for all. Included in the price is free Wi-Fi and air conditioning and it is also right next to the metro which makes it convenient and cheap for those coming from the airport. 
Price: $23 dollars per night for a bed in a 8 person dorm
Shanghai Meego Qingwen Hotel – This establishment l is raved about between expats due to its friendly and helpful staff. Although it is a 1-star hotel, it has the style and grace of a modern hotel but with a hostel price tag. Included is free Wi-Fi and towels to use for the duration of your stay.
Price: $38 dollars per night 
Shanghai Blue Mountain Bund Youth Hostel – Having stopped here on my very first trip to Shanghai this is a fantastic hostel (not being biased I promise). The friendly atmosphere and modern surroundings really make you feel at home and with the lounge bar it makes meeting other likeminded people easy and fun. Within walking distance to the busiest shopping streets in Shanghai it also makes it a great location if you want to go exploring.
Price: $24 dollars per night for queen room with shared bathroom 
Pudong
Shanghai Hidden Garden International Youth Hostel – Situated right in the heart of Shanghai's financial district Luzjiazui, this quirky style hostel has great communal areas including a bar and sun terrace which makes it a nice place to chill out and take advantage of the free Wi-Fi or just relaxing with a beer and a book. 
Price: $11 dollars per night in a 8 person dorm
Shanghai Visa
Visas
Ah, the Chinese visa. I won't sugar coat this but the Chinese visa isn't as straightforward as some other neighbouring countries but fear not, it's not impossible.
It should be noted that due to Covid-19 currently China is not processing any travel visas and the date to start is still unknown but the main vias are:
L Visa – Travel Visas
Here your nationality really depends upon the process but typically you can apply for a single or multiple entry visa (from 2-10 years) and prices normally start around $180.
However upon application (for some countries such as the UK) you must have proof of your return flight and hotel booked for the duration of your stay before the visa will be issued so check with your local Chinese consulate.
X Visa – Student Visa
Extremely easy to obtain once you have registered for a course in China and the university will provide you with all the necessary paperwork.
Z Visa – Work visa
This is the most common visa for people working in China and is granted upon application so long as the company you are working for is incorporated in China. 
Other options available would be:
Starting your own company which would cost $300 for an agency to help you register all the legal documents which provides the company owner with a one year Z Visa.
Culture and Food in Shanghai
Food
There's Chinese food and then there's real Chinese food. Now what does she mean by that I hear you asking. Well erase from your memory all the chicken fried rice and spare ribs you may have tried from your local Chinese Take away and get ready to embrace flavours and tastes which will leave your taste buds captivated and just wanting to order more and more. 
Food in China is very important and a common way to greet people is, 'Have you eaten yet?'. Just as we British love to start a conversation with the weather Chinese love to know if you have eaten. This stems from food being a very important part of the culture as it signifies health and is a social interaction due to it being a way to express relationships between one another. In China a traditional lunch and dinner will be a multitude of dishes which normally (depending on how many people are eating) consists of two 'cold dishes', 4 'hot' dishes' (which include vegetables, meat, fish, rice or noodles) a soup (summer or winter, rain or shine never will a meal be complete without a soup) then fruit for desert. This is then placed Infront of guests and everyone shares. It makes it extremely intimidating and also a great way to try many delicious dishes in one sitting!
Unlike the West, China uses chopsticks. Not yet a master of these? Practice practice practice as some traditional places don't offer knives and forks.
China regions have a history of different tastes and cuisines. The north is salty with less vegetables and more meat, East is sweet, South is sour, West is more meat focused and central is spicy. Although each province has its own delicacies, Shanghai luckily has such a large number of people from all over China residing there to earn a living that with them they brought the best dishes from their hometown making it easier for you to encounter. Some of the top picks which you have to try are:
Chinese Pancakes
煎饼 Pronounced: Jianbing 
Any morning breakfast stall will have this and are handmade right before your very eyes. At as little as $0.6 it makes it as quick and delicious as a morning Firestarter. 
Fried Breadsticks
油条 Pronounced: youtiao
These fried breadsticks go amazingly with soy milk. The quirk? Simply dip the fried breadstick into your milk and take a bite. I promise it's not as weird as it sounds.
Chinese steamed buns
包子 Pronounced: baozi
A steaming hot bun with fillings such as pork, vegetables or red bean is another typical breakfast treat.
Stinky Tofu
臭豆腐 Pronounced: chou dou fu
Well how do I know if its stinky tofu compared to regular, old tofu? A special colour? Nope. Only at certain restaurants? Wrong again. The name is by no means a joke and you will smell this dish before you have even set eyes on it. But don't let the smell put you off as this crunchy snack is by far worth trying. 
Spicy Hotpot
火锅 Pronounced: Huo guo
A pot of boiling, spicy soup left to simmer to enhance flavour, an assortment of meats and vegetables placed inside to cook and then removed and dipped into the sauce of your choice. It may sound extremely easy but mention hotpot to a local and you will see their eyes glaze over and their tummy's start to rumble as this is a favourite of many. 
Soup Dumplings
小笼包 Pronounced: Xiao long bao
Although fried dumplings can be found all over China these special soup dumplings originated from Shanghai – so when in Rome!
Lazhou Beef Noodles
兰州牛肉面 Pronounced: Lanzhou niu rou mian
These noodles originated from the province of Lanzhou and are simply hand-pulled noodles with thinly sliced beef soaked in a rich broth with a splash of chili oil. However, there is nothing simple about the flavour and with them being one of the cheapest dishes around at $3 a bowl it's a must try.
Xinjiang Kebabs
新疆烤肉串 Pronounced: Xinjiang kao rou chuan
Xinjiang is popular for having some of the best meat in Chinese which makes these kebabs tantalizingly delicious and are a speciality at many night markets.
Cold Noodles
凉皮Pronounced: Iiang pi
Originally from China's Shaanxi Province in the Northwest, this simple dish of noodles, sesame oil and a sprinkling of grated cucumber has such little ingredients yet a diverse array of flavours.
Bubble tea
针灸奶茶 Pronounced: zhen jiu nai cha
If you have yet to hear about the famous bubble milk, just spend 24 hours in Shanghai and you will have full depth knowledge of the different flavours, cost and where to buy in no time!
Vegan and Vegetarian
With Shanghai having a foundation of Buddhism there are ample vegetarian and vegan restaurants for you to try. If you're looking for Michelin stars there is Dashu Wujie (which has two branches in Pudong and Puxi) where you have a calming Buddhist atmosphere with relaxing music and some delicious dishes such as the pumpkin curry. For a more casual setting (and cheaper on the wallet) there is If Vegan on South Shaanxi Road which has a mixed Chinese and Western menu but with a few twists. Be sure to try their purple sweet potato dessert which is so eye-catching it will have more likes on your Instagram before you have even blinked your eyes. For lovers of the 'mock meat' then Godley's kitchen on West NanJing Road will have your mouth watering. This is the oldest vegetarian restaurant in Shanghai so ask any older Shanghainese and I guarantee they can lead the way. Feel left out by never being able to try a Chinese Hotpot? Think again. as Yi Ye Yi Shijie Vegan Hotpot has come to save you with their vegan hotpot restaurant in mall 818. They have a delicious base of herbal soups to have your mouth watering before you have even started on the vegetables.
Language
Mandarin is the main language and although there is the local 'Shanghainese' dialect this is more commonly spoken by the older generations and while the younger age group may be able to understand they commonly speak mandarin between each other. Nowadays English is a mandatory exam to enter university so most of the younger people have a basic if not very good grasp of English, but due to being quite proud people this influences the amount you hear spoken.
Alcohol
There are no restrictions on alcohol and it is widely available at supermarkets, small convenience stores, bars and restaurants. China is well known for their 'Baiju' which is an extremely strong (+50%) alcohol made of rice wine. Although not drank so much with the younger crowds a Chinese wedding would never be seen without a bottle on every table. In fact, don't be surprised if you venture to a traditional Shanghainese restaurant and see empty Baijiu bottles scattered around rowdy Chinese men who just love to combine business dinners with pleasure.
Although it should be noted that some of the more local bars and restaurants have been rumoured to have fake alcohol and though there have been no cases of it doing any serious health damage it may provide you with a nasty headache the next day.
Religion
The main religion is Buddhism with other religions such as Christianity and Islam due to high level of Xinjiang who reside in Shanghai.
LGBT
Shanghai does have a small scene of bars and clubs and although homosexuality was decriminalized in 1997, public displays of affection are not often seen due to cultural and political influences.
Shanghai Nightlife
Do you love a beer with friends, a relaxing cocktail on a rooftop or a hard night of partying? Shanghai has it all. Living across Asia, Shanghai (in my humble opinion) is one of the most fun places to experience the nightlife and there is something every night of the week if you so please.
Eating out
Shanghai may not be as diverse as say London or New York for its different cuisine but it's not far off.
Sichuan Citizen
Serving traditional Sichuan (aka spicy) cuisine in a modern and stylish restaurant it doesn't fail to impress with the traditional dishes of kung pao chicken and if you're feeling adventurous spicy pig's heart. It also has a great cocktail bar so be sure to try their Basil Drop cocktails.
Pera
Situated in the hip area of Found 158 this Indian restaurant is in a great location with traditional Indian dishes such as lentil Dhal and Chicken Curry. And what better way to end the meal with one of their amazing flavoured Shishas. It does also have a few (random) Turkish dishes thrown in (all hail the hummus).
Maya
This Mexican restaurant may be slightly more upscale but the food speaks for itself. Having a full menu of splendid delights, a separate vegan menu and the best sangria in Shanghai makes it a hot spot for everyone.
Chez Jojo
This French establishment has a strong customer base which allowed it to open three branches through-out Shanghai. The largest is on Fumin Road and has two beautiful outdoor terraces which can hold up to 100 people allowing for small parties to celebrate. 
Bar and clubs
If you like to drink and dance, Shanghai has it all. And what makes it even more fun is that the major bars and clubs are condensed in Puxi so not feeling the vibes of one bar and wanting to move? No problem as you can most likely walk or get a quick 5 minute taxi ride to your next destination.
Found 158
This unique cluster is an area of Shanghai that you will certainly hear. With over 15 restaurants and bars all within one space it is convenient and fun rolled into one. All places serve food until around 10pm and then continue for drinking and dancing until the early hours. German food followed by the Mexican Margaritas? Or maybe some Indian food followed by Brazilian beats? Whatever you feel like there is a place and drink for you.
Bar Rouge
This French bar is somewhere you have to go once in your Shanghai life, if nothing else but to experience the view. Set facing the bund it is a magical place to enjoy a cocktail (or two) while watching the flashing lights of Pudong. For an added bonus every Thursday is ladies night where there are free flowing margaritas and even free manicures if you so wish!
Perry's
If you're looking for a fun and cheap night then look no further than Perry's. This is a chain establishment with every area of Shanghai having one but the best is on HuaiHai Zhong Road. It was the second one made and with tables, Shisha and a dance floor it has a mix for people wanting the bar. Loved by expats and locals, one drink here and I'm sure they will be teaching you their favourite drinking games with dice.
Speak Low
This classy speakeasy is located in the French Concession area of Shanghai and run by Shingo Gokan, one of the world's top bartenders. It draws customers from all over the world and is a must-visit spot in Shanghai hidden behind a shop that looks like it sells bar supplies and books. If you slide one shelf in the store to the side, you will find a hidden entrance that leads to the back. Even more impressive is the world map on the second floor that can only be opened if you press the right city on the wall, leading to another bar.  
Cages
A casual American style bar which has batting cages (hence the name), 5 aside soccer, dodgeball, darts and huge TVs to screen major games. It regularly holds events such as Halloween and Thanksgiving so even if you aren't a sports enthusiast it is still a great hangout.
Want to hear a secret nightclub tip? There are lots of promoters who encourage foreigners to attend the hottest club nights for free with unlimited drinks!
Things to do in Shanghai
Hit the art scene at M50

hosting over 120 galleries and studios of contemporary art in one space for you to wander around makes a perfect lazy Saturday.

Sit back and relax to some mind-blowing jazz

if you like good jazz then look no further. Jazz on the Bund has some of the most talented bands come here to perform but be sure to book as this place gets reserved fast.

Watch the sunset at the Peninsula Hotel

facing the Bund and with a panoramic view this hotel not only has some of the best cocktails but also allows you to sit back and relax while the sun is setting on their roof bar.

Take a stroll around the old town

Qibao old town is set in beautiful surroundings on an old water town and has some gorgeous temples, gardens and a food street with everything from traditional desserts of glutinous rice cakes to interesting quail eggs for you foodie adventurers.

Try stinky tofu if you dare

the smell may have you wanting to run for miles and miles but I guarantee once you take a bite you will be hooked on this traditional Chinese snack.

Take the Chinese Language Challenge

love speaking different languages and want to learn one of the hardest languages in the world? There's no better place than where it originated. With ample schools and universities offering short and long-term courses it is a fun way to experience and understand this unique culture.

Network your way to success

with networking events from breakfast and bunches to freelancers and entrepreneurs social mixers there is an event that can suit everyone.

Release your inner child and meet Mickey Mouse

have a love of Disney or just want the thrill of the rides? Shanghai Disneyland will surely be able to accommodate.

Release your inner adrenaline junkie at Maya Beach Waterpark

love a Kamikazee or the wild rapids more your thing? Either way this waterpark has something for everyone from children to adults which will satisfy (or scare) you all.

Get bikini ready for a day by the pool

Mandarin city may be an expensive community in Gubei but they do have a large pool open to the public. For just $10 you can spend the day with your closest friends swimming, lounging or enjoying the swim up bar.

A coffee, a bear and a hole in the wall

always had a fantasy of being served your coffee through a hole in the wall? To be more accurate a bear serving you your coffee through a hole in the wall? I knew it, and your dreams have just come true! Head to Yongkang Road, but not sure where? Look for the queue as this place is popular all day long.

Test your fear of heights by visiting Shanghai Tower

at a jaw dropping 2,073 feet this tower allows you to see for miles around and experience Shanghai from a different angle.

Tour the Pearl Tower

a monument of Shanghai skyline you cannot visit Shanghai without being drawn to this unusual piece of architecture which allows 360 degrees views of the Bund and beyond.

Take a photo at Yuyuan garden

this 400 year old garden of oasis is set right in the heart of Shanghai's old city and has some examples of China's amazing architecture and sculptures scattered around for you to observe and enjoy.

Further afield
Take a visit to Suzhou – feel like a new adventure but want to keep it short and sweet? Take a 30 minute day trip to Suzhou which has beautiful temples and gardens to explore.
Visit the West Lake in Hangzhou – for $6 and only 1 hour train ride. This city is renowned for its beauty and history of the West Lake where many Shanghainese go on vacation.
Wander the great wall – love Shanghai but want to learn more of the long history of China then Beijing would be a good place to start. From around $50 return and a 5 hour train journey it's easy to travel for a long weekend. 
Hike Yellow Mountain – probably the most popular mountain in China and is currently listed by UNESCO as a world heritage site. With its gorgeous pine trees and sea of clouds it makes for a great 1 day hike.
Best Time to Visit Shanghai
Shanghainese locals joke that Shanghai only has 2 seasons; summer and winter. This is due to the quick change of weather from warmer temperatures to sudden coldness which is not far off!
The Summer period is from May to November and doesn't follow the cooler season of Autumn whereby you might start to feel a crispness in the air but instead goes from the cooler end of summer temperatures of 22 degrees to suddenly 5 degrees, quite literally overnight. 
The peak summer months are in July and August whereby temperatures are on average 35 degrees. It is not uncommon to see temperatures rise to 40 degrees and they rarely dip below 27 degrees (which makes it perfect pool time weather). However humidity is very high in Shanghai and on average is 80%, with June being at its peak.
Although Shanghai's rainy season is from June-September they have a 'plum season' which is (like clockwork) the month of June. And be prepared, an umbrella is a must.
Winter on the other hand runs from December to February and although temperatures average 1 degree it does have the advantage of being a dry winter so doesn't feel as cold as one might think. However, compared to other cities such as Beijing, Shanghai doesn't have the benefit of indoor central heating in most apartments but since the air conditioning can emit heat for many this suffices.
Although the Shanghainese joke about only two seasons, there is a nice period of Spring which runs from April and May and has average temperatures of 15 degrees which lets people rejoice that winter is ending and prepare for the humidity to come.
Shanghai for Families
Shanghai, like any other large, international city has a great way of life for families. Although it may not be obvious at first glance there are actually a multitude of ways to spend your days with children. 
Shanghai Natural Wildlife Insect Kingdom is a great place to go and entertain your children. Adults may be turning away at the sight of them but I'm sure every child loves to see a creepy crawly. If you wanted something a little less gruesome then Shanghai Science and Technology Museum, which has over 13 exhibitions and 4 science theatres and many hands-on exhibits makes it a sure fire way to amuse and create a great level of interest. Tired of all the museums and need a bite to eat? Bistro Bianco Hello Kitty is a themed restaurant which is 100% cute with delicious food (and even has a wine menu for the consenting adults). The Insect Kingdom not impressed the children enough? Then heading to Shanghai Zoo may be able to delight everyone or even a more aquatic day at Shanghai Ocean Aquarium where you can see everything from tiny seahorses to huge manta rays could be sure to raise a few smiles.
Depending on your accommodation the majority of hotels are all child friendly and even offer children's activities and day centres.
In terms of education there are so many options it could make it hard to choose so I have selected some of the highly recommended Kindergartens, schools and universities.
Kindergarten – 0-6 years
Concordia International School Shanghai (CISS)
Wellington College International Shanghai
Magnolia Kindergarten
Primary Schools – 6-11 years
Wellington College International Shanghai
Western International School of Shanghai (WISS)
Shanghai Community International School (SCIS)
Secondary Schools – 11-18 years (offering IB, AP, A level & IGCSE etc.)
Shanghai United International School, Gubei Campus
Western International School of Shanghai (WISS)
Wellington College International Shanghai
Universities – 18+ years
Shanghai Jiao Tong University
Fudan University
Tongji University
Living in Shanghai
Shanghai Transportation
How to get to the Shanghai
Shanghai has two major airports with Shanghai Pudong (PVG) for international flights and Hongqiao domestic (SHA) for domestic and shorter international flights. 
From Pudong (PVG)
Getting in to the city is very easy so really depends on your budget:
Taxi
With a huge number of taxis outside you don't need to worry about ordering and can just go, queue and get into the city with an average cost of $38.  
Shanghai Maglev
The Shanghai what now? This is the fastest commercial train in the world and at its highest speed of 400km/h a lot of people use this just for the experience. Costing $7 one way and a frequency of every 15-20 minutes it gets you to Longyang Road Metro Station in less than 8 minutes which you can then take the metro/ taxi to your hotel. 
Metro
If you don't mind the journey taking slightly longer than the metro can get you there for $0.6, and directly inside the airport. You do have to change at Longyang Road Metro Station but this is a simple transfer on the same platform so no stairs or lifts required!
How to travel around Shanghai
Walking
If you are looking for great ways to explore the city there is no better way than walking around. The main part of Puxi such as by People's square and West Nanjing Road are a stroller's dream with hidden alleys and traditional shops at every turn.
Metro
The metro is extremely cheap at $0.6 for each ride and having over 18 lines ensures that each nook and cranny of Shanghai can be explored.
Bike
If you open a bank in China then this allows you to use the public bikes which are extremely convenient and although they work by km typically a ride will cost around $0.3 if you're not travelling too far. The two main ones are Hellobike and Meituan and have stations strategically placed around the city.
Scooter
You're not a true Shanghainese until you've tried your hand at navigating a scooter. You can purchase a second hand one for quite cheap or there are also companies which allow monthly rental such as Mute from as little as $46 per month with no deposit needed.
Taxi
Taxis are everywhere so you never need to worry about a shortage here. If the green light in the front is on then you can easily hail it down and take a ride. The minimum charge is $2 and then $0.5 for every km. To get this even cheaper China has its own 'uber' called Didi which comes in both English and Mandarin.
Fitness and Health
Shanghai may be lacking in greenery but it isn't lacking in health and fitness.
Yoga Room
This yoga studio near Jingan Temple offers many styles of yoga such as flow, vinyasa and even pre-natal yoga taught by their team of qualified instructors.
Souldancing – Shanghai Dance Studio
If dancing is your thing this studio offers over 20 different styles from jazz, bachata and salsa down to MTV dance, hip-hop and pole dancing (oh my). 
Temporary Humans
Looking for someone that's more enjoyable than the gym? Then Temporary humans may be able to help. Offering a variety of classes such as metabolic conditioning (from rope climb to spear throwing), Tabata and even Spartan training this dedicated group of trainers will ensure to make you break a sweat. 
Price: $38 for a drop in class, $33 per class for 10 class package or $27 per class for a 50 class package 
Gym
If you love a gym, then there is no need to worry as Shanghai is no stranger to a good workout. Strangely, the majority of gyms are located in the numerous shopping malls scattered around the city which means they don't have the advantage of the 24 hour schedule you may have encountered in other countries but all still have very flexible timings of typically 9am-10pm (7am for some of the larger ones). 
A word on membership is that it's a sales game, so each person may pay more or less, so touch up on your negotiation skills to ensure the best rate. The prices below are what you should pay within an average so if you find the sales rep charging you more, walk away and watch them come running.
Physical Gym
Probably the cheapest you will find in Shanghai and with over 40 gyms it makes joining easier as your membership allows access to all. The longer the membership the cheaper the rates and if you're not sure how long you will stay you are allowed to 'pass/sell' on your membership. 
Facilities: Shower room, sauna, steam room, free lockers, full weights and cardio equipment and classes (booked in advance). 
Additional charges: Special classes such as TRX will have an additional fee of $3 
Price: $340 for two years
F45
Ah I'm sure you've all heard of this functional training brand and Shanghai is no exception. which has two branches. It offers a two week free trial but if you're not new to F45 it has the same level of trainers and structure as other global classes.
Price: $30 for a drop in class and $300 for the unlimited monthly package
Will's Gym
A more high-end gym (they have Dyson hairdryers!) This gym has multiple locations with a great selection of weight and cardio equipment and an extensive list of group classes such as MMA, spin and kettlebell training.
Price: $464 for a yearly membership
Shanghai People
Chinese are very proud people and respect is a strong part of their culture. They are also very friendly so don't be surprised if, upon meeting a local, they want to take you out for dinner or invite you to their house for tea. It may seem quite strange (especially for me being British in that even my closest friends rarely invite me to their house for tea!) but this is their way of respect and hosting someone is a very high privilege. I remember after 3 weeks of being at university my teacher invited the whole class of 15 to her house for tea. It was a small house so wasn't done to boast of her life but was her way of saying how happy she is to teach us and wants us to feel the same.
If you do accept an invite don't be surprised if you leave feeling fit to burst on good food and tea. Saying 'no' or 'you're not hungry' to a host is not understood and they will assume you are being polite and translate this as 'I want everything' as quite literally tea and an assortment of snacks will normally appear in front of you before you have even sat down. 
If you go out to dinner with a group of Chinese people, sharing food is a common aspect of their culture and the host will order enough food to feed the 5000. While other cultures may find it rude to leave food, in China this is translated as 'my guests are too full to finish the food' which is seen as the host has provided well. If all the food is eaten it can actually make the host feel like he is too stingy to buy enough food for his hungry guests!
Shanghainese are also very open and forthcoming about money. While some western countries avoid money conversations at all costs (pun intended), you will probably find that asking your name, which country you are from and how much you earn are the three most common questions.. This isn't being rude but is as common as asking, 'how are you' in the West. Chinese are very good businessmen and it is embedded in their culture which may be why talking about money is not a taboo.
Shanghai Insurance and Medical Care
Travel insurance is recommended as although the level of theft is one of the lowest in the world, it is always better to be cautious and have your mind at rest.
For medical care I would always take out insurance. Shanghai has ample public hospitals and clinics where the nurses and doctors can speak basic English and although a visit to the doctor is around $3 with medicine ranging from $8-$10, an emergency, whereby surgery or long term stay in hospital is needed can start to run into thousands of dollars. This is obviously an expense no-one wants to encounter, therefore insurance can help prevent this and ensure you have the adequate care and coverage needed.
Pharmacies are easy to find and ask anyone where a 'Yaodian' is and you can easily be directed. The medicines are not too expensive, ranging from $0.5 to around $5 for the most common types. However, most pharmacies don't have regulated pharmacists so be wary of the advice you are given.
Each district has major hospitals (and others more than one) but some of the more renowned ones based on services and quality of care:
Public Hospitals
Huashan Hospital
ldg 15, 12 Wulumuqi Zhong Lu,
near Huashan Lu
Jing'an District
乌鲁木齐中路12号15楼,
近华山路
Huadong Hospital 
221 Yan'an Xi Lu, near Wulumuqi Bei Lu
延安西路221号, 近乌鲁木齐北路
Phone: 6248 3180 ext 30106
Private International Hospitals
For private clinics whereby you can find doctors fluent in a large number of languages (i.e. Japanese, Korean, English, Spanish, Italian, French) and a higher level of quality than some of the public hospitals are:
Parkway Health – this clinic with multiple branches throughout Shanghai offers English and Chinese services. It does not offer emergency services but has 24/7 availability depending on the clinic. The consultation fee is between $100-$300.
Shanghai Centre, 2/F, 1376 Nanjing Xi Lu, near Xikang Lu
南京西路1376号, 上海商城2楼, 近西康路
Phone: 400 819 6622
Sky Clinic – these two branches offer emergency services along with an extensive list of spoken languages available (Mandarin Chinese, English, Japanese, Spanish, Portuguese, Hindi and French). The consultation fee is between $77-$125.
396 Hongbaoshi Lu, near Jinzhu Lu
红宝石路396号, 近金珠路
Phone: 6222 2021| 5153 0222
Jiahui International Hospital – here has multiple branches of hospitals and clinics with the largest hospital (holding 500 beds) being found in XuHui district and also has an extensive list of spoken languages available (Mandarin Chinese, Taiwanese, English, Japanese, Spanish, Turkish, Korean and Italian). The consultation fee is between $47-$155.
Dongyi Mansion, 88 Changshu Lu, near Changle Lu
东艺大厦, 常熟路88号, 近长乐路
Phone: 400 868 3000
Have an emergency and not sure what to do or who to turn to? You can either call 120 which is direct to the emergency service line who can assist accordingly. Or a second option if the emergency isn't life threatening then calling the 'Shanghai call centre', which is a service offering people with addresses. Simply dial 962288, press 1 for 'European' languages (English, French, German and Spanish), and you will be connected to an operator who will be able to provide and send you with the address of the nearest hospital or clinic which you can then take yourself to.
Other points in terms of health is that Shanghai is known for its mosquitos but rest assured, there is no malaria present and the only thing a bite from these pesky creatures may give you is a nasty itch. 
In terms of tap water this is something that should be avoided due to sanitation issues so stick to bottled water.
Finally ensure that you take precautions when crossing the roads since drivers of both cars and motorcycles are known for speed around the city.
Make sure you are fully covered by reading our full Digital Nomad Travel Insurance guide.
Jobs in Shanghai
With Shanghai being so diverse in the businesses and opportunities it has to offer gives way to a variety of jobs: 
English teacher – although it may sound obvious what might not be so obvious is the high salaries this job can offer. An average salary of a Kindergarten teacher after taxes is $3,700 and rises to $6,200 for elementary and high-school. Kindergarten is easier to get into if you are not a trained teacher as most do not require a specific teaching qualification or specific nationality but an adequate level of English and good interaction with children. If you wanted just a sideline job then home tutoring or part time work in after school companies offering English are in the range of $46 to $78 per hour.
Join a start-up – you will never be surprised by the amount of start-ups in Shanghai. From manufacturing silk pillowcases to food delivery of baby meals there is always a demand for new talent. 
Start your own company – China may have a large number of people who have already established a company but don't let that dissuade you into thinking the market is saturated. Actually far from it! There are still an enormous amount of opportunities; be that to export products since they are on the whole cheaper than Europe or import products since Chinese people still highly regard foreign commodities and with the simplicity of starting a company it makes it a lot easier than you may think!
Graphic designer – with the large amount of businesses in China there's no surprise that graphic design is always in demand.  
Translator – if you're lucky enough to speak mandarin there is a huge need for translation in China and with fees starting from $70 per page there is a great profit to be made.
Photographer – with serene settings from the white sandy beaches to the exotic underwater marine life, this place is a dream come true for any photographer. 
Hotel Employee – with an abundance of hotels there is always a demand for hotel staff
Check out our Digital Nomads Jobs Postings to find the best jobs available for Digital Nomads.
Nomad Friendly
Value for Money
Internet
Workspace
English
Food
Safety
Health
Transportation
Friendly
Quality of Living
Cost of Living Shanghai
The expected cost of living always varies depending on your budget so it can be as cheap or as expensive as you make it. Rent can depend on how old or new the building is, location and if you want to co-share or have your own place. Below I have listed average expenses but depending on your budget range costs in Shanghai could look as follows:
Accommodation: $600 for a shared apartment, $900 for basic apartment in central Shanghai or $1,400 for a more modern apartment.
Workspace: Co-working spaces can be as cheap as $185 but the average is $385 per month. If you choose cafes it will depend on your order so expect around $3-$5 if you're ordering a drink only. 
Commute: Each metro ride is $0.6 dollars, a bike rental for around 2km would be $2 and scooter rental per month is $46.
Groceries: Average of $50 dollars a week for items such as fruit, vegetables, bread and meat.
Coffee: $3 for a typical Americano
Phone card: A monthly package of internet and phone calls would be $16 on average 
Utilities: If your rent doesn't include this it is actually relatively cheap at around $15 a month for gas, electric and water.
Breakfast: For a typical Chinese breakfast of soy milk and a Chinese Bun it would cost around $1.50
Eating out: A local style dinner can cost as little as $3 dollars while a nicer establishment can cost from $30 dollars up 
Alcohol: If you like a drink a beer can cost as little as $3 dollars while cocktails are at the higher end of $12 dollars