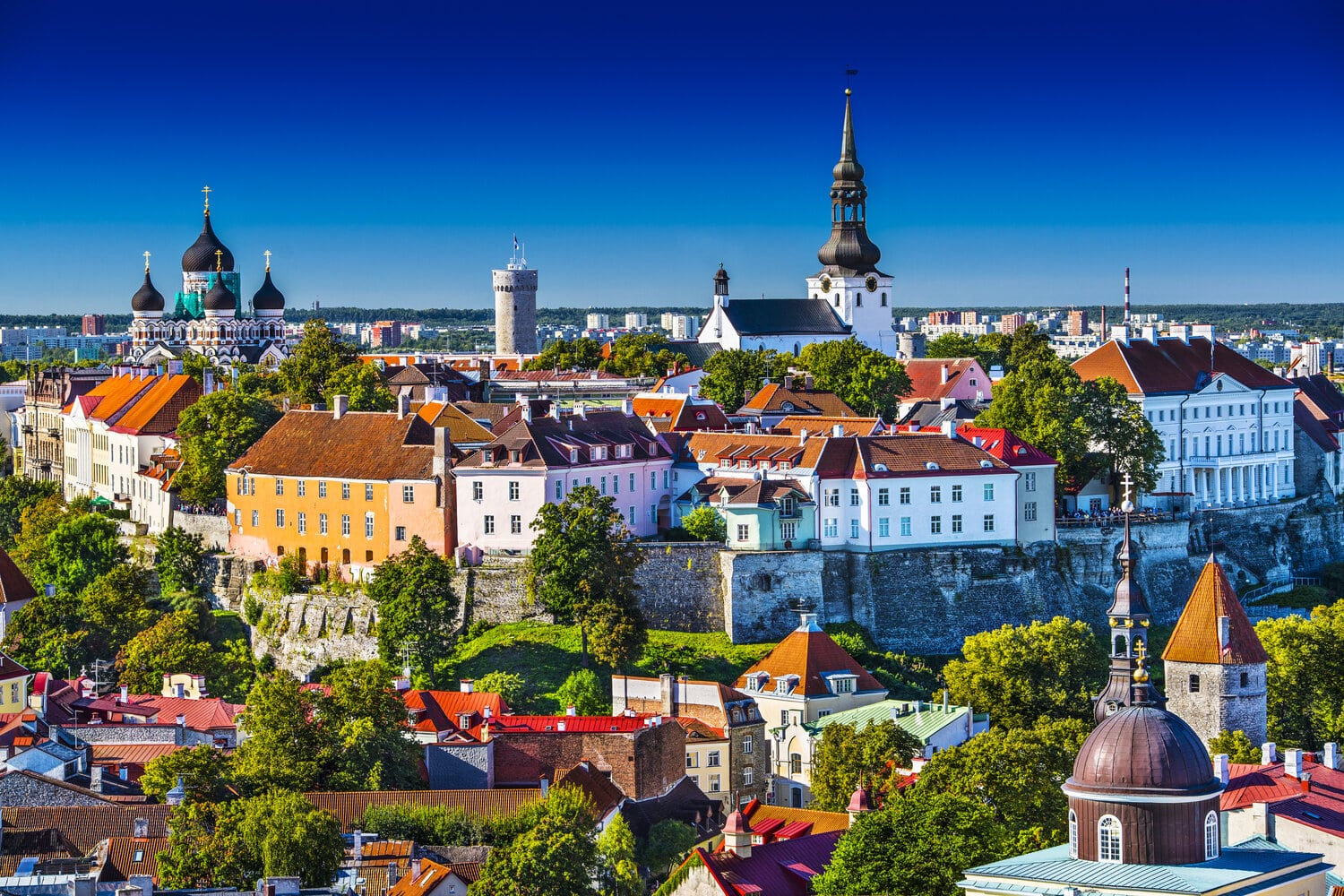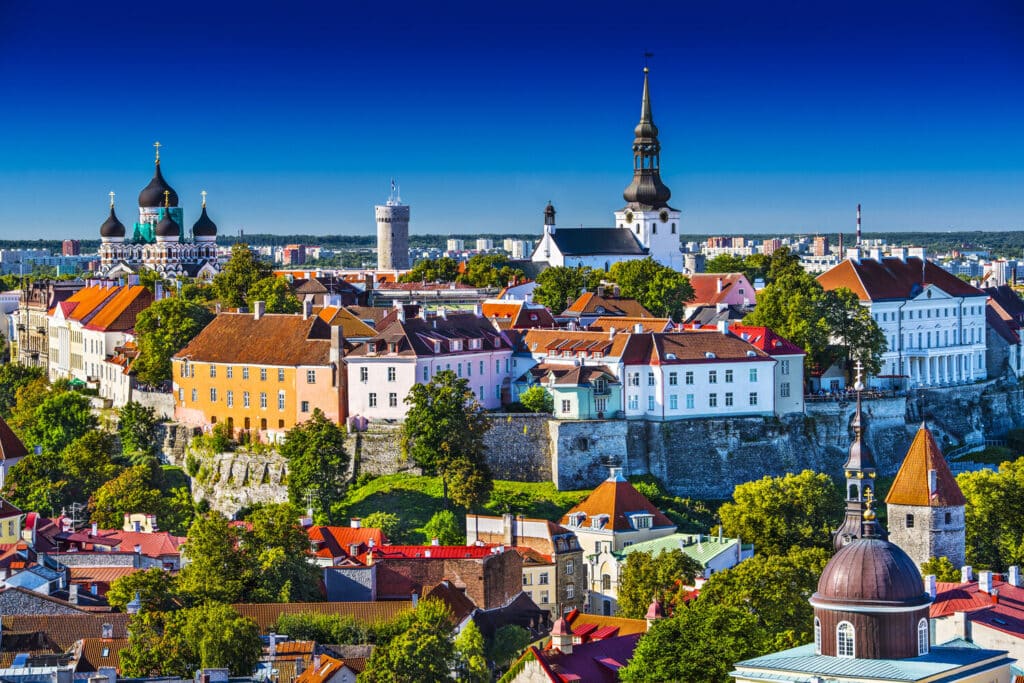 A Digital Nomad Guide to Tallinn
Estonia sits between mainland Northern Europe, Russia and Scandinavia. As a result the country has a beautiful natural fusion of these unique countries. Its complex history has created a population that is extremely welcoming, highly innovative and traditional all at the same time. 
In summer the country exposes its natural bogs and swamps which give great health benefits to those who swim in them. There are many mystical elements to Estonia with influences from folklore and paganism. You will find babbling brooks, hot springs and legends of witches in this dense forest land.
Estonia also turns into a magical winter wonderland from December to March and temperatures get so cold that the sea around it freezes! The winters in Estonia are harsh but they are very beautiful too.
Estonia has the largest bear population in Europe and is recognized for its nature reserves and wildlife. Estonians respect the natural world around them and believe it is good to be immersed within it, so you will find many free wild camping spots across Estonia and it is encouraged to get out into nature as much as possible. This connection with the natural world is unique and is refreshing to see with the current age of everything becoming digital. 
Estonia uses the Euro as its main currency and the official language is Estonian. You will find that it is common for older generations to speak Russian as well, as it was once part of the Soviet Union. The younger generations are learning all sorts of European languages from English to Spanish and German.
Tallinn is Estonia's capital and it is located on the north coast, just a short boat ride from Helsinki, Finland. This mysterious and often underrated country might be small, but it has a lot to offer.
Nomad Friendly
Value for Money
Internet
Workspace
English
Food
Safety
Health
Transportation
Friendly
Quality of Living
Living in Tallinn Overview
| | |
| --- | --- |
|  Meal, Inexpensive Restaurant | $13.90 |
| Domestic Beer (1 pint draught) | $5.56  |
| Cappuccino (regular) | $3.54 |
| Loaf of Fresh White Bread (1 lb) | $1.33 |
| Water (1.5 liter bottle) | $0.96 |
| One-way Ticket (Local Transport) | $2.22 |
| Basic Utilities (Monthly) | $289.89 |
| Internet | $28.95 |
| Fitness Club (Monthly) | $54.01 |
| Apartment (1 bedroom) in City Centre | $738.91 |
| | |
| --- | --- |
| Child Friendly | |
| Cultural Tolerance | |
| LGBTQ Friendly | |
| Traffic Safety | |
| Nightlife | |
| Large DN Community | |
| Young Community | |
| Proper Hygiene | |
| Clean | |
Emergency Numbers
Police
112
Ambulance
112
Fire-fighters
112
Money Handling
Currency
Euro (€)
Max ATM withdrawal
€1000
Tipping
Yes
Communication 
Languages
Estonian
Calling code
+372
Time zone
UTC+02:00 (EET)
UTC+03:00 (EEST)
Health
Tap Water
Drinkable
Vaccinations
None
Tallinn Public Transport Application Tallinna Ühistransport, which allows you to quickly and easily ride in Tallinn by bus, tram and trolleybus. Shows actual departure times, plus the ability to locate your location with GPS, and you can quickly and easily find out the closest stops and public transit times.
Tap the button to order a ride, get picked up by a nearby driver, and enjoy a low-cost ride to your destination.
Why choose Bolt?
• Get a comfortable, low-cost ride.
• Fast arrival times, 24/7.
• See the price of your ride before you order.
• Use a range of safety features, e.g. share details of your journey.
• You can pay inside the app (Credit/Debit) or with cash.
Digital Nomad Personal Experience in Tallinn
I have been to Tallinn multiple times and I have made some wonderful local friends out there, who I often return to visit. Estonia overall is a beautiful country that is rich in nature, wildlife and tradition. I have stayed in various regions of the country and at different times of the year too and it is a very affordable and fun place to be.
Tallinn is a great city and it is full of interesting activities. It really is the heart of modern day life in Estonia and you will find the majority of the youth here. I stay in Airbnb's or with friends when I visit as they are very affordable and you can be in an excellent location at a reasonable cost. When I visit I usually work from my Airbnb as I already have a community of friends in Tallinn to hang out with and I like to save money on this so I can spend more on visiting museums, galleries and visits to the countryside.
In winter my favourite things to do are ice skating on the frozen lakes, walking on the frozen sea, hiking through the forests, spending an evening in the sauna and enjoying the gastronomy of the country. Depending on the time of year you visit you can forage with locals for mushrooms, berries and nuts and at some points in the year it is even possible to see the aurora borealis (northern lights). I was lucky to catch a glimpse when I visited a couple of years ago in August. The country and its people boast a rich enthusiasm for nature and the natural world which is very important to me. There is so much to see and this is why I keep going back.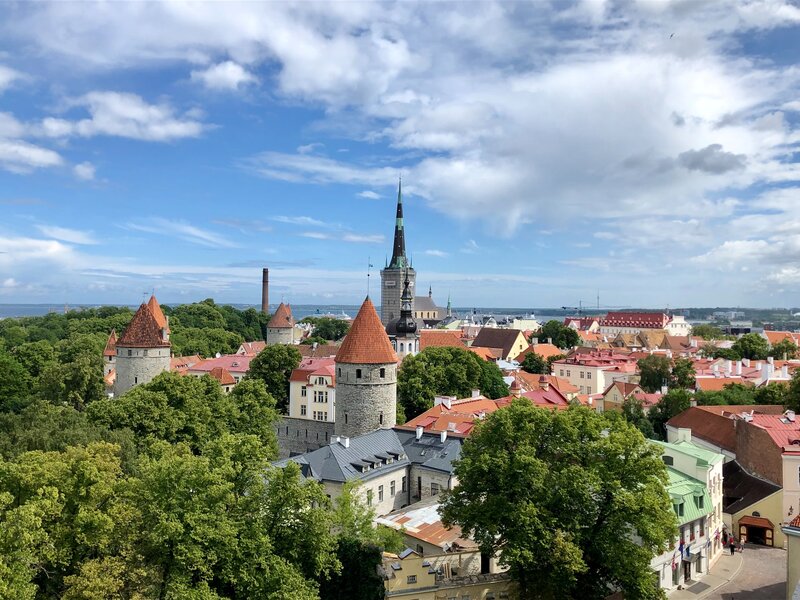 Work in Tallinn
There is a good selection of co-working spaces in Tallinn so you will be able to find something to suit your needs. There are co-working spaces and cafés all suitable to work from. Estonia has one of the fastest internet speeds in Europe and is home to the founders of companies such as Skype and TransferWise. Some of the top rated spaces are listed below. When looking at co-working spaces make sure to double check the price, as most displayed are excluding VAT, so when you go to pay there will be a slight increase.
Best Places to Work in Tallinn
Baltic Cowork
This is a great modern, bright co-working space that offers one of the best spaces in the city. Priced at $160 USD per month you will have access to great facilities and the perfect space to work from. There is a lot of desk space and each room will have up to six places with 50mb/s internet speed. Within the membership you will also get free printing and free coffee. Baltic Cowork is more suited to long term renters; however they also welcome monthly rentals too. They are also one of the cheapest spaces. 
LIFT99 TALLINN
Depending on what you are after, LIFT99 might be a bit better suited to digital nomads as they offer a variety of plans. For those of you looking for more flexibility and more of a part time space then LIFT99 is the place. They offer day passes for $22 USD or monthly passes for $240 USD. This workspace is great for growing a community as they hold regular offline and online events and it is a very social space.
Workland
The Workland brand has multiple locations across the city offering temporary work spaces and meeting rooms. There are three locations but Vabaduse and Maakri are the better two for digital nomads as their third location is more targeted towards corporate businesses.  Their day passes cost around $30 USD per person for hot-desking or you can buy a flexible 10 day pass for $180 USD. This is a great package for a part time worker or if you know you will need a workspace for a month then a monthly package is around $266 USD. This co-working space is one of the higher end places to be, but it is a really modern space and for some worth the extra investment. 
UMA Workspace
This is a great place for a community vibe as there is a huge focus on bringing workers together. They host regular events such as brunch on Tuesday mornings; they also have great facilities and a selection of packages too. This is a great place for fun and flexibility combined in a workspace. Day passes cost $30 USD and $242 USD for a flexible monthly pass. 
Storytek Hub
This is one of the newest co-working spots in Tallinn and it is a great space if you are starting a new project. Storytek is home to some of Tallinn's start-ups and they offer a range of packages from daily passes, weekly and monthly. The only downside is that you have to enquire for prices, but if you are going to be in Tallinn for more than a month then this might be a great option for digital nomad start-ups.
Cafés
Tallinn has a good selection of cafés and bars to work in and here are some of the best for digital nomads. On average a coffee will cost you around $4 USD, so this can be a more money efficient way of having a remote work space. The cafés I am about to list are recognised by digital nomads for their great Wi-Fi and usage as a workspace. Fika Café, RØST Bakery, Epic Coffee Shop and Kohvipaus are well suited to digital nomads, offer great coffee and have nice vibes. You will also find lots of chain coffee shops in Tallinn, both local and western brands.
Best Places to Live in Tallinn
Tallinn is a fairly small city and is easy to navigate once you get used to it. There are various districts of the city and areas that are residential, touristy and historical, and you should find it fairly easy to find the best place to live. Choosing the area you want to stay depends on a few factors, such as budget, convenience and preference. Here are some of the best areas to stay, each offering various elements to attract digital nomads.
Best Neighbourhoods
Kalamaja
This is probably the best place to be located as a digital nomad as it is where the youth of the city live. Kalamaja is known as the hip creative part of the city and you will find many students, entrepreneurs and start-up businesses in this area. The unique cafés and bars help distinguish this part of the city as being the artsy district and you will have a great time staying in this area as almost everything you need is on your doorstep. It is also fairly affordable to live in the area, with both cheap hotels and fair priced Airbnbs.
Old Town Tallinn
The Old Town is the historical centre of Tallinn and it is a great place to stay if you want to be in the heart of the historical side of the city. If you are a history buff then you will love it here as this is where you will find all the original architecture on the buildings and the best traditional restaurants in Tallinn. It can be a little more expensive as it is the touristy area.
Pirita and Kadriorg
These areas are a little out of the city centre but they are the most relaxing areas to be. If you love being by the ocean whilst being just a stone's throw away from the bustling centre, then Pirita and Kadriorg are the places for you. Pirita is a great place to be based during summer as you can take long strolls along the beach and swim in the Baltic Sea. Kadriorg, is the more upmarket area and can be quite "boujee". It is a great place to be if you want to be right next to the city, but also by the ocean. Although it is a nice district it may be out of budget for many digital nomads.
Kesklinn and Vanalinn
Located in the true centre of the city are Kesklinn and Vanalinn. This is a fantastic area for the lower budget and is very convenient as it literally has everything on its doorstep. This is the centre for transport in the city and the area is rich in parks.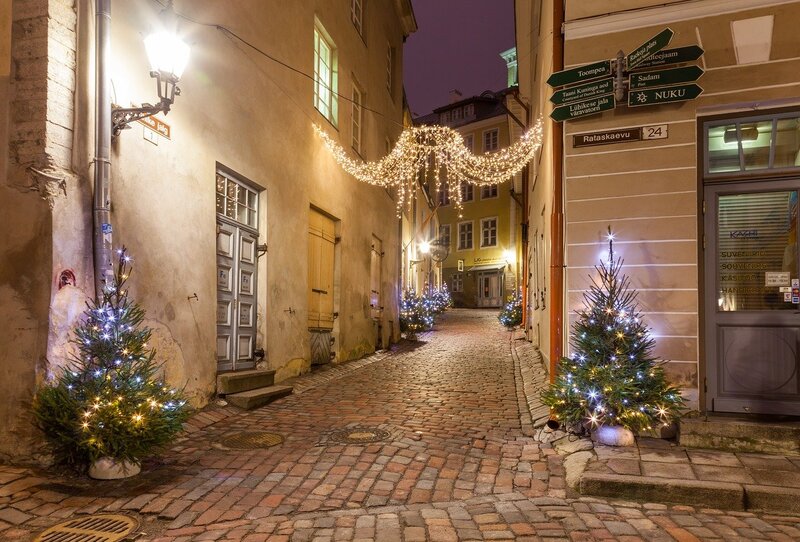 Find an Apartment in Tallinn
The best way to find an apartment in Tallinn is through websites such as Airbnb and using Facebook forums. It can be quite difficult to find good deals on apartments before arrival in Tallinn, so a good option may be to book temporary accommodation for a week or two and then search for an apartment when you are there. You will also find that hostels in the city are a good option instead of an apartment as they offer private rooms at affordable prices.
The average cost for an apartment on Airbnb will vary depending on the area of the city you want to be in. Apartments in the Kalamaja area, which is best suited to digital nomads will cost around $900 USD per month. When compared to other districts you can find apartments for as little as $585 USD per month which is considerably less. However, cheaper does sometimes mean less convenient, so it is best to consider what your needs are before booking somewhere. You will find that prices on Airbnb are quite a bit higher than going through a rental agent, however you have to consider the fact that usually all bills are included with Airbnb's and there are other benefits from using Airbnb compared to renting.
There are other local websites such as city24.ee and kv.ee which are the two biggest rental and sales websites in Estonia. On these websites you can find studio apartments from as little as $180 USD per month and 1 bed apartments from around $400 USD. Usually bills would be added on top and you must remember that if you are visiting during the winter, temperatures can reach negative numbers so heating bills may be a lot higher at this time of year. Another benefit of using websites such as these is that you can change the language on the website so it will make language barriers obsolete. 
Another option for finding an apartment in Tallinn is by using pages on Facebook and Marketplace. These resources are becoming increasingly popular and you can often find great deals as you avoid estate agency fees. However this method isn't always as reliable as you will rarely have contracts and deposit systems. This means if you want to apply for residency, then proof of residency may be more difficult without contracts. It is also less reliable in a sense as you don't have the security of booking.
Despite these draw backs the prices on Marketplace can be a lot less than using agencies. You can get a fully furnished, nice apartment for around $360 USD per month. "Korterite üürimine (MAAKLERITETA!)" and "Expats in Tallinn/Estonia" are two very useful Facebook groups for finding apartments too.
Cheap Places to Stay in Tallinn
Hostels are always the best option for lower budget accommodations. There is a good selection in Tallinn, offering both beds in dorms and private rooms for very affordable prices. I would usually use Hostelworld as you can compare prices throughout the city and look at ratings. You can get private rooms in hostels for as little as $21 USD per night and beds in dorm rooms from around $9 USD. It is quite common for hostels in Tallinn to only offer private rooms, which means you can have a very comfortable stay for a reasonable price. 
Some of the best hostels in Tallinn in terms of rating and value are Fat Margaret's hostel, Imaginary Hostel, Lai 22 Hostel & Bar, Draper Startup House, Tallinn Backpackers and Viru Backpackers. They are all centrally located, affordable and highly rated. 
Another possibility is finding a flat share or a room in a house which is probably best found via Facebook marketplace as this is where you are more likely to find good deals. Searching in the Kalamaja district will be most successful for this as this is where the youth are, so the chances of finding a room in a flat share will be more common here.
Currently websites such as coliving.com do not operate in Tallinn, however there is a coming soon page on their website, so you may find that you see some co-living, co-working spaces pop up over the next few years.
Estonia Visa for Tallinn
Estonia is very welcoming and you will find that entry is fairly simple. It is always advised to contact your embassy to check specific visa requirements as they do vary between countries, however Estonia does offer many visa programs to encourage people to relocate to Estonia. As it is part of the EU and the Schengen area, anyone from these areas has free movement and the right to enter and stay in Estonia.  A full list of countries that don't need a visa before entering Estonia can be found here vm.ee/en/who-does-not-need-visa-visit-estonia.
Most tourist visas allow you to remain in Estonia for up to 90 days within a 180 day period, so if you plan on being in Estonia for longer then you may want to consider looking into obtaining a long stay visa.
If you are a non EU passport holder then you might be eligible to apply for Estonia's new Digital Nomad Visa scheme. The concept behind the visa is to grow Estonian economy by bringing in creative entrepreneurs from around the world. More information can be found at e-resident.gov.ee/nomadvisa/.
Culture and Food in Tallinn
Estonia is known for its rich hearty diet and home cooked meals and you will not be disappointed when you eat out in Estonia. Estonia has had a mixed history and its cuisine reflects this blend of Russian, German and Scandinavian cuisine. Tallinn has some of the best restaurants in the country serving up a mixture of traditional and new dishes.
You will find different style restaurants in different areas and there is an enthusiastic youth promoting Tallinn's food culture. You will find some Russian style bars and restaurants amongst the Old Town, as well as traditional restaurants serving Estonian delicacies. In the Kalamaja district you will find the hip fusion restaurants where the creative experiments with food are shaping the future of Estonian cuisine. 
As a whole the country is very traditional with its food, mostly due to climate. The harsh winters mean that high fat, rich foods are eaten for survival. Many dishes contain local produce and Estonians love their foraging, especially for mushrooms. Some of the most common things you will find are pickled mushrooms, or any pickled vegetables for that matter! Rich meat based soups such as borsch and delicious hearty stews. 
Traditional specialities include dark rye bread, Mulgipuder, Verivorst which is a kind of blood sausage, potato salad, smoked herring, sprat sandwich, dumplings, Seljanka and Kirju Koer which is a dessert. Tallinn Old Town is the best place to find traditional restaurants serving some of these treats. Some of the top rated are Farm, III Draakon, Rataskaevu16, Leib Restaurant, Porgu, Von Krahli Aed and Kalambuur. A common form of entertainment to find in Tallinn is the medieval restaurants, where you dine and are entertained medieval style! This can make for an interesting evening with friends and gives you a true experience of medieval life in Estonia. 
There are a number of fusion and experimental restaurants popping up around Tallinn. 
One of my favourite alternative restaurants was fhoone. They offer a great variety of dishes, with Estonian influences but with modern twists. It is located in Telliskivi Creative City and you will find other hip restaurants here serving up some of the best fusion food in Tallinn. 
Although many dishes are meat and dairy based, it is possible to eat comfortably as a vegetarian or vegan. There are plenty of vegan and vegetarian restaurants and some of the best in town are Vegan Restoran V, Vegan Inspiratsioon, Restaurant Chakra, Veg Machine and Elevant Resto.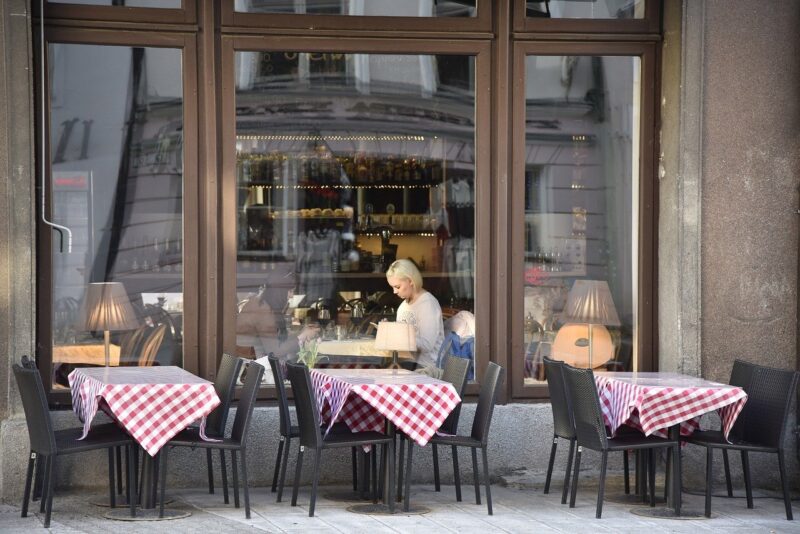 Tallinn Nightlife
Tallinn has a buzzing nightlife scene with lots of clubs and bars to choose from. You will find different energies and vibes in different corners of the city and here are some of the most popular and unique places to be.
Kalamaja and Telliskivi Creative City
These are both popular for an alternative evening in Tallinn. Kalamaja is the hipster district of Tallinn and you will find some unique nightlife activities here. Pada is an outdoor venue which is popping during the summer hosting a variety of music events. Another popular venue is Tops which is a hit with the locals and has a good vibe during the day and night. Telliskivi just south of Kalamaja is another hip hub and has some great nightlife options. Punane maja is a popular summer venue in this district, with creative drink choices and chilled vibes. Both areas have multiple bars to choose from offering a variety of relaxed vibes.
Tallinn Old Town
If you are wanting a full on club night then Tallinn Old Town is the place to be. This is where you will find most of the mainstream nightclubs playing popular tunes to dance away the night! Some of the top rated nightclubs are Privé, Pank, Club Hollywood, Teater, Venus and Studio. Most nightclubs in the Old Town only open on Friday and Saturday night. Studio and Privé are the best places to go for electronic music and to listen to international DJs. There are also smaller venues, which still attract a good crowd which are Must Puudel and NagaNaga. You will find in Tallinn that the party moves from venue to venue.
LGBTQ Scene
Estonia is still warming to the LGBTQ community and public displays of affection from same sex couples are still often frowned upon. But nonetheless there are some hotspots to visit in Tallinn such as Club 69, MaleSecrets and X-BAAR. You may find that entrance fees are high for special events and bookings might be needed.
Bars
There are many cocktail bars, breweries, wine bars and pubs in Tallinn and there is a lot of choice. The main factors are price, vibe and location, and you will find something to suit your wants. Top rated bars across the city include NoKu, Drink Bar and Grill, Hell Hunt, Sigmund Freud Bar, Whisper Sister and Valli Bar. 
Things to do in Tallinn
There is a wide variety of things to do in Tallinn, with activities to suit every need. From low budgets, to luxury experiences, Tallinn has it all. The fairy tale city is fully of history, tradition and craft, as well as boasting a modern and contemporary creative scene. No matter what your interests are, you will find something captivating in this romantic city.
Before heading to the city it is worth checking out some things to do as this may shape or influence your projected budget. Researching can help you plan things like buying the Tallinn Card. The Tallinn Card is a pass that gives free entry into a number of attractions across Tallinn. You can choose how long the pass lasts for; 24 hours, 48 hours or 72 hours. If you have a long to do list of expensive attractions then it might be cheaper to buy the three day pass and smash them out in a weekend! More information can be found here visittallinn.ee/eng/visitor/tallinn-card/tallinn-card/online-shop.
Museums

Tallinn has a number of museums, showcasing a variety of historical elements of the country's past. Some of the best museums are Estonian History Museum and Tallinn City Museum which showcase some of the traditional history of Estonia. Vambamu Museum of Occupations and Freedom, tells Estonians history of control and occupation during the Soviet Union. Lennusadam naval museum is also a great option if you are into naval history. You can look at the boats in the harbour and even go on some too!

Art Galleries

Tallinn is a creative city and has a great selection of art and design museums and galleries. Entrance fees vary and many have limited time exhibitions on, so it is advised to check their website before you go to see what is on. Some of the best art galleries are Tallinn Art Gallery, Estonian Museum of Applied Art and Design, Tallinn Portrait Gallery, Tallinn Art Space and Contemporary Art Museum of Estonia. 

Old Town of Tallinn

The Old Town of Tallinn is a UNESCO World Heritage site and it is a must see when you are in the city. The beautiful Old Town exhibits some of the traditional architecture of Estonia which houses shops selling local crafts, traditional restaurants and historical monuments. The best way to see the Old Town is to spend an afternoon wandering the streets admiring its beauty. You can also visit the Kohtuotsa viewing platform located on of Toompea hill to get some great views of the rooftops of the Old Town.

Tallinn Tower

Tallinn TV tower is a great place to visit for skyline views of the city with a total height of 314 metres (1,030 feet). The tower was built in the 1980s and is the main TV entertainment hub for Estonia. You can use the Tallinn card to enter, or you can purchase a ticket from the booth nearby or kiosk at the Botanical Gardens.

Beach Day

Tallinn is a coastal city and during the summer, the beach makes for an excellent day out. Although Tallinn is on the Baltic Sea, which isn't known for being particularly hot or tropical, it is still refreshing to swim in the summer when Estonia has its best weather. The top beaches near Tallinn are Pirita, Stroomi,Pikakari and Kakumäe.

Visiting the Bogs

In Estonia a trip to the swamps or bogs makes for a unique day out and shows some of Estonia's true natural beauty. The most visited bog from Tallinn is Viru and you will find many tours to go and explore this natural site. However Viru can become crowded as it has become very popular with weekend visitors from the city to relax in nature, so getting a hire car and driving to some of the quieter bogs might be more relaxing. It is common to go swimming in the bogs as their water is said to have health properties, so don't forget to take your towel for a dip!

Prangli Island

Of the thousands of Estonian islands, this is the only permanently inhabited island on the north coast of Estonia. You can take day trips from Tallinn or if you prefer a self-guided trip then you can take a ferry from Leppneeme which is north of Tallinn. The ticket will cost around $7 USD each way. If you are looking for a different experience then this is a great day out and is full of rich culture and nature.

Lahemaa National Park

The great thing about Estonia is that it is a small country which means you can easily take a day trip without the journey eating too much into the day. There are a number of national parks in Estonia, with a large variety in the south that are only a few hours' drive from Tallinn. Estonia is fairly flat, so you won't be finding any mountain ranges; you will however find endless forests and parks where nature blooms. The closest national park which is only a short drive from Tallinn is Lahemaa National Park. A trip in summer is best for seeing the bears, lynxes and wildlife. Best of all it is free to enter too, so you can hike, walk and explore without having to buy a ticket or permit. 

Foraging and Cookery Classes

Foraging is a huge part of Estonian culture and if you happen to be there the right time of year, then you can book a foraging guided adventure. Cookery classes vary dramatically in price depending on what you are making. You can go to a marzipan cookery class for around $20 USD; however there are some cooking classes costing up to $100 USD. Use the Estonia Tourism Board website to see what is on offer before you book. For foraging tours sooma.com is one of the best companies offering mushroom picking and wilderness guided tours. Mushrooming often takes place in September and costs around $25 USD for a guided tour.

Brewery Tours

Estonia is known for its crafts and its long history of brewing beer. A popular thing to do in Tallinn is to go to a brewery for a tour and tasting session. There are multiple breweries across the city all offering various packages at different prices and there is something to suit every beverage lover. Brewery tours cost around $40 USD and include tastings too! Check out visitestonia.com for more information. As well as brewery tours there are distillery tours, the best being Nudist Winery.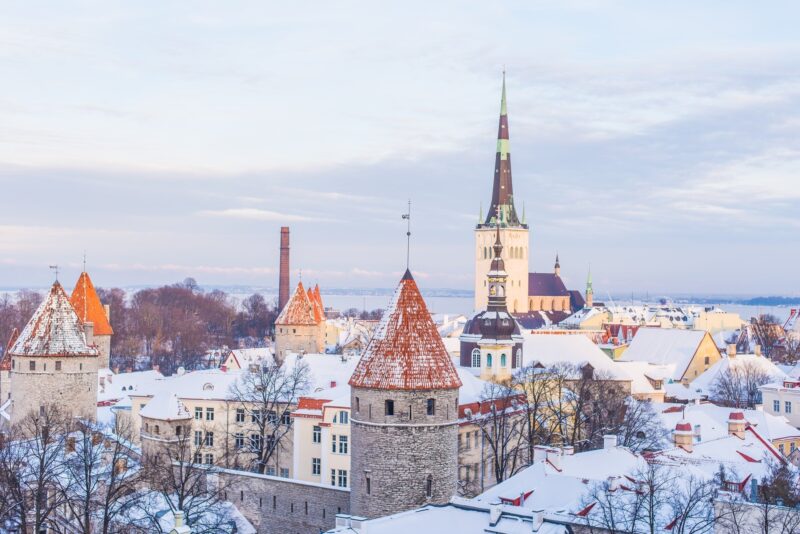 Best Time to Visit Tallinn
Weather is a really important factor to consider when planning a trip to Estonia. The summers are very pleasant with warm temperatures; however the winters are harsh and very cold. If you want to make the most of being outdoors, then spring, summer and autumn are the best times of year to visit. 
Estonia is located in the northern hemisphere so the winter in Estonia runs from December to March with the coldest months being January and February. Temperatures at night can fall to as low as -35°C and there will be snow and ice. Equally this can be a really pretty time of year to visit as the country will often be covered in a blanket of snow and sometimes the sea freezes and the ice roads open up. 
July is usually the hottest month and average temperatures are around 20.9° C (69 F) and they can occasionally reach as high as 30° C (86 F). Most days will be sunny and warm which means you can really enjoy the nature of Estonia. Visiting the forests and camping with friends is a common weekend activity in Estonia during the summer months so this is another reason why you should visit at this time of year. Sometimes if you are lucky you can even see the aurora borealis from the northern parts of Estonia too! However it isn't always guaranteed but is a nice surprise if you catch it off hand.
Tallinn for Families
Tallinn is a great city for families as it is a very active place with lots of convenient facilities as well as forms of entertainment. The fairy-tale buildings in the Old Town and selection of entertainment options will keep the kids learning and engaging in a new city. Some of the top things to do with kids are ride the city train, use the hop on hop off bus service to tour the city, visit Tallinn zoo and splash around the Kalev water park.
As Tallinn is the capital of Estonia, you will find a good selection of international schools here and one of the best is the International School of Estonia. Another highly rated is Tallinn European School. More information can be found on their websites. There are also many kindergartens and day-cares and one of the top rated is International Kindergarten OÜ. 
Finding accommodation in Tallinn for families can be quite difficult so it is best to look at as many options as possible. There are plenty of apartments on Airbnb and prices start at around $1,000 USD for a family of four. Another consideration is the possibility of booking a large hotel room, as you could benefit from additional access to facilities such as private pools, day-care services and on site activities for children.
There is an expat forum on Facebook which is a great way to discuss any concerns or thoughts before choosing to live in Tallinn with your family. The settle in Estonia programme is a great way to obtain more information about life in Estonia, and even if you are only looking to stay for a month or two, it still provides helpful information to help your family settle. More information can be found here settleinestonia.ee/en.
Living in Tallinn
Tallinn Transportation
Tallinn is a very pedestrian friendly city, with lots of reasonably priced public transport options and the ability to walk from one side of the city to the other in around one hour. Public transport in Estonia is free for Estonians and costs a small fee for foreigners and Tallinn has bus networks, as well as a tram system.
When you arrive at Tallinn airport you will be just a short ride out of the city and it is very easy to get into town. There are buses or it is very affordable to book a taxi to take you to your accommodation. A taxi from the airport to Tallinn Old Town will be around $12 USD. Taxis are widely available in Tallinn and you can either use local taxi services or taxi apps. Apps such as Uber, Lyft, Cabify, Bolt, Curb and Gett all work in Tallinn.
In order to use the public transport in Tallinn, you will need a green wallet card which can be purchased from any R-Kiosk for around $2.50 USD and then you can top the card up for use. The best offer is the month pass which costs around $27 USD and will give you unlimited use on all the city buses and trams; however you can get just one day and one week passes. You can also return the card to any R-Kiosk for a refund of your $2.50 USD when you leave Tallinn.
If you are in Tallinn during the summer months then hiring a bicycle is a great option for transport. Citybike.ee rent bicycles starting at $12 USD per day if you keep the bike for five or more days. City Bike have a huge selection of bicycles and gear so if you want to rent one just for a day to go out into the countryside, then that is also possible. 
Another option for transport is to hire a vehicle. You can hire a basic car in Tallinn from around $20 USD per day, depending on size. This is a great option if you want to head out into the countryside in your own time or go for a weekend camping trip.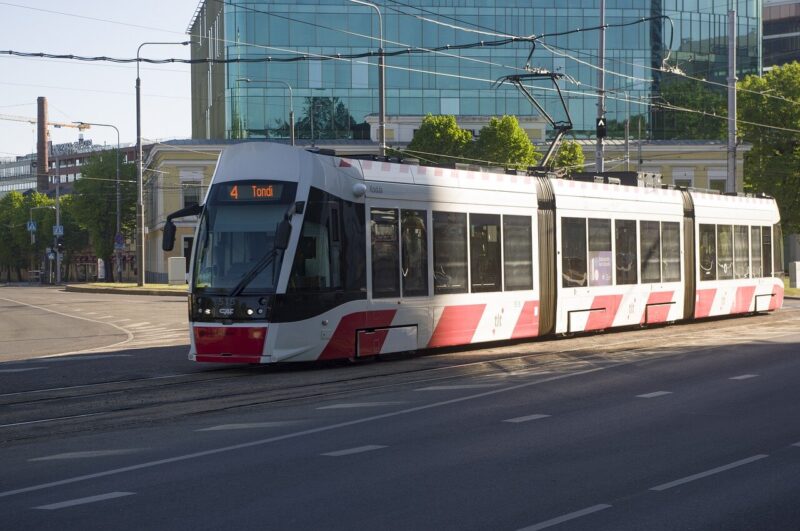 Fitness and Health
Tallinn has a wide variety of ways to keep fit, with a good selection of gyms, fitness classes and leisure centres. If you are there in summer then you also have the option of exercising outside too in the form of swimming and hiking.
Some of the top rated gyms in Tallinn are Movement Tallinn, MyFitness, 35 Fit and Gym! There are often offers and packages for monthly memberships and prices can range from $20 USD to $70 USD upwards. It is all dependent on location and services offered, so the best option is to look in the area of your accommodation or workspace to see what is on your doorstep.
For fitness classes such as Yoga and Pilates then Fitness Formula and City Yoga are the best places to go. Always check before you book to see what language classes are taught in as not all studios offer foreign language lessons. "It's Yoga Tallinn" offer yoga classes in English, with prices starting at around $18 USD for drop-ins. You can also buy monthly unlimited passes for $78 USD per month.
In the summer months, bicycle rides, sea swimming, hiking and walking are all great ways to keep fit and healthy whilst seeing some of Tallinn's beautiful sites. There is also the option to take day trips out to some of the bogs and forests for full day hikes and swimming in natural springs.
In the winter, sports such as ice skating on the frozen lakes, snow shoeing and hiking are popular ways to exercise and enjoy being out in the snow.
Tallinn People
The people in Tallinn vary dramatically depending on generation, wealth and origin; however the city has a very welcoming vibe. Estonia is a very complex country with a dramatic history and this is sometimes seen through its people. Estonia was once ruled by the Germans and you will find many people have German surnames and there is a large German influence on cultural traditions. 
Estonia was also part of the Soviet Union and therefore has had a large Russian influence on its people of that generation. Estonia was hard hit during the takeover of the Soviet Union, with all Estonian patriotic items such as flags being banned. This has caused a sense of pride amongst its citizens, now that Estonia has been free from the Soviet Union since its collapse in the early nineteen nineties.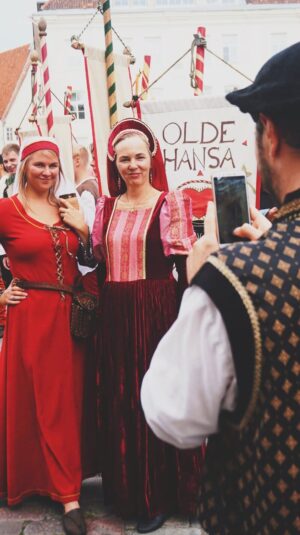 Those who grew up during the Soviet Union were taught Russian and you will find some of the older generations speak Russian as well as Estonian, whereas the youth have more diverse language skills. In more recent years it has become very popular for the youth of Estonia to learn multiple languages, as well as Estonian. This includes a variety of European languages such as German, English, Spanish and French.
People in Tallinn are very friendly and welcoming and you may find that you are more welcomed by the youth. You can sometimes feel the difference in how you are welcomed by different generations and older generations or those of Russian heritage may be less friendly and appear more stern, however this is quite normal and purely a difference in culture. Any opportunity to meet foreigners and practise another language is cherished in Tallinn and you will feel very at home in the Kalamaja district. 
As for routine it is common for many people living in Tallinn to visit the countryside and smaller towns on the weekend. Many locals work in the city during the week but have family back in remote villages or have second homes in the form of cabins in the woods. 
Spending time with family and friends in nature is important in Estonian culture no matter if it is summer or winter. Estonians love their saunas and every home will have one. A common activity, especially in winter is to spend some time in an outdoor hot tub with friends and when you overheat you simply jump in the snow to cool off. Once you have cooled down you return to the tub. Many friends and families will do this together as a social activity during the winter.
Another wholesome activity is to forage and make homemade goods. Foraging for mushrooms and berries is often passed down from generations and many families will make a day of foraging and pickling together.
Tallinn Insurance and Medical Care
When visiting somewhere new it is always advised to have relevant insurance for both your belongings and for medical emergencies. Estonia has good healthcare with the best being in Tallinn and Tartu. In the rural areas access to healthcare is reduced and is most of the time at a low standard. Many locals will visit Tallinn for medical care as the facilities are better, more advanced and readily available. Language may be an issue when obtaining healthcare treatment, so make sure to look for an international clinic or take a translator with you. There are English speaking surgeries in Tallinn. 
If you are an EU resident visiting Estonia then you can use your EHIC card to access healthcare in Estonia. There is both standard and private healthcare in Estonia and if you are travelling to Estonia with insurance you will be treated for anything you need. Travellers without healthcare insurance can still be treated at cost, but they will most likely receive the standard treatment which can incur long waiting times, non multi lingual clinics and it will cost the same as private healthcare.
Doctors' appointments usually cost around $40 USD but they can vary dramatically depending on the clinic or institution you visit and the services available 
Although petty crime is fairly low in Estonia, it is always advised to have relevant insurance for your belongings as you never know what can happen, and accidents can occur. Having insurance on your belongings will help you have peace of mind whilst travelling. Most insurance providers will cover Estonia for both medical and personal items.
Make sure you are fully covered by reading our full Digital Nomad Travel Insurance guide.
Jobs in Tallinn
There are many jobs available in Estonia, from volunteering roles, teaching English, hospitality roles and tourism work as well as full time office roles. If you are an EU resident then signing an Estonian work contract is legal, however for other countries you may need to obtain a work permit before you enter Estonia.
Non-EU residents will need to obtain a residency permit before they can take on a paid job role. This can be done by your employer when you accept the role.
Finding a job in Estonia is fairly easy, especially in the capitol Tallinn. This does however depend on your language skill set, as there are many jobs for native English speakers. English is on high demand, especially within the tech industry and many companies don't require you to speak Estonian. Jobs can be found online from websites such as workinestonia.com, cv.ee and cvkeskus.ee. You will find English speaking jobs advertised on these sites. ec.europa.eu/eures/public/jobseekers-dashboard is a great website that is run by the European Union advertising jobs in every country that EU citizens can work in.
Teaching English in Estonia can be a great way to earn a decent monthly wage, meet locals and meet other international English teachers. Websites such as teachaway.com and tefl.org advertise teaching jobs in Tallinn. English is becoming a popular language to learn in Estonia and the demand is ever growing, so this is a great place to pick up English teaching work, even if it is just a part time position.
The best place to find volunteering experiences is on workinestonia.com as you will find local non-profit companies to help and give your time to.
Check out our in-depth Digital Nomads Jobs Postings to find the best jobs available for Digital Nomads.
Nomad Friendly
Value for Money
Internet
Workspace
English
Food
Safety
Health
Transportation
Friendly
Quality of Living
Cost of Living Tallinn
As for every city the expected cost of living can vary dramatically on your lifestyle choices. Leisure activities can be very affordable in Estonia, museum entry for just a few dollars and all national parks are free. However there are some higher end experiences that will cost you.
For a low end budget you will be able to live for around $1,130 USD for one person for one month. The breakdown of costs are $270 USD on accommodation for a bed in a shared dorm room, $20 USD per day on food which is $600 USD per month, $160 USD for the cheapest co-working space, or possibly lower if you don't need a full time space. Then another $100 USD on entertainment and leisure and this is also with the assumption that you will be walking everywhere. There are ways to keep your costs low, such as eating locally grown produce and cutting out luxuries, however this doesn't suit everyone's lifestyle.
For a more comfortable stay then you should budget around $1850 USD. This would be $450 USD on accommodation, which would either get you a private room in a hostel or a private one bed apartment and include most bills (varies depending on time of year and personal use). You should budget $250 USD for a higher end co-working space, $900 USD or $30 USD per day on food which would allow you to eat out most evenings, and a budget of $50 USD for a gym membership and $200 USD for transport and entertainment.