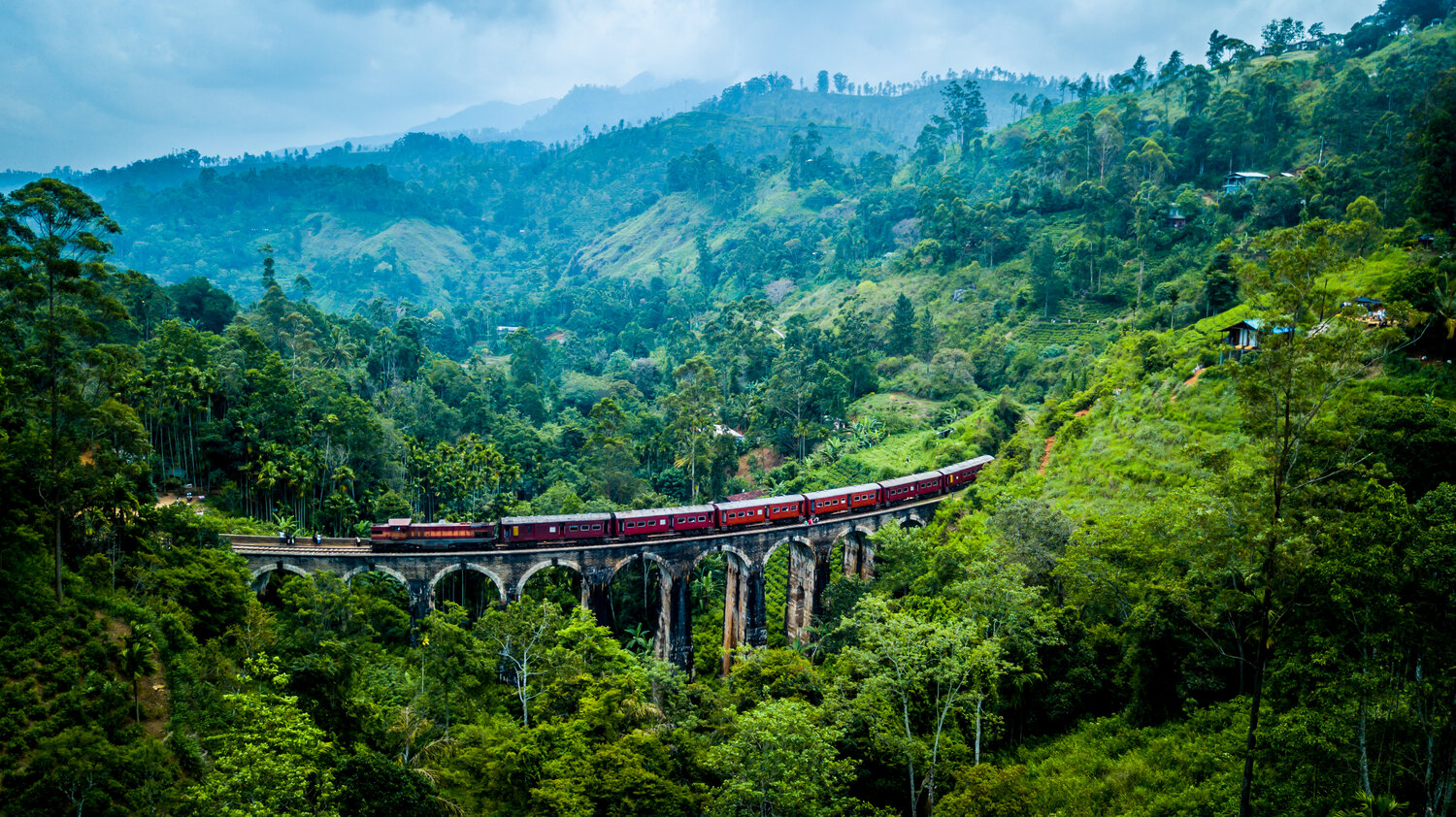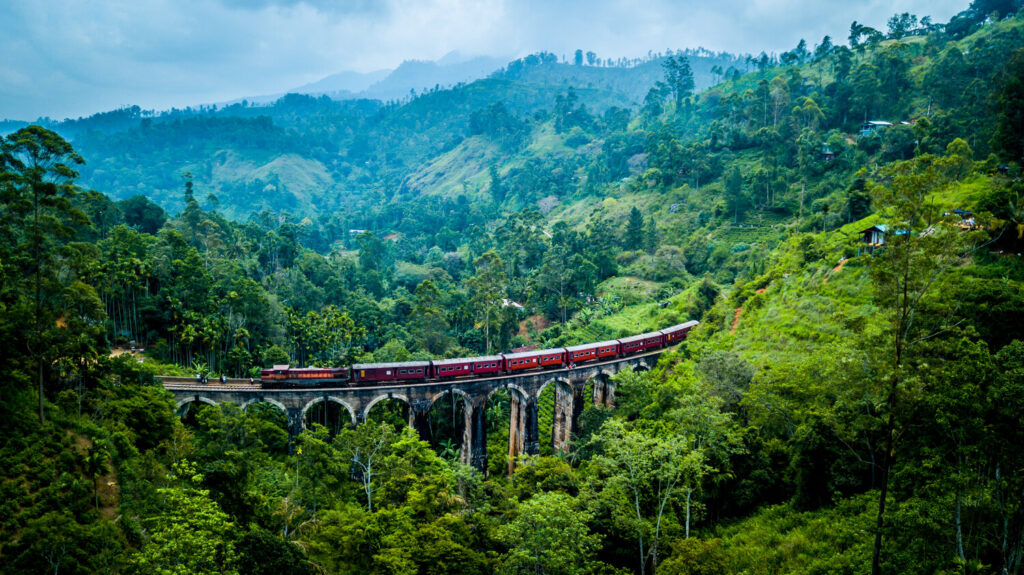 A Digital Nomad Guide to Sri Lanka
A teardrop shaped island rising from the deep azure swells of the Indian Ocean, Sri Lanka is a mythical land of legends that's separated from India by the Palk Strait and the Gulf of Mannar. With ancient archaeological remains, thick jungles, and surprisingly modern cities, this island regroups a plethora of ethnicities, cultures, and languages.
While the Sinhalese make up a major percentage of the local population, Sri Lanka is also home to Chinese, Tamil, Burghers, Moors, and Malay communities. As such, you'll quickly come to the realization that one side of the island can be drastically different than the other – both in terms of language and culture. 
If you're flying in from a Western country, you will most likely be struck by the slow pace of life on the island. Locals rarely seem to be in a hurry, preferring instead to take their time and savour every moment. Indeed, Sri Lankans firmly believe in the concept of properly soaking up life instead of just trying to make it through the week in a jumbled haze of appointments and deadlines. Prepare yourself for slow service in restaurants and cafes too – they're not being rude or lazy, they just genuinely don't feel the need to rush into anything. 
Living costs in Sri Lanka are minimal which might explain why you'll see so many eager backpackers flocking to the island from all sides. Indeed, the country stands as one of the rare destinations in the world that's extremely easy on the pocket without having to sacrifice luxury or comfort. 
Just a heads-up though – as welcoming as the locals are, you'll also encounter your fair share of touts on the island, especially in big towns and cities. Some of them can get really pushy, and I found that the only way to shake them off is to completely disengage and walk away. Still, I never felt unsafe in Sri Lanka, not even when walking alone at night. In fact, other than the occasional petty theft, the island is known for being among the safest destinations in Southeast Asia. Of course, you should still exercise caution and avoid putting yourself at risk.
Nomad Friendly
Value for Money
Internet
Workspace
English
Food
Safety
Health
Transportation
Friendly
Quality of Living
Living in Sri Lanka Overview
| | |
| --- | --- |
|  Meal, Inexpensive Restaurant | $1.97 |
| Domestic Beer (1 pint draught) | $1.68 |
| Cappuccino (regular) | $2.13 |
| Loaf of Fresh White Bread (1 lb) | $0.32 |
| Water (1.5 liter bottle) | $0.42 |
| One-way Ticket (Local Transport) | $0.17 |
| Basic Utilities (Monthly) | $56.65 |
| Internet | $17.02 |
| Fitness Club (Monthly) | $15.79 |
| Apartment (1 bedroom) in City Centre | $482.02 |
Currency: Indonesian rupiah (Rp)
[erw_exchange_rates_widget lg="en" tz="0″ fm="IDR" to="EUR,USD,GBP,AUD,JPY,RUB" st="primary" cd="" am="15000″][/erw_exchange_rates_widget]
ATMs
Max Withdrawal: Rp 3,000,000
Withdrawal Fee: Rp 30,000 – Rp 50,000
Use of Credit Cards: Mostly Cash
Digital Nomad Personal Experience in Sri Lanka
Sri Lanka is known as the 'Land of Serendipity', and it didn't take me long to understand why. With soft-spoken people, delectable dishes, and cafes that cater to broke foreigners, it should come as no surprise that the island is commonly hailed as one of the world's best destinations for digital nomads. 
Indeed, the first time that I visited Sri Lanka was as a tourist. Six months later, I flew back to the island, this time as a digital nomad. There's something that continuously beckons you to the island: whether it's the crisp, cool air on the Highlands, the white powdery beaches, the buzzy cities – or a combination of all three – there's no denying that Sri Lanka has a charm that's all its own. 
When it comes to facilities, I must admit that I was a little bit concerned about the internet speed, especially since I had flown into Sri Lanka after a rather hectic stay in rural India which is notorious for its connectivity issues. To my relief, Sri Lanka had a better connection, although the speed did vary from region to region.  
The one thing that I would absolutely advise is that you get mobile data as soon as you land. The landline connection can be somewhat choppy in Sri Lanka, but I did notice that their 4G network was far more reliable. I personally opted for Mobitel which provided excellent coverage, even on remote beaches or mountains. Mobile data should normally set you back between 1,000 and 2,000 LKR. 
Virtually every digital nomad who's been to Sri Lanka in the past can attest to the fact that this country stands as one of the most hospitable in the world. If you're worried about not being able to make friends on the island, let me assure you that locals are always eager to interact with foreigners and try to help out in any way so as to make your stay as comfortable as possible.
Work in Sri Lanka
Because Sri Lanka attracts plenty of working professionals from all over, finding a good coworking space is quite easy – not to mention affordable. I did notice that most coworking spaces are located in Colombo, most likely because of the sheer number of expats and digital nomads who decided to drop anchor in this up-and-coming city. 
More importantly, the great majority of coworking spaces are quite affordable with decent Wi-Fi. The island additionally features some co-working and co-living spaces where you can live and work in the same complex, all while engaging with other nomads. Examples include The BNKR Camp on Kalpitiya Beach, Colive.Me in Ahangama, and CoworkSurf, also in Ahanagama. 
While I did not personally stay in a co-living complex, I did get quite a bit of work done in various coworking spaces throughout the island.
Best Places to Work in Sri Lanka
Worx
Worx has to be my absolute favourite coworking spot in Sri Lanka. An absolute oasis of serenity right at the heart of bustling Colombo, this spot offers generously sized areas with large windows to let in ample natural light. I must admit that it was a pleasant surprise to discover that this place has two swimming pools, perfect for a refreshing dip right in the middle of your workday. Worx additionally features an on-site café, restaurant, showers, outdoor cabanas, Zen Garden, and rooftop terrace. 
With fast Wi-Fi, this spot is ideal for start-ups and entrepreneurs since it often organizes networking events, including trivia nights and various types of pop-ups. Worx has two locations in Sri Lanka – Havelock House near Police Park and Jawatte House near the Independence Square. Membership options include Hot Desks, Dedicated Desks, and Private Offices. Prices are available upon request. 
Likuid Spaces
With parquet flooring, glossy white desks, plush sofas, and red brick walls, Likuid Spaces in Colombo has an elegant vibe to it that I absolutely loved. When the weather's sunny – which is nearly every day in Sri Lanka – you can always carry your laptop over to their rooftop and work on your tan while catching up on your projects. They have a spacious lobby where you can network or collaborate with other digital nomads. You'll even be treated to complimentary fresh fruit slices as well as freshly brewed coffee and tea. There's also a kitchen where you can put together a quick snack. 
In terms of membership options, nomads can choose from several packages. If you would simply like to check out the place, you can always get a Hot Desk Day Pass for 1,500 LKR per day. This includes weekday access to a desk between 8:30-17:30 as well as 1GB Wi-Fi per personal device. The seven-day pass costs 1,000 LKR per day. For 25,000 LKR/month, you can get weekday access to a Hot Desk, an official business address, as well as 30GB Wi-Fi per month for three personal devices. A fixed desk and 40GB Wi-Fi will set you back 35,000 LKR /monthly. 
Regus
With coworking spaces all over the world, Regus has been a firm favourite of mine for quite a while now, and I was glad to see that their Sri Lankan branch didn't disappoint either. Nestled in Bernards Business Park (Dehiwela, Colombo), this workspace features 33 private offices and a light-flooded lobby where you can relax with a cup of coffee. The ground floor of the building has plenty of eateries specializing in local and international cuisine alike. 
In terms of packages, digital nomads can rent a desk in the common area for LKR 18,000 per person/monthly. A private office space will set you back 19,000 LKR per month while virtual offices cost 2,500 LKR. Regus' memberships come with various perks, including discounts from health and lifestyle partners, access to the Regus Business Lounge Network, as well as access to community and networking events. You can also book a fully equipped meeting room for LKR 2,400 per hour, which is quite affordable for Colombo. With fast internet, Regus additionally offers on-site parking and a sandwich bar. 
Catalyst by HUB9
Catalyst is just one of the three coworking spaces operated by HUB9 in Colombo, the other two being Nest by Hub9 and Hub9 Coworking Space. While I didn't have the chance to check out Hub9 and Nest, I did spend a lot of time in Catalyst mainly because of its super affordable rates. There's a very casual atmosphere that permeates through this coworking space, mostly because it draws a younger crowd. Amenities include complimentary hot beverages, mailbox lockers, high speed Wi-Fi, printing services, and air-conditioned rooms.  
When you need a break from work, you can always check out their Chill Room which costs 1,000 LKR per hour. A dedicated desk space in the common working areas will set you back 15,000 LKR/month. Surprisingly enough, private offices won't cost you a single rupee more so you can get your very own space for 15,000 LKR per month as well. Every membership option – including meeting room rentals – include complimentary printing services. More importantly, members can enjoy a 24/7-hour access to the coworking areas. 
The Office
Another coworking office found in Colombo, The Office has a homely vibe to it. Think rattan furnishings, warm lighting, parquet flooring, and small living rooms where nomads can kick back during their break. There's even an outdoor seating area with thick greenery and wooden tables with benches where you can either work or savour a spot of lunch under the sun. Office supplies are provided – something that I was quite grateful for, given my knack for always losing my pens! If you have a start-up company, you'll be glad to learn that this agency even boasts consultancy services. Branding services are also available. 
With 24/7 access to the premises, The Office provides an in-house café and different options in terms of membership, including hot seats in common areas, meeting rooms, as well as private offices. Quotes are available upon request by calling their office on +94112699869 or by chatting with an agent on their website. 
Kalatmaka
One of the rare coworking spaces that's found outside Colombo, Kalatmaka lies in Ahangama (southern Sri Lanka), just steps from beautiful Kabalana Beach. Offering a soothing décor in a colonial building that perfectly matches its coastal setting, this coworking spot is also where you'll find The Café Ceylon, which just so happens to be the most popular eatery in the area. Fair note of warning though: because it's the only coworking space in this neighbourhood, it can get extremely crowded during summer and your membership request may even be denied. 
In true Sri Lankan style, Kalatmaka places you between the ocean and the jungle, so you'll be treated to scenic sights on both sides. During your breaks, you can always stroll down the charming lanes and browse through the many stalls lined up on the street. In fact, because of its breath-taking location, this might just be the ideal place for digital nomads engaged in creative projects. If you're too tired to head home after work, you can always rent a room right in the building. Open Monday to Saturday, 8:00 to 23:00, this agency offers tables in common areas and private offices. Their rates are available upon request. 
Colombo Cooperative
Funky is the word that comes to mind when I think of Colombo Cooperative. Featuring bright, pastel-hued furnishings, quirky artwork, potted plants virtually everywhere, open shelving, and bronze-coloured suspended ceiling lights, this spot is found in Colombo 03. With ocean views that you can admire through floor-to-ceiling windows, Colombo Cooperative is one of the rare coworking spaces in Sri Lanka where you'll also find locals working on different projects. With 24/7 access, complimentary refreshments, reliable Wi-Fi, and printing services, this agency also has generously sized relaxation areas. 
While a day pass will set you back LKR 2,000, Colombo Cooperative also offers other membership options that you can customize according to your personal preferences and budget. 
Now while Colombo may dominate the coworking scene, rest assured that you'll still find plenty of alternative spots where you can get work done all throughout the island. Given the prominent coffee culture in Sri Lanka, there are plenty of quaint little cafes where you can set up shop for the day: 
Bedspace Kitchen:

Okay, this is technically a guesthouse which admittedly doesn't have the best Wi-Fi. But then again, the fact that a pristine beach lies just over five minutes away more than makes up for the somewhat choppy internet connection. Located in Unawatuna, just a few minutes from Galle, this guesthouse offers a hipster restaurant that's very popular among digital nomads looking for a free place to work while savouring Western fares. If you're planning on going there, I can absolutely recommend their chicken burger served with a crunchy salad and extra-crispy fries. 

Lime Café:

Tucked away at the foot of a hill in the village of Tangelle in the south, Lime Café looks more like a cosy little home than an actual eatery. While it's not exactly a working café – I didn't see more than a handful of foreigners typing away on their laptops – the owners are perfectly fine if you want to work there for the day. Wi-Fi is decent and their prices are quite affordable too. I particularly liked their fresh fish curry served with hot pappadums. 

Hebrews Café

: This hidden gem is found in Sri Jayawardenepura Kotte, the administrative capital of Sri Lanka. Because it's something of a business district, Hebrews does have speedy Wi-Fi and a rather quiet environment, especially in the late afternoon. It has a small community of digital nomads, so you'll find plenty of networking opportunities.

Cafe Sociale: Yet another spot that's found in Colombo, Café Sociale is reputed for its hearty breakfasts and even heartier ambiance. Indeed, that's not the place you want to head to if you're looking for a quiet environment to get work done. However, if you're looking for collaborating opportunities with other nomads, rest assured that you'll be able to mingle with plenty of people from various corners of the earth. Loud and bustling with a funky, multi-hued décor, Café Sociale also serves up some of the best hot infusions on the island.
Best Places to Live in Sri Lanka
Best Neighbourhoods
Because Sri Lanka is so small, it's quite easy to explore its towns and villages in just a couple of days before deciding where to live. In fact, the island is split in three main zones – the Coastal Belt, the Plains, and the Central Highlands. Sri Lanka also comprises of nine provinces and 25 districts.
Each area boasts its own culture, customs, and way of living. For example, in the Central Highlands, there's a very laidback style of living, with hardly anything to do after sunset while the Western Province is practically bursting with an assortment of things to do at all hours. Always buzzing with energy, the Coastal Belt stands in stark contrast to the Plains where people tend to be more conservative and religious. 
Most expats and digital nomads choose to live in cities such as Colombo, Negombo, Galle, and Tangalle because of better road infrastructure and connectivity. 
Tangalle
Let's start with Tangalle, a beach town nestled on the southern coast of the country. This is the best place for those who want to enjoy city-style facilities without the hustle and bustle that invariably follow more developed regions. Because Tangalle is one of the least-populated neighbourhoods in Sri Lanka, you won't need to push through crowds at the beach. 
In fact, I did see a couple of solitary digital nomads sitting crossed legs under palm trees, typing away on their laptops with the ocean waves lapping gently in the background. More importantly, the cost of living in Tangalle is quite affordable. The downside is that it's easy to get bored given the lack of things to do after work hours. 
Colombo
Sri Lanka's capital city has rapidly turned into the digital nomad hotspot by excellence. Indeed, there are plenty of coworking spaces and cafes where you can settle down for the day. One such example is the popular Kumbuk Café on Independence Avenue offering healthy eats and excellent Wi-Fi. Its prominent community of nomads mean that you'll have ample opportunities to collaborate and network. 
On a less positive note, real estate prices in Colombo tend to run higher than elsewhere on the island. Additionally, apartments are on the small size. Since it's the most populated city in the country, you'll often need to wait in line or battle the crowds, especially when visiting the markets or touring historic sites. 
Galle Fort
Located south of Colombo, Galle Fort is a walled city that attracts hundreds of digital nomads each year. Steeped in history, this UNESCO World Heritage site is home to ancient mansions, museums, trading ports, as well as quirky little cafes which perfectly embody the fusion of the old and the new that exists throughout the city. There's a definite art scene in Galle Fort as evidenced by the many hotels owned by local photographers, writers, and artists. 
Like Colombo, real estate prices can be on the higher side, but apartments tend to be more spacious with beautiful patios and refined accents. 
Kandy
This charming mountain town was my absolute favourite place to be in Sri Lanka. While it's not quite as popular among digital nomads and expats, I absolutely adored Kandy's cooler climate – not to mention the awe-inspiring views of the tea plantations and lake. In terms of attractions, this town mainly offers historic spots such as the Temple of the Sacred Tooth Relic which is believed to contain a tooth of the Buddha on the central shrine. Kandy also happens to be home to some of the most beautiful botanical gardens in Sri Lanka. 
As far as prices go, I would say that this town is surprisingly affordable. However, owing to its mountainous topography, internet connection can be somewhat choppy. If you're planning on living and working from Kandy, I would strongly suggest that you subscribe to a mobile 4G plan.
Find an Apartment in Sri Lanka
Since Sri Lanka draws so many visitors from all over the world, it's not exactly difficult to find an apartment on the island. Still, I do want to point out that there are plenty of real estate scams throughout the country, so it's worth reading and re-reading your contract before committing yourself to an apartment. In fact, if you can afford it, I would also advise that you get a hotel for your first few days in Sri Lanka and take a moment to properly visit the various properties before deciding which one you want to rent. 
Now that we've got those tedious details out of the way, let's move on to what everyone wants to know about renting property in Sri Lanka – the prices. The good news is that the Sri Lankan real estate market can be quite affordable, depending on the area. Like I said previously, Kandy is an excellent destination if you happen to be strapped for cash. A one-bedroom unit in this area can set you back between 60,000 – 100,000 LKR/month while two-bedroom apartments usually hover around the 150,000 LKR/month mark. Studios tend to be cheaper, at around 40,000 – 50,000 LKR/monthly although to be honest, studios aren't all that common in Kandy. 
Digital nomads who would like to soak up Colombo's lively atmosphere can expect to spend anywhere between 90,000 LKR/month to 300,000 LKR/month, depending on the complex facilities. If Colombo is way out of your budget, you can always opt for Galle since it's located just a quick drive from the city. An apartment in Galle can set you back between 30,000 and 100,000 LKR per month, depending on the facilities and number of bedrooms. Contrary to most countries, it is entirely possible to find a beachfront retreat without having to sell a kidney. In regions such as Mirissa, you can easily find a condo right by the ocean's edge for as little as 70,000 LKR per month. 
If you can afford the commission fees, it's not a bad idea to rent an apartment through a reputed agency to avoid being scammed, especially for long term lettings. Some companies include Lanka Property Web, House LK, Pearls Sri Lanka, as well as Lanka Real Estate. Do remember that you'll often be asked to produce copies of your recent payslips, passport, and visa when renting a long-term apartment. In most cases, utilities are not included in long-term lettings, so you'll need to pay for these separately. 
However, this is not usually the case when it comes to short-term lettings (a month or less). In fact, for short term rentals, it's always a good idea to directly reach out to the owner so you can negotiate the conditions beforehand. Facebook groups such as South Sri Lanka Surf Community, Sri Lanka Hotels,Villas & Holiday Bungalows Directory, House for rent in Colombo, and Cottages in Sri Lanka offer plenty of options that suit various budgets. Don't be afraid to negotiate the price either. Because of ferocious competition, most owners are willing to knock a few thousand rupees off their asking price if you seem genuinely interested.
Cheap Places to Stay in Sri Lanka
Thanks to its affordable cost of living, it's extremely easy to find low budget accommodation on the island. On booking.com, you can even reserve a bed in a hostel dormitory for just around 400 LKR per night – which comes to a mere two dollars. While hostels aren't all that popular on the island, you'll also find guest houses with private or shared bedrooms that can cost as little as 500 LKR per night. 
It's also worth combing through websites such as Airbnb where you can book a room in someone's house for around  2,000 – 5,000 per night, utilities and Wi-Fi included. Digital nomads who really need to tighten those purse strings can even look into work exchange or volunteer programs where they can enjoy free accommodation in exchange for a few hours of work per day. This can be anything from cooking to cleaning, helping out with the animals on a farm, garden maintenance, and the likes. You can check out websites such as Workway, FreeVolunteering, and Volunteering Solutions for a list of programs that you can apply to in exchange for complimentary accommodation. 
Couch surfing is another excellent option to bag a free bed for the night while completely immersing yourself in the local culture. Currently, there are over 10,000 Sri Lankan hosts willing to open up their homes to foreigners. 
Digital nomads who would like to bag the best bargains in term of accommodation can also consider traveling to the island during low season (early May to low October). During that time, you may even find luxury beachfront hotel rooms for as low as 4,000 LKR per night.
Sri Lanka Visa
This is where it gets good – in 2021, the government recently introduced a new visa type aimed specifically at Digital Nomads. With this visa, you can live and work in the country for up to a year without having to go through the hassle of visa extensions. However, I must add that while it's easy to apply for a visa in Sri Lanka, the online immigration portal isn't exactly bursting with information, and you may need to email or call them for additional assistance. 
Alternatively, you can also apply for a short-term tourist Visa. This grants you a stay of up to 30 days in the country. The short-term visa ranges between 4,000 LKR and 5,000 LKR. While it is possible to extend this visa for up to six months, longer extensions are harder to get and only granted with valid reasons. You'll usually be asked to provide a copy of your return ticket, passport-sized photographs, as well as the contact details of your accommodation. 
Alternatively, you can also apply for a business visa with multiple entry (30 days) for 6,000 – 8,000 LKR. If you would like to extend your visa during your stay in Sri Lanka, you can easily do so from the Immigration Office located in Colombo. It is also possible to download an extension form from the official immigration website. When applying for a business visa extension, you may be asked to produce a request provided by your company or business institute. 
Digital Nomads may even be considered for residence visas if they engage in local business activities or invest in the country. However, this visa is quite hard to get unless you're investing an enormous sum of money. In some cases, professionals whose services are approved by the Sri Lankan Board of Investment may also receive a residence visa.
Culture and Food in Sri Lanka
Rice is a central feature in Sri Lankan cuisine, commonly served steamed or boiled alongside fragrant curries, pulses, and pickled fruit or vegetable. If you're not a fan of rice, you may be offered chapatis or Hoppers, which basically consist of thin pancakes made from coconut milk, fermented rice flour batter and various spices. Extremely popular in Sri Lanka, some Hopper variants can include milk and egg. You'll also find desert Hoppers seasoned with cane sugar, dried fruit, and shaved coconut. 
While I noticed that the country easily caters to vegetarians and vegans, carbs do take centre stage in Sri Lankan dishes so eating out will be problematic if you're following the Keto diet. Virtually every meal is accompanied by vegetable chutneys and sambals. In true island style, fish and various seafood nearly always feature on the menu. In my opinion, Sri Lankans can make a curry out of literally anything. In fact, I was even treated to a green mango curry at a local's house once, and I definitely wasn't expecting to like it as much as I did.
As delicious as I found the local cuisine to be, most dishes are absolutely laden with spices and dried chillies. While some eateries may allow you to choose your desired level of spiciness, this is not always the case. I would actually say that everything about Sri Lankan cuisine is bold – it's huge on spices, and portion sizes are extremely generous. If you don't have much tolerance for spicy meals, you can always order a chilled lassi with your meal. Flavoured with lime or mangoes, this yogurt drink is the perfect way to cool off your tongue after indulging in a fiery dish. 
If, for some reason, the local cuisine doesn't quite cut it for you, rest assured that plenty of restaurants – especially those found in the big cities – do feature Western meals on their menu. You'll also find major fast-food chains in most cities. 
Some of the most memorable dishes that I tried in Sri Lanka include: 
Kool

: This has to be the very best thing that I tried on the island. Perfect for a cold winter's evening, this seafood broth consists of crayfish, prawns, cuttlefish, crab, and fish. I was told that this broth originates from Jaffna. Variations may include tamarind, spinach, cassava, French beans, and jackfruit seeds. 

Kottu

: Available at virtually every restaurant or street food stall all throughout Sri Lanka, Kottu is an absolute staple on the island. This fried flatbread is often served chopped up in a bowl and sprinkled with your choice of ingredients. Afterwards, it is generously drizzled with a thick curry sauce – think the Sri Lankan version of poutine, minus the cheese curds. 

Lamprais

: Whilst on the more expensive side – at least compared to most local dishes – Lamprais is a delightfully hearty meal made from an extensive number of ingredients. Because it's so filling, I would advise you to request one plate to share. Lamprais consists of rice braised in stock, shrimp paste, onion sambal, eggplant pickle, fried boiled eggs, plantains, and three meats – more commonly lamb, pork, and beef. Some variations may include an assortment of different seafood. 

Ambul Thiyal

: This basically refers to fish curry. Unlike traditional Indian curries, this dish has a distinctively sour note to it, most likely due to the addition of dried tamarind. The curry is flavoured with coconut milk as well as various spices, including turmeric, cinnamon, black pepper, and sprinkled with freshly chopped coriander. Ambul Thiyal is best enjoyed with steamed white rice. 

Lunumiris

: While it may look like kimchi, Lunumiris is actually a paste that's made from crushed up fish, lime juice, salt, and pepper. Traditionally, it's all ground together in a stone mortar and pestle although most restaurants use a regular food processor. The paste is usually spread on egg Hoppers and eaten at breakfast.

Pittu

: This side dish refers to cylindric-shaped patties made up of ground rice steamed with coconut shavings. The savoury version is served with ghee, curries, pulses, or chickpeas while the sweet version is flavoured with candied bananas, palm sugar, or honey. 

Babath

: Okay, I wasn't expecting to like that at all. When an eager-looking waiter at a small family-owned restaurant in Galle recommend curried goat's stomach, my first instinct was to decline. I've never been much of an adventurous eater but after some gentle coaxing from the server, I agreed to try a tiny portion. Surprisingly enough, this turned out to be among the best things I tried in Sri Lanka. While this curry is normally served with a side of

Pittu

, you can always opt for boiled rice instead. 
There's no denying that food forms an integral part of Sri Lankan culture – as evidenced by the sheer assortment of fares served at various festivals. Given its regional diversity, the local culture is heavily influenced by South Indian traditions as well as Theravada Buddhism. Some parts of the island also boast elements from Indonesian culture.  
If you're visiting Sri Lanka in July, you'll be able to witness the majestic Vel festivities in Colombo. This Hindu festival draws locals from all over the island and commemorates the triumph of good over evil. During Vel, pilgrims embark on a procession from Pettah, going all the way through Colombo to end in Bambalapitiya, all white pulling a pure gold chariot. The pilgrims' faces are often covered in holy ash, and it's not uncommon to see elephant parades, dancers, and street performers accompanying the procession. 
Another popular festival that is celebrated with plenty of pomp and fervour is Navam Perahera, traditionally celebrated in early February. According to the local history, this festival was first celebrated back in 1979 in Colombo's Gangaramaya temple. During Navam Perahera, you'll find that the streets flare to life, with colourful decorations, strings of fairy lights, and traditional clay lamps placed virtually everywhere. Locals host festive parades with firecrackers, flag bearers, and several herds of elephants adorned with flower garlands. The parades are led by flautists, drummers, and singers. 
Given the prominent Hindu culture that exists on the island, locals also celebrate the festival of Divali in November. During Divali, Hindu houses are decked out in colourful illuminations. On the eve of the festival, houses are deep cleaned to remove any impurity and negative energy. Afterwards, locals prepare an assortment of sweet snacks to distribute to friends, family, and neighbours as a way of commemorating Divali.
Sri Lanka Nightlife
Unless you're based in Colombo, you might be disappointed by the nightlife – or lack of it – in Sri Lanka. Most establishments only stay open until 22:00 on weeknights. While some places can stay open until midnight on the weekend, there's sadly not much to do at night. 
Digital nomads living in small towns like Ella may check out venues such as Café Chill which sometimes offers live music until the early hours of the morning. If you're staying near the coast, you may see the occasional beach party on Saturday or Sunday night, although these are mostly organized by families. 
Hikkaduwa, on the south-eastern coast, does have a couple of ocean-facing clubs such as Mambo's Place, and Vibration Music Bar which is the only place in the area that stays open until 5:00 in the morning after Friday nights. Owing to its popularity among tourists, this bar sometimes hosts international DJs and specializes in Japanese tapas. 
In Galle, you'll find the famed Yula Beach Bar, which is the choice after-work venue for locals who want to escape the noise of the city. Offering decent prices, local and international beer, as well as Sri Lankan-style snacks, this bar is open from 16:00 to 3:00. 
If you do happen to be in Colombo, however, you'll be spoilt for choice when it comes to nightlife venues. The most popular spots include: 
ZAZA Bar, Casa Colombo Hotel

: Because it's found in a hotel, you can expect grossly overpriced cocktails, but I absolutely adored the refined, laidback environment punctuated by soft lighting and ratan furnishing. There's a decent crowd of digital nomads, plenty of outdoor seating, and live music on the weekend. ZAZA Bar is open from 8:00 to midnight. 

The Amuseum

: Extremely popular among locals and foreigners alike, this nightclub is known for its loud and rumbustious parties. It offers reasonably priced brews, and no one will bat an eyelid if you turn up in flip flops and torn denims. The dance floor is always packed, and their live entertainment never disappoints. Located in Nawam Mawatha, this club is open from 16:00 to :00. 

Molly's Bar:

Also known as Irish Bar and Grill, this pub certainly lives up to its name. In fact, as soon as I stepped inside, it was all too easy to imagine that I was in a lively Dublin pub. This is largely due to the fact that Molly's Bar is run by an Irish landlady married to a local. Expect typical Irish pub food such as Reuben Casserole and Corned beef and cabbage, all washed down with a bottle of the local Lion beer that Sri Lankans are so proud of. Located in Colombo 02, Molly's bar is open until 2:00 after Friday and Saturday nights. 
Ballys Casino: There's a very prominent gambling scene in Colombo so you'll find plenty of casinos around. My favourite was Ballys which happens to be the largest casino in the city. With a semi-formal dress code, this spot features table games, poker, and of course, the quintessential slot machines. On Friday and Saturday nights, it also offers live music shows and dancing. Entry is free, but refreshments are quite expensive. This is one of the rare places in Sri Lanka that's open 24 hours, Monday to Sunday.
Things to do in Sri Lanka
While the nightlife may fall short of your expectations, there's no denying that Sri Lanka is brimming with a surprising number of activities and attractions that you can explore during the day. Digital nomads who are on a budget will be glad to learn that the island has plenty of historical sites, waterfalls, jungles, and beaches that are entirely free to visit. 
Here are some of the attractions that I enjoyed the most in Sri Lanka: 

Hike the Little Adams Peak

If you ask me, this is one of the most epic things you'll be able to do in Sri Lanka. Located in the small town of Ella, just east of Colombo, the Little Adams Peak offers a moderate trek that's punctuated by phenomenal vistas that you can admire from the top. In fact, this place is particularly known for its unforgettable sunsets so try to head over in the afternoon so you can watch the sun sinking beneath the deep green horizon. This trek takes you across lush paddy fields, waterfalls, and green tea plantations. Locals will be quick to warn you to avoid summitting the peak at midday because of the notoriously hot Sri Lankan sun. While I went there in the late afternoon, I've been told that the best time to summit is between 4.30 and 6.30 in the morning. It normally takes around 35 to 40 minutes to reach the top. Rest assured that the climb is very easy and suitable for inexperienced hikers.

Indulge in Ayurvedic spa treatments

One of the (many) good things about Sri Lanka is that it offers an extensive range of blissful body treatments at affordable rates. It won't take you long to notice that there's a distinct holistic culture that exists on the island, so much so that even their body treatments are entirely organic. So, if, like me, you've always been curious about Ayurvedic spa treatments, you'll certainly be spoiled for choice in Sri Lanka. Owing to its popularity, it's very easy to find a spa that specializes in Ayurvedic massages and body treatments on the island. In fact, you can always spend a few days in a soothing Ayurvedic camp such as the Amuna Ayurveda Retreat in Kimbissa. Do bear in mind that retreats can be expensive in the long run so if you're on a budget, you can always skip them in favour of regular spa treatments such as Shirodhara during which droplets of oil are poured on the forehead, Netra Basti which employs pure ghee to soothe tired eyes, or Pinda Sveda, where warm cotton sacs filled with assorted herbs are placed in strategic locations on the body to relax your muscles. My personal favourite is the Ayurvedic Herbal bath where you can soak in a blissful flower and oil-infused bath for half an hour to open your pores before a full-body massage. Most Ayurvedic treatments cost between LKR 2,500 and LKR 6,000.

Explore the National Parks

Sri Lanka is home to several National Parks, most of which are protected by the government. With wild animals, centuries-old rock caves, Stupa ruins, and relics from ancient civilizations, the National Parks of Sri Lanka certainly offer plenty to adventurous souls. I would recommend that you set aside at least five hours to properly soak up all the sights that these parks have to offer. However, if you're short on time, you can always check out smaller parks such as Lahugala Kitulana, located east of Colombo. With a large population of buffalo and elephants, this park is also known for its thick forests of Palu and Rosewood trees. If you're lucky, you may even spot endemic birds such as the majestic, scarlet-faced Malkoha. This park is open daily from 6:00 to 18:00, and the entry fee is LKR 3,000. Now, if you can spare a few more hours, head over to Wasgamuwa, a massive park that's fringed by towering mountain ranges and the Mahaweli River. According to my guide, Wasgamuwa is home to virtually all of the island's land mammals, including spotted deer, wild boar, buffalo, sambar, leopards, and even bears. Additionally, there are around 350 elephants in the park, and you may even spot them around the water holes at sunsets. Because Wasgamuwa isn't all that popular among tourists, you'll be able to avoid the crowds especially if you head over there during the week. The entry fee is LKR 1,500 and special group rates are available.

Browse through Pettah Floating Market

A lovely respite from Colombo's crowded streets, the Pettah Floating Market was once an industrial canal but it's since been turned into a charming floating market with swan-shaped boats, red-roofed pagodas, and wooden walkways across the water. You'll be able to shop for a wide variety of items, including fresh produce, local artefacts, artisanal jewellery, textiles, and even electronics. One word of advice: do not hesitate to bargain since virtually everything is overpriced. Haggling is something of a national sport in Sri Lanka and sellers actually expect you to negotiate. You'll also find an assortment of eateries and food stalls lined up on either side of the market, perfect for those who would like to try the Sri Lankan cuisine. The Pettah Floating Market is open Monday to Saturday, 8:00 to 22:30.

Hop on the Blue Train

Those iconic Blue Train pictures – more often than not with someone perching perilously from the wagon – have been floating around social media for a while now. In fact, most people would say that this train route is easily among Sri Lanka's most popular tourist attractions. I must admit that at first, I didn't quite buy into the hype. But when some local friends of mine surprised me with tickets, I could finally see what the fuss was all about. There's nothing quite like sitting on the open doorway to soak up mesmerizing vistas that consist of thick jungles, towering mountain ranges, and waterfalls. Whether or not you would want to pose for one of the danger-inducing pictures is up to you, but believe me when I say that this trip is nothing like the train rides you're probably used to. My seven-hour journey on the blue train departed from Ella in the Uva Province and took me all the way to Kandy in the Central Province. Now, this is going to sound a bit odd, but I would recommend that you skip the first-class seats in favour of the cheapest ticket. The open doors and windows are what make this ride really special and unfortunately, first class cabins have glazed windows that do not open. As such, you'll find plenty of tourists in second and third class, while locals tend to opt for first class. While the train is perpetually crowded- owing to its social media popularity no doubt- it does offer plenty of facilities, including (clean) toilets and snacks. Tickets run from LKR 175 to LKR 1,500, depending on the class.

Uncover the Many Tea Routes

Since tea exportation is one of the major sources of income for the country, it should come as no surprise that you'll see a plantation virtually everywhere you go. Just a half hour's drive from Galle Fort is found the popular Handunugoda Tea Estate, also known as the Virgin White Tea Factory. True to its name, the white tea sourced from this plantation remains entirely untouched by human hands. Instead, the plantation's staff adopts a centuries-old Chinese plucking ritual whereby silk gloves and high-quality scissors are used to meticulously snip each leaf. The buds are thereafter left out to dry naturally under the generous Sri Lankan sun. Nestled 1,250 metres above sea level, the Handunugoda Tea Estate offers a tasting session at the end of a guided tour. Another popular option among locals and foreigners alike is the Dilmah Tea Estates, located all throughout the island at various elevations. I was able to visit their Somerset branch when I was trekking across the Central Hills, and I must say that I was utterly captivated by both the deep green landscape and the actual products. So much so that I ended up buying at least ten boxes to bring back home with me. If you feel so inclined, you can even spend a weekend at one of their Ceylon tea estates.

Plunge in Jaffna's Keerimalai Hot Springs

According to Sri Lankans, the Keerimalai Hot Springs is believed to have healing waters that can cure a wide range of ailments. Our guide told us that the healing waters once cured a Pandyan princess who had previously been cursed with a horse-shaped head. While you do not necessarily have to believe the local folklore, it's worth taking a plunge in this natural spring of mineral water for a fully immersive cultural experience. Locals also believe that the spring is enriched by minerals that are excellent against skin infections. Located in the Tamilian village of Jaffna in Northern Sri Lanka, the Keerimalai Hot Springs have separate entrances for men and women. While no one really knows where the water comes from, some people believe that Keerimalai is connected to the Nilavarai Bottomless Well which lies just a short distance away. If you're planning on visiting this place, I would recommend that you set aside at least 3 hours since it can get a bit crowded, and you'll probably have to wait in line. A quick word of caution – you might be approached by a uniformed local who will ask for payment before 'allowing' you to go for a dip. Don't fall for it – this attraction is entirely free for both locals and foreigners.

Relax on a sandy beach

If there's one thing Sri Lanka is known for, it's the mesmerizing white sand beaches that look as though they'd been plucked straight from the back of a postcard. An absolute vision of tropical perfection, Bandarawatta Beach in the Southern Province is a natural cove that's tucked in a tranquil corner just off the highway. What I liked the most about this place is that it attracts very few crowds and as such, it's the perfect spot to soak up the sun and relax while sipping on an ice-cold beer. Because it's so quiet, this is also the preferred spot for locals to go slit fishing. On the downside, the lagoon is full of sharp-edged rocks and corals so it's not exactly the best spot for swimming. An extremely popular spot among locals and digital nomads alike, Mirissa Beach lies south of Colombo. With excellent swimming opportunities in its crystalline waters, this beach is particularly famed for its Instagram-famous sandbar that leads to another tiny islet during low tide. In the evening, it's not uncommon to see food vendors grilling up fresh fish by the shores. While Mirissa Beach certainly boasts a paradisaic setting, it can get extremely crowded during the weekend. Most Sri Lankan beaches offer glass bottom or catamaran boats that you can hire if you want to explore the other islets that surround the mainland. For a unique experience, I would totally recommend a sunset cruise during which you'll get to admire Sri Lankan's famous sunsets right from the lagoon while munching on complimentary snacks. Alternatively, you can also book a whale watching cruise during which you can get up close and personal with these majestic mammals in their natural habitat. Whale watching expeditions can be a bit expensive at around 10,000 LKR, but like everything else in Sri Lanka, you can always negotiate a few thousand rupees off the asking price.

Soak up the local legends

For such a small island, Sri Lanka houses an astounding myriad of legends, so you'll get plenty of opportunities to take in the local folklores. For example, the Ramayana Trail is based on the mythic story of goddess Sita who was kidnapped by the demon Rawan before being rescued by the god Ram and his sidekick, the monkey god Hanuman. According to the story, a stone bridge was built across the expanse of water between India and Sri Lanka. Most tours include visits to the Hanuman Temple and the Ashok Vatika, the place where Sita was held in captivity. Some tours may also include a visit to the mountain cave of Ella, another spot that's believed to be one of the places where the demon hid Sita from her husband. Just a few steps from the cave is found the spectacular Ella waterfalls that tower at over 1,000 feet.
Best Time to Visit Sri Lanka
In true island style, Sri Lanka boasts a gloriously warm tropical climate virtually all year long. The coast tends to be quite hot and humid, but the further inland you venture, the cooler the weather will be. While the island's proximity to the equator means that you'll be able to enjoy a fairly stable temperature throughout the year, bear in mind that Sri Lanka is prone to annual dual monsoons. During monsoon season, it's not uncommon to see one side of the island dry and toasty warm while the other is completely drenched. 
While Sri Lanka has no marked seasons, lowlands and coastal regions always tend to be warmer and more humid while 'Tea Country' on the highlands can get quite cold at night. Generally speaking, the best time to visit Sri Lanka is in the high season between December and March. This is also the best time to spot the local wildlife since most animals usually gather around the water holes to cool off when the temperature gets too hot. While the Ancient Cities, Northern, and Eastern areas are wet due to Monsoon rains, the rest of the island tends to remain relatively dry with highs of 27 degrees Celsius during the day and lows of 23 degrees at night. 
If you want to avoid the crowds, you can always head over to Sri Lanka between May and August. Because this period is usually considered low season, you'll also get to benefit from the best rates. Do remember that most- if not all – areas of the island are affected by monsoon rains during this season and as such, nautical activities may be cancelled. On a more positive note, you'll get to attend various cultural festivals such as Vesak Poya during this time.
Sri Lanka for Families
Quick disclaimer: I did not travel with children to Sri Lanka. However, given the sheer number of expats who move to the island with their spouses and kids, I must say that the island is well-suited to families. Most pharmacies do carry baby formula as well as other infant-friendly products, and you'll have no trouble finding Western-style supermarkets in cities.  
While most neighbourhoods are quite safe, there are certain gritty regions that you should avoid. For example, the administrative districts of Mannar, Kilinochchi, Mullaittivu, and Trincomalee have been declared restricted areas by the government. The majority of expats and digital nomads tend to favour family-friendly areas such as Galle, Kandy, and of course, Colombo. 
In terms of schooling, you'll find that the local schools do have an excellent curriculum with plenty of emphasis on extra-curricular activities. While Sri Lankan English is compulsory from grade one to grade thirteen, it's important to know that their English has its own dialects and grammar. For this reason, many expats choose to send their children to private schools that follow the British curriculum. Popular options include the Lexicon International school in Kandy, Leeds International School in Galle, Gateway International College in Dehiwala, and The British School in Colombo. 
Digital nomads traveling with small children will be glad to learn that there are plenty of day-care centres and kindergartens all over the island. English speaking ones include British Preschool in Panadura, Little Amigos Learning Academy in Colombo, Kidsdom Preschool in Colombo, and Skyline British Montessori & Daycare in Kiribathgoda.
Given the extensive number of family-friendly attractions that exist on the island, rest assured that it's very easy to keep your kids entertained. For example, the Elephant Orphanage in Udawalawe is bound to thrill children of all ages. While this sanctuary doesn't allow guests to get overly close to their rescued baby elephants so as to avoid stressing them, the kids will be able to watch the staff feed and play with them. The Elephant Orphanage is open every day from 8:45 to 19:00, and tickets cost 500 LKR for adults or 250 LKR for children.  
Alternatively, you can always take the whole family to enjoy a game of cricket. Volleyball may be the national sport of Sri Lanka, but there's no denying that the great majority of locals are overly passionate about cricket. As such, you'll be able to attend matches in practically every neighbourhood. Galle, Kandy, and Colombo have massive stadiums that often host international competitions. Ticket prices usually range between 500 – 1000 LKR for local matches and 2000 – 5000 LKR for international ones. 
Located just off the coast of Nilaveli in the East, Pigeon Island National Park is another destination that's extremely prized by local and foreign families alike. From Nilaveli Beach, you can easily hop on a boat shuttle that will take you to the island in just a few minutes. Over there, you can picnic on the silky shores or snorkel in the famously clear waters. Pigeon Island is also known for its rock pools, reef fish, and turtles. Boat shuttles normally cost 125 LKR per person while the park's entry ticket will set you back 2,000 LKR.
Living in Sri Lanka
Sri Lanka Transportation
While the people in Sri Lanka tend to drive like they've got an extra life to spare, I must admit that the island has an excellent network of public as well as private transportation. There's no subway or metro system but then again, the island is so small that you can easily cover one end to the other in just over three hours. 
In terms of infrastructure, the island is known for having the highest road density in Southeast Asia. Roads in the city are in fairly good condition, but the ones in coastal areas can be harder to navigate. If you would like to rent your own car to get around, it's good to know that a small automatic car can set you back around 48,000 – 60,000 LKR per month while motorcycles usually cost around 35,000 – 45,000 LKR monthly. 
Here are some other modes of transportation that you may consider while touring the island: 
Motorized Tuk-Tuks
If you ask me, this is the best mode of transportation that you can hop on if you're in a hurry – mainly because the drivers are experts at weaving through traffic. While most Tuk-Tuk are motorized with three wheels, you'll also find cycle rickshaws that provide a more immersive cultural experience. Do bear in mind that cycle rickshaws are much slower than their motorized counterparts though. The fare usually hovers around 100 LKR per kilometre and most drivers are open to negotiation. 
Be sure to agree on a price before getting into the Tuk-Tuk, otherwise you may be in for a nasty surprise when you reach your destination. Touristy areas like Galle or Colombo have designated Tuk-Tuk stands but you can also flag one down while they're driving by.  
Public buses
While most buses are old and squeaky, they do (mostly) run on schedule and can be quite efficient to get around. The island has two major bus stations: the Gunasinghapura Bus Terminal and the Central Bus Stand. Although, I must point out that you don't even need to head to a bus stop or station – in Sri Lanka, hailing a bus is as simple as just waving to the driver.
Tickets normally cost between 10 and 50 LKR, depending on the distance. You can consult the routes on the official Ministry of Transport website. 
Trains
For such a small island, Sri Lanka has a surprisingly intricate rail system. Most trains have three reserved classes – although bear in mind that third class basically consists of hard wooden benches. There's also an unreserved area, but these don't normally have any seats so you may either need to find a spot on the ground or stand during the whole trip. As such, it's always a good idea to buy your ticket in advance. You can additionally consult the train routes or simulate prices on the official website. 
I should also point out that trains are often delayed, so you may wish to opt for an alternative mode of transportation if you have an important appointment. First class seats are usually air-conditioned and feature an observation deck so you can soak up the scenery. In terms of pricing, tickets can cost between 10 – 240 LKR, depending on the route. 
Taxis
While taxis in Sri Lanka aren't all that expensive, I must admit that they're not my favourite way of traveling around the island, mainly because most drivers can get really pushy. Virtually every driver that I encountered insisted on making detours to shops and restaurants so they could earn a commission. Some forcefully demanded ridiculously high tips. 
Luckily enough, you can always order an Uber to travel across the island. The island also offers plenty of private taxi agencies and while they're quite expensive, they're very speedy and efficient.
Fitness and Health
I did notice that the older generations of locals aren't exactly health-conscious, as evidenced by the country's scrumptious, albeit, calorie-laden cuisine. As such, there's not much of a gym culture in Sri Lanka. Most people prefer to take a walk or indulge in local sports such as cricket, football, and beach volleyball. If you live by the beach, it's not uncommon to see Sri Lankans going for an early morning jog on the shore, or simply relaxing by the water as they meditate or do some light stretches. 
You'll certainly find some gyms and fitness centres in expat-friendly areas such as Colombo, Galle, and Unawatuna. Some of the more popular options include High Octane Fitness, Fitness First – Colombo 7, OSMO Fitness,  CrossFit Ceylon, and Power World Gyms. Thanks to the country's somewhat conservative culture, it's quite common to see separate male and female gyms. Expect to spend between 3,000 and 10,000 per month on a gym membership, classes and other facilities included. 
Now, if you're strapped for cash, you can always check out the Ministry of Defence Kiosk located in Independence Square. Maintained by the government, this fitness centre offers a wide variety of gym equipment as well as a jogging track, completely free of charge. You may also see a few free outdoor gyms scattered in various regions all over the island. 
It's also worth checking out upscale health clubs such as the Colombo Swimming Club which offers a well-equipped gym, swimming pool, library, coffee lounge, and a bar. You'll even find badminton, squash, and tennis courts as well as yoga, Pilates, and Zumba classes. The rate is surprisingly affordable at 2,750 LKR/monthly for a family package.
Sri Lanka People
The one thing that becomes rapidly evident after just a few hours in Sri Lanka is how genuinely warm, hospitable, and gentle the locals are. Yes, some regions are filled with touts and yes, overly pushy taxi drivers can push you to the brink of insanity as they try to drive you to shops where they can earn a commission. But for the whole part, the overwhelming majority of locals genuinely want you to have a great time in their country. They'll usually go above and beyond to demonstrate their hospitality, including walking you to your destination if you ask for directions – something that happened to me more than once! 
I must say that Sri Lankans are always so eager to demonstrate their hospitality that it's not uncommon for them to invite foreigners into their home for a cup of tea- or better yet, a homemade meal. If you're invited to share a meal with a local, remember that it's considered good form to remove your shoes before entering their home. 
According to local etiquette, there's always a bit of socializing that goes on before dinner is served so don't expect to eat as soon as you walk in. Sri Lankan usually eat with their fingers, and if you would like to do the same, bear in mind that it's only acceptable to eat with the right hand – never with the left. Declining refreshments – including pre-dinner beverages – is generally considered rude, and it's always good form to leave a little bit of food behind on your plate after you're done eating. 
Of course, there's no better way to connect with locals than by trying to converse with them in their local dialects. Some basic phrases to know include: 
Vanakam

: Hello 

Karu-nah-kara

: Please

Hari Hondai:

Very good

Bohoma Istuti

: Thank you very much

Ayubowan

: Goodbye
Do keep in mind that while the official language is Sinhalese, it has various accents as well as regional dialects. For example, the Southern Province's Sinhalese usually consist of Matara and Hambantota, two dialects that you won't hear anywhere else on the island. A large portion of the population also speaks Tamil. 
Since 70% of the population are Buddhists, religion forms a core part of the country, and the culture can be quite conversative. Both men and women are expected to cover their knees and shoulders when touring Buddhists shrines and other places of worship. Physical contact between opposite sexes isn't exactly encouraged, so it's always a good idea to greet each other by folding your hands and giving a slight bow of the head. 
As is often the case in conservative and highly religious cultures, elderly members of the family are treated with plenty of respect. Locals usually bow down to literally touch the feet of their elderly relatives as a way of demonstrating respect, but you should not feel obligated to follow suit. Most elders live under the same roof as their married children. When addressing men and women who are older than you, it's customary to address them as 'Uncle' and 'Aunty' instead of Mr/Madam.
Sri Lanka Insurance and Medical Care
While foreigners are by no means required to get travel insurance before flying to the country, it's highly recommended that you do subscribe to a solid protection plan prior to your trip. It's good to know that the public health sector in Sri Lanka is free for both expats and locals. However, rural public hospitals are often lacking in terms of equipment and infrastructure. Some public hospitals are also notorious for their ultra-long waiting times. You'll also realize that most rural doctors tend to favour alternative treatments for mild issues. As such, expect to be prescribed a course of Ayurvedic medication to treat muscular pains or digestive issues. Other treatments such as acupuncture, homeopathy, and siddha-ayurvedic are also commonly prescribed. 
Public hospitals in cities such as Galle and Colombo tend to offer a better healthcare system with plenty of English-speaking staff or translators. For the highest level of care- especially emergency care – I would recommend that you get in touch with one of the many private clinics on the island. They can get quite expensive but then again, they're the closest thing to Western-style medicine on the island. Some of the best private clinics include Lanka Hospitals, Ninewells Hospital (Pvt) Ltd, and Durdans Hospital. 
Despite the country's penchant for alternative medication, it's still entirely possible to find most western medication in the big cities. If you're planning on staying in rural areas, it's always a good idea to bring your medication with you because some brands may not be available in small villages or coastal areas.
Make sure you are fully covered by reading our full Digital Nomad Travel Insurance guide.
Jobs in Sri Lanka
Before we start, it's crucial to highlight the importance of applying for a work visa and permit before you can integrate the local job market. Failure to do so may result in a complete revocation of your visa, not to mention huge fines. Additionally, if you're planning on living and working in Sri Lanka for more than a year, you will need to apply and be approved for a permit renewal at least a few weeks before it expires. 
Once your work visa or residence permit is approved, you can start browsing for local jobs. Some of the best job searching platforms on the island include Jobup.lk, Observer Jobs, JobPal, TopJobs, and CareerFirst. 
Here's the hard, unvarnished truth though – the Sri Lankan job market can be something of a challenge, even more so for foreigners. The business sector tends to be more receptive to foreigners, especially native English speakers. It's also easier for digital nomads to land jobs in the digital coding field since this skill is not particularly widespread among locals, especially in rural areas. 
Thanks to the number of international schools present on the island, it's also quite easy for digital nomads to get snapped up as ESL teachers, especially if they've got a teacher's diploma. Best of all, English teachers are quite well-paid in Sri Lanka, with salaries hovering around the 60,000 to 70,000 LKR mark per month. If you're interested in teaching English on the island, you can always check out TESall All TESOL and ESL Employment.
Check out our Digital Nomads Jobs Postings to find the best jobs available for Digital Nomads.
Nomad Friendly
Value for Money
Internet
Workspace
English
Food
Safety
Health
Transportation
Friendly
Quality of Living
Cost of Living Sri Lanka
Despite its many scenic beaches, UNESCO recognized sites, and decent quality of living, it's surprisingly easy to lead a comfortable life in Sri Lanka for very little money. For starters, the Sri Lankan rupee's depreciation against most major currencies mean that digital nomads can very easily get their money's worth on the island. In fact, one American dollar equals up to nearly 200 LKR while one British Pound converts to 300 LKR. 
Digital nomads who would like to cut back even more on their monthly expenses can easily do so by shopping in rural mini-marts instead of larger city supermarkets. In terms of accommodation, you can also opt for guesthouses or shared flats to reduce your rent. If you absolutely need your own space, you can get a small one-bedroom place in a rural or coastal area for around 60,000 LKR per month. 
Expect to fork out between 7,000 and 9,000 LKR per month on utilities, including electricity, garbage collection, water, heating, and cooling. Internet should cost approximately 3,000 LKR for 60 Mbps while public transportation should normally set you back 1,500 LKR/monthly. Renting your own car normally costs between 120,000 LKR and 140,000 LKR/month, while motorbike hires are much cheaper at 70,000 LKR- 110,000 LKR per month. 
I personally budgeted around 50,000 LKR for dining out, shopping, nightclubs, nautical activities, and entry tickets to various attractions. 
All things considered, your monthly expenses – without vehicle rental – in Sri Lanka should normally hover around the 125,000 LKR mark which comes to $650.