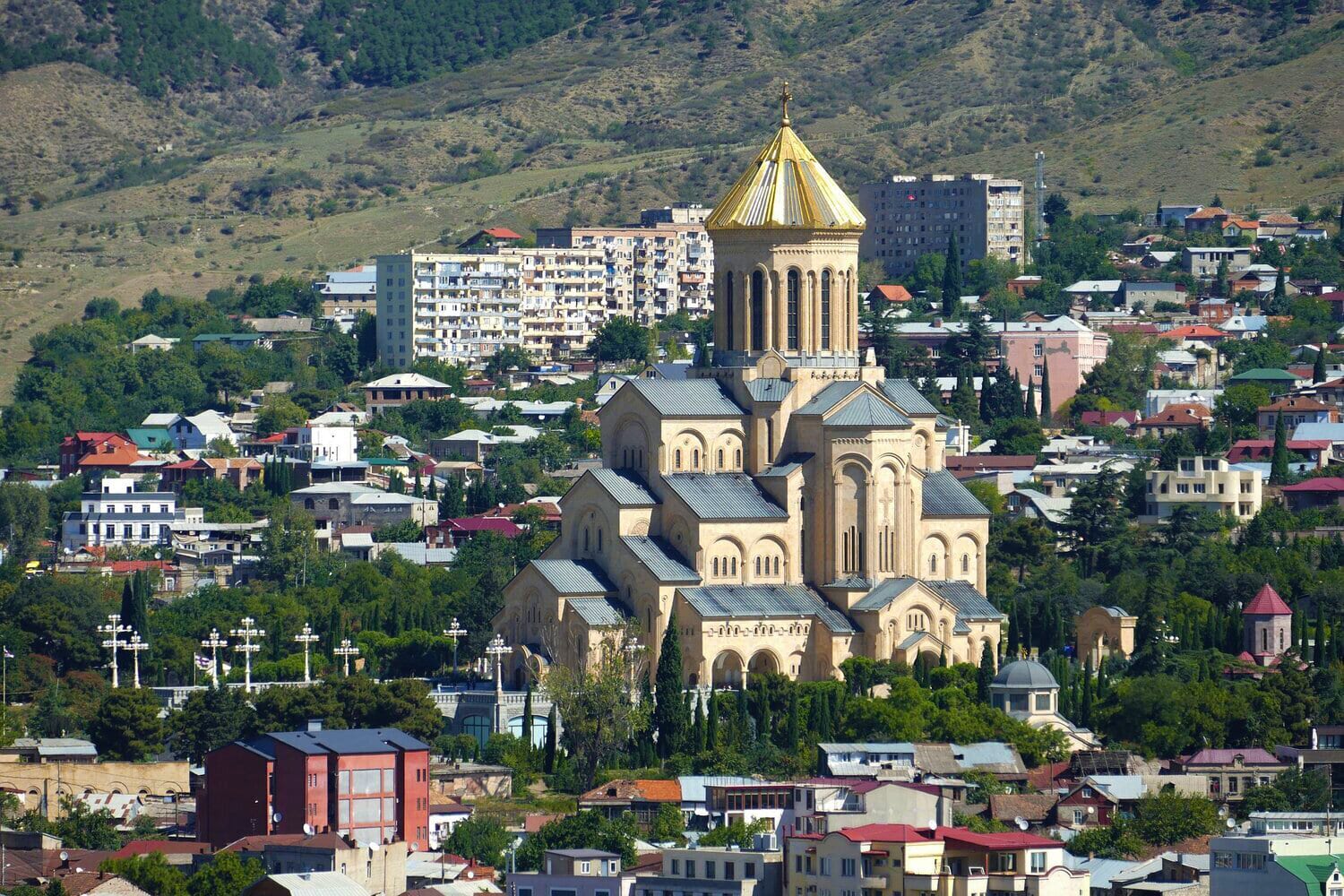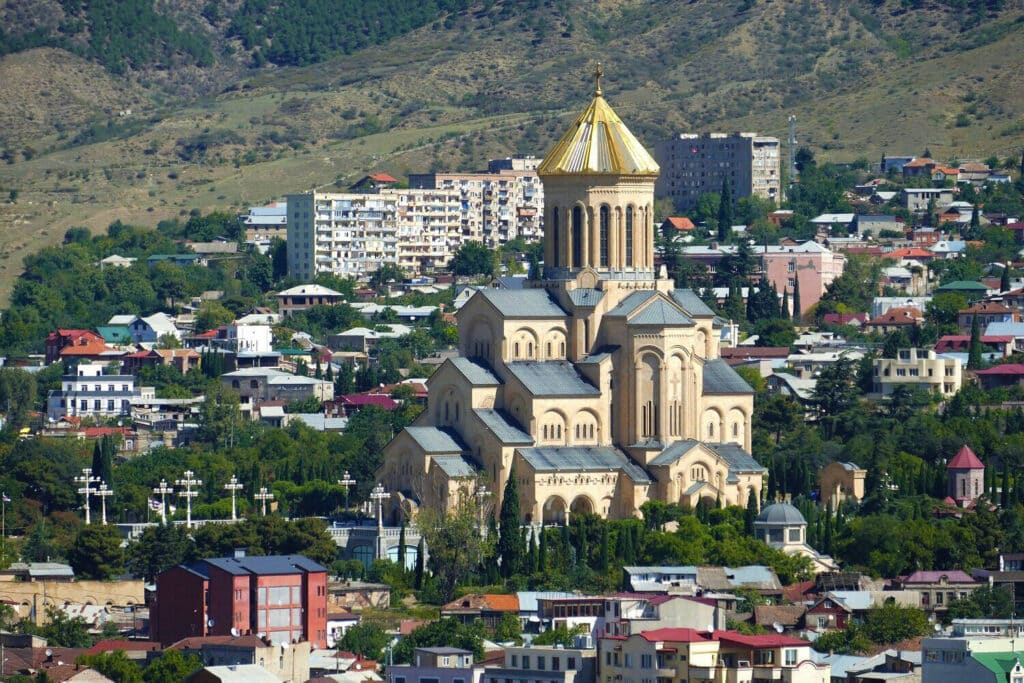 A Digital Nomad Guide to Tbilisi, Georgia
Georgia, the country is situated on the east coast of the Black Sea. It borders Russia and was once part of the Soviet Union, as well as bordering Turkey, Armenia and Azerbaijan. Georgia was the birth country of Stalin and there are still remnants of its Russian past; seen mostly in its architecture, infrastructure and food. 
Although Georgian is the official language, Georgians speak a range of languages. Anyone who grew up in the Soviet Union was taught Russian, but since the fall, the country has opened up to Europe with exchange programs and now the younger generations speak mostly English and German as their second languages. Georgia uses the Georgian Lari (GEL), and is roughly 0.30 GEL to $1 USD.
Georgia is known for its wine, and is recognised to be one of the first nations to produce it. As well as its beautiful mountains ranges in the Caucuses, Georgia is rich in its fusion of cuisine and its historical values. From skiing to bathing in natural thermal springs, Georgia has everything for the outdoor lovers, as well as offering a stylish city life in places like Batumi and Tbilisi.
Georgia is an upcoming place for digital nomads and already has infrastructure specifically designed for backpackers and digital nomads, with Tbilisi being the best place to be in the country. Tbilisi really captures all elements of Georgia's past and its upcoming future. The contrast of ex-Soviet crossed with westernized modern ideas creates for a very interesting contrast of old meets new. The streets of Tbilisi are lined with the grand style of Russian architecture which has become the aesthetic for the hipster community in Tbilisi. 
Georgia is a country that is invested in its future generations and has become very welcoming to tourism in the last few years. Despite its advance in infrastructure, you will still see, in more rural areas, the traditional way of life in Georgia.
Nomad Friendly
Value for Money
Internet
Workspace
English
Food
Safety
Health
Transportation
Friendly
Quality of Living
Living in Tbilisi Overview
Digital Nomad Personal Experience in Tbilisi
I have travelled around Georgia multiple times over the past 3 years and I keep going back! Tbilisi is Georgia's capital and it is a fantastic place to stay. The first time I went was back in 2018 and I stayed in Fabrika Hostel which was an abandoned soviet textile factory that has now been turned into a hip hostel complex and it is the place to be if you are a backpacker or digital nomad in Tbilisi. Although it is more of a high end venue, I would say it is worth the extra if you are looking for reliability, convenience and comfort. 
In 2019 I returned to spend a little over one month in Georgia, driving around the countryside, with two weeks of that being in Tbilisi and it was fantastic for the digital nomad lifestyle. Once again I stayed in Fabrika, as my team and I were making a promotional video for Fabrika, to showcase what they have to offer.
I spent most of my days working from the beautiful hangout areas of Fabrika, and then walking the streets on my days off. There is so much to see and do and every time I go back I discover something new, but my favourite thing to do is the thrift shop! Tbilisi has an amazing selection of second hand stores, some of which are rooms in local's homes. It is possible to find some really unique second hand items for very little and it makes for a relaxed afternoon activity. I have also ventured out of the city to explore places such as Batumi, Borjormi, Kutaisi, Gori, and Uplistsikhe, all offer a unique perspective of the country.
Tbilisi has all the conveniences of any city, and it is a great place to meet new people. Whilst I was there I started taking Yoga Classes, attending events and meeting people in the hangout areas of Fabrika and in bars as it is a very social place and there were lots of tourists in summer. Even though there is a lot to do within Tbilisi, it is fairly easy to escape the city to immerse yourself in the beautiful countryside and quaint towns. Georgia has invested in its transportation infrastructure and it is so affordable! 
You will never be bored by this complex country and there is a surprise on every corner! Even in the time that I have been, I've seen the city develop and adapt to its needs and its guests.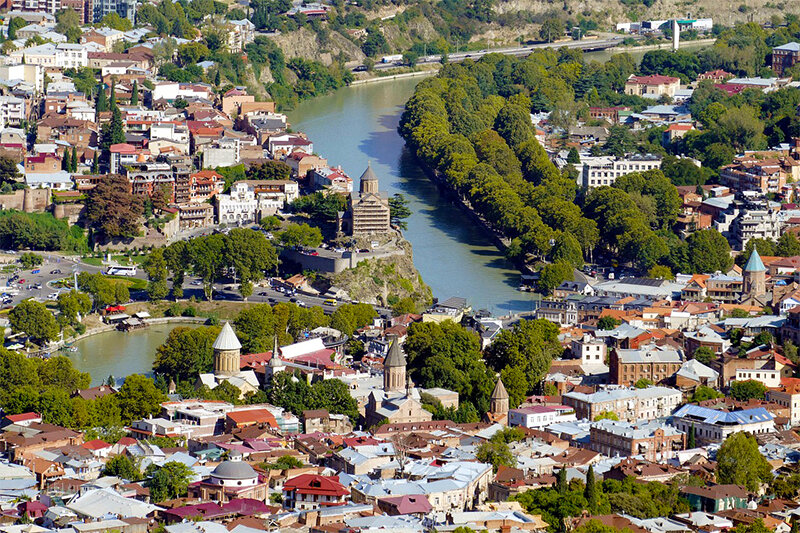 Work in Tbilisi
Tbilisi has a wide range of places you can work as a digital nomad, as there are over 15 co-working spaces and many cafés and relaxed bars for you to choose from.
Most co-working spaces offer daily passes, weekly and monthly and are all priced similarly and offer various extras. But there are also many casual cafes and bars that offer a more relaxed environment to work in. So depending on your working style or needs, you will find something that suits your way of working in Tbilisi. Here are just some of the top co-working spaces with a variety of packages to suit all types of digital nomad. 
Places to Work in Tbilisi
Makers
Makers co-working space is great if you are a student or if you work late hours as they offer great value packages for these types of workers. It is suggested that you check with the venue what proof is needed or what is classed as a student before booking, but you are looking at paying around $29 USD per month, for a maximum of 4 hours per day. This is perfect if you are a part time student or are perhaps studying online and want a quiet space every day for lectures or small bits of work. They also offer a night package, which for $39 USD a month you get unlimited full use of the space between 8pm and 8am.
This is great for the digital nomad that is working in a different time zone, as you get a reduced price and a quiet space for your work. This is the best value for a night package within the city and ideal for digital nomads that work with clients in a different time zone. Makers co-working space is easily accessible as it is located just a 15 minute walk from Station Square Metro.
Collectiv
Collectiv co-working space is another great location to meet like minded entrepreneurs and have a quiet space to work. Although package prices aren't displayed on their website you can enquire to find a package that suits your needs. You will find on their Facebook page, they regularly have offers and discount some going as low as a day pass for just $6 USD. 
Terminal
If you are looking for a co-working space that has multiple locations, then Terminal co-working space is for you. They have 5 different locations across the city of Tbilisi and packages that allow you to move between all the spaces. Memberships start at around $129 USD per month.
The Impact Hub
The Impact Hub at Fabrika combines everything a digital nomad needs under one roof. Their prices start fairly low, at around $9 USD for a day pass, which gives you high speed internet and free printing. However, if you want access to meeting rooms, then you need to sign up for a one week package. For around $37 USD you can access the workspace for one week, and you will get discounts on member only events, a discount on hiring meeting rooms and discounts on events in Fabrika. For the top package which gives you all the benefits, it will cost you around $140 per month.
Although this is on the high end for Tbilisi, you get a lot of value for your money and the convenience of everything being in the same building. You can stay here, meet like minded entrepreneurs and digital nomads, and have music events on your doorstep.
Lokal
Similarly there is a collective called Lokal Tbilisi. They offer a search engine and advice for digital nomads for both workspaces and co-living packages. This is a great option if you want to immerse yourself in an established digital nomad community in Tbilisi. Using the website workfromgeorgia.ge will give you all information for co-working and co-living in Tbilisi. 
Cafés
If you are looking for something more casual, then some cute cafes to work in are Café le toit, Coffeesta, Book Corner Café, Prospero's Books and Caliban's Coffee House and Gabriadze Café Restaurant. These are all rated for their excellent Wi-Fi and cosy atmosphere.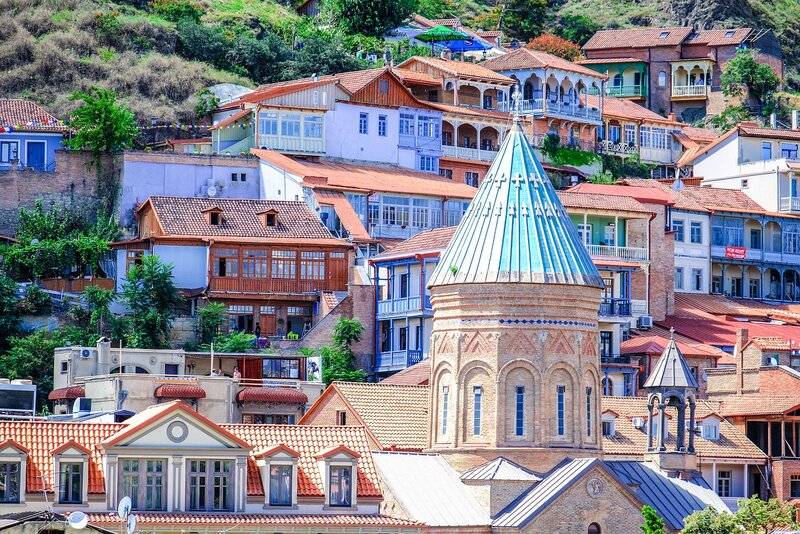 Best Places to Live in Tbilisi
Georgia is a very safe country to be in, as in recent years it has boosted its tourism industry and invested in infrastructure to make sure all foreigners are welcome. One of the most reassuring aspects of Georgia is that in the early 2000's the police force had a revamp due to uncontrollable corruption. This meant that the country started fresh, employing and training people to work with a new and honest system. This means that there has been a huge reduction in corruption in the country, which as a result has created a safe and welcoming environment for tourists. 
Tbilisi as a whole is a great place to be and it is a vibrant city with lots to offer. However if you are looking for the best neighbourhoods you have a few options. Based on safety, accessibility, value for money and entertainment, here are a few areas of the city that are well suited to digital nomads. There are areas that are more suited to the creative, artistic type and there are areas that are better for the historian. Tbilisi has a wide range of districts to suit your needs and preferences. Tbilisi has a population of around 1.1 million and a total area of 280 square miles.
Best Neighbourhoods
Ninoshvili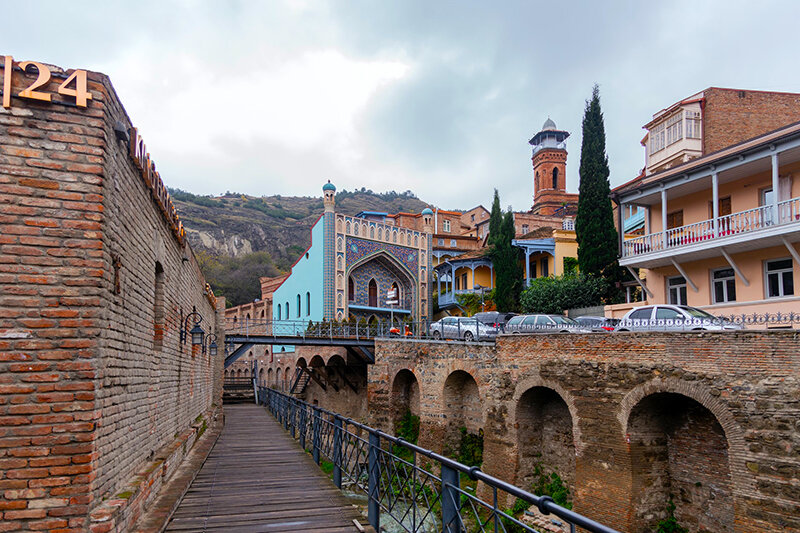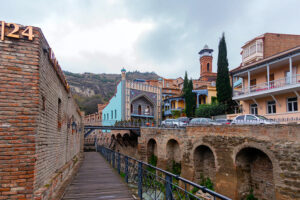 The district of Ninoshvili, is where Fabrika is located. It is west of the river and only a short walk to the heart of the city. In this area you will find lots of bars, restaurants, cafes, art spaces and hangout areas. It is the 'hip' area of the city and is the heart of the youth. The area is artsy and makes use of the ex-soviet architecture, with a modern twist. It's great for nightlife and pretty much anything you need is within walking distance. There is a metro station about a 15 minute walk away.
Sololaki
On the other side of town, in the south, is the area of Sololaki. This is close to the botanical gardens and is surrounded by history and museums. This is the area to be in, if you want to see the more historical side and the Old Town of Tbilisi.
Vake and Sarburtalo
Other popular areas include Vake and Sarburtalo which are located in the north west of Tbilisi. 
Sarburtalo is popular with the more outdoor types as it is closer to Lisi Lake and there are lots of outdoor activities close by, whilst being close to the city. In both areas there are a selection of co-working spaces and cafés suitable for digital nomads. These are the newer and more upcoming areas of Tbilisi. 
Find an Apartment in Tbilisi
There are many ways to find accommodation in Tbilisi, but the most popular methods are by using Airbnb and other online booking sites, as well as through some of the co-working spaces.
Some of the co-working collectives such as Lokal and Fabrika offer more than just a workspace. They offer a community and co-living spaces too. So if you are looking for one package that offers workspace and living under one roof then these are the best places to look. 
Fabrika offers private rooms starting at $60 USD a night and they have private apartments, which have private bathrooms, balconies and small kitchen areas on offer which are price on request. Fabrika may give a discount if you book directly with them and if you book for multiple nights. 
However some prefer to separate their work from their living, so the best idea is to use websites to find the best accommodation for your needs. Depending on your budget you will find a selection of accommodation types, however always check quality as there are many guest houses which are very cheap but you get what you pay for.
Hostel world is very popular in Tbilisi, however please be aware that some of the lower end accommodations might not have reliable internet or even be in a location that you want to be in. Sometimes in Tbilisi it is worth paying a little extra to be in a better district or have better facilities.
For more long term options, there are websites like myhome.ge or place.ge, which you can use to look for apartments in Tbilisi. A tip with rental companies is that the price displayed isn't always the final cost. Be aware that they may be processing fees and bills on top of the monthly cost. Also be aware that prices can be negotiable, so if you have a set budget and you find something just out of your price range, don't be afraid to make an offer as it might get accepted. 
Using websites like this will also help you determine a good average cost for renting in a certain area. Generally the south of Tbilisi tends to be more expensive as it is closer to the Old Town of Tbilisi, so you may get less for your money here. 
On Airbnb, with the monthly discount, you can find accommodation for as little as $250 USD including fees, but they also can go up to around $700 USD depending on location and amenities.

Cheap Places to Stay in Tbilisi
For a lower budget, it is better to use websites like Airbnb and Hostel World as these will have little to no estate agent fees and cheaper options. 
Some of the top rated hostels in Tbilisi are Fabrika, Vagabond B&B, Envoy Hostel and Woodmood. On Hostel World you can find beds in dorms for as little as $7 USD per night and they can go up to around $15 USD. For around $14-$40 USD you can get private rooms in hostels too. Many have a selection of different types of room on offer.
Whilst these are relatively low budget options for short stays, you might find that renting an apartment for longer periods is more efficient and cheaper in the long run.
Using places like Fabrika or collectives like Lokal might be a good way to cut costs as you can find packages that combine accommodation/co-living and co-working. Lokal offers packages starting with the most basic package called the 'Adventurer' which is around $12 USD per night, which gets you a bed in a 4 bed dorm, access to the co-working area with free hot desk, access to co-working events and use of the co-working kitchen and lounge. They offer double occupancy private rooms from around $25 USD per night, so if you are a digital nomad couple, then this might be a good budget option for you.
Georgia Visa for Tbilisi
Georgia is very welcoming to foreigners and most people find that they don't need a visa to enter. As well as not needing a visa, 94 nationalities can stay in Georgia, work and live for 1 year without a visa. This is part of the campaign to become open to the world and encourage anyone to come and live in Georgia. To find out if you need a visa, visit the Georgia government website or ask your embassy in Georgia for advice. After one year you would need to apply for a long stay visa. Your passport only needs to be valid for the length of time you plan on staying in Georgia. Most countries require you to have a minimum of 6 months left on your passport before you enter the country. If you don't need a visa for Georgia, then you will be stamped in upon arrival, which will activate your 365 days. 
It is possible to enter Georgia with just an EU identity card and no passport; however it can sometimes cause problems depending on where you have come from because there is no proof of exit and entry stamps. This can be confusing at some borders so it is advised to use your full passport or only use your EU Identity card when you are coming from the issuing country. 
Georgia does not recognise the Taiwanese passport; therefore anyone from Taiwan can't enter Georgia. Georgia is the only country in the world to implement this. 
Culture and Food in Tbilisi
Georgian cuisine consists mostly of hearty rich meals that have come from traditional methods of cooking and have remained true to their roots. The cuisine varies depending on the region you are in, as Georgian cuisine mostly uses seasonal produce that is grown in Georgia.
When in Georgia you must try the Khachapuri and Khinkali; these are the two dishes that Georgia is known for. 
Khinkali is a dumpling that contains a soup or stew based filling. Traditionally it would be boiled or steamed and then eaten with your hands and dipped into sour cream. The Khinkali is shaped almost like an onion or turnip as the idea is that you pick it up by its stem. Traditionally you would take a bite and then sip out the soup and eventually eat the rest of the dumpling with the meat and vegetables that are left.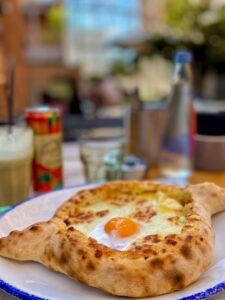 Khachapuri is a dairy rich baked bread that is found almost everywhere in Georgia. Khachapuri is essentially flat bread that is shaped like a boat and then filled with cheese and baked. Sometimes an egg is cracked on top and it is sometimes served with a stick of butter to garnish. This rich dish is a staple and is traditionally eaten as a shared dish. You eat it by breaking off the crusty sides and dipping them into the delicious gooey cheesy centre.
Georgia is famous for its wine so you have to try some of their red when you are there. In 2017 a new discovery was made when a qvevri was found at an archaeological site that dates back to around 8,000 years ago. This evidence has confirmed the fact that the Georgians were the first to make wine in this method of storing in qvevris which are clay pots.
And finally if you are looking for a healthy sweet treat Tklapi and Churchkhela are two traditional fruity treats. Tklapi is essentially like fruit leather, fruits are made into a pulp and then flattened into pancake type shapes and left in the sun to dry. Churchkhela are fruits such as grapes and nuts that are threaded on a string and dipped into honey and fruit juices to create a sweet coating. You will find both of this at many markets across Georgia.
As for restaurants, Tbilisi has a wide variety of places to eat, with both traditional and modern cuisine on offer. If you are craving the taste of fast food then you have McDonalds, Burger King and KFC as well as a wide variety of local fast food options where you can eat for as little as $1. One of the most popular street food items is Shwarma, which is similar to a kebab.
Traditional restaurants in Tbilisi offer a range of local dishes and a true Georgian experience, so if you are looking for something different then Midamo Restaurant might be a good place to go. It is one of the top rated restaurants in Tbilisi and offers some of the best Georgian cuisine in the country.
There has also become a wave of new restaurants popping up in Tbilisi that are experimenting with a range of cuisines. Most of these are set up by young entrepreneurs that are pushing cuisine to a new level in Georgia.
This includes a wide variety of vegan and vegetarian restaurants, some of the best vegan restaurants are hummusbar, Kiwi Vegan Café, Mama Terra Veggie Corner, Muhudo and Leila. All offer vegan and vegetarian options as well as other dishes that cater for certain dietary requirements or allergies. 
You will certainly find something in Tbilisi that caters for your dietary needs and this is a great place to be for those who love experimenting with new foods.
Tbilisi Nightlife
Tbilisi has a wide variety of things to do in the evening or at night, so whether you are a partygoer or if you just want a few drinks then this is the city for you.
Georgia is becoming recognised for its underground music scene and its ever growing electronic music venues such as Bassiani. Bassiani is an underground club, giving a new lease of life to an abandoned swimming pool. Here you will see the best techno artists both from Georgia and Europe. It has been growing so rapidly that the venue now has its own record label and has started generating its own residents within the techno scene. It is very popular with the LGBTQ community as it is a safe and accepting space that has a very strict entry policy. Before being allowed to purchase tickets you must apply via their website and share information such as your Facebook profile so they can see whether you share the same values and to ensure the safety of all guests. Events go on into the early hours of the morning due to the energetic vibe and atmosphere.
Mtkvarze is another top place to go for an evening dancing to the latest techno and house music. It used to be a restaurant but is now a venue and arts space that has an incredible balcony that overlooks the river Mtkvari. The venue has won 'The Best Venue' award three times in a row from the awards ceremony for the innovative Pop culture Electronauts.
Other clubs include Café Gallery and Didi Gallery, which is an artsy club, and Vitamin Cube, which is an outdoor techno venue located just outside the city close to Turtle Lake.
As mentioned before Fabrika has become the epicentre for digital nomads, backpackers and the youth of Tbilisi. Fabrika offers all kinds of entertainment under one roof so you are likely to find something to do. As well as having a selection of bars on site Fabrika also holds regular events so make sure to check out their events page. One of their most popular bars on site is Tsibakha Game Club, which is a bar with board games that hosts regular competitions. The courtyard that joins all the bars and restaurants at Fabrika is a great place to sit under the stars with a beer and mingle with both locals and tourists.
If you still want to enjoy the evening but want to experience something more relaxed, then why not take a night walking tour of the city. There are many guided walking tours that show off the city's best lit buildings, some walking tours are free, some need to be booked in advance. Some of these are even combined with an evening of wine tasting too!
There are also organised bar crawls around the city which cost around $15 USD. This is a great way to combine seeing the city lights at night by foot, as well as having a few drinks and getting to know a new crowd.
Things to do in Tbilisi
Tbilisi has much to offer and something to suit every kind of budget, whether it is strolling along the river, visiting a museum or trying some local specialities. Here are some of the most popular things to do in Tbilisi. 
Cable Car

Tbilisi's cable car. Photo by Katarzyna Javaheri-Szpak

One of the most popular things to do in Tbilisi is to visit the Old Town and take the cable car to the viewpoint over the city. The cable car leaves from Rike Park, also known as European Square and costs around $0.70 USD one way. You will need a metro money card to ride. It takes you up to the Narikala Fortress and from here you can enjoy beautiful views of the city. It is popular to head up for sunset, or to go up during the day and hike your way back down.

Flea Markets

There are multiple quaint markets throughout Tbilisi, so whether you want to sift through old antiques, discover some of the local produce or do a little thrift shopping, you have an endless choice of places to explore. In the Old Town is the Meidan Bazaar, which takes you through the underground network of tunnels. Another similar style market is the Dry Bridge Market, which can be found in Dedaena Park alongside smaller pop up flea market stalls.

One of the biggest markets for produce is located in the northwest of the city is called the Desertir Market and Bazaar as well as the Dinamo Market next door. This whole area is full of local vendors selling locally grown produce as well as second hand goods. This is the place to be if you enjoy exploring bustling authentic markets where the locals shop for groceries. 

Bathhouses

Tbilisi has many bathhouses, so if you are looking for something a bit different then check these out. Similar to a Hamam or Turkish bath, the Georgian bathhouses offer a relaxing and cleansing experience and prices start around $9 USD for a private room for 1 hour. Some of the best bathhouses in Tbilisi are Gulo's Thermal Spa, Royal Baths, No. 5 Sulphur Bathhouse and Orbeliani Baths. 

Museums and Galleries

Tbilisi is rich in history and art and there are many museums and galleries to indulge in and to help understand Georgian life. Some of the best creative museums and galleries are the Museum of Illusions, Art Palace of Georgia (Museum of cultural history), Fotografia, National Gallery and Georgian Museum of Fine Arts.

Other more informative museums include the Georgian National Museum, Tbilisi History Museum and the State Museum of Folk and Applied Arts of Georgia. If you are really interested in Soviet history then you should visit the museum of Stalin's underground Printing House. This showcases some Soviet history, however there are no official tours and most of the workers speak Georgian or Russian and little English. So it is advised to take a local or Russian speaker with you, if you want to have an in-depth understanding of the museum.  

Skiing

Depending on the time of year you are there, it is popular to go and visit the mountains just outside Tbilisi. If you are there in winter there are many places for skiing in Georgia, with the closest being Betania Ski Resort which is only 18 kilometres from Tbilisi. Other ski resorts that are close to Tbilisi include Bakuriani and Gudauri Resort. Ski lift passes can be purchased for as little as $10 USD per day.  

Russia-Georgia Friendship Monument

There are many monuments within Tbilisi such as the Mother Georgia statue, but there is another incredible piece of history located just outside Tbilisi. The Russia-Georgia friendship monument is located in the Caucasus Mountains, on the Georgian Military highway, which is the major route connecting Russia and Georgia. The monument was built in 1983 to commemorate the on-going friendship of the soviet nations and is an important part of soviet history in Georgia. The monument is free to visit, but you will need to take a taxi or bus to reach it.

Hiking

Georgian mountains. Photo by JLB1988

Tbilisi is situated in the centre of some of Georgia's most beautiful mountain ranges, and by taking a taxi a small distance, you will find yourself surrounded by nature and a plethora of hikes. There are many tour companies that will run guided hikes across the Caucasus and most of these include transport to and from Tbilisi and some even include a night's stay in a guest house depending on the length of the hike. This is a great way to see village life in Georgia and to experience the varied landscape that Georgia has to offer. 

Camping

A common thing to do in Georgia is to go camping for the weekend. Companies such as Overlando offer fully kitted out camping rigs for you to hire, for around $80 USD per day. Hiring something like this means you can go out and explore the beautiful nature in Georgia and spend the night in the wilderness. This is a relaxing way to spend a long weekend escaping the city for the mountains and enjoying a campfire with some friends!
There is a manmade lake which is a reservoir just outside Tbilisi that is known as Tbilisi Sea. Only a short taxi ride away, you will find beautiful hikes and be surrounded by nature. There is also what is known as the Chronicles of Georgia, which is a Stone Henge type Soviet sculpture depicting the country's history of kings and queens. It's free to enter so all you have to pay for is the ride there and back.
If you want to explore outside of Tbilisi then there are many activities and regions to visit. Georgia is very easy to get around due to their train network, so if you want to head for the weekend to the coast, then you can! Trains to Batumi, which is the largest coastal city, will take around 5 hours and will cost around $6 USD for economy class and around $19 USD for first class, one way. 
If you are interested in Soviet history, the town of Gori is worth visiting as this was Stalin's birthplace. Close to Gori is Georgia's oldest cave city called Uplistsikhe, which is an archaeological site, where civilisations built homes in the natural cave networks. 
Other places to see include Borjormi. Borjormi is a small town located in the south of Georgia that is home to the natural water spring that produces Borjormi sparkling water. Although it is a small tourist town, there is a beautiful forest located in Borjormi central park, where you can swim in thermal pools and enjoy being immersed in nature.
Best Time to Visit Tbilisi
The weather in Tbilisi will be very different depending on the time of year you visit. In the winter you should expect cold temperatures, whereas in the summer it can get very hot. Georgia is in the northern hemisphere, on the outskirts of Europe, situated between Russia and Asia, so the winter months are between November and March, and the summer is between April and October.
Winters in Georgia can be harsh depending on the area you are in. In Tbilisi temperatures can get as low as 35 Fahrenheit and the climate has been likened to that in New England (USA) during the winter. It is uncommon to get snow in Tbilisi, but the surrounding mountain ranges will get snow, with most ski resorts opening in December.
Summers in Tbilisi are enjoyable and tend to be the peak time for tourists as temperatures can reach up to 89.4 Fahrenheit. This is the ideal time of year to visit if you are looking to spend a lot of time outdoors, hiking and exploring the city.
Due to the varied landscape of Georgia you may find that different parts of the country experience different weathers at the same time. It is quite common for Tbilisi to be a little cooler in the summer when compared to the coastal city of Batumi. It will also be colder in the mountainous towns and regions throughout summer, some of which also get heavier rainfall than others. Georgia has many micro climates so always make sure to check the weather before travelling across country as it might not be the same everywhere.
Tbilisi for Families
Tbilisi is a great city for families as there is a lot going on and many child friendly areas with an array of activities.
For entertainment, taking the cable car and a walk around the Botanical gardens is a great way to spend a day with the kids. If you are there in the summer then taking a picnic is a nice way to spend an afternoon and is a low cost activity. Lisi Lake is another great location for a summer's day out and will cost around $5 USD in a taxi from Freedom Square in Tbilisi. There is a café by the lake and play area. In the summer you can take a 1 hour horse ride around the lake from the hippodrome for around $30 USD. The hippodrome is about a 20 minute walk from the main car park at Lisi Lake.
If you are looking for a fun packed water day with the kids then head over to Gino Paradise just outside Tbilisi, next to Tbilisi Sea. It will cost around $45 USD for a family for a day pass, but it is worth every cent. Gino Paradise is a waterpark with waterslides; pools, beach sports and play areas. There are other activity complexes in Tbilisi such as East Point and Crazy Hall.
If you want your child to learn how to cook some local cuisine, then Culinary Studio Caramel is the place to go. The cooking classes here are specifically designed for children aged 5+ and they are run every Saturday and Sunday. The class costs around $10 USD per child for a 2.5 hour session. This is a great way to get your child immersed in local culture as well as learning how to cook with other children.
There are many international schools in Georgia so it is best to check online to see which suits your needs. New School, which is an international school in Tbilisi, offers one of the widest ranges of tuition, from ages 3 years to 18 years. They also teach programmes fully in English and offer a range of internationally recognised certifications. Other international schools include Buckswood International School, QSI International School and European School.
As for day-cares, you will find many centres across Tbilisi, as well as private au pairs which tend to be students. However it is worth asking around when you are in Tbilisi, as there is no national level of education implemented in most daycares, and this often means there are no minimum requirements for elements of a day care centre for example minimum carer to child ratios.
Living in Tbilisi
Tbilisi Transportation
Georgia as a whole is very well connected and easy to get around. The main airports are in Tbilisi and Kutaisi. There are many ways to explore the country, but one thing to be aware of is the road quality and driving. Many roads in Georgia are in the process of being resurfaced so you may find if you head out of the cities, it becomes a bumpy ride. This also has affected the driving quality; due to the bad road surfaces drivers sometimes take risks as the road quality can delay journeys, so be aware if you want to hire a car.
Tbilisi is very easy to get around, whether you want to walk the streets of the beautiful city, take a taxi to the other side of town or use the underground to make your journey quick, there are many options in Tbilisi.
Tbilisi's metro has 2 lines that have a total of 23 stops across the city. To use the metro, you will need to purchase a 'Metro money' card. You can then top this up from any of the machines at the stations and use it to pay for the underground, as well as the cable car. The card costs around $0.60 USD, so it really is worth the investment.
Other methods of getting around the city include using taxis, the most common taxi apps in Georgia are Bolt, Yandex and Uber however you will find local taxis too. It is more reliable to use the apps as you have a price before you ride.
You can also take buses or hire cars to reach some of the more remote areas of Georgia. Tbilisi Transport Company website displays bus timetables and ticket prices. As well as buses, there are minibuses that are known as Marshrutka's. These are minibuses that run across the whole country and are a common form of connecting towns and villages. It is better to use these when you want to take longer journeys as with the Marshrutkas, your ticket buys you a seat, whereas it is less regulated on the public buses and you may find you don't have much space. 
There is also a great train system across Georgia that connects the country. It is possible to get from Tbilisi to the Black Sea by train in only 5 hours! Plus it is an affordable way to travel. Georgia also has their rail network connected with neighbouring countries Armenia and Azerbaijan. The best website to use for times and prices is; railway.ge.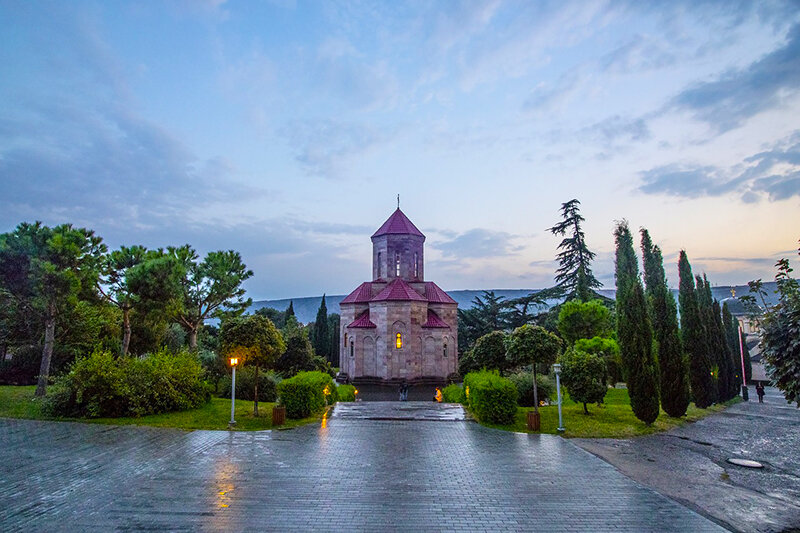 Fitness and Health
Tbilisi has a wide range of ways to keep fit and healthy, from fitness classes, to gyms and activities across the city.
There are over 15 different gyms in Tbilisi, each offering a variety of equipment, some of which are specifically for weightlifting, fitness classes or martial arts. Some of the top gyms in Tbilisi are Oktopus, Urban Garden, World Class Georgia, Fit Club at The Art House and Asperia Fitness. The prices can vary with some starting as little as $30 USD and can go up to around $65 USD per month for basic monthly memberships. Many of the gyms offer fitness classes, some are drop in and some are part of membership plans.
Another benefit of staying in larger places like Fabrika, is that they run weekly fitness classes on the rooftop which can sometimes include discounts for guests, so it is worth checking if your accommodation has any facilities or classes on offer.
If you are looking for yoga, then the city has many yoga studios with lessons taught in a variety of languages. The Yoga Cave, located 2 streets away from Fabrika offers a variety of yoga and meditation classes that are taught in both English and Russian starting at around $6 USD per class. Other top rated yoga hotspots include Lumos Yoga Studio, Tbilisi Yoga Loft, Yoga LAB, Yoga House and Arya Yoga.
Finally if you are on a lower budget or don't want to commit to gym plans then there are plenty of walks in and around Tbilisi, which are often free or a small cost of a train ticket. Georgia is rich in natural beauty so if you prefer to get your exercise in the form of a hike then Tbilisi is a great location for this.
Tbilisi People
The people of Tbilisi and Georgia as a whole are very welcoming to foreigners and tourism. You will find that different generations will react to you differently and if you are in different regions too. The reception from locals may vary across the country. Tbilisi is one of the most developed cities in Georgia so you will find the mind-set of the locals here to be different when compared with remote villages.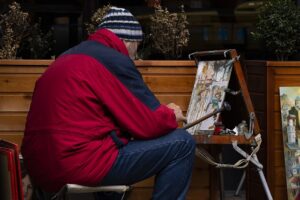 Georgians heritage varies greatly, as Georgia has always been taken over by more powerful surrounding nations. Georgia was formed in the 11th century, but has battled against the Mongols, The Ottoman Empire and then in the early 20th century become part of the Soviet Union. This continual change of ruling has led to the culture being a fusion of surrounding countries traditions as well as their own. Most Georgians are Christian orthodox and Georgia is quite a religious country. There may be some aspects of modern culture that not all Georgians are welcoming or accepting of and you may find some parts of the population can be homophobic. 
Georgia has its own language and alphabet which not only looks beautiful with the curvy letters, it is truly fascinating. Many locals will be more than happy to help you learn the basics for hello and thank you, you just have to ask or show an interest.
Younger generations, particularly in Tbilisi have been brought up in a more westernized environment, so naturally have learned languages such as English and German as well as Georgian. Alongside this their approach to lifestyle choices has become more developed and understanding when compared with some of the older generations who grew up during the Soviet Union. You will find lots of like minded people in Tbilisi and most young people are excited at the fact that foreigners are choosing to come and live in Tbilisi. 
There is a creative energy that flows through the city of Tbilisi and this is mostly due to its driven community of young entrepreneurs. After years of conflict with surrounding countries, there is a passion and great desire to become associated with Europe and a European way of life. The people of Tbilisi have been putting this dream into action over the past few years to create a still unique but more developed city.
Insurance and Medical Care
As always when travelling anywhere, it is advised to take out medical insurance, to make sure you are covered for every situation. Georgia is known to have quite expensive medical care, with some equipment being a little out-dated. There is a free or reduced price service for locals, and specialized clinics that provide free healthcare, however it is based on your income and living situation so you will need to be a registered resident to benefit from the scheme. If you don't have insurance you will still be treated and can make doctor's visits, however it might end up costing a fair amount. There are many English speaking doctors in Tbilisi, so you will easily be able to find someone to help, if you do have any issues. 
Tbilisi also has a wide range of pharmacies that sell over the counter medication and this, comparatively is fairly low, due to the average wage being low in Georgia. Access to medication is fairly easy as most pharmacies carry a good selection of over the counter medication.
As for insurance for your belongings, it is always suggested to have insurance for your personal belongings as with everywhere, there will always be crime and theft if the opportunity arises. If you have expensive electronics then you must be aware of pickpockets when in markets or crowded spaces. Most hostels have lockers but you may need to provide your own lock.
Jobs in Tbilisi
Thanks to Georgia being more relaxed than other countries about living and working without a visa, it is relatively easy to find work or volunteering opportunities. If you are planning to stay in Georgia and work then it is best to obtain a residence permit, which then helps you find more legitimate work. One thing that must be considered when thinking about moving to work in Georgia, is that the average wage or salary is considerably lower than what you might earn from working online or from being self-employed. Most digital nomads find it difficult to rely on finding a full time job in Georgia, so will often go with some of their own work too.
If you are looking for a short term job then it is best to use search engines online or to ask around once you get to Tbilisi. Using Facebook groups is a good resource for getting to know the job climate in a city before you relocate. One of the most common job types you will find in Tbilisi is anything relating to languages. The youth of Tbilisi are brought up learning Georgian, as well as English, German, French and Spanish. Tutoring or assisting language classes are a good way of finding work in Tbilisi. 
There are many volunteering opportunities in Tbilisi and Georgia, so make sure to use websites like workaway.com for opportunities. As Georgia is attracting backpackers and digital nomads from across the globe, it is becoming increasingly popular for setting up a business within travel and tourism, so you might find volunteer opportunities for foreign entrepreneur projects.
Nomad Friendly
Value for Money
Internet
Workspace
English
Food
Safety
Health
Transportation
Friendly
Quality of Living
Cost of Living Tbilisi
The overall living cost of Tbilisi is fairly affordable for a digital nomad. Tbilisi has one of the lowest rent or accommodation costs for a city of its kind and is comparable with living in Eastern Europe. Georgia has really upped its game in terms of internet speed, tourism and reliability for digital nomads so it is a great place to be if you want to be somewhere reliable. Food costs are very low, if you eat local and go out for drinks, you will find your bill to be a lot cheaper when compared to Western Europe or the USA. 
If you were on a low end budget you should expect to be paying around $910 USD for one month in Tbilisi. That is if you are able to work at a lower end workspace. You should expect to pay $210 USD minimum on accommodation.  With an average of around $15 USD per day for food, it would set you back $450 USD and if you were to allocate $140 USD for a co-working space. This leaves you with $110 USD for unforeseen circumstances, activities or travel. It is possible to eat for as little as $1-$5 USD per meal in Tbilisi, so you would be living comfortably with a budget of $910 USD.
With a mid-range budget you should expect to be paying around $1250 USD per month. This is for a private room at Lokal, which gives you access to the co-working space which will cost you around $450 USD for 1 month. With a budget of $20 USD per day, you will be spending close to $600 USD a month on food and then this will give you $200 USD for luxuries and excursions. 
For a more comfortable stay, bearing in mind accommodation, membership for a co-working space, gym membership, food, excursions and luxuries it would be advised to have an estimated budget of around $1500 USD. 
The beauty of Tbilisi is that there are many options, so you can really shape your stay to suit your needs, whatever you budget. There are lots of things to do that are free or cost next to nothing, as well as having all inclusive high end experiences.
Nomad Friendly

198

reviews
Value for Money

198

reviews
Internet

198

reviews
Workspace

198

reviews
Quality of Living

198

reviews