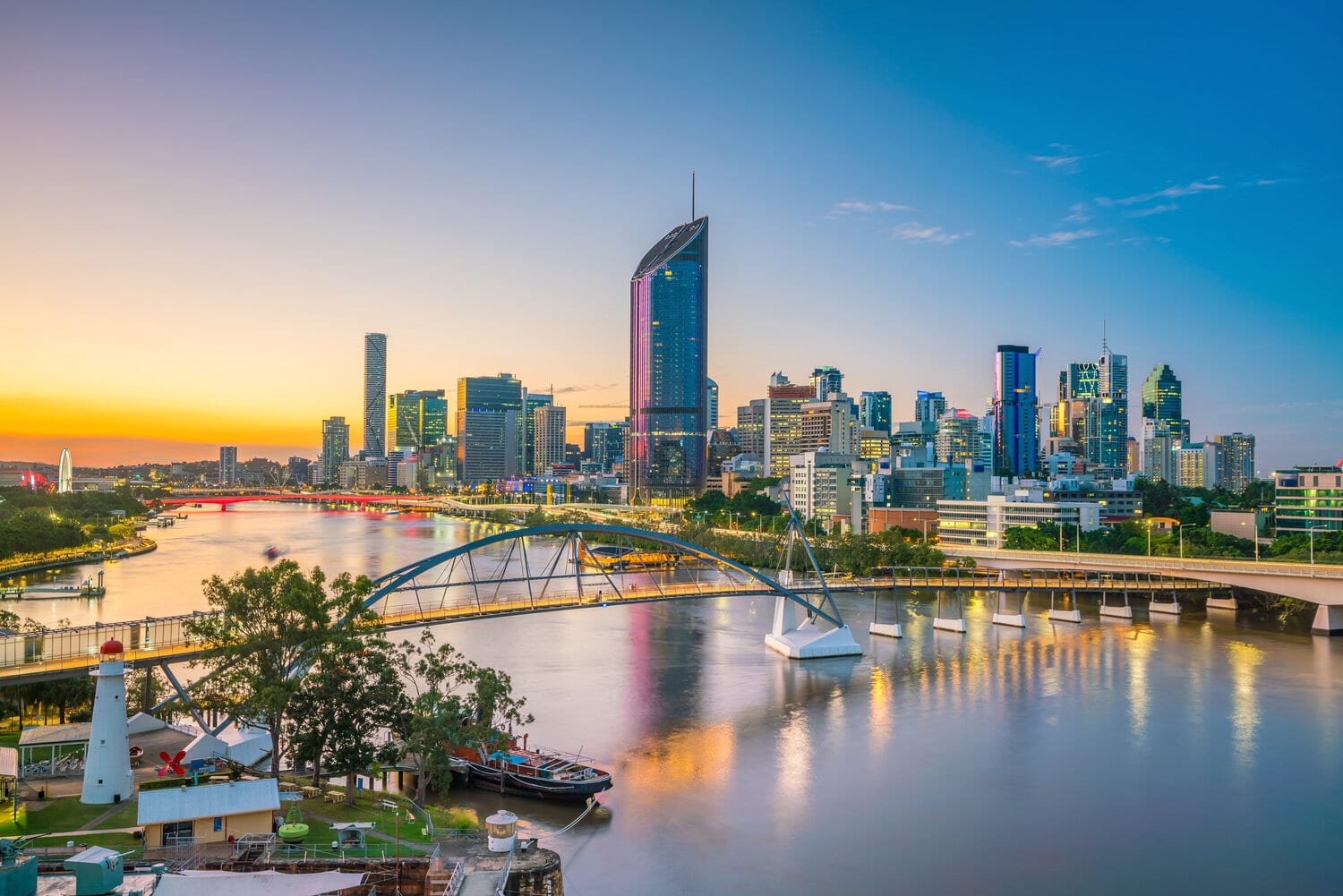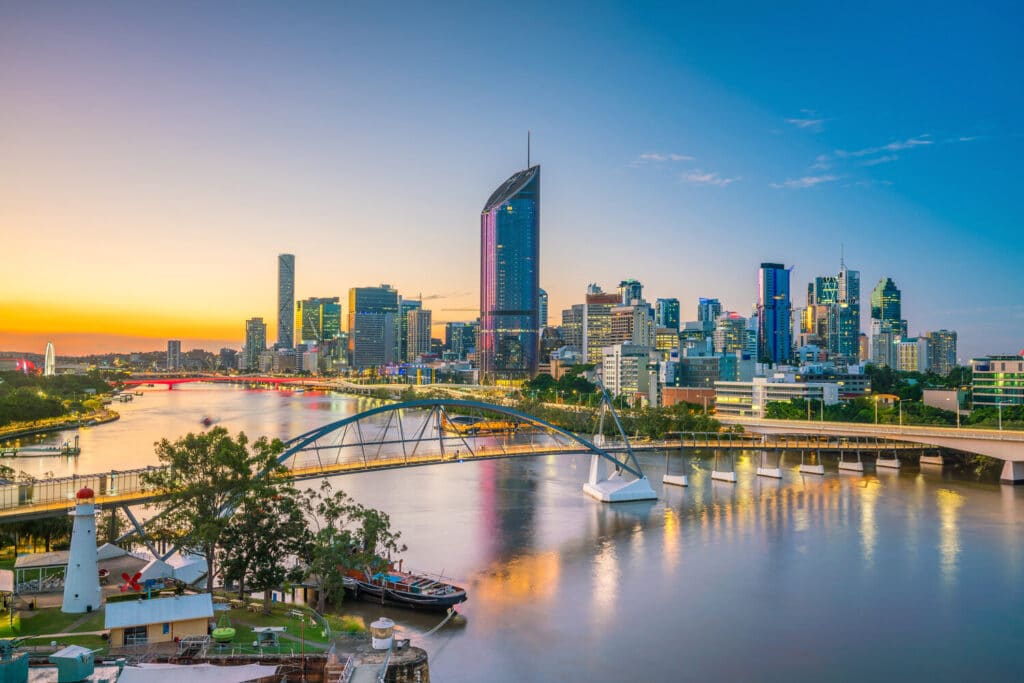 A Digital Nomad Guide to Brisbane
Brisbane is the third-largest city in Australia and a popular place for backpackers, tourists and digital nomads. Located in southern Queensland, this city enjoys a favourable location right by the ocean, only a few hundred kilometres south of the beginnings of the Great Barrier Reef. Brisbane is the capital of Queensland and has a large airport and excellent links to other larger cities in this part of Australia, such as Sydney, Cairns or Melbourne. Brisbane is known for its warm but comfortable climate and is a fantastic place to live if you enjoy cities with local beaches and lots of things to do outdoors. You'll love the community of expats and backpackers and, of course, Brisbane's inclusive nightlife. 
Brisbane has both city beaches as well as a river that flows through the city centre. It's a city of combinations and compromises with modern skyscrapers and historic architecture sitting side by side. Considered one of Australia's safest cities, Brisbane is an inclusive place with a diverse community. Within a few hours driving distance, you can reach both rural areas as well as more popular seaside places such as Gold Coast, Sunshine Coast or Surfers Paradise. There is always an opportunity to escape the city so you won't feel locked in or restricted. Australia is a large country so getting a car is almost inevitable if you truly want to explore the coastline. However, it's also completely possible to spend a few months only in Brisbane and exploring the nearby islands and beaches. You'll love how accessible and friendly this city is. The public transport system is excellent, and you can go almost anywhere within the city limits by bus, train or even ferry.
Nomad Friendly
Value for Money
Internet
Workspace
English
Food
Safety
Health
Transportation
Friendly
Quality of Living
Living in Brisbane Overview
| | |
| --- | --- |
|  Meal, Inexpensive Restaurant | $14.28 |
| Domestic Beer (1 pint draught) | $5.71 |
| Cappuccino (regular) | $3.30 |
| Loaf of Fresh White Bread (1 lb) | $1.78 |
| Water (1.5 liter bottle) | $1.59 |
| One-way Ticket (Local Transport) | $3.25 |
| Basic Utilities (Monthly) | $128.42 |
| Internet | $56.26 |
| Fitness Club (Monthly) | $49.01 |
| Apartment (1 bedroom) in City Centre | $1,274.70 |
Currency: Indonesian rupiah (Rp)
[erw_exchange_rates_widget lg="en" tz="0″ fm="IDR" to="EUR,USD,GBP,AUD,JPY,RUB" st="primary" cd="" am="15000″][/erw_exchange_rates_widget]
ATMs
Max Withdrawal: Rp 3,000,000
Withdrawal Fee: Rp 30,000 – Rp 50,000
Use of Credit Cards: Mostly Cash
Digital Nomad Personal Experience in Brisbane
Brisbane is a fantastic Australian city to live in as a digital nomad. One of my favourite things about Brisbane is its location. The East Coast has a lot to offer so you can take day trips and enjoy other nearby cities. Brisbane is also not as expensive as Sydney, so the cost of living is 
high but reasonable. While the Digital Nomad community in Brisbane is not the largest, it's still sizable and growing every year. The local culture is laid-back and welcoming, so finding friends won't be an issue. Since Australia has such a large number of backpackers, you'll always find like-minded travellers who are exploring this incredible country. While backpackers and digital nomads might have slightly different lifestyles, they also have a lot in common, and you'll be amazed at how many international people permanently live in Brisbane. 
Brisbane is a large city, so you'll find just about anything you need here. As a digital nomad, I like to be close to workspaces with fast internet as well as a reliable community of other digital nomads. Brisbane offers all of these things as well as a comfortable climate. The only downside of living in Brisbane as a digital nomad is definitely the high living costs, but that's the case for
almost everywhere in Australia. Just make sure you've got enough income to sustain your lifestyle in Brisbane. Rent, groceries and leisure activities will most likely be a lot more expensive than you might expect. Usually, high wages make up for this in Australia, but if you're earning your money online, you might find yourself spending more than you'd like. If you're aware of this before you go, though, you won't encounter any problems. Brisbane is definitely a fantastic choice for digital nomads looking for a city with lots of things to do.
Work in Brisbane
Life in Brisbane takes place outside, so you won't have trouble finding a place to work year-round. If you don't mind a bit of background noise, you should get some work done in one of Brisbane's many cafes, many of which sit close to the river bank. The Library Cafe, which is located on the South Bank, is an excellent choice, for example. There is an adjacent book shop meaning you'll come across plenty of people who come here to read, giving this cafe a quiet ambience. The food is absolutely delicious, and wifi speeds are comparably high. If you're looking for a more professional setting definitely try out one of Brisbane's many coworking spaces.
Best Places to Work in Brisbane
Hub Australia
Hub Australia has a prime location in the heart of the city. Located close to Anzac Square, this coworking space is one of the most luxurious in the city, with a fantastic selection of food options as well as a rooftop event space and even a small gym. There are showers available on-site, and you could almost make this place your permanent home as all you need is right there. For more creative minds, there is an onsite podcasting and photography studio. Of course, you'll also find private offices and hotdesks. Memberships start at 350$ per month.
River City Labs
River City Labs has repeatedly been named Brisbane's best coworking space and not without reason. They pride themselves in being a modern and versatile space that adapts to changes in technology very quickly. They specialise in hosting startups and foster an atmosphere of collaboration and creativity. The space is incredibly welcoming and helps digital nomads who just arrived in Brisbane find their place in this busy city. Regular social and networking events ensure that the community is tightly knit and newcomers are welcomed. A day pass costs 30$ per person, and a monthly membership costs around 300$.
Salt Space
Salt Space is a new and upcoming coworking space and has attracted large numbers of new members in only a short period of time. Their memberships are flexible and convenient, with offers ranging from day passes to fixed desks or private office spaces. Salt Space is open to all types of remote workers as well as local freelancers and existing businesses. The space is family-owned and feels very welcoming and homey. If you don't like the impersonal feel of large high-rise offices, then this is the space for you. It perfectly combines networking with dedicated workspaces and can tailor perfectly to your needs. Salt Space is also one of the most affordable coworking spaces on this list at only 150$ per month.
Lightspace
Lightspace is a modern and eccentric coworking space with eye-catching architecture and premium features. Located in the heart of Fortitude Valley, it's well connected to the city, and the walk to the next bar or pub is never far. The space is located in a former printing warehouse which can be seen in the unusual decor. The contrast between modern and traditional is evident, and the owners are more than aware of the irony of opening a coworking space in a place that used to be dedicated to print media. There is a large event space as well as hotdesks and private workspaces. Lightspace is definitely not an affordable option, and memberships start at around 500$ per month. They cater more towards long-term members but also welcome more temporary members.
Best Places to Live in Brisbane
Best Neighbourhoods
Brisbane is a large city of more than 2 million inhabitants. Deciding on a neighbourhood can be tricky, but luckily the city has quite a few options to choose from. Most tourists will pick the Central Business District or CBD of Brisbane. This is where most of the high-rise office buildings are located, and you'll also get a decent selection of coworking spaces and shopping opportunities. However, accommodation prices in the CBD are incredibly high, and you'll end up paying a lot of rent here. There are some hostels available which might offer slightly more affordable long term accommodation, but you'll have little privacy. The CBD is also not the best for nightlife, so don't make the mistake of thinking that its central location means a lot of bars and clubs. 
South Bank
Brisbane's South Bank is lively and colourful. Located just a few minutes from the Central Business District, this area is home to many artists and also some backpackers. Prices aren't necessarily affordable but at least slightly more attainable than the city centre. This is a great place to enjoy views of the water, lively restaurants and also some bars. With lots of cultural events and live music, there is always something going on in this neighbourhood. 
Fortitude Valley
Fortitude Valley is Brisbane's nightlife district and popular among the younger generation and, of course, backpackers. This part of the city never seems to sleep, so if you do decide to rent a property here, you should be prepared for noisy streets as drunken party-goers make their way home in the early hours of the morning. You'll be close to all the action and can try a different place to dance or have drinks every single weekend. Fortitude Valley is also very diverse, with different cultures and lifestyles meeting and blending into one big melting pot. 
New Farm
If living in a nightlife area sounds like your worst nightmare, then you should consider moving to New Farm. This quiet neighbourhood lies around 2 kilometres from the city centre, which can still be considered walking distance if needed. It's well connected but feels like an entirely different place compared to the busy neighbourhoods of South Bank or Fortitude Valley. You'll find parks, cute cafes and nicer houses in this area and it's especially suitable for families with children. You'll still get plenty of opportunities to go to live music venues or try local restaurants. New Farm even has some coworking spaces, so definitely consider moving here if you're new to Brisbane.
West End
Brisbane's West End has something for everyone and combines a professional and residential setting with all the amenities a digital nomad could need. You'll get to experience some nightlife but not too much that it feels overwhelming. Prices can be reasonable and not as expensive as other more crowded neighbourhoods in Brisbane. You can even enjoy local parks and markets 
while still being close to the heart of Brisbane. The West End is becoming more and more popular, especially among young professionals, so definitely consider it when you're house hunting.
Find an Apartment in Brisbane
Brisbane is a large city, so the market is definitely competitive. It's not very difficult to find a place to stay although you might struggle to find low-cost accommodation. In Australia, apartments come either furnished or unfurnished, so you'll most likely be able to avoid having to buy large amounts of furniture. Rent is paid every two or sometimes four weeks, and utilities are billed separately. Expect to pay a deposit (also called a bond) of at least one month's rent when you move in, which you'll receive back if you leave the property as you found it. 
While the city consists primarily of large apartment buildings, you'll be able to find properties with more bedrooms a little bit outside of Brisbane. Prices will go down the further away from the city centre you move especially if you go in the inland direction. Just make sure you have a car if you do decide to go further as you might struggle to get around without one if you're not living close to a public transport link. 
The best place to look for a place to stay in Brisbane is, without a doubt, online. Check our websites like Gumtree, Domain or Real Estate. The best rental properties usually get snatched up quickly, so make sure you check regularly and contact landlords as soon as possible. Be aware that rental contracts in Australia typically have a minimum of three to six months, so you might struggle to find accommodation for a shorter period of time. If you're leaving Australia earlier than this it might be worth checking on Airbnb to see whether you might be able to get a discount if you decide to stay longer. This might be a bit more expensive but could save you from having to deal with problems such as installing wifi, paying a bond or worrying about electricity bills. 
You could also talk to a real estate agent and have them find suitable properties for you. Most of the time, this is free of charge for the renter, and you can get an idea of what is available in Brisbane. The agent will show you properties that match your requirements and handle communications with the landlord. This is an excellent benefit for foreigners who haven't rented in Australia before and may lack experience. Always make sure you actually see a property before you pay a deposit or sign a contract. Like in any large city, there could be scams in Brisbane that benefit from inexperienced renters. It's therefore advisable to wait until you are in Brisbane to look for accommodation. You might have to stay at a temporary apartment for a
while, but it will be worth it if that means you'll get a chance to look for an apartment that suits your needs. It's usually not too difficult to find a place to stay in Australia so you won't have to worry about not being able to find somewhere. Just be aware that Brisbane can be expensive. 
Even one-bedroom apartments in the city centre can cost well above 1300$ per month although you might find one for less than 1000$ a little bit further outside of the city.
Cheap Places to Stay in Brisbane
Apartments in Brisbane are definitely expensive, so the best way of living in the city on a budget is to rent a room in a shared house or find a roommate. Luckily, in a city of backpackers, you won't have any problems finding others who are on the hunt for affordable housing. You'll most likely be able to find a room for around 600$ in the city centre and only around 400$ a little further out in the suburbs. Sometimes this even includes bills, and rooms are almost always furnished. Make sure to clarify how long you're planning to move in, as some leases might require minimum stays. While you might not have as much privacy in a shared house than you might have in a studio apartment, this is a fantastic way to get to know others in Brisbane and make some friends if you're still new to the city. 
Staying at a hostel is also an excellent opportunity to save money, although not all offer long term accommodation. Ask around at some hostels and mention how long you'd like to stay and they might be able to provide you with a considerable discount. While the social aspect of hostel life is fantastic, it's definitely not a luxurious place to stay. You will have to share a bathroom and maybe even a bedroom, so consider this before you decide to go this route. In a city like Brisbane, it might be one of your best bets at paying as little as possible while enjoying a central location with great public transport connections.
Brisbane Visa
Australia is quite strict when it comes to visas and immigration. It's not always easy to stay in the country as a digital nomad, and obtaining a long-term stay permit is pricey and time-consuming. If you're under the age of 30 and from a selected list of countries, you can apply for a Working Holiday Visa, which lets you stay in Australia for 1 to 3 years and even work during your time there. This visa is extremely useful for digital nomads, although it cannot be extended further and can only be granted once per person. It gives you a lot of flexibility, though, as you are legally allowed to earn money locally, so you can even take on a local job to improve your finances. 
If you do not fulfil the requirements necessary for the working holiday visa, you can simply apply for a regular tourist visa. This is valid for three months, after which you'll have to exit Australia and re-apply. Due to these tricky visa conditions, most digital nomads only stay in Australia for a limited time period. Longer visas can only be obtained under certain conditions, such as a sponsorship from an employer in Australia. The process is very expensive and can cost tens of
thousands of dollars. Most digital nomads are not eligible for longer stays, so applying is only recommended if you intend to make Brisbane your permanent home. Student visas may also be an option and are often grants for a variety of courses that aren't limited to only university levels.
Culture and Food in Brisbane
Australia's culture is primarily Western, with influences from Great Britain and the United States. This culture is for the most part separate from the culture of Australia's original inhabitants, which are Aboriginal Australians and Torres Straits Islanders. The Aboriginal culture is diverse and complicated. There are estimated to be more than 500 different Aboriginal groups in Australia that all have different customs, languages and traditions. To address them as a single group of Aboriginal Australians is difficult and doesn't do their culture justice. 
Most of these Aboriginal Australian groups base their belief systems on the natural world and mythology with an emphasis on the land. They place a significant emphasis on natural locations and sites which are considered sacred. This includes landmarks such as the famous Uluru, which is a popular tourist location in central Australia. Brisbane sits on the land of the Turrbal people and also has a number of locations with religious significance. Unfortunately, during the colonisation process, a lot of Aboriginal culture was lost or disrespected as Australia's Western
population took over and destroyed many sacred locations. Aboriginal Australians have faced centuries of discrimination and violence, which is difficult to reverse. There are a number of Aboriginal centres and small museums in Brisbane where you can learn more about the history and significance of this area. It is recommended for all travellers and digital nomads who are planning to make Brisbane their temporary home to educate themselves on Australia's history and the treatment of its Aboriginal inhabitants. 
Traditional Australian food consists mainly of meat-based dishes, which are somewhat similar to those that can be found in American and British traditions. Australia's food seems to be a fusion of many different cultures, such as the popular Chicken Parmigiana, which consists of breaded chicken breast served with a tomato sauce and melted cheese. 
Brisbane also claims to be the birthplace of the famous lamington, a little piece of cake with different coatings and coconut flakes. This is one of Australia's most popular desserts and should be at the top of your list of things you absolutely have to try when visiting Brisbane. Many cafes sell lamingtons but you can also get some in different supermarket chains such as Coles or Woolworths. The best lamingtons are often made by local bakeries or smaller coffee shops that bake them fresh every day. 
No time in Brisbane is complete without an authentic Australian barbecue. Since the climate is warm and dry, you can barbecue year-round in Brisbane, and many Australians actually do. A barbecue is usually a social event with neighbours and friends coming together to have drinks 
and grill different types of meat. Sometimes you'll even come across a sausage served in a piece of uncooked toast which is often described as a hotdog. While this might seem absurd to foreigners, it's a typical dish in Australia, which is usually combined with a can of beer. 
The drinking culture is also a large part of life in Australia. Australians tend to drink a lot, so be prepared to have beers with friends frequently. Luckily Australian beer is light with low alcohol percentages, so you can, in fact, drink a lot of it.
Brisbane Nightlife
Brisbane is by no means a quiet city. In fact, it's known for its vibrant nightlife, which has a diverse selection of bars and clubs often frequented by backpackers, students as well as other partygoers. Due to its warm climate, Brisbane has become somewhat of a hotspot for rooftop bars. Enjoy incredible views of the city at night from places like Maya Mexican, which is a hip location operating under a Central American theme. Come here for tacos and other authentic Mexican delicacies, as well as delicious tequila-based cocktails. 
Cielo Rooftop Bar has a similar atmosphere, but the views might almost be even better here. With open-air seating and a unique menu, this is a must-go for anyone looking to party the night away with breathtaking views. For a more laid-back location, head to Dandy's Rooftop, which
has brightly coloured decor at affordable prices. No need to dress up. You'll be sipping beers at picnic benches while enjoying bar snacks and beautiful views. 
If you want to go clubbing in Brisbane, you should head to the neighbourhood of Fortitude Valley. This is where most of the clubs and lively bars are located and luckily most sit very close to each other, so you never have to go far. Most people are amazed when they visit Fortitude Valley for the first time. On the weekends, the streets here are crowded with loud music blaring from every corner. For a good night out in Brisbane, you definitely need to go to Fortitude Valley at least once. Just keep in mind that alcohol prices are much higher in Australia than what you might know from other countries. Due to high taxes, you'll pay a lot for a night out, and even a beer can cost as much as 10$ in the city. It's also worth mentioning that consuming alcohol in public is prohibited in Queensland, and you can be fined. Always abide by local laws when on a night out in Brisbane. 
Brisbane has been deemed the live music capital of the country, and there is an excellent selection of concerts and live music nights to choose from. If you enjoy having some casual drinks while listening to a band, then you won't be disappointed in Brisbane. 
While Fortitude Valley is definitely the nightlife hotspot of Brisbane, you shouldn't forget about the South Bank area. There are some great bars and clubs in this area as well, which are slightly less wild and crowded than those in Fortitude Valley. 
While Brisbane is considered one of the safest cities in Australia, you should always be careful and use your common sense while on a night out. Make sure never to go home alone and avoid quiet side streets without a lot of other people nearby. Taking a taxi or Uber home is recommended as public transport can be unsafe in the late hours at night. Brisbane is not an unsafe place; this is just a general precaution you should be taking.
Things to do in Brisbane
Visit the South Bank

The South Bank of Brisbane is one of the most popular tourist areas with lots to see and do. The Streets Beach steals the show and should be at the top of your bucket list for Brisbane. This man-made lagoon is perfect for relaxing without having to worry about tides or dangerous Australian wildlife. The South Bank also has lots of restaurants, parks and cultural activities which you can enjoy year-round. Go for a bike ride along the river or simply explore. You'll always come across something new that you haven't seen before.

Visit the Queensland Art Gallery

The Queensland Art Gallery is located right next to the Gallery of Modern Art, and most people visit both on the same day. Come here for incredible local artworks and changing exhibitions. Entry to the galleries is completely free, so you can come here even if you're on a budget. Australia's indigenous people have a diverse and beautiful selection of art styles, many of which are displayed in the gallery. There are also art and design walking tours available which will take you around the city and introduce you to some of Brisbane's hidden cultural secrets.

Explore Moreton Island

Moreton Island lies off the coast of Brisbane and is known for its impressive sand dunes and breathtaking beaches. The ferry ride to the island takes just over an hour, and there are several tour companies available to choose from. Moreton Island is the third-largest sand island in the world and actually consists almost entirely of sand. Only very few people actually live on the island, and much of it is completely untouched. If you enjoy Australia's beautiful countryside and want to escape the city, this is definitely the place to go. You can even take a car, and tickets for a one-way ferry ride start at around 35$.

Enjoy the views from Mount Coot-tha Summit

The Mount Coot-tha Summit is a beautiful lookout point that offers panoramic views over the city of Brisbane. After just a quick drive from the city, you'll reach the stunning lookout point, which is especially beautiful during sunrise or sunset. There is a restaurant and cafe at the top with beautiful gardens that invite visitors to stay for lunch, dinner or even just a quick drink. You can also go for a short hike around the area as there are several trails available.

Enjoy the Markets

Brisbane is home to a number of different markets ranging from fresh produce, flea markets or arts and crafts. A favourite among tourists is the Riverside Sunday Market at the Botanic Gardens. Shop a variety of different things, including art, plants, local produce and delicious cultural foods. The Riverside Markets really have it all and are frequently the host of live music and different food stalls. What better way to spend an afternoon and enjoy lunch with a view of the river.

Spend an afternoon in China Town

Like many large cities, Brisbane has a China Town. Located in the heart of the city, this area is perfect for authentic food and cultural festivals. Keep an eye on the calendar and check seasonal events. This is also a great neighbourhood to come to for shopping and browsing the many different shops. You'll find just about anything you'll ever need in Brisban's China Town.

Spend the day at Lone Pine Koala Sanctuary

If you're looking for an ethical way to get close to some of Australia's native wildlife, then the Lone Pine Koala Sanctuary is the perfect choice. Located just a quick drive from Brisbane's city centre, this 18-hectare park is home to more than 70 native Australian animal species. It's not only the world's oldest Koala sanctuary but also the largest. You can of course see koalas here but also kangaroos, Tasmanian devils and wombats. Tickets start at 20$ per person, and the sanctuary is open from 9:00 am to 5:00 pm every day. Lone Pine prides itself in its ethical animal treatment and is primarily a place for sick and disadvantaged animals to recover.

Visit the Botanic Gardens

Brisbane is home to one of Queensland's most popular and renowned botanical gardens. Located close to Mount Coot-tha and around 7 kilometres from the city centre, these gardens are the perfect place to get away from Brisbane's busy streets and enjoy a relaxing day surrounded by nature. The gardens span more than 56 hectares, so there is plenty to see. You can easily spend an entire day here if you're up for a lot of walking. Visiting the Botanic Gardens is free, and the attractions include a Japanese Garden and a Tropical Dome with a number of rare plant species.

Go on a camping adventure

Australia is a large country and made for long camping trips. The east coast is especially beautiful, and you absolutely have to explore the area north of Brisbane. You can easily rent a campervan for a reasonable price or even buy one if you're staying in Brisbane for a longer period of time. Little towns like Agnes Water or Airlie Beach are the perfect place to spend a few days and enjoy some time away from the city. Brisbane has a fantastic location for weekend trips, and there is no better way to experience Australia than by camping. While campsites are reasonably affordable, you can also opt to wild camp, although you need to be careful to follow local laws and regulations at all times.

Enjoy the views of Story Bridge

Story Bridge in Brisbane is often compared to Sydney's Harbour Bridge and is a beautiful spot to take photos. The bridge frames the view over Brisbane's skyline, and you should visit it at least once during your time in the city. The bridge can be crossed on foot, by bike or by car although the best way to see it is from further down the riverbank. It was constructed in 1940 and is a heritage-listed site.
Best Time to Visit Brisbane
Brisbane is located in southern Queensland, about halfway up the eastern coast of Australia. The further north you go, the hotter and more humid the weather becomes. Australia's seasons are reversed from what the northern hemisphere experiences, so the summer months range from November to March. During this time, Brisbane experiences temperatures of up to 30°C with high levels of rainfall. Due to its subtropical climate conditions, Brisbane is subject to tropical storms and flooding, although the city is well-prepared for such instances. April to May and September to October mark the seasons of Autumn and Spring. These are the most popular times for tourism as the weather is far less humid and rainfall is much rarer. Enjoy sunny days with temperatures of up to 25°C, which are far more comfortable for sightseeing and exploring. If you're not a fan of the heat, you might even like the winter in Brisbane. From June to August temperatures rarely cross 20°C, and the weather is cool and dry. If you're interested in hiking and other outdoor activities, visiting Brisbane during this time is a great choice, and you'll still get to enjoy plenty of sunny days. Its proximity to the coast means that Brisbane always gets a fresh sea breeze and even bad weather never stays for too long. The city has a fantastic climate year-round and is popular among digital nomads looking for a warm and sunny getaway.
Brisbane for Families
Brisbane is a very family-friendly city with lots of activities and things to do with kids in the area. The beach is, of course, a must-do with the entire family, especially in the warmer months when water temperatures are comfortable. Make sure to avoid surf beaches and only swim at beaches with lifeguards to keep smaller children safe. Australia's ocean is known for its strong currents and hostile marine life, so always be careful and don't swim at deserted or unguarded beaches. The risk is not worth it. That being said, you'll absolutely love the many safe beaches that Brisbane offers. Get older children into snorkelling or diving or simply relax by the water with the entire family. 
If you've got small children and want a safe place to introduce them to the water, you might want to check out Streets Beach. This is a man-made inland beach with shallow waters and lifeguards. The best part is that it's completely free to visit. 
After you've had enough of the great outdoors, you can enjoy city-based activities in Brisbane such as going for a ride on the Wheel of Brisbane, one of the city's most famous landmarks. Kids will love the stunning views of the city from above just as much as the adults. Another must-do activity is a trip to the Lone Pine Koala Sanctuary. This is the largest koala sanctuary in the world and prides itself in ethical animal experiences. Get up close and personal with koalas, kangaroos and 70 other species of animal at this magical place. 
Since the official language of Australia is English, you won't have any problems sending your kids to local schools which are low-cost and offer high education levels. If you're interested, you could also consider Brisbane International School, which is known for its diverse community and internationally recognised education programme. The fees are considerable, though.
Living in Brisbane
Brisbane Transportation
Brisbane is a great city for public transport, and you don't really need a car if you're not planning on going on longer trips. If you live in the city centre, you can definitely get by with just using public transport in Brisbane. 
The public transport system is easy to navigate and reasonably affordable as far as Australian prices go. You can use a lot of the services interchangeably with the same ticket, including ferries, trains and buses. Definitely make sure to get a so-called Go Card which is a rechargeable public transport ticket that lets you use most services around the city. You can top up your card at 7-11 stores or online, which is a quick and easy process. 
Riding a bus in Brisbane might be slightly different from what you're used to. Firstly, you need to wave at buses in order to get them to stop. Just standing at a bus stop will not tell the bus driver which bus you're wanting to get on, so they will simply drive past if you do not wave. Many foreigners don't know this when they first come to Australia and end up missing the bus a lot
without knowing why. Also, remember that you need to tap your card when you get on the bus and when you get off. If you forget to tap off, you'll pay a lot more, so try to remember. It takes some getting used to, but it'll become second nature soon enough. Getting a Go Card is definitely a good idea since it's a lot more affordable than buying single tickets every time. You'll get a number of different discounts, including off-peak rates and free rides if you use your card more than nine times per week. 
Buses are the best way to get around Brisbane since they will take you to the suburbs and really anywhere you need to go. However, there is also a decent train network you can use in the city centre. Trains also use Go Cards, so you can easily switch between buses and trains if needed. As is the case with buses, you need to touch your card when you get on and when you get off. 
Then there are ferries that operate on the Brisbane River and will take you across in case you need to switch between South Bank and the Central Business District. Tickets are affordable, and you should go on a ferry ride at least once to enjoy the scenic views of the city from the water. There is even a free ferry available called the City Hopper, so there are no excuses not to go for it. 
Late at night, you might have trouble finding a public transport connection in Brisbane, so it's always good to know that you can take a taxi if needed. Australia is a great place to try ride-sharing services such as Uber, which might be more affordable than a traditional taxi. Still, they will be considerably more expensive than public transport so only use them if needed.
Fitness and Health
Life in Brisbane is all about outdoor activities. With plenty of beaches to choose from, this city is perfect for anyone wanting to learn how to surf. The waves are suitable for both beginners and more experienced surfers, so taking surf lessons during your time in Brisbane is highly recommended. If you're interested in sticking to your workout routine, you'll be pleased to know that Brisbane has a great selection of gyms and fitness classes. Try your hand at spinning, pilates, aerial yoga or other unique forms for fitness. That is only one benefit of living in a large city like Brisbane. There are plenty of new things to try, which is a great way to stay healthy and active and also meet new friends in the process. 
Those interested in working out at a traditional gym should check out large chains such as Anytime Fitness, Fitness First or Snap. They have multiple locations across the city that can be used interchangeably. F1rst Class Fitness or Jetts are also great options. Monthly membership prices range from 50$ to 100$, depending on the service and type of gym. Most are billed on a weekly basis which is very convenient for digital nomads who aren't sure yet how long they'll stay in Brisbane. Keep an eye out for joining fees which some gyms charge. 
If you're looking for a more budget-friendly way to keep fit in the city, why not go for a run along the beach? The scenery is absolutely breathtaking, and you'll get to know the area in the process.
Brisbane People
Brisbane is known to be welcoming and open. With a population of more than 2 million, it's the third most populous in Australia. Due to its central location on the East Coast of Australia, Brisbane gets considerable amounts of backpackers who tend to travel up or down the coast. Many settle in the city since it's cheaper than places like Sydney and Melbourne, so it's an attractive place to stay. 
While Brisbane has a lot of temporary international inhabitants like backpackers or digital nomads, not a lot of them actually stay longer than a few months or perhaps a year. After New Zealanders, the next largest nationality group in the city are people from the UK, followed by India and China. However, there are only around 35,000 people from China living in Brisbane, making it far less ethnically diverse than might be expected. Australia tends to be like that and is mainly dominated by travellers, not expats. This can be attributed to the difficulty of obtaining long term visas here. While as a digital nomad, you might want to live in a place with a lot of different ethnicities and cultural backgrounds, choosing a place that is more traditional also has benefits. The Australian culture is very dominant in Brisbane, so it's easy to immerse yourself and truly get to know this beautiful country. 
Brisbane also has around 2% of Aboriginal or Torres Straits Islander inhabitants. Australia still faces many problems with racism and discrimination as well as regional poverty. Large cities are especially subject to these effects of years of discrimination against Aboriginal Australians, and it's important to highlight these disparities and attempt to change them. 
English is, of course, the main spoken language in Australia, so you won't have any problems communicating. However, the local accent can be quite strong, so it might take some getting used to. You might come across words you've never heard before, so be prepared to learn some new vocabulary. That being said, Australians are very welcoming to visitors and finding local friends shouldn't be a problem. Why not join a local sports team or make friends through a coworking space if you're trying to network? 
You'll most likely come across large numbers of backpackers who are living and working in Brisbane. While a working holiday visa is an incredible opportunity to get to know a country, you also should be aware of the sometimes questionable reputation that backpackers carry with them. In some cases, they are known for throwing wild parties with no regard to the local communities or the environment. Make sure you take extra care to treat your host country and city with respect to leave a positive impression with locals. This also goes for any trips you might take up or down the coast, especially if you're camping. Leave beautiful places as you found them and take any trash with you when you leave. As a digital nomad, this is the most important part of travel and visiting different places.
Brisbane Insurance and Medical Care
Australia is said to have one of the best medical systems in the world, and the standards of treatment are incredibly high, especially in a large city like Brisbane. There is a fantastic selection of large hospitals and specialty doctors, meaning you'll always be well taken care of even for complicated treatments. However, medications, hospital stays or doctor's appointments can be very expensive if you do not have health insurance. As a digital nomad, you should always make sure that you are insured in case of an unexpected illness or an accident. Even routine checkups can cost hundreds of dollars if you aren't insured. While it's possible to obtain health insurance coverage from Australia, it's highly recommended to take out an insurance policy from your own home country, which will most likely be more affordable. Conditions for insurance in Australia vary, but most of the time, it's very difficult to obtain one if you are holding a tourist visa. For longer visas, you should consider companies like BUPA, which is a large Australian health insurance provider which specialises in coverage for international visitors. 
Brisbane's largest hospitals include St Vincents Brisbane, Brisbane Private Hospital, St Andrew's War Memorial Hospital and the Queensland Children's Hospital. Booking an appointment with a doctor is usually easy and quick. Wait times are relatively low in Brisbane, and the quality of service is high.
Make sure you are fully covered by reading our full Digital Nomad Travel Insurance guide.
Jobs in Brisbane
Brisbane is very popular among backpackers, and the city is made for casual work. If you're looking to earn a bit of extra money, you'll have no trouble finding a job in retail or the hospitality industry. Australia is known for its high wages, and even a basic job in a bar or restaurant can earn you around 22$ per hour and even more on weekends or public holidays. However, keep in mind that you need the correct work permit to be able to earn money in Australia legally. A working holiday visa is a great option to do this, although not all nationalities are eligible. If you're looking for a professional job in Brisbane that matches your field of expertise, you could be able to get a visa through your employer as well. This depends a lot on the nature of the work, as not all fields sponsor foreign workers. 
As a digital nomad, you should make sure you can cover all of your expenses before you decide to move to Brisbane. The city is expensive, and living costs will quickly add up. If you have a steady income online, you'll be able to sustain yourself but having savings you can rely on is always important. If you're coming to Australia on a tourist visa, you are not legally allowed to work locally, so make sure you respect these rules. Australia has strict punishments for foreigners who break visa regulations which could result in deportation or even a travel ban. Risking it is not worth it.
Check out our Digital Nomads Jobs Postings to find the best jobs available for Digital Nomads.
Nomad Friendly
Value for Money
Internet
Workspace
English
Food
Safety
Health
Transportation
Friendly
Quality of Living
Cost of Living Brisbane
It's no secret that Australia has a very high cost of living. This isn't an issue since wages are also considerably high, so you can afford the lifestyle if needed; however, as a digital nomad, you might have some issues if you're making your income abroad. Just ensure you have a bit of extra money available each month so you can sustain life in Australia. Luckily, Brisbane is considered to be a bit more affordable than cities like Sydney and Melbourne. You can save a lot of money on rent if you find a room in a shared house which could cut your expenses almost in half. While a car is helpful to have in Brisbane, it will also be associated with additional costs so try to use public transport if needed. 
Eating out and nightlife will be a considerable expense as well. Even a simple meal can cost around 15$, and a beer will easily cost you 7$. Factor this in and try to avoid expensive tourist bars and restaurants to save money. Australia is, unfortunately, an expensive place to live as a digital nomad, so there is no way around this.
Sample expenses for one month in 
Essential costs 
1000$ basic one-bedroom apartment 
200$ bills for water, gas, electricity, wifi 
100$ public transport 
250$ groceries 
30$ cell phone plan
_________________ 
≈ 1.580$ total per month 
Optional costs 
300$ eating out and nightlife 
200$ membership at a coworking space 
150$-300$ health insurance (varies significantly according to country) 
300$ budget for day-trips 
80$ gym membership 
150$ gasoline