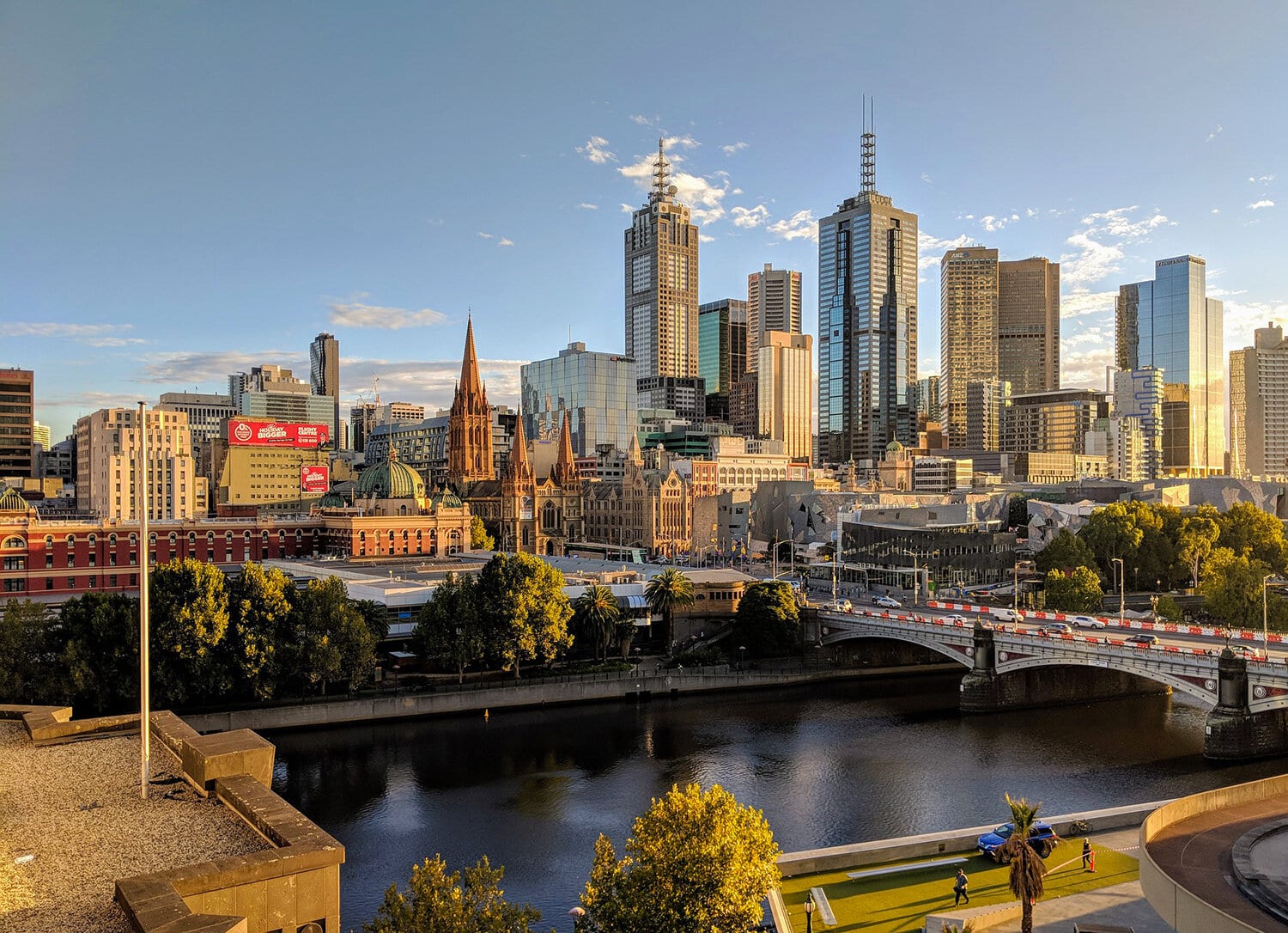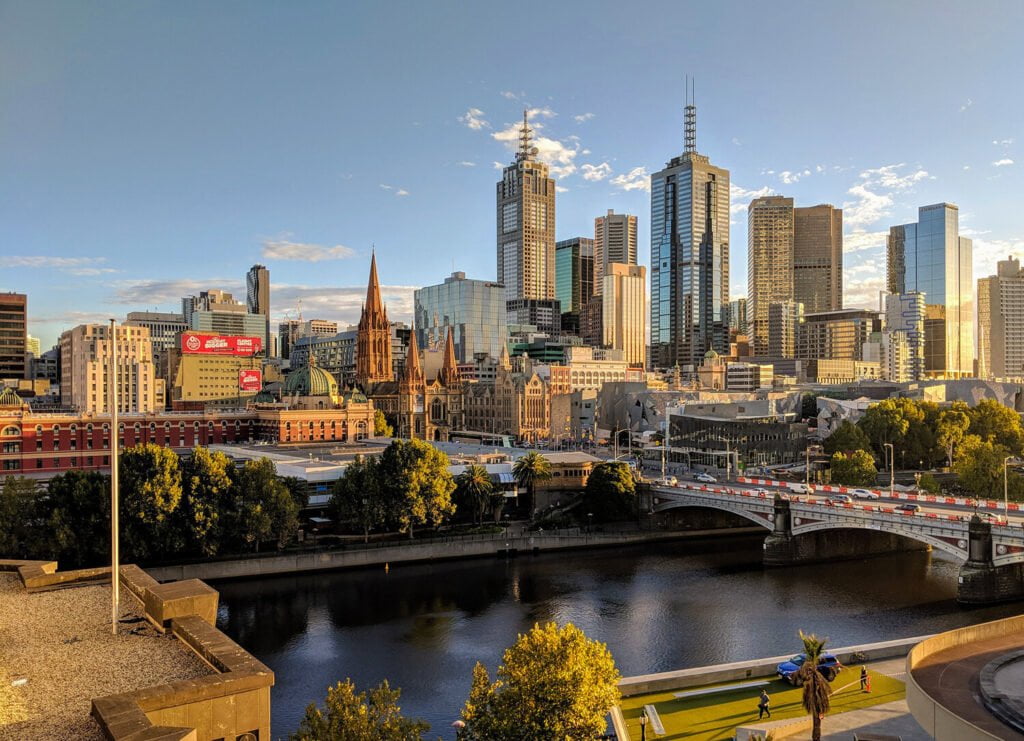 A Digital Nomad Guide to Melbourne
Melbourne is an urban playground unlike any other city in Australia. Many travellers, however, begin their Australian adventure in Sydney, gawking at the beautiful beaches before venturing into the great Australian Outback. But overlooking Melbourne to the south, Australia's second-most populous city is a mistake no digital nomad should make. 
Melbourne has consistently been rated one of, if not the most, liveable city in the world. One aspect of this is Melbourne's culture, which is considered more 'European' than other parts of the country.
The iconic laneways that permeate through Melbourne offer not only delightful cafés slinging a delicious brunch of smashed avo and feta but also eclectic street art and live music. 
Melbourne remains an eccentric city with strong arts and theatre culture. For digital nomads who love to balance their life with galleries, live shows and underground arts, Melbourne provides a blank canvas for freedom of expression. As a result, nothing ever feels stale.
Victoria's capital has largely been described as the 'best student city' in the country. A lot of these reasons, such as access to start-up grants, top-ranking universities and being a hotbed for entrepreneurial creativity also make the city perfect for long-term digital nomads. 
Melbourne's actual strength, however, is not within the city itself, but within the surrounding suburbs. Here you will find diverse communities offering a mix of international cuisine and culture. Down any random street could be an exciting 'hotel' serving pints of local beer and the best 'parmi' in the country. Or you could simply stumble upon a humble comedy club. 
With great public transport, Melbourne makes it easy for digital nomads to live around the CBD. You can enjoy each unique suburb from grungy and hip Brunswick to the beautiful South Yarra, without giving up easy access to all that the inner-city offers.
Nomad Friendly
Value for Money
Internet
Workspace
English
Food
Safety
Health
Transportation
Friendly
Quality of Living
Living in Melbourne Overview
| | |
| --- | --- |
|  Meal, Inexpensive Restaurant | $14.46 |
| Domestic Beer (1 pint draught) | $7.23 |
| Cappuccino (regular) | $3.23 |
| Loaf of Fresh White Bread (1 lb) | $2.00 |
| Water (1.5 liter bottle) | $1.62 |
| One-way Ticket (Local Transport) | $3.25 |
| Basic Utilities (Monthly) | $141.15 |
| Internet | $54.85 |
| Fitness Club (Monthly) | $50.64 |
| Apartment (1 bedroom) in City Centre | $1,177.26 |
Currency: Indonesian rupiah (Rp)
[erw_exchange_rates_widget lg="en" tz="0″ fm="IDR" to="EUR,USD,GBP,AUD,JPY,RUB" st="primary" cd="" am="15000″][/erw_exchange_rates_widget]
ATMs
Max Withdrawal: Rp 3,000,000
Withdrawal Fee: Rp 30,000 – Rp 50,000
Use of Credit Cards: Mostly Cash
Digital Nomad Personal Experience in Melbourne
Melbourne is a great place to spend time in and as I spend more of my life travelling and living in different countries, I have only grown to love it more. When I meet people, a lot have never heard of Melbourne and aren't able to place it on the map. Sydney is the face of Australia, and rightly so, but there's something about Melbourne that is special and can only be experienced when you live within its boundaries.
Other parts of Australia love to take a dig at Melbournians because of their coffee-loving, sports-mad culture. Locals can come across as 'holier-than-thou' when talking about their lives in Melbourne, but their city pride is simply being mistaken for arrogance. What's not to love about having public holidays for sporting events such as the AFL Grand Final and the Melbourne Cup?
It is easy to fall in love with the Melbourne lifestyle. It is the one major city (sorry Hobart) in Australia that actually experiences a pretty cold winter. This forces residents to embrace the events that happen throughout the year, to go all in on their local sports teams or head to a cozy pub for an evening with friends. A chilly day at the MCG in the dead of winter, watching your sports team get destroyed on the field, is a rite of passage for all Melbournians.
Australia is a multicultural nation and there is no bigger melting pot than Victoria's capital. Like anywhere, there are rich and poor areas, but a stark divide is not noticeable in Melbourne. It allowed me to meet people from all walks of life and backgrounds, which not only helped to inspire my travels but made me appreciate the city even more.
Work in Melbourne
Locals know Melbourne as a multicultural, cosmopolitan city that offers a great variety of action outside of the workday. But what is life like in Melbourne for digital nomads? 
Melbourne's café scene is world-class. Locals genuinely rave about the coffee and if you ask me, it's the best in the world. You will find an abundance of café space to choose from, irrespective of where you decide to live. Each spot will have WiFi for customers and with Melbourne's disdain for regularity, each café will offer a unique vibe. This way, your local coffee haunt will soon feel like your own.
Beyond the café culture, Melbourne is home to many educational institutions, from Melbourne University to RMIT and Monash. These universities provide excellent facilities if you wish to work alone, in a quiet place surrounded by amazing resources. 
Melbourne also features a variety of spacious public libraries, the most famous being the State Library of Victoria. You will fall in love with the sheer space of the building, the inspiration that floats throughout, and lastly its excellent proximity to post-work drinks. 
But if you are searching for a creative space where you can mix and interact with fellow digital nomads and entrepreneurs, Melbourne has a growing list of cowork spaces. Let's explore the best options.
Best Places to Work in Melbourne
Just Co
Just Co offers digital nomads coworking spaces, and private offices strategically placed in three great locations around Melbourne. The cowork space also offers excellent services to help manage inconveniences that slow down your every day, such as IT support.
Once the workday is over, you will be mere steps away from public transport along with great bars and restaurants.
Rates begin at $37 per day for a HotDesk and range up to $402 per month for a complete office.
CoWork Me
CoWork Me is all about flexibility, it offers peace in spades for when you just want to embrace the grind. Additionally, there is an abundance of collaborative space that allows for excellent networking.
There are no hidden costs, so what you pay for is what you get. Perks include on-site parking, a full kitchen, strong WiFi and access 24 hours a day. When all is said and done, you are only five minutes away from the CBD. 
The basic Starter package begins at $113 per month, while a private office space will run to $476 per month.
Hub Australia
Hub offers the biggest co-working space in the city, with a location that is hard to top. Directly across from Melbourne's Southern Cross Train Station, you have access to the city's second largest transportation hub. But this is just one of four locations in Melbourne. 
Hub comes with an on-site café, full kitchen, bike racks and even shower facilities to freshen up. 
Prices vary based on each cowork space, but range from a basic $75/month plan to an expansive $667/month package.
The Circle
Unlike other spaces on this list, the Circle has just one location, within the vibrant Collingwood community. Located right next to public transport options, you are only a couple of stops away from downtown.
The Circle is all about creatives and dreamers, and providing a space for inspiration that will help you reach your goals. There is an on-site gym to break up the day, along with a dedicated Zen room.
Packages vary between $271/month and $534/month for dedicated desks and private offices.
Best Places to Live in Melbourne
Best Neighbourhoods
When digital nomads move to a new city, they may rush to place themselves in the heart of the action. Melbourne is unique in the sense that what makes the city so liveable has nothing to do with the CBD and downtown areas. 
Sure, a lot of Melbourne's amazing (yet expensive) restaurants, bars and nightclubs call the inner-city their home, but Melbourne's true culture thrives just minutes away from the slew of high-rise buildings.
I often say Melbourne isn't all that attractive as a travel destination, especially when you compare it to Sydney, Cairns and Uluru. Melbourne only unveils itself to those that stick around and take their time to sample every unique suburb and community. 
Basing yourself just a stone's throw away from the CBD will place you among vibrant cafés, restaurants and pubs, along with a youthful social scene that will help you settle into your new home. 
Brunswick
One of the best spots for digital nomads who want easy access to the city, but at an arm's length, is Brunswick. This suburb is attached at the hip to Sydney Road, a street with a busy tram network that runs directly into town. Diverse immigration has created a breadth of sub-communities along this stretch of tar. 
As you head towards the city, the shops and restaurants quickly shift between Middle Eastern and South East Asian, all blended within a work-class suburb known for hipster cafés and grungy pubs. 
On any night of the week 'The Brunny' (Brunswick Hotel) will have live music, open mics and comedy evenings. On weekend mornings, café patios fill up with hungry 20-somethings in search of the perfect brunch and latte. 
Northcote and Thornbury
There are apartment buildings in Brunswick, especially if you add in the neighbouring suburbs of Northcote and Thornbury. However, the most common option of living in this suburb is with roommates, which is perfect for those seeking a social experience. 
Richmond
On the other side of town, the suburb of Richmond, once downtrodden, has gone through a quick renaissance. Richmond has a high cost of rent, but with many pubs, clubs and a short walk to the MCG, it is still a youthful and exciting suburb. So much so that those that once lived along Sydney Road 'graduate' and move on over to Richmond. 
Richmond offers an outstanding balance of medium-sized apartment buildings, townhouses and old Victorian-era homes. Depending on your budget, you will find either great solo living spaces or a room among new friends.
South Yarra
Lastly, if you are confident in your workload and your budget, why not base yourself in the suburb of South Yarra? Featuring upmarket boutiques, beautiful cafés and world-class dining, South Yarra is Melbourne's blue-chip suburb. 
With sprawling green parks, leisurely access to walks along the Yarra River and great public transport, life in this suburb doesn't miss a beat. But be prepared to pay a premium.
Find an Apartment in Melbourne
Each neighbourhood in Melbourne has something different to offer digital nomads. Whether that be a straightforward journey into the CBD, beautiful parks and recreational facilities or nightlife at any point during the week. Although we've focused on three major suburbs in Melbourne, that is just the tip of the iceberg. 
Locking yourself into a long-term apartment and not exploring the city would be a mistake for any nomad. You may luck out and end up in an area that is just right for you, but it isn't a risk I'd be willing to take. Instead, take your time to roam and find a neighbourhood that will suit you just right.
Even if you have found the neighbourhood that suits you best, don't be afraid to keep your options open. Sure, Brunswick is a brilliant spot for any digital nomad but smaller connecting suburbs like Parkville, Coburg and Northcote offer a lot of the same and are within walking distance of Sydney Road.
Finding an apartment in Melbourne isn't a laborious exercise. But those seeking a bargain will need to be on the ball. The housing market is very competitive and with a great number of international students moving into the city each year, the best deals don't last long. 
According to Numbeo the average monthly rent in Melbourne's CBD and inner suburb is $1,250. This can vary depending on the suburb's affluence, and although the cheaper northern and western suburbs continue to gentrify, it is still possible to find a room to rent for between $150 and $220 per week.
There are many channels you can go through to find potential accommodation, the most official of those being RealEstate.com. This is a great website for those looking for long-term housing, without roommates. 
Another fantastic website for finding an apartment in Melbourne is Flatmates which advertise weekly rent costs and you will deal directly with your potential landlord and/or roommates. 
For simple and cheaper listings you can browse through GumTree which is the Australian version of Craigslist. Here you can find sublets, last-minute rentals and share houses. Speaking of simple and easy, the Facebook group Fairy Floss Real Estate has over 250,000 members and an average of 3,000 posts per month. 
This may sound like overkill, but if you monitor this page in the lead up to your move to Melbourne, you will get a great idea of the rental market. Fairy Floss features a lot of subletting opportunities, perfect for digital nomads who only want to spend 3-6 months in the city.
We go into more detail below but Melbourne's public transport is the best in the country. Although it will frustrate you every once in a while, it allows you to choose where you live based on your lifestyle and not just proximity to work. With this in mind, it will be worth seeing how far your new home is from a train, tram or bus stop.
Cheap Places to Stay in Melbourne
As you explore Melbourne and go through finding your future home, it is important to have a base within the city. Airbnb is the popular choice that will suit almost all budgets and give you a place to rest your head each night.
If you really want to penny-pinch there are a variety of well-placed hostels in Melbourne that won't cut heavily into your budget. These include the Base Backpackers in St Kilda, within walking distance of the beach, along with Melbourne City Backpackers which comes with free breakfast and is a great launching point for inner-city adventures.
For long-term accommodation that won't break the bank it would be wise to not restrict yourself to Melbourne's iconic suburbs. Melbourne's train lines stretch far and wide to Werribee in the west, the Dandenongs in the east and Epping in the north. Although you may give up some of the city's coffee culture, the cheaper rent, and proximity to outdoor areas may make it all worth it.
Melbourne Visa
Visas are one important aspect of being a digital nomad in Melbourne that should not be overlooked. Unless you are a New Zealand citizen or resident, you will need a visa to enter Australia. 
The most common type of visa is the Tourist Visa which allows you to spend between three and six months travelling through Melbourne and the rest of the country. This is a great option for digital nomads who want to scope out the local lifestyle and see how it fits their own personalities. 
Keep in mind that you can't work on this specific visa. Working online, typically, remains a grey-area for nomads and technically is a breach of the visa. This is certainly true if you engage with local Australian clients.
If you are committed to living and working in Melbourne, then the Australian Working Holiday visa may be your best option. This is valid for most passport holders, who are between 18 and 30 years of age. Citizens from countries like Canada, France and Ireland may apply up to the age of 35.
This is a year-long unrestricted working visa that allows you to work in any industry in Melbourne, and indeed the rest of Australia. You can extend this visa into a second year after the completion of 'farm work' where travellers commit to three months of rural hospitality or working on farms. 
To make the most of it, head out of Melbourne for a remote resort job in the Outback.
There are other work visas that can translate down the line to residency and even citizenship. To explore the full extent of available visas check out Australia's Visa List.
Culture and Food in Melbourne
Melbourne is a melting pot of cultures and you can find evidence of this whether you are in the CBD or out in the neighbourhoods. Almost half of the city has inhabitants that were born overseas, that number increases dramatically once you go back a single generation.
There is no better example of the melting pot than in the local food scene. Thanks to immigration and successful promotion of local restaurants, Melbourne has risen to become the culinary capital of Australia.
From casual dining and street eats to world class restaurants that represent each corner of the globe, Melbourne has an endless list of places to choose from. It isn't just the food that varies either; it is also food hubs like Lygon Street featuring delicious, home-style Italian, or Oakleigh with their strong Greek community, or the plethora of Vietnamese options in Richmond. 
Not only is the food great, but the coming-together of foodies elevates a simple night dining out into a larger experience. 
Aside from international cuisine, Melbournians love nothing more than heading down to the 'local' for a bit of pub grub. Whether it is a mid-week catch up with friends or a Friday night celebration, Melbourne's pubs or 'hotels' serve simple but delicious Aussie food. However, no dish may be more popular than the 'parmi' (chicken parmigiana). Yes, this is a pretty common meal, but Melbourne does it better than anywhere else.
So we know Melbournians love to eat out and try new cuisines. But there is much more to the city than that. Inspired partly because of unpredictable weather and partly because of historic connections, Melbourne is also the home of sport in Australia.
One of the easiest ways to settle into life in Melbourne is to pick a local AFL team and get along to a game or two. AFL is the elite competition of Australian Rules Football and half of the league's 18 teams call Melbourne home. 
The game began in Melbourne over 150 years ago, not long after Melbourne officially became a city. As the city grew, so did the sport and the game is as much a part of Melbourne culture as coffee and hot jam doughnuts at the Victoria Market. 
Between March and September social conversations are fixated on the weekend's results, who is doing well and who is struggling. You don't have to become an expert but going to the Melbourne Cricket Ground and watching a game alongside 60,000 other fans is one of the best local experiences.
Melbourne is also home to prominent annual sporting events such as the Australian Open, the Formula 1 Grand Prix, the Melbourne Cup and the Boxing Day test match, the biggest cricket match on the international calendar. So it is easy to see why Melbourne loves their sport. 
Outside of sports, Melbourne has a thriving arts and entertainment scene that will keep you busy all week long. With many galleries, events like the Comedy Festival and a strong local live music scene, you won't have a reason to be bored in Melbourne.
Melbourne Nightlife
Unlike Sydney, which has struggled with curfew rules, Melbourne has tried to embrace being a 24-hour city. Cafés and restaurants are a big part of this, but so is comedy, theatre and live music. 
Like we mentioned above, live entertainment, festivals and the arts are a huge part of Melbourne's culture and they all come to play at nighttime. Additionally, it is improving all the time. Australia may be an isolated continent, but Melbourne continues to be a trendy capital with exciting and envious nightlife.
The heart of the city's nightlife is, of course, in the CBD. Here you will find the most happening bars and nightclubs, whether that be down one of Melbourne's famed laneways or on a towering rooftop. 
A great place to begin your exploration of Melbourne's nightlife is at Federation Square, centre of the inner-city. From there you can wander along Swanston Street to a variety of eclectic bars, late-night restaurants and bustling Chinatown. Head in the other direction for a choice of eccentric bars and restaurants beautifully placed along the Yarra River. 
We have touched on Brunswick and Richmond's nightlife that features an abundance of pubs, dimly lit bars and live music. But the neighbourhoods of Collingwood and Fitzroy have much to offer those out on the town. Once derelict, these two suburbs have risen on the back of artists and free-spirits wanting to shake things up. 
Here you will find Smith and Brunswick Street brimming with bars full of character and edge. You will also find pubs with spacious beer gardens and a variety of live music houses playing rock and indie tunes. 
Like sports, Melbournians always show up to support their local festivals, which is why the list of events grows year on year. These include Noodle Night Market held at different times of the year at the Queen Victoria Market, featuring delicious eats and an amazing vibe that keeps people coming back for more.
From there it only gets bigger, including the International Comedy Festival, White Night (an all-night light festival), Midsumma Fest, and Moomba. 
Melbourne operates a 24-hour public transport system which allows you to party into the early hours and still catch a train home. Although you can't go wrong with a late night Uber or taxi.
Things to do in Melbourne
Explore laneways and street art

One of the best ways to explore Melbourne, especially as a new arrival, is to make your way into the CBD and wander through the laneways. Some of the more famous alleys include DeGraves Lane (great for brunch), Hardware Lane and AC/DC Lane. That's right, after the homegrown rock band. These tight laneways are always brimming with excitement and historic architecture flanking you as you walk. Melbourne's famed laneways are matched only by the vibrant street art that has woven into the city's fabric. Hosier Lane is the most prominent, featuring beautiful and relevant pieces that explore the ever-changing story of Melbourne.

Brunch and coffee

If a Melbournian hasn't already told you, well, I will let you in on a poorly kept secret. This city takes their coffee seriously. The coffee culture in Melbourne is world class and sure, locals may come across as snobbish but one sip of the perfect latte will have you thankful for Melbourne's high standard. Great brunch and delicious coffee go hand in hand, which is why you will see restaurants and cafés packed out on Sunday mornings. Laneways like DeGraves have tables out onto the road, but your local brunch haunt is likely to be just as good. Just make sure to get 'smashed avo' with whatever you eat.

The MCG

The Melbourne Cricket Ground is an iconic part of Melbourne's skyline and lifestyle. The stadium has been around almost as long as the city itself and a visit to the 'G will help you understand why Melbourne is the way it is. On any Friday, Saturday or Sunday between March and September, you will find people wandering around the city with colourful scarves representing their team. Almost in unison, an hour before the game, they march to the stadium as excitement continues to build. Join them for a true local experience.

Royal Botanical Gardens

Melbourne's Royal Botanical Gardens is just a stone's throw away from the city centre, and offers a peaceful oasis away from the hustle and bustle. The gardens are a popular meeting place on weekends, where people get in their daily exercise walking The Tan, a 2.3 mile (3.8km) circuit. Roaming the gardens on a beautiful Spring day is a must, as the flowers bloom in unison. If you are ever feeling stressed out, there's no better place to sit, relax and read.

Travel on the Red Tram

The City Circle Tram, aka the Red Tram, is a Melbourne institution. The charming, rickety, old tram is a great and free way to travel around the city while also learning some interesting facts about Melbourne's history. You can catch this tram at many places within the CBD (find the map here). It will guide you to many attractions including the Old Melbourne Gaol, the Aquarium and Federation Square. With a tram arriving every 20 minutes, you can jump on and off as you please.

Drink Wine in the Yarra Valley

If you have an entire day to yourself, why not drive out into the hills of the Yarra Valley for amazing wine among beautiful scenery? Make your way to Healesville and Yarra Glen where you will find restaurants, cafés, hiking and yes, wineries. Second only to the Barossa Valley in South Australia, the Yarra Valley produces iconic Aussie bottles, such as De Bortoli and Domain Chandon along with a wonderful selection of dining. Kick back and enjoy a day in the hills with wine and a cheese board.

Drive the Great Ocean Road

The Great Ocean Road is one of the best stretches of driving in Australia, and the beginning is only 90 minutes from Melbourne. The road tightly hugs the dramatic cliffs of the south-west coast and provides endless amazing views. Along the way you will stop at ocean-side towns, such as Lorne and Torquay, where you can have fish and chips on the beach. Continue on to the 12 Apostles, a unique limestone feature that dates back over 10 million years. Bring your tent and camp out under the stars, or settle into a cozy beachfront lodge.

Visit the Old Melbourne Gaol

The Old Melbourne Gaol is the perfect way to explore Melbourne's beginnings as a hotbed for notorious criminals. The jail is the oldest in the city and was built way back in the 1840s. Famous outlaws who have called these cells home include the infamous (and widely loved) bushranger, Ned Kelly, who met his end in this very building. A tour of the jail will let you step back in time and even walk the path to the gallows where many historic criminals have gone before.

Roam the Queen Vic Market

The Queen Victoria Market, or simply the Vic Market, is the largest open air market in the southern hemisphere. From the early hours of the morning, the market is filled with activity as vendors prepare for the day. Full of great souvenirs, only matched by the excellent selection of fresh foods, the market offers something for tourists and locals alike. Whether you are doing your weekly shop or looking to pick up a bargain, end your trip at the American Doughnut Kitchen for amazing hot jam doughnuts. Throughout the year, the Vic Market hosts a variety of festivals, arguably none more popular than the Winter Night Markets. Which is where you will find the best collection of street food, scrumptious mulled wine and excellent live music.

Dine out on Lygon Street

Also known as Little Italy, Lygon Street is a beautiful and leafy stretch of road featuring some of the best Italian restaurants and cafés in the city. Thanks to the strong Italian community, Lygon Street features Italian-grown family recipes that will transport you across the world. However, if you want to save on dining out, you can enjoy a night out in Chinatown. On any night of the week, restaurants here are serving the cheapest dumplings in the city and with a BYO bottle of wine, you will have yourself a cheap and exciting evening.
Best Time to Visit Melbourne
Melbourne's weather is about as untrustworthy as it gets Down Under. A rainstorm from the west can quickly upend a beautiful summer day. But likewise, a bitter winter afternoon can just as rapidly turn into a park day. If you don't like the weather here, simply wait five minutes.
Melbourne experiences its hottest temperature from around Christmas time through late February. The temperature can reach the high 30s and sometimes touch the 40C degree mark (95F-105F). 
With a hot and dry climate, country towns around Melbourne are on high alert for summer bushfires. But overall it is a beautiful and vibrant time of year, perfect for beach days and a game of cricket.
Outside of Canberra and cities in Tasmania, Melbourne experiences the coldest winter in Australia. Now that shouldn't scare anyone away, after all, it sure doesn't come close to a typical winter in the northern hemisphere. But it's important to know that Melbourne isn't always sunny. Temperatures can drop to around 7 degrees before rising to a moderate 15 degrees (45F-60F).
Autumn is a lovely time of year, especially from March to April when the weather isn't too hot but the winter is yet to set in. Daily highs still reach the mid-20s (76F). This is a popular time of year for family vacations and the excitement of a new football season is making its way around the city.
Overall, it is hard to beat spring time in Melbourne. The leafy streets return and the parks fill with delighted residents happy to say goodbye to the cold winter days. Temperatures are like those experienced in Autumn, but with the added anticipation of the New Year, Melbourne lights up.
Melbourne for Families
Melbourne is a very family-friendly city, thanks again to the variety of welcoming neighbourhoods who place a high value on the sense of community. Outside of the CBD it is easy to find family-sized homes, with the size of backyards growing the further out you go. 
Melbourne goes through a mild and windy winter but there are still plenty of opportunities for the kids to get outside and play. With around eight months of the year in moderate to warm temperatures, parks and beaches fill with families leading an active lifestyle. 
For kids who enjoy the arts, there are many galleries and shows to enjoy while the Melbourne Zoo and Werribee's Open Range Zoo are sure to put a smile on their faces.
For digital nomads with kids in tow, finding an excellent school for your young ones will be a foremost priority. Thankfully, local public schools within Melbourne are of high quality and in line with world standards. Public schools are linked to zones based on where you live, so it is worth keeping that in mind as you embark on your house hunt.
Private schools are another option, although they will come with high fees. However, private schools are more likely to offer the International Baccalaureate, a worldwide high school diploma.
Most Melbourne neighbourhoods are considered family friendly. Outside of the CBD, almost all areas will have a prominent community of families. Places such as Hawthorn and Yarraville have particularly family-friendly layouts. With an abundance of parks, free activities and lack of noise, these two suburbs are close to the city but also feel a world away.
Living in Melbourne
Melbourne Transportation
Like a lot of modern cities, locals love to complain about their public transport. That is certainly the case within Melbourne. However, when you take a step back and enjoy a deep breath, Melbourne's public transport is clearly expansive and a relatively efficient way of getting around. 
Outside of the CBD, Melbourne is a vast place to live. From Werribee in the far west all the way to Frankston in the east, a train will get you there.
Melbourne's local rail network is one of the most important facets of living in the city. As a digital nomad, who may not want to buy a new car or Uber everywhere, basing yourself near a station or tram stop will be a wise decision. 
If you are catching a train during rush hour (6.30-7.30am and 4.30-5.30pm) it may be a cramped ride but outside of those two hours you will probably find a seat and enjoy a ten to thirty-minute ride from the inner suburbs into the city. 
The trains also operate on a reduced schedule during the early hours of the morning. So when you are done rocking out at the hotel, or have polished off your last pint, you can still find your way home for just a couple of bucks. 
I have mentioned trams a lot in this article and although they can be slow; they remain a wonderful way to move about. The local tram network is the most extensive in the world, with over 5000 services offered daily on the back of 475 trams and 250km (155 miles) of track. In the end, the decision to build Melbourne's roads extra wide was an amazing idea. 
With more trams services and stops on offer, it is often easier to jump on a tram if you have a specific destination in mind. Additionally, when travelling around the CBD, trams are free to use.
Melbournians underrate their bus network, choosing instead to focus on trams and trains. The tram network may be a world-leader, but Melbourne's buses will get you to more places and are very practical if you are living in the outer neighbourhoods. 
Prices for buses, trams and trains are the same at $3.20 per trip but are capped at $6.40. To save yourself some time, before using any of Melbourne's public transport, purchase a Myki card and load it up with funds. Now when you arrive at a station, or jump on a tram or bus you can simply touch the card against the reader and you are ready to go.
Driving around Melbourne isn't as much of a nightmare as it is in other cities (looking at you Sydney). With some streets in the CBD completely blocked off for foot traffic and trams, a lot of cars simply avoid the area. 
There are many highways and major roads that skip the city's interior and although rush hour traffic can slow things down, getting from one side of the city to the other doesn't have to be a nightmare experience.
Fitness and Health
Melbournians lead an active lifestyle, thanks to the many parks, beaches and fitness centres. Regardless of where you end up basing yourself, there will be a local park great for a stroll or an outdoor workout. Running tracks are common throughout the city, and you will always see someone running around The Tan or doing loops at the local football oval. 
Despite being a big city, for those that work within the CBD there are still local gyms, and outdoor spaces that will be perfect for working up a sweat and breaking up your workday. Not to mention Melbourne is only a short drive away from a variety of hiking areas, such as the You Yangs and the Dandenong Ranges. The latter being the location of the gruelling 1000 Steps.
Three to four hours away is the bottom of Australia's largest mountain range, the Great Dividing Range. Here, not only will you find fun camping for family and friends, but an incredible network of trails that will give you a wonderful boost on any weekend of the year. Melbourne is also close to Mt Buller, Hotham and Falls Creek, three of the best ski resorts in Australia.
Melbourne's fitness scene has boomed over the last decade and now goes well beyond the regular gym setup to include holistic and mindfulness therapy. But if you are still all about the dumbbells, the average gym membership in Melbourne will cost $45 per month.
Melbourne People
Melbourne's population has grown over the last decade to now comprise over five million people. This number is expected to continue to grow on the back of immigration and movement from interstate, with the expectation that Melbourne will soon overtake Sydney as the biggest city in the country. 
But unlike other parts of Australia, Melbourne doesn't have a range of amazing tourist attractions, such as the Sydney Harbour, the Great Barrier Reef and Bondi Beach to attract new residents. Likewise, the reason Melbourne has been voted as the world's most liveable city so often, has nothing to do with being a tourist destination. Rather it is because of its local lifestyle, a lifestyle built by Melbourne's diverse community.
Melbourne is home to the 10th largest immigrant population in the world, helping to fuel not only a growing economy but the city's delectable dining scene. Over 200 countries and territories, along with 230 languages and dialects, are represented in Melbourne.
Melbournians are passionate about their city and that often rubs people from other states the wrong way. After all, how good can a city really be? But it is that sense of pride that makes promoters confident that no matter what event they bring to this city, locals will show up in great numbers.
People living in Melbourne are open and inclusive, which is represented by a simple walk along Elizabeth Street on a Saturday afternoon. Where suits, hipsters, and a slew of girls in activewear make their way to Flinders Street Station. 
Freedom of expression is important and the ability to create street art, enjoy events, such as the Fringe Festival, and take part in the thriving music scene is important to all Melbournians. 
On the flip side, although Australians love to travel overseas, they are less likely to move to other cities within the country upon their return. For this reason, locals who are born and raised in the cities are likely to have the same friendship group from high school through to the present. 
This can make life difficult for newcomers, and digital nomads may note that Melbournians can be cliquey. Networking through cowork spaces and joining Meetup are two ways to break through this barrier.
Melbourne Insurance and Medical Care
Melbourne and Australia as a whole enjoy an extensive universal healthcare system. General practitioners and hospitals alike are of a high standard and it is very easy to do a basic check up.
Digital nomads who have arrived in Australia on residency visas can apply to join the healthcare system called Medicare. Those on temporary visas, such as the Working Holiday Visa, will need to purchase private health insurance. 
However, Australia enjoys reciprocal health care agreements with other countries that will allow some to use aspects of Melbourne's health care for free.
Even if you have Medicare, the system does not cover everything, with dental, vision and some prescription drugs being the most notable. Many Australians fill the gap with their own private health insurance allowing them to enjoy all aspects of health care at a low cost.
Melbournians have easy access to prescription drugs and basic medicine, thanks to the many pharmacies placed around the city. You will probably be able to find what you are looking for and overall the costs are not exuberant.
Make sure you are fully covered by reading our full Digital Nomad Travel Insurance guide.
Jobs in Melbourne
If you have arrived in Melbourne on a residency, skilled or working holiday visa, you will be able to seek employment once you have arrived. 
During the Gold Rush era of the 1850s, Melbourne was one of the richest cities in the world. That may not be the case today, but employment opportunities are still numerous in this constantly expanding city. 
As a digital nomad in Melbourne, you will have access to many cowork spaces, libraries and educational institutions to make the most of your workday. However, if you are looking at attaining some side income, then there are a few industries that stand out. 
For reasons that should now be obvious, Melbourne's hospitality scene is expansive. Many backpackers fill positions within restaurants and cafés meaning the industry can be transient. This creates a revolving wheel of opportunities for newcomers and is the easiest way to join the local workforce.
Retail and sales also come with many opportunities. Melbourne is home to dozens of major shopping centres. While sales may not sound glamorous, when completed well the income can be worth the effort. 
Melbourne has a great minimum wage, thanks to its 'casual wage' laws, which means you can earn a fair chunk of change to supplement your online work.
Healthcare, construction and technology are three major industries in Melbourne. Finding a job in construction is the simplest of those options and can pay very well. Overall, employment in Melbourne can be very competitive, so networking and tapping into your contacts will help speed up the process.
Check out our Digital Nomads Jobs Postings to find the best jobs available for Digital Nomads.
Nomad Friendly
Value for Money
Internet
Workspace
English
Food
Safety
Health
Transportation
Friendly
Quality of Living
Cost of Living Melbourne
After Sydney, Melbourne is the most expensive city to live in Australia. However, there are ways to minimize basic costs that will allow you to enjoy the city's world class entertainment and dining scenes.
Like many cities, rent will always be your biggest cost. Rental prices within the CBD are quite high and will price out a lot of digital nomads. A high-rise apartment within the inner city is likely to cost as much as $1,500 per month. 
But as we know, there are dozens of great neighbourhoods close by that won't break the bank. By joining up with a roommate or two, not only will you have a built-in social network, but your rent can drop significantly to around $800 per month. 
Melbourne's food scene is mouthwatering and thankfully there are several great restaurants that aren't expensive. Sure a $200 bill at Chin Chins is a great one-off experience, but dumplings in Chinatown or a banh mi in Richmond won't burn a hole in your wallet. 
Public transport in Melbourne isn't exactly cheap but the more you use it the cheaper it becomes thanks to the daily cap. Also, the less amount spent on Melbourne's high-priced fuel the better.
If you avoid drinking too many pints ($7.50, ouch!) and enjoy Melbourne's many cheap eats, you can happily live in the neighbourhoods on around $1,500 per month.