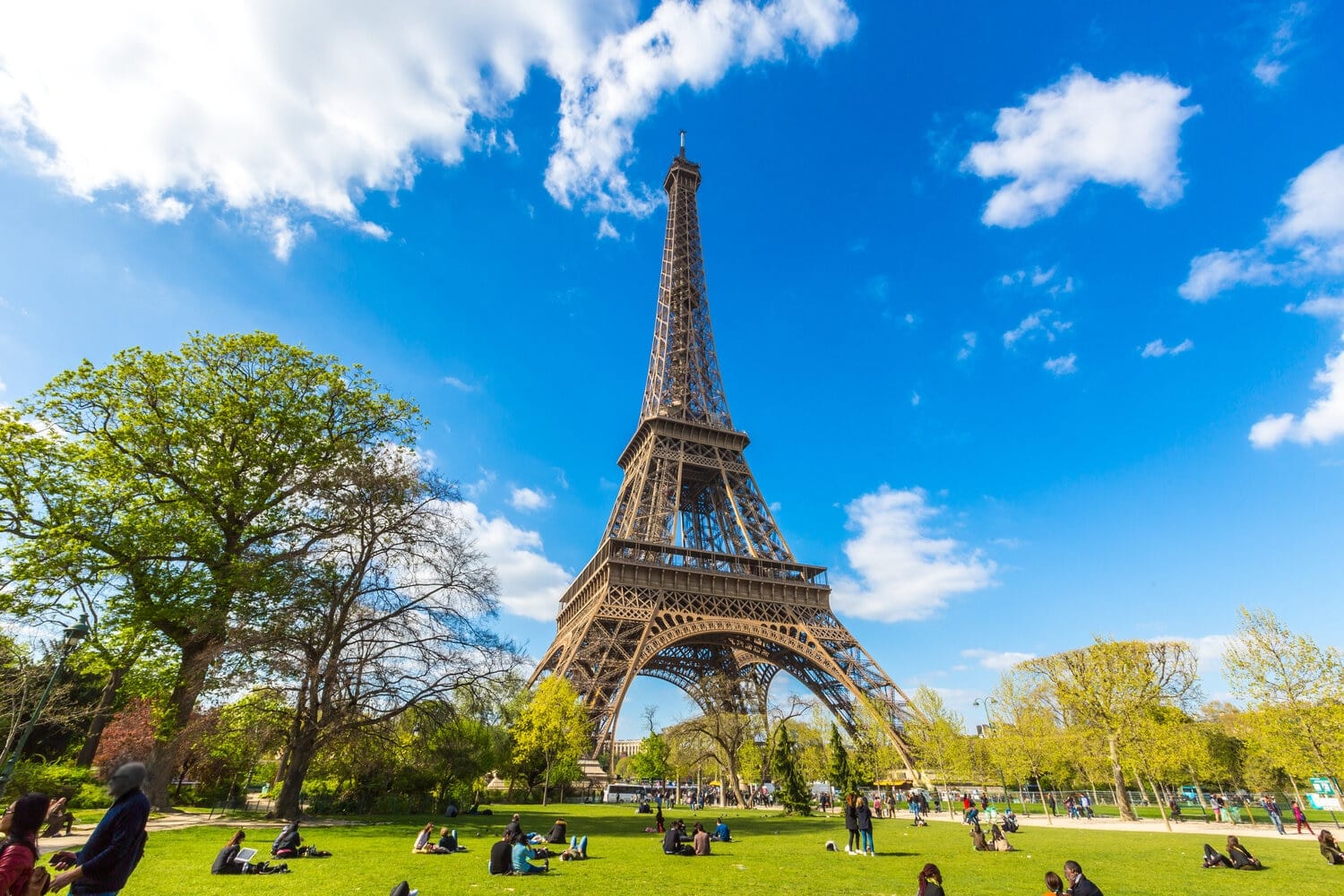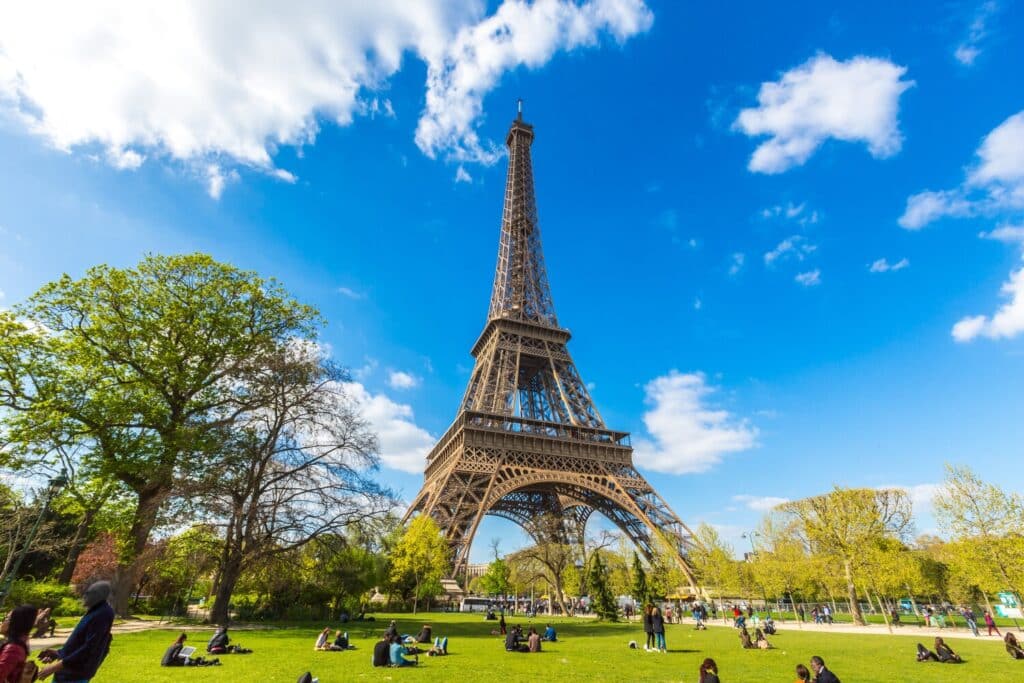 A Digital Nomad Guide to Paris
Paris is one of Europe's most popular tourist destinations and a city that most people dream of visiting one day. Luckily as a digital nomad, you are in control of where you live and work and if you're feeling drawn to Paris why not go for it? With a population of over 2 million people this city is large and can feel very overwhelming to those who are new to France. Paris is preceded by its reputation of being one of the most romantic cities in the world, full of art, history and culture. Over the years a decent digital nomad community has developed in Paris which makes it a great place to go even for those who are new to the lifestyle. Paris is also not as expensive as one might expect. It's not a cheap city to live in but even on a budget, you'll be able to get by. The French are known for their many cafes, coffee shops and little restaurants that serve world-class food. You'll never run out of places to sit and work in Paris. Of course, there are plenty of coworking opportunities around as well but what better way to experience the local culture than to work from a cafe with a fresh chocolate croissant?

One thing to note is that speaking French will most likely make your time in Paris a lot more enjoyable. While English is of course widely spread in a tourist city like Paris, the French do tend to insist on speaking French in everyday life which can make navigating the city slightly tricky without at least basic knowledge of the language. Taking a language course before you go is highly advisable to help you settle in. Even just a few words and sentences in French will be a lifesaver.
Nomad Friendly
Value for Money
Internet
Workspace
English
Food
Safety
Health
Transportation
Friendly
Quality of Living
Living in Paris Overview
| | |
| --- | --- |
|  Meal, Inexpensive Restaurant | $16.90 |
| Domestic Beer (1 pint draught) | $7.89 |
| Cappuccino (regular) | $4.25 |
| Loaf of Fresh White Bread (1 lb) | $2.01 |
| Water (1.5 liter bottle) | $0.97 |
| One-way Ticket (Local Transport) | $2.14 |
| Basic Utilities (Monthly) | $206.22 |
| Internet | $33.80 |
| Fitness Club (Monthly) | $42.73 |
| Apartment (1 bedroom) in City Centre | $1,440.88 |
[erw_exchange_rates_widget lg="en" tz="0″ fm="EUR" to="EUR,USD,GBP,AUD,JPY,RUB" st="primary" cd="" am="1″][/erw_exchange_rates_widget]
Max Withdrawal: €400
Use of Credit Cards: Widely Accepted
Digital Nomad Personal Experience in Paris
Many tourists have such high expectations of Paris that they end up disappointed by how crowded and inauthentic it can be. Luckily as a digital nomad, your experience will be very different, at least in my experience. You can give yourself time to truly get to know the city and immerse yourself in this incredible and unique culture. Paris is featured in so many films and books it might be difficult to come here with an open mind but once you've lived there for a while you'll understand why so many people love it so much.

There is always something to do in Paris. Every street corner seems to hide another beautiful spot and you'll feel like you're the first person to ever discover it. As a digital nomad, you get to see the city from another perspective and be lucky enough to experience what it's like living and working here. Paris's digital nomad community is not as dominant as it might be in other places. This might not be the first city you think of when you're looking for digital nomad hotspots. But once you find your footing you'll find it very difficult to leave again. Paris is just one of those cities where you go expecting to stay only for a few weeks and then end up staying months. My biggest piece of advice for digital nomads moving to Paris would definitely be to learn at least some French before you go. Of course, you can get by most of the time with just English but you won't have the same experience as if you spoke French. Make sure you know the basics before you go and then on arrival find a language tutor or a kind French friend who will sit down with you once or twice a week and just practise small talk. It'll work wonders on your experience in Paris and will let you make new connections you would have missed out on otherwise.
Work in Paris
Paris is the city of cafes so finding a place to work will never be a problem here. What better way to be productive than with an authentic french milk coffee and a chocolate croissant as you watch life in Paris unfold. Wifi is widely available across the city so it's easy to work from wherever you want. If you enjoy a more stable routine you should check out one of the many coworking spaces this city has to offer. With so many to choose from you should take your time to select one that fits all of your needs. Many coworking spaces charge hourly or daily in Paris so it's easy to try a few out before you make your final decision. Here are some of the best coworking spaces in Paris.
Best Places to Work in Paris
Coworkshop
Coworkshop is set up very similarly to a traditional coffee shop but instead of loud tourists and crowds of people, you'll be working next to other digital nomads and entrepreneurs. They offer a pay-as-you-work scheme and charge 4€ per hour or 20€ per day. For 220€ you can come here for an entire month although you won't have a reserved desk space. Tea and coffee are complimentary and an added bonus are the large windows that will let you watch as pedestrians pass by. There is no better distraction from work.
Deskopolitan
Deskopolitan is a slightly more expensive coworking space but they offer a premium product perfect for digital nomads who value quality and professionalism. This coworking space has a unique interior design with all the amenities you could ask for as a remote worker. They especially place value in the community so coming here will feel like you're arriving at an office you've worked at for a long time. For 550€ per month, you can have a dedicated desk and begin your time at one of Paris's best coworking spaces.
Hubsy
Hubsy is the classic coworking space you might know from other large digital nomad cities. If you choose to work here you'll know what to expect as Hubsy is known for being an experienced and reliable coworking space. The design is cosy and welcoming so it's the perfect spot to settle down and get some work done. Enjoy the amenities such as complimentary tea and coffee, printing services as well as super-fast wifi. There is even a small library available. For just 16€ you can work here for an entire day.
Greenspace
Greenspace is a very large coworking space located just a quick walk from Bastille close to the city centre. The modern design is inviting and makes it the perfect spot to come for the day. With three floors this space always has a spot open and is never too crowded. Yoga classes, standing desks and a designated chill area are the main attractions at this coworking space. Considering all these unusual amenities the price of 280€ per month is very reasonable.
We Art from Paris
We Art from Paris is all about thinking outside the box. If you're looking for a traditional coworking space then this is not the place for you. This space emphasises creativity, collaboration and trying something new. The space has a full studio for photographers and videographers as well as a designated space for dancers, theatre performers or anyone involved in physical arts. They believe in the concept that anyone can work and travel, not just those working from their laptop. Memberships start at 150€ per month so it's one of the more affordable spaces on this list.
Best Places to Live in Paris
Best Neighbourhoods
Paris is very large so picking a neighbourhood to rent an apartment in can feel overwhelming. With an endless number of suburbs, you'll quickly live quite far away from the city centre which can feel like another city entirely. Paris itself is divided into 20 neighbourhoods or arrondissements which are organised in a circular layout. The city is not the most affordable and of course, you'll have to compromise on square footage and location if you're trying to stick to a budget.
Bastille
Bastille is an absolute favourite amongst digital nomads and an overall younger crowd of renters. This neighbourhood has a decently central location and is new and upcoming so rent prices are still reasonable. There are lots of little restaurants, shops and cafes perfect for an authentic Parisian experience. You won't find as many tourists here but instead a great mix of locals and expats.
Butte-Montmarte
Butte-Montmarte is another great choice for those who want to experience Paris but still save money. This neighbourhood lies a little bit outside of the city centre but the commute is worth it. It's known for being home to many artists and creatives who appreciate the secluded nature of this beautiful area. Come here for lots of history, cobblestone streets and beautiful architecture. 
Le Marais
Paris doesn't really have a designated expat neighbourhood but if you value an international community and a central location then you should look for an apartment in Le Marais. This neighbourhood is within walking distance from all the important sightseeing spots around Paris so it's a great choice for those who aren't going to be in the city for a very long time. It's not the most affordable but worth it for the incredible experience of living in the heart of Paris. Not too far from Le Marais lies Les Halles which is one of the main shopping areas of the city. This is not the place to look for affordable apartments so expect to spend quite a lot on rent if you want to live here. But of course, living in Les Halls has its benefits. There is always something to do in this area and the entertainment is fantastic. Often considered the "new" city centre this area is perfect for those who want to be close to all the action.
Quartier Latin
As a digital nomad, it's often advisable to look for an apartment in an area with many students. Rent prices will be reasonable and there will be a lot of amenities available nearby such as shops, bars and restaurants all for affordable prices. In Paris, this neighbourhood is the Quartier Latin which is a historic part of Paris with beautiful architecture and plenty of things to see and do. This area is also very popular among young professionals who appreciate the community of this neighbourhood and many opportunities for networking. The apartments in the Quartier Latin have partly been restored but many actually still have quite a few historic features which will make you feel like you've gone back in time providing a unique Parisian experience.
Find an Apartment in Paris
The process of finding an apartment and navigating the French real estate laws and regulations can be quite tedious. It's not always easy to find a place in Paris that is available for long term rent. If you're only planning on staying in Paris for a few months it might be advisable to opt to stay in an Airbnb apartment or in a short term solution which could save you a lot of time and effort regarding deposits and necessary documentation. Landlords in Paris often ask for recent payslips and proof of a French bank account and even a financial referee in some cases. All this can be difficult to obtain as a digital nomad so it might not be worth the effort. Short term rentals will be more expensive but can save you a lot of time and energy you might be spending on gathering necessary documents.

If you're looking for a more longterm solution for living in Paris you're best strategy for finding an apartment will be to prepare as many documents as you can in advance to make sure you've got everything ready to go. Keep an eye out for privately rented apartments that do not utilise a large letting agency. These landlords are usually more lenient with their rules and the paperwork they require. Expect to pay at least one months' rent as a deposit, although this can vary.

Finding an apartment in Paris is not always easy. The market is very competitive and good deals are often snatched up by renters very quickly. If you have any contacts in Paris at all it's highly advisable to ask around if anyone knows of an apartment that's being rented out. Of course, this can be tricky if you're new to the city but try to ask around wherever you can. Facebook groups are also a great place to start and can be a fantastic tool to find apartments that might not be advertised anywhere else. Have a look at designated expat groups for Paris or housing groups which are quite common.

Of course, one of the most efficient ways to find an apartment in Paris will be online. There is an endless selection of platforms and websites to choose from. Some of the most popular ones available in English include WeRoom, ShareMyFlat and Paris Housing. You can find both apartments as well as shared housing here. French websites like LeBonCoin, Appartager and PAP.fr tend to have a slightly larger selection of listings although you do need to be able to navigate them in French. This will be a great practice to improve your language skills and prepare you for life in Paris. Make sure you always look at an apartment in person before you sign a contract or pay a deposit. Photos can be misleading and just like in any large city there are some instances of housing scams. Make sure to have someone translate any contracts that will most likely be in French before you sign them to be on the safe side.
Cheap Places to Stay in Paris
Like in most cities the most expensive areas of Paris are located close to the city centre. If you want to save money you're going to have to look for a place to stay somewhere in a suburb or a less popular neighbourhood. While a one-bedroom apartment in the city centre will easily cost 1500€ per month the same or an even larger place somewhere outside of the city will only cost around 800€ or even less. If you're not ready to sacrifice location for a lower price you should consider finding a room in a shared apartment. These will be far more affordable and can also be less demanding regarding any paperwork. You'll share expenses with your roommates which further brings down costs and could help you find a room with a central location for only around 400€ – 700€. This will be by far the cheapest way to live in Paris as a digital nomad. Most shared apartments will be quite basic so don't expect too much luxury if your budget is small. Of course, it's advisable to only look for furnished places which will be the case for most shared apartments. That way you don't have to worry about spending a lot on furnishing your new place.

A great way to find roommates or vacant rooms in Paris are websites like Roomster.com or iRoommates. Usually, the selection is large although some of the best offers can be taken quite quickly. Make sure to ask for a viewing appointment as soon as possible and have all the necessary documents with you. Have to Offer?
Paris Visa
A large portion of Europe operates under the Schengen visa which means that you can move freely between most countries including France. A large number of nationalities are eligible for a three months Schengen visa which will let you stay in France and visit the neighbouring countries as well. This is a tourist visa which means you won't be able to work or earn money in Europe. It's very important that as a digital nomad that you're earning all your money online and are financially stable as you won't be able to make any money locally. The laws and regulations for this are very strict and it's highly advisable to stick to them. There are long term visa options available, however, it can be quite tricky to obtain one if you don't have a reason for staying in France such as a long term job or family. 
European (or rather EU) citizens do not have to worry about obtaining a visa for living in Paris. They can simply move freely between countries and can even work in France if required. If you're staying in France for more than three months it's recommended to register residency for health insurance benefits as well as some other regulations. This process is quite straightforward and not too much work luckily. Definitely look into this if you want to make Paris your permanent home, although as a digital nomad you might want to move on to another place eventually in which case it might not be worth the process and effort.
Culture and Food in Paris
France is known for its world-class cuisine and incredible dishes that can't be found anywhere else. The French pride themselves in a unique blend of tastes and, of course, Paris is the centre of culinary experiences in the country. Paris has an amazing selection of Michelin-star restaurants with delicious dishes you absolutely have to try during your time there. Of course, most of these will be quite expensive. Luckily there are also plenty of smaller restaurants around with more affordable options. 
While you are in Paris you absolutely have to try French wine. Areas like Bordeaux make some of the best wines in the entire world so enjoying this part of French culture is an absolute must. Even if you're not a wine expert you'll soon start to notice the differences between more expensive and affordable wines so splurging on a fancy bottle every once in a while is highly encouraged. Most French supermarkets have impressive wine sections so that's the perfect place to shop.
France has an endless list of iconic dishes you need to try. Most are quite regional so they will differ from place to place. One of the most straightforward French delicacies is of course cheese. It comes in hundreds of different variations and is best paired with some wine and an authentic French baguette. No matter where in the world you try baguette it will never be as good as in Paris. The baguette is indescribably delicious with the perfect crunchy texture and soft interior. You'll find yourself eating baguette for almost every meal while you're living in Paris.
Regarding warm dishes, Paris has something for everyone. You'll most likely know some French dishes already like the popular Coq au Vin which is chicken served in an incredible wine-based sauce with mushrooms and onions. Of course, there is no better place to try an authentic version of this famous dish than in Paris. You'll notice a considerable difference in how it is prepared and served.
For dessert, you need to try a French Chocolate Souffle which is an intricately crafted little chocolate cake that is very difficult to get right. Most bakers fail at making it perfectly so your best chances at getting a good one will be in a little Parisian cafe or restaurant. Then there is the pain au chocolat which is far more than a normal chocolate croissant.

The French know how to make incredible desserts so the list of things to try is endless. You might have seen the colourful Macarons in pictures of Paris. These little filled cookies come in all colours and sizes and are a favourite among tourists. Again, these are really hard to make perfectly and most likely won't be as tasty if you try them anywhere else in the world.
Lastly, there are the French escargots which are snails served in their shells with delicious spices and garnishes. This might not sound very appealing but you need to try them at least once while you are in Paris. You might just discover that you like them more than you expected.
Paris Nightlife
The nightlife in Paris is not as wild as in other European cities such as Lisbon or London. Parisians like to party in style so if you're looking for loud clubs that are open all night this might not be the city for you. Of course, some of these venues exist but they are more the exception while most nightlife in Paris takes place in bars. Although Paris is a city of fashion and designer clothing, surprisingly most people don't tend to dress up when they go out at night. Very few places will have a strict dress code so as long as you are wearing decent clothing you can enjoy the nightlife in a casual outfit. 
With so many neighbourhoods to choose from Paris has multiple areas for nightlife. There is something for everyone so make sure you try out different places before you find one you like. Pigalle was once (or still is) considered the redlight district of Paris. However, today it's safe to visit and a favourite among tourists and locals alike. Lulu White is an absolute must-visit bar in this area. Drinks are affordable and they even have live music on some nights. 
Montmartre is another great spot for nightlife in Paris and this neighbourhood's reputation is far better than that of Pigalle. Go to Marlusse et Lapin, which is an unusually decorated bar with very affordable prices. This is a very popular spot especially among students who come here for the 5€ pints that are offered all night. La Machine du Moulin Rouge is another iconic bar nearby that is more comparable to a club. The space is very large with a rooftop as well as a basement space so this is a prime destination for a night out.
If you truly want to experience Paris nightlife like the locals do then you need to head to Oberkampf. This area of Paris is hard to describe but is usually referred to as being slightly alternative. You'll find mostly smaller bars here, some of which have live music or even dance floors. Drinks tend to be affordable as most venues are not very upscale. A night out in Oberkampf will definitely require that you speak at least some French. You'll find it hard to communicate with only English.
The Bastille neighbourhood is another hotspot for nightlife in Paris. This is where most tourists tend to go so prices will be expensive although it depends on the location. Head to the Rue de Lappe which essentially just consists of bars. You'll have so many to choose from it'll be difficult to pick where to go first.
Paris is also home to many theatre performances as well as cabaret shows. You should see one of these shows at least once during your time in Paris. You'll always find a venue somewhere although most are of course concentrated in the city centre. Be aware that the majority of performances will be in French though which can still be enjoyable even if you don't speak the language if you know what to expect.
Things to do in Paris
See the Eiffel Tower

Of course, the most important tourist attraction and landmark in Paris is the famous Eiffel Tower. Everyone visiting the city should go to the top at least once to admire the incredible views. A ticket costs 26€ for adults although it will be slightly cheaper if you opt to take the stairs instead of the lift. Lines to buy tickets can get very long, especially on the weekends. Make sure you come early and buy your tickets online in advance if possible to save time. This might be the most touristy attraction in all of Paris but it's worth it.

Spend a day at the Louvre

The Louvre is the world's largest art museum and one of the first places in Paris you should see. The museum is so large it's possible to spend multiple days here without getting bored. Considering it exhibits some of the most famous works of art in the world this museum is actually quite affordable at only 15-17€ per ticket. If you purchase your ticket online you can even skip the lines and get fast-tracked entry into the museum. Most people visit the Louvre solely to see the Mona Lisa. Usually, a crowd tends to gather around this world-famous painting so make sure you come early.

Visit the Arc de Triomph

The Arc de Triomphe is another incredibly famous French landmark that is visited by thousands of tourists every day. Located on the Champs-Elysees you can't miss this beautiful architectural masterpiece. Come here for an incredible photo opportunity and to admire the intricate carvings in the stones. The Arc de Triomphe should be at the top of anyone's bucket list for Paris.

Be amazed by the Notre Dame Cathedral

The Notre Dame Cathedral is another one of Paris's famous landmarks which anyone should visit. Construction began in the early 12th century and took almost 200 years. The building is home to many priceless works of art and beautiful and intricate decorations. After a devastating fire in 2019, the cathedral is still being rebuilt so access to the inside might be restricted. However, even just the exterior of the church is well worth a visit. Keep an eye out for the famous gargoyle sculptures that decorate the walls of the church and are a favourite among tourists.

Walk along the Champs-Elysees

The Champs-Elysees is Paris's most famous street which connects the iconic Arc de Triomphe with the place de la Concorde. At almost 2 kilometres in length, this street is an actual shopping paradise and is home to some of the most expensive and reputable fashion brands in all of Paris. Come here for incredible entertainment, nightlife and plenty of restaurants and bars to choose from in the evenings. Not only is the Champs-Elysees perfect for an afternoon stroll, but it is also one of Paris's most famous photo destinations and can be spotted on many postcards. Even if you're not in the market for expensive Parisian fashion, this is an absolute must-see attraction in Paris.

See the Palace of Versailles

Versailles prides itself in being the largest palace in the entire world and arguably the most famous. This giant property lies just outside of the city of Paris although it can be easily reached via train. EU citizens under the age of 26 can even visit Versailles for free, although access to the gardens is permitted free of charge anyway. Again, this is a very popular tourist attraction in Paris so expect to share the palace with crowds of visitors. Coming early in the morning is highly encouraged. You'll be amazed at the beautiful interior of this incredible place and the history that is associated with it.

Visit the Place de la Concorde

On the other end of the Champs-Elysees, just opposite the Jardin des Tuileries lies the Place de la Concorde. This is Paris's largest square known for its beautiful fountains and giant obelisk. This large monument once stood at the entrance of the famous Luxor temple in Egypt and now decorates the Place de la Concorde. Come here in the early afternoon to take photos and admire the beautiful architecture nearby.

Admire the Sacre Coeur

Located in the famous Montmartre neighbourhood the Sacre Coeur is a giant church that you simply cannot miss. It sits on top of a hill and overlooks Paris, providing fantastic views to the thousands of visitors that come here every day. The Sacre Coeur is the second most-visited religious monument in Paris after the Notre Dame and a great place to visit even if you're usually not too interested in seeing historic churches. The gardens are well worth a visit and, of course, the pictures you can take here are absolutely spectacular.

Go for a bike ride along the Sein

A great way to get around Paris is on a bike. But you shouldn't only treat a bike ride as a daily commute. Make sure to go for a ride along the Seine during your time in Paris especially when the weather is sunny. Stopping by a French bakery is, of course, an absolute must. Buy some pains au chocolat or chocolate croissants and some authentic French baguette and have a picnic somewhere along the way. You'll love the little cafes and shops you'll get to see and the little moments of local life you'd never experience otherwise. Bikes are easy to rent and only cost a few euros per day.

Be amazed by the Atelier des Lumiéres

The Atelier des Lumiéres is an incredible interactive art gallery that uses light and sound projections to involve its visitors in the beautiful exhibits. It's hard to describe this fascinating place to first-time visitors. Just be prepared to be amazed at this innovative way of displaying art. The exhibits change periodically and there is always something new to see. Tickets cost 15€ per person and are well worth the money for this amazing once in a lifetime experience.
Best Time to Visit Paris
Paris experiences hot summers and cold winters with an overall continental climate. The most popular time for tourists to visit the city tends to be in the summer months sometime between June and September. This is when temperatures are at their highest and can rise up to 25°C to 30° C. In recent years Paris has frequently experienced very hot summers of more than 35°C even. 
September to early November marks the autumn season with considerably cooler weather and a slight increase in rain. This is the shoulder season for tourism and due to lower prices a great choice for sightseeing and a quick trip to Paris. In winter, temperatures drop as low as freezing although they tend to average around 5°C. Paris does tend to experience snow in some cases but not consistently. 
March to May marks the spring season as temperatures slowly climb and can even reach 20°C in some cases. This is a beautiful time to live in Paris as flowers start to bloom and the city appears to awaken from a long winter sleep. If you're only staying in Paris for a few months you should choose to go between the months of April and September if possible which usually have the most favourable weather conditions and will let you enjoy the city's many outdoor spaces. Paris is beautiful year-round but it might be more enjoyable to live there when the weather is warm. Of course, this is also the busiest tourist season for the city so if you prefer a more quiet experience this might not be the best time to choose to go to Paris.
Paris for Families
Paris is home to many expat families so of course, the selection of international schools is incredible. There are different options to choose from for all age levels although all of them charge tuition fees which needs to be considered. The most well-known option is the Paris International School which teaches children from ages three all the way to graduation. Fees range from around 21,000€ to 30,000€ annually which makes this school a very pricey option. 
Most public schools in Paris are conducted entirely in French which might be an option for younger children, however, older ones might struggle so an international school should be considered. There are more affordable schools available such as the Collège Sévigné which is a bilingual school that costs just under 5,000€ per year. This might be a good choice to help children ease into a new language while still having some classes taught in English.
Paris is a city of culture and art so finding activities that are suitable for all ages can be tricky. Definitely make use of the many green spaces the city has to offer such as the Parc des Buttes-Chaumont which has lots of playgrounds and fun activities for the entire family. The Ménagerie du Jardin des Plantes is also a great place to spend an afternoon. This small zoo is budget-friendly and easy to reach via public transport and the kids will love it. Of course, no trip to Paris with kids is complete without a stop at DisneyLand. This might be pricey but it's the sort of place everyone has to see at least once in their lifetime. Make sure to go during the week as the weekends can get quite crowded. If your children are big Disney fans you could even consider buying long term passes to save money.
Living in Paris
Paris Transportation
Paris has a sophisticated and convenient public transport system. If you're living in the city there is no real need to have a car during your time in Paris. The metro and buses will get you anywhere you need to be and even for longer trips across the country, you'll have plenty of trains to choose from.

If you're trying to get to know the city the best way to get around is on foot. That way you'll get to experience all the hidden little places of interest you might have missed out on otherwise. Try to walk as much as you can to get to know the real Paris.

Of course, walking will only get you so far. Luckily Paris has one of the best and even oldest metro systems in Europe which consists of 16 different lines. Trains run very frequently and you'll rarely have to wait for one for more than 10 minutes. You can get almost anywhere in central Paris by metro and it's usually the fastest and most convenient way of getting somewhere. At night, you should avoid taking the metro by yourself although it's not generally considered unsafe. Just make sure you're not alone and there will be nothing to worry about. A single ticket for the metro in Paris costs 1,80€ and you can buy a monthly pass for 67€ which is perfect for digital nomads who need to commute daily. Taking the bus in Paris is another great option for digital nomads. There are far more bus lines than metro routes so if you're struggling to find a metro station near somewhere you want to go then the bus will be a great option. Luckily you can use the bus and metro tickets interchangeably so it's easy and convenient to switch. Buses tend to be quite crowded during rush hours but are generally used by fewer tourists making them quick and easy to use. Some bus routes are also known for being especially scenic so riding around the city can be a fantastic way to see all the attractions from the comfort of your seat.
In addition to the metro, Paris also has the RER Train which is a regional train system that takes you to attractions outside of the city such as Disneyland or Versailles. These trains are great for reaching destinations that are a little out of the way and they're just as easy to use as the metro.
Parris is becoming more and more bike-friendly so renting a bike should be at the top of your list for getting around the city. In many public places, you can find bikes for rent which you can simply unlock with your phone and book for as long as you need them. Prices start at around 1,80€ per hour but tend to be cheaper if you buy more tokens. What better way to commute than on a bike riding along the river and enjoying the incredible views? If you're staying in Paris for a longer period of time you could also buy your own bike which might be more affordable in the long run.
Fitness and Health
Paris is, of course, a very large city so there is a great selection of gyms and places to work out. Most gyms even offer a free trial session so you can try out the services and see whether it's a good fit. You'll find gyms of all price levels in Paris. One of the most widely spread chains is the Club Med gym which is available at over twenty locations across the city. Most of them have a wide variety of workout gear as well as swimming pools and squash courts. Healthcity is another great choice. This slightly smaller gym chain has five gym locations in Paris and is known to be very modern. It has all you need to work out and stay fit so definitely consider buying a membership. They charge 86€ per month which is not the cheapest but worth it. For a more affordable option check out L'Apart Fitness. This is a newer gym with four locations across Paris. They offer a great selection of fitness classes and of course all the necessary gym equipment for just 20€ per month. This is the perfect way to stay fit on a budget in Paris. 
Of course, you'll find all sorts of sports opportunities in Paris such as football clubs, tennis clubs or public swimming pools. A great way to explore the city is to get into running. Paris has a great selection of parks and even in the city centre, you won't run out of routes to explore.
Paris People
The stereotype about people from Paris and the rest of France is that they tend to be quite rude and very involved in their own culture. This can be true to some extent but a stereotype should not define your experience in Paris. The city definitely moves fast and some people coming here for the first time might be slightly disappointed as it can sometimes be different from what you might expect. In fact, there is the so-called Paris Syndrome which describes the disappointment that some tourists might feel when visiting the city as popular movies and TV shows might have raised their expectations too high. Paris is a real city so although large parts of it are stunningly beautiful and filled with art and little French cafes, others are more boring and not as you might expect. Nevertheless, Paris is a great city to live in as a digital nomad and the people are friendly and outgoing if you understand their culture. One thing to note is that French is definitely the dominant language and many Parisians will refuse to speak English even if they understand it. This might come across as rude sometimes but it's just the way Paris is. 
There is a sizable digital nomad community in Paris although they usually don't tend to group together into just one area. The best way to network and find friends in this niche will be through coworking spaces and designated Facebook groups. It might be tough in the beginning but you really only need one person you know and you'll be introduced to more people in no time. Join some clubs or fitness classes to help you get to know locals and not just people who are coming to Paris for only a few months.
All sorts of people live in Paris and you'll find a wide mixture of working professionals, students and also families. The city centre tends to be home to a younger crowd who value the nightlife, arts and culture of this beautiful city. It sometimes can take a while to find your footing in a city like Paris so make sure you give it a chance and stay for a while and you might just find yourself falling in love with it.
One thing to note is that as a digital nomad you will most likely stick to the city centre of Paris without venturing into the outskirts very often. Paris is usually associated with a lush lifestyle and expensive food and fashion. However, the city has a huge problem with wealth distribution, homelessness and poverty which might not be something you'll encounter very often in daily life. It's important to appreciate one's privilege of living a life of location independence and getting to spend a brief moment in cities like Paris before moving on.
Paris will be a beautiful experience for any digital nomads coming here to enjoy the incredible culture and immerse themselves in one of the most famous cities in the world.
Paris Insurance and Medical Care
In France, all legal residents and citizens are required to have health insurance. This applies to anyone staying in the country for more than three consecutive months. If you're coming to France temporarily as a digital nomad you'll have to have your own health insurance issued from your home country. If you're planning on staying for more than three months you'll eventually have to switch to a French option. This mostly applies to European citizens or those who have French residency or are planning to apply for it. International digital nomads who are staying less than three months should keep their own health insurance.

As a digital nomad, you should always have international health insurance issued by your own home country or a large corporation that specialises in this service. Without insurance medical treatment in France can be expensive even for minor issues. It's therefore highly recommended to always have insurance even if it means paying a substantial monthly fee. In the end, it will be far cheaper than having to pay for treatment out of pocket.
Paris is a large, cosmopolitan city with some of the best medical care available. The medical system is modern and advanced so getting treated for any emergency or non-emergency issues will not be a problem. Booking a doctor's appointment is usually straightforward but keep in mind that some doctors might not speak a good level of English especially in the outskirts of Paris. The best chances at English-speaking staff will be in the city centre or in areas of Paris where a lot of expats live.
Make sure you are fully covered by reading our full Digital Nomad Travel Insurance guide.
Jobs in Paris
If you want to find a job in Paris you'll have to speak French. There will be no getting around that. Not many people communicate in English in this city so if you don't speak the language you'll have trouble managing everyday life, let alone working. Especially if you're looking at casual jobs in the retail industry or in hospitality your chances of finding work will be very slim. But even in a professional setting, some level of French is expected by companies. Make sure you are prepared and know more than just the basics before you start looking for work in Paris.

Keep in mind that you'll need the correct visa and work permits to start earning money locally in France. As a digital nomad, you won't encounter any problems living in France as long as you earn all of your money strictly online. As soon as you take a local job you'll have to have a working visa which can be very hard to obtain. Luckily this won't be an issue for European citizens who are permitted to live and work in France for as long as they require. However, for those from most other countries, the process of obtaining a work permit is quite long and tedious and usually only possible for those working for large, international companies. Only move to Paris as a digital nomad if you have sufficient funds and if you're prepared to work fully online without having to rely on finding a local job.
Check out our Digital Nomads Jobs Postings to find the best jobs available for Digital Nomads.
Nomad Friendly
Value for Money
Internet
Workspace
English
Food
Safety
Health
Transportation
Friendly
Quality of Living
Cost of Living Paris
Paris is not an affordable place to live as a digital nomad. However, it might not be as expensive as you think to live there longterm. Rent in the city centre is, of course, astronomic but if you find a room in a shared apartment it can easily be reduced to only around 500€ per month. Expenses will also be much lower which is an added benefit if you're trying to keep costs low. 1000€ per month is an absolute minimum for living in Paris and this won't include any nightlife or sightseeing. Eating out or having drinks at a bar is quite expensive in Paris so expect that to add up. Any tourist attractions usually also charge an entrance fee so that is an added expense you need to consider. Definitely add a bit of extra money to your budget to make sure you can enjoy living in the city while you are there and won't have to worry about budgeting all the time.
Sample expenses for one month in Paris
Essential costs
1000$ basic one-bedroom apartment
150$ bills for water, gas, electricity, wifi 
70$ public transport
250$ groceries 
30$ cell phone plan
_________________
≈ 1500$ total per month
Optional costs 
300$ eating out and nightlife
200$ membership at a coworking space
50$-200$ health insurance (varies greatly according to country)
400$ budget for day-trips
20$ gym membership