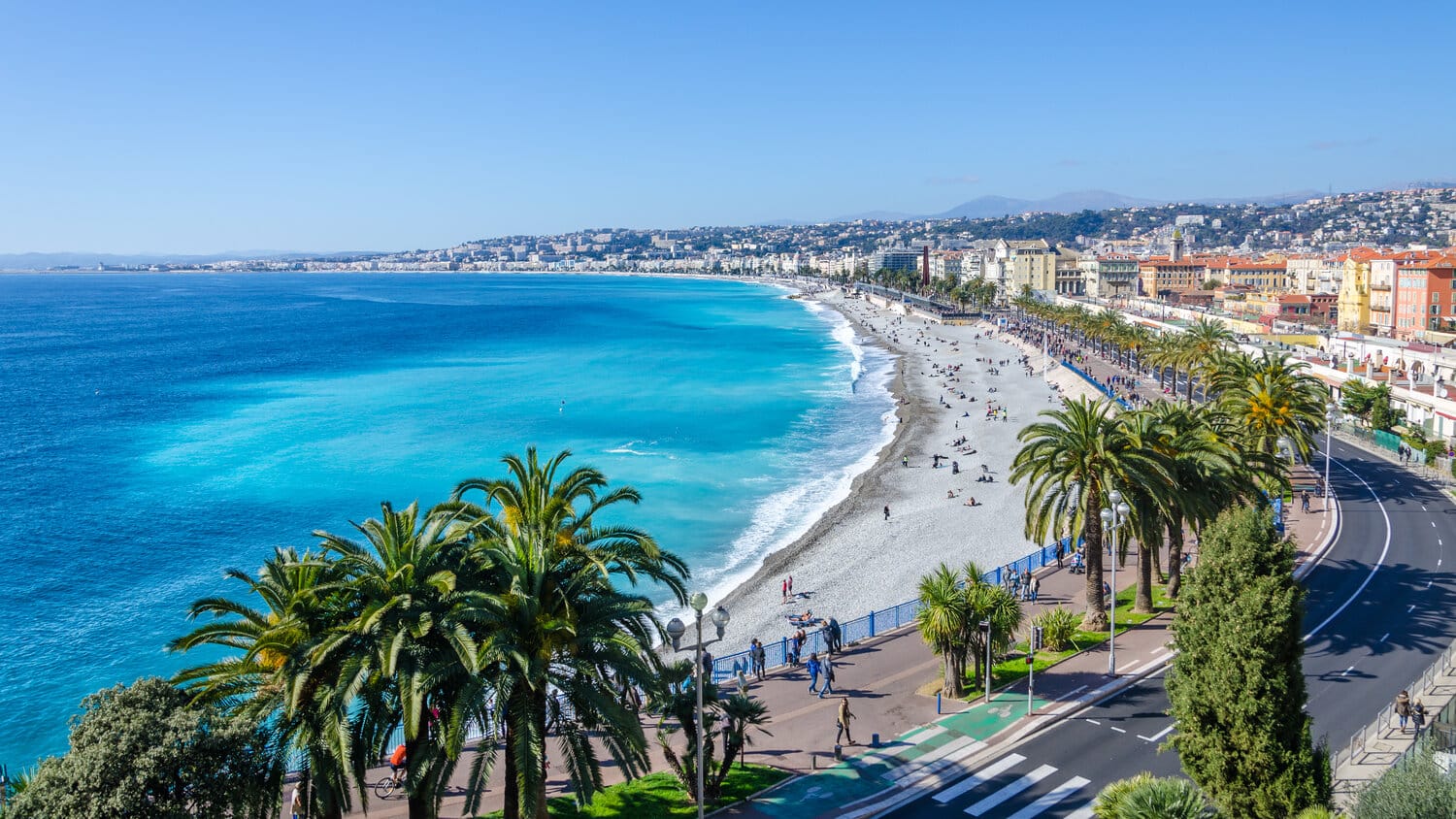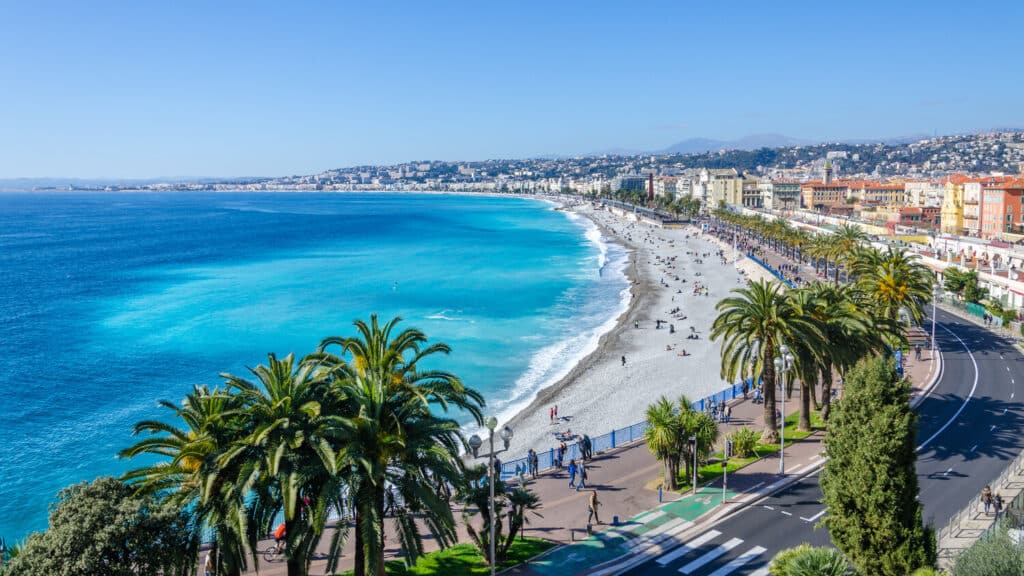 A Digital Nomad Guide to Nice
With its temperate climate and rich culture, France is one of the most popular tourist destinations in the world, and is fast becoming a favoured choice amongst digital nomads owing to its central location within Europe. Bordered by six countries in total, the nation itself is awash with cultural sights and points of interest. The capital of Paris has long been a chosen – though expensive – choice for remote workers, but these days, more and more can be found heading down to the south to enjoy the sun, sea and surf.
There are many cities to choose from in the South of France, many of them favourite holiday spots of the rich and famous. From Monaco to St. Tropez, this wealthy part of the country enjoys some of the best weather and features beautiful coastlines, a modern feel and some of the world's very finest food and wine.
Nice is fast increasing in popularity thanks to its privileged location on the Cote d'Azur, and set just a stone's throw from Antibes, Monaco and Cannes – all of which are quickly easily accessible by train – it's a great place to base yourself as a digital nomad.
France is one of the most welcoming destinations for digital nomads owing to the flexible work-life balance it is known for – and Nice is no different. With a strong sense of community, environmental and cultural heritage, you'll have little trouble settling in.
Even so, you'll need to be prepared for a few obstacles if you're looking to settle here for a long stint. Accommodation can be tricky to find, and the bureaucracy that comes with a French lifestyle can be frustrating. 
That aside, however, there is a lot to enjoy about this beautiful city, which is located right on the seafront, and it's hard not to fall in love with it. With its chic and trendy beach clubs, sophisticated rooftop bars and the olde-world feel of its quaint historic old town, life here is good. If you're prepared to slow down a little and take a more laid-back approach to your days then Nice will be right up your street.
Nomad Friendly
Value for Money
Internet
Workspace
English
Food
Safety
Health
Transportation
Friendly
Quality of Living
Living in Nice Overview
| | |
| --- | --- |
|  Meal, Inexpensive Restaurant | $16.92 |
| Domestic Beer (1 pint draught) | $9.02 |
| Cappuccino (regular) | $4.34 |
| Loaf of Fresh White Bread (1 lb) | $1.19 |
| Water (1.5 liter bottle) | $0.93 |
| One-way Ticket (Local Transport) | $1.69 |
| Basic Utilities (Monthly) | $204.85 |
| Internet | $35.63 |
| Fitness Club (Monthly) | $35.96 |
| Apartment (1 bedroom) in City Centre | $1,009.26 |
[erw_exchange_rates_widget lg="en" tz="0″ fm="EUR" to="EUR,USD,GBP,AUD,JPY,RUB" st="primary" cd="" am="1″][/erw_exchange_rates_widget]
Max Withdrawal: €400
Use of Credit Cards: Widely Accepted
Digital Nomad Personal Experience in Nice
Work in Nice
Best Places to Work in Nice
There are plenty of great coworking spaces in Nice that are perfect for digital nomads – but be warned, as they do come at a price. Offering excellent internet speeds and trendy, laid-back atmospheres, you're bound to find one you like. These were some of our favourites:
Paradigm
Located in one of Nice's most iconic Art Deco buildings in the heart of the city centre, Paradigm is the city's coolest coworking space.
Elegant and sophisticated, if you're looking for the Ferrari of coworking in Nice then this is the place, and with extras ranging from corporate registered address and concierge services, plus a range of high-tech meeting room facilities available for hire outside of the main hot-desking area, here your every need will be met.
€333 per Month
Coolwork
If you're willing to travel a little outside the main city then a 20-minute drive to Villeneuve Loubet will afford you a welcoming coworking space at Coolwork.
Bright, spacious and filled with natural light, Coolwork features a private terrace with a seaview, with shared and private office spaces and meeting rooms available to reserve. There's free coffee on tap in the kitchen, making it a great place to socialise and meet others during screen breaks – and with collaboration and networking encouraged, you might just pick up a new opportunity or connection while you're here.
There's a yoga and exercise room on site if you need a moment to take a breath or regain some energy over lunchtime, and free parking on site, too.
€300 per Month
La Verriere Coworking
If you're a coffee enthusiast, then look no further than La Verriere – a place where the hot beverages are free, and the membership plans are named after them. La Verriere is all about networking, and its collaborative environment makes it a great place to make connections over your morning brew.
Offering super fast WiFi, printing facilities and phone access within each of its membership plans, Espresso, Macchiato, Cappuccino and Lungo will each provide you with a different package of benefits depending on your individual needs. Prices are reasonable, and membership is flexible – making La Verriere one of our favourite coworking spots in town.
€120 per Month
LeLABO
Popular amongst independent workers, freelancers and small businesses alike, LeLABO offers up a friendly work setting and fosters a culture of sharing and collaborative creativity. From graphic designers to photographers, writers to marketers, you'll find all sorts of creatives choosing to work here throughout the week.
Members can enjoy super-fast WIFI, as well as printing and scanning services. With 24/7 access to the space, it's perfect for night owls. There are also a range of different coworking and private office spaces to choose from and a communal kitchen area for lunchtimes and breaks.
€1400 per Month
WIFI CAFES
Cafe Marché
Cafe Marché: A quintessentially French cafe with great WiFi, this place also happens to be one of the most Instagrammable cafes in Nice, and serves up a delightful menu of fresh pastries, good coffee and a range of lunchtime dishes to choose from.
FrenchCafe
FrenchCafe: Bright, modern and with a colour palette to die for, FrenchCafe serves up some of the best iced coffees in the city, and with a spacious interior and plenty of natural light, it's a great spot to connect to the WiFi and get some work done outside of the high season.
Brulerie des Cafe Indiens
Brulerie des Cafe Indiens: Consider yourself to be something of a coffee enthusiast? This place won't let you down. With a huge variety of freshly ground coffees to choose from – to drink in, or take home and make yourself – it's light yet cosy and offers decent connectivity, too.
Best Places to Live in Nice
Best Neighbourhoods
Nice is a multi-faceted city comprising a range of different yet equally vibrant neighbourhoods that make up its diverse fabric – with each enjoying its own distinctive personality and plenty to offer both short-term visitors and longer-staying digital nomads alike.
Whether you prefer to be as close to the seafront as possible or in the thick of all the action elsewhere, there are plenty of options to suit all tastes when it comes to choosing a place to live in Nice. Here is a breakdown of some of the best.
Old Town
Nice's quaint and romantic old town is relatively obscured from view on arrival into the city, but it's the fact that ist feels hidden away that makes it all the more appealing. This centuries old area is the beating heart of Nice, despite the fact that for much of its history it was separated from the rest of the city by the River Paillon.
Since 1921, the river has been covered, connecting this ancient quarter to the rest of Nice, and today, its charm is all in the narrow, winding streets and pretty pastel-coloured buildings that are a hallmark of historic European cities.
Here, you'll find a plethora of independent shops, family-run restaurants and bars and busy squares lined with tables and filled with people enjoying the morning, afternoon and evening. Home to the city's bustling Cours Saleya flower market, the pretty Palais Lascaris and of course, the Cathedrale de Sainte Reparate, it's a place where locals and tourists mix, and comes alive at night with an inviting atmosphere, the streets lined with tables where people sit to eat dinner and enjoy a glass of the local wine.
One of the busiest parts of the city, it is also one of the most authentic and the perfect place to base yourself to get a true feel for life in Nice. It's also very centrally located, with easy access to the seafront on foot in just a few minutes.
Promenade des Anglais
The city's famous Promenade des Anglais runs along Nice's seafront, with chic and sophisticated beach clubs lining its shores that make for the perfect place to sit back, relax and enjoy the sunniest of days over a beer or a cocktail – and perhaps even take a dip in the sea.
You'll find a plethora of luxurious hotels, bars and clubs at one end, while at the other, you can take the lift up to Castle Hill to enjoy the most breath-taking views of the city. Up here, you'll also find the Nice Observatory, the Fort of Mont Alban and a beautiful yellow house belonging to none other than Sir Elton John.
During the day, the beachfront promenade attracts numerous dog walkers, runners and cyclists – mostly locals, who use the area to get in their daily dose of exercise. In the evening, too, you'll find groups of people congregating on the beach, which is a popular meeting point for nights out in Nice.
Jean-Médecin, New Town
The broad boulevards of the New Town are lined with trees and are home to the city's shopping quarter. From huge department stores to designer boutiques, you'll find everything you're looking for here – and with a selection of trendy restaurants, cafes and bars to choose from too, it's a great part of the city to base yourself for a convenient and easy way of life.
There are also plenty of cultural attractions to be found here; the Muséum d'Histoire Natural, the Musée d'Art Moderne et d'Art Contemporain and the Musée Masséna are also located here, so if you consider yourself an art and history enthusiast then this is the place for you.
Le Port
Just a short walk from the Promenade des Anglais, you'll find the affluent neighbourhood of Le Port – where expensive luxury yachts sit moored in the marina, often with long-term residents living on board.
A playground for the rich and famous, it's a photogenic neighbourhood offering spectacular sea views – but don't be fooled, because it is also home to some of the city's workers, with working class cafes dotting the backstreets and locals often seen coming and going throughout the day.
A quieter spot that is the perfect place to enjoy a little peace away from the main throng of the city, it's conveniently located, too. As well as being able to reach the promenade on foot, the quaint Old Town is also close by, so if you're looking for the best of both worlds for your digital nomad base in Nice then this is it.
Cimiez
If you're looking for somewhere a little quieter still then the charming residential neighbourhood of Cimiez ticks all the right boxes. Home to the prestigious Musée Archéologique de Nice-Cimiez, which takes you on a captivating journey through Nice's history, you'll find a selection of art museums here, too – along with the beautiful Monastere de Cimiez, which offers stunning views over the Chateau Valrose and the rest of Nice.
If you choose to base yourself here then you'll need to be prepared to go a little further afield for a good choice of bars, cafes, restaurants and shops – but nonetheless, Cimiez is a great option if you're looking to really experience what it feels like to live as a local.
Find an Apartment in Nice
A one-bedroom apartment in Nice will likely cost you anywhere from €730 – €850, depending on how close to the centre of Nice you intend to live. From Airbnbs and hostels to co-living spaces, there are plenty of options when it comes to finding accommodation in Nice –  here are some of the best places to begin your search.
Booking.com
Booking.com: These days, Booking.com is about much more than just hotels, and private landlords often register their apartments for rental on here, much like Airbnb. With many allowing you to book in advance with payment only on arrival, it offers the utmost in flexibility. If you do fancy booking yourself into a cheap hotel for your first few nights then you'll certainly find one to suit your needs here – but if you're planning on arriving in high season then be sure to plan ahead, as many accommodation choices get booked up fast.
Airbnb
Airbnb is going strong in Nice, and you'll have your pick of cute ocean-front apartments and cosy boltholes elsewhere in the city – but given that these are popular with short-term visitors and tourists, prices can be high. Even so, an Airbnb is a great place to start on arrival into Nice and can make for a great base from which to explore other options. Look for listings posted by 'Superhosts' to ensure the best possible chance of an enjoyable and stress-free stay – and if you're lucky, a local landlord who will be more than happy to show you around the city.
Gateway Sites and Facebook Groups
If you're looking for a more affordable accommodation option then you'll often find co-living spaces and flatshares listed in some of the local Facebook groups. Living in such a way will ensure maximum opportunities to make friends come your way and can often help you to settle into a new city a little faster. Not only that, but it could save you a fortune in the long-run, too, and is the main reason that many digital nomads choose to live communally in Europe. Try Nice Nomads and Digital Nomads France groups to start you off.
Cheap Places to Stay in Nice
Nice is home to 15 hostels in total, and these can be a great palace to secure some low-budget accommodation while mixing with other digital nomads and travellers alike. Often offering a vibrant social scene, they offer another great introduction to the city, with prices ranging from €23 – €40 per night.
Hostel Meyerbeer has consistently been rated the best hostel not just in Nice, but in all of France. Offering regular organised pub crawls of the city and a choice of comfortable mixed dormitories or private rooms, you can stay here for around €28 per night – which in Nice, France is considered a bargain.
La Maioun Guesthouse is a clean and family-run hostel set in a quaint little building dating all the way back to 1855. If you're looking for somewhere a little more upscale, then this is the place – La Maioun receives consistently excellent reviews and books up rather quickly, but in our opinion, the €42 per night is worth the extra expense.
Villa Saint Exupery Beach Hostel is located close to Nice's beach, as well as the Old Town, so a stay here puts you right in the thick of the action. This is one of the livelier hostels in the city and offers a buzzing social scene – but if you're looking for a good night's sleep or somewhere to stay longer term then you might want to consider moving on elsewhere. Still, at just  €22 per night, it's a great place to start off your time in Nice without breaking the bank.
All of these hostels, and more, can be found on Hostelworld.
Nice Visa
Travellers from within the EU or the Schengen Area can exercise the privilege of 'free movement of people' within France, no visa required. Those from the UK, however, which has recently left the EU, should be aware that they can now stay for a maximum of 90 days in any six month period without a visa. Should you wish to stay for longer, or take a job in France, then you'll need to apply for a working visa.
The same applies to U.S. nationals; you do not require a visa if you're planning on staying less than three months. However, it's important to make sure that your U.S. passport won't expire for at least three months – ideally longer – after the date you plan to leave FrANCE.
If you plan to remain in France for longer than is afforded to you by visa-free travel or you're a national of a nation that is not privy to the Schengen Area benefit then you'll need to look into your move a little further. In most instances, a short-stay visa will suffice. You can apply for this a minimum of six months before you plan to travel, for a fee of €60 ($72).
Culture and Food in Nice
Culture
Nice is known for its endless choice of museums and art galleries, with more than 15 within the city alone and many more in the surrounding areas. From the classic Musée Matisse to the avant-garde Musée d'Art Modern et D'Art Contemporain – which exhibits an immense collection of over 1.300 pieces of work from artists including Andywarhol, César and Tom Wesselman – you'll find something to suit all tastes.
A French Riviera Pass covers all of the main attractions and activities not just in Nice, but in the surrounding areas, too – and is well worth the investment if you're planning on basing yourself here for an extended period of time and offers reduced rates and in some cases, even free access.
A city in which the modern meets the medieval, Nice's Old Town is in great contrast to its more up-and-coming Promenade, which is lined with international restaurants and bars – but it's precisely the fact that it has retained some of its olde world charm that makes it quite so appealing.
If you're looking to experience Nice like a local, then there are numerous traditional festivals and events happening throughout the year, many based around customs and traditions of times gone by, and others far more of the 'now'. Nice Carnival is one of the largest carnivals in Europe, and runs from the middle of February until early March each year. With over a million visitors typically attending over the two-week period, it's something not to be missed if you're in the city. Naturally, it didn't take place in 2021 due to the ongoing COVID-19 pandemic and resulting lockdowns in France – however, we can expect to see it back on our calendars again from next year.
The Nice Jazz Festival, which is usually held in July, may well be back on the cards this year – depending on the success of the EU's vaccine rollout and the shrinking of the current 'third wave'. Dating all the way back to 1948, it's one of the oldest – and most popular – jazz festivals on the continent, and is another event that any digital nomad or expat living in Nice won't want to miss.
Cuisine
One of the greatest joys of spending time on the French Riviera is the region's mouth-watering cuisine. France is known for being a global leader when it comes to gastronomy, and the many restaurants and eateries you'll find here are a testament as to why. Serving up a mixture of traditional Provençal and Niçoise foods that are peppered with Italian influence thanks to the area's proximity to the Italian border, you're certain to find something you'll love.
Socca is a popular street food in Nice, and one you simply have to try. A great choice for digital nomads on a budget, this thin, crusty chickpea pancake is light and fluffy on the inside and available from vendors across the Old Town for just a couple of Euros apiece. A great snack washed down with the local beer, and a simple yet tasty local dish.
It would be rude not to sample Nice's signature dish – the traditional Salad Niçoise – while in the city. This hearty lunchtime favourite comprises tuna, anchovies and eggs for a substantial protein hit, paired with tomatoes, radishes, black olives and green beans and dressed in olive oil. 
Le Pan Bagnat is a great alternative if you're on the go, and is essentially a Niçoise salad, in sandwich form – while the Pissaladière – a crumbly tart topped with anchovies, onions and olives, is another quick and affordable local snack.
Aside from these, you'll find a plethora of delicious fresh seafood dishes being served up in Nice – particularly if you head down to one of the restaurants on the seafront. Mussels, prawns, octopus and cuttlefish are all commonly found here and are some of the best you will find in the city – but for more traditional French fare, the Old Town will never let you down.
Nice Nightlife
Whatever kind of nightlife you're looking to find in Nice, you can be certain there will be something to cater to your tastes. From grungy backpacker bars in the Old Town to sipping cocktails on a terrace on the Promenade des Anglais, Nice offers a rich and diverse nightlife scene that ranges from chic and sophisticated to raucous and risque.
Here is a snapshot of the sheer breadth of what is on offer – with something different for every night of the week.
Movida
A chic and sophisticated venue overlooking the Promenade des Anglais, Movida is a prime spot for enjoying ocean views over a cocktail or, if you arrive early enough, watching the sun dip beyond the horizon at a leisurely pace.
Featuring a regular resident DJ firing out hip beats throughout the afternoon and evening, it's a great place to unwind after a busy day and mix with the beautiful people of Nice.
Rosalina Bar
Located in Le Port-Garibaldi, the Rosalina was the neighbourhood's nightlife pioneer, paving the way for this now uber-trendy part of the city to rise to prominence on the nightlife scene. With nightly live piano music and a large outdoor terrace that comes alive in the summer months, it's a great place to relax over a bottle of wine and some snacks if you're looking back for a laid-back evening socialising with new digital nomad friends.
L'etoile Night Club
This small and intimate club is a ritzy space in the early evening, but soon turns into a sweaty dance party later on. Attracting big name DJs from across Europe, the venue has a distinctly exclusive feel about it upon arrival – but don't be fooled into thinking that that means fun isn't on the cards, because it's certain to prove you wrong.
The Bulldog Pub
If live music is more your scene and you'd rather sit back and relax than hit the dance floor then the Bulldog Pub – still known by locals as the 'Pub Pompeii' – hosts live rock shows every night of the week. And these aren't just any rock shows; the venue attracts some of the very best in Nice and wider France to its stage, so if you manage to squeeze yourself in (it's regularly packed out with customers and live music enthusiasts alike) then you're certain to be in for a treat.
Unlike most pubs, the Bulldog doesn't open its doors until 6am, and the party keeps going until 6am. So if you were thinking of a 'quiet drink', then this probably isn't the place!
La Part des Anges
One of Nice's hippest and most sophisticated wine bars, La Part des Anges serves up a plethora of delectable organic wines by the bottle and only occasionally by the glass. Order yours alongside one of the mouth-watering cheese or charcuterie boards from the menu for a quiet evening with friends – and arrive early, because this small venue only has a few tables, and the exclusive vibe means that they don't usually last long empty.
Things to do in Nice
There is no shortage of things to do in Nice, but what truly sets it apart from other top digital nomad cities in Europe is its seafront location and its picturesque setting on the affluent French Riviera. Here, you can enjoy all of the charm of a quintessential French city against a backdrop of azure waters and pretty, pebbled beaches, and with an excellent train network that will take you to some of the affluent neighbouring cities such as Cannes and Antibes, as well as the tiny nation of Monaco, Nice enjoys the best of just about everything.
Here are some of the top things to do in and around NIce as a digital nomad or expat based in the city.
Promenade des Anglais

This seven-kilometre ocean-front stretch is a historic boulevard that connects the city with nearby Nice airport, and one of the main points of interest in the city.  Following the coastline and the city's main beach, which is lined with chic and sophisticated beach clubs and restaurants, its central location and breath-taking views make it a popular spot for locals and expats looking to get in their daily exercise while enjoying Nice's pleasant year-round weather.  Nice is famous for the blue and white striped umbrellas and sunbeds you'll see punctuating the main beach, and you'll no doubt have seen them on Instagram. The Promenade des Anglais is certainly the most Instagram-friendly spot in the city, so don't forget your camera. Head down on a Sunday, when most locals come to the Promenade to walk, run, skate, cycle, or simply soak up the sunshine on the beach.

Vieux Nice

Nice's buzzing Old Town area is the highlight of the city, and with its quaint, narrow cobbled streets, pretty squares and famous flower and food markets, it's the perfect place to go if you want to be in the thick of all the action. By day, it's busy with locals and street sellers, while after dark, it comes alive with tourists, expats and locals alike who come here to eat, drink wine and enjoy an evening al fresco. The pretty, shuttered houses, historic architecture and plethora of shops, bars and restaurants make it one of the most beautiful and appealing parts of the city, and we couldn't help but return here every evening to eat at one of the cosy family-run eateries or to crack open a bottle of local vin out on one of the squares with which to sit back and watch the world go by.

Cours Saleya

Speaking of markets, you'll also find the Cours Saleya located in Nice's Old Town, where locals, tourists and digital nomads head each day to stock up on the freshest of produce – and from mouth-watering fruits and vegetables to the best local seafood, you'll find it all here. If, like many digital nomads, you plan to cook most of your meals at home, then you'll no doubt find yourself here a lot – and if you happen to appreciate a good bloom too, then you're in for a treat. The flower market is the highlight of Cours Saleya, offering up an astounding array of colourful and fragrant bouquets to choose from. Arrive early to get your pick of the bunch; the market opens in the morning and is usually winding down by 1.30pm – although some flower stalls stay put until 5.30pm.

Place Massena

This large and open square has enjoyed a long historical significance, and was renovated extensively in 2000, when it was expertly restored to its former glory. Lined with pretty pink and red shuttered buildings, restaurants and cafes, it's here that the locals come to meet up in the early evening before heading down into the main Old Town area, and with its stunning, lit-up water fountain displays at the Fontaine du Soleil and pretty neoclassical architectures, it's a spot you'll quickly become familiar with as a digital nomad living in nice. The Place de Massena is more than just a meeting point though, and in the summer months it plays host to some of the city's major events. Celebrations for important dates such as Bastille Day and Carnaval are held here, with additional festivals and concerts also happening throughout the year. You could say that the city centres around the Place de Massena, and is very much its beating heart.

Castle Hill

Rising an impressive 92 metres above sea level, the Castle Hill – or as it's known in French, Colline du Château, offers some of the most spectacular views along the coast and down to the marina of Le Port on the other side. Accessible from an elevator at street level, just outside of the Old Town, here you'll find a pretty waterfall and a lovely slice of parkland that is just perfect for an evening stroll. Our favourite time to come up here was at sunset, when we enjoyed some of the loveliest scenes as the sun dipped below the horizon. Another place where you'll want to bring your camera, and if you're anything like us then the photos you take from up here will fast become some of your favourite snapshots of Nice.

Musée Matisse

Nice is awash with art galleries and museums, and the Musée Matisse is one of its most iconic. Showcasing the work of renowned artist, Henri Matisse – who would often visit Nice in his hey-day – this beautiful museum, housed in the attractive Villa des Arenes (renovated Genoese villa with an olive grove), exhibits hundreds of pieces of his work and demonstrates an intriguing evolution of his style and technique over time. Art lovers certainly won't be short of things to do in Nice, but the Musée Matisse is something truly special – so be sure to add it to your weekend 'things to do' list when you first arrive in the city.
Best Time to Visit Nice
The south of France – and specifically the Côte d'Azur – enjoys a temperate climate year round, with hot, humid summers and mild but long winters. Over the course of the year, the temperature typically varies from 5°C to 28°C.
Summer in Europe runs from June to August, so if you're hoping to enjoy the warmest weather then this is the best time to come. Although the heat can feel oppressive down in the Old Town at this time of year, the ocean breeze on the Promenade des Anglais makes things far more bearable, and with plenty of beaches and beach clubs to choose from in and around Nice, it's a wonderful time to be based on the French Riviera.
May, September and October are also pleasant, and with fewer tourists around either side of the high season it's a quieter time of year to make the most of Nice's beachfront.
On the other hand, you should expect a fair amount of rain in April, September, October, November and December.
Nice for Families
Thanks to its seaside location, Nice is a great city for families with children, and there is plenty to do both here and in the surrounding areas to keep them entertained, whatever their age.
The French Riviera is also home to a diverse international community from all over the world, which means that there are also several international and bilingual schools here as a result. 
SCHOOLS
International School of Nice
The International School of Nice is a bilingual school accommodating children of all ages – from four all the way up to 18. Qualifications on offer here include both the International Baccalaureate and IGCSEs, with the majority of classes taught in English – although French options are also available.
The International School of Monaco
Less than half an hour away by train is the International School of Monaco – a highly-regarded private bilingual school on a campus overlooking the picturesque Port of Monaco. There are a diverse mix of pupils here, with over 50 different nationalities in total. Qualifications on offer include IGCSEs or the IB.
Again just half an hour away from the city of Nice, the private Mougins School teaches the British Curriculum and accommodated over 500 students of numerous different nationalities.
THINGS TO DO FOR FAMILIES
This fun-packed indoor park is the perfect place for children to burn off some energy. Filled with slides, ball pits and soft play obstacles, sessions here are carefully overseen by staff to ensure a safe and enjoyable experience for both kids and parents.
Phoenix Parc Floral de Nice
This beautiful park is set in sprawling grounds that are awash with vibrant blooms and filled with intriguing nature trails. You'll find a children's park here, complete with the usual swings, slides and roundabouts, and an array of miniature waterfalls and fountains for them to play in during the summer.
There is also a large greenhouse filled with tropical plants and birds, accessible any time of year.
Sporting enthusiasts will love this fun and interactive museum, which celebrates French sport through the ages. Featuring over 45,000 pieces of memorabilia, there are also plenty of modern installations, with visitors able to participate in newer sports like Foosball, cycling and fencing simulators.
Running from Place Garibaldi to the iconic Place de Massena, the Promenade du Paillon is a great place for a stroll in Nice for families, with various outdoor sculptures, green spaces and playgrounds scattered along the way. In the summer, kids can cool off in the water fountains or ride the giant ferris wheel, which offers beautiful views of the city from the top.
Living in Nice
For those accustomed to being digital nomads in Europe, you'll find nothing out of the ordinary here when it comes to preparing for your stay. Even so, if you're travelling from outside of the EU in particular then there are a few things you should know first to ensure that your arrival and subsequent stay in Nice, France run smoothly.
Nice Transportation
Nice is relatively easy to get around on foot, as although large, the majority of the city's main attractions and areas of interest are centred around the Promenade des Anglais and Nice Old Town.
Even so, the city has a comprehensive public transport network comprising buses and trams, with almost all lines using the same 1.50 Euro single ticket, which can be purchased from vending machines around Nice or from the driver on board.
Public transport in Nice is provided by Lignes d'Azur, with buses and trams covering the city itself and the surrounding areas too, taking you to Monaco, Cannes and other nearby cities.
Buses
The buses in Nice are in good condition and enjoy air-conditioned interiors – something that you'll soon come to appreciate during the summer months. Services run seven days a week up until 10pm, after which you'll still have a selection of night buses to choose from.
Tickets purchased either on board or prior to your journey must be validated upon embarking. 
Two of the city's main bus stops are the Parc Phoenix and Vauban (Gare Routière Nice Côte d'Azur). The first, which is located near the airport, is accessible via the T2 tram line and from here, you can take buses to Cannes, Grasse and Vence. The latter is the bus stop for intercity connections, but you can also find buses heading to neighbouring Eze – a pretty walled medieval town that is well worth a visit – as well as Villefranche-sur-Mer, Cap Ferrat and Monte Carlo, in Monaco.
Trams
Nice benefits from three tram lines, the first of which being the T1, which passes through the Place de Massena to connect the north and the south. On this line, you can get from the main train station of Gare Thiers to Garibaldi Square, and the Old Port area of the city.
The T2 line will take you from the Old Port to the airport, while the T3 line connects the airport and the stadium.
Tickets
Tram tickets must be purchased from the vending machines you'll find at each stop – not from the driver. So be sure to have your ticket before you embark.
A single bus or tram ticket – known as a SOLO – is valid for 74 minutes, and allows you multiple connections between the two modes of transport within this time frame.
Trains
One of the best things about being based in Nice as a digital nomad is its proximity to some of the surrounding towns, cities and villages of the Côte d'Azur – and the efficient train network that connects them. From the main train station – Gare Thiers – you can take trains to Eze, Villefranche-sur-Mer, Montecarlo, Cannes, Antibes and more in under an hour.
For just €4, you can be in Monaco within 20 minutes. Cannes is a little more expensive, at €7, but stops at Antibes on the way if you'd like to visit both in one day.
Fitness and Health
Nice has a lively health and fitness scene, much of which centres around the seafront area of the Promenade des Anglais. This beachside stretch is often busy with locals and expats alike who come here to run, cycle, skateboard, rollerblade or simply enjoy a gentle stroll, and is particularly popular at the weekends.
There are a selection of gyms, fitness centres and classes to choose from in Nice, depending on your exercise preferences. Here are some of the best:
Studio Cyclone Indoor Cycling
Studio Cyclone Indoor Cycling: A top choice for spin and cycling enthusiasts, this place offers invigorating 45-minute classes for all ability levels, with classes running throughout each day and week.   Address:47 rue Gioffredo, 06000 Nice France
Fitness Land
Fitness Land: Features a variety of free weights and machines, as well as offering various fitness classes throughout the day.  Address: 76 Avenue des Baumettes, 06000 Nice, France
GäYoga
GäYoga: Yoga studio offering a range of classes for different levels and abilities.  Address: 1 Av. Cyrille Besset, Nice France
Nice People
The French Riviera is home to the beautiful people of France, and Nice in particular is a popular choice amongst the affluent. One of the largest cities on the southern coast and one of the most historic and cultural, too, it has over the years become a playground for the rich and famous, attracting wealthy, high-net-worth individuals from across Europe and beyond, who come in search of sea, sunshine and second homes.
Even so, the tourism industry has brought people from all over the world to Nice in search of jobs, and there are certainly some more working class areas of the city to be seen, too. Under normal circumstances the city is always just as busy with people rushing to the office or to their jobs in hospitality as it is those who prefer to lounge on the beach with a bottle of wine or two and simply enjoy the good life.
Many people in Nice speak English, but they will always appreciate the effort should you attempt to converse with them in their mother tongue. Given the vast annual influx of tourists to the city, life here can begin to feel a little stressful – so if you want to get in their good books from the start then this is a great place to start.
The people of France are known for their immense enjoyment of good food and fine wine, and things are no different here in Nice. Although the typical cheeses and meats the nation is known for are still prominent here, you'll find a distinctive air of sophistication. The beautiful people of Nice love to eat out and to socialise, and can often be found enjoying a sun-downer at one of the city's many rooftop bars. Many of them have travelled and seen plenty of the world, so as a digital nomad, you'll have plenty in common with them – but if you're looking to meet travellers from elsewhere in the world there are plenty of places to do so, too.
Customer service is one thing that you shouldn't expect too much of in Nice. Service can be slow and at times, abrupt. In restaurants and bars, this might well be to do with the fact that staff do not have to go over and above to top up a basic wage with tips, as they already receive a reasonable standard wage without having to go the extra mile.
Nice Insurance and Medical Care
The French healthcare system includes both public and private hospitals, with doctors and medical specialists providing expert healthcare to every resident across France. Factors such as age, income or status do not impact the level of service available to any individual, making the French healthcare system one of the most accessible in the world, even for foreigners.
Residents are covered by mandatory health contributions, with additional private healthcare optional for those who can afford it or who want the additional level of protection. Government-funded agencies cover upwards of 75 percent of health expenditure in France.
In 2016, the Protection Universelle Maladie (PUMA) was launched, allowing foreigners in France to access state healthcare after three months of residence. At this point, you can register for healthcare via your local Caisse Primaire Assurance Maladie (CPAM). To do so, you'll need your passport or a valid form of ID, proof of French residence, proof of address (a utility bill will suffice) and marriage or birth certificates if applying for family members too.
Short-term visitors to France from the EU/EEA and Switzerland can access public healthcare by presenting a European Health Insurance Card (EHIC), which you can apply for in your home country before you travel.
Make sure you are fully covered by reading our full Digital Nomad Travel Insurance guide.
Jobs in Nice
Like most countries, the jobs market in France has suffered as a result of the ongoing COVID-19 pandemic, with many businesses forced to close for extended periods of time and job losses on the rise.
Just under half of employees in France are in the private tertiary sector, while a third work within the public tertiary sector. The nation is a prominent player in industries including pharmaceuticals, cosmetics, aeronautical and automobile, and although there tend to be many jobs available elsewhere in the country – primarily the north and east – on the Côte d'Azur and within Nice itself, the economy is driven chiefly by tourism. The labour market here revolves mainly around this – with service-based jobs in the industry common. 
Those with qualifications and skills in hospitality, personal services, trade, sales, technology and leisure and business tourism will be in the best position to find work here – but if you're planning on coming soon then you'd be advised to have your own source of income until the COVID-19 situation improves, and tourists begin to return to the city.
Finding a job in Nice can feel like quite the task, but networking can be a great place to start. Social networks and job websites are often the easiest places to find openings, and you will also often find them on Linkedin.
Other ports of call include the Chamber of Commerce and Industry, and the Maison de l'emploi of the Sophia Antipolis Agglomeration Community – a meeting point for job seekers and employers to connect.
Check out our Digital Nomads Jobs Postings to find the best jobs available for Digital Nomads.
Nomad Friendly
Value for Money
Internet
Workspace
English
Food
Safety
Health
Transportation
Friendly
Quality of Living
Cost of Living Nice
The French Riviera is one of the most desirable locations in the world, so it stands to reason that the cost of living here is reasonably high. An area that attracts the rich and the wealthy in their droves, you can also expect to enjoy a high-standard of living – but if you're looking for a cheap city in which to base yourself as a digital nomad then this might not be quite what you had in mind.
If, on the other hand, you're prepared to spend a little more for the privilege, then you'll have no trouble living handsomely here as a digital nomad. For a single person, you can expect to spend around €850 / $1,000  exclusive of monthly rent, while for a family of four, you'll be looking closer to €3,000 / $3,600.
Rent per month
One-bedroom apartment in the city centre: €850
One-bedroom apartment outside of the city centre: €730
Three-bedroom apartment in the city centre: €1,840
Three bedroom apartment outside of the city centre: €1,340
Utilities
Electricity, healing, cooling, water for one-bedroom apartment: €140
Internet (60 Mbps and unlimited data): €30
Leisure
Meal at an inexpensive local restaurant: €15
Domestic beer (0.5L draught): €6.50
Cappuccino: €3.50
Bottle of water (0.33L): €2.20