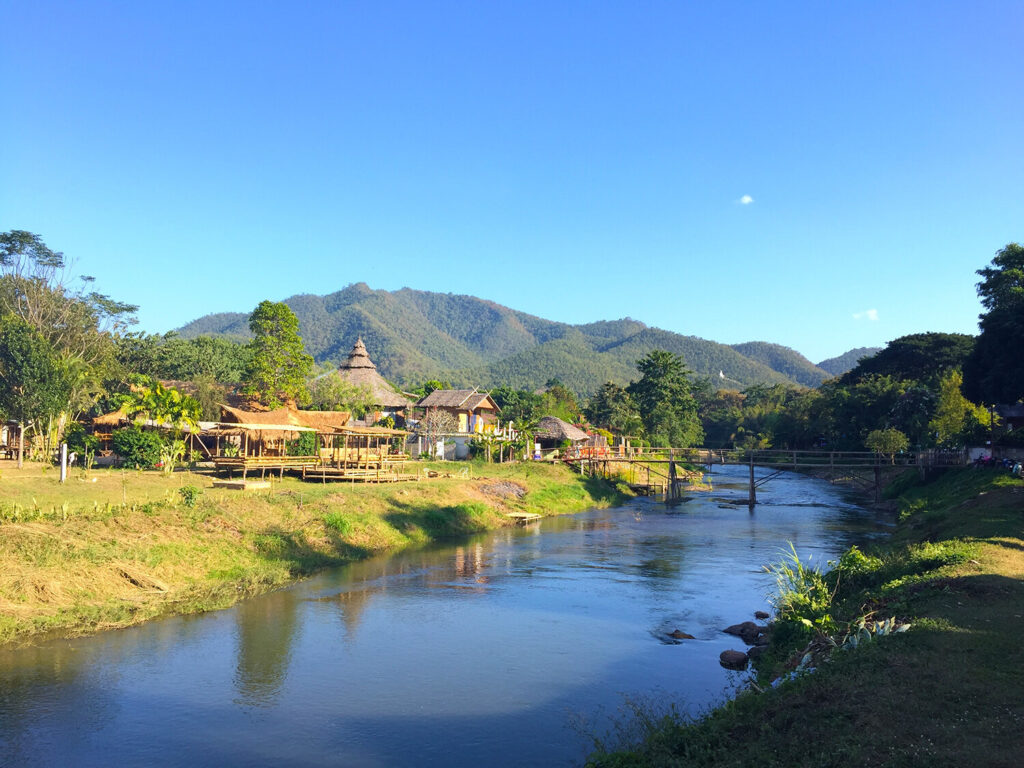 A Digital Nomad Guide to Pai
The charming town of Pai is nestled in the northern Thai mountains; a 3 hour drive from one of the original Digital Nomad hubs, Chiang Mai. Well-known for its hippy relaxed atmosphere vibe amongst travellers, the small town is full of affordable guesthouses, artisanal shops, cosy cafes and unique restaurants. It's easy to see why the long term expat community is growing with the ease of living, low cost, endless places to explore and a great mix between eastern and western influences. 
Over the last 800 years, Pai has become a cultural melting pot, due to its proximity to neighbouring countries. This has resulted in a rich heritage and a diverse range of ethnicities. Mae Hong Son, the province in which Pai sits is one of Thailand's northernmost, sharing a border with Burma, whilst also being near to China & Laos. Approximately 63% of the population in Mae Hong Son is made up of Hill Tribes, mostly Shan (Thai Yai) but also Hmong, Yao, Lahu, Lisu, Akha and Karen. Steadily, over the last 200 years, these tribes have emigrated from surrounding areas – China, Burma, Laos as well as other Thai provinces – to settle in Pai and the greater Mae Hong Son area.
Exploring Pai is all about getting yourself immersed in nature. In the midst of the stunning mountains, there is an abundance of waterfalls, rice fields, buffalo, rivers, caves, hot springs, hikes and endless green landscapes to wander upon where the stresses of day to day life will quickly dissipate here. 
As a go-to destination for artsy types; the town and surrounding areas harbour an interesting creative scene with much to discover and get involved in. From local craftsman designing jewellery, hand-drawn prints and homewares, tattoo artists and locals alike covered in self expressive ink, to the popular Wednesday market and a plethora of quirky workshops to join like circus skills, earth house courses, guitar lessons and holistic therapies. If you are searching for a new hobby or creative outlet to pursue, you will not be disappointed.
Nomad Friendly
Value for Money
Internet
Workspace
English
Food
Safety
Health
Transportation
Friendly
Quality of Living
Living in Pai Overview
| | |
| --- | --- |
|  Meal, Inexpensive Restaurant | $2.09 |
| Domestic Beer (1 pint draught) | $2.39 |
| Cappuccino (regular) | $1.83 |
| Loaf of Fresh White Bread (1 lb) | $1.19 |
| Water (1.5 liter bottle) | $0.52 |
| One-way Ticket (Local Transport) | $0.90 |
| Basic Utilities (Monthly) | $82.53 |
| Internet | $19.55 |
| Fitness Club (Monthly) | $45.54 |
| Apartment (1 bedroom) in City Centre | $391.95 |
Currency: Indonesian rupiah (Rp)
[erw_exchange_rates_widget lg="en" tz="0″ fm="IDR" to="EUR,USD,GBP,AUD,JPY,RUB" st="primary" cd="" am="15000″][/erw_exchange_rates_widget]
ATMs
Max Withdrawal: Rp 3,000,000
Withdrawal Fee: Rp 30,000 – Rp 50,000
Use of Credit Cards: Mostly Cash
Digital Nomad Personal Experience in Pai
On arrival, the feeling of grounding is immediate and unescapable, not that you would want to escape! But I am serious when I say a soft, gentle feeling of peacefulness came over me and didn't leave. Pai has the full recipe for relaxation; the pace of life is slower here and you feel right at home meandering down roads between valleys. Pai really feels like it exists in its own time zone.
From the beginning, I found the people to be friendly and welcoming. Coming from spending the last year and a half on the southern islands, where the locals can sometimes seem bored of dealing with farangs (foreigners) and holiday tourists, I found the northern thais to be more engaging and expressing a genuine interest in getting to know me and helping me to practice to speak Pasa Thai. 
I spent my days waking up slowly, enjoying a fresh juice or coffee and walking to the bustling market to buy ripe fruit and veg harvested from local farms. The first few days, I dedicated myself to completely going with the flow; exploring each road I came to by motorbike with no GPS, enjoying the process of just getting to know the area by mapping it out in my mind's eye. Stopping when I was hungry in a different restaurant each time, heading to the hot springs, drinking beers with new friends at Pai Yard guesthouse where I stayed, going on long walks in the countryside and watching the sun set over the mountains from Two Huts. 
In spending time with some long term expats and Thai residents, the setting and lifestyle was compelling. I could really see how they embraced the Cha Cha (Thai for slow) way of life here. With the low cost of living, people have more time to dedicate to creative and outdoor pursuits, something that I was craving.
Work in Pai
For what Pai lacks in co-working spaces, it makes up for in its great coffee shop and restaurant workspaces. I was pleasantly surprised at how fast and reliable the wifi is in Pai considering its location in the mountains. With an average internet speed of 20 Mbps, I was able to upload images into online galleries for clients and stream videos with ease.
Best Places to Work in Pai
Pai Siam Bistro
Pai Siam Bistro on the corner of Walking Street, swiftly became one of my favourite places to work with it's bohemian surroundings, open air layout and great menu. A sunny spot for people watching and reading a book during those moments of procrastination. I loved the comfy seating near the open kitchen looking out of the big doors onto the road. It's open until midnight which was perfect when I was working with clients in US time zones. Grab a Strawberry Shake whilst you're there. 
The Pedlar
The Pedlar does everything right with its crisp, clean, minimalist space and attention to detail. Artisan coffee, heart food sourced locally, friendly staff and aircon for really getting your head down makes Pedlar a great work space. The cafe is one of the more pricier places in Pai but the coffee, food and environment is worth it. There is indoor and outdoor seating with strong wifi. 
Om Garden Cafe
Om Garden Cafe is like stepping into a little chill sanctuary; perfectly tranquil and shaded for dedicated work time. There are lots of nooks and crannies to settle down for a few hours and focus. The lighting was perfect which is an important note for me as I am often editing photos so workspaces without glare are vital. They offer a broad menu of international dishes and drinks catering to all dietary needs. The wifi is strong and reliable and the mezze plates are good value. 
Silhouette by Reverie Siam
Silhouette by Reverie Siam is a hidden gem! Tucked away outside of Pai just enough to get a break from the hustle and bustle. The atmosphere is beautiful with a small creek running just outside whilst leaving the eastern view of the mountains open. You can opt to sit outside and admire the scenery or get comfy inside on the contemporary style furniture. Day and night vibes are both great in their own way. I found the staff to be exceptionally professional and attentive. I was pleasantly surprised at the value of the food and drinks with great tapas options and an extensive wine list (maybe wait until you've finished your work for this!).
Khaotha Cafe
Khaotha Cafe is an eclectic cafe that feels like an extension of someone's house; with collectibles, pets, hobbies, bicycles and other items everywhere to entertain your wandering eye. Sourcing coffee beans from local farmers, you can choose your favourite style of roast. Prices are very reasonable for around 50 baht per coffee. You can spend hours here and not want to leave. Try their Honey Americano Frappe. Yum!
Cafe Cito
Cafe Cito is a small female-owned mexican cafe and coffee roastery on the sleepy side of Pai, located across from Khaotha. Along with amazing coffee, you can choose from their selection of baked goods or for hungrier stomachs, order one of their Mexican classics like "Chilaquiles" and "Al Pastor Tacos". With mexican murals and exposed brick interiors, the cafe has a homely feel, chill vibe with reasonable prices. 
Good Life Dacha
Good Life Dacha is great for creative work with lots of possibilities to let your mind wander around. There are plenty of work spaces and reasonably priced food and drinks. The restaurant has an extremely extensive menu of tasty dishes, lots of herbal teas, sauna and a library. Go and see for yourself but fair warning: once you're there you're not gonna want to leave.
Best Places to Live in Pai
Best Neighbourhoods
Pai is a small town with many little villages very close by. The main streets are walkable and getting from one end to the other takes 15 minutes by foot. Depending whether you prefer to be in the hustle and bustle, enjoy countryside views or relaxing by a pool; Pai has options for everyone. There is a scattering of hotels, guesthouses, and hostels spread along both sides of the riverbank and reaching further North and South into the Pai Valley. 
Pai Town
Recommended for people on short stays with a preference to be near the myriad of restaurants and bars on offer. Staying central is perfect if you're not planning on renting a scooter to get around on and socialising and meeting new people is on the agenda. There are dozens of places to stay and you're also close to public transport. 
If you stay in this area, you can: 
Wander around the fresh food market

Visit Wat Luang Buddhist Temple and snap a photo of this gorgeous white and gold temple

Slurp up some delicious noodle soup at Noodle House Pai

Walk around Wat Klang, a beautiful temple right on the edge of downtown

Check out the popular Boom Bar with funky lights and cheap drinks
Riverside
Pai sits along the Pai River. Downtown Pai is situated to the west of the river, but there are plenty of incredible Pai accommodation options on the other side of the river for cheaper accommodation whilst still having close access to the town. Head over there if you want a little more peace and serenity away from the main town. 
Things you can do around the Riverside:
Pet the sheep and bunnies at the Village Farm you can even enjoy an afternoon tea or coffee there too

Give Muay Thai boxing a try at Wisarut MuayThai Gym

Crack open a beer at this funky and teeny tiny bamboo bar— Pai Zion Zone

Try the incredible smoothie bowls at Bom Bowls

Go for a dip at the public pool and relax for the day at Fluid Swimming Pool
North Pai
If you were curious about where to stay in Pai for your first time, we recommend heading on over to North Pai. Head towards the airport and you will come across amazing nature spots, waterfalls and sunrise views. 
In this area, you can:
Join Nam Yang Kung Fu Retreat

Visit the Art Farm Studio and look for treasures

Work up a sweat at Sitjemam Muay Thai

Take a cooking class at Isara Garden 

Go further up North and take a dip in the Sai Noam Hot Springs
South Pai
South Pai sure knows how to take visitors' breath away. Being farther away from the downtown hubbub, South Pai is picturesque and where true relaxation and rejuvenation occurs. We may just be a little obsessed… 
Here you will find: 
Hit up Valhalla for reggae vibes, good times and magic shakes

Trek up to Chedi Phra That Mae Yen Big Buddha and take in the gorgeous views of the city below

Spend hours relaxing at Earth Tone Vegan Restaurant and sample all their extensive vegan menu

Check out the Pittalew Art Gallery and see if you can catch a live music show there

Head over to gypsy Soul Bistro & Boutique and see what treasures you can find or enjoy a delicious meal
Find an Apartment in Pai
Finding accommodation in Pai is easy and luckily for us there is so much to choose from. Most longer term visitors opt for finding a house just outside the main town. There is an abundance of guesthouses, resorts and private accommodation to suit every need and budget. If you are looking for a unique experience, hop onto Airbnb.
How to find accommodation:
Join the

Our Pai Family

facebook group to find accommodation in the local area. I found this super useful. Many people responded with options and sent recommendations after I posted what I was looking for in terms of budget, amenities. 

You can also grab a motorbike and spend the afternoon driving around and speaking to local landlords. 

Make some local friends and ask them to check the grapevine for the best available houses. The locals all seem to know about the little gems to stay in!

If you want to book something quick, easy and simple, jump over to

booking.com

and take your pick! 
For longer stays, it's recommended and more cost effective to take a house for one month. You avoid paying a nightly rate and can get amazing deals with local landlords. 
If you are looking for air-conditioned options with utilities such as wifi, water and electricity included, you can expect to pay 6000 baht (183 USD) a month upwards. 
For non air-conditioning with utilities included, houses start from just 2,500 baht (76 USD) per month.
Cheap Places to Stay in Pai
If you are on a budget, I advocate for staying at Pai Yard Guesthouse. For 250 baht per night or 3000 baht for the month, this place is a steal. Jip, the amazing owner, speaks English fluently and is very helpful in recommending where to get motorbikes, bicycles and great things to do in and around Pai. The guesthouse has mountain view air-con rooms with balconies or wooden bungalows which are more private. There is a well equipped shared kitchen, comfy seating areas and tables for working and eating. It is located just outside of town, 0.6km from the night market so you have the beauty of the countryside around you whilst being close to local amenities. There is also private parking for motorbikes and cars. 
Another great stay is Golden Hut Bungalows. The stilted wooden one bedroom chalets are also 250 baht per night. Being right on the riverside, this is a beautiful place to take in the scenery and rest. Just a 5 minute walk to the main entertainment and shops, it's the perfect distance to be 'in it' but enjoy the serenity of Pai. The rooms are basic but clean and cosy and we give extra points to the host Mr Bom's kindness and consideration. Golden Hut facilities include a bar so you can enjoy a beer, a garden, balconies overlooking the river and free WiFi.
Pai Visa
Citizens from most countries can receive a Visa Upon Entry lasting 30 days. If you are intending to stay in Thailand for longer, you can apply for a 60 day Tourist visa at the Thai embassy in your home country. Both of these visas are extendable for a further 30 days at the provincial immigration office. 
There have been talks over the last few years around Thailand introducing a Digital Nomad visa which would legally allow Digital Nomads to reside in Thailand and pay tax without having to open an official company here. In true Thai bureaucratic style, seemingly not much progress has been made in regards to this but we have our fingers crossed that it will soon. 
In the current Covid climate, the government is allowing 60 day extensions for tourists within the country with the hope to maintain the economy brought in by the tourists and nomads within the country. The process is fairly stress free and usually takes 1-2 hours at Immigration. They cost 1900 baht and require photocopies of passport pages which you can usually do at immigration for 5 baht per sheet. 
Immigration is closed on weekends. Be careful to check opening times; and allow extra days before your visa is up in case of a national or Buddhist holiday. Overstays are charged at 500 baht per day which can stack up quite quickly. You will not be allowed into Immigration with informal clothing. Exposed shoulders, stomachs and legs are not a favourite so wear a shirt, tshirt and a long skirt or trousers to avoid unnecessary back and forth.
Culture and Food in Pai
If you are a foodie, Pai is well equipped for you. Pai boasts an impressive selection of restaurants and cafes catering to veggies, vegans and meat eaters alike. For those who enjoy their days caffeinated, locally sourced coffee is available in abundance. Here's a selection of our favourite go to spots to fill your belly:
Bom Bowls – For delicious smoothie bowls with colourful combos of fruit, granola, peanut butter, acai – this is the place to satisfy your sweet tooth. They also serve smoothies, pancakes, coffee and sweet treats. With hammocks, wooden chairs and an upstairs platform to recline in and enjoy the view, this is the perfect place to get lost in a book. 
Two Sisters – Found just behind Bom Bowls, two minutes outside of town is Two Sisters. The prices are crazy cheap and a free fruit platter or shake is given with every meal. Specialising in Burmese & Thai dishes, Alo Po & Alo Tok are highly recommended!
Ganita Cafe – Earth friendly foods for everyone's taste, inspired by culinary cultures from all over the world. Ganita is an airy space, perfect for a brunch date or working for a few hours. I loved the avocado and middle eastern dishes. We have to mention the ice coffee as well – the best I've had in Thailand!
Grilled Cheese Madness – Craving some cheesy treats? Head over to Cheese Madness on Walking Street. Ran by the sweet Jip, also the owner of Pai Yard Guesthouse for cheese platters, olives, wines, cold meats and grilled sandwiches. One of the only places in Pai with aircon, it's a great spot to escape the heat of the day and indulge in your naughty but nice cravings. 
Banh Banh Pun Pai Sandwich Vietnam – If you've ever visited Vietnam, you will be well aware of the french baguette filled delight they call Banh Mi. Made with crusty bread, filled with layers of salad, meat, egg and sauce, this huge portion will set you back just 70 baht and is big enough to eat in two servings. Pop across the road and order a Cha Yen (Thai Tea) whilst you wait from the friendly family drink stall. 
Earth Tone – A five minute drive from the main town, Earth Tone is a must-visit. If nourishing is what your body is craving, this is the place for you. Serving up vegetarian, vegan, gluten-free food, raw desserts, energy shakes and probiotics. Their focus is on using local seasonal fruits, vegetables and all kinds of healthy ingredients in our menu as possible. With an accompanying health store with books, food and supplements, incense and thoughtful gifts.  
Make sure you don't leave Pai without trying the famous northern dish – Khao Soi. Most local Thai restaurants serve this traditional curry. A rich creamy dish served with chicken, noodles, onion and cabbage. This is one of my all time favourite meals to have in Thailand and starts at just 30 baht ($1!)
Pai Nightlife
Two Huts – A 10 minute drive from the main town, Two Huts is a popular sunset spot for locals and visitors alike. It does not disappoint with it's spectacular views of the mountains and town. With pints of beer, smoothies and a small thai menu available, you can sit back and enjoy the cascading sun rays at the end of the day. Your evening starts here!
Valhalla – If you are after a unique rasta chill out space which caters to all including food, drinks, music, pool table, good times and somewhere to sleep, look no further than Vahalla. Ran by Kat and Klong who are always up for a chat, Valhalla is a family vibe where the party can start at any moment. 
Sunset Bar – Famous for it's happy shakes, Sunset Bar is a hit for chilling by the pool with beers from just 60 baht. They have some chill zones where you can relax by the river with a nice view of some rice paddy fields. I loved the mosaic bar interiors!
Yellow Sun – If a late night boogie is what you are looking for, look no further. With live bands like Job2Do playing, cocktails, free pool and late night DJ's, Yellow Sun is a great place to make new friends and dance all night.
Art in Chai – A hidden gem in Pai, Art in Chai is great for live music and jam sessions. Come here for the extensive tea selection, happy vibes, beautiful new friendships and find some peace in this place. Head over on Thursday night for their open mic event with locals and visitors welcome to perform. Get ready for live music, sharing stories and soulful poetry. 
Beat Roots – One of the best local bars in town, Beat Roots is a live music venue for local musicians and cocktail bar in the middle of downtown Pai. With cold craft beer, tequila and cocktails to quench your thirst, what else could you want! This place will keep you booping through the night.
Almost Famous – If mojitos and gin are your tipple, get yourself down to the wholesome Almost Famous bar. A great spot for singles to mingle, with indoor and outdoor seating, friendly staff and a music selection to get those hips moving. Try the mango or passion fruit mojito!
Pai Pub – Craving the feeling of home in Asia? Pai Pub is a great community watering hole where you can watch sports matches on large television screens, drink cold draught beer and play pool in an open air farang style tavern with indoor and outdoor seating. Word on the grapevine is they serve up the best spaghetti in Asia. With accommodation available, you can choose to pass out in comfort after a few too many Changs!
Things to do in Pai
Looking for adventure? Well look no further. Here is a list of some of our favourite things to do in Pai to keep you active and excited to explore:
Pai Canyon

Pai Canyon – A 7km drive outside of town, Pai Canyon is a must-see sunset activity. Not quite the Grand Canyon but stunning nevertheless. Get there at 4.30 and enjoy the scenic views. Bring trainers or suitable footwear as the terrain can be technical at times.

Mae Yen Waterfall

Mae Yen Waterfall – A hidden gem! The hike to this waterfall is 2.5 hours each way through streams, banana plantations and the forest with a steep 15 minute incline at the end. The waterfall itself is stunning with around 30 meters of flowing water cascading down rock with a pool at the bottom. It's a great place to meditate or take a picnic. Wear good shoes and expect to get wet feet as you will need to cross ankle deep water during the trek.

Hot Springs

Hot Springs – There are many hot springs in Pai and the surrounding areas. For somewhere closer to town, head to the Pai Hot Springs Resort. When I visited, I was the only person there – perfect for some well deserved me-time! There is a separate hot springs pool and swimming pool to cool off in when the temperatures get too hot. It's 100 baht for the day so you can come and go as many times as you like!

Big Buddha

Big Buddha – The Chedi Phra That Mae Yen temple is situated on a hill with 300 steps up to the top which is great for wearing the kids out! The view is stunning overlooking the main town. It is open from 6am-6pm. Remember to dress appropriately and cover your shoulders and knees, you can also rent sarongs for 20 baht. It's also free – no entrance fee

Tham Lod Cave

Tham Lod Cave – Explore this limestone cave system by gas lamps with a guide by foot and bamboo raft for an epic day out. The caverns are stunning and huge. You will see many birds, bats, fish and other wildlife. The cost is 500 baht for a group of up to 3 people. It's a 1 hour and 15 minute drive from Pai. Many tour agencies in the town organise transport or you can drive there yourself.

Pai Adventures

Rafting & Trekking Exclusions – We recommend Pai Adventures for multi-day combination tours like rafting, trekking and jungle survival skills. This is a great adventure for those that want to have some white water excitement as well as some up close and personal time with nature. The company is fully registered and safety guidelines are stuck to (can be a rarity in Thailand). Everyone is fitted for helmets and life jackets before the tour begins. The tours start at 3100 baht for 2 days and include staying overnight with a hilltribe. This is one of my favourite memories from Thailand and I personally found it so interesting to see how indigenous tribes live.

Santichon Chinese Village

Santichon Chinese Village – There is a large Chinese influence in Northern Thailand due to it's proximity to China and immigration over the last millenia. Visiting the Chinese Village is like stepping into a lost world with authentic buildings and artwork displayed. You can take pony rides, ride on a rustic Ferris wheel and hire traditional costumes for photos. There are gift shops for artisanal souvenirs. There is a 20 baht entrance fee and restaurants selling tea and snacks. Good sunrise spot!

Land Split

Land Split – A geological feature caused by seismic activity due to an earthquake in 2008. The owner and farmer of the land took the opportunity to turn the sight into a tourist attraction. Here you can spend half an hour walking inside the impressive ravine. There are a few shacks selling coconuts and snacks with hammocks to relax in.

Boon Ko Ku So Bridge

Boon Ko Ku So Bridge – For photography lovers, this one is for you. The bridge is set in the middle of beautiful rice paddies with waterlilies, farmers, buffalo, working fields, walkways and a forest temple at the end. Great activity to do before or after the Land Split.

Motorbike

Motorbike through the mountains – This activity needs no planning! Grab your bike keys, a tank of fuel and spend a few hours exploring the stunning surrounding areas of Pai. You'll come across friendly locals, hill top temples, buffalos, viewpoints and amazing off the beaten track restaurants.

Hang out at Oia

Hang out at Oia – Based on Greek/Mediterranean architecture with a man-made saltwater lake and sailor-themed staff delivering fruits to you via boat. We loved this resort and the unique vision they have created! It's a great place to hang out for the day even if you are not booking a room; with lots to explore from the fine dining at the restaurant, blue swimming pool, kayaks and sheep. It might be a little further from the center but they have a free shuttle there and back! The staff are excellent, super helpful and friendly. The perfect place for an impromptu photoshoot.

Courses on Building Earthen Houses

Courses on Building Earthen Houses – There is a growing interest in people choosing to build houses from natural materials. As this has been done for centuries by the natives in Northern Thailand, you can find lots of short and longer courses on how to use the gifts from the land to make your vision come alive. We recommend Earthhomethailand.com (a 2.5 hour drive from Pai) who offer workshops, retreats, homestays and kids camps where you can learn about natural building and permaculture.

Cycle Around Town

Cycle Around Town – Grab a bicycle and get those thigh muscles moving! Pai's traffic is cha cha (slow!) so this is a great and safe place to pushbike your way around whilst enjoying the relaxing speed of two wheels. You can cover a lot of ground even in just one hour and also get to see the whole town and some of the surrounding areas in all its tranquility. You can hire bicycles from many resorts or motorbike rental shops for 100 baht per day.

Sapaiya Spa

Treat Yourself To A Massage – Head over to Sapaiya Spa for all your relaxation needs. The spa has a serene ambience from the moment you step in; attentive service, great smell. Their aroma oil choices are also delightful and rather unique. Therapists could recommend you based on your shi. Their treatments include massage, facials and body scrubs. They offer tea and cool cloth prior to the massage and tea and fruit afterwards.
Best Time to Visit Pai
Mae Hong Son province has a tropical savanna climate but as Pai is in the mountains, the morning temperatures are cooler. It is not uncommon to see the summits around the town in the mist in the morning. This is an excellent photography opportunity. 
Winter season in Pai starts from November to March are dry and warm. At night time, temperatures can drop below 10ºC, with daytimes reaching 30ºC.
April is typically the hottest month of the year when temperatures can occasionally exceed 40 °C. The heat can be pretty full on so aircon accommodation is recommended during this time. 
The monsoon season goes from May to October, with heavy showers and cooler temperatures during the day. Many tourists try to avoid the monsoon season but I've found it to be not too disturbing and actually refreshing. Most of the time the rains last 1-3 hours and you can explore for the rest of the day. The heaviest rainfall is usually in August. 
Coming from the islands, I had ultimate appreciation that in Pai, I could comfortably sleep with a duvet and fan and not become a sticky mess. Pack a hoodie for early morning or evening drives. 
Many locals leave Pai and head south to the islands during the smoking season when the farmers prepare the soil for the new harvest season. The air pollution at this time can become hazardous. This usually begins in late February and ends in May. Pai sits in a valley so the smoke can get stuck in between the mountains if there is no wind.
Pai for Families
Pai not only is a great place for a family holiday, but it also has a thriving community of local Thai and migrant families. Visit a circus training school, go jungle trekking or rafting, and enjoy the huge variety of healthy food. 
I highly recommend visiting some of the nature walks and Pam Bok waterfall. This will keep children entertained for hours and by the time you get home, they will be exhausted after a long day of playtime!
If you are looking for an international school for your little ones, head over to Little Mountain and arrange a visit. They focus on alternatives to mainstream education making sure the kids develop the skills to explore curiosity, health and happiness.
For younger ones of pre-school age, get in touch with Pai Munchkins Club. The focus is on learning through play – perfect for the developmental age. They cater to children from ages 2-5. 
The traffic around Pai is very slow and safe which makes it a great place to bring children. Walking around town is not like being in Bangkok so you can relax just that little more!
Get some rest and relaxation time at Good Life Dacha. Whilst the adults chill out, eat, drink and enjoy the sauna the kids can have fun at the playground in front of Good Life Dacha.
Kids and adults alike love elephants and there are many elephant camps in the Pai area. Be sure to do some research to find ones that treat the elephants with the respect they deserve. This is an amazing family experience where you can interact and feed the elephants food. We recommend visiting the Karen Elephant Camp.
Living in Pai
Pai Transportation
Pai's remote mountainous location may be a key attraction, but it means getting here takes a little more effort. There are three ways to get to Pai:
Fly to Pai

– The fastest and most comfortable way to get here

Take a Minibus – Minibuses from Chiang Mai to Pai are cheap and currently operating once a day due to Covid but are more regular in busier times. 

Ride a Motorbike (or drive)

– fast & fun, but also more dangerous for novice riders
Flying – For as little as $50USD you can fly direct to Pai from Chiang Mai and experience breathtaking views over Northern Thailand's mountains. 

Minibus – The most common way to get to Pai is by catching one of the regular mini-bus services from Chiang Mai. The road is famed for its 762 hairpin bends – not ideal for car sick travellers – and scenic views along the route. Taking the bus from Chiang Mai to Pai takes 3.5 hours with a short break at the halfway point of the journey. This gives you a chance to take a short rest, use the toilet and have a snack at the cafe.
Aya Service operates daily minibus services early in the morning from Chiang Mai bus station to Pai bus station in the centre of Pai Walking Street. Tickets cost around 250b each way. If you can, opt for a seat nearer to the front as the back seats are cramped and often result in passengers getting carsick.
Riding a Motorbike – If you are looking for some adventure, riding a motorbike to Pai can add a whole other experience to your time in Northern Thailand. Small bike rentals (110-150cc automatic scooters) start at just 150 – 250 baht per day, and fuel from Chiang Mai to Pai will set you back just 200b. Bigger bikes cost from 500 – 1,000 baht per day and up.
If you plan on driving only one way to Pai, then taking a bus or plane back to Chiangmai, you can rent a one-way bike from Aya Service. Aya Service has a big rental shop on the Walking Street in Pai where you can drop the bike when you arrive. Renting one-way will cost an extra 300 baht as you'll need to pay a fee for the bike to be delivered back to Chiang Mai. If you don't want to ride to Pai with luggage strapped to your back, you can drop your luggage at the Aya Service office and have it delivered to Pai for a small fee.
We also recommend Aya Service for renting your motorbike whilst you stay in Pai. Prices start from 100 baht ($3) per day and 2000 baht ($61) per month. You can also rent bicycles from many shops around town.
Side note: 
There are two military checkpoints on the 1095 road. You have nothing to worry about at these checkpoints. Pai is very close to the Myanmar border and so many illegal immigrants use this route to pass into Thailand. As a foreigner, you'll most likely be waved through the checkpoint. Just make sure you've no weed in your pocket in case the sniffer dogs are about.
You may get stopped by the police on the 107 road in Chiang Mai. If you're not wearing a helmet or you don't have an International Driving Permit, you'll be fined 200b. This "fine" is paid on the spot and you can go on your way.
Fitness and Health
Pai is the perfect setting to focus on your physical and mental health. Here's some of my favourites you should check out whilst you are in town:
Muay Thai
Ready to embrace your inner warrior? Muay Thai is one of the most intense and effective workouts known. As a personal advocate for this sport, I urge you to try Muay Thai whilst you are in Thailand! I have trained on and off for the last 2 years and fell in love with the mental discipline it takes and intense endorphin rush it gives me. Warning! Not for the faint hearted; You may want to be sick, faint or die during training. There are a number of muay thai gyms in and around Pai. We've been recommended Charn Chai Muay Thai multiple times and I will definitely be signing up when I get back.
Yoga
If you are looking to go inward and recharge your zen, Sawasdee Pai Yoga and Pai Yoga Shala offer regular classes at 200 baht per drop-in or cheaper prices for package deals. There is nothing better than starting the day in the most serene environment, stretching your body and taking in the sounds of nature. 
Meditation Centres
There are two meditation centres we recommend close to Pai that are really worth checking out if you are looking for more than a yoga session:
The Pa Pae Meditation Centre between Chiang Mai and Pai offers 3 day meditation retreats with stunning grounds and friendly monks who teach the middle way path of Buddhism. 
Wat Pa Tam Wua provide Vipassana courses from 3-10 days. Situated 70 km outside of Pai towards Mae Hong Son; we reassure you that the trip is worth the experience. In an exquisite setting for a monastery. It has it all – breathtaking mountain, caves, river, garden walk, mountain walk, roses, veggies, and great food. 
Circus Skills
Pai Circus School has regular classes going on. They charge 100 baht for entry which gets you access to the pool and daily activities like meditation, poi, juggling, pool table and yoga. 
Gym
If you have the urge to pump some iron, head over to Pai Fitness Home. The gym hosts an array of equipment from cardio, weights and yoga room. Fans only, no aircon so be prepared to sweat. Just 50 baht for a day pass or 900 baht for the month – what a steal!
Pai People
From the moment I touched down in Pai, I was blown away by the friendliness of locals and expats alike. Everyone wanted to help me in some way from the best place to get a motorbike for the month, where to buy certain foods, workshops and meditation retreats to attend, locating where I can rent a bicycle and invitations to social gatherings. Within days, I felt like I had found a solid group of friends who I could hang out with and could rely on. Due to the mix of locals, long term expats and travellers encounters, I felt like the environment of Pai catered to all the kinds of conversations and connections I was looking for. This quick process of integration was so resounding and made it feel like a home away from home.
Before I came to Pai, I joined a number of facebook groups which helped me understand the community and ask questions pre-arrival. 
Our Pai Family is the most active facebook group and the members are happy to help with all sorts of topics. It's also a great way to see what events are on, restaurants that are offering specific deals, farms selling products and to connect with others that would like to do similar activities.
The atmosphere of Pai is similar to a laid-back Thai island, but stay a little longer and you will soon see that the magical hippie philosophy is deeply rooted. If you are interested in connecting with other people in this holistic world, join Pai Conscious Community. Here you can find facilitators for workshops such as meditation, body work, business coaches and musicians. 
I was so pleased to see a much higher blend of Thai's and expats in social situations. Coming from the southern islands, it's not as common to see the two cultures mixing as much. Many foreigners in Pai learn the native lingo and a high percentage of Thai's speak at least basic English which makes the bridge between our cultures easier to understand and navigate. When I look back on my experiences travelling, the best memories have come from forming close bonds with locals from other countries as they taught me so much about topics I had little or no knowledge about before. We can all learn from each other!
From the little lady selling Cha Yen from her street stall, to the rasta guys at Two Huts, Whiskey who was staying at my guesthouse and other interesting and genuine Thai locals I met at various gatherings, I want to say thank you for taking genuine interest in me and not seeing me as a full walleted tourist (which is the reflection I have had after visiting some other countries). The Thai's here are unique, full of kind authentic smiles and their outlook on family and community shines through to welcoming foreigners as well. 
Pai Insurance and Medical Care
Pai has one main government hospital just outside of town with English speaking doctors. Remember to bring your passport if you are visiting the hospital so you can be registered. The staff are generally helpful and the fees for blood work and general ailments is low. For more serious illnesses, we recommend heading to Chiang Mai to get more comprehensive care from private hospitals. 
You can find a number of well stocked pharmacies in the town with English speaking staff that can recommend medication or care for a variety of conditions. 
There have been too many stories of foreigners without insurance having motorbike accidents and needing health care in Thailand. We encourage readers to do your research before and read all the terms and conditions to make sure you are covered for all activities you want to be involved in.
Health insurance costs typically increase with age, if you have pre-existing health conditions and if you want to engage in more adventurous activities like rock climbing, scuba diving and paragliding. Make sure to read all the terms and conditions before purchasing your travel insurance. Most insurance companies provide a 14 day refund policy.
Make sure you are fully covered by reading our full Digital Nomad Travel Insurance guide.
Jobs in Pai
Jobs in Pai are generally difficult to come by and regarded as being for Thai's and Burmese people. This being said, there are an increasing number of 'farangs' (foreigners) setting up businesses in Thailand. In my opinion, this is a great way of integrating eastern and western business models. You can see this shine through in restaurants, bars, accommodation and spas. 
The barrier to entry for setting up a company is relatively low for foreigners and costs around 40,000 baht for a company set up, 50,000 for an annual work permit and beginning with 1800 baht for income tax. Typically you need a number of Thai's working for the company for each foreigner work permit provided. Speak to some locals and find a recommended lawyer. Warning: There are many fraudulent lawyers in Thailand so get advice from as many people as possible before you sign over any money.
If you are looking to gain work experience and life experience in this part of Asia, I highly recommend getting on Workaway.com. Here for a nominal fee of $44 per year or $56 for a couple, you can explore interesting work placements you would not be able to access in normal life. In exchange for a few hours of work each day, accommodation and usually food will be provided. The terms are agreed with individual workaway providers and it's a great opportunity to learn more about authentic thai life. 
Some Workaway placements available in and around Pai include teaching English, organic farming, natural building and permaculture.
Check out our Digital Nomads Jobs Postings to find the best jobs available for Digital Nomads.
Nomad Friendly
Value for Money
Internet
Workspace
English
Food
Safety
Health
Transportation
Friendly
Quality of Living
Cost of Living Pai
Pai is definitely the cheapest place I have lived so far on my digital nomad journey. With house rentals starting at just 2500 baht per month (80 USD), motorbike rental for 2000 baht per month (64 USD), a full tank of gasoline costing around 100 baht (3 USD), visa for 2 months costing 1900 baht (57 USD) and a meal starting at 30 baht (0.96 USD), you could live here carefully yet comfortably from 15,500 baht per month ($500). Living in Pai is a great way to lower your expenses especially if you are focused on bootstrapping your company in the early stages of the start up. 
This being said, if you want to enjoy eating out at more expensive restaurants, regular massages, visiting tourist attractions, excursions and participating in workshops and classes, your budget will need to increase. Drinking alcohol can easily double or triple your expenditure so be wary of this if you are on a budget. With wifi being available in most restaurants and cafes, you can avoid the added cost of a co-working space whilst having the flexibility to work from a different space each day.