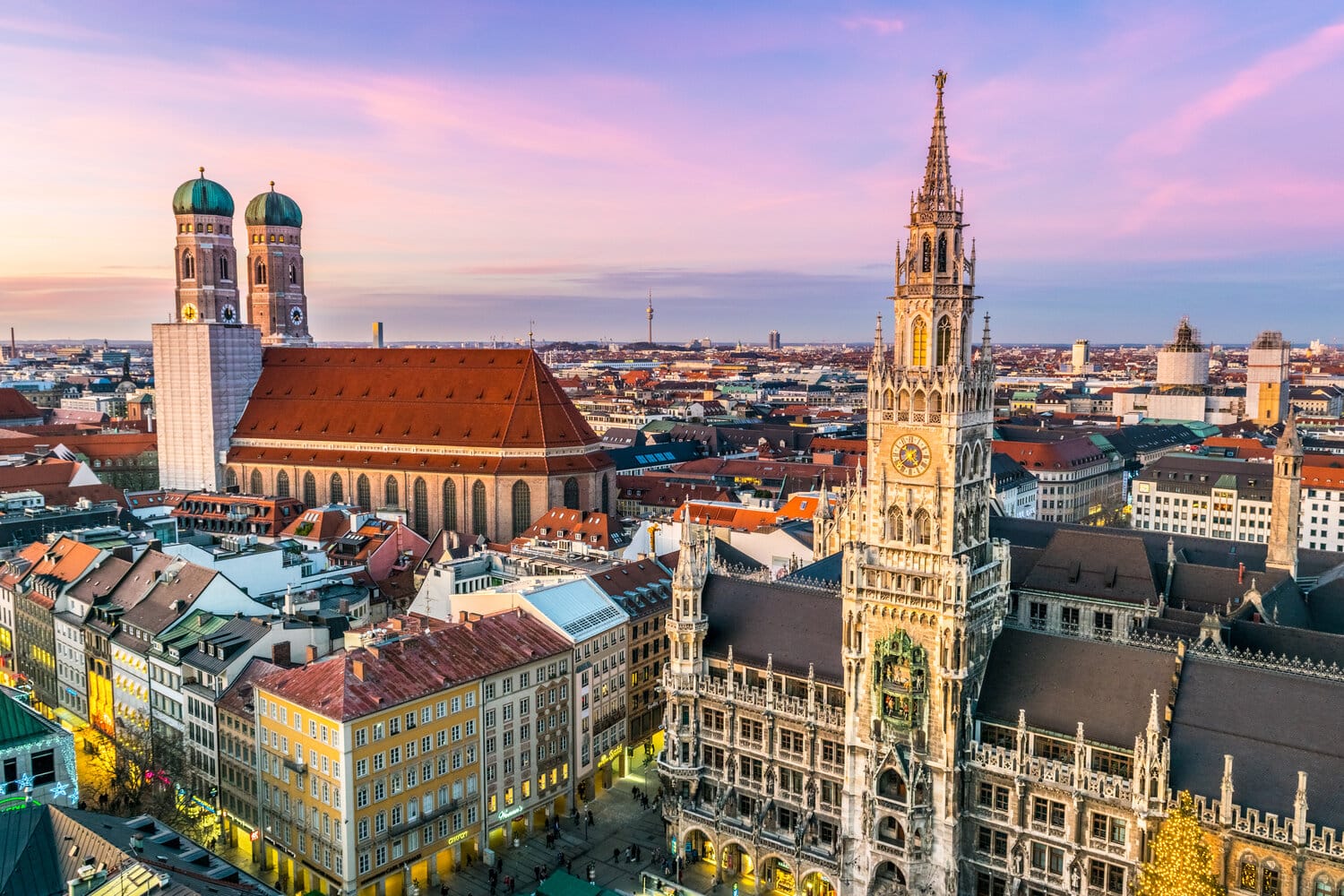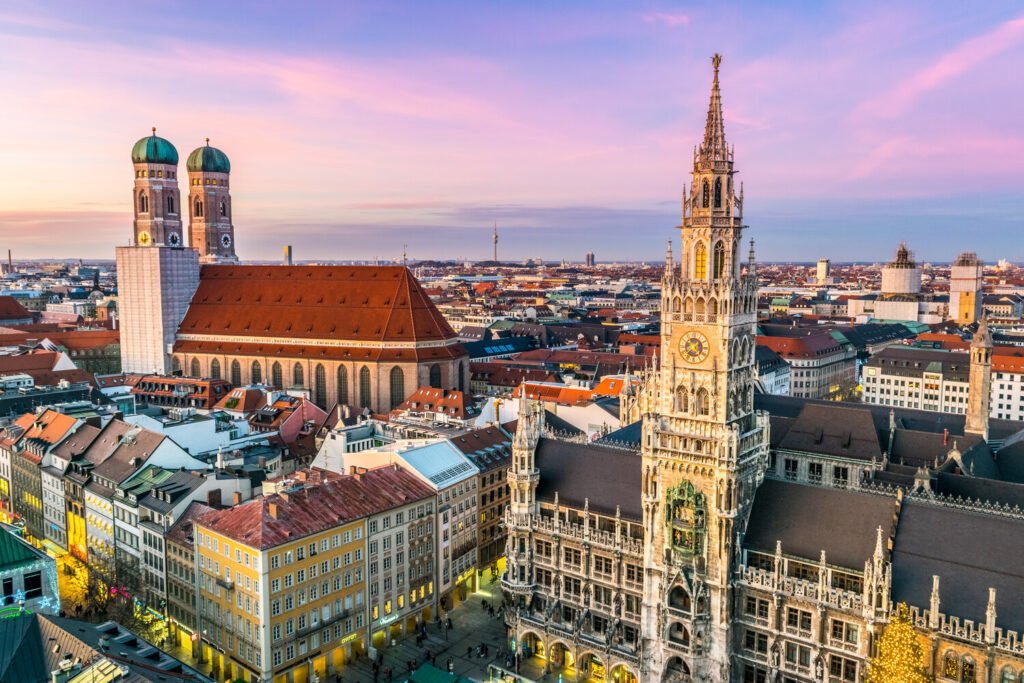 A Digital Nomad Guide to Munich
Given that Munich currently holds third place on the Mercer Quality of Life Index, it should come as no surprise that this city is one of the most coveted destinations for digital nomads. Yes, accommodation can be shockingly expensive and yes, people may seem somewhat anti-social at first, but there's no denying that this city caters beautifully to remote workers. 
A city of culture, wealth, tradition and beer, the capital city of Bavaria also happens to be highly popular among expats. This is largely due to the extended range of industries and international companies that dominate the area. Consequently, you can expect plenty of opportunities when it comes to networking with people from various corners of the earth. 
Despite its high cost of living, Munich is very often hailed as one of the best European regions to live in. Indeed, there's a delightful work-life balance that permeates throughout the city: Germans work hard, but they certainly know how to party too- as evidenced by the sheer number of beer-themed events that you'll find virtually all across the city. 
In terms of safety, I must say that very few European cities made me feel as safe as Munich did. Surprisingly enough, I encountered very few touts during my stay. Even the airport was relatively free from the usual scammers and fake taxi drivers who often pounce on you the moment that you land. Indeed, with a score of 82.68 on the Global Safety Index, Munich is ideal for solo female travellers or families with kids. 
There's no denying that you should still be cautious and exercise the same precautionary measures as elsewhere, but all things considered, violent crime is pretty non-existent in the city. Areas that are considered 'risky' by Munich standards include Am Hart and Neuperlach – mostly because of the occasional purse snatching or pick pocketing that may occur in these regions.
Nomad Friendly
Value for Money
Internet
Workspace
English
Food
Safety
Health
Transportation
Friendly
Quality of Living
Living in Munich Overview
| | |
| --- | --- |
|  Meal, Inexpensive Restaurant | $15.84 |
| Domestic Beer (1 pint draught) | $4.52 |
| Cappuccino (regular) | $3.65 |
| Loaf of Fresh White Bread (1 lb) | $1.64 |
| Water (1.5 liter bottle) | $0.78 |
| One-way Ticket (Local Transport) | $3.85 |
| Basic Utilities (Monthly) | $294.80 |
| Internet | $37.81 |
| Fitness Club (Monthly) | $41.88 |
| Apartment (1 bedroom) in City Centre | $1,468.12 |
Currency: Indonesian rupiah (Rp)
[erw_exchange_rates_widget lg="en" tz="0″ fm="IDR" to="EUR,USD,GBP,AUD,JPY,RUB" st="primary" cd="" am="15000″][/erw_exchange_rates_widget]
ATMs
Max Withdrawal: Rp 3,000,000
Withdrawal Fee: Rp 30,000 – Rp 50,000
Use of Credit Cards: Mostly Cash
Digital Nomad Personal Experience in Munich
I headed to Munich after a brief stint in Cologne, and I must say that I was instantly taken captive by the city's vibrant beer gardens, Bavarian architecture, and delightful cobblestone streets. The first time that I went there was as a digital nomad and trust me when I say that it was hard to get work done when there was such a vast plethora of captivating attractions and things to do in virtually every corner. 
Whether you're going there as a tourist or to work remotely, I would absolutely recommend that you spend at least two weeks in the city to soak up its vibrant sights. Personally, I spent nearly three months there and during that time, I was able to connect with plenty of fellow nomads who worked in the same cafes/coworking spots as me. 
Like most Western European countries, Munich has fast and reliable Wi-Fi. In fact, I was quite surprised by the reliability of free hotspots as well. Since it's not always feasible to depend on hotspots though, I would recommend that you get your own mobile network if you're going to stay in Munich for a while. According to my local friends, the best providers in Munich include Deutsche Telekom, O2, and Vodafone. 
You can easily buy a sim card at the airport or from the city's convenience and grocery stores. Some Telekom resellers also allow you to buy a sim card online, although you'll need a valid German address for the delivery. If you're buying online, bear in mind that you'll need to officially register the sim card in official carrier stores. You also have the possibility of registering your sim through WebID, a video-chat system. Digital nomads who want to buy their sim cards in person should keep in mind that foreign credit cards aren't generally accepted for voice or mobile data packages.
Work in Munich
Best Places to Work in Munich
As one of the world's best destinations for digital nomads, Munich does offer plenty of upscale coworking spaces with fast and reliable Wi-Fi. Some of the highest-rated ones include: 
IDEA KITCHEN Coworking Space
Easily my favourite spot for remote working in Munich, IDEA Kitchen Coworking Space draws plenty of local and international entrepreneurs, freelancers, consultants, and designers. As such, Idea Kitchen, like its name suggests, offers plenty of opportunities to bounce ideas around or collaborate with people from various parts of the world. 
With 24/7 access, this coworking spot features bright and airy common spaces, with prices starting as from €83 per week for a hot desk in the common area. A fixed desk usually costs €235 per month while a private office will set you back €990. It's also possible to book locker storage facilities for €25 monthly. Idea Kitchen is found in Werinherstrasse.
Design Offices München Bogenhausen
Located in the iconic Bavaria Towers, Design Offices München Bogenhausen lies in the trendy district of Bogenhausen. Easily recognizable by its unique, curved architecture, this coworking spot offers over 10,000 square meters of private and common space. What I personally liked the most about this agency is the spacious terrace where you can get work done while soaking up the sun.
Since it's centrally located, this coworking area is surrounded by a wide assortment of restaurants and shops that you can check out during your breaks. It offers various packages such as a Day Pass, Flexible Office, Project Office, Work Loft, Business Address, as well as Flex or Fixed desks. I found the rates to be quite affordable as well: a Flex desk in the common area, for example, costs €179 per month, which is quite a bargain when compared with other coworking spaces in Munich. 
Base coworking
Located in Blütenstraße, Base Coworking perfectly caters to the younger audience and offers plenty of networking events as well as collaborating opportunities. In fact, I noticed that Base Coworking makes it easy to connect with experts in various fields – perfect for budding entrepreneurs in need of some extra guidance. This space is only open from 8am to 6pm on weekdays. 
Digital nomads who only want to check the place out can get a day pass for €25 which gives you access to a complimentary flex desk, complimentary coffee and tea, extra high-speed Wi-Fi, phone booths, printing, copying, and scanning services as well as access to the on-site kitchen and its many facilities. A monthly package costs €250 per month while €350/monthly gives you 24/7 access to the premises as well as a fixed desk. Digital nomads traveling as a team can also book a private, 24/7 office with up to sixteen guests for around €1,800 monthly.   
MANA Coworking
Open from 9:00 to 18:00 on weekdays, Mana Coworking is found on Leopoldstraße, a trendy boulevard located in the Schwabing district. One of the things that I liked the most about this agency is that it offers exceptionally flexible packages, which means that you can easily terminate your membership if you change your mind. Some packages also grant unlimited access around the clock. 
A hot desk in the common area will set you back €295 per month while a private desk in a shared office costs €395/monthly (24/7 access). Alternatively, it is also possible to book a team office for up to five persons for €700 per month. 
Timespaces Coworking Space München
Also located in Schwabing district, Timespaces Coworking features light-flooded areas and even comfortable hanging seats where you can get work done in an informal setting. If, like me, you tend to drown an insane amount of coffee while working, you will be glad to learn that there's plenty of complimentary tea and coffee in the on-site kitchen. 
As far as membership packages are concerned, you can get a coworking day ticket for just €29 or subscribe to a ten-day plan for €240. A monthly ticket will cost you €299, while an hour in the meeting room (26 people) costs €80. 
Nutrion Coworking Space
Yet another coworking agency that's found in lively Schwabing, Nutrion's prices are admittedly higher than average, but it also offers a quiet and office-like setting for digital nomads who need that kind of work environment. Additionally, this spot boasts exceptionally speedy Wi-Fi, even by Munich's standards. Along with the Schwabing branch, you can also check out Nutrion's other two Munich branches in Hirschgarten and Oedonsplatz.
Open 24/7, 365 days a year, Nutrion provides a flexible desk in the common area for €699. A two-person office costs €1,398 while you'll need to fork over €2,796 for a larger group. An executive office costs €1,398 and a business address will set you back €149. 
Velvet Space
In the downtown University district of Maxvorstadt you'll find Velvet Space, an eco-friendly coworking spot which is extremely popular among both digital nomads and locals. As a first-time visitor to Munich, I quite liked the fact that Velvet Space was just a quick walk from a subway station. It's also just a stone's throw from the English Garden which, if you ask me, is the ideal spot for enjoying a sandwich during lunchtime. 
Along with spacious coworking spaces with ergonomic seating, this spot additionally provides catering services for your business events. Velvet Space is open from 9:00 to 18:00, Mondays to Fridays. To get an estimate of their prices, you can always fill out the quote request form on their website. 
Now, I'll be the first to admit that, with just a few exceptions, coworking spaces are notoriously expensive in Munich. If you're traveling on a limited budget, you may wish to consider working from the following spots instead: 
Stadtbibliothek am Gasteig Library:

Not only does this library caters to digital nomads, but you're even allowed to bring food and drinks. There's also a coffee shop on the ground floor if you want to socialize. Even though they bend the rules as far as snacking is concerned, rest assured that no talking is allowed- in true library style. As such, it offers a delightfully quiet and calm environment to work in. Wi-Fi is quite reliable and there are plenty of attractions to visit in the surrounding area. 
Black Bean:

While this café provides an undeniably cozy setting in Münchner Freiheit, I must say that their Wi-Fi wasn't all that reliable. If you can work offline, however, you'll certainly appreciate their comfortable seating and scrumptious cakes. It does get quite busy around lunchtime – mainly since it's known for its extended range of sandwiches – so you may wish to head there in the late afternoon if you need some peace and quiet. Personally, I can recommend their divine cherry almond cake.  
Cafe Lotti:

Very few places scream girl power as much as Cafee Lotti on Schleißheimer Street, and no, it's not because of the pastel pink walls. This place is known for empowering female entrepreneurs who very often host networking events at the café. Best of all, it's open from 10:00 to 18:00 every day, including weekends. If you're visiting Munich in the summer, believe me when I say that you'll appreciate the refreshing cold platter with salad greens, cheeses, and various types of charcuteries. 
Café Blá: Quite unlike its name, there's nothing blah about this café! In fact, it offered reliable Wi-Fi and some of the best craft beer I tasted in the city. If you would rather stay teetotal during your work hours, you'll be glad to learn that the café also provides some excellent brews as well. Owing to its popularity among freelancers and entrepreneurs, this is the ideal place to mingle with fellow nomads. Located in Hohenbrunn, Café Blá is open from 10:00 to 18:00, Monday to Sunday.
Best Places to Live in Munich
Best Neighbourhoods
Located in upper Bavaria, Munich is administratively and politically separated into 25 districts. As Germany's third-largest city, this metropolis has a population of over 1.5 million inhabitants that's still growing. As such, the city does have a housing shortage and most apartments tend to be on the smaller size. 
Still, rest assured that there are plenty of safe neighborhoods with excellent housing options that you can comb through, such as: 
Haidhausen
One of the trendiest neighborhoods of Munich, Haidhausen is highly popular among the younger crowd. As such, this area is dotted with an assortment of nightclubs, bars, and events of all sorts. While it's close to the city center, there's quite a rural feel to this particular neighborhood. 
Additionally, Haidhausen features plenty of coffee shops where you can work from during the day. Digital nomads who are into fitness will certainly appreciate the many jogging, cycling, and walking tracks around the Isar River. I do need to warn you that Friday nights and weekends can get quite noisy owing to the many parties in the vicinity. 
Neuperlach
In stark contrast to Haidhausen, Neuperlach is ideal for families. Located in south Munich, this area has plenty of schools, hospitals, parks, and supermarkets. Unlike elsewhere in Munich, Neuperlach is known for its generously sized houses – even though most of them have a rather old-fashioned architecture. 
Digital nomads who would like to connect with the locals will be happy to learn that there's a distinct sense of community in this neighborhood, with plenty of picnics in the parks and potluck events. It's also quite easy to commute to the city center thanks to the many U-Bahn bus lines, tram, and train stations. 
Pasing
Pasing is found a mere 40 minutes from Munich's city center, making it the ideal choice for nomads who need to commute there on a regular basis. If you ask me, Pasing is absolutely perfect for those seeking a quieter environment to work on more creative projects. While it's certainly more laid-back than the rest of the metropolis, Pasing does have some excellent restaurants and shops. 
Because it's home to the prestigious University of Applied Sciences, Pasing also has a large community of university students. Consequently, it's quite easy to find shared accommodation in this area if that's what you're after. Nomads traveling with their children can check out the area's private and public bilingual schools. 
Giesing
Located right on the outskirts of Munich's center, Giesing is where you'll find the highest concentration of migrants, expats, and digital nomads. This is my second-favorite neighborhood in Munich, mainly because it offers surprisingly affordable accommodation- especially for an area that's so close to the city center. 
Now, I do have to point out that the nightlife in Giesing isn't all that great. In fact, you'd be hard pressed to find a club that's open until the early hours of the morning in this particular area. Still, the region has an excellent public transportation system that can swiftly connect you to livelier parts of Munich in around 20 to 30 minutes. 
Maxvorstadt
This highly desirable, upscale neighborhood may be on the more expensive side but if you're not traveling on a budget, Maxvorstadt is well worth the splurge. Easily one of the most charming neighborhoods in Munich, this area is brimming with social amenities including sports centers, bars, and nightclubs. There are plenty of U-Bahn connections around Maxvorstadt, perfect for those who want to explore Munich and its outskirts. 
Because accommodation in Maxvorstadt can be quite expensive, it's mainly populated by high-powered executives and expats. Owing to the high concentration of foreigners who live there, the neighborhood has a few international supermarkets and plenty of English-speaking schools.
Find an Apartment in Munich
The rule of the thumb for Munich is that the further away you move from the city center, the more affordable housing becomes. The unfortunate truth, however, is that while Munich's real estate market doesn't have as many scams as other countries, the demand is so high that landlords can very easily afford to be picky, especially when it comes to longer-term lettings. Therefore, you may wish to prepare yourself for quite a few viewings and probably a couple of rejections before finding a place that matches both your needs and budget. 
Now, I did say that there aren't quite so many housing scams in Munich, but it's still crucial to be cautious. If possible, I would advise you to stay in an inexpensive hotel or hostel for a few days while you browse for your new home in the city. While most locals can speak English, official contracts are written in German so I would strongly suggest that hire the services of a translator before signing anything. It's just as important to take the time to study the various clauses and conditions before committing yourself. 
When browsing for accommodation in Munich, you may wish to check out online property portals such as HomeLike, MrLodge, Global.Homeful, and Housing Anywhere. It's also worth checking out local newspapers such as Sueddeutsche, Münchner Merkur, Abendzeitung, and Kurz und Fundig. Apartment viewings in Munich are often conducted in groups, so don't be alarmed if you find 20 other people in the property on the day of your visit. 
In Munich, long-term leases are normally a year long. Most owners will ask for the equivalent of three months' rent to cover the security deposit. While utilities such as gas, water, Wi-Fi, and heating are included in short term rentals (one to three months), you usually need to pay for them separately when it comes to longer leases. When renting through an agency, you also need to budget for the agency fees and provide copies of your passport, visa, bank statement, as well as a character reference. 
As I previously mentioned, houses and apartments that lie away from the city center tend to be on the less expensive side. For example, a basic studio in the vibrant district of Bogenhausen can cost between €1,500 and € 1,700 while one-bedroom apartments can cost up to € 2,00 per month. In Neuperlach, rentals normally cost between € 1,700 and €3,000 per month while Schwabing offers options that can go up to €4,000 monthly. If you can swing it, however, this neighborhood is considered as one of the best places to live in Munich. 
Digital nomads who don't want to spend a lot on rent can always consider mid-range areas such as Pasing where it is entirely feasible to find a place that ranges from € 800 and € 1,300 per month. With grassy meadows, woodlands, and a picturesque lake, the charming area of Milbertshofen-Am Hart also offers plenty of accommodation options for more or less the same price range as Pasing.
Cheap Places to Stay in Munich
Munich may be notorious for having the highest property and rent prices in the whole of Germany but it's still possible to find low-budget options, especially if you go there in winter or fall. Prices are slashed during low season, and you may even be able to snag yourself a spacious apartment for half the asking price. For long-term stays, you can browse through social media groups that offer affordable, flat-sharing options. 
Alternatively, you'll find that the city provides plenty of hostels for as little as € 12 per night. Another option would be to check out websites such as Airbnb where you can rent a bedroom in someone's house for around € 27 per night, Wi-Fi, and other utilities included. Digital nomads may also wish to consider Co-Living agencies such as Locke Living, Coliving Munich, LifeX, and EasyStreet which offers housing in various areas of the city. 
Nomads who are traveling on a really tight budget can also consider free accommodation such as Couch Surfing which currently has over 59,000 hosts in the city who are willing to provide a couch or bed in their homes for free. If you don't mind giving up a few hours of your time per day, you can even consider a work exchange program through websites such as Workaway. These programs offer complimentary accommodation in exchange for part time work such as receptionist, nannying, tutoring, and the likes. The major advantage with these programs is that you get to meet plenty of people from all over the world, and you usually don't need to work for more than half a day- sometimes even less.
Munich Visa
If you're a European passport holder, it'll be extremely easy for you to move in and out of Germany. In fact, EU residents don't need a visa to enter the country. In most cases, you don't even need a work permit to be able to live and work in Munich. It's important to know that you're legally required to register your address if you're going to live in the country for more than twelve weeks. For this, you'll need to present your passport or ID as well as a confirmation from your property owner or landlord. 
Now, if you're not a resident of the EU, the process isn't quite as straightforward. Non-residents need to apply for a Schengen Visa that will grant them up to 90 days in Germany. It's good to know that Schengen Visas are only granted once every 180 days. When applying for a regular tourist Schengen Visa, you'll need to provide the following documents: 
Duly filled and completed application form 

Two recent passport-sized photographs 

Passport 

Roundtrip plane or train tickets

Travel health insurance 

Proof of accommodation 
Additionally, you will need to provide proof of financial means to show that you can support yourself throughout your stay in Munich. This can be either a statement of your bank account or a letter from a sponsor (also known as an Affidavit of Support). 
In some non-European countries such as Australia, Hong Kong, and El Salvador (among others), you may be authorized to enter Europe without a Schengen Visa. You can view the complete list of country on the official website. 
Alternatively, you can also apply for a Business Schengen Visa that will allow you to conduct business in Germany and elsewhere in Europe. Along with the documents required for a tourist visa, you'll need to provide a letter from your employer as well as proof of confirmation. I should point out that this visa isn't exactly easy to get and there's quite a bit of waiting time so be sure to plan your trip in advance.
Culture and Food in Munich
The local food scene fuses both German and Bavarian flavors, with plenty of meat and carbs on the menu. I was able to chat with a local chef who told me that Munich's cuisine was originally developed by Bavarian dukes who used to favor more extravagant ingredients, which is probably why meat (highly expensive at the time) seems to be at the forefront of virtually every dish the city. Germany's location means that it also borrows flavors from neighboring countries such as Austria and Czech. 
Here are a few scrumptious dishes that you just can't skip during your stay in Munich: 
Brotzeit:

If you ask me, there's no better way to start the day than by sitting down to a platter of Brotzeit. Now, contrary to popular belief, this classic Munich breakfast dish actually comprises of several items that somehow come together in lip-smacking harmony. These include condiments such as onions and pickled radishes as well as hard-boiled eggs, head cheese, dried wurst, ham, and thick slabs of Nordic bread generously slathered in homemade butter. 
Schweinshaxe:

This basically refers to German-style pork knuckle. I've never been an experimental eater so digging into a piece of knuckle didn't exactly sound appetizing to me. In this instance, however, I'm really glad to have braved this meal because it turned out to be one of the most delicious things I tried in Munich. Schweinshaxe is known for its crisp and bronze exterior, courtesy of the thick layer of skin and fat that covers the knuckle. Since it's best enjoyed with a pint of ice-cold beer, this dish is a classic staple for Oktoberfest. 
German Pretzels:

If you're tempted to skip this one because you know what a pretzel tastes like, trust me when I say that German Pretzels taste nothing like their American counterparts- even though they look the same. Also known as Brezen or Brezeln in Munich, these pretzels have a perfectly doughy, almost bread-like interior. It's commonly smeared in either baking soda or lye solution prior to being baked. Another Oktoberfest staple, German Pretzels are usually served as an appetizer. 
Knöpfle:

Knöpfle is to Munich what pasta is to Italy. What makes these egg noodles different from regular ones is that instead of water, Bavarian beer is added to flour, salt, and eggs. This results in a surprisingly soft yet chewy, glossy texture that's slightly more pliable than regular pasta. The touristy restaurant I went to served it in an elaborate (and eye-wateringly expensive!) meat raggu alongside a side of steamed vegetables, but locals simply dress it up with some butter, herbs, and cheese. 
Obatzda

: While more of a side than an actual dish, Obatzda can best be described as the local version of beer cheese. Instead of the Americanized cheddar-beer combination, however, Obatzda is made from ripe camembert or brie cheese, high-quality butter, beer, chopped onions, pepper, salt, caraway seeds, and paprika. Bars and breweries usually serve Obatzda alongside freshly baked pretzels. 
Sauerkraut:

Sauerkraut's global popularity means that it needs no introduction, but as you can imagine, nothing compares to the taste of authentic German fermented cabbage. Locals will tell you that there's no better pairing than a big heaping of sauerkraut on a Bratwurst sausage, another classic dish that consists of meats like veal or pork. 
If you're interested in the local culture, I would strongly suggest that you visit Munich from late November through Christmas. I've worked remotely from several European cities but very few of them celebrated Christmas with such pomp. Indeed, Munich is legendary for its Christmas Markets filled with holiday music, evergreen boughs, and a delightful medley of multi-colored lights. 
The local Christmas extravaganza is also reflected through the many handcrafted products that you can buy at the market, including baubles and other ornaments, wooden toys, peppermint candy canes, and gingerbread slices. Several Christmas Markets also hold Gingerbread House Decorating contests for kids. My personal favorite Christmas Market in Munich are Marienplatz, Rindermarkt, and the one that's annually hosted in the Residenz's courtyard. 
In September, you'll be privy to the famous Oktoberfest festival, which is considered the largest beer tribute in the entire world. First started by King Ludwik I all the way back in 1810, Oktoberfest now spans across eighteen days. Deeply ingrained in the local culture, this festival can attract up to six million visitors each year and boasts beer floats and wagons, folkloric costumes, street dancing, musical performances, amusement rides, as well as games. 
Digital nomads who can't make it to Oktoberfest in September can also check out Frühlingsfest, another beer festival that's normally held from late April to early May. While it's not as showy as Oktoberfest, this event involves fancy fairs with plenty of food and beer stalls as well as firework shows in the evenings. 
Munich Nightlife
Whether or not you're a night owl, I would highly recommend checking out the local scene after dark. Indeed, the thing about Munich is that it transforms into an entirely different place at night thanks to its eclectic blend of bars, pubs, restaurants, and nightclubs. Beer's always plentiful in Munich which may explain why you'll see so many locals and foreigners alike waltzing from bar to bar until the early hours of the morning. 
Here are some of the best spots that you may wish to check out after dark in Munich: 
Hoffbrauhaus
Yes, it's always busy. It's also loud and exceptionally touristy. Yet, this is the one place that you just can't miss while in Munich. On select nights, you'll even be treated to live Bavarian entertainment, something that, in my opinion, is best enjoyed with a giant pretzel washed down by an even bigger pint of beer. 
I feel obligated to point out that at the Hofbraeuhaus, the standard serving size, equals to a liter, so with each 'pint' that you order, you're basically chugging back a whole liter of beer! To add to the overall ambiance of the place, waiters are dressed in classic Bavarian outfits. Located on Platzl 9, this three-floor bar is open every day from 21:00 to 23:30. 
Cole & Porter Bar
What I liked the most about Cole & Porter Bar was its charming courtyard setting that's absolutely perfect for a balmy summer's evening with live jazz music in the background. Inside, the bar has a refined layout and while their cocktails are certainly on the more expensive side, they're among the best drinks I had in Munich. 
Their food menu changes weekly so you may wish to check out what they're serving before going. Additionally, Cole & Porter Bar often hosts events with international or local DJs in attendance. Located right in Munich's bustling city center, this bar is open from 10:00 to 1:00 in the morning on Tuesdays, Wednesdays, and Mondays, and 10:00 to 4:00 in the morning on Fridays and Saturdays. 
Ménage Bar
With glossy black walls, dark-colored furnishings, and a marble-top bar, there's no denying that 
Ménage Bar is one of the most elegant nightspots in Munich. Prices can be high, but they also offer happy hour until 21:00. This place is especially reputed for its unique offerings such as the Louis Hardball cocktail with pear sherbet, cardamom rye whiskey, and turmeric or the King Clear 1 which contains peanut butter. 
What gives their cocktail a distinctive taste is the fact that their vodka is made from sweet potatoes. In fact, the bartender told me that their redistilled bourbon also contains peanut butter and after trying a few sips, I became an instant convert. Located in Buttermelcherstraße, Ménage Bar is open from 18:00 to 1:00 Tuesday to Friday and 17:00 to 23:00 on Sundays. 
Bahnwärter Thiel
This has to be one of the most unusual nightspots I've ever seen in any country I've ever been to. Yet, this was the one place that I kept returning to virtually every Friday evening during my time in Munich. While not exactly a nightclub, Bahnwärter Thiel can best be described as an outdoor space surrounded by graffiti-laden shipping containers and abandoned train carriages. There's even an old crane that locals decorated with disco balls. 
On most nights, this spot offers a wide range of activities that go on until the early hours of the morning, including live music, poetry slams, film nights, karaoke parties, and even outdoor concerts. Friday evenings are normally dedicated to clubbing so makeshift dance floors usually pop up right there in the open air.
Things to do in Munich
As one of the oldest cities in Europe, Munich certainly provides a wide range of attractions that you can explore on your days off. Because the city is steeped in history, several of these attractions date back to many centuries ago. Digital nomads who are into more outdoorsy activities can also venture to the outskirts of the city where they'll find scenic hiking trails right by the foot of the mountains. If you're watching those purse strings, fret not: the city has an abundance of attractions, parks, and other sights that you can explore without spending a cent. 
Below are just a few of my favorite things to do in Munich: 
Hofbräuhaus Brewery

Given that Germany is the beer capital of the world, it would be inconceivable to visit the city and not take a tour of the Hofbräuhaus Brewery. Undoubtedly the most popular brewery in Munich, Hofbräuhaus has been serving up the best beer in the country since 1589. Open daily from 9:00 to midnight, this brewery offers guided tours during which you will learn about the raw materials used as well as beer brewing and processing. Tours usually last between 60 and 90 minutes and the price is €15 per person. During your tour, you'll also get to explore the formation cellar as well as the brewhouse. After the tour, we were taken to a large dining room where we got to sample some of their best brews. To my surprise, we were even served snacks such as Weißwürsten (white German sausages) and Leberkäse, which is basically the local version of an American meatloaf. The brewery also has an on-site and online beer shop.

English Garden

Trust me when I say that after working all day, there's nothing like enjoying an invigorating afternoon stroll in Munich's iconic English Garden. A local friend told me that this is actually the largest park in all of Germany. Spanning across 910 acres, the English Garden even has plenty of streams and even an artificial lake. I was also told that it was originally built as a military garden, although today it's an absolute hot spot among cyclists, joggers, and hikers. While touring the garden, be sure to check out the Monopteros Temple, a legendary landmark built in classic Grecian style. Because of its elevated position on a man-made hill, this temple provides a bird's eye view of the city skyline. I can assure you that this is quite a sight to behold at sunset when the entire park is leeched pinkish gold by the sun as it slowly dips beneath the horizon. The park additionally houses a 25-meter tall Chinese-style pagoda known as Chinesischen Turm. Over there, you'll find plenty of seating area for tucking into an Al Fresco meal. Other points of interest in the English Garden include a Japanese garden, complete with an old-fashioned teahouse and the Bavarian National Museum which showcases prehistoric relics.  Not far from the English Garden is found the Eisbach River, which is where you'll find locals indulging in river surfing, one of Munich's most popular sports. To be honest, I didn't even know that one could surf on a river until I witnessed it for myself. Expert surfers actually ride the waves all the way to Downtown Munich and believe me when I say that this spectacle is far more impressive than it sounds. Quick word of caution though: river surfing apparently demands far more skill and expertise than regular sea surfing, so I wouldn't recommend that you attempt it unless you've got experience in that area.

Cuvilliés Theatre

Whether or not you're interested in plays, I would absolutely recommend a visit to the historic Cuvilliés Theatre which is something of a landmark in Munich. Located in east Munich, this Rococo theater dates all the way back to 1755 and is especially acclaimed for its stunning woodwork, including tiers of opulent boxes. Its spectacular architecture boasts the ideal setting for operas and plays such as Idomeneo by Mozart. During the tour, we were informed that this particular opera actually debuted right there in Cuvilliés. In fact, this theater still features Idomeneo and other Baroque operas on select evenings. Now, while you can visit the theatre on its own, I would suggest that you get a combined ticket that will also allow you to explore the many museums at the Residenz, especially if you would like to soak up the local culture. Some of the Residenz's primary attractions include, but are not limited to, the Munich Residence, Treasury, Bronze Halls, Court Church of All Saints, and the ten courtyards. Tickets cost €9 for the Residence Museum, €9 for the Treasury, and €5 for the Theatre. Digital nomads traveling on a budget will be glad to know that there's no entry fee for the Courtyards and Fountain – although someone did try to scam us by posing as a uniformed agent, but he was quickly apprehended by the Residenz's security guard. Unfortunately, it's not possible to buy tickets online, but you can do so in cash or card directly at the on-site cash desk.

Herrenchiemsee Island

Okay, this is not technically in the city per se, but I can assure you that it's absolutely worth a visit. Herrenchiemsee Island lies just over an hour from Munich and saying that it's a nature lover's dream come true is no exaggeration. Indeed, this site is fringed by the glorious Bavarian countryside and is especially known for housing some of the most spectacular castles in Europe. Most guided tours start with a boat trip across Lake Chiemsee. Once you reach the other shore, you can also explore the three ancient castles that were once owned by King Ludwig II. I do have to point out that hiking around the island can take up to four hours, and that's not including the castle tours. As such, it's important to wear adequate hiking shoes and bring along some refreshments. Alternatively, you can also check out Schlosswirtschaft Herrenchiemsee Café which offers terrace seating for soaking up the sights over a traditional German feast.

Documentation Centre

Granted, this is not an attraction, and it was easily one of my most sobering experiences in Munich. The building itself has a pretty grim architecture, with a dark grey exterior and prison-like bars. This museum was established as a memorial of remembrance to the countless people who lost their lives during the Nazi dictatorship. During our tour, we were told that the Documentation Centre was actually erected right on a former Nazi headquarter. We didn't quite grasp the significance of the Documentation Centre's location until we reached the third floor, where there's a large projection screen displaying Nazi marches and rallies across Königsplatz Square. Look out of the window next to the screen and you'll see the exact same Square right next to the Centre.  There's no admission fee to enter the Documentation Centre. Be sure to stop by the information desk to grab an audio guide, also free of charge. Located on Max-Mannheimer-Platz 1, this site is open Tuesday to Sunday, 10:00 to 19:00.
Best Time to Visit Munich
Given its proximity to the Alps, Munich is prone to flood risks brought on by more concentrated volumes of rainfall. With a continental climate, Munich also has mild to warm summers and very cold winters. In fact, it's commonly referred to as the coldest city in all of Germany so be sure to pack some warm clothing, even if you're going there in the summer. 
Personally, my favorite time to visit Germany is from March to May. Not only is the weather pleasantly warm but the city is devoid of the usual touristy crowds since summer hasn't peaked yet. However, if you would like to partake in the iconic Oktoberfest, you may wish to bring a thick coat with you since the average temperature between September and October lingers at around 13 degrees Celsius during the day and five degrees at night. 
Winter in Munich stretches from December to February and during that time, temperatures can plummet down to -25 degrees Celsius. If you don't mind braving the Bavarian winter, however, you'll find that the city offers plenty of discounts for accommodation and various attractions. For example, the Prinzregentenstadion flares to life with an open-air skating rink where you can skate to your heart's content with lively music playing in the background. Of course, it would be unfathomable to visit Munich in the winter and not check out one of the many Christmas markets, some of which pop up as early as the last week of November. 
The city's highest tourist season is at the peak of summer (between June and August). While the weather is significantly warmer then, it doesn't get overly uncomfortable or humid with the thermostat hovering between 23 and 30 degrees Celsius. Occasionally, it can go up to 36 degrees. However, you should brace yourself for endless queues and plenty of jostling in crowded places like markets. In my experience, it's quite hard to land last-minute accommodation in summer, so I would strongly suggest that you make your reservations in advance.
Munich for Families
One of the best family-friendly destinations in Western Europe, Munich easily caters to the little ones and as such, you'll find plenty of baby formula and other kid-related products virtually everywhere. I also noticed that the roads were well-paved and stroller friendly. 
In terms of education, Munich offers three types of schooling based on the child's academic capacities. While the city has plenty of public schools, it's important to know that in most cases, lessons are conducted in German. Therefore, you may wish to consider sending your child to English-speaking schools such as St. George's – The British International School Munich, International Bilingual School Munich, and Munich International School. You'll also find preschools and kindergartens such as the International Montessori Preschool and the Montessori Preschool Kindergarten.
Primarily aimed at expat students, international schools in Munich tend to offer more extra-curricular activities than public establishments. Most follow the International Baccalaureate curriculum, but you'll also find some schools that follow the U.S or U.K curricula. I do wish to point out that as excellent as they are, international schools are known for being extremely expensive. 
As far as entertainment is concerned, Munich provides a plethora of things to do during the weekend. For instance, kids and adults alike will undoubtedly appreciate a trip to Viktualienmarkt which is one of the oldest open-air farmers' markets in the city. In fact, we were told that it dates all the way back to the early 1800s. With live music and a bustling atmosphere, this market has stalls decorated with plump sausage garlands, fresh cheeses, apple strudels, giant pretzels, and freshly squeezed juices. 
Right next to it is found a Beer Garden which, contrary to popular belief, is very family friendly. Over there, you'll find a large playground where the kids can play while parents sip on a traditional Bavarian beer. Along with the one located next to Viktualienmarkt, there are around 200 other beer gardens in the city. 
Another attraction that children will appreciate is the Hellabrunn Zoo which is found right by the Isar River. What I liked the most about this particular attraction is that most enclosures rely on moats instead of cages, providing a humane and more interactive experience. This zoo is open every day from 9:00 to 17:00. Tickets cost € 15 for adults and € 6 for children (four –14 years), but you can also get special family packages at a reduced rate.
Living in Munich
Munich Transportation
If you ask me, the best way to explore Munich is on foot. The city is highly walkable with secure sidewalks and a neat network of roads. When you get tired, however, rest assured that Munich does have an excellent public transportation system operated by the MVV, which is the local transport authority. Digital nomads and expats are also offered the choice of various ticketing options, including monthly, weekly, daily, group, and single tickets. These can easily be purchased at any S-Bahn (city rapid railway) or U-Bahn (underground railway) in the city. 
Taxis
I must say that Munich was the one city where I actually enjoyed taking taxis. Most drivers that I encountered were polite and honest so there were none of the usual scams such as switching off the meter or taking me on impossibly long detours just to increase the rate. On the contrary, I even met a lovely taxi driver who insisted on returning me part of my money when I accidentally mixed up the notes and over-tipped. 
Taxis are easily identifiable by their beige bodies as well as black and yellow overhead sign. There are taxi signs all over Munich, but you can easily hail one on the street as well. While the fare varies, there's usually a basic fee of €4.70 and the rate per kilometer is around €2.00. 
Ride hailing services such as Uber are also available at the airport and in my opinion, this is the less expensive way to travel from the airport to the city center without having to brave the crowds on the bus or train.  
Bus and Tram
What I liked about the local bus network is that it makes it quite easy to explore outskirts that aren't serviced by the U-Bahn and S-Bahn. While some bus routes do operate 24 hours per day, they don't run as regularly as the train so you may wish to consider the latter if you've got important appointments. You can check the bus routes and buy tickets on the official website. Special fares are available for airport trips. 
Alternatively, digital nomads can also consider traveling by tram. There are around 13 trams that run during the day and four that continuously assure night service. Depending on the route, trams in Munich normally operate every 10 to 30 minutes. Locals tend to favor the tram for shorter distances but rest assured that they do cover a wide portion of Munich. 
Car rental
Given the excellent road infrastructure in Munich, I personally didn't have any hassle with getting around Munich by car. The one thing you do need to remember is that cars drive on the right and overtake on the left. Renting a car in the city will set you back €25 per day in low season and between €30 to €45 in high season. 
Digital nomads who are planning on getting around by car should also bear in mind that the city has two distinguishing road networks: The Autobahn which is a straightforward network of highways with multiple lanes that connect Munich to cities such as Stuttgart, Salzburg, and the likes. There's also the Mittlerer Ring which surrounds the city center with high-capacity roads in order to lessen traffic. 
Of course, in true big-city fashion, you can expect parking to be near impossible to find. If you do happen to find a decent parking spot, you'll find that the fees can be shockingly expensive. 
Trains
Munich has a highly efficient network of trains in both the U-Bahn and the S-Bahn. The difference is that U-Bahn trains operate underground while the S-Bahn cover the overground suburban areas. Locals normally take the train to commute to work every day because they're highly reliable, not to mention fast. Additionally, Munich's trains cover virtually every corner of the city and tickets can be purchased online. While the exact rate obviously varies according to your route, you can expect to spend between €7 and €12 for a daily pass.
Fitness and Health
Given its reputation as the beer capital of the world, I must admit that I was quite surprised by the fitness culture that permeates throughout the city. Despite their fondness for massive beer pints, locals are extremely health conscious, so you'll see plenty of vegan, gluten-free, keto-friendly, and reduced fat meals on most menus. 
During spring and summer, you'll often see people jogging on the sidewalk or exploring the many hiking trails around the city. When the weather is cold, however, you may wish to check out one of the city's gyms or fitness centers. For instance, Fitnessstudio Munichgym features personal coaching, group classes, as well as a wide range of equipment. Open 9:00 to 23:00 on most weekdays, this gym offers an affordable package at €39 per month.
My personal favorite fitness center in the city, Kickletics is found on Gabelsbergerstraße 75. This boutique gym is open from 6:00 to 22:00 on weekdays and 9:00 to 21:00 on the weekend. Patrons will be able to participate in various HIT-training classes including kickboxing, kettle weights, battle ropes, jump box and the likes. Nutrition coaching is also provided. What I like the most about this fitness center is that it provides a free trial so you can decide whether you want to commit to a membership plan. 
Like virtually elsewhere in Europe, football has a cult-like status in Munich which is why you'll probably see a football field in just about every neighborhood. In the afternoon, it's not uncommon to see locals indulging in an impromptu game at the park. Very often, they'll allow other people to join in so, this may be your chance to stay fit while making new friends in the city.
Munich People
Okay, I'll level with you: the people in Munich can appear to be cold and rude at times. If you're used to other European countries like Spain or Italy, you'll no doubt be surprised by the lack of smiles or greetings in the city. After having spent several months in Spain where everyone grins at everyone, I have to admit that I was a bit miffed by the Germans' attitude on my first day in Munich. 
However, it didn't take me long to realize that as impersonal as they may seem at times, the people in Munich are exceptionally kind-hearted and helpful. Yes, they're not going to beam at every stranger they meet and most of them are notoriously private, but I found out that once you get to know them, they're actually very friendly. Germans are known for being polite and orderly, and Munich's no exception. In fact, you'll quickly realize that the famous German motto of "Ordnung muss sein" (there must be order) is still very much present in the city. 
Family ties and values are extremely important to locals which is why most adults try to make it back to their parents' home for a traditional Sunday dinner. However, as close as relatives are in Munich, children are also encouraged to become independent from a young age. While most children move out once they turn eighteen, some even move out at seventeen if they can financially sustain themselves. Families in Munich are usually nuclear since grandparents live separately from the mother, father, and kids. 
Another thing that you may notice about locals is that they can be very direct. For example, if you're offered food/drinks that you decline (out of politeness) the first time, they will not ask you again since nearly everything is taken at face value. Therefore, I quickly learned that while in Munich, it's best to swap formalities for straightforwardness. By the same token, you may notice that Germans don't really like to indulge in small talk. Instead, they would rather engage you in more meaningful or constructive conversation. Strangers or acquaintances usually address each other using their title (Frau for women/ Herr for men) and last name. Unlike elsewhere in Europe, it's considered impolite to address strangers by their first name unless invited to do so. 
Digital nomads who are planning on attending business or networking events in Munich should also bear in mind that locals are very stringent about Pünktlichkeit (strict punctuality). I noticed that this word is something of a national motto in the business world, so much so that just being a mere five minutes late can be an absolute dealbreaker. 
In Munich, people greet each other by a handshake with eye contact. Close friends and acquaintances can kiss each other on the cheek or engage in a brief hug. As far as verbal greetings are concerned, you can say 'Guten Tag' to say Good Day or 'Hallo' for Hello. Other common phrases that you may wish to learn before flying to Munich include: 
Sprechen Sie Englisch?:  Do you speak English?
Wie geht es dir?:  How are you?
Gut, danke: Fine, thank you
Danke: Thank you
Auf Wiedersehen: Goodbye
Munich Insurance and Medical Care
All German residents and citizens are legally obligated to have health insurance, a regulation that also extends to foreigners. Therefore, when applying for a German visa, you will be asked to show proof of insurance. Expats and digital nomads living and working in the country will also be able to benefit from subsidized state healthcare. 
The good news is that Germany is often hailed for offering some of the best healthcare facilities in the world. In fact, the 2018 Euro Health Consumer Index placed Germany in 12th place due to its excellent level of care. The one thing that I didn't quite like about the local healthcare system as the lack of specialist hospitals. Consequently, some patients may need to be transferred to a neighboring country. 
In my experience, there's not a lot of difference between private and public hospitals in Munich. Private hospitals do have less waiting time and their ambulatory services are reputed for being extremely reliable and quick. On the flip side, private healthcare in Munich is far more expensive. Many public hospitals are run by the voluntary regional and local authorities. You'll also find some hospitals that are run by the German Red Cross or by churches. I do need to point out that both private and public doctors can speak basic English, so the language barrier wasn't an issue for me. 
Emergency numbers in Munich are: 
Emergency Medical services: 112

Police: 110 

Fire Brigade: 112

Poison Emergency: 089-19240
In Munich, pharmacies are locally known as Apotheke and prescriptions are called Rezept. While there are plenty of Apothekes throughout the city (several open 24/7), it's good to know that there are very strict laws about dispensing medication in Germany. It will be near impossible to get antibiotics, sleep aids, psychiatric medication, and even certain anti-allergy drugs without a doctor's note so be sure to plan accordingly.
Make sure you are fully covered by reading our full Digital Nomad Travel Insurance guide.
Jobs in Munich
Unlike other German cities like Cologne, it can be quite difficult to land a local job in Munich due to the ferocious job market. Since the city has plenty of specialized academic institutions, employers usually hire locals. 
Now, while it's certainly hard to find a job in Munich, it doesn't mean that it's impossible. The city is home to plenty of international headquarters such as BMW, Linde, Amazon, Microsoft, Osram, among others, so you can always try your luck by applying to one of these companies. Additionally, Munich has a well-established publishing and media sector that's often on the lookout for new additions, especially if you're well versed in Business English. 
By the same token, English teachers are usually in demand in the city, especially in the private schooling sector. It's good to know that while you don't necessarily need a teaching certification or college degree to teach English in Germany, your chances of getting snapped up significantly improve if you have these qualifications. English teachers usually earn between € 2,200 and € 4,200 per month. Digital nomads who have a master's degree or a PhD can even apply for the position of English Professor in one of the city's many colleges or universities. 
Of course, it goes without saying that it's always best to brush up on your German speaking skills if you're planning on working in the city. When job hunting in Munich, you can always check out websites such as English Jobs Germany, Stellenangebote, MuenchenerJobs, Totaljobs, and Glassdoor.
Check out our Digital Nomads Jobs Postings to find the best jobs available for Digital Nomads.
Nomad Friendly
Value for Money
Internet
Workspace
English
Food
Safety
Health
Transportation
Friendly
Quality of Living
Cost of Living Munich
There's no getting around it: Munich can be an expensive city for digital nomads, especially if you're just starting out. While definitely more affordable than neighboring countries like Paris, London, or Switzerland, there's no denying that housing and healthcare don't exactly run cheap in Germany. After all, Munich is notoriously known as Germany's most expensive city. 
Still, like I said previously, there are a few ways to curb certain expenses- especially in terms of accommodation. You can always opt for flat-sharing or co-living, which will cost between € 900 and €1,200. A small studio away from the city center can set you back between €1,000 and €1,500, (depending on the neighborhood) while a one-bedroom apartment normally hovers around the € 1,700 mark and above. 
Also, groceries in Munich are slightly more expensive than elsewhere in the country. For example, a bottle of Coca Cola is priced at around € 2.99, almost twice as much as other German cities. Munich does have affordable supermarkets such as Aldi and Lidl though, so if you stick to these, you can expect to spend around € 280 to €300 per month on groceries. 
Internet for one to two people (11Mbit) normally costs around € 33 monthly while utilities such as gas, electricity, heating, water, and garbage collection will set you back € 129/month. For transport, expect to fork over € 60 to € 89, depending on your route. Personally, I set aside € 200 per month for entertainment, including theater tickets, attractions, tours, museums, clubbing, and eating out. 
Considering all of these expenses, you should preferably plan a budget of around €1950 for your stay in Munich, which comes to approximately $2,200.