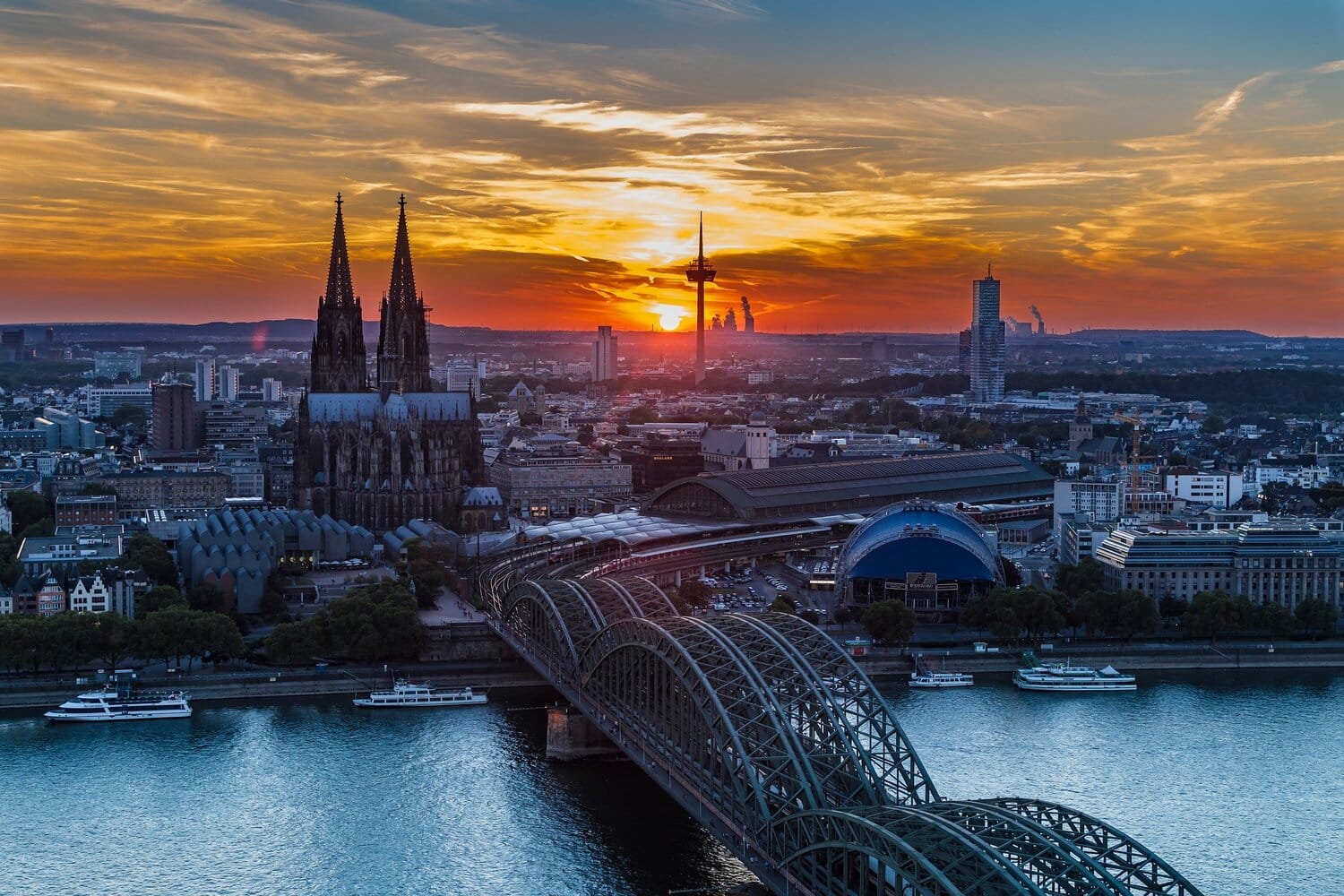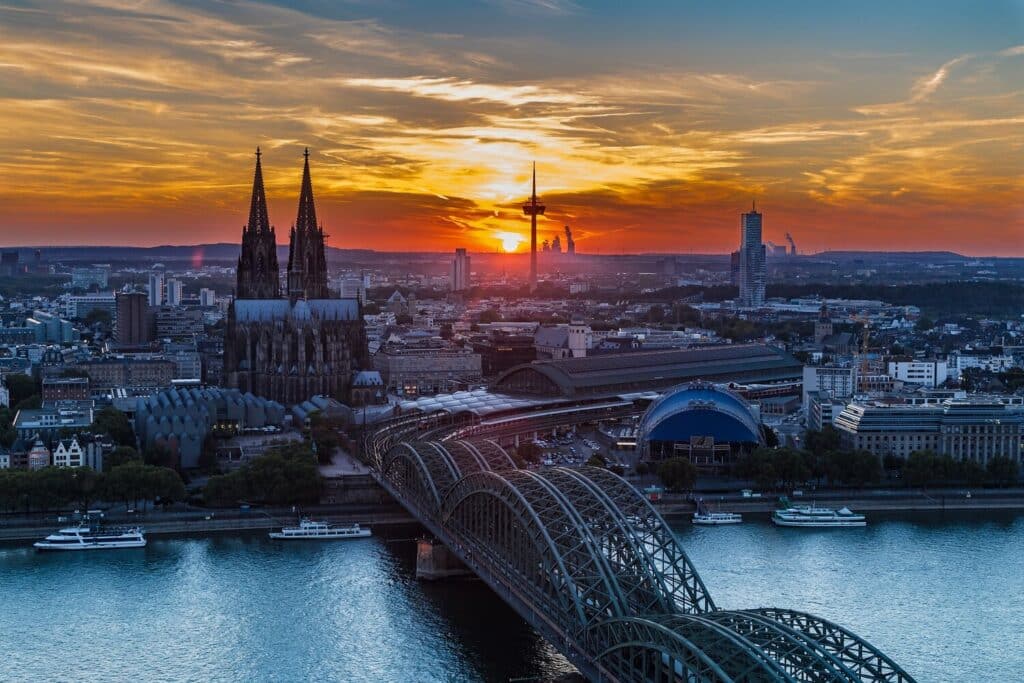 A Digital Nomad Guide to Cologne
With a population of around 1,1 million, Cologne is the fourth largest city in Germany. The river Rhine which runs from Switzerland to the Netherlands divides the city into two parts and gives it an open and nature-based feeling. With its traditional breweries and historic buildings such as the Cologne Cathedral, the city attracts millions of tourists every year. 
Cologne is an important trading centre in Germany. You can find numerous company headquarters in the surrounding area with great work opportunities. The chemical and automotive industries are particularly well represented and offer thousands of jobs every year. 
Carnival, or as the people of Cologne say "the fifth season", begins every year on the 11th of November at 11:11 am and is one of the reasons why Cologne is so popular with tourists. It lasts for several months and the most popular parades and events are usually held in February.
The second-largest event of the year is the annual Cologne Pride, which is the largest LGBT parade in Germany. Cologne is a vibrant city whose inhabitants love a good party so there is always something going on. In Germany, Cologne is famous for its unique beer called Kölsch which is treated as a local legacy. 
Cologne is actually located just over an hour from both the Dutch and French borders. This makes it a fantastic starting point for taking day-trips and exploring the rest of Europe. With decent flight connections and a fantastic long-distance train network, this is a great city to set up base as a digital nomad while you explore the neighbouring countries and tourist hotspots.
Cologne is a great choice for digital nomads who want to experience German culture without breaking the bank. Berlin and Munich are expensive whereas Cologne has everything the larger cities have to offer without being overwhelmingly large or too expensive. With a fantastic selection of places to work, a friendly culture and comfortable climate, this city is an up and coming digital nomad hub that will only grow in popularity in the coming years.
Nomad Friendly
Value for Money
Internet
Workspace
English
Food
Safety
Health
Transportation
Friendly
Quality of Living
Living in Cologne Overview
| | |
| --- | --- |
|  Meal, Inexpensive Restaurant | $11.28 |
| Domestic Beer (1 pint draught) | $4.51 |
| Cappuccino (regular) | $3.05 |
| Loaf of Fresh White Bread (1 lb) | $1.66 |
| Water (1.5 liter bottle) | $0.52 |
| One-way Ticket (Local Transport) | $3.38 |
| Basic Utilities (Monthly) | $289.81 |
| Internet | $36.35 |
| Fitness Club (Monthly) | $33.85 |
| Apartment (1 bedroom) in City Centre | $918.11 |
[erw_exchange_rates_widget lg="en" tz="0″ fm="EUR" to="EUR,USD,GBP,AUD,JPY,RUB" st="primary" cd="" am="1″][/erw_exchange_rates_widget]
Max Withdrawal: €400
Use of Credit Cards: Widely Accepted
Digital Nomad Personal Experience in Cologne
Cologne is a fun and vibrant city. If you've been wanting to live and work in a major European city then this is the place to go. As a young digital nomad I especially enjoyed the nightlife here and laid back culture. 
As the "capital city" of German carnival or Fasching Cologne is the best place to experience what's possibly Germany's biggest party. Then there are the many breweries and bars which are perfect for experiencing traditional German culture and heritage. 
As a digital nomad you'll find this city welcoming and open to foreigners. Although the German people can be a bit reserved you'll be able to find like-minded people and other expats. Cologne is very centrally located and due to Germany's advanced train system you can visit other nearby cities with ease. 
I really enjoyed living in Cologne because I wasn't breaking the bank but still had a very high quality of living. As a hotspot for large companies Cologne is great for networking and possibly even finding a local job. You'll come to appreciate the hard-working attitude of the German people and their emphasis on productivity, punctuality and effectiveness. 
If work is not your number one priority then you can spend your free time exploring the city and the nearby nature. The riverbanks are an especially beautiful spot and some of my best days in the city were spent here. I also enjoyed the fact that Germany has such distinct seasons with cold and snowy winters and hot summers. Every season has its benefits and there is never a bad time to live in Cologne. Living here you'll soon figure out why millions of tourists visit the city every year. It's one of the most underrated digital nomad cities in all of Germany and maybe even Europe.
Work in Cologne
As many European cities do, Cologne has a great selection of little coffee shops and restaurants perfect for getting some work done. Wifi speeds are very fast across the city so you'll have no connection issues. Some of the best coffee shops with fast internet include Treibgut Coffeehouse, Mehlwerkstatt or Madame Tartine.

For a more professional work setting you should head to one of the coworking spaces below. They have the best internet connections and quiet spots to encourage productivity.
Best Places to Work in Cologne
Okandada Coworking
Okandada Coworking space has two locations in Cologne. One is located in the south of the city and another one directly in the city centre. Both locations are easily accessible by public transport or on foot. Their interior is very modern, with lots of wood and natural light flooding the office. For $340 you get a fixed desk with 24/7 access, free coffee, tea and water, your own company address and even free access to the meeting rooms. If you need a little more privacy, there are also private offices available for 2, 4 or 8 people. If you want to check out one of the locations, you can arrange a free working day online.

WeWork
If you're looking for a classic office space then WeWork is not the place to go. The philosophy of this coworking space is that your work environment should be comfortable and unique without the traditional office structure. Instead, you'll find cosy and well-furnished common areas and lounges at WeWork that are inviting and great for getting work done. There is also a large community area with terraces on the different floors. For $300 a month, you get 24/7 access to the flex desk areas. In addition to high speed internet, there is free coffee and water, lockers to store your personal belongings and if you are travelling with a dog, you can bring him to work as well.
Design Offices
The Design offices coworking space in Cologne offers everything you need to work productively. The basic principles here are focus, exchange, collaboration and training. The monthly fee is $430 and gives you 24/7 access to all the usual amenities like printer facilities, a communal kitchen and high-speed internet. If you want to explore the city during your lunch break, you can rent a bike for free on site. Bringing business clients or other guests is limited to one person, but free of charge. Meeting rooms can be rented for larger groups or events. Design offices also has its own lounge, which is a great location for an after-work drink.
 Delta workspace
The Delta workspace just opened in January 2021 and is therefore still brand new and modern, which can also be said of its facilities. With its 20 desks, this coworking space is probably one of the smaller ones, but that doesn't mean it has less to offer. For only $250 you get a monthly membership with 24/7 access to the flex desk area and many other amenities. High speed internet, flat rate drinks, lockers for your valuables and a meeting room are all at your disposal. Overall, it's a very bright office with lots of plants, which makes it a great place to work. 
COWOKI
COWOKI coworking space has various locations in Cologne and is perfect for those who appreciate flexibility and convenience. The workplaces are very modern and natural light fills every room. The desks are equipped with ergonomic chairs which is a must if you're sitting at a desk all day. The monthly flex desk fee is $300 and includes everything you need to work productively. A large communal kitchen is available for your lunch break and to socialise with others. One of the main selling points of COWOKI is that they offer childcare for those travelling with their children. They have different hourly rates and other additional services. For more information, check out their website.
Best Places to Live in Cologne
Best Neighbourhoods
The city-centre of Cologne consists of the Altstadt (old town), Neustadt (new town) and Deutz which lies on the opposite side of the river Rhine. This is the heart of the city and a great place to live if you favour short commutes and being close to all the action. As you might expect prices for apartments will be quite high here so expect to pay more than you would a little outside of the city. The main benefit of living here is that you'll have fantastic public transport options as well as the opportunity to walk or bike to most places. If you're only in Cologne for a short time it might be worth it to invest in an apartment here so you'll have the best possible experience in this amazing city. Some popular areas within the city centre include the Belgian neighbourhood, the Agnes neighbourhood and the Rheinau Harbour.
The city centre won't be an ideal place to live if you're coming to Cologne with your family. To keep costs low and get the best possible return for your money you should head to the outskirts. Look into renting a place in smaller neighbourhoods like Libur, Weiß, Sürth or Klettenberg which are known to be especially safe and close to nature. Here you'll find larger houses and can still reach the city decently quickly via public transport.

For those on a budget we highly recommend neighbourhoods like Zollstock, Sülz or Nippes. The unusual names don't give it away but these areas are actually very popular among students and can be very budget friendly if you know where to look. You won't be in the city-centre but due to the many students the public transport connections are very good. Zollstock is great for parks, outdoor activities as well as a small culture and arts szene. You'll find young people here who enjoy meeting up outdoors during the warmer months.
Sülz might be hard to pronounce for non-German speakers but the complicated name is worth it. It's located very close to Cologne's main university so it's a true student hotspot. You'll love how green this neighbourhood is and how open and friendly the student population is towards foreigners. This is a perfect place if you love going for walks or enjoying nature. In Germany, it's quite common to have a barbeque in a public park with your friends during the summer months. Sülz is the perfect place to go for this.
Nippes makes up the north of Cologne and is very affordable. It's large and with amenities like weekend farmer's markets and a great selection of shops a perfect spot for families and students alike.
Finally, there is Lindenthal. This has repeatedly been named the most desirable area to live in in Cologne. Located a little out of town this neighbourhood is very pretty with lots of green space. The area has lots of little shops and restaurants and is easily reachable from the city centre. This is definitely an upscale area with large, historic houses and elevated prices.
Find an Apartment in Cologne
Cologne has a very large selection of available real estate and it's decently easy to find an apartment in most cases. It's common in Germany to look at a place first before deciding to rent it so you should definitely wait to decide on a place long term until you arrive in Cologne. This can save you from disappointments and potential scams and will ensure you have the best possible experience living in the city.

If you don't have time to go house hunting yourself you should look into hiring a real estate agency that can help you find suitable options. This will usually cost some money but can save you a lot of time and energy. Good apartments get snatched up quickly in Cologne so always be on the lookout for new offers. 
The best way to find an apartment in Cologne is online via websites like ImmoScout, ImmoWelt, ImmoNet, Nestoria or Meine Stadt. The most popular site is arguably ImmoScout and it should be the first place you look. Facebook groups targeted towards expats or students are also a great place to look for apartments as well as Facebook Marketplace. As always, be careful with potential scams and always look at an apartment before you sign anything. 
Another option is to find places to rent in the newspaper. This is still fairly common in Germany, especially among the older generation of landlords. In most regional papers you'll find a section advertising real estate for rent. Some of these can't be found online so definitely check them out.
Contracts for rentals in Germany tend to be available only in German which can be a problem for English-speaking digital nomads. Don't sign anything before reading it thoroughly. Definitely have a German-speaking friend look it over or at least translate it somehow. Contracts can be tricky and each one is different.
Apartment prices in Cologne tend to depend on the location as well as the interior of the apartment. Modern places are, of course, more expensive so if you're on a budget definitely consider a slightly outdated apartment. 
In Germany, the kitchen interior belongs to the person renting the apartment in most cases. This means you'll sometimes encounter apartments without kitchen appliances or cupboards as the landlord will expect you to bring your own. Or there will be a kitchen already in the apartment which you could be asked to "buy" and then sell back once you move out again. This will mostly be the case for family homes but you could come across this system even for smaller apartments. 
Apartments in Cologne tend to be unfurnished in most cases which is another thing to consider. If you want to avoid the hassle of finding furniture and possibly a kitchen you should look into student apartments or shared houses which are usually furnished and have all the appliances you need.
A one-bedroom apartment in the city centre of Cologne will cost around 500$-1000$. You might be able to find one for around 400$ if you look somewhere in the outskirts. A two-bedroom apartment with a central location can cost anywhere between 1200$ and 1800$. In a less central neighbourhood you'll pay only around 950$ to 1300$ for the same square footage. 
Cheap Places to Stay in Cologne
If you truly want to live in Cologne on a budget you should adopt the lifestyle of one of the many students in this city. They live in affordable neighbourhoods like Nippes or close to the university and try to spend as little money as possible. 
In Germany shared houses are called Wohngemeinschaften or WGs. They're very popular and probably the most affordable way to rent an apartment. Most of the time housemates don't know each other before they move in together and it's not just students who choose this form of living. You'll find all sorts of people in WGs including young professionals and those who do not have a family and therefore prefer to save money rather than live in a larger place by themselves. 
WGs are easy to find online in Facebook groups or designated websites like Wg-gesucht or Wg-suche. The market for these shared houses can be quite competitive and usually involves a sort of "interview" where you get to meet the other housemates and they decide whether you'd be a good fit. It is rarely the landlord that looks for new tenants but rather the people already living in the apartment so they have a lot of freedom to choose someone they think would be a good match. WG rooms usually come furnished but not always. Definitely discuss this before you move in.
Some of the cheapest rooms possible will cost around 350$ per month plus bills. These will be lower than what you would pay if you were living alone so that's an added benefit.
Germany Visa for Cologne
If you are an EU passport holder you can actually move freely between Germany and most of Europe. You don't need a visa or even a work permit (in most cases). This makes it really easy and convenient for European digital nomads who want to live in Cologne for a while. Just remember that you're required to register in Germany as a resident if you plan to stay for more than 3 months. This process is fairly straightforward though and easily manageable. You can even find a local job and live in Germany essentially just like a German would. This makes Cologne extremely attractive for expats, not least because of the favourable job market and reasonable rent prices.

If you are not from an EU country the process of moving to Germany as a digital nomad is not as easy unfortunately. You'll have to apply for a Schengen visa which is valid for 90 days but can only be granted once in a 180 day period. This visa allows you to move between EU countries but does not give you the right to work there or earn money. Once the 90 days are over you have to leave the EU or will risk a large fine or even entry ban. There are long term visa options available but these are difficult to obtain especially if you do not have a specific reason why you need to stay in Germany longer. If you are planning on making Cologne your more permanent home you should look into them though.
Culture and Food in Cologne
Cologne's culture and traditions are very distinct from the rest of Germany and cannot be found in this form anywhere else in the world. Of course Cologne is most well known for the famous carnival or Fasching which is held every year in February. The festivities last for almost a week and it's probably the most popular time of the year to visit Cologne. More than 1,5 million people come to the city to watch the famous parades and enjoy the loose atmosphere. While people in Germany rarely dress up for Halloween, carnival is the time of year when everyone will have a costume on. This is of course a popular tradition for children but people of all generations actually participate actively. Especially students and younger people from Cologne like to use this event as an excuse to day-drink and party for an entire week. 
If you're in Cologne during this time definitely make a point to see at least one parade where large vehicles are decorated and drive around town with loud music, dancers and bands playing. They throw candy and little presents into the crowds and sometimes even give out alcohol. While these traditions exist all over Germany, Cologne is home to some of the best parades and wildest parties.
Carnival symbolises one last party before the beginning of lent which is still a very prominent concept in this area of Germany. A fun tradition in Cologne is that during Fasching each bar and pub has a straw figure hanging above the door called the Nubbel. This is meant to collect all the sins that occur during carnival and to get rid of them the figure is burnt on Ash Wednesday.
The stereotypes are true, Germany is all about beer. Alcohol is not taxed very heavily here so all forms of alcoholic drinks are very affordable. You can buy a bottle of spirits for as little as 5$ and a crate of 24 beers for around 7$. The Germans enjoy drinking casually which is reflected in the local culture. Public drinking is permitted which means the younger generation loves to meet up in parks and have drinks with friends. Of course, Cologne is home to a special type of beer that you cannot find anywhere else in Germany. The Kölsch is traditionally served in tiny 200ml glasses and it is quite common to drink a lot of them. 
Cologne's most famous dish is arguably the "Halve Hahn" which translates to half a rooster. You might expect this to be a chicken dish but surprisingly there is no poultry at all in this traditional food. It is actually a cheese sandwich served with onions, mustard and other toppings. It sounds quite basic but is actually really delicious. 
Then there is Himmel und Äd which translates to Heaven and Earth. This dish consists of fried onions, mashed potatoes and blood sausage. It's a popular pub food and can be found in most traditional restaurants.
Cologne Nightlife
Cologne's nightlife has something to offer for everyone. Whether you enjoy loud clubs, fancy bars or traditional pubs, Cologne will not disappoint. The nightlife usually begins before sunset in the city's numerous beer gardens and pubs. Cologne's old town is lined with one old traditional pub after the other and is a popular spot for pub crawls. Many modern bars offer football broadcasts as well as classic bar games such as darts or billiards, and there are even a few karaoke bars. Some bars have a dance floor with a live DJ so they double as small clubs. 
The best-known and oldest bars include many breweries. Früh am Dom, Lommerzheim, Gaffel im Marienbild or Haus Unkelbach are definitely worth a visit to see where the real Cologne people drink their beer. A traditional "Kölsch" (0.2 l) should not cost more than $2.50 in these breweries. If you feel like a snack or a drink on the way to the next pub, look out for a kiosk, which are widespread in Cologne and usually open 24/7. These hole-in-the-wall shops are becoming more and more popular among young people as the first stop of the evening before they move on to the pubs, bars or clubs.

The clubs in Cologne actually have something to offer for every age group. You can choose between live bands or DJs, from rock to electronic music you'll find every genre represented . Since Cologne is located directly on the Rhine, party boats are actually quite common and popular. They don't actually move in most cases but still give you the feeling of being on the water while you dance the night away.
The best-known clubs in Cologne are the Bootshaus, Club Bahnhof Ehrenfeld, Tsunami Club Köln and Odonien, which is an outdoor club. These clubs offer a variety of music, some of which occasionally feature live bands, while others cover every genre of music imaginable. For more information and upcoming events, check out their websites. 
Cologne has long been popular for its LGBT scene and you can find a fantastic selection of LGBT friendly bars and clubs. The most popular bars in the scene are Mumu, Barcelon Colonia and Ruhrpott. For incredible drag shows, the Startreff Follies Theater club is highly recommended. 
The annual Cologne carnival is not only popular among Germans, international tourists from all over the world come to the city every year to watch the spectacle. At the time of the carnival processions, the city is in complete mayhem with street parties and people of all generations enjoying themselves . Every pub, restaurant and person on the street is in a celebratory mood and it's hard not to feel the urge to join in the festivities. Carnival always starts early in the mornings and ends late at night. This is a once-in-a-lifetime experience and is not to be missed if you're living in Cologne as a digital nomad. Of course, day drinking and alcohol are very common on these days but there is no need to drink to enjoy yourself.
Things to do in Cologne
If you are thinking about using public transport and also visiting all the sights in Cologne, you should consider getting a Cologne Card. This is a 24 or 48 hour ticket ($11 or $22) that gives you access to all public transport plus up to 50% discount on many attractions such as museums, boat trips and more. For all the partner deals where you can save, check out the Cologne Card website.

Here are our favourite things to do in Cologne.
Cologne Cathedral is the most important landmark of the city of Cologne and is a real must-see when you are in the area. Construction for this impressive building began in 1248 but was not completed until 1880. The cathedral has been a UNESCO cultural heritage site since 1996 and is one of the most visited buildings in all of Germany. Inside you can still admire numerous relics from different periods of history. Access to the cathedral is free, but for a surcharge you can book a guided tour that will take you onto the roofs or through the tombs of the church.

The Cologne Chocolate Museum is located directly on the banks of the river Rhine. In their museum you can learn everything from the cultivation of the cocoa bean to its processing into chocolate. However, the museum also draws critical attention to the controversial conditions associated with the cocoa harvest and the problems in the industry. In the museum's tropical house you can admire real cocoa plants in high humidity. The absolute highlight is the chocolate fountain where you can dip small wafers into the liquid chocolate which is a great activity for the entire family. The entrance fee is 15$ and is definitely something you should not miss.

Stroll through the Botanical Garden

Like every large city, Cologne has a beautiful botanical garden that invites you to go for a walk and admire the incredible nature. There are around 12,000 different plant species from all over the world to see. In the middle of the park is a beer garden where you can enjoy the ambience in summer with cool drinks and delicious traditional German food. Access to the botanical garden is free of charge and possible daily from 8:00 am until 9:00 pm.

When the weather is nice, a boat trip on the Rhine is a great way to see the many sights of Cologne from the water. Boats depart from the Old Town and travel under the Cologne bridges along the Rheinau harbour, past the Chocolate Museum to the Cathedral. It really is a great opportunity to see some of the best parts of the city without too much effort. The trip takes about an hour and costs $15. Different language guides explaining the sights are also included in the price. There are several different river cruise operators, so you should check which cruise suits you best.

Taste the famous "Kölsch"

When you travel to Cologne, you can't miss the traditional beer, the famous Kölsch. Only beer that was actually brewed in the city can be called Kölsch and the people of Cologne take great pride in this unique beverage. There are numerous breweries in Cologne where you can book beer tastings and get the full experience. The most famous, however, is probably the Brewery Früh Kölsch, located directly at the cathedral. Even if you don't drink alcohol or are travelling with your children, there are plenty of non-alcoholic alternatives on the menu. Enjoy the ambience in the old vaulted cellars of the brewery and witness how quickly a 50-litre barrel is poured on a busy day.

Watch the spectacle of the Cologne Carnival

The Carnival in Cologne begins every year on the 11th of November at 11:11 am. From then on, the so-called "fifth season" begins and lasts until February. Many balls and carnival meetings take place during this time, most of which are popular among the older generation. The most famous parades, however, do not take place until mid-February when the city is overrun by visitors who want to join in on this incredible party. If you are in Cologne at this time, don't miss out on seeing at least one parade. Keep in mind that due to the large number of visitors, hotels and other accommodation are usually fully booked up to a year in advance.

Check out the Hahnentorburg

The Hahnentorburg is one of the few remaining buildings in Cologne that originates from the 13th century. It was one of twelve gates of an 8-kilometre-long city wall. This gate was the main entrance and secured the western side of the city. Unfortunately, you cannot visit the monument from the inside but the historic exterior is well worth a trip.  The Hahnentor stands on the Rudolfplatz, where a Christmas market is held every year in December. If you happen to be there at this time, be sure to stop by for a mulled wine.

Stroll through the Belgian neighbourhood

In the western part of the city centre lies the so-called Belgian district. Here you'll find many small cafes, pubs, art galleries and trendy boutiques. The streets are lined with historic houses, which is due to the fact that this part of the city was largely spared during the Second World War. On many corners of the neighbourhood, street artists have immortalised themselves with artworks or caricatures with political messages. Brussels Square is very popular, especially during the summer months. In front of the Romanesque church of St. Michael, you can sit under the shady trees and enjoy a Kölsch beer while watching the hustle and bustle of the people.

Hang out at Rheinpark

On the right side of the Rhine is the Rheinpark, which is a large park perfect for long walks, running or picnics. The view of the Rhine and the city centre of Cologne is incredible and the ideal photo spot. On the weekend, many people come here to relax and unwind. Definitely come in the early evening and watch the stunning sunset.

Another great spot for unique photos during sunset is the Cologne Triangle skyscraper. The roof terrace is located at a height of 103 metres and offers an incredible view of the Cologne Cathedral and the city beyond. It costs $6 to go all the way up and tickets can  be bought on site. Opening times depend on the seasons, so check the website before you visit.
Best Time to Visit Cologne
The winter in Cologne lasts from the end of November to the beginning of March. At night, temperatures can drop below freezing, and during the day, temperatures between 3°C and 6°C can usually be expected. Occasionally there may be snow or rain, but this usually does not last very long. 
From mid-March, spring arrives and it gets noticeably warmer from week to week. Temperatures of up to 22°C can be reached by the end of June. At night, however, temperatures tend to drop to 10°C, which is why it can still be chilly in the early morning hours. From the beginning of July until the end of September, it's summer in Germany and the most popular time for tourists to visit Cologne. Average highs will hit around 26°C but you can expect over 30°C on hot days. It is always advisable to protect yourself sufficiently against the sun during these months to avoid getting burned. 
In mid-September, the temperatures slowly start to drop below 20°C. At night, it can get cold again and as low as 10°C. From October to the end of November, autumn takes place with cooler temperatures and foggy mornings. It's mostly cloudy during this time and there is little sunshine. Occasionally it rains, but this usually doesn't last more than a few hours. Temperatures here drop to as low as 3°C at night and it usually doesn't get warmer than 9°C during the day. In autumn, you should definitely wear a thicker jacket, as well as a hat and scarf, as it can get quite windy in Cologne.
Cologne for Families
Cologne is a very family-friendly city and a great place to raise your children. While the city-centre is a bit more pricey with mostly small apartments, the outskirts have a wide selection of detached houses with large backyards, perfect to give your family all the space they need. If you want to save some money but don't want to cut down on square footage why not move out of the city completely and to the nearby country-side. Here you'll find a fantastic selection of little rural villages with very affordable rent prices. You'll be able to drive into the city in less than an hour and can get away from the busy streets and the crowds.

Depending on where you live in Cologne it might be advisable to buy a car if you're coming to the city with your family. In the city-centre the public transport system is convenient and reliable, however, in the outskirts it might be tricky to get around especially if you have children. Having a car will make your life with the entire family a lot easier in Cologne and can help you integrate yourself a lot better.

Schools are free in Germany, although child-care for under 3 year olds is not in most cases. Prices will range from around 100$ – 300$ per month for small children. The German school system is very good and a great choice for expats. However, if your children do not speak German they might struggle in a German school especially if they're already a bit older. The Cologne International School is therefore a great choice for expat families and digital nomads. It's worth noting that this school is located a little out of the city so consider looking for rental close by. The school fees are quite steep and not suitable for those travelling on a budget.
Living in Cologne
Cologne Transportation
During the warmer months most people in Cologne prefer to walk and bike around the city. Cologne is a green and open place which is well connected and ideal for outdoor activities. If you're on a budget definitely consider getting a bike which will make getting to places a lot easier and more affordable. If you're not ready to commit to buying a bike why not use one of the many shared ones available around the city? They cost just above 1$ for 30 minutes and can simply be picked up and left wherever you want.
Cologne's public transport system is easy to navigate and very reliable. There are buses, trains and trams which can be used interchangeably. Trains in Germany are called S-Bahn which is an abbreviation for fast trains. They have designated tracks and stations unlike the trams which are integrated in traffic. The S-Bahn has fewer stops than the trams do and go further out into the suburbs. Then there are the buses which will take you anywhere that doesn't have a direct connection to the train network. They run up to every 5 to 10 minutes during rush hours and are a great way to get around.
The German ticket system on public transport can be a bit confusing. You can just get onto any bus or train without having to show a ticket anywhere. You are responsible for buying the correct ticket at a train station beforehand or from the bus driver. Tickets are checked by inspectors on trains or buses randomly and fines for not having a valid ticket are high. It can be easy to forget to buy one so always make sure you have a ticket before you get on a bus or train. If you're going to be using a lot of public transport you should look into monthly or even yearly tickets. These are a lot more affordable than buying separate ones every time and can be used for the majority of transport in Cologne except long distance trains. A monthly ticket will cost around 100$ which is definitely worth it in the long run.
Cologne's public transport system is known to be very safe, however, if you're going home alone late at night you should always be careful. Especially on the weekends a lot of people enjoy Cologne's nightlife and train stations can become filled with intoxicated party-goer. Use your common sense and call a taxi if you feel unsure about a situation.
Cologne is well connected and if you live in the city centre there is no need to have a car. Parking can be tricky to find so a car will just end up costing you money. However, if you're living in the suburbs you'll soon notice that getting around is not as easy as you might have anticipated. Especially if you're coming to Cologne with your entire family you won't get around buying one eventually. This will make trips to the supermarket, school drop offs or after school activities a lot easier. 
Fitness and Health
Cologne is a large city so you'll find all sorts of sports clubs and opportunities for working out here. As a digital nomad, the best way to stay fit and healthy is often to get a membership at a nearby gym. 
There is a great selection of gyms in the city centre. In German these are called Fitness studios and there are great options for both long term and short term memberships. You'll find many larger chains such as FLEXX, Fitness First or McFit in Cologne. Memberships start at around 25$ per month but usually involve a contract of at least 6 months as well as a joining fee. More upscale gyms can cost up to 50$ per month but offer a wide selection of equipment as well as classes. Many gyms are open 24/7 so you can work out whenever your schedule allows you to.

If you don't enjoy working out in a traditional gym you should consider joining a local sports club or team. These exist for team sports such as football, handball or basketball and are available for people of all ages and experience levels. You'll usually have to pay a monthly fee which varies greatly but will be reasonable in most cases.

Another great option to stay fit in Cologne is to go swimming regularly. Germany has a lot of indoor swimming pools that can be used year-round and are very popular among the population. Tickets are affordable and you'll sometimes even get to enjoy spa services like a sauna or hot tub.
Cologne People
Cologne is known to be a very open and friendly city. Due to its young population and community of expats this is a very welcoming place for foreigners and a great city to live as a digital nomad. Cologne is said to be the most LGBT friendly city in Germany and the community integrates outsiders quickly. 
If you're coming from a very different culture it might take you some time to understand Germans and how they interact with others. Germans are known to be quite reserved and to the point and, of course, very productive. However, once you get into the lifestyle and local culture you'll get a better feeling for the values of Germans. Punctuality is highly valued as well as politeness. If you're trying to make friends in Cologne it's highly recommended to approach people yourself as many Germans will not make the first step. If you want to make connections quickly you should definitely consider moving into a shared house or WG as the Germans call it. That way you will already know at least one or two people in the city which can be a great place to start. 
Cologne is a large city so the majority of people will speak some level of English. In general, you will have better luck with the younger generation and some older people will only speak German. In daily life so in places like supermarkets, restaurants and shops you won't have any problems getting by with English. If you want to learn German expect it to take quite some time. The language is known for being extremely complicated especially concerning the grammatical rules. It's nearly impossible to speak perfect German if you are not a native speaker. Knowing a few sentences and phrases will make your life in Cologne a lot easier though so definitely look into learning the basics. 
Unfortunately, just because you know German does not mean you will be able to communicate flawlessly in Cologne. The city is home to a very thick accent that can be hard to understand even for native Germans. Learning it is very difficult so definitely lower your expectations when it comes to learning German during your stay. Luckily, not everyone in Cologne has the accent so you'll still find plenty of Germans that are a lot easier to understand.
Cologne is a student city so there are plenty of young people around. In Germany once you start university you move there permanently unlike countries like the UK or US where you tend to go home to your parents during the summer or winter holidays. This means that there are things going on in Cologne year-round without any quiet periods. Definitely make sure to visit during carnival, the pride parade as well as just before Christmas when the famous Christmas markets are the main attraction. Germans will make any event an excuse to drink so definitely expect to consume a lot of alcohol during your time in Cologne.
Cologne Insurance and Medical Care
In Germany, all residents and citizens by law are required to have some form of health insurance. When applying for a German visa you need to show proof of health insurance in most cases. If you are a resident in Germany you can obtain health insurance in two ways. There is the public health insurance that the majority of the population obtain through their employer. This includes around 90% of people and often covers entire families even if just one person is working. Spouses as well as children up to the age of 23 or 25 if they're a student qualify for this family insurance. 
Those who earn more than 73,000$ per year in Germany qualify for private health insurance which is a more complicated system than the public one. While payments might be low initially they tend to increase with age. Switching between private and public health insurance in Germany is very difficult and even illegal in some cases.
If you are from an EU country you will qualify for German health insurance on the same level as a German citizen might. This means if you do not have health insurance from your home country already you could obtain it in Germany. 
If you are from a country outside of the EU it is highly advisable to buy health insurance that will cover you internationally from your home country. This will be a lot more affordable and you should never travel without it.

The German health care system is very advanced and one of the best in the world. Even for complicated treatments, this is a great place to go. Doctors speak English in most cases especially in large cities like Cologne and appointments are easy to obtain.
Make sure you are fully covered by reading our full Digital Nomad Travel Insurance guide.
Jobs in Cologne
Many large companies have their headquarters in Cologne so the job market is actually quite attractive here. You can find both skilled and unskilled jobs without much trouble although the competition can be tough. In general, most skilled jobs in Germany expect you to have a university degree or extensive experience in the field. If you're looking for a job in your niche then you should do research in advance about the requirements and whether you'd qualify. 
For casual jobs in the retail or hospitality industries the job hunt will be much easier. Since Cologne is a large city many people speak English but you'll still need some level of German to get hired in most cases. Luckily the basics will be fairly easy to learn and if you invest some time into learning the language you should be able to work in a German-speaking environment after a few months. Since Cologne has so many bars and pubs you'll always find one with a job vacancy somewhere. Minimum wage in Germany lies at 11$ which isn't much but will help you pay your bills if your budget is very tight.
Keep in mind that only EU citizens are allowed to work in Germany. If you're from another country you need to have a working visa which is quite difficult to obtain if you're not working for a large company. Skilled jobs might qualify for this visa but casual work won't. Don't break any visa laws while you are living in Cologne. Conduct all of your work online and make sure you are not earning anything locally if you're not allowed to. 
Check out our Digital Nomads Jobs Postings to find the best jobs available for Digital Nomads.
Nomad Friendly
Value for Money
Internet
Workspace
English
Food
Safety
Health
Transportation
Friendly
Quality of Living
Cost of Living Cologne
Cologne is a fairly average European city in terms of cost of living. Rental prices are decently affordable if you're willing to sacrifice location. You could find a very basic apartment for around 400$ but you'd have to be lucky. 500$ per month is more realistic and will get you a decent place to stay. A room in a shared house is definitely the more affordable option and could bring your monthly rent expenses down to around 350$. Bills will also be more affordable in a shared house which will lower your costs considerably. 
Around 1000$ should be sufficient to live in Cologne as a digital nomad, assuming you cook for yourself and don't eat out too much. This is definitely the bare minimum and you won't live a very luxurious life. If you have a gym membership, work at a coworking space, drive a car and spend some money each weekend on nightlife then this amount could easily double. Cologne isn't expensive per se but it can easily exceed your budget if you're not careful.
Sample expenses for one month in 
Essential costs
500$ basic one-bedroom apartment
160$ bills for water, gas, electricity, wifi
100$ public transport
170$ groceries
30$ cell phone plan
_________________
≈ 960$ total per month
Optional costs 
150$ eating out and nightlife

300$ membership at a coworking space

50$-150$ health insurance (varies greatly according to country)

200$ budget for day-trips

30$ gym membership

120$ gasoline