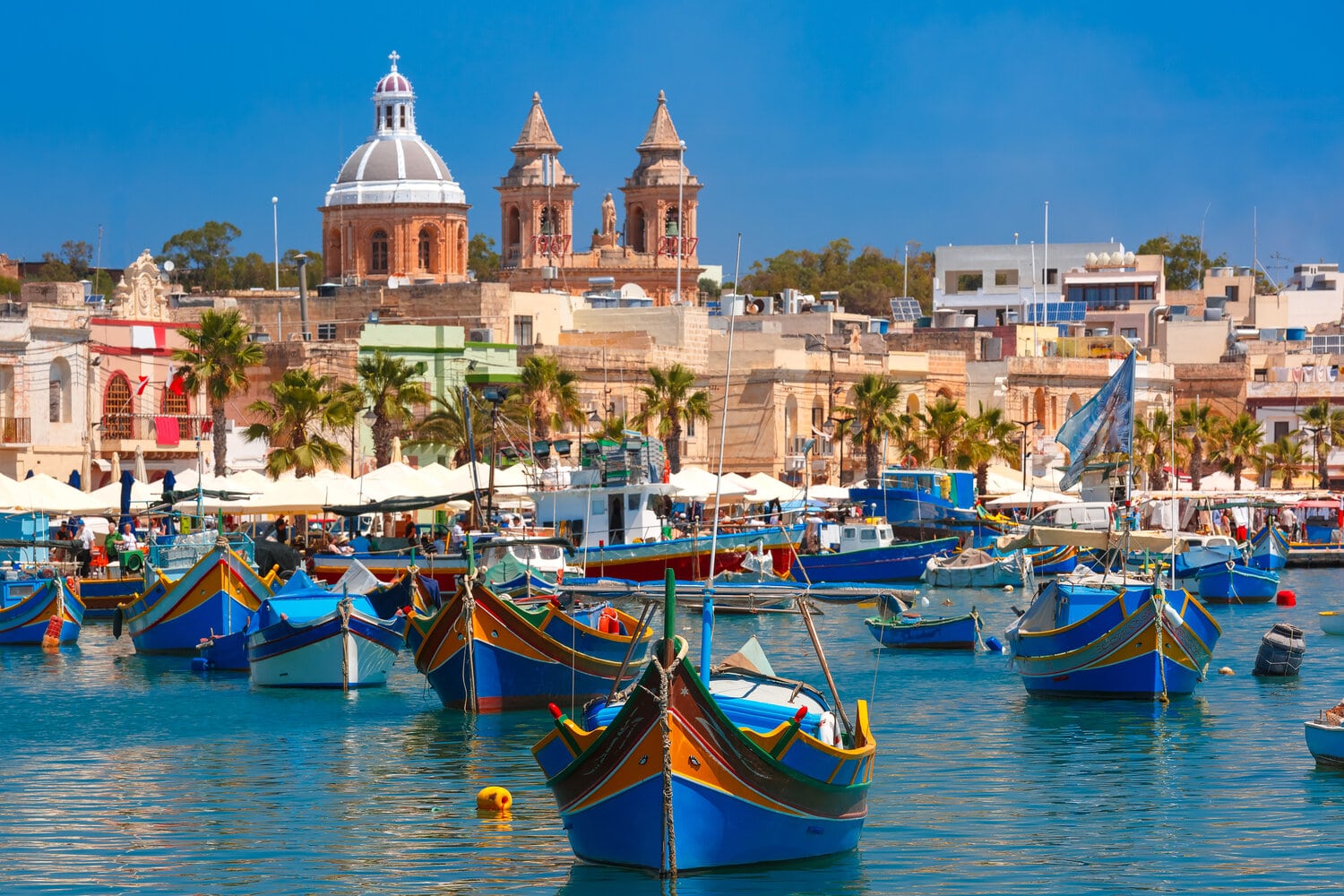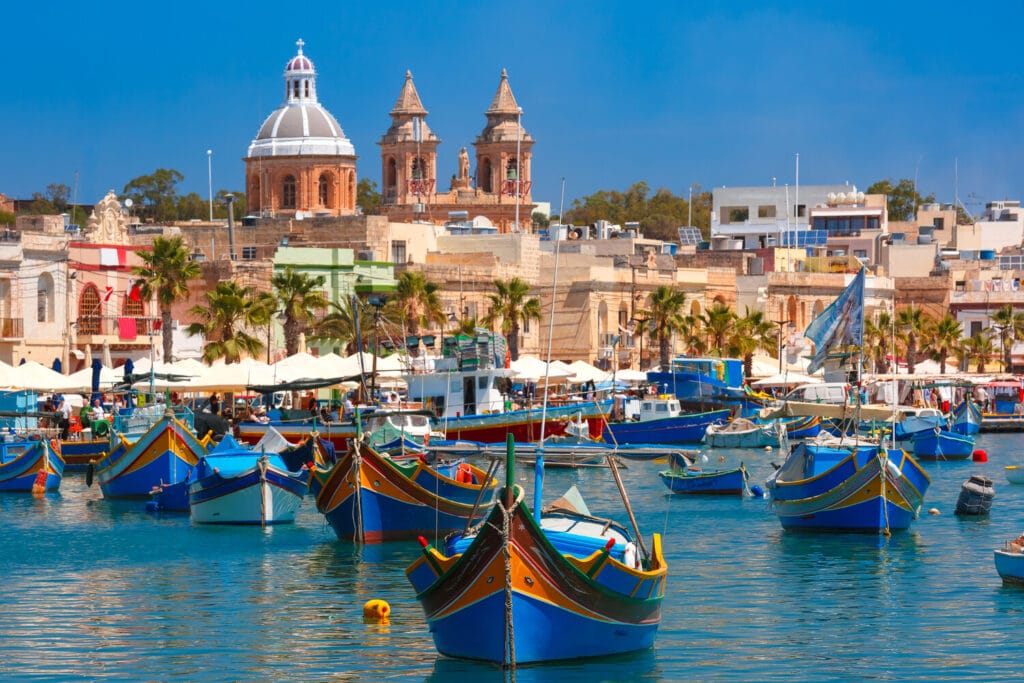 A Digital Nomad Guide to Malta
Malta is an island country in the Mediterranean sea consisting of an archipelago south of Italy. The Maltese archipelago consists of three main islands. Malta, The largest of the three and home to Valletta, Malta's capital. Gozo, a smaller and quieter island, and Comino, the smallest island of only 3.5 squared km.
Malta's affordable cost of living and it's all year round pleasant weather have started to attract many expats and digital nomads over the years. With the newly launched  temporary residency scheme and the 'Nomad Residence Permit' offering special visas and permits for remote workers, Malta will surely  become one of the most ideal locations to set up as a digital nomad.
2021 is the perfect time to travel to Malta; the Island dealt pretty well with Covid-19 and is slowly re-opening fully. The living cost mostly depends on personal lifestyle, but a budget between 1200/1500€ monthly guarantees a comfortable life, especially in the "after-Covid time" since rents decreased significantly. 
It is a vibrant, beautiful place to spend a few months or maybe a few years as a Nomad. The expats' community is growing exponentially and, together with Portugal and Spain, is one of the countries with the most friendly atmosphere in Europe.
Nomad Friendly
Value for Money
Internet
Workspace
English
Food
Safety
Health
Transportation
Friendly
Quality of Living
Living in Malta Overview
| | |
| --- | --- |
|  Meal, Inexpensive Restaurant | $17.13 |
| Domestic Beer (1 pint draught) | $4.00 |
| Cappuccino (regular) | $2.69 |
| Loaf of Fresh White Bread (1 lb) | $1.19 |
| Water (1.5 liter bottle) | $1.28 |
| One-way Ticket (Local Transport) | $2.28 |
| Basic Utilities (Monthly) | $108.83 |
| Internet | $38.84 |
| Fitness Club (Monthly) | $70.06 |
| Apartment (1 bedroom) in City Centre | $958.87 |
Currency: Indonesian rupiah (Rp)
[erw_exchange_rates_widget lg="en" tz="0″ fm="IDR" to="EUR,USD,GBP,AUD,JPY,RUB" st="primary" cd="" am="15000″][/erw_exchange_rates_widget]
ATMs
Max Withdrawal: Rp 3,000,000
Withdrawal Fee: Rp 30,000 – Rp 50,000
Use of Credit Cards: Mostly Cash
Digital Nomad Personal Experience in Malta
Looking out of my window, I can see blue crystal water and a few islands, one next to the other. As we get closer to land, I'm surprised to see so many constructions and even more surprised to see so many cars. 
The landscape reminds me of Morocco, and it is not a coincidence since we are very close to the North African's coast and just a 30 minutes flight from Sicily.
Malta airport is small but very well connected to the rest of Europe. In an absolute strategic position, the Island has always been considered a landmark of the Mediterranean Sea.
It is no wonder why Arabic, French, Italians and English alternate in the territory for many years.
First things first: coffee and email. As soon as I land I walk to the Costa coffee inside the airport, one of the many Costa around the Island, meeting point of friends, families, couples and, like me, digital nomads. 
The first thing that catches my attention is the language; Maltese and English are the two official languages of the Island, the first is a mix of Arabic, Italian, English and a bit of French.
It's the beginning of February, and as soon as I step outside, I can feel the sun gently on my skin; the iPhone's screen confirms that the temperature is 20°, not that unusual here. From December to March, the average temperature is between 16°C/12°C, reaching the highest of 33°C between July and August. It doesn't rain often, but when it does, the Island is never ready, streets get flooded, traffic is insane, and the sea becomes a dangerous place.
Work in Malta
The Digital Nomads community is increasing very quickly on the Island. 
You can find big chains like Starbucks and Costa to work with decent WiFi, but also smaller cafes such as the Coffee Circus Porto cafe and Lot sixty-one. Other coworking spaces are all around the Island; one of the cheapest but efficient places is 230works for just 10€ per day.
Best Places to Work in Malta
With it's three separate locations, SOHO office space offers everything you may need for remote work. From open coworking desk space to private offices. The offices can be found in Savoy Gardens (Gzira), St. Julian's (Paceville) and The Strand (Gzira). With each one offering flexible working options.
€199/month for a hot desk – Flexible seat in hot desking area.
€325/month for a dedicated desk – Fixed desk in coworking area.
€600/month for a private office
Situated in Mosta, This stylish workspace offers a wide variety of options, such as hot desks, booths meeting rooms, events and conferencing facilities. The work environment is very professional with high speed WiFi and all the necessary accompanying equipment.
The prices start from €5 an hour at a hot desk and €15 for a day pass (€2.5/€10 respectively if you are a student). If you plan on staying for a while, the monthly subscription might be the better option. Entitling you to unlimited use of a hot desk and the self service area for €250.
SC Coworking
The SC Coworking & Coliving Campus combines workspaces, focus room, offices and fully equipped apartments, a large pool, a restaurant and bar, a beach volleyball court, a garden and much more into a unique historic ensemble. On the campus, freelancers, digital nomads or larger project teams come together to focus on the essentials in an incredibly inspiring and beautiful ambience. The campus is located in Pembroke, a quiet upmarket residential area not far from the vibrant town of St. Julians and the sea.
Day Pass from 14 EUR/day – Flexible seating full access to campus amenities
Moth Pass form 189 EUR/28 days – Flexible seating full access to campus amenities
Shared Coliving accommodation starting from 115 EUR/week, 20% off for stays longer than a month. All apartments are located directly on campus, you live together with other like-minded people and have full access to all amenities. Standard and comfort flats with double or single rooms are offered and always have a fully equipped kitchen.
Mindo
Mindo
provides affordable, fully serviced offices that give businesses, digital nomads & freelancers complete flexibility to grow at any stage of their development.
Offering various options, from private offices of different sizes to hot desks or dedicated desks in our coworking areas. The fully serviced office spaces are all-inclusive with High-speed internet, 24×7 access, meeting rooms, rooftop chillout area, free water, coffee & tea, ACs, cleaning, maintenance, bathrooms, shower and a fully equipped kitchen.  No hidden costs. We offer short-term or long-term rental agreements to meet any business needs.
Centrally located, in Qormi, very close to the airport and well connected with public transport close to several amenities such as eateries, gyms and more.
Best Places to Live in Malta
Living in Malta means being able to spend the whole day by the beach, sipping a cold Cisk (local beer) from March to the beginning of October. I often thought of being on a holiday destination with all the pros and cons that this entails. 
As every Island, in winter the population decreases numerously but with still a numerous cultural event going on. I enjoyed many winters in Malta, the perfect way to balance my energy after a chaotic summer spent between beaches, parties, and fun.
Best Neighbourhoods
Malta is divided into cities and villages; the Knights of St. John found historical cities; nowadays the difference between one and another is minimal to non-existing. 
The largest community of expats and digital nomads tend to live in Sliema and St. Julian, where the nightlife happens.
Coffees, big supermarkets, restaurants and shops are easy to reach by walk living anywhere in these two cities, even if, due to the expensive cost of the areas, I would recommend considering also areas as San Gwan, Gzira, Msida and Swiequi, reasonably close to the centre but less central and considerably cheaper. 
If what we are looking for is a more rural atmosphere, then it is worth considering the North of the Island, cities such as Bugibba, Sant Pawl or Mellieha are quite cheap with a pleasant promenade and beautiful beaches not too far away, by car. 
Valletta is, however, the Island's capital not just politically but also culturally, well connected by bus and ferry through the all-island but less common in the digital nomads' community. 
In general, Malta is a safe place. As a girl, I never felt uncomfortable walking alone on the street, even in the earliest hours.
Find an Apartment in Malta
As the digital nomads' community is increasing fast, Co-living solutions are developing on the Island, luxury houses with single or double rooms, coworking spaces and facilities as pool and gym with prices starting from, more or less, 600€. If you are a digital nomad and like the idea to share not just the workspace but your entire adventure, this might be a valid option.
follow these link to check some of the options: 
If you are looking for an apartment, the easiest way is to contact one of the thousands of agents around the Island; they will drive you around, showing you many properties for the price of a half fee of the first month rent. You can contact any of them through Facebook Marketplace, where they publish new deals daily.
A less known way to find great deals is through Maltapark (https://maltapark.com/), a local webpage where you can often find apartments straight from the owner, saving lots of money on the agency's fee.
Cheap Places to Stay in Malta
If you're trying to save money.. (Coming soon)
Malta Visa
If you are a European Union citizen, thanks to the Schengen agreements, you don't need to apply for any particular Visa to live in Malta. You can decide to apply for the residency card, and this is quite straightforward; just go on identyMalta to apply.
Depending on where you are coming from, you can apply for one of two types of residency: the Ordinary Residence or the Permanent Residence. The difference between the two is substantially about how much you will be taxed. It is always better to talk with a tax consultant and see which option is more suitable for your business. On general guidance, European Union citizens can apply for the Ordinary Residence, and everyone else should apply for the Permanent Residence.
From June 2021, Malta has big news for digital nomads, as it is written in the Times of Malta: "A new temporary residency scheme has been launched for people who want to move to Malta but work remotely.
The programme offers a six-month visa and an option of obtaining a one-year 'Nomad Residence Permit' and costs €300.
To qualify, applicants must prove they are contracted to work remotely by a company based overseas, show that they run their own business or offer freelance service to clientele based abroad. "
Culture and Food in Malta
A trip to the Marsaxlokk fish market on Sunday morning is the perfect way to start our culinary tour around the Island! You will find many fishermen's villages in the South of the Island, but Marsaxlokk is the largest fishing harbour of Malta.
Walking around the market, you can find a good variety of fish such as Awrata, shrimps, red mullet, swordfish, tuna, salmon, famed lampuka, or dolphin fish. Octopus and squid are very often used to make some rich stews and pasta sauces that you can taste in one of the numerous restaurants facing the promenade, and I can strongly suggest: Tartarun, The Three Sisters and La Nostra Padrona. Marsaxlokk is also a perfect starting point for a hiking route to bring you to one of Malta's most beautiful bays, like St. Peter's pool and Kalanka bay. 
Little tip: Maltese people like to contract; if you go to the market, at the end of their working day(around 2.00 pm), you could be able to go home with 1kl of Awrata for just 5€!
Moving up to the North of the Island, we will find another typical dish from the Maltese cuisine: Rabbit, better known as 'Stuffat tal-Fenek', is considered Malta's national dish. It's been around the Maltese Islands since the Knights of St John, being one of the most common dishes between the Maltese population for years. Particularly famous is the little village of Mgarr for being one of the best places to enjoy typical Maltese stewed rabbit. Almost every small bar around the Parish Church of St Mary will serve you this characteristic dish. 
While the village itself is tiny, the coastline extends from Fomm in-Rih, a lovely, hidden place to enjoy a swim in clear waters, to the more accessible Ghajn Tuffieha Bay with its golden sands, bar and occasional surf spot. Finally, if you are in Malta around April, you can not miss the 'Festa Frawli' (Mgarr Strawberry's festival), right in the main square, many stands will serve you juices and strawberries cooked in any possible way.
Last but not least, it's time to talk about street food! 
'Pastizzi' is, maybe, what a typical Maltese had eaten the most in all his life. Incredibly tasty but super fatty, these small pastries of different shapes are filled with ricotta cheese or a paste of peas. Other typical street foods are Qassatat (a different type of pie stuffed with cheese, peas and spinach), sausage rolls, and slices of Pizza.
Malta Nightlife
When we think about Malta, we must think of an island that attracts many young people from everywhere in Europe, especially for the nightlife, particularly in Paceville. 
Paceville is no more than a street full of pubs and discos, entrance is always free, and most of the time, drinks are discounted or there are promotions going on as buy one get one for free. Do not expect the best alcohol, but get ready to party till early in the morning. Avoid bringing credit cards or expensive objects, pubs are always crowded, especially on weekends, and items tend to disappear quickly. 
If you are looking for a more adult way of partying, you will find many bars to get a drink; particularly in Gzira promenade from 16.00 to 19.00 you can join the happy hour( buy one get one for free), and from Sliema promenade to Spinola Bay, you will find many bars and restaurants. If you want a chill atmosphere, visit Paradise Exiles, a beach bar with live music that gathers an incredible number of people every weekend. You can comfortably sit on the beach but if you want a table, Booking in advance is suggested.
In the North of the Island you can not miss Cafè del Mar, a beach club with an infinity pool facing the sea. One of the best sunsets in Malta, and it often guests famous DJs to party during the night. 
Aside from all of this, the nightlife vibes on the Island are pretty vibrant, and every year, there are many festivals such as MTV music festival, Lost and Found, Malta Tomorrowland and many others.
Things to do in Malta
Valletta, UNESCO World Heritage Site.
As we anticipated, Valletta is the capital city of Malta, where cultural life and business mix together. 
The majority of cultural events take place here; you can visit the open-air theatre, the Spazju Kreattiv for foreign movies and always new expositions and many other museums. 
Valletta is accessible by bus; another option is the ferry from Sliema or Birgu for 1.50€.
What to do in Valletta? 
Shopping in the main street, Republic Street.

Visit

 The Upper Barakka Gardens

. A beautiful garden situated in the highest point of the fortification, facing the

Three Cities and Fort St Angelo.

If you go there at noon, you can attend the nineteenth-century gun fire show organized by a heritage society.

One of the main attractions of the capital is

St. John's Cathedral.

Completed in 1576, the church hosts monuments commemorating the various grandmasters of the Order who ruled Malta. On the side altars you can find many important canvases; the most important is the one on the Oratory by

Caravaggio.

Visit

Fort St. Elmo

, the first building to be erected in Valletta. 

Eat in one of the many restaurants around Valletta; I can suggest ZeroSei for good Italian carbonara, Nom Nom for good Indian food and Coffee Royal for a delicious and healthy coffee and pastry. 

Go to watch an old movie at the

Cinema Bar by citylights,

an old cinema that plays old movies every week, sometimes in the original language; the entrance is just 5€ and popcorn is included. 

Book a table or sit on the stairs of the

Bridge Bar

and enjoy a live jazz night in a super chill atmosphere.
Mdina
Walking around Mdina, Malta's old capital, is like time-travelling. The architecture and atmosphere that characterize this stronghold are unique. Walking around the little medieval streets, you will find various tiny artisanal shops that sell ornaments and jewels from Mdina's glass. Some places of interest include the fortification and the Baroque cathedral of St. Paul. The view from the walls of Mdina is one of the most impressive.
If you are in Mdina do not miss the chocolate cake of the "Fontanelle restaurant" , an absolute delight.
Rabat
Every Mdina has a Rabat, and Malta is not an exception. 
The city outside the wall of Mdina is also very much characteristical; it is worth visiting the catacombs and the Domus Romana. You will also find many restaurants, but most importantly, you must try the pastizzi at the Crystal Palace Rabat, the oldest and most famous pastizzeria on the whole Island. 
Dingli Cliff
Just outside of Rabat's area, you can find the imposing Dingli Cliffs, popular for the fantastic sunset.
Neolithic Temples and Hypogeum
You can find many Neolithic temples around Malta and Gozo; the Tarxien complex includes four temples, the earliest dates around 3200 BC. Also, in Malta is possible to visit the Hypogeum, which is the only underground prehistoric burial site that is accessible to the general public, and it is inscribed in the UNESCO World Heritage List.
Blue Grotto
If you are looking for the perfect postcard picture, Blue Grotto is a must. The perfect view is from the observation deck easy to find coming from the Wied iż-Żurrieq town. It is also possible to visit the inside of this cave by boat for a price of around 8€.
Marsaxlokk
The largest fishing village on the Island, you can admire the typical Maltese fishing boats of various sizes sporting the talismanic eye of Osiris for good luck. Worth visiting every day but especially on Sunday when the whole promenade becomes a fish market.
The three cities: Vittoriosa, Senglea and Cospicua
Also called with their original names of Birgu, Isla and Bormia are the three oldest cities of the Island. If you want to delve deep into Maltese culture, these are the three cities to visit. In Vittoriosa, you can visit Forte St. Angelo and the Malta Maritime Museum. Every year during the fall Vittoriosa hosts the "BirguFest", where the whole city gets illuminated by candlelights, museums are discounted, and a concert with local artists is held for free in the main square. Cospicua is the largest of the three cities; part of the city was destroyed in numerous battles, but it has been proudly rebuilt, and it is very charming to explore around.
Finally, Senglea is a small, fortified city on a peninsular parallel to Vittoriosa; from the viewpoint of Safe Haven Gardens at Senglea Point, you get one of the most beautiful views of Valletta. 
Beaches
In Malta, you can find crystal clear water and white sand in the North of the Island. Ghan Thuffia, Paradise Bay, Golden Bay, and Armier beach are the most famous. All worth visiting, but without any doubt, Thuffia and Paradise Bay are the ones that will take your breath away. 
When the weather conditions allow it, you can try your surf's skills in Thuffia or take a lesson from Valerio, the Italian coach of the Maltese surf school.
Kalanka and St. Peters
In the South of Malta you can also find beautiful bays, not sandy but perfect if you want to jump and dive in the blue water. St. Peter's pool is quite famous among tourists. If you want a more local but still suggestive scenario, you can go to the Bay straight after, Kalanka. Beautiful and not that popular. It is very common to bring your own BBQ and enjoy a beach BBQ in this part of the Island, so do not be surprised if you'll smell a nice BBQ steak when parking to reach the Bay.
Gozo and Comino
Gozo is the second more significant Island in the Maltese archipelago, and Comino is a tiny island almost uninhabited but with an incredible beach called Blue Lagoon. 
Once in Malta it is mandatory to visit both islands, the best option would be to spend the whole weekend in Gozo. Some of the main attractions are Tal Mixta cave with an incredible view of Ramla Bay; Vittoria and Cittadella; Wiws il-ghasri; Dwejra and the site where once was standing the Azure Window, which collapsed in 2017. But the best thing you could do in Gozo is to get lost and discover the beauty of the Island.
Comino is easily reachable with organized boats from Sliema or from the north of the Island from Cirkewwa; try to avoid the months of July and August, the crowd is insane, and the Island would lose all the beauty. 
If you like being in nature, consider camping on the Island; once the tourist boats take off, the Island becomes a little paradise. The camping site is free, but with no facilities, also it is possible to sleep on the Island in the only hotel on the Island.
Best Time to Visit Malta
The best time of year to visit Malta… (Coming soon)
Living in Malta
Malta Transportation
Buses
The connections between the main cities are quite good, buses are frequent, but unfortunately there is no public transportation during the night. From the airport, the easiest way to get to the city centre is by bus X2. Another mainline is the X3 to reach the North of the Island straight from the airport. The single ticket has a price of 1.50€, but there are few discounts if you apply for the tallinja card( multi-journey ticket). Visit https://www.publictransport.com.mt/en/tallinja-card for more info. 
Taxi services
One of the best options, mostly if full of luggage and short on time, are Bolt and Cool; you can choose between shared and private rides anywhere in Malta straight from the app, at a small price. Bolt (https://bolt.eu/en/) is a valid alternative to Uber (service not present on the Island), and a trip from the airport to Sliema goes from 11.50€. Cool (https://www.cool.mt/) is the perfect option if you are not in a rush, travelling solo and willing to share your car with strangers going in your direction, same route airport-Sliema for the price of 6.50€. The last and less affordable options are e-Cabs and white taxis. E-cabs have a fixed price, meanwhile regular taxis with an initial fare of 3.50€ and then 1.40€ per km.
Electric Car-sharing
A valid alternative to buying a car is "GoTo" (https://www.goto.com.mt/), a car-sharing system that works all around Malta and Gozo. The concept is simple: download the app, find the car closer to you and pay per minute. Keep in mind that you can't park the vehicle everywhere but just on the designated parking spot.
Electric Scooter-sharing
One of my favourite ways to go on short distances is by motorbike, be aware that Maltese roads are not the best for these kinds of vehicles, but with a bit of exercise you can move around quickly, skipping traffic and with no parking issues! The 'GoTo' company provides scooters other than cars; another app with the same principle is Whizascoot (https://whizascoot.mt/). Download both to make sure you have more chances to find a scooter next to you! 
Fitness and Health
Fitness centres in Malta can be expensive compared with other cities in Europe; gym memberships go from 60 to 100 € per month. The choices of activities are a bit limited, but a healthy lifestyle is slowly becoming a trend in Malta. 
If you are not a gym person, there are still many other options: Yoga lessons by the sea, pole dance courses, martial arts classes, rock climbing, surf, paddle surf, kayaking and diving.
Another way of training is by the promenade, you can find runners at any hours of the day, and there are several open gyms to exercise outside in many localities( i.e. in Sliema, San Gwan, Marsaskala and St. Paul)
Malta People
The Island is a continuous recycling of people that come here for many different reasons, but we could easily divide the market into three big categories: students, workers (mostly in Gaming's companies) and retired people. The largest community is, without any doubt, the Italian followed by the English and many other nationalities; the enormous amount of different cultures makes the environment very friendly and easy to socialize. Nonetheless, one of the most used apps is currently Tinder! 
Maltese and English are the two official languages of the Island, the first being a mix of Arabic, Italian, English and a bit of French. So it will be very easy to get around with basic English.
Maltese people are renowned for being extremely friendly. The economy of Malta is strongly built on tourism so you will find many tourist friendly establishments as well as regular friendly people ready to help you with whatever you need. Most Maltese citizens are very patriotic and proud of their heritage so you will also get many tip and advice on places to visit and local activities.
Nomad Friendly
Value for Money
Internet
Workspace
English
Food
Safety
Health
Transportation
Friendly
Quality of Living
Cost of Living Malta
In the last five years, rent in Malta increased exponentially; apartments are often shared by 2/3 people, sometimes more.
The average living cost changes mainly by the Island's zone; a double room in a central area (Sliema/St. Julian) is around 400/500€, a one-bedroom apartment is approximately 600/800€. With the advent of Covid in 2020 prices are slightly decreasing, balancing the cost of rent with the average salary, Which till now was quite unbalanced.
Here are some essential living costs:
Domestic Beer (0.5 liter draught): $3.50
Cappuccino: $2.65
Loaf of Fresh White Bread (500g): $1.40
Milk (regular), (1 liter): $1.20
Water (1.5 liter bottle): $1.20
Cigarettes 20 Pack (Marlboro): $7.15
One-way Ticket (Local Transport): $2.40
Taxi Start (Normal Tariff): $7.13
Taxi 1km (Normal Tariff): $2.38
Gasoline (1 liter): $1.60
Apartment (1 bedroom) in City Centre: $1000