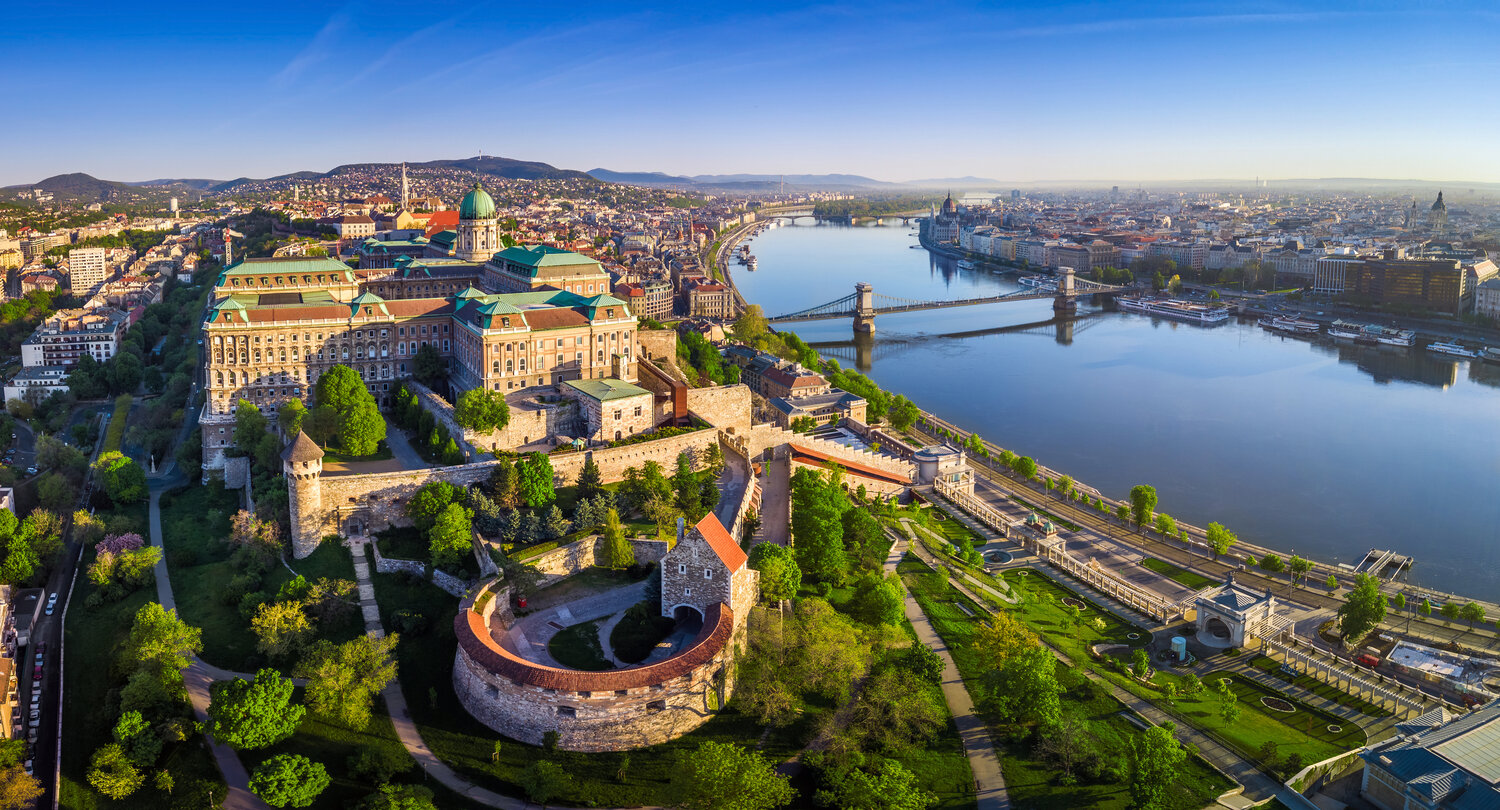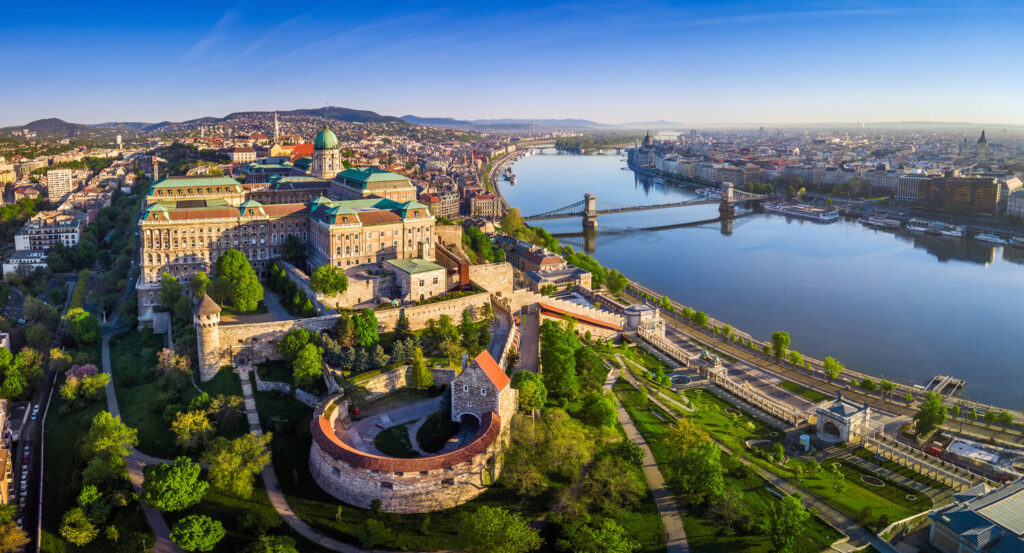 Digital Nomad Hungary Guide
Dating its existence neatly to exactly 1,000 AD, when Stephen I was crowned the nation's first king, Hungary is a country with a long, storied, multicultural history. Today, digital nomads to the country will not only encounter the Magyar traditions that are at its heart, but also remnants of its imperial Habsburg past, its occupation by the Turkic Ottoman Empire, and even ruins associated with the ancient Romans and early Christians.
Its capital, Budapest, known as the Pearl of the Danube, is one of the most populous cities in Europe, so it's not surprising to find it filled with culture, from classical concerts to rock festivals. Boasting some truly gorgeous architecture and delicious dishes around every corner, it's an ideal setting for the digital nomad who thrives in a busy environment. 
Outside Budapest, however, it's a different story. No other urban centre in Hungary comes near the size of the capital – though arguably many approach it when it comes to the beauty of their downtown streets. Places like Debrecen and Szeged can be more difficult to adjust to due to language barriers and a generally slower pace of life, but they can also be equally rewarding for the digital nomad who likes to dive headfirst into the local scene or make their life abroad a bit more of an adventure.
Straying beyond the cities, Hungary is blessed with the largest lake in Central Europe as well as acres of vineyards, including Tokaji, home of the famous sweet wine beloved by the French king Louis XIV. And for those who want to make the country their temporary home for a little longer, it's right in the middle of many other fascinating nations, with the Balkan nations of Croatia, Bosnia, and Serbia to the south, Austria to the west, Romania to the east and Slovakia to the north.
To cap it all off, Hungary also just launched its version of the digital nomad visa earlier this year, as it seeks to attract foreign capital into its economy.
Hungary Digital Nomad Visa
Yes, it's only been a few months since Hungary decided to follow in the footsteps of countries like Estonia and Croatia and create what is colloquially known as a digital nomad visa (DNV). More formally dubbed a White Card by the Hungarian government, it allows people in certain professions to live in the country for up to one year, with the option to extend the permit for a second year.
If you are from one of the nations that don't require a Schengen Area visa, such as the UK, USA, Canada or Australia, you can legally stay in Hungary for up to 90 days within a 180-day period without applying for the White Card, provided you are in the country for certain purposes. These include attending business or sales meetings, fact-finding visits, meeting clients or customers, and attending or speaking at a conference, amongst other reasons. 
For every other type of employment, digital nomads will need to get their hands on a White Card. This process comes in two parts: first, applying for the residence permit in your home nation, which will provide you with an entry visa; second, going to the National Directorate-General for Aliens Policing (NDGAP) once you have arrived in Hungary to receive the White Card itself.
Who is the Hungary digital nomad visa for?
Hungary's version of the digital nomad visa is designed for people who have contracted work outside of Hungary or own shares in a company based outside of Hungary. The Immigration and Asylum Office specifies that this must be done "using an advanced digital technology solution," which, in non-jargon, means normal remote working, i.e., employing tools like laptops, smartphones, and any other requisite software.
A key point to note is that the Hungarian authorities technically require you to have a contract with a company for you to be eligible for the White Card. That throws up barriers for anybody who works in a predominantly freelance capacity with only either short-term contracts or informal arrangements.
The terms and conditions also include governmental stipulations around not seeking gainful employment within Hungary, though that shouldn't be a problem for most digital nomads.

How much does the Hungary digital nomad visa cost?
The DNV costs 110 euros, to be paid when you submit your initial application in your country of residence. 
If you decide to renew the White Card for another year, this can be done within Hungary at a cost of 35,000 forint (approximately 76 euro) if you submit it at one of NDGAP's client service offices. It's also possible to extend the residence permit via NDGAP's online portal, which is significantly cheaper at 23,000 forint (approximately 50 euro).
What documents do I need to apply for a digital nomad visa in Hungary?
Let's get the easy bits out the way first. You'll need a passport that is valid for at least six months after your visa expires and a facial photograph taken not more than three months previously. 
Digital nomads applying for a White Card will then need to fill out an application form for a residence permit and the Appendix 17 form. In the former, you'll have to provide your personal details, information about your accommodation plans while in Hungary, the names of any dependents and, naturally, the purpose of your visit. You're also required to affirm that you have health insurance and plans for onward travel once your White Card expires.
Appendix 17 is the document specifically aimed at digital nomads. In this, you'll need to submit particulars about your work, including the name and information of your employer, income generated in the six months preceding your application, any savings you might use to support yourself during your stay in Hungary, as well as any relevant qualifications that enable you to do your job.
The Hungarian authorities aren't going to just take your word for all this, however, and it will be necessary to prepare shears of supporting documentation, too. For proof of remote work, a signed employment contract is the most crucial part. This must include the duration of your employment and should cover the period you plan to reside in Hungary. You will also need a letter from your employer explaining the nature of the company's activities and the scope of your work for the company, in order to prove the validity of your remote role.
Next, you'll have to prove your income exceeds 2,000 euros per month. This can be done either via your employment contract (if your salary is listed) or through bank account statements that show you have earned that much in the preceding six months. You can also reinforce your financial position by showing you have enough cash in the bank to support yourself (at the rate of 2,000 euros a month) for the duration of your stay, though this is not mandatory.
Don't expect to be able to rock up and find a place to live. The authorities will want to see details of your accommodation plans. This might include a rental agreement, Airbnb or hotel reservation documents, or the deed to purchased property.
As with many European countries, the Hungarian government wants to be sure you won't be a burden on the state's healthcare system, which is why you'll have to purchase comprehensive travel insurance that covers the entirety of your time in the country and provide proof of that fact as part of your White Card application.
Last but not least, you need to present evidence of onward travel plans, ideally with a return ticket, though showing you have the funds to afford to go home is also acceptable.  
Once you've assembled all the paperwork, you need to take the bundle to the nearest Hungarian embassy or consulate. This cannot be done online. While you're there, your facial likeness and fingerprints will be taken.
What happens after I arrive in Hungary?
Once you've been approved for an entry visa and have travelled to Hungary, you'll have 30 days to go to the nearest office of the Directorate General for Aliens Policing to obtain your White Card. While this should be a mere formality, make sure you bring all the documentation you used for your application with you, just in case.
What if I'm an EU citizen?
Citizens of the European Union, the European Economic Area, or Switzerland can work visa-free for up to three months in Hungary. For a longer period, you will need to apply for an EU registration card, which means you will be counted as resident in Hungary.
To do this, you'll need some form of ID, proof of address, healthcare insurance, and evidence of the purpose of your stay in Hungary.  

What Are the Best Places in Hungary for Digital Nomads?
Hungary has only one large city, where its digital nomad populace is predominantly focused. However, there are several other smaller but still vibrant places to set up shop, as well as more rural, modest locales for those that want good internet connection but a closer connection to nature.
Budapest
As locals are fond of reminding visitors, Budapest was once three separate towns. On the east bank was Pest, while on the west bank sat Obuda (literally 'old Buda') and Buda. In 1873, they were united into one grand city and, a few decades later, crowned with the grandiose, neo-gothic Hungarian Parliament Building, an iconic edifice that was inaugurated to coincide with the 1,000th anniversary of Hungary as a nation.
Hungary's capital is undeniably an impressive-looking place for a digital nomad to set up shop, even though many of its most eye-catching buildings were all built in the 20th century. The Fisherman's Bastion (completed 1902, based on an 18th century model) slinks along the cliffs of the west bank, providing striking views over the Danube. During the day, the extravagant Szechenyi thermal baths (opened 1913) offer somewhere to relax in mineral waters pumped up from natural hot springs; on summer nights, they turn into something of a party destination. Right in the heart of the city centre is Budapest's largest church, St. Stephen's (completed 1905), where you can climb the spire for views of the city or take a pew for the regular casual concerts held inside.
Older remnants of Hungary's Hapsburg past are mostly found on the west bank of the Danube, where the stunning Matthias Church and the imposing Buda Castle sit alongside one other. The Pest side, however, contains the largest synagogue in all of Europe. Decorated with colourful frescoes and the geometric designs so common to Moorish architecture, the Dohany Street Synagogue was built in the mid-19th century and remains open for visitors as well as religious worship.
The city has its fair share of coworking spaces (more on that under cost of living) and provides the closest thing to a cosmopolitan existence that Hungary has to offer. In terms of nightlife, it is famous for its trendy ruin bars, situated inside rundown pre-war buildings and furnished with an eclectic mix of flea market bargains. This is where Budapest's fashionable young things come to play, from the famous Szimpla Kert, which has become something of a tourist trap, to more hidden hangouts.
During summer days, Margaret Island boasts a centrally located park that is ideal for relaxed picnics. If you time it right, you can catch the infrequent but extraordinarily cheap local boat service down the Danube to the island.
Another boon for digital nomads is that Budapest is largely a very walkable city, but even when you're venturing a bit further afield, it is very well served by a mixture of trams, buses, and metro lines, all of which are, again, very cheap.
Debrecen
If you're not one to muddle along with sign language, then read no further. Outside Budapest, English is far less widely spoken, and you may struggle to communicate on a daily basis. If you're willing to learn some of the language or have a devil-may-care attitude to being understood, however, there are some very pretty Hungarian cities to live in as a digital nomad, including Debrecen. 
Despite being Hungary's second largest city, Debrecen's population is less than an eighth of the size of Budapest's. Where Budapest is sometimes criticised as being polluted and crowded, Debrecen is much less so, and has a significant student population.
Debrecen has meeting spaces for digital nomads to rent, but not so much actual coworking offices. Considering how much cheaper accommodation is than in Budapest, however, you can probably find an apartment with adequate space for a home office. Plus, the city has plenty of cute cafes if you prefer a more social environment.
The symbol of the city is the Reformed Great Church, a butter-coloured edifice that is the largest protestant church in Hungary. While Debrecen is not filled with tourist attractions like the capital, it offers a pleasant way of life, with nice relaxing walks in Nagyerdei Park and, slightly further out of town, the natural delights of Hortobágy National Park – a UNESCO World Heritage Site that contains the remains of an early pastoral society.
If you're a wine fan, you'll be spending lots of free days in Tokaji, the region where the world-famous sweet wine of the same name comes from, touring through the gorgeous, vineyard-crowded landscape.
Public transport includes buses and trams, but Debrecen is also a nice place to cycle around.
Szeged
Sometimes called the 'City of Sunshine' thanks to its glorious weather, Szeged is located in the southeast of Hungary. After a great deal of the city was washed away in a flood in 1879, Emperor Joseph I rebuilt the city with wide avenues, large squares and lots of buildings in the styles that were fashionable at the time: art nouveau and neoclassical. The city's main cathedral, synagogue, and Reok Palace are all masterpieces that never cease to wow.
Szeged is a favourite with expats not just because of the weather and the architecture, but also because of the numerous restaurants and cafes, the safe streets, and the many festivals throughout the year. While none of that changes the fact that it's a small place of just 160,000 people, its bustling nature makes it feel a lot more active than other cities of the same size.
Though it's largely walkable, there are also the trams and buses one sees throughout Hungary. Plus, Szeged is known for producing Hungary's most famous spice, paprika, as well as a uniquely flavoured salami.
Pécs
Also in the southern part of the country, Pécs still bears the remnants of its Roman and Ottoman past. The city is home to an ancient Christian necropolis as well as the imposing, brick-walled Mosque of Pasha Qasim. The pedestrianised Király Street runs off from the city centre, showcasing beautiful buildings at the foot of which are restaurants, bars and boutique shops.
Pécs is the quietest of the towns on our list, with a fairly limited social scene. However, it's also a great base from which to go on excursions. Within Hungary itself, the Danube-Drava National Park is a joy for hikers, while the medicinal properties of spa town Harkány are the stuff of folk legend. Oenophiles can take a boozy trip along the Villány-Siklós wine route and discover some of Hungary's best vintages. Lake Balaton is also a hugely diverting and diverse option to consider (more on that below).
Once you've exhausted the domestic options, the northern regions of Croatia, Bosnia, and Herzegovina, and Serbia are also within easy reach.
When is the best time of year to visit Hungary?
With average lows of -9 degrees Celsius during winter and average highs of 27 degrees Celsius in summer, there's a fair amount of variation in Hungarian weather. Temperatures tend to be fairly uniform across the country, so you'll enjoy warm weather from April through October, with occasionally sweltering heat in the hottest parts of the year, during July and August.
High season, as with a lot of places in the northern hemisphere, is June to August, which means that, generally speaking, April to May and September to October are the best times to visit, when the tourists are in abeyance but the weather is still fine. November to March is wetter and snowier, with many attractions closed down until the weather clears up again.
Spring
Beginning with average temperatures of 4 degrees Celsius but rising to average highs of 22 degrees Celsius, spring is a shoulder season for Hungary, before the tourists flock in for summer. 
If you want to experience one of Hungary's most distinctive festivals, the very beginning of spring is when Busójárás takes place. A performance to chase away the winter, the South-Slavic Šokci population of Mohács dress in wooden masks and sheep's wool coats and parade through the town to the sound of folk music instruments and cannon fire during the day, while at night, crackling bonfires light the darkness.
On the other side of the country, the preserved village of Hollókő, which has been inscribed as a UNESCO World Heritage Site, holds an annual Easter Festival where traditional food, handicrafts and folk music are on display, as well as the traditional act of locsolkodás, where men spray women with water in return for shots of the spirit palinka, in tribute to an age-old fertility rite.

Summer
When temperatures soar into the high 20s, Hungary's biggest music festivals take place. Digital nomads who are fond of live performances can enjoy musical styles from hip-hop and rock, to EDM and folk.
One of the most famous is Sziget (literally 'island') Festival, which takes place on an isle in the middle of the Danube just north of Budapest and attracts top-notch acts such as the Arctic Monkeys, Kings of Leon, Justin Bieber, Dua Lipa, Calvin Harris, and Steve Aoki.
Bear in mind, however, that Budapest can become a bit stifling when temperatures reach their peak, so it might not be the best option for digital nomads who prefer less humid climes.
Fortunately, Lake Balaton is within easy reach from the capital as well as from Pécs. The area is a particular magnet during the summer, when the Balaton Sound electronic festival takes place. The largest lake in central Europe has more than just music to enjoy in the hotter months, however: along its shores, visitors can also explore the ruins of Szigliget fortress, traverse lake caves, drink their way across vineyards, wander through the baroque rooms of the Festetics Palace and take a pilgrimage to monastery complex of Pannonhalma Archabbey. In June, the nearby village of Tihany celebrates its Lavender Festival with lavender-flavoured beer, lavender knick-knacks and lavender ice cream.
Autumn
Autumn is a more temperate, slightly rainier time to visit Hungary. It is possibly also the most comfortable time to visit, whether you plan to spend time in the cities or go wandering in nature. 
It's also the ideal time to visit for gourmands, as all over the country festivals dedicated to food and drink are in full swing. Budapest in September not only boasts an annual wine festival, hosted in the spectacular setting of Buda Castle, but also its annual beer festival, which gives aficionados of craft tipples the opportunity to meet trendy brewers (as well as imbibe all they can drink, naturally). For something more traditional, the town of Gyula, east of Szeged, hosts an annual palinka festival, where visitors can try variations of Hungary's national fruit brandy.
Also not far from Szeged but more on the foodie spectrum, Békéscsaba has a sausage festival in September, showcasing the Hungarian love for a juicy pork product, while in the town of Kalocsa, south of Budapest, a paprika festival pays homage to the nation's signature spice.
Winter
Hungary is at its coldest in December and January, when the country is smothered in snow and the buildings appear as though dressed in lacy white garments. As long as you've got a full winter wardrobe, it can be a beautiful time to visit as a digital nomad, both in the cities and in the countryside. Ice skating rinks are common sights, as are Christmas markets and bathers frequenting thermal spas.
On either side of winter proper, November and February tend to be a bit wetter and foggier, but are also perhaps the best time to enjoy the cultural feast that Hungary has to offer. Budapest, in particular, has world-beating classical concerts at venues like Müpa, the Hungarian State Opera and the Liszt Academy.
What is the Cost of Living in Hungary?
No matter which way you cut it, Hungary is one of the cheapest countries in Europe. It doesn't matter if you're assessing based on rent, the cost of groceries, public transport or any other metric, Hungary is going to come out as one of the most affordable places to set up as a digital nomad.
For starters, the daily hot desk rate at one of Budapest's most popular coworking spaces, Loffice, is just 5,000 forint plus VAT (approximated 12.50 euros), while monthly passes go for 50,000 forint plus VAT (approximately 125.50 euros), including three free hours of meeting room rental and other amenities. At slightly more expensive Kaptar, you're still only spending 15 euros a day or 140 euros for a month.
So how much does everything else cost?
Rent and utilities
A one-bedroom flat right in the city centre of Budapest, Hungary's most expensive city, will set you back around 165,000 forint (approximately 415 euro) a month. In Debrecen, it's an average of 118,000 forint (under 300 euro), while Szeged is even less at 100,000 forint (250 euro). If you go for somewhere a bit more suburban or opt for the less fashionable part of town, you can easily hope to knock 20,000 to 30,000 forint (50 to 75 euro) off the cost. This is particularly true for Budapest, where prices on the more genteel west bank are usually higher than the more urban, buzzy east bank.
On Airbnb, you can find tons of options for 40 to 60 euro per night in Budapest, whereas in Debrecen and Szeged you can certainly unearth decent places for under 40 euro and under 30 euro respectively, with Pécs just a smidge cheaper.
Utility costs are probably the most in line with other parts of Europe, though this will of course vary depending on which season you decide to set up as a digital nomad. However, a fair estimate for everything (including electricity and internet) would be somewhere between 45,000 and 55,000 forint (115 to 140 euros), with the price affected by part of town and part of the country.
Transport
Considering how walkable almost every city in Hungary is, you probably won't need to splash out on local transport – or, at least, not regularly. The exception is probably Budapest, where it might be worth getting a monthly pass for 9,500 forint (24 euro) or a quarterly pass for 28,500 (72 euro), especially if you decide to rent a place deep in the suburbs.
On the occasions when you do need to buy a ticket for the tram or bus, these are always cheaper if purchased from a machine rather than the driver, and generally cost between 330 to 370 forint (83 to 93 euro cents).
Tickets on Budapest's ferry down the Danube, meanwhile, cost just 170 forint (43 euro cents).
Food and drink
Milk, bread, meat, fish, wine, beer – everything is cheap in Hungary, especially if you live as the locals do. A few years ago, the average Hungarian was reported to spend just 2 euros a day on food, for a grand total of around 60 euros a month. That might be pushing it these days, following years of price inflation. Plus, as a digital nomad you'll want to try the local cuisine and live off more than just the basics, but 150 to 200 euros for groceries a month is a very reasonable budget wherever you are in the country.
When it comes to eating out, the average price for a three-course meal for two (excluding drinks) will set you back around 12,000 forint (30 euro) in Budapest, but expect to spend closer to 9,000 (22 euro) anywhere outside the capital. For less extravagant meals, you can easily find some gratifying grub for between 5 and 10 euro.

Travel and tourism
Hungary's rail routes cross some truly lovely terrain, so it's worth taking a train just for the journey – particularly as the trains are usually nice and clean, and the tickets only cost, at most, 10 euro. In fact, you can travel to many other nearby countries return for under 50 euro, including Austria, Czechia, Romania, Slovakia, Slovenia and more.
City parks, national parks and religious buildings are all free, which is good news since there are a lot worth seeing. It's well worth paying for a tour through the Hungarian Parliament Building at a cost of 4,200 forint (10.505 euro) for EEA citizens and 8,400 forint (21.10 euro), since this is the only way you'll see the interior of the buildings and you get a concise history lesson along the way.
Outside of Budapest, the Hungarian Open Air Museum is worth visiting for a flavour of former rural life. Tickets are 2,600 forint (6.50 euro). 
Why is Hungary a Great Place for Digital Nomads to Work Remotely?
Fast, reliable internet
Hungary is regularly touted as having one of the fastest, most reliable internet connections in the world, which some attribute to the country's forward-thinking attitude as early adopters of fibre-optic cable. Budapest, for example, approaches an average of 80 megabits per second. For comparison, recent estimates put Berlin's average internet speed at anywhere from 23 to 32 megabits per second. Of course, speed isn't everything, but when the internet is stable, too, what's left to worry about for digital nomads? Do bear in mind though that you might struggle to get a signal if you're not in a city.
Great food
As any well-seasoned digital nomad knows, there are some countries where you live where you try the most famous dishes once for posterity and then avoid them for the rest of your trip, save for the local cold cuts and cheese. That's not the case with Hungarian food, which boasts a menu of gastronomic delights. Top of the list has to be goulash, the rich beef stew with carrots, potatoes, tomatoes, and a few tablespoons of spicy-sweet paprika. A close second is the ubiquitous lángos street food snack: it comes topped with all kinds of ingredients, but the main thing is the deep-fried flat-bread base that is oh-so-good and oh-so-bad. Other items to try are töltött káposzta (stuffed cabbage leaves) and kürtős kalács, a cylindrical sweet pastry also known as chimney cake that is cooked over coals.
Heart of Central Europe
There are few countries in Europe that have such cheap, convenient, quick transport connections to so many other neighbouring nations. Within three hours from Budapest, you can be in Vienna spooning down strudel or strolling through Bratislava's old town. Rent a car from Szeged and you could be over the border with Romania or Serbia in less than an hour. Do the same thing from Pécs and you could be in Croatia or Bosnia and Herzegovina. Hungary has even been nicknamed the 'Heart of Central Europe' because of its prime location. As a base for digital nomads, it's a perfect hub from which to explore as much of the region as possible, while still maintaining a place to call temporarily home.
Digital Nomad Hungary Conclusion
It's still early days for Hungary's digital nomad scheme, but the White Card is certainly a step in the right direction. Indeed, the combination of good quality internet and cheap cost of living is a seductive lure for anyone who is able to work remotely.
Hungary offers true variety for any visitor. As already noted above, its capital is one of the largest cities in Europe, filled with good cuisine, numerous entertainments, and convenient public transport. Whether sipping a beer in a ruin bar or relaxing with a coffee in a café overlooking the Danube, there's an international vibe to Budapest that is a testament to its growing expatriate populace – in the past two decades, the immigrant population has doubled, as people flock to one of the prettiest urban centres around.
For those digital nomads who want the facilities of a city without as many crowds and cars, Hungary's smaller hubs, like Debrecen and Szeged, offer a slower pace of life that's still as well connected as Budapest. True, there aren't as many social activities to enjoy, but almost everything is cyclable or walkable. Though you won't find as many English speakers outside the capital, you'll also find that people are generally friendlier and more helpful.
With hot summers and cooler autumns, snowy winters and mild springs, the country has the full range of seasons, replete with events that offer both tradition and modernity, from megastar-headlined festivals to South Slavic rituals.
As a final flourish, it's cheap and easy to get in and out of the country to a large list of other countries in Europe. If one of your goals as a digital nomad is to see as much of the world as possible, you couldn't ask for a better place to base yourself for a few months or even a couple of years, as you immerse yourself in the diversity that Central Europe has to offer.