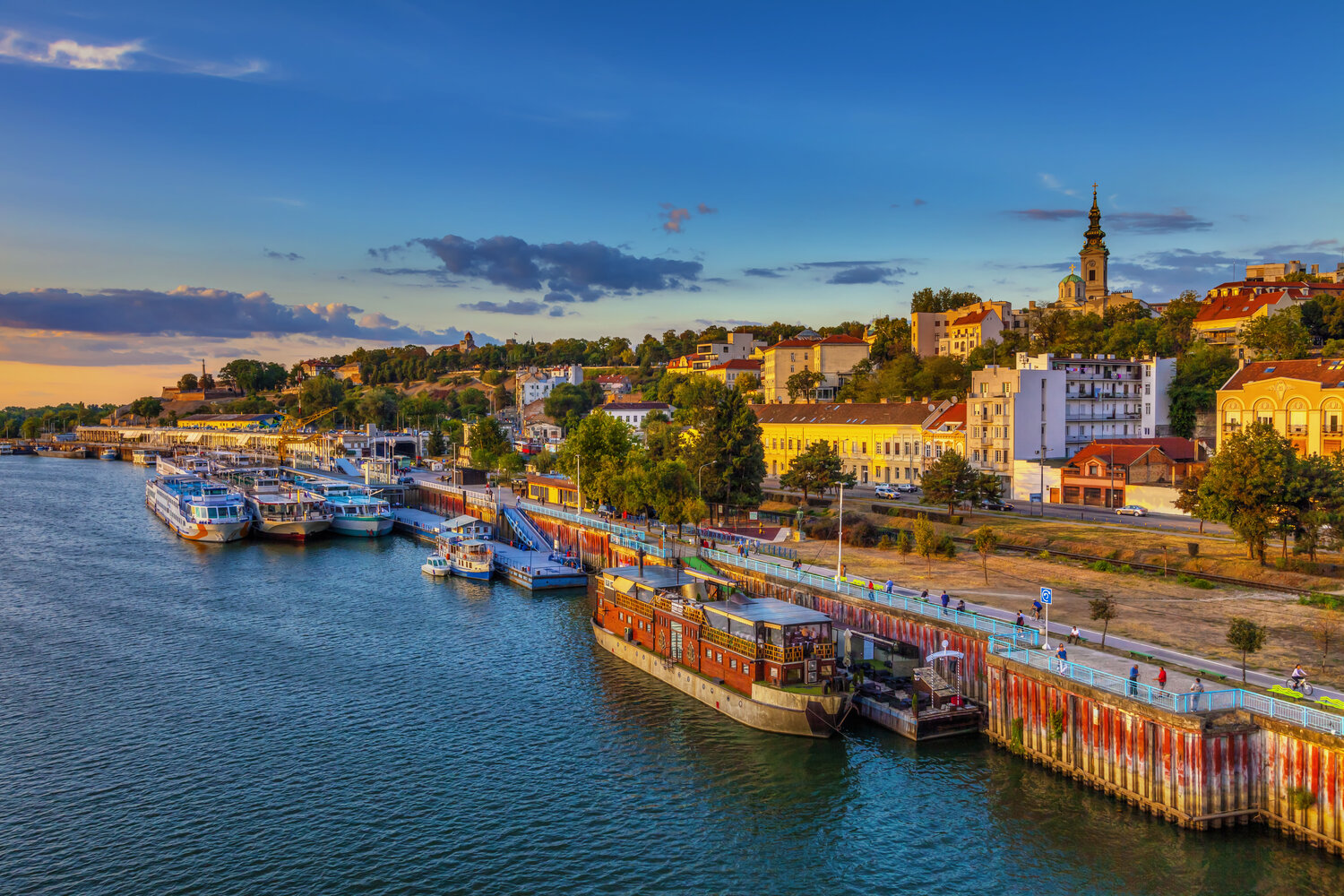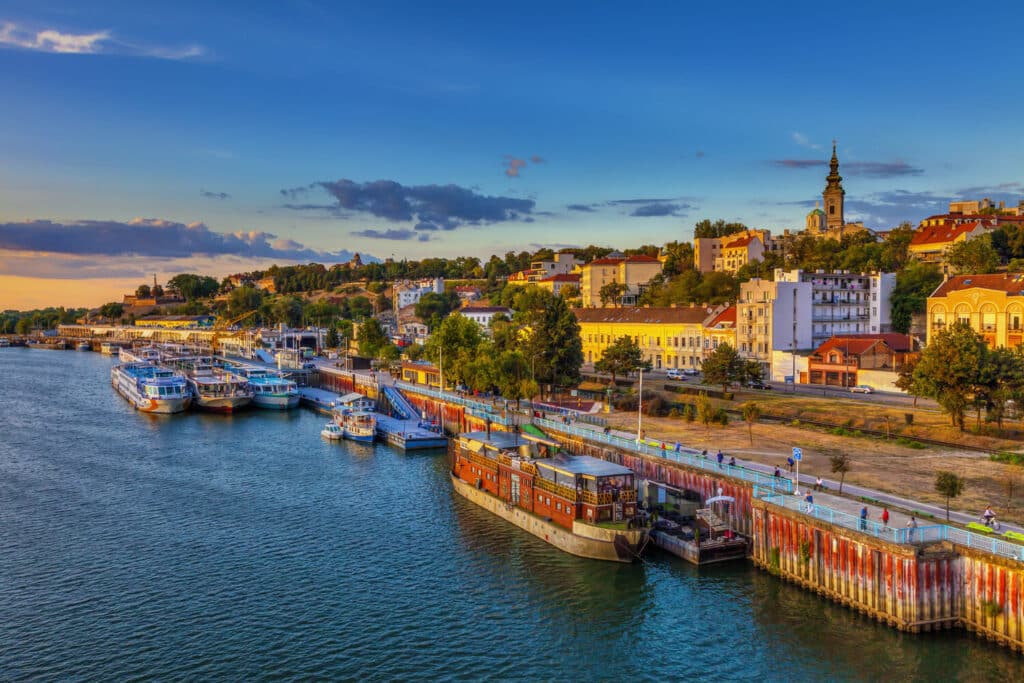 A Digital Nomad Guide to Belgrade
The Serbian capital city of Belgrade is an increasingly popular destination for digital nomads, and it's easy to see why. With a low cost of living, a relaxed lifestyle, and a growing community of digital nomads, Belgrade is an ideal place to set up camp and get some work done. The city is also an excellent base for exploring the rest of Serbia and the Balkans, and there are plenty of outdoor activities on offer in this beautiful country.
Belgrade is located in the southeast of Europe, at the confluence of the Sava and Danube Rivers. It has a population of 1.7 million people and is actually one of the oldest European capitals. The city is effectively split in two, with the old town on one side of the river and the newer, more modern part of town on the other.
The city has a long history, dating back to the Roman period, and there are plenty of historical sights to explore. Its complex past has also left Belgrade with a unique culture, which is a charming mix of East and West. Experience this in the city's food, architecture, and music which are just a few factors appreciated by visiting digital nomads.
Belgrade has a compact and walkable city center, which is convenient for digital nomads who don't want to commit to buying or hiring a car. Outside of the center, Belgrade is quite spread out, but it also has a strong public transport network, which makes getting around easy and affordable.
Citizens from most countries, including the USA, can enter Serbia visa-free for up to 90 days. However, it's also possible to secure a longer visa for those hoping to make Belgrade a more permanent home. 
Almost everyone in Serbia speaks English, which makes Belgrade a very foreigner-friendly city. This is handy for digital nomads who do not speak the local language. There is a growing community of remote workers in Belgrade, which means there are plenty of coworking spaces and meetups to get involved in. In fact, the city is fast gaining a reputation as one of the best places in Europe for digital nomads.
If you're looking for the next exciting location on your digital nomad journey, you'll definitely enjoy Belgrade.
Nomad Friendly
Value for Money
Internet
Workspace
English
Food
Safety
Health
Transportation
Friendly
Quality of Living
Living in Belgrade Overview
| | |
| --- | --- |
|  Meal, Inexpensive Restaurant | $7.63 |
| Domestic Beer (1 pint draught) | $2.12 |
| Cappuccino (regular) | $1.79 |
| Loaf of Fresh White Bread (1 lb) | $0.56 |
| Water (1.5 liter bottle) | $0.51 |
| One-way Ticket (Local Transport) | $0.76 |
| Basic Utilities (Monthly) | $142.46 |
| Internet | $21.01 |
| Fitness Club (Monthly) | $28.17 |
| Apartment (1 bedroom) in City Centre | $478.18 |
Currency: Indonesian rupiah (Rp)
[erw_exchange_rates_widget lg="en" tz="0″ fm="IDR" to="EUR,USD,GBP,AUD,JPY,RUB" st="primary" cd="" am="15000″][/erw_exchange_rates_widget]
ATMs
Max Withdrawal: Rp 3,000,000
Withdrawal Fee: Rp 30,000 – Rp 50,000
Use of Credit Cards: Mostly Cash
Digital Nomad Personal Experience in Belgrade
I found Belgrade to be an extremely relaxed and easy-going city, where I immediately felt very safe. This is largely down to the fact that the people of Belgrade are incredibly friendly and hospitable. It's difficult not to feel at home in a city where the locals are keen to get to know you and show you around.
Belgradians are always happy to help out a foreigner, and they're also understandably very proud of their city. They're keen to share their culture and want to make sure that you have a good experience.
One thing that I really loved about the city was how walkable the center was. I personally find that the best way to get to know a city is on foot, so it was great to be able to walk around. Plus, you get to stay active and save money on transport which is great for your bank account and to get your daily steps in.
Belgrade is also a lot of fun, perfectly combining affordable nightlife and culture. From floating nightclubs on the river to lively open-air markets, there's always something going on. And, of course, there are plenty of bars and restaurants to enjoy, for very reasonable prices.
One of the biggest problems that digital nomads tend to face is loneliness, but that's not something you'll have to worry about in Belgrade. There's a very strong community of digital nomads in the city, and it's easy to meet other like-minded people.
Beyond this, Belgradians really have a zest for life and are always up for a good time. Everyone who lives in Belgrade seems to have a very healthy work-life balance. As a digital nomad, it can be lonely to live in a city where people are always working and never seem to have any time for fun.
Of course, no city is perfect, and there are a few drawbacks to living in Belgrade. The main one is that the city can be quite dirty, especially in the summer when the heat creates a lot of smog. The streets are often full of litter, which is something the city authorities could work on.
Work in Belgrade
One of the best things about Belgrade is that it is home to a wealth of coffee shops and coworking spaces. This makes it really easy to find a place to work that suits your needs.
Belgrade's coffee culture is particularly interesting. The city is filled with quaint cafes that make you feel as though a famous author could be sitting next to you working on their next masterpiece.
Best Places to Work in Belgrade
Best Cafes to Work from in Belgrade
Meduza
Meduza is a beautiful cafe located in the heart of the city, just a short walk from Republic Square. Creative digital nomads are particularly drawn to Meduza thanks to its stylish decor and chilled-out vibe.
Uzitak Coffee Place
This modern cafe serves up excellent Turkish-style coffee and delicious local cakes and pastries. It's a friendly and welcoming place where you can easily spend an afternoon working and sampling the different coffees on offer.
Kafeterija
There are several branches of this beloved local chain conveniently dotted around the city, and the coffee is second-to-none. Forget about Starbucks, Kafeterija is the place to go in Belgrade.
Kozmetičar
With its 1970s-inspired interior design and excellent selection of cakes, pastries, and pies, Kafe Kozmetičar is one of the most popular digital nomad cafes in town. Plus, they also serve wine for when it's time to close your laptop and enjoy some after-work drinks.
Zaokret
This cafe and art space is heaven for creative digital nomads looking for inspiring surroundings and a strong internet connection. There's a big focus on community here, so it's perfect for those seeking to meet new people and learn more about the local culture.
Kafeterija Przionica Lokal
If you like a quiet space to work, this is the perfect cafe for you. This local favorite is friendly, cozy and serves great fresh juices alongside their caffeinated delights.
Laboratorija
You'll quickly find yourself falling in love with Laboratorija's chic black-and-white decor. This place is perfect not only for productivity but also for your Instagram feed.
Best Coworking Spaces in Belgrade
There's no shortage of excellent coworking spaces to choose from in Belgrade. Some are geared towards tech startups and entrepreneurs, while others are more social and focused on creativity and collaboration. Whatever your needs are, there's sure to be a coworking space that suits you.
ICT Hub Playground
Ask any tech entrepreneur, and they'll probably tell you that ICT Hub Playground is hands-down the best coworking space in town. It's home to a community of talented young entrepreneurs, and there's a big focus on innovation.
Smart Office Coworking Belgrade
For some digital nomads, a coworking space is more about meeting like-minded people than anything else. Smart Office Coworking Belgrade is designed to foster community, and there are plenty of social events and activities held here on a regular basis. In fact, there's even a special "no work" zone on the first floor designated for socializing.
In Centar
In Centar is a creative hub for the startup community in Belgrade. Members can take advantage of a variety of services, including coworking space, business incubation, and mentorship programs.
Nova Iskra Creative Hub
With three locations across Belgrade, Nova Iskra Creative Hub is one of the city's most popular coworking spaces. The Zemun branch even has a game room and a rooftop terrace for when you need a break from work.
Our Hub Novi
This is a pleasant an
d modern coworking space that offers members 24/7 access, fast WiFi, printing facilities, and a range of other amenities. It's also one of the most affordable coworking spaces in the city and ideal for those on a budget.
Working from Home
If you prefer to work in the privacy of your own home or have an online job such as teaching English that requires no background noise, then Belgrade is an excellent choice. According to Statista, the average download speed in Serbia is 69.6 megabits per second. This is more than enough for most internet activities such as video conferencing and streaming.
Best Places to Live in Belgrade
Best Neighbourhoods
Stari Grad
Stari Grad is Belgrade's official center, where you'll find most of the city's main attractions. It's also a great place to live if you want to be close to the action and have easy access to public transportation.
The downside is that it can be quite touristy and crowded, especially in the summer months when prices will rise. However, if you crave a buzzing atmosphere, you really can't go wrong in Stari Grad.
Dorcol
The downtown area of Dorcol is one of the most popular neighborhoods for digital nomads in Belgrade. It's centrally located and within walking distance of many of the city's best cafes, restaurants, and bars. Plus, it's also a historically safe and affluent area.
Skadarlija
Skadarlija is Belgrade's edgy Bohemian street, where you will find many of the city's hipster bars and cafes. It's a great place to live if you want to be surrounded by creative types and really soak up the city's buzzing atmosphere. You'll also find plenty of live music and art shows in Skadarlija.
Although it's not as central as Dorcol, Skardalija is still within walking distance of many of the city's main attractions. Its charming atmosphere often causes visitors to compare it to Montmartre, the famous artists' quarter of Paris. 
New Belgrade
If you want to live somewhere quieter with more outdoor activities at your doorstep, then New Belgrade is the perfect neighborhood for you. New Belgrade is a planned city that was built after World War II, and it's filled with green spaces. In fact, every building block boasts its very own park in this municipality. 
New Belgrade is great for families and those with pets. It's also very pedestrian friendly and covered in bike tracks, so it's well-suited to nomads who enjoy an active outdoor lifestyle.
Although it's not as central as Dorcol or Skadarlija, it's still only a short bus or tram ride into the city center. It's a great place to live if you want to get away from the hustle and bustle, and yet all the action is still only a short distance away.
Vračar
Vračar is one of the most wealthy neighborhoods in Belgrade, and it's filled with chic cafes, restaurants, and bars. It's also home to many of the city's best museums and art galleries.
If you're looking for a more luxurious place to live, Vračar is the perfect place for you. Even if you don't end up staying here, you'll probably end up visiting several of its excellent cafes and coworking spaces in the area.
Kosančićev Venac
Once an ancient Roman settlement, Kosančićev Venac is now one of the most fashionable neighborhoods in Belgrade. It's a scenic area that boasts plenty of trees and cobblestone streets. For this reason, it's a very desirable area.
Zemun
Zemun was once an entirely separate town from the city of Belgrade, and it retains that small-town charm. It's filled with traditional Serbian restaurants called "kafanas," and it's famous for its grilled meats and seafood. There's definitely a very independent spirit in Zemun, and the locals are fiercely proud of their town.
Like the rest of Belgrade, Zemun boasts a lively nightlife scene, and it's one of the best areas in the city to enjoy live music. If you're looking for a unique and authentic Serbian experience, then Zemun is definitely a neighborhood worth considering.
Find an Apartment in Belgrade
The best way to find an apartment in Belgrade depends on how long you intend to stay. You should also be aware that you will usually end up paying more per month for a short-term rental.
Short-term
If you're only planning to stay for a month or two, then your best bet is to use one of the many online vacation rental platforms, such as Airbnb or Novi Apartment. These websites offer a wide range of apartments, from simple studio apartments to luxurious penthouses.
Condos and apartments in Belgrade start at around US$350 per month on Airbnb, but prices can go up to over US$1,000. It all depends on how lavishly you would like to live and how centrally located you want to be.
There are also some local websites, charging per day with lots of great options for digital nomads. You can easily filter your specifications and search by area to find your perfect place. Some of the most popular choices include:
Captain Apartment

Novi Apartment

Domovina

Basco Agency
There are also some useful Facebook groups where you'll occasionally find listings for short-term lets. This often happens when someone is going on vacation and wants to rent out their place for a month or two. These deals usually get snapped up quickly, so you need to act fast to get a good deal.
Some of the most useful Facebook groups are:
Apartments & rooms for rent in Belgrade

Medium-term rentals Belgrade

Flat to rent Belgrade

Expats in Belgrade

Stan na dan Beograd (Short and mid-term flat rentals in Belgrade)
Third-party sites are generally more expensive than Facebook groups, but they offer more peace of mind as you are often insured if something goes wrong.
Long-term
If you want to stay in Belgrade for a longer period of time, then there are several ways to go about finding a place.
Facebook is a popular way for landlords and agents to advertise apartments and there are also several useful websites where you can find long-term rentals. These include:
CityExpert. This is generally considered the best website for finding long-term rentals. The site is easy to use, and you can filter your search by price, location, and number of rooms.

BeoRent

Symbol Properties

FlatRentBelgrade
Usually, a lease will be for one year. However, it is also possible to find or negotiate a six-month lease. You will usually have to pay a deposit, which is between one to two months' rent.
If you're willing to live a little outside of the city, then you may be able to find a cheaper place. For example, a one-bed studio outside of the city center will cost between US$250 and US$350 per month.
Meanwhile, a one or two-bed apartment in the city center is likely to cost between US$550 and US$800 per month. Although, of course, if the apartment is being shared between multiple people, the cost will be more reasonable.
Bear in mind that unless stated otherwise, the prices you see on these websites usually exclude bills such as water, internet, and electricity which will be charged separately.
Cheap Places to Stay in Belgrade
As is the case in most cities, an apartment share is one of the most affordable ways to live in Belgrade long-term. This is an ideal solution for solo digital nomads since it's also a great way to meet new people and make your first friends in the city.
There are several websites where you can find room shares, such as:
iRoommates

Cimeri.rs

Nespick

OKroommate
Again, Facebook can also be a great tool in helping you to find a room for rent.
Location-wise, living a little further away from the city center is generally going to be cheaper than living right in the heart of things. However, that doesn't mean that you have to compromise on quality or comfort.
There are also lots of clean, friendly, and affordable hostels for you to stay in while you search for longer-term accommodation. These will be centrally located, which is perfect for getting to know the city.
Some of the top-rated hostels in Belgrade include: 
El Diablo Hostel Belgrade

Balkan Soul Hostel

Chill House

Sun Hostel

Good People Design Hostel
 Prices for a bed in a shared dormitory start at US$10 per night, making this an affordable option for remote workers on a tight budget. You can get to know other travelers and save money while you search for a great value long-term place.
When there's less time pressure, it's easier to go house hunting and hold out for a good deal.
Belgrade Visa
Serbia offers a visa-free stay of up to 90 days to citizens of most countries, including the United States. However, if you want to stay for longer than 90 days, you will need to apply for a temporary residence permit. 
It's important to note that Serbia is outside of the Schengen space. This is actually good news for many travelers because you cannot visit two Schengen countries consecutively for more than 90 days. However, you can stay in Serbia for 90 days and then travel to another Schengen country for another 90 days.
For this reason, many digital nomads actually use a three-month trip to Belgrade as a "Schengen break" so that they can reset their 90 days and then travel to another Schengen country. However, many fall in love with the city and end up applying for a longer visa.
Serbia offers two visa options that are well-suited to digital nomads: the temporary residence visa and the sole proprietorship visa. Both visas are valid for up to a year and can be renewed. In order to qualify for either of these visas, you will need to prove that you can support yourself financially while you are in the country. This usually means having around US$500 per month, although the amount can vary depending on your particular circumstances.
You will also need proof of accommodation, a Serbian bank account, proof of health insurance, and a letter from the police station. The sole proprietorship has a few extra requirements, so the temporary residence visa is generally the easier option. However, both are straightforward and realistic options for digital nomads.
Digital nomads typically enter the country on a three-month visa waiver and then start the visa application process after their arrival. 
Of course, if you're keen to explore surrounding countries, you can also do a visa run every three months. This can be fun at first, but if you want to stay for a long time, it can become a bit of a hassle.
Culture and Food in Belgrade
The food in Serbia is hearty, filling, and inexpensive. The cuisine is a mixture of Mediterranean, Byzantine, Balkan, and Central European influences. Using fresh, seasonal produce is a very important part of Serbian cooking meaning there are plenty of healthy options around.
Here are some of the best Serbian dishes to try during your time in Belgrade:
Sarma: a dish made of minced meat and rice, wrapped in cabbage or vine leaves.

Ćevapi: grilled ground beef sausages served in a flatbread with sour cream and onions.

Pljeskavica: a grilled burger patty made from a mix of pork, lamb, and beef.

Gibanica: a traditional pastry made with cheese, eggs, and milk.

Kajmak: a creamy, spreadable cheese that is often served with bread or potatoes.
If you want to try some of the best local food, then head to one of Belgrade's many restaurants and kafanas, which are traditional Serbian taverns. A typical meal at this type of establishment will cost you around US$7.50, making eating out a relatively inexpensive treat. For dessert, Serbians often enjoy slatko, a sweet preserve made from fruit and sugar. Slatko is often served with Serbian yogurt, which is a little bit tangier than its Western counterpart. 
Like many European countries, dinner starts fairly late in Serbia. 8 PM is usually the earliest that restaurants start serving dinner, and it's not uncommon for people to eat as late as 10 PM or 11 PM.
Meanwhile, when it comes to culture, Belgrade has plenty to offer. The city has a rich history, and there are many museums and galleries to explore. If you want to experience traditional Serbian culture, you should visit one of the city's many museums or theaters. The Belgrade City Museum is a great place to learn about the history of the city, while the Museum of Contemporary Art is perfect for those who are interested in the arts.
Belgrade's art scene is fast exploding, and the city is often compared to Berlin, giving it a hip and edgy reputation. There are many small galleries and art spaces popping up all over the city, so it's definitely worth keeping an eye out for new and interesting exhibitions.
Belgradians have an undeniable zest for life and love to socialize, whether that means grabbing coffee or heading to one of the city's many cool bars and clubs. People really prioritize a healthy work-life balance in this city, so it feels far removed from climbing the corporate ladder.
There's a great sense of community in Belgrade, and you'll quickly get to know your neighbors if you live in one of the city's many residential neighborhoods. Serbian people are incredibly hospitable, and you'll often find yourself invited to lunch or coffee by locals.
When someone invites you somewhere in Belgrade, they're not just being polite. They really mean it!
As for nightlife, Belgrade has a reputation as a city that never sleeps, and once you arrive, you'll realize just how true this is. If warehouse parties, floating bars, and edgy nightclubs are your thing, this is the perfect city for you.
Belgrade Nightlife
Clubs
In terms of nightlife, Belgrade is famous for its vibrant clubbing scene. In fact, this is another aspect of life in Belgrade that often draws comparisons with the famously cool city of Berlin.
The city has a wide range of clubs and bars to suit all tastes, and you can easily find an establishment that suits your style.
If you like underground clubs that play techno music until the early hours of the morning, there are plenty of options for you to choose from. The Drugstore, a former slaughterhouse that has been transformed into a club, is a popular choice among locals and visitors alike. 20/44, also known as the boat, is another legendary institution that is perfect for those who love to party all night long.
If you prefer a more relaxed atmosphere, you'll find a wide variety of bars with live music. Mladost/Ludost is a popular option that actually comprises a bar and a nightclub so that you can start your evening slowly before heading to the dancefloor later on. 
For fans of jazz, Basta is definitely worth checking out. This charming bar is located in an old basement and has a real speakeasy feel to it.
Belgrade also plays host to some great local DJs, including Marko Nastic and Petar Dundov. If you're in the city during the summer, check out the Exit Festival, which takes place in the nearby city of Novi Sad.
Bars and Pubs
Alternatively, for those seeking more of a cozy pub atmosphere, the Black Turtle is a great option. With its low lighting and comfortable armchairs, it's the perfect place to relax with a drink after a long day of remote work.
The Riddle Bar is another one of Belgrade's most popular late-night hangouts. Located in an old townhouse, this bar is perfect for those who want to enjoy a few drinks while indulging in some people-watching.
Meanwhile, Bar Centrale is widely considered to have the best cocktails in the city. If you're looking to treat yourself, this is definitely the place to go.
The Druid bar is a hidden spot located down a small alleyway, and it's definitely worth seeking out if you're looking for somewhere a bit different. This atmospheric bar is the perfect place to enjoy an evening with friends.
Safety
Of course, safety is an important consideration on a night out anywhere in the world. Belgrade is no different.
If you stick to the well-lit and busy areas, you'll be fine in the city. It's always best to travel in a group and to keep your belongings close to you. Avoid carrying large amounts of cash, and only take out as much money as you need for the evening.
When it comes to getting home, CarGo is a popular ride-hailing service that you can book in advance. Think of it as Serbian Uber. This is a great option if you're not comfortable taking public transport at night. 
However, there are also night buses that operate throughout the city, which are generally safe to use. Belgrade is generally as safe as most other large European cities.
Things to do in Belgrade
Skadarlija

Exploring this famous cobblestone street is a must for any visitor to Belgrade. Once home to the city's bohemian artists, Skadarlija is now one of the most popular tourist spots in the city. The street is lined with traditional Serbian restaurants, known as kafanas, where you can enjoy hearty local cuisine and live music. There's plenty going on here day and night, so it's definitely worth a visit.

Kalemegdan Park

This is the perfect spot for a leisurely stroll or picnic on a sunny day. Located in the center of Belgrade, Kalemegdan Park offers stunning views of the city and river. There are underground tunnels in Kalemegdan Park that you can explore. They were built by the Romans, and it's possible to take a tour of them and learn more about Belgrade's complex and surprising history.

Belgrade Fortress

Inside Kalemegdan Park, you'll find the Belgrade Fortress, which is well worth exploring. This is the historical core of the city and is Serbia's most visited tourist attraction. Within the fortress, there are two museums, a defensive bunker, and the picturesque Ružica Church.

The Military Museum

Located inside the Belgrade Fortress, the Military Museum is free to enter and is the best place to go to learn about Serbian military history. You will see many old military tanks as well as ancient artifacts such as armor, shields, and helmets worn by Serbian knights.

Saint Sava Temple

This Orthodox church is the largest in the Balkans and is one of the most impressive pieces of architecture in Belgrade. The interior of the church is just as breathtaking as the exterior, so it's highly recommended to take a look inside.

The Nikola Tesla Museum

This museum is dedicated to one of Serbia's most famous citizens, and it's well worth a visit for any history or science buffs. The museum is located in an impressive building that was once Tesla's own home. It houses a large collection of his personal belongings, as well as interesting exhibits on his life and work.

Republic Square

This is the main square in Belgrade, and it's a great spot to people-watch or do some shopping. The square is home to many cultural attractions, including the National Theater and the statue of Prince Michael, the founder of modern Serbia.

The National Museum

Located inside Republic Square, the National Museum is a must-do for anyone interested in Serbian history and culture. The museum houses an impressive collection of artifacts, and there are also regular temporary exhibitions that focus on different aspects of Serbian culture.

Residence of Princess Ljubica

This is the former home of Princess Ljubica, the wife of Prince Miloš Obrenović. Prince Miloš was a harsh ruler, and his wife was known for her strong personality and sharp tongue. She was very independent, and many of her political views differed greatly from those of her husband. She was unafraid to challenge him, and was able to wield a great deal of influence during her lifetime. The residence has been turned into a museum where visitors can learn about this important female figure in Serbian history. It's small but very pretty and definitely worth a visit, especially for history fans.

The House of the National Assembly of Serbia

The House of the National Assembly of Serbia is undoubtedly one of Belgrade's most beautiful buildings. Unfortunately, you can't go inside unless you secure a spot on an organized tourist tour, and these don't happen very often. However, you should definitely go and marvel at the impressive facade.

Zeleni Venac Market

This is the best place in the city to buy fresh produce, and it's also a great spot for people-watching. In fact, it's affectionately known as the "Queen of the Markets" by the locals. The market was founded in 1847 and to this day remains one of the most affordable places to shop in Belgrade. There are also many local bakeries located close by, which will undoubtedly tempt you with their delicious treats.

Avala Tower

The Avala Tower is a telecommunications tower on Mount Avala. The original tower was destroyed in 1999 during a bombing of former Yugoslavia and the new tower officially opened in 2010, allowing visitors to enjoy a 360 view of Belgrade from the top. In fact, on a clear and sunny day, it's possible to see up to 100 kilometers in the distance.

Museum of Yugoslavia

This fascinating museum chronicles the history of the Kingdom of Yugoslavia and Socialist Yugoslavia. It comprises three main buildings: the 25th May Museum, the Old Museum, and the House of Flowers. You will also find the grave of Josip Hroz Tito in the House of Flowers building. He was the former leader of the Yugoslav Partisans and President of Yugoslavia. Historians generally agree that the Yugoslav Partisans were the most effective resistance movement against Germany during WWII. The entire museum was constructed as a memorial to the late president since he resided nearby.

Knez Mihailova

Knez Mihailova is Belgrade's main shopping and pedestrian zone. It's home to many beaux-art mansions and is a protected area of the city due to its beauty and cultural heritage. It's one of the best places in the city to people-watch, with lots of great bars, cafes, and restaurants on offer.

Znak Pitanja

If you really want to eat like a local, then a visit to Znak Pitanja is an absolute must. It's the oldest kafana in Europe and will transport you back in time with its traditional decor and dishes. It's also surprisingly not an over-crowded tourist hotspot, so you can be sure you're getting an authentic Serbian experience.

Street Art

It really should come as no surprise that an edgy city like Belgrade is full of diverse street art. Taking a street art tour is a great way to get a deeper understanding of the city's urban art culture. It will also help you secure some excellent snaps for your socials and is ideal for hobby photographers.
Best Time to Visit Belgrade
Belgrade experiences a continental European climate, which means that it can get quite cold in the winter, with temperatures often dipping below freezing. Meanwhile, the city can get very hot in the summer, with temperatures often reaching over 30 degrees Celsius.
Spring and fall in Belgrade generally have the most comfortable weather when temperatures are mild and pleasant. On average, it rains 145 days of the year in Belgrade. However, downpours don't tend to last for long.
The wettest month in Belgrade is June, with an average of 10 days of precipitation. The driest month is January, but temperatures are also at their lowest during this time.
In the winter, Belgrade experiences short daylight hours. During the winter solstice, the city receives just over 9 hours of daylight. However, in the summer, Belgradians enjoy longer days, and the city is bathed in sunlight for over 15 hours. 
So, taking all of this into account, the best time to visit Belgrade would be during the shoulder season months of April, May, September, or October. You'll avoid the large crowds that descend on the city during the summer but still enjoy pleasant weather conditions.
With that being said, there are lots of events and festivals that take place in Belgrade in the summer. If you don't mind the heat, this can be a fun time to visit.
If you've always wanted to visit a traditional European Christmas market but are put off by the crowds and extortionate prices, then Belgrade's Christmas market is the perfect solution. The city comes alive in December with festive lights, decorations, and stalls selling handmade gifts and traditional foods. However, it's off the beaten path enough that it doesn't get too crowded.
Belgrade for Families
Activities
There's plenty to do with kids in Belgrade, including visiting one of the city's many parks or its large zoo. Families can also take a boat ride along the Sava or Danube Rivers or even take a cable car up to the top of Mount Avala for some stunning views of the city. The city's many museums, cycle paths, and open-air markets are also great places to explore with kids of all ages.
Belgrade is also a fantastic city for eating out, with plenty of family-friendly restaurants on offer. The only downside is that smoking is permitted in many restaurants and bars, which is not ideal when you're dining with children.
Safety
When you're traveling to a new place with your family, safety is always a top priority. Luckily, Belgrade is generally a safe city for families to visit. However, as with any large city, it's important to be aware of your surroundings and take precautions against pickpockets, especially in crowded areas.
Daycare
For younger children, there are plenty of daycare options available in Belgrade. There are several private daycare centers that offer English-speaking staff and a range of activities for kids. Some of the best international daycare options include:
Play Learn Grow International Preschool

Little Sparrows Kindergarten and Nursery

Maple Bear Belgrade

Little Dreams International Nursery
Primary School
If you're looking to enroll your children in primary school in Belgrade, there are several excellent options available. Some of the best primary schools in Belgrade include:
International Primary School Belgrade

ISB International Baccalaureate Primary School

Chartwell International School

BrookHill International School
High School
For older children and teenagers, there are several excellent high schools in Belgrade that offer an international curriculum. Some of the best high schools in the city include: 
PRIMA International School

BrookHill International School
● British International School Belgrade
Living in Belgrade
Belgrade Transportation
Walking and cycling
The Old Town in Belgrade is compact and very walkable. If you live centrally, you'll likely be able to get around on foot much of the time.
Although the municipality of New Belgrade has many bike routes, the city center is not incredibly  bicycle-friendly. The cycling lanes are often in poor condition, and drivers are prone to honking and getting too close to cyclists.
Driving and ride-hailing
Driving in Belgrade can be stressful as the city often experiences heavy traffic. Like any busy city, parking can also be difficult to find during peak hours.
There is no Uber in Belgrade, but CarGo is a local alternative that works in a similar way. You can also hail a traditional taxi on the street, but it's important to make sure the taxi meter is running to avoid being overcharged.
Public transport
The public transportation system in Belgrade is efficient and affordable, making it a great option for getting around the city.
Before using any type of public transport, make sure you buy a 'Bus Plus' card before you board from one of the many kiosks located around Belgrade. It works on a pay-as-you-go basis, and a 90-minute ride costs about US$0.75, making it a very cost-effective way to get around.
Belgrade's public bus system is reliable and efficient and easy to navigate.
The city also has a decent tram network which can be a convenient option for getting around in the city center. The tram system is less frequent and slower than the bus, but there are still eleven lines to choose from. Tourists often take Line 2 and enjoy a trip around Stari Grad to get a feel for the city.
There is also a trolleybus system which is very similar to the tram, but the vehicles are powered by electricity from overhead wires. There are nine trolleybus lines in Belgrade, and they're a popular option for commuting to work or school.
Fitness and Health
There are plenty of options for staying fit and healthy in Belgrade. The city has several large parks where you can go for a run or walk, including Kalemegdan Park and Ada Ciganlija. You'll also often see people roller skating in Ada Ciganlija, as there's a skating school inside the park. 
There is a 6-kilometer beach in the Ada Ciganlija park, making it a great place to relax in the sun or take a swim in the summer months. The water is clean, and there are lifeguards on duty. 
However, if you prefer to swim laps in a pool, some of the city's best options include:
The 25th of May complex, which boasts three pools and costs roughly US$2.15 to enter

The Košutnjak swimming complex has five pools and a US$2.50 entry fee.

There is also a nice pool in Tašmajdan park, along with a gym and wellness center.
Basketball, soccer, and tennis are all popular sports in Serbia, and there are plenty of public courts and fields where you can play.
There are also several gyms and fitness clubs around the city, including:
Non Stop Fitness
A 24-hour gym with three locations across the city. There's no excuse not to work out when you're a member here. A standard membership costs US$28 per month.
CrossFit Pobednik
There are several CrossFit gyms in the city, but the Pobednik location offers classes entirely in English and caters to everyone, from beginners to champions. 
Joining CrossFit is a great way to meet new people in Belgrade, and for obvious reasons, this branch is especially popular amongst the expat and nomad communities. CrossFit prices vary from country to country, and in Serbia, a membership is around US$50 per month.
Tonus
If you'd like one-on-one personal training, then Tonus is the obvious choice in Belgrade. The gym has several experienced trainers on staff who can help you reach your goals, and overall there's a refreshing no-judgment attitude to fitness.
Kočović
This is a modern gym center which also offers popular group classes. It's perfect if you enjoy energetic dance workouts to house and EDM music. There are seven locations across Belgrade, so there's bound to be one near you. 
Prices start at about US$20 per month for a basic membership.
Belgrade People
Patriotism
People in Belgrade are very patriotic and proud of their city. Given its complicated history, it's no wonder that the people here are passionate about their country and its culture. 
As mentioned, people in Zemun are very proud of the fact it was once a separate city and tend to bring this up in conversation. They're also quick to tell you that Zemun has the best food in Belgrade.
Hospitality
Serbians are generally very friendly and hospitable, so don't be surprised if you're offered a drink or a meal by a stranger. In fact, most people here are quick to smile and strike up a conversation.  
One thing to note is that people in Belgrade do tend to be quite direct, so don't take it personally if someone is blunt with you. This is just the way they communicate, and isn't considered rude within Serbian culture. Once you get used to it, it can actually be refreshing.
Lifestyle
People in Belgrade prioritize a healthy work-life balance over career ambition. This means that they place a high value on family, friends, and leisure time. The city's bars, coffee shops, and restaurants are always full, even on weekdays.
This focus on enjoying life is also reflected in the city's excellent nightlife scene. Belgrade is one of the best cities in Europe for nightlife, and residents certainly know how to party. From rowdy clubs to intimate bars, there's something for everyone here.
Just be prepared to stay out late – most places don't even get going until midnight.
When it comes to dress code, Belgrade is a fairly casual city. Feel free to wear whatever you feel comfortable in, just as you would in any other European capital. Of course, if you're planning on going out clubbing, then you'll want to dress up a bit more.
Belgrade also has a large and lively student population. The University of Belgrade is the oldest university in Serbia and has almost 100,000 students. There's even a purpose-built student city called Studentski Grad in New Belgrade.
Local Holidays
Given their zest for life, it's no surprise that Belgradians enjoy getting out of the city and exploring often.
Đerdap National Park is one of the most popular destinations, as it's only an hour away by car. The park is home to the Iron Gate gorge, which is the largest gorge in Europe.
Buses also run frequently to the small and charming city of Vršac, which is located in the east of Serbia. If you're looking to escape the hustle and bustle of Belgrade, then Vršac is the perfect place to go. The city is known for its old castle and red wine, which the Romans used to be particularly fond of.
If you'd like to learn more about the Serbian Orthodox religion, the Studenica Monastery is definitely worth a visit. The monastery is one of the most important religious sites in Serbia and is a UNESCO World Heritage site. Since 84.6% of the Serbian population identifies as Orthodox Christian, a trip to the Monastery will help you to understand the culture better.
Active and adventurous Belgradians like to head to the Obedska Bara nature reserve when they want to get away from it all. The reserve is located just outside of the city and comprises swamps and wetlands. It's particularly popular among birdwatchers, as there are over 200 different species of bird that live here.
Belgrade Insurance and Medical Care
Serbia provides free medical care for its citizens and permanent residents, however, as a digital nomad, you may not be covered. This means that it's important to have good health insurance, as any medical treatment you need will come at a cost.
If you are a citizen of any of the following countries, you are eligible for free health care in Serbia: 
Austria

Belgium

Bosnia & Herzegovina

Croatia

Czech Republic

France

Germany

Italy

Luxembourg

Macedonia

The Netherlands
UK citizens are also eligible for free emergency treatment under a reciprocal healthcare treaty between Britain and Serbia. US citizens are not eligible for any free treatment unless they are employed by a Serbian company or are a permanent resident of Serbia. 
Despite the options for free healthcare, many Serbians still pay to go private. The public healthcare system in Serbia is struggling and is severely under-funded. As a result, the demand for private healthcare has been booming for years, and there are many quality hospitals in Belgrade.
Therefore, if you can afford it, private healthcare is always the best option.
Some of the best private hospitals include:
Bel Medic

Milos Clinic

Jedro Health Center
If you need to see a doctor, it's fairly easy to get an appointment with a private provider.
Digital nomads often opt for international health insurance that covers them as they move from country to country. SafetyWing and WorldNomads are two popular options.
Doctors in Serbia often receive very low salaries, and so corruption and bribery are common within the healthcare system. As a result, it's important that you're careful when choosing a doctor and make sure that you go to a reputable clinic in Belgrade.
Make sure you are fully covered by reading our full Digital Nomad Travel Insurance guide.
Jobs in Belgrade
It's not easy to find a job in Belgrade as a foreigner unless you have some specific skills or experience that are in demand. There is a high rate of unemployment in Belgrade and salaries are generally low, averaging between US$800 and US$1,000 per month.
The most in-demand jobs in Belgrade are in the fields of computer science, mechanical engineering, call centers, and construction.
However, there is a fast-growing startup scene in Belgrade, and many new companies are always on the lookout for talented digital nomads to join their teams.
English teaching is also a good option for native speakers seeking work in Serbia. During the summertime, there are lots of private language schools that run English camps for Serbian children. These usually last for around 2 to 4 weeks, and you can earn good money working as a camp counselor. 
There are also many language schools that operate year-round, and it's possible to pick up some extra work as a private tutor.
Check out our Digital Nomads Jobs Postings to find the best jobs available for Digital Nomads.
Nomad Friendly
Value for Money
Internet
Workspace
English
Food
Safety
Health
Transportation
Friendly
Quality of Living
Cost of Living Belgrade
Generally speaking, the cost of living in Belgrade is low compared to other Western European cities. You can easily get by on US$1,000 per month, which will cover your accommodation, food, transport, and some social activities.
Sample expenses for one month in Belgrade
US$500 for a basic one-bedroom apartment in the city center
US$90 per month for water, gas, electricity, and WiFi for a one-bedroom apartment. This will be higher in the winter when you need to use the heating and lower in the summer.
US$20 public transport
US$130 groceries
US$10 phone plan
= US$785 total per month
Optional costs
US$250 eating out and nightlife
US$40 health insurance
US$35 budget for day-trips
US$30 gym membership
US$100 coworking space full membership