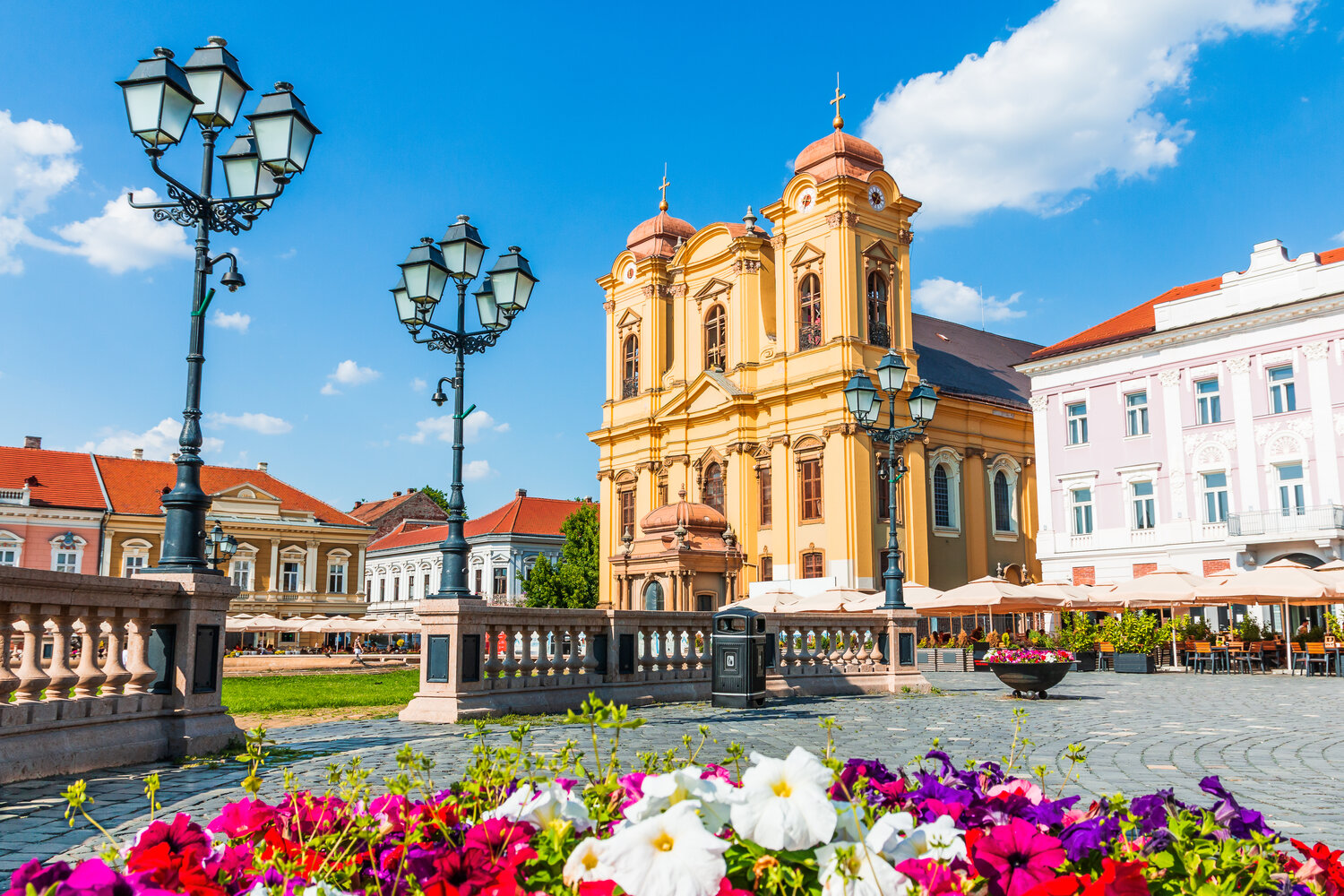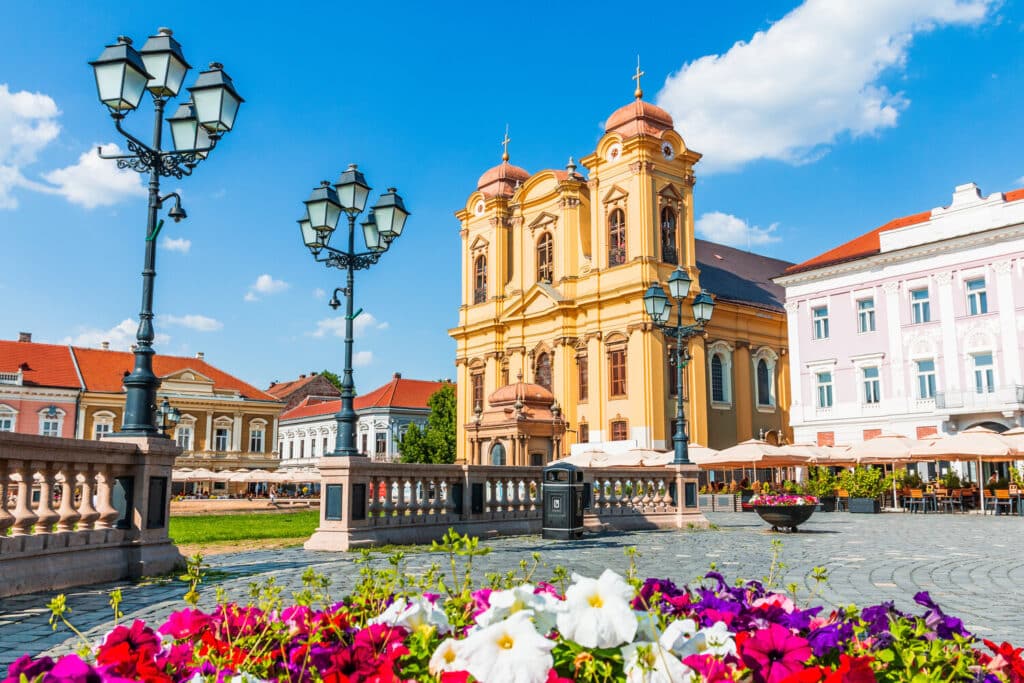 A Digital Nomad Guide to Timisoara
Romania is located in southeastern Europe and borders Bulgaria, Serbia, Hungary, Ukraine, and Moldova. It is known for its vast and dramatic mountain ranges, dense bear and wolf population, and of course Transylvania, the home of Dracula. Romania is full of history, and since the collapse of communism in Europe and the end of the dictatorship, the country is emerging as a tourist hotspot in Europe.
Timișoara is located in the west of Romania on the Begat River and is the third-largest city in the country but the biggest in western Romania. The earliest records of the city or settlements in the area date back to the 1200s, and it was a significant fortress location for the Romans. Timișoara is often referred to as "Little Vienna" due to its historical qualities, elegant buildings, and Secessionist architecture. The city has a theatrical quality with a vast musical theatre scene, regular performances, art galleries and museums, and music events. The city is considered a cosmopolitan place with a progressive atmosphere, and it was the first city in Europe to implement electrical street lighting in the late 1800s.
The city has a buzzing energy with a youthful feel making it an excellent place for digital nomads who want a lively place to live. It has the conveniences of a large-scale city but maintains a balance of peacefulness and historical value.
Nomad Friendly
Value for Money
Internet
Workspace
English
Food
Safety
Health
Transportation
Friendly
Quality of Living
Living in Timisoara Overview
| | |
| --- | --- |
|  Meal, Inexpensive Restaurant | $6.72 |
| Domestic Beer (1 pint draught) | $1.51 |
| Cappuccino (regular) | $2.06 |
| Loaf of Fresh White Bread (1 lb) | $0.70 |
| Water (1.5 liter bottle) | $0.56 |
| One-way Ticket (Local Transport) | $0.58 |
| Basic Utilities (Monthly) | $124.30 |
| Internet | $7.71 |
| Fitness Club (Monthly) | $29.23 |
| Apartment (1 bedroom) in City Centre | $370.04 |
Currency: Indonesian rupiah (Rp)
[erw_exchange_rates_widget lg="en" tz="0″ fm="IDR" to="EUR,USD,GBP,AUD,JPY,RUB" st="primary" cd="" am="15000″][/erw_exchange_rates_widget]
ATMs
Max Withdrawal: Rp 3,000,000
Withdrawal Fee: Rp 30,000 – Rp 50,000
Use of Credit Cards: Mostly Cash
Digital Nomad Personal Experience in Timisoara
I have visited Timișoara twice, and each time I have had a fantastic time. Although my visits have been limited and relatively short, I felt like I really got to see the city, and it is somewhere I would like to spend more time in the future. It is Romania's third-biggest city, so it has a lot on offer. It is becoming a popular location for digital nomads because of the excellent facilities, buzzing nightlife scene, and historical buildings. 
The first time I came across Timișoara was through some friends. I had never heard of the city and had no idea what to expect. Following a road trip, I had taken around the black sea, some friends had arranged for a workaway in Timișoara. While dropping them off, I stayed in the area for a short time and enjoyed it. For me, it is the perfect city to be based for the adventurous type, as you are surrounded by mountains and wildlife, which is excellent if you want to escape the city for the weekend. 
I also enjoyed it because you have major cities within a short driving range; for example, Belgrade in Serbia is just over a 3-hour drive away, and Budapest, Hungary, around 4 hours. This is something that makes me want to spend more time here in the future, as having easy access to other significant cities within a few hours' drive is excellent for any digital nomad who likes to have weekend breaks. While being based in Romania, you can enjoy surrounding countries very quickly, making for fantastic adventures.
Work in Timisoara
There are several places to work in Timișoara, from coworking spaces to cute cafes. Depending on your budget and preferred style of working, there will be a place to suit you. Romania is known for its high ranking in the world for internet speed, and Timișoara does not disappoint with average download speeds of around 89.9 Mbps that can sometimes reach up to 151.55 Mbps for broadband and fiber. Below is a selection of some of the best coworking spaces and cafes to work from in Timișoara; this may be subject to change as many coworking spaces have faced issues concerning the COVID-19 pandemic and, as a result, have either had to close or have gone the other way and thrived and are expanding.
Best Places to Work in Timisoara
Cowork Timisoara – The Garden
This coworking space is located a short distance outside of the city center and is known as a more relaxed space due to its location. As well as having a chill vibe, it is known as a great place to meet others and is renowned as a social space. This is the perfect coworking space for someone looking to make friendships and connections alongside having a workspace. They offer a range of memberships, from digital to daily passes, weekly and monthly, meaning great flexibility in the space. Daily passes cost around $11.50 USD, monthly memberships cost around $115 USD, and their resident membership, which offers added benefits and unlimited use, will cost you around $150 USD per month. 
Workify
Workify is one of the top-rated coworking spaces in Timișoara, and it is centrally located just a short walk from the city's central hub. The space is modern and cozy with a great range of facilities, from private desks and meeting rooms. Local entrepreneurs set up the space, and it is an excellent space for networking and speaking with other like-minded business owners. Memberships start at around $173 USD per month, which is a little more expensive when compared to other coworking spaces in Timișoara. Workify has been so popular that it has expanded, and just around the corner from its original location is Workify 2.0.
Devplant Cowork
If you are looking for a coworking space that feels more like an office than a social space but still runs excellent networking events, then this is the coworking for you. Devplant is one of the top-rated coworking spaces in Timișoara, and it is recognized as a business hub, hosting regular events and providing networking opportunities. This space has an outstanding balance of high-standard working areas and hangout zones when you need a break from the desk. Hot desking costs around $11.50 USD for a day pass and $162 USD per month for a fixed desk. They have some of the best prices and facilities in town, and they are centrally located. 
If you prefer working somewhere a little more relaxed and without a membership, then there is the option of working from cafes. Here are some cafes in Timișoara that could be an excellent place to work from. Garage café is a great place to grab a coffee with plenty of seating; however, there is no guarantee of WIFI, so you will rely on a hotspot here; despite this, the atmosphere is pleasant for everyday work. Ovride Specialty Coffee is one of the best places in downtown for well-brewed coffee. The café has a calm atmosphere, and the staff are passionate about coffee. Other coffee shops to try are Tucano Coffee Mexico, La Pisici Café, Statia de Cafea, and Street Coffee Roasters Timișoara. The most reliable for digital nomads are Porto Arte, Quick Smile Coffee, Scârț, a Chill Place, and Berăria 700. There is Starbucks, of course, so if you require WIFI and plugs, this is often a good, reliable option.
Best Places to Live in Timisoara
Best Neighbourhoods
Timișoara has several great neighborhoods to stay in, and each is well suited to a different need. Depending on how far you want to be from the city center, or if you prefer to be closer to nature, there will be a district for you, and here are some of the best places to stay in Timișoara.
Cetate
This is essentially the city center and is the best place to be if you want to be located in the city's heart with everything on your doorstep. This is popular with tourists as everything is within walking distance, you have the opera house and main squares on your doorstep. However, with this convenience also comes some negatives. It can be quite noisy being centrally located, especially when there are festivals, events, and celebrations happening, which may be a little distracting. However, if you are part of a coworking space, this shouldn't be too much of an issue as you won't be working from home.
Circumvalatiunii
This is another excellent place to be based and is more of a neighborhood. It is located just outside the main center and is close to the botanical gardens. This is a great place for families as it is surrounded by green areas and parks, with many shops and grocery stores on the doorstep. It is a quieter, more residential area of the city. 
Calea Sagului
This is another district that is recommended for families as it is a little quieter than being located in the city center, but it is still close to conveniences. There are many schools in this area, and it is well suited to families with younger children looking to integrate into the local community.
Olimpia-Stadion
This is a popular area with students as it is located close to the main university in Timișoara. It tends to be a little cheaper here as it is a little distance from the main center. The area has a lot to offer as it has become very well developed with many amenities on the doorstep, the stadium, and lots of places to eat and drink that cater to university students. 
Complexul Studentesc
This is another popular student district and is by far the largest student area. If you are looking to meet locals and integrate into more of a student area of town, this is the best place to be located. You will also find prices reflect the student lifestyle in this area and are perhaps the cheapest in the whole city.  
Fabric
This area is another popular with students but also young families as it is a quieter district. Located just east of the main city center, it is a peaceful and relaxing district. It is a little distance from the main city center, situated around two kilometers away, so a short 10-minute drive or around a 30-minute walk. This is an excellent option for someone looking to be located in a young district but with a bit more of a relaxed vibe rather than a party aesthetic. It is also considered the old town so you will find the architecture here is more classic, and it is regarded as one of the most beautiful parts of town.
Find an Apartment in Timisoara
There are many ways to find accommodation in Timișoara to suit your needs, whether it be finding an apartment in the city center or a cute place to call home in a more rural part of town. Here are some of the best ways to find an apartment and some rough costs depending on the area in the city you want to be staying in. 
Airbnb
This is a great place to start when looking for apartments as you can get a feel for the price ranges in different areas and what sort of thing to expect. The benefit of booking on Airbnb is that all costs are covered in the booking, so you don't have to worry about additional extras such as bills. Generally, this is the most reliable option for accommodation as you can have direct contact with the owner to find out helpful information such as internet speed and property facilities. You are also guaranteed under Airbnb for any problems, such as miss information or issues with the booking. I mostly use Airbnb as I find it most straightforward and reliable, but you pay for this convenience. Apartments in the city center tend to be priced around $800 USD per month for a studio and around $1050 USD per month for a one-bedroom place with lots of space. For other areas outside the city center, it is possible to find apartments for as little as $550 USD per month. You will find these particularly in the Fabric district near the old town.
OLX
OLX is an advertisement site for second-hand items or for rentals directly from owners. This is a great way to find cheaper accommodation as you cut out mediators and additional fees. You talk directly with the owner, and you can also negotiate. Prices can start from as low as $280 USD per month for a small apartment and average around $400 USD per month. This is perfect for someone on a budget; however, it can be less reliable as you don't go through an agency.
Publi 24
This is a Romanian property site offering both sales and rentals. It is possible to find apartment rentals on here in Timișoara for as little as $240 USD per month, and they can go up to $1,000 USD per month depending on location and condition. This is an excellent way to understand pricing for locals rather than for tourists, as most properties are set with locals in mind.
Other websites to check for apartments are booking.com, wizmo.ro, and anyplace.com. As of 2021, there are no coliving spaces in Timișoara; however, I don't doubt that they will begin to appear as remote work is becoming more common and Romania is a popular destination for digital nomads.
Cheap Places to Stay in Timisoara
If you are on a lower-end budget or are looking to save a few pennies, then there may be better options to suit your financial needs. The best options for low-budget nomads are to look into room shares or staying in more communal places such as coliving or hostels. 
Hostels
There are over five hostels in Timișoara, and a few of them could be great options for someone on a lower budget. Hostel Cornel offers a mix of beds in dorm rooms as well as private rooms. Mixed rooms will cost around $400 USD per month, which isn't too bad if you prefer to know you are staying somewhere that already has a community and a space that you can work from. Other hostels in Timișoara are InVerve Hostel, Freeborn Hostel and Hostel Costel. There is also the possibility of receiving free board if you clean or work for a few hours a week at most hostels. This opportunity of volunteering might be a good compromise for free accommodation.
Room Shares
Timișoara has many options for room sharing, and one of the best ways to find a place to stay is through erasmusu.com. The website is designed to connect students or those looking for roommates. This might be better suited to younger digital nomads or those who want to be living in student accommodation. It is possible to find room shares for as little as $240 USD per month. Roomlala is also another great local website for finding a room in someone's home, and prices are around $500 USD.
Timisoara Visa
Romania is part of the EU, so entering is relatively simple for most nationalities; however, it is not part of the Schengen area. There are various visa options depending on your nationality, and it is always advised to check with your embassy before planning a trip. 
Make sure you know how long you can stay and what you need to prepare beforehand.
If you hold a passport from an EU country, you can enter visa-free; you just need to show that your passport is valid for three months from the entry date. You will be able to stay for 90 days, and you can work and have the same rights as you do back home in your EU country. This does not count towards your 90 days stay in the Schengen zone. After 90 days, you will need to register with immigration to obtain a residency card if you plan on staying for longer than 90 days.
Several countries also get visa-free entry into Romania for 90 days, including most countries in Europe, Australia, North, Central, and part of South America. If you plan to stay longer than 90 days and are not from the EU, you may need to obtain a category D visa for an extended stay. This is usually obtained from a Romanian embassy in another or your home country before your arrival. 
All other nationalities will need to obtain a visa from the Romanian embassy in your home country before your arrival. A complete list can be found at onlinevisa.com.
Culture and Food in Timisoara
Romanians love food, and it is an essential part of their culture. They have many traditional dishes, most of which are seasonal and are often cooked on special holidays. It is common for most recipes to use rich and hearty ingredients. This often links back to cultural traditions in order to survive harsh winters and rugged terrains. Timișoara has many restaurants serving a selection of traditional meals and dishes so you can get a taste of local cuisine. 
Romania's seasons vary dramatically, with often long hot summers and cold, harsh winters, so the food often reflects the seasons. It is generally warming and full of fats and nutrients to get through the brisk winters. Sarmale is the national dish, and it is commonly eaten throughout the winter, especially on national holidays. Some of the most common specialties in Romania to try are sarmale which are cabbage rolls, mămăligă which is a polenta; Mici, Pomana Porcului, which is a pork specialty and Jumări, which are essentially pork rinds. As for deserts, you have to try Papanași and Cozonac. 
Best restaurants in Timișoara
There are several highly rated restaurants in Timișoara, some offering the best of traditional cuisine, and some offering more modern and international cuisine. One of the best places to check out is Kiosk, a fast-food-style restaurant making some of the best burgers in town, as well as Dodo Bistro Boutique. Salad and Chic, Musiu, and Resturante Sabre are all great for healthy local and international cuisine. If you are looking for breakfast or brunch, check out Grab & Go, as they serve some of the best breakfast sandwiches and burgers. 
Traditional Cuisine
There are lots of traditional restaurants in the city, but many can be pretty touristic and are often a little more expensive, so here is a selection of some of the better-quality traditional restaurants to visit. Timisoareana Restaurant, Beraria 700, Nora Resturant, and Sky Resturant are the best in the city for trying traditional dishes. Timisoareana Restaurant serves some of the best sarmale in the town, and Nora restruant is noted for its generous portion sizes, especially the mici or other grilled meats.
Vegetarian and Vegan
Due to the growing popularity of Timișoara, the vegan and vegetarian options are ever-growing, with already a great selection of varied dietary options. The best places to check out are Biofresh, Suppa Bar, Radha Cusine, Vurgar Caravan, Homemade, The Sandwich Factory, Yamy Bistro, and Cofetăria raw vegan. Many restaurants in the city will cater to dietary needs, but these are just some of the great places to check out that have a wide variety of vegetarian and sometimes vegan options.
Timisoara Nightlife
Timișoara is a lively city with a lot going on in the evening, from late-night bars to nightclubs and theatrical shows. Depending on how you want to spend your evening, you will find something to suit every mood. 
Bars
Timișoara has a great selection of bars; some are more casual than others, so here is a breakdown of which bars are better suited to different types of an evening. If you are looking for something a bit more sophisticated like a cocktail bar, then COCO, Cabinet 3, The Scotland Yard, and Atmosphere. If you like rooftop bars, then also check out Sky Restaurant and Craft Rooftop.
If you are looking for something a bit more casual, then Storia, Like Pub, The Drunken Rat and Manufactura, a live music bar, and The Charlatans Pub. Biblioteka is also another cool spot, selling beers from the bottle and casual bar food. 
Nightclubs
If you are looking to dance the night away, then you are in luck as there are a few nightclubs in Timișoara all offering a slightly different vibe, music genre, and atmosphere. Some of the best are Escape Venue, COCO, D'Arc, and Molly Malones. Most clubs don't charge an entrance fee, but there may be extra charges to get in if their special events. 
Theatre
If you want an evening of fine entertainment then why not go and see a show at the theatre. A tradition that is a remnant of communist times is going out for entertainment. Due to the lack of television channels, visiting the theatre was very common or seeing a show for evening entertainment. The National Theatre of Timișoara is regarded as one of the best in the city, and you can find tickets for performances starting at around $15 USD. 
Tours
If you want a relaxed evening exploring the city, then there are several walking tours that take place in the evening. You will find sunset walking tours to city lights tours in Timișoara. Tours vary in price depending on what is included; for example, there are the simple walking tours which tend to be tip-based, and then you have tours such as the food walking tour, which includes a selection of regional food and drinks and will tend to have a set fee.
Things to do in Timisoara
Timișoara is a great city and has plenty for you to do regardless of your interests, whether it is sightseeing or relaxing in the evening at a casual bar. 
Museums and Galleries

There are several museums and galleries in Timișoara, so you are pretty spoilt for choice. If you are looking for history, then Museum of the Communist Consumer, Revolution Memorial, Museum of Banat, Banat Village Museum, and the Military Museum are some of the best. They showcase a wide variety of Romania's history, from daily life to wars and traditions. If you want to visit some art galleries, then make sure to check out Timișoara Art Museum (Muzeul de Artă) as it has the best selection of art in the city and is located in the Baroque Palace.

Roses Park

Timișoara is often referred to as the city of flowers, primarily due to the number of parks in the city and beautiful flower beds that line the pathways. Roses Park was designed for the Universal Exposition in 1891 and has had a turbulent past. Although it was designed as a rose garden for when Emperor Franz Joseph I was a visitor, during the first world war, it was used by cavalry, and then after being restored back to a rose garden, it became the largest rosarium in eastern Europe in 1934. If you visit during the summer months, outdoor movie screenings and events often happen in the park.

Union Square

Piaţa Unirii, or Union Square in English, is one of Romania's oldest and finest squares. Built in the 18th century, this beautiful area of the city boasts Venetian architecture and is one of the best-kept squares in the country.

Victory Square

Although Union Square is possibly more famous, Piaţa Victoriei is well worth a visit. The pedestrianized square is lined with cultural amenities and two important monuments; the cathedral and the opera house. The area has beautiful pathways with colorful flora along the flower beds and a midcentury fountain.

Historic center

If you like architecture and appreciate the old towns of major cities, you must check out this part of Timișoara. The city was once constructed in a citadel and followed a circular plan. Everything is walkable, and you will find many cute cobblestoned streets and alleys to wander through. This is where the city gets its nickname "Little Vienna" from. This is the perfect place to sit and enjoy a coffee whilst watching the world go by.

Orthodox Metropolitan Cathedral

This is a stunning piece of architecture and is recognized for its unique qualities and efforts in construction. The neo-Byzantine Orthodox Metropolitan Cathedral is situated in its area, surrounded by a beautiful park just on the south side of Piaţa Victoriei. The design was inspired by the Medieval Byzantine churches of Moldavia in the east of Romania.

Walking Tour

There are a number of walking tours in the city; some focus on architecture, some on food and culture, and others have different themes, such as the country's communist past. These can generally be found online or from tourist information centers. Make sure to shop around and see what interests you; most cities do a free walking tour that is donation based and this can be a great way to explore the city and learn more about its history. Some of the specialized walking tours can start at around $15 USD per person.

Botanic Park

The Botanic Park is a beautiful place to sit and enjoy peace, especially during the summer when the weather is warm and the days long. The botanic park is located just Northwest of the Old town, just outside the old citadel walls.

Bega River Boat Tour

If you want a relaxing few hours of floating down the river, then check out a boat tour on the Bega River. Most boat trips will take around 2 hours 30 minutes and give you a new perspective of the city. Prices can vary depending on what company you use, so make sure to ask around for the best deal.

Opera House

Visiting the opera has always been popular in Romania, and it is a tradition that stems from communist times. Sue to the lack of television broadcasts, it was very common for evening entertainment to take the form of visiting the opera or the theatre. If you are looking for a unique and affordable evenings entertainment, then make sure to check it out as you can get tickets for as little as $10 USD.

Excursions and Day Tours

Due to the fantastic location of Timișoara, it is possible to enjoy day trips and excursions without having to dedicate a full weekend away. Some of the most common day trips include visiting the nearby waterfalls such as Bigar waterfall, hiking to some remote villages, the Danube gorge, where you will see the King Decebal Statue, and visiting Nera-Beunita National Park. It is possible to rent a car and take yourself to a lot of these places, but sometimes it is nice to join a group. Romanianfreind.com is an excellent website to find small day trips from the city and seems to be of good value.
Best Time to Visit Timisoara
The weather in Timișoara varies dramatically depending on the time of year you visit. The summer months have lovely long evenings and warm temperatures, but the winter months can become very cold and have shorter days. Timișoara is located in the northern hemisphere of Eastern Europe, so the winter months tend to run from November through until March. 
In the winter months, it is common for the city and area to become foggy, and there can be harsh cold spells with temperatures dropping as low as -15°C (5F). The coldest month of the year is generally January, and some parts of the surrounding areas experience snow, and it can become very cold, especially in the mountainous regions. It has been known to reach extreme minimum temperatures of -23°C (73°F). 
The summer months tend to run from June/July through August, so if you want to spend a lot of time outside, these are the best months to visit Timișoara. The hottest month is July, with temperatures averaging around 21.9°C (71°F) with a record and rare heat of 41°C (105°F). The wettest month is June, so if you don't like rain, it is suggested to avoid visiting at this time of year.
Timisoara for Families
Timișoara is a good city for families as it is small and easy to navigate as well as being one of the biggest cities in Romania. There are many conveniences in the city; it is full of history and things to do as a family. 
You may find that there is not as much choice in the city in terms of things such as international schools and hospitals as it is not the capital. Expat exchange is a great resource for finding out more specific information on a certain area and in particular for digital nomad or ex-pat families.
Being a student city means that there is a high chance of hiring an au pair or someone to help with childcare. Most students, especially those who study foreign languages, are always looking for opportunities to work with foreign families, so this could be a huge benefit for you and your family. As for schooling, there is the British International School which might be a good option for schooling in the city and as for keeping the kids entertained this could be a good place to start at finding after school clubs. Another option could be speaking with a coworking space and seeing if they have any contacts in the area that could help you settle in as a family. 
If your children don't speak Romanian, they may struggle at first, but Timișoara is a very multicultural city and very accepting of foreigners. There are plenty of things for you to do with the family, such as boat trips along the river, visiting the surrounding national parks, visiting the zoo, and going to the museums and galleries in the city.
Living in Timisoara
Timisoara Transportation
Getting around Timișoara is simple as there are many transport options, from public transport, taxis, and rental bicycles. Timișoara has invested in developing the public transport networks in the city, and as a result, there are multiple bus lines, trolley services, and tramways. All information about public transport, including prices and timetables, can be found on Timișoara.com or the tourist information center.
Buses and Trams
Timișoara has an excellent bus network, with intercity lines and express lines taking you directly to popular locations around the city. You will need either tickets or an ACESS card; both can be purchased from the kiosks displaying STPT. Prices can vary depending on the type of ticket you purchase. For example, a single ticket can be used on multiple rides within 60 minutes of ticket validation and cost under $0.30 USD. If you are looking for day passes, then it will cost you around $2.80 USD, and you can use the buses as much as you like within 24 hours. If you are looking for long-term passes, then they offer then it is better to get the ACESS card; however, you will need to pay for it and use ID to get one, but it is worth it if you plan on using the buses daily. 
Bicycles Rentals
Timișoara Bicycle Rentals is probably one of the best companies in the city, offering competitive rates for bicycle rental. They display prices for short-term rentals, and to have a bicycle for 24 hours will cost you around $29 USD; however, they will quote you if you request a bicycle for longer. There is also a bike-sharing scheme called VeloTM, and to use these, you will need to sign up and create an account. The tariffs vary depending on how far you cycle and how long you rent a bicycle, but these can all be found online at the Velo TM website. You can pay by phone using the contactless card system used for most public transport across the city. The ACESS card can be bought at various places across the city, mostly in stations or kiosks, and might cost a small fee. Once you have it, you can top it up and then use it across the public transport network and on the bike shares.
Taxi
There are many taxi options in Timișoara; there are local yellow cabs as well as taxi apps. The most common taxi apps are Uber, Bolt, and Taxify, but you will find that many other taxi app companies are starting to appear in the city. The taxi apps allow you to know a fixed price before you ride, which can be more beneficial than yellow taxis. Sometimes drivers may try to charge you more if they recognize you are foreign, so always agree on a price before taking a ride; this is another benefit of using the taxi apps.
Fitness and Health
Keeping fit and healthy in Timișoara should be pretty easy as you have a wide variety of activity centers, gyms, and fitness classes on offer in the area. If you are on a lower-end budget, then there is always the option of free exercise too, which will work well in Timișoara.
Gyms
There are over 20 different gyms in Timișoara, so the best place to start is to look in the area where you will be living or near to the coworking spaces. This will help you decide where to go, as location will most likely be a defining factor into your workout schedule. Some of the best gyms in the city are the Gym One group, where each of their gyms is named after a number, so for example, there is Gym One three and Gym One 5. This is the best-rated group of gyms in Timișoara, and it may be possible to use your membership across locations. More information about what they offer can be found on their website or directly on the Facebook page for each gym. 
Fitness Classes
If you are into fitness classes such as yoga, then you will love being in Timișoara as there are a number of studios in the city. One of the best studios is Dharma Yoga Center, which offers a variety of memberships. Currently, as of 2021, most classes are online due to the COVID-19 pandemic; however, this could change and return to in-person classes. Prices start at around $8 USD per session; however, you can bulk buy and get ten sessions for around $58 USD. Other yoga centers to check out are Dia Yoga Studio, Satya Center, and Yoga Atelier. 
Free Exercise Ideas
If you are on a lower-end budget and are looking to combine exercise with perhaps transport or for free activities, then Timișoara has plenty of options. There are local city bikes, so this could be a great way of combining keeping fit with your commute or transport around the city. Rather than take a bus, take a bike and get in a bit of exercise. Timișoara is also a great place for those who enjoy running due to its vast number of parks and green spaces.
Timisoara People
The people of Romania are passionate, hard-working, and very welcoming. Every time I have visited Romania, I have always had a wonderful time and have felt very at home. I am lucky enough to have many Romanian friends who have introduced me to their culture, love for good food, and beautiful country. 
Traditionally, Romania's population was rural dwellers; however, this became less common since the communist era from 1947-1989. As industrialization became the norm, people moved to cities, which had a significant impact on the way of life in Romania. There are still small pockets of the country that follow this traditional way of life, but Timișoara is the largest city in the west, so this was hugely impacted. The largest population is ethnic Romanians, and most descend from the Daco-Romans, who were the group formed from the native Dacians and the Roman colonists. However, due to Romania's widespread industrialization and urbanization, culturally, it is more in line with the Western world. 
Timișoara is a unique corner of the country as it is considered the capital of the Banat Region. The city was a part of the Ottoman Empire and then, in the 19th century, became part of the Austro-Hungarian empire. This is possibly the most influential time period on the city as much development was designed and built in this time by Austrian architects. You will find that Timișoara is a multicultural city with many Hungarians and Serbians living in the city. 
Romanians are very religious, with most of the population identifying as Eastern Orthodox Christian. The largest faith is Christianity, with around 81.9% of the people choosing to be part of the Orthodox church. Only approximately 6.4% of the population identify as Protestant Christians, and only 4.3% identify as Roman Catholics. As well as being religious, Romanians love to celebrate a special holiday of festive of the year, and many celebrations will take place in Timișoara and smaller towns in Romania. 
Overall, the people of Timișoara are welcoming, accommodating, and fun to make friends with. The city is full of enthusiasm and positivity, especially from the youth who are fueling the city with creativity and energy.
Timisoara Insurance and Medical Care
Wherever you travel, it is always advised to have travel insurance for your belongings and your health. Romania is part of the EU, so their medical standards are up to a certain level, and care in Timișoara will be at a good level for the country. There should be English-speaking clinics and international hospitals offering a variety of treatments in the city as many students in the medical field will have learned English as well as possible other foreign languages. If you have an EHIC card, this will be accepted in some clinics in Timișoara, but you also have the option for private treatment. You may have to pay for treatment upfront and then get refunded by your insurance company. Always make sure to check the terms when taking out insurance. 
As for your personal belongings, make sure to have any expensive items covered on your insurance. While Timișoara is a reasonably safe city, petty crime is still existent. Busy places with crowds are popular hotspots for pickpocketers, so always be vigilant and keep your belongings close. It is also advised to keep expensive equipment out of sight when in public or keep them in a safe place. Timișoara is a smaller city, so there may be less chance of an incident than in, say, Bucharest, where it is the capital city and homeless rates are higher. There are many insurance providers for insurance of your gadgets and belongings as well as medical.
Make sure you are fully covered by reading our full Digital Nomad Travel Insurance guide.
Jobs in Timisoara
Finding a job in Timișoara may be challenging, depending on your industry and skills as it is not the capital city. This often means that many industries are based in Bucharest, so it may be a little limited on job options in Timișoara. One of the most significant job sectors in Timișoara is the tourism industry and anything concerning travel. If you already work in the industry, you may have a contact there or find a way to work through a pre-existing contact. A great way to find work is through the EU job scheme, which advertises jobs in other EU countries that accept foreign applicants and non-native language speakers. This, however, is only applicable to EU citizens. 
Another way to find a job is to approach companies before arriving in Timișoara. If you know of a company you would like to work for and have the correct skillset, email them in advance to see if they have any positions available. Another option could be getting a transfer with a company you already work for, so make sure to check if there is an office in Timișoara. Teaching English is another common form of work for foreigners in Timișoara, especially with the high student population, private language lessons are sought after. 
If you can't find a job before going to Timișoara and have to obtain a visa for work, then volunteering may be a great alternative option for you. There are many volunteering projects in Romania, and the best way to find these is through workaway.com and goabroad.com.
Check out our Digital Nomads Jobs Postings to find the best jobs available for Digital Nomads.
Nomad Friendly
Value for Money
Internet
Workspace
English
Food
Safety
Health
Transportation
Friendly
Quality of Living
Cost of Living Timisoara
The expected cost of living in Timișoara can vary greatly depending on your needs and wants. It is possible to really keep your costs down if you live like a local, but living a more luxurious lifestyle will lead to an increase in outgoings. Below is a breakdown of an example low-end budget and higher-end budget.
On a lower-end budget, it is possible to spend as little as $935 USD per month. This can be broken down into $300 USD per month on accommodation in the form of a shared unit or studio apartment. If you eat like a local, eat locally grown cuisine, and cook for yourself on a regular basis, it is possible to spend as little as $300 USD per month, which is an average of $10 USD per day on food. Then if you were to factor in a coworking space or use of a workspace, it would cost around $115 USD per month; by combining exercise and transport then a budget of $120 USD per month should be sufficient, and finally, around $100 USD would be enough for entertainment and leisure.
On a high-end budget, it is possible that you could be spending around $1,472 USD per month. This is broken down into $500 USD on accommodation in the form of a centrally located one-bedroom apartment. It would cost around $162 USD on a higher-end coworking space and $150 USD on transport in the form of taxis, rental bikes, and buses. As for food, if you want to eat out most evenings, then you could spend around $450 USD a month on food which is around $15 USD per day. Gym membership or exercise will cost around $60 USD per month, and then if you want to take multiple excursions, you could be spending up to $150 USD per month on leisure.