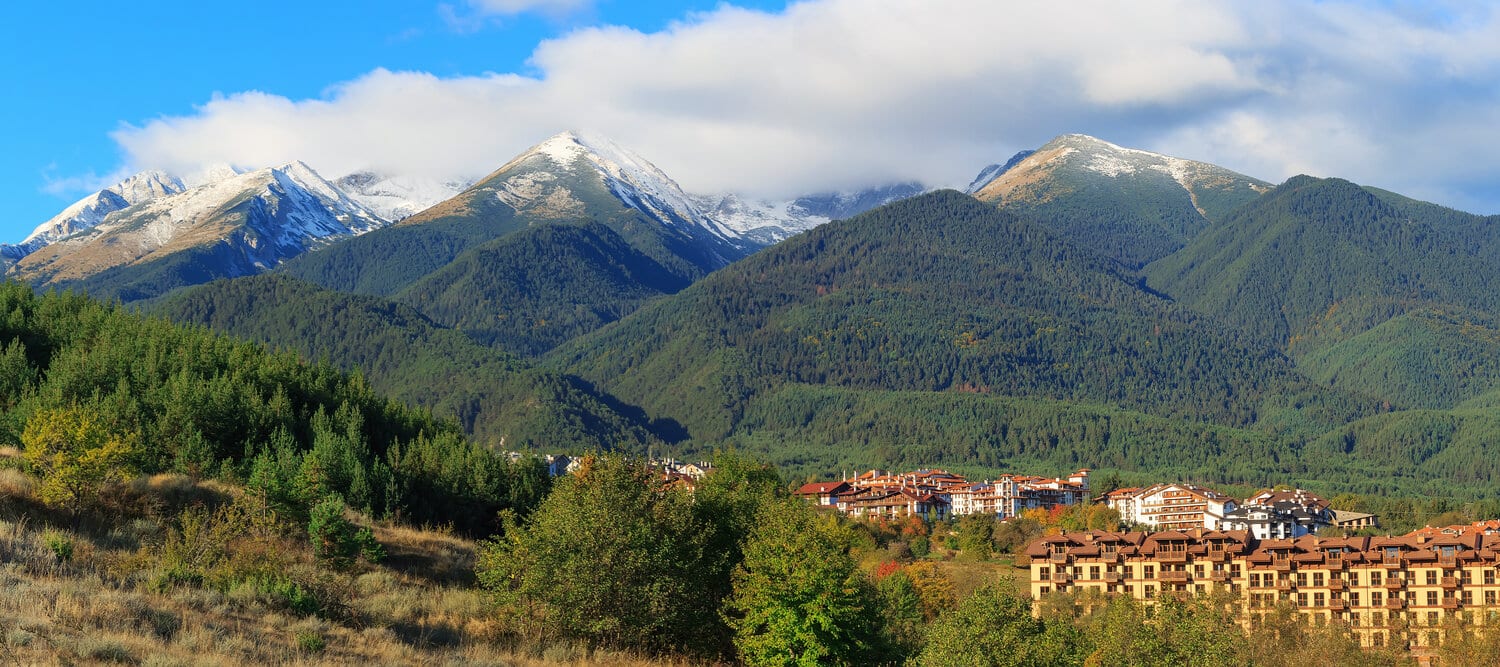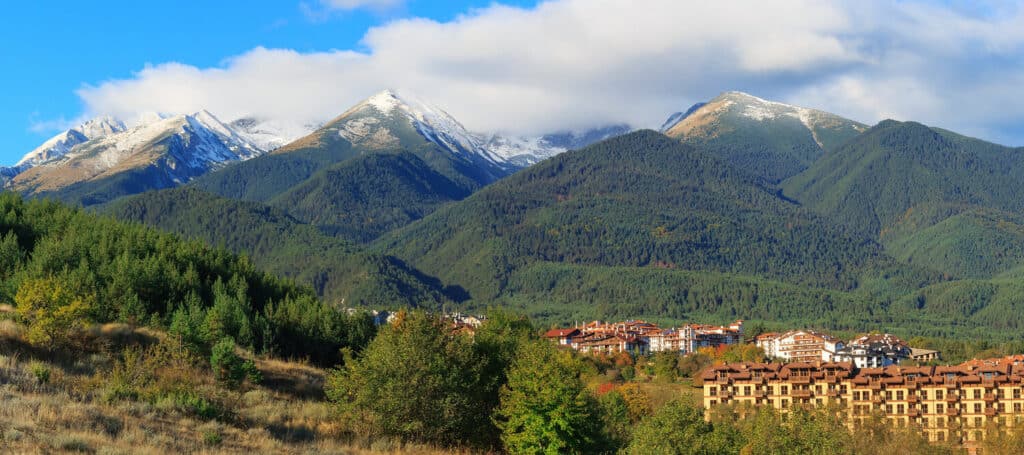 A Digital Nomad Guide to Bansko, Bulgaria
Bulgaria is a unique country situated in the Balkans in southeast Europe. It is home to a wide variety of wildlife and mountain ranges, as well as some UNESCO world heritage locations and traditions. It isn't often spoken about as a place to go, but in more recent years, it has become more and more popular with tourists looking for an escape in nature. 
Bansko is located in the Pirin mountain range in Bulgaria. Bulgaria borders Romania, Turkey, Greece, North Macedonia, and Serbia. The town of Bansko is located 1200 meters (3900 feet) above sea level and sits at the bottom of Vihren Mountain in the southeast of the country. It is home to the gray wolf, the brown bear, and many species of tortoise, snakes, and birds. Bansko is a fantastic location for any nature lover or for those that just enjoy being outdoors.
The town itself is a nice size; it is big enough to still have new discoveries, but also small enough that it has a village vibe, and you begin to recognize people around town. It is a friendly and welcoming place, with a large mix of nationalities and age groups. Sitting at the base of a mountain range, there are many activities, from skiing in winter to mountain biking, climbing, and hiking in summer. As well as having pretty much every outdoor sport on its doorstep, it is only a two-hour drive from the Greek coastline, meaning you can be skiing during the day and spend the evening on a beach in Greece!
Nomad Friendly
Value for Money
Internet
Workspace
English
Food
Safety
Health
Transportation
Friendly
Quality of Living
Living in Bansko Overview
| | |
| --- | --- |
|  Meal, Inexpensive Restaurant | $9.15 |
| Domestic Beer (1 pint draught) | $2.15 |
| Cappuccino (regular) | $2.03  |
| Loaf of Fresh White Bread (1 lb) | $0.73 |
| Water (1.5 liter bottle) | $0.73 |
| One-way Ticket (Local Transport) | $0.54 |
| Basic Utilities (Monthly) | $77.81 |
| Internet | $12.38 |
| Fitness Club (Monthly) | $24.23 |
| Apartment (1 bedroom) in City Centre | $305.10 |
| | |
| --- | --- |
| Child Friendly | |
| Cultural Tolerance | |
| LGBTQ Friendly | |
| Traffic Safety | |
| Nightlife | |
| Large DN Community | |
| Young Community | |
| Proper Hygiene | |
| Clean | |
Emergency Numbers
Police
112 or 166
Ambulance
112 or 150
Fire-fighters
112 or 160
Money Handling
Currency
Lev (BGN)
Max ATM withdrawal
200 Lev
Tipping
Yes
Communication 
Languages
Bulgarian
Calling code
+359
Time zone
UTC+02:00 (WET)
UTC+03:00(WEST)
Health
Tap Water
 Non Drinkable
Vaccinations
Yes
Digital Nomad Personal Experience in Bansko
I moved to Bansko in February 2021 as a good friend of mine who is a Bulgarian moved here from the capital city of Sofia. She had recommended it to me as a digital nomad, so once borders opened from Covid-19, I made a move. 
Bansko is a fantastic place to be for a digital nomad as there is such a strong community here of like-minded people. There are multiple coworking spaces meaning there are literally hundreds of digital nomads in one town. I joined CoWorking Bansko, and when I signed up, there were over 100 members, which has created a wonderful network for me.
As well as having access to a like-minded community, you are in the mountains, staying in a ski resort, so you have plenty of entertainment on your doorstep. I decided to rent a hire car as I like to visit smaller villages around me, and it has been very affordable. There are a few small mountain towns a short drive, some offering other ski resorts, some offering history, and more of an insight into traditional life in Bulgaria.
It is very affordable to live in Bansko, but as it is a tourist town, certain aspects are expensive, such as skiing and some excursions; however, they are still cheaper when compared to some parts of western Europe. 
After speaking with many digital nomads here, they all say that they have stayed longer than planned, as they just love it here, and something keeps them wanting to stay. I think the same may happen to me!
Work in Bansko
Bansko has a wide variety of coworking spaces and cafés for you to work from. The internet speed across the town is pretty fast. It is becoming a popular hub with digital nomads, so you will see that the town is shaping towards this market. 
Best Places to Work in Bansko
CoWorking Bansko
In all honesty, I have not tried any of the other coworking spaces, as my friend suggested this one to me, and I think it is the best in Bansko. CoWorking Bansko was set up by an organic team that just wanted to create somewhere to work for themselves. As a result, the network has naturally grown and, and consequently, created a very organic coworking space. Membership costs $183 USD per month, but that includes hot-desking across the four locations they own, high-speed internet, a welcome pack that has some goodies, and access to daily events. They also offer long-term memberships for ten years. This was the first coworking space in Bansko, and it really is the most welcoming, fun, and productive community I have come across. The internet speed for downloads is 53 Mbps, and upload speed of 78 Mbps.
Alt-Space
Alt-Space is located close to the Old Town and is quite central in Bansko. They have a selection of memberships with daily prices starting from $18 USD per day. Alt-Space has weekly memberships for $82 USD, their monthly memberships cost around $153 USD per month, and if you book three months in a row, then the price drops to $117 USD per month. Memberships get you access to community events, free coffee, and printing services. 
Four Leaf Clover
Based just a short walk from the city center, Four Leaf Clover is part of a coliving space and offers a great basic coworking space. It is quite far from the gondola, but it is still within walking distance of the Old town. Membership here is a little cheaper, with a monthly membership costing around $107 USD per month. They have a nice homely feel, but it is a lot smaller than other coworking spaces on offer. 
Nestwork
Nestwork is more of a corporate office space, where people go for business meetings or someone wanting more of a professional space. This is great for meetings or if you want to work in a more professional setting. You can use the space for $15 USD per day, or you can pay to use the space for one month for $157 USD per month.
Cafés
There are a number of cafés in Bansko that would be great to work at as a digital nomad. If you are looking for a chilled-out café to do some quiet work, then Caffe Club is a good place to start. This modern café welcomes nomads to work in an alternative environment to a coworking space. Situated between two of the Coworking Bansko locations is Family Bansko Coffee & Kids Club. This is a lovely family ran café offering homemade food and the perfect environment to work from a laptop. Other cute cafés to work from are Kate Café, Sapid Café, Coconut coffee & Smoothies, and Le Petit Nicolas.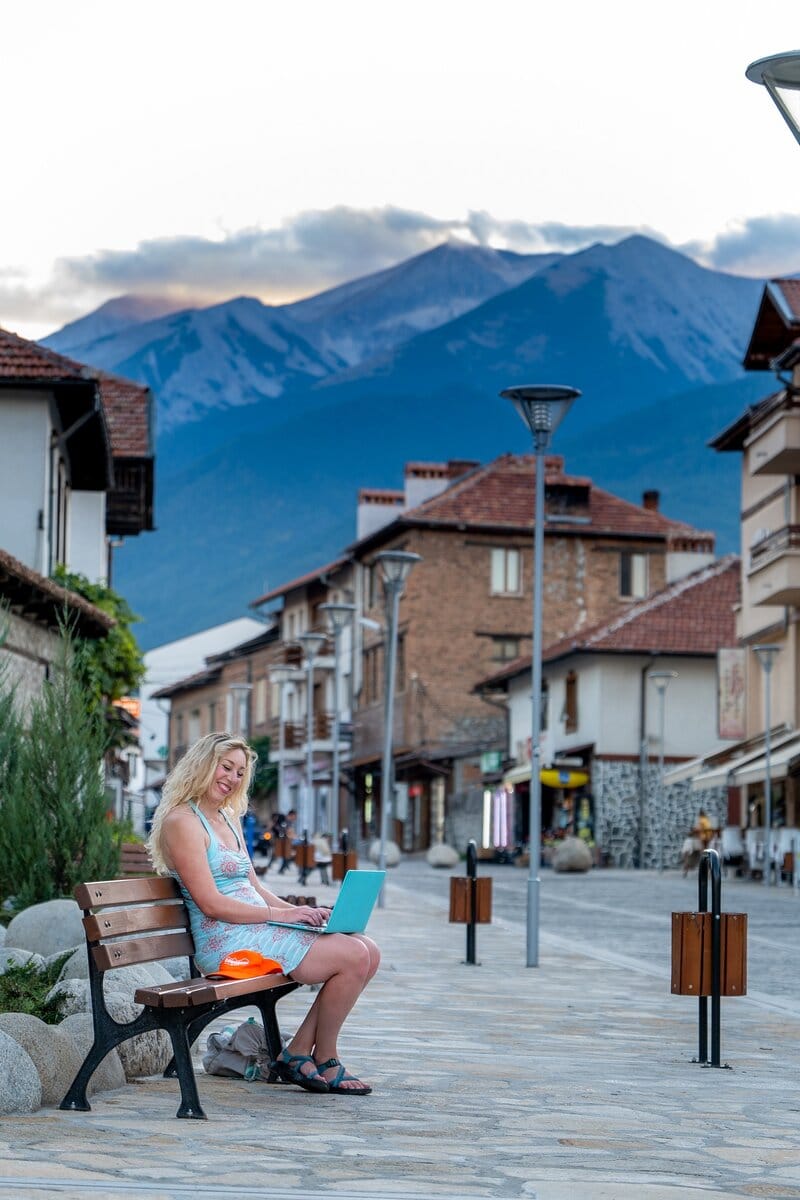 Best Places to Live in Bansko
Best Neighbourhoods
Bansko is more like a large town or small city as you can walk from one side to the other in just over an hour, so choosing where to stay is fairly simple. The city is slightly odd in the sense that it had a boom back in the early 2000s, and as a result, many hotels and complexes were built; however, the 2008 market crash meant that many were unfinished and have just been left empty. 
Some areas of the city are abandoned, but slowly life is creeping back into these areas, and they are becoming more populated. There is what is known as the 'gypsy' part of town, but you will most likely not find many rentals here; however, the Four Leaf Clover co-living space is located just on the edge of it. Its name does not always reflect the vibe of the area as I have walked around there, and although it may not be as perfect as the gondola area or Old Town, it seemed relatively safe.
Gondola Area
This is the most touristic area and is popular with skiers. The Gondola area is located at the top of the town next to the edge of the Pirin National Park. This is a great location to be in if you want quick, easy access to the ski slopes and to the mountains. There are many bars and restaurants here, and it is only a 20-30 minute walk to the Old Town from here.
Old Town
The Old town is located in the center of the city, and this is where a lot of restaurants, bars are located, and this is where most locals live. This is the part of town that is home to the historic buildings and original architecture of Bansko. Rentals were maybe a little more expensive here as this is another tourist area of town. 
Bansko has become a fusion of old and new, and intertwined in the Old Town are new apartment buildings, and likewise, on the outskirts, there are old buildings surrounded by apartment complexes. This means that there isn't really a local's area and a tourist area as the two have become mixed. When booking somewhere to stay, look on Google maps to see how far away it is from the conveniences of the town. There are some complexes such as St. John Hill, which are quite cheap to stay in, but they are about a 45-minute walk to Old Town, if not longer. If you want to be in the heart of the town, then Old Town is the area to stay.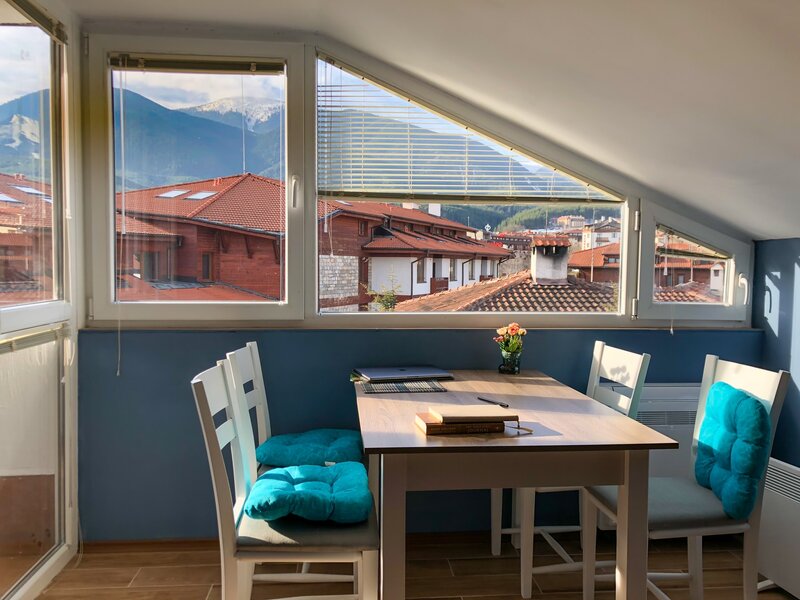 Find an Apartment in Bansko
There are many ways to find apartments in Bansko due to the high volume of availability. I used Facebook marketplace to find my accommodation, but I also used Airbnb to get an understanding of prices. Electricity is very expensive in Bansko, and bills can mount up quickly if you are staying in winter. This may affect where you decide to stay as if bills are included; then it may be worth paying a little extra for the peace of mind and the comfort of having your heating on when you want.
Airbnb
Prices can be up to triple on websites such as Airbnb; however, this does sometimes have its benefits. Whilst you may pay more on Airbnb, all your bills are included. This is something to be cautious of in Bansko as electricity can be very expensive, so if you are visiting in the winter months, then you might find your bills are extremely high. Most one-bedroom apartments on Airbnb cost around $300-$400 USD, depending on the area in the town and the time of year.
Facebook Market Place
I found my apartment on Facebook marketplace, and it has been a great experience. There are some realtors who are not very responsive, but some are fantastic. I responded to an advert and made an offer for $275 USD (230 Euros) per month, and it was accepted. This was for a one-bedroom apartment in a complex called Mont Blanc Apart Hotel. It came with a fully equipped kitchen, Wi-Fi, and a washing machine. This was perfect for me; I paid a deposit on arrival and signed a contract, and paid the remaining fee. The landlord spoke perfect English and was very pleasant. We made an agreement to have the option of extending month by month, and I have just extended for another two!
CoWorking Bansko
CoWorking Bansko has a section on their website that advertises apartments for nomads. Essentially you find a listing you like, and when you click to reserve, a small deposit is taken, around $30 USD, and then you can chat with the owner. There is a great selection on here, some studio apartments for around as little as $190 USD. Some include bills, and some have communal kitchens. It is a great platform for finding trustworthy apartments. You can also book accommodation and coworking as a package through CoWorking Bansko too, which makes life a bit easier. The most basic monthly package for a private room, and bathroom, with access to a shared kitchen, will cost you $712 USD per month, but remember this also includes your coworking space for the month as well as other benefits too. Apartments can be found here banskonomadapartments.com.
Avalon Coliving
Avalon coliving is a great place to stay if you are looking to be part of a community whilst still having your own private space. Single private rooms cost around $278 USD per month. You can also book mini-apartments in their complex for around $410 USD per month.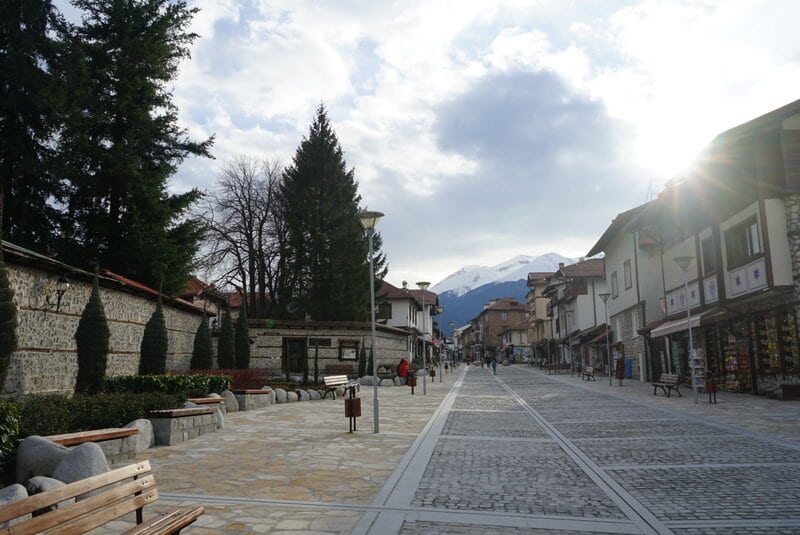 Cheap Places to Stay in Bansko
All the accommodation in Bansko is so cheap as the market has hit bottom. There are no hostels in Bansko; however, there are some complexes that have been renovated into co-living spaces. These types of accommodation and some of the studio apartments with shared kitchens tend to be the cheapest options. 
The cheapest form of accommodation is in studio apartments, and you can find some apartments for as little as $170 USD per month. As of 2021, there are no bunkhouses or hostels in Bansko, so the main option is to either stay in hotels, which can be very expensive or to rent an apartment for the longer term.
For the cheapest coliving and coworking package, Four Leaf Clover is the best option. They offer coliving and coworking for a total of $310 USD per person for a studio apartment. It is also possible to just rent a studio apartment and not pay for the coworking too, which will cost you just $200 USD per month. 
Another option for cheaper accommodation is to find a shared apartment or a room in a house. These are quite difficult to find as accommodation is already very low. The best way to find a room in a house or in a flatshare situation is to use Facebook groups or ask via the coworking communities.
Bulgaria Visa for Bansko
Bulgaria is relatively easy to visit as it is part of the EU. EU citizens can live and work in Bulgaria without a visa; however, external countries may need to apply for a visa. Countries such as the UK will obtain a stamp upon arrival, which indicates the arrival date, and most passports will be allowed to spend a maximum of 90 days in the country in a 180 day period. 
If you are not from the EU, then you may be able to enter Bulgaria for a limited time. Those from the US can enter for the same time that is allocated as part of the EU entrance policy, which is a total of 90 days. After this time, you will need to leave or to have obtained a long-stay visa. It is better to apply for a visa before visiting if you plan on staying longer than your allowed time.
It is possible to visit the migrations office in Bulgaria, where you can extend visas and apply for residence permits. Please check with your embassy in Sofia or your nearest Bulgarian embassy for more detailed information and to find out if you require a visa for entry.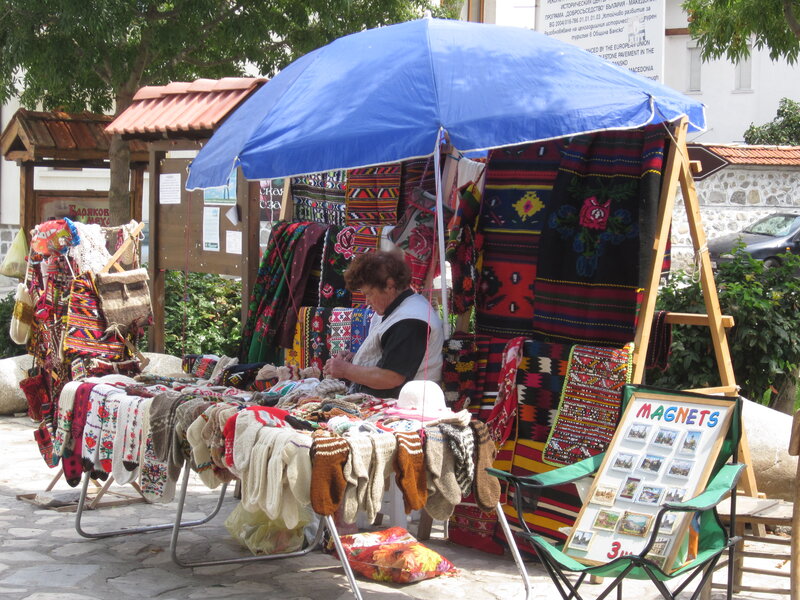 Culture and Food in Bansko
Bansko has a great selection of restaurants serving up a mix of local traditional cuisine, as well as food that has a global influence. It also has a great selection for vegetarians and vegans as the digital nomad community has had quite an impact on the cuisine available in Bansko.
Traditional Bulgarian Food
Banski Han is one of the best traditional restaurants in Bansko; with a cute and pleasant atmosphere, it is the best place to try traditional Bulgarian food. I recommend trying the lyutenitsa, as it is really good here and everything is homemade or sourced locally. 
Fast Food
There are a lot of fast food places in Bansko, as being a ski resort and a bit of a party town for tourists it needs to have a good selection of food on the go. The only chain fast food place in Bansko as of 2021 is Subway, but you will find many local spots serving a variety of kebabs, gyros, shawarma, and pizza. Many fast-food spots will sell kebabs for around $3-4 USD, so this is a cheap way to grab a bite to eat.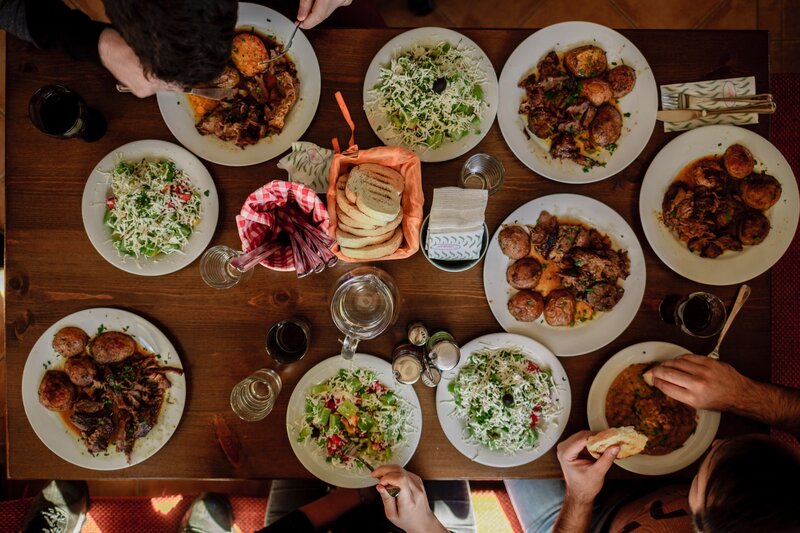 Canteens and Low Budget Food
Dotted around Bansko are a few canteen-style restaurants, where you go in and choose from a selection of pre-cooked dishes. These are great for a lower budget as you can get a full meal for around $5 USD. Most serve rice dishes accompanied by chicken, goulash, or some type of stew. These are very basic, but they are great if you want a decent meal for a low price.
Fusion Restaurants
There are a few restaurants in Bansko that combine foreign cuisine with traditional Bulgarian dishes, and some of them serve fantastic dishes. Five M is one of the best in town as you can cook your own meats on a hot volcanic stone that is placed at your table. This is a fun way to have an interactive dinner with friends.
Markets
Every Sunday, there is a food market in the Old Town, and as well as seeing local produce for sale, you will find a few food vendors cooking up a storm. The produce market is held at the bottom of the Old Town, and you will see a few stalls that are permanently set up, but on Sundays, it expands and becomes a great place to find local food. There is a great butcher located in the area, and on Sundays, they cook up some of the meats, offering kofte sandwiches for $0.80 USD! Many vendors cook sausages, burgers, and local meats.
Vegetarian and Vegan
There are a number of vegetarian and vegan restaurants in Bansko, so it is pretty easy to eat with specific dietary needs. As it is a tourist town, the cuisine has been influenced by the needs of tourists to cater to a variety of diets. You will also find some of the supermarkets sell vegan cheese, items such as tofu, and other dietary supplements. The only downside is you will pay for this privilege, but at least the option is there. Traditional Bulgarian cuisine does offer some specialties that are vegetarian-friendly as they love their salads, grilled vegetables, and homemade cheese.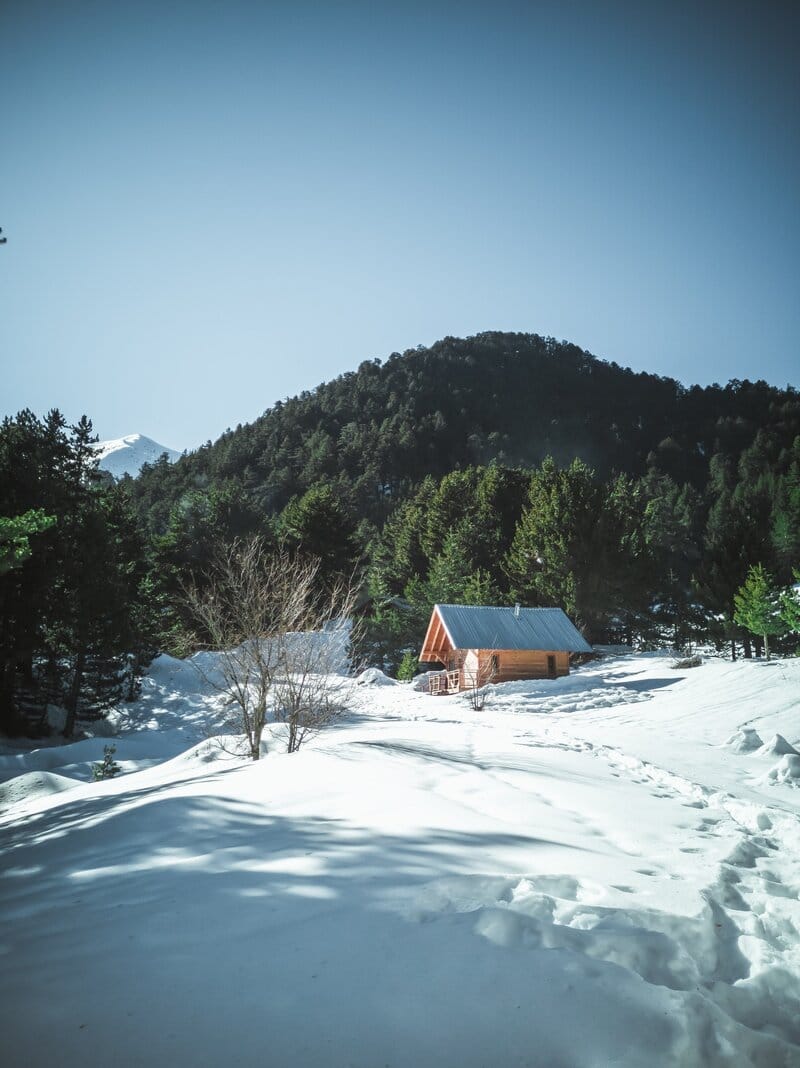 Bansko Nightlife
As I have only been in Bansko during Covid-19, it has been difficult for me to experience the true nightlife scene in Bansko; however, I have still had a taster. As far as I am aware, there are some clubs in town, but most people tend to hit up the bars as these have a better atmosphere and are just as fun.
Euphoria
This is a great place to go with friends to enjoy live music, shisha, and well-priced drinks. Shisha for the table costs as little as $17 USD, which is a great price when split between a table of four or more. Drinks cost an average price, but there is a great uplifting vibe in Euphoria whilst being a sophisticated place to drink. They also have outdoor seating, which is great in summer.
Pirin 75
This is the go-to bar in Bansko for a few pre-drinks or just to hang out with friends. It is located on the top of Pirin street, which is at the top of Old Town, making it a great location for everyone to walk to. Drinks prices aren't too high here, with beers costing around $5 USD, but expect to pay around $10 USD for a cocktail.
Wine Bars
There are three great places for wine in Bansko, Wine Bar 25 and Oscars, and Wine & Tapas, which is located opposite Pirin 75. Bulgaria has some great wines that have won multiple awards, and these wine bars only serve the best in Bulgaria. This makes for a nice relaxed evening of having some casual drinks with friends, and they even have outdoor seating, too, which is great for the warm summer evenings. 
Ginger
This is a great place to go for food, music, shisha and drinks, and dancing. Their food menu is very sophisticated, offering a great selection of local specialties with a modern twist. Food is served in a well-presented manner and is of very high quality. Prices here are a little higher than other venues in town, but this is a great place to start the night with food and drinks, and then you can either stay and party the night away or move to somewhere with a bigger dance floor. They also have outdoor seating and a balcony which is great in summer with mountain views.
Events
Bansko is recognized for its events and music festivals, so if you are here during the summer, then make sure to check out their jazz festival as it is rated as one of the best in Bulgaria. There are also many parties and outdoor music events throughout the season, as well as traditional celebrations.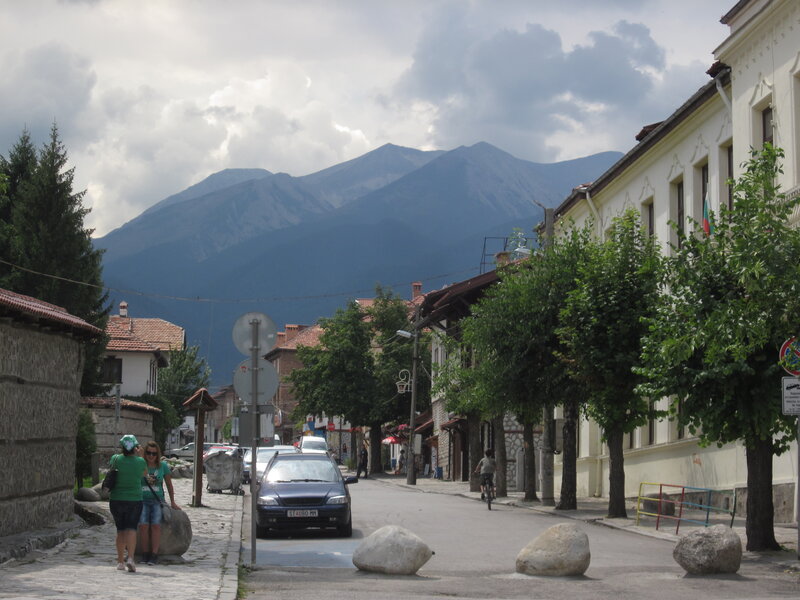 Things to do in Bansko
Although Bansko is a relatively small city, it is surrounded by mountains, and there are a plethora of activities to do whilst in the city. From fine dining to hiking in nature and skiing in one of the best resorts in Europe, Bansko has such a variety of things to do, you will never get bored. 
Bansko is an ancient town in Bulgaria and has many historical buildings, with detailed unique architecture and museums that are worth exploring. House of Velyan is one of the best places to visit to witness some of the histories of the town, and the entrance fee is only $2 USD. This is a nice thing to do on a grey afternoon or when you have some free time to spare. Other historical sites of Bansko are Neofit Rilski museum, which costs $2 USD to enter; Radonova house, which is also $2 USD; and St. Trinity Church. 
This is the main activity that people come to Bansko for during the winter months. It is possible to hire ski and snowboard equipment for as little as $20 USD all-in for one day. There is a selection of lift passes available so you can choose what suits your needs. A single-day ticket to use the ski lifts costs around $40 USD, and a half-day ticket starting from 12:30 costs $30 USD. The morning is the best time to ski as, like most resorts, it is the freshest, and it can sometimes be quieter on the ski runs. You can also buy week-long passes, season passes, and 20-day passes, and prices can be found on the Bansko Ski website. 
During the summer months, once the snow has melted, mountain biking takes over the mountains. You can hire mountain bikes for around $6 USD per hour or $16 USD per day, and you can even get guided tours too. Summerbansko.com is the best website for finding guides and routes for around $35 USD per person. 
If you like extreme sports and are in Bansko during the summer months, then canyoning is for you. You can take a guided tour, with all equipment and guides supplied for around $60 USD, and it makes for an adventurous day out. 
There are a number of horse-riding excursions from Bansko that take you on beautiful tours into the Pirin Mountains with a guide for around $40 USD for a one-hour tour. This is a great way to see the national park, especially if you don't enjoy hiking as much. 
Bansko is located at the bottom of the Pirin Mountain range, so it is very easy to go on a hike from Bansko. There is a mountain tourist information center located just north of the Gondola Station, and in there, you will find lots of information on the local mountain range, including hiking maps. There is an app called NP Pirin, which allows you to download offline hiking trails, learn about flora and fauna, as well as book huts located in the mountains. This is an incredible location for those who love the mountains as you can hike to glacier lakes, stay in mountain huts, and you may even get a glimpse of some of the beautiful wildlife in Bansko. 
Just a ten-minute drive from Bansko is the small village of Banya, which is home to many natural hot springs. There are multiple bathhouses and hotels in the village that invite you to relax in their thermal pools and enjoy a spa day. The entrance can vary depending on the venue, but I also visit Izgreva, which costs $5 USD to enter. They also serve great food that is very affordable. 
There are also a few wild hot springs dotted around the mountains, but these are often kept a secret by locals (understandably), so you will have to befriend them to find the locations. Alternatively, you can Google hot springs, and I am sure some results will come up.
CoWorking Bansko is, for me, the best in Bansko as they organize daily events, which means there is always something going on. There is a set routine of going out for dinner on Fridays and skiing as a group on Saturday mornings. This is a great community to be part of if you like routine and adventure combined, as the events offer enough variation to keep you on your toes, as well as having weekly meet-ups.
The dancing bears park is located a short drive from Bansko, and it is a lovely place to go for a day out. The dancing bear's park is home to rescue bears from the Balkans, and the sanctuary is home to a number of brown bears. The park has a beautiful hiking trail, where you can admire the bears from a safe distance whilst they roam freely in their designated area. The entry fee is $3.65 USD for adults and just $1.80 USD for children. 
The Rila mountain range is visible from Bansko, and it is home to Bulgaria's highest peak. As well as being a great place for hiking in the summer and skiing in the winter, it is full of history in its small villages and towns. A popular day trip from Bansko is to visit the Rila Monastery, and it is free to walk around, although as it is still in use, it isn't possible to access all areas of the monastery. 
The capital of Bulgaria is Sofia, and it is just over a two-hour drive from Bansko. Sofia is home to many museums, galleries, and monuments. A day trip or even a long weekend trip so Sofia is common from Bansko, as there are more amenities, so sometimes people will go for a weekend to run errands and to be somewhere different. It is also great for a change of scenery and cuisine as Sofia has a bigger selection of food from around the world. 
Bulgaria is known as one of the first creators of wine, and they have some great wineries in the country. The most popular winery to visit is Villa Melnik, and a winery tour with tasting can cost as little as $16 USD. You can rent a minibus from Bansko with a group of friends for around $100 USD, and it will take you there and back to a winery. Alternatively, some of the tour operators offer packaged excursions.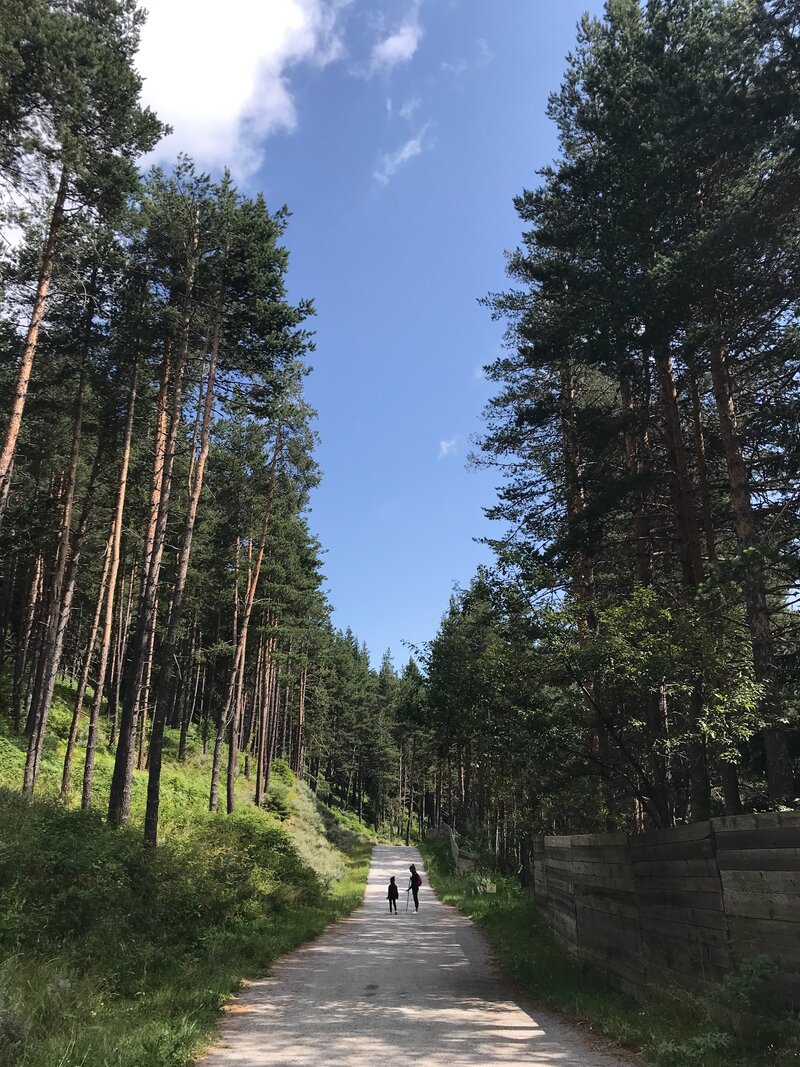 Best Time to Visit Bansko
The weather in Bansko varies dramatically depending on what time of year you visit. During the winter months, from November until April, the weather is the coldest. The ski season runs from December until April, with temperatures averaging highs of 2.2°C (36°F) and lows of -6.1°C (21°F). Bansko has become one of the best ski resorts in Europe because of the consistent snowfall and more affordable prices.
However, if you plan on visiting in the summer months, then you are still in for a treat as average temperatures reach up to 25°C (77°F), and there is often a cool light breeze from the surrounding mountains. The summer months are generally from June through until September, and this is the best time of year for hiking and being outdoors. The days are warm, and the skies are mostly clear, and being at a slight elevation from sea level, there isn't too much humidity when compared with other regions in Bulgaria.  
Spring occurs in May and autumn in October, November time and these are still nice times of year to visit. However, temperatures are a little warmer than winter but considerably colder than the summer months. Spring is a nice time of year as all the trees start to blossom and Bansko becomes green and fresh. During autumn, Bansko turns into a beautiful orange and colorful town.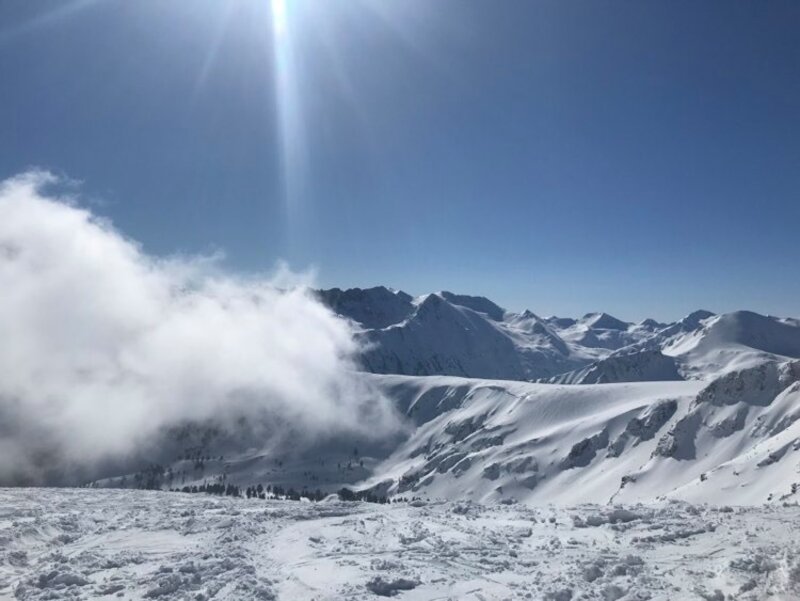 Bansko for Families
Bansko is a good place for families; however, facilities are limited in some regards, so it may not be the best place for families that have children needing education. Bansko has many activities going on, but it lacks healthcare and educational centers, so whilst it is in some respects a good place for families, it is also possibly not well suited to those who can't home school. 
It depends on the time of year you visit, but if you are here in winter, then skiing is probably one of the best things to do as a family. There are many ski schools that speak English, and their professionally trained staff offer both private and group lessons. This is a great way for kids to integrate into a group of new friends whilst learning a new skill. Other activities include hiking, visiting hot springs, and going to the dancing bear park. There are lots of nature-based things to do with children that will keep them entertained and learning about the country in a fun way. 
As for accommodation, renting is very affordable, and you will find two or three-bedroom apartments for as little as $400 USD per month. This will give you your own space as a family, which means you can be comfortable and have your own routine. Other accommodation options are booking through hotels, places such as Lucky Bansko, which has many facilities and is a high-end venue that is great for families. Although prices here are considerably higher, with a night stay for the family of four costing around $90 USD, it is a great place if you want extra help with the kids. 
There are no international schools in Bansko, so you will most likely have to home school your children; however, check on The Bansko Notice Board with other ex-pats to find out more to do with schooling in Bansko.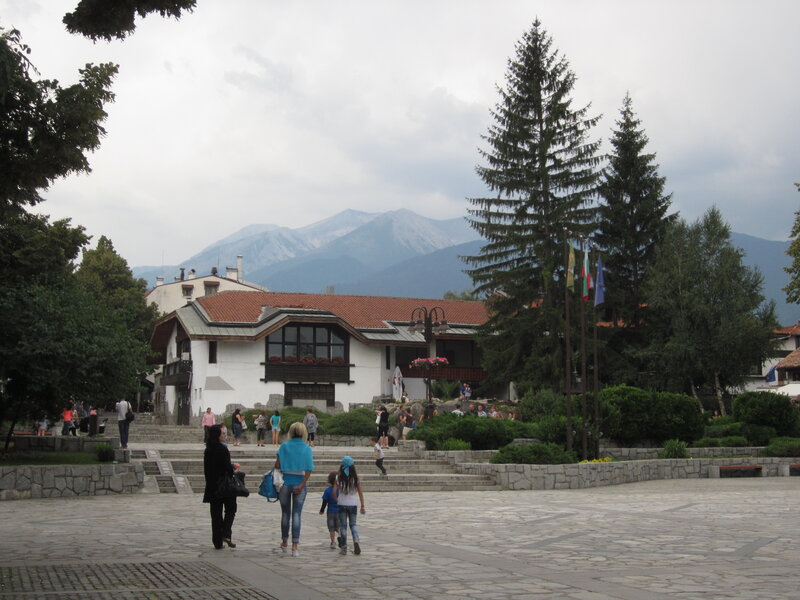 Living in Bansko
Bansko Transportation
Bansko is a relatively small city, so you can walk pretty much everywhere. There are taxi's across the town, but it is unlikely you will need to take one. The best way to get around is by walking or by bicycle.
Rental Car
Having a rental car is a great option as although Bansko has everything you would need, the larger supermarkets are in the neighboring town of Razlog. It is only a short 5-10 minute drive, and you will find many in the coworking community make regular trips to pick up groceries. Whilst it is possible to catch a lift, it is sometimes nice to have your own freedom. You can pick up rental cars for around $8 USD per day and maybe less if you book for one month. I was able to get a rental car from Sofia airport for $190 USD for 30 days.
Mini Buses
Getting from the capital Sofia is very simple using the shuttle or minibus services that run between Sofia and Bansko. The minibusses leave from Sofia, so you will need to take a taxi or the metro from the airport. The total for the metro and the minibus will cost you under $20 USD.
Taxis
There are very few taxi companies in Bansko, and it is quite unreliable as a mode of transport. When you are able to successfully book a taxi, you are able to get them for very reasonable prices. It is possible to even book minivans for larger groups and day rentals. There are taxi services that run between Sofia and Bansko for airport transfers, and for a private car, this will cost you around $60 USD for the two-hour journey. 
Train
There is a train network in Bulgaria that, whilst being a little dated, still works and is very affordable. Tickets cost as little as $4 USD for short journeys, and the trains run across the country. It is not the most efficient way of traveling across Bulgaria, but it is fun for a day trip or for a mini-adventure. 
Bicycle
There are many bike hire companies in Bansko, and during the summer months, this is a great way to get around the town. A bicycle can be hired for as little as $30 USD per month. The prices vary from place to place, but it is possible to haggle or make a deal, and many of the accommodations and coworking spaces offer them to rent for a small fee.
Fitness and Health
Bansko has a small selection of gyms and fitness classes available, so there should be something that suits your needs. The most popular gym in town is FitBox. Drop-in sessions cost around $5 USD, a monthly membership costs around $30 USD and annual membership will cost you around $270 USD. There are other gyms around town, and many hotels have their own private gyms too. Exercising in Bansko is very affordable. The cheapest gym in Bansko will cost just $2 USD per session; however, many of the weights are rusted; it is very basic and perhaps is better suited to locals. 
If you are looking for something a little different, there are yoga classes and salsa or dance classes in Bansko. Club Hanuman is the best yoga school, offering a variety of classes costing around $10 USD. There are many dance classes, events running throughout the year, but sadly due to Covid-19, a lot has been put on hold, so I have not been able to experience them. 
Bansko is popular for outdoor activities, and a popular sport here is rock climbing. If you are not familiar with it, then you can book an instructor and borrow equipment for as little as $30 USD. There are many natural rock faces, so if you have your own shoes and ropes, then you can go and climb with a partner as much as you like. There are also many free things to do in Bansko to keep fit, such as hiking, trail running, and exploring the Pirin National Park.
Bansko People
Bansko is one of the largest ski resorts in Bulgaria, and this has had an effect on its people. It is a mixed town, with locals, business people who work in tourism and digital nomads. Bansko has a variety of people from different backgrounds and countries, but they all live side by side in Bansko. 
There are the rich, business-type people who come to Bansko as it is only a two-hour drive away from Sofia. On weekends people will come from the city to enjoy the mountains, and they often have second homes here. This also includes those who have opened businesses here or who have built apartment complexes. Most of the infrastructure is not owned by locals but by other Bulgarians. In the early 2000s, the town was expanded by four times because there was the hope of the ski resort being expanded. However, plans to expand the ski area were rejected, and many developers of hotel complexes went out of business.
In the Old Town, you will see many traditional houses and these are owned by the locals, whose families have lived there for generations. Sadly the locals are becoming less and less as their children move to bigger cities for better education and jobs. Also, because of the dramatic expansion with apartment complexes, the town has become bigger and less local-oriented. 
Bansko is also becoming very popular with digital nomads. It has always attracted tourists from Europe as it is an affordable place to go skiing; however, it is now becoming more popular with permanent tourists or digital nomads. This is because it is very affordable to live, and there is a lot going on. Having multiple coworking spaces means there are a lot of nomads here, and property prices are lower than most other places in Europe. It is possible to buy an apartment here in Bansko for around $15,000 USD, so this has drawn many foreigners to the area as well as younger Bulgarians who are looking for affordable property in a developed town.
There is also a large gypsy community in Bansko, and they are as much part of the town as anyone else. Although they live in a more defined area of the city, you see them all over town, and they often host celebrations and events focusing on their traditions. 
Bansko is an odd mix of those who have used the area and taken advantage of the ski resort for business, the locals whose families have been there for generations, and then the digital nomads who are using it as a hub. Despite this unlikely mix, there is a great atmosphere, and most people are happy, friendly, and welcoming.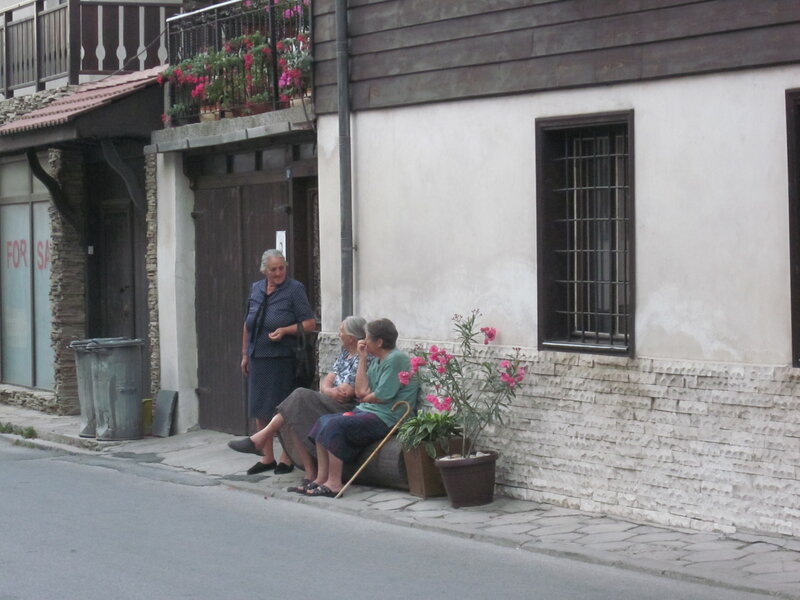 Bansko Insurance and Medical Care
When you travel anywhere, it is always advised to have health and medical insurance as accidents happen. The healthcare system in Bulgaria is varied; public healthcare is not of a high standard and will usually incur long wait times. The private healthcare system is of a good level in Bulgaria, but perhaps not up to the same level as care in Western Europe. 
Having medical insurance is advised as private healthcare in Bulgaria can be expensive and may involve a journey to another city. Blagoevgrad is the nearest large city to Bansko, and it is around a one-hour drive away. For serious medical issues, then you may need to go here or even to the capital city Sofia which is just over a two-hour drive away. Depending on the care you need, the larger cities should have facilities to help. Always take a translator with you as not everyone can speak English or foreign languages. There is a medical center in Bansko, which will deal with most small issues, however for example, if you break a bone whilst skiing, then you will most likely be transferred to another city. 
Having insurance will help with the payment of healthcare, as things can cost a lot when you get private healthcare in Bulgaria. Insurance that also covers your personal belongings is also advised, as although it is relatively safe in Bulgaria, there is crime wherever you go. There are some poorer areas of Bulgaria, and during my time here, I have witnessed some poverty in certain areas, so having insurance helps keep peace of mind when it comes to lost or stolen items.
Make sure you are fully covered by reading our full Digital Nomad Travel Insurance guide.
Jobs in Bansko
Finding a job in Bansko may prove difficult if you don't speak Bulgarian. However, there is a large population of English speakers, so it is possible to find small part-time jobs helping out foreign organizations. The best place to find work is via The Bansko Notice Board, a community group on Facebook that is run by a British Expat. This is the best place to ask questions before you arrive, and it is a great resource to point you in the right direction.
Other options are by using online search engines, although you will see that many jobs are based in the capital city Sofia. Bansko Blog is another resource that might be useful for finding local jobs, and you can easily contact them to enquire about local opportunities. Linkedin is also another way to find English-speaking jobs in Bansko, as many local digital nomads will advertise here. Finally, CoWorking Bansko has exchange evenings for its members where you can advertise your business or skills to the community, and this is a great way to find freelance work within the community of digital nomads. 
There are a few volunteering opportunities in Bansko, and this might be a great way to help exchange work for reduced outgoing costs such as rent, food, or memberships. Workaways are common in Bulgaria, so you might find projects in the area that will house you in exchange for your time.
Check out our Digital Nomads Jobs Postings to find the best jobs available for Digital Nomads.
Nomad Friendly
Value for Money
Internet
Workspace
English
Food
Safety
Health
Transportation
Friendly
Quality of Living
Cost of Living Bansko
As wherever you are, the expected cost of living can vary dramatically depending on your personal expectations, wants, and needs. So here is a breakdown of the expected cost of living on a low-end budget compared with a high-end budget.
On a low-end budget, you should expect to spend around $750 USD per month. That is broken down into $310 USD for a studio apartment in the Four Leaf Clover complex, and that includes coworking too. Then you should budget around $10 USD per day on food, which totals around $310 USD a month on food. Ideally, $30 USD on a one-month gym membership at FitBox, $100 USD on leisure activities, which could be in the form of mostly free things such as hiking and visiting the hot springs. That is also assuming that you walk everywhere.
On the other hand, if you are visiting Bansko in the winter and want to ski or take part in high-end activities and want nice accommodation and a better quality coworking space, then you should budget $1728 USD minimum. That would be $275 USD on a fully equipped one-bedroom apartment, $183 USD on a monthly membership at Coworking Bansko. $30 USD on a FitBox gym membership, $450 USD on food, $600 USD on leisure, based on ski lift passes, hiring ski gear and also for other excursions to wineries, historical sites and renting ATV's or other fun things around Bansko, and finally $190 USD for a rental car for the month. 
Bansko is a town where you can really live quite cheaply on a small budget, but you can also take part in some expensive activities that quickly add up.