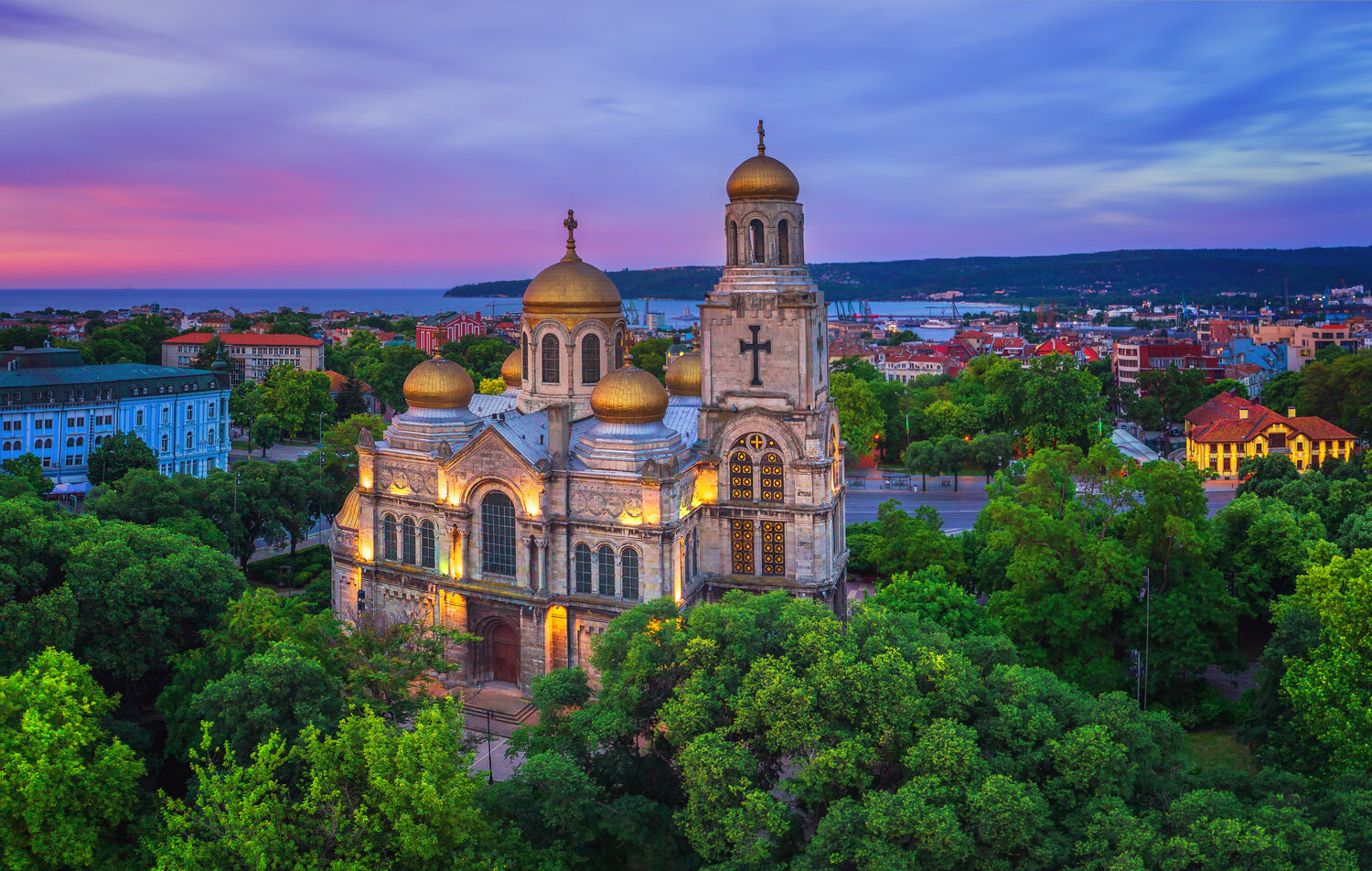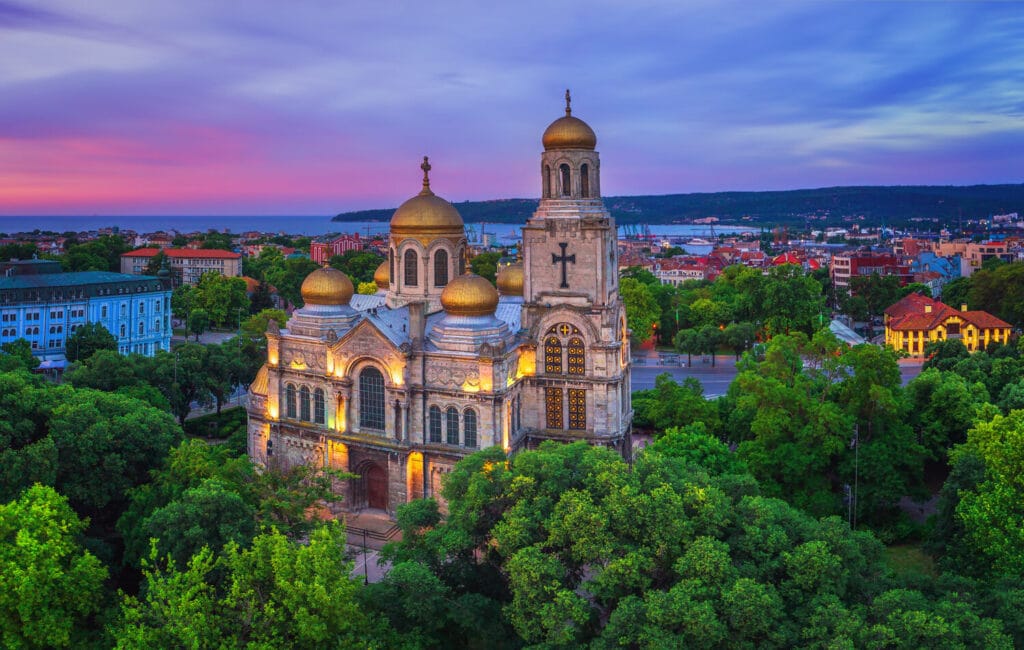 A Digital Nomad Guide to Varna
Varna is the third-largest city in Bulgaria, and it is located on the Black Sea coastline. Bulgaria is situated in the Balkans, southeastern Europe, and it is a unique corner of Europe to visit. Bulgaria is neighbors with Romania, Turkey, Greece, North Macedonia, and Serbia, making it one of the best locations in the central Balkans. Over the years Bulgaria has been shaped by its surrounding neighbors in a cultural sense so you will find many similarities in traditions across the Balkans.  
The city is located in the east of Bulgaria and is surrounded by natural beauty, including golden sand beaches, historical monuments, and dramatic valleys. Varna has been a popular vacation spot for many years, particularly with Bulgarians during the communist era as well as Russians and other nations who were part of the Soviet Union. 
Varna has been inhabited for thousands of years and is home to the world's oldest gold formed treasure which was found in the Varna Necropolis. Bulgaria has been a passing point connecting Europe with Asia, which has heavily influenced culture, tradition, and architecture, so you will find that Varna is home to a lot of history. A notable site is the Roman baths which are the fourth largest complex in Europe. 
As well as being a hub for culture, it is the perfect city for the digital nomad who wants a city life by the sea. It combines the best of new modern convenience with quaint, elegant traditional culture, and it is a great place for digital nomads. The location is fantastic as you can easily get around Europe as well as being just a hop across the Black Sea to Georgia.
Nomad Friendly
Value for Money
Internet
Workspace
English
Food
Safety
Health
Transportation
Friendly
Quality of Living
Living in Varna Overview
| | |
| --- | --- |
|  Meal, Inexpensive Restaurant | $8.68 |
| Domestic Beer (1 pint draught) | $1.74 |
| Cappuccino (regular) | $1.56 |
| Loaf of Fresh White Bread (1 lb) | $0.58 |
| Water (1.5 liter bottle) | $0.60 |
| One-way Ticket (Local Transport) | $0.58 |
| Basic Utilities (Monthly) | $111.23 |
| Internet | $12.08 |
| Fitness Club (Monthly) | $23.13 |
| Apartment (1 bedroom) in City Centre | $268.35 |
Currency: Indonesian rupiah (Rp)
[erw_exchange_rates_widget lg="en" tz="0″ fm="IDR" to="EUR,USD,GBP,AUD,JPY,RUB" st="primary" cd="" am="15000″][/erw_exchange_rates_widget]
ATMs
Max Withdrawal: Rp 3,000,000
Withdrawal Fee: Rp 30,000 – Rp 50,000
Use of Credit Cards: Mostly Cash
Digital Nomad Personal Experience in Varna
I have visited Varna on multiple occasions and for different lengths of time over the past few years. The first time I drove through by coincidence back in 2019 as we were dropping off some hitchhikers in the city. We decided to stay nearby and enjoy the beautiful coastline in the area. I remember Varna being a huge city on the coast; after having driven in from Romania, where there are small fishing villages, the city was striking. Varna is a great coastal city as it has everything you could possibly need on the doorstep, as well as being surrounded by many rural beaches within a short driving distance. 
I was lucky to be able to visit Varna again on multiple occasions in 2021, where I was able to visit different parts of the city as well as the surrounding coastline. If you have a car, then you can access some fantastic secluded beaches, visit historical monuments and see true Bulgarian life outside of the city. It is a great place to be based if you enjoy being by the sea and like being in a city, and for those who like to escape from time to time, it is possible in Varna. 
Varna is a great city as it has pretty much everything you need, but it encompasses the natural beauty that surrounds it. I prefer visiting out of season as I found it was too crowded for my own preference during the summer months. I prefer the more relaxed vibe with quieter beaches and fewer tourists.
Work in Varna
Varna is a great city for digital nomads as it has a great selection of coworking spaces as well as cafes, beach bars, and more, giving a huge variety of locations to work from. Depending on your field of work, this allows flexibility and suits many types of digital nomads, as you can find a bustling café to work from or a quiet corner of a coworking space. 
Best Places to Work in Varna
Beehive
This coworking space is one of the top-rated coworking facilities in Varna, and it is known for its great community vibes. The space was created by Wollow with the concept of creating a 'beehive' or workspace for people to come and go. The workspace offers great variety in facilities, from soundproof rooms, meeting rooms, private desks as well as hotdesking areas. There is also a great choice of memberships, from daily access for around $7 USD per day or just $70 USD per month. The meeting rooms are also very affordable too at around $10-15 USD per hour. 
Innovator
Innovator is a great coworking space located just outside the main city center, close to the waterfront. It is the perfect location for afternoon strolls on the water on your lunch break and gives a sense of being able to escape. They offer a great range of memberships, with the most popular being their "game changer" package costing around $70 USD per month. The space is very modern with great facilities and a good growing community and is known for its fun events for the community.
The Social – Teahouse and Workspace
This is a great social center with a fantastic tea house and a coworking space on the third floor. The Social has a very relaxed and modern vibe and attracts many creative digital nomads to its space. The building is a former bank, so it boasts large open spaces, which creates a very bright space to work. As you enter the building, you will find the teahouse where you can relax and enjoy a brew or two, and on the second floor, you will find the events space, which you can rent out. A day pass to the coworking space will cost you around $8 USD, it will be around $28 USD for one week, and a monthly pass will cost around $90 USD. 
Switch
This is one of the biggest coworking spaces in Varna that spans over three floors. Switch is a hub of creativity and entrepreneurship, encouraging both local and foreign start-ups to come and grow their business there by attending in-house workshops and talks. There are many events and networking opportunities for the Switch community and a chance to hang out too in their multipurpose spaces. The space offers a variety of memberships; daily passes cost around $8 USD per day or $108 USD for a monthly unlimited access pass. 
Cafés
If you prefer working somewhere more relaxed or perhaps don't need a desk space every day, then there are a number of cafes for you to work from in Varna. Varna has a great café culture, and you will find a variety of places with different atmospheres to work from and here are some of the best suited to digital nomads. If you like good coffee and true coffee shop vibes to work in, then check out Jasmin Specialty Coffee Roastery, Port Caffe, Sweet Parmy, Samba Coffee, 43.12 Café, Endorfino, and Cafe-Mafe. 
Edno café was popular with nomads, as it has lots of space and a calm atmosphere for working, however since the COVID-19 pandemic, it has been temporarily closed, and there is no information as to when or if it might reopen again.
If you are looking for mainstream cafes that often have free WIFI and power outlets, then there is a Costa Coffee or Starbucks.
Best Places to Live in Varna
Best Neighbourhoods
Varna is the third-largest city in Bulgaria and is situated on the coastline of the Black Sea. There are some more creative areas and others that are more residential, so here are some of the best for digital nomads in Varna.
If you are looking for a buzzing atmosphere and an area that is popular with younger people, then Chataldzha, Red Square, Levski, close to the cathedral, are great places to be located. 
If you are looking for a slightly quieter, residential area popular with families, then either Trakata, Vinitsa, or Briz are good places to look for accommodation. 
Chataldzha and Briz
Both of these areas are popular with foreigners, and you will find a great sense of an international community here. The Medical University is located in Chataldzha, so there are lots of students in this area, whereas Briz is closer to the coastline hence being slightly out of the city center. 
Izgrev
This is located slightly out of the city and is known as being a greener space that is often quieter. This area is where a lot of the beachside villas are located as well as a handful of communist-era skyscrapers. There are fantastic views of the city from here.
Galata
Galata is a small residential area with as little as 2,000 residents. It is known as the smallest suburb in Varna and is the most popular with tourists who want to be just outside the city, within a short driving range. The area feels more rural and rugged than being located in Varna itself.  
The Old Center
If you want to be in the heart of the city and enjoy a bit of history, then this is the area you should look to stay. The old center is where you will find most of the historical architecture in the city although most of the buildings are quite newly refurbished. This is also where you will find the Sea Garden Park, which is a fantastic place to hang out in the summer with direct access to the beach. 
Areas to Avoid
Vladislavovo is one of the largest neighborhoods in Varna, situated just to the west of the city. There are more than 50,000 residents, which is a large portion of the population of Varna. The prices for rentals here tend to be a bit cheaper as you will need to take transport into the city center from here. Some say that it is better to avoid this area as it can sometimes be less welcoming to tourists and you may find that you are more likely to run into trouble here. Also, Maksuda is known as the 'gypsy quarter,' which can sometimes be unsafe, and it is unlikely that you will find a rental in the area. 
Find an Apartment in Varna
There are many ways to find an apartment in Varna, and most of these options will be available online. Websites such as Airbnb or Booking.com are a good place to start as you will be able to see what is available and popular areas to stay. OLX is an online second-hand website where people will often post lettings as well as Facebook Marketplace. The summer season is the most popular time of year, which generally runs from June through until September, so you may find that rental prices go up during his period. There are lots of options for finding the perfect apartment, and here are some of the best ways.  
Airbnb
Prices can be up to double or triple on websites such as Airbnb; however, this does sometimes have its benefits. Whilst you may pay more on Airbnb, all your bills are included, and any extra fees are accounted for. Varna remains fairly warm throughout the year, so you shouldn't have to worry about heating bills in the winter; however, in the summer months, it can get very humid, so air-conditioning makes a more comfortable stay. This can very quickly make your electricity bill expensive, so remember this when seeing an Airbnb, that the bills will be included. If you are happy to be located a short journey outside the city, then it is possible to find small apartments for around $670 USD per month and around $1,000 USD per month closer to the city center or beachfront. 
Bulgarianproperties.com
This is a local website for finding long and short-term rentals in Bulgaria. There are some great options on here, from apartments in the city center to apartments in quieter locations a little outside of the city. The average on here seems to be around $500-$600 USD per month for a reasonably sized place. However, remember that you will have bills on top of this, so make sure when you enquire to ask for an average cost of bills for the place you are looking at. 
Booking.com
This is a great place if you prefer to stay somewhere that perhaps has onsite facilities such as a restaurant, gym, or pool. The average for a good-sized room in a small beachfront hotel will cost you around $1,000 USD upwards. This may be a good option if you consider that onsite facilities are covered in the cost, and you won't have bills.
Cheap Places to Stay in Varna
There are lots of tips and tricks to finding affordable accommodation in cities and here are some of the best ways. If you are happy to share your space or compromise with others, then you can land yourself a really good deal. Staying in hostels, room sharing, and coliving can be a great way of combining community and cutting costs. As of 2021, there are no official coliving places in Varna, but I don't doubt that in the near future, we will see some appearing. 
Facebook Market Place
Facebook is a popular way of advertisement in Bulgaria, especially for rentals. It is a great way to get a cheaper deal as, more often than not, you are dealing directly with the landlord, which means you both avoid paying estate agency fees. It is possible to find apartments on here for as little as $300 USD per month. This is a more budget-friendly option for those who are looking to save a bit on accommodation. 
OLX
OLX is a second-hand local website that allows locals to sell directly to locals, and here is where you will find some of the best deals in Varna. You can find some great apartments for as little as $200-300 USD per month; however, communication may be a challenge. As the platform is in Bulgarian, make sure to use google translate to help with the experience or get a local to help you communicate to make sure you are getting a good deal and know exactly what you're getting. 
Hostels
Most of the hostels in Varna are located in or around the center, so this is a great way of securing central accommodation on a small budget. Nomado is one of the best and top-rated in Varna and will cost you around $10 USD per night, which will be around $300 USD for a month-long stay. This is the perfect option for someone who wants a bit more of a homely vibe and a community on their doorstep.
Varna Visa
Bulgaria is relatively easy to visit as it is part of the EU. EU citizens can live and work in Bulgaria without a visa; however, external countries may need to apply for a visa. Countries such as the UK will obtain a stamp upon arrival, which indicates the arrival date, and most passports will be allowed to spend a maximum of 90 days in the country in a 180 day period. 
If you are not from the EU, then you will only be able to enter Bulgaria for a limited time. Those from the US can enter for the same time that is allocated as part of the EU entrance policy, which is a total of 90 days. After this time, you will need to leave or to have obtained a long-stay visa. It is better to apply for a visa before visiting if you plan on staying longer than your allowed time.
It is possible to visit the migrations office in Bulgaria, where you can extend visas and apply for residence permits. Please check with your embassy in Sofia or your nearest Bulgarian embassy for more detailed information and to find out if you require a visa for entry.
Culture and Food in Varna
Varna is known for its fantastic seafood and a great selection of Bulgarian dishes specific to coastal towns. Bulgarians love their mealtimes, and you will see that many restaurants serve large portions with the intention of it being a sharing dish. It is common for Bulgarians to eat out in groups or as a family and to order for the table rather than just order a main each. This makes a really homely and welcoming dining experience as generally; you will be passing plates between each other and sharing. Most restaurants will display the weight of a dish, so this will help you tell if it is for sharing or for one. 
The most common form of restaurant in Bulgaria is the Tavern, where you will find typical traditional salads such as the shopska salad or basked cheese. These are the best places to try local foods.
Traditional Tavern
Traditional cuisine varies across the countries as many dishes are regional, using locally grown produce. In the mountains, you will find lots of stews containing meats and baked dishes using lots of potatoes and cheese. Whereas on the coastline, you will find that many dishes revolve around seafood. Some of the best taverns or 'mehana's' are Mehana Kashtata, Tavern Hashove, Chuchura Restaurant, and Механа Рай. 
Seafood
From grilled to fried fish and stewed shellfish, you will find a fantastic selection in Varna. If you want to try some traditional seafood, then check out Captain Cook Varna, Magdalena, Nemo Port Varna, Mr. Baba, which is a boat restaurant, and BM Gulf. You will find the best seafood places are located close to the port and main beach near the Sea Park Garden. Take a stroll along and see what suits your budget and desires. There are places that can seem a little more touristic and others that are more aimed at locals. 
Modern Cuisine
One of the best food chains in Bulgaria is Happy Bar & Grill, and I highly recommend going to one if you are craving a bit of international cuisine. They do the best sushi in Bulgaria, fantastic burgers, and a great selection of dishes from across the globe. This is a common place for young Bulgarians to go as all their restaurants are trendy and serve great food for a good price. Other restaurants to check out are El Kapan, The Sea Terrace, mOdus Bistro, and The Martini.
Vegetarian
There is a good selection of vegan and vegetarian restaurants in Varna; however, just be aware that some Bulgarians will assume that vegetarian means that you still eat fish, so make sure to check what you are ordering. The best places to eat with dietary needs are Vege Joy Restaurant, Curry & Wok, So Fresh Sevastopol, Sunny Green, Organdzha, Happy Bar & Grill, Veggie Fresh, Food For love, and Nutrio Bar. As it is a touristic destination, the cuisine has adapted over the years to suit a variety of needs.
Varna Nightlife
Varna has a great nightlife scene, and you will find many events happening throughout the summer months. Throughout the winter, many bars and clubs will close up as it is considered out of season; however, there will always be some that remain open. If you are there in the summer months there are a lot of options for evening entertainment and here are some of the best things to do.
Bars
There is a good selection of bars in Varna, all offering a different vibe and night out. If you are looking for beach bars, then the best in town are Cubo and Cuba Beach Bar, as they are both located directly on the beach. These can be a little expensive and touristy, but great if you want a few drinks with the sand between your toes. Some great bars to check out for an evening of nice drinks in the city are The BRICK Bar, Kultura Speakeasy Bar, THE VAULT BAR, Craft Bar – The Bar, Rubik Art and Music, Cafe Bar Soho, Bar Brand, The Pirates Bar, and The Black Sheep Pub.
Nightclubs
If you are looking for a fun night out on the town to dance the night away, then Varna is a great place to be. It has a buzzing nightlife scene due to its popularity in summer with tourists from across Europe. Some of the top nightclubs in town are PORTe, Theatro club Varna, Summer Cult, Zakhir, Club Retro, and Avenue. Be aware that some nightclubs charge an entry or cover fee and require certain dress codes, so make sure to check on their websites before turning up for more specific information. 
Evening Walking Tours
If you are looking for something a little different, then why not check out some of the evening walking tours around the city. Many cities offer free walking tours, sometimes with themes, and there are some great ones in Varna. One of the best is the Craft Beer Trail, where you will try a selection of Bulgarian brews in multiple venues. More information can be found on the Varna city card website. 
Boat Trips
Varna is situated right on the Black Sea coast, so you will see many boat trips, evening sunset cruises, and party boat offers around the city. Sunset cruises start from as little as $12 USD and party boats from around $25 USD. More information and timetables can be found on Varna Party Boats website.
Things to do in Varna
Varna has a great variety of things for you to do on your days off, from enjoying a beach day to exploring ancient ruins; you will find it all in the area. Bulgaria is a great place for exploring as it has a vast landscape, from mountain ranges to beautiful golden beaches, and it has some interesting history too. Here are some of the best things to do in Varna and in the surrounding areas. 
Varna City Card

If you are interested in history and culture and are looking to visit multiple museums, then it might be of interest to invest in the varna city card. They have different time lengths costing different amounts, but it gives you access to a great selection of attractions in Varna. The most expensive city card costs around $21 USD for a three-day pass. The pass allows access to over ten museums, a free beer tour, and much more. Sadly, the card has been temporarily suspended throughout the COVID-19 pandemic, so make sure to keep up to date on when you can use it.

Beach Day

The beauty of being by the beach is the ability to have a relaxed, chilled-out afternoon having a casual swim or just reading a book on the sand. There are a number of beaches in the area, some more rugged which are good for hiking, others better for sunbathing.

Museums and Galleries

There are many museums and galleries across the city, all showcasing something a little different. For history, you should visit the Museum of National Revival, Archaeological Museum, The Roman Baths, 'History of Varna' Museum, and Ethnographic Museum.

Historical ruins

Bulgaria is full of historic ruins, and it is common when building works begin that many new ancient sites are discovered. There are many to see within the vicinity of Varna, and I would recommend seeing the Roman Baths, The Stone Forest, and Аladzha Monastery.

Varna Necropolis

This is the oldest burial site in Varna and it is where some of the worlds oldest gold jewelry was found. It is located just west to the city next to Lake Varna. It makes for an interesting walk and is free to roam around.

Lake Varna

This is a huge lake that divides the city and is connected to the sea. It is a great place to wander around and enjoy some of the natural greenery and wildlife. It is often used for watersports such as sailing, as it is a little safer for beginners than going out on the sea.

Sea Garden Park

Located by the ocean is the Sea Garden, a popular spot with joggers and people looking for somewhere to spend the long summer afternoons and it is the largest park of its kind in the Balkans. The Park is quite large and has many features inside, like spectacular fountains and well-curated gardens. Make sure to go and see the crooked tree.

Monument of the Bulgarian-Soviet Friendship

If you are interested in communist history, then you should pay a visit to the monument of friendship located just northeast of the city. This vast sculpture is looking a little worse for wear now as people graffiti on it and the concrete slowly erodes, but it is still worth a visit. I last visited in October 2021, and although it isn't in the greatest shape, it is a very interesting place to visit, and you get some fantastic views of the city.

Boat Trips

Being a coastal city means lots of watersports, including boat trips. There are many companies offering a variety of boat trips, but one of the most popular is the sunset cruise. You can find sunset cruises which are very calming and a great way to look back at the city for under $20 USD.

Surfing and Watersports

The Black Sea has a few top surfing spots dotted along its coastline, and a couple of these are close to Varna. You will find some surf schools located in Varna, but the waves don't get a big here as it is a little bit of a protected coastline. But just north of Varna near the popular resort called Golden Sands is some of the best surfing in Bulgaria. You will find most boards will cost around $30 USD per day to rent, but you might be able to haggle yourself a deal if you want a board for multiple days or weeks. Other popular watersports are paddleboarding, kitesurfing and sailing, kayaking, and more.

Day Trips

Varna is situated to the north of the Black Sea coastline in Bulgaria, which means you have a lot on your doorstep, such as popping across the border into Romania or driving south to other cities such as Burgas or Nessebar.

Kaliakra Fortress

Located a short drive from Varna is the historical fortress of Kaliakra, which is great for anyone into ruins and historical sites. Entry will cost under $10 USD, and you can easily spend a good few hours wandering around the ruins.

Nessebar

The ancient town of Nessebar is located just a 2-hour drive south of Varna, and it is really worth a visit. The beautiful cobbled streets flow through this little peninsula of the past. You will find great seafood and crafts here whilst learning about the history of the region.
Best Time to Visit Varna
The weather in Varna varies depending on what time of year you visit. During the winter months, from November until April, the weather is the coldest. Temperatures can drop to as low as 3°C in January and February as these are the coldest months. 
The peak season is in the summer months, so if you plan on visiting in the summer, you are in for a treat as average temperatures reach up to 25°C (77°F). Sometimes it can become very humid, and in more recent years, due to the effects of global warming, temperatures have been hovering in the 30s during the summer months. The summer months are generally from June through until September, and this is the best time of year to visit as everything is up and running, and you will see the city in full swing. The days are warm, and the skies are mostly clear with lots of sun.
Spring occurs in May and autumn in October, November time and these are still nice times of year to visit. However, temperatures are a little warmer than winter but considerably colder than the summer months. Spring is a nice time of year as all the trees start to blossom, and there is a sea of green across the parks.
Varna for Families
Depending on your needs and expectations, Varna can be a great place for families. It is a very international city as it is popular with tourists and expats because of its beautiful golden beaches and affordability. 
As it is one of the largest cities in Bulgaria with a large international community, you will find there is a great selection of schools such as the American International School, where classes are only taught in English. You will also find that there are a handful of hospitals and clinics that will speak foreign languages too, which will make integration easier. 
Finding accommodation may be a little more expensive as a family as you will most likely be looking at villas, which during the peak season can hold a higher value than, say, a one or two-bedroom apartment. For example, on Airbnb, a small villa just outside the center for a family of four during August will cost around $1,060 USD per month, which isn't as much as some digital nomad locations in the world, but quite high for the country. 
There are lots of things to do with families such as watersports, taking a pirate ship ride, visiting the zoo or museums in Varna as well as enjoying the beach. You won't be bored for sure. Overall I think Varna is a good location for families as there are great international facilities and lots to do. The cost of living is fairly low compared to other countries in Europe, and you will find schooling and daycares very affordable. The best thing to do is find an expat group on Facebook or online and ask families living there what they think and what they can recommend. 
Living in Varna
Varna Transportation
Getting around Varna can be very simple if you know all the options available to you. It, of course, depends as well on the season you are there as you will find more services are running during peak season in the summer months.
Buses
The bus system in Varna has, over the last few years, been developed to cover a wide portion of the city and surrounding areas. The buses run from the early hours until late into the evening, sometimes running until midnight. A ticket will cost just $0.60 USD that can be used within 1 hour, but you can buy passes that last for the day, which cost around $1.20 USD. Varnatraffic.com is the best website to find out specific information about bus stops and timetables. Visit Varna is another useful tourism website with more information about buses in the city. 
Trains
There is a central station in Varna where you can take trains across the country or to other major cities. There is no network that works specifically within Varna, so this is not an option for commuting but is a way for you to see the country. Tickets can be purchased from the main rail website for Bulgaria. 
Taxi
There are taxis in Varna, and this is a common way to get around the city if you are in a rush, for example, catching a flight or needing to get to a meeting and don't want to rely on public transport. Sometimes the bus system can be unreliable with its timing, so some people prefer to take a taxi. Common taxi apps in Bulgaria are Taxi Stars, Yellow Taxi, and Hippo Taxi. Using apps is a good way to get reliable rates, and it helps with communication as the driver knows where you want to go. Taxis can vary dramatically in price in Bulgaria depending on the time of day and availability but will generally cost around $1 USD per mile or minute depending on how the taxi driver calculates the journey or depending on the app. Using taxis can be affordable if you don't travel at peak times. 
eScooter
There is a company called Hop Scooter which has made its way to Varna. The electric scooter sharing service will cost just $0.50 USD to unlock the scooter and then cost just $0.17 USD for every minute after that. This is a great way to get around the city in a quick way; however, make sure to be vigilant of traffic as it can get a little crazy at times. There are also a handful of bicycle rental shops in Varna too so make sure to check those out because cycling around the city could be a great option for you.
Fitness and Health
Staying fit in Varna is pretty easy as you have a wide variety of exercising opportunities, from gyms, fitness classes to running along the beach.
Gyms
There is a good selection of gyms in Varna, each offering different rates and equipment. Here are some of the top-rated in town; My Gym Box, Gym 'ATLAS,' Fullmax Fitness and Spa, Maxifit, and Fitness VM. Most gyms will offer a variety of memberships, but it is possible to use most gyms for around $6 USD per session. If you want to buy a monthly membership, then you will likely receive a discounted price. It will cost around $50 USD for a month's membership to a good gym in Varna. 
Fitness Classes
There are a number of gyms that offer fitness classes in Varna; mostly, they are dance or yoga studios aimed at women. If you are looking for something a little different, then check out Strong Zumba Fitness center, as they offer intense Zumba classes for as little as $4 USD a class. If you want something a little less intense, then you can visit a yoga center. Some of the best in town are Yoga Studio Trimurti, Yoga Studio' Om Shanti', Yoga Center Lotos, and Gayatri. Many will offer classes in English, and you should expect to pay around $5 USD per session. 
Getting Outdoors
Another way to stay fit is to enjoy some outdoor activities such as hiking along the coastline, cycling along the beach, running in the Sea Park Garden, or even swimming in the sea. Varna is an active city, and you will see lots of locals taking part in outdoor activities such as volleyball on the beach, so why not get a group together and have a game.
Varna People
Varna is known for its history and is often considered the birthplace of European civilization as the area has had settlers for thousands of years. The Thracians were the main inhabitants of Bulgaria, and many cultural traditions come from this race. Bulgarians overall are quite religious, but you will find that the majority of the youth in Varna are becoming less interested in religion, but it is still important to the older generations, and you will see it has more of a presence in smaller towns.
The people in Varna today are a bit more complex and differ greatly; you have holidaymakers, seasonal works who are only there in the summer months, and locals who live there year-round. As Varna is one of the biggest cities in Bulgaria, there are many people of all ages who live and work permanently in Varna, but there are also people there just for the summer season. The whole of the Bulgarian coastline has become a popular destination for beachgoers, and this really changes the type of people who live in the area. There are many business owners that live and work during the summer months and then pack up and leave for winter to head inland to the ski resorts. Particularly restaurant and bar owners who know they will struggle with business during the winter months if they were to stay on the coast. Many towns shut up for winter, but Varna still keeps alive.
Varna is also becoming very popular with digital nomads. It has always attracted tourists from Europe and Bulgaria as it is an affordable place to enjoy a beachside villa. Having multiple coworking spaces means there are a lot of nomads here, as it is beautiful and very affordable when you look at the cost of living in other beach cities in Europe. 
Across Bulgaria, there is a large gypsy community, and there is a quarter in Varna in which they have created their own sector. Although they live in a more defined area of the city, they are as much part of the make-up of the city as any others living there. The gypsy community often hosts celebrations and events focusing on their traditions, so you may see some old-fashioned carts around town from time to time; however, they mostly stay in their community.
Varna is a mix of old, new, expats, and tourists, and this is what has made Varna the place it is today. Ti is a fusion of the past, present, and future and is a melting pot of culture.
Varna Insurance and Medical Care
When you travel anywhere, it is always advised to have health and medical insurance as accidents happen. The healthcare system in Bulgaria is varied; public healthcare is not of a high standard and will usually incur long wait times. The private healthcare system is of a good level in Bulgaria, but perhaps not up to the same level as care in Western Europe. 
Having medical insurance is advised as private healthcare in Bulgaria can be expensive and may involve a journey to another city. For serious medical issues, then you may need to go to the capital city Sofia which is on the other side of the country. Depending on the care you need, the larger cities should have facilities to help. Always take a translator with you as not everyone can speak English or foreign languages. Varna has multiple hospitals and is very likely to be able to take care of you, but always be prepared. 
Having insurance will help with the payment of healthcare, as things can cost a lot when you get private healthcare in Bulgaria. Insurance that also covers your personal belongings is also advised, as although it is relatively safe in Bulgaria, there is crime wherever you go. There are some poorer areas of Bulgaria, where you may find trouble, however it is highly unlikely to experience pickpocketing or loss of belongings in Varna. 
Make sure you are fully covered by reading our full Digital Nomad Travel Insurance guide.
Jobs in Varna
Finding a job in Varna may be simple if you have skills and experience within the hospitality or entertainment industry. There is a large population of English speakers, so it is possible to find small part-time jobs helping out during the summer season at the resorts. The best place to find work is online, either with foreign tour companies or on Facebook, asking locals for work. The biggest struggle will be the language barrier, as if you don't speak Bulgarian, then finding a job may be more difficult.
Other options are by using online search engines, although you will see that many jobs are based in the capital city Sofia as this tends to be where larger companies are based. You may find opportunities via coworking spaces in Varna, as often other nomads need help with odd bits of work, but this isn't particularly reliable.
There may also be some volunteering opportunities or skill exchanges, so check out workaway.com or search on Facebook for similar groups.
Check out our Digital Nomads Jobs Postings to find the best jobs available for Digital Nomads.
Nomad Friendly
Value for Money
Internet
Workspace
English
Food
Safety
Health
Transportation
Friendly
Quality of Living
Cost of Living Varna
The expected cost of living in any city can vary greatly depending on your needs and wants. It is possible to keep your costs down if you live like a local, but living a more luxurious lifestyle will lead to an increase in outgoings. Below is a breakdown of an example low-end budget and higher-end budget in Varna.
On a lower-end budget, it is possible to spend as little as $770 USD per month. This can be broken down into $250 USD per month on accommodation in the form of a shared unit or studio apartment just outside the center. If you eat locally grown and cook for yourself on a regular basis, it is possible to spend as little as $300 USD per month, which is an average of $10 USD per day on food. Then if you were to factor in a coworking space or use of a workspace, it would cost around $70 USD per month; by combining exercise and transport then a budget of $50 USD per month should be sufficient, and finally, around $100 USD would be enough for entertainment and leisure.
On a high-end budget, it is possible that you could be spending around $1,300 USD per month. This is broken down into $450 USD on accommodation in the form of a centrally located one-bedroom apartment. It would cost around $100 USD on a higher-end coworking space and $100 USD on transport in the form of taxis, rental bikes, and buses. As for food, if you want to eat out most evenings, then you could spend around $450 USD a month on food which is around $15 USD per day. Gym membership or exercise will cost around $50 USD per month, and then if you want to take multiple excursions, you could be spending up to $150 USD per month on leisure. 
The seasons will also affect your outgoings as if you are there in peak season, rental prices are higher, and you may find there is a slight raise generally in other activities and food.