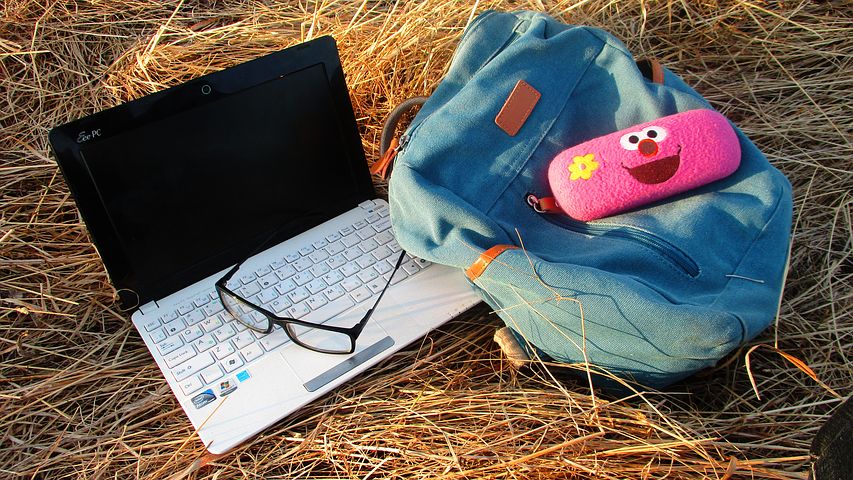 Best laptop backpack for travel
Laptops often feel like our most prized possession, especially when we rely on them for our livelihoods. Traveling from place to place making sure they're protected can be tiresome. That's why it's so important to pick the perfect pack to put them in. Of course, looking good while doing it never hurt anybody either. 
Consider your specific needs when choosing a special carrying case, such as size, style, comfort, durability, and organization. Many of these sacks for backs have unique features that will make them a first rate fit for that digital nomad lifestyle. We all know being on the road can be rough on belongings, so they need to be able to hold up uander all sorts of conditions. Whether you're taking planes, trains, buses or wandering city streets, these are all the very best laptop backpacks for travel. 
10 Best travel laptop backpacks
Incase Icon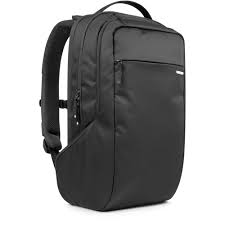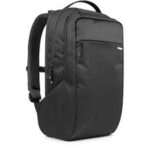 This laptop bag is a fan favorite among techie travelers. We love it for its simplistic and understated style that doesn't compromise comfortability. It offers four sections and plenty of space to carry all your items, including a 15.6-inch laptop. 
The handy pockets at the bottom of the straps even have a charging cable compartment, so you can stay powered up on the go. It's made with Woolenex, meaning it's both water and abrasion resistant, as well as being lightweight and sturdy. The Incase Icon is an all-around smart buy that comes with some extra swag.
Timbuk2 Commuter Parker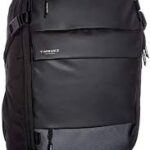 Timbuk2 is known for making biker friendly products for the city dweller on the move. It's 30 liters and expandable, so you won't be strapped for space with this bag. This makes it a prime pick for traveling as it can fit plenty of extra personal belongings for overnight excursions or just everyday carry. 
Its sleek design includes a reflective strip at the bottom, an added safety feature that sure doesn't hurt. It's made with polyethylene for a stiff and sturdy water-resistant structure, and it even comes with a rainfly. It boasts a breathable mesh which will keep your back sweat free even in the scorching sun. It doesn't have as much padding as some other packs, but does fit well once broken in.
Herschel Little America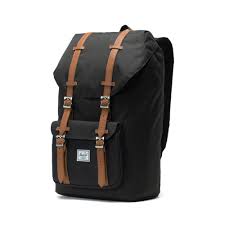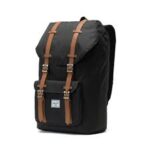 Herschel makes affordable and high-quality packs, and the Little America is one of their best sellers. It's a bigger model and ideal for moving around. It has a super modern and chic style, modeled after a heritage aesthetic, complete with classic buckles. 
There's a separate space just for your laptop of up to 15 inches, but not a ton of organization otherwise. It's 25 liters and made with polyester. The harness system is very comfortable. It's simple and versatile, probably best for buyers more concerned with fashion than fancy functionality.
Fjallraven Kanken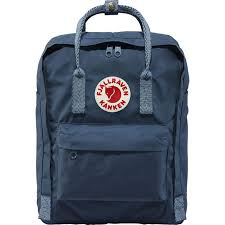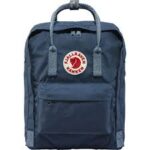 This boxy bag has swept the style scene, so odds are you've seen that little arctic fox logo before. Their laptop bag for travl is just as cute and fits a 13-inch computer perfectly with extra padding for its safety. It's made for minimalists with a simple set up inside. 
It's on the tiny side, so be prepared to pare down to just the essentials with this one. The straps are thin, so you won't really want to weigh it down much anyway for the comfort factor. It's the ideal carry on for any air travel, and the quick grab handle at the top always comes in handy. This bag is sure to stand the test of time, and travel.
Pacsafe Venturesafe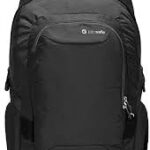 Pacsafe Venturesafe takes security so seriously it's in the name twice. You can tether it easily anywhere you stay, it has a slash deterrent, and you can lock it closed. The safety clips allow for the zippers to be secured in place, and it has a hidden pocket for smaller important items like a passport. 
No more worrying about pickpockets at the populated tourist spots or wearing a backpack on the front while strolling through markets. It has a 12-liter capacity and is made with nylon, which is lightweight and strong, but not waterproof. Be sure that your laptop is 11 inches or less if you want to go with this small but ultra-safe backpack.
5 top Recommended Laptop Travel Bags
Kroser Laptop Backpack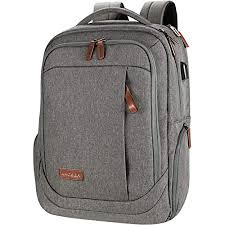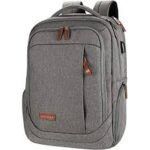 This bag blew up as a bestseller on Amazon, and it won't even break the bank. It's fashionable and functional, truly an all-in-one backpack for anyone on the go. The exterior is leather and nylon, for total waterproofing. 
There are plenty of pockets for organizing everything you own in easily accessible spaces, and a section for a laptop up to 15.6 inches. It can be carried as a purse as well, great versatility depending on your destination. It's super durable and comfortable to wear, and there's even a built-in USB port. It's easy to see why this cute bag has such a cult following.
Ten Tree Daily Backpack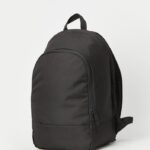 This is one for all the eco warriors out there. Ten Tree Daily is a super sustainable pack, made from recycled polyester water bottles. The padding is created using bloom Algae foam, and even the buckles and trims are recycled factory waste. There is plenty of this padding around all the pockets to carry laptop and other electronics worry free. 
It's extremely comfortable and can change size depending on your needs. At its smallest, it's 16 liters and can be expanded all the way to 35. This makes it a classic candidate for any air travel or trekking. It can carry a 15-inch laptop and has a tab to keep it in place. The style is simple complete with a cool roll top.
Topo Rover Pack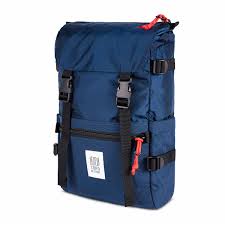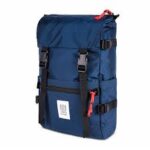 The Topo Rover Pack comes in plenty of fun colors, from forest green to mustard. This can help the bag to stand out from the average black which can be helpful for air travel. It's rectangle shape and front buckles offer a hip aesthetic that feels timeless. 
It's lightweight and large, holding laptops up to 15 inches. Thse main pockets provide extra space for all the travel essentials since it can hold 24 liters. It's comfortable to carry anywhere, and the durable nylon can withstand everything you may throw it along the way. There are two side pockets for water bottles, a favorite feature for us as easy hydration is always important.
Osprey Arcane Large Day Pack (V2)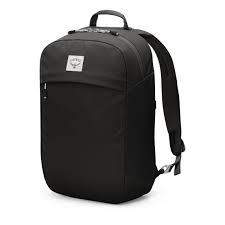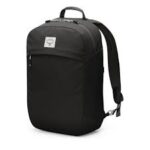 This is one of the best laptops for remote work backpack. Osprey is renowned for their finely crafted gear, and the Arcane Large Day Pack is no exception. It's 20 liters and offers excellent organization. It's made with recycled polyester and can fit a 15-inch computer. It has a slim and smart heritage style sure to be coveted by many fellow travelers. 
It even comes in some vibrant colors like honeybee yellow. The harness is perfectly padded so you can wear it all day long without straining your back. The micro mesh on the straps are great for ventilation as well. The exterior pocket is convenient for easy access, and the interior organization can be zipped open from the top or side and is terrific for storing tech.
Rains Backpack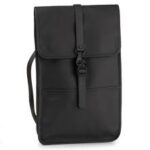 This minimalist backpack is slim and sleek for the fashionable traveler without too much stuff. The dedicated tech pocket has room for only a 13-inch laptop, but does have its own strap to keep the computer safe and stable. Its small size makes it easy to sit on transport or store under a seat. 
The hidden pocket in the back is an added bonus for phones or important cards. The magnetic strap closure, single adjustable strap, and carabiner closure are some of the unusual attributes that make this bag special. There's plenty of color choices to find your aesthetic fit, and it's waterproof so you don't ever have to worry about the weather.
Best Laptop Backpacks Conclusion
While plenty of normal bags are fine for carrying around a computer, a laptop backpack is specifically designed to keep tech safe and organized. This is a huge coup for all the online remote workers of the world. There are pros and cons for every laptop backpack, so be sure your priorities are in place before you buy. 
When traveling, backpacks are the best for distributing weight for comfort, versatility, and leaving your hands free to navigate any number of other needs. With so many designs on the market, it can be hard to narrow it down to that one perfect pick. Consider style carefully, what do you want your pack to say to the world? 
The good news is there's a wide range of prices, from budget-friendly to splurge central. You don't have to break the bank to get a bag that will hold up on the road and keep your tech safe and sound inside. Some are extra secure, some sustainable, while others are smart and sleek or more functional for outdoor adventure. The ten laptop backpacks listed here are the ideal travel companions for any digital nomad.