Women's backpacks have recently been reinvented, with narrower shoulders, extra padded hip belts, and a shorter torso length for added comfort. When searching for your perfect backpack, think about how much weight you want to carry, and then compare different models to find a backpack with enough storage, great accessibility, guaranteed comfort, and weight support. 
Let's take a look at the 10 best backpacks on the market for women, so you can make the right decisions about what best suits you, and your trip.
Best backpack overall – Osprey Ariel Plus 60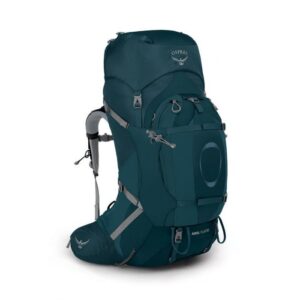 This well thought out backpack meets all your needs in one. It has adjustable chest and hip straps that you can customize for a perfect fit. The straps have thick padding, for extra comfort, and help to distribute the backpack's weight to your hips, lightening your load.
This backpack is designed to carry weights of 30 to 60 pounds and has a 60-litre capacity. It has a handy pocket on each side of the hip strap, where you can store snacks, your wallet, or anything else you want easy access to. The backpack's main compartment has a zipper that runs along it, opening the bag's entire front panel so you can get things out without having to unpack. 
It also has stretchy pockets for your water bottle, a space for your sleeping bag, attachment loops for your walking sticks, a space for hydration packs of up to three litres, and a waterproof cover. 
But the most unique feature of this pack is the inbuilt, removable day bag! That's right, this backpack is in fact two bags! You can detach the smaller day bag and go off into the city, or on small hikes, without needing to worry about carrying all your belongings. 
The Osprey Aerial Plus 60 is great for every adventure, from long hiking trips to months away backpacking. This cleverly designed backpack offers you comfort, versatility, easy access, and enough storage space for most trips. But all of this comes at a cost, the Osprey Aerial Plus 60 starts at $270.
Link here.
Best hiking backpack – Deuter Futura Vario 45 + 10 SL
The women's Deuter Futura Vario 45 + 10 SL pack is perfect for long hiking trips on any terrain. The back of the backpack is made of mesh and leaves a small gap between you and the backpack for ventilation; you'll be grateful for this on long, sweaty hikes! 
The backpack has a sturdy, spring steel frame that is arched to help move the bulk of the load from the back onto the hips, making your bag feel lighter.  
You can adjust the height of the shoulder straps to fit your torso length and tighten the hip and chest straps. These features customize the bag to perfectly fit you. This Deuter model has special features, like narrowed shoulders, that are designed for women. 
But what this bag does best is storage. The lid pocket, that sits at the top of the bag, is attached with adjustable straps that you can lengthen to add another 10 litres worth of space! This unique feature takes your bag from a 45L to a 55L. Aside from that, it has lots of handy storage features, like a separated bottom compartment, pockets on the hip belt, and an easy to access side pocket to store things like your raincoat. 
The backpack is hydration pack compatible and comes with a waterproof cover. It's perfect for outdoor adventures, long hiking trails, and everyday backpacking! There's a lot to like about this $230 backpack.
Link here.
Best (super) economical backpack – Quechua Forclaz 40 Teen
The Quechua Forclaz 40 Teen is great for small women with a very small budget. This incredibly economical bag doesn't have a lot of the fancy features of more expensive backpacks, but that's reflected in the price.
This bag is great for anyone between 5' to 5'5''. It doesn't have fully adjustable shoulder straps but does have a few tactfully placed straps around the shoulders, waist, and torso that help to give a snug, customized fit. The bag's chest and hip straps help to distribute the pack's weight, moving the load onto your hips to stop you from getting a sore back. 
The luggage in your Forclaz 40 Teen is easily accessible through the bag's front panel zipper, a particularly handy feature when you're on the move. It also has a pocket on the hip belt, a waterproof cover, two large side pockets, and two stretchy mesh pockets with adjustable straps that keep your water bottle securely in place.
It doesn't have a side compartment, and only has a small lid pocket. Overall, it has a 43-litre capacity, big enough for hiking trips of a few days or lightweight backpacking. This backpack is a great introductory bag to start off with and is accessible to every budget as it costs just $40! It's comfy with light loads, a decent size, and cheap. 
Link here.
Best 50L backpack for under $100 – Teton Sports Scout 3400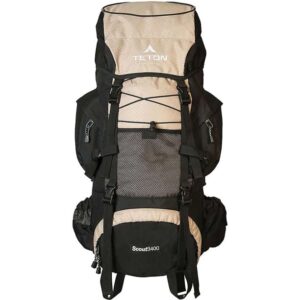 Is it your first time backpacking? Are you a beginner trekker? Do you have a tight budget? This backpack is perfect for you! The Teton Sports Scout 3400 is an economical, well-designed backpack that is great for easy hiking trails and backpacking trips. 
The backpack's shoulder straps can be adjusted and fit well on people between 5' and 6'4''. It has a 55-litre capacity, which should be enough storage space for hikes of one to five days, or a long backpacking trip if you pack light. It has padded hip and chest straps, a bright yellow rain cover hidden away in a Velcro pocket at the bottom of the bag, and space for your hydration pack. 
The backpack has handy features like side pockets, a stretchy mesh pocket at the front, a separate bottom compartment, and an adjustable top lid pocket (in case you need to squeeze some extra bits into your bag). 
Unfortunately, it doesn't have the handy hip belt pockets that backpackers and hikers are so fond of. The biggest issue with this bag is that it's a top loader, so you can only access your things from the top of the backpack. That might not seem like a big problem, but when getting something from the bottom of your bag involves unpacking everything – you might not be too happy. 
Overall, it's a sturdy, well thought out backpack that does a lot at a very low cost. The Teton 3400 is priced at less than $80.
Link here.
Best 50L backpack for over $100 – Kelty Redwing 50
They remodelled the original Kelty Redwing 50 backpack to better fit women, adjusting the torso length and suspension system to give it a more natural and supportive feel. You can easily customize the backpack to a variety of heights using the torso adjustment system and use the hip and chest straps to tighten the bag's fit, taking the weight off your back.
This bag is perfect for a few days hiking in the wild with your own equipment. It has lots of handy compartments, like mesh side pockets for water containers, as well as a large side pocket above where you can store things like your raincoat or sunglasses for easy access. The bag has a U-shaped zipper that opens up the front panel, so you don't need to worry about feeling blindly through your stuff to find something like you do with top loader backpacks. 
The back is meshed for extra ventilation. At the front, aside from the main compartment, there's two added pockets. The top pocket is divided into smaller compartments, ideal for your pens, bits and bobs, and a notebook. Behind it, there is a stretchy pocket that buckles onto the bag, great for stashing an extra layer you can quickly grab hold of when it starts to get cold.
This backpack is great for urban and outdoor adventures. It has lots of space and a surprising number of compartments for a 50-litre bag; this helps to keep your things organized and easy to access during your trip. It's a great backpack, with lots of unique features, that you can get hold of for just $150.
Link here.
Best 60L backpack for under $100 – Nevo Rhino 55/60L
The Nevo Rhino comes in a range of sizes, with capacities of 30 to 80 litres. The 60L model is great for long-term travel and multiple day hiking trips. It has adjustable shoulder straps that you can accommodate to your torso size for extra comfort. The padded hip and shoulder straps are both adjustable and help make your load lighter by moving the bulk of the weight onto your hips. 
The bag has great accessibility and a lot of handy extra features that will help you keep track of your things. There is a bottom compartment for your sleeping bag, as well as loops hanging off the bottom that you can slide your tent into, freeing-up space in your backpack. 
And that's not all, there's lots of other functional attachment loops that you can slide your walking sticks, yoga mat, or roll mat into! It's not lacking when it comes to pockets either; with a lid pocket, numerous side pockets, and a stretchy mesh pocket on the front of the bag you won't be short of places to keep your jackets and random bits and bobs. 
This backpack is ideal for any kind of backpacking trip and a range of activities. It offers a lot of versatility, with design features that are optimal for both outdoor and urban use. Best of all, this backpack is very economical. It's surprising you can get so much for just $65!
Link here.
Best 60L backpack for over $100 – Osprey Aura AG 65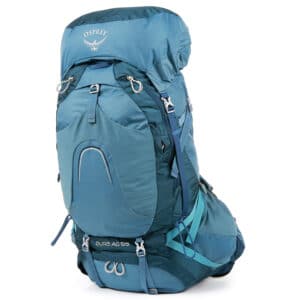 The Aura AG 65 backpack is another great model designed by Osprey. The bag comes in three sizes, and ranges from a 60-litre capacity to a 65-litre capacity. It is designed to be highly adjustable, so you can rearrange things until the backpack fits you just right. Even the hip belt is adjustable! And like other backpacks, it has hip and chest straps that help give a snug fit. 
This backpack is great for long hiking trails as it has a lot of ventilation. The back of the backpack is made of a breathable mesh, as are the padded hip and shoulder straps. It's designed for long days outdoors, where ventilation and well distributed weight are essential! 
It has lots of functional features, like hip belt pockets, an exterior mesh pocket you can stash extra layers in, a lid pocket, and a separate sleeping bag compartment. It also has numerous attachment loops for all your extra gear.
You won't need to worry about where to keep your fluids either, the backpack has stretchy side pockets and a hydration reservoir pocket for you to keep your bottles and hydration packs in. This backpack is designed to make carrying heavy loads easier, prioritizing comfort, customized support, and ventilation. 
It's the ideal bag for a long backpacking trip or an escape into the wild. You pay for what you get with backpacks, so it's no surprise that this well-designed backpack costs around $270. 
Link here.
Best 70L backpack for under $100 – Vango Contour 60+10
The Vango Contour 60+10 backpack costs just under $100 and has many wonderful features that give the pack its reputation as a comfortable, supportive, and economical backpack. There's plenty of loops and hoops on the bag for attaching sleeping bags, walking poles, or anything else you can't squeeze into your bag. There's a super functional pocket at the front of the bag for stashing raincoats, or for stowing away bits you forgot to pack when you're in a hurry
The main compartment can accommodate up to 70 litres of luggage and has an extra lid pocket to top it off. The bag's large side pockets are great for your water bottle and anything else you want quick access to. You can adjust the bag to better fit you using the hip and chest straps. Additionally, the adjustable back system allows you to easily customize the bag to your torso length. 
This bag is comfy, well prized, and cleverly designed with most of the functional features you'd look for in a backpack. The only drawbacks of this bag are that it doesn't have hip pockets or a zip down the front panel, and has to be loaded, and unloaded, from the top. But, for a bag you can find for $100 or cheaper (keep a lookout for sales!), it's a bargain.
Link here.
Best 70L backpack for over $100 – ULA Circuit
The ULA Circuit backpack by Ultralight Adventure Equipment has been ranked above Osprey and Gregory models. This backpack has gotten particularly great reviews for offering optimal comfort with heavy loads. If you struggle to pack light, or you're going on an expedition where you'll need a lot of equipment, this is your backpack dream come true! One of the backpack's greatest features is the flexible carbon fibre suspension hoop. Thanks to this clever piece of kit, the backpack moves with you, no matter the weight. 
There aren't as many compartments and extra pockets on this backpack compared to others, but there are large side pockets and handy loops and toggles for easy gear attachment. You'll want to measure your torso and waist to make sure you get the right size when you purchase your ULA Circuit, as they aren't adjustable. 
It has lots of straps that you can arrange in different ways depending on what you're packing and a large, stretchy pocket at the front that is great for storing food and jumpers you want to get your hands on during the day. 
The only drawback is that this backpack is a top loader. The pack itself weighs just 2.2 pounds and has a 68-litre capacity. This lightweight, supportive, and comfortable backpack is designed for long trekking expeditions and outdoor adventures. You can get hold of this brilliant backpack for $280.
Link here.
Best waterproof backpack — Sea to Summit Hydraulic Dry Pack 
Most travellers aren't too concerned about waterproofing. A lightweight, waterproof backpack cover does the job in a light drizzle and is enough to keep your stuff dry in most climates. But, if you're a fan of water sports and you're planning a kayaking, canoeing, or sailing trip then your needs will be very different, and a sturdy, highly waterproof backpack will be high on your priority list. The Sea to Summit Hydraulic Dry Pack is the answer to your watertight prayers! 
This backpack is made of tough, laminated fabric and has tightly welded seams that keep the water out, even in extremely cold weather. The top of the bag is rolled up and closed with a buckle to make sure there's no way for water to get in. The buckle is held on with screws, so you can easily and quickly repair it on the go.
There are lash loops on the side of the bag that make attaching your pack to a raft, bike, or surf ski simple and secure. Incredibly, the bag also has adjustable, padded shoulder straps and hip and chest straps for added comfort. You can purchase the 35-litre model for $200, or a larger 60-litre model for $240. 
Link here.
There are plenty of backpacks on this list for you to choose from, with lots of different designs suited to a range of needs and budgets. We're sure you'll find something you love; as long as you prioritize storage, comfort, accessibility, and support you can't go wrong. Once you've got your backpack, all that's left to do is fill it up before you head out on your next adventure!