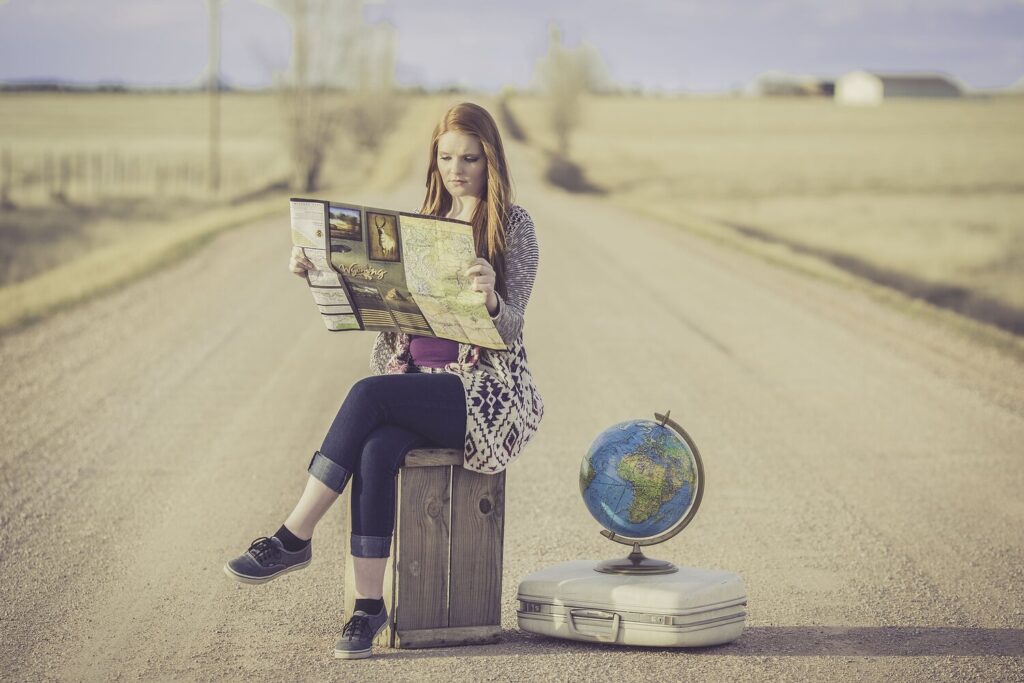 Want to travel the world, but not sure how to become a digital nomad and finance your adventures? Thankfully there are now more jobs than ever that allow you to travel. Whether you want to work remotely – or simply want a career where travel is part of the package – the world of working abroad is expanding with more and more options opening up every day.
We've had a look at some of the most popular options for those that want to travel and work at the same time. Keep reading for a round-up of the best careers for those that want to travel the world, whilst still making an income.
Top Traveling Jobs AKA Jobs That Allow You To Travel

Top 5 Travel Jobs
1. Travel Social Media Freelancer
If you want to travel, one of the best ways of working is to freelance. These jobs are more commonly executed online – meaning you can do them from anywhere in the world. You'll also be able to work with a variety of clients. This gives you the opportunity to expand your skills and quickly enhance your income.
Social media management is a job that is more commonly undertaken by freelancers. Since everything is online, you don't necessarily need to head into an office to do this work. Now more than ever these jobs are switching to 100% remote – giving you the freedom to relocate to anywhere in the world.
The great thing about freelancing is that you can also pick up clients on the road. International businesses have offices in multiple countries – and the tourism sector is always looking for freelancers with social media skills. If you can specialise in the right industry the world is your oyster.
2. Traveling Photographer
Photography is another industry that is increasingly becoming more remote. Whilst you need to attend the photoshoot in person – if you work as a freelancer you have control over where you pick up clients. If you're a creative person with an interest in the visual arts there are plenty of photography opportunities out there that will allow you to travel.
That being said we must offer a word of warning – travel photography is a heavily saturated market. In that case, we recommend picking a specific niche and sticking with it. Interested in property? Offer your services to estate and letting agents. More of a foodie? Hone your food photography skills and freelance for restaurants across the world.
Even if you don't work as a full-time photographer, it's a useful skill that will increase your chances of picking up some of the other jobs in this guide. Social media managers, journalists, and bloggers all benefit from having good camera and editing skills. Even cruise ship workers will open up more opportunities if they can offer a decent portfolio of travel and portrait photography.
3. Web Developer
Freelance jobs are great for travelling – but many people worry that they aren't the best paid. The work is precarious and you're not guaranteed a constant stream of clients so you need to factor this into your plans. That being said, there are a few careers where you're more likely to have plenty of work to choose from.
Web development is a highly in demand skill and also offers some of the best pay when it comes to remote working. You'll need to learn how to code (usually Javascript for web development, as well as a few others for more niche content) but once you've got that figured out you'll find plenty of opportunities.
The great thing about web development is that if you do decide to settle down later you'll have a great portfolio to find steady work wherever you settle. This is an in-demand skill around the world – and many countries will even help you gain a visa.
4. Blogger/Content Writer
This job is similar to social media management – and often you'll be expected to do both. The great thing about blogging is you can get started before you've even found any clients. You simply set up a blog online and post writing regularly. Whilst most bloggers have branched out to other income methods these days you can set up ads on your blog to bring in money from Remote companies like Google.
More commonly, bloggers will bring in money through one of two methods – influencer income or content writing. If you've built a decent sized audience you can make good money as an influencer. This is where you offer to review or advertise a product or service in exchange for a fee. When you start out you'll probably have to pitch to companies yourself, but as you get more successful you'll find companies start contacting you.
Content writing, on the other hand, is when you write online content directly for the company. You will either be writing blogs for their website, product descriptions, or web pages. You won't always get credited for this work, but you can still build a substantial portfolio. This work goes hand in hand with social media and photography – so it is an essential skill for online freelancers.
5. Language Teacher that can travel
This has long been one of the most popular ways to find work abroad. If your first language is English it is incredibly easy to get work as a teacher in various countries across the world. You will likely need to gain a certification: CELTA is preferred and will get you more money, but TEFL is cheaper and also accepted widely.
Even if English is your second language, a good certification will still open plenty of doors for you. CELTA is essential in this case and you can find courses in most major cities across Europe and North America. Teaching English as a foreign language is a rewarding career that allows you to embed yourself in local communities.
Of course, English isn't the only language in the world! In fact, whilst other languages aren't in as high demand they will often command a higher fee for those who are qualified enough. If you speak other languages look into the official teaching qualifications required. You can also teach online using services like iTalki – meaning you can set your own rates and schedule.
Popular Jobs that Travel
1. Travel Agent
Historically, travel agents have been one of the most popular career choices for those that like to travel. Most agencies will offer their staff complimentary experience trips as part of the remuneration package. This gives you the chance to learn about the best places for digital nomads you are selling to customers and develop your tourism service skills.
That being said, the nature of travel agencies has changed thanks to the internet and the decreasing popularity of package holidays. Many tourists are booking things themselves – but with the official travel agencies winding down there is still a small market for people who need some help planning their vacation.
You can therefore sell your travel organising skills online to individuals and businesses requiring help planning their itineraries. You'll usually charge a percentage of the overall cost of the holiday – but some more experienced travel agents can get away with charging a flat fee. Some businesses will also hire an in-house travel agent to plan their employees itineraries.
2. Tour Guide
Tour guides are essential to the travel industry and are a great way to make some extra cash whilst you're still in your home country. As long as you have basic customer service skills and a knack for talking about local history and culture there are plenty of tour guide opportunities out there. We recommend starting in the place you currently live first as you are more likely to know the place well and can build your experience.
More experienced tour guides can also travel as part of their job. In some regions of the world (such as Europe and Southeast Asia) it's common for groups of tourists to take trips that visit multiple countries. You can work onboard a tour bus and help guests learn more about the region.
Beyond that you can also freelance as a tour guide abroad. Once you've gotten to know a place you can advertise your services online for as long as you plan to live there. You can also be hired as a tour guide who travels with the party to help them get to know a new destination, plan their itinerary, and arrange activities.
3. Airline Crew
Like travel agents, airline crew jobs have been a popular option for those that like to travel for decades. You will be working onboard flights that take people from one part of the world to another – and often you'll have a few nights to enjoy the destination once you arrive. There are two main types of airline crew – pilots and cabin crew.
Pilots (and assistant pilots) fly the aircraft from A to B. This can be an incredibly lucrative career – attracting some of the highest salaries in the world. Of course, this high earning career doesn't come without a price. The training is expensive and takes years to complete. Cadetships are available, but the cost of these will come out of your starter salary.
Cabin crew is an easier option for most people – but don't take for granted how challenging it can be. You'll be working unsocial hours, spending most of your time on your feet, and will have to be responsible for passenger safety. Flag carrier airlines will have you based at their hub, whilst budget airlines are more likely to have you move around the network. For the latter, it's far less common to have some time to spend in the destination.
4. Journalist
Journalism is an essential service for keeping people informed about current events around the world. There are many different types of journalists – including those who focus on international affairs, travel, and industry publications. Specialising in one of these areas is a great way to find work that lets you travel.
You'll need a hefty portfolio before you can start earning enough to fund your travels so think about the kind of publications you want to work for and keep a copy of their pitching guidelines saved. You can start off as a blogger or content writer and shift to journalism once you've built your portfolio.
Journalism is another career where it helps to have other skills. Photography, social media, and even web development can help you find work in the industry. Expanding your skillset will also make it easier to settle down if you decide you want a more steady job at a single publication.
5. Translation Work
For those that speak a second language translation work can be a very lucrative career – even more so than teaching! You can either work as a translator – which involves working with written words, or an interpreter who works with spoken language. They both require a slightly different skill set, so it's worth thinking about where your personal strengths are in the language you plan to work with.
Translating and interpreting are skills in their own right, so you'll need some training on top of learning another language. Translators need to have an in-depth knowledge of the language so they can find the best way to communicate concepts and ideas from one language to the next. Interpreters also need to do this – as well as have a knack for working quickly as most spoken interpreting is done live.
Private businesses, charities, and government departments all require translators and interpreters. Whether you want to work for the UN, media organisations, or international businesses this is usually a pretty well paid job. It helps to have a tertiary qualification but there are other ways to work up the ladder.
Jobs

that Involve 

Traveling
1. Event Organiser
As a seasoned traveller you've probably attended a number of events of all sizes. These events take a lot of planning and organisation from experienced professionals. As an event organiser you will be tasked with delivering the creative vision of the team behind the event, managing staff, and acquiring resources. This is a key role for many industries.
As with tour guiding you'll probably be better starting on events in your local area before looking for work abroad. Once you've got the experience you can pitch your services to organisations internationally. Whether you're interested in working on concerts, cultural gatherings or charity events there's plenty of work throughout the year.
With this in mind you can also look at other aspects of working in events. If you've got sound production skills you can tour with creatives to help them deliver shows. Technical skills are also important for building and operating stages. You don't have to be an organiser – look at how you can offer your skills to the events industry and build a name for yourself.
2. Outdoor Activity Instructor
Love the great outdoors? There are plenty of rewarding career opportunities available for you. Outdoor activity instructors help people in specialist activities like skiing, kayaking, and abseiling. You'll need to have some experience under your belt – but sharing your knowledge is a good way to boost your income abroad.
This work is seasonal so you'll have some opportunity to travel. Whilst the ski slopes of Switzerland are closed in the Northern Hemisphere's Summer, you can instead look at the resorts in New Zealand. Likewise summer activities are more popular in countries where it's warm all year round.
One of the most popular options for outdoor activity instructors based outside of North America is working in a summer camp in the US or Canada. These tend to take people with less experience, so it's a great way to bulk up your CV. You'll also get to see a different side of the region from most tourists as you'll be working with American/Canadian children and their families.
3. Cruise Ship Crew
Just like airline staff, cruise ship crew have plenty of opportunities to explore the world. What's more – you will usually get to see multiple countries per trip to accommodate the itineraries of guests. This work also tends to be seasonal, so you might have to switch hemispheres depending on the type of cruise you want to work on.
Cruise ships need a variety of staff in order to run. Captains and shiphands will usually have some experience and qualifications (which can be pricey) but you don't need to be a seasoned sailor to work in the industry. Hospitality, tourism, and photography staff are all needed aboard. It's actually a really good way to build up your photography portfolio in particular as they will accept people with less experience.
Naturally you'll need to be comfortable working onboard for months at a time. It's not just about seasickness. You'll be away from home for a long time and often won't have access to home comforts. Some cruise ships also won't allow staff to spend too much time onshore at the destinations as work needs to be completed whilst guests are off the ship.
4. Customer Service and Call Centre Work
Traditionally this kind of work required employees to head into an office, but that's all changing. Even prior to the pandemic more and more call centres were offering their workers the ability to work remotely. You just need to have a decent VOIP service, internet connection, and laptop and you're usually ready to go.
Beyond call centre work there are other types of customer service you can provide. Online chat services and email inquiries all need to be staffed. Since many companies want a 24/7 service they will employ people from around the world. This gives you the opportunity to work remotely and travel with an income.
Keep in mind that some customer service work can be sensitive (especially if you're working for tech or finance companies) and will require you to stay calm in high pressure situations. If you reckon you can deal with irate customers this can nevertheless be a rewarding career with some progression options if you decide to stick with it.
5. Diplomacy
Diplomats are among some of the best paid government workers. They represent their country (or international organisation) abroad, help tourists from their country who encounter problems abroad, and influence international policy. It is a well respected profession with many perks and in many cases allows you the opportunity to see countries that don't have as many tourists.
Some countries have easier routes to work in the diplomatic service than others. You'll usually only be able to carry out this work for a country you have citizenship for – and ideally the country you have the most experience living in. Whilst some countries require stringent exams and exceptional language skills, other countries offer clear training programmes where you get to learn new languages and build your diplomacy skills.
Keep in mind that it isn't always as glamorous a job as it is made out to be. You'll have to defend and represent the international policy of your country – both good and bad. In most cases, you also don't get to choose where you are assigned – so you might end up in a country that you didn't particularly want to visit or somewhere that comes with safety concerns.
Jobs

 that 

Travel

the World
1. Travel Childcare Worker
Families all over the world need help with childcare. It's increasingly more common for parents to have working responsibilities outside of their kids' schooling hours – or to have to return to work whilst their children are still very young. This presents a great opportunity for travellers to make some money abroad.
In particular, au pairing is a fantastic option for those that want to travel. Families hire au pairs so their kids can gain some immersion in a foreign language. They will choose an au pair that speaks the language they want their kids to learn and it is expected you will communicate with the kids solely in that language. It is particularly popular in Europe.
Of course, there are plenty of other reasons that people require childcare. Keep in mind that some families will feel uneasy about leaving their children with someone who doesn't know the country they are living in well. You will also have to face security checks in some countries which can be expensive and require police checks from everywhere you have lived.
2. Telemedicine Professional
Work in the medical field and thinking about how you can get some more remote work? Telemedicine is a relatively new field where you can advise people on their medical issues over the internet. Some people aren't able to access local services so this can be a lifeline for many service users.
You'll need to be highly qualified in your field and will receive further training on how to deliver medical services remotely. This is a changing field of work, however it has seen a boom as a result of the pandemic. In areas where there have been outbreaks it has often been safer and quicker to help patients remotely using telemedicine.
Of course, whilst more specialised professionals will be paid more per client you will likely encounter less work. On the other hand, general practitioners and pharmacists will be able to find more steady telemedicine work.
Of course, this list is not exhaustive. There are plenty of other careers that allow you to travel – and sometimes it helps to get creative. If you like your current job, but still want to see the world, some organisations will allow you to permanently switch to remote work or undertake business overseas. 
The best option is to look at your skill set – what qualifications and experiences do you already have and how can these be applied to jobs that allow you to travel? Once you've narrowed your options down, take a look at job listings. Most jobs that allow you to work remotely or travel as part of the job will mention this in the description.
3. Engineer
Engineering has long been a lucrative career – and now it's one that will let you travel! There's a huge variety of engineering careers out there. Whilst you can find plenty of work at home with the right qualifications, this is a skill that travels well. The world is constantly changing and engineers are needed to make sure cities, businesses, and governments keep up.
If you decide to settle down after all of your traveling, then you'll be welcomed with open arms in many countries across the world. Various types of engineering are present on visa schemes across the world. From Australia to Argentina – as long as you've got the right qualifications your skills will be highly in demand.
4. Urban Planning
Just like engineering, planners are needed by businesses and governments all over the world. Urban planning is a career that will always have plenty of opportunities. As societies grow, so do the cities that house them. This means urban planners are needed to help shape how these cities grow.
The push for more environmentally conscious cities has made urban planning skills more necessary than ever. Just like engineering you'll find plenty of countries have urban planning on their skills in demand lists. This is a great job to travel with and one that comes with plenty of visa opportunities. You'll also find there are some international firms that will let you travel on the job.
5. International Aid Worker
International aid workers help organizations and governments provide support to people in the developing world. This can be an incredibly rewarding career that gives you the opportunity to make a difference in the countries you visit. It goes beyond the stereotypes of building schools and wells – many international aid workers also offer diplomacy, business management, and technical skills.
One thing worth keeping in mind is that you'll really need to do your research to make this a viable and rewarding career path. Some organizations do more harm than good so it's worth doing your due diligence. It's also not the most lucrative career, so don't expect lavish hotels and five star service. That being said – if you're hard working, dedicated, and empathic this is a great choice for you.
Travel

Tareers
1. Consultant that can travel
If you're looking for jobs that pay you to travel, consultancy is an excellent option. But first of all – what exactly is consultancy? Consultants offer advice to organizations on a variety of topics – and the kind of consultancy you'll be offering depends on your company's expertise. This can be anything from marketing and communications, to finance and business management.
Consultant jobs are usually pretty lucrative – and it's a great career to get into straight out of college. Like many of the other jobs on this list it pays to work for an international company. This will give you more opportunities to travel on the job. It also means you get to work with different companies abroad – giving you a unique insight into foreign work culture.
2. Project Manager
Project managers are tasked with ensuring a task is completed to a high standard. This might sound quite like quite a broad job description – because it is! Project managers can work on a variety of different jobs – from delivering a product, to organizing a conference and everything in between. This is what makes it such an exciting career.
Project managers usually work on multiple jobs throughout their career. If you want a travel career you'll find plenty of opportunities in businesses across the world. Multinational companies will of course have opportunities for you to travel on the job – but this is also a great career for freelancing. That way you really get to build your skillset and choose your own destination.
3. Buyer
Buyers are tasked with helping businesses grow their inventory. The best known type of buyer is a retail buyer. In this career you'll get to decide what products the company you work for stocks. Fashion buyers, for example, will select which designers, manufacturers and textiles their company will use. There are many other kinds of buyers.
Outside of retail buyers, you might also be tasked with choosing what products a business uses to execute its work. For example, you can help decide what computers an office uses or what type of cheese a restaurant chain uses to prepare meals. It's quite a varied career – and as a result of globalization there's a good chance you'll carry it out across borders.
4. Theater/Concert Worker
It's not just event organizers that get to work at concerts – there are lots of staff required to run these events. Whether you're a lighting whizz, expert rigger, or sound geek there are plenty of fantastic jobs that let you travel in the theater and gig space. Build your skills and you can find yourself working at some of the largest events in the world.
So how do you get into this line of work? You'll usually learn on the job so there's a little bit of luck involved – but make sure you're doing plenty of networking. You'll probably need to get some jobs at home first to get a name for yourself – but if you can do some work for a performer or company that tours frequently you might find yourself going on the road with them.
5. Driver
Driving is a job that requires travel by its very nature. Truck drivers are in high demand across the world at the moment – and many of these jobs are cross border. If you live in the EU there will definitely be plenty of international travel opportunities as a truck driver. That being said, if you're happy to travel domestically it's also a great option in North America and Australia.
And it's not just truck drivers! Driving is a skill that can land you all kinds of careers out there. You can work as a chauffeur, taxi driver, or private tour guide. If you have a bus driving license you can also work for large tour companies that take visitors across borders. 
Common Travel

 

Jobs
1. Virtual Assistant
This is a popular career choice for digital nomads that are just starting out in the online space. Virtual assistants are like personal assistants – but online! You will help organize calendars, book travel, and collate invoices – among a number of other important administrative tasks. Virtual assistants are essential for business people that work remotely.
Of course – it's not just business people that require virtual assistants these days. More and more work is being done online – from startups to multinational corporations. In this new marketplace many companies are opting to allow their admin staff the chance to work remotely. Working as a virtual assistant is a great way to live a location independent lifestyle whilst still making decent money.
2. Software Developer
We've already talked about web developers, and software development is a pretty similar job with some core differences. Software is used to help businesses, organizations, and individuals execute tasks on the computer. This means you can be working on things like financial products one day, and video games the next.
Developers make decent money across the board but software development is at the higher end of the pay scale. You'll probably need to know more coding languages to get your foot in the door but it's totally worth the time. Ideally you'll need some experience before going for the location independent roles – so be prepared to spend some time in your home country gaining skills before taking the plunge.
3. Graphic Designer
Graphic designers create various assets that showcase branding and tell visual stories. This is a great career choice for creatives. You will be able to work in an industry that interests you and develop your own style. Graphic designers are needed all over the world – so it's an easy job to travel with.
So what do you need to become a graphic designer? Whilst most new designers these days are qualified, you don't need formal education if you've got a decent portfolio. Try working up some designs of your own, help out local organizations and build a collection of work that you can showcase to potential clients and employers. Once you've got that taken care of you can even work mostly online – giving you the ability to earn money from anywhere in the world with an internet connection.
4. UI/UX Designer
UI/UX Design is related to graphic design – and, in fact, many people working in the former used to do the latter. UI – which stands for user interface – is where you design how things look. Typically this involves websites – but you can get UI designers on a whole host of projects including live events. 
UX is shorthand for user experience. This is a bit more analytical – but you'll still need a good head for design. This is where you use psychology, user research, and industry best practice to build websites and online experiences. Usually you'll be aiming to make the experience as easy for the user as possible – but UX can also be used as a sales technique.
5. Life Coach
Life coaching saw a massive boom in the 00s and after a decade of stagnating it's on the increase again. The job does what it says on the tin – you help people organize their lives and work towards self-improvement. Life coaching can take many forms and you'll want to consider specializing. Some life coaches help with things like careers and finance, whilst others work with concepts like self-fulfillment.
Life coaches can work with a variety of clients. Some people assume they are for the rich and famous – but many people across the world benefit from working with a life coach. You'll want to have a relevant qualification to make sure you're truly helping clients. Counseling, management, and even human resources skills can all help you become a great life coach.
 J

obs

for Travelers
1. Mindfulness Instructor
Mindfulness really took off as a major mental health support tool in the 2010s and it isn't going anywhere. Mindfulness is a practice where people steady their mind and realign how they view thoughts. This can help people live happier and more fulfilled lives – and in many cases is prescribed by medical professionals as treatment.
Mindfulness instructors work with governments, businesses, and institutions to help people live a more mindful life. You can help employees, service users and the general public as an instructor. You will need some training – but this is usually a freelance career so there are plenty of opportunities to travel with this kind of work.
2. Day Trader
Trading in the stock market is one of the fastest ways to make money – but it's also one of the riskiest. Plunging lots of money into a volatile marketplace can either see you earning riches or losing it all. So what if you want to dabble in the stock market without as much risk? This is where day trading comes in.
With day trading, you invest in stock at the start of the day, and sell it off again at the end of the day. This means any losses are minimal – but it also means the gains are pretty small too. So how exactly do people do it as a career? You can invest in lots of stocks at once and end up with big returns when you add them all up. Many people do day trading as a job – so you invest someone else's money and make a cut of the winnings. This job is done online so you can do it from anywhere in the world – but you'll usually be working with North American and European stocks.
3. Accountant
Accountants are essential for businesses. They help make sure the figures add up, maintain books, and ensure the business complies with local regulations. This is a skill that you can use anywhere in the world – and it's one that often features on skills shortage lists. You can also work as an accountant for governmental organizations, charities, and individuals.
One thing to keep in mind is that you'll need to be clued up on the finance regulations and taxation requirements for the country you're working in. Chances are you'll have trained in the rules of your home country – but companies that offer visas will usually pay for you to get extra training on local regulations. It's a very transferable skill either way, and not all countries require official accreditation.
4. Editor
Editors will look at a piece of work and adjust it so it really shines. When it comes to writing, editors are in charge of making sure everything is grammatically correct, worded in a way that conveys the right message, and fits in with the requirements of the commissioner. Usually editors have worked as writers themselves – helping them to hone the craft.
You can also get video and photography editors. These will use editing softwares to adjust the visual quality of the imagery and – in the case of video – ensure a coherent narrative is formed. Both writing and multimedia editors will need a good portfolio of work they've helped with – but these are Digital Nomad jobs that can be done online. You can even be the editor for a travel publication!
5. Affiliate Marketer
Affiliate marketing is where companies outsource their marketing requirements to others. In the online space, affiliates are given custom links that they can share with others to help grow the business. Have you ever signed up for a service online and been offered a discount if you share a link with someone else and they sign up? This is a type of affiliate marketing.
Of course, you can't live off discounts and freebies – but there are plenty of ways to do this as a paid job opportunity. Influencers sometimes post affiliate links, and if you've got a blog or decent social media following this is a great way to boost your income. You can also work for a company directly and distribute affiliate links to others.
Travel

 

Jobs

that Pay
1. Hospitality Worker
Hospitality jobs can be found in every corner of the globe. Bartending, waitering and coffee making are just some of the jobs that you can travel with. If you're going to a country that has a working holiday scheme, chances are you'll be looking at this kind of work anyway.
You can also work for hotels and hostels. The latter is usually done for free accommodaltion – but hotels are always looking for international staff. This is especially true if you have language skills so they can connect with their foreign guests. 
2. AirBnB Assistant
AirBnB is widespread across all of the world's most visited destinations (and even in a few less touristy places). As a result there are heaps of AirBnB management companies. 
AirBnB assistants help guests check-in, coordinate cleaning services, and can even act as a concierge. You are the face of the management company. You can easily travel with this job if you have the right skill set – including language, tour guide and concierge skills.
3. Outdoor Worker
There are many different kinds of outdoor work that are needed internationally. If you've ever taken an Australian working holiday visa you'll likely be aware of the requirement to undertake some outdoor work to get your second year. This includes things like berry picking, farm work and tree surgery.
It's not just Australia that needs these workers – these are skills that are required all over the world. If you hone your skills in an outdoor job you'll have a travel career for life. A lot of the work is seasonal – so be prepared to switch hemispheres often.
Traveling

 

Jobs

Conclusion
There are plenty of excellent job opportunities that allow you to travel for basically every skill set. We suggest looking at what skills you already have and figuring out how you can adapt them for the international workforce.
That being said, it's never too late to retrain! Most of the jobs on this list can easily be learned on the go – or with just a few short courses. You can even take these courses online. With a laptop, internet connection, and willingness to learn the world really is your oyster.
Good luck and safe travels!