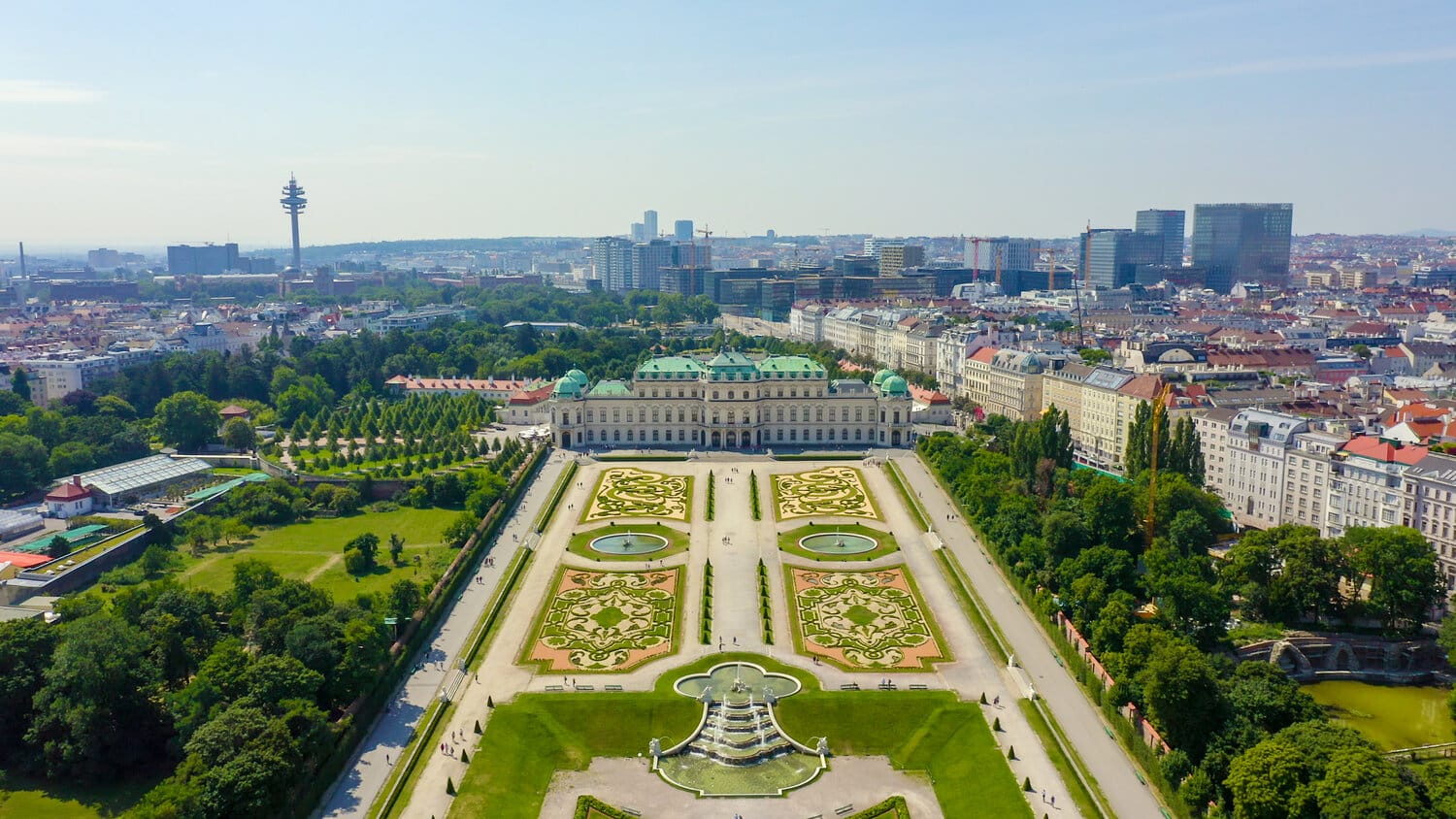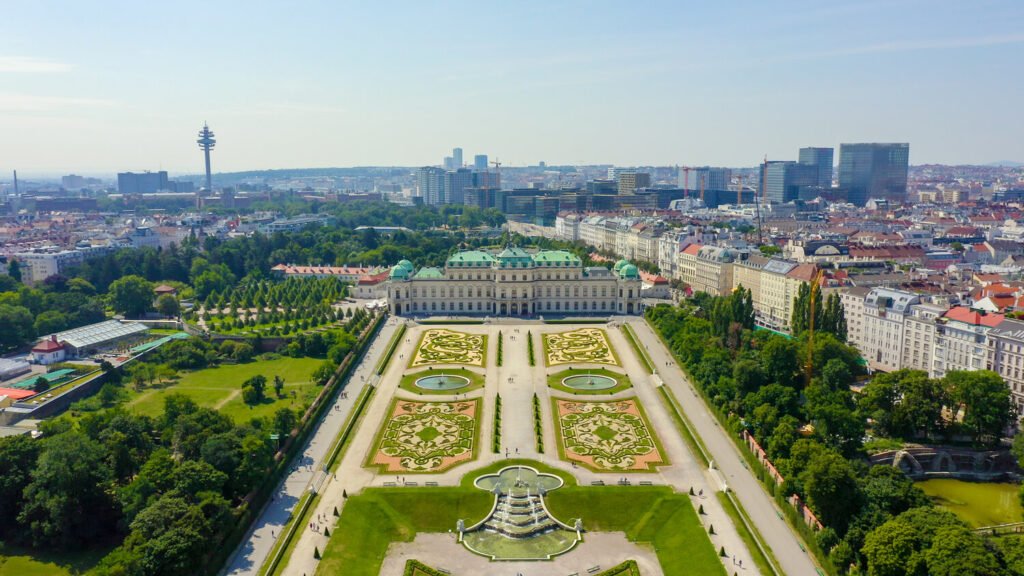 A Digital Nomad Guide to Vienna, Austria
Vienna, the capital of Austria, is one of the most elegant cities in all of Europe. Located on the banks of the Danube, in the valley of the Vienna Woods, at the foot of the first foothills of the Alps, it has an artistic and monumental heritage capable of taking the breath away from anyone who decides to get lost in its streets with old sophisticated buildings. As if this were not enough, during the nineteenth century it was one of the great musical capitals of the world and at the beginning of the twentieth century the Mecca of philosophy and political debate in the West as well as one of the main world cultural centers, something that was maintained in time and that is still evident with its overwhelming cultural offer.
It is also the capital and main city of the country, as well as one of its nine federal states (Bundesland Wien) and one of the cities with the highest quality of life both in Europe and worldwide. Surrounded by the federal state of Lower Austria, Vienna is the most populous city with more than 2.4 million inhabitants in its metropolitan area. Therefore, it is the second most populous city in Central Europe and the sixth most populous city in the European Union (EU).
Vienna offers its residents and expats a high level of security, well-structured public transport, a wide variety of cultural options, excellent school options for children, and a calm society where rules matter.
Nomad Friendly
Value for Money
Internet
Workspace
English
Food
Safety
Health
Transportation
Friendly
Quality of Living
Living in Vienna Overview
| | |
| --- | --- |
|  Meal, Inexpensive Restaurant | $13.62 |
| Domestic Beer (1 pint draught) | $4.54 |
| Cappuccino (regular) | $3.81 |
| Loaf of Fresh White Bread (1 lb) | $1.69 |
| Water (1.5 liter bottle) | $0.75 |
| One-way Ticket (Local Transport) | $2.72 |
| Basic Utilities (Monthly) | $214.24 |
| Internet | $37.61 |
| Fitness Club (Monthly) | $29.8 |
| Apartment (1 bedroom) in City Centre | $953.81 |
Currency: Indonesian rupiah (Rp)
[erw_exchange_rates_widget lg="en" tz="0″ fm="IDR" to="EUR,USD,GBP,AUD,JPY,RUB" st="primary" cd="" am="15000″][/erw_exchange_rates_widget]
ATMs
Max Withdrawal: Rp 3,000,000
Withdrawal Fee: Rp 30,000 – Rp 50,000
Use of Credit Cards: Mostly Cash
Digital Nomad Personal Experience in Vienna
There are many things that are incredible about Vienna. The first one is the amount of cultural activities offered each week and the architecture of the city where even the urban area is considered a World Heritage Site by UNESCO.
The geographical situation is excellent. The Alps are very close and present in Austrian life. To go to the mountains to experience nature is possible at any time because 50% of Austria is forest and mountains. Traveling to neighboring countries with cities like Prague and Budapest, going to the Balkans or to the sea is also easy as they are relatively close and the flights are cheap.
Furthermore, Vienna is easy to get around. The excellent combination of trams, subways and buses will make you easily reach any part of the city. Bicycles are also widely used even in winter so it is safe to use them as both pedestrians and drivers are used to them and there are many special lanes.
Regarding security, we are without a doubt one of the safest cities in all of Europe.
Among the things that I don't like that much is that they take the rules a bit to the extreme. If you make a little more noise than what is expected in your apartment they will call the police before knocking on your door and asking you what is happening. Supermarkets and businesses open from 8 am to 7 pm and neighborhood stores or traditional businesses close around 6 pm, so you should plan your dinner in advance. The climate is also complicated since in winter the temperature drops below zero degrees. Lastly, Austrians can be unfriendly and arrogant towards foreigners and immigrants are not always treated the same as Austrians by birth. However, you always find people to get along with, life in Vienna is fun, and the system of social rules brings peace of mind as you always know what to expect.
Work in Vienna
Vienna is one of the most vivid, diverse and fast-growing tech scenes in Europe. It has numerous startups and a critical role in the startup ecosystem. Therefore, the city is among the best coworking destinations in Europe. If you are looking to settle in or work in an office that is already set up and that allows you to develop your contact network, in Vienna you will find coworking spaces with everything you need.
Best Places to Work in Vienna
Das kommod
Das kommod (Tür 2-3, Esterházygasse 11A) offers a professional work environment with 24/7 access with your own key, stationery, lockers, a full kitchen, a green patio, and a welcoming environment. In addition, the place offers a garage space for DIY creators. The price packages varied between 195 and 245 EUR per month.
The Collaboratory
The Collaboratory (Apollogasse 4/7) is the preferred workspace for expats and the only coworking space in Vienna with a nursery. Located in the heart of Vienna's 7th district, it features fixed and flexible desk spaces. It also offers virtual coworking and several regular events for the English-speaking community. Additionally, its members enjoy free internal legal advice.
Stockwerk
Stockwerk offers 60 desks spread over 3 floors and 620 square meters, in a renovated old factory. Located at 11A Pater-Schwartz-Gasse, it offers shared workstations, meeting rooms, the ability to create a virtual office, 24/7 access, an equipped kitchen, mail service, printers, copiers, conference room, bar area, ping-pong table and sofas to relax. The old renovated factory has an inspiring urban space for events that is also a meeting point. A flexible desk costs 15 EUR for one day, 70 EUR for five working days, and 170 EUR per month from 9 am to 6 pm. On the other hand, a fixed basic desk costs 200 EUR per month and 290 EUR per month for a Deluxe one that can be used by 2 people simultaneously. You will also have space to put your name.
Impact hub Vienna
Impact hub Vienna  is located at Lindengasse 56. It is an accelerator for social startups and a coworking space. Impact Hub has spaces and a global community, from Amsterdam to Johannesburg and from Singapore to San Francisco. You can choose to collaborate, network, incubate a project or business, and much more. The environment is truly community driven, so members are dedicated to seizing the possibilities. The membership plan costs 35 EUR for 10 hours per month, 60 EUR for 25 hours per month, 120 EUR for 50 hours per month, 175 EUR per month for unlimited access, 225 EUR per month for unlimited access plus a dedicated desktop.
Loffice
Loffice, located at 85 Schottenfeldgasse, it is an innovative workspace with significant experience in providing a wide range of services, such as organizing events and mentoring support. In addition to private workstations, it offers a variety of office spaces, meeting rooms, event spaces, and a terrace. Its offices and event spaces are characterized by industrial design, recycled furniture, environmental awareness, ergonomics and the integration of contemporary art in the work environment. They have the ability to help startups efficiently and strengthen their national and international presence. A flexible desk costs 20 EUR a day, 80 EUR a week and 120 EUR a month. A virtual office costs 160 EUR and a meeting room 50 EUR.
In addition to these coworking space options, you will find many others to explore before deciding in which one you want to stay. In general, they all cover the basic needs and differ in the extra services they provide.
Best Places to Live in Vienna
Best Neighbourhoods
Vienna has 23 municipal districts and a population of just under two million people. Even among its 16 main districts, the city has areas to satisfy all kinds of demand.
Wieden, Margareten and Neubau
There are several districts of Vienna that are ideal for expats both because they are socially welcoming and because they have all services close by and are easily accessible. Among them are Wieden, Margareten and Neubau. Wieden, in the south of central Vienna, is buzzing with life, due to its student population and booming nightlife. It has cafes, signature cinemas, local pubs, a host of non-Austrian supermarkets and stalls, and a tiny Chinatown. Margareten has a multicultural atmosphere, an abundance of cafes and restaurants, and is home to the famous Filmcasino cinema. Neubau is a hipster neighborhood with art galleries, more innovative exhibitions, cafes and restaurants. It also features young families and older residents enjoying Vienna's Museum Quarter, the city's historical and cultural center located here. 
Landstraße, Mariahilf, Meidling, Währing, Liesing and Döbling
Among the best districts in Vienna for families are Landstraße, Mariahilf, Meidling, Währing, Liesing and Döbling. Landstraße is a central and relaxed district. It ranges from apartments to large townhouses, ideal for families of all sizes. It has museums, art galleries and the Wien Mitte transport hub, which connects with the rest of the city. Mariahilf, west of central Vienna, is a commercial district. In addition to shops and cafes it also has first-class schools, kindergartens and playgrounds. Meidling is a quiet area, southwest of the center of Vienna and away from the hustle and bustle. It has affordable family houses and lots of green spaces such as the Haydnpark with free-use open spaces and sports facilities. Meidling is also home to several schools, making it an ideal place for families with school-age children. Währing is one of the greenest neighborhoods, although not the cheapest. Much of this district is home to the wealthiest families in Vienna. Although it is located a few kilometers from the city center, it has numerous transport links. This area has many local schools and a community atmosphere. Liesing is one of the most remote districts to the south. This area was recognized as the heart of the working class, and much of the architecture of the older factories still survives. It has a good amount of green space and picturesque rolling hills. Döbling, to the northwest, is a mix of suburban life with picturesque green hills and vineyards. It has numerous schools, both local and international. The only downside to living in the Döbling neighborhood is that it is far from the city center.
Leopoldstadt, Donaustadt, Favoriten and Ottakring
If you have a low budget, you will surely look for a cheap neighborhood. Among the more affordable districts are Leopoldstadt, Donaustadt, Favoriten and Ottakring. Leopoldstadt, northeast of the city, has picturesque views of the bank of the Danube River. Historically the Jewish quarter of Vienna, it has a variety of homes, both in style and price. Donaustadt is one of the districts furthest from the center which makes prices go down. Here you find the wetland reserve which is part of the Danube-Auen National Park and is just a short walk from the Donaustadt residential area. Favoriten, in the south of the city, is one of the most affordable districts. It is the main working-class neighborhood of the capital. It has green areas and the famous Oberlaa Therme, a spa with multiple hot springs. Ottakring is a central and affordable location. Home to the city's famous Ottakring Brewery, the area has a bohemian flair with numerous Serbian cafes. Here you will find many young Viennese professionals and students.
Innere Stadt, Josefstadt and Alsergrund
If what you are looking for is luxury, the neighborhoods that will attract you the most are Innere Stadt, Josefstadt and Alsergrund. Innere Stadt, the old town of Vienna, has extravagant prices, waves of tourists in its streets, restaurants and cafes. Here you will be surrounded by the most emblematic places of the city such as the Habsburg palace. Josefstadt, not far from district one, is known for its theaters and renowned residents, such as former mayors of Vienna and Austrian presidents. It is an ideal neighborhood to live in for those who want to access both downtown and the leafy suburbs. In the cobbled streets of Alsergrund you will find the best-known Christmas markets among its charming architecture.
Good luck with your search of your next home!
Find an Apartment in Vienna
Compared to other European cities, the price of a rental apartment in Vienna is more affordable. However, there are several things to consider before you start looking for a home.
Long-term contracts usually have a minimum permanence, a 3 months cancellation in advance, and the apartments are usually delivered unfurnished. This means that in the face of a next move you almost always have to pay a double rent for a month.
The price of renting an apartment is monthly. If you are looking for it through a real estate agency, you have to add the commission of the "Markler" (the real estate agent). You also have to add the Kaution (the deposit) and, sometimes, if it is furnished, they will also ask you for an Ablöse which is usually something similar to the temporary sale of the furniture and the right to use it. Charging an Ablöse is illegal and they usually charge a lot, but in many places they ask for it anyway. Later, when you leave, you can try to sell the furniture to the next tenants. The Ablöse can also refer to the right to use the stove or oven, since many apartments are rented without it and you have to pay and install it yourself. In general, water, electricity and gas, community fees and taxes must be also added to the rental price, which usually increases the price quite a bit.
The affordable floors in Austria are old and most of themt did not have enough space for the bathroom. For this reason, many times you will see a small shower in the kitchen, which they consider sufficient. In addition, many flats only have heating in one room, the rest is heated with an electric stove and you have to be careful because with its use the electricity bill rises and it is not very useful when it is -20 ºC outside.
When they talk about flats with one room, they mean a studio. When the offers say two rooms, they mean that the apartment has a room and a living room. If you want a home with more space and better conditions, you have to go to the outskirts of the city and the price increases considerably.
You can search through the internet, where there are hundreds of flats, even some for private rent without a real estate agency in between, and therefore without commission. Many of the cheapest ones are subsidized by the State and to be able to rent them you have to have a certificate of "low income" with a specific age (each one asks for a different one). There are also many who are scams so you have to be careful and always go see the apartment before paying or signing a contract.
 Consider that an apartment that costs, for example, 700 EUR per month, will cost you 1.400 EUR upfront or more if you rent it through a real estate agency and between 2.100 and 4.200 EUR if you add the deposit, which will be returned to you at the end of the contract if the apartment is delivered in equal conditions and without debt. So the first month costs you around 4.200 EUR for a 700 EUR apartment.
One of the first options to find a rental in Vienna is to search on Internet portals like: https://www.nestpick.com/es/, https://www.viennarent.com, https://www.vienna-rental.at, https://www.viennapartment.net/en and https://www.viennacityflats.at/vienna.
Good luck with the search!
Cheap Places to Stay in Vienna
If your budget is very low or you prefer to live with more people, your best option is to share an apartment or rent a room.
If you decide to look for a shared home, on many occasions they will do personal interviews where they will ask you many questions to determine if they want to live with you.
To search for a shared apartment you can ask in the expat groups on Facebook. There are many groups for each nationality. In addition, there are also specific groups where they show rooms for rent, such as: Apartment, Flat and House Share In Vienna and Awesome Flatmates Vienna.
Existen otros grupos de Facebook a los que puedes entrar para la búsqueda de un alquiler en Viena o compartir piso, os dejo el enlace de algunos:
In case you decide to find an apartment for yourself anyway, without sharing it, keep in mind that in Vienna there are many scams. Never pay money or sign a contract without visiting the apartment first and confirming that the person who want to rent you the place is the owner for real.
If you're trying to save money
Vienna Visa
As part of the Schengen area, citizens of any other state of the European Union or Switzerland, Norway, Iceland and Liechtenstein can enter Austrian territory for stays of no more than 90 days during the same semester only with the national identity document. On the other hand, citizens of Bulgaria, Croatia, Cyprus, Romania, Ireland and the United Kingdom must present their passport as they are countries that do not belong to that area.
The rest of the residents of third countries are required to obtain a permit known as a Schengen visa for any visit of the same duration. The only exception will be the case of foreigners who are in possession of a valid residence permit or long-term visa issued by a Schengen state, which automatically accredits them to move freely around the rest, again for 90 days and in any 180 period.
The Schengen states have reached a series of agreements with certain countries according to which their nationals are exempt from the obligation to present a visa to cross their borders, including those of Spain, when traveling as tourists.
The countries exempt from the visa requirement to enter the Schengen area are: Albania, Andorra, Antigua and Barbuda, Argentina, Former Yugoslav Republic of Macedonia, Australia, Bahamas, Barbados, Bosnia Herzegovina, Brazil, Brunei Darussalam, Canada, Chile, Colombia, South Korea, Costa Rica, Commonwealth of Dominica, El Salvador, United Arab Emirates, United States, Georgia, Grenada, Guatemala, Honduras, Israel, Japan, Kiribati, Malaysia, Marshall Islands, Mauritius, Mexico, Micronesia, Moldova, Nicaragua, New Zealand, Palau, Panama, Paraguay, Peru, Solomon Islands, Samoa, Saint Kitts and Nevis, San Marino, Saint Vincent and the Grenadines, Saint Lucia, Holy See, Serbia, Seychelles, Singapore, East Timor, Tonga, Trinidad and Tobago, Tuvalu, Ukraine, Uruguay, Vanuatu and Venezuela.
However, for some countries such as Argentina from 2022 it will be necessary to obtain an ETIAS permit through a very simple procedure that will be carried out online.
However, for longer trips it will be necessary to apply for long-term visas, either to study, work or live in Austria.
In any case, these regulations change time to time and it is advisable to consult the embassy before making the trip.
Culture and Food in Vienna
Vienna's gastronomy is very varied because it has been influenced by the cuisines of other countries, such as Hungary, Germany, the Czech Republic and Italy.
Viennese gastronomy stands out worldwide in the area of ​​sweets and buns. I recommend you to try a Sacher or a strudel and accompany it with a Viennese coffee. Viennese coffee is an espresso of different sizes accompanied by a superficial layer of cream. The most special place to try it is the well-known Café Central.
You can also try a portion of Sacher (chocolate sponge cake filled with apricot jam and covered with dark chocolate) at the Hotel Sacher, where this delicacy is prepared with special care and quality.
In addition, if there is a specialty that perfectly defines Austrian cuisine and especially Viennese, it is the Wiener Schnitzel, a portion of breaded veal seasoned with different herbs and spices, and which is usually accompanied with potato salad. Where to try it? In the Austrian capital there are simple restaurants with a wide range of Viennese specialties known as beisl. They are a good option to eat well in an informal and relaxed atmosphere. In addition, there are also restaurants that are called heuriger that consist of rustic places where they serve typical Viennese dishes and wines of their harvest.
Good and cheap restaurants include SOHO Kantine (Josefsplatz 1, 1010 Wien), behind the National Library. At noon you can choose a menu at a low price. Additionally, Café Central serves the best Goulash in Vienna, the free buffet Wiener Deewan '(Liechentsteinstraße 10) serves Pakistani food with a pay-as-you-wish policy where you set the price, and at the Hummel (Josefstädter Straße 66) you can get coffee, beer, sweets and several Viennese dishes at a good price. 
If you prefer renowned restaurants and do not care about the price, you can go to Aend (Mollardgasse 76), Fabian Günzel's select cuisine restaurant that has been recognized with a Michelin star and offers a simple and intimate atmosphere.
Amador Restaurant (Grinzingerstraße 86), by the famous German chef Juan Amador, is a three-fork restaurant distinguished by a creative and technological cuisine in which regional products abound.
Edvarden Restaurant at the Palais Hansen Kempinski (Schottenring 24) has excellent cuisine of the highest international level, with regional and seasonal ingredients, distinguished with a star in the Michelin Guide.
The Konstantin Filippou Restaurant (Dominikanerbastei 17) is committed to modern, quality cuisine with a personal signature. The atmosphere, characterized by an elaborate sobriety, houses a kitchen that boasts two Michelin stars.
Kim restaurant (Währinger Straße 46) is run by Sohyi Kim, one of the few women in Austria to be recognized by her cuisine. In her restaurant, there are a maximum of ten seats. A menu of ten innovative and experimental tasting varieties is served at Kim.
Silvio Nickol Gourmet Restaurant in the Coburg Palace (Coburgbastei 4) has two Michelin stars and the five Gault Millau hats with which it has been distinguished. Added to this is its world-famous winery that received the award for the best wine list in the world in 2014 and 2017.
Vienna Nightlife
No matter how sober and calm Vienna looks during the day, its nightlife is worthy of a capital and university city. There are several restaurants and cafes that are quiet during the day and turn into wild pubs at night. In addition, the Viennese cocktail bars change the type of music according to the DJ of the night. This means that one night can be all indie music and the next one pop or electronic music.
The Viennese go out for a few beers after dinner at 8 or 9 at night and the venues close between 4 and 5 in the morning, when you can take the first metro to return home.
The best places in general are not centered in the same area, they are scattered throughout the city. The strategic points for partying in Vienna are in the so-called Bermuda Triangle, the historic center, the area of ​​the subway line U6 and towards the western part of the Gürtel. You will also find nightclubs on the banks of the Danube and nearby the Naschmarkt.
The Bermuda Triangle consists of a set of narrow streets in the old part of the city where there are many bars, discos and breweries. Here you can find different styles but especially bars with popular music and disco music. This area is full of tourists who do not dare to explore other areas, Latinos who live in the city and young people in their first year of college. Some of the places here to have a drink and have fun are Kix Bar, a Krah Krah and Roter Engel.
The metro route between the Burggasse-Stadthalle and Alser Strasse stations passes over the surface through some arches. Below are several nightclubs with an alternative and modern atmosphere. Some of the most interesting to go are Chelsea, Rhiz, Café Carina and B72. The good thing about this area is that the locals are next to each other so it is easy to try several of them.
In the Museumsquartier, the Museum Quarter, summer nights are incredibly fun and lively. Here you can enjoy the summer drinking outdoors on one of its benches or sit inside one of its modern cafes. You will find an eclectic atmosphere with themed parties and also people playing varied music with their own sound equipment.
At the Wuk (Währinger Straße 59), an abandoned warehouse that was turned it into a cultural space, you can have beers and there are also often free concerts or music to dance. It also has a climbing wall and a bicycle workshop where they fix it for you and teach you how to do it on your own.
Keep in mind that in Vienna many of its clubs charge entry. However, many places are free and in general if they charge the entrance it will cost you less than € 5, although without consumption included.
Things to do in Vienna
Schönbrunn

The first place to visit in Vienna is Schönbrunn, the former summer residence of the Habsburgs, one of the most important royal families in European history. This luxurious palace is an example of the grandeur of the time. The visit can be done on your own, and you have a discount with the Vienna Pass.

Ringstrasse

The Ringstrasse is the ring-shaped boulevard that surrounds the most central part of the city for 6,5 kilometers. In this street are some of the most emblematic buildings such as the Hofburg Palace, the Votive Church, the Town Hall, the Parliament, the Museum Quarter, the Opera, etc. If you don't feel like walking, you can take the tour on the Ring Tram, which runs along the entire Ringstrasse and passes through some of the most iconic points of the Austrian capital. The tram is already an attraction itself, since its history dates back to the 19th century, maintaining the same design as then. If you decide to get on this simple means of transport, you will have at your disposal an audio guide. The tour takes 25 minutes and costs 9 EUR.

The Wiener Staatsoper

The Wiener Staatsoper, the Vienna State Opera, is housed in a mid-19th century Neo-Renaissance building. When it opened, it was the world center of opera for the quality of the composers. With capacity for 2.284 people, today it is an essential place to understand Vienna's past. If it is not in your plans to attend an event and you still want to visit it inside, you can do it through a guided tour.

Hofburg

The Hofburg Palace, another place to visit, was the habitual residence of the Habsburg family for more than 600 years. Between its 21 large rooms, I recommend its museum dedicated to Sissi.

The local Town Hall

The local Town Hall is also located on the Ringstrasse circuit. It is a monument that follows the ostentatious and sophisticated style of the rest of the city. It was built in the mid-nineteenth century and at the top of its central tower is the traditional figure of the Rathausmann.

The Austrian National Library

The Austrian National Library is located on Josefsplatz in a Baroque building from the early 18th century. Inside, you will enjoy ancient papyri and manuscripts that cover almost the entire history of Western culture.

Prater

Vienna also has its own amusement park. The Prater is the first to open its doors in all Europe. Its Ferris wheel has been in operation since 1897 without interruption. Its attractions retain the classic charm of the late 19th century, which is why the park should be considered as a monument.

Hundertwasserhaus

Viennese architecture is elegant, sober and perfectly harmonized in its forms except for the Hundertwasserhaus, a block of flats built in a style that is very reminiscent of the works of Dalí. Its wavy shapes, its windows of different sizes and its vegetation, have made it a first-rate tourist attraction.

Mozart's house

Mozart's house, located on Domgasse, is also part of the sightseeing tour. It is the place where he lived between 1784 and 1787. Inside there is still the period furniture and even some of the scores that the great composer created.

Zentralfriedhof

Despite not having been born in the city of Vienna, Beethoven also spent a good part of his life in the Austrian city. Vienna was the place of his death and his burial. His eternal resting place is in Zentralfriedhof cemetery. This cemetery that extends over 2.5 km², stands out for its beauty. It is the third largest cemetery in Europe and the resting place of characters such as Schubert, Brahms or Strauss. It even contains an exclusive area for musicians.

The Danube

The Danube, one of the most famous rivers in the world, runs through Vienna. The river sides are equipped for all kinds of outdoor activities. A good idea is to cycle it throughout the city. You can also climb the Danube Tower for the best views of Vienna. At 252 meters high, it is the tallest building in Austria and one of the symbols of Vienna. At the top there is also a revolving restaurant.

Museum Quarter

The Museum Quarter, next to the Hofburg, is an area where several first-rate museums are located. Among the most recommended are the Museum of Natural History, the Museum of Art History, the Leopold Museum, and the MUMOC (museum of modern art). The Museum of Art History collects the private collections that the Habsburgs accumulated throughout their history. Currently, the place allows to contemplate works by artists of the stature of Velázquez, Rubens, Rafael or Tiziano, as well as some archaeological pieces of high cultural value.

Imperial Furniture Museum

In addition, you can also visit the Imperial Furniture Museum with luxurious furnishings. The collection recreates royal rooms that came into use and has 6.000 objects on display, and a warehouse with 160.000 pieces that once decorated the halls and rooms of the Habsburgs.

Imperial Crypt

You would maybe like to visit the Imperial Crypt, located under the Capuchin Church. 150 members of the Habsburg family are buried in it, and it has several dozen spectacular sarcophagi.

Cathedral of San Esteban

Construction of the Cathedral of San Esteban began in the 12th century and has Romanesque and Gothic details. Its tower is the highest place in the city center. The temple has such special corners as the Singers' Portal or the Giant's Portal, a portico built in the 13th century to celebrate the visit of Emperor Frederick II. Its interior has details such as the Wiener Neustadt altar. In addition to entering its main floor you can climb its tower, see its treasure, and go down to the catacombs.

Volksgarten

Vienna is a city of green spaces and parks where nature makes you forget the crowds of the city. One of its most frequented parks is the Volksgarten. Lainzer Park can offer you a more genuine experience. This place was in the 16th century a hunting area reserved for Emperor Ferdinand I. Today it still has 80% of wooded area where animals such as deer roam freely. You can also enjoy the magical Belvedere gardens, located at the foot of the palace of the same name. They are meticulously designed creating a spectacular range of colors. Fountains, flowers and small avenues make the visit to the gardens memorable. In addition, the entrance is free.

Hoher Markt

Hoher Markt is a city square built in the 18th century. Despite having been rebuilt after various war-related destructions, the place still maintains its old traditional atmosphere. The best time to visit it is at 12 noon when the traditional carillon is activated through which twelve figures parade. The characters are illustrious figures in history such as Maximilian I, Marcus Aurelius and Charlemagne.

Naschmarkt

If you like markets, then you can go to The Naschmarkt, a lively open-air market where they sell everything from food to souvenirs and various objects. It is also a very popular place to eat as there are several restaurants and bars with different types of cuisine.

Danube and Wachau

Outside the city you can take a day trip through the Danube and Wachau valleys. The excursion takes you through beautiful landscape surroundings and tourist attractions such as Dürnstein Castle or the Benedictine Abbey of Melk. The Wachau Valley was declared a World Heritage Site by UNESCO. You can also take an excursion to Hallstatt, one of the most beautiful towns in Austria, or to Bratislava, the capital of Slovakia which is 65 kilometers from Vienna. By train, the journey takes just one hour and a return ticket costs 16 EUR. It is a very popular excursion from Vienna and it allows you to see another European capital in one day. In addition, if you do this excursion in summer you have the possibility to go from Vienna to Bratislava by cruise on the Danube.
Best Time to Visit Vienna
The climate of Vienna is continental oceanic, with an average annual temperature of 9.5 °C. It has mild summers and cold winters.
The hottest months goes from June to August. However, temperatures are never high in the city. The highest temperatures reached in summer goes between 25 and 27 °C, being 20 °C the average temperature for this season. In addition, it is the time when the rains are more abundant and frequent.
During the months of December and January there are low temperatures, being the coldest time in Vienna. The average temperature is 0 °C, and it can easily drop to -5 °C.
Vienna is a tourist destination in any month of the year, but you have to consider its climate to take the necessary measures and thus enjoy the experience. The best season to visit Vienna is during June, since July and August have more rains. In this season the temperature is more pleasant and you can enjoy more daylight hours. Consider that they are the high season months, therefore the prices are higher. I also recommend the autumn months (mid-September to mid-December), they are less warm but still not so cold.
However, the least expensive period to visit Vienna is winter, which runs roughly from December to February (excluding holidays) because it is the coldest season and sometimes even icy and snowy.
Vienna for Families
Vienna scored high on the Quality of Life Index in recent years, as it has many green spaces, cheap and efficient public transportation, and a low crime rate which makes it attractive for families who want to move here.
While many of the Viennese prefer their pets to children, many others are kind to them. You also have to consider that the rules of behavior and noise are very strict in the city.
Instruction in most preschools is in German, but there are some private providers that also offer bilingual options. You can also check the list of Schools that teach in English in the site of the US Embassy and the list of international schools.
While there are some difficulties in finding subsidized child care, there are plenty of affordable child care services for kindergarten options for children ages three to five. The city agency MA 10 governs public providers and offers grants for expatriates who prove their residency in Austria. If you want to apply you can consult the following sites in German: kinderdrehscheibe and kindergarten.
In addition to the incredible cultural offerings and cultural interest of the Viennese, Vienna also has to offer beautiful and fun green spaces for you to enjoy with your children. Some of the favorite parks among families are Türkenschanzpark, Stadtpark, Währingerpark and Rathauspark. Viennese parks usually offer several playgrounds.
While you will most likely always find children playing outside, no matter the weather, there are also several fun indoor play options dotted around Vienna. Although there is usually an entrance fee, these places help families on rainy and cold winter days. Some of them are Monki Park, Lollipop and Family Fun.
Living in Vienna
Vienna Transportation
Vienna has an efficient public transport service although most of Vienna's tourist attractions are located within the Ringstraße, which surrounds the historic center, and can be explored on foot. This area has several pedestrian streets. Here it is advisable to use the pedestrian crossing (where the priority of pedestrians is generally respected) to cross the streets, without confusing it with that of bicycles. Also, if there are red lights, it is better to respect them even when there are no cars in sight as the traffic police also fine pedestrians.
The modern Vienna metro is known as the U-Bahn and its construction began in 1969. It is open from 5 am to 12:30 pm. The metro runs every 5 minutes although after 10:30 pm it runs every 8 minutes. The five lines that make up the Vienna metro have underground sections and sometimes it goes on the surface. The U1 or red line runs through Vienna in a north-south direction. The U2 or Violet line has a semi-circular route that runs through the center of Vienna, connecting Stadion and Karlsplatz stations. The U3 or orange line goes from southeast to northwest. The U4 or green line starts at Hütteldorf station and ends in Heiligenstadt. The U6 or brown line starts at Siebenhirten and ends at Florisdorf station.
If you need to move short distances, traveling by tram is comfortable and fast. Its network, with more than thirty lines, is one of the largest in the world. Lines 1 and 2 are the most useful lines to explore Vienna's attractions. Their routes run along the Ringstrasse, and have stops at the Opera, the Hofburg Palace and the Parliament. The hours are like the subway but some lines close at 9 pm. The Vienna Ring Tram also runs along the Ringstrasse. In this tourist tram they will give you information about Vienna in different languages. It runs from 10 am to 6 pm.
During the night the only alternative to taxis are buses, although during the day both the metro and the tram are more convenient. With their small size they allow you to use public transport in Vienna even in the historic center. There are 21-night lines that are identified with an N in their numbering and that circulate with a frequency of 30 minutes.
The Vienna Card is the best option to pay for public transport. This card allows you to use the entire transport network of the city at any time and place, and obtain discounts at more than 210 attractions. The discounts for museums range from 10% to 33%. Since this card also includes a discount on transportation from the airport to the city center, it is better to buy it as soon as you arrive at the airport. You can buy a Vienna Card valid for 48 hours for 18.90 EUR or valid for 72 hours for 21.90 EUR. Each Vienna Card allows one child up to the age of 15 to travel for free. It can be obtained and purchased at the airport tourist information office, hotels, the main metro stations or the tourist information office. You can also buy an annual subscription for 365 EUR, a monthly one for 51 EUR or a weekly one for EUR 17.10. On the other hand, a single ticket purchased at one of the stations costs 2.40 EUR.
If you arrive in Vienna with your own car, you should leave it in the parking lot and visit the city by other means. The closer you get to the center, the tighter the parking restrictions become because the municipality of Vienna aims to keep car traffic out of the center. It is not worth trying to break the parking bans as the Vienna police are relentless and fines are high.
You can also move around the city by bike through the extensive network of bike paths in Vienna. A recommended route is the Danube bike path. If you don't have your own bike, you can hire the Citybike Wien service. It allows you to pick up a bike at one of the many Citybike stations and deliver it to any other station. To rent one, you need a credit card and a two-minute registration process.
If you prefer to use taxis, keep in mind that it is not the cheapest option, they don't stop if they are called on the street, they can only be requested at taxi stands or by phone, you will pay more if there is more than one passenger or if luggage is carried, you also pay more between 11 pm and 6 am and if it is a Sunday or a holiday.
Fitness and Health
Numerous parks, green areas, sports areas, large recreation and relaxation grounds, clean waters and numerous sporting events make Vienna an excellent place for outdoor activities. Walking in the Wienerwald, jogging in the Prater, skating on the Danube Island, cycling around the city, swimming in hot springs or kayaking in a canal are just some of the sporting possibilities that the city offers.
During the gloomy days you can also exercise in one of the complete Viennese gyms. For example, the sports center chain Club Danube runs three large clubs throughout Vienna located in Franzosengraben 2, Kendlerstraße 41 and Arbeiterstrandbadstraße 87a. Each location offers slightly different sports opportunities, but all of them cover ball sports, functional fitness, group fitness, personal training, and wellness. This fitness chain operates in the mid-price range and regularly offers special prices for students, big groups and companies.
Another option is EVO Fitness club (Berggasse 21) in the 9th district. It is located in a charming building with high ceilings and perfectly combines style and fitness. Training styles are varied. There is no binding contract, but you pay your monthly fee whenever you plan on using the gym.
Manhattan Fitness (Heiligenstädter Lände 17) is for people that focus on personal supervision and support and the latest equipment. Health and wellness are main concerns of this fitness club and regular personal progress check-ups are included in the membership fee. There are 6 medical doctors on staff and a big spa area with a big indoor pool.
In addition to these gyms you can also check: John Harris Fitness, Holmes Place and My Clubs, between others.
Vienna People
Austria is a nation of contrasts and contradictions. 
It is a safe country. In general, you can go down the quiet street at any time of the day. The homicide rate is 1 per 100.000 inhabitants and the vehicle theft rate is the lowest in Europe.
The universities and engineering schools are, for the most part, free or very cheap, although then in the cost of living you pay the difference. This makes it common to find people with a college degree. In addition, the Viennese often speak English so it is easy to communicate without speaking their language. However, if you want to learn German, this is not the right place because in Austria they speak a dialect. At school they teach standard German but then on the street no one speaks like that.
 Austria is a country that had the first meteorological station, the first zoological garden, and an art that crossed borders and souls. It is a land where the musicians, sponsored by the Habsburgs, were always stars, something that left deep traces and an atmosphere of cultural epicenter that is breathed to this day in every corner. There is a lot of history and a lot of tradition. Culture in general is something that has a very high value in this society. Going to concerts or the theater, museums and exhibitions is part of everyday life. It is not uncommon to hear that the men who fixes your car has an opera ticket, or that a teacher who attended the concert of the Philharmonic tells the waitress how good it was. In addition, in winter the season of dances is inaugurated throughout the country, but especially in Vienna, where people love to dress well and go to spend a night dancing until the early hours.
It is also a society governed by very rigid rules, regulated to the extreme, where citizens are trapped by the rigid functioning of its institutions. The bureaucracy is suffocating, everything requires a certification and a permit. In addition, appearances, honorary degrees and academics are very important, although most only exist or are valid in Austria.
The Viennese love tranquility to such an extent that throughout the country there is a curfew after 10 pm. You can't make noise until 6 in the morning, if you don't they will immediately call the police.
Local people usually faces you with distrust and a certain distance, although this is less noticeable in Vienna than in the interior of Austria. It will also depend on the circles in which you move, for example in university environments and in technology companies it is less noticeable. However, the Austrian capital has a large number of foreigners who welcome newcomers.
Hugs are rarely welcome unless you've known them for several years. Gesturing with your hands and arms when you speak is considered a weakness of character. The Viennese have the famous melancholy that is part of their natural personality, and they accompany it with a lot of alcohol and cigarettes. It is said that Austria was the last paradise for smokers in the world, although smoking is no longer allowed indoors.
Nature is of paramount importance to the Austrians, who in turn always demonstrated extreme respect for animals. Their rights are defended in the country's constitution, and it is common to see Austrians talking to their pets or interpreting what the animal thinks. On the other hand, bio and organic food is trendy nowadays, and exorbitant prices are paid for things produced without pesticides.
It is also a very supportive town. Immediately aid groups are formed and people donate money, gather clothes and food, or whatever is necessary. When there are natural disasters, such as avalanches or floods, people take a day off from work to go to the affected region and help as they can.
You will need probably years to understand Austrian society. On the other hand, it can be an adventure.
Vienna Insurance and Medical Care
Austria's health care system is among the first 20th countries in the World Health Organization international ranking. 
Healthcare in Austria is universal for residents of Austria as well as those from other EU countries. Students from an EU/EEA country or Switzerland with national health insurance in their home country can use the European Health Insurance Card. Self-insured students have to pay an insurance fee of 52,68 EUR per month.
Austria has a two-tier health care system in which virtually all individuals receive publicly funded care, but they also have the option to purchase supplementary private health insurance. Care involving private insurance plans can include more flexible visiting hours and private rooms and doctors. Some individuals choose to completely pay for their care privately. If you can't access to the public system, I recommend you to pay a private health insurance because the cost of Austria's healthcare is between the highest in Europe.
Enrollment in the public health care system is generally automatic and is linked to employment. However, insurance is also guaranteed to co-insured persons (i.e. spouses and dependents), pensioners, students, disabled people, and those receiving unemployment benefits.
Enrollment is compulsory, and it is not possible to cross-shop the various social security institutions. Employers register their employees with the correct institution and deduct the health insurance tax from employees' salaries. Some people, such as the self-employed, are not automatically enrolled but are eligible to enroll in the public health insurance scheme. The cost of public insurance is based on income and is not related to individual medical history or risk factors.
Make sure you are fully covered by reading our full Digital Nomad Travel Insurance guide.
Jobs in Vienna
Vienna has a healthy economy with a focus on the service sector, specialized areas of research, IT, and the tourism industry. Vienna is the fifth richest place in Europe, with a GDP per capita of around 63.000 USD. Many of the major international companies are based in Vienna due to its strategic location linking eastern and western Europe.
Before you start looking for a job, you should check if you can work legally here. I recommend you to check the EU immigration portal where you will find all the information you need. As Vienna is located in an EU country, citizens of other EU and EEA countries are free to live and work there without the need for a visa or special permit. However, if you are from a country outside the EU, you will probably need a working visa.
If you don't speak German perfeclty, you can find a job in a global company like Siemens and Hewlett Packard, or within an international team of a smaller company.
When it comes to look for a job, you can do it online in LinkedIn, Indeed and Monster or through local sites exclusively for Vienna like Jobs in Vienna (English speaking jobs), job board at Virtual Vienna (also English speaking jobs) and job board at news site der Standard (German speaking jobs).
Another option is to find a recruiter to help with your job hunt. In order to avoid scams, it's a good idea to check out the credentials of any agency you choose to use, and you shouldn't ever hand over any cash to simply be put in touch with an employer. Some of the larger and more popular agents in Vienna are: Manpower, Aviteus and Perspective Global Executive Search.
Check out our Digital Nomads Jobs Postings to find the best jobs available for Digital Nomads.
Nomad Friendly
Value for Money
Internet
Workspace
English
Food
Safety
Health
Transportation
Friendly
Quality of Living
Cost of Living Vienna
Renting a studio in the city center generally costs around 900 EUR and outside the center around 700 EUR. A two-bedroom apartment in the city center costs around 1.900 EUR and outside the center 1.300 EUR. Expect to spend at least 185 EUR for the basic services (electricity, heating, water, etc.) of an 85 square meter apartment.
The prices for single metro tickets at the ticket offices are 2,20 EUR and for buses or tram 2,30 EUR. But if you are going to use the transports more than once, you can choose to buy tickets of 7,60 EUR for 24 hours, 13,30 EUR for 48 hours, 16,50 EUR for 72 hours and 16,20 EUR for a week or the monthly 51 EUR. Regarding taxis, if the route you are going to travel is short, the cost will be from 7 to 13 EUR, but if they are long distances the price ranges from 45 to 55 EUR. In addition, you should consider that if there is more than 1 passenger or you are carrying luggage, an additional fee will be charged.
In Vienna you can eat well by spending a lot or not spending much. For lower budgets there are street food stalls, where you can eat hot dogs, kebabs, a piece of pizza or a rich breaded steak for between 2 and 4 EUR. If you want to sit comfortably in a restaurant and enjoy a good typical Viennese dish, you can get cheap options from 20 EUR and up. From there, you are the one who decides what is the maximum you are willing to pay for a meal. Keep in mind that a coffee costs around 4,20 EUR, a soft drink 2,50 EUR and a beer 4 EUR. If you prefer to buy food in the supermarket, 12 eggs cost around 3,15 EUR, a kilo of chicken 9,50 EUR, a kilo of tomatoes 2,40 and a 1.5-liter bottle of water 0.70 EUR.