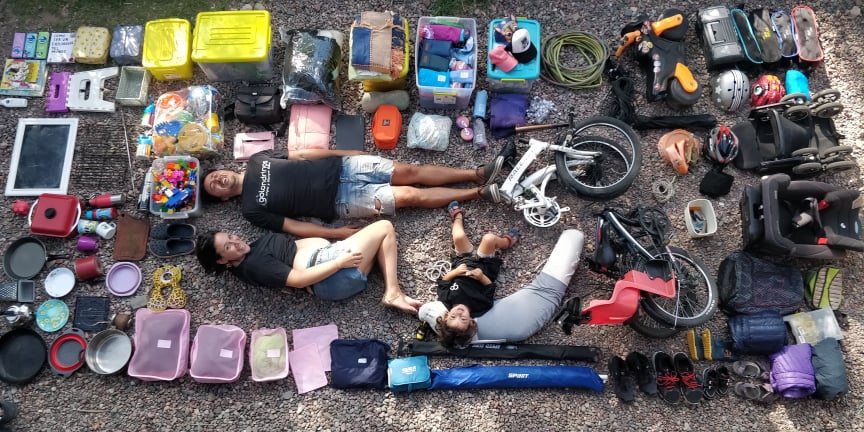 Have you ever thought about the difference between building your own life based on your personal wishes and just live in an immovable routine with no sparks? I mean build your destiny, believe you can get what you propose and adopt a different way of looking at life.
We are Franco and Sabrina and have travelled the world as a couple since 2011, until 2018 when our first baby was born and we started traveling as a family. At the very beginning of parenthood and for a few months we were settled in a 3 room comfortable flat, working from home and living a quiet life. That was ok for a while, but after some time we started feeling stacked and overwhelmed with this quiet and unchangeable routine. 
In 2020, after COVID19 quarantine we realized, one more time, that we wanted to travel. Even though making the decision of long term travel with a baby may be frightening at the beginning, we felt it would be worse if we didn't try. After all in a few years from now we will be more disappointed by the things we didn't do than by the ones we did.
When babies come, most families think they won't be able to travel anymore, contrary to that we believe that it is actually one of the best moments to do so. In fact, there are two main gifts we may give our children, one is roots and the other is wings.
After our decision, we ended up building our own motorhome and decided to travel once again, with our kid, our dog, being pregnant and working on the road.
We have the potential to raise a generation that knows how to live and coexist with each other. So we took the chance to live this way.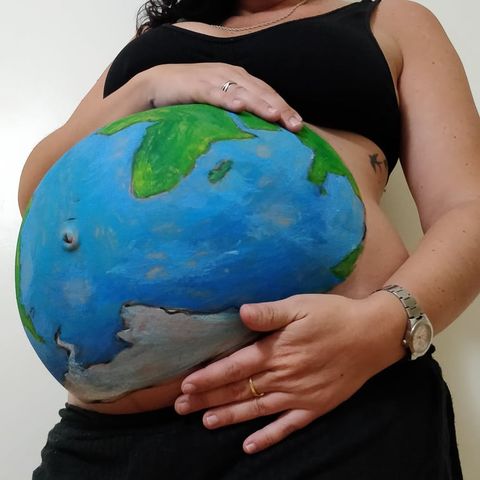 Packing and Technical Preparations
Travel by its very nature demands simplicity. Perhaps the most challenging step in packing for the very first time is reducing what you already own. But the secret is forgoing a few comforts and being minimalist. Indeed, life is not about possessing things but rather how things don't possess you.
Planning a long term trip with a baby may sound like a daunting task, that is why we thought about making a checklist, secondly adapt it to our needs on the road and finally keep it simple.
We ended up leaving many things that weren't really necessary. Nowadays, our number one rule traveling in a tiny van is: when picking up something new, discard something old.
As nice as it would be, there is no cut-and-paste packing list that will work for every family and for every trip. But in the overall experience we suggest making  a checklist adapted to each particular situation. 
So, as there is not a list we could make, as a digital nomad family our basics rules would be:
Backpack or luggage lightweight

Think in your portable office needs as well as your travel needs. Electronics are perhaps the biggest consideration and the most carefully selected items that remote workers will bring with them.  Of course it will depend on what your work is.
Make sure your stuff is well organized and modular. We particularly organize our clothes in parking cubes divided by colours for each one of us.
Think what your kids need: Games, health, books, activities. At the same time, bring the things that make them who they are. Your children's emotional well-being should be at the forefront of your concerns.
Documents: Take them all, and photocopies too.
Limit your "just in case" items to the things that you know you absolutely won't be able to get on the road. You'll most likely be able to buy anything you need in those "just in case" scenarios.
Always take a first aid kit with you.
Don't carry too much cash, try to use your bank cards.

Child Education
Raising kids is exhausting, and doing it on the road is even more intense. Even though we feel blessed for being part of our kid's day to day life, we feel overwhelmed sometimes. It would have made our life easier to pack him off to a day care centre and keep our regular life, but that is not in our consideration so far.
In our case, our 3 year old doesn't attend any institution. Firstly because it is not mandatory and secondly because we are constantly moving. When schooling time arrives we will decide based on the options.
Some people around us are worried about our lifestyle, thinking we don't give our son the same opportunities as other kids with a traditional life. However traveller kids have the same chances to socialize and learn than the ones who go to school. Moreover, they grow with an open mind, making them more empathetic toward cultural differences and helping them adapt to changing situations. It can even shape their linguistic development and most importantly they become citizens of the world. 
We believe that each age has its own challenges and we must adapt our travels accordingly. 
When babies are born they sleep a lot and the most important consideration (beyond health, of course), is finding shade and feeding them well. 
Breastfeed is a goal as no bottles or feeding gear are necessary and that means less packing and washing. Next, over the first 6 months they are more curious and need less medical checks, so that makes it easier day by day.
We believe that traveling with kids is the best education experience we could give them. It inspires interests and passions they would never discover at School. In fact, the most rapid brain development occurs in the first five years of a child's life. So, traveling the world is a better school than a confined classroom.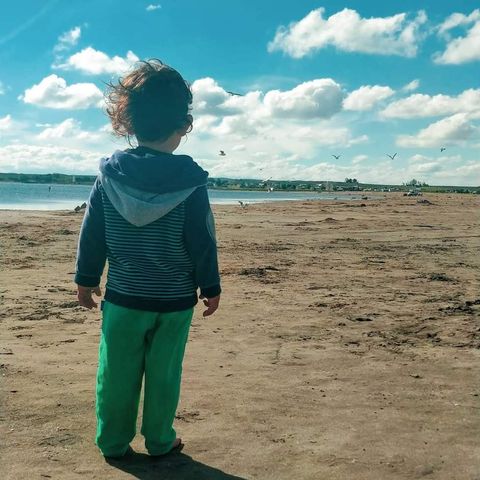 Work-Family Balance
Traveling while working doesn't mean being on holiday all the time, and despite the fact that technology gave us the capacity to work anywhere, when in balance with the rest of life, it is a tremendous blessing.
Each family has to find a work-life balance that suits their needs. The kind of work they do, any special health condition or even the age and the development of their kids matters. Some kids need more time staying in one place just playing, while other kids prosper with more sightseeing. Some kids feel comfortable in a city apartment and some others will feel better in nature.
For us, while living in the city there was often less discussion about each other's tasks. Our kid was at kindergarten, and we were at home working, before and afterward we had a clearly defined set of tasks. We realized now that we need to work as a team and split responsibilities. Communicate every need and problem that arises in order to avoid major crises.
What works well for us is firstly waking up early, secondly we take turns working, and finally keep a daily routine. However, we always put the needs of our children first, this means adding some night shifts from time to time. 
When you have kids and a career, it can sometimes become overwhelming to do your best in all areas. Keeping up with your daily chores plus your job, travel planning and raising kids is exhausting.
So to summarise, it will be a constant balance of time, patience and energy. But overall we feel more motivated, more relaxed and happier to be somewhere different after months of the same routine.

Cost of Living
Most of the society has convinced themselves that buying things is the only way to play an active role in the world, concluding that they will never have enough money to purchase long term travel. However we realized that long term travel is not something you buy but a lifestyle you gift yourself with. 
Indeed freedom to work and travel has never been determined by income level; it is found through simplicity and utilizing the income you have. 
Simplicity does not mean resignation to everything. Rather, it merely required a bit of sacrifice, adjustment to our habits and routines within consumer society.
Giving up an ice cream, for example, and simplifying your life will require a difficult consumer withdrawal period. Luckily, travel itself will give you very tangible and rewarding long term benefits that help ease the discomfort.
Our humble van lifestyle has reduced our cost considerably in comparison to our life in the city.  As we are road tripping in our own and self-sufficient motorhome, our housing costs are only gas and insurance. Furthermore, we spend $0 on accommodation as we tend to sleep in free areas where our only condition is getting Internet signal being safe.
On average we can say our most expensive cost is firstly food and secondly health insurance. 
We probably only eat out twice a month, preferring to cook at home most of the time. 
In addition, we spend a lot of time and energy finding reasonably priced groceries, markets and activities to reduce our cost.
Also, we track our daily spendings using an app called Andromoney on our smartphone. Knowing this, we try hard to balance out our spending. If in any month we find that we have expensive spending, like fixing our motorhome or visiting an expensive place, we'll spend a few months before and after in cheaper places.
With the combination of a simple lifestyle, our savings, our flat rental income and independent jobs we finance our travels. The main keys to make it work are mainly: 
Cut back on unnecessary costs. 

Note every peso, dollar or euro that leaves and enters our bank account being as detailed as possible.

Leave with no debt. Get out from the ongoing cycle of production and consumption. If you are already in debt, work your way out of it and stay out. If you have a mortgage or loan, devise a situation that allows you to be independent of this obligation for long periods of time. Being free from debts simply gives you more options. 

Keep a budget. Make a list of what we need every week or month and stick to this amount. Save the rest.

Take everything you need from home. On the road, you will probably have some expenses you didn't anticipate but try to be prepared in advance.
Overall, when young and without a family to support, you are probably less risk averse than when you have kids. As a backpacker or solo traveler you find the way to survive on the road, but with family it is better to have a decent plan before you leave.
In conclusion, what makes travel possible is not only wealth, we now have something way more valuable: time.

Obstacles & Challenges
Traveling full time with our kid and working on the road is not easy sometimes. Things like finding a safe place to park (and sleep), filling up drinkable water in our motorhome and getting a good internet signal are new tasks we added to our day to day routine beyond looking after our kid. In other words, working, living and babysitting at the same time is very challenging, but on the whole, it has great benefits.
On the other hand, money is a big issue. Even though we rent our flat in the city which allows us to cover fixed costs, we must generate extra money to cover all our other expenses like fuel and food. Clearly, as we are freelance workers and self-employed, our income can vary greatly from month to month and it makes it stressing sometimes. 
Apart from that, as a couple we really need to be on the same page if we want to make our location independent lifestyle a success. As a rule, we both love to have flexibility to go with the flow and learn from trial and error.
We have learnt, from the experience, that planning our moves more than a few steps in advance doesn't work for us. We feel more comfortable when we are not locked into a calendar. 
We try to avoid any itineraries but sometimes we need it to allow ourselves to work. Especially if we got a big project or deadline. In addition we understand that we need to travel slow. This is necessary to keep up with a daily routine in which our children can flourish. 
Another challenge for us is finding the great balance between traveling and staying somewhere in a fixed location…we worked out that 2 weeks of fast travel must be followed by 4 to 5 weeks of steadiness. After a few months on the road we realized this works best for us. 
Finally, as digital nomads we need to accept that we're not tourists while traveling. We are full-timers and that is something totally different than going on a trip for a few weeks.
How did the experience impact you & your family?
First of all we decided to not root ourselves to a home or a career and use the future as a kind of phony ritual that justifies the present.
For children of any age and for adults too, an extended journey into the world can be an unparalleled educational experience that inspires new interests and passions. And while parenting on the road can sometimes be challenging, the singular adventures and memories of family will more than make up for it. We have value time now, and we share interests, share time and share life.
Beyond that, we are constantly learning. The people we meet on the road are the window to the world and we can learn a lot about a culture.
There is no typical day, month or year in our lives. Everything constantly changes and the nomadic lifestyle evolves dynamism. Although some things will remain the same, we had to change some routines as well. But no life is perfect; also a traveling life has its difficulties. Most important thing is to keep talking with each other and avoid arguments.
We think travelling together enhances the family connection tremendously. Our relationship is excellent and we really know our son and his necessities.  We consider this life a big opportunity to set the foundation through which he views the world for the rest of his life.

Recommendations
Being a digital nomad is about using the property and possibility of the information age to increase our personal options instead of your personal possession.
However, working as a digital nomad with kids requires a tremendous amount of discipline and motivation. To be as productive as possible, we can point some tips and tricks which have helped us on the road and we are still learning:
– Simplicity: We usually ignore the general demand that we consume production and therefore have to work for the privilege of consuming mostly things we don't even need. Crap we didn't really want and will end up in the garbage a few months later.
Simplicity is easier than it sounds and travel means minimalism. We suggest to set the process of reduction and simplification while you are still at home. This will help you to realize how independent you are of your possession and your routine. It also prepares you mentally for the realities of the road.
Once you simplify your life, look forward to spending your wealth of time with your family.
– Health insurance: As with anyone else, kids are susceptible to a variety of situations that could happen while traveling, including falling ill. Especially in those early days where they need so much attention.
We consider it important firstly because if you don't have travel insurance you could end up paying expensive medical bills out of your pocket. Secondly, because you have access to a 24/7 emergency assistance line. And finally because they can help you find quality, local medical care and provide translation services if needed. If you're in a foreign country and have some health problems it is important to be able to understand and trust the local doctors.
– Destination: For the monthly rental house in Australia you can live 3 months in Thailand. For the prize of a home-delivery pizza in North America you can eat great meals for a week in Argentina. Evidently, it is easier to reduce your budget in cheaper countries than in expensive places.
However, even more industrialized parts of the world host enough hotels, activities and discounts opportunities to make your travel affordable. 
– Budget: As we said before: spend less money on things, have no debt, including credit card debt, in order to remain financially free to move. The best skills being a recently started nomadic family is to want little.
– Overcome prejudice: Your fresh worldview might appear to call your friends and family values into question. They will probably tell you off as irresponsible for taking your kids to this type of life. Let them. Nomadic life is not made for everyone, in fact, it is and it always will be a private undertaking to yourself.
If they think you are crazy, don't waste your time trying to convince them otherwise. In the end we can enjoy something that can't be bought at any price and only few people realize.
We were born with a lottery winning ticket and cashing it is a simple matter of altering our steps as we walk through the world.

Best Family Memory
The act of traveling isn't enough to build the bricks of a lifetime. It's about us, how we interact with our kid, in actions and words. And how we balance or work – family time. Memories are the base that hold family life together, shared memories that make everyone smile forever.
For sure, memories of this part of our life are made up of moments and sensations, like evocative smells, sounds and textures flooded with nostalgia. 
It is hard to tell which is the best memory between them all, but we will never forget, for example, the two weeks spent in Lago Puelo, Argentinean Patagonia with other van travellers. Some of them were craftsmen, others worked online and some of them were just traveling around.
There were families from every part of our county (just a few foreigners do to the COVID-19 Pandemic) and from every social class. We shared an amazing time around the fire, next to the river and surrounded by mountains.
It was not only a great time for our kid who had the chance to make friends, but for us to share a good time with other families and with plenty of time to work.
We can definitely say that it is the best decision we have made. Happy parents have happy children and happy memories make a happy life.