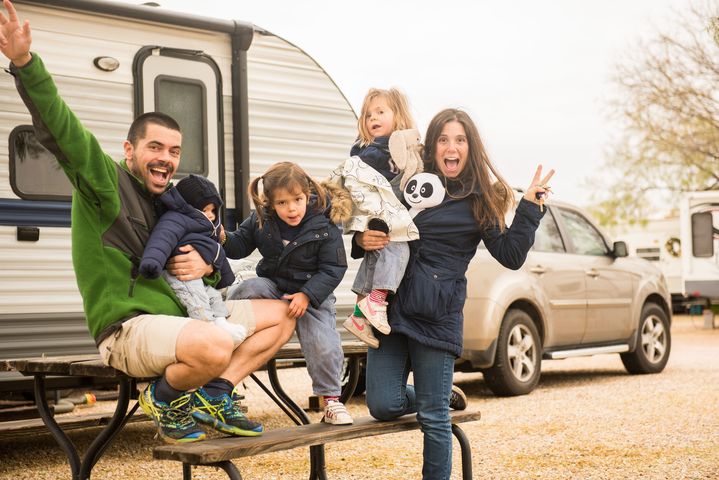 Traveling as a family is definitely a different experience than traveling solo. I, a mother of 5 (5-years-old and under) and an avid traveler, have been learning in the past years how to make this an amazing experience. While logistically things are much harder when all the kids come along, they also become more magical and I learned to enjoy the ride and love the most simple and genuine things. If before I would try to do all the must-sees in a country or city, nowadays we live the country's social life and immerse ourselves in the local culture in a deeper way.
I also learned to respect everyone's rhythms and timings, which means that sometimes we will need to stop for the kids to take naps, and to understand that going to a playground instead of a museum will make the kids happier – and that means a lighter mood for everyone. The amazing side of this choice is that many times we end up meeting local people and the kids try to communicate in a different language with local kids as well, giving them knowledge and an experience that won't come in books, making them (I hope) more exposed to the world and letting them grow up to be more open-minded people.
Overall, I believe traveling as a family enriches us all, and even though I do miss doing some trips solo, I love all the adventures that come from this choice of being a digital nomad family.

Preparing for the Trip
While there are many reasons for a trip with kids to be more tiring and more difficult in some ways, I'd say preparation is key to bridge that. Nonetheless, I need to mention that we do have a particular way of traveling: we don't plan things in detail, so we can always enjoy the surprises that come along the way.
Due to the fact that some of our kids are not yet independent, we also need to be very practical with our choices when packing, as we are the ones carrying everything.
Let's start by saying that we constantly try to book a place to stay where we can wash clothes, so we keep the number of outfits to a minimum. We do pack with organizing cubes for things to stay organized, and we bring 5 outfits per child and 1 or 2 pairs of shoes (if we go for a week or for a month). Most of the time we try to fit all our clothes and toiletry bags in 2 backpacks that are small enough to serve as carry-ons.
The largest items in all our trips are the strollers (although we always do baby wearing) and car seats (which we bring 90% of the times, because we like to rent a car at our destination, to get around and explore). We do have specific car seats for traveling (FAA approved) which are much lighter and can all be stacked together and be carried with a strap around them all by only one person.
We also always bring a small bag just with stuff that we might need, such as change of clothes, diapers, baby wipes and snacks (good for when you're on a plane but also for our day-to-day routine). We rarely bring toys along or things to distract them, except for tablets  (which the kids only use on the plane) or their loveys, so they feel comforted when they are tired or sad).
Daycare and Babysitting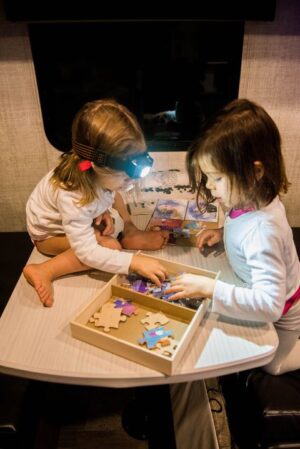 No matter how much I love to travel with kids, it is always important to have some time just my husband and I (or sometimes we just need a few hours to finish work). This doesn't happen very often, but it can be arranged in different ways, depending on the kind of trip. If we are traveling and we are 4 months in the same place, for example, we try to find a daycare to be with them if not full time, at least part time. Although this is not a service given by many places on their website, when we call or email them, often they open exceptions and are very happy to discuss options with us. If we go to some countries in Africa, Asia or South America, for example, and we stay for a month, we try to find a nanny or helper, since they are very used to having many kids and most of the time they also help us at home. This solution has proved to be perfect for our needs in case we need a helping hand in general, more than just with the kids. In any case, we try to find a contact in the country who can help us locate a trusting person (both my husband and I have lived in many countries, so we tend to have a contact in any place).
Besides this, we have before searched for a nanny for only some hours when we travel for a week or so, so we can have dinner by ourselves, for example. As I don't like to hire anyone based on an app (which there are many), we usually ask around where we are staying. Either we ask the owners of the house we rented or some people in the neighborhood. I think I'm good at reading people, to see if they are trustworthy. So far, this has always worked well for us, although most people don't feel comfortable with this option. Most important is that we manage to rest a bit from the chaos we constantly live in.
Work-Family Balance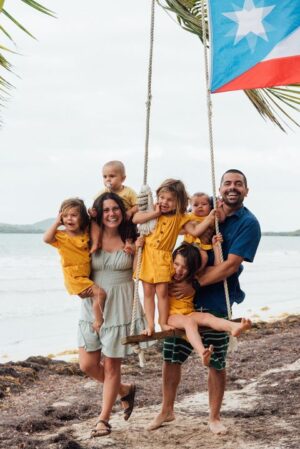 As a freelance photographer, I am able to balance my work-family life while traveling easier than most people. My husband, on the other way, needs to be more prepared to work at the same time, so together we try to plan our days and activities with the kids, so we manage to fulfill our obligations. Obviously, because of our circumstances (many kids all very little), it is not so simple for one of us to stay with all the kids alone for a long period of time, or in certain places, since they run away many times (thinking we are playing with them). As such, if we know ahead my husband will be working during the day, and I will be in charge of the kids, we find houses or apartments with a confined outside space, where they can play and spend their energy and I can keep everyone controlled. This is extremely important for our days to go smoothly.
Another thing that we take advantage of is to keep the paternity leave for travelling as I am quite an experienced mother with newborns so I don't feel like it's super important for my husband to take time off right after the baby is born. He can work from home most days, so he will always give some support if needed in the newborn phase and by being on leave, with no work obligations, all of us enjoy the trips much more.
What we have also done in the past (before pandemic) was to use our work trips to take the family along. Because of all I said previously, this is not always so easy, but the times we managed to do it were very successful (I took 2 of my kids for a project I had in Mozambique, for example, and we went to Berlin with my husband when he had a conference there).
Cost of Living
When it comes to cost of living, we give every expense a lot of thought, not only because we are not rich, but also because having many kids means each thing we want to do, will cost us much more. Tickets are always much more expensive (although we always travel in basic economy) and lodging in hotels is almost impossible because they want us to stay in 2 rooms, which doubles the cost immediately. Because the kids are all so little, we still manage to stay in one room sometimes, after a lot of negotiation with the front desk or sometimes booking only for 3 kids, but most of the time this is impossible. One feasible option for us is to stay in hostels instead of hotels. We love the environment and the price. We also often pick the places to go to based on the cost of living of the destination and the plane tickets, so we can afford the whole trip comfortably.
Every time we travel (1 week or 3 months), we keep paying our mortgage and the entire daily costs in our city, so we need to plan well enough to be able to do all we want (since we are already in a certain place, we want to do what we want and not only what we can). Also, besides traveling, we keep all of our other costs very low (besides education and housing). It is a matter of prioritization. Of course this is a challenge, but we believe it is worth it. Furthermore, I believe that because of our need to budget everything, the kids learn the value of money earlier. For example, they need to share a juice many times or an ice cream (this might sound like nothing in the full budget, but we realized that minor savings allow us to save a lot as a whole).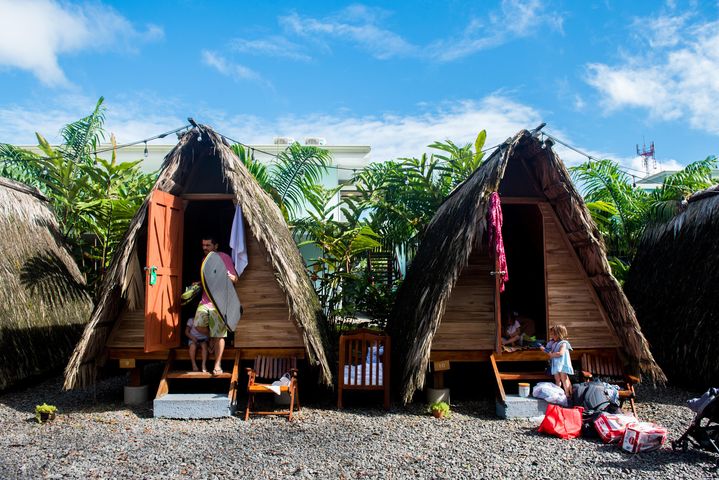 Obstacles and Challenges
When traveling, we have encountered many obstacles that could have ruined our trip if not dealt with in a light way. For example, 3 weeks ago we went to Puerto Rico and we had everything planned to go to Culebra, an island where you can only get to by ferry or plane. Since the plane was very expensive, we decided to book ferry tickets. On the day, there was a storm, so the ferry didn't leave the mainland. And basically we had everything planned in Culebra and it was during Spring break, so everything was booked everywhere. We spent that day at the beach, looking for accommodation that was decent but didn't break the bank. Finally at 8pm we found a reasonable hotel (and our room was a mini apartment) and it all turned out great, but it could have been a problem. We ended up loving the trip to Puerto Rico anyways, but if it wasn't for our capability of accepting changes, I believe we could have been extremely frustrated.
We also have a very realistic challenge because of our big family. There are some airlines that won't allow us to travel together, because we have too many kids per adult. This is a problem and we need to have this in mind every time we book a flight. I remember traveling with 2 of my kids alone (both were under 2 years old) and I had to book and pay a flight to someone I didn't know so I could bring both kids with one of them attached to the person's name (since buying a seat wasn't allowed in my situation). Considering this was a trip to Mozambique, it wasn't a cheap solution.
Still related to Mozambique, one of our challenges is always in regards to potential health problems. One of my kids had had a respiratory problem a month before the trip, and she was just 2 or 3 months old, so I wanted to make sure it was ok to go. I made sure my pediatrician was available to answer any questions I had during the trip and I took all the medicine I could need as well as I made sure I had the right contacts in the country if I needed to see a doctor.
How did the experience impact the family
Traveling has always been part of my family. Before my husband and I met we already travelled a lot by ourselves so when we decided to have a family together, we knew it was going to be part of our DNA.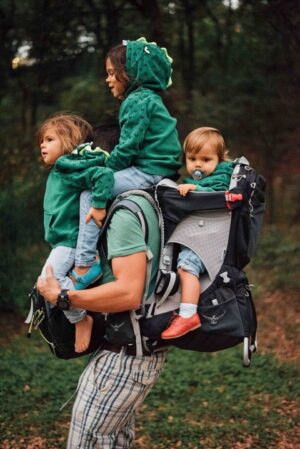 We were living in Singapore when we had our first kid and moved to Germany after she was born (although she was born in Portugal). Nowadays we live in the US, but we have lived in many other countries before. I think all of our kids see a plane as a regular means of transportation and see traveling as being part of our routine as they all started to travel when they were only a couple of months old (some even younger) and we do it every other month at least.
I believe the biggest impact that has on us is that we mobilize most of our money to it, which makes us frugal in everything else. I think twice before spending money on a dress, for example, as most of the times, when buying a ticket with a lowcost company, it will cost me the same as a piece of clothing. On top of that, my husband knows I need to travel to be happy, so we plan our year and vacations according to that (although we don't plan much, but we talk about it as in: "I'd love to go skiing in 1 year, or I'd love to take the kids to a safari in 2 years"). We also talk (every once in a while) about traveling for 6 months straight with the kids, and that will need to be planned, as we need to understand the logistics behind it.
Recommendation
In general, my recommendations while traveling with kids are to pick your battles and to not worry too much in general (and enjoy what you get).
Picking the right battles is important because traveling makes us all very tired. We try to do a lot everyday, routines are not the same (even though we try not to go out of them completely) and although my kids are very easy going, it is a nightmare when they get exhausted. As such, when it comes to eating, for example, I'll try to trade off how drained out they are with food I know they will like more, because that will make the meal time a more pleasant time. If we had a rough day and walked a lot, I might send them to bed without a shower, or with a bottle of milk (which is something they love but we don't do regularly). This will depend from kid to kid and family to family in the details, of course, since we all have different routines and likes/needs.
Regarding not worrying too much, because of my relaxed way of dealing with kids or obstacles, that isn't so difficult for me. We try to enjoy what we can when we can and see the challenges (as the ones mentioned above, for example) as adventures and good stories to tell later.
The most important thought is to not have high expectations of anything, as it is common to have unpredictable things happening throughout all our trips. When we went to Hawaii, there was a volcano eruption so we ended up hopping on a helicopter and flying over it seeing the lava. When we went to Florida, a hurricane was going to hit us, so we rented a car and ended up in Georgia at some friends' house, and when we went to Costa Rica, Covid started, so although we had to return sooner than expected, we saw the country with barely any tourists, which was very good. Had we been too stressed about all this, we wouldn't have enjoyed the outcomes we had from the obstacles.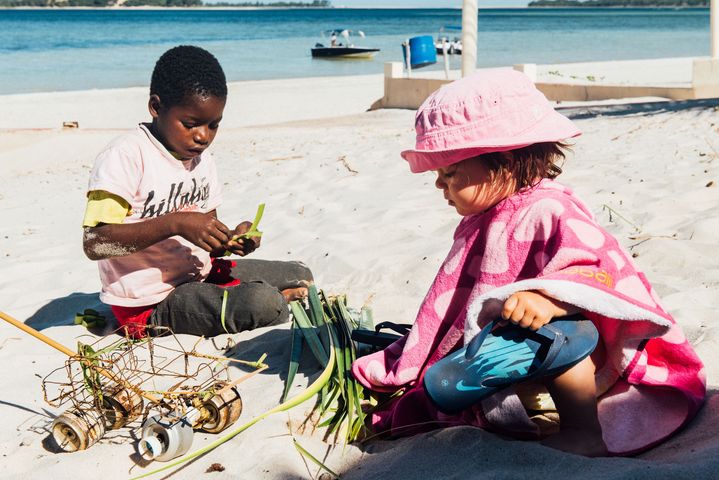 Best Memories
From my point of view, traveling makes the best family memories. On one hand, we are together much more than when we are at home, so we fight more, but we also laugh more, hug more and learn more from each other. On the other hand, and as a photographer, I am constantly taking pictures of my kids in different environments and in a different culture, which will perpetuate the memories in a better way.
One of the best memories while traveling together was when we rented a trailer and went to Big Bend National Park. Besides running out of gas while returning home, the kids loved it so much that every time they see a rv or trailer they scream: "caravana", which means rv in portuguese. We loved being in the wild, hiking not so easy hikes and swimming in hot springs, while looking at Mexico on the other side of the river.
They also loved sleeping in the trailer and looking at the stars at night, as well as turning their dinner table into a bed.
This is something that we fell in love so much that we plan on buying our own trailer, so we can do it more often.
Another dear memory I have from our travels is me with my kids in Mozambique, where we went by boat to almost deserted islands, took them around all kind of kids so they could all play, for them to see different realities and understand it all as part of the world (since I want them to grow realizing that although they are lucky enough to have a great life, not everyone does and not only we should help as much as we can, but also we should have empathy for different lives as we can't always know what people go through).