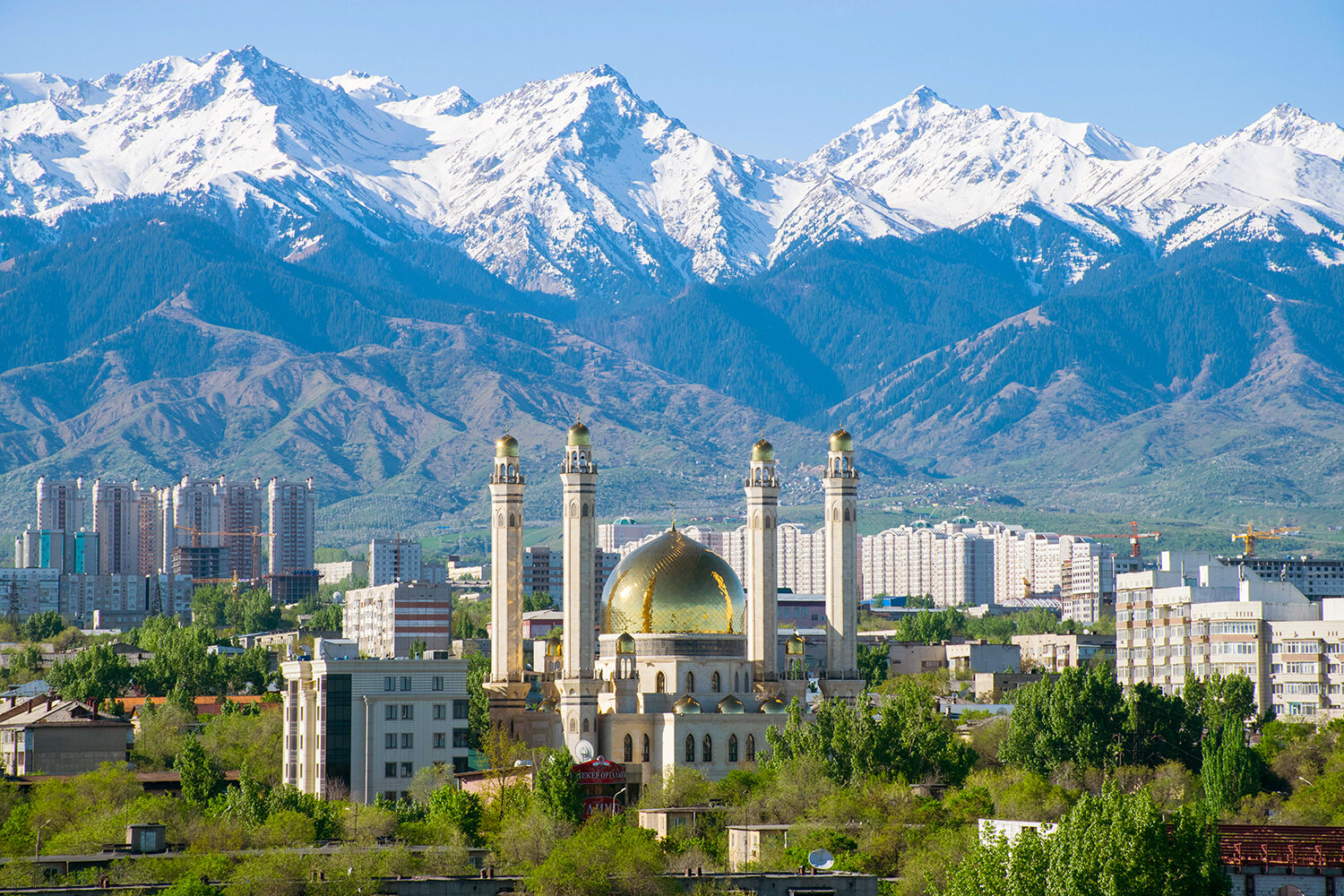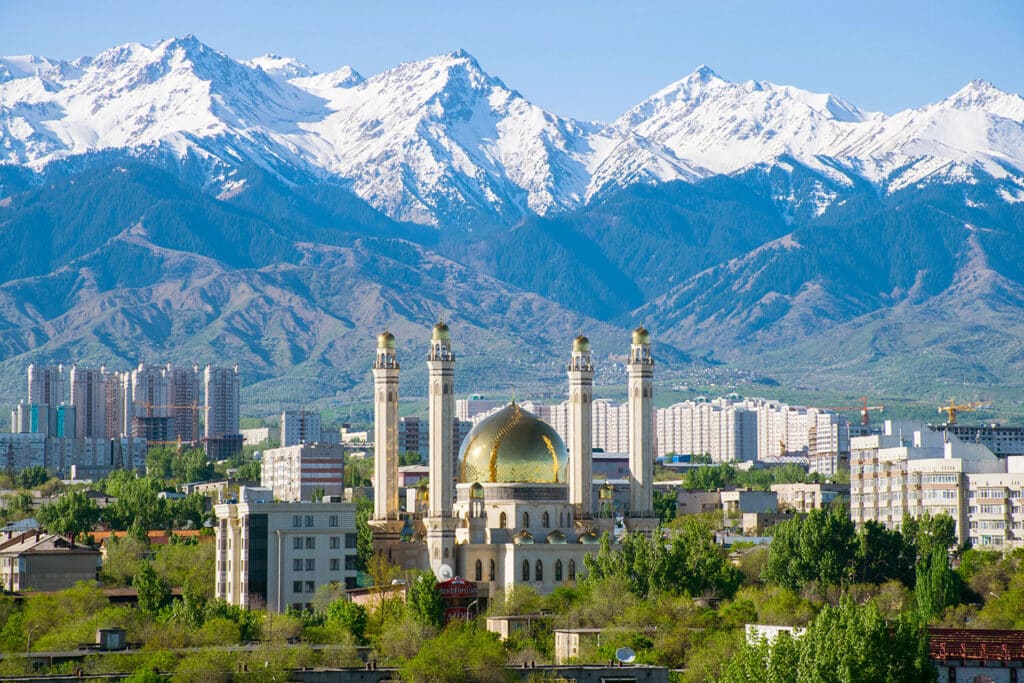 A Digital Nomad Guide to Almaty
Almaty is Kazakhstan's largest metropolis. The city is set in the south of the country in the foothills of the Trans-Ili Alatau mountains. It served as the country's capital until 1997 but still remains Kazakhstan's trading and cultural hub. The population of Almaty is 1.9 million.
Alma-Ata; its Kazakh name, translates as 'Father of Apples'. The first apples in the world are from Almaty!
To look at, Almaty is a fairly soviet style city with a growing modern twist. The tree-lined streets are wide with multi-lanes for vehicles and sidewalks for pedestrians, built in a block-like pattern. Many modern cafes and restaurants line the streets with a number of parks, orchards, outdoor markets, shopping malls and art galleries. 
The city is home to Kazakhstan's Academy of Sciences, numerous museums, an opera house, theatres producing in Russian and Kazakh and the Pushkin State Public Library. Almaty also has a botanical garden, a zoo, and several stadiums.
Kazakhstan is the world's largest landlocked country, and the ninth-largest in the world. It is bounded on the north by Russia, the east by China, the south by Kyrgyzstan, Uzbekistan, the Aral Sea, and Turkmenistan and the Caspian Sea bounds Kazakhstan to the southwest. Kazakhstan is the most dominant nation of Central Asia economically, generating 60% of the region's GDP, primarily through its oil and gas industry. The vast steppe countryside (largely unfertile flat grassland) is mined for many mineral resources, is home to a space launch facility and has even been a nuclear weapon test site. 
The territory of Kazakhstan has historically been inhabited by nomadic groups and empires. The Kazakh's were thought to be the first race that tamed horses. During the Soviet Union, many of the nomads left for Mongolia or were forced into settlements to grow food. Due to this, the nomadic culture is less prevalent however you can still see hints of the more traditional culture. Sadly between 1930-33, Kazakhstan suffered a great famine as a result of the genocide during the Soviet war where around 40% of the population – 1.5 million people died.
Nomad Friendly
Value for Money
Internet
Workspace
English
Food
Safety
Health
Transportation
Friendly
Quality of Living
Living in Almaty Overview
| | |
| --- | --- |
|  Meal, Inexpensive Restaurant | $5.72 |
| Domestic Beer (1 pint draught) | $0.92 |
| Cappuccino (regular) | $1.79 |
| Loaf of Fresh White Bread (1 lb) | $0.30 |
| Water (1.5 liter bottle) | $0.45 |
| One-way Ticket (Local Transport) | $0.18 |
| Basic Utilities (Monthly) | $55.76 |
| Internet | $11.38 |
| Fitness Club (Monthly) | $43.90 |
| Apartment (1 bedroom) in City Centre | $413.70 |
Currency: Indonesian rupiah (Rp)
[erw_exchange_rates_widget lg="en" tz="0″ fm="IDR" to="EUR,USD,GBP,AUD,JPY,RUB" st="primary" cd="" am="15000″][/erw_exchange_rates_widget]
ATMs
Max Withdrawal: Rp 3,000,000
Withdrawal Fee: Rp 30,000 – Rp 50,000
Use of Credit Cards: Mostly Cash
Digital Nomad Personal Experience in Almaty
Kazakhstan is probably the most random, off the beaten track country I've had the pleasure to visit, and it was certainly not boring. In fact, I had been looking forward to exploring Central Asia for a while and seeing as both of my brothers had relocated to Nur-Sultan (previously Astana), Kazakhstan's new capital, I felt it was about time to check out this culture. After spending time in Almaty and Astana as well as exploring some of the countryside, I was surprised and impressed with Kazakhstan. Being part of the iconic silk road, I got lost dreaming about the history of this place and the adventures previous nomads had been on in these lands.
Kazakhstan`s quality of life is heavily underrated. The unique blend of Kazakh authenticity, the inherited elements of Soviet culture and western vibes are all reflected in the developed coffee culture, great restaurants, amazing night clubs and growing modern architecture. Far from the images that were drawn up in the film Borat, the cities of Kazakhstan are westernised with all the modern conveniences you need. 
I found Almaty affordable, female friendly and fairly foreigner friendly. The commonly spoken languages are Kazakh and Russian. Knowing only a handful of phrases in either language, I felt my cultural immersion was restricted in terms of being able to connect with locals. However, there were many taxi drivers that spoke a good level of English and for me that was a great opportunity to get to know the culture in more depth. 
I really enjoyed the proximity to nature and the mountains. With only a 30 minute car ride to go ice-skating in the mountains, you can enjoy the conveniences of the city whilst being able to immerse yourself in the stunning landscapes with ease.
Kazakhstan and other countries in Central Asia are becoming increasingly popular for people living a digital nomad lifestyle due to the improvement of infrastructure and internet facilities in these countries. A great option for the experienced traveller that isn't afraid to venture off the beaten track and try out a culture completely out of their comfort zone..
Work in Almaty
There are various co-working spaces, coffee shops and cafés perfect for getting in some hours on the laptop. Almaty has a great range of atmospheres depending on your mood, where you can have your morning smoothie or coffee as well as any other cuisine with quality ingredients at great prices whilst you work. The average internet speed in the city is 8 MBPS which is fairly low, but I had no problem downloading and uploading photo files whilst I was here. Generally, co-working spaces have stronger and more consistent Wifi facilities compared to restaurants.
Best Places to Work in Almaty
SmArt.Point
SmArt.Point is rated the best co-working space in Almaty. It is situated in a modern and clean office building together with one of the local IT giants. It has a gym, a coffee shop and many conference rooms — from small ones for daily meetings to large halls for corporate gatherings. The companies working there are leading professionals in tech, business and design fields, so you definitely should check it out for networking opportunities and inspiring chats.
City Hub коворкинг
City Hub коворкинг is a convenient location in the city center close to a metro station and a park. The English speaking staff are very friendly and you can also find a small kitchen with tea. While the space isn't too big, it does have a conference room if you need it and a modern design.
Level8
Level 8 is an alternative workspace with private offices and co-working spaces located on the 8th floor of Esentai Tower (Almaty's top business centre). The facilities are new, modern and comfortable with great lighting. Beautiful views and great service from the staff as well. Located near the university – this is a perfect location for business travelers and freelancers. 
L.E.S. Business Club
L.E.S. Business Club is a really cool and useful place. Offices, co-working areas, conference and meeting rooms, hostel accommodation (even better than many hotels), cafes and a bar. A place where you can work and live! I highly recommend it. 
Cafes and Restaurants for Working
The city is very walkable with wide pavements. I found myself meandering down Dostyk Avenue and its neighbouring streets to check out the many great places to dine and work.
The service is outstanding, the menu is varied and delicious, and the coffee is superb. A great, calming atmosphere to get some work done. Oh, and the desserts here are to die for.
Parmigiano Ristorante Syrovarnya
If Italian food is a favourite for you, there is no better place than Parmigiano. With reliable wifi, a terrace and homely sofas, I felt right at home here. It can be a little pricey but I've heard they offer discount cards for regular customers.
This spot oozes with class. The modern interior features plush furniture, perfect for relaxing over coffee with friends, or setting up your laptop to get some work done during the day.
Del Papa (4 restaurants around the city)
Del Papa swiftly became one of my favourite chains. Another cool Italian bistro with cute red checkered tables. The baked eggplant dish is to die for. Was great for getting my head down for editing photos and writing articles!
Best Places to Live in Almaty
Best Neighbourhoods
In Almaty, there are three main areas that expats opt to stay in. The Medeu District is the centre of Almaty's tourism. It covers a large area, with half situated in the city centre and the other half in Ile-Alatau National Park. You'll find Republic Square in the city centre part, as well as a number of museums and galleries. There's a wide selection of hotels and other types of accommodation too. The only downside of all the choices here is that it's the most expensive area to stay in Almaty. Medeu District is split into two main areas which are classified as City Center and Uptown which is the area closer to the mountains.
City Center
One is the center of town, where apartments are luxurious and entertainment, bars, coffee places and a plethora of restaurants are within walking distance. This is a perfect spot if you are wanting to make new friends and be in the hustle and bustle. The center can be at times quite a smoggy affair due to the traffic. Unfortunately, the city does not have crystal clear air so the environmental impact of this is something to consider if you have breathing difficulties or young children. The average cost for a medium apartment in the centre is $480 (162,000 KZT). For a standard size two-bedroom apartment in the city, you can expect to pay around $600 per month (255,000). Many expats prefer to live in the city center as there are more English-speaking people and better infrastructure reachable on foot. 
Uptown
If you are not into going out and don't need to be in the center often for your work, you can decide to move uptown, closer to the mountains where the air is cleaner. When someone tells you to head "up", "uptown" or "upper town" they are telling you to head towards the mountains. It's still within a twenty-minute drive from the center so not a large commute to the shops and this is where the majority of the Almaty elite lives. Here you can find all sorts of accommodation from small apartments to high-society gated communities. There are many beautiful apartments close to Mega Mall and along Dostyk Avenue. 
Auezov District
The Auezov District is a little bit out of the centre, but there are a few reasons to consider staying here. Named after a famous Kazakh poet, it's higher up and closer to the mountains. If you're staying here, you can minimise two of the biggest problems in Almaty: pollution and traffic!
It's much quieter and cheaper than the Medeu District, yet having the benefits of being well connected to the tourist centre of town. The 'Moscow' metro station connects Auezov with the main tourist attractions in the centre. If you're looking for things to do, there are markets, parks, and even a shopping and entertainment centre in this part of town.
Find an Apartment in Almaty
There are many resources available for finding apartments and accommodation in Almaty. Airbnb, Booking.com & Hotels.com are great sites to find accomodation for shorter stays. Airbnb has a monthly rate feature and offers a larger variety of stays from hotels, guest houses, private houses and more.
The best option for long term apartments is to use Krisha.kz. This website is only available in Russian but you can use the Google Translate plug in if viewing on the website or ask a friend to help you put in the relevant criteria if you do not speak/read the lingo. Be careful of the scammers on this website. Never pay a realtor or anyone before you see the apartment and sign the contract. Some scammers may ask you for a little sum for finding the apartment, don't do that. All honest realtors in this town only take money after they find you an apartment. The realtor's fee is usually 20,000 tenge.
Many expats will be provided accommodation or helped to find suitable apartments by the company they are working for. If you or your spouse will be working for a company in Almaty, be sure to check how much the allocated budget for this is.
For a standard 1 bedroom apartment in the City Centre, you can look to spend around 162,000 KZT ($480). Outside of the centre, the average price drops substantially to 100,000 KZT ($234). A friend of mine has a modern apartment with 2 rooms in a new stylish house, built in November 2020 for 550 USD per month. Utilities bills vary depending on the house size and area. Basic bills including electric, heating, AC, water, garbage and internet for an 85m2 apartment average at 30,000 KZT ($70).
There are also great quality hotels for very extremely moderate prices. If you fancy something more luxurious for your stay, the Ritz, Hilton, Marriott, Radisson and Sheraton are available for a touch of class. Prices for rooms in Kazakhstan are much lower than in western metropolitan cities, whilst retaining impeccable quality and services.
Cheap Places to Stay in Almaty
There's plenty of options available for lower budgets. Decent options for one bedroom apartments can be found between $200-500 per month. This of course depends on location, house and facilities. Like many cities, the further into the suburbs you live, the cheaper the cost of rent is. 
The most budget district of Almaty is Auezov – the sleeping area of the city. It is worth noting that the area of Abay Avenue and Altynsarin crossing has good infrastructure for living. There is access to an underground station, the new shopping and entertainment center MOSKVA Metropolitan, Sary Arka which is a food and clothing market as well as a recreation park. Up the Altynsarin avenue is the State Academic Russian Theatre for Children and Youth named after N. Sats.
Upon arrival in Almaty, you can book hotels for short term stays from 14 USD per night (27,000 KZT) for a private double room. These are great options to check out for your trip until you find somewhere to stay long term:
Esentai Hostel – Rated 8.8/10. Clean bedding, friendly staff with effective air con and heating. The rooms are extremely spacious and come furnished with a sofa, a fridge, a TV, an electric kettle and a huge bathroom.
Academic Apartments – Rated 7.6/10. This mini-hotel is cosy, clean, tidy. There are comfortable beds, a refrigerator and a TV in the rooms. It is close to Abay so it is a great place to stay whilst apartment hunting.
Almaty Visa
Travel visas for Americans and many European citizens are good for 30 days and can be granted on arrival. Travelers of 117 nationalities can now apply for a Kazakhstan tourist visa online. You can apply for the E-Visa online here. However due to Covid, normal tourist visas are currently on hold so check the government website for updates. 
Work visas can be obtained through employers. Most companies will have links to people in government and that usually helps the process speed up. The visa process can be quite arduous; my brother was a teacher at an international school in Nur-Sultan and reported that there was a fair amount of paperwork to do.
You will need at least 2 blank pages on your passport and the passport should expire no earlier than 3 months from the expiry date of the online visa.
Many foreigners do a visa run to the border in Kyrgyzstan, which is relatively quick and cheap. Currently the Kazakh government has extended expiration dates of all visas and work permits until Nov 1 2021. Check the government website for further updates.
Kazakhstan entry requirements during COVID-19: 
Passengers arriving in Kazakhstan must have a negative COVID-19 PCR test result issued no more than 3 days before arrival. The medical certificate must be in English, Kazakh or Russian. Children under the age of 5 are exempt provided they are accompanied by someone with a negative PCR test certificate. Citizens and residents of Kazakhstan who have been vaccinated against COVID-19 in Kazakhstan are also exempt. Travelers must present a completed health questionnaire on arrival. There is medical screening on arrival.
Culture and Food in Almaty
The main pillar of tourism and point of attraction for foreign tourists in Central Asia and especially in Kazakhstan is its incredible hospitality and great food. Food is taken as a high priority in the lifestyle of local people. 
Downtown, there are many pubs and restaurants. In the spring, summer and autumn, Almaty has somewhat of a sidewalk cafe atmosphere. There is every variety of restaurant imaginable, from fast food to English pub grub, high end French and Italian dining and ethnic cuisines like Uzbek and Georgian. Generally the service is brilliant and of a higher standard than Europe.
The average cost for a meal at an inexpensive restaurant is around $6 (2500 KZT). A regular cappuccino costs $1.80 USD (750 KZT). 
There are many supermarkets across the city where you can find fresh and dried groceries as well as all the normal toiletries and homeware that is available in Europe. It is important to note the tap water in Kazakhstan is not drinkable. 
The traditional food in Kazakhstan is very similar to Turkish food. The diet is very meat and cheese heavy due to the roots of the nomadic culture. Meat dishes are frequent; horse meat dishes can be found in most of the restaurants here too. In the national cuisine, livestock meat can be cooked in a variety of ways and is usually served with a wide assortment of traditional bread products. 
There are a lot of Shashliks (kebabs) to choose from which are extremely delicious. Russian food has a strong influence here and is very popular. I highly recommend trying Borscht which is a sweet and sour beet soup.
When I visited Kazakhstan, I was mainly vegetarian which I had to put on pause somewhat whilst I was there as I was dining out with friends and family regularly who were not vegetarian. This being said, there are more vegan and vegetarian options now opening up in the city but this is harder to find the further out of the centre you go, and more difficult when you are in the countryside. More Kazakh youngsters are turning to plant-based diets as they seek out eco-conscious choices and adopt more sustainable lifestyles. Here is a great article on Vegan and Vegetarian Restaurants around the city.
A traditional Kazakh dinner involves a multitude of buffet style appetisers on the table followed by a soup. After one or two main courses are served such as Pilaf – rice dish and Beshbarmak – boiled meat and noodles. 
Refreshments often include black tea and traditional milk-derived drinks such as Ayran – a type of savoury yoghurt, Shubat – fermented camel milk and Kumis – fermented horse or donkey milk.
Recommended Restaurants in Almaty: 
Tyubeteyka – For local and central Asian food, check out one of the three Tyubeteyka restaurants in the city. Open from 12PM – 12AM. Main meals range from $3 – $9. These restaurants have quality service and the staff are respectful to guests. The food is delicious and authentic.
Navat – Don't be fooled by its exterior that doesn't reflect what's going on inside – the interior is absolutely stunning. The service is exceptional with attentive and polite staff. Everything I tried was delicious, well-balanced and had vibrant flavors. Prices are very moderate and probably even a bit cheaper than the most popular restaurants of a similar kind.
Coco – Burgers, tacos, chicken and Spanish cuisine. It's interior/exterior is pretty hip. Warm and chewy pita bread was so awesome that I will indefinitely order again next time. Check out their craft beer. They also cater to gluten free diets.
JZ Peking Duck – For authentic chinese food, head to JZ Peking Duck for a night of hotpot and karaoke! In addition to the large portion of Roasted Duck, we also got fried mushrooms, eggplants & green beans and fried rice. Everything was fresh and tasty.
Bitanga – Try out some Ukrainian cuisine at this popular restaurant. The food is delicious, they have great service and the atmosphere is cosy with soft warm lighting and pleasant music. The bar is fully stocked with an impressive range of options from cocktails, liquors and beers.
Almaty Nightlife
If you are a nightlife lover, then of course you will fall in love with Almaty. You can find plenty of options to have fun at night in the city. Aside from restaurants and shopping malls, other nightlife options in Almaty involve being in bars and clubs. There is somewhat of a lack of other things to do in the city at night time outside of drinking. If amazing cocktails and live music is your thing, bring your best dancing shoes as you have a lot to explore in the night clubs of Almaty. 
Drinking with friends is a popular activity in Almaty, and the pub goers are very friendly. The price for drinks is pretty reasonable in general. The legal drinking age in Kazakhstan is 21 years old.
Recommendations for Nightlife Venues: 
Tantsy – On the weekends, the venue turns into a club with live music and great atmosphere. Get there before 11pm as it gets crowded after midnight. Find a table near the bar. The outside terrace is renovated each summer and is perfect for lounging around with friends. On the weekdays they have special food and drink deals like Steaks for $7. 
Karaoke bars are also big in the city which is definitely something to be experienced. You can rent a room with some friends at a low cost! Head over to Karaoke Ryba Moyey Mechty for a wild night of singing, food and cocktails. 
Little Brazil – For a little bit of spice, head to this Brazilian restaurant complete with all the music, dancers, entertainment you need to boop the night away. There is also karaoke and a buffet to tuck into.
In the evening, swing by the popular Barmaglot Bar to hear playlists from world-class DJ's and sample craft cocktails with unusual ingredients like cuttlefish ink and indigenous Central Asian spices. 
Bla Bla Bar – Amazing club with three floors full of different kinds of bars, great music and love DJs on the weekend. Highly recommend it to anyone looking for a good time.
There are Party buses available to hire which include a mobile disco with a dance floor, a bar, DJ, pole dance and a variety of plasma panels & a toilet. They can accommodate up to 50 people. The bus is split into 2 sections: VIP room and the dance floor.
Mad Murphy's – An Irish expat bar on Dostyk Avenue is very well known and a cosy tavern to meet some Europeans.
For the latest club and event dates, subscribe to @party__killers on Instagram. So grab a shot of Vodka and let's go!
Things to do in Almaty
Almaty is a fantastic city with great activities to explore if you know where to look! Starting with culture, the city has many cultural sites worth checking out. 
Best Time to Visit Almaty
Almaty experiences four seasons in which the temperature varies between -5 and 29 Degrees Celsius. 
The summers are warm, dry, and mostly clear blue skies. There can be some occasional thunderstorms in the afternoon. June to September are the summer months and are a great time to visit for sightseeing and tourism. Although the summer is hot, the altitude makes the heat more bearable than at sea level or other places in Kazakhstan like Nur-Sultan. 
Spring and fall are colorful, crisp and lovely. 
The winters are generally close to freezing temperatures and partially cloudy. Almaty sees quite a bit of snow, but wind chill is not a factor due to the mountains. December to February is a great time to visit if you are looking to get involved with winter sports like skiing and ice skating. 
The wet season lasts from mid March to mid June with the wettest month being April with 80mm of rain. The city averages between 30-60% humidity throughout the year. The length of the day in Almaty varies significantly over the course of the year. In 2021, the shortest day is December 21, with 9 hours of daylight; the longest day is June 21, with 15.5 hours of daylight. 
An issue I had with Almaty was the traffic congestion and the air pollution it causes. In Almaty there are about half a million cars, plus around 200 thousand cars travel to the city from the countryside daily. The large stream of cars seriously affects the ecological situation with the main source of air pollution being the exhaust gases. As Almaty is located in a valley between the mountains, the pollution is not being able to escape which can make travelling around feel more smoggy and muggy.
Almaty for Families
Travelling to Almaty can be such an enriching experience for the whole family. There are so many things to do in Almaty for little ones and grown-ups alike. 
There are many daycare and schooling options available in the city. Many foreigners opt to place their children in International Schools as they are usually English speaking and have high quality education.
​​The Apple Tree International Pre-school hosts the best kindergarten with an international education system catering to 2-10 year olds.
Haileybury International School is the most well known and expensive international school which operates under the British curriculum. It has a sister school in Nur-Sultan and the schools host talented staff and a complex of facilities.
Almaty International School (AIS) is another leading international school. It offers an American based curriculum for high school students. Teachers are all native English speakers and fully certified. The facilities at AIS are top notch and cater from 3 years old to 12th grade.
Aya Fantasy World is an amusement park in Almaty, Kazakhstan. If you're in the city and have a leisure day, it would be a great option to spend that day here with your family and children. There are a number of rides for children and some for adults to enjoy too!
Almaty Zoo is a lovely day out for the family featuring mammals, birds & reptiles in their natural habitats.
Verevochnyy Park Bambu is located just outside of the zoo. It is great for letting the kids run wild, play and climb the rope bridges in the trees.
Explore the flora and fauna in Almaty's Botanical Garden. Here you will find lotus ponds, swans, tree-lined pathways and exotic plants from around the world.
Kids Lab is a soft playground for kids located on the third floor in Dostyk Shopping Plaza. A perfect solution for when you want to zip off to do some shopping and let the kids have fun!
Living in Almaty
Almaty Transportation
The region of Central Asia is relatively easy to reach by plane. The most popular and efficient airline is Air Astana. They offer regular flights to other internal cities as well as Europe, the Middle East, China and South-east Asia. Almaty is just 6 hours from Germany, 5 hours from Dubai and 8 hours from South East Asia. Head over to SkyScanner to check for the best flights to Kazakhstan. 
Once you arrive in the city, there are a number of ways to roam around the city:
Airport bus – The Airport bus is part of the city's bus system. It picks up right outside the terminal and towards the right under a bus stop stand. It serves four bus routes into different parts of the city. The buses run roughly every 15 minutes from 6am to 9pm. 
Buses and Trams – Almaty has over 88 bus routes and 8 tram routes through the city. You can get nearly anywhere in Almaty by using the bus routes. To pay for the bus ride, you will need a top-up card, which you can buy for 400 Tenge ($1.20) at a kiosk or metro station.
Taxis and Private Cars – Download the Yandex taxi app which is similar to Uber and Grab. You will need a local SIM for this. It's super convenient with the GPS feature and has set taxi fees for various vehicle types and the distance entered. You can get a pick up within 5-15 minutes. There are also official and semi-official taxis all over town. They are often simply hailed outside of a venue like the airport or the Esentai Mall. At the airport, be ready to get swarmed as you leave customs. Bargaining is a must, but don't really do so unless your prospective driver actually speaks more than a few phrases of English. 
Local rides – There is a very informal and super common means of getting a lift all over Almaty which is simply raising your hand while standing on the side of the street. Almost instantly 5 cars will pull over, each just full of regular people about their business looking to make a few extra Tenge if they are going in your direction.
The Metro – The metro system is short with just 8 lines, but it is worth it to travel deep inside to see chandeliers and all the beautiful traditional art work and decor of each one. It is easy to take and efficient. Usually it is not full unless it is morning or afternoon rush hour. It's not so convenient for older folks or if you have heavy luggage as there are a lot of stairs and not many escalators. It is worth seeing because it is spotless and constructed with stained glass, marble, ornate decorations and it is a real wonder to behold.
You should aim to move around the city before or after rush hours. In Almaty, this time is from 7:00 to 9:00 AM and from 6:00 to 8:00 PM on weekdays. 
Drivers usually have one hand holding their mobile and the other on the horn so strap up when you are in a vehicle and be careful when crossing the road.
Fitness and Health
Almaty is abundant with health and fitness activities for all ages. There are countless hiking trails in the mountains and around the many lakes that surround the city. 
 The Kok Tobe gondola soars to Medeu Winter Park and beyond, year round. From the top, there is a children's carnival area and many hiking trails and restaurants, and skiing and ice skating in winter. The country's sports infrastructure is extremely developed thanks to the 2011 Winter Asian games hosted in Nur-sultan and Almaty. Ice palaces, skating stadiums, cycling centres and ski jumping centres are available around the city. 
There are many cycle routes around the city which is a great way to explore, get the thighs burning and enjoy the sun in the summer months. There are swimming and tennis clubs as well as several golf courses. There is horse trekking just outside the city. There are thermal hot springs at the foot of the mountains, sledging hills, and nordic ski trails.
If you are a gym bunny, head to Dostyk Plaza – one of the main shopping malls in the city center and visit Fitness Blitz. A membership will cost around $27 a month with opening hours from 7 am – 6 pm Monday to Friday, 10 am – 6 pm Saturday and Sunday. There is another plan if you want to pay less and workout in the morning only. The facilities are clean, air conditioned with about 50 or 60 machines including treadmill, bench, leg press, etc. They have free weights as well as many exercise classes like yoga and cycling. The front desk receptionists speak English.
There is a big emphasis on spas that offering services like facials and massage. The Spa at the Rixos Hotel is also considered one of Almaty's best. You'd be hard pressed to find more luxury than is offered at the Rixos as the spa has the feel and appearance reminiscent of Roman decadence with full facial, massage and body treatment services on offer. They also have a huge swimming pool, Vitamin bar and beauty salon amongst other amenities.
Whilst you are in Almaty, spend a few hours in one of the cities Banya's which is a traditional Russian bathhouse. A banya typically includes a steam room with wooden benches, leafy branches that are used for massages, and buckets or pools of cold water with steam rooms and communal baths. The Alligator Club is considered Almaty's shouldn't miss Banyas. They are an important aspect in Kazakh life and the Alligator Club is among the country's most elite spas. It offers traditional Russian and Finnish banya, spa therapy, a swimming pool and solarium.
Almaty People
Forget Borat, the fictitious, mankini-wearing media personality played by Sacha Baron Cohen. Kazakhstan is anything but that stereotype. It is the most economically and culturally advanced of the 'Stan' nations in the region. Whilst snippets of this film could be lightly understood in the traditional lifestyle of the countryside towns, in general the film has done the country a disservice in its reputation.
People are more open and liberal in Almaty compared with the rest of the country due to it being the business and cultural hub. I didn't have culture shock when I arrived even though I speak neither Kazakh nor Russian, however speaking a little of either language will certainly go a long way. 
The people are generally warm and enthusiastic with travelers. Racism is low here and it's beautiful to see how diverse ethnicities live harmoniously here. It's common for young people who can speak English to approach you and ask about how you came to be in Almaty. Be yourself and don't be shy to communicate with gestures and wrong words and accents. People generally want to understand you.
Although Kazakhs can be very welcoming and hospitable, I think the Soviet attitude has become quite ingrained in the culture and this can be visible through not trusting people and being too skeptical of someone's motives. During the 19th century about 400,000 Russians flooded into Kazakhstan, and these were supplemented by about 1,000,000 Slavs, Germans, Jews, and others who immigrated to the region during the first third of the 20th century. During this time, Kazakhstan underwent a famine which resulted in 1.5 million people dying. I think Kazakh people are very resilient and will survive whatever life throws them. I don't think they are easily offended, but they have been mistreated by others in their past.
Russian is now the most widely understood language in the country. The population of Kazakhstan is young. About half the population is under 30, and one-fourth is under the age of 15.  Life expectancy for men is 66 years, though life expectancy for women is much higher at 76. Kazakhstan's population is currently growing at a rate of 1.21% per year. Farming occupies some one-fifth of the labour force. Many people left the countryside to move to cities such as Almaty and Nur-Sultan (previously Astana) to pursue corporate careers and more wealth.
Kazakhstan is an Islamic country, however the atmosphere of the city is not visibly dogmatic and the culture has an informal attitude to religion. There are some mosques and churches worth visiting around the city. 
There is no dress code; generally urban Kazakhs of both sexes are smartly dressed in modern clothes and only the expats wear shorts in town. It is common to see women in summer wearing revealing clothes. I was surprised to see how fashion and beauty conscious the women are here. When you venture into remote villages, you will see women wearing more traditional dresses and headscarves.
I have never seen homosexuals openly walking hand in hand as you do in Europe so I have the impression this is not tolerated, nor people kissing on the streets, so I assume it's not done. 
In general, the country is not very democratic and freedom of speech is weak. None of the elections held in Kazakhstan have been considered free or fair by Western countries. Media independence is severely limited in Kazakhstan.
Almaty Insurance and Medical Care
General healthcare in Almaty is rated average at 47/100. The city has prepared 32 covid hospitals with a bed capacity of 7,200 beds.
The International Medical Center (IMC) has a few locations in town and provides Western style medical care, including Radiology, Obstetrics, Gynaecology as well as Orthopedics. There are specialists in different areas of medicine throughout the city. They offer annual care plans starting at 150,000 tenge ($350). 
HealthCity is another recommended medical network that combines an innovative Diagnostic Clinic and Personal Medicine Centers in Almaty. The focus of the HealthCity project is personal medicine; which is aimed at accurate diagnosis, an individual approach to the prevention, early diagnosis and treatment of diseases based on international standards.
For severe emergencies, Dubai is a four hour flight away, and International Life Flight and AirMed provide air service from Almaty.
BUPA is one of the commonly used health insurance providers for expats in Kazakhstan. They offer different packages depending on your needs. If you are travelling a lot, it is worth looking into other Nomad Insurance providers such as WorldNomads which offer extremely flexible insurance plans for all ages, countries of travel and cover a host of activities such as adventure sports like skiing and scuba diving.
Make sure you are fully covered by reading our full Digital Nomad Travel Insurance guide.
Jobs in Almaty
Kazakhstan has the largest economy in Central Asia, and there are many exciting opportunities for expats wishing to find work there. The country is in need of highly-qualified professionals so if you have good qualifications and experience you should find it fairly easy to find employment. Foreigners move to Almaty for a range of careers from banking, insurance, diplomatic, construction, commerce, oil and education. 
Many of the expats I personally met came to Kazakhstan for teaching positions in International Schools. The contracts seem to be quite lucrative considering the average living wage of the city. 
It's also fairly easy to find work as a local English tutor for children and adults if English is your native language. It is helpful if you have a degree in English language. Most freelance teaching positions are well paid and tutors are well looked after and respected. It's difficult to get a work visa if you go down this route, however, so you may need to look into getting a residence permit or a student visa instead.
You can also earn good money working as an au pair or a nanny, again if you have a good grasp of the English language. 
A common reason for relocation is working for oil and mining companies such as Shell. Kazakhstan is an extremely oil and mineral rich country as well as having massive reserves of precious metals and fossil fuels. This has attracted a lot of wealth and interest from many areas of the world. 
Most job opportunities in Kazakhstan are centered in the major cities, like Astana or Almaty. The average work day is quite similar to that in most Western countries, with employees working fairly long hours, travelling for jobs and having to sort through a lot of bureaucracy and admin.
Having a high level of spoken Russian will assist you greatly in finding a career in the area you would like. 
Here are some resources for finding jobs in Almaty: 
https://kz.linkedin.com/jobs/almaty-jobs
https://we-xpats.com/en/job/as/kz/
https://www.iagora.com/work/en/jobs-and-internships/for-english-speakers/kazakhstan/almaty
Nomad Friendly
Value for Money
Internet
Workspace
English
Food
Safety
Health
Transportation
Friendly
Quality of Living
Cost of Living Almaty
The cost of living in Almaty is "Euro light". For example, imported groceries and fruits and vegetables out of season can be very expensive to buy in due to the distance of transportation. However, there is always an abundance of seasonal produce that is extremely inexpensive. Petrol is very cheap. Buying a car can be expensive so walking, cycling, public transport and taxis are good alternatives that can save you a lot of money. Household items, clothing and public transportation are far less expensive than Western prices. Housing can be expensive closer to downtown; but in the outlying areas of the city, all with excellent public transportation, homes and nice apartments are much more reasonably priced and well below Western prices.
I would say with a $1000-$1500 per month budget, you can live a very comfortable life here. Living frugally as a single expat on a budget, I would say $500-$800 per month would cover costs for food, transportation and leisure if you cook at home regularly.
Cost of living for expat for one month: 318,000 ₸ or $747
Monthly Transport Pass (Regular Price): 7,000.00 ₸ or $16.40
Utility Bills (Electricity, Heating, Cooling, Water, Garbage) 25,098.11 ₸ or $58
Internet (60 Mbps or More with Unlimited Data) 4,902.81 ₸  or $11.50
Loaf of Fresh White Bread: 142.90 ₸ or $0.30
Milk (1 liter): 377.78 ₸ or $0.89
Eating out for Dinner cost: 2000 ₸ or $4.69
Coffee: 665 ₸ or $1.56
Pint of Beer: 1000 ₸ or $2.35
Fitness Club Membership for one month: 19000 ₸ or $45

The currency in Kazakhstan is the Tenge (KZT). At the time of writing September 2021, 500 KZT = $1.12 USD.Cinema ticket: 1800 ₸ or $4.22