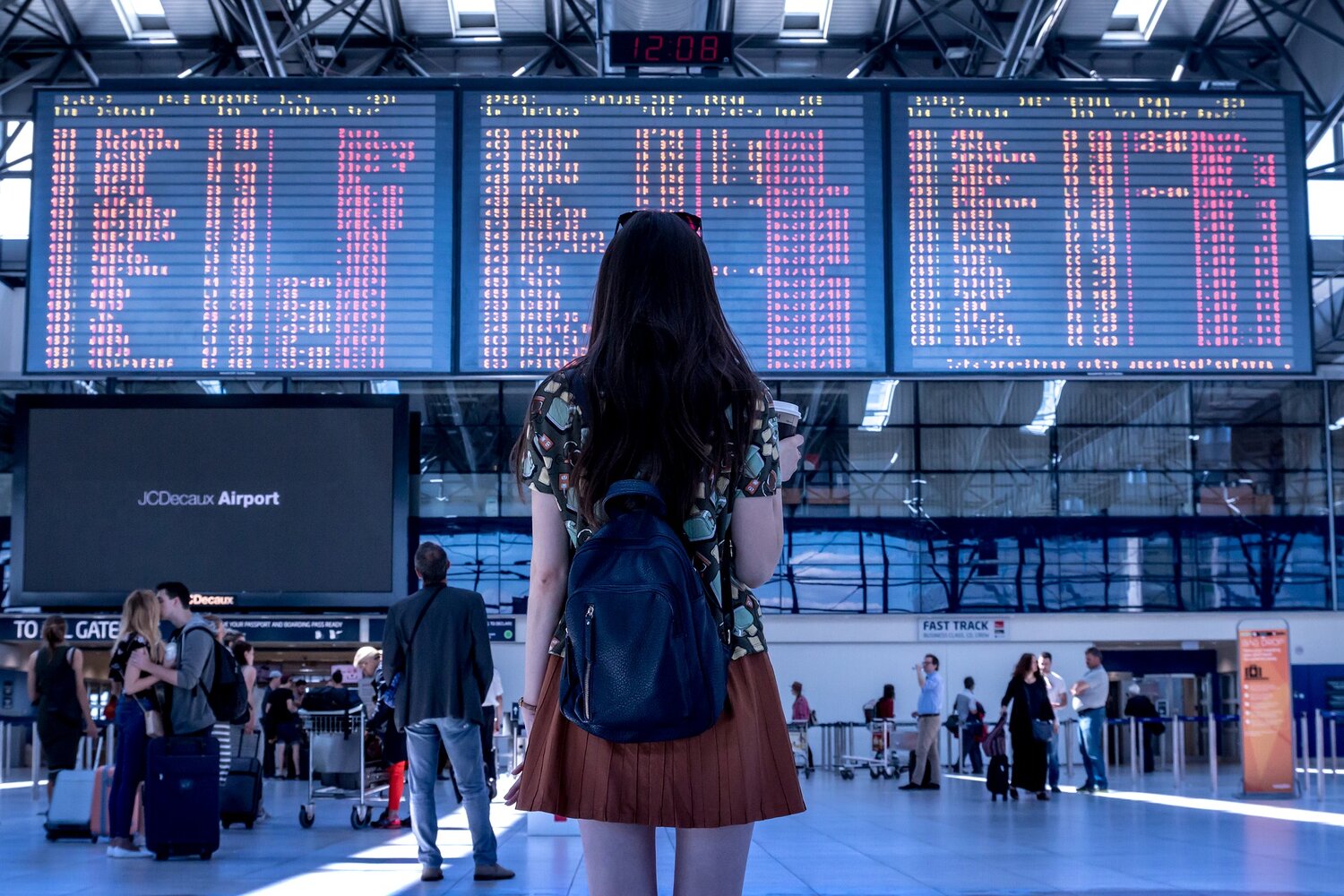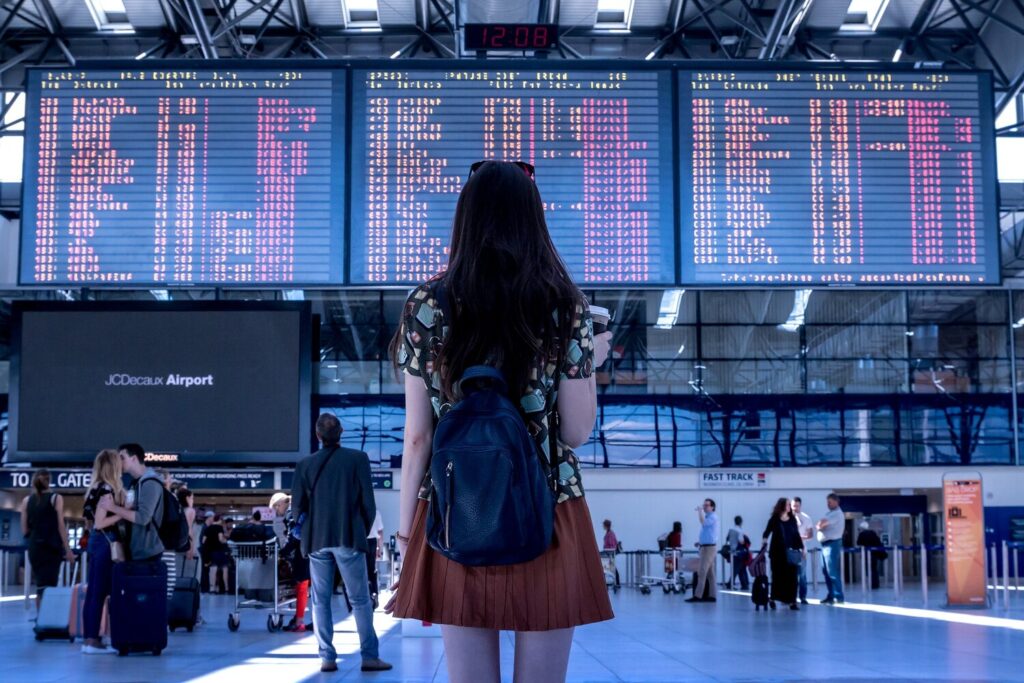 50 Best Travel Tips for Traveling the World
Have a read of these 50 travel tips to get inspired and learn some hacks that will help you keep safe, save you money, and allow you to make the most of your time on the move.
Travel Tips 1-10
1. Pack your laptop

Having a laptop for remote work in your rucksack can be super handy. If you lose your phone, you'll still have a way to keep in touch, check your bank accounts, and get online. It will also allow you to quickly, and easily, get work as a digital nomad to fund your trip if you decide you're not ready to go home!

2. Find coworking spaces near you

If you're looking to become a digital nomad, you've likely worked in all kinds of conditions – from the top bunk of a hostel dorm to noisy cafes! It can be hard to keep motivated and stay on top of things. Co-working spaces are a great place to meet other digital nomads and get work done.

3. Book a private room

Many travelers pick mixed dorms because they are cheap, normally quite comfortable, and hardly ever need to be booked in advance, but they can be noisy. If you've got an upcoming project, book a private room so you can get enough sleep and finish your work in peace!

4. Bring a sleeping bag

Packing a sleeping bag is a must. You can use them on camping trips, during long bus trips, and even at hostels if you're suspicious of how clean the sheets are! The best options for most destinations are lightweight, two-season sleeping bags.

5. Pack a Raincoat

Even in some of the sunniest and warmest places, like the tropics, there can be unexpected downpours. Raincoats are also great for windy days, or cold nights. They are thinner and lighter than most coats, and still warm enough for most destinations!

6. Download maps.me

There are lots of different apps you can use on your trip. There isn't a perfect map, but maps.me comes pretty close! The app, which can be downloaded and used offline, has information about public transport routes, different facilities nearby, and even works pretty well up in the hills.

7. Chat to locals

Staying safe while traveling will be high on your priority list, and there's no one who knows your destination better than the locals! Language skills permitting, chat to some locals and find out where is and isn't safe in the town, city, or even country that you are visiting.

8. Learn the basics

You can't learn a new language each time you go to a new country but learning some of the basics really can be a lifesaver. It will also make you more popular with the locals, who love to see tourists putting a bit of extra effort in.

9. Sew a pocket on the inside of your waistband

One of the best travel hacks for keeping your money and credit cards safe whilst you're away. It's simple and can save you a lot of worrying. This hidden little pocket will be the last place robbers will think to look.

10. Hide your valuables in your sleeping bag during night buses

Night buses are a great way to get from A to B! The only problem is…it's hard to rest when you're trying to make sure all your stuff is safe. Hop into your sleeping bag and put a little bag with all your valuables in at the bottom, that way they're hidden and hard to reach.
Travel Tips for traveling the world 11-20
11. Go without a plan

Once you're away, you'll find nothing will go as expected, and if you haven't pre-booked everything you can be flexible with your next step. That way you can join those new friends on that unplanned adventure or visit that city you'd never heard of that everyone keeps recommending.

12. Learn to haggle

Most of us aren't used to haggling, and the thought can be daunting. But in most parts of the world, like Asia, South America, and the Middle East, haggling is a part of everyday life. It really can save you a small fortune, freeing up some extra cash for more travelling!

13. Check under your mattress

We've all heard horror stories of people who slept in bedbug (or even cockroach) infested rooms and didn't find out till it was too late. Having a quick look under your mattress before hopping into your new bed can save you a lot of itching and scratching.

14. Weight – and why you don't want it

Having a heavy backpack can become a real pain when you're travelling. Walking is more tiering, luggage is more expensive, and you'll likely get a sore back. Try to pack as light as you can. Remember, your bag shouldn't weigh more than 20% of your body weight!

15. Only pack the essentials

It's always tempting to pack lots of "just in case" items when you start a trip. After all, you can never be too prepared, right? Honestly, you'll probably use about half of the things you think you need. Besides, you can always buy stuff during your trip.

16. Make a checklist of your most important items

This handy little checklist should include five to ten things that you absolutely can't lose on your trip – think passport, wallet, phone, chargers, and battery packs. Then, each time you re-pack, check them off the list and leave with peace of mind.

17. Bring a sleeping bag liner

Sleeping bag liners are easy to wash and dry quickly, unlike sleeping bags! They're also super light and take up next to no space. Plus, if you're sleeping bag is too hot, you can also use them on their own, and if you're cold they're an extra layer.

18. Get warm before you get cold

If you go hiking or camping it's important to keep warm. Putting all your layers on before the cold starts to kick in helps your body regulate its temperature, so you can enjoy shiver-free adventure!

19. Pack a spork

Sporks, that double up as a spoon and fork (and sometimes have a little knife on the side!) are great for camping and takeaways, and help to avoid unnecessary plastic on the go. They're cheap, starting at about $3, and won't add any weight to your backpack.

20. Get used to losing things

Being a digital nomad involves a lot of packing, and re-packing. It's likely that you'll lose things along the way, but so long as it's replaceable it doesn't really matter! Keep track of the important stuff, and don't get too attached to the rest.
Travel Tips 21-30
21. Washing line hack

When you're staying in hostels or hotels, laundry can quickly become a problem. You'll probably have to hand wash pants and socks on more than one occasion, and then there's the issue of where to dry them! Get some elastic, watch this quick video, and head off on your next adventure prepared: https://www.youtube.com/watch?v=XlL1sLRxSPI

22. Use the launderette

Most of us travel on a budget. But you'll be happy to hear that in most parts of the world, like Asia, South America, and even some parts of Europe, launderettes (or laundromats) are surprisingly cheap! Save yourself time and energy, and skip handwashing unless you really have to.

23. Get an early night before an adventure

Socializing is one of the best parts of travelling. If you're staying at a hostel or Couchsurfing, you'll likely find yourself going to bed later and later each night! However, you really don't want to be the person who sleeps through their early morning hot air balloon ride (yes, it happened to me). So, get a decent amount of sleep!

24. Bring warm socks and a hat

When you're on the move you quickly move in-between climates, and it can be hard to keep your wardrobe up to date! They say that you lose most of your heat through your head and feet. Having a warm pair of socks and a woolly hat to put on when you start to feel chilly helps take the edge off.

25. Bring good shoes

Traveling often involves a lot of walking! Bring a decent pair of shoes so you don't get blisters whilst sightseeing. Hiking shoes are one of the best options, they're nearly as sturdy as hiking boots but are a lot more packable.

26. Stay at hostels

There are several reasons hostels are frequented by digital nomads. They're cheap, often have self-catering facilities, and are full of fun and interesting people. Most hostels have a range of sleeping options, from ensuites to dorms. There are even hostels designed for digital nomads in some cities! Check out Hostel World!

27. Don't worry about booking in advance

This tip is a bit location dependent. If you're traveling to somewhere like the Galapagos, you'll definitely want to book in advance. However, in most parts of the world backpackers can easily turn up to hostels or events without booking in advance.

28. Get a flexible flight ticket

We all arrive to destinations with a rough idea of how long our trip will take, and most of us run out of time. Things can change from one day to the next when you're travelling, you might get food poisoning, or find an exciting hiking trail you want to go on. Having a flexible ticket allows you to extend your trip hassle-free.

29. Try local food

Many parts of the world have delicious, nutritious, and incredibly cheap street food. It may smell and look strange, but that's usually just down to unfamiliarity. Taste as many local dishes as you can!

30. Pack Ziploc bags

These incredibly functional little bags are super lightweight and scrunch down to nothing! You can pack food in them, put wet swimming costumes in them, store your toiletries in them and so much more. You'll be surprised how many uses you come up with for a Ziploc bag.
Best Traveling Tips 31-40
31. Go paragliding

If you get the chance, go paragliding! It's cheap in lots of popular travel destinations, like Asia and South America, and even in some parts of Europe. And it's incredibly fun! It's not as scary as ski diving either!

32. Travel guides

Travel guides have mixed reviews. Some people swear by them, and others find they are quickly outdated and can get you into sticky situations. They're also added weight. Besides, nowadays you can find everything online. If you really want a travel guide, bring it, but you likely won't use it.

33. Look out for important dates

Attending traditional celebrations is a fun way to get to know a culture. Find out the dates of any local festivals or carnivals in advance so you don't miss out on the fun!

34. Back up your travel photos

Upload all your pictures onto a spare USD card or onto somewhere like Google Drive. There's nothing worse than breaking your phone or misplacing your camara and losing hundreds of precious memories! Keep your travel pictures safe, everyone will want to see them when you get home!

35. Take a day bag

Bring a small, packable bag that you can use for day trips, sightseeing, and food shopping. Tote bags are great!

36. Photocopy your passport

Pack at least two photocopies of your passport. That way, if worst come to worst you have your passport number and some form of documentation you can get around with. Leave one copy at your accommodation and carry one with you.

37. Sign up to free hostel classes

Hostels often run free events, like bar tours or early morning yoga classes. They're a fantastic way to meet new people and explore the local area, and they're budget friendly! Why not try them? You've got nothing to lose.

38. Try free walking tours

Free walking tours are cheap and non-committal, ideal for all kinds of travelers! All you need to do is turn up to the allocated place and leave a small tip, in exchange for a guided tour and a chance to meet other travelers in the area, what's not to love? You can find most free walking tours by searching "Free walking tour + the name of the city" on Facebook.

39. Bring a battery pack

We rely on our phones for maps, booking references, timetables, and much more. Save yourself the panic of running out of phone battery halfway through a night-bus, or during a hiking trip, and bring a battery pack. They're light, affordable, and extremely handy!

40. Get a local SIM card

If you're staying in one place for a while, say two weeks or more, it's worth having a working SIM card. Most countries have affordable packages that include data and phone credit. It definitely makes travelling easier.
Top Travel Tips 41-50
41. Get the right bank card

Avoid spending all your money on commission fees and high exchange rates by having the right kind of debit card on your trip!  Monzo and Revolut have gotten popular over the last few years and are great examples of good travel cards.

42. Bring a water filter

In many places of the world, you can't guarantee that water out of the tap will be clean, or safe. Bringing a water filter will save you money and trips to the shop! It also reduces the amount of plastic bottles being used. Overall, it's better for you, and better for the environment.

43. Pack a travel towel

Normal towels are far too big and heavy if you've got a small backpack. Travel towels dry quickly, and pack down well. They're also easy to wash, so they can double up as a beach towel.

44. Bring some light thermals

Unless you're going to lug about thick jumpers and a heavy coat, bring some thermals. Merino wool is the best, and they aren't too pricey either! Unless your destination is going to be scorching hot, they'll come in handy.

45. Get a bit lost

Each destination will have hundreds of hidden treasures that can't be found on your map or in your guidebook. The best way to explore a new city is to get a bit lost. So long as you know which areas are safe, you'll have a wonderful time exploring all the unknown corners of the world!

46. Don't buy every souvenir

There are so many lovely things you can buy when you're travelling, and it's tempting to get them all, but carrying around souvenirs for months or weeks isn't much fun. Pick your souvenirs carefully and leave your shopping until the end of your trip.

47. Pack a kindle

Having a light read for long bus trips, days at the airport, and lazy days on the beach helps the time go by! But books are heavy and take up a lot of space. You can download hundreds of books onto a kindle and get hold of new books within minutes.

48. Pack some playing cards

There are countless games you can play with a pack of cards, from solitaire to ring of fire! They're fun and easy, and very packable. Lots of people enjoy socializing over a deck of cards at a hostel, so you'll quickly make new friends.

49. Bring your instrument

If you play any small instrument, like a harmonica or ukulele, bring it along! Impromptu music sessions happen quite a lot at hostels, and nothing beats having a jam around a campfire.

50. Arrive with local money

Arrive with a bit of cash in the local currency, it saves you walking around the airport after a long flight looking for an ATM that doesn't have ridiculous commission fees. Arriving with about $100 can get you to your destination and last you a while in a cheap country.
Whether it's your first time traveling or you've done it before, these little tricks and tips will help make your journey the laid-back adventure you want. Now you're armed with these 50 travel tips, let the adventure begin!