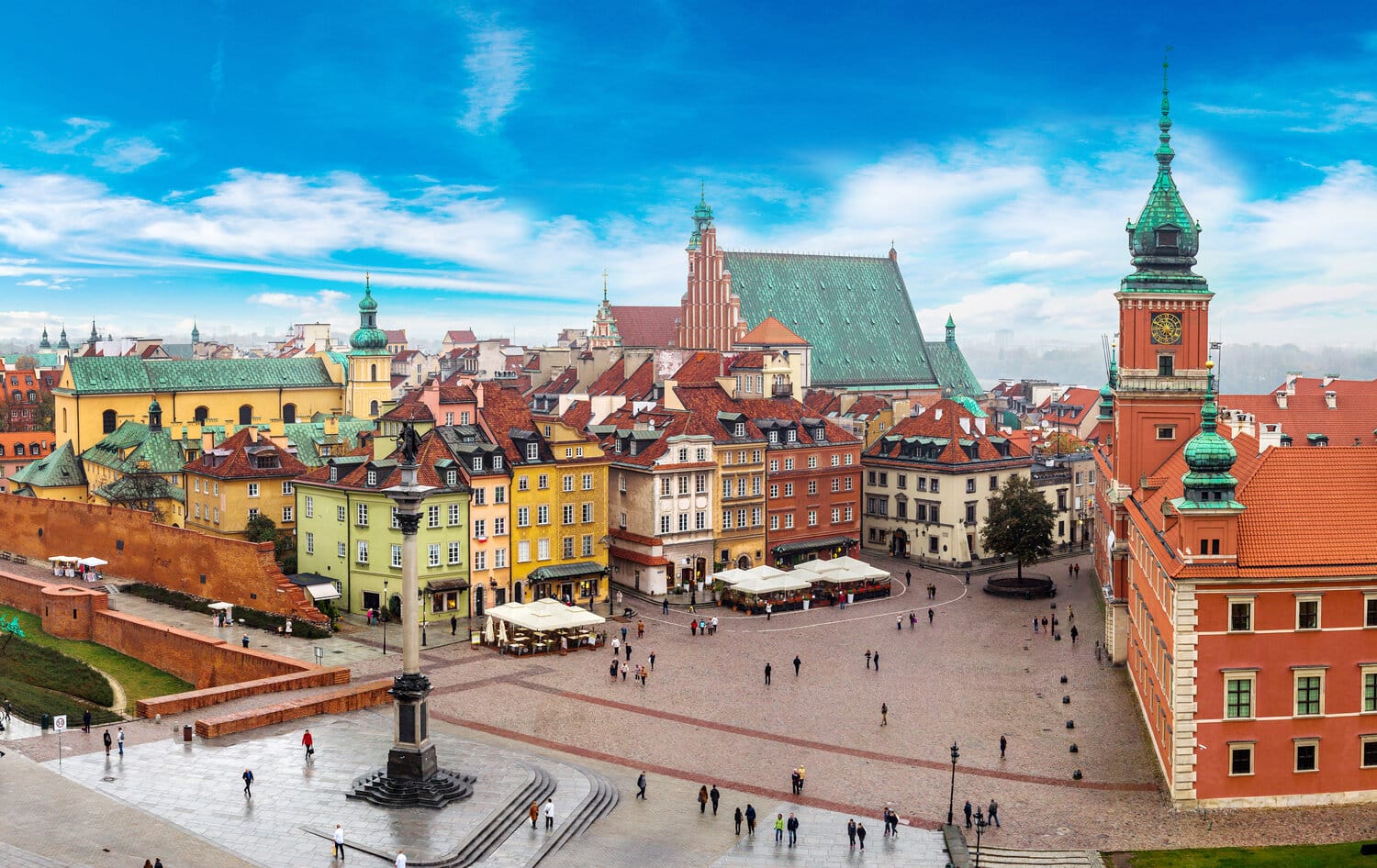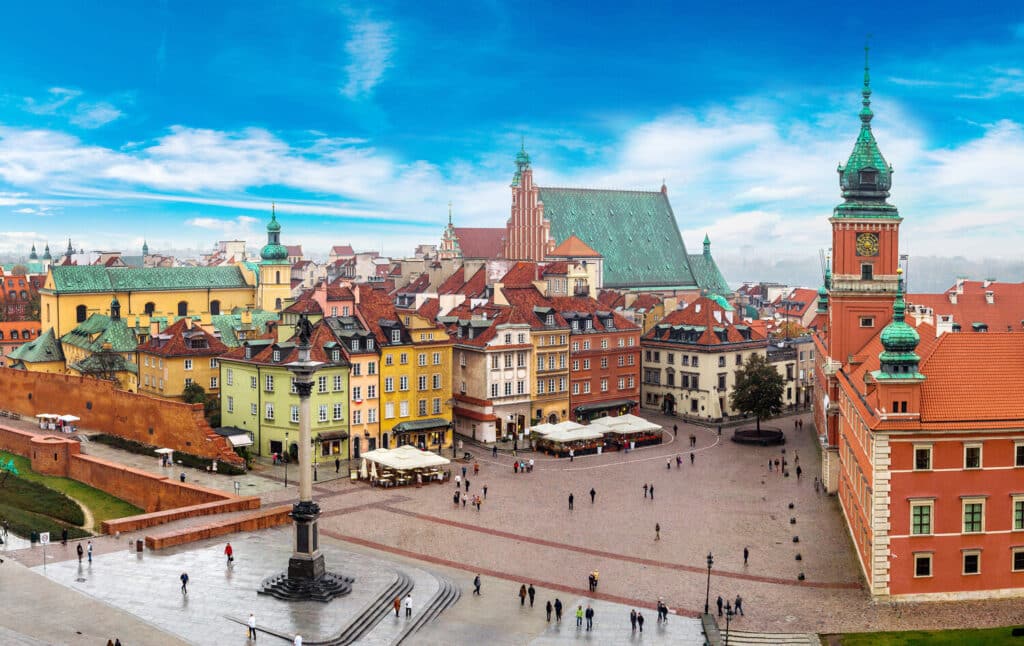 A Digital Nomad Guide to Warsaw, Poland
Warsaw is notable among Europe's capital cities not for its size, its age, or its beauty but for its indestructibility. It is a phoenix that for many centuries has risen repeatedly from the ashes of various wars, the most destructible being the Second World War which left over 85% of its buildings in ruins. It has been a capital city of Poland since the late 16th century, when a then king decided to move it and his royal court from Krakow. This was a stepping stone in the history of the city to raise its prominence.
Before WWII the city gained a nickname "Paris of the North" thanks to the elegant architecture, grandeur and extensive boulevards. During the complete reconstruction of the city, it was decided to restore the historical streets, buildings, and churches exactly according to their original forms. Nowadays it is a major international tourist destination, and a significant cultural, political and economic hub. Its historical Old Town was designated a UNESCO World Heritage Site.
The city is not only about culture and architecture – nearly a fourth of Warsaw is covered with forests and parks. 
Warsaw lies in east-central Poland about 300 km (190 mi) from the Carpathian Mountains, about 260 km (160 mi) from the Baltic Sea, 523 km (325 mi) east of Berlin, Germany. The Polish language prevails among the locals but you can communicate in foreign languages too: English is spoken on an intermediate level by roughly half of the citizens of Warsaw, then Ukrainian and Russian which are spoken by respective nationals living in Poland, and German, French and Spanish.
The city is popular among foreigners as a tourist destination as well as a place to work. In comparison with other European cities, Warsaw is perceived as relatively cheap but good quality – housing, food, entertainment – with decent pay, as a result of the local currency which is Polish zloty, not Euro.
Nomad Friendly
Value for Money
Internet
Workspace
English
Food
Safety
Health
Transportation
Friendly
Quality of Living
Living in Warsaw Overview
| | |
| --- | --- |
|  Meal, Inexpensive Restaurant | $11.02 |
| Domestic Beer (1 pint draught) | $2.94 |
| Cappuccino (regular) | $3.32 |
| Loaf of Fresh White Bread (1 lb) | $1.25 |
| Water (1.5 liter bottle) | $0.72 |
| One-way Ticket (Local Transport) | $1.08 |
| Basic Utilities (Monthly) | $253.43 |
| Internet | $19.44 |
| Fitness Club (Monthly) | $41.40 |
| Apartment (1 bedroom) in City Centre | $880.37 |
Currency: Indonesian rupiah (Rp)
[erw_exchange_rates_widget lg="en" tz="0″ fm="IDR" to="EUR,USD,GBP,AUD,JPY,RUB" st="primary" cd="" am="15000″][/erw_exchange_rates_widget]
ATMs
Max Withdrawal: Rp 3,000,000
Withdrawal Fee: Rp 30,000 – Rp 50,000
Use of Credit Cards: Mostly Cash
Digital Nomad Personal Experience in Warsaw
I have visited Warsaw several times over the past years, but usually these were just weekend trips to visit friends. My adventure with Warsaw as a digital nomad happened in spring 2019. The city has something for everyone: it is a unique blend of a rich culture, an interesting history, a wide range of scrumptious restaurants and cafés serving delicious Polish cuisine, and loads of indoors and outdoors activities of all sorts during which you can connect with new people, both locals and foreigners.
In terms of space, Warsaw is much smaller than other popular European cities, which makes it much easier and more convenient to navigate and enjoy, and make the most of your stay there.
Here is the most updated Warsaw city guide for digital nomads who consider this city as a new base in 2021.
Work in Warsaw
As a digital nomad in Warsaw, you should not worry much about the Internet access.
The average fixed broadband speed in Poland is 120mbps for downloads and 41mbps for uploads, with mobile speeds coming in at 42 mbps and 10 mbps respectively.
There are approximately 1500 hotspots all over Warsaw located in bus and tram stops, hotels, cafes, restaurants, shopping centres, city centre, libraries, parks, railway stations, hotels, and most of them are free of charge. 
In order to have a local mobile Internet, you have to get a local pre-paid SIM card. There are more than 10 mobile operators and you can buy your starter pack in any kiosk, newsagent or at a mobile operator directly. Prices start from as low as 1.32 USD (5 PLN) and you already get a packet of minutes, messages and some Internet data. When the data finishes, you simply buy a recharge card. Your place you stay should already be equipped with WIFI.
Best Places to Work in Warsaw
Coffee shops
Due to Covid-19, there have been many restrictions of social distancing introduced to societies all over the world, Warsaw is no exception. Recently coffee shops, cafés, and restaurants have been opened only for a take-away service. When the restrictions are loosened, these places can be visited by a limited number of people who stay inside. 
Here are some of the most popular and laptop friendly coffee shops among digital nomads and freelancers: 
Etno Café

on Marszalkowska street: ranked as the top one thanks to its

nice working ambiance and the internet speed that attracts other freelancers and digital nomads.

Daft café

:

a modern, spacious and high-tech café inside the tower of the Warsaw Spire, with all amenities for being productive as well as anti-noise chairs where you can talk on the phone.

Labour Cafe Deli & Coworking

: is a perfect place for freelancers and digital nomads with many tables, good coffee, and events where it's possible to learn something new and meet like-minded people. 

EmEsEn

: being a café o

wned by the Museum of Modern Art, apart from strong WIFI, plenty of plugs and creative ambience, the place is adorned with art titles and photo albums.

Wrzenie Świata

: it is a bookshop and coffeeshop in one, popular among writers. The surrounding of books gives out an inspiring and creative vibe.

Coffeedesk Kawiarnia

: a great space for digital nomads where the quality of the coffee is matched by the quality of the Internet connection. 

Cat cafes

: before Covid there were 5 of these unusual cafes in the city where you could work while having furry friends accompany you. Some were free, some you could rent a table for 2 hours for USD 10.43 (40 PLN).

Network cafes

: seeing familiar names of the worldwide-known cafes like Starbucks, McCafe or Costa may make you feel like home.  The one name that can sound familiar is Green Caffé Nero which is a Polish network of cafés being a result of a great cooperation between the UK-based Caffe Nero and the Polish Green Coffee.
Coworking spaces
Google Campus Warsaw

: this place has a fast internet, cool ambiance, lots of extraordinary people, a selection of healthy food at the café, a shelf with business and marketing books in English to read for free. It also hosts numerous events about business, marketing, internet and everything tech. However, in order to work at the Google Campus office area, you have to become a Campus resident. Still, you are free to show up and work from their café.

Noa Cowork:

great coworking spaces in 2 locations which offer ranges from a workplace at a desk for 1 hour for 2.60 USD (10 PLN) to

comfortably equipped and lockable offices, made exclusively available for the period of at least a month (price starts from 338 USD (1300 PLN).

Creative Hub Targowa

: is an original and modern coworking office, located in the artistic centre of right-bank Warsaw. It is a perfect space for people who do professions that require a lot of creativity. For renters is a fully equipped kitchen with access to coffee and tea. Prices to rent a desk for 1 month start from 130 USD (500 PLN); it also offers micro-offices, offices and conference rooms.

HubHub Warsaw:

is located in a modern building in the heart of the second largest business district of the city, and provides various office spaces which ensure that you can work productively. To rent a workplace for 1 day, you will pay 28 USD (110 PLN), then there are various offers in terms of length and size of the workspace.

Idea Hub

: is a great and free of charge coworking space where you can serve yourself free coffee and tea. However, to use this coworking space, you have to be a client of the Idea Bank. 
Libraries
If you search for a quieter place where you can work in peace and for free, libraries are what you look for. There are roughly 70 libraries and reading rooms in the city where digital nomads can work from.
Best Places to Live in Warsaw
Best Neighbourhoods
The Warsaw territory is almost evenly divided by the Vistula River. The metropoly is composed of 18 districts: 11 regions are located on the right side of the river: Bemowo, Bielany, Mokotów, Ochota, Śródmieście, Ursus, Ursynów, Wilanów, Włochy, Wola, and Żoliborz. They are considered to more interesting that the remaining seven from the left-bank part of the capital city: Białołęka, Rembertów, Targówek, Wawer, Wesoła, Praga Południe, Praga Północ. Each of the districts retains its original character. 
Śródmieście
Śródmieście, as the oldest and relatively small area but densely built-up district, is often called the heart of Warsaw. The picturesque Old Town, the Royal Route and Krakowskie Przedmieście are one of the best places to enjoy the city. Thanks to the convenient connections to other districts, highly developed infrastructure and communication network, it is an attractive location for enterprises, public administration.
It concentrates the majority of national and local authorities, as well as culture and leisure centres. In Śródmieście take place cultural and sports events on local, national and international level. You can also enjoy plenty of cafes, restaurants, bars and clubs. However, due to the popularity of the neighbourhood, the prices for housing in this area are on a higher side. 
Mokotów
Mokotów, a one of the most enticing neighbourhoods for expats, is a district associated with dynamic development, good communication with Śródmieście and other districts, modern architecture and greenery. In Mokotów there is a high share of green areas, parks, lawns and water reservoirs, but also fantastic restaurants, libraries and entertainment, so it makes it good for families.
It is principally a residential district, where housing is very distinct and ranges from beautiful pre-war villas where many embassies, diplomatic residences, foreign agencies are located, to modern buildings like apartment blocks with renown companies, national administration offices, public radio and television. What's more, it stands out with interesting street art and the longest network of cycling paths in the city.
Praga (Południe and Północ – South and North)
Praga is a district full of greenery. Having in the past a label of an ill-famed neighbourhood spoiled by the criminal underworld, where crime and unemployment rates were the highest in the city, Praga has been changing its image and becoming a safe and clean Warsaw area. Nowadays it has turned into a hipster as well as an artists' most popular haven, filled with cafés and restaurants which are cheaper that the ones from the centre, making it one of the cool areas in Warsaw.
The growth of the cultural life there is mainly thanks to the Soho Factory initiative. Thanks to investments in communication and intensive increase of residential buildings, it also turns into a significant and vibrant district. 
Ochota
This district seems to have all the features of an ideal neighbourhood: it is peaceful, historical but fashionable, and adjacent to the city centre. It has well developed communication and vast recreational areas. In recent years it has become the vogue among Warsaw's districts. In its area have emerged numerous cafes, populated all the time by young people with laptops, children or dogs. 
Wilanów
A district which is not very close to the centre of Warsaw, still it is considered as the best and most posh place to live where many rich and famous celebrities, artists, politicians, diplomats and businessmen have their houses. It is also home to the "Polish Versailles", a palace which is a former second home to various Polish kings. Wilanów is still an undeveloped area with beautiful surroundings and greenery which makes it a perfect place to live an active life. A numerous chic cafes and restaurants will help you immerse in the regal atmosphere of the district.
Find an Apartment in Warsaw
Looking for an apartment while living in your own country and speaking your language is usually a challenge for many. Yet, moving abroad and finding a place to stay in a foreign country, often when you do not speak the local language, can be very stressful and time consuming. Unless you are relocating with your company which deals with all the relocation hassle, you probably start searching the internet and rent a new place while still being abroad. There are expat groups on Facebook like "Expats in Warsaw" and "Warsaw Expats" where you can connect with others and ask for a recommendation of a place. Then on groups "Warsaw accommodation", "Rent Flat Warsaw" and "Buy Sell Rent in Warsaw" you can find offers of accommodation in English. 
Other websites with English advertisements are among others: rentflatpoland.com, nestpick.com, rentberry.com, housinganywhere.com. The presented offers vary from individual rooms in a shared apartment, through affordable flats in any part of the city, to high-end apartments or houses – there is a room for everyone! 
Prices start from around 110 USD/month for a single room in a shared flat. A one-bedroom apartment in Warsaw has prices of 380 – 700 USD/month. A two-bedroom apartment costs between 450 and 800 USD/month. A usual long-term rental period in Poland is 12 months. An additional expense could also be considered the two- or three- month deposit that many of the landlords ask for when you move into your rental apartment. Another cost to consider are utility bills which may (but not must) consist of hot water, heating, internet, electricity, and can amount to 50 to 120 USD/month. All the details should be included in the contract: personal data of a landlord and a tenant, duration of rent, the monthly pay, payment deadlines and method, cost of utilities, maintenance of the property and its cost (it should be a landlord's responsibility), furniture and appliances and their state, a deposit, termination of the contract, and a form of return of the deposit.
If you own a pet or consider having one, confirm with the landlord that you are allowed to bring it to the apartment, and also include this point into the contract.
One of the things should be avoided in order not to get scammed, is to not use cash for any payments but a wire transfer. What is more, if you want to make an appointment to view an apartment, you have the right to view it without any additional charges. Do not pay any fees upfront if you have not seen the apartment first. Try to avoid offers where someone is subletting their place, even for a short time, otherwise you can be evicted. 
If you know you are going to share an apartment with other flatmates, ask the landlord about them. Also talk with flatmates about the landlord, your co-living conditions, the flat itself, etc. 
Cheap Places to Stay in Warsaw
If you're just getting started in Warsaw as a solo digital nomad, there are some great low-budget accommodation options that will ease your start.
Hostels: There are numerous hostels around the city, many of them conveniently located in the city centre.

Most hostels offer multiple types of accommodation from dorms to individual rooms to apartments. Prices start from 4 USD person/night.

Staff hotels: This is a type of accommodation where employees stay when they are delegated to work away from their place of living. Places are clean but amenities and facilities are very basic. Usually you can negotiate the price the longer you stay. Prices start from 6 USD person/night.
Private lodging: It is an individual room in someone's private house. You stay and share amenities and facilities with the hosting family. Prices start from 9 USD person/night.
Bed & Breakfast: This option offers generally individual rooms along with breakfast. Prices start from 13 USD person/night. 
Student dorms: Individual rooms offered there during summer holidays and on weekends during the academic year if available. Prices start from 18 USD person/night in a double room, and 23 USD per night in a single room.
Other options include accommodation found on websites like Airbnb, booking.com, hotels.com, etc.
Warsaw Visa
Poland is a party to the Schengen Agreement and a member of the European Union.  Digital nomads from an EU, a Schengen Area country and a few other associated European countries, can enter and leave Poland easily under the free movement of people, with no border controls between member states. It is also possible to settle here for an unlimited amount of time. 
Some nationals who come from outside of the EU and Schengen Area (e.g. Canada, USA, UK, Australia, Brazil) may enter the Schengen states for short stays (usually 90 days in any 180-day period) without a visa. However, there is a list of other countries whose citizens have to apply for a tourist visa which is usually valid for 90 days. 
It is worth mentioning that once a person already holds a visa for another Schengen Area member state, then this will remain valid until its expiry date when entering Warsaw. The passport needs to be valid for at least 3 months beyond return date, otherwise one may be refused entry. 
Depending on the country where you are from, there are varying rules for the access, so be sure to look up the specific requirements for your case before you travel on the website of the Polish embassy in your country.
Due to Covid-19, temporary restrictionshave been introduced on the entry of third-country nationals without the right of free movement for non-essential travels.
Culture and Food in Warsaw
Cuisine
Food in Poland is not something to joke about. Traditional Polish cookery is a fusion of various influences from other cuisines and can be a real calories bomb, but once you try it, you will not be able to resist it. The cuisine is rich in different kinds of meat and renowned for delicious bread. 
The most common ingredients used in Polish dishes are potatoes in any form (Polish people love them!), beetroots, sauerkraut, cucumbers (pickles and gherkins), mushrooms, sausages, sour cream and different herbs and spices (marjoram, dill, caraway, parsley and pepper). 
Pierogi: probably the most beloved and delicious Polish dish one can think of, yet a very simple one: crescent-shaped dumplings stuffed with mushrooms, sauerkraut, minced meat, mashed potatoes and cottage cheese, or seasonal fruits during summer. 
The cuisine is famous for all sorts of soups and the winning one is broth (chicken soup) with tiny macaroni. It is traditionally eaten for Sunday lunch. Another favourite dish is gołąbki (literally means "little pigeons") but these are rolled cabbage leaves stuffed with minced pork and rice, then boiled and topped with tomato sauce. 
In the Polish cuisine almost everything can be pickled: cabbage, mushrooms, cucumbers, garlic. Those who are not used to tangy taste, usually decide to pass on trying fermented food like pickles or sauerkraut. Apart from being very tasty, pickles are healthy due to probiotics present in the food. 
Sandwiches for breakfast are nothing unusual in the rest of the world. But Polish sandwiches are open – it is a slice of bread with a topping of your choice but without another slice on top. Then a delicious sandwich-like street food is called "zapiekanka". It is a half of a baguette baked with mushrooms, cheese and ham until crusty. 
In order to savour these delicacies (and more!), look for "Bar mleczny" (Milkbar) first. The food there tastes like at home but it costs next to nothing. The bars have usually very basic interior and amenities but they have a long tradition and are an integral part of Polish culture.
When it comes to beverages, the Poles found another way of preparing potatoes by making vodka, which is considered to be the national drink. There are various brands to be tasted but Wyborowa is considered the best standard vodka but do try flavoured varieties like Zubrówka (bison grass) or Sliwowica (prune). In order to enjoy it, make sure it is well chilled. Another beverage to try is a local beer. Apart from big brands available nation-wide, there are more and more microbreweries springing up all over the country offering unique new tastes. In the past Polish people used to drink a rather unusual beverage – mead. With over a thousand years of history, this slightly forgotten drink of fermented honey and water makes a pleasantly surprising comeback.
Culture
Warsaw's writers, artists, and musicians play a major role in creating the cultural values of the nation. With 30 theatres, 60 cinemas, concert halls and clubs, Warsaw is undoubtedly the cultural centre of Poland. The city is also the seat of such institutions as the National Museum, the Zachęta National Gallery of Art, The National Philharmonic Orchestra and the National Opera draw large crowds. There are numerous specialist museums like POLIN Museum of the History of Polish Jews or Warsaw Rising Museum, and many social, cultural, and educational associations. 
Warsaw has a wide variety of architectural monuments, whether as replicas or originals. One can find excellent examples of architecture from the Gothic, Renaissance, Baroque and Neoclassical periods, all of which are located within walking distance of the centre. 
The city hosts a myriad of events and festivals all year round, among others: The Warsaw Autumn is a festival of contemporary orchestral and choral music. The International Chopin Piano Competition is a prestigious event held every five years in Warsaw, which attracts hundreds of talented pianists and crowds of avid listeners from around the world. The Jewish Culture or the Warsaw International Film Festival are just a few.
The city's most famous building, the Palace of Culture and Science, which is an exhibition centre and office complex, houses many cultural institutions: a multiplex cinema with eight screens, four theatres, two museums (Museum of Evolution and Museum of Technology), offices, bookshops, a large swimming pool, an auditorium hall for 3,000 people called Congress Hall, and an accredited university, Collegium Civitas.
Warsaw Nightlife
You probably have heard of some stereotypes of Poles as heavy drinkers, but Poles are still far behind their neighbours in terms of alcohol consumption. They love lavish weddings, weekend barbecues, birthday, name day celebrations… Every occasion is good to gather with family or friends.
Vodka is by far the most popular drink associated with Slavic countries in general. Poland still has a lot of Polish-owned distilleries producing this type of alcohol, then beer is another popular drink. 
It is important to notice drinking alcohol in public places is forbidden by law, otherwise you can get a ticket for it.
The day after a heavy night of drinking can be a nasty to mind and body. Polish people are not immune to hangovers, but they have figured out how to cure it: drinking pickled cucumber juice, tomato juice or kefir (a kind of heavy yoghurt), and grabbing a kebab after a night out or scrambled eggs at home. Some Poles cultivate a rather silly, but still popular tradition of killing their hangover with a… shot of vodka the day after. 
Warsaw nightlife offers a vibrant selection of bars and clubs, and it is considered as one of the top destinations in Europe. Polish clubs stay open until the dawn. Expect a cover charge at most venues that can range from 1.30-5.20 USD (5-20 PLN) depending on events. Sometimes for the cover charge you can get a free drink at a bar.
If you are new in town and do not know anyone yet but feel like partying, you can join a group of pub crawlers (many online offers).
For a long time Palladium has been considered as one of the best – if not the best – live music venues in the country. The place still keeps on attracting local bands who enjoy a good and reactive crowd of good live music lovers. 
Stodola

: One of the oldest and largest music clubs in Poland, its slogan says it all "more than live music". Founded in the 1950's, this legendary popularised Jazz (50s-60s) and Rock (70s-80s) in Poland. Nowadays it hosts the biggest national and international touring club acts. 

Bank club

:

From the day of launching, thanks to the smooth sounds and stylishly elegant interior, the club became a hit in the town.

Enklawa

: the top location of the city's top night spots on Mazowiecka street. The place keeps up with current club trends, live music and fashion events, which appeals to pretty classy and sassy crowds during weekends. There are 3 bars and a very spacious dancefloor to enjoy, or watch over, from VIP booths. Enklawa's popularity means that you may be asked for invites and passwords to get through, but once inside, you will find a unique atmosphere like no other venue in Warsaw.

Smolna

:

This club situated in the old city centre, took its origin from the Berlin underground techno model

.

The music scene embraces the obscure world of all aspects of electronica.

The View Warsaw

: it is the newly opened Warsaw's first super-chic rooftop (28th floor), nightspot in the heart of the city. Its exclusivity starts right from the streetside: elegant queue, proper looking bouncers, and the red carpet in the lobby. The 360-degree bird's eye view alone is worth the visit. The club hosts A-list DJs and all-night parties al fresco and among guests you can come across many celebrities, business tycoons and the rich and beautiful of the city. It is the place to see and be seen in Warsaw.
If you are one of Latino dances lovers, the city's music stage will not disappoint you. "Teatro Cubano Warsaw", "San Escobar Bar", "Dos Mundos", or "Cuba Libre" are just a few places to mention when you want to move your body. 
For avid sports fans who love to enjoy watching your favourite sport with other enthusiasts, sports bars with big screens, great sound system and the cheering atmosphere, are scattered all over the city.
Things to do in Warsaw
Warsaw has a long tourist season and the city is lovely to visit any time between April and October. The most pleasant times to visit Warsaw run from mid-May till the end of June because it is the warmest and sunniest period of the year. Another great period is September-October, when it is still warm and sunny, and popular places are not crowded with tourists anymore. Those who do not mind the cold and snow will find that Warsaw is a great winter destination.
Extensive recreational facilities exist in and around the city. Several large and many smaller parks provide open space to accommodate a variety of outdoor activities. Indoor and outdoor swimming pools, sport and physical culture centres, and ice rinks are prevalent. Major sporting and other events take place in a number of stadiums.
Elektrownia Powiśle all-in-one complex
A multifunctional centre, including a wide variety of shops, plenty more boutiques, beauty salons, a top floor event space, food market, restaurants and bars. 
One of the night entertainments is the Multimedia Fountain Park. It is a visual delight of music, ranging from Chopin to Lady Gaga, lights – a synchronisation of 295 coloured LED RGB lights and a laser projector, and fountains – 367 nozzles which are capable of firing 800 cubic metres of water 25m into the air over 3,000 square metre pond. 
The shows run from May until September and the Winter Illumination runs from December until January. However, the show may not take place if the weather is not favourable.
Copernicus Science Centre
Paying tribute to the great Polish mind, Nicolaus Copernicus, the centre is the largest facility of this kind in Poland. The centre's mission to inspire critical and creative thinking. The centre is located in the beautiful district of Powiśle near the Vistula river and is a must-see for those visiting with kids. 
POLIN Museum & Ghetto Uprising monument
The impressive POLIN Museum, awarded the Museum of the Year Award in 2016, documents the history of the Jewish diaspora in Poland. the award-winning POLIN Museum of the History of Polish Jews – a vast testament to the rich history of the Jewish community in Poland, spanning a millennium.
Located in the always-busy Krakowskie Przedmieście Street, known to every tourist who has ever visited Warsaw. The promenade starting with the Nowy Świat Street leads from the city centre straight into the Old Town and the Royal Castle.
Located in the poshest district of Warsaw, its park, gardens and a lake, are an ideal place for mixing culture and leisure on the high-end level. The palace is one of Poland's most important monuments. It was built for king John III Sobieski in the last quarter of the 17th century in the suburban Baroque style, and the first museum was opened in 1805. The palace survived Poland's partitions and both World Wars. 
The palace and park in Wilanów host cultural events and concerts, including Summer Royal Concerts in the Rose Garden and the International Summer Early Music Academy. Behind the Palace you can find seasonal gondolas with gondoliers and rowing boats which you can hire for leisurely trips on the water between May and the end of August 
The village of Żelazowa Wola
One of the most recognised artists from Poland is Frederic Chopin. The composer's birthplace and park in the village of Żelazowa Wola (about 50 kilometres away from Warsaw) is a must-see for any Chopin enthusiast. Here you can find a small museum devoted to the composer and relax while listening to piano recitals in a beautiful scenery. When he was just a few months old, Chopin's parents moved to Warsaw. The family resided in several places in Warsaw, Commemorative plaques and musical benches which play Chopin's music on demand, mark all the important locations to help tourists follow the steps of the famous composer.
There is no summer in Warsaw without Chopin concerts in the Łazienki Park. The tradition dates back to 1959 – every Sunday afternoon from May till late September, hundreds of listeners gathered in the most favourite park in the city, immerse in the soothing music, enjoy the sun and the unique atmosphere of the place. 
In recent years the Vistula River Bank has become the heart of Warsaw's summer leisure time. During the day it's a perfect spot for cycling, skateboarding and simply relaxing on the grass by the water. The Vistula Boulevards are considered to be one the best in Europe. One can choose to walk, ride a bike, or skate along the boulevard or if it gets cold, find an indoor riverfront cafe to sit in and enjoy the views.
Every year the local government transforms more areas along the river banks into summer leisure locations with beaches accessing safe spots for swimming. The spots are: Saska Kępa beach, Białołęka beach, Poniatówka beach, Praga District beach, and La Playa beach. The latter is the most famous and fun: during the day you can relax and unwind on a deckchair or sweat a bit while playing beach volleyball, at night you can join salsa or Zumba lessons and continue to enjoy the Latino rhythms until late night hours.
Warsaw is a city packed with all sorts of museums. The most popular of these remain the Frederic Chopin Museum, the Nicolaus Copernicus Museum and the important Warsaw Uprising Museum. These three obvious museums are joined by the National Museum and the Marie Skłodowska Museum.
There are less known and unusual Museums: 
Vodka museum in Praga, an homage to one of Poland's best-loved products, housed inside a neo-Gothic building which used to be the location of a vodka factory. 

Neon museum – Poland's first and only Neon Museum dedicated to the documentation and preservation of Cold War era neon signs. 

Pawiak Prison Museum –

Formerly a prison that was most significantly used by the Nazi occupiers to imprison and even execute Poles, the site of Pawiak now houses a small museum. 

Poster Museum – Founded in the 1960s, it is the oldest and therefore longest running poster museum in the world. It was created with the objective of promoting the creative pursuits of Poland's most talented graphic artists.

Muzeum Czar PRL (Museum of PRL Charm) –

is a real treat for those who want a glimpse of communist times in Poland. The country was known as PRL – Polish People's Republic from 1952 to 1990 and was an important part of the eastern block.
Best Time to Visit Warsaw
The climate of Poland is temperate and you can distinct four seasons during the year, each of them can be highly enjoyable. The climate is characterised by warm (sometimes very hot) summers and cold winters, with temperatures often below freezing. Snow can be found in the mountainous region in the south of the country from December until April. Rain falls throughout the year. However, Warsaw is Europe's sixth driest major city. On average, there are around 1,620 sunshine hours per year and snow cover persists for 50 to 64 days a year in Warsaw.
The city has warm, sunny, sometimes stormy summers. The temperatures are pleasant and suitable for outdoor activities, although sometimes there can be rains and thunderstorms. Every now and then there can be short heat waves, with maximum temperatures exceeding 30°C (86°F) usually in July, which is the warmest month. To bring relief during the hottest days, the local government installs plenty of little water fountains and sprinklers throughout the city
Mostly sunny and crispy autumn season can be unpredictable, prone to sudden weather changes and mist. But usually when it starts, the weather is enjoyable, days are generally sunny and warm but nights can get really chilly. This time in the city is very beautiful and picturesque, with colourful leaves on trees in parks. However, the closer winter gets, the more rainy, chilly and grey days come. 
And then there is winter time. This season is cold and usually cloudy. Snowfalls are frequent, but generally not abundant. Sometimes, cold waves from Siberia can occur, and the temperatures can drop to -20°C (-4°F) or below. However, the average temperature of the coldest month (January) is of -1.8 °C (29 °F).
In spring months (March-May), the weather is lovely and pleasant. The temperatures are mild, there is plenty of sun, the city becomes livelier and nature rebirths after cold winter. Trees get beautifully green, parks, gardens and streets are filled with flourishing colourful flowers. Yet, the weather can be also changeable with lower temperatures, rain, rarely snow.
Warsaw for Families
Warsaw is a city very kids friendly and there are many things to do to keep the whole family entertained. It is quite easy to find something to do with children regardless the age. Parks, festivals, playgrounds in every corner, attractions for kids, and many events nearly every weekend. In many shopping centres there are free playgrounds with young animators who look after the kids. You can leave your child there and go shopping or just spend some time playing together.
In many businesses like cafes, restaurants, and shops there are dedicated corners with toys, crayons and colouring books for their little clients. Besides, the city invests a lot in the kids and all the parks have big playgrounds with sand, safe mats on the ground, and various toys that are helping the kids to develop.
If you want to enjoy some action-packed indoor attractions, there is Hangar 646 for trampolining madness. Hulakula Leisure Centre in the Praga district is an ideal place for both kids and adults to run wild: it has 28 bowling alleys, with special lanes for kids only; 8 tables for billiard players; an array of classic arcade game machines, pinball machines and air hockey tables, to name a few. There is a soft-toy toddler zone for the little ones, and for slightly older kids, there's an indoor playground that is full of mazes. They also have music/DJ inside. MK Bowling Entertainment Centre in Galeria Młociny is also a great venue for adults and families with kids. For the sports obsessed children and adults, the PGE National Stadium and Legia Warsaw's stadium offer tours.
Between May and September, one of the best places to spend with your family outdoors, is a playground on the right side of the river, located in the city centre.  It covers over 2000 square metres, and contains grassy theatre for film screenings and concert venues, 3 bars, a new co-working zone (with wifi and electrical sockets), several food stations, and a purpose-built bike track (a pump track & mini velodrome!). 
When it comes to education, there are several options for foreign language speaking children. The most popular language is English, but there are schools with French, German, Spanish or Japanese languages in their curricula. In Warsaw you can choose from 14 English speaking nurseries which are usually connected with preschools/kindergartens. The most popular "KIDS & Co. International Bilingual Kindergarten and Nursery" has 5 locations. 
Then there are 17 English speaking primary to secondary schools, e.g. The International School, Canadian School of Warsaw, International Trilingual School of Warsaw, or Warsaw Montessori School. 
Living in Warsaw
Warsaw Transportation
Warsaw is the hub of main road, rail, and air routes that are of international importance to central and eastern Europe. Despite the quantity and quality of roads in the city has been improving and growing, they are usually congested. There are always some roads around the city which are under construction or alteration. Expressways have been built through the city along the river on both its sides and in the form of a ring road through the inner districts. Once in the city, you can easily notice that car traffic still shares the main streets with a surface tramway system which often causes congestions and confusion.
The Warsaw Frédéric Chopin Airport, with international and domestic service, is in Okęcie, approximately 8 km south of the city centre. From there you can easily get to the city centre by bus, train, taxi, or shuttle bus.
Another airport with a service of low-cost airlines is Warszawa Modlin and it is located 40 km from the city centre.
The public transport in Warsaw is cheap, fast and efficient. Tickets offered by the city transport provider (ZTM) entitle to travel by the metro, day and night buses, and trams.  Ticket machines can be found at all metro stations, most tram stops, newsstands, kiosks, but also online or by a mobile phone. If you are planning to stay in Warsaw for more than a month, then the monthly pass is highly recommended. A monthly pass from the city transport provider (ZTM) gives you unlimited access to the metro, buses, and trams. Currently, there are 2 options available: 30-day tickets which cost 30 USD (110 PLN) or 90-day tickets which cost 75 USD (280 PLN).
Warsaw, as the first city in Poland, has a service of an underground railway system. So far there are 2 lines constructed, one connects northern and southern districts, the other one links eastern and western areas. The service is fast and very punctual. The city has a well-developed network of buses and trams too.
If you do not own a bike but would like to enjoy a ride, Warsaw's public bike-sharing system is well equipped in a couple of thousand bikes to rent from March until November. There are almost 400 stations all over the city, so surely you will find one just round the corner of your flat. The first 20-minute ride is for free each time you rent a bike. Then you can enjoy more than 530 km of cycling routes all over the city. 
If you do not want to be bothered by using public transport nor you drive yourself, then cabs are there for you. It is better to book one ahead than hail it on the street. Many companies have English speaking operators. Then Uber and Taxify apps are the most popular.
If you want to travel within Warsaw and to its suburbs, consider using local trains. You can easily cross the city and get to the airport. Tickets can be purchased at train stations or in ticket machines.
Fitness and Health
Keeping fit and healthy is becoming an objective of more and more people. You can easily notice this healthy trend in parks seeing people running or biking, but also in shopping centres – nowadays almost every shopping centre contains a gym. This is a very smart and convenient idea – the centres are open 7 days a week until late hours, and there are big and generally free car parks. Popular fitness clubs in the city: Calypso, Cityfit, Total fitness, Jatomi, Pure, Zdrofit, or McFit. A monthly pass starts from 21 USD (80 PLN).
For those who prefer to dip in water, the city offers more than 50 public swimming pools, both indoors and outdoors. Additionally, many hotels offer entry to their pools as well to their gyms. In summer, people numerously go to several lakes and bathing places like Zalew Zegrzynski or Czerniakowskie lake. 
Practising yoga is becoming more and more popular, the studios spring up all over the city as well as outdoor classes in parks.
For the two-wheels lovers, there is an interesting option of riding a new 18-mile Vistula Bike Trail. It lets you drop off your bike at one end and kayak back on the river.
The National Stadium, apart from hosting sport and cultural events, offers a range of activities for all winter sports amateurs – two ice rinks, an ice hill and even a curling sheet can be enjoyed from the end of November until the beginning of March.
Warsaw People
As a result of World War II, the multinational population of Warsaw was totally transformed, that is why today the city is composed almost entirely of Poles. For centuries, though, Warsaw was a place where the Polish-speaking Roman Catholic majority lived alongside Jews, Germans, and Russians.  Nowadays, the overwhelming majority of the people are Roman Catholic and Poland is considered to be one of the most homogeneous societies in Europe.
Polish people would describe Varsovians as a bit conceited, always in a hurry, nonchalant, but also open, ambitious, hard-working, active, elegant and open minded. However, apart from that, other features are common for the whole nation.
Polish people are passionate and idealistic as well as practical and resourceful, ambitious yet down-to-earth. All these traits mixed and stirred result in a feeling of restlessness which make people unsatisfied with the current state of things. Naturally they almost boil with energy and they are always ready for some action.
Polish people are not as open as those who come from Latin America, southern Europe or even the US. The distance is quite visible for many newcomers, but if you see it melting away with time – seize this opportunity.
Some say that Polish people are grumpy because they do not smile at strangers in the streets and that complaining is a national sport. The reasons for complaining are endless: hot weather, cold weather, politics, money, work, etc. But the actual reason for this peculiarity is the willingness to make connections with others and deepen the existing ones. So, try not to be put off when you hear some discontent comments while meeting someone for the first time. Also, when you see serious or even sad faces when walking down the street, do not get confused.
Poles are simply not used to interacting with strangers and smiling at people they do not know, without reason. However, it does not mean you should not approach them. Note that if you ever feel lost in an unfamiliar place, Polish people will be more than happy to help you out.
In Poland people are addressed by Pani (Ms) or Pan (Mr) to show respect to them in official situations, but if someone offers you to switch to first names, know that the relationship with the person is being taken to another level. As a bonus, you get to cross your arms with your friend and drink a toast to both of you. It is called Bruderschaft (from German "brotherhood").
In Poland it seems that it was not enough for people to remember all the birthday dates, people also celebrate the Name Days! 
Polish people are huge sport fans. Despite the fact that Polish national team in football is not always doing great, Poles enjoy football as much as every other European nation. They also enjoy watching ski jumping, volleyball, handball, and other sports whenever their compatriots take part in international competitions.
When you are invited to a Polish house, expect the hostess to take it very seriously. Women in Poland love entertaining guests at home as they can show off their hosting and cooking skills. Remember to accept all the food you are being offered, as refusing may result in your hostess' heartbreak.
It is polite in Poland to take off your shoes at your hosts – so they may offer you a pair of slippers for guests. Poles usually have a selection of slippers to choose from whenever somebody visits them, but the idea is slightly… controversial.
Polish people are honest – if you ever lose your wallet in Poland, it is highly likely it will be found and handed back to you.
Warsaw Insurance and Medical Care
The healthcare system in Poland is based on a publicly funded all-inclusive insurance system called the National Health Fund. The right to enjoy free healthcare benefits is provided to a very large number of groups in society. These include workers (also a spouse or children) – it usually means that their health insurance is paid by their employer, students, pensioners, and officially registered unemployed. The self-employed have to declare themselves for insurance.
However, private healthcare use is very extensive in Poland and most employers, together with relocation packages, offer private insurance for expat workers and their families.
All people staying in Poland temporarily, residents of EU countries and the European Economic Area are accorded the same right to healthcare benefits as the Poles. The only condition is to demonstrate that they have the right to healthcare in their country. Therefore, it is important to have an appropriate document with you which is called European Union Health Insurance Card. Foreign students from EU/EEA countries also need to hold a valid passport and a student or doctoral student identity card.
Each insured person has the right to free benefits from all doctor's surgeries and institutions which have a signed contract with the National Health Fund. The basis of the healthcare system is the primary care physicians, who are most commonly specialists in family health. They are responsible for conducting treatment and taking preventive actions for assigned patients. If sickness requires the intervention of a specialist, the first contact doctor issues referral to a hospital or other health care unit. However, it is possible to go to some specialists without a consultation like gynaecologist, oncologist or dentist (dentistry treatment under the insurance is very limited though).
If you require medical help, you should be directed to one of the following institutions:
a hospital;

a clinic which provides basic and specialised healthcare;

an emergency – it provides assistance in case of an accident, an injury, a childbirth, an illness, deterioration of health, or a threat to life. In case of emergency, you can dial the universal European number 112 or Polish emergency telephone number 999;

a medical diagnostic laboratory.
Make sure you are fully covered by reading our full Digital Nomad Travel Insurance guide.
Jobs in Warsaw
If you are considering staying in Poland and working, as an EU citizen you do not require a work permit. However, if you come from outside of the EU, then it is best to obtain a working visa – differently than a tourist visa – in advance. Once you are already in Poland, you can get a temporary residence and work permit or a temporary residence permit in order to perform work in a profession requiring high qualifications. 
A foreigner performing work while being on a tourist visa is infringing the law, which may result in being exposed to a pecuniary penalty and issuing a decision obliging them to leave Poland. The entity delegating illegal work to a foreigner may be held responsible for an offence or crime.
For a non-EU citizen who wants to live in Warsaw temporarily, finding work online and making money remotely may turn out to be a better option than trying to acquire a work permit.
The job market in Warsaw develops very fast and has a great potential. There is a demand for employees in various fields. The unemployment rate by the end of 2020 was just 1.8% If you are a specialist in your field and speak English, French or German fluently, you should not have difficulties with getting a good job. Due to Covid-19, many areas of the economy have been affected but once the restrictions are lifted, the situation is very likely to improve.
The most popular search engines for foreign language speaking jobs are: linkedin.com, jobsinwarsaw.com, careersinpoland.com, but also pracuj.pl, praca.pl, olx.pl.
If you plan on being a digital nomad in Warsaw but also starting or continuing your education, this is the perfect place. Warsaw, after Paris, has the largest number of students, more than 200,000, who study at almost 70 universities and colleges. One can choose from almost 350 programmes. What's more, there are numerous high-quality university degrees which are offered in the English language.
Check out our in-depth Digital Nomads Jobs Postings to find the best jobs available for Digital Nomads.
Nomad Friendly
Value for Money
Internet
Workspace
English
Food
Safety
Health
Transportation
Friendly
Quality of Living
Cost of Living Warsaw
The cost of living in Warsaw is lower than in many other European capitals. As mentioned above, renting may seem to be a bit expensive compared to other Polish cities, but it is much cheaper compared with other European capitals. You can still get around with about 800 USD a month including everything: rent with utilities of around 500 USD, food approximately 180 USD, transportation 21 USD, leisure and workspace 100 USD, letting you save the rest of your salary for your upcoming travels around Poland or neighbouring countries.
The cost of food varies greatly depending on where you shop (a corner shop or a supermarket) or what brands you buy. Fruit and vegetable prices may fluctuate throughout the year due to changing demand and their seasonal availability – that is why tomatoes, for example, can cost anywhere between 1.3 USD (5 PLN) in summer and 4 USD (15 PLN) in winter per kilogramme. In general, the average cost of groceries is noticeably lower in Poland than in western Europe, so if you are used to price levels in the euro area, you will be pleasantly surprised on your first shopping trip in Poland.
When it comes to restaurants and meal delivery services, you can easily find a lot of budget-friendly options in Poland and eat your fill without breaking the bank. Usually it is best to look beyond the touristy areas which tend to be the most expensive and check out online customer reviews to find some great-value restaurants.
Average Food Prices in Poland 2021
Loaf of white bread – 0.80 USD / 3.00 PLN

Butter (200 g) – 1.30 USD / 5.00 PLN

Milk (1 litre) – 0.66 USD / 2.50 PLN

Flavoured yoghurt (150 g) – 0.40 USD / 1.50 PLN

Cheese (150 g) – 1.01 USD / 3.80 PLN

Free-range eggs (10) – 2.39 USD / 9.00 PLN

Cooking oil (1 litre) – 1.59 USD / 6.00 PLN

Spaghetti pasta (500 g) – 1.01 USD / 3.80 PLN

Rice (400 g) – 0.85 USD / 3.20 PLN

Chicken whole (1 kg) – 3.19 USD / 12.00 PLN

Chicken wings (1 kg) – 2.13 USD / 8.00 PLN

Cod fillet (200 g) – 3.19 USD / 12.00 PLN

Potatoes (1 kg) – 0.40 USD / 1.50 PLN

Tomatoes (1 kg) – 2.13 USD / 8.00 PLN

Apples (1 kg) – 0.66 USD / 2.50 PLN

Bananas (1 kg) – 1.33 USD / 5.00 PLN

Oranges (1 kg) – 1.59 USD / 6.00 PLN

Tea bags (100) – 4.25 USD / 16.00 PLN

Ground coffee (250 g) – 3.19 USD / 12.00 PLN

Mineral water (1.5 litres) – 0.45 USD / 1.7 USD

Orange juice (1 litre) – 1.06 USD / 4.00 PLN

Bar of chocolate – 0.93 USD / 3.50 PLN
Eating out/take-aways
Pizza – 7.97 USD / 30.00 PLN

Cheeseburger – 1.20 USD / 4.50 PLN

Coffee to go – 3.19 USD / 12.00 PLN

Two-course meal (soup + main course) – 7.97 USD / 30.00 PLN