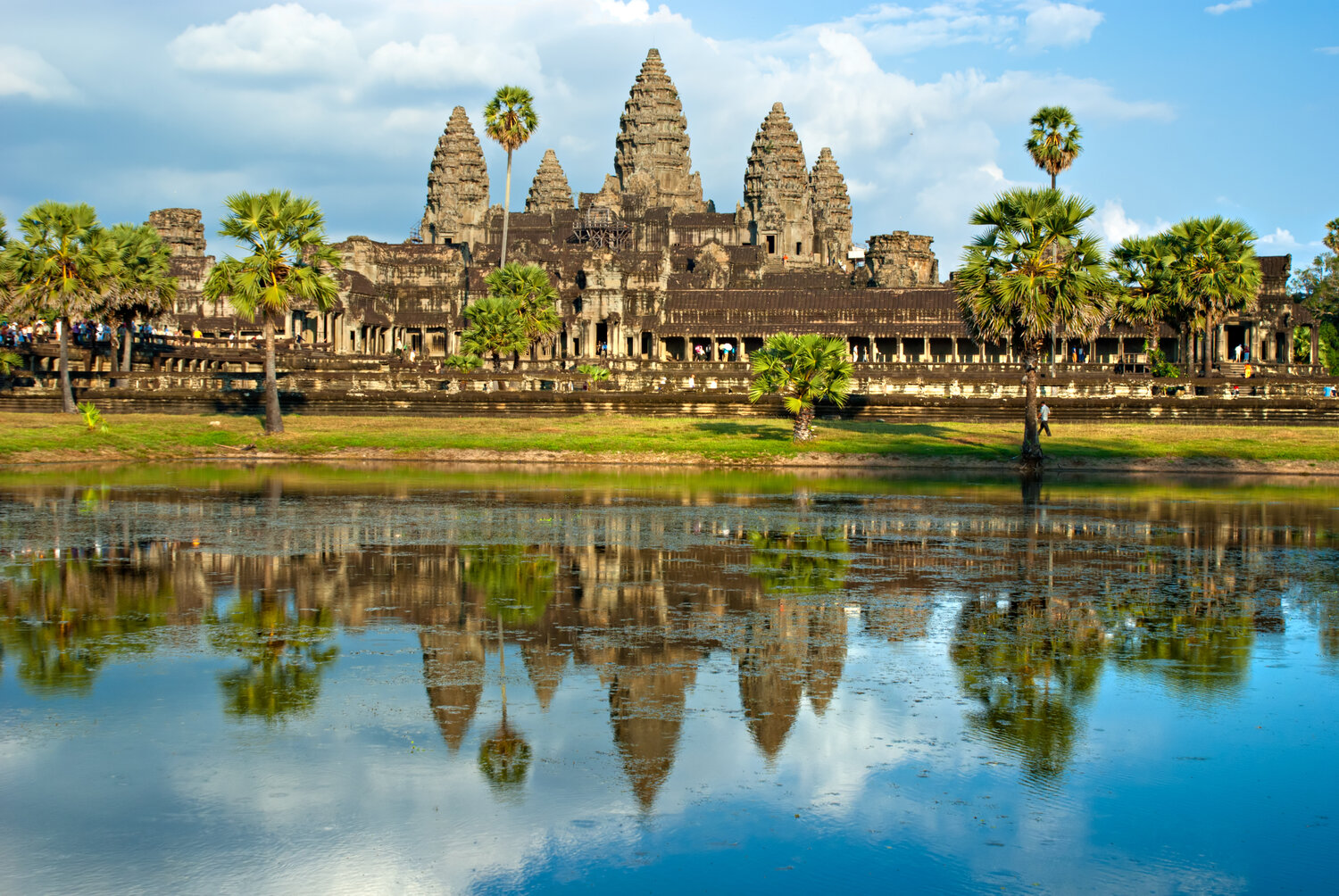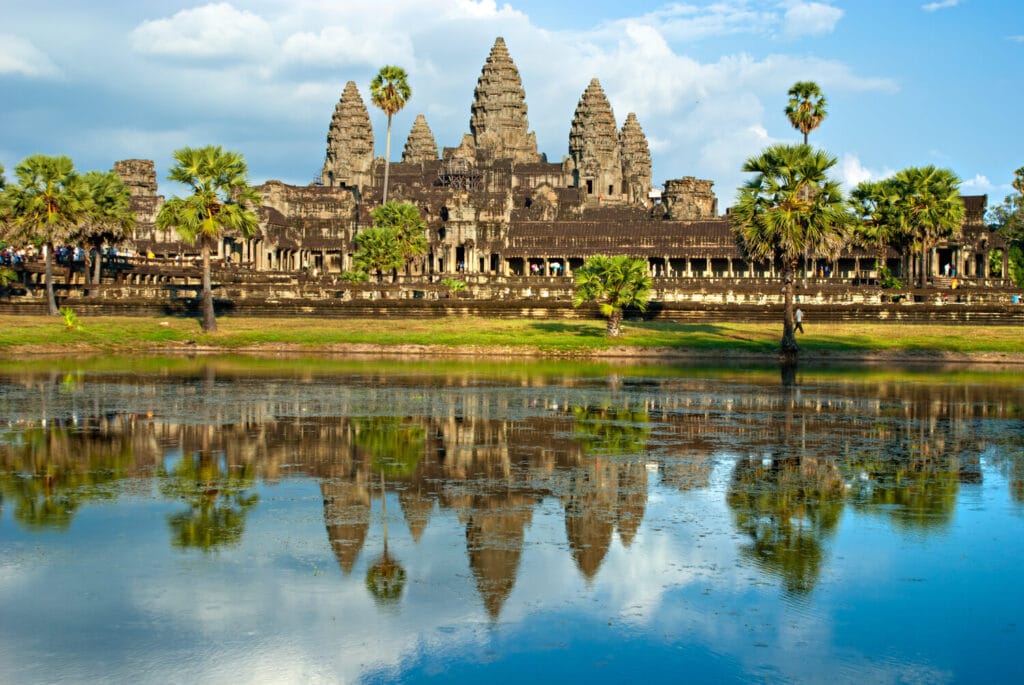 A Digital Nomad Guide to Siem Reap
Siem Reap or, as it's officially known, Krong Siem Reap, is a beautiful tourist hotspot surrounded by rice paddies and ancient temples in northwestern Cambodia that's hugely popular with backpackers and digital nomads. Known especially for being the gateway to Angkor Archaeological Park, Siem Reap is a brilliant spot for anyone with a taste for culture, history, art or food. 
The population of Siem Reap Province is around one million, but that's growing at a rate of around 2.5% each year. Of course, like any tourist-friendly city, numbers swell particularly during high season, but even when the city is full to the brim, it still maintains an almost village-like feel.
Around 95% of people in Siem Reap are ethnically Khmer, and the remaining 5% are made up of ethnic Vietnamese, Chinese and Cham. Its large digital nomad population spans people from all over the world, particularly French, North American and Australian. Due to the country's tragic history, Siem Reap in particular has a very small older population, and only 10 years ago, 34% of the population was under 17. Only a tiny 5% of the population is over 65. 
What this does mean is that the city is modern and forward-focused: Siem Reap has a great startup scene and its population generally speaks a reasonable amount of English. This makes it a great spot for digital nomads, fusing two important elements of the lifestyle. 
It's easy as a digital nomad to live a high quality lifestyle in Siem Reap. Prices here are low compared to other spots across Southeast Asia (and the world as a whole) and the country's hospitable nature means locals are always willing to help out. A diverse city filled to the brim with culture, Siem Reap is arguably the best spot in Cambodia for digital nomads looking for a brilliant change of scenery.
Nomad Friendly
Value for Money
Internet
Workspace
English
Food
Safety
Health
Transportation
Friendly
Quality of Living
Living in Siem Reap Overview
| | |
| --- | --- |
|  Meal, Inexpensive Restaurant | $2.00 |
| Domestic Beer (1 pint draught) | $0.88 |
| Cappuccino (regular) | $1.75 |
| Loaf of Fresh White Bread (1 lb) | $1.16 |
| Water (1.5 liter bottle) | $0.62 |
| One-way Ticket (Local Transport) | $1.75 |
| Basic Utilities (Monthly) | $89.33 |
| Internet | $43.75 |
| Fitness Club (Monthly) | $41.00 |
| Apartment (1 bedroom) in City Centre | $311.67 |
Currency: Indonesian rupiah (Rp)
[erw_exchange_rates_widget lg="en" tz="0″ fm="IDR" to="EUR,USD,GBP,AUD,JPY,RUB" st="primary" cd="" am="15000″][/erw_exchange_rates_widget]
ATMs
Max Withdrawal: Rp 3,000,000
Withdrawal Fee: Rp 30,000 – Rp 50,000
Use of Credit Cards: Mostly Cash
Digital Nomad Personal Experience in Siem Reap
Siem Reap was undoubtedly my favourite part of Cambodia. More laidback than Phnom Penh but with more energy (and a bigger digital nomad community) than other spots like sleepy Kampot or beachy Sihanoukville, Siem Reap was where I spent the most of my time while exploring Cambodia and it's definitely somewhere I'll return to. It's one of the few places I've visited where I immediately felt comfortable, thanks to the country's relaxed way of life and friendliness towards foreigners. 
I particularly loved Siem Reap for its creativity and culture. If you're someone, like me, who loves exploring, learning about different places and simply wandering around with the intention of getting lost, Siem Reap is perfect. Its winding streets and bustling shops are the perfect backdrop for anyone looking for adventure. And it doesn't stop there. Surrounding Siem Reap are plenty of smaller towns and villages with their own personalities. This is where you'll discover the authentic side of Siem Reap.
Of course, a big part of being a digital nomad is finding likeminded people in your new temporary home. And I found Siem Reap to be great for that. While I didn't make the most of the variety of coworking spaces in the city, I loved setting up camp for the day in different coffee shops and creative spaces. I found this was a great way to familiarise myself with the city at the start of my time there, and also gave me the chance to meet other digital nomads at the same time. 
I made a lot of friends in Siem Reap through different community activities, most of which took place via hostels. Walking tours, cooking classes and group tuk tuk trips ensured my time in Siem Reap was a perfect fusion of culture and adventure.
Work in Siem Reap
Siem Reap might not have quite as many co-working spaces as other digital nomad hotspots across Southeast Asia but the ones it does have are well-equipped for all sorts of remote work. As well as the city's co-working spaces, there are also plenty of coffee shops and cafes that are happy to cater towards laptop-workers, offering strong WIFI and even stronger coffee for those tackling meetings throughout the day. Most co-working spaces here are located in the middle of the city, while coffee shops and cafes are spread throughout the city, which means you'll almost always find one close to home.
Best Places to Work in Siem Reap
AngkorHUB
AngkorHUB is only a short walk from Sok San Road, making it centrally located and great for co-working. Perfect for those days when you just need concentration with no distractions, AngkorHUB is undoubtedly the most professional co-working place in the city and comes with not only super fast WIFI but also international outlets, strong coffee, Skype booths and air conditioning. Work hard at a desk or chill in a hammock or the garden if you prefer a more casual set up. It's also a brilliant spot for networking, with a constant influx of other remote workers flocking to this co-working space. It's $5 for a one-off pass or $89 for monthly access.
Garage Society
Garage Society has co-working spaces dotted throughout Asia, which means it knows exactly what's necessary for those working remotely across multiple countries. Located in the charming Wat Bo Village area and just a short walk from the Siem Reap River, Garage Siem Reap offers both flexible seats and meeting rooms ideal for larger groups. Not only does it offer all the usuals like fast WIFI, printing, scanning and a range of food and drinks, but it can also look after your mail. Which means if you're between apartments or have only just arrived in the city, it's a great spot for redirecting any packages you might have coming your way. 
BioLAB Coffee and Office
BioLAB Coffee and Office is relaxed and modern, offering a perfect midpoint between professional office vibes and the ideal, chilled out set up that many digital nomads prefer. Another centrally located spot, its name highlights the two things it does best: a great office space and equally as great coffee. BioLAB Coffee and Office is popular with locals as well as travellers, expats and digital nomads, which means there are always interesting conversations going on around you. It has printing and scanning facilities, indoor and outdoor seating, and private bookable rooms for meetings. Hot-desking here costs around $75 per month.
Footprint Cafe's Hub
Footprint Cafe's Hub is one of Siem Reap's newer co-working spaces, filled to the brim with all the necessary features for a successful day of working. This is a co-working space that was created to be exactly that: it started out as a cafe before branching out – upwards – into a separate co-working space designed with good AC, a refreshing drinks menu and extensive opening hours. Come to Footprint Cafe's Hub not just for working but also for the networking opportunities: it hosts regular Enterprise Talks and events and aims to become a centre for entrepreneurial and social entrepreneurial talent in the coming years. Free tea, coffee and cold drinks are included in memberships here, which cost $5 per entry or $65 for the month.
Some of the best coffee shops for working in include Bang Bang Bakery and Cafe, The Little Red Fox, Noir la Paix, Brown Riverside and Romsai.
Best Places to Live in Siem Reap
Best Neighbourhoods
Siem Reap's budget-friendly prices means it's easy to stay in a central location during your time here. While the city does have different neighbourhoods, most activities here focus around Central Siem Reap. Also known as the Old Market Area or City Centre, Central Siem Reap is a great base for anyone looking to socialise. It's home to Pub Street (and the famous Angkor What? bar) as well as the markets and plenty of other shops. If you're looking for convenience, this is the area to move to. Its location means you'll also find a large range of hotels and hostels here, which is great for familiarising yourself while you find a place to rent for yourself. 
Sivatha Boulevard
Sivatha Boulevard, part of the Old French Quarter, is the place to stay if you have a slightly higher budget and appreciate beautiful architecture. As the name would suggest, the Old French Quarter is home to stunning ex-colonial buildings. Its aesthetically pleasing backdrop means this neighbourhood is also home to Siem Reap's coolest vintage and luxury fashion stores. Come here for window shopping or splashing out if you're heading somewhere fancy.
Wat Bo Road
Across the river you'll find Wat Bo Road, a district that used to be especially popular with budget travellers but nowadays caters more for higher-end visitors and luxury hotels. It's still possible to find reasonably priced accommodation here, but it's not quite as cheap or quite as well located as previously mentioned neighbourhoods. If you're looking for a little more peace and quiet, or you're travelling with children, Wat Bo Road might be a better option than the city centre itself.
Wat Damnak
Wat Damnak is small but mighty: south of the Wat Bo Road area, it's calm and relaxing but still close enough to Pub Street and the other main neighbourhoods. This is an ideal midpoint if you're looking to stay somewhere central without being quite in the middle of it all.
Located to the west of the Old French Quarter, Taphul Village is a popular neighbourhood in Siem Reap for families, especially those with young children. This is one of the safest neighbourhoods (not that the others are particularly known for high crime rates, either) and accommodation here is usually more suitable to families rather than solo travellers.
Find an Apartment in Siem Reap
Apartment hunting in Siem Reap can be straightforward…if you know how to do it. The city is small and friendly, which means choosing a neighbourhood is much easier than in spots like Thailand, where it's almost impossible to know where to start. Most people start their accommodation journey in Siem Reap via Facebook. There are two popular Facebook groups for finding either flatmates or personal accommodation – Siem Reap Real Estate and Expats and locals living in Siem Reap, Cambodia. You'll find a combination of people renting out spare rooms and agents offering to help with your search. Either way: it's important to check out your future home in person rather than trusting the word of your new internet friend. That's not to say that people here will take advantage of you, but more so that you want to get a proper idea of what you're signing up for before you agree to move in.
Agents here are more than happy to drive you around so you can check out multiple properties at once. This can be a great way of looking at extra apartments and houses that aren't yet listed on Facebook. A note on apartments versus houses: apartments are usually more expensive, but come with the added benefit of security and more features like swimming pools and sometimes gyms. Apartments also always have backup generators to combat Siem Reap's power cut problem, which not all houses are equipped with. And, if you're living somewhere as hot as Siem Reap, the last thing you want is to be sweating your way through the night when the power cuts out, again.
There are a few things to check for when searching for your apartment in Siem Reap. Scope out the neighbourhood as a whole at first, so you can see how close it is to your coworking space or favourite cafe along with your gym, favourite restaurants and more. You should also check for things like the strength of the AC unit, the parking facilities and maybe even your neighbours. Screaming children, noisy dogs or nearby chickens can all quickly put a downer on what first seemed like a perfect property. Siem Reap's up and coming nature means there's also often construction work going on throughout the city. Check for nearby building works before signing anything, so as to ensure you're not woken up first thing in the morning by drilling or banging.
Lastly, always negotiate for your apartment. Prices here usually start out higher than the 'real' price and, while it's important not to take advantage or offer ridiculously low sums, most agents and landlords expect a little negotiation. Some even say so in their adverts.
Cheap Places to Stay in Siem Reap
The budget-friendly nature of Siem Reap means it's probably more of a challenge here to find expensive accommodation rather than budget-friendly options. That also means that it's easily possible to find a large range of cheap options when you first arrive in the city, without worrying about low quality rooms or uncomfortable beds. Some of the most popular low budget spots in the centre of Siem Reap include Angkor Heart Bungalow, Bun Kao Guesthouse and Oral D' Angkor. 
Siem Reap is also home to plenty of hostels with varying atmospheres – almost all of which are budget friendly and perfect for settling yourself into a new city. Although the city is renowned for noisy backpackers searching for endless nights out, it's also home to lots of chilled out hostels including White Rabbit Hostel, Onederz Siem Reap, Golden Mango Inn, Lub D Cambodia and Hideout Hostel. If you're not sure where to stay when you first arrive, check into one of the places above. These hostels, with their sociable nature and younger crowd, can also be great for making new friends in the city and discovering more of Siem Reap's alluring nature.
Siem Reap Visa
Most people enter Cambodia on a 30 day tourist or business visa, which are granted as a visa on arrival for many countries. These both cost $30, which must be paid in USD on arrival. Tourist visas can be extended for an extra 30 days, but if you're planning on keeping Cambodia as home for a longer period of time, you'll want to apply for a longer E Visa before you start your journey. 
An E visa has infinite extension possibilities and costs $35 for a 30 day period. If you're planning ahead, the extension of a business visa for a year costs around $300. You can also apply for a multi-entry six month visa when your initial 30 day period is coming to an end. This is a visa designed for those working inside the country and takes around five days to process. In order to apply for one, you'll need your passport and a letter stating that you're looking to stay in Cambodia for work purposes. This is a multiple entry visa that can't be renewed, which means if you want to stay longer than six months, you'll need to apply for a different visa beforehand. 
Longer options include the 6 month to 1 Year Multiple Entry "EB" Business Visa, which can only be granted by a local employer (costs $100 per year + $30 for online application and an agency fee if you use a third party, which is around $70) or "ER" visa, which is essentially a non-working retirement visa for those aged under 55. To claim the latter, you need proof of income. Visas in Cambodia can take upwards of a week to process, so ensure you've saved enough time before your trip to apply. Got questions? The Cambodia Visa and Work Permit Facebook Group is a source of (almost) all knowledge.
Culture and Food in Siem Reap
Much like the rest of Cambodia, traditional food in Siem Reap focuses around rice and noodles. But, heavily influenced by Chinese and French settlers, it's easy to find great food from both countries in this city too, along with a range of impressive restaurants spanning cultures and countries across the globe. 
Fish is also another staple food in Siem Reap, and is often seen in the form of traditional dishes like Prahok – fermented fish mixed with sugar, garlic, and cold rice, Amok Fish – banana leaf-wrapped yellow curry with fish, and Lap Khmer, reminiscent of ceviche. Beef and chicken are also used a lot in Siem Reap and, if you're looking to go all out, you'll find chilli fried insects throughout your time in Siem Reap. 
Those following a vegetarian or vegan diet will find Siem Reap a joy to experience, thanks to the city's traditional focus on vegetables and carbs and fresh, innovative recipes.
Some of Siem Reap's top restaurants for authentic Cambodian dishes include Malis Restaurant, The Kitchen Charcoal and Hunkaar Table & Lounge.
But Siem Reap is also home to plenty of other restaurants. Whatever you're craving, you can likely find it in at least one spot across the city. Some other popular restaurants here include Georges Rhumerie, a delicious French restaurant that's great for birthdays or special occasions, WILD Creative Bar & Eatery – offering a great variety of Asian food (and incredible cocktails to match) and HAVEN, a top spot for vegetarians and vegans in the city. 
Culture
Siem Reap is brilliant for anyone with a taste for discovering culture. A fusion of traditional Khmer mixed with the Indian religions of Buddhism and Hinduism, Siem Reap is generally very laid back and chilled, with a wide range of art, music, history and other cultural elements all worthy of attention in the city. Siem Reap is considered Cambodia's cultural hub and it's hard to go anywhere without stumbling upon something interesting. 
Art
Siem Reap's thriving art scene only continues to grow, with a large number of young creatives influencing the scene with traditional Khmer methods and modernised takes. Siem Reap is actually the hotspot in the country for art, which can be best seen at spots like One Eleven Gallery, Mirage Collective and TRIBE Urban Art Gallery.
Architecture
Its colonial past makes Siem Reap a brilliant place with anyone for an eye for architecture and interesting design. From temples and ruins to simply wandering around the streets, it's always interesting to discover Cambodia's past through its unique designs. Wander around the central district for some of the most varied spots.
Music
Admittedly, the capital city Phnom Penh currently has a larger music scene than Siem Reap, but live music bars here offer a taste of some of the country's coolest artists. If you're interested in music, 60 Road Studios, just a stone's throw from the ancient ruins of Angkor Wat, offers insight into the city's music scene.
History
The country's history can't be overstated. Reading up on the Khmer Rouge should be essential reading before your trip to Cambodia, but if you don't have time, there are endless opportunities within the country to learn more.
Siem Reap Nightlife
Siem Reap is arguably the best place in Cambodia to go for a party. A top spot with the backpacking crowd, it's easy to find nightlife in almost every corner of the city and especially down the famous Pub Street. Nightlife here, while varied, is usually budget-friendly and accessible for all, with no need for dressing up unless you're heading somewhere particularly fancy. It's common to pay no more than $1 for a beer in Siem Reap and many drinks often come cheaper, especially if you visit during happy hour. Saying that: there's never really a bad time to go out for drinks in Siem Reap. As the sun sets across the city, the bars prepare themselves for the evening. And things don't tend to wrap up here until around 4am. Siem Reap is just as much for the "one drink" digital nomads as it is for those who challenge themselves to stay out until the sun comes up. 
Budget nightlife
Angkor What? Bar is the most famous and well known bar in the city, and is usually filled to the brim with foreigners. It was the first ever bar to launch on Pub Street and has been attracting tourists and locals since 1998. 
Other budget friendly bars here include Laundry Bar, Picasso Bar and Soul Train Reggae Bar. Of course, many of Pub Street's famous bars look very similar at night time, so one of the easiest ways to have a stress free night here is simply to start at one end and work your way down to the other, stopping anywhere that looks like it has a good crowd or good music.
Higher end nightlife
Siem Reap nightlife isn't limited to backpacker-esque bar, though. There are lots of other options around if you're looking for a quieter place to catch up with friends or a classy bar with premium spirits and a crowd to match. And Siem Reap's low prices mean that even the higher end bars won't set you back a fortune when it comes to signature cocktails or entry fees. 
The Elephant Bar at Raffles Grand Hotel d'Angkor is one of the fanciest bars in Siem Reap; known for its 1930s colonial architecture, great array of drinks and cigar offerings. Bourbon, cognacs and single malt whiskies can all be found here along with cocktails served in unique glasses. FCC Angkor and Miss Wong Cocktail Bar are two other famous spots for a good cocktail or two.
Even if you're not a big drinker, there's plenty to be explored in Siem Reap at nighttime. Karaoke (known as "KTV" in Cambodia) is very popular here and you'll find bars with loud music all across the centre of the city. High Zone Family Karaoke, right by the Central Market, is one of the biggest and most popular with neon lights and flashing signs. 
It's also easy to find more traditional nightlife here, like Apsara dance performances, Phare Cambodian Circus, locals playing drums and flutes, and sellers wandering around with local dishes to try.
Things to do in Siem Reap
Spend a day at Angkor Archaeological Park

Angkor Wat, as the largest religious structure in the world by land area, is a must-see in Cambodia and is one of the most important archaeological sites of Southeast Asia. In short: you can't visit Siem Reap without spending a day at Angkor Wat. Best pictured first thing in the morning, a day trip here starts before the sun rises and finishes in the afternoon. Come along and explore with a guide for an extensive but not overwhelming adventure, otherwise it's easily possible to spend days on end trying to see everything. Be sure to check out as much of the enormous Buddhist temple complex as you have time for.

Explore the Old Markets

Siem Reap is home to plenty of colourful markets, no matter what time of day you find yourself wanting to explore one. These markets form the lifeblood of locals and are a great opportunity to buy Cambodian goods and barter for clothes, accessories and electronics. Phsar means market in Khmer, so whenever you see this sign, you'll know there's plenty to be explored nearby. Some of the best markets in Siem Reap include Phsar Chas (the original Old Market), the Made in Cambodia Market and Phsar Leu Thom Thmey, the city's largest market. Cool night markets to visit include Angkor Night Market, Noon Night Market and Angkor Handicraft Association.

Learn more of the country's history and culture

Siem Reap's colourful history is definitely worth learning about and many would say it's a necessary addition to your time in this city, in order to understand it fully. There are plenty of museums here that'll explain in full detail the history of Siem Reap and the rest of Cambodia. Angkor National Museum is one of the most popular, along with the War Museum Cambodia and Cambodia War Remnant Museum. You can also branch out more into Cambodian cultural history with a trip to the Angkor Silk Farm or visit ArtBox, the biggest-scale trick art museum in the world, for a lighthearted afternoon.

Chill out on a spa day

Budget spa days are another Siem Reap essential in a country that's known for its brilliant massage. There are endless spas dotted throughout the city, offering everything from holistic facials and traditional massages to body treatments and nail services. Head to a standalone spa for a budget-friendly version, or splash out at a hotel spa for a full day of luxury. Expect western-standard treatments infused with local Cambodian ingredients, herbs and spices. Le Meridien Angkor Spa is one of the finest in the city, closely followed by Mudita Spa, Frangipani Spa and Bodia Spa.

Temple-hop your way around

Siem Reap has a stunning array of temples outside of Angkor Wat, many of which date back centuries and have a colourful history to match. Preah Khan is spectacular, surrounded by a wide moat and features walls decorated with intricate carvings. Prasat Banteay Srei is another famous Hindu temple, dating back to the 10th-century with pink sandstones and 3-dimensional carvings. If you're prepared to travel a little further, Koh Ker is the second largest temple town after Angkor and is home to almost 100 different temple ruins. The entry price here is significantly cheaper than to Angkor Archaeological Park.

Head for a drink (or two) on Pub Street

Pub Street is lively, energetic and perpetually full of life. The best place to spend an evening in Siem Reap if you're looking to party, it's an experience just walking from one bar to the next, hearing one blaring track before it merges into another, sipping cheap drinks all the while. Pub Street is also a great spot to meet other digital nomads, thanks to its western-focused music, drinks and prices. All of the backpacker-friendly bars and pubs, packed nightclubs and international restaurants buzz with atmosphere down this road, which means you're almost guaranteed a fun night.

Watch the famous Phare Circus

Cambodia and the circus go hand in hand. Phare, The Cambodian Circus, is the best example of traditional circus in the country. Luckily, it's easy to witness this incredible spectacle in Siem Reap, an amazing and vivid evening of entertainment with vibrant dancers, incredible tricks and intricately weaved theatre, music, dance and modern circus arts that all tell uniquely Cambodian stories. The Phare Circus is also a community project, helping Cambodia's youth to learn skills and earn an income. Not only does it offer brilliant insight into a whole new style of performing, but it also helps the country's economy by supporting it.

Take a day trip and feel at one with nature

Technically you could spend months in Siem Reap and never run out of things to do. But Cambodia as a country is spectacular and varied, which means some of your best days there will be spent leaving the city. There are plenty of exciting day trips within easy reach like Tonle Sap Lake, where you can see one of Cambodia's natural wonders within a 30 minute drive, to more houses suspended on stilts at the remote floating village of Kampong Khleang. Venture a little further out to the most sacred mountain in Cambodia, Phnom Kulen (or lychee mountain) or head to the west to spend a day exploring Battambang, a town filled with colonial French architecture, the killing caves and the bamboo trains.

Tour the surrounding areas on bicycle

There are plenty of companies to book with who'll spend a day showing you the best that Siem Reap has to offer on a bike… or just hire a bike yourself and work your way through the city, stopping anywhere that looks interesting. There are generalised tours that'll show you a little of everything, or specialised tours focusing on the beautiful countryside and villages, food tours or historic tours. If you've arrived in the city by yourself, these one-day tours can also be a brilliant opportunity for meeting like minded people in Siem Reap.

Chop your way through a traditional cooking class

Cambodian cooking classes are endless fun, even for those who wouldn't consider themselves avid cooks. Most classes here start with a trip to the morning food market, where your group will choose a range of fresh fruits, vegetables and other ingredients before concocting a range of traditional Khmer dishes. Learn the Cambodian methods of preparing and cooking different foods and take away the knowledge to impress your friends with at a later date. This is also a perfect opportunity to learn the best places to source your own vegetables, if you're someone who likes to cook from scratch a lot.
Best Time to Visit Siem Reap
Weather in Siem Reap varies between hot and dry, and hot and wet. Cambodia as a whole is known for its high temperatures, which usually sit between the late 20cs and the mid 30cs (70°F to 95°F). So whenever you choose to visit, you'll want to pack loose clothes to keep yourself somewhat cool. The wet season officially lasts for 9.5 months, from February 15 to November 29, but it peaks from June to October. 
December or January is the best time to visit Siem Reap, when temperatures are somewhere in the middle, the air is less humid and there's less chance of downpour. However, keep in mind that with better weather conditions comes a higher number of tourists, which means that December and January are peak tourist months in Cambodia, particularly Siem Reap (and Phnom Penh) and so prices are a little higher. 
If you're not afraid to brave the rain – and Cambodia is still beautiful even when the heavens open – come during the rest of the year and experience Siem Reap as the locals do. April and May can get very hot in Siem Reap, when the humidity starts to step up a notch. Be prepared for ever-changing weather and bring an umbrella.
Siem Reap for Families
Siem Reap is by no means the most family friendly spot in Southeast Asia but there are plenty of options here when it comes to international schools, entertainment and keeping day to day life with children relatively smooth. Siem Reap is home to lots of different international schools, most of which teach in English. 
Tree House is considered the best school for children aged up to 7 years, followed by SGIS (St George's International School) or ISSR (International School of Siem Reap) for the rest of their educational period. Ecole Francaise de Siem Reap is a well-respected and established French-speaking school, and USAIS (USA International School) fuses an Australian-American curriculum to cover a little of everything. Many activities in Siem Reap are child-friendly and the city is very walkable, even with a stroller. 
The artisanal nature of Siem Reap makes the city great for creative children, and any child who's watched Tomb Raider is sure to love exploring Angkor Wat for a day. Cambodians tend to love children, particularly those with blonde hair, and kids here may be showered with attention and gifts when you're out and about. In terms of day to day life, Siem Reap is one of the best spots in Cambodia for families, with easy access to medical supplies, pharmacies, diapers and formula milk. 
It's also easy here to find child-friendly sunscreen and insect repellant. However, if you're planning on leaving Siem Reap and exploring more of Cambodia outside of the big cities, stock up on all of the above as the rest of the country isn't quite as well-stocked as Siem Reap.
Living in Siem Reap
Siem Reap Transportation
Getting around Siem Reap is an easy experience, due to the fact that the city itself is pretty small and also very walkable. One of the best ways to explore Siem Reap is simply by wandering around and seeing where you end up. However, if the sunshine and heat get too much, there are lots of other ways to explore your surroundings that are cheap, easy and relatively safe.
Tuk tuks
Cambodian tuk tuks – otherwise known as a Remork – are easy to find all over Siem Reap. Essentially trailers strapped to the back of motorbikes, these tuk tuks can hold up to four people and are a great way to see the city as you're working your way through it. Tuk tuks here are cheap and prices are mostly negotiable. It's common to flag down a tuk tuk when walking on the street, and many drivers speak a little English. Individual journeys are usually between $3 – $5 or you can book a tuk tuk for an entire day, which usually costs around $40. Some hotels have their own tuk tuks to hand, whose drivers tend to speak a little more English (and sometimes other languages, too) but prices are a little higher. 
Bicycles
A small city means cycling is a great – although perhaps a little sweaty – way of getting from A to B. Many hotels or guesthouses can either lend you a bike for free or at a low cost. You'll find lots of bike rental shops around the centre of the city if your accommodation doesn't have this option. A standard bike will cost you around $2 per day and make sure that price includes a lock and a helmet. 
Taxis
You'll find motorbike taxis and car taxis all over Siem Reap. Like many other spots in Southeast Asia, Grab is commonly used here and is a great option for tourists. There aren't really any particular brands or organisations for taxis here and, while most drivers are safe and crime rates are low, it's a lot simpler to book your motorbike or car through Grab. This is easier from a safety perspective but also from a price perspective: with little in the way of structured organisations in Siem Reap, it's easy to get ripped off when paying for transport. Short motorbike journeys should cost around $1, while cars will set you back around $3 – $6. There's no such thing as a fixed price here except from the airport to the city centre, which is $10. Be prepared to haggle if the price seems higher and always confirm the total price at the beginning of your journey. 
Motorbike hire
Unlike other neighbouring countries, it's not that common to drive yourself around Siem Reap. Hiring a motorbike for personal use was illegal for tourists until 2016, so while it's possible nowadays, it's still not a common choice. Especially when private transport is so cheap and accessible. If you do choose to hire a motorbike, ensure you have the correct driving license and also a good quality helmet. Local police here often keep an eye out for tourists driving illegally. Scooter rental will set you back around $13 – $15 per day for a standard bike, or more for a larger or faster model. Be sure to give your bike a thorough inspection before driving it away and take photos of any dents or scratches the day you rent it, too. 
Fitness and Health
Siem Reap has a large range of gyms and workout spaces to choose from dotted throughout the city. As well as general cardio and strength gyms, the city is also home to specialised spots focusing on individual sports. At the other end of the spectrum, luxury gyms offer an unparalleled experience into the world of Cambodian fitness, complete with spas, saunas and jacuzzis for a relaxing afternoon. 
Gyms here are also reasonably priced compared to other spots in Southeast Asia, with only the premium level workout spaces charging higher or Western prices. Some of the best gyms in Siem Reap include Siem Reap Fit and Angkor Muscle Gym, both of which are $1 per entry, and SC Sports Club Fitness Gym, which charges only $0.50 per session and prides itself on its huge, spacious area for all kinds of training. 
The cheaper gyms might not have as much in the way of cardio equipment but they're still suitably kitted out for general training. Angkor Fight Club specializes in Khmer boxing, if you're looking to step things up a notch with more traditional workouts, or head to Sokha Angkor Resort or Raffles Grand Hotel d'Angkor for the full works. 
Searching for something in the middle? Angkor Inter Fitness costs $5 a session or cheaper for longer memberships and is brilliant for cardio, strength or class workouts. Most of these gyms also offer yoga, pilates, aerobics and more.
Siem Reap People
The people in Siem Reap are renowned for being friendly – much like the rest of Cambodia. The country as a whole has a very hospitable nature, which means even if you're stranded in the middle of nowhere without a clue what the signs in front of you are saying, you're sure to be pointed in the right direction by a friendly local. The people in Siem Reap are particularly friendly, partially due to the density of the city but also due to its large backpacker and digital nomad community. People in Siem Reap generally speak a higher level of English than elsewhere in Cambodia, except in the capital city of Phnom Penh.
Cambodian people are very proud of their country and will almost always offer stories and recommendations to guide you during your time here. It's common – especially in Siem Reap – to befriend Cambodian locals and be taken on unofficial tours of everything this city has to offer in the way of local dishes, incredible sights and other windows into their culture. 
Cambodian craftsmanship is also a huge part of the culture in Siem Reap, which means you'll often spot locals sitting on the streets carving something or other. While they might not always speak a high level of English, a friendly smile and a quick demonstration will give you insight into this way of life without the need for language skills. Cambodia is also a less visited tourist hotspot compared to neighbouring places like Thailand and Vietnam, which means the Khmer people are all the more appreciative of those who've chosen Cambodia as a temporary (or, more often than not, permanent) home. 
The vast majority of people in Cambodia are friendly and honest but, like anywhere else in the world, some people are not quite as honest and work by scamming foreigners. Although this is rare, it does happen occasionally. Some of the most common scams here include overcharging for transport and local guides offering services they cannot fulfil. Some other scams – which are even less common – include massages done by multiple women, who then up the price by the amount of masseuses, and those relating to "yabba" (meth), which should be avoided at all costs. 
It's also worth pointing out that, as previously mentioned, Cambodia is a developing country, which means wages are low and many scams are undertaken out of desperation. Supporting drivers with extra pay or using their services often means supporting their families with an income.
Siem Reap Insurance and Medical Care
Digital nomads spending any length of time in Cambodia should invest in both travel insurance and health insurance. However, be aware that many insurance companies may not be willing to pay out for expensive medical care, and cheaper options in Siem Reap and wider Cambodia are not up to scratch compared to Western hospitals and other medical facilities. Most digital nomads opt for travel insurance from big names like World Nomads or Safety Wing, although it's important to read the small print before taking out any policy. When buying your health insurance policy, check to see that there's a med-evac clause, which means if you're seriously ill, your insurance company will pay to evacuate you to another country if needed. This might be the best way to ensure high quality medical care in case of emergencies.
The Royal Angkor International Hospital is renowned for being the best hospital in Siem Reap, with a wide variety of International doctors and a high level of treatment and care. The prices here are on par with European countries, but the medical staff here speak English and are highly trained. Khmer, English, Japanese, Thai, Chinese, French and Vietnamese are all also spoken here. For serious injuries or illnesses, this hospital can transfer patients by helicopter, charter flight or commercial flight to the Bangkok Hospital Medical Centre. Angkor Hospital for Children is another hospital offering a higher level of treatment, although it's only really recommended for minor injuries. Others include Angkor Japan Friendship International Hospital, Neak Tep Hospital and Ly Sreyvyna Clinic, the latter of which is owned by American and Singaporean doctors.
Make sure you are fully covered by reading our full Digital Nomad Travel Insurance guide.
Jobs in Siem Reap
Siem Reap is known for its large digital nomad community but the vast amount of foreigners who work here do so online, remotely. As a developing country, there isn't much in the way of high-paying jobs here for those who don't speak fluent Khmer. The amount of foreigners working in a business in Cambodia cannot exceed 10% of the overall staff, and many who do choose to work here do so within the tourism, hospitality and education industries, where English speaking is likely to be a necessity. 
A lot of foreigners who don't work online work in schools, teaching English as a foreign language. Others work in hostels, hotels and restaurants in the centre of the city. While it's not impossible to get a job in Siem Reap, any foreigner who works here needs to have the correct visa and permission status. In order to legally work in Siem Reap, you must first have a work permit and employment card through the Ministry of Labor and Vocational Training (MLVT). 
A work visa costs around $100 per year and it makes far more sense, if possible, to apply at the beginning of the year as, regardless of when it was issued, a work visa is valid up to December 31 of the year of issuance. Those looking for work in Cambodia often find it through work of mouth and the expat community. The British Chamber of Commerce in Cambodia is also an accessible way to find work: the organisation holds regular events to network as a great business resource for expats from all countries.
Check out our Digital Nomads Jobs Postings to find the best jobs available for Digital Nomads.
Nomad Friendly
Value for Money
Internet
Workspace
English
Food
Safety
Health
Transportation
Friendly
Quality of Living
Cost of Living Siem Reap
Cambodia is still significantly cheaper to live here than many other digital nomad hotspots across the world. Rent is cheaper in Siem Reap than capital city Phnom Penh and groceries, transport and eating out are all a little cheaper, too. Costs are higher than in other cities across Cambodia, mostly due to the westernised nature of Siem Reap. But it's definitely possible for a digital nomad to spend a month in Siem Reap and spend less than $800, or $1000 if you're planning on splashing out on spa treatments, fancy restaurants and expensive gym memberships.