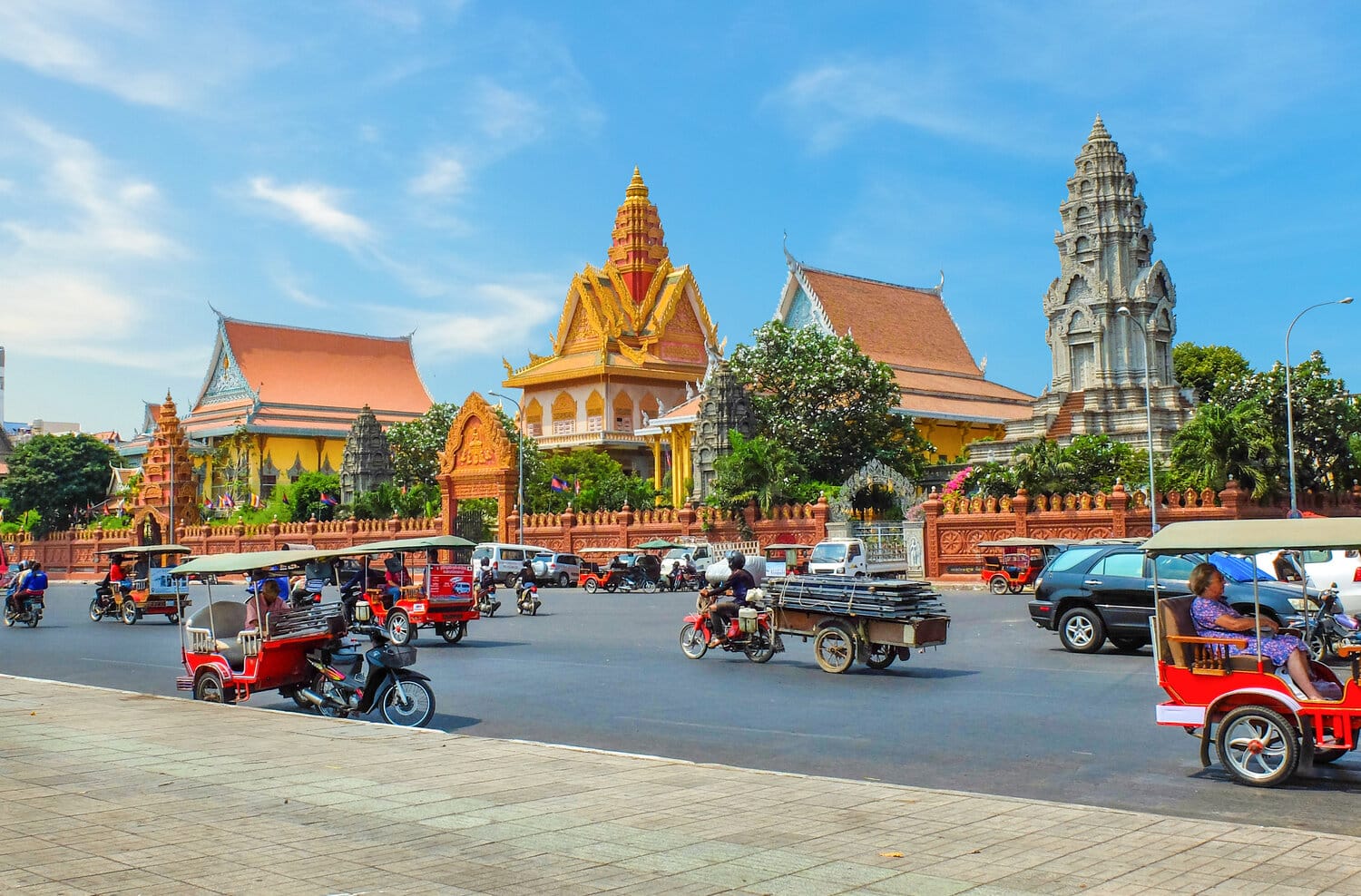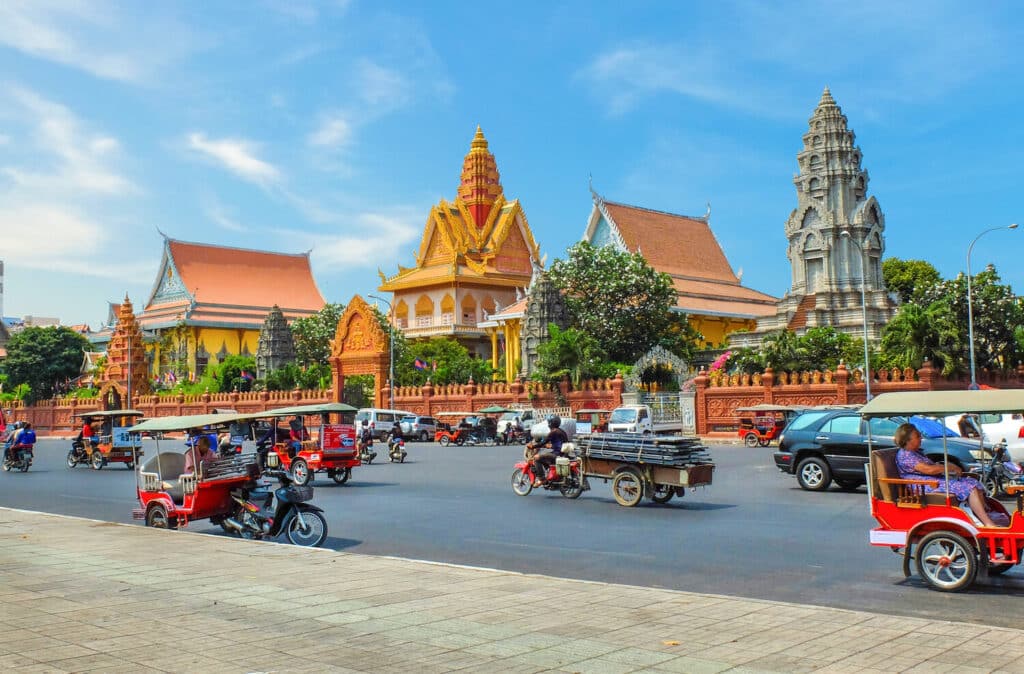 A Digital Nomad Guide to Phnom Penh, Cambodia
Phnom Penh, formerly known as the "Pearl of Asia", was considered one of the most beautiful French-built cities in Indochina in the 1920s. It is the capital of Cambodia since 1865 with French colonization, and the largest populated city in the country. 
On the banks of the Tonlé Sap, Mekong and Bassac rivers, Phnom Penh is home to 14% of the Cambodian population. It is also the economic, industrial and cultural center of the nation.
Although it is currently one of the least beautiful capitals in Southeast Asia, it is also one of the most interesting cities. Traces of the heritage of the Khmer Empire, which dominated part of Southeast Asia between the 10th and 15th centuries, and the beautiful constructions of French colonialism are amalgamated in its streets. Also, the memories of his darkest times during the rule of the Khmer rouges. The city was (unfortunately) the protagonist in one of the cruelest genocides in history. The Khmer Rouge murdered a quarter of the Cambodian population during 1975 and 1979. Today, the capital is a tribute to those who died in order to learn from the mistakes of the past so that they are never made again.
In addition to its history, the city offers an ever-growing infrastructure that provides comfortable coworking spaces, luxury apartments overlooking the river, interesting restaurants and bars, and a energetic nightlife. It is undoubtedly an interesting capital that opens the question of where it is going.
Nomad Friendly
Value for Money
Internet
Workspace
English
Food
Safety
Health
Transportation
Friendly
Quality of Living
Living in Phnom Penh Overview
| | |
| --- | --- |
|  Meal, Inexpensive Restaurant | $3.00 |
| Domestic Beer (1 pint draught) | $1.00 |
| Cappuccino (regular) | $2.39 |
| Loaf of Fresh White Bread (1 lb) | $1.46 |
| Water (1.5 liter bottle) | $0.69 |
| One-way Ticket (Local Transport) | $1.00 |
| Basic Utilities (Monthly) | $103.39 |
| Internet | $30.91 |
| Fitness Club (Monthly) | $63.04 |
| Apartment (1 bedroom) in City Centre | $524.76 |
Currency: Indonesian rupiah (Rp)
[erw_exchange_rates_widget lg="en" tz="0″ fm="IDR" to="EUR,USD,GBP,AUD,JPY,RUB" st="primary" cd="" am="15000″][/erw_exchange_rates_widget]
ATMs
Max Withdrawal: Rp 3,000,000
Withdrawal Fee: Rp 30,000 – Rp 50,000
Use of Credit Cards: Mostly Cash
Digital Nomad Personal Experience in Phnom Penh, Cambodia
Phnom Penh is a city that intrigues me. It is not as touristy as Bangkok and it allowed me much more easily to be able to relate to its culture although I always felt that there was a wall of kindness that did not let me see its inhabitants with their good and bad things.
The city is not spectacular but it has its charm. It has a nice walk in front of the huge Tonle Sap and Mekong River, several interesting temples, markets with strange foods, good restaurants, a crazy nightlife like almost all the places where you find backpackers and some historical places from the recent Khmer Rouge era, like the killing fields and the S21 prison. It is important to know its history to better understand its present.
Its people have always helped me beyond cultural differences and lack of communication due to the fact that many do not speak English. In addition, it is a cheap city depending on the luxuries you want to give yourself since it offers all kinds of prices and amenities, or lack of them depending on your budget. Western luxuries are much cheaper than in other capitals of the world allowing you to have a good lifestyle for much less money.
The first week I had a hard time getting used to the lack of subway and efficient public transportation but then I loved being able to take taxis and tuk-tuks every day. Also, the typical gastronomy in which you can find fried insects.
I think you love or hate Phnom Penh but it has no middle ground. If you are a curious person, you like places that are quite different and you already liked other capitals in the region, I would dare to say that you should go to Phnom Penh at least for a while.
Work in Phnom Penh
Coworking spaces are a new concept in Phnom Penh. However, the community is rapidly developing its infrastructure to become home to remote workers and digital nomads.
Best Places to Work in Phnom Penh
Workspace 1
Among the options available is Workspace 1 (FACTORY Phnom Penh, NR2) which is part of a factory and is located in the south of the city. It has a cozy and harmonious environment, open hotdesk, dedicated hotdesk, dozens of conference rooms, free high-speed wifi, standing desks, photo studio, projector, computer, printer and green screen, and other necessary equipment to get your work done. They offer free beers and coffee, a nap room for lounging, air-conditioned rooms, an outdoor terrace, lounge, meditation room, trampoline, library, art gallery, ping pong table, kitchen, changing room and showers. You can have your private office for 280 USD per month or a dedicated desk for 120 USD.
Emerald HUB
Emerald HUB (PPIU building, 11th floor, 36th building, 169th Street, Veal Vong, 7 Makara), located in the heart of the city, has spacious rooms, on-site cafe, outdoor terrace, library, free parking, events community, training workshops open to all members and 24/7 access. The meeting room is only available to members who have opted for a private room. You can reserve a hotdesk for 60 USD per month, a dedicated desktop for 120 USD, private office for a small team for 330 USD or a private office for a large group for 550 USD per month.
SmallWorld
SmallWorld, housed in a huge villa, offers high-speed wifi, air-conditioned rooms, personal lockers, coffee shop, shared accommodation, living room, outdoor terrace, free coffee and tea. Plus, standing work desks and ping pong table. A hotdesk costs 100 USD per month and a dedicated desktop costs 120 USD per month.
Sahaka Coworking Space
Sahaka Coworking Space (Street 484) is located in a spacious house with high ceilings, lots of light and an interior designed in modern colors. It has a kitchen area, telephone room, meeting rooms for free use, scanner and printer, fully furnished office spaces, free high-speed Wi-Fi, chill-out area, coffee, outdoor terrace, desk and ergonomic chairs. A hotdesk costs 80 USD per month, a dedicated desktop costs 120 USD per month, and a private office costs between 300 and 550 USD per month.
Coworking Today
Coworking Today (# 172BCDE E1 E2, Nehru blvd (st. 215 Phnom Penh) offers flexible workspaces, specialized rooms and private rooms. It has personal lockers, restaurant and snack bar, outdoor terrace, free parking for bicycles and cars, lounge, blazing fast Wi-Fi and private call rooms. Prices for private offices start at 400 USD per month.
The Desk Coworking
The Desk Coworking (Chamkar Mon Tonle Bassac, 206 D Preah Norodom Blvd (41)) provides networking workshops and events and business consultations. It also offers a cafeteria, lounge, personal lockers, free on-site parking, high-speed Wi-Fi, and many more. The price of a hotdesk is 60 USD a month, for a dedicated desktop you will pay around 80 USD a month and for a private office at least 350 USD.
The Green Penthouse
The Green Penthouse (191 Tonle Sap Street Chory Changvar Phnom Penh) features spacious rooms with hanging plants, large windows, high ceilings, and a 360-degree view of the city. This luxury co-living space offers a gym, pool table, relaxation rooms, yoga studio, dance studio and rooftop bar. It is one of the best places in the city so you have to book in advance. Prices for private offices start at 350 USD per month.
Best Places to Live in Phnom Penh, Cambodia
Best Neighbourhoods
Phnom Penh is the largest city in Cambodia. It stretches far and wide and each neighborhood has its own identity. However, while there are many neighborhoods, only a few offer an expat the comforts of Western life. Where you will live will mainly depend on your expat budget and what and how many Western amenities you would like to have.
Sisowath Quay
Among them is Riverside, also called Sisowath Quay, one of the largest and most sought after neighborhoods in Phnom Penh. It is located in the center of the city, it has many luxury western-style apartments, restaurants, bars and views of the riverside. It is also a very expensive place where a rent usually costs between 800 and 1.500 USD per month with the services like wifi, cable, elevator and cleaning included. It is not a neighborhood that I recommend particularly since, in addition to the high prices, it is the area where people tend to go to parties and this makes it less safe.
Boeng Keng Kang 1
Boeng Keng Kang 1 or BKK1 is the second most sought-after neighborhood for expats on a high budget. The apartments usually have western amenities. Here you can enjoy a lot of high-end shops, boutiques, organic food, excellent markets, local restaurants and everything you need. If you are part of an international company, this area has a high concentration of industrial businesses. Prices are similar to Riverside. Please note that BKK1, BKK2 and BKK3 are safe areas to live for expats with many new home developments and fantastic accessibility.
Tonle Bassac
Tonle Bassac is another great expat neighborhood especially trendy with the younger and middle-aged. Here you can find boutiques, bars, cafes and the largest shopping center in the country: the AEON Mall. Prices vary between 600 and 1200 USD per month of rent.
Toul Tompoung
Toul Tompoung is a neighborhood with an interesting mix of modern life, western conveniences, local restaurants, and shops. It is also known as the Russian Market area. It is the least expensive and still expat friendly area in Phnom Penh. It has great views, great atmosphere, amazing food, lots of western style grocery stores, bars and cafes. It is a 20 minute drive south of the city center. Homes range from Khmer-style houses to Western-style apartments, so rental prices also range from 350 to 1.000 USD per month.
Toul Kork
Toul Kork has one of the most recognized universities in Cambodia, the Royal University of Cambodia. This neighborhood also has a wide variety of local and international Montessori schools. For expats with families it is ideal because it is a nice, safe, clean area and away from the crazy nightlife near the riverside. It also has many schools, children's parks, cafes, bars, supermarkets and an international cinema.
Find an Apartment in Phnom Penh
I recommend you to book a room hotel or Airbnb apartment for your first week in Cambodia so that you have time to find your new home and explore the different areas before committing to a lease.
The first place to look for an apartment with Western amenities is the Facebook group "Phnom Penh Housing". Post what you are looking for, your price range and in what area you want to live within Phnom Penh. On the same day you will have multiple offers from different real estate agents who will want to show you the available properties. Ask for photos and directions to see if they are worth visiting. In the group you will also find posts with offers of agents that you can contact. This is the best community to find a great apartment to rent in Cambodia.
Another option is Khmer24, a Cambodia buy and sell platform similar to Craigslist. Here you can find properties to rent or buy in Phnom Penh.
Keep in mind that real estate agents will charge a commission to the owner of the place you rent, so you will not have to pay them yourself. I recommend hiring a real estate agent as they will help you translate and negotiate in Khmer. The rental prices are always negotiable and the agent can help you negotiate since they know the culture and what is a fair price.
When looking for an apartment in Phnom Penh, be sure to ask about the water bill, the electricity bill, any other kind of bills, the quality of the WiFi connection, if it has air conditioning, hot water and a washing machine.
Like any city in Southeast Asia, prices vary greatly depending on what luxuries you want. Keep in mind that hot water and air conditioning are considered luxuries for a large part of the population. For 600 USD you can find a great apartment with western comforts, furniture and security in a great area of ​​Phnom Penh. For 1.200 USD per month you can have access to a modern apartment with western amenities, a swimming pool and private security at the front door. Instead, for 100 to 350 USD you will find rooms in shared houses with roommates, or a private Khmer-style apartment, potentially without a kitchen. It is up to you!
Cheap Places to Stay in Phnom Penh, Cambodia
If you are on a low budget, a shared apartment is the way to go. It's quite easy to find already established shared apartments to join. Apartment shares in Phnom Penh run from 70 to 250 USD for a bedroom in a shared flat. The cheaper ones are usually located outside the center in Khmer-style apartments and sometimes without Western amenities as ovens and kitchen counter space. The more expensive ones are in BKK1 and offer all of the amenities, often including swimming pools and gyms. In a shared apartment situation all housemates split the shared bills. Because of the high cost of electricity and Cambodia's heat, it's good to discuss how the electricity bills will be split. 
To find apartment shares in Phnom Penh, check out the Facebook group "Phnom Penh Housing". Post what you are looking for, your price range and in what area you want to live within Phnom Penh. You can also check the old posts to see if there is something available. This is the best community to find a great apartment to rent or share in Cambodia.
Cambodia Digital Nomad Visa for Phnom Penh
If you apply for a tourist visa, they will give you one with a single entry, not with multiple entries. The tourist visa is given for three months. If you are going to be in Cambodia for more than six months, you must apply for a business visa in which you will get multiple entries.
Citizens of the following countries do not require a visa to enter Cambodia: Laos, the Philippines, Malaysia and Singapore. The rest of the world does.
Citizens of the following countries cannot apply for a visa online and must do so directly at an embassy or upon arrival at a Cambodian international gate: Afghanistan, Algeria, Saudi Arabia, Bangladesh, Iran, Iraq, Pakistan, Sri Lanka, Sudan. Citizens of these countries must also present an invitation letter from a travel company, organization or agency, in addition to presenting the return ticket.
Online visas are a convenient way and the Kingdom of Cambodia is one of the few countries in Southeast Asia that allows countries that do not appear in either of the two previous lists to process it in this way. The visa upon arrival is the other practical option. If you arrive in Cambodia without a visa, you must have the following documents on hand: valid passport for at least six months, recent 5 × 5 photo, payment of the visa (at the same airport), the application form, proof of sufficient funds to your stay in Cambodia, return air ticket, if you are requesting a non-tourist visa you must provide the documents according to what they request (check with the embassy).
Culture and Food in Phnom Penh
The oldest food culture in Southeast Asia is Khmer gastronomy, as Cambodia's cuisine is called. It is influenced by Vietnamese, Thai, Indian and Chinese flavors and traditions. Sadly, much of the country's culinary legacy was lost during the 1970s but today there are many new restaurants trying to make it popular.
Among the classic dishes you can find amok (creamy coconut milk curry served in little banana-leaf boats), lok lak (cubes or slices of beef marinated in paprika, Kampot pepper, tomato and fish sauce with a soft fried egg on top), samlor Korko (spicy Khmer stew traditionally made with pork and lots of leafy greens), lort Char (short, fat rice noodles wok-fried with chive leaves, bean sprouts, and beef), nhoim Troyong Chiek) banana flower salad prepared with loads of fresh herbs , chopped veggies, nuts, and a light sweet-salty-spicy dressing), prahok (fermented fish paste and a Khmer food staple), pong tia koun (fertilized duck eggs steamed and eaten from the shell), grilled frog, Deep-fried tarantula and deep-fried insects.
Between the recommended restaurants is Eleven One (street 460, Tuol Tom Poung & street 334) which uses organic seasonal ingredients whenever possible. It serves delicious smoothies and a good variety of light and healthy meals. I recommend the veal and banana flower salad, veal lok lak and the juicy chicken stir fry with mango. There is also a small vegetarian menu. Prices range from 3 to 5 USD.
If you want to safely try some of Cambodia's most unique ingredients like tarantulas, silkworms and crickets in a fancy place, then Romdeng Restautant (street 174) is the perfect spot to do so. It also features seafood entrees, regional dishes such as Muslim beef curry and vegetarian options. The prices per plate are around 9 USD and service is impeccable.
Malis (No. 136 Street 41) is one of the finest local restaurants in Phnom Penh and is a favorite among Khmer families. I recommend you to go on a Sunday afternoon to feel the authentic Cambodian culture. I recommend you to try Samlor Khmer (noodle soup with lemongrass fish sauce), bor bor (congee), Kuy Teav Malis (pork and prawn noodle soup) and Kep crab with Kampot peppercorns. Breakfast costs 4 USD and lunch and dinner prices range from 8 to 25 USD, but it's worth it!
If you are a vegetarian or vegan, Phnom Penh can be challenging as almost every dish contains fish sauce or shrimp paste. The Corn (No. 26 Street 268) specializes in Khemer cuisine made without meat or dairy. They also offer a great variety of gluten-free meals. Meat or seafood can be added to any dish, but everything on the menu is vegetarian by default. The main dishes are accompanied by black rice. I recommend you try the vegetarian char kroeung and jackfruit and sweet potato curry. Prices vary between 3 and 7 USD.
Phnom Penh Nightlife
Phnom Penh has as great a booming nightlife as any city in the western world. If you went a couple of years ago, forget how it was because the capital changes enormously every year. High-class speakeasy bars, alternative ones, micro-bars, quiet with a river view or with more action, the city offers a wide variety of options to party at night.
Cadillac Bar & Manhattan Lounge (219E Preah Sisowath Quay) is a bar and restaurant in one place. It offers a great atmosphere with laid-back music from the 60s and an extensive food menu. For drinks there are cocktails, ciders, mojitos and a good selection of beers.
Café Zeppelin (No. 13 Street 278) offers cheap drinks, good vibes with heavy metal on vinyl from the 70s and 80s all night long. Its retro furniture and plethora of records take you back in time. The pool table and stage for live shows ensure entertainment.
Long After Dark (No. 86 street 450, Russian Market) has more than 170 vinyls on deck, live sets, 65 types of whiskey, craft beers and cocktails. They also offer vegetarian and vegan dishes.
The first three blocks of Street 136 (Street 136 off Sisowath Quay) are lined with popular bars. Additionally, female (or transgender) company and entertainment can be found at neon-lit venues like Candy Bar. There are also bars and clubs with more traditional entertainment like Sharky's that feature good local bands playing live rock.
At Doors (No. 18 Street, 47 & 48) you can enjoy all musical genres dancing the night away. They present live music from local and international artists with a powerful sound system and a large dance floor. The vintage decor and street art on its walls add it character.
Club Love (No. Street 278, Wat Langka) is an inexpensive place for a night out in the central backpacker district of Phnom Penh. It occupies the top floor of the Duplex Café, where clubbers can enjoy Khmer and Western food before dancing the night away. Here you can dance from hip-hop, trap and house to pop and alternative melodies.
Pontoon (No. 80 Jayavarman 7 St. (172)) is a popular nightclub with a huge dance floor, a bar, and many seating areas. It is open all week and every night it has different music. It also features a popular cabaret and a live drag queen show on Thursdays.
In addition to these recommended places there are many others to spend a fun night and every year more are added. I recommend you to go out, explore and find those new places that have not yet been named on the internet.
Things to do in Phnom Penh, Cambodia
S-21 Museum

You can learn about the cruelty of the Cambodian genocide in the S-21 Museum. This museum is a former school that the Khmer Rouge transformed into a prison and torture center. Between 1975 and 1978 more than 17.000 people passed through this prison where they were interrogated and tortured before being sent to the killing fields. The Khmers kept a close eye on who entered the S-21. You will see photos of men and women of all ages, also of children and even babies. Along with the Hiroshima Atomic Bomb Museum and the Vietnam War Museum, this is surely the most impressive museum in Asia.

killing fields

You can also visit the killing fields, 15 km from Phnom Penh, where the prisoners of the S-21 were taken to be killed. The bodies of 9.000 people were found in 130 mass graves. In the killing fields you will find the covered mass graves, a small museum and a memorial where you can see the bones of many of the victims. I recommend hiring the audio-guide.

National Museum of Cambodia

The National Museum of Cambodia building, built in 1917, is one of the most beautiful in Phnom Penh. The museum houses one of the world's largest collections of Khmer cultural material. There you can enjoy sculptures, ceramics and ethnographic objects from the prehistoric, pre-Angkorian, Angkorian and post-Angkorian periods.

Royal Palace

Nearby is the Royal Palace: the main emblem of the Cambodian capital. It is the royal residence since its construction in 1866 when the country's capital was moved from Oudong to Phnom Penh. The Royal Palace is divided into three precincts. The first one is the Throne Room. To the east, you will find the Khemarin Palace where the kings reside. Finally, the third building is the Silver Pagoda which houses various national treasures. Among them, the Buddha of the Future, made of gold and full of diamonds. The floor of the pagoda is covered with silver tiles. It is used for various national and royal ceremonies. In fact, the Kantha Bopha stupa, in the same enclosure, houses the ashes of the Norodom, one of the most illustrious kings of Cambodia. It is very important to respect the dress code: keep your shoulders and knees covered.

Preah Sisowath Quay

One of the most relaxing things to do in Phnom Penh is walking along Preah Sisowath Quay, on a side of the Tonle Sap River. The ideal is to do it during sunrise or sunset to be able to appreciate the colors of the sky. It is the most touristic area of ​​the city and there are many restaurants, massage shops and hotels.

Market

As for the markets, you can stroll through the Phsar Chas Market or be surprised by the beautiful Art Deco building of the Central Market (Psa Thmey). It was built in 1937 and used to be the largest market in Southeast Asia. Today it is the most important market in the city and you can find there all kind of things. It is a good place to eat good cheap local food. The Night Market, in the Riverside area, is a clothing and food market with a stage where they sing Cambodian pop music. There is a food buying area where you can eat on the floor on top of some bamboo rugs. In the Russian Market they also sell clothes and food but this one is more authentic with its narrower and dirtier passageways.

Moha Montrei Pagoda

Phnom Penh has a big number of curious temples among which is the Moha Montrei Pagoda. It was built in 1970, a few years before the Khmer Rouge took over the country. The famous Wat Phnom Temple, which in Cambodian translates as temple of the mountain, is located on the hill of a beautiful park. In 1373, a wealthy widow found four Buddha statues on a tree by the river. To protect these statues, she built a tiny temple on an artificial hill and this place became a sacred space. Today, Wat Phnom is the place where locals come to celebrate the new year. In addition, hundreds of faithful come to pray daily to ask for health and good fortune.

Independence Monument

The Independence Monument is a 37-meter Angkorian stupa that was built in 1958, five years after Cambodia achieved its independence from France to honor this historic moment. Right next door you will find the Buddhist temple of Wat Langka, one of the five original temples founded in the city by Ponhea Yat in 1442. Some days of the week meditation sessions are held. They are supervised by English-speaking monks and admission is free.

Al-Serkal Mosque

The Al-Serkal Mosque is a bit out of the city center, but it's worth it. It was a gift from the Al-Serkal family of the United Arab Emirates. The original mosque was built in 1968. However, the one we can see now dates from 2014.

infinity pool

During hot days you can enjoy the city's infinity pool at the SIM Boutique Hotel. In addition, it has a terrace on the top floor that offers spectacular views of the city. In the afternoon, one of the most special activities is the cruise on the Mekong River. It is the eighth longest river in the world with almost 5.000 kilometers in length. It is born in the Himalayas and empties into the South China Sea.

Isle of Silk

For a day trip, you can go to the Isle of Silk by ferry. In it you can learn about the history of silk weaving and see how the locals live in some towns. The most comfortable way to visit the island is with an organized excursion. The road that surrounds the island is 40 kilometers long, which also allows you to visit its towns and temples on a motorcycle.

Koh Rong

During an entire weekend, you can relax on the paradisiacal beaches of Koh Rong, an island located in the southern part of the country. It has white sand beaches and crystal-clear waters. It is a perfect place to escape from the noise of the city and relax for going back after some days.
Best Time to Visit Phnom Penh
Phnom Penh has a dry tropical savanna climate. It is always hot, both in the dry and wet seasons. Temperatures typically range between 22 and 40 °C, and the climate is subject to tropical monsoons.
The southwest monsoon blows bringing moisture-laden winds inland from the Gulf of Thailand and the Indian Ocean from May to October, which is the rainy and high-humidity season.
The northeast monsoon marks the beginning of the dry season, which lasts from November to March where temperatures can drop as low as 22 °C. The city experiences the highest rainfall from September to October, with an average annual rainfall of 978 mm. In any case, it does not rain for 119 days a year and the driest period is in January and February. Temperatures can approach 40 °C in April.
The best months are November to February, when temperatures, humidity and rainfall are lower.
Phnom Penh for Digital Nomad Families
Cambodia is an increasingly popular tourist destination in Southeast Asia because it is affordable and there are a variety of experiences to enjoy. But it is not as developed as neighboring Thailand or Vietnam. Parents can find most of the things they need in Phnom Penh but if they need something specific it is better to bring it from another country. For example, sunscreen and insect repellent with a suitable SPF or a certain chemical composition. Also, city pharmacies will not necessarily have the drugs that your home country doctor would recommend.
It should also be noted that throughout Southeast Asia there are cases of dengue. This mosquito-borne disease can be deadly and there is no vaccine or cure. It is essential to talk with your doctor about the risk of dengue and how to do everything you can to avoid the bites.
Khmers tend to love children and are kind and helpful to them. This can sometimes be overwhelming for children as they pinch their cheeks, take pictures of them, hug them and hold them. I recommend stepping in firmly but politely if you feel your children's limits are being pushed.
Most expatriate children enter private schools run by ethnic and religious groups such as French, English, Muslim, and Christian. Some of the international schools in Phnom Penh are: International School of Phnom Penh (ISPP) , Cambodia International Academy (CIA), Liberty International School (LIS), Golden Gate American School (GGAS) and iCAN British International Primary & Secondary School.
Living in Phnom Penh
Phnom Penh Transportation
If you have enough time and energy, you can explore the center of Phnom Penh on foot to discover different lifestyles and the atmosphere of the capital. You can also rent a bike for 1 or 2 USD a day so you can go at a leisurely pace.
Another option is to travel around the city on the buses that have been in operation since 2014. There are a total of three routes that pass through the city center and the main places of interest. The lines run from 5.30 to 20.30 hours. A trip usually costs 1.500 riel, about 0.37 USD. To get your bearings, it is convenient to use the mobile application of Stops Near Me, Phnom Penh Bus for Android and IOS, which are available for free.
If you have spare time, riding a pedicab is a romantic, quiet and a safer activity than a motorcycle. It gives you time to enjoy the scenery on both sides of the road. During the day, you can take a Phnom Penh city sightseeing tour on a pedicab for 8-10 USD.
Tuk-tuks are the most popular form of transportation in Phnom Penh among tourists as it is cheaper than a taxi. The ride is comfortable and the streets are less noisy than in other Asian capitals. Its price is usually around 2 USD for short distances and 20 USD per day. Prices sometimes vary according to the number of passengers.
Motorcycle taxis are the fastest means of transport in the city, but it is neither safe nor comfortable. A short trip usually cost 1 USD while a daily rental can cost up to 20 USD during the day. Prices increase at night.
In Phnom Penh, several companies operate taxi businesses and provide 24-hour car service. Taxis charge by meter. There are also some taxis that do not have a meter and you have to negotiate the price in advance. The taxi price is 25-35 USD per day and short-distance traffic in the city starts at around 4-5 USD.
If you take a taxi on the street, you will have to set the price by haggling. Some of them do not even know the city and you will have to understand how to get there together with the driver.
If you come from a country where traffic regulations are strict, prepare to be surprised. Drivers in Cambodia do not respect traffic rules. However, the movement is slow and calm which makes it acceptable.
Fitness and Health
Intercontinental Hotel gym (296 Mao Tse Tung Blvd) is one of the best high-end gyms in Phnom Penh. It has a pool, a sauna, a wide range of cardio and weight equipment, and a small studio with yoga and fitness classes. Prices start at 175 USD.
The Physique Club (313 Sisowath Quay) at the Cambodiana Hotel is a western-style gym with views of the Mekong River visible from the treadmills. It has air conditioning, a sauna, a steam bath and its members can use the hotel's swimming pool.
The Place (11 Pasteur St (Street 51), across from Wat Lanka, BKK1) is a huge gym and Phnom Penh's most popular among expats. There is an outdoor pool, a weight floor, another cardio floor, a weight machine room, and studios for classes that are included in the membership prices. The gym is air-conditioned and is a good option if you don't mind spending money.
SuperFit Fitness and Health Club (341 Mao Tse Toung Blvd) is a modern gym featuring Technogym weight machines, Hammer Strength weights, Octagon exercise station, an outdoor pool and a studio with yoga dance classes, Step Reebok, Metafit, Insanity and Khmer. A one-day visitor-pass with classes and pool included costs 8 USD.
HIIT Fit Phnom Penh offers Metafit workouts early in the morning at Wat Botom Park. High-intensity bodyweight workouts are held on Wednesdays and Fridays at 6:30 a.m. and it costs 4 USD per class.
Paddy's Fight Club (63 Street 294, BKK1) has daily boxing and kickboxing classes at 7 p.m. Classes cost 6 USD for all levels.
Kundalini Yoga Cambodia (52D in Street 454, Toul Tom Pong 2) has open classes and yoga teacher training. Classes are taught in English and Khmer. Foreigners pay USD 9 per class or USD 70 for 10 classes.
Phnom Penh People
Cambodians are friendly, open, kind, they are usually willing to help and it seems that they are always smiling. However, this gives me the feeling that I will never know what they really think and what their true emotions are about what is happening.
The kindness and generosity offered by Cambodians will surprise you because it contrasts with how little they have compared to any expat and how much they offer. Cambodians will warmly welcome you into their homes and they will display incredible hospitality that is hard to find anywhere else in the world.
While the country has advanced since the Khmer Rouge tragedy, you will find many things to remind you of Cambodia's bitter history. Poverty still prevails and beggar children seem to be everywhere. It makes you question yourself even the smallest luxury that you previously considered normal in your day to day.
Cambodians are proud of their country and love to share their culture and heritage like their temples, traditional dance, music, arts and folklore.
Rules and laws are rarely enforced in Cambodia and health and safety are rare. The advantages are the freedom it confers and being able to escape the bureaucratic procedures with money if you don't have a moral problem with that.
In general, you will have a good impression of Cambodians, although if you are inquisitive, you will wonder and be intrigued what it is on their minds.
Phnom Penh Insurance and Medical Care
First of all, it is important to visit a healthcare professional in your home country at least four to six weeks before leaving for Cambodia to verify that you are up to date with all recommended vaccinations and that you are informed of any other preventive measures that It could save you from needing medical assistance.
Although public health facilities in Cambodia are still very low-level, some private clinics and hospitals in Phnom Penh are well equipped and have competent local doctors who studied abroad. However, the service you receive can be of variable quality and cost, so it is important to consult with other expats about where to go and which hospitals to avoid.
Once in Cambodia, my advice is to hire a private health insurance and, for any important medical intervention, to go to Bangkok or Singapore since even many surgeons who studied abroad often do not have the level of knowledge or instruments that one in those countries. However, medical facilities have improved in recent years, and you can now reasonably receive treatment for many conditions in private institutions at international prices. Of course, forget about public hospitals.
In Phnom Penh, the Thai-owned Royal Phnom Penh Hospital is considered the best international hospital. However, it is not cheap, although Cambodian doctors charge less than foreign doctors. Alternatively, Sen Sok University Hospital is a cheaper option that many expats choose.
Dental care tends to be professional and affordable in Phnom Penh. Aesthetic treatments, such as teeth whitening, are also available. It is advisable to ask questions before any procedure, and go to a clinic that is highly recommended by other expats.
Make sure you are fully covered by reading our full Digital Nomad Travel Insurance guide.
Jobs in Phnom Penh
Finding a job once you are in Cambodia is much easier than getting one before you arrive as many companies do not respond if you are not inside the country. On the other hand, if you want a well-paid job, it is much better to apply before entering the country because once inside you will be paid less money.
The easiest way to find a job in Cambodia is through other expats, at the old-fashioned way. There are many networking opportunities and events, particularly in Phnom Penh. That is why it is important, as soon as you get there, to be in contact with expat Facebook groups and with people from different embassies.
You can also keep an eye for job listings on websites like CamHR, Bong Thom Classifieds, Idealist and newspapers in English like Phnom Penh Post which has a print version and an online one. There are also headhunter firms such as Top Recruitment and HR Inc. that look for people primarily for the private sector and consulting sector.
Check out our Digital Nomads Jobs Postings to find the best jobs available for Digital Nomads.
Nomad Friendly
Value for Money
Internet
Workspace
English
Food
Safety
Health
Transportation
Friendly
Quality of Living
Cost of Living Phnom Penh, Cambodia
A typical meal in a Cambodian restaurant costs less than 2 USD but you can also enjoy a first-class dining experience in a western restaurant for 100 USD. The great thing about Phnom Penh is that it has options and amenities for all kinds of budgets.
Cambodia has a huge coffee culture. A cappuccino at a foreign coffee chain costs 3 USD while a locally sourced drink at a street stall costs less than 0.75 USD.
You can rent a luxury apartment with a pool, gym, 24-hour security guard and cleaning service for 500 to 2.000 USD per month, live in a Cambodian-style apartment for 300 USD, or share a house for 200 USD.
Some apartments include all utilities in the rental price, while others charge an additional fee for water, garbage removal, cable TV, and Internet. One thing to keep in mind is that electricity is almost always charged separately and can be expensive. The standard rate is usually 1.000 Riel (0.25 USD) / kilowatt. If you do not use air conditioning and you are very careful with your consumption, you will spend around 70 USD per month in an apartment with one bedroom and a living room.
Getting around Phnom Penh is relatively cheap and easy, and there are many ways to do it. The main method of transportation for expats and locals is tuk-tuks. A city trip shouldn't cost more than 5 USD, and a typical city trip will cost around 1 or 2 USD.
What you will spend in Phnom Penh will depend on what you want your cost of living to be and whether you are looking for western comforts or want to experience a more local way of life.