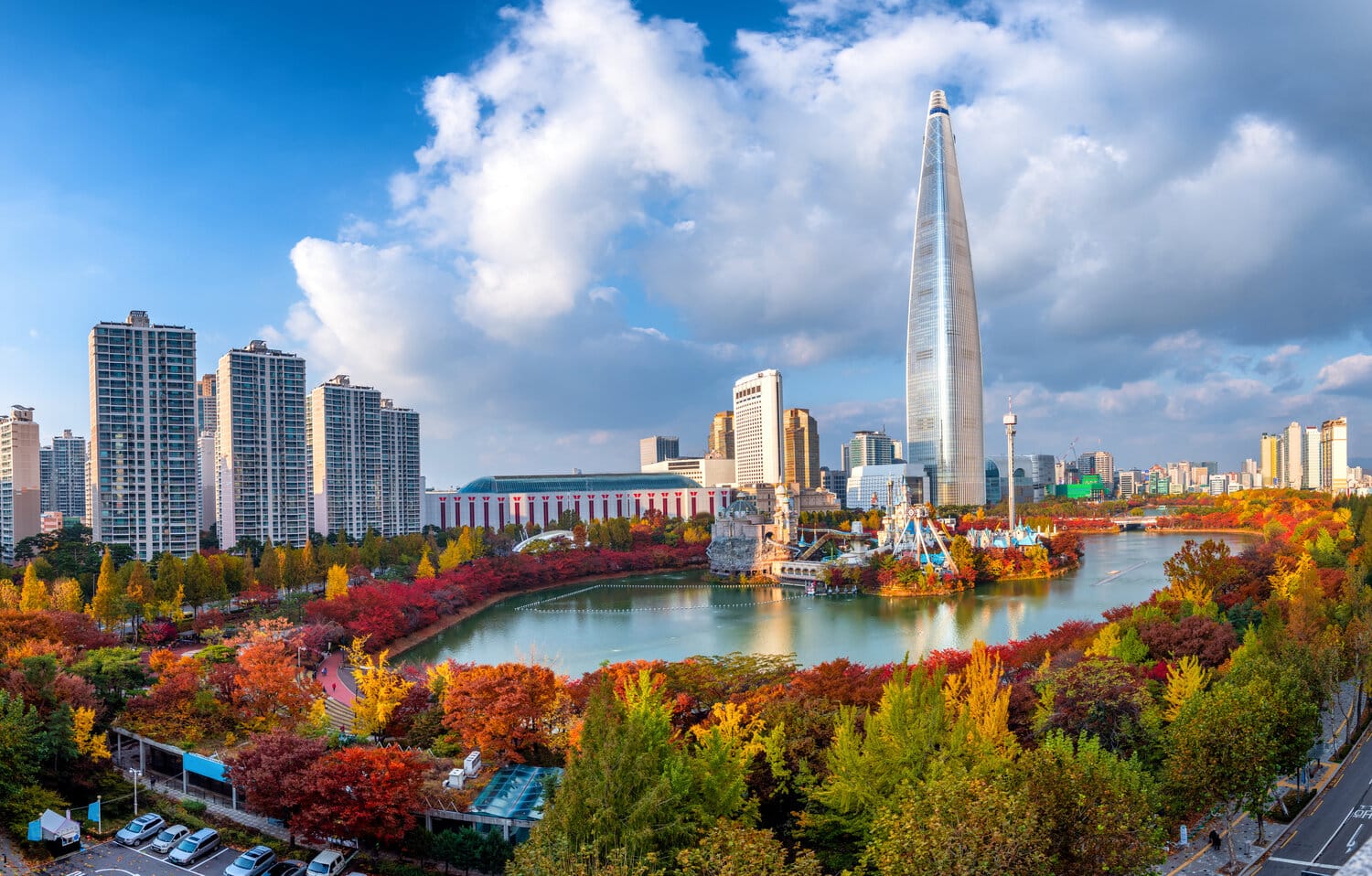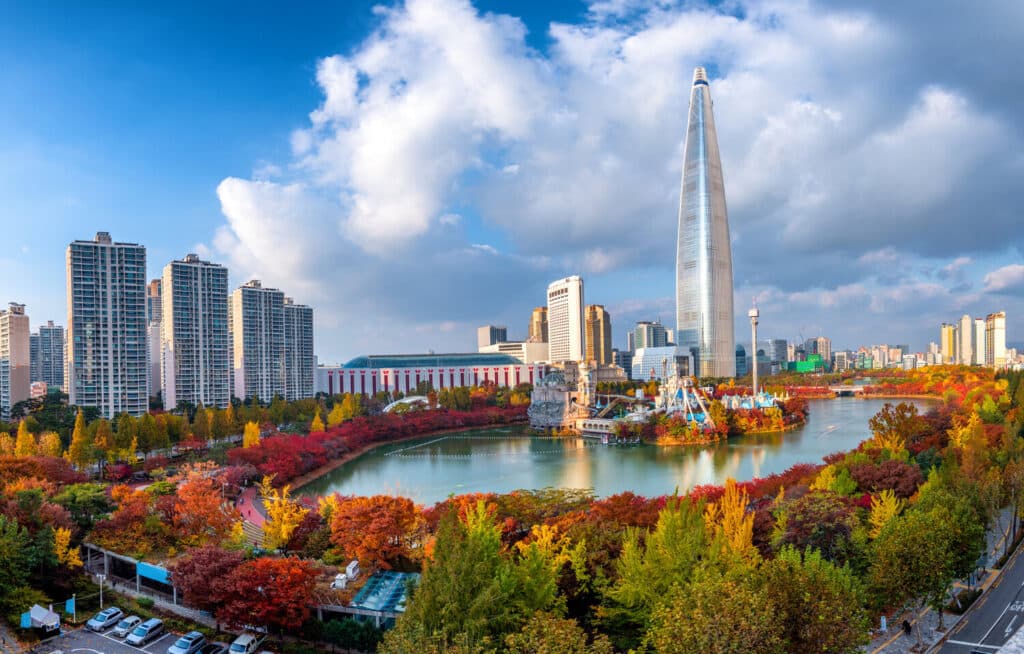 A Digital Nomad Guide to Seoul, South Korea
Seoul is the capitol city of South Korea and it is situated in the north west of the country. South Korea has many beautiful national parks, ancient temples and some of the most developed cities in the world. Although this country has faced many conflicts with its counterpart, North Korea, it still blooms and continues to develop.
As the home of K-POP, Seoul is quite literally the soul of the country and is home to some of Korea's most famous brands such as LG, Samsung and Hyundai. It is a city full of history and tradition, as well as being the epicentre for South Korea's futuristic youth. If you are into fashion then Seoul is the place to be as it is a designer hub and one of the biggest fashion based cities in Asia. As a result of this boom in industry, Seoul is where you will find the creative and business minded youth of the country as it is the hub for any entrepreneur in South Korea.
The currency in Seoul is the South Korean Won (₩), the language is Korean and you will find that not many people speak English or other languages, however due to influences through pop culture it is becoming more popular to learn English.
Nomad Friendly
Value for Money
Internet
Workspace
English
Food
Safety
Health
Transportation
Friendly
Quality of Living
Living in Seoul Overview
| | |
| --- | --- |
|  Meal, Inexpensive Restaurant | $7.70 |
| Domestic Beer (1 pint draught) | $3.85  |
| Cappuccino (regular) | $3.93 |
| Loaf of Fresh White Bread (1 lb) | $3.23 |
| Water (1.5 liter bottle) | $1.08 |
| One-way Ticket (Local Transport) | $1.00 |
| Basic Utilities (Monthly) | $188.49 |
| Internet | $23.57  |
| Fitness Club (Monthly) | $62.28 |
| Apartment (1 bedroom) in City Centre | $794.26 |
| | |
| --- | --- |
| Child Friendly | |
| Cultural Tolerance | |
| LGBTQ Friendly | |
| Traffic Safety | |
| Nightlife | |
| Large DN Community | |
| Young Community | |
| Proper Hygiene | |
| Clean | |
Emergency Numbers
Police
112
Ambulance
119
Fire-fighters
119
Money Handling
Currency

South Korean won

(₩)

Max ATM withdrawal
KRW1,000,000
Tipping
Yes
Communication 
Languages

Korean

Calling code
+82
Time zone

UTC+9

 
Health
Tap Water
Drinkable
Vaccinations
None
Digital Nomad Personal Experience in Seoul
Seoul is a sleepless city with bright lights that run all night, with an energy that is captivating. I spent some time in Seoul between October and November and I fell in love with Korean culture. I had very little knowledge of South Korea before visiting and it was by chance that I ended up there. I stayed in a quiet B and B in the university district of Myeongnyun and this was a nice calm area to be in whilst still being in good range of the heart of the city. I was able to have a private room which had a small desk which is mostly where I worked from. Every morning I would walk to the nearest Coffee Only and smoothie store to get my breakfast, which cost me around $3 USD.
The thing I loved most about Seoul was the food markets as this was where I really got under the skin of the culture and it is where I began to learn about life in South Korea. I found that the food in South Korea is a whole new level of spicy and after sometime of getting used to the heat I fell in love with it. The Gwangjang Market was where I really had the chance to experience Korean food culture and as a world famous market I would highly recommend visiting it at least once!
I also enjoyed visiting museums, galleries, temples and palaces to get more of an understanding of the country's history. Autumn was a wonderful time to visit as the parks were full of the autumnal colour which made a very warming and beautiful atmosphere. I really loved the vibe in Seoul with its contemporary lifestyle crossed with its historical gems that are scattered across the city and it was a great city for just wandering around as I found something exciting on every corner. 
Work in Seoul
Seoul is a bright and buzzing city with a focused entrepreneurial youth, so as a digital nomad you will fit straight into the work ethic of the city. Seoul has one of the fastest internet speeds in the world, so you won't have to worry about upload and download speed anywhere. There are up to 20 different co-working spaces in Seoul all with various features and membership prices. Search engines such as coworker.com are a great way to find a co-working space in Seoul. 
Best Places to Work in Seoul
WeWork
The WeWork brand is popping up all over the world and is becoming one of the most reputable co-working brands out there. However their prices can be a lot higher than more localized co-working spaces as they tend to be aimed at more of the professional or higher end market with higher fees. There are over 10 registered WeWork venues in Seoul so check out their website to find one that suits you. The average price at the WeWork locations are around $330 USD per month for hot-desking, however their prices go upwards from here.
Seoul Startup Hub
Seoul Startup Hub is a startup incubator space provided by the city of Seoul with beautiful interiors and conference and meeting space provided. They also have coffee on the 1st floor and a cafeteria available for 5,000 won. This is a lively place for freelancers and entrepreneurs to come together and be productive.  
SPACES
SPACES. Co-working is a great place for the business minded digital nomad as it is more like an office space with the co-working mind-set. Spaceworks.com is essentially a business operating co-working spaces across the globe and they have 2 locations in South Korea. Gran Seoul and Autoway Tower are the two locations and co-working memberships start at around $213 USD per month.
JUSTCO
JUSTCOGlobal.com is a similar search engine to SPACES, and they have one location which is in Seoul Finance Centre. The best package for daily use costs $333 USD per month, however there are cheaper packages that offer reduced usage time. This space is great for being in the centre around likeminded business owners. JUSTCO also offer events, socials for members as well as 24 hour facilities. 
Other co-working spaces in Seoul include WYATTSPACE and Cow&Dog. As well as co-working spaces there are many cafés that are suitable for working as a digital nomad, so depending on your budget you will find the right setting for your work. Many of the co-working spaces in Seoul are business oriented, with a few being more relaxed and social so you might prefer finding a café; however it will be more difficult to build a community, but great for the digital nomad who likes a change of scene. 
Seoul has hundreds of cafés that offer 24 hour access and free Wi-Fi, so this might be a better option if you are on a lower budget. Some of the best chain cafés for digital nomads to work from are Holly's Coffee, Tom n Tom's, Ediya, Marley Coffee, Angel-In-Us and A Twosome Place. Many coffee shops only serve coffee, as the café culture in South Korea is very unique in that they mostly serve drinks and maybe deserts. So if you are looking for somewhere you can grab a bite to eat whilst working then the best café to look out for is Paris Baguette and Tous Les Jours.
For the more local coffee shops then COFFEE Lab express, Café Contigo, Rolling Pin and CREA Creative Lounge are cute places to work from, with good Wi-Fi and delicious treats.
Best Places to Live in Seoul
Best Neighbourhoods
Seoul is home to around 10 million people and the city is pretty spread out, so choosing somewhere to be based can be simple if you have certain preferences.
Itaewon
Itaewon is the international centre of Seoul, so if you want to be surrounded by English speakers and feel a little more at home, then you might find this area to be more comfortable. This is the nightlife hub and you will find many foreigners here as there are many restaurants and bars to choose from in the area. This isn't the place to be if you want to experience real Korean culture as it is more of the tourist area and it can be quite expensive compared to other parts of the city.
Gangnam
Another international area is Gangnam, made famous by the song "Gangnam Style". It is a fashionable and energetic area of the city. It is a little cheaper than Itaewon and it is located on the south east of the city. 
Dongdaemun
Dongdaemun is an intriguing part of the city that is very stylish and is the heart of modern buildings and technology. The cultural centre and design plaza are located here and it is a very lively area with lots of shopping. There is a big city vibe here but it is also a great place to meet locals.
Hongdae and Mapo
Hongdae and Mapo are the university areas of Seoul, so it really has the life and youth of Seoul. You will find that eating out here is relatively cheap and there is always something going on, whether it be a bit of live K-POP or a cultural event. It is cheaper than other parts of the city as it is designed to accommodate the students of Seoul, so it's a great area to be if you are on a lower budget and want to get to know the locals. Another university area is Heuksok which is located on the south side of the river.
Incheon
Just outside of the city centre is Incheon and it is almost like its own city. As it is away from the centre, prices here are a lot cheaper and it still has everything you need from restaurants to bars and good vibes.
Find an Apartment in Seoul
It isn't hard to find somewhere to stay in Seoul, however you will find that most accommodation is small, because space is what you pay for in Seoul. Airbnb is a great place to start as you will get to see what the average prices are for the different areas of Seoul. 
Most rental agencies will only give out minimum contracts for 1 year in Seoul, so unless you are planning on being there long term, it is best to look at other resources for renting apartments. Another thing to be aware of is that the security deposit in South Korea is often a lot higher than other cities in the world. You should be expecting to pay at least $4,000 USD deposit for a long term rental, and of course you will get the deposit back if the property is in the same condition as when you moved in. It is just a big commitment to make up front and not everyone has that amount laying around for a deposit.
In Seoul there are lots of companies like Airbnb that use apps to advertise apartments. Apps like dabang and jikbang are essentially like Airbnb, where you can view an apartment listing, price, location and view photos of the interior. They will provide you with the realtor's information and from there you can book viewings. This is a good way to get an idea of prices in different areas. 
Craigslist is very popular in Seoul and the prices tend to be a lot cheaper than going through a realtor because you don't have any fees. Also you can use Craigslist in English so this might be an easier way of trying to find somewhere to rent. Another rental website is ziptoss.com which shows rentals in Seoul with prices and fees listed. This is a great resource for finding short term rentals as it allows you to put in your estimated rental time.
On Airbnb you can find private studio apartments or small guest houses for as little as $470 USD per month as many places on Airbnb offer a 50% discount if you book for one whole month. When compared with even some of the cheapest hostel prices this is a lot less if you can commit to being in the same place for 1 month. Some Airbnb's can reach up to $900 USD per month so make sure to shop around.
Other types of private accommodation include rooms in guest houses or hostels or rooms in shared apartments. It is possible to find private rooms or studios in shared blocks for around $600 USD depending on the location. 
Cheap Places to Stay in Seoul
There are many hostels and guest houses in Seoul that are reasonably priced so you will find something to suit your budget. Different areas are priced accordingly, but there are lots of things to consider when booking your accommodation. If you find somewhere cheap to stay, it might be outside of the city so you have to factor in your co-working space cost, as well as transport and possibly even the added time of getting around.
You can find beds in dorms in both hostels and guest houses for as little as $7 USD per night and as little as $18 USD for private rooms. Kimchee and YaKorea are both chain hostels in Seoul and have multiple locations across the city. These budget hostels are great for low priced, high quality accommodation and if you don't like the area that one is in, then you can transfer to one of their other hostels. It is a great way to meet other backpackers or digital nomads too as these are some of the popular hostels on Hostel World. Other good value, highly rated hostels include Time Travellers Party Hostel, Amuse Guest House, High Street Guest House, Philstay, Seoul Mongshang/Seoul Cube and Hongdae Lazy Fox Hostel.
There are also some co-working spaces that offer accommodation too, like Hive Arena however they do not display prices, but you may find that you get a great package deal on a co-working and co-living space.
South Korea Visa for Seoul
South Korea is pretty accessible for most of the world and there are even some special benefits with certain passports as South Korea wants to welcome the world and encourage tourism. 
Many countries fall under the visa waiver agreement and you are not required to obtain a visa before entering South Korea. This includes 43 countries in Europe, 32 in the Americas, 13 in Oceania, 8 in Asia and 16 countries from Africa and the Middle East. There are different lengths of stay for each of these so you will need to check with your embassy or on your governmental site before planning to stay in South Korea. Most nationalities can stay up to 30 days on a tourist visa and some countries have longer.
There are some exceptions like the holiday working visa (H1). This is offered to certain countries that are part of the scheme. The visa allows you to stay for 1 year and work as well as being a tourist. There are restrictions on the certain type of work, so it is advised to check this before applying. There are 26 countries that qualify for this and the list includes some European countries, Australia, USA, Canada and Israel. 
Culture and Food in Seoul
South Korea has a unique selection of specialties and it is a great place for food lovers. Koreans have a love for spice and you will find some of the world's spiciest food here. In contrast they love their sweet dishes too, so expect to find food that is high in sugar and sickly sweet. 
Specialties of South Korea that you should try when there are kimchi, Korean BBQ, bulgogi, bibimbap, gimbap and Ddukbokki. If you drink then you should try soju at least once but take it easy as it is strong.
I found the best place to start was at the markets and trying some street food. Street food and markets are a great way to understand the flavours and local taste of Seoul because this is where the locals eat and where you will find the freshest produce. As well as meat on skewers, Ddukbokki was a common street food dish. It is a rice cake that comes in a spicy and sometimes fishy broth. It is very warming and fills you up for just a couple of dollars.
Some of the best produce and food markets to visit are the world famous Gwangjang Market, Myeongdong Night Market and Tongin Traditional Market. However you will find many scattered throughout the city. These are the best places to go to try some of the more unique Korean foods as well as admiring and buying some local produce. One of my favourite things to try at the Gwangjang market was the pumpkin porridge known as Hobakjuk. It is a great vegan option and they also do different flavours such as red bean porridge and it is a common breakfast dish in Seoul.
I found that I ate at a lot of the smaller independent restaurants and small super markets such as 7 Eleven as they were great to grab a quick bite to eat. One of my favourite little restaurants in the Myeongnyun district was a dumpling restaurant and the kimchi dumplings were so good. These small places are great if you are on a budget too. The best way to find these is by walking the streets and seeing what takes your fancy, there are over 80,000 restaurants in Seoul and that's not even including street food and market vendors.
Korean BBQ is not a great option for vegetarians as it is very meat based, however it is an experience worth having in Seoul. Korean BBQ is essentially a social way of eating, each table will be given a grill on which they grill their own meat and vegetables. Some of the best Korean BBQ places are Maple Tree House, Soegojib, Samwon Garden Restaurant and Wangbijib. This is a typical way to hang out with friends, over a Korean BBQ followed by a few drinks.
Seoul is very accommodating to vegetarians and vegans and you will find that there are around 20 vegan and vegetarian restaurants in Seoul. Due to demand and popularity it is becoming increasingly common to find vegetarian restaurants around Seoul. Some of the top vegetarian and vegan restaurants are Plant, The Bread Blue, Vegetus, Osegye Hyang, Lovinghut Café, Drunken Vegan, The, and Nammi.
Seoul Nightlife
Seoul has a buzzing nightlife and it is a city that is ready to party. There are many forms of evening entertainment in Seoul, from karaoke to nightclubs and bars. You will find that different areas of the city have different vibes, so here is break down of popular things to do in the evening and the best areas to find them.
Nightclubs
Seoul has some incredible nightclubs and if you want to just dance away the night, you will find somewhere that suits your vibe. There are two main areas of nightclubs; you will find that a lot of the high end and more mainstream nightclubs are close to Itaewon-dong, which is pretty much in the centre of Seoul. Another cluster of clubs are over in the west close to Sangsu metro station. Glam Lounge is one of the top rated nightclubs close to Itaewon-dong. Some of the best nightclubs located close to Sangsu metro include HipHop Club Cream, club vurt which is popular for techno and Myeong-Wolgwan.
You will also find some late nightlife over near Gangnum, but there is a lot less selection in this area. Octagon club which is located close to Gangnum, on the south side of the river is a world famous venue and is worth a visit if you like to dance all night.
Most nightclubs charge a cover fee which can be anywhere between $10-$30 USD depending on the location and popularity of the event. It is also quite common for clubs to only allow table reservations and these usually cover entrance fee and drinks in one package. It is best to check the nightclub website beforehand.
LGBTQ Nightlife
There is a huge selection of LGBTQ nightclubs and bars in Seoul, and each one has its own unique vibe. Some of the top rated clubs and bars are Queen, Owoo, MOU, Hotel Pocha, Trance, Gym Club,  and Gnome. There is also an area of Seoul called "Homo Hill" which has been established for decades as the LGBTQ friendly area of Seoul. 
Bars
There is a huge selection of bars in Seoul, from rooftop city bars, to cute cosy local bars because the drinking culture in Seoul is quite popular. Some of the best bars in Seoul are Casa Corona Seoul, Playground rooftop Café and Bar, Beton Brut, Soha Lounge, Craftbros Taphouse and Bottle Shop and Magpie Brewing Co. 
Tours
There is a selection of night tours to suit every personality, whether you want to admire the city lights at night or have a few drinks and make some friends, there will be something fun to suit your preference. For pub crawls seoulpubcrawl.kr is the biggest name in Seoul, offering 3 different pub crawls in the city. Tickets cost around $22 USD and that will get you entry into multiple bars and a club as well as a few drinks tokens. There are various Seoul by Night walking and cycling tours, as well as food tours which can be found on the Seoul Tourism Board website english.visitseoul.net.
Things to do in Seoul
Seoul has a wide variety of things to do from soaking in a bathhouse, shopping for the latest fashion trends or visiting historical temples. There is something to do to suit all budgets and interests and here are some of the most popular things to do.
The Namsan Seoul tower, located in Namsan Park, was originally built in the 1960s for broadcasting, but now it is open to the public as a viewpoint of the city. Tickets cost around $9 USD and it is advised to visit on weekdays as it can get very busy on weekends. There is a cable car to get up to the tower in the park which costs around $6 USD one way. There is also the Namsan Pavilion which often puts on cultural performances.  
Similarly to other parts of Asia themed cafés are popular ways to spend an afternoon. From Hello Kitty to poop, yes you read that right, Poop themed. You will find all kinds of specialized cafés in Seoul, some more appetizing than others. Some of the top themed character cafés in Seoul are the Hello Kitty café in Hongdae and the Line Friends café in Itaewon. If you are looking for something more natural then why not try out Thanks Nature café in Hongdae. They have an earthly theme and even have two resident sheep that you can pet between coffees. Another cute earth themed café is Banana Tree in Itaewon. Here you will be served cakes in flower pots with mini shovels for spoons. Slightly more obscure cafés include Blind Alley in Jung-gu which is a raccoon café and Ddo-Ong Café in Insadong which is a poop themed café. When you are there you will find hundreds of these uniquely themed cafés.
There is a huge selection of Buddhist temples across the city of Seoul, and whether you are religious or not these are some of the most beautiful buildings in the city. Some of the best ones to see, with the most intricate attention to detail are Bongeunsa, Jogyesa, Bongwonsa Temple, and Gilsangsa Temple. These are really beautiful places to visit for a little bit of tranquillity and peace. 
Seoul has multiple palaces and wandering around them is a great way to learn about the history of South Korea. The most popular palaces in Seoul are Gyeongbokgung Palace which has an entrance fee of $3 USD, Deoksugung Palace which has an entrance fee of $1 USD and Changdeokgung Palace which costs around $2.50 USD to get in the palace. Apparently if you are wearing a Hanbok (traditional dress) you can enter the palaces for free!
Seoul is known for its high interest in fashion and make up and has produced some of the biggest brands in the world. Myeong-dong is one of the best places to shop as it has all the latest high street fashion stores as well as cosmetic stores. It is a great way to spend an afternoon, even if you aren't that interested in shopping, it is great for food stalls and cute restaurants. Even if you aren't a fashionista, it is worth checking out some of the shopping districts as you will see traders bargaining with their fabrics and clothes. If anything, it is an interesting window into the fashion industry. The best place to see this is close to Dongdaedomun Design Plaza.
Korean spas and bathhouses are a popular way to spend a relaxing afternoon and they are very affordable. Dragon Hill Spa is one of the biggest in Seoul and for a daytime pass, it will cost around $12 USD per person. These Korean spas are the next level of spa as they often include multiple rooms, each with different temperatures offering a variety of health benefits, multiple hot tubs, some infused with essential oils or tea leaves, meditation rooms, outdoor pools and showering areas. This is a great way to unwind and there are even optional extras such as massages and private relaxation areas.
There are many museums and galleries in Seoul showcasing some of the countries traditions, history and craft. Some of the top art galleries to visit are National Museum of Modern and Contemporary Art, Leeum Museum of Art, D Museum and Seoul Museum of Art. Some of the best museums for understanding South Korea's history are Seoul Museum of History, National Museum of Korea, The National Folk Museum of Korea, War Memorial of Korea and National Museum of Korean Contemporary History.
Dongdaedomun Design Plaza
This is a great place to go to admire futuristic architecture and to immerse yourself in the innovative technological centre of Seoul. Inside the Design Plaza you will find five halls which display different categories of innovation and design. These are the art hall, museum hall, design lab, design market and Dongdaemun history and Culture Park. Visit ddp.or.kr for events and more information. 
So for those of you who are interested in the country's defence and military, then a trip to the DMZ is for you. The DMZ (De-Militarized Zone) is situated just north of Seoul and there are many tour companies running trips to it. The DMZ was established in 1951 when North Korea divided from South Korea. Half day tours from Seoul start at around $45 USD per person, but there are a wide variety of packages available. It is a really interesting place to visit to understand more about the history of the country's divide. 
Best Time to Visit Seoul
Weather in South Korea is easily differentiated through their four seasons and there are minimal regional changes in weather, meaning it is very similar across the country. The best times of year to visit South Korea are in spring between April and June and then again in the autumn between September and November. In these months there will mostly be dry sunny days that are warm.
Temperatures in spring tend to stay around 59-64 F (15-18 C) and it is a great time of year to visit South Korea as the country is in bloom with pink cherry blossoms and endless flora. This is the perfect time of year to visit national parks, for hiking and being in nature.
The summer is a short one and only lasts from July to August with temperatures reaching as high as 86 F (30 C). Although it is the warmest time of year to visit, it is also the wettest. This is when the monsoon rains come and South Korea will experience half its annual rainfall in these two months. South Korea is protected by Japan and China from typhoons so Korea experiences a lot less than surrounding countries. It can also be very humid so summer isn't a great time to visit Seoul.
Autumn is very similar to spring in the fact that there is less rain and milder temperatures averaging around 66-69 F (19-21 C).
It is not advised to visit during the winter unless you love the snow and cold temperatures. In the north of the country temperatures can drop as low as -4 F (-20 C). Which means the country becomes a winter wonderland and is great for skiing.
Seoul for Families
Seoul is a great city for families as it has a lot going on. It is surrounded by culture and history. With South Koreas fantastic rail network, getting out into the countryside is easy.
Children under the age of 6 years often have free entrance into museums, galleries and can ride the subway for free. This helps with keeping costs down whilst keeping the kids entertained. There are lots of things to do with children in Seoul such as walking around the parks and temples or spending a day at a museum. If this starts to get a bit repetitive for them then there are some unique things to do too. Some interesting things to see are the Seoul Sky, Seoul Forest, a family cooking class with OME Cooking Lab and Lotte World Aquarium.
Another great day out is Seoul's Children's Grand Park. There is a zoo, rides and even a concert hall. Ticket prices vary as there are different packages depending on how many rides you want to go on and how long you want to spend in the park. Ticket prices start at around $4 USD per person.
For accommodation it is possible to rent small apartments, but depending on your length of stay it might be more beneficial to stay in a hotel as they will offer more facilities such as day care services, swimming pools, hangout areas and gyms. You may find that renting an apartment is too small for family life and you can get under each other's feet, whereas being in a hotel means you have more space onsite. Some of the best family friendly hotels in Seoul are Four Seasons Hotel Seoul, otte Hotel Seoul, Grand Hyatt Seoul and Jeong Stay Hongdae. As always websites such as airbnb.com or expat.com are great ways to find family friendly accommodation.
There are many schools in Seoul for foreigners, however without any knowledge of Korean your children might find it a little difficult to integrate. Some international schools are Yongsan International School of Seoul and Seoul Foreign School. Many schools offer the USA curriculum and teach from kindergarten upwards.  
Living in Seoul
Seoul Transportation
Seoul has incredible public transport and the city is very well interconnected through its efficient system. There are lots of options all at pretty affordable prices.
The metro is the most convenient and common way of getting around Seoul. Tickets can be purchased from the ticket vending machines found at each station. The cheapest fare starts at $1.10 USD for a journey of up to 10 kilometres (6 miles). 
You can also purchase a T-Money card or Seoul City Pass Plus which both can be used to pay for the metro, buses and trains, as well as even being useable in some convenience stores. The T-money card costs around $3 USD to purchase and once you are done with it you can hand it back and be refunded for the remaining balance on the card. Seoul City Card Plus is essentially the same as the T-money card however it has a bonus as it will give you discounts for entry and tickets for tourist attractions. 
Seoul has a great bus network and to make life easier the buses are colour coded! There are 4 main bus types; blue buses which operate main line across the entire centre of the city. Green buses which generally do short rides between the major stations. Yellow buses operate through the downtown of Seoul and red buses run to the suburban areas just outside the city. There is also the night bus service which is essentially the system above but prefixed with "N" to indicate they run at night. Bus tickets start at around $1.20 USD for a single journey.
Taxis in Seoul are readily available and often very inexpensive. There are so many of them around and the most common are the grey or black taxis. Uber does not operate in Seoul, as it was ordered to stop in 2015 and there aren't any other taxi apps used in the city.
If you want to combine exercise with seeing the city then there are many bicycle rental companies and the government set up Seoul Bike, which is similar to London's "Boris Bikes". However Seoul's infrastructure can make cycling difficult as there aren't always designated cycling lanes and it can be dangerous cycling in traffic. There are also companies such as Lime that allow you to rent electric scooters too, so if you are looking for a quick option to go a short distance then this is another mode of affordable transport.
If you want to take a day trip out of the city then Seoul has a great national train network. Most trains are priced depending on their speed and facilities offered. Korail operate the tourist trains and it is best to check their website for prices and to plan your journey.
Fitness and Health
Depending on your budget you will be able to find a variety of way to keep fit in Seoul. There are plenty of gyms offering a range of memberships, yoga classes, martial arts, hiking and cycling.
Bicycles can be hired or you can use the Seoul city bikes and take a ride out to Bukhansan National Park. The national park is a great place for hiking and immersing yourself in nature. Located just outside the city, it is a great place for trail running, hiking or just simply walking. If you don't fancy going by yourself then you can book guided hikes too.
There are many gyms across the city and some of the best rated that are suited for foreigners are FitClub Seoul, So Fit Gym and CrossFit Gangnam Samsung points. Most will require you to sign up on their website to find out prices and packages. You will find many specialized gyms such as Cross Fit gyms, kickboxing centres and centres for martial arts. Another thing to consider is that many hotels have their own private gyms so if you are staying at one then you will most likely have access included in your room cost.
Some of the best yoga studios are The Flow Room Yoga Studio and Yoga Moon Seoul. You will find that some studios offer classes that are taught in different languages and classes tend to cost around $13 USD per session.
Along the Han River in Seoul you will find public outdoor gym equipment. Although it is basic, it is a great free option for breaking a sweat with some friends whilst being outdoors. There is also the option of running along the river in Seoul as a free form of exercise.
Seoul People
South Korea as a whole has a warm and welcoming feel and tourists are widely accepted. Seoul is very similar to many other cities in the world, with a fast paced business mind set but you will also find a high interest in fashion and beauty. Seoul is a fashion capitol, with the popularity of things such as K-POP and some of the world's biggest beauty brands.
As for religion, South Korea is not very religious as demonstrated in a census carried out in 2015 which revealed that 56% of the country is irreligious. The two main religions were Christianity and Buddhism. It is expected that South Korea's youth are becoming more focused on careers and technology and religion has become less of an interest in daily life. 
Much of South Korea's youth live in Seoul as it is the place to be, not only for work but for the creative, design and fashion industries. Although there are other big cities such as Busan, Seoul attracts most of the youth of South Korea.
Seoul is a very welcoming city and is becoming more and more foreigner friendly as it develops, which means it is a great place to live as a digital nomad. The people in Seoul are excited to see foreigners, especially the younger generations as there is a slight obsession with American and English culture. You will see many South Koreans wearing American inspired clothing, such as football shirts, band t-shirts and pretty much anything displaying popular American brands. 
South Koreans are some of the world's most creative and innovative people whose culture is becoming hugely influenced by American pop culture and trends. In relation to this you may notice that there is a high interest in plastic surgery, as many Koreans want to adapt their facial features and Seoul has become a bit of a medical tourism hotspot for plastic surgery in Asia.
The LGBTQ community in Seoul is growing and has always had a presence; however it is still frowned upon by some locals, so it is advised to not show public displays of affection unless you are in a safe LGBTQ friendly area.
There is a work hard play hard ethic in Seoul and you will find that people are really career focused and work driven but they also like to have some fun. The people of Seoul love to party and a typical evening will often start with dinner at a Korean BBQ, followed by karaoke and a few drinks. The South Koreans have a love for "Soju", also known as happy water and they will drink you under the table with it.
In general most Koreans take their health seriously and you will find that smoking in the streets in prohibited. 
Seoul Insurance and Medical Care
Seoul has a very high standard of health and medical care and it is accessible for foreigners with insurance. As always it is advised to already have health care and insurance in place before you travel in case of emergency. It is pretty simple to get insurance cover for South Korea and most providers will cover for claims made in Seoul.
It is very easy to access over the counter medication from pharmacies and with a doctor's note getting prescriptions is simple. You can get doctors' appointments for as little as $10 USD, however language may be a barrier so it is advised to take a translator with you or seek out foreign medical centres however you will find that appointments there could be anything from $40 USD upwards. Here are some international practises, Hangyang University Medical Center, International Clinic in Yongsan-gu and St. Mary's Hospital Seoul.
As for insurance of your belongings it is always advised to have insurance for expensive items and to keep them safe. Personally I felt very safe in Seoul and never came across issues; however having insurance keeps your mind at peace. Make sure you are fully covered by reading our full Digital Nomad Travel Insurance guide.
Jobs in Seoul
There are lots of job opportunities in Seoul; however you may find it difficult if you don't have the correct visa in place before you go. As always you may find under the table work but this isn't advised. The best way to find a job in Seoul is to use online search engines and have a job arranged before you get there. This means that your employer will be able to help you with the correct visa so you can work legally in the country.
Some of the best places to search for jobs online are Craigslist, PeoplenJob.com, kopra.org and koreaprofessional.com. They all advertise part time and full time jobs for foreigners in Seoul. You will also find opportunities for English speakers and a selection of internships as well as professional positions.
There are lots of internships available via programs for students, so websites such as amchamkorea.org and summer.yonsei.ac.kr are a great resource. It might be worth checking these out for opportunities or for potential contacts for work.
Another popular option with Seoul is to get a transfer with an existing company. There are many companies and brands in Seoul that have global offices so it might be possible to get a position in your home country and then get a transfer to one of their offices in Seoul. This is a reliable way to obtain work in Seoul and is great for someone who is looking to stay for a longer period of time. 
Finally Seoul is the capitol of South Korea so you will find that there is a huge demand in the city for foreign language teachers, especially teaching English. Many of these opportunities can be found online through both institutions and search engines such as gooverseas.com, gone2korea.com and seoulteaching.com.
Check out our Digital Nomads Jobs Postings to find the best jobs available for Digital Nomads.
Nomad Friendly
Value for Money
Internet
Workspace
English
Food
Safety
Health
Transportation
Friendly
Quality of Living
Cost of Living Seoul
The expected cost of living in Seoul can vary dramatically depending on your lifestyle. For a low end budget you should expect to be paying around $1300 USD per person month. This would be based on accommodation for around $450 USD per month, $100 USD on commute, $100 USD on workspace, assuming you used cafés and co-working now and again, $15 USD per day on food which would be $450 USD for the month and finally $200 USD for leisure activities. 
For a more luxury stay then you should consider you will be spending around $2050 USD. This is based on spending around $650 USD on accommodation, $300 USD on a co-working space, $100 USD on commuting, $600 USD for food based on spending $20 USD a day and $400 USD for leisure activities. 
It really depends on your habits as it is possible to eat street food and from markets for as little $2 USD per meal, and if you were interested in seeing some of the free things in the city such as the parks, temples and palaces which are around $2 USD entrance then it could be possible to spend less. The most expensive thing in Seoul is going to be your accommodation, so if you get a good deal on this, then it is possible to keep costs as low as you want.