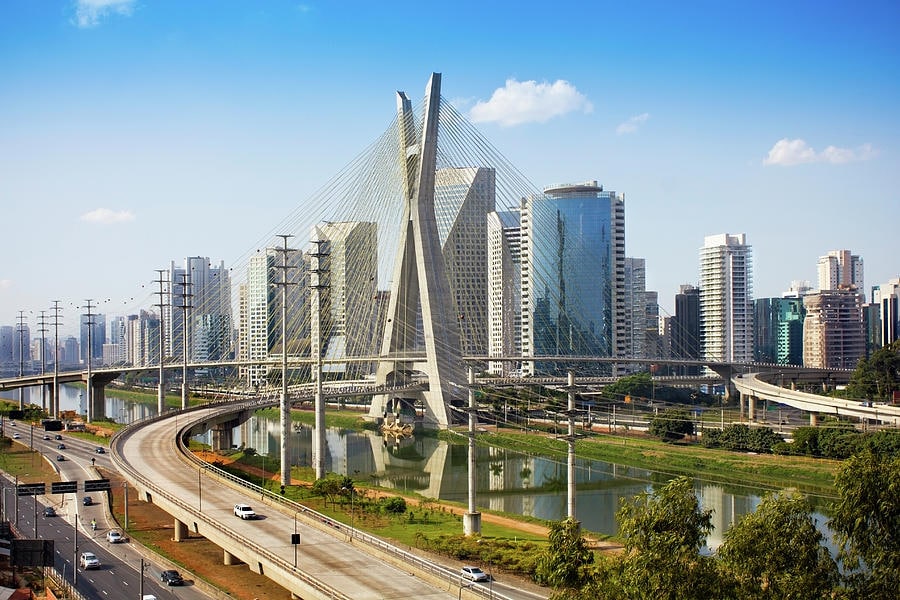 A Digital Nomad Guide to São Paulo
Latin America is always worth a visit. Every single country in this part of the world possesses incredible history, rich culture and breathtaking art. Brazil, though, takes everything to the next level and Sao Paulo  perfectly encapsulates the spirit and the grandeur of the country.
Sao Paulo is a huge, avant-garde, innovative and multifaceted city, with a past made up of the union of more than 70 nationalities. On the one hand, it is the most important economic center in Brazil and South America, and on the other a gastronomy and luxury nightlife center. South Americans compare it to New York. In order to get to know it better you need to have an open mind and enough energy to enjoy the rhythm of this city that never sleeps. 
The world of arts and entertainment also boils in São Paulo with 101 museums, 282 movie theaters, 146 libraries, 182 theaters and approximately 40 cultural centers, in addition to the countless popular festivals and fairs that take place in its streets.
As for gastronomy, Sao Paulo has some of the best restaurants in Latin America and the world. It has national and international options and even one with Michelin stars.
Besides bringing together the most diverse nationalities, cultures and urban tribes, São Paulo is also the largest geek and nerd site in the country. For fans of that culture, the city is a paradise. Here it is possible to find streets of technology equipment stores, shops of pop products, art galleries aimed at drawing and illustration, interactive museums, thematic shops and bars, specialized book stores of comics and manga and computer mega events.
Sao Paulo might not be the most beautiful city you visit, but you surely will never get bored here.
Nomad Friendly
Value for Money
Internet
Workspace
English
Food
Safety
Health
Transportation
Friendly
Quality of Living
Living in São Paulo Overview
Digital Nomad Personal Experience in São Paulo
I have always been fascinated by Brazil both for its happy culture and for its people who seem to smile even during sad days. Brazilians are extremely hospitable. They seem to love guests and they are very welcoming. They will usually invite you to their homes and cook delicious food.
I quickly discovered that São Paulo was huge and that my apartment was very far from the city center. The buses in São Paulo don't advertise stops, so during my first few weeks there I got lost a couple of times.
Regardless of the area, the city is full of color, life and street art. Music pops up constantly, as if your life has a soundtrack while you are walking. There is always someone singing or playing an instrument, a band or a bar singer in your way. The street floor is also an opportunity to find mosaics, wavy paving blocks of Portuguese origin, or huge flower designs painted directly on the street.
Unfortunately, there were some aspects of Sao Paulo that I didn't enjoy. Speed and efficiency are not strong points here. Queues at supermarkets easily take 30 minutes. Bars and clubs are also often set up illogically. In some clubs they will give you a card that you need to use for registering the drinks and pay for everything at the end of the night. And in order to pay you will need to wait in a long queue, of course. During the night, you must order your drinks at one bar and pick them up at another, showing the receipt you were given at the first bar. This same inefficiency carries over into almost every day-to-day activity.
Finally, poverty is everywhere. Homelessness is very common and there are many people sleeping on the street, especially on the main ones. You will even see small families begging on the side of the road. You have to be careful because criminal gangs sometimes pose as beggars and it may happen that they send a child to stop your car and steal from you. It didn't happen to me but it did happen to some foreign friends.
All in all, I had an incredible time in Sao Paulo I treasure it in my memory and I am sure other Digital Nomads will enjoy their time there. 
Work in São Paulo
Best Places to Work in São Paulo
There are about 120 coworking spaces in Sao Paulo, enough to spend some months looking for your perfect match.
oWork
If you ask me, I would start visiting oWork: a coworking and co-living space located in Cidade Vargas, close to the zoo and the botanical garden. At oWork you can find standing desks, bean bags, ergonomic chairs, printing equipment, available PCs, phone booths, personal lockers and outstanding wifi to keep you motivated.
The kitchen is at your disposal and the coffee is free. They also come with a lounge area, and a ping pong table to clear your mind from work. Furthermore, you can assist with its many workshops, events, and community lunches and drinks with their amazing and optimistic members. The prices for a desk in a shared table start at 39 USD and in private desks at 120 USD per month.
CoLab
Another option is CoLab. Located in Pinheiros with plenty of restaurants and cafes around, it offers excellent Wi-Fi, ergonomic chairs, standing desks, free coffee and printing equipment. The space is wheelchair accessible and it has a cute outdoor terrace where you can go to chill out. Prices per month start at 121 USD.
Blocktime
At the same neighborhood, Blocktime provides high-speed Wi-Fi, ergonomic chairs, printers, projectors, microphones, Skype rooms and personal lockers. No, they don't have standing desks. You can use the kitchen, grab a coffee and walk around to rest your legs. Or you can also assist at one of the workshops, events and TEDx events organized here. Additionally, Blocktime is cat and dog-friendly and its members are willing to meet after work. Prices per month start at 93 USD.
Sharing E.C.
Sharing E.C., also at Pinheiros district, provide ergonomic chairs, fast wifi and a kitchen with a fridge and a microwave, ideal if you want to bring your lunch from home. They also offer free coffee and a great variety of teas that you can enjoy at the large lounge area. Prices start at 93 USD per month.
Pixels
At Moema district, you can go to work at Pixels. They offer outstanding internet connection, printer, scanner, personal lockers, ergonomic chairs, bean bags and even a hammock to be a bit more comfortable. You can cook yourself a snack at the kitchen or grab a cup of the free and unlimited coffee. They have a great lounge area for taking a break and a little library. Prices start at 168 USD per month but the place is worth it.
Best Places to Live in São Paulo
Best Neighbourhoods
The city of Sao Paulo is divided into 31 subprefectures, each with unique attractions. However, the districts with the best transport connections and good urban accommodation are: centro, Consolaçao, Pinheiros, Jardim Paulista, Moema, Ibirapuera, Brooklin, Itaim Bibi, Vila Madalena, Bela Vista and República.
historic center
The historic center is the oldest area of ​​Sao Paulo. Until the 60s, it was a financial district. Today it is still the administrative and government center. Here cultural spaces, shops and restaurants abound. You will also find the Museo del Padre Anchieta, the Municipal Theater (1911), the Pinacoteca of the State of Sao Paulo, the Museum of the Portuguese Language, the Museum of Sacred Art, the Banco de Brazil and the historic Mercado de São Paulo. The district has transport links including several bus lines and the metro. 
Consolaçao
Consolaçao is a primarily residential area. This part of the city was the favorite one by the wealthy class since the beginning of the 20th century, especially because of its relative height over the rest of the city and because of the wide streets and avenues. Its historical buildings include Iglesia de la Consolación and Iglesia de San Luis de Gonzaga in a neoclassical style. Consolaçao also offers several theaters, three shopping centers, and bus and metro connections.
Pinheiros
Pinheiros is another cheaper residential district and very close to the urban center, with an abundance of pine trees. It is one of the most sophisticated areas of the city and has a wide gastronomic offer. The settlement of Korean, Italian, German, Japanese and Chinese nationals in the area caused international restaurants to proliferate. Here you can visit the ecological oasis Plaza de Victor Civita, Araca Cemetery and São Paulo da Cruz neo-baroque Church. For shopping go to Shopping Iguatemi, which is the oldest in the city (1966), and Shopping Eldorado, one of the largest shopping centers in the city. The metro has three stations here: Fadrique Coutinho, Faria Lima and Pinheiros.
Jardim Paulista
Jardim Paulista is a high-class, residential and commercial neighborhood. It is one of the safest and most expensive places in Sao Paulo. Public parks such as Tenente Siqueira Campos, Paulistano or Jardin Europa, are an inheritance of the haciendas that existed in the district until the first half of the 20th century. Oscar Freire Street is a perfect commercial avenue for shopping that is reminiscent of the best commercial sectors in New York. It also has a metro station: Trianon MASP (line 2, green).
Moema
Moema is an exclusive district, located in the south center of the capital. It is an area with tall buildings and apartment blocks. Here, the Bicycle Park is ideal for cycling. 
Ibirapuera
Ibirapuera, is a residential zone located southeast of Pinheiros. Some emblematic places to visit are its 158-hectare Ibirapuera park, Aristóteles Orsini planetarium, the Museum of Modern Art and La Oca, an exhibition center in the shape of a white dome. A curious museum in the area is the Afro Brasil, dedicated to the African culture brought to Brazil by slaves. The most recommended transport to move in and out of Ibirapuera is the metro (line 2).
Brooklin
Brooklin is an upscale residential and business area. Green areas, modern buildings and multinationals abound. The district was populated mostly in the 19th and early 20th centuries by German emigrants. Brooklin has a lively nightlife and the most exclusive hotels in the city. It also has a subway station (line 5).
Itaim Bibi
Itaim Bibi is the name given to the part of the city of Sao Paulo also known as Brooklin Velho. It is an upper-middle-class residential neighborhood with a wide range of nightlife.
Vila Madalena
Vila Madalena is known for its nightlife, for its cultural and bohemian tradition, for its famous alternative art galleries and for its street graffities. The bars, shops and restaurants have the same alternative style as the neighborhood.
Bela Vista
Bela Vista is named for the views offered by its location up high. It is made up of two well-defined areas from a sociological point of view. Morro de los Ingleses is a wealthier zone and the highest in height. In contrast, the Bixiga area is poor and is home to the descendants of the old European immigrant population that settled there in the mid and late 19th century. In Bixiga you will find famous cafes and theaters in buildings of modernist design. The most outstanding ensemble of Bela Vista is, without a doubt, the Sao Paulo Museum of Art.
República
República neighborhood is a markedly commercial area. Here is the Cathedral of San Pablo, a neo-Gothic building completed in 1913 with the capacity to house 8.000 faithful souls. This area is a good alternative to stay close to everything but at a relative distance that guarantees a variety of accommodation for reasonable prices.
Find an Apartment in São Paulo
São Paulo is a common destination for foreigners, especially for those who come to Brazil on business travel. However, finding an apartment in the city is not easy.
São Paulo has the third most expensive square meter in Brazil, behind Rio de Janeiro and Brasilia. A well-located apartment with a bedroom and a living room and close to public transportation and business districts costs between 500 and 950 USD per month. The five neighborhoods with the highest cost of living are: Jardins, Pinheiros, Vila Leopoldina, Perdiz and Moema. Living in a cheap neighborhood means living in an unsafe place with no public transportation options.
Keep in mind that in Brazil a guarantor residing in the same city is required to rent a residential apartment. As an alternative, you can pay a Seguro fiança to an insurance company that will act as guarantor. You can also leave a security deposit (deposit caução) equivalent to three months' rent in advance as guarantee.
Additionally, you will need to present other documents such as the CPF, proof of address and proof of income that must be translated into Portuguese to be considered valid. Some owners prefer not to rent to foreigners, making it difficult to find if the registered address of the interested tenant is a hotel or hostel.
To search for an apartment, it is better to do it by direct owner or through real estate agencies although most do not speak English and if they do it means that the prices will be more expensive. Another option is to search online at https://www.flat.com.br, zap.com.br or imovelweb.com.br. Since these are generally month-to-month rentals, there is a high turnover and it is difficult to reserve something far in advance.
Once moved in, follow the building rules. If you don't follow the internal rules, the landlord or tenant can be fined. The amount of the fine varies from area to area. The most common fines are: disturbing the peace at certain times, walking with pets in prohibited areas and making unapproved changes in the apartment.
Cheap Places to Stay in São Paulo
Long term rentals are cheaper than short-term ones. As is often the case when moving to a new city, many of the best deals for rentals are learned about through word-of-mouth. I advise you to start with a private rental, because owners tend to be more flexible than agents and companies and they will be open for negotiation. 
Generally, renters are expected to pay for their own utilities, like electricity and water. Depending on the situation, you might also be expected to pay the condomínio, which is a fee for living in a condo.
Areas farther from the city center are often less expensive to live in, but have higher levels of violence and fewer public transportation options. The five least expensive neighborhoods in São Paulo are: Itaim Paulista, Jardim Aricanduva, São Mateus, São Miguel Paulista and Sapopemba. 
Don't trust unrealistic offers, scams are common in Brazil. In order to avoid scams, you can hire a local agency. Ask for help from a trusted friend, talk to your potential new neighbors and read carefully all of the documents with the help of a Portuguese translator.
São Paulo Visa
In order to enter Brazilian territory, it is necessary to have a passport valid for at least six months. The obligation to present a tourist visa to travel depends on the relations between Brazil and the different countries. The visa for Brazil is approved by the Ministry of Foreign Affairs and can be requested in the representations that Brazil has abroad (Embassies and Consulates). The value of the visa varies by country.
For stays shorter than 90 days, the citizens of the following countries don't need a tourist visa: Andorra, Argentina, Austria, Bahamas, Barbados, Belgium, Bolivia, Chile, Colombia, Costa Rica, Denmark, Ecuador, Finland, France, Germany, Greece, Hungary, Iceland do not need a visa , Ireland, Israel, Italy, Liechtenstein, Luxembourg, Malaysia, Monaco, Morocco, Mexico, Namibia, Holland, Norway, Panama, Paraguay, Peru, Philippines, Poland, Portugal, San Marino, Slovenia, South Africa, South Korea, Malta, Spain, Suriname, Sweden, Switzerland, Thailand, Trinidad & Tobago, United Kingdom, Uruguay, Vatican and Venezuela.
The list of countries that require a tourist visa to enter Brazil includes: Afghanistan, Albania, Saudi Arabia, Algeria, Angola, Antigua and Barbuda, Armenia, Australia, Belarus, Belize, Cameroon, Canada, Czech Republic, China, North Korea, Dominica , Dominican Republic, Egypt, El Salvador, Equatorial Guinea, Estonia, Ghana, Guinea, Haiti, Honduras, Hong Kong, India, Indonesia, Iran, Iraq, Jamaica, Kenya, Lithuania, Madagascar, Mongolia, Nicaragua, New Zealand, Niger, Nigeria, Romania, Russia, Senegal, Sudan, Ukraine, Vietnam, Yemen, and Zambia.
Beginning June 17, 2019, citizens of the United States of America, Australia, Canada and Japan will be able to travel to Brazil without a visa. The measure benefits holders of a valid passport traveling for tourism, business, artistic or sports activities. The initiative also covers travelers transiting through Brazil. Visitors will be granted a stay of up to 90 days, which can be extended once for the same period. 
Culture and Food in São Paulo
The best restaurants in São Paulo compete with those of any world culinary capital. Among its great gastronomic diversity is the Mercadão, as the local people call the São Paulo Market. It is located in a building founded in 1933, with a wonderful architectural construction. Inside it offers a wide variety of quality ingredients and several restaurants with dishes that are icons of local cuisine. 
For lovers of gourmet gastronomy, chef Alex Atala mixes modernist gastronomy with traditional Brazilian ingredients in D.O.M. It is one of the best restaurants in the world, according to Pellegrino, World's 50 Best Restaurants. D.O.M. has a Michelin star and serves authentic dishes, including a green tomato jelly with edible flowers.
Another amazing cuisine experience with a Brazilian flavor is Maní, which is how the Brazilian Indians called cassava. Here the famous chef Helena Rizzo, who has held a Michelin star since 2015, creates a menu transforming traditional recipes into a sensitive perception of flavors and textures.
Skye, the rooftop restaurant-bar of the trendy Hotel Unique, also has an ambitious menu. French-born head chef Emmanuel Bassoleil prepared an extensive menu with seafood supremacy. The bloody mary ceviche stands out, which is mixed with a drink of the cocktail.
São Paulo is the largest Japanese city after Tokyo and therefore a must for sushi lovers. The most prominent restaurants are Nagayama for sushi and Kinoshita for a more complete version of Japanese cuisine in a more intimate setting.
Whatever you choose, I'm sure you will be amazed by the experience. It is an extraordinary discovery of native ingredients and authentic dishes, beautifully transformed for your delight. Bon appétit!
São Paulo Nightlife
Sao Paulo is one of the few cities where you can party until four in the afternoon. Nightlife runs 24 hours a day, every day of the week. Of course, the city is not cheap. Expect to spend a good amount of cash for what you choose to do.
To experience traditional Brazilian places, you should go to a boteca or a balada. A boteca is a neighborhood bar, a community gathering space where you can drink during the day. Bar Astor in Vila Madalena serves a cold and creamy chopp while Veloso is the ideal boteca for caipirinhas. Baladas are club bars with space to talk, a smoking room and dance floors. At Kingston Club you will find live bands while Alberta # 3 is for lovers of rock, vinyl and Bloody Mary.
In the city center, Rua Augusta is the center of nightlife with bars, restaurants, sex shops, strip clubs and several small nightclubs. Pinheros also has samba venues and craft beer venues like Emporio Alto dos Pinheiros and Cervejaria Dogma. 
If you want to dance, you can go to Bar Samba in Vila Madalena where the bands start playing early. The clubs start to fill up at 2 or 3 in the morning but they are worth the wait. D-Edge is considered one of the best electronic music clubs in South America. For EDM, hip hop, funk and soul head to Lions Nightclub in the Republica neighborhood, while for flashback parties of the eighties and nineties in an underground environment the best place is Milo Garage. If it's salsa and Latin pop you want, head to Rey Castro in Vila Olímpia or Azucar in Itaim Bibi. For luxury clubs, you should go to Itaim Bibi and Vila Olímpia, two rich districts to the south. 
São Paulo's LGBTQ parties are among the largest and most intense on the continent. The Week nightclub tops the list with its massive hedonistic parties every Saturday, followed by Danger Dance Club with drag queen shows, EDM and go-go dancers. You can also find a string of gay-friendly bars along Rua Frei Caneca.
If you like improvised environments, Mamba Negra is a rebellious collective that organizes free dance music parties in abandoned buildings downtown. You can also find out about DJ duo Sevagem who host free parties on the streets of Sao Paulo where they mix disco, samba, house and more. The Nos Trilhos event space is a train yard that hosts massive outdoor parties in Mooca, with tropical rhythms enlivening the night until dawn.
If you're not tired yet go to Love Story, the last of the after-hours spots in the city center where all the party goers gather to the beat of house music after the last disco has closed.
Things to do in São Paulo
Sao Paulo is a city of business tourism, so it is more a metropolis to live in than to visit. However, there are some places that you can visit in addition to experiencing its nightlife and music. 
Avenida Paulista

Avenida Paulista, 2.7 kilometers long, is an unmissable avenue through the heart of Sao Paulo. Along the avenue you will see the main corporate buildings and cultural institutions of Sao Paulo, hotels, restaurants and glamorous shops. Its places of interest include the Itaú and Sesi Cultural Centers, the Sao Paulo Art Museum, and the National Complex where the famous Cultural Library is located, considered the largest bookstore in Latin America.

Sao Paulo Museum of Art

If you like museums, you can stop at the Sao Paulo Museum of Art, which houses invaluable art collections and is one of the most important in Latin America. Its main collections include European paintings and sculptures from the 13th century to the present, with artists such as Rafael Sanzio, Botticelli, Nicolas Poussin and a set of 73 bronze sculptures by Edgar Degas.

Brazilian Museum of Sculpture

Another important museum is the Brazilian Museum of Sculpture. Its entrance is free and it is located inside a spectacular architectural work in reinforced concrete with water ponds and gardens.

Pinacoteca del Estado

Another option is the Pinacoteca del Estado. Located in the Jardin de la Luz area in an 1897 building of Italian eclecticism. It corresponds to one of the most important art museums in Brazil, housing a collection of about six thousand works that narrate the history of Brazilian painting among the 19th and 20th centuries.

Soccer Museum

If you prefer a more popular museum, the Soccer Museum is located in the Pacaembú Stadium. There are 17 rooms that house more than 1.500 images and 6 hours of video, which recall the most important events in the history of this sport in Brazil, with an immense collection of trophies. 

Patio del Colegio

Among the historical buildings is the Patio del Colegio, the first construction built in Sao Paulo during the 16th century by the Jesuits as a center to catechize the indigenous people. Restored in 1979, today it houses a museum with more than 600 testimonial pieces of that time such as altars, colonial paintings, Jesuit iconography and old documents.

Copan Building

You can also visit the Copan Building, a must for architecture lovers. It is the largest concrete building in all of Brazil and the largest residential building in Latin America. It was designed by Oscar Niemeyer in 1954 and is a masterful example of the experimentation of a vertical city with 140 meters high, 37 floors, 1,160 apartments and 5,000 residents, as well as a shopping center with 72 stores and an evangelical church.

Municipal Market

For lunch I recommend the Municipal Market. Inaugurated in 1933, it corresponds to a huge building in an eclectic style, decorated with a collection of 32 stained glass windows made by the Russian artist Conrado Sorgenicht Filho representing various stages of food production. Its interior is divided into two floors where fruits, vegetables, cereals, meat, cheeses and other products are sold. There are also a number of places that offer ice-cold food and beer at affordable prices, as well as gourmet restaurants.

Oscar Freire Avenue

Oscar Freire Avenue is another street to walk. It is a glamorous avenue located in the upper region of the city, distinguished by Mystery Shopping International magazine as one of the eight most luxurious streets in the world. There you will find the stores of brands such as Diesel, Shoulder, La Perla, Le Lis Blanc, Tommy Hilfiger, Forum, Osklen, Camper, H. Stern and Ellus, among others.

Japanese Quarter

In the Japanese Quarter, known as Barrio Liberdade, you will find most of Sao Paulo's Asian community. It is a neighborhood full of charm, decorated with typical lamps and with shops with oriental products and restaurants that offer Japanese, Chinese and Korean food.

Banespa Tower

One of the most beautiful panoramic views of the city can be found in the Banespa Tower, a skyscraper in the Historic Center built in 1947 with 150 meters high. Admission is free, the wait is long and the stay in the viewpoint is a maximum of five minutes. It is essential to carry identification to enter.

Ibirapuera Park

For a quieter afternoon, you can enjoy the Ibirapuera Park. Known as the Latin American Central Park, it corresponds to the most important park in Sao Paulo. It surrounds three lagoons and has various walking paths, areas for picnics and various cultural sites, among them the Ibirapuera Auditorium designed by the architect Oscar Niemeyer.

Sala de Sao Paulo

Before leaving the city, try at least once to go to a concert at the Sala de Sao Paulo. It is located in the old building of the Sorocabana Train Station. To visit the interior of the building, you can take a guided tour. To attend one of the theater's regular concerts it is advisable to buy tickets in advance as they sell out quickly.
Finally, I emphasize the active and luxurious nightlife of the city. Sao Paulo has a night that doesn't die until the first hours of the morning. Also, stay on top of the monthly cultural agenda. There are usually massive celebrations in its parks such as the famous Brazilian Carnival, Gay Pride and the Junine Festival, as well as festivities that reveal the surprising mixture of cultures that coexist in Sao Paulo. You will find Japanese, Chinese, Italian and all kinds of parties.
Best Time to Visit São Paulo
Sao Paulo's climate is subtropical. Winters are mild and relatively dry and summers are rainy with moderately high temperatures that increase due to the concentration of buildings.
Average maximum temperatures range from 28 ° C in February, the hottest month, to 21 ° C in June and July. Average minimum temperatures vary between 11 ° C in July, the coldest month, and 18 ° C in January, February and March.
As Sao Paulo is close to the sea, it is humid due to the oceanic winds, but they have a level of humidity that still allows you to travel the city. However, from May to September the lack of rains due to the phenomenon of thermal inversion makes those months very cold and with a dry climate.
The rains are abundant, on average, there is about 1,400 mm of rainfall per year. It rains more between December and February while the driest months are between June and August.
The most recommended month to enjoy is January, which reaches an average temperature of 21.1 ° C.
São Paulo for Families
Brazilians are often described as warm and welcoming, and the country as a whole is known for its great love for children. Your family will be well received from day one. 
Make sure to apply for your family's CPF cards (Brazilian Identity Cards) at the Brazilian consulate in your country before leaving. You can't sign a lease until you have one and your kids need it to sign up for school. 
Homeschooling is illegal in Brazil and can have serious consequences. Public schools are usually not very good, overcrowded, and children need to master Portuguese in advance. There are also many private schools but the best quality education option is an international school. You can find school options at the Council of International Schools and the International School Database. 
While quality schools are expensive, you can balance the expense by looking for local products and services. For example, if you shop at local markets instead of exclusive grocery stores, you will get the best fresh Brazilian produce for a fraction of the price. 
When choosing your neighborhood consider that the cheaper you get, the more dangerous it is. Expensive neighborhoods will maintain your family safe.
Living in São Paulo
São Paulo Transportation
Sao Paulo is a city where the car is the means of transport par excellence. Local policies have always favored car use over public transport. Furthermore, owning a vehicle is a sign of economic power in São Paulo society. This is the main reason for the big traffic jams on all the main roads. In order to move in the city, you have to be very patient.
The metro and the bus are the two main means of public transport. São Paulo has about 7.000 urban bus lines and it is one of the few cities that has a GPS tracking and synchronization system for its units; which facilitates the user to verify all the information about stops and transport schedules. The problem is the heavy traffic in the city. Although in recent years specific lanes have been set up for buses and the quality of service has improved considerably, moving by bus through the most central areas of São Paulo is still slow and even somewhat risky due to the high rate of robberies. Bus tickets can be purchased at SPTrans points of sale, some shops or at lottery houses. You can also pay the ticket price directly on the bus itself. The price of the bus ticket is 3 reals (0,55 USD)  and allows you to travel up to four times for three hours.
The Sao Paulo Metro has 5 lines and runs from 04:40 to 00:00 am. Moving around the city by metro is one of the best options, since São Paulo's stations are modern and the network works excellently. The price is also 3 reals.
The metropolitan train service is in charge of 93 stations and six different lines, covering a total of 339.3 kilometers. The Metropolitan Trains not only cover the city of Sao Paulo but also cities that are within the metropolitan area.
The taxi, like the bus, is a slow and expensive option to get around the city. There are several types: common, special, radio-taxis and luxury ones. They charge a fixed amount at the beginning plus the mileage corresponding to the journey. 
Fitness and Health
Brazilian gym industry is the second largest in the whole world. Brazilians are known for taking amazing care of their physical appearance, and a big part of that is getting to the gym regularly. There is an abundance of different types of gyms and fitness classes to explore in São Paulo, from full-service gyms to spinning studios, or boot camps.  
High-End Gyms and fitness clubs include in your membership personalized consultation with a trainer, swimming pool, different classes like cross fit, martial arts, yoga, Bootcamp, and more. They also usually offer massage and physical therapy. The best ones in the city are BodyTech, Bio Ritimo and Reebok Sports Club.
Bodytech is a network of high-end gyms. The most exclusive by far is the location in the Iguatemi Shopping Mall on Faria Lima Avenue, considered by many to be the most high-end gym in the country. This location features everything from complimentary snacks, nutritional evaluation, complimentary massages, on-site physical therapy, and a member's only café.  In addition, the machines are state of the art including the newest and latest treadmills and spinning bikes. Bio Ritimo is the second-largest high-end gym chain in Brazil with a more relaxed feel to it than Bodytech. Reebok has two locations in São Paulo: Vila Olimpia and Morumbi. Here you will find pools, cafes, saunas, massage rooms and a very expansive free weight and machine floor, with countless treadmills and other cardio available. 
Going for a ride or a run in one of São Paulo's parks is a good choice if you want a little exercise. For cyclists there are usually plenty of rental options at Parque Ibirapuera and Parque Villa-Lobos.
Participating in organized sports isn't usually a huge part of a paulistano's regime. An exception is soccer, which you will see being played in most parks. Brazilians also love volleyball, both the traditional kind and the beach version. The country has a top-class national competition and hosts regular international matches.
São Paulo People
Learning about Brazilian culture is an exciting task. Paulines are naturally curious, adventurous, and enthusiastic. They are often described as warm and welcoming. The willingness of people to speak is enormous, from the supermarket's cashiers to the bus drivers and the people you meet on the street. They also love children and usually play with them even if it is the first time they see them or if they are in a public place.
Public displays of affection are also very common. Couples of all ages can be seen passionately kissing and touching each other on trains, restaurants, bus stops, escalators and it is totally accepted.
A key piece of body language is the "OK" sign. The hand gesture that means "OK" in North America, Australia and Europe is not well accepted in Brazil. It is considered incredibly rude and means something far more vulgar. Always check with a friend the Brazilian meanings of body gestures before using them.
The football rivalry is fierce. You can cheer on your usual team except if they play against Brazil or if your usual team is Argentina. Be careful not to offend someone, soccer is a serious matter for them.
Trying to speak Portuguese is considered courteous and makes people have a friendlier attitude towards you. Keep in mind that women often greet each other with a kiss on the cheeks, while men shake hands. Greet with a hug is also common among acquaintances, but never kiss another man if you are a man.
Another way of proceeding that may seem strange is that Brazilians, when visiting other people's houses or even businesses, instead of knocking on a door or window to attract attention they clap outside the house.
They are also usually very religious and as much as it seems an open society regarding sex, it is not in appearance at least. Families often want to maintain their reputations and many attend churches frequently.
Brazilian culture may seem similar to ours but it is different enough to confuse you at first and to be exciting to discover. Enjoy it!  
São Paulo Insurance and Medical Care
The public health system in Brazil, called Sistema Único de Saude (SUS), is free for nationals and foreigners according to the constitution. Many SUS doctors also work in the private sector and they are highly qualified. The problem of SUS is not the quality of care itself, but access to care and necessary supplies. Hospitals often have too many patients as they are sent there from all over the country for treatment. The system is often underfunded and this can affect the quality of services. Some hospitals lack staff or air conditioning, which is important due to the temperatures during the summer.
The quality of care in private hospitals is equivalent to or even higher than the European or North American standard. The best hospitals are internationally recognized, with the best equipment and highly qualified doctors, often trained abroad.
Today, about 25% of the Brazilian population has private health insurance. I recommend you hire health insurance to be able to use the private system that offers high quality care, although at high prices. A doctor visit typically costs between 50 and 100 USD, a dentist consultation around 50 USD, and a simple surgical procedure can cost as much as 5.000 USD.
International health insurance in Brazil is often a better option for expats than a local health plan. It offers you the freedom to choose doctors, hospitals and the possibility of having international coverage. It is always important that your health insurance complies with local legislation.
Make sure you are fully covered by reading our full Digital Nomad Insurance guide.
Jobs in São Paulo
It is not easy to find a job in Brazil as a foreigner. To get any paid job you will need to have a work permit (Autorização de Trabalho). Working visas can be obtained through your embassy or consulate under the authority of the Ministry of Foreign Affairs of Brazil.
In addition, there are more Brazilian university graduates seeking a job in the country than job offers. The locals have the advantage of being fluent in the language, willing to work for less money, and understanding bureaucratic processes.
Speaking Portuguese fluently is essential, as is having at least a university degree. The contacts you can get are also necessary. Networking is usually key, although the best option is to find a job with a company in your home country and then be sent to Brazil.
A good starting point in your job search is the classified sections of the daily and weekend newspapers. The National Entrepreneurship System (SINE) offers work of all kinds throughout Brazil with centers without prior appointment. You can also search online at: www.bne.com.br, www.classificados-brasil.com, www.telelistas.net, www.latpro.com, www.learn4good.com, www.clickemprego.com.
Another option is to look for work as a teacher of a foreign language but you will need an international teaching certificate and work experience. English, Spanish, French, Italian and Japanese are the most in demand. To work at the beaches of Brazil as an au pair, they will require similar experiences and references.
The mining and petroleum industries are always in need of engineers, geologists, and mining specialists. If you have experience in these areas you can try your luck with the relevant companies.
Check out our Digital Nomads Jobs Postings to find the best jobs available for Digital Nomads.
Nomad Friendly
Value for Money
Internet
Workspace
English
Food
Safety
Health
Transportation
Friendly
Quality of Living
Cost of Living São Paulo
As Brazil is passing through an economic crisis and its currency had a considerable devaluation versus the US dollar, the city became more affordable than before, especially on a global level. Even with a cheaper Brazilian real, the cost of living is still comparable to some affordable European cities like Riga or Budapest.
The infrastructure in Sao Paulo is also one of the best in South America. That includes a complex and affordable transport network, high quality medical facilities and great entertainment options. 
A well-located apartment with a bedroom and a living room and close to public transportation and business districts costs between 500 and 950 USD per month. If you work at home, high-speed internet will cost you around 21 USD per month. The monthly public transport ticket cost around 46 USD. 
Furthermore, if you are the fitness type, you will pay about 25 USD for a 1-month gym subscription. 
Regarding social life and going out, 1 single meal in a high-end restaurant is about 25-35 USD while you can eat in a cheap restaurant for 5 USD. A cappuccino in a coffee store cost around 1,35 USD and a big pizza delivery 14 USD. If you like cooking at home, 1 kilo of chicken is 2,04 USD, one kilo of tomatoes 1,55 USD, one liter of milk 0,83 USD and one loaf of bread 1,47 USD.