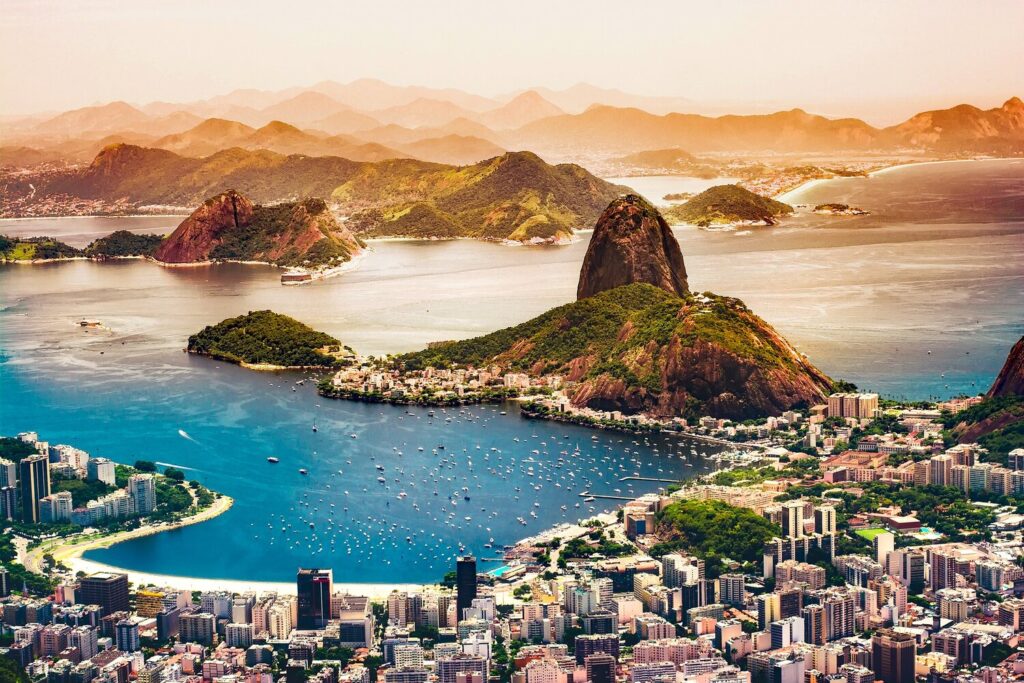 Digital Nomad Brazil Guide
If you've come upon this article, you're probably wondering if Brazil is a good place for digital nomads. Yes, it is! Brazil is a large country with a lot to offer. I have spent two weeks researching everything you need to know before moving to Brazil as a digital nomad and I've collected all that information in one place.
We are going to take a deep dive into:
What visas Brazil offers

How to get a digital nomad visa for Brazil

Where to go in Brazil and why

When is the best time of year to go for great weather, fun activities, and the lowest cost

How much it actually costs to live and work in Brazil 

Reasons why Brazil is a great place for digital nomads
Stick around to find out the entire rundown on digital nomads in Brazil.
Brazil Digital Nomad Visa
There are three visa options for digital nomads when it comes to living and working in Brazil. The main option is the digital nomad visa, which we will discuss in detail. The other two options are the tourist visa and the Residence Permit. You can apply for the latter while already in Brazil. This option is best if you are looking for a longer stay in Brazil.
Temporary Visa VITEM XIV (Digital Nomad Visa)
Unlike many other countries, Brazil does indeed have a "digital nomad visa" called the Temporary Visa VITEM XIV. 
You can apply for a Temporary Visa VITEM XIV at any Brazilian consulate and you have to have an in-person interview. The fee for a digital nomad visa is $100 USD, but fees can vary according to the specific consulates. The digital nomad visa lasts one year to start with and can be extended for another year. It also allows for multiple re-entries and there are no time restrictions when it comes to how long you must be in or out of the country. 
Main things you need:
Proof of employment/relationship with a company not based in Brazil

Minimum income of $1500 USD per month or bank balance of $18000 USD
The Brazilian government details information on these "digital nomad" visas on their website. One of the important things to distinguish before we go on is who exactly they consider to be "digital nomads." 
"A 'digital nomad' is considered an immigrant who is able to carry out his or her work activity in Brazil for a foreign employer remotely and with the use of information and communication technologies." 
They add that this definition of a digital nomad does not include immigrants who work for a company based in Brazil, or those who have a residence permit for work that is regulated by a different organisation.  
Requirements
Valid passport/ID or other document as proof of identity and nationality. Must be signed by the applicant, with at least two adjacent blank pages left

1 passport photo

Proof of payment of consular fees

Birth Certificate/official document showing your parents' full names

Proof of means of transport to Brazil

A minimum income of $1,500 USD per month or an available bank balance of at least $18,000 USD at the time of the application. 

You must be able to produce an employment or services agreement or similar documentation.

Health insurance that is valid in Brazil for the entirety of your stay in Brazil

Documents proving the status of digital nomad. This includes:
Declaration by the applicant attesting to the ability to carry out their professional activities remotely, through information and communication technologies

Employment or service agreement or similar documentation that proves income comes from sources outside of Brazil

Proof of means of subsistence, from a foreign paying source, in a monthly amount equal to or greater than US$ 1,500.00 or availability of bank funds in the minimum amount of US$ 18,000.00
Completed visa application form

Criminal record certificate issued by your country of origin or, at the discretion of the consular authority and following the peculiarities of the country where the visa was requested, or an equivalent document
Tourist Visa
The second option is a tourist visa. This visa lasts 90 days with the possibility of extension for a further 90 days. You may not stay in Brazil for longer than 180 days within a 12-month period on this visa. Certain nationalities are entitled to a visa exemption, in which case a visa is issued upon arrival. This Visa Guide shows a list of these countries.
Requirements
A passport that is valid for at least six months on entry with one blank visa page

Proof of sufficient funds

Proof of onward/return airline tickets

All documents required for the next destination

Confirmation with your airline that boarding will be permitted without a visa (these conditions are subject to change)
A major difference between Brazil and many other popular digital nomad destinations (like Thailand or the USA) is that you ARE allowed to work as a digital nomad as a tourist.  To be allowed to do this you must:
Follow regulations applicable to your stay

Meet the requirements for your visa

Be of a nationality that is part of the visa exemption list.
Residence Permit
If you are in Brazil using a different visa, you can apply for a digital nomad Residence Permit. This process is a bit lengthier. 
You will have to apply for a residence permit from the Ministry of Justice and Public Security (MJSP) through the MigranteWeb System
Requirements:
Residency Authorization Request form, signed by you or your legal representative

Union Collection Guide – GRU Simples of the fee for processing and evaluating requests for residence permits with the respective proof of payment

Valid passport/other documents as proof of your identity and nationality

Declaration, under the penalties of the law, of the absence of criminal record in any country, in the five years previous to the date of the request for a residence permit

Power of attorney, when the applicant is represented by a proxy

Proof of residence, unless the information is already included in your passport/proof of ID

Criminal record certificates or equivalent document issued by the competent judicial authority where you have resided in the last five years

Documents proving that the applicant is a digital nomad
General Application Process
There is a general visa application process for Brazilian visas. Here is a step-by-step guide on how to apply and what to do:
Fill out the online application form
Start your application by going to this website:

Brazilian Visa Application Form

 

Find "Start New Application" at the bottom of the webpage

Fill it out and upload/submit your ID photo and your documents (detailed above) asked for on the E-consular portal. This application must be done completely online. 

Receive an application number and a receipt

Print and sign the receipt
Make your appointment 
Make an appointment at the consulate nearest to you
Prepare for your appointment
For your appointment, you will need to present a few things at the consulate.
You must print all your documents to take with you, as well as bring all the originals of the documents you uploaded in your application

You must glue an ID photo to the designated spot on your receipt, which must also be taken with you. For the ID photo you will need to follow the ICAO standards:
It must be a fully front-facing photograph of the face with a white background

Your face and shoulders must be in the centre of the image, and you must be looking into the camera

There must be no reflections, shadows, or glares in the picture

Your expression should be neutral, and your eyes must be open and visible

If you wear glasses, the lenses may not reflect the ambient light or the camera. You may not wear dark glasses, non-prescription glasses with tinted lenses, or glasses with thick frames

No headgear or hats are allowed, except when used for religious reasons. They cannot, however, prevent a perfect view of your face

Children can not appear with toys, pacifiers, or hands of people holding them
At the appointment
Give the consular agent your receipt with a glued ID photo, along with all your original documents

The consular agent will check that all your information is correct and review your application.

The consular agent collects payment from you. This is a non-refundable fee

You receive a confirmation of delivery of your application.
The consulate processes your application
The visa will be processed within 180 days.

Now you wait for confirmation of approval for your application
If you have any specific questions, contact the consulate where you have applied, as each consulate is slightly different. 
Once your visa is approved you are free to travel to Brazil. You must register your stay with the Federal Police when you arrive.
Tax Matters
Regarding tax, if you stay in Brazil for longer than 183 days (whether consecutive or not) in a year/12 months, you are required to pay income tax to the Brazilian government. You could end up being double-taxed if your country is not part of a bilateral agreement.

What are the best places in Brazil for Digital Nomads?
Florianopolis
Florianopolis is a large tropical island off the coast of Brazil. Affectionately known as 'Floripa' by the locals, the island has a very American/European style. The landscape consists of beautiful white-sand beaches and mountains surrounding them.  There is some awesome surfing to be had here for surfers.
Floripa is one of the safest places to live in Brazil. There are many options for coworking spaces, and it is a hotspot for digital nomads, so it will not be hard to find comrades. There are also plenty of trendy cafes with Wi-Fi where you can sit and work if coworking is not your style. You'll find that it is not hard to find your feet here with most people speaking some level of English. 
The public transport is not amazing, but there are taxis and Uber which you can use to get around.
The people are friendly, and you can get a high quality of life here. There are so many things to do. In Floripa, you can visit the local market, go hiking, learn to kite surf, go to the historical centre, admire the street art, or check out Hercilio Luz Bridge.  The city has a vibrant nightlife, comparable to Ibiza, offering something for everyone, from bougie bars to food trucks. You could even learn some Brazilian dance moves if you join in on one of the local Forró nights.  
Jericoacoara
Jericoacoara is known as 'Jeri' for short. It can be found on the coast of Ceará. Jeri is famous for an incredibly beautiful phenomenon that occurs at sunset. Just as the sun is about to disappear behind the horizon, there is a green flash of light. This is called an emerald sunset and can only be seen in a few places on earth. (So there is some truth to that famous scene in Pirates of the Caribbean: At World's End). It truly is mystical
Jeri is pretty safe because it is nestled in the dunes where most cars can't go. It can only really be accessed by motorbike. This gives it a small-town feel. There are fibre optics, so you won't be hard-pressed to find fast WIFI, yet it is still pretty remote, so you can enjoy seclusion and quiet. It's perfect for a getaway where you still have access to all the amenities you need. You won't be completely isolated though — there are some community Facebook groups where digital nomads from Jeri and Preá organise casual networking events to share ideas, meet up, and help one another. Tourists do have to pay a small fee per day, but overall, it is quite an affordable spot, even in the high season.  
Much like Floripa, there is a thriving nightlife and really nice restaurants. The town is actually situated in a desert, yet you can find gorgeous beaches. Since there are no cars, you can walk around the unique sandy town as well as wander the desert landscape, admiring red-orange sands contrasting with the stark blue sea, cacti, interestingly shaped rocks and the odd donkey. Pedra Furada is one of these interestingly shaped rocks and is one of Jeri's main tourist attractions. You'll also find delicious Brazilian foods like tapioca, and açaí, and particularly ideal kite-surfing conditions. 
Rio de Janeiro
Rio, once the capital of Brazil, is a sprawling seaside city. Rio offers a very relaxed atmosphere, combined with excitement and fun. 
You'll find decent enough WIFI in coffee shops and coworking spaces here, though there isn't a huge pool to choose from. The highest concentration of coworking spaces is in the Santa Teresa district. The locals are laid back and most people speak English, which makes it easier to get around if you are English speaking. There is also quite a big community of digital nomads here. 
The real allure to Rio is in the plethora of things to do and see. Rio holds some of the most vibrant carnivals, and the culture is captivating. They have a rich history, delicious food, and an art scene. 
They are most well-known for Sugarloaf Mountain, a massive granite boulder of a peak that juts out from the ground. From the top of the mountain, you can view almost the entire city and a stunning view of the ocean as well. The massive Christ the Redeemer statue that sits on top of Mount Corcovado is also another attraction for which Rio is known. From the Sambodromo stadium, where the city's huge Carnival is hosted every year, to their conical cathedral, or Tijuca National Park, you will never get bored or run short of things to do here. 
The one downside to Rio de Janeiro is that there are some high-crime areas that you should avoid. It is important to show caution and keep a watchful eye out for that reason.
Sao Paulo
Sao Paulo is the biggest city in the southern hemisphere. So, you can imagine that there is not much of an outdoorsy nature scene. If you prefer the city life, and a temperate climate, Sao Paulo may be for you.
Basically everyone speaks some form of English in Sao Paulo. It is the central location for business and money-making in South America. You'll find lots of company headquarters are based in the city, and because of this, there are lots of internationals and job opportunities. The Wi-Fi is super fast, and there are some lovely cafes in which to work and hotels to stay in, especially in Vila Madalena. 
For your downtime, you'll have art galleries to visit, trendy restaurants to go to, museums, theatres, and nightlife to explore. There are even a couple cool rooftop bars, and clubs to check out. There is a ton of unique and diverse architecture in the city due to its history, too. From glass skyscrapers to traditional buildings dating back to the colonial era, just taking a walk down the street can be a lesson in art and architectural history. It is a dynamic and beautiful city. 
One thing to note though is that traffic can be really bad. So, it can be a mission to get around. 
Belo Horizonte
Belo Horizonte is known as The Garden City, or simply Belo. It is very similar to Rio and Sao Paulo, except it is a little less overwhelming in terms of big city life. It is located in South-eastern Brazil and is surrounded by mountains. 
Here you'll find a very low cost of living, especially for accommodation. There are lots of choices of places to work and much less traffic than in Rio or Sao Paulo. Working from a coffee shop is not really part of the way things are done in Belo, so you might want to stick to coworking or working from your accommodation. It is a hub for tech companies and start-ups. It seems like San Pedro Valley is on a trajectory to be the next Silicon Valley.
This city has over 14,000 bars. If you love exploring different bars — many of which play live music — here is a great place to start. The city, much like the other cities in Brazil, sports noteworthy architecture, theatres, museums, fruit and vegetable markets, as well as a rich and dynamic culture. Belo also has large parks, in which you can decompress and enjoy some beautiful views or get some much-needed exercise. You can even take a boat trip or a hike near the city. 
When is the best time of year to visit Brazil?
Best weather
The warmest months in Brazil are between November and March. This is late spring to summer and also the high season. Temperatures vary across the country with an average of 27-33°C. The summer is a wonderful time to enjoy the beach and the tropical climate. But Brazil can really be enjoyed year-round, with mild enough weather all year to make it pleasant when visiting. 
It is driest from April to October and temperatures during this time of year vary between 30°C and 35°C. It is still pretty ideal for the beach, however, it's a bit chilly further South at this time of year, so pay attention to the region you are visiting before booking your flights. From May to September the south has milder temperatures.  
The rainy season is around June-July, and the majority of the rainfall occurs on the north-eastern coast in the form of scattered showers, mostly in the afternoon. This is also the coldest time of year; however, winter doesn't get unbearably cold in Brazil. The average temperature is 18°C, but it does get quite windy. It's still a good time to go if you prefer to give the crowds a miss since the temperatures are not too extreme. 
As a general rule of thumb, the temperatures get colder the further south you go, so more southern places will always be slightly colder than what you would expect from each season.

Best prices
The downside of visiting Brazil in the high season (November – March) is that prices are much higher.
The low season is from May to September. This is a great time for those who don't want to break the bank and prefer fewer crowds (except for in July when the schools are all on holiday).
September-November specifically is when you'll get affordable prices (particularly lower accommodation prices) and great deals on flights coupled with awesome festivals to enjoy. 
Events and Sights
November to March 
This is a great time of year to visit because it is over New Year's when there will be lively celebrations. The annual carnival also happens between November and March.
In November, the Maceió Fest takes place. This is a cultural music and food festival. The arts are celebrated and there are performances. It takes place in Maceio and is meant to emulate the big Carnival as a miniature version at the local level.
Carnatal and Réveillon take place in December. Essentially these are both fun celebrations. During the latter everyone welcomes the new year by dressing up, watching fireworks, and spending time with loved ones.
January is a buzzing, festive time as the new year begins. Lovely weather brings tourists, and the beaches are full of people. In January Lavagem do Bonfim; Sommerfest takes place. This religious festival is celebrated in Bahia. It takes place on the second Thursday of the year and involves worship, a sacred run, a walk which is often spoken about with the phrase "Whoever has faith will go on foot", and lots of emotion. 
February is the full high season. The world-famous Carnival takes place, as well as Festa de lemanja, which is celebrated on the first of February. Everyone wears white and runs into the sea in honour of Candomblé, the goddess of the sea. If you want to join in on this one, the best place to go is Rio Vermelho in Salvador. 
São Paulo Restaurant Week happens in March. Simply, a week in Sao Paulo when restaurants who participate offer a special three-course menu for a week for a budget(ish) price. People take advantage of the special and live it up. All the top restaurant food is made available to everyone for a fraction of the cost. 
April to October
From April to October, you can expect to be a part of many festivals and September to October specifically, is an ideal time for kitesurfing and surfing, since the swell is great at this time. 
The Festa do Divino Espírito, Semana Santa, and Santo and Comida di Buteco all take place in April. If you go to Brazil in April, you can expect Holy Week, the "Feast of the Holy Ghost", and competitions for the most traditional bar food. 
In May, Sao Paulo holds the biggest 24-hour festival in the world, called Virada Cultural and Festival Internacional de Balonismo which is a hot air balloon festival! In Rio Grande do Sul over 60 hot air balloons set sail over the city and can be seen for miles floating over rivers, valleys, and the ocean. It's a magnificent sight. 
In June, Festa Junina or Festa de Sao João takes place. This festival is celebrated for the whole of June. It is like a big, back-to-basics celebration. Everything is made from raw materials, they have a big party in a tent, and dress up in plaid and straw hats. The celebration was adapted from Germany's "Midsummer's Day" festival and originates as a celebration of Saint John the Baptist's nativity. You can also enjoy sightseeing in ideal weather — not too wet and not as humid as other times of the year.
From July to September is a particularly great time to see diverse wildlife (like jaguars, hyacinth, macaws, and capybara) which you can spot in the world's largest tropical wetland (the Pantanal) and in the Amazon rainforest in the wetter months.
Rio International Film Festival and Oktoberfest both take place in September/October. So, if you love film or beer, make an entrance in October!
What is the cost of living in Brazil?
The cost of living in Brazil depends on where in the country you are going. In general, the more north you go the cheaper it gets. The total average cost of living in Rio is $1530 per month. The total average cost of living in Floripa can be as low as $700 per month. These are good examples of the upper and lower limits of the cost of living in Brazil.
In comparison to places like Europe, the UK, and the USA, Brazil is much more affordable, but in comparison to Asia, it is slightly more expensive.
It really depends on where in Brazil you go. We are going to look at the average cost of living per month.
Accommodation
Accommodation in Brazil costs between $250 and $480 for a modest living space. 
Cost of accommodation in Rio:
For a private room and shared kitchen, it costs around $260 per month

For an entire apartment with a kitchen, laundry capabilities and Wi-Fi it costs around $480 per month
Cost of accommodation in Floripa:
For a 1-bedroom apartment in a central area, it costs around $258- $434 per month

For a 1-bedroom apartment on the outskirts of the city/not in the city centre, it costs around $174-$276 per month
Food
Food costs will vary according to how much you eat out or cook at home and what kinds of things you like to eat. 
Food/groceries: Food costs between $90 and $300 for a month depending on what kinds of things you like to eat. If you stick to the basics, like fruit, veggies, eggs, beef, rice, bread etc. it should be less than $125. If you like to enjoy some more expensive items, then it could be closer to the higher end of that range.

Eating out/restaurants: It costs less than $5 for a meal at a lower cost restaurant and costs about $14 for a three-course meal at a higher-end restaurant. Eating at places where they charge for the weight of food can also be quite cost-effective. 
Here are some specific prices of food items according to expatistan.com:
Basic lunch including a drink: $6

Combo meal in a fast-food restaurant: $6

550 grams of boneless chicken breast: $2.03

1L of full cream milk: $0.88

A dozen large eggs: $2.11

1 kg (2 lb.) tomatoes: $1.39

500 gr (16 oz.) of local cheese: $4.03

1 kg (2 lb.) of apples: $1.41

1 kg (2 lb.) of potatoes: $0.98

0.5 l (16 oz) domestic beer in the supermarket: $1.08

1 bottle of red table wine, good quality: $8

2 litres of Coca-Cola: $1.59

Bread for 2 people for 1 day: $0.74
Transportation
Transport costs will, of course, depend on how much you like to move around. Many of the best digital nomad cities in Brazil have great walkability. Transport for the month will cost you anything from around $24 to $150 per month. 
Car rental: $150 per month

Public transport: $24 per month

One way bus ticket: $0.81

A monthly bus pass/public transport: $38-$46

Taxi: $0.90- $1.25 per km
Toiletries and Utilities
Here are a few choice items to get an idea of what your utilities and toiletry costs will look like: 
Electricity, heating, AC, garbage services etc. cost $48-$50 for one person in a small apartment

Laundry detergent (3L /100oz) costs $5.15

Cleaner per hour charges $3.68

Deodorant (50ml/1.5oz): $2.34

Shampoo (400ml/12oz): $3.17

Toilet paper (4 x rolls): $1.23

A tube of toothpaste: $0.89

Coworking/internet
The prices for coworking spaces in Brazil vary depending on the type of workspace, working hours, and the area in which you want to work. 
Average prices:
Hot desk Per hour: $1.36

Hot desk Per month: $135.83
Rio
Hot desk for 1 person: $9.31- $17.46 per day

Hot desk $45.60 per month

Private office $43.85 per month (for max 20 hours)
Floripa
For a hot desk: $7.76-$9.70 per day

Private office: $58.21 – $150 per month
If you'd rather work from your accommodation, you could always get an internet package:
Mobile/cell phone plan per month: $120

Uncapped Fibre for 1 month: $22

General Internet monthly plan: $14
For those who prefer to work in coffee shops: A coffee costs $1.20 in Floripa or $2.48 in the city centre of the pricier places like Rio de Janeiro. 
Why is Brazil a great place for Digital Nomads to work remotely?
The sheer size of the country. Brazil is a huge country. Much like the USA or South Africa, you can feel like you have visited multiple countries, just by travelling for 2-3 hours to the next state (or the next province). From tropical paradise right beside the city, to mountains, waterfalls and the beautiful Amazon rainforest. Even the Pantanal which is the world's largest (and in my opinion most beautiful) wetland.  It makes it worth all the trouble you go through to get there, because you can enjoy diversity not only in the different landscapes but also in the people and types of cities or lack thereof. 

Traditional Brazilian food. Brazilian food was heavily influenced by Portuguese cuisine and many other areas of the world like Japan and other Asian countries. This has made the modern cuisine a melting pot of different flavours and techniques. From Feijoada (a traditional Brazilian stew) to Brigadeiro (A kind of dessert truffle), there are tons of new and interesting meals to try in Brazil. If you are a foodie, this is a big reason to go there.

Culture and Carnival. Culture is almost always a distinct reason to visit a certain country, but Brazil's Carnival and the plethora of festivals seem to be rivalled by none. They have all manner of festivals and religious celebrations that take place throughout the year. So, if you are a traveller who loves to be immersed in something completely different, then you will enjoy going to Brazil to experience Carnival or one of the many other celebrations. 

Ease. Brazil makes it easy for digital nomads to get into the country. They offer three main visa options for foreigners who want to live and work in the country, the minimum monthly income requirement is only $1500 USD per month, and the actual cost of living is not high at all.
Wrapping up
Brazil is quite a compelling choice for digital nomads. It is not too difficult to get there and work legally, since they offer a digital nomad visa, the cost of living is relatively low, and it has quality utilities like suitable internet speeds and an array of coworking spaces to choose from. Aside from all the needs being met, Brazil offers so much in terms of leisure and entertainment. For nature lovers, there is a variety of wildlife to see during the rainy season, the magnificent Amazon rainforest, as well as the largest wetland in the world (which also sustains a vast variety of animals). Dreamy beach destinations and exciting hikes up lush green mountains are all part and parcel of the eclectic landscapes of Brazil. For those who enjoy art, food, culture, history, and music, all these can be experienced, too, from historical monuments like Christ the Redeemer to the colourful and lively Carnival.  Brazil is a wonderful place to find friendly people and truly enjoy the freedom that comes with being able to work from anywhere. So why not consider making it your next destination?