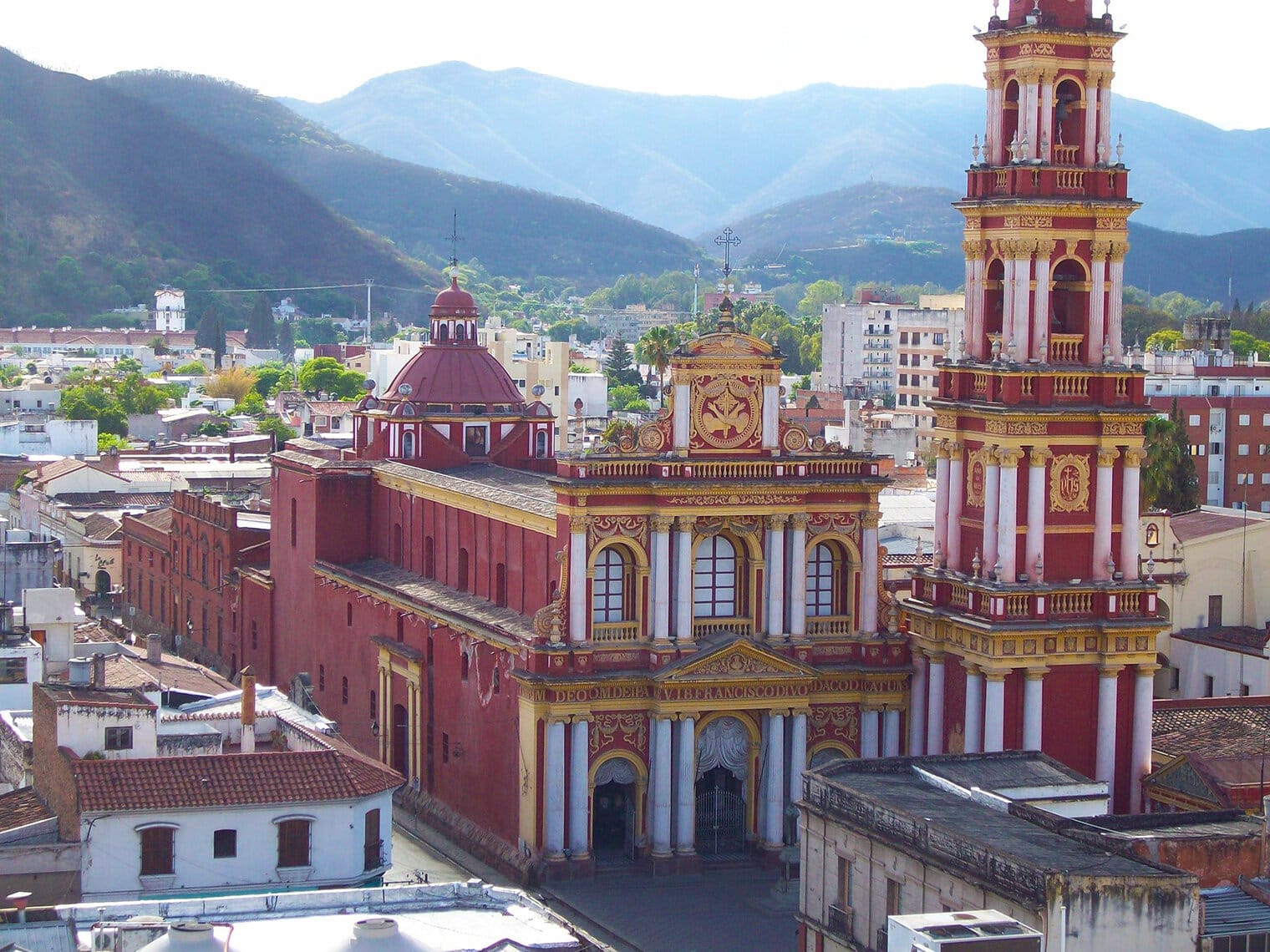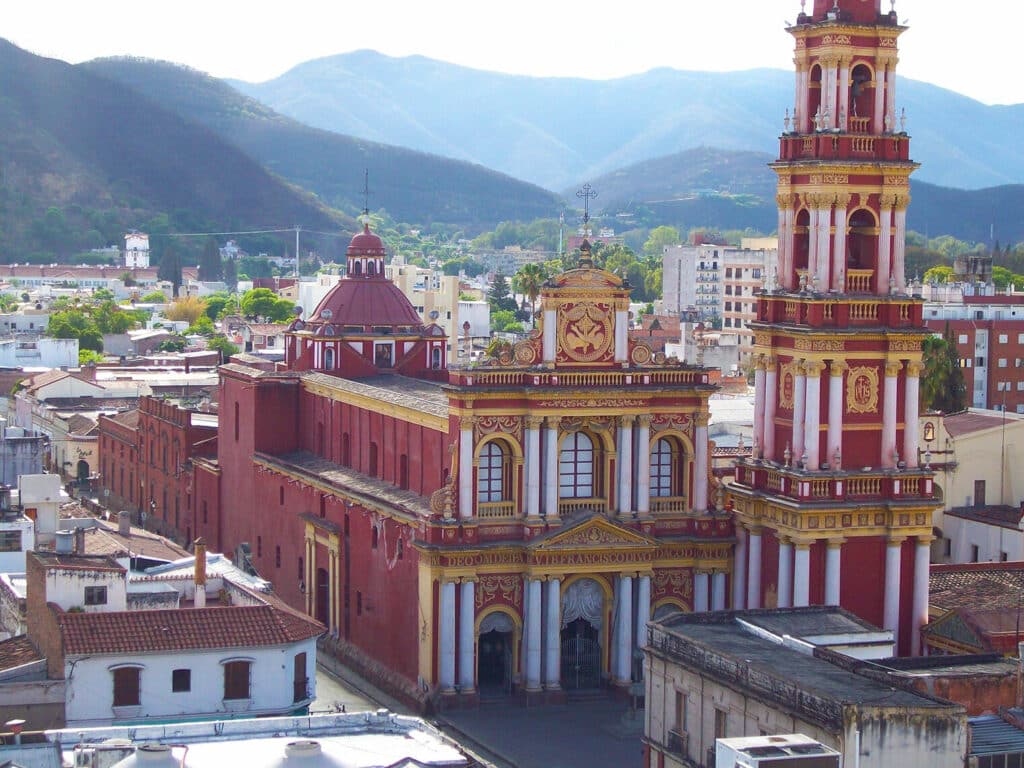 A Digital Nomad Guide to Salta
Salta is a city in northwestern Argentina, capital of the province of the same name.
 It is located to the east of the Andes mountain range, it is surrounded by valleys, including the Lerma Valley, at 1187 meters above sea level.
It constitutes an important cultural and tourist pole, since it is considered as a center of stay and distribution in the tourist system of the area, this being an obligatory step for visitors who want to know the province of Salta, Jujuy or Tucuman.
It has a colonial and neo-colonial architectural style, depending on the part of the city that we are in.
The city centre features a number of buildings dating back to the 17th, 18th and 19th and early 20th centuries. Clockwise around the Ninth of July Square, its central place, where the city was founded is the neoclassical Cathedral, it was founded in 1882, since the previous one was destroyed.
Also on the square we can visit the Cabildo, founded in approximately 1582 and is the only one in the country that remains in its complete form. Its attributes make it a true architectural gem of the colonial period (in former times, the city's town hall, nowadays a historical museum) and the neoclassical Museum of High Mountain Archaeology, which houses artifacts from the Inca civilization, including the mummies of three Inca children. The Plaza is almost completely surrounded by a gallery. the French style Museum of Contemporary Art
Within walking distance of the 9th July Square are the Saint Francis Church and the city's three pedestrian streets: Alberdi, Florida and "Caseros". The three blocks in Balcarce street closest to the train station are now the centre of nightlife in Salta, with restaurants, pubs and cafés on both sidewalks and concerts every night.
Rising in the east is San Bernardo Hill. Its summit, from which visitors can get a view of the city and the entire valley, can be reached by car, cable car or stairway.
Nomad Friendly
Value for Money
Internet
Workspace
English
Food
Safety
Health
Transportation
Friendly
Quality of Living
Living in Salta Overview
| | |
| --- | --- |
|  Meal, Inexpensive Restaurant | $9.14 |
| Domestic Beer (1 pint draught) | $3.43 |
| Cappuccino (regular) | $1.71 |
| Loaf of Fresh White Bread (1 lb) | $1.04 |
| Water (1.5 liter bottle) | $0.57 |
| One-way Ticket (Local Transport) | $0.57 |
| Basic Utilities (Monthly) | $57.15 |
| Internet | $17.15 |
| Fitness Club (Monthly) | $11.43 |
| Apartment (1 bedroom) in City Centre | $228.61 |
[erw_exchange_rates_widget lg="en" tz="0″ fm="EUR" to="EUR,USD,GBP,AUD,JPY,RUB" st="primary" cd="" am="1″][/erw_exchange_rates_widget]
Max Withdrawal: €400
Use of Credit Cards: Widely Accepted
Digital Nomad Personal Experience in Salta
In my personal opinion, Salta is a beautiful, quiet city in which one can relax and live in a different way than what one is used to. Especially if you are used to living in big cities, Salta will help you relax.
The city has different natural attractions that are just a few kilometers away, which means that if one is looking for adventure, they can enjoy it within a few hours or with an excursion.
Salta has different biomes, which decorate it as a very wide tourist destination, its proximity to the Andes mountain range makes it even more attractive.
For a digital nomad, it can be difficult, since the city is not yet developed in this area, moreover, it is very difficult to find people who carry out activities of this nature.
The city is used to tourism and its treatment with visitors or foreigners is very warm and friendly.
Language can be a great barrier, since if you don't speak Spanish, it will be very difficult for you to communicate in your day to day life. Although people from Salta are very pally, they tend to be a bit shy when it comes to communicating with a foreign person, until they meet and trust them!
For a digital nomad it can be a very interesting destination, since, when earning their salary in a foreign currency, the peso (official currency of the country) is very devalued in relation to the dollar / euro / pound, which would undoubtedly help in your nomad's stay.
The city has a very interesting night-time activity, like all the capital cities of the country, understanding that at the moment activities are restricted due to Covid.
So if your idea is to rest and visit the wonders of nature, Salta city could be a great idea!
Work in Salta
Best Places to Work in Salta
The city has a great variety of bars, cafes or restaurants in which one can sit down, consume what they want and work!
Most restaurants or consumer spaces have Wi-Fi connection, it is not bad, but if you need a high-speed Internet connection or Wi-Fi 6, I recommend a coworking space.
Coworking spaces are not yet in high demand in the area, although there are some available such as:
Coworking Salta.
POINT.
STUDIO Salta.
They have optic internet or broadband, depending on the space you choose.
Green Spaces
Green Spaces are also an excellent option if you want to work remotely, some of the parks have internet connection (not very good). In the city, there is also free Wi-Fi (like the one in the parks, it leaves much to be desired).
In the downtown area, the internet tends to go faster, but I would not have it to work with, it is unstable and not of the best quality.
In my personal opinion, I would seek to work from the hotel where one is staying, or an apartment, to get out of trouble I could go to a cafe or restaurant that has a good internet connection.
In shopping malls we can also find a good connection, it is still free, but not of good quality. Better to consume in some place to be able to get a better internet.
Here is a list of the main restaurants and points with Wi-Fi connection in the city that I have visited and have a stable connection:
Marc Chagall (local)

BIXI COFFEE HOUSE (cafe)

3COM (local)

MOTOROLA (local)

APASSIONATA (restaurant)

El Palacio Gallery (shopping center)

VIVA LA BIRRA (bar)

LO DE JUANA MANUELA (restaurant)

DESIGN SUITES (hotel and restaurant)

PIPO (restaurant)

BARTOM (bar)

POSADA LA CASONA (restaurant)

DAVID (restaurant)

NEW TIME (restaurant)

HOTEL DESIGN SALTA (hotel and restaurant)

PEDESTRIAN ALBERDI (shopping trip)

TOBIAS CAFE (coffee)

CAFÉ BALCARCE (coffee)

PAPER MARKET (local)

CAFÉ MIDAS (coffee)

PROVINCIAL LEGISLATURE (green area)

AUTOMOVIL CLUB ARGENTINO ACA (coffee)

PZR (bar)

Mc´Donalds (restaurant)

Burger King (restaurant)

VARAS1 (bar)

Filippo (restaurant)

NEW TIME (cafe and restaurant)

Sushi go (restaurant)

Hell´s Pizza (restaurant)

Patagonia (bar)

Dean & Dennys (restaurant)

La Monumental (restaurant)

Bicentenario Park (green area)

Alto Noa (shopping center)

El Portal (shopping center)

Libertad (shopping center)
Wifimaps
You can also enter Wifimaps on your computer and set the free Wi-Fi access points! In addition to the ones up here.
As you can see, this city is not yet prepared or equipped to host digital nomads, one has to have their own equipment to avoid problems. It is a dream place to visit and work, but without a doubt, I would recommend renting an apartment with good connection or reserving a lodging that you have previously selected, anticipating the speed of the internet in the place.
In some moments I had to borrow Wi-Fi in different places like Marc Chagall (very good attention) and they gave me without obligation, as I said, people in this city are willing to help you whatever your problem.
If you stray a bit from the city and go on an excursion or to a neighboring town, the internet will also be affected! In the surroundings of the city, due to its proximity to the hills it gets worse the closer one is to them!
Keep this in mind in case you go on a field trip and have an interview, meeting or due date!
Best Places to Live in Salta
Best Neighbourhoods
A simple way to divide the city of Salta is by identifying zones: 
Downtown area
Without a doubt, the center of Salta is the heart of the city and a center of super interesting activities. With a wide variety of accommodations, this area offers its visitors the possibility of staying close to the most important and tourist attractions of Salta.
For those who want to go shopping, enjoy the Salta night, go out to eat, have a drink or dance in a fashionable disco, staying in the center is, without a doubt, the most comfortable and safe option.
On the other hand, if what you are looking for is a rental by the day, Salta downtown also has many options of apartments, rooms and houses that are temporarily rented to tourists. It is a great alternative for those who prefer to have more independence when entering and leaving, as well as the possibility of cooking and saving a little money.
In case you decide to stay in the downtown area, my recommendation is that you look for accommodation around Plaza 9 de Julio and Plaza General Güemes. Temporary rentals in that area are highly recommended.
Portezuelo
The Portezuelo area is a small neighborhood to the east of the city center. Due to its bohemian and quiet atmosphere, it has become a very interesting and chosen lodging area in Salta Capital.
The main point of interest is the Monument to Martín Miguel de Güemes, located at the end of Paseo Güemes, at the foot of Cerro San Bernardo. In addition, the famous San Bernardo cable car departs from Portezuelo, which, with its one kilometer route, takes passengers to the viewpoint at the top. Upon reaching this point, you can see spectacular views of the city and the Lerma Valley.
As Portezuelo is really close to the historic center of Salta, if you decide to stay here you will be able to access the main cultural attractions in less than 15 minutes on foot.
Finally, if you are interested in a temporary rental in Salta, in this neighborhood there are also many options of apartments and houses that you can rent for the number of people and days you want.
North of the city
The northern area is one of the most elegant and best-valued in Salta. 
Its extension goes from the end of the center to the La Caldera river and brings together some very important points of interest, such as the National University of Salta, the Aeroclub and several historic sports fields like  golf courses or polo fields.
The environment of this area is characterized by being safe, familiar, youthful and calm.
Western Zone or San Lorenzo
In this area are the private neighborhoods and San Lorenzo, the latter is a beautiful town embedded in the yungas of Salta, it has an incredible diversity of flora and fauna, and in which many young families of Salta live, it is a very safe area in the which you can find peace and relaxation.
Find an Apartment in Salta
The best way to get an apartment in the city of Salta is undoubtedly to communicate with a real estate agent, the advisor will be able to provide you with precise information about what one is really looking for.
Surely you will be looking for a short or medium-term stay, so I recommend Airbnb (it is not recommended if we are going to stay for a long period of time) or Facebook to make such reservations directly with the owners, since as in most Of the cases, in Argentina, rental contracts are usually made for two years, but many owners offer to adapt to the needs of tenants who need a house or apartment for less time. Surely without a stipulated contract, since at the beginning of this year, the national government released a new regulation for rental contracts, which undoubtedly harm temporary contracts.
People in this city prefer to do this type of paperwork through a real estate agency, so its cost will be higher than if we did it directly.
On the other hand, if you plan a longer stay in the city, for university students, couples or families who want to move to the capital of Salta, all neighborhoods have a wide variety of homes for rent and sale of different styles, prices and sizes.
The zone guide described above can be very useful when choosing the place to install for as long as you need.
The city has a large number of brand new studio apartments and duplexes, since the city is a receptive center for students from different parts of the Argentine north, which is why the load capacity in buildings grows day by day.
Like everything in Argentina, it requires bureaucratic procedures, the rental of a property through a contract requires a guarantor or to be able to demonstrate a salary that meets at least the expectation of two months of rent, in case of wanting to break said contract You will be charged a penalty of one month's rent.
At the time of renting it is necessary as I said previously, a surety insurance, which is money that you have in your account to demonstrate financial solvency.
In my personal case, I was lucky because I knew people who owned newly built apartments, so I did not have to sign any contract, and I stayed in them for about 8 months.
The apartments in Salta, for the most part, are rented unfurnished, if it is for a long period of stay, otherwise they come furnished.
However, if we take the capital of the country Buenos Aires as a parameter, the city of Salta presents an evident decrease in the costs of renting flats, or studio apartments, approximately between 21% and 35% less.
This city is cheap considering the costs of living that we can observe in surrounding cities, or large cities such as Santa Fe or Buenos Aires, not to mention large European or North American cities, in Salta you can rent a studio apartment for around US $ 150.
Cheap Places to Stay in Salta
Low budget accommodation rental in Salta is quite cheap in relation to other cities.
In this city it is rare to find private room rentals, people usually rent entire flats or studio apartments! Since they are quite cheap!
The problem is if we are looking for tourist accommodation for a long period of time. If your idea is to stay for more than a month, you should connect with a direct owner and arrange the amount of the payment with him.
Also in the city there are several couchsurfing users, who will gladly be able to host you!
The prices of a rental through a platform can double or triple the cost of doing it directly with the owner or even a real estate agency!
So I recommend that you google for a while until you find a flat that meets your expectations!
Here is a list of estimated prices for the rental of flats!
1-year-old furnished studio apartment in the city center (per season) US $ 158.34 per month

Entire apartment with 3 bedrooms, 2 bathrooms, balcony and shared pool, excellent location with views of the San Bernardo hill US $ 298.45

Entire house with 4 bedrooms, 2 bathrooms, garden and garage in the downtown area US $ 303.34
As I told you before, Salta can be quite cheap in relation to other cities! The best of all is that it has very safe and quiet areas to be able to live quietly with your friends, alone or with family!
Salta Visa
Currently, there are 4 categories: Temporary Visas, Temporary Residence Visas, Permanent Visas and Nationality.
In general, both work and student visas must be requested in Argentina by the employer or by the university. You have to be patient, because the procedures can take time. In addition, immigration laws are quite complicated, so it is necessary to inform yourself step by step. The most common documents required for visas are:
Passport with a minimum validity of one year, from the date of issuance of the visa
Current passport size photos
A birth certificate that is valid internationally
A certificate of good conduct issued by the police
A complete medical report
An affidavit that there is no criminal record, which will normally be signed in front of the Consul
The payment of fees corresponding to the visa application.
Regarding Temporary Visas, these will not be necessary for some nationalities, as long as the reasons for visiting Argentina are for tourism or business. They are the most requested and the most widely issued, they are valid for one year, and are issued for the following reasons: work, studies, pensioners, for investments, for medical treatment, or for cultural exchange programs.
Tourist Visa: They are issued by the General Directorate of Migration and a series of papers must be presented, among which a completed and signed application, a valid passport, a return ticket to the country of origin, two passport-size photographs, an economic solvency and the corresponding payment of fees.
Visa for artistic, religious, cultural, technical or professional activities: This type of visa, for those nationalities that need it, is issued for a period of 15 days, extendable to another 15. The required papers are the same as in the previous section , plus a letter from the institution for which they work, specifying the reason why these people are sent to Argentina.
*Information collected from https://vivirenn.com/requisitos-vivir-argentina/
Culture and Food in Salta
In Salta, the variety of flavors and ingredients show all its heritage, with dishes of Spanish influence, others with pre-Hispanic roots and many that are a clear fusion of both cultures.
Here I am going to tell you some typical dishes from Salta that you cannot miss on a journey of flavors and culture through the north of Argentina.
Locro, a patriotic dish!
It is one of the pre-Inca dishes that survived the conquest and today it has become a national dish. To the traditional recipe for vegetables and grains, the Spanish added a touch: meat. Locro is one of the essential dishes on national dates such as May 25, but in Salta it is eaten all year round. Vegetables, beans and meat are cooked separately, respecting their times, and then put together for the final dish. Pumpkin is also added to give consistency.
Humita, "fast" food of the best quality
It is a cream made out from corn that is grated by hand and cooked in a clay pot. It is also served wrapped in chala, giving it the shape of a small package. In addition to corn, in Salta cheese, onion and milk are added. The recipe differs according to the towns, in some white corn is used, in others yellow, it can have bell peppers, goat cheese or fresh cheese, basil or tomato sauce.
It is a simple dish, ideal to take away and eat anywhere, with a touch of paprika that enhances the taste.
Tamales
It is a representative dish of Salta cuisine but it is found in many Latin American countries, with its peculiarities and secrets. Unlike humitas, this dish is more laborious. The traditional version is made with hand-ground corn flour, with a previous treatment that takes time to soak and cook (at least two days). Although in modern cuisine it is often replaced by polenta and squash, it is not the same. To this preparation, beef or pork is added, and then ingredients to suit the consumer, cumin, chili, onion, paprika, among others. Then, it is placed in the husk and the package is made, as with the humitas.
Empanadas
Save the best for last! Empanadas Salteñas! Recognized worldwide! They are made with meat cut with a knife and cooked in fat. They can also have potato, tomato sauce and various condiments. They are cooked in a clay oven and are an essential part of celebrations and meetings. Undoubtedly, one of the typical dishes of the whole country that here has its most traditional recipe. There are also cheese and chicken empanadas
In Salta there are even empanada contests.
Quesillo with honey
A delicious dessert to accompany the dishes mentioned above!
A typical local cheese is mixed with cane honey! It is a fascinating combination! It's a must if you visit Salta! 
Cayote
Another typical dessert of the Salta culture, in which a cayote is cooked for hours in the oven, then it is sweetened and cooked again in the oven, it is accompanied with walnuts!
Salta Nightlife
The night of Salta! Like many of the Argentine provinces, it has very colorful, varied and very friendly nights! Unfortunately due to the current health situation (Covid-19), recreation ends at 00:00, a time in which Salta people just start their nights.
But let's talk about how the nights before the covid were, the night of Salta was characterized by the parties and the number of clubs that it has. Being a fairly young city and hosting two universities, it offers a wide range of nighttime entertainment, from bars that don't close their doors until 05.30, to nightclubs that open their doors at 11 p.m. and close at dawn!
Also the peñas from Salta are of enormous charm, since in them one can experience the local culture in its maximum splendor! Guitars and wine for everyone, the people are very friendly and much more after a couple of glasses of wine!
The Balcarse promenade has a large part of the Salta nightlife, full of bars, clubs and restaurants!
But enough of talking about parties! The city also has beautiful panoramic points from which you can see the entire city illuminated! From going up by cable car to the top of Cerro San Bernardo or going by car to Cerro de la Virgen to enjoy with friends the view of the city, it is priceless!
We can also find many theaters in which we can attend different classical works such as Hamlet, or symphonic works by different bands known as Pink Floyd or Soda Stereo. There are also bands that play from folklore, through tango and national rock, reggae and international rock! almost always on weekends in different theaters or restaurants!
The cinemas have night hours starting on Thursdays and also, one night a week in which they do "Movie Night" in which short films are shown and you can even send your own!
The best known restaurants always present bands once a week, in which an admission fee is charged, and you can enjoy a beautiful evening!
The wide variety of bars and craft breweries are fashionable in the city, and you can find different types of bars depending on the theme you are looking for!
The cultural powerhouse is also home to different cultural and international exhibitions, in which we can find food trucks with dishes from all over the world, live bands, beers and much more!
The casinos are also part of the Salta nightlife, you can enjoy a night full of excitement! I hope you don't bet your entire salary!
If you go out of town for a few minutes in the countryside, we can find a starry night to delight ourselves with! There are places where we can do astronomical tourism! Or simply lie down with a sheet to admire the cosmos!
Or you can just go camping in any of its surrounding parks! There are certain places in the national parks for you to camp and enjoy a night like no other! A good campfire, friends, and a starry night … not bad huh?
Things to do in Salta
As I have been telling you from the beginning, Salta is famous for its adventure tourism, and its proximity to enjoying nature!
A few hours from your place of work, you can go horseback riding to one of the hills that surround the city
A circuit near the center of Salta is the one that includes San Lorenzo, Vaqueros, La Caldera and Campo Quijano. These places preserve the characteristics of country towns, where you can see a gaucho on his horse pass by (something very common even in the center of the city). Ideal to enjoy nature and outdoor activities, to be close to the city, but in a quiet and rugged environment.
If you like jungle nature and adventure tourism, San Lorenzo is the ideal place to visit. Horseback riding, trekking, ATV rides, mountaineering, paragliding, mountain biking are some of the fun routes that you can find in this beautiful town, 15 minutes by car from the capital.
Running in the middle of nature is an activity that grows more every day. Due to its geography, with incredible landscapes, rivers and hills of different heights, San Lorenzo is chosen as the headquarters of adventure races by the best brands. We can find the Quebrada de San Lorenzo which is one of the best known places in Salta. It is that its special magic attracts all who visit it. The San Lorenzo River, its trees and the possibility of buying handicrafts ensure a very entertaining afternoon. Ideal for a trekking of approximately 3 or 4 hours.
If you want to travel a little further, Salta and its Ministry of Tourism have different tourist circuits that will fascinate you!
To me, the Calchaquies Valley circuit is the one I like the most!
Desert, towns embedded in the vicinity of the Andes, gigantic volcanoes (some in activity) that were the headquarters of important Inca rituals, underground rivers, or lagoons that according to local myths come directly from the sea, the charm of its people and the immensity that one feels when looking at the starry night, they are perfect!
In contrast to these deserted places, we have jungles or as they call it in these parts, Yungas! Incredible vegetation brimming with wildlife, we can see in it, from toucans to pumas or jaguars! That because of deforestation they are getting dangerously close to different populations.
The Escoipe ravine brings together these two biomes in a shocking change of view, from one second to the other one is immersed in a deep jungle, and becomes 2,531 m high immersed in curves that denote an incredible desert landscape!
Returning to the capital, the city is full of museums that are worth visiting, such as:
Güemes Museum: The house has ten rooms that cover the milestones in the life of General Martín Miguel de Güemes and the wars for independence.

High Mountain Archeology Museum – MAAM: The High Mountain Archeology Museum's main function is to safeguard the archaeological find called Los Niños del Llullaillaco, which it achieves through a state-of-the-art cryopreservation system; and at the same time, study and disseminate it. Through the heritage it preserves, it works to safeguard the ancestral culture, reinforcing the identity of the original peoples.
Museum of Anthropology of Salta: The Museum of Anthropology of Salta is the body in charge of executing the current legislation regarding archaeological and paleontological heritage, as well as the intervention and dissemination of cultural heritage.
Museum of Contemporary Art: It is the center of actions related to contemporary visual arts and a nucleus to attend to the alternatives of exhibition, diffusion and teaching.
Casa de Arias Rengel Museum: The Casa Arias Rengel Historical Monument was built in the middle of the 18th century by the Arias Rengel family, encomenderos of the time. On its upper floor, patios and galleries, it permanently exhibits the works of the collections, as well as traveling exhibits from the Campomar Collection. Closed Monday and Tuesday to Sunday from 9 a.m. to 7 p.m. + info.
Historical Museum of the North: It is the best preserved Cabildo in the country. It has nine exhibition rooms along the two floors, where pieces and paintings are preserved. Among the most outstanding rooms are the archeology room that exhibits historical elements of the City of Salta and the one that exhibits objects belonging to General Martín Miguel de Güemes and the Sacred Art room with important pieces of wood.
In addition to all the museums, nightlife, walking tours, etc. Salta has a unique tourist attraction in its class, it has the third highest tourist train in the world! The famous Train to the clouds, (also known as the "C-14" line) connects the Argentine Northwest with the border in the Andes mountain range, over 4,220 meters (13,850 ft) above mean sea level, the fifth highest railway in the world. Originally built for economic and social reasons, it is now primarily of interest to tourists as a heritage railway, though cheaper tickets are also available for locals to use the train as transport that connects the capital with Antofagasta (Chile) although now the route does not arrive to its initial destination, The railway line has 29 bridges, 21 tunnels, 13 viaducts, 2 spirals and 2 zigzags. Because of the design decision not to use a rack-and-pinion for traction, the route had to be designed to avoid steep grades. The zigzags allow the train to climb up, driving back and forth parallel to the slope of the mountain.
Due to Covid-19 timetables may have suffer modifications
It departs from Salta every Saturday at 07:05, and returns around midnight,. go by train and return by movitrack! (an adapted 4×4 truck) The train is composed of a dining carriage, bar carriage, a first aid area and two passenger carriages with room for 170 people, though this is expected to increase to 400 over time.
Currently, the train leaves Salta station for the 15-hour, 434-kilometer (270 mi) round trip to the Polvorilla viaduct, located 4,220 m (13,850 ft) above sea level. The curved viaduct is 224 m (735 ft) long and 64 m (210 ft) high. Once the train has left Salta, it first enters the Valle de Lerma, and then the Quebrada del Toro, before reaching the puna. There are numerous stops along the way, some with markets selling artisan goods and locals offering regional cuisines
Information collected from https://www.voyasalta.com.ar/
Best Time to Visit Salta
Salta, located in a tropical area, has a warm climate, although with quite marked variations in its different regions, depending on its varied relief. The orientation of its mountain ranges influences the distribution of rainfall.
Contrasting climates and landscapes are observed mainly according to altitude.
In the western region (the highest) an arid and cold climate prevails with abrupt temperature variations between day and night (and even if one goes from a sunny place to a shady place), during the 20th century desertification has been aggravated, the natural vegetation being almost reduced to patches of xerophilous and psamofilic plants such as the stunted tola that forms "mattresses" or the large cacti called cardones.
In the Eastern region, the semi-arid climate with a dry season predominates, with an annual average rainfall of the order of 500 mm and average temperatures of the order of 20 ° C, with temperatures of up to 47 ° C in summer and -5 ° C. C in winter, marked temperature range typical of continental territories.
In spring we can find an average of 24 ° during the day and an average of 14 ° at nightfall, although it increases as summer approaches, in which the average becomes 27 ° during the day and 18 ° during the night, as we reach autumn, they decline to 14 ° during the day and 11 ° during the night, and finally in winter we can find an average of 12 ° during the day and 6 ° during the night!
Regarding its rainfall, spring and summer are the rainiest seasons of more than 300mm, falling to 75mm in autumn and spring.
Information collected from https://es.climate-data.org/america-del-sur/argentina/salta/salta-1909/
Salta for Families
Salta is a beautiful destination if you want to move with your family!
There are a large number of daycares, kindergartens, as well as affordable primary and secondary schools or colleges.
In each neighborhood of the city you can find kindergartens that have morning or afternoon shifts. They do not have a high cost, around $ 80 per month.
The vast majority of schools have a marked tendency towards Catholicism, but most of them accept students of any religion. The most expensive college in the city is around $ 200 a month.
From that price down we can find a wide range of schools and colleges!
Schools are free!
On the other hand, in the city are the two provincial university centers par excellence, both have headquarters throughout the country as well as face-to-face or distance careers.
UNSa (National University of Salta).
UcaSal (Catholic University of Salta).
The monthly college fee costs about $ 145 per month at the Universidad Catolica De Salta. UnSa being a state headquarters, it is free and just by showing a residence permit is enough to be able to study there.
As for activities for children, we can find many sports training fields that can be adjusted to the needs and tastes of the little ones, such as:
Soccer

Tennis

Golf

pole

Rugby

Paddle

Taekwondo

Mixed Martial Arts

Running

Trekking for kids

Climbing on adapted walls

Leaving the sports field, we can also find recreational activities such as:

Chess

Reading clubs

Film Club

Language courses

Practical courses

Local flora and fauna courses

Cooking courses for the little ones

Cultural centers for children
Most of them can be for adults or children!
Salta is packed with activities for the whole family! There are many places where you can go for a picnic or camping, with friends, or with your family! Adventure, or recreation!
Whatever the reason, this city fulfills them all!
Living in Salta
Salta Transportation
The means of transport par excellence in the city is the bus! Compared to other cities it is very cheap ($ 0.25 per trip) and communicates through different lines, to the entire city! You have to get the Saeta card to be able to enter the buses (another process that takes a long time). The buses are not very punctual, and now due to covid their capacity is limited to half.
The good thing about this means of transport is that the rate charged is not by distance, but by ticket. The price is not increased according to the destination.
For Argentina, the buses are relatively new, but don't expect any luxury, much less Wi-Fi connection!
In addition to taxis, in the city people move in remises (taxi companies) that tend to be a little cheaper than those previously mentioned, Uber is not yet developed in the city, which shows without a doubt that users of this type of means of transport are still not the majority.
Taxis or remises accept only cash payment, although little by little they are beginning to receive a credit card! That can be a problem as soon as you get to the city, remember to have some cash in your pockets !!
The capital, having neither trains or subways, is connected entirely by buses and people are beginning to use bicycles as an active means of transport to get to work! Unlike the big cities, Salta does not have a free or paid bicycle rental system by companies that you can easily access. You should google companies that provide this service, and go to their delivery point.
Recently the government delimited bicycle lanes along the avenues and streets that connect the main points of interest in the city, such as universities or shopping malls, which greatly facilitates the movement of this means of transport.
In addition to bicycles, the city lends itself to exploring it on foot, if you live in the center, you will not need any means of transport, you can fend for yourself! Distances in the city center are relatively short. There are also pedestrian paths throughout the city that, like the bicycle lanes, connect the entire city in all its cardinal points.
Most of the population also has their own car, since distances in the city are usually great.
In Salta, fuel has an approximate cost of:
A liter of premium gasoline in Salta costs $ 1.2. While the super (common gasoline) amounted to $ 0.98 per liter. In the case of the Infinia Diesel, its new value is $ 1.07, while the liter of diesel now costs $ 0.91
* Data from EL Tribuno newspaper!
As you can see, it is relatively cheap
I recommend that you rent a car!
The daily price of a car rental starts at $ 28 per day.
As everywhere, you must search patiently and with time if you want to get a good offer!
It is a good option then, to rent a vehicle, especially for weekends, since without a doubt you will go on an excursion!
Fitness and Health
Salta is subdivided into categories, one of them is called active Salta, and it has different activities that can be carried out in order for recreation and health.
We can say that Salta is a city prepared for sports and well-being in terms of health. It has several gyms that one can access with a membership! Which you can access for approximately $ 20 per month!
From conventional weightlifting gyms, through yoga gyms and even crossfit boxes (very fashionable lately), martial arts centers (Tae-Kwon-Do, Jiu-Jitsu and Karate, are the most famous in the city), soccer fields, tennis courts, golf courses, paddle courts, polo fields, skateparks or bikeparks are waiting for you, such as training camps where you can practise! like bike lanes that Salta people also use to go running!
There are also running groups that go out for the weekend, and they do incredible treks that last days!
Like birdwatching or fishing groups that go out for days in search of the wild!
Lately, healthy life in the city seems to have become fashionable, people are taking care of themselves with food more than ever, and that generates that the flow of people who go out to run, walk or ride a bike has increased incredibly!
Speaking of health, Salta has several centers in which one can request to see a doctor. Health in Argentina is public, public hospitals are very crowded, so if you have health insurance and can go to a private center, it would be much better! (read Insurance and Medical Care below)
Salta People
Undoubtedly, like any Latin American destination rooted in its culture, beliefs and values, people play a fundamental role when choosing it as their next destination!
In the first place, it should be noted that the people in these parts of the globe are still very Catholic, and they deposit their entire lives to the Lord and the Virgin of the miracle (patrons of the city), obviously not in their majority, and among the young It can be seen that they put aside many of these customs, but even so, the common people profess their faith in a very vivid way that it would be good for you to know and respect, since for them it is very important!
People in the city of Salta are characterized by being very warm and cheerful and as I said earlier in this post, possibly at first they can be a bit shy, but as soon as they get into confidence they will not leave you for a second alone! Since it is said that the Salteño has an easy smile! They are very smiling people, as you walk through the square or just down the street and look at people's faces, you realize that they always have a smile on their face!
It won't take long to get some friends from Salta, what's more, if you do, you will see that they last a lifetime! And they will never leave you alone!
The capital city of the province of Salta, has original people or peoples, who today continue to live as their ancestors did more than 500 years ago, prior to the Spanish conquest, maintaining their culture and traditions full of colors.
In turn, the city has many young people who studied abroad and have a more global mind, it is a beautiful cultural contrast! Since despite having gone to live in capital cities, they still retain their customs, always with a mate under their arms and the desire for some good empanadas!
Salta people love to be accompanied, at first they will treat you as "gringo" but without being disparaging, it is a natural way of calling foreigners here in the north of the country.
Like in any destination that we do not know, there are areas more dangerous than others, you have to take into account when you walk through the center, that your wallet or mobile is not stolen! Personally I was never a victim of any robbery, but it doesn't hurt to be precarious!
Also be careful to walk in remote neighborhoods, as in the center of the city, nothing bad ever happened to me, but it is better to walk through crowded areas than just in a neighborhood that we do not know!
Despite the fact that google maps works correctly, it tends to locate you in neighboring streets that can become a bit dangerous.
So remember, while you are in crowded areas or within the stony area, you will be in safe areas, you must also take your precautions!
Salta Insurance and Medical Care
As I already told you a little higher in the post, throughout the Argentine Republic, health is subsidized by the national government, whose health system meets expectations, but it would be better if you had health or travel insurance when coming here , since prepaid have many benefits, especially in time and attention.
It seems very important to me to leave you a list of the hospitals and main health centers, their telephone numbers and hours of attention, this list is about all the centers of the city, in case you have any inconvenience:
More Medicine
Salta Outpatient: Buenos Aires 196 ⋅ Open ⋅ Closes 8PM ⋅ Telephone number: 0387 431-1977
Hospital San Bernardo: Av. José Tobias 69 ⋅ Open 24 hours ⋅ Telephone number: 0387 432-0300
Hospital Dr Arturo Oñativia: Paz Chain 30 ⋅ Open 24 hours ⋅ Telephone number: 0387 422-1605
Hospital del Milagro: Av. Sarmiento 557 ⋅ Open 24 hours ⋅ Telephone number: 0387 431-7400
Private Hospital Tres Cerritos SRL: Av. Juan B. Justo 93 ⋅ Open 24 hours ⋅ Phone number: 0387 416-3500
Cenesaaa: Zabala 432 ⋅ Open 24 hours ⋅ Phone number: 0387 423-7373
Public Hospital Maternal and Child: Av. Sarmiento 1301 ⋅ Open 6AM Closes 8PM ⋅ Phone number: 0800-555-7755
Sanatorium Altos de Salta: Laprida 145 ⋅ Open 24 hours ⋅ Telephone number: 0387 416-1300
Pope Francis Hospital: Calle 120 S / N ⋅ Open 24 hours ⋅ Telephone number: 0387 438-5022
Salta Military Hospital: General Arenales 1500 ⋅ Open 24 hours ⋅ Telephone number: 0387 421-8946
Sanatorium San Roque: Av. Reyes Catolicos 1518 ⋅ Open 24 hours ⋅ Telephone number: 0387 439-0202
Hospital Sr Del Milagro: Av. Sarmiento N ° 557 ⋅ Phone number: 0299 ​​15-505-6753
Make sure you are fully covered by reading our full Digital Nomad Travel Insurance guide.
Jobs in Salta
The jobs in Salta are very specific, I recommend that you have a remote job that pays you in dollars, euros or pounds.
In Argentina, salaries are very precarious, and it costs people a lot to save.
It is for this reason that the cost of living in it is very low (read costs of living below).
You can find work very easily if you work in the field, since it is the economic activity par excellence of the entire province and why not the country! From international tobacco companies to soy fields or any type of vegetables, through livestock and agriculture.
The salaries of the field work are very varied and depends a lot on the owner!
Jobs as a programmer or data scientist do not meet even 50% of the earnings that we can find looking for a remote job or working for a company abroad.
But here is a brief description of the work and salaries in Salta:
Administrative Employee Salaries $ 600 per month
Intermediate or Senior Lawyer Salaries $ 900 per month
Junior Attorney Salaries at $ 600 per month
Plant Inspector Salaries $ 700 per month
Supermarket Repositor Salaries $ 300 per month
Real estate consultant salaries per commission between 3% and 5%
Salaries for customer service or call center $ 450
Junior Civil Engineer Salaries $ 600 to $ 800
Architect Salaries $ 550 to $ 750
Salaries for a primary or secondary teacher $ 200 to $ 450
So to make an estimate of an average weighted salary in Salta, we can agree that it would be approximately $ 575 per month.
 Information collected from https://www.computrabajo.com.ar/empleos-en-salta
Check out our Digital Nomads Jobs Postings to find the best jobs available for Digital Nomads.
Nomad Friendly
Value for Money
Internet
Workspace
English
Food
Safety
Health
Transportation
Friendly
Quality of Living
Cost of Living Salta
The cost of living in Salta, as you may have noticed throughout the post, is relatively cheap in relation to different cities in the world. But to be clear, let's make a list!
Accommodation: A studio apartment in the city can cost you about $ 170, you can get more or a little less! If you want to find something furnished, it will surely be around $ 200
Workspace: If you need a fixed place to work, coworking spaces have an approximate rate of $ 80 to $ 100 per month.
Daily commute: The means of transport in the city are very cheap so with $ 10 or $ 15 you will be covered!
Food: This is where it will depend on your expectations, if you want to go out to eat every day, you will have an approximate expense of $ 300 or $ 400 per month! But if you buy your own food at the supermarket or food fairs, you save a lot of money and you will spend approximately $ 60 to $ 100.
Leisure: Again, this item depends entirely on you, an approximate cost that seems right to me is $ 100. Spending that per month going out to bars or discos is extremely cheap, but as I said, it depends on you!
Well, I hope this post has cleared up your doubts about Salta! It is a beautiful destination for you to know, regardless of whether you are going to live in it or just come on vacation, my recommendation is that you visit it!
Here are some instagram profiles of agencies or companies that helped me a lot!
@marcchagallsalta (photo house)
@northernnomadsarg (adventure tourism venture)
@tulukasalta (crossfit box)